Weekly round-up: 21 - 27 Nov 2012
The week at a glance
South Uist scores an American Coot ….
….and a Pied-billed Grebe on the same day!
Showy female Desert Wheatear arrived in north Wales
Cambridgeshire hosts a one-day county-first Blyth's Reed Warbler
Down's double Buff-bellied Pipits make it to the weekend…
…while Wexford's Marsh Hawk lingers a little longer too….
It really was beginning to feel as though that was that for the autumn of 2012 this week. A sensational haul of birds ~ though barely any of the cream of the crop were available ~ have come to the varied shores of Britain and Ireland in the past eight to ten weeks of "true autumn" but now, the smouldering embers of a monster haul of star birds are all that's left as the final month of the year approaches…
….and those embers would have been well and truly doused as some awful weather pushed across the country….deadly floods followed two successive broad Atlantic fronts that brought torrential rain and 70 mph gusts too….
There were a few new arrivals though ~ two of them of the highest calibre, and some long-stayers too. As the week drew to a close, the arrival of colder Arctic air gave those Grosbeaks dreamers some hope to cling on to….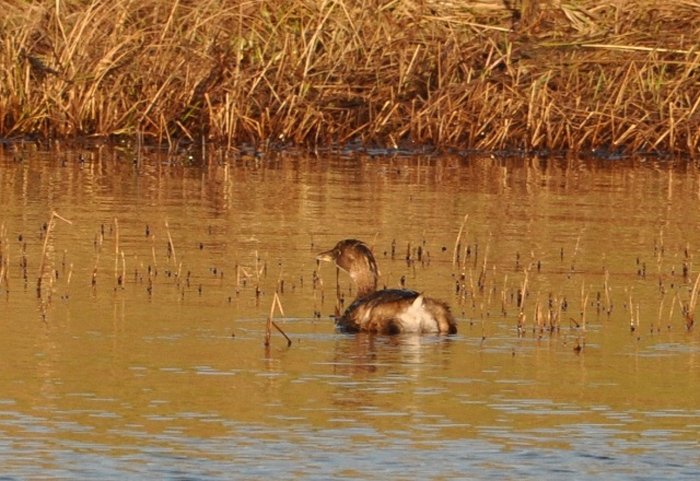 Headline birds
It seems rather fitting that the island that launched an autumn stuffed full of hard-to-get-to megas way back in early September looks likely to be the very same place to round off the autumn with a significant flourish this week.
Yup, leading the way this week, with a spectacular double (in terms of quality of rarity if not appearance) was South Uist (Outer Hebrides), scoring not once, but twice during the Monday afternoon of 26th….
….after some initial tentativeness, the after-dark clarion call was sounded and the presence of an American Coot was confirmed. The bird was reported as showing well on the loch close to Eilean nan Ramh, a couple of miles from Lochboisdale and, if accepted, will become the third record for the Outer Hebrides ~ following on from singles on South Uist and Benbecula in successive years, 2004 and 2005. There was no sign though on 27th.
The first Scottish record came in November 2003, with a bird on Loch of Clickimin, on the Shetland Mainland ~ that bird remained in to the spring of 2004 and returned the following winter. Scotland's only other record (and only mainland bird) spent just over a week in Dumfries & Galloway in January 2004.
England's only records came in 1996, the widely twitched bird at Stodmarsh for a fortnight in April of that year and a one-dayer at South Walney on April 17th 1999.
The only other records prior to this one were both in Ireland ~ at Termoncarragh Lough, in County Mayo from November 15th 2010 through to April of last year and, of course, Europe's first-ever was found at Ballycotton in February 1981 where it drew a crowd from time to time through to early April of that year.
American Coot in Britain and Ireland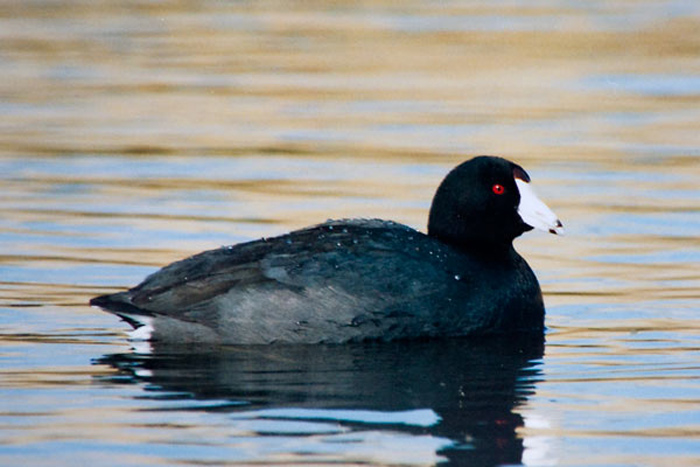 Remarkably, the same day, on the same Hebridean island also yielded another newly arrived visitor from the Americas ~ a first-winter Pied-billed Grebe found on Loch Smerclate, South Uist, during the afternoon of 26th, moving half a mile to Loch na Bagh on 27th. This will be the second record of this, still, really rare waterbird this autumn ~ it will be the 40th record for Britain and only the third for the Outer Hebrides.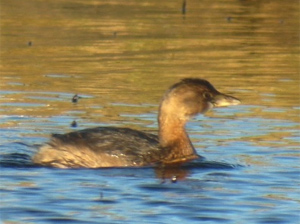 The islands' first Pied-billed Grebe was also located on South Uist and spent over two years around Askernish and Loch na Liane Moire between June 1983 and August 1985, but only really became known about during the autumn of 1984.
Whispered conversations in secret huddles on Scilly saw the exchange of maps and precise directions ~ some twitched it almost as soon as they heard, others waited a while and took the chance to take in a few summer specialities, along with the big rare, in the summer of '85 and there was no doubt that the pretty loch, with spectacular backdrop and "up-periscope" Grebe provided a very entertaining way to pass midsummer days away….
The only other record for the Outer Hebrides followed along in November 1999, a 14 day stayer on Loch Fada, Benbecula. Scotland boasts a further seven records, two in Argyll, two in Dumfries & Galloway, two in Highland and one each in Aberdeenshire and Forth. Most people have connected with this transatlantic traveller now ~ the most recent British record was in Greater Manchester, at Hollingworth Lake, almost exactly two years ago to the day.
Britain's first Pied-billed Grebe was found (and filmed) in Somerset, at Blagdon Lake, late December, back in '63….(all thoughts of bursting in to song in a curios falsetto at this point are to be avoided ~ but I bet the earworm won't let it lie for the rest of the day…). It was thought to then return in the next five years, last seen at Chew Valley Lake in July 1968.
Four more followed through the rest of the 1960's and in to the 1970's until the first widely twitched bird arrived at Radipole Lake towards the end of January 1980 (becoming immortalised, in pen and ink, in "A Twitcher's Diary"). A spate of twitched birds followed, on South Uist, north and south Wales (between 1984 and 1987) and several very long stayers have followed ~ most notably the breeding adult that hybridised with a Little Grebe at Stithians Reservoir (Cornwall) in the second year of a nearly 900 day stay from April 1993 to September 1995.
Ireland has hosted at least 11 birds, including the most recent record prior to this week, on Lough Baun, up in Mayo earlier this month.
In North Wales a delightful female Desert Wheatear was found along the edge of the local golf course at Rhyl this week. First seen on 23rd and named as a Wheatear, the bird was still present the following day and was quickly re-identified as something all together much rarer.
This will be the second record for Clwyd ~ the first was a photographed male at Towyn on 20th November 1997 (both records have actually occurred with the old county of Denbighshire) and is only the sixth record within the Principality (other records are singles in Glamorgan and Gwent, with three birds for Pembrokeshire ~ including the most recent record to date, a male on Skomer Island on 15th November 2011).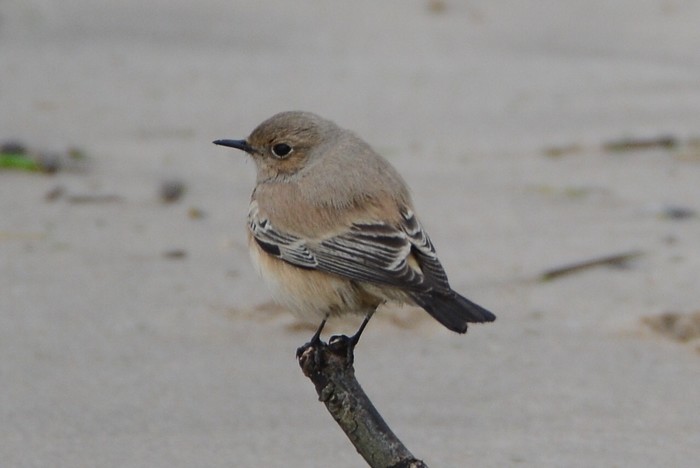 Desert Wheatear, Rhyl, Denbighshire
With no reports all week of the Kilminning Eastern Olivaceous Warbler (last seen on November 20th), the spotlight falls on to an Acrocephalus warbler seen and photographed at Ferry Meadowes CP (Cambridgeshire) on 23rd.
The observer initially wondered if the birdmay have been a Cetti's Warbler but it was quickly established that the warbler was from a different genus. Swiftly established to be a Reed-type, opinion quickly headed down the road to Blyth's Reed Warbler.
Another RFP bird ("re-identified from photographs" rather than the famous author on raptors, Blakeney Point stalwart and conservationist….) it was almost inevitable that there was some chitter-chatter would follow….the identification was questioned and the merry-go-round continued to, errrr, go round ( Large-billed Reed Warblercited as the contender to usurp the "commoner" option).
The photos appear to show several features that you'd like to associate with the once much-prized annual rare. It does seem rather warm in one images (approaching the colour tones you may expect on a sunlight Cetti's Warbler) but not all Blyth's Reeds are the milky tea colour you'd expect.
For the moment, we'll go with the flow, let Cambridgeshire bask in the warming glow of a county first, and mainland Britain's latest-ever Blyth's Reed Warbler ~ the latest mainland bird prior to this was a trapped first-winter at Portland Bill on November 12th 2001, the latest ever record for the UK as a whole, a bird at Quendale, on the Shetland Mainland from November 29th-December 1st 2009.
Those with a few extra years on the clock, this week's bird in Cambridgeshire will spark memories of a similarly debated bird on the Ouse Washes in December 1987 ~ a decade before the field identification was fully understood (thanks largely to the Warham Greens bird in September 1996), many people headed to the Fens with the hope of returning with a quality rarity under their belts. Sadly, it didn't stack up and, despite a bit of banana-posturing here and there (probably related to a slightly duff wing), there really wasn't much in that bird's favour in hindsight.Reed Warbler was the right call.
Blyth's Reed Warbler in Britain and Ireland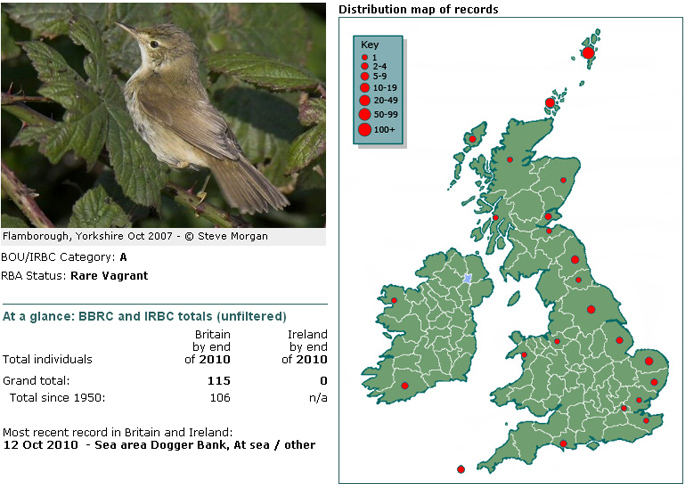 In the north of Ireland, between on beaches at Tyrella, the two Buff-bellied Pipits remained to 24th (with one still present on 26th) while down south in Wexford, the juvenile female Northern Harrier continued her winter wanderings around Tacumshin on 24th-25th.
Seabirds
Not a whole lot to report in terms of seabirds this week, despite the tempest-like conditions….
A late, late Cory's Shearwater was reported off the coast of Hampshire, at Hurst Castle, on 22nd, heading off westwards mid-morning. Six Balearic Shearwaters were noted off Cape Cornwall the following day and singles were seen in Devon on 22nd and back in Cornwall on 25th and Dorset on 26th.
Nine Pomarine Skuas were noted this week, singles or doubles only (including five on 27th along the east coast) and two late Leach's Storm-petrel were seen off the Norfolk coast, from Horsey Gap on 23rd and Sheringham on 27th.
The fifteen reports of Little Auk this week all referred to single figure counts bar one ~ leading the way, 12 birds off Ballyvaughan (Co. Clare) on 27th with nine off Spurn (East Yorkshire) the same day. Half a dozen from Filey Brigg (North Yorkshire) on 21st and lower numbers were spread from (south to north) Dorset to Orkney and (east to west) from Northumberland to Kerry.
Filey also scored one of the week's four Grey Phalaropes ~ the others appearing at Spurn (East Yorkshire) and Mudeford (Dorset) on 25th and on the Yeo Estuary, Clevedon (Somerset) from 23rd-26th at least.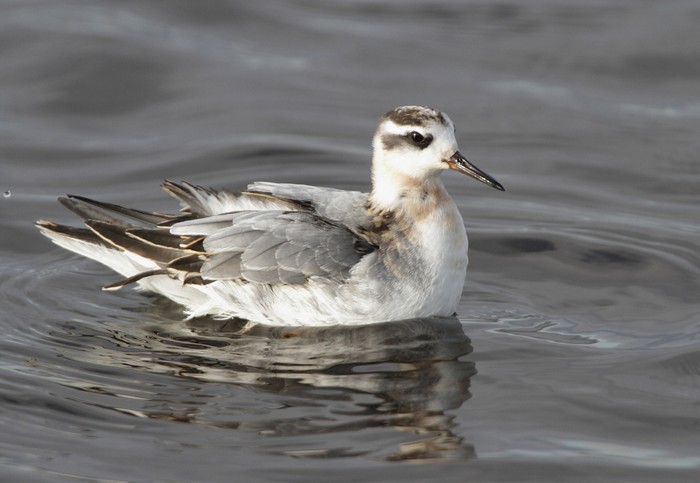 Herons, Egrets & allies
There were still perhaps as many as 20 Great White Egrets dotted around the country through the last seven days ~ top marks still went to Dungeness (Kent), where four birds remained to 23rd.
In Wales, up to six birds may have been recorded this week ~ on 21st a single was at Llangorse Lake (Powys) with a further two together at Llanrhidian (Glamorgan). Further birds followed in Gwent (at Newport Wetlands RSPB), Carmarthenshire (still at Cilsan Bridge) and, back in Glamorgan, at Lamby Lake.
Two separate singles were seen in both Lancashire and Somerset on 21st and two birds were reported at Horsey (Norfolk) on 22nd. Aside from "old faithfuls" in Hampshire and Cumbria, other Great White Egrets of note were found in Nottinghamshire (at Hoveringham) and Stretton Sugwas (Herefordshire) on 25th ~ these two birds may have been roamers from previous weeks, with birds seen previously in the east Midlands and along the English/Welsh border….(and the Notts bird may well have then moved to Derbyshire the following day) while a Great White Egret seen at Barnes WWT in west London was presumably the bird seen later in the day at Unstead (Surrey) on 26th.
While the subject of "old faithfuls" is to hand ~ we'll move on to Glossy Ibis and it won't come as too much of a surprise to hear that the second-winter bird at Marloes Mere (now present, on and off for over a year) was still present and correct on 23rd-24th, while another long-stayer, at Timoleague, in County Cork, was also still around this week, seen again on 22nd.
A Common Crane was still on the marshes of Kent, at Walland on 23rd and one remained at Ballinskelligs (Co. Kerry) to 24th. The following day a Crane was reported in Antrim. Flock of the week (with no Broadland news) were the eight birds near Guyhirn (Cambridgeshire) on 23rd. In Dorset, 15 Spoonbills were at Arne RSPB on 24th and five were still in north Devon on Isley Marsh with a single bird seen in Waterford, at Dungarvan.
Ducks & Geese
After a significant early peak of Richardson's Canada Geese, there were just three single birds noted this week ~ one remained at Loaningfoot (Dumfries & Galloway) to 27th and singles in Argyll were seen near Campbeltown on 22nd and 27th and on Islay on 25th. The latter county was also playing host to the week's only Todd's Canada Goose ~ seen with Greenland White-fronted Geese at Rhunahaorine Point on 21st.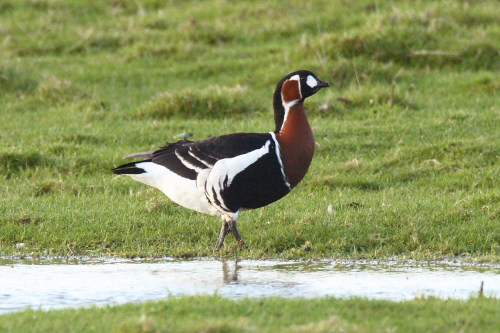 On Islay, the adult Red-breasted Goose was again at Loch Gruinart RSPB, still amongst the Barnacle Geese on 24th-25th and Hampshire's Dark-bellied Brent Geese continued to look rather dowdy compared to their rather more dandy-looking companion at Farlington Marshes HWT until 25th, moving to nearby Portsmouth on 27th.
Two single Black Brants were seen in Ireland this week ~ in Wexford, at Rosslare on 24th and the nearby Wexford WR the following day, and in Waterford, at Dungarvan, on 26th. The only other Brant of late was seen in Hampshire, at Portsmouth, also on 26th.
A Snow Goose was seen amongst the wild Greylags at Outertown, Mainland (Orkney) on 25th while the popular Loaningfoot Barnie flock attracted (as well as a wild Canada Goose) a presumed wild Ross's Goose on 24th. No news from Norfolk this week on the "is it or isn't it" gen there, but a report of a possible Ross's, heading north past Gibraltar Point (Lincolnshire) with Pink-footed Geese may be connected….
Numbers of Pinks in Norfolk are way down this winter compared to previous years, the downward spiral is widely predicted to continue as winter farming practices change in the county, so rare travellers in the county may become a thing of the past rather sooner than some may think…
County Kerry welcomed a female or immature Blue-winged Teal to the county on 22nd, seen at Ballylongford. If accepted, it will be the fourth record for Kerry, all occurring since 2001 ~ and two of the previous three records have involved two birds.
A drake Lesser Scaup was new at Soulseat Loch (Dumfries & Galloway) on 26th while the first-winter drake remained in County Clare, at Newmarket-on-Fergus, on Lough Gash, to 27th. In Leicestershire, at Eyebrook Reservoir, the drake Ring-necked Duck remained throughout the week and was one of just two birds reported, the other still finding the waters of Somerset's Chew Valley Lake to his liking.
Northwestern Britain was the primary area for drake Green-winged Teals during the past few days ~ singles still present on Loch a' Phuill, on Tiree (Argyll), at Hodbarrow (Cumbria) and Martin Mere (Lancashire). On the Scottish east coast, in Angus, a Green-winged Teal was seen at Loch of Kinnordy RSPB on 22nd and on the south-east side of Ireland another remained at Tacumshin (Co. Wexford). Meanwhile, in West Yorkshire, the wintering drake American Wigeon remained at Angler's Country Park and Wintersett Reservoir throughout much of the week, still present on 26th.
Three drake Surf Scoters began the review period still offshore from Llandulas (Conwy) with two still on show as the weekend drew to a close. Two singles were seen on Ireland on 25th, at Lahinch (Co. Clare) and The Cunnigar (Co. Waterford).
Raptors
It was desperately quite where all things "raptor" were concerned ~ though if the grey Gyrfalconseen at Tralee late in the day on 27th settled down somewhere it could draw a crowd (this colour form of this magnificent falcon is still hard to catch up with)….
A Rough-legged Buzzard was reported over Milton Keynes (Buckinghamshire) on 21st while a more typical location was Rendlesham (Suffolk), one seen there on 22nd.
….and, report of a probable Black Kite aside (in north Wales, at Halkyn) there really wasn't too much to go mad about….
Shorebirds
Donegal's Inishowen Peninsula was host to a very late first-winter Wilson's Phalarope on 24th ~ funnily enough despite being only the second county record, it isn't even the latest record for Donegal ~ the first was seen at Inch Lake on December 1st-2nd 2009.
Another late Nearctic shorebird came in the guise of a Baird's Sandpiper at Baltasound, Unst (Shetland) on 26th ~ the second on Shetland this autumn (after one at Esha Ness in September) this is, comfortably the latest ever for the islands (there have been 13 accepted records prior to this one) and it also becomes the latest ever find-date of a Baird's Sandpiper in Britain and Ireland.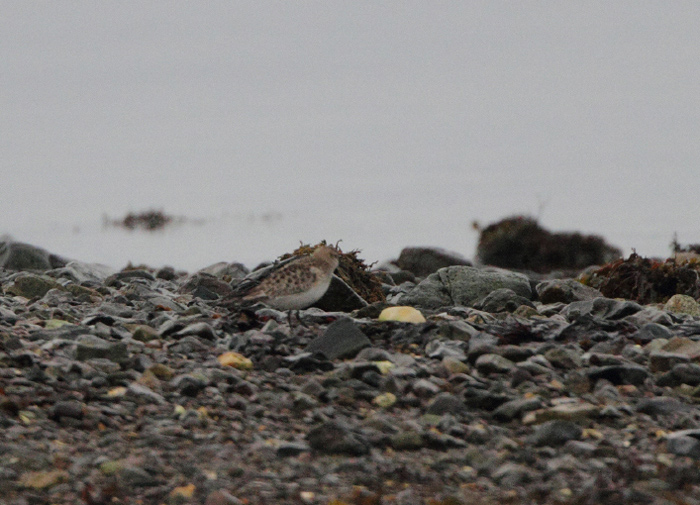 Prior to this bird there have been four accepted November Baird's ~ at Portland Bill, mid-month in 1967, on the North Slob in Wexford on November 19th-20th 1995, at Blithfield Reservoir (Staffordshire) from November 2nd-7th 1996 and in Lothian, at Belhaven Bay from November 7th-11th 2009 (re-appearing elsewhere in the county at the end of the month and wintering to January 2010).
The wintering adult Long-billed Dowitcher at Slimbridge (Gloucestershire) was present throughout the week while the sporadically reported first-winter at Alkborough Flats in Lincolnshire was reported on 22nd-23rd and again on 25th-26th.
Both of the recent Lesser Yellowlegs were still in situ for a few more days ~ the bird at Aldcliffe Marsh (Lancashire) was present to 24th (and still had a Wood Sandpiper for company ~ getting late for those here…) while in Devon, at Ernesettle, the first-winter there was present all week while Staffordshire's surprise White-rumped Sandpiper was at Drayton Bassett Pits to 21st.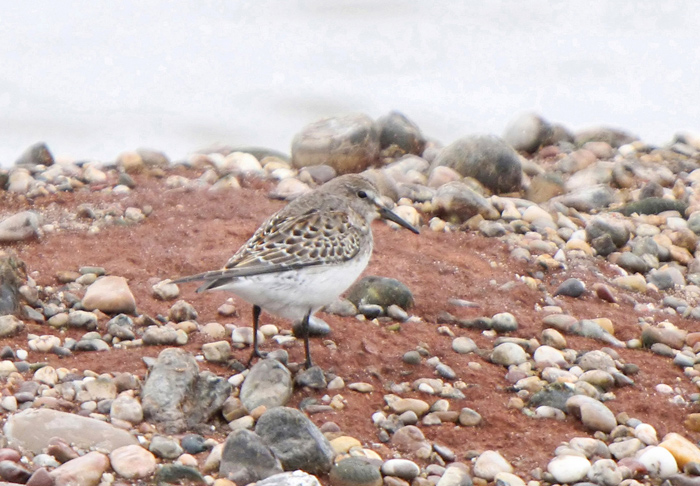 Gulls and Terns
In County Down, at Larne, the adult Bonaparte's Gull surfaced again on 24th and 25th while a new first-winter Ring-billed Gull arrived at Adrigole (Co. Cork) on 24th. Elsewhere in Ireland, a second-winter Ring-bill was seen at Bantry ~ also in Cork and also on 24th ~ with the regular, returning third-winter still in Groomsport (Co. Down). The only British Ring-billed Gull this week was the adult again at Gosport (Hampshire) to 25th at least.
An adult Kumlien's Gull was reported briefly at Cosmeston Lakes (Glamorgan) on 23rd while the ten Iceland Gulls this week were spread pretty equally ~ two for England (in Cornwall and Staffordshire), one for Wales (in Conwy), three for Scotland (in Ayrshire and on the Outer Hebrides and Shetland) with three for Ireland as well (in Kerry, Clare and Cork).
Nine Icelands and at least eleven Glaucous Gulls too ~ with three singles around the Outer Hebrides (on Lewis, North Uist and Benbecula) topping the bill, with one for the Scottish mainland (in Clyde), five or six for England (Northumberland, North Yorkshire, Nottinghamshire Norfolk and Kent) and two for Ireland (singles in Wexford and Cork).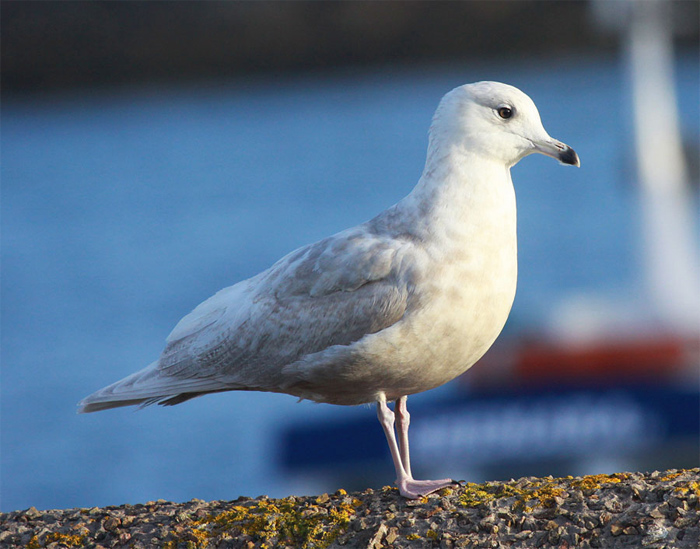 Passerines
The super flock of Hornemann's Arctic Redpolls continued to beguile those fortunate to reside on Shetland for another week ~ still at least four birds present around Baltsound until 26th at least (one of the birds was almost as well marked in the face as the buffy-fronted beauty seen recently in the dunes at Holkham).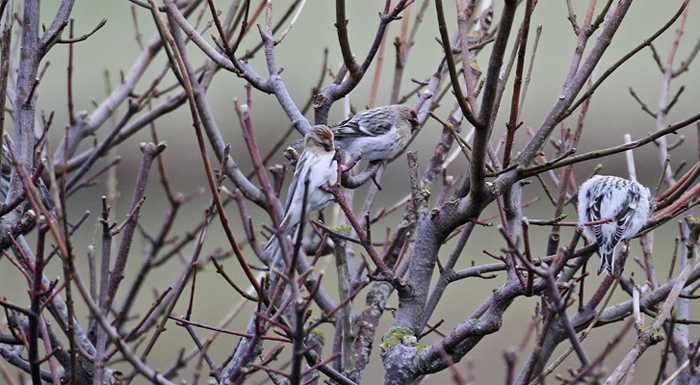 In Cornwall, a Dusky Warbler was reported at Swanvale, Falmouth on 23rd while further west, the first-winter Subalpine Warbler at St. Just was last seen on the same date, 23rd. Back at Swanvale, one of the week's three Yellow-browed Warblers was seen on 24th-25th, with the others on Scilly, at Porth Mellon, on 25th and still in Gloucestershire, at Oldbury Power Station to 27th.
A Hoopoe was reported at Tredegar (Gwent) on 22nd (but there was no further sign later that day) while the Black-bellied Dipper at Thetford (Norfolk) continued to roam in "elusive" mode, seen on only 24th and 26th this week. In Northumberland, the only Richard's Pipit of the week was seen at Long Nanny and nearby High Newton-by-the-Sea on 23rd-24th while a Serin was reported at Portland Bill (Dorset) on 23rd.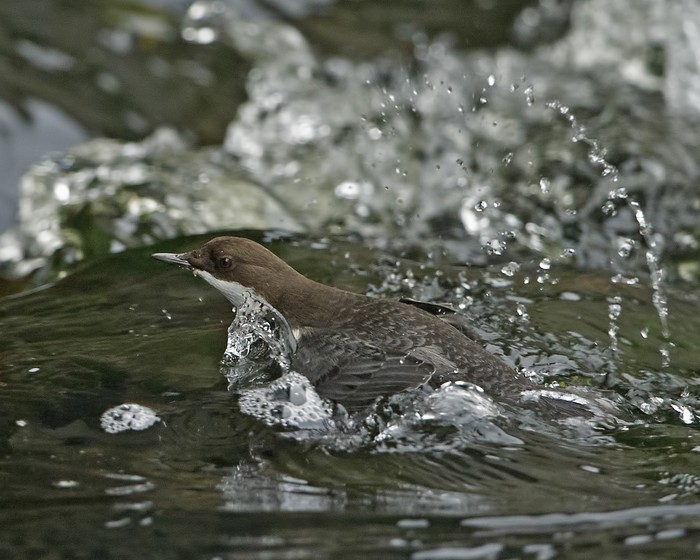 The private gardens of north Cornwall were the only places to engage with Rose-coloured Starlings this week ~ one was still at Port Isaac between 22nd-24th with another (some 15 miles to the south) at St. Columb Major on 26th.
We'll round things off with a couple of regular winter favourites, Great Grey Shrike and Waxwing.
Nine of the former could be seen during the week ~ including two on Thursley Common (Surrey) on 25th and a new bird at Danby (North Yorkshire) on 24th. Elsewhere it was very much "as you were" (and "will be" presumably) with English singles at Wareham Forest (Dorset), Therfield Heath (Hertfordshire), near Colchester (Essex), Upper Langdon (Staffordshire) and Beeley Moor (Derbyshire), with a Welsh loner still at Clocaenog Forest (Denbighshire).
Several thousand Waxwings continued to be seen throughout the week, spread countrywide (though rather finely the further south and west you travelled) and there were some spectaular flocks to be encountered from the Midlands and way off to Scotland, particualr the northwest of the country.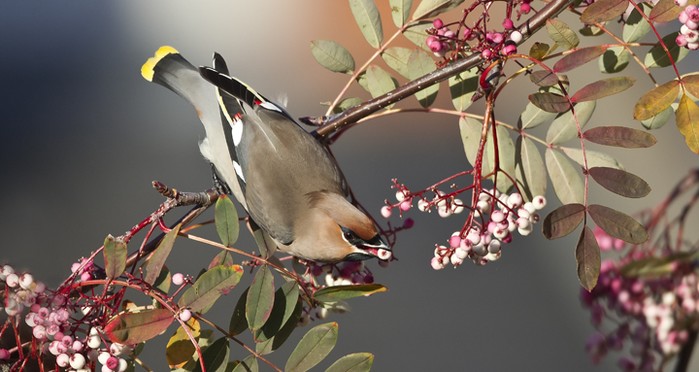 At least 600 birds were in Ullapool (Highland) on 22nd, when a total of just under 590 were counted around Glasgow. Some 500 remained around Skye, including 400 at Camustianavaig on 23rd (with a further 100 at Kyleakin). Around 200 were at Lochinver (Highland) on 25th and 180 were in Johnstonebridge (Dumfries & Galloway) on 24th.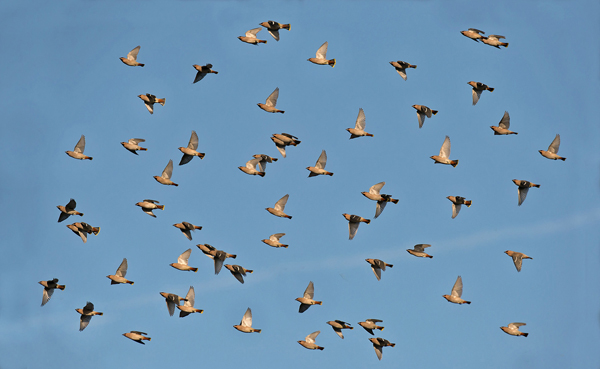 Moving down in to England, there was a minimum of 365 around Sheffield (South Yorkshire) on 23rd (with 300 around the city throughout the rest of the week), 300 were counted around Bootle (Merseyside) on 21st, 200 were in Hunslet (West Yorkshire) and Denbigh (Denbighshire) on 23rd, 190 appeared at Newtown (Powys) on 25th and 150 were in Beeston (Nottinghamshire) on 24th.
Cold weather of sorts seems to be on the way, so it seems possible we may see a further push of Waxwings (if only within the UK as birds may be forced south)...but, as the birders on South Uist have proved this year you still need to keep your eyes open, just in case....
...this time last year, Cley's Western Sandpiper sprung a significant surprise but those who study the form guide will notice that, historically, December 3rd has certainly had some stellar moments….a Little Bustard in Suffolk in 1959, a Slate-coloured Junco in Dorset in 1989, a Black-and-white Warbler in Norfolk in 1985 and, rarest of all, a three-day Dusky Thrush in Pembrokeshire (on Skomer) in 1987. Any of that string quartet would cause a stir next week with the latter certainly shaking the rainy-day blues away.
Mark Golley
28 November 2012
This weeks contributors
Thanks to all the contributors for their photos and videos
John Kemp - Western Isles Wildlife
,
Alan Tate - AA Bird Pix
,
Steve Young - Birds on Film
,
Robbie Brookes - Nature in Shetland
,
John Lowrie Irvine - Nature in Shetland
,
Ron McCombe - Wildlife Photography UK
, Michael Turner, Allan Chard, Andrew Jordan, Mark Priest, Peorge Petrie, Andy Thompson, Ron McCombe,