Weekly round-up: 31 Oct - 06 Nov 2012
The week at a glance
Galway's Belted Kingfisher reappears at the start of the week
Fair Isle's lingering Siberian Rubythroat breaks a record or two…
....as does the Kilminning Eastern Olivaceous Warbler
Spanish Sparrow has a ticket to Ryde…(almost) on the Isle of Wight
County Clare holds on to the Pied-billed Grebe
The juvenile female Northern Harrier in Wexford stays in to a new month
….and who knows what to make of the Sussex Hooded Merganser ….
With barely a tick-tock on the November clock, the first couple or three days of the new month saw two to three inches of snow fall in the Westcountry and it was "match postponed" elsewhere as a weekend of heavy rain in some parts of the south and east took their toll.
Elsewhere, it was calm, it was windy, it was mild and it was frosty ~ yes, a typical early, early winter mixed bag of weather.
…and with a mixed bag of weather comes a mixed bag of birds ~ some would perhaps gently suggest that this week actually wasn't up to much, that the autumn was over. Hmmmm.
…one look at the list of birds making the news would make many beg to differ with the overtly negative vibe and although brand new megas were thin on the ground, there was a whole heap of stuff to keep most folk content and happy with their birding lot.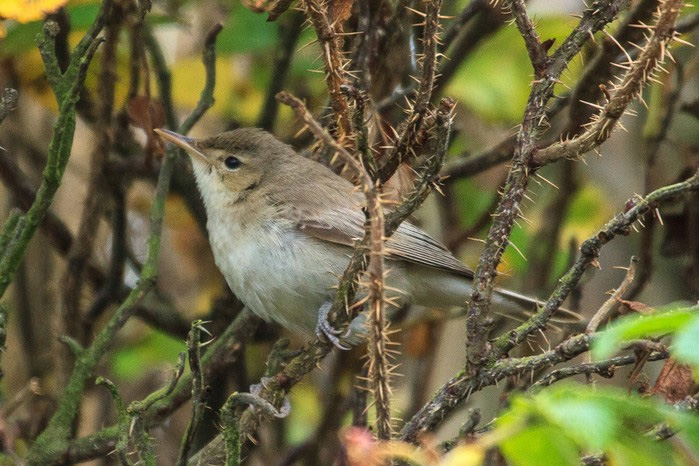 Headline birds
Where to start? Well, let's kick off with the reappearance of one of the most glitzy star turns of the autumn. Although not the rarest of the big birds of autumn 2012 (it is definitely no Sakhalin Leaf Warbler or Chestnut-eared Bunting), there is no doubting the enduring quality and accompanying excitement, that still surrounds the news when Belted Kingfisher is mentioned….
On October's final day, a Belted Kingfisher was seen perched on wires near a tidal outflow just south of Clifden (Co. Galway). There seems little doubt that this bird will be the male that arrived in the same spurt of Atlantic weather that seemingly littered bits of Galway with ultra-rares (including, of course, the Western Palearctic's first ever Eastern Kingbird) towards the end of the first week of October.
How has it gone missing for so long, despite only moving some ten miles or so? Well, those who know the area of Connemara that Clifden sits within know only too well just how tricky it is to search for birds, even one as conspicuous as a Belted Kingfisher (that said, despite being big and blue and sounding like a football rattle they can be as unobtrusive as you like) could easily go missing for weeks in the bays and mini-peninsulas that make up this magical part of Ireland….
It may well be another three weeks, maybe more, before the Belted Kingfisher reappears, but it is odds on that it will turn up again. And if it does, Galway will be where it's at….
Another of the autumn's supporting cast of outstanding rarities, the female Siberian Rubythroat on Fair Isle, continued to be seen for much of the week (albeit still remaining rather elusive) still present on 3rd, a date that saw it become the equal longest staying Rubythroat ever (coming up alongside the 12 day stay of the Gulberwick male of October 2011) and the Fair Isle bird also headed in to the record books by virtue of being the first ever Siberian Rubythroat to be seen in Britain in November (the other eight Rubythroats have all been October only birds, seen between 5th to 30th).

...and talking of record breakers, Fife's long-staying Eastern Olivaceous Warbler at Kilminning this week became the longest staying EOW ever....still present on 6th, the bird has clocked up 24 days on site now, easing ahead of the former record holder, the Cape Clear Island bird of September and October 1999 ~ that one clocked up 22 days....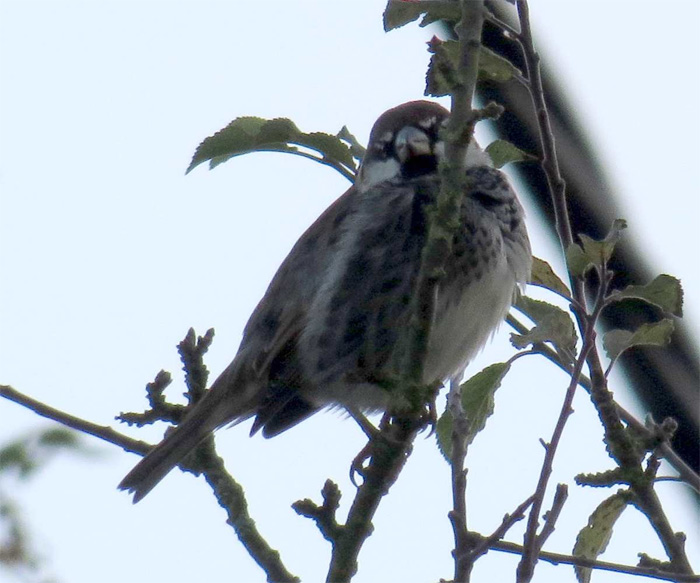 "New" this week was a male Spanish Sparrow on the Isle of Wight ~ a great find on a bird feeder at Newchurch on 4th. Now I say "new" as the temptation to link this bird with the massively popular male at Calshot, just across the water on the Hampshire coast for nearly three months at the start of the year is almost irresistible…
Of course there is no hard and fast evidence for such a thought ~ however, there is no reason not to entertain such a thought.
By road, it would be journey of some 36 miles from Calshot to Newchurch, but in a bird's eye straight line, it is considerably less….probably half the distance (less even)…so you could imagine how the Hampshire Spanish Sparrow may have taken leave of his winter quarters and taken a short flight (or short boat ride) across The Solent and found itself perfectly at home on the Isle of Wight for the spring, summer and autumn. There's an awful lot of habitat for a five inch bird to hide in on an island that is 23 miles long and 13 miles wide….
….or all of the above is complete bunkum and this is actually the third male Spanish Sparrow of the year (also another record for the week if deemed to be the case) following on from the Calshot bird of January to March and the elusive Felixstowe bird of August and September. All 10 have been males and the duo/trio of 2012 are the first seen in 12 years (since a one day male at Cawsand, in Cornwall).
In Ireland, the county-first Pied-billed Grebe found last week on Lough Baun, near Westport (Co. Mayo) was seen on 31st and again on 4th, while to the southeast at Tacumshin (Co. Wexford), the juvenile female Northern Harrier was seen daily between 2nd-5th at least.

Earlier in the year, after the appearance of a Hooded Merganser at Whetsted in Kent, the very first RBA review noted the following….
"This species always generates a significant degree of online noise and the endless merry-go-round of "pro's" and "anti's" will argue themselves in to any number of blind alleyways. The decision as to the bird's provenance falls, of course, solely to the BBRC.
They decided that the "redhead" on North Uist, for a late October week in 2000, was the first to be deemed fully acceptable, and they have subsequently allowed four more to wheedle themselves on to the official role call of rarity honours ~ further immatures/females in Northumberland (in 2002), Kent (in 2005) and Fife (in 2008) getting the thumbs up, along with the magnificent male on Unst in April and May 2006 (which really did look like the real deal from online images).
What though makes the five accepted birds any different to other unringed, in-the-wild Hooded Mergansers prior to the new millennium? Arguably, nothing at all. Previous birds, such as the now-you-see-it, now-you-don't female-type at Titchwell and Holme in January and February 1997, seems to have suffered only by virtue of being pre-2000 and would surely stand up, comfortably, against at least three of the five accepted birds. That's committees for you I guess….."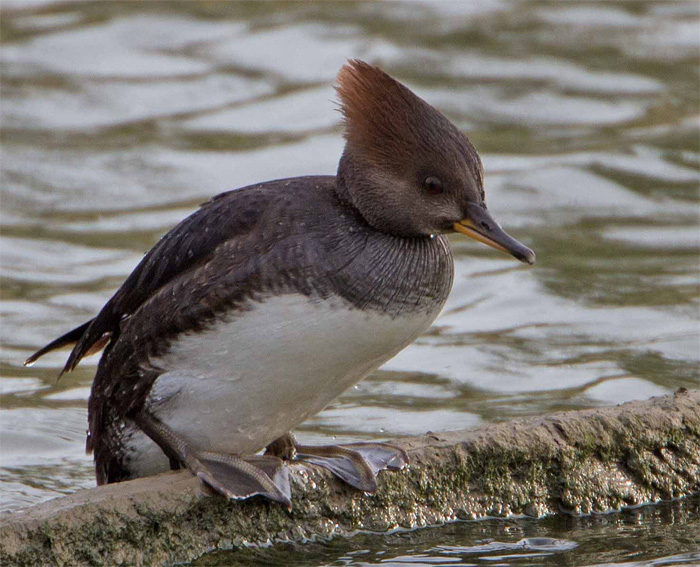 These words seem worthy of repeating as the same arguments will surround the female or first-winter Hooded Merganser that was found at Pagham Harbour (West Sussex) on 6th ~ perhaps present for a week, the arrival date is fine, the site is fine and there's nothing going against it.
Let's see how it rolls from here….
Seabirds
After the four figure counts from the far northeast of England last week, numbers of Little Auks this week fell away with the lack of northerly air. Around 130 or so were logged this week, with the Farnes scoring well once more with totals of 20 on 31st, 26 on 3rd and 36 on 5th. Elsewhere along the northeast coast, 38 passed St. Abbs Head (Borders) on 4th ~ the highest individual total of the week ~ and 29 were seen at Hartlepool (Cleveland) on 31st.
A handful made it down to the southwest, singles for Cornwall were seen off Polzeath and Trevose Head on 1st and 2nd respectively, while in Devon singles were at Brixham and Dawlish on 4th (there's every chance that Long-billed Murrelet was ruled out at the latter site…!).
Other seabirds were pretty thin on the ground ~ as you'd expect with the weather and advancing time of year.
Following on from a probable off Cape Clear on 31st, a Great Shearwater was seen heading past Galley Head (Co. Cork) on 2nd. Over half of the week's total of Balearic Shearwaters were seen from Pendeen Watch (Cornwall) on the morning of 1st ~ 16 birds counted there ~ part of a total of 27 for the week (all in Cornwall or Devon). The same seawatch at Pendeen also saw five Sooty Shearwaters fly by, the only figure higher than one recorded this week (others were noted in Devon, Sussex, Kent and Norfolk).
Five single Pomarine Skuas were reported (two in Scotland, two in England and one in Ireland) while a Sabine's Gull was seen off the coast of County Clare, heading by Bridges of Ross on 3rd (and the adult was again at Cobh, in County Cork on 31st). The only other seabirds of note this week were three single Grey Phalaropes ~ briefly at Charmouth (Dorset) on 31st and off Bardsey and the Farnes on 4th.
Herons, Egrets & allies
In west Wales, the second-winter Glossy Ibis was still feeling very much at home at Marloes Mere ~ another week clocked up when still present on 6th. Further to the east, a Glossy Ibis was again at Ham Wall RSPB (Somerset) while further west, one remained at Timoleague (Co. Cork) to 2nd.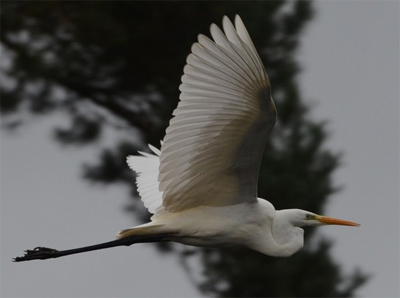 The juvenile/first-winter Purple Heron was seen twice during the week at Radipole Lake RSPB in Dorset ~ seen during the morning of 1st and the late afternoon of 5th, falling just a day shy of a calendar month on site (having first been seen on October 6th).
Just over the border, in east Devon, the Cattle Egret was at Colyford Common LNR to 5th at least while around 20 Great White Egrets included four birds again at Dungeness RSPB (Kent) on 1st, with around five birds spread across Cheshire, Lancashire and Cumbria. Two birds were seen in Norfolk (at Bale and Horsey, both on 2nd, both leftovers from last week) while two birds appeared at the National Wetlands Centre (Carmarthenshire) on 4th. Notable singles were found at Scarborough (North Yorkshire) on 1st (remaining to the following day) at Ogston Reservoir and then Willington GPs (Derbyshire) on 3rd and 5th-6th, and on the Isle of Wight, at Yarmouth, on 4th.
Sixteen Spoonbills remained in Poole Harbour (Dorset) to 2nd (they'll be there all winter) with further (much smaller) multiples still on Scilly (three on Samson on 1st) and in Cornwall (two on the Hayle Estuary to 2nd). Lone birds were noted elsewhere in Cornwall (at Maer Lake, near Bude), in Dorset (in Christchurch Harbour) and in Suffolk (at Covehithe Broad).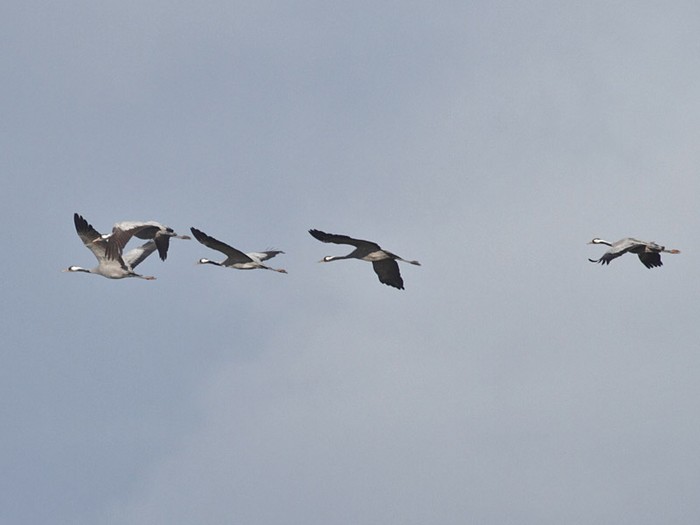 In Wexford, the four + one Common Cranes seen last week managed to join up this week, seen around the South Slob and then Tacumshin to 5th. A lone bird was in Kent on 2nd, flying over New Hythe while in Norfolk, two were seen near Burnham Thorpe on 2nd and 15 were near Brograve Farm, near Waxham on 3rd.
Ducks & Geese
In County Cork, the female Lesser Scaup found last week at Rostellan Lake (Co. Cork) remained to 4th at least and started to take some heat as the week drew to close, from both home and the UK, as birders mused on the images provided. There was an initial move towards a potential hybrid and there was also a suggestion that the bird was just an odd-looking Tufted Duck. A few more shots surfaced and the finder provided a compelling case to show that the hybrid theory (largely based on bill pattern) wasn't perhaps as strong as some had felt. The Rostellan bird and, of course, the much-discussed bird in South Yorkshire in January 2011 show that even now, 25 years since the first British Lesser Scaup was found in Staffordshire, there are still the occasional birds (seemed as curios by some) to be debated and discussed.....
A new Irish Lesser Scaup, a first-winter drake at Lough Gash in County Clare was found on 4th, while a single drake remained at Chew Valley Lake (Somerset) to 5th at least, where there was also a drake Ring-necked Duck to enjoy ~ present from 1st.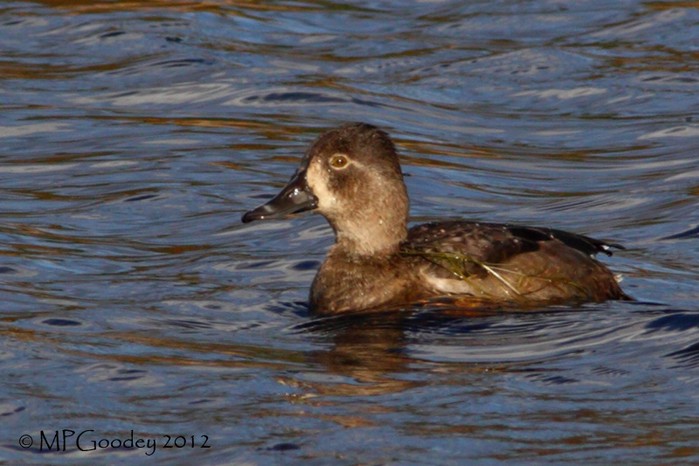 Other Ring-necked Ducks this week included a brief parting of the ways for the Scilly trio ~ one of the first-winter females left Tresco and headed back to Porth Hellick Pool on 1st (but they were all back together again on the Great Pool on 2nd). Leicestershire's first Ring-necked Duck in four-and-a-half years was found at Rutland Water on 2nd while the female seen recently at Slapton Ley (Devon) was around for the weekend. A new arrival was found at Loch Hosta, North Uist (Outer Hebrides) on 6th. Also making a first appearance this week, a female Ferruginous Duck (or Ferruginous-type ~ a hybrid may be in the offing here) was at Welney WWT (Norfolk) on 5th-6th.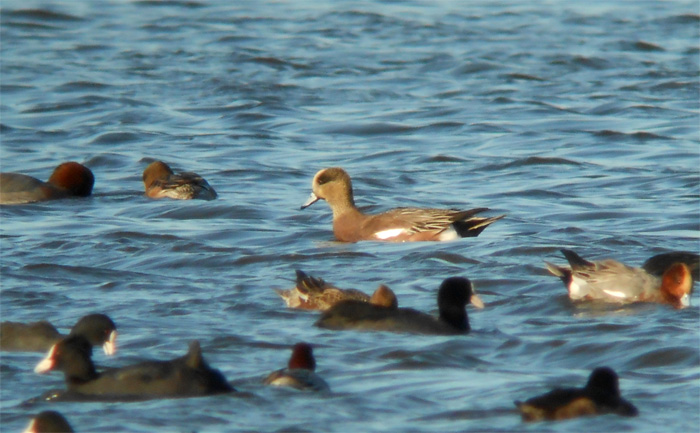 Also new this week were two single drake American Wigeon in Scotland ~ one the Loch of Strathbeg RSPB reserve (Aberdeenshire) from 31st and at St. John's Loch (Highland) on 3rd. Regular fixtures (all three of them drakes) remained at Anglers CP and the nearby Wintersett Reservoir (West Yorkshire), Kirk Loch and the nearby Castle Loch NR ( Dumfries & Galloway) and at Tacumshin (Co. Wexford) throughout the week.
Five single drake Green-winged Teals were seen this week, all of them fresh arrivals during the last seven days. First up was one at Martin Mere WWT (Lancashire) on 31st and it was followed by birds at Hodbarrow RSPB (Cumbria) on 1st, Blanket Nook, Lough Swilly (Co. Donegal) and Slimbridge WWT (Gloucestershire) and Caerlaverock WWT (Dumfries & Galloway) on 5th.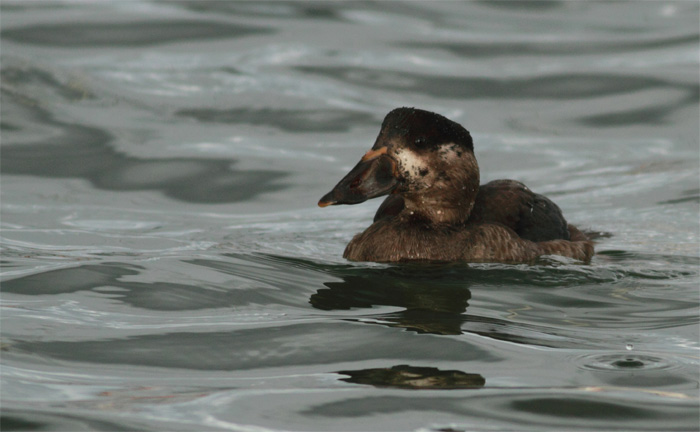 The wintering drake King Eider was seen again off Burghead (Moray) on 31st–5th while four Surf Scoters (three drakes and a female) were offshore from Llanddulas (Conwy) on 3rd ~ with at least two drakes there to 5th. Back in Scotland, a drake Surf Scoter was still off Ruddon's Point (Fife) on 1st and a new juvenile male Surf Scoter spent 31st-6th in the harbour at Carnlough (Co. Antrim).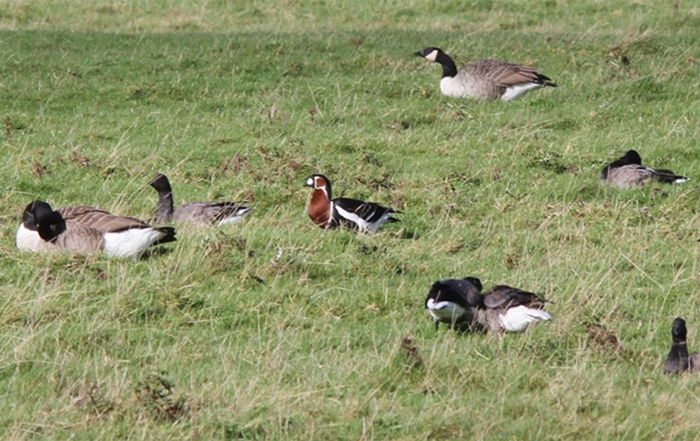 The single Red-breasted Geese on Islay and in Hampshire remained to 5th and 6th respectively ~ the Scottish bird moving between a couple of sites on the island (Ardvane and Loch Gruinart) while the south coast bird favoured Farlington Marshes HWT reserve.
Back on Islay, three Richardson's and four Todd's Canada Geese were still around Loch Indaal on 31st, with a single Richardson's joining the Greenland White-fronts on the Argyll mainland, at Rhunahaorine Point on 1st-2nd (two non-specific Canada Geese were also mentioned for the site). In Ireland, two Richardson's Canada Geese were again present around the fields near Lissadell (Co. Sligo) on 3rd.
Two Black Brants were at Ferrybridge (Dorset) on 3rd with further duos seen at the North Slob WWR (Co. Wexford) on 3rd and at Castlegregory (Co. Kerry) on 5th. A new single bird was seen at Cummeen Strand (Co. Sligo) on 4th, with further singles reported again from Dorset, Essex and Norfolk (in Poole Harbour, at the Naze and the saltings at Warham).
In east Norfolk, a Ross's Goose was found in the company of around 1000 Pink-footed Geese (and five or six Barnacles) at Waxham on 4th, where it remained to 6th. It will be fascinating to see if this is one of the regular returning adults (all of which are presumably wild, despite official rulings) or whether it is actually the adult that has been seen with a party of five, sometimes six or seven, Barnacle Geese around Cley during the last two winters (the Ross's and six Barnies were last seen in north Norfolk on March 12th this year….).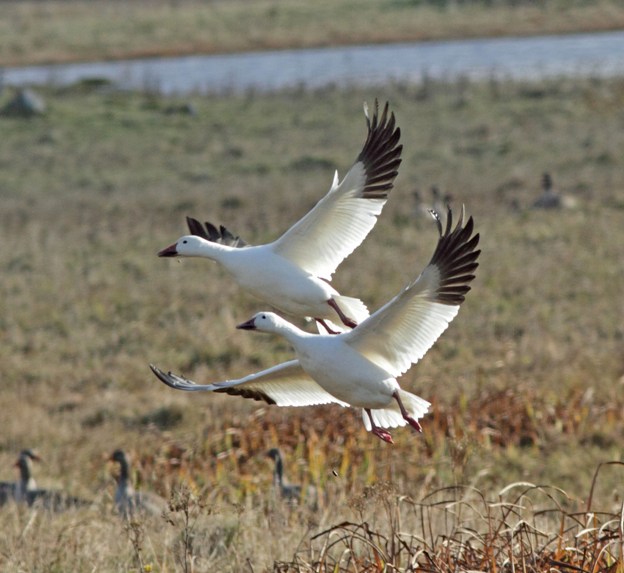 A fetching blue Snow Goose was with the Greenland Whitefronts on the flats at Loch Gruinart, Islay on 1st while the two white Snows remained at Balranald RSPB, North Uist (Outer Hebrides) to 5th.
Raptors
A probable immature male Lesser Kestrel was seen over rough grass at Marsden (Co. Durham) during the late afternoon of 3rd before heading to nearby cliffs ~ sadly there was no sign the following day of this potential county first (and, of course, mega…).
In Devon, a late Black Kite was seen over Slapton Sands on 31st while, in a lean, lean week for raptors, the only other birds of any note were Rough-legged Buzzards reported over Gedling (Nottinghamshire) and Bradwell (Essex) on 6th.
Shorebirds
Oxfordshire's second American Golden Plover was a super find on 1st ~ the bird obliged for much of the day on 2nd before heading off late in the day. It seems unlikely that it was then relocated the next day in Cambridgeshire at Ouse Fen RSPB (stranger things…stranger things…). A juvenile American Goldie was at Myroe Levels (Co. Derry) on 2nd, with two birds there on 3rd and 5th, while two (an adult and juvenile) were found amongst 5000 Golden Plover at Anthorn (Cumbria) on 5th (an adult had been seen elsewhere in the county, at Cardurnock on 2nd).
In Cornwall, single American Golden Plovers were noted at Rosenannon Downs and Dinham Flats (on 4th and 5th) and lingering juveniles in Ireland remained at Bridges of Ross and Tacumshin ~the latter site also holding on to two White-rumped Sandpipers to 3rd, with another Irish bird appearing at Rahasane Turlough (Co. Galway) on 4th. The lone juvenile White-rumped Sandpiper was still at Brora (Highland) to 31st while the two juveniles at Cley Marshes NWT (Norfolk) were still present on 1st, with one to 3rd.
Back in Ireland, a Spotted Sandpiper was seen again at Moyasta (Co. Clare), on 3rd while other lingering American shorebirds this week included three Lesser Yellowlegs ~ at Aldcliffe Marshes (Lancashire), Ernesettle (Devon) and Alkborough Flats (Lincolnshire) with the latter site also still entertaining a second Nearctic wader, the Long-billed Dowitcher present (along with the 'legs) to 3rd. Another juvenile Long-billed Dowitcher arrived at Long Nanny the day after the bird at Alkborough was last reported (surely it isn't the same bird that arrived in the northeast at the start of October?) and remained to 6th, as did the wintering adult at Slimbridge.
At Bridges of Ross, a Pectoral Sandpiper flew in off the sea on 31st and in Bedfordshire, a Dotterel was found at Southill on 4th.
Gulls and Terns
Northamptonshiore's first Bonaparte's Gull ~ an adult ~ was a terrific find at Boddington Reservoir (wonder what the finder had to drink by way of celebration…?) on 1st and, despite being absent the next evening, it reappeared on 3rd and was still present at dawn the following day.
Neighbouring counties Oxfordshire and Warwickshire have shared six previous records between them (four for the former, two for the latter) but there is a significant blank area in other counties close to Northamptonshire. In Devon, the adult Bonaparte's Gull at Dawlish Warren was seen off and on through the week and was still present on 6th.
An adult Kumlien's Gull was found at Lough Swilly (Co. Donegal) on 3rd while the week's eight Iceland Gulls were shared between England (in Staffordshire and North Yorkshire), Scotland (in Ayrshire, Clyde and on Shetland) and Ireland (in Down, Donegal and Antrim).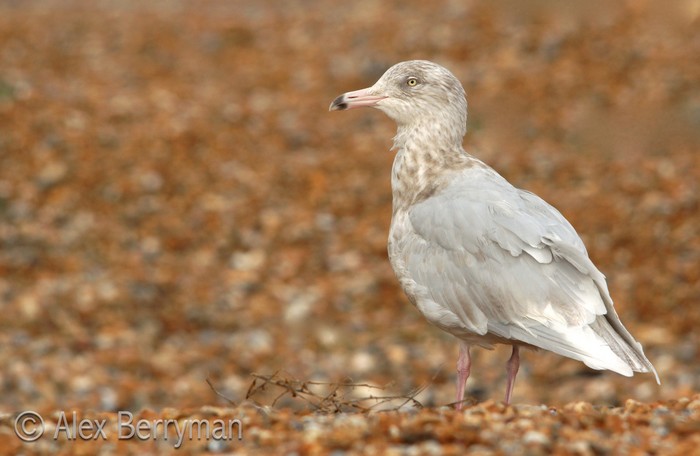 Two juvenile Glaucous Gulls were seen at Borve, Benbecula (Outer Hebrides) on 31st and up to seven were seen around the Hebrides on 6th (including four birds, three of them juveniles in the area around Butt of Lewis). Two singles were logged in Galway on 3rd and they made up a figure of some 20 birds seen during the week (spread from Kent to Shetland).
Also rising slightly in number this week was Ring-billed Gull ~ new birds were found at Carr Lane, Hale (Cheshire) on 31st, Nimmo's Pier (Co. Galway) and Sandymount (Co. Dublin) on 1st, Portrush (Co. Antrim) on 2nd and Rosslare (Co. Wexford) on 3rd. Of these, the Cheshire bird was a second-winter and the Portrush bird was a first-winter ~ the other three were adults and could well be retuning birds….other Ringos this week remained at Gosport (Hampshire) and Groomsport (Co. Down).
The potential Azorean Yellow-legged Gull (or "Atlantic Gull" of some sort or hybrid) was again at Rutland Water (Leicestershire) on 3rd (along with a very impressive haul of seven Caspian Gulls)….and what may have been the same bird was at Chasewater (Staffordshire) on 5th.
In Galway, the wintering Forster's Tern still around Nimmo's Pier on 1st-2nd before heading across Galway Bay to Doorus on 4th.
Passerines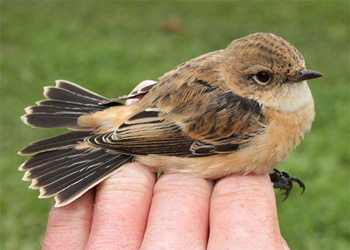 Leading the passerine line this week comes news that the dark-looking Siberian Stonechat seen last week at Portland was indeed proven to be of the eastern Siberian form stejnegeri ~ another job well done for Martin Collinson at the University of Aberdeen ~ and, more remarkably still, it has been proved to be the very same "Stejneger's Stonechat" that had been watched for the previous two weeks or so on Texel, in the Netherlands.
The bird was present on the Dutch island from October 8th-23rd and, daa-dah….the bird at Portland was found on 24th. Detailed examination of numerous photographs of the bird from both countries has proved that it really is the same bird ~ so it now comes down to how this first form record (for both the UK and the Netherlands) will be looked at by the two countries respective committees.
There has long been a push to see maura and stejnegeri split from each other (with the startling Caspian Stonechat variegatus as a third species within the group). But almost as soon as those people who took the chance and went for the Portland bird began to get their listing pencils out, then online information came along to muddy the waters and the taxonomic complexities of the "Siberian Stonechat" group became all too apparent….
…how to move things forward? Well, in terms of field identification, it may be tough. Any dark looking Siberian Stonechat may be worth looking at with due care and attention but there's a lot to be learned before definitive in-the-field calls can be made. Those with some time on their hands could begin searching the archives and doing a little bit of "compare and contrast" with Siberian Stonechats of old and the confirmed Portland Stejneger's Stonechat to see how many (if any) match….
This week on Shetland, Britain's fourth November Arctic Warbler was found at Helendale, Mainland on 6th ~ the only previous November records have been in County Durham, both in 1984 and Shetland, at Baltasound, on November 10th 2007.
More remarkable than a November Arctic Warbler was Shetland's mini-invasion of Hornemann's Arctic Redpolls ~ following on from one at Baltasound on 2nd, two birds were at Isbister, Mainland on 4th but these were blown away by an amazing five birds at Baltasound on 4th, followed by six (four still at Baltasound and two at nearby Halligarth) on 6th.
Shetland also saw the arrival of a potential Caspian Reed Warbler (A.s.fuscus) ~ trapped and ringed at Kergord, Mainland on 4th and still there the next day, with a second potential fuscus making itself known in Somerset, at Apex Leisure Pits, near Highbridge.
There are a few claims of possible/probable/potential/putative Caspian Reed Warblers from the previous decade or so ~ notably on Fair Isle, Filey Dams and Kelynack but they remain nigh-on-impossible to prove. It could be seen as being like trying to ID a Stejneger's Stonechat in the field, only harder….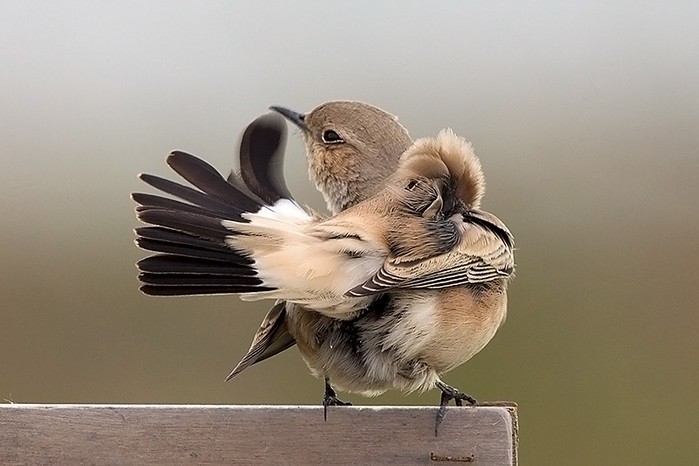 No ID conundrums where the Abberton Reservoir Desert Wheatear was concerned, the popular, showy female present to 5th.
Late news last week from Suffolk of a Radde's Warbler trapped and ringed at Hollesley on 30th, while this week saw the continued presence of the neat and tidy Hume's Yellow-browed Warbler at Beachy Head (East Sussex) ~ present to 4th ~ with a second bird seen across on the Isle of Wight, at Ventnor, on 31st-1st. On Scilly, the Blyth's Reed Warbler on St. Mary's was seen to 2nd.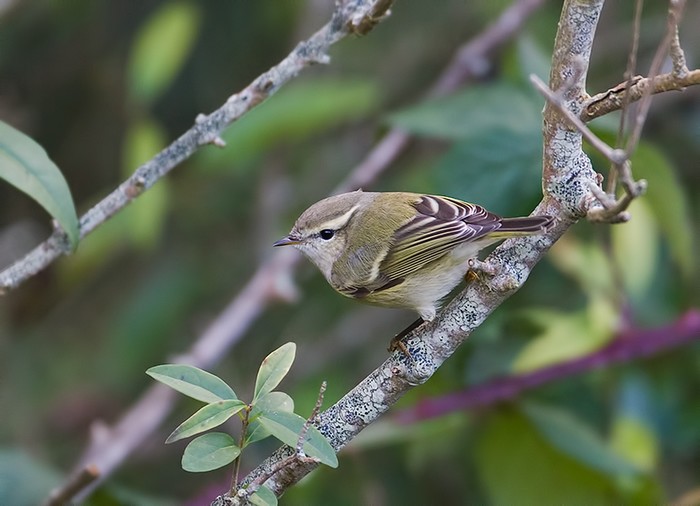 Four late Barred Warblers this week were seen at Stanpit Marsh (Dorset) on 31st, still at Minsmere RSPB (Suffolk) on 2nd, Kergord, Mainland Shetland on 4th and at Kilminning (Fife) on 5th.
Yellow-browed Warbler numbers fell away considerably this week ~ around 20 birds seen, including five or so on Scilly and four in Dorset (including two at Hengistbury Head on 4th). Two singles were on Shetland, one was out in Argyll and two were seen in Gloucestershire (at Slimbridge and Frampton-on-Severn).
Scilly held up to four Red-breasted Flycatchers early in the week, a couple of birds on St. Mary's on 31st-1st, with further singles following on St. Agnes on 3rd and St. Martin's on 4th. Two birds were seen in Ireland, at Kilbaha (Co. Clare) on 1st and Firkeel (Co. Cork) on 2nd, with the final bird of the week appearing in Cot Valley (Cornwall) on 6th.
An Olive-backed Pipit was at Burrafirth, Unst (Shetland) on 3rd, while two of the week's four or five Red-throated Pipits were seen on Scilly (one each for St. Mary's on and St. Agnes on 1st) with one at Tacumshin on 2nd and Slimbridge on 6th making up the quartet (a fifth bird was reported in London, at Barnes WWT Centre, also on 6th, but remains unconfirmed).
In Wales, a Tawny Pipit was seen briefly at Great Orme (Conwy) on 3rd, while Cornwall reigned supreme in all things Richard's Pipit ~ up to five singles seen during the week, at Porthgwarra, St. Levan and Nanquidno in the far west of the county and at Coevrack and Gunwalloe, both on the Lizard. Elsewhere, there were perhaps two birds in Norfolk, one in Suffolk, one in Kent and, for the islands, one on Scilly and one on Farnes.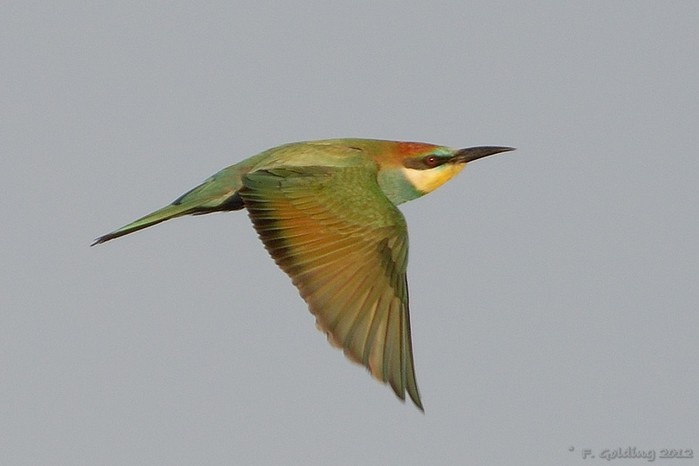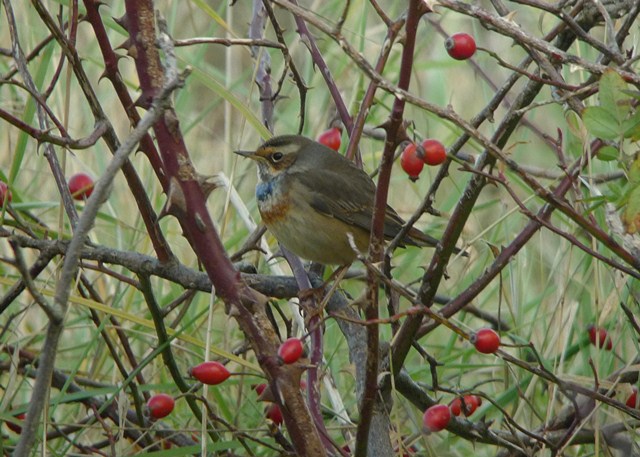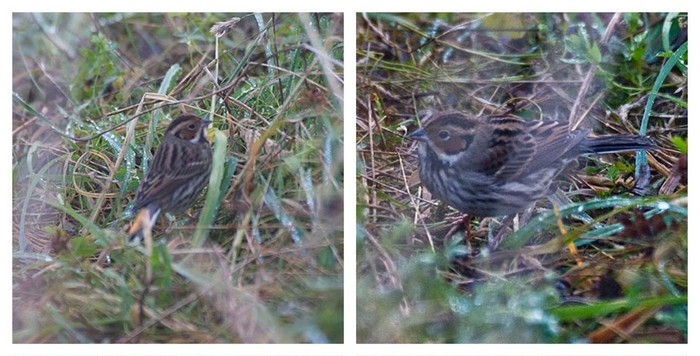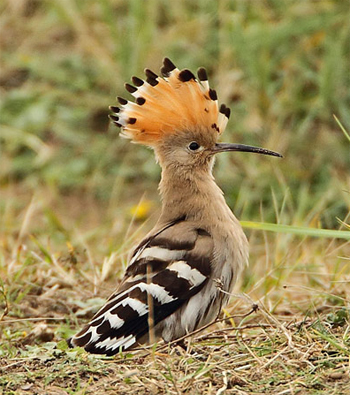 Two Bluethroats to report this week ~ one on Tresco on 2nd and a male at Gibraltar Point (Lincolnshire) on 3rd while a Little Bunting drew a few admirers to County Durham this week, one present near Houghton-le-Spring from 2nd-5th. Whether it was as popular as the young Bee-eater in nearby Seaburn is a mute point probably ~ it would have made for a very nice little double. The Bee-eater was first seen on 31st but it took until 3rd to be seen again ~ it then continued to perform until the end of the week.
In Scotland, single Red-rumped Swallows were at Blackness (Forth) and Wester Shore Wood (Lothian) on 3rd, with the latter bird still in place the following day. The Sand Point Hoopoe took its leave of Somerset on 5th, while others this week were on Whalsay (Shetland) on 1st-4th, Godlingston Heath (Dorset) on 3rd and flying over the main A149 near Old Hunstanton (Norfolk) on 6th. Also in Norfolk, a young Common Rosefinch was trapped at Winterton on 31st and the only Serin this week was on St. Martin's (Scilly) on 2nd.
Kent played host to the week's three Penduline Tits ~ at Oare Marshes on 31st, Dungeness on 5th and Grove Ferry on 6th while, a rather different beast altogether, a Black-bellied Dipper was seen at Gulberwick, Mainland (Shetland) on 3rd. The racial identity of a Norfolk Dipper (seen and photographed at Thetford on 6th) will be one to watch with interest too….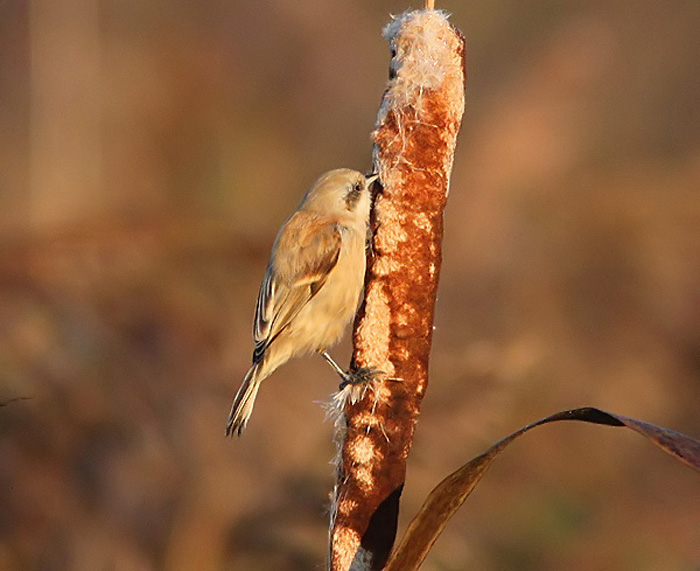 We'll conclude the round-up this week with a couple of classic early winter warmers…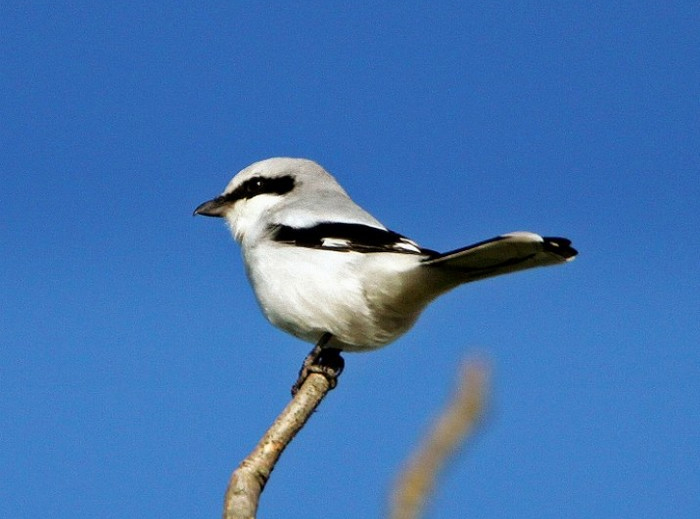 Great Grey Shrikes totalled around 14 individuals this week ~ four of them were seen in Wales (in Powys, Denbighshire, Pembrokeshire and Glamorgan) and there were two on Cannock Chase (Staffordshire) on 2nd. Two singles were in Norfolk in the early part of the week and passage birds were also noted in Cleveland, Lincolnshire Hertfordshire (at Rye Meads RSPB on 3rd) and Essex, a showy bird near Colchester from 2nd.
……Waxwings….everywhere there were Waxwings! Well, not quite, but it was great to see that we seem to be heading for another winter filled with these velveteen beauties. There were dozens and dozens of double figure flocks and the first three figure groups were also recorded this week. The Northern Isles were awash with small groups and more sizeable gatherings too ~ many 100's spread across Shetland and Orkney alone and then it was the islands on the western side of Scotland that started to hit the big numbers (particularly sizeable given the early date…).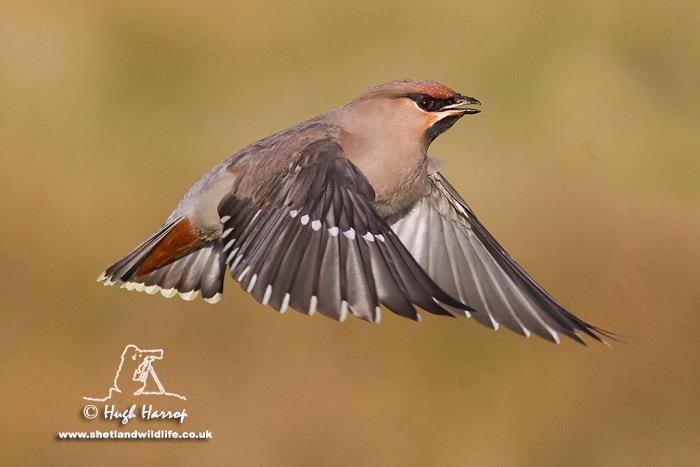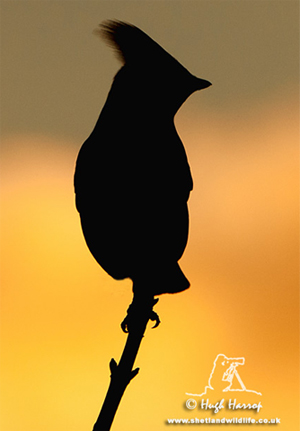 Numbers across Scotland this week will run to some 3500 – 4000 birds at least and, after some high-scoring double figures, 100 arrived at Stromness (Orkney) on 31st, rising to 150 by 3rd. Then 200 were seen at Castlehill (Highland) and on 4th there were 350 in Stornoway, Lewis (Outer Hebrides) and over 300 around the Isle of Skye and a further 100 at Dunvegan (Highland). The following day on Skye, there were 400 at Broadford and another 650 or so elsewhere around the island, including 300+ at Camustianavaig.
Further big Scottish numbers as the week drew to a close were 220 at Ullapool and 200 in Dingwall on 5th with 170 at Corstophine, Edinburgh on 6th.
Drifting down in to the northeast, several hundred Waxwings were seen this week, including 82 over Skelton (Cleveland) on 6th, with 37 through Spurn the same day, and 40 at Stockton-on-Tees, also on 6th while further down the east coast, around 350 birds were seen in East Anglia including 35 in Lowestoft (Suffolk) on 6th, 23 in Langham (Norfolk) on 5th, with at least 26 at Hunstanton and Great Yarmouth on the same day and 30 at Thorpeness (Suffolk).
Well over 100 birds were seen in the northwest, including at least 28 in Penrith (Cumbria) on 6th and 40 or so were seen through the Midlands (with groups of nine in Warwickshire, Leicestershire and Nottinghamshire).
Some 30 or so Waxwings made it to the southeast, including a flock of 14 at Ramsgate (Kent) on 1st and 40 or so even made it to the far southwest (not an area renowned for numbers of Waxwings). Seven birds were at Yelland (Devon) on 6th, up to 10 birds were in Cornwall and five islands on Scilly registered birds this week, including at least eight on St. Martin's on 4th.
The autumn isn't over just yet ~ there's surely still one or two more to emerge form the mega-locker ~ and the smart money remains on one or two of those advancing Pine Grosbeaks leaping away from the west of Norway and jumping a few more 100 miles across the North Sea….
The thunderous clip-clop, clip-clop of a Crazy Horse is taking me away for a few days to the Pacific northwest and beyond, so whatever appears in the next couple of weeks, the learned Andy Stoddart will be on hand to guide you with the very best analysis of the week's bird news anywhere on the 'net….
Mark Golley
07 November 2012

This weeks contributors
Thanks to all the contributors for their photos and videos
David Bradnum
,
Paul Kelly - Irish Bird Images
,
Martin Goodey
,
Derek Hale - Isle of Wight (IOW) Birds
,
Stephen Duffield - Western Isles Wildlife
,
Alex Berryman
,
Chris Upson
,
Mark Tomlins
,
Tommy Hyndman - Fair Isle
,
Hugh Harrop / Shetland Wildlife
,
Gary Thoburn
,
Tristan Reid
,
Marc Heath - Stour Valley Photo Blog
, Richard Zamora, Killian Mullarney, Alex Rhodes, David Potter, Andrew Hood, Niall Keogh, Geoff Campbell, John Hilton, Frank Golding, Martin Cade, Paul Neale, Phil Parsons, Andy Thompson, Chris Baines