Weekly round-up: 24 - 30 Oct 2012
The week at a glance
Sensational belated news from Dorset ~ Pale-legged or Sakhalin Leaf Warbler on Portland
Chestnut-eared Bunting shows well on Shetland
…while the Siberian Rubythroat doesn't!
Bobolink and American Buff-bellied Pipit make for a Super Sunday on Shetland too….
Pied-billed Grebe makes it to Mayo
The Kilminning Eastern Olivaceous Warbler lingers into another week
Juvenile female Northern Harrier continues to perform in Wexford
Scilly hangs on to an American Buff-bellied Pipit and there's a Blackpoll Warbler too
Short and sweet this week ~ the rarities just kept on coming through much of the week as various ripples of weather continued to pepper the country with a continuing northeasterly airflow that maintained fall conditions until almost the weekend.
The first blast of some truly Arctic air followed as seawatchers along the whole of the east coast donned the oil-skins to brave the cold and wet. As the review period drew to a close, sunny spells, southwesterlies and showers were the order of the day as many wondered "what's next".
Many birders though were still picking themselves off the floor after some mind-boggling news came through from the south coast……

Headline birds
Oh. My. Goodness. There have been some fairly amazing moments in these past four weeks of 2012 already ~ the Fair Isle Magnolia Warbler was one (a not entirely unexpected repeat, despite the 31 year wait). The wonderful discovery of the Eastern Kingbird off the Galway coast, on Inishmore was another (a long predicted vagrant finally making it over the Atlantic) while last week's remarkable second showing of a wonderfully far-flung vagrant from the Eastern Palearctic, the Shetland Chestnut-eared Bunting, seemed to sound a suitably resounding farewell from the cream of the crop of the top-ranked rarities of the autumn.
How wrong was that!?!?!
It is really hard to believe that Chestnut-eared Bunting could ever play second fiddle to anything. If something was to topple such an extraordinary bird, it would truly have to be off the scale. A bird that would push back vagrancy boundaries. A bird that would turn the Spinal Tap amp up to 11…..
…well. It's happened…
During the evening of 24th, news emerged of what may be the most extraordinary passerine vagrant of all time…..an extraordinary Phylloscopus warbler had been seen and photographed in a garden on the Isle of Portland during the afternoon of 22nd and it was one of two species….
Portland Bird Observatory warden Martin Cade takes up the story
"Many birders will remember Pete and Debby Saunders' garden at Southwell, Portland, from the Collared Flycatcher twitch in April 2009, and, with back-up rares of the quality of Yellow-breasted Bunting also on the garden list, it was no great surprise when they phoned to report two Yellow-browed Warblers in their sycamores on a day when Portland was awash with migrants.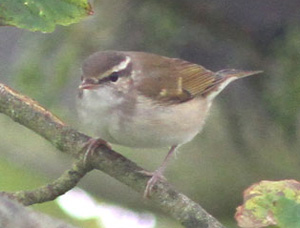 Their next message though was a good deal more arresting: 'Eastern Crowned Warbler in the garden!' Debby explained that the unfamiliar phyllosc had appeared and they'd summoned Portland-resident, Grahame Walbridge, who was birding nearby, for help and he'd made the call. News was quickly released to a few local birders, who contented themselves with views of sorts as the bird darted about high in its chosen single sycamore. Towards evening it came lower and questions began to be asked, notably concerning the apparent lack of any trace of a crown stripe.
Sadly, at the time of discovery, general access wasn't possible but, during the evening, once the photographs had been scrutinised and the bird's true identity had been narrowed down to this notoriously tricky pair of species, an agreement was reached whereby the Observatory would attempt to trap the bird the following morning (23rd).
If successful, we were looking to relocate the bird to a site close-by which would allow more general viewing ~ unfortunately the bird didn't play the game ~ it wasn't present in the garden and it wasn't seen during subsequent days.
With the bird only being observed in the field it seems highly likely that it will never be possible to identify the bird to species level ~ a critical in-hand examination would appear to be the only way to be certain of the bird's absolute identity and make the call between Pale-legged Leaf Warbler and Sakhalin Leaf Warbler.
Paul Leader got in touch with us and, very kindly, commented on the images he had seen of the Portland bird. His initial thoughts, some of which are detailed below, slightly favoured Sakhalin Leaf Warbler.
"Plumage wise, there is nothing to choose as the two species are extremely similar"
"Structurally, the apparent relatively long primary projection may be a pro-SLW feature."
"In terms of range, there is little to choose: although PLLW breeds further west (around 7100 km from Portland), the bulk of the breeding grounds are further east at 7400-8500 km away; Hokkaido/Sakhalin are approx. 8300-9100 km from Portland."
"SLW is, on average, a later migrant in Hong Kong"
"On the breeding grounds, SLW is highly arboreal, singing in the canopy, whereas PLLW is generally a low-level skulker" (the Southwell bird spent most of its time relatively high up in a sycamore in a fashion not unlike Yellow-browed Warbler).
Little is really known about Sakhalin Leaf Warbler ~ a two-line, 30 word statement is all that exists on Wikipedia (!) but the IUCN Red List of Threatened Species mentions that….
"The global population size has not been quantified, though national population estimates include: < c.50 individuals on migration in Korea;c.100-100,000 breeding pairs and c.50-10,000 individuals on migration in Japan and c.100-100,000 breeding pairs and c.50-10,000 individuals on migration in Russia (Brazil 2009)."
The population trend appears to be stable for the species and it does not approach the threshold for "Vulnerable" status ~ indeed it is listed as a species in the "Least Concern" category.
The same Red List states the following for Pale-legged Leaf Warbler….(43 words in the two line Wikipedia entry for this one…!)
"The global population size has not been quantified, but the species is reported to be quite common (Baker 1997), while national population estimates include: c.10,000-100,000 breeding pairs and c.1,000-10,000 individuals on migration in China; possibly < c.50 individuals on migration in Taiwan; c.100-10,000 breeding pairs and c.50-1,000 individuals on migration in Korea and c.10,000-100,000 breeding pairs and c.1,000-10,000 individuals on migration in Russia (Brazil 2009)."

As with Sakhalin Leaf Warbler, the population trend also appears to be stable for the species and it too does not approach the threshold for "Vulnerable" status ~ just as with Sakhalin Leaf Warbler, Pale-legged Leaf Warbler is listed as a species in the "Least Concern" category.
Sibley and Monroe state that tenellipes and borealoides are separable only by their territorial songs and calls and it would seem, from a swift trawl through online conversations from people who really know, that it may well be just the song that holds firm as the best way to separate the two (which were, for many years, lumped as one species, both tenellipes and borealoides falling under the Pale-legged Leaf Warbler umbrella).
Whilst discussing the new order of ultra-long-range vagrants last week this was mentioned…."we have been getting more and more birds from deep within the Eastern Palearctic in the last decade ~ Rufous-tailed Robin and Eastern Crowned Warbler" ~ well, we can now add something else to that list….whether it was Pale-legged or Sakhalin Leaf Warbler it is the most astonishing record and, in the decades to come, the past 10 years or so will be used to map out the beginning of a brand new phase of extraordinary vagrancy.

Leading on from this jaw-dropping record, and the other far-out, far eastern monster rarities of the last decade (the two Robins, the two Eastern Crowned Warblers, the two Chestnut-eared Buntings and now the brand new Phylloscopus) ~ could there be any implications for other older records of previous long-range potential vagrants.
Questions may be asked once more about the Sunk Island Mugimaki Flycatcher. Likewise the Fair Isle Chestnut Bunting (though presumably not the Norfolk one) and perhaps even one or two of the neat-looking Pallas's Rosefinches and even the Norfolk Meadow Bunting (in the dunes at Hunstanton in early 1996 and, in early May 2001, along the track at Burnham Overy)….could any of these actually fall in to the required zone of acceptance now?

It seems unlikely, certainly for the latter two species, but the former two? Maybe, just maybe there's a chance of an upgrade for them. Both Mugimaki Flycatcher and Chestnut Bunting fell short (just short in terms of the Fair Isle Chestnut Bunting ~ early September 2002) of the dates in which this new crop of Eastern Palearctic vagrants have occurred, but were any of the four species named above actually the fore-runners of the latest batch of vagrants?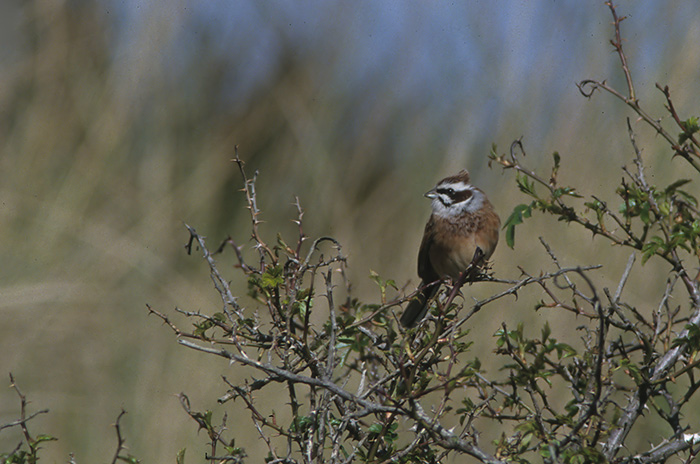 Leaving the Thesaurus to one side, resting the assorted pages for superlatives, it's onwards and upwards to Shetland and at Virkie, towards the south end of Mainland, where the show-stopping Chestnut-eared Bunting was finally given the thumbs up by observers on the ground (rather than online) on the morning of 24th ~ a few plane loads headed north and the bird performed well, from time to time, through to the following day (presumably the change in the weather overnight on 25th/26th may have had something to do with its departure.
It really is incredible to think that Britain has had not one but two of these eastern buntings now ~ less of a surprise is that, so far, both have been on Shetland but there now seems every chance that if we've had two, a third may come along in the next three or fours years and maybe someone with extra sharp eyes and rarity radar switched to overload will discover one on the mainland….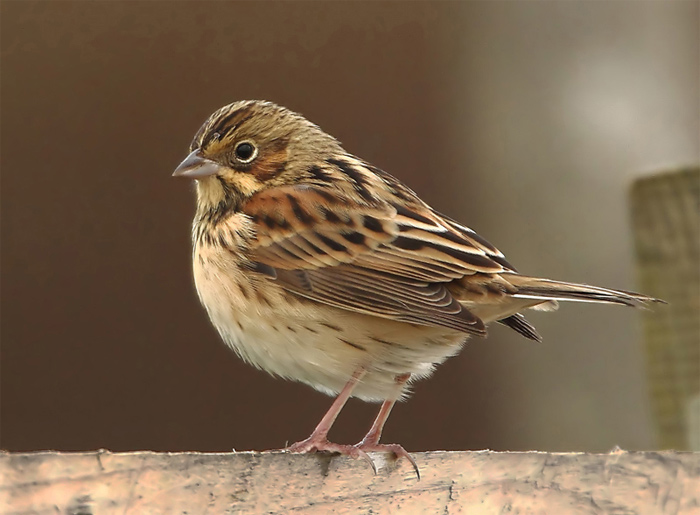 ….another bird which would be given a standing ovation on the mainland is Siberian Rubythroat. Last week's end of the day discovery on Fair Isle seemed to grind to a halt on 24th ~ no sign around Schoolton and it seemed as though it was Fair Isle's first-ever one day bird (Fair Isle's other three Rubythroats have stayed for three, five and three days respectively).
…however! That wasn't the case ~ former Observatory warden Deryk Shaw glimpsed the bird over at The Haa on 25th and the bird then remained around the area (albeit tough to see) until 29th ~ much to the delight of the few folk left birding on the island.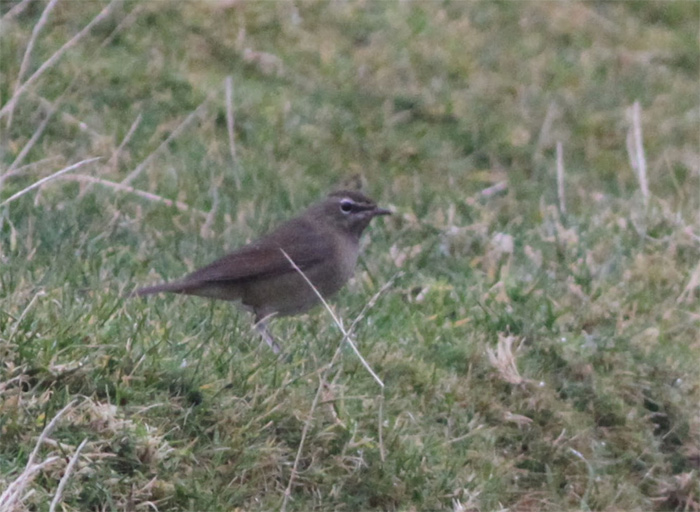 New for Shetland this week were two visitors from the Nearctic, both found on 28th ~ one on Mainland, one on Foula.
First up was a Bobolink, found at Hillwell, Mainland ~ the seventh record for Shetland and the first one there since September 2008. There have been three other records during the 2000's ~ the 2008 bird (on Foula), another Foula bird in 2005 with another on Out Skerries in 2000 itself.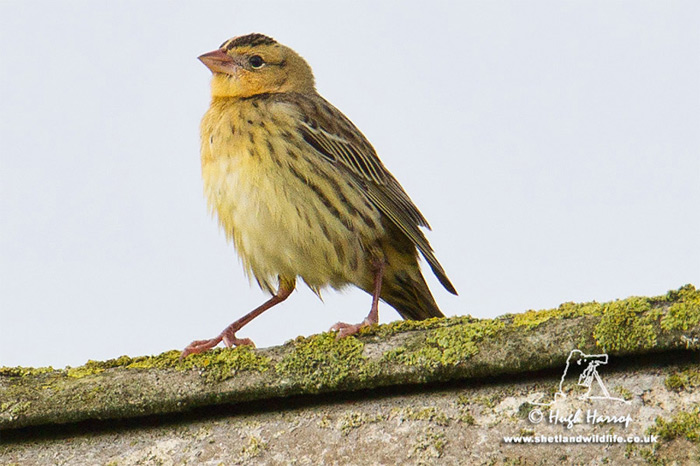 Prior to that, Shetland Bobolinks were seen in 1998 (on Mainland), 1986 (on Fair Isle) and the first was found on Out Skerries in 1975. All were found in mid to late September and this individual, the first Bobolink for two years becomes the second-latest ever, beaten only by a November 1st arrival of a three-week stayer at Hengistbury Head in 2002.
Also on 28th, birders on Foula discovered Shetland's third American Buff-bellied Pipit of the autumn. It could be a record-breaking year for the species ~ possibly up to a dozen recorded so far.
In Ireland, a Pied-billed Grebe was found at Lough Baum, near Westport in County Mayo on 29th, and was still showing the following morning. A first for the county, this is the 12th Pied-billed Grebe to be found in Ireland ~ Cork leading the way with up to five birds with three in Wexford, two in County Clare and singles in Limerick and Donegal.
Proving to be rather more accommodating was the Kilminning Eastern Olivaceous Warbler ~ still enjoying life in Fife, present throughout the week. Five of the 20 accepted records have made it in to double figures and the 17 day stay of this year's bird pops it in to the top three long-stayers ~ easing ahead of a 15 day stayer on St. Agnes in September and October 1998 and now just behind a 22 day individual on Cape Clear in September and October 1999.
The superb juvenile female Northern Harrier remained around the Lingstown area of Tacumshin (Co. Wexford) until 30th ~ the remarkable run of records there really does take some explaining but there's no doubting that each and every one has been a bob-on Marsh Hawk and this youngster was as neat as neat can be.....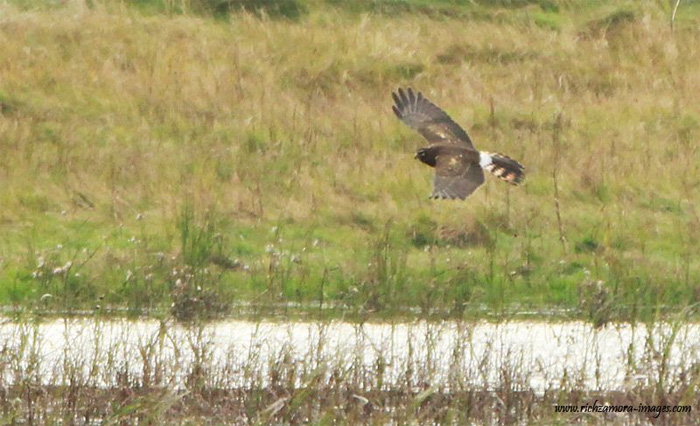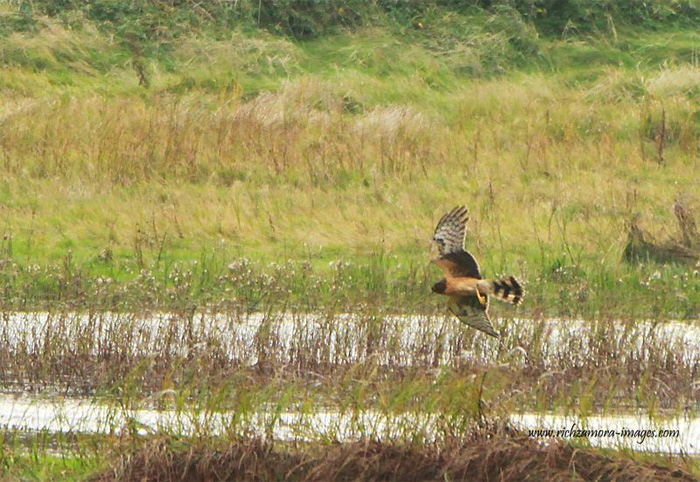 On Scilly, a (new?) Blackpoll Warbler was found at Content, on St. Mary's during the afternoon of 28th. It looks (from images) that it could be a new arrival and not the bird seen earlier this month on Bryher ~ that was last reported there on 18th and although not far apart, it seems hard to think that it could go missing for too long. This week's bird was still present on 29th.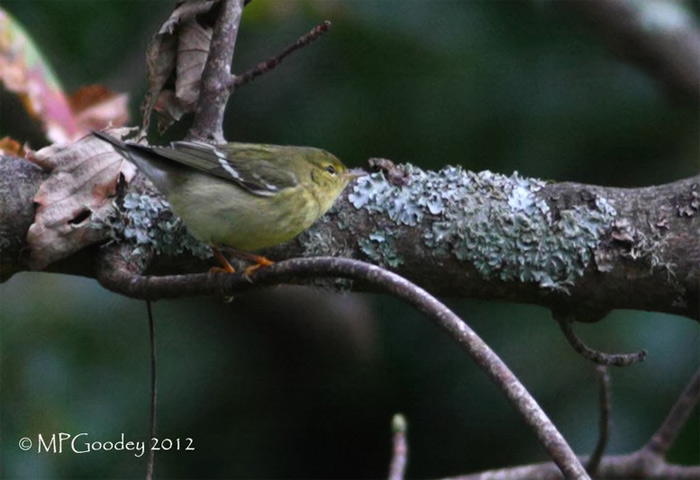 Talking of Bryher ~ in Rushy Bay, the American Buff-bellied Pipit continued to perform for the visitors that remained around the islands this week ~ still present and often showing well to 27th.
Seabirds
The blast of chilled northerly air as the weekend approached gave a neat selection of late autumn seabird fayre. Leading the way, a couple of White-billed Divers ~ the first one photographed heading over Flamborough Head (East Yorkshire) on 25th with the second of the week passing close inshore off Whitburn Coastal Park (Co. Durham) on 27th.
The 25th also saw the first drift of Little Auks along North Sea coasts ~ with five birds off Flamborough and one at Canvey Island (Essex). Some 50 or so were recorded on 26th while the year's first significant passage followed on 27th ~ well over 1200 noted, including 365 from Flamborough, 300 off the Farnes, 115 at Long Nab, Burniston and 100 off Girdle Ness.
On 28th, even more of these fabulous High Arctic travellers were seen ~ figures heading easily towards 2200 birds including 505 from Whitburn (by 10.30am) and another 300 off Flamborough (by noon). In Borders, 243 Little Auks were seen from Eyemouth, Filey scored 154 and in Northumberland, 107 were counted from Howick.
All these pretty impressive figures were smashed by noon of 29th ~ a whopping 4,513 were counted from the Farnes as the clock struck 12 ~ averaging out at some 820 birds an hour, around 14 or so every minute…
…and the close of play score came to 4,902 ~ neat!!!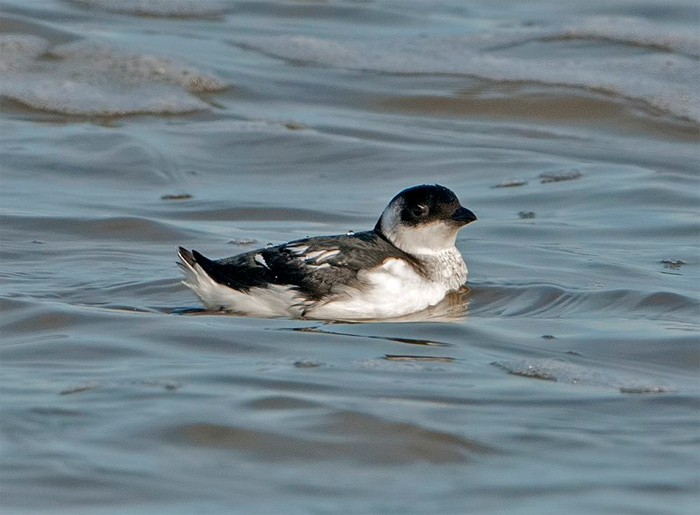 Also caught up in the weekend seabird movements were two Long-tailed Skuas off Spurn and another at Cley (all on 27th), around 100 Pomarine Skuas (just over 20 on 26th, including 10 at Spurn, with a dozen there the following day in a total of some 80 birds along the east coast ~ Filey registered 10 birds too ~ some 11 or 12 Grey Phalaropes (including up to four singles in Norfolk on 27th), six Sabine's Gulls (including up to three in Essex on 26th-27th, with two reported off the beach at Holkham (Norfolk) on 27th and another off Long Nab, Burniston the previous day and a Leach's Storm-petrel off Spurn on 26th (with another off Strumble Head on 28th).
The only Balearic Shearwater of the week was seen from Scillonian III on 26th while the autumn northerlies shoved around 80 Sooty Shearwaters down the east coast with seven from Flamborough Head on 27th the week's highest tally of the week.
Herons, Egrets & allies
Five separate Glossy Ibises were noted this week ~ no surprise that there was still one at Marloes Mere on 24th (and again on 28th) with another at Keyhaven (Hampshire) on the former date. Further singles were seen over Hengistbury Head (Dorset) on 25th, heading low over the Ouse Washes RSPB (Cambridgeshire) on the same date with the final bird of the week at Ham Wall RSPB (Somerset) on 29th.
Also in Dorset, the juvenile Purple Heron was seen again, in flight, over the reeds at Radipole Lake RSPB on 27th while along the way three of the week's 30 or more Great White Egrets were seen at Somerset's Westhay Moor NNR (Somerset) on 27th. But that wasn't the highest single-site total this week, four at Dungeness on 27th-29th takes that particular honour (with a fifth Kentish bird over Tonbridge on 28th).
Two birds were again at Parkgate Marsh (Cheshire) early in the week and two singles were noted in Devon, Lancashire and Norfolk as well. Other notable birds seen around the country included one on Scilly from 25th and inland at Belvide Reservoir (Staffordshire) on 24th, with perhaps the same individual appearing at Sandwell Valley (West Midlands) on 26th. Another Midlands bird was at Netherfield Lagoons (Nottinghamshire) on 25th with another reaching Ireland, found at Castlemaine (Co. Kerry) on 29th.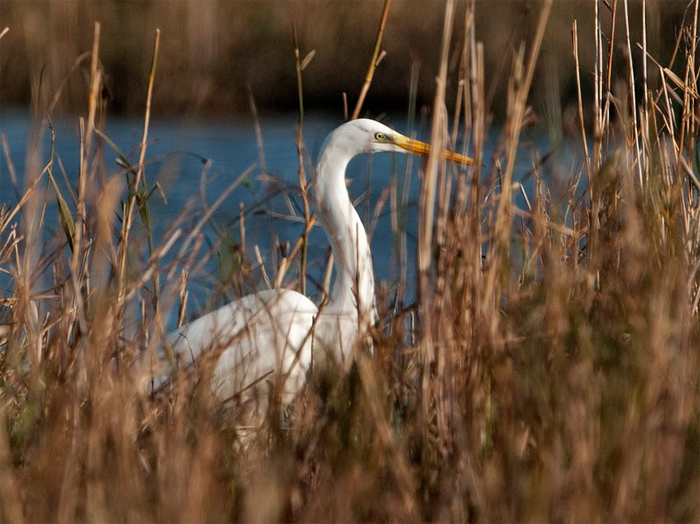 A Cattle Egret was seen in east Devon on 27th-29th (at Seaton, Axmouth and Colyford) while the Spoonbill tally for Dorset this week peaked at 15 at Middlebere on 25th with three lingering on Samson (Scilly) at the start of the week along with a further three on the Hayle Estuary, while up on the north coast of Devon, five birds remained at Isley Marsh RSPB on 25th. Two birds were seen around Hampshire on 24th (at Titchfield Haven, Eling and Blashford Lakes) while in Ireland, the regular wintering Spoonbill was back at Cromane (Co. Kerry) from 25th.
Common Cranes this week were confined to five sightings ~ five birds headed east over Reculver on 26th with eight seen at Rutland Water (Leicestershire) on the same day. Three Cranes flew over Weymouth (Dorset) on 27th while in Suffolk two birds were seen over Falkenham on 29th (and then Benacre the following day). Four birds were seen in Wexford, heading towards Lingstown on 29th and they too were seen again on 30th. Meanwhile in Lancashire, four White Storks were reported heading over the M6 near Preston on 26th.
The week's only Spotted Crake was the showy bird that remained at Lower Moors, St. Mary's from 24th-27th.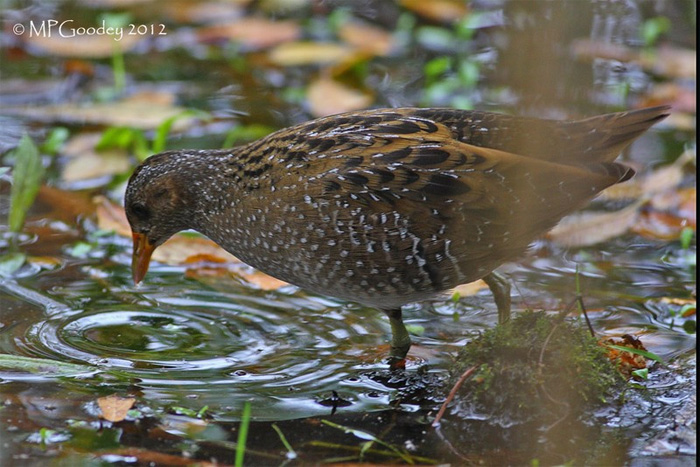 Ducks & Geese
Scilly's three first-winter Ring-necked Ducks (the single drake and two ducks) remained at Porth Hellick Pool to 24th before relocating to Tresco for a couple of days from 25th.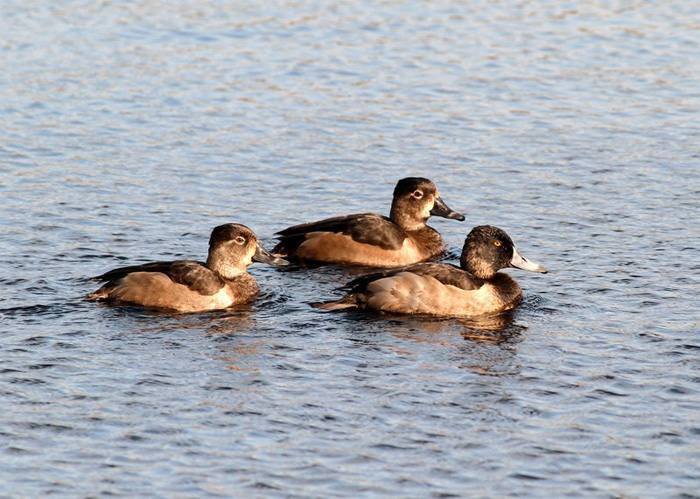 The drake on Achill Island was still present on 29th while further lingering birds from last week were the drake at Lough Shivnagh (Co. Donegal) and the first-winter female at Slapton Ley (Devon) ~ both present over the weekend ~ while two drakes were new at Lough Gara, in Sligo, on 24th and a new first-winter drake was at Wimbleball Lake (Somerset) from 27th.
Another new Aythya found during the last seven days was the female Lesser Scaup at Rostellan Lake (Co. Cork) on 27th-29th, while the two drakes on Chew Valley Lake (Somerset) were still both in place on 25th, with at least one to 28th.
All of last week's American Wigeons remained in to another week ~ drakes still at Anglers' CP and nearby Wintersett Reservoir in West Yorkshire, at Kirk Loch in Dumfries & Galloway and Tacumshin in Wexford, while on the Outer Hebrides, at Loch Bee on South Uist, a drake was seen again on 24th and 28th (perhaps the bird seen here at the start of the month).
Also making a reappearance this week were a couple of vagrant teals ~ in Galway, the Blue-winged Teal was again at Rahasane Turlough on 30th while the drake Green-winged Teal was again at Netherfield Lagoons (Nottinghamshire) on 25th ~ it had last been seen on 14th ~ while two drakes were in Bell Harbour (Co. Clare) on 29th.
Staying in Clare, a juvenile Surf Scoter was found at Lahinch on 29th with single drakes remaining off Llandulas (Conwy) and Largo Bay (Fife) to 26th at least. A female Surfie appeared at Embo (Highland) on 27th with the fifth of the week amongst the Common Scoters at Saunton Down, in north Devon, on 28th.
The Kent Red-breasted Goose became the Hampshire Red-breasted Goose this week ~ leaving South Swale NNR at the end of last week to arrive at Sturt Pond at the start of this week (on 24th) before moving on to Farlington Marshes HWT on 25th, where it was seen again on 28th too. In Argyll, the Red-breasted Goose remained on Islay for much of the week ~ seen at Loch Gruinart and Ardvane to 29th at least.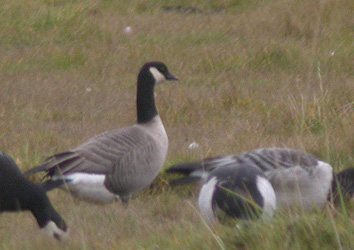 It has been a great week for fans of Canada Geese this week. At least nine Richardson's Canada Geese were noted ~ four were together on Islay on 29th (at Loch Indaal), three remained at Lissadell (Co. Sligo) on 25th, with singles at Whitrigg (Cumbria) on 25th-26th (with Barnacle Geese and presumably moving to Loaningfoot in Dumfies & Galloway on 29th) while another bird was with Pink-footed Geese at Marshside RSPB (Lancashire) on 25th.
On Islay, at Bowmore, four Todd's Canada Geese where found amongst the Barnacle Geese there on 26th (with presumably the same four at Loch Indaal, along with the Richardson's on 29th) while a potential Lesser Canada Goose was seen flying in off the sea at Marazion (Cornwall) on 27th.
Adult Black Brants were at the Naze (Essex) again on 25th with one at Wakering Stairs, also in Essex, on 27th. The next day a Brant (along with at least one bernicla X nigricans hybrid) was at West Wittering (West Sussex) and also at Rosslare (Co. Wexford) with a single at Langstone Harbour and two making it to the Fleet (Dorset) on 29th.
Back in Scotland, the two Snow Geese lingered at Balranald RSPB, North Uist (Outer Hebrides) to 29th at least.
Raptors
Two or three surprising raptor records to report this week. Perhaps most likely, given the blitz of air from "the north" was the grey female Gyrfalcon seen at Dowlais, near Methyr Tydfil (Glamorgan) on 30th. A little less seasonal was the female Red-footed Falcon spent 24th-25th along the cliff tops at St. Lawrence (Isle of Wight) ~ before the species was removed from the BBRC rarities list at the end of 2005, just 30 off the almost 800 accepted records of the species were seen in October (and one of the most recent records of "Red-footed Falcon" ~ in East Yorkshire in 2008 actually turned in to something slightly different of course…
The other late rare raptor this week was the Black Kite seen over Mizen Head (Co. Cork) on 26th ~ perhaps just the fourth record for the county, following on from birds in April 1980 (near Ballycotton), April 1991 (at Midleton) and August 2009 (at Lissagriffin).
Single Honey Buzzards were reported in Devon and Essex (on 26th over Plymouth and on 28th over Canvey Island) while at Portland what may have been the roaming escaped Egyptian Vulture was seen briefly over the north end of the island on 27th.
Shorebirds
A remarkable four juvenile American Golden Plovers were discovered amongst a four-figure flock of Golden Plovers at Tacumshin on 26th with one there the following day. The long-staying adult American Golden Plover was still on North Ronaldsay this week, while singles were also still being seen at the Cashen Estuary (Co. Kerry) on 24th, on the Outer Hebrides, at Liniclate, Benbecula, on 25th, at Cardurnock (Cumbria) on 26th-28th and still in the fields near Bridges of Ross (Co. Clare) on 27th-28th.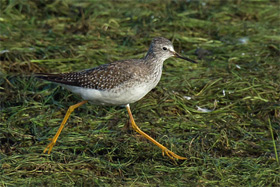 The juvenile Spotted Sandpiper at Lough Leane (Co. Kerry) was still present on 25th while the White-rumped Sandpiper at Cley from 25th appeared to actually be a different bird (based on subtle differences in wing pattern, breast and flank markings) ~ and that seemed to be confirmed when two were found together on the NWT reserve during the afternoon of 30th. Other White-rumped Sandpipers this week were seen at Brora (Highland) on 28th-30th while a further fab four birds for Tacumshin on 29th.
In Devon, the Lesser Yellowlegs was still being seen around Ernesettle to 30th with the bird at Aldcliffe Marshes, in Lancashire also present for the week, while in Ireland the bird at Ballinskelligs (Co. Kerry) remained to 27th.
A new Lesser Yellowlegs was found at Alkborough Flats (Lincolnshire) on 28th and the same site continued to host the juvenile Long-billed Dowitcher to the same date and on to 29th. On North Uist, at Baleshare, the juvenile Long-billed Dowitcher lingered to 26th and another appeared at the National Wetlands Centre (Carmarthenshire) on 28th and with the bird at Slimbridge still present on 30th, the century was clocked up ~ 102 days not out!
A late Dotterel was found on Mersea Island (Essex) on 29th.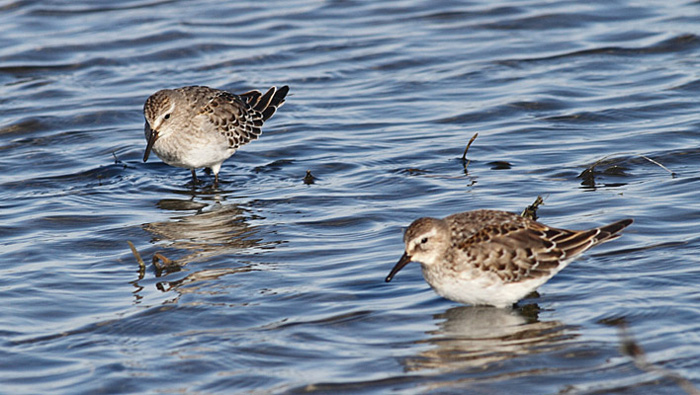 Gulls and Terns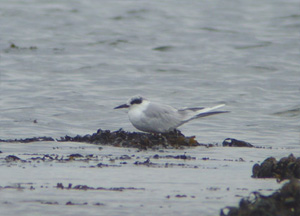 The adult Bonaparte's Gull at Dawlish Warren (Devon) was present all week this week while in County Durham, the adult Bonaparte's Gull was seen again at Roker Pier on 28th ~ it was last seen there on September 9th.
Adult Ring-billed Gulls were noted at Gosport (Hampshire), Cork City (Co. Cork) and Portrush (Co. Antrim) this week with the third-winter still in Groomsport (Co. Down), while the presumed Azorean Yellow-legged Gull again at Rutland Water on 28th, following on from a probable seen at Hoveringham GPs on the evening of 25th (there's every chance that it could have been one and the same bird).
Two Glaucous Gulls were in Mayo on 28th ~ at Kilcummin Head and Killala Harbour ~ with further singles in Shetland (at Uyeasound), Norfolk (at Titchwell), Kent (at Dungeness), Donegal (on Tory Island) and Ayrshire (at Maidens). The latter county also welcomed a returning Iceland Gull back to Ayr town centre from 24th, with other Icelands seen at Rainham and Crayford (London) and Marwick (Orkney) on 26th and Sennen Cove (Cornwall) on 28th.
In Ireland, an old faithful returned to Nimmo's Pier in Galway ~ the Forster's Tern back for another winter from 29th.
Passerines
A Hornemann's Arctic Redpoll away from the Northern Isles or the Hebrides is a big deal these days (Shetland in particular is the place to go to tick this impressive snowball-like vagrant from Greenland), so a bird well to the south, right down on the north Norfolk coast, caused a bit of a stir…..
The bird was found on the morning of 26th, in the expansive dunes system, at the edge of the huge belt of pines at Holkham. Seen twice in the morning, the bird was last reported as heading west. Those with an interest in such things searched through the area during the afternoon but it wasn't until late afternoon that the bird reappeared, back in the dunes.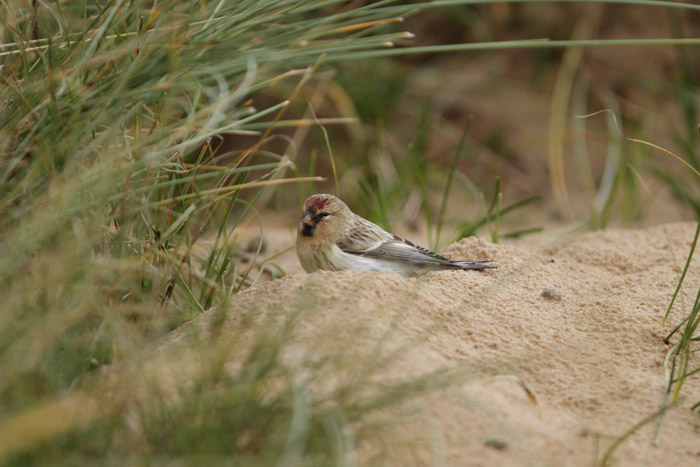 Early the next morning (on a foul day along the coast) the bird was again seen in the dunes but again, it was then lost for several hours and it wasn't until the middle of the afternoon that the Redpoll reappeared ~ favouring a sheltered area of dune slack and settled down for two or three hours ~ totally unconcerned by the (remarkably small) gathering of observers nearby and often moving to within just a few feet of the birders present.
…and what a remarkable bird it was….the sheer size and tameness of the thing made it immediately appealing. Couple that with its amazing appearance, often fluffing itself up to ridiculous proportions and the field marks (Shetland Redpoll gurus Mike Pennington and Micky Maher both agreeing that they'd never seen a Hornemann's with such extensive "korma coloured" markings on the face and breast) ~ this was quite a special thing.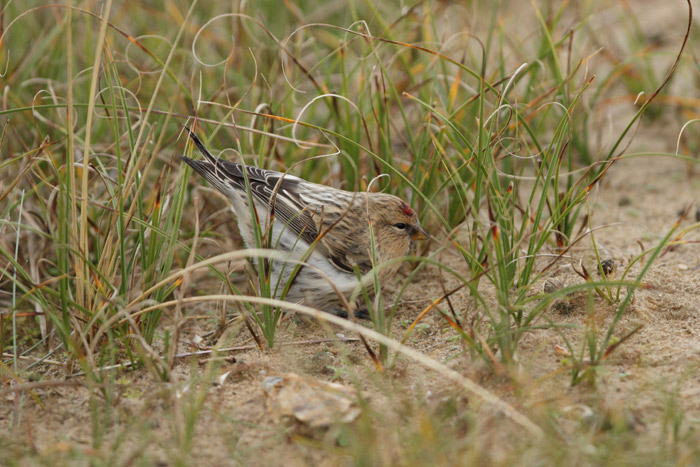 As it stands, the status of C.h.hornemanni in Norfolk is a little tricky to decipher. The Birds of Norfolk lists a bird at Wells, on September 28th-October 10th 1966 as being "suspected of belonging to the race hornemanni" (it was filmed by renowned local naturalist Dick Bagnell-Oakley) but the accepted record doesn't mention the form specifically. The same book also lists a bird at Brancaster golf course in April 1994 as a Hornemann's though again, it is not made clear within the acceptance of the record as to which form was involved (and most observers think it likely to have been Coues's anyway). The BBRC files do, however, list two birds that spent October 13th-15th 1972 also at Wells as acceptable Hornemann's Arctic Redpolls.
However many there may, or may not, have been in Norfolk this is a fiendishly rare bird away from the North and the only other recent records not from the Scottish islands were one on the Farnes in September 2010 and two on the Mullet, County Mayo in October 2007.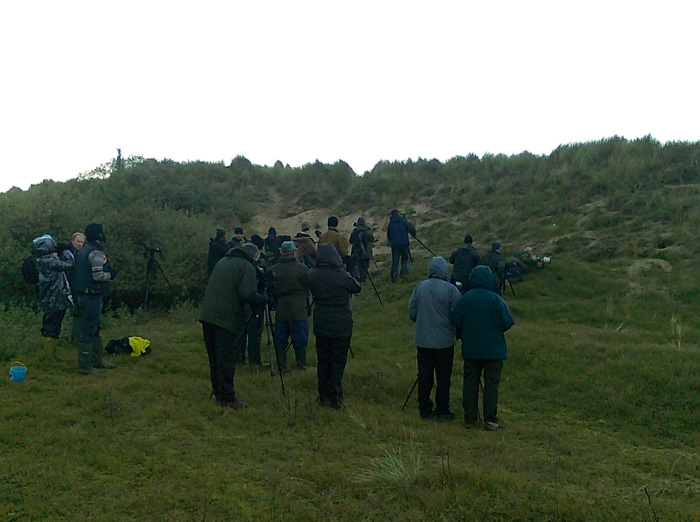 Also this week, and far less surprising, were the two Hornemann's Arctic Redpolls at Port Nis, Lewis (Outer Hebrides) on 29th (the fifth and sixth birds seen at the site in the last 15 days) and singles on Shetland, on Fair Isle at Ellister, on Mainland and Baltasound, on Unst. Staying in the far north, the first-winter male Pied Wheatear found last week on Shetland's south Mainland moved to the same spot at Virkie which the Chestnut-eared Bunting was frequenting on the evening of 24th.
Three Desert Wheatears appeared this week ~ a fine male was at Worthing (West Sussex) from 24th-26th (the seventh record for Sussex as a whole) while females were found at Lulworth (Dorset) on 27th (only the fourth county record, if accepted, and the first since 1997) and at Abberton Reservoir (Essex) on 28th-30th ~ a terrific find, only the third county record and the first for 25 years, since a one day female at The Naze on October 12th 1987 (the only other record was in 1958!).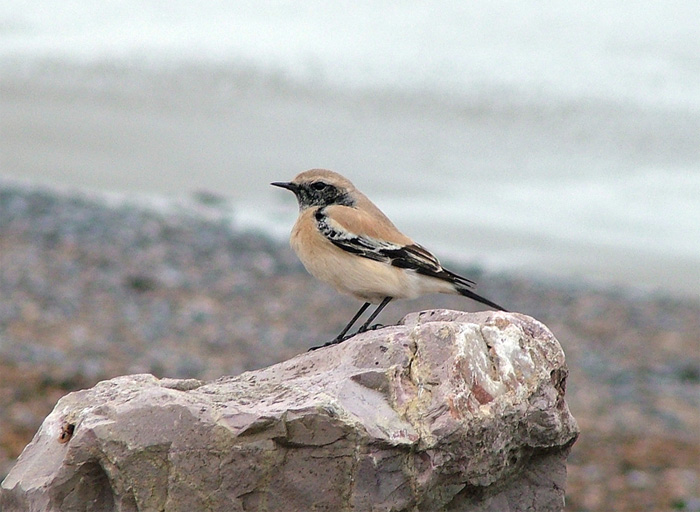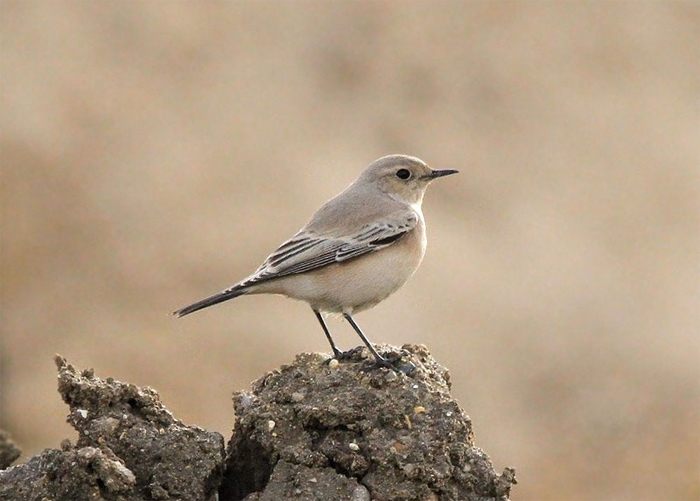 Portland remained the focus of mainland attention for much of the first part of the week ~ the beautiful adult male Daurian Shrike remained around the Top Fields and Culverwell until 27th, the first-winter male Subalpine Warbler reappeared along Avalanche Road on 26th and the much-discussed first-winter Siberian Stonechat (potentially of the form stejnegeri) was trapped and ringed on 26th ~ as Martin Cade mentions on the always-excellent Observatory website "this'll be another story that runs and runs…."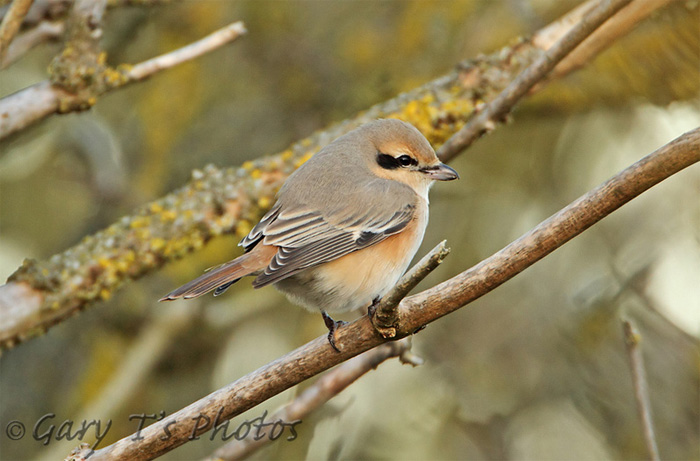 Further Siberian Stonechats this week (presumably of the form maura) were found at Mid Soar, Bolt Head (Devon) and Wellington GPs (Herefordshire) on 27th, with the bird in Devon still present to the end of the week (with the Herefordshire bird relocated too). Another was found on Unst (Shetland) on 29th and a male was seen along the prom at Southend (Essex) on 30th. In east Norfolk, a Siberian Stonechat was reported "recently" in the Eccles area.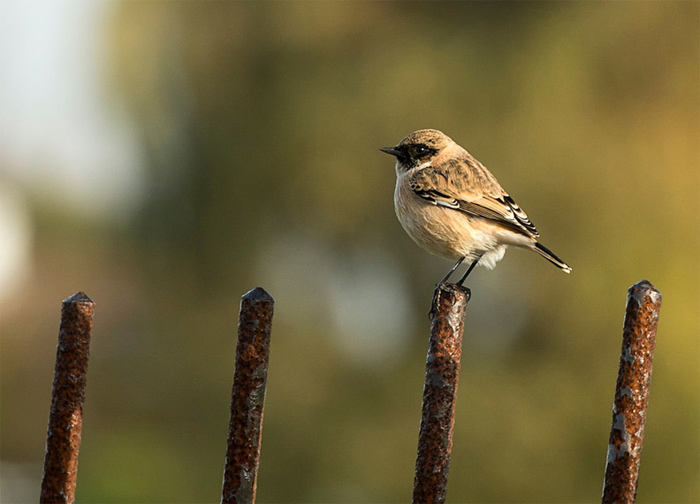 In Norfolk, an Arctic Warbler was an excellent discovery along the line of coastal willows near Brancaster Staithe on 24th ~ hopes were high that it may turn in to another far-flung eastern waif & stray but the original call was the right call and the bird (Norfolk's latest-ever ~ by over three weeks ~ and the 16th in total) remained to 25th.
On the Farnes, last week's Radde's Warbler was still present to 25th with leftover Dusky Warblers remaining at Inishmore (Co. Galway) and Whitburn (Co. Durham) to 24th and 28th respectively. Three new birds were found on 25th ~ at Flamborough, Long Nab, Burniston and Holy Island with the fourth new one of the week appearing well inland at Lynford Arboretum (Norfolk) on the morning of 29th.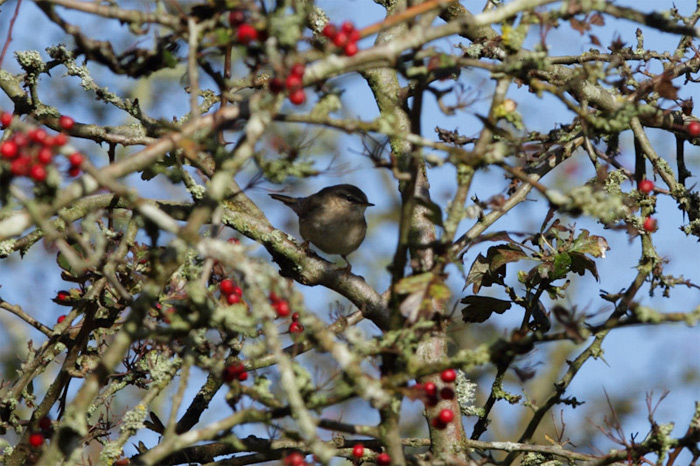 What may prove to be the autumn's final Blyth's Reed Warbler was discovered on the Garrison, on St. Mary's (Scilly) during the afternoon of 30th. All of the islands' records of this formerly tough customer have come in the past 10 years ~ the first was found precisely a decade ago to the day (on October 30th 2002), with single accepted records following from Bryher in October 2007 and the following October on St. Agnes.
The only Hume's Yellow-browed Warblers this week were found at Norwick, Unst (Shetland) on 24th and Beachy Head (East Sussex), while Pallas's Warblers included two birds in Norfolk (briefly at Overstrand on 24th and in Holkham Pines on 28th-29th), two in Northumberland on 24th (on the Farnes and High Newton-by-the-sea) with singles elsewhere at Hatfield Moors (South Yorkshire) on 24th, Filey (North Yorkshire) and Gibraltar Point (Lincolnshire) on 25th and at Knockadoon Head (Co. Cork) on 27th.
Yellow-browed Warbler numbers fell to below three figures for the first time in a while this week (no surprise really as November is knocking on the door now). Around 75 birds were noted ~ with the southwest faring best, at least 28 birds seen from Somerset to Scilly, with up to 10 birds on Scilly, eight in Cornwall and six in Dorset, while Ireland (and Cork in particular) fared well, at least 12 birds there, with seven in Cork on 24th alone. Four of Wales' six birds were in Pembrokeshire on 24th while East Anglia registered 12 birds (eight in Norfolk and four in Suffolk). Nine birds were seen in the northeast and there were five for the southeast and just two in Scotland.
Eight of the ten Barred Warblers seen this week were dotted along the east coast, from Aberdeenshire and Highland down to Suffolk and included two birds on Holy Island (Northumberland) on 25th and a particularly showy first-winter in a garden at Salthouse (Norfolk) on 28th.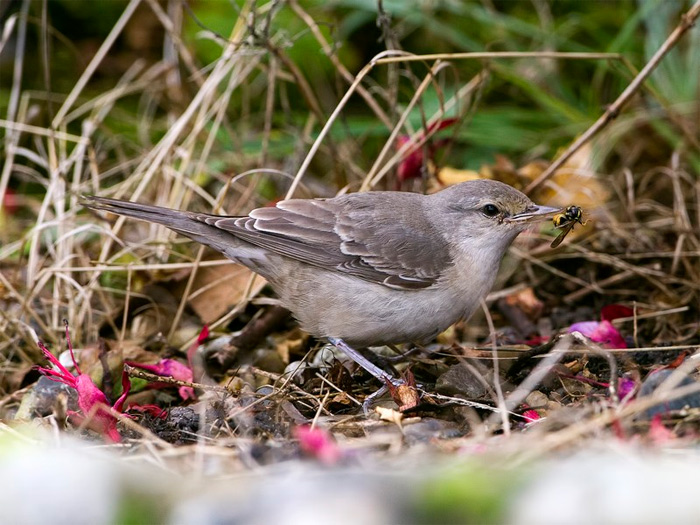 The start of the new review week saw at least nine Olive-backed Pipits in place ~ at least two were in Norfolk (at Holme and Holkham ~ 1+ there) and others lingered on Bryher (Scilly), at Mousehole (Cornwall), Gunner's Park, Shoeburyness (Essex), Corton (Suffolk), Virkie and Fair Isle (Shetland) and also in Ireland, on Inishmore (Co. Galway).
Two new birds were found around the Spurn peninsula on 25th (at Kilnsea and at Spurn itself) and two birds were seen at Sammy's Point, Easington on 27th. Another new arrival was found on the Lizard (Cornwall) on 28th.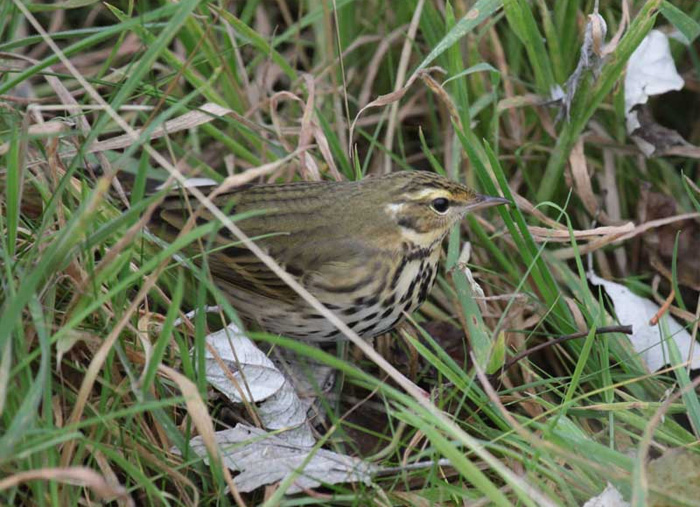 Three Red-throated Pipits were reported this week ~ at St. Lawrence (Isle of Wight) on 24th, on St. Agnes (Scilly) from 25th-28th and at Rame (Cornwall) on 25th and again on 27th while the report of a Pechora Pipit on Portland late in the day on 26th remains unconfirmed. Over 20 Richard's Pipits this week included three on Bardsey Island (Gwynedd) on 24th and three at Porthgwarra (Cornwall) on 27th while at least three separate birds were on Scilly (including two birds on St. Agnes on 25th) with three singles in Kent too. Also of note was an inland flyover Richard's at Annesley (Nottinghamshire) on 24th.
In Durham, the Rustic Bunting was reported again at Marsden Quarry on 24th while eight Little Buntings included new birds at Porth Hellick, St. Mary's (Scilly), singles trapped and ringed on 24th and 30th (with another on Tresco on 27th), Burham Overy Staithe (Norfolk) from 25th-27th, on Fair Isle on 26th, Unst on 27th and Easington on 28th. Little Buntings remaining from last week were on the Farnes and at South Gare (Cleveland) on 24th.
The only Red-backed Shrike this week was one lingering on Mizen Head (Co. Cork) on 25th. Eleven Great Grey Shrikes included three birds in Wales (in Pembrokeshire, Powys and Denbighshire), east coast birds in East Yorkshire and Norfolk and inland birds in South Yorkshire, Staffordshire, Derbyshire, Surrey, Gloucestershire and Dorset.
A juvenile Bee-eater was a real surprise at Swanage (Dorset) on 28th ~ seen in a garden near the pier towards dusk, the bird performed throughout the following day as it drifted around the Dorset coastline and, on 30th was seen over nearby Durlston CP. Also adding a late splash of colour was the Hoopoe at Sand Point (Somerset) from 25th-30th, with further singles seen at Crundale and Haverfordwest (Pembrokeshire) on 25th and 26th. The late-arriving Bluethroat at Easington (East Yorkshire) was still in place on 24th-25th and a new bird was found at Baltasound (Unst) on 26th.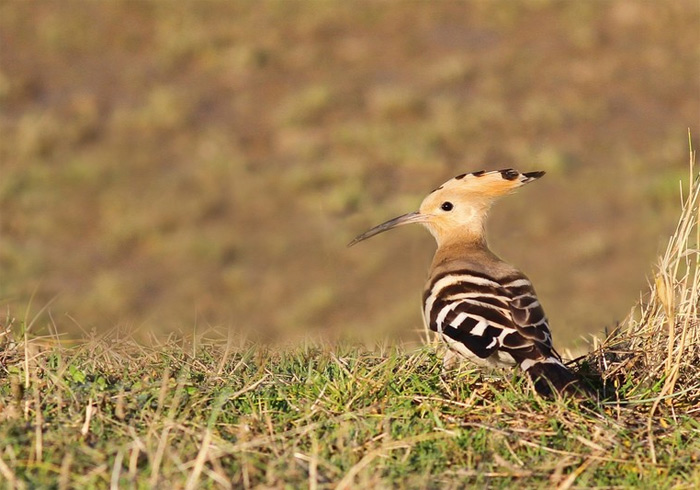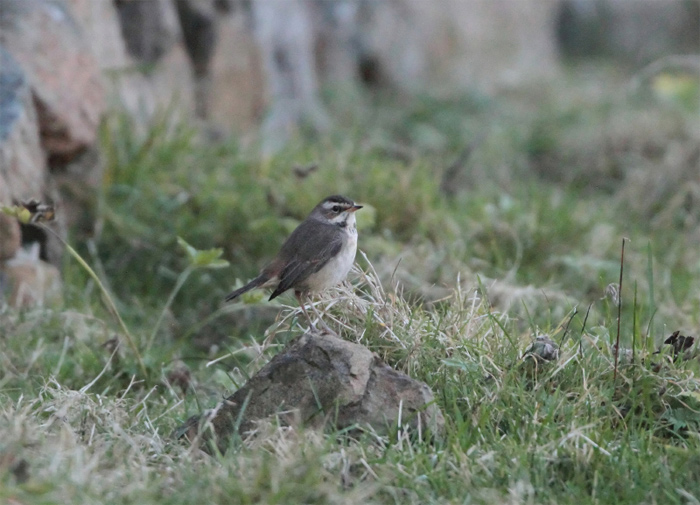 Around 14 Red-breasted Flycatchers were encountered this week, including up to nine on 24th alone ~ three birds were reported in Norfolk, at Brancaster Staithe, Wells Woods and Gorleston, with at least four on Scilly (two on St. Martin's, one on St. Mary's and "1+" on St. Agnes) and further birds in Cleveland (possibly two there), Fife and Cork. Scilly grabbed two more as the weekend came to a close, on Tresco and St. Martin's and one was also found at Kilnsea.
Four or five Wrynecks were reported this week ~ one or two were seen around the tip of Portland between 24th-26th, with other birds at Polgigga (Cornwall) and Holkham (Norfolk) on 24th and Newton Abbot (Devon) on 27th.
A juvenile Common Rosefinch coming to a feeder near Codsall (Staffordshire) on 29th was an outstanding inland record. A further three were found during the last seven days ~ on Tresco on 25th, trapped and ringed at Ormesby St. Margaret's (Norfolk) on 28th with another on Tory Island (Co. Donegal) the same day. Three Serins were reported too ~ at Abbot's Cliff (Kent) on 24th, Porthgwarra (Cornwall) on 27th and on St. Martin's (Scilly) on 28th-30th.
Rose-coloured Starlings also managed to tally up three this week ~ one was on St. Agnes (Scilly) on 24th with singles on 28th at Knockadoon Head (Co. Cork) and Tresinwen (Pembrokeshire). Back on Scilly, the Penduline Tit remained on Tresco to 27th and Dungeness logged another bird for the site on 28th. Also in Kent, a Penduline Tit was found at Oare Marshes on 30th.
Finally this week ~ Waxwings. Along with all the northern seabirds blown down the east coast this week, there were the first real signs that we may be in for a decent winter where Waxwings are concerned, around 350 birds noted during the past seven days.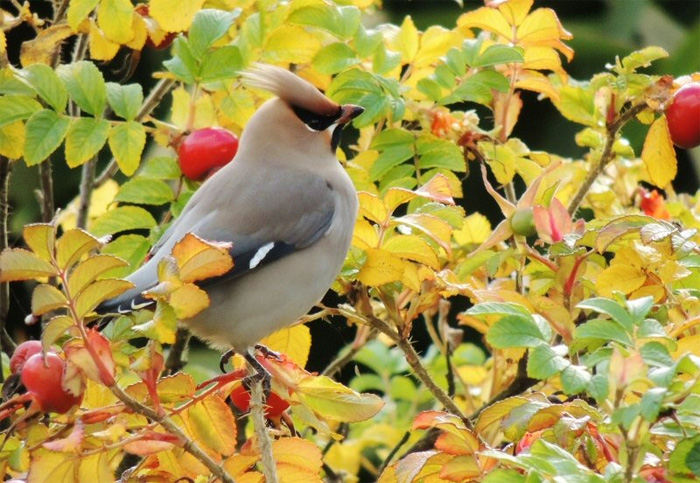 There were indeed dozens of reports this week, mainly in single figures but a dozen or so reports of double figures were received ~ the highest number of the week was 40 flying over Sheffield on 25th, with 35 in a garden at Newhailes (Lothian) on 29th a close runner-up, along with two groups of 30 in Fife on 27th (at Wormiston and Kilminning), 21 on Fair Isle on 28th and 20 over Shingle Street (Suffolk) on 27th.
Waxwing, Exnaboe, Shetland 29 October 2012 from Shetland Wildlife on Vimeo.
Not a bird which would usually feature in the weekly round-up but one which is definitely worth a mention this week was a Chough on the Isles of Scilly, Bob Flood takes up the story,,,
"This is the first ever video of Chough taken in Scilly. I was at Little Arthur Farm about 9.50 am watching a Serin when I heard the distinctive call of a Chough from fields above the farm, but out of view. I shot up the hill as fast as possible and there was the Chough being mobbed by Ravens. An incredible sight! There are only four accepted records of Chough for Scilly: 1870 in November on St Martin's, 1899 one was shot in Xmas week on St Mary's, 11th October1992 one flew past the Garrison on St Mary's, and February 28th to March 4th 2001 on St Agnes. As you can imagine, this bird attracted a lot of interest and was a big tick for many Scilly listers who missed the 2001 bird."
Plenty of things to think about in the first week of November ~ the devastating weather system that crashed on to the eastern seaboard of the United States may have some avian consequences should super-storm Sandy create any fierce, quick moving offshoots (such a thought seems immensely trivial though)…..
…however, most people's minds are now switching to the potential arrival of Pine Grosbeaks. A massive push has been noted in Finland in the past week ~ some 12,000 or so recorded over the last seven days. Over 700 were seen heading south at Kristiinankaupunki, on the Finnish west coast on 27th and on 30th, the first birds had reached Denmark ~ one seen at Skagen ~ and Norway, with five on Utsira.
The last British bird (one of only 11) was seen at Easington for three days in November 2004 ~ but was only seen by birders on the last day when it promptly departed….before that it was Shetland in 2000 and 1992.
Will it be Shetland in 2012 too? Or will they pepper the east coast and become yet another chapter in a quite extraordinary autumn story….you certainly wouldn't bet against it.
Mark Golley
31 October 2012

This weeks contributors
For their help and contributions this week a special thanks goes to: Martin Cade / Portland Bird Observatory for details on the 'leaf warbler' and Pete Saunders for his photos


And thanks to all our other contributors for their photos and videos
Hugh Harrop / Shetland Wildlife
,
Robin Chittenden - harlequinpictures.blogspot.co.uk
,
David Parnaby - Fair Isle Bird Observatory
,
Martin Goodey
,
Bob Flood - Scilly Pelagics
,
Steve Young - Birds on Film
,
Paul Kelly - Irish Bird Images
, Lee Gregory, Will Soar, Jim Wood, Richard Zamora, Andy Thompson, Mark Rayment, Darren Robson, Neil Randon, Dick Filby, Mark Bicknell, Gary Thoburn, Dianne Hyem, Claire Oliver, Benjamin Ofield, Robbie Brookes, Tim Wootton.