Weekly round-up: 17 - 23 Oct 2012
The week at a glance
Britain's second-ever Chestnut-eared Bunting appears at southern end of Mainland Shetland
…and a Siberian Rubythroat sneaks in for good measure….
Fife's Eastern Olivaceous Warbler the main draw of the weekend
Tacumshin lands yet another Northern Harrier
Two East coast Red-flanked Bluetails appear on a manic Monday
…nice fall in many North Sea coasts too……
Scilly holds on to Blackpoll Warbler and Solitary Sandpiper
…and an American Buff-bellied Pipit gets the retrospective thumbs-up
"My ding a-ling, my ding a-ling, I want you to play with my ding a-ling"
A little bit of respite came forth for a few days this week but, as is often the way, it wasn't set to last ~ a look at the five-day forecast around the 18th and 19th showed that, if things fell in to place, something very promising was on the cards for the east coast from around the 21st…..
…and that was indeed the case! Gentle northeasterly winds and heavy cloud (often fog) did their best to force any number of common, scarce and rare birds towards North Sea coastal counties ~ some tremendous numbers of common migrant species were logged on the murky Monday of 22nd ~ but with the long finger of high pressure squeezing itself between a couple of weak drizzly areas it looked as though the further north you were, the rarer the birds would be (and the clearer the skies were too).
And so it came to pass….
Headline birds
As we were packing up the bags after another week at the RBA review coal face, it all decided to go a little bit crazy…..
The Shetlands were, inevitably given the outstanding weather that had settled all the way along the east coast, the islands at the heart of it all and within very quick succession, two birds that featured in dispatches at the end of last week's review were this week's "grande dames" taking a post-darkness curtain call on 23rd ….
Right at the top of a significant heap was the presumed Chestnut-eared Bunting found at Virkie, at the south end of Mainland.
Initially identified in the field as a Little Bunting, opinion started to sway after a photo was posted on the Nature-in-Shetland Facebook page. A surge of opinion towards the bird becoming Britain's second (and, of course, Shetland's second) Chestnut-eared Bunting ~ eight years, almost to the day, since the first ~ followed on swiftly……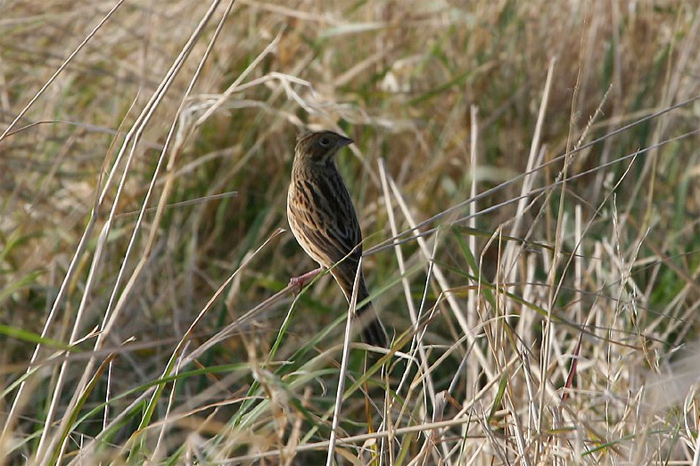 To be fair to all involved, as this was being written in the wee small hours of Wednesday morning, many people were still reluctant to commit wholly to the idea of a full-on Chestnut-eared Bunting until further images were looked at and Little Bunting could be absolutely ruled out and Chestnut-eared Bunting could be ruled in….
….and a couple more images did appear late on, and appeared to confirm that the distinctive face pattern ~ lacking black behind the eye ~ well patterned upperparts, reduced (concentrated) area of breast streaking, fine marks along the flank, lack of any significant primary projection, smallish head + large body combo and a long-tailed look all pointed towards the mega option….
.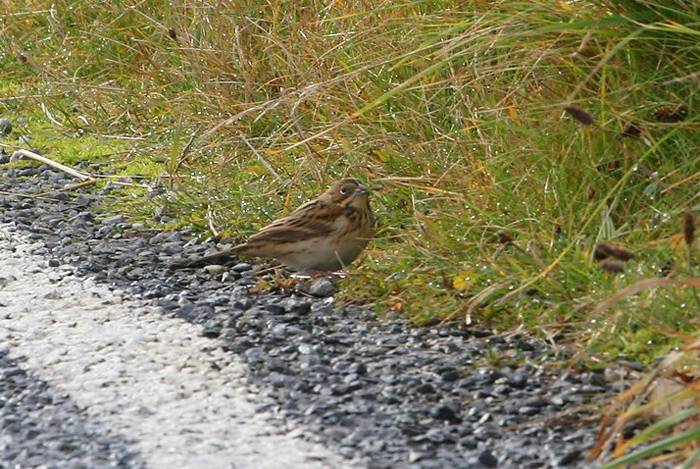 That Britain should ever have had one of these is remarkable enough ~ to get a second seems incredible…this is a species with a restricted and (properly) far eastern distribution ~ it has a rather patchy breeding range extending from Japan in the east, west through the Korean peninsula, southern and central China, the western Himalayas and through to Nepal, Kashmir and Pakistan.
The nominate migratory subspecies fucata has a breeding distribution that is wholly east of Lake Baikal and Chestnut-eared Bunting is one of barely a handful of species on the British List with such a spectacularly far-flung distribution. But as we know, we have been getting more and more birds from deep within the Eastern Palearctic in the last decade ~ Rufous-tailed Robin and Eastern Crowned Warbler (again as mentioned last week) are two of those and we've now had three of the former and two of the latter within the exact same time-frame as the first and second Chestnut-eared Buntings….
That amazing first-winter bird on Fair Isle, in the crop near the South Light at the bottom end of the island, was identified on October 16th 2004 (and had been present, and called a Little Bunting, for up to three days beforehand) and in-hand examination confirmed that it was of the nominate form fucata. A few plane loads made the journey north and they all scored ~ the bird was last seen on October 20th.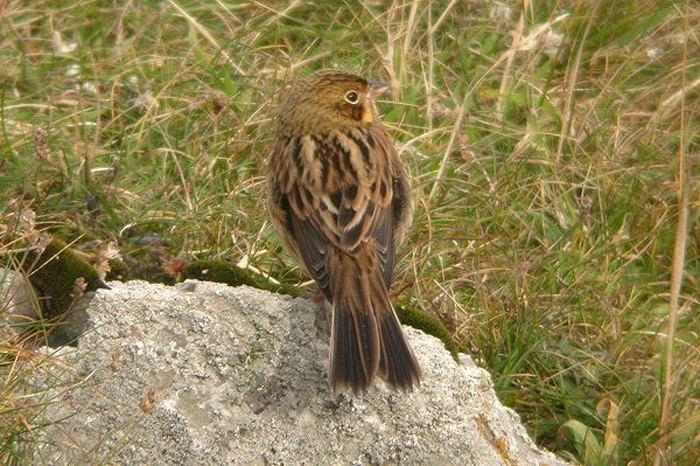 And talking of Fair Isle…..just before it all kicked off with the Bunting came what has almost ("almost"…..) become an expected Mega Alert message ~ something that was unheard of until the last ten years or so….
Siberian Rubythroat.
The species that, even now, has that certain something about it, despite the arrival on to the British List of two ultra-megas from the Far East (the two dinky Robins). Arguably, Siberian Rubythroat can still trump both Siberian Blue and Rufous-tailed Robins for some deep-seated reasoning.
Perhaps it is because, in many folk's formative years, Rubythroat was the ultimate Sibe ~ the double act of SBR and RTR weren't ever on the cards really (despite the former's arrival on Sark in the oft-quoted classic Sibe autumn of 1975) but it felt as if, no matter how rare it was, there was always the chance of a Rubythroat.
And now, there actually is half a chance of a Rubythroat when the weather is as extreme in its excellence as it has been in the last two or three days of the review period. It was inevitable that Shetland would score, but there have been two on the mainland and a third isn't far away….
Siberian Rubythroat in Britain and Ireland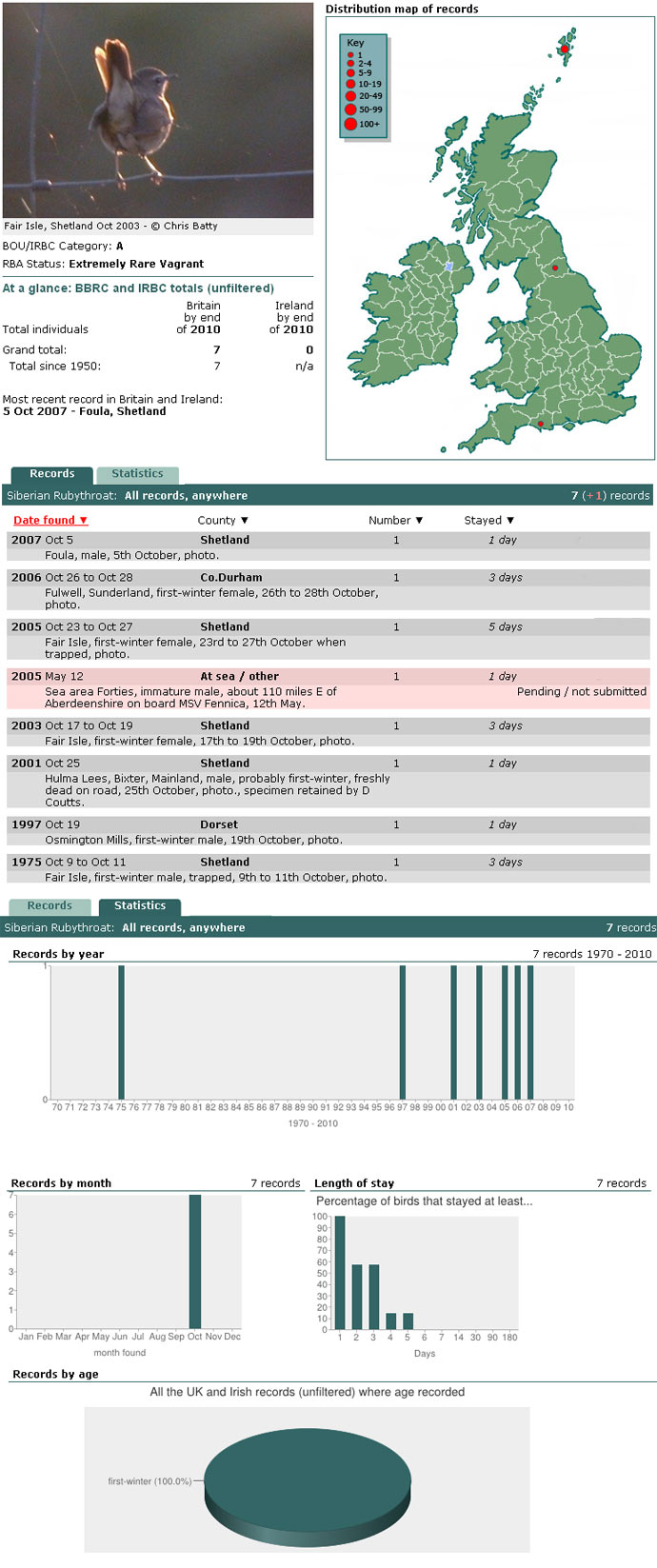 Britain's first Siberian Rubythroat was found on Fair Isle on October 9th 1975 and it was 22 years until the next came along ~ the controversial male at Osmington Mills for a Sunday afternoon on October 19th 1997.
Four years later, a freshly dead male was picked up by the roadside at Bixter on the Shetland Mainland (on October 25th 2001), and a three day first-winter female followed on Fair Isle on October 17th-19th 2003, with the island's third following on October 23rd 2005.
Britain's second mainland bird arrived in a private garden in Sunderland in late October 2006 and a peek-a-boo male, the earliest ever, was found on Foula on October 5th 2007. And then, they stopped…..
….until this time last year of course when the stonking male at Gulberwick announced himself on 19th and stayed for a record-breaking 11 days and Shetland's dominance continues now with this week's Fair Isle bird ~ found in the garden of former warden Nick Riddiford at Schoolton, late in the day of 23rd.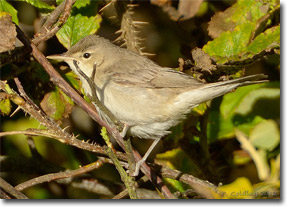 In Fife, at Kilminning, the often showy Eastern Olivaceous Warbler remained across the weekend and on to the end of the review period and drew quite a crowd of admirers in the process, a crowd that, no doubt, increased in size thanks to the added draw of high quality padders such as the nearby Radde's Warbler and a Red-breasted Flycatcher.
At Tacumshin, there was more amazing news where Northern Harriers were concerned.....at the start of the week, the juvenile male that arrived a couple of weeks ago was still in place (and was still present on 18th) and then on 19th, incredibly, another new bird was found (and photographed) and was shown to be a juvenile female. She was still present on 21st and the head-scratching run of records from the one site (its now five in two years!) and raises the question of what on earth is going on. What is it about Tacumshin that draws Marsh Hawks (and they do all look like Marsh Hawks rather than obvious Hen x Northern Harrier hybrids) and why on earth weren't any seen for the best part of 30 years…?
From a different compass point came two Red-flanked Bluetails on 22nd, one for Northumberland and one for Norfolk.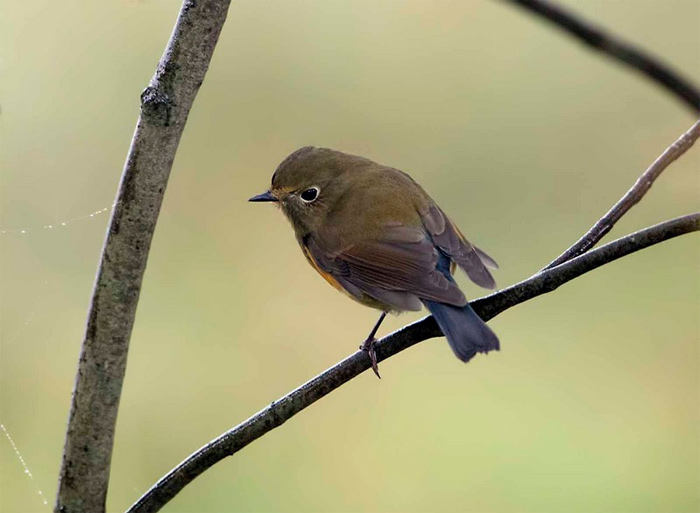 The rise and rise of this beautiful, charismatic little chat has been well documented as a westward expansion of the breeding range has, in turn, seen numbers of vagrants here rise accordingly through the past decade.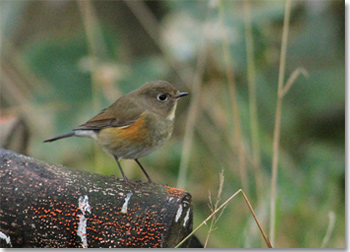 In 2011, there were 12 accepted Bluetail records while in 2010, 31 records were given the thumbs up. Numbers were lower in the years prior to that (for instance, eight records for 2009, 13 birds in 2008 and eight in 2007) but at the start of even the 1990's, a year with eight Bluetails would have seemed almost fanciful.
Actually you only need to go back six or seven years to find numbers you may once have considered a little more like it for the species ~ four in 2006 and just two in 2005 ~ and 2012 (at the moment) slots in along side those two years.
This week's new arrivals ~ Northumberland's bird was found at Ridley Park, Blyth, Norfolk's in the wood at Stiffkey ~ took the total for this year to three ~ after one was trapped on Shetland at the end of September. These two singles took the respective county hauls to seven for Northumberland (the first there was in 1960) and Norfolk's up to 12 now (the first there was in 1994).
Down on Scilly, on St. Mary's, the juvenile Solitary Sandpiper lingered in fields near Old Town on 17th while the Blackpoll Warbler on Bryher remained around the area near Veronica Farm to 18th.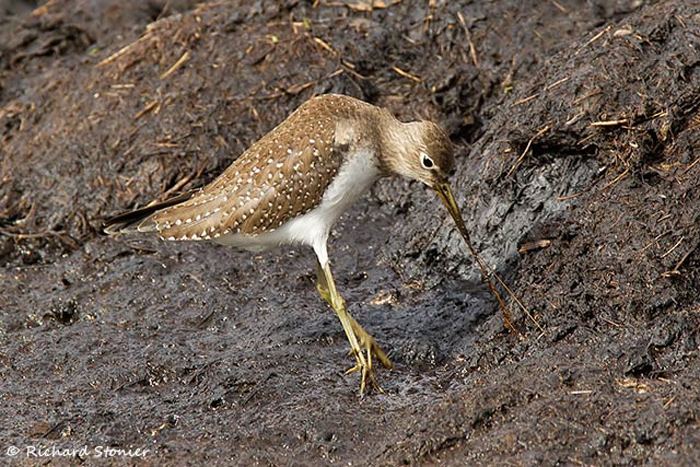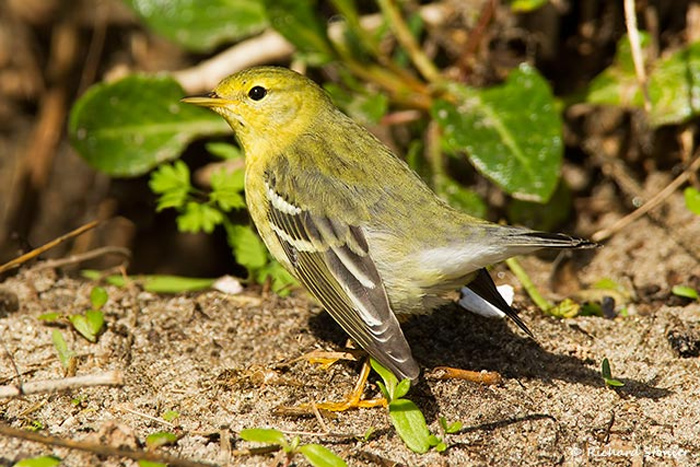 Bryher was also the venue for the only American Buff-bellied Pipit of the week ~ one seen at Droppy Nose Point on 19th was identified a couple of days later. It'll be interesting to compare and contrast with the bird seen on the same island on October 9th ~ the gap suggests they could be different…..happily, this week's bird was still present when looked for on 23rd.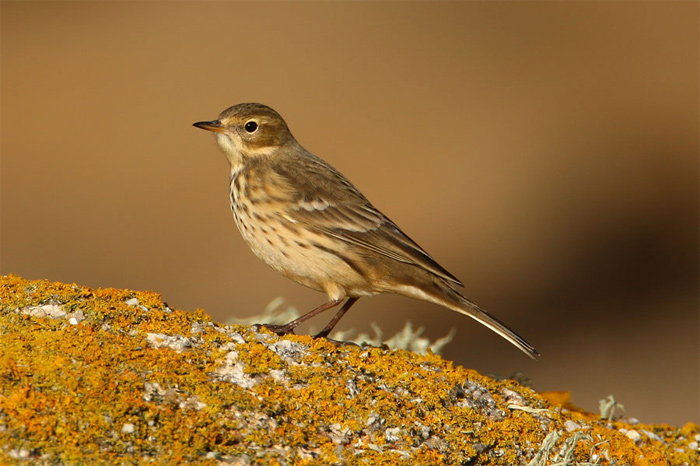 Seabirds
A probable Yelkouan Shearwater was seen twice from Berry Head (Devon) on 17th when at least 19 Balearic Shearwaters were seen from the same site. A couple of days later, another 25 Balearics were seen from Berry Head, after 11 had flown by nearby Hope's Nose on 18th. Other mentions of the species this week were all of single figure birds (all bar two of which were in the southwest, the others were lone birds in Kent and Glamorgan).
Only around 60 Sooty Shearwaters were reported over the last seven days and the total included 18 birds off Dungeness (Kent) and 20 passed Cape Clear Island (Co. Cork) ~ both double figure counts coming on 17th.
The week's only Long-tailed Skuas were single juveniles at Shell Ness, on the Isle of Sheppey (Kent) on 21st and off South Walney NR (Cumbria) on 23rd. Just 30 or so Pomarine Skuas were noted ~ a maximum of six was seen off Canvey Island (Essex) on 21st while five flew past Cape Clear on 17th and there were threes off Flamborough Head (East Yorkshire) and Helvick Head (Co. Waterford) on 18th and 21st respectively.
A Sabine's Gull spent a couple of morning hours off Chesil Cove, Portland on 17th, before flying past Portland Bill. Further Sabine's seen on the same date were off Dungeness, Whitesands Bay (Pembrokeshire) and in Ireland, from Bunmahon (Co. Waterford) and also Dursey Island and Ballycotton in County Cork. Later in the week, single Sabine's included juveniles on the Gower Peninsula (Glamorgan) on 20th and on 21st at Dungeness and along the beaches and piers at Brighton and Hove (East Sussex) ~ the latter proving to be really rather confiding….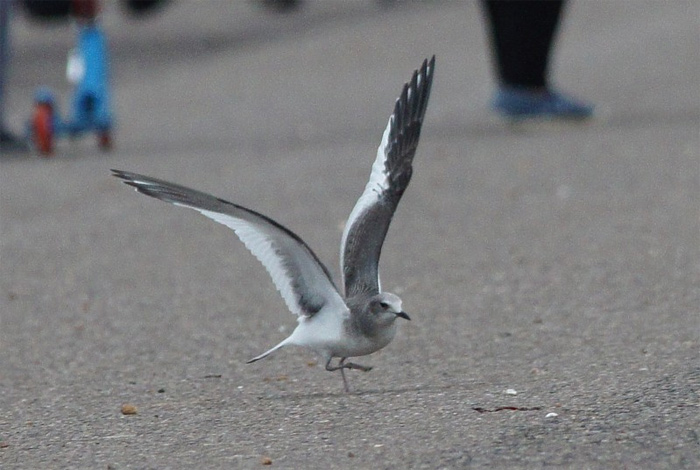 Dungeness also scored three of the week's four Leach's Storm-petrels on 17th with the fourth heading south past Spurn on 22nd. Inland Grey Phalaropes appeared at Carsington Water (Derbyshire) on 17th and Farmoor Reservoir (Oxfordshire) on 22nd ~ the former bird spending four days on site ~ while the only other bird noted this week was at Tramore Strand (Co. Donegal) on 19th.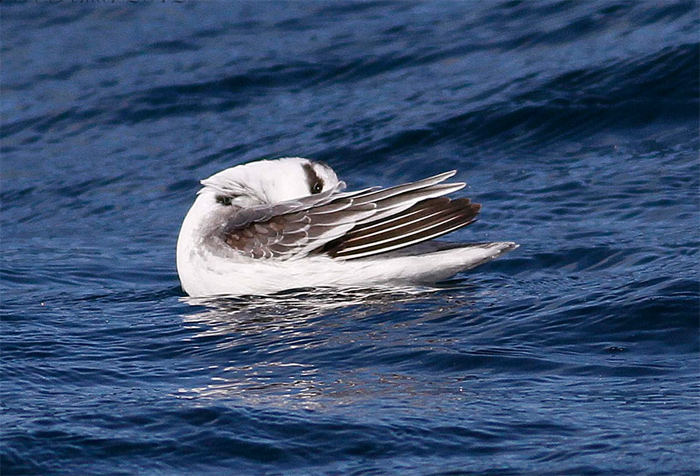 In what has been a particularly quiet week for all things pelagic, a lowly five Little Auks rounds things off ~ one each for Dorset, East Yorkshire and Northumberland, while two were seen passing the Isle of May (Fife) on 19th.
Herons, Egrets & allies
At least three young Glossy Ibis continued to find the damp pools of the far west of Cornwall to their liking this week ~ a trio were noted at Skewjack on 18th-19th, moving a little way to Sennen on 21st, while ones and twos (possibly from the same trio or perhaps from the larger flock seen locally a couple of weeks ago) were at Brew Pool and Brane.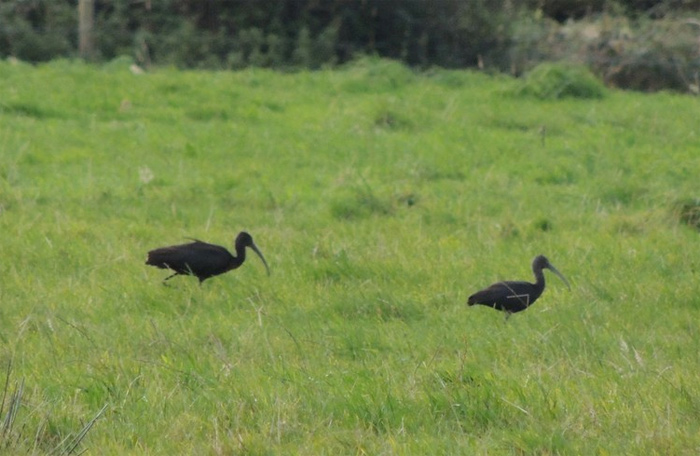 In Devon, a Glossy Ibis was seen heading south at Aveton Gifford on 19th while "old faithful" remained at Marloes Mere throughout the week.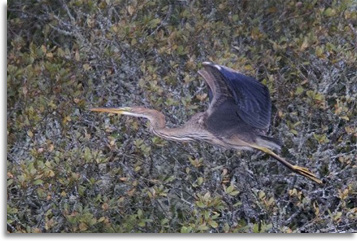 A juvenile Purple Heron was photographed at College Reservoir (Cornwall) on 17th and remained to 22nd at least while the southwest's other juvenile Purp was still at Radipole Lake RSPB to 21st.
Three Great White Egrets at Dungeness on 19th made up a weekly total of around 15 birds, and included two at Frodsham (Cheshire) on 20th, two singles in Hampshire (at Ringwood and at Beaulieu) and two in Wales (at Llanrhidian Marsh, Glamorgan and in Carmarthenshire, at the National Wetland Centre). Singles roamed around Lancashire, Cheshire and Cumbria, at least one lingered in Somerset and in East Anglia birds were found at Paglesham Lagoon (Essex) and Orford Ness (Suffolk).
The Dorset late autumn gathering of Spoonbills stayed at the 17 or 18 bird mark this week while Devon's regular flock in the north of the county, at Isley Marsh RSPB, went up a couple to six on 21st. A minimum of four birds was in Norfolk, including three flying south over the cliffs at Hunstanton on 21st, while further groups of three were noted in the far southwest on the Hayle Estuary and also on Green Island (Scilly) on 22nd. In West Yorkshire, a Spoonbill remained at Fairburn Ings RSPB on 17th before heading to Swillington Ings later the same day, with another Yorkshire bird noted at Blacktoft Sands RSPB, also on 17th.
There were still 13 Common Cranes at Welney WWT (Norfolk) at the start of the week, with seven there at the end of the weekend (a juvenile and six adults). The only others reported were four at Slimbridge WWT on 22nd.
A Spotted Crake was seen before the high-tide at Parkgate Marsh (Cheshire) on 17th with a second arriving at Lower Moors, St. Mary's on 20th, the latter still present on 22nd. A third bird, and the second on Scilly, was on Tresco for much of the week.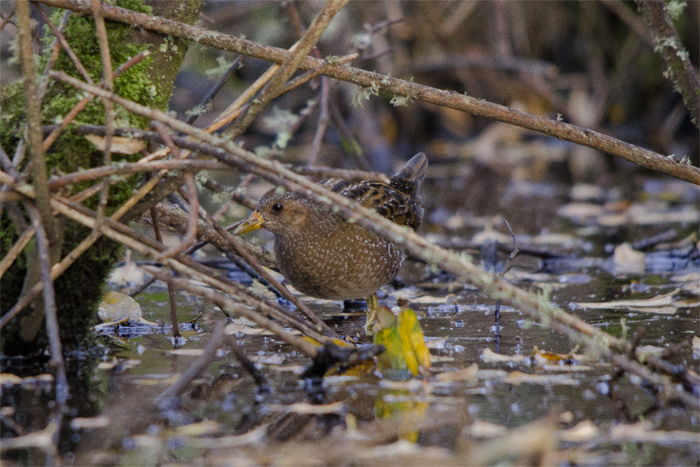 Scotland held the only two Corncrakes this week ~ one on mainland and one off-island ~ at Newtonhill (Aberdeenshire) on 20th and at Balephuil, Tiree on 20th-21st.
Ducks & Geese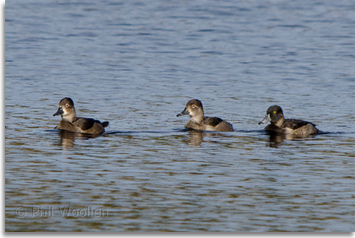 The small flock of immature Ring-necked Ducks that arrived on St. Mary's (Scilly) at the end of last week's review period remained on Porth Hellick Pool throughout the week ~ the first-winter drake and two first-winter ducks often performing well for all those wandering the islands in search of perhaps rarer fare….
New birds this week were a female on Loch a' Phuill, Tiree on 19th, a drake at Lough Shivnagh (Co. Donegal) on 21st with another first-winter female at Slapton Ley (Devon) on 22nd-23rd. On Achill Island, the drake Ring-necked Duck was still at Lough Doo, near Tonatavally on 20th ~ with the drake Black Duck still present at Srhuill Lough on the same day.
Last week's three drake American Wigeons were this week's three drake American Wigeons ~ the eclipse drake remained at Tacumshin (Co. Wexford) to 21st while both the returning bird at Kirk Loch (Dumfries & Galloway) and the popular bird at Angler's CP and nearby Wintersett Reservoir in West Yorkshire were seen throughout the week.
At least one of Chew Valley Lake's drake Lesser Scaups was seen on 17th (the first-winter drake) while the following day saw the eclipse drake reported (along with a female Ferruginous Duck). An adult drake was again at Cosmeston Lakes CP on 19th (he was last seen here on 23rd April) before appearing a couple of miles away at Cardiff Bay Wetlands on 20th (an eclipse drake was noted here in late August). The week ended with both drakes seen again at Chew.
Elsewhere in Wales, off the north coast, four Surf Scoters (three drakes and a duck) were seen from Llandulas (Conwy), with the three drakes still present the following day. On Orkney, a drake Surf Scoter was at Quanterness (Mainland) on 17th with perhaps the same bird appearing just a few miles away at Inganess Bay on 19th and another drake was again seen in Largo Bay (Fife) on 22nd.
The adult Red-breasted Goose continued to draw fans to South Swale NNR (Kent) while fewer admirers would have rocked up to Loch Gorm, Islay to see the newly arrived Red-breasted Goose, present on 21st-22nd (this one with Barnacle Geese rather than Dark-bellied Brents).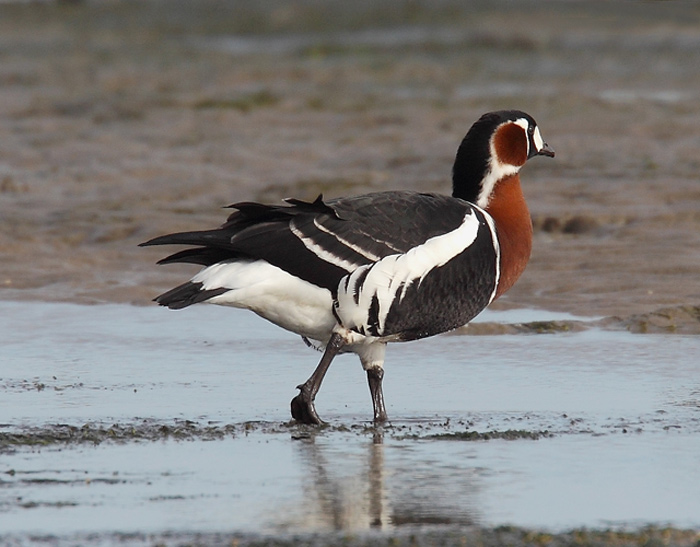 Two Black Brants were along the Fleet (Dorset) on 18th with one again around Leigh-on-Sea and Two Tree Island (Essex) on 20th-21st. This may have been the same bird that was then seen at the Naze on 23rd.
In Ireland, at Castlegregory (Co. Kerry) a Black Brant was seen with Pale-bellied Brents on 22nd while in Sligo, three Richardson's Canada Geese were at Lissadell on 19th. Another Richardson's was on Islay, at Kilchoman on 20th, with a Lesser Canada Goose in the same flock of Barnacle Geese. Then, as the week drew to a close, five Richardson's Canadas were reported from Loch Indaal, on Islay ~ a pretty amazing gathering.
On the Outer Hebrides, two Snow Geese remained around North Uist, with the Greylag Geese, from 18th-21st.
Raptors
Not much at all to report in the world of rare raptors (oh, but it could have been such a different story…!) ~ all that was on offer were two White-tailed Eagles (a juvenile over Morpeth in Northumberland on 21st with another on Westray, Orkney on the same date ~ wild or released? Who knows…) and several reports of Rough-legged Buzzards. The first was reported at Clacton-on-Sea (Essex) on 17th and in Norfolk, singles were reported at South Burlingham and Friary Hill NT, Blakeney on 18th while in others were in Nottinghamshire (at Mansfield on 20th), South Yorkshire (at Langsett Reservoir, also on 20th) and back at Sleddale, near Guisborough (Cleveland) on 21st.
However, we can't leave the world of raptors without a mention of a bird that could have lifted Norfolk out of the doldrums ~ if only the juvenile or young immature (2 or 3 cy at most) Egyptian Vulture seen along the north coast on 17th had been for real….
First seen arriving over the East Bank at Cley, the first thing birders really knew about it was when the bird drifted alongside the A149 near Morston and continued on a little journey to the west….the clarion call was sounded and all hell broke loose!
Those views at Morston suggested that perhaps something was a foot (or at least around the foot) but it was to take a further hour or so until that fact was confirmed, by which time it was already established that the bird had apparently been lost from a collection in Wales and had been noted in recent weeks in Cornwall.
However, the Welsh escapee (Manfred to his friends) was supposed to be at least seven or eight years old, which the Norfolk bird certainly wasn't….(and the bird in Cornwall was also meant to be a brown one, not a white one).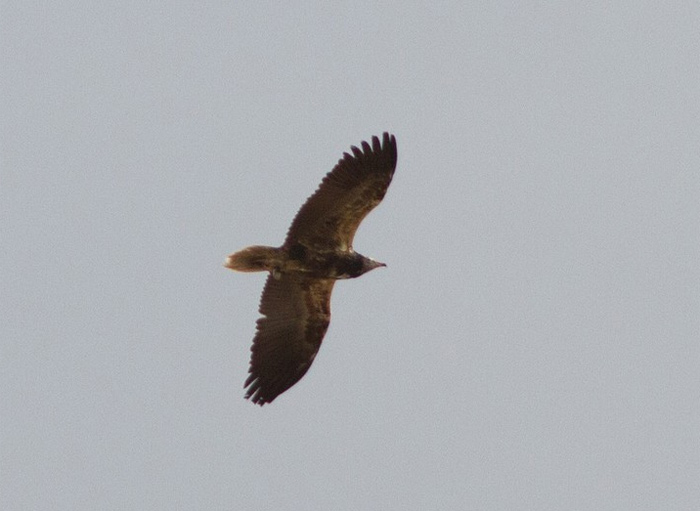 Origins are actually irrelevant, as Manfred (if it was he) was seen to be the proud owner of both an anklet and a cute little bell (the gentle "tinkle, tinkle" of which was heard by your correspondent as the Vulture toured along a hedge and passed just a few feet overhead) so there was absolutely no chance of clinging on to any hope of a wild individual being involved.
All those who chased along the coast were in no doubt at just how impressive the Vulture looked ~ the further away the better ~ as he cut a mighty fine sight soaring along over the pines at Holkham…
Shorebirds
The two juvenile Spotted Sandpipers at Moyasta (Co. Clare) were still together on 17th, with one bird present to 22nd and a new arrival was at Lough Leane (Co. Kerry) on 23rd.
A juvenile Baird's Sandpiper appeared near Northton, Harris (Outer Hebrides) on 19th and followed on from a juvenile White-rumped Sandpiper the previous day…the only other White-rumped Sandpiper this week was found with the tame Turnstones in the puddles and pools at Salthouse beach car park on 17th, before heading to the nearby Cley reserve where it remained to 19th at least.
There were several leftover American Golden Plovers this week ~ the long-staying adult was on North Ronaldsay throughout the week, while in Ireland singles were still being seen on the Cashen Estuary (Co. Kerry) to 18th, at Pilmore (Co. Cork) to 20th and the juvenile was still out on Loop Head (Co. Clare) to 22nd. New birds in the Republic were at Inch Island, Lough Swilly (Co. Donegal) on 20th and at The Gearagh, near Macroom (Co. Cork) on 21st.
It has been a good week for Lesser Yellowlegs ~ four birds seen, with two new ones for England and two old ones for Ireland.
In Devon, at Ernesettle, in Plymouth, one was found on 20th and was still present until the end of the review period ~ the first in the county for nearly 10 years, the most recent bird was at Dawlish Warren in May 2003, this will become the 18th for the county (and could it be the Cornish bird from nearby Kingsmill Lake or a new arrival?) while Lancashire's 13th Lesser Yellowlegs was found at Aldcliffe Marshes on 21st, and was still present on 23rd.
The Irish birds were individuals reported here last week ~ at Bull Island (Co. Dublin) and Ballinskelligs (Co. Kerry) ~ and both still present on 22nd.
In Gloucestershire, the winter adult Long-billed Dowitcher at Slimbridge is rapidly approaching a three figure stay (October 23rd represented it's 95th day!) while with rather fewer days inked off the calendar are the juvenile at Alkborough Flats (Lincolnshire), still present on 20th and the bird at Burton Mere RSPB (Cheshire), present again on 19th. Another juvenile was seen on North Uist, at Baleshare, on 23rd ~ one was on the island two weeks ago but it seems likely that this may be a brand new arrival.
Just two Pectoral Sandpipers to report on this week ~ the popular juvenile at Kelling (Norfolk) was last seen on 17th while a new bird was at Maer Lake (Cornwall) on 18th.
The only Dotterel of a quiet wader-week was amongst Golden Plovers at Muirton (Highland) on 18th-19th.
Gulls and Terns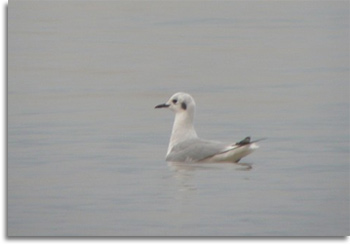 An adult winter Bonaparte's Gull appeared off the beach at Dawlish Warren (Devon) this week, seen on 21st and again on 22nd-23rd, this may even be the bird that spent several weeks in the area of the Exe Estuary last year ~ after discovery (as a first-winter) on the Otter Estuary in April 2011, the bird relocated to Dawlish after five days, commuted back and forth to the end of the month and spent the summer (to mid-July) around various estuary sites, reappearing (as an adult winter) on a couple of dates in late August.
In west Wales, off Strumble Head, the adult Bonaparte's Gull was seen again on 19th-20th.
Back for another winter in Hampshire, the adult Ring-billed Gull reappeared at Gosport this week (on 21st) for what will be the ninth year on site ~ the bird was first seen (as an adult) in November 2003. Along in Kent, a second-winter Ring-billed Gull was a good find at South Swale NR ~ this is the first reported in the county since one at Pegwell Bay in March 2009. A new adult Ring-billed Gull was seen at Bundoran (Co. Donegal) on 19th and the third-winter remained at Groomsport (Co. Down) to 20th.
The adult Azorean Yellow-legged Gull remained at Rutland Water (Leicestershire) to 19th with the only Glaucous Gulls this week being a juvenile on Fair Isle and a third-winter at Dungeness while an adult Iceland Gull was reported heading by St. Catherine's Point (Isle of Wight) on 18th.
Passerines
The unusually long-staying Lanceolated Warbler on Fair Isle leads the way this week ~ present to 22nd at least, this bird has been present for almost three weeks now. A quick flick through the dusty old record books shows that there has only been one other Lancie that has had a stay that has gone in to double figures ~ a 13 day bird on Fair Isle in October 1961. The vast majority (over 90) of the 127 accepted birds (up until the end of 2010) have been one day birds, so a three week stay is unheard of.
Unlikely to stay put for three weeks (though you never know) is the first-winter male Pied Wheatear at Quendale on Shetland. Found during the afternoon of 23rd, this will be the seventh record for the islands ~ the first came on Fair Isle in October 1989, with two on Mainland in October 1991 (one of which stayed for five days) with further individuals coming in 2000 and 2004, the last of which was found on the very same date as this week's bird.
As mentioned earlier, the Kilminning area was in full "Patagonia rest stop" mode this week ~ alongside the top-of-the-bill Eastern Olivaceous Warbler came a Radde's Warbler, found on 18th and it was the first of five birds found this week.
Not far behind the Fife bird was one in Angus, at Lunan Bay (also appearing on 18th) and both birds remained until 21st. Two birds were found on Scilly on 22nd, on St. Agnes and nearby Gugh, with a third bird making landfall on the Farnes the same day.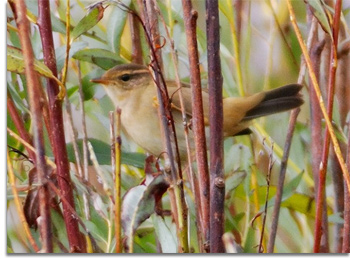 Not content with scoring Galway's first Eastern Kingbird a couple of weeks ago, birders walking the magic roads around Inishmore uncovered the county's first Dusky Warbler on 19th ~ the start of a four day stay to 22nd. This was also the first record for the whole of the Irish west coast, previous records have come from Limerick (a winter one day bird in December 1970), a two day spring bird on Great Saltee in May 1990 while Cork has secured a whopping seven county records, the most recent coming on Power Head in 2009.
Another new Dusky on 19th was found at Swinister, on the Shetland Mainland and three more were to follow during the week ~ at Reculver (Kent) and Hartlepool Headland (Cleveland) on 22nd with the final birds of the week at Whitburn (Co. Durham) and St. Mary's Island (Northumberland) on 23rd.
One of the main talking points this week has been the identity of the Scilly Dump Clump warbler. Last week it was widely reported as a Hume's and no one took much notice. Then photos appeared online and people immediately did start to take notice! In the images, the bird looked for all the world like a "standard" inornatus Yellow-browed Warbler. However, the call was anything but a "standard" inornatus call.
Many practised ears concurred that the calls were closer to matching Hume's than Yellow-browed and the finder's playback experiment saw the bird go bonkers when humei was played at it….oooh, errr. Whatever can it mean?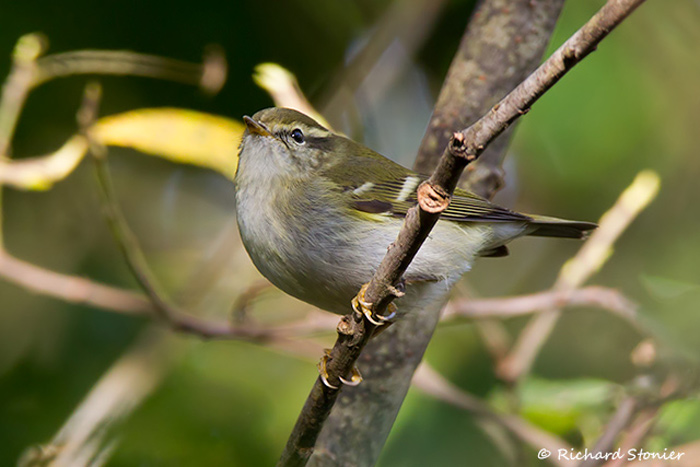 A far less contentious Hume's Yellow-browed Warbler was found on Fair Isle on 17th, lingering for a second day.
Still proving popular this week was the Pallas's Warbler at Knott End (Lancashire) ~ still present to 20th ~ and the bird at Flamborough Head (East Yorkshire) ~ present to 21st. Kent hosted two new arrivals, at Dungeness and Samphire Hoe CP with further new birds appearing at Whitburn on 22nd and Frinton-on-Sea (Essex) and Great Yarmouth (Norfolk) on 23rd.
Also new this week ~ a Greenish Warbler at Three Castles Head (Co. Cork) on 17th, an Arctic Warbler at Roans Voe, Mainland (Shetland) on 21st, a one-day Blyth's Reed Warbler on private land near Inverness on 20th and on Scilly, on St. Agnes, a Marsh Warbler from 22nd and a one-day Booted Warbler (the first there since 2008, and the 17th record for the islands) found on 20th.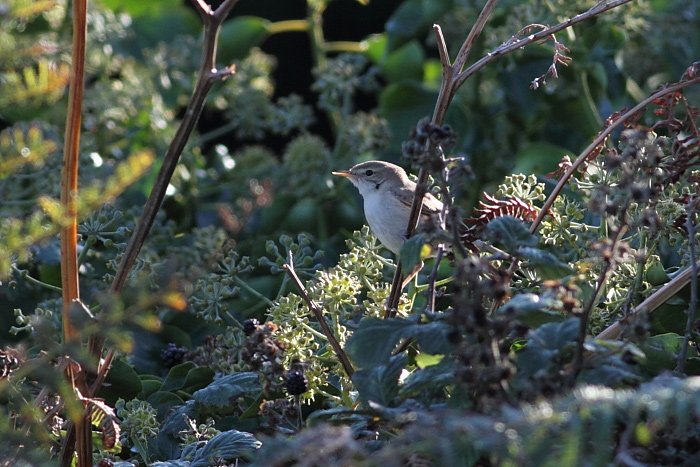 On Portland, the first-winter male Subalpine Warbler seen on one day only last week (14th) was found again, in the same area, on 20th and showed for a couple of days. Better still, the island then produced a lovely adult Daurian Shrike on 23rd ~ found in the Top Fields area of the Bill.
Daurian Shrike (L. (i). isabellinus) is the commoner of the two "types" of red-tailed/"Isabelline" shrikes recorded in Britain but interestingly Dorset's four records to date have been split 50/50 between Daurian and Turkestan Shrikes (L. (i). phoenicuroides).
Portland has two records prior to this week's bird ~ an adult female Daurian in September 1959 and an adult female Turkestan in September 1985. The only other county records have been a first-winter Turkestan Shrike at Winspit in October 1978 and a first-winter Daurian Shrike at Durlston in October 1988.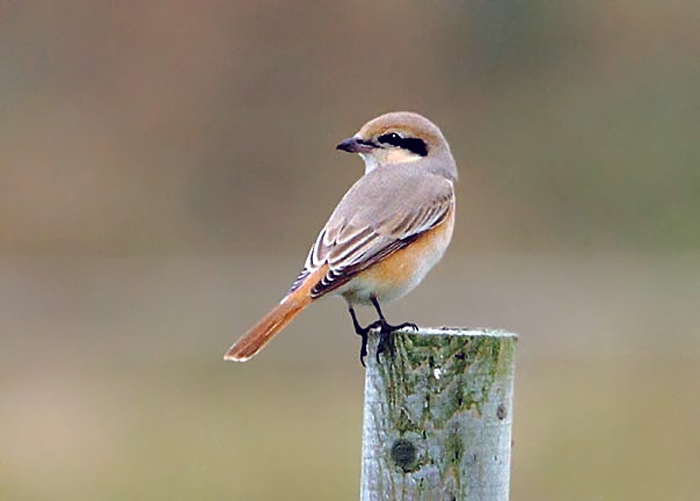 Further along the south coast, in East Sussex, a very neat Siberian Stonechat spent three and a half days on the slopes around Birling Gap from 20th-23rd ~ the first in the county for eight years.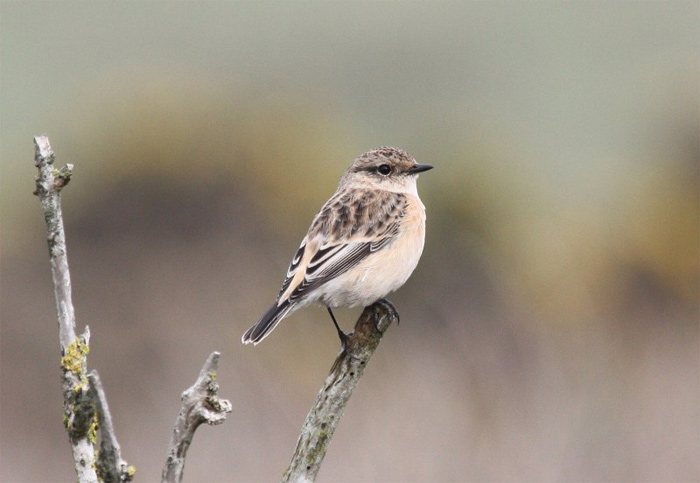 Fair Isle popped in an amazing four Olive-backed Pipits in the same burn on 18th ~ there have been a few records of twos, a couple of threes (both on Fair Isle, in October 1987 and October 1993) but there's never been a four before.
A further six were seen around Shetland during the week (one on Unst, one on Out Skerries with the others all on Mainland) with others reported on Westray (Orkney) on 18th, on Bryher (Scilly) on 19th, in Kent, at Coldharbour Lagoons on 21st and, back on Orkney, one was trapped on North Ronaldsay on 22nd.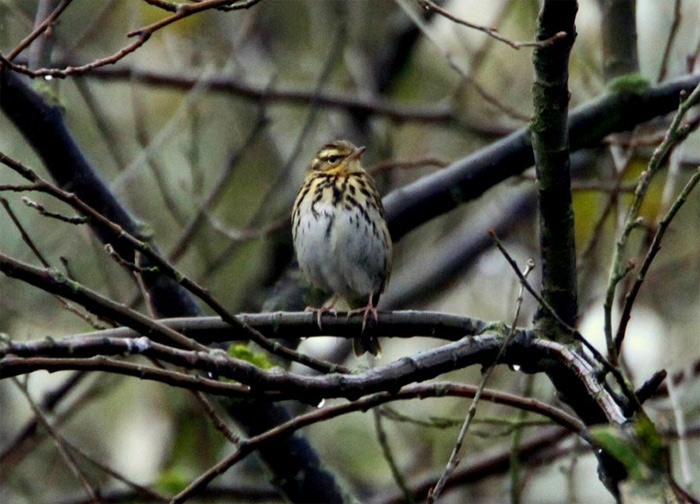 The 22nd also saw another Galway first arrive on Inishmore ~ in the very same wood that the Kingbird spent some time ~ and was the first in Ireland in nearly 20 years. The Republic has had just seven OBP's prior to this, one on Great Saltee and six for Cork (where the most recent one was recorded on Cape Clear in October 1993).
Further Olive-backed Pipits found on 22nd were seen at Flamborough Head (East Yorkshire), Holme Dunes and Holkham Pines (Norfolk) and at Gunner's Park, Shoeburyness (Essex), with all bar the Holme bird seen the following day. Two birds were found on the Farnes on 23rd and one was (again?) on Bryher on the same day with further new birds being found at Corton (Suffolk) and Mousehole (Cornwall).
The only Red-throated Pipits this week were birds reported from St. Mary's (Scilly) and Ballycotton (Co. Cork), both birds seen on 21st.
Durham's fifth Rustic Bunting was found at Marsden Quarry on 23rd ~ three of the previous four have been at the same site (including two birds in consecutive days in September 1993) with the most recent record coming from Marsden on October 21st 2000. The first two Little Buntings this week were also both in the northeast ~ trapped on the Farnes on 22nd with the other at South Gare on 23rd.
Then came three more ~ one on Bryher, one on Bardsey Island and one at Virkie, on Shetland's south Mainland, a bird which was at the centre of much night-time debate ~ the very real possibility of it being Britain's second Chestnut-eared Bunting being raised by the online community. Fair Isle's bird in 2004 was initially identified as a Little Bunting too, so it will be interesting to see if other images emerge or the bird remains in the crop for another day for the matter to be settled.
Two Hornemann's Arctic Redpolls were found on North Ronaldsay this week ~ one was present from 17th with the second appearing on 19th (the two were still present on 22nd) while Shetland hosted two singles, at Vats-Houll, Whalsay on 18th-20th with the other on the roof of the Observatory on Fair Isle on 18th. The final bird of the week was seen near the Butt of Lewis (Outer Hebrides) on 20th.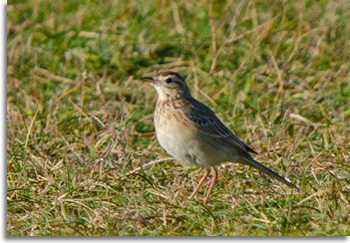 In East Yorkshire, last week's Tawny Pipit at Easington remained to 17th while up to 25 Richard's Pipits were discovered ~ including a long-stayer on St. Agnes (present all week), up to five birds around the tip of west Cornwall, four birds in Norfolk, four birds in Wales (three in Gwynedd and one in Conwy) and three in Ireland (in Donegal, on Tory Island, in Cork, at Shanagarry and in Down, at Balbriggan).
Also in Ireland, the Woodchat Shrike found last week on Inishmore was still around Kilmurvey from 18th-20th while Red-backed Shrikes remained at the Salisbury Plain Training Area, at Weather Hill Firs (Wiltshire) and Housel Bay, Lizard (Cornwall) until 21st and 22nd, with further singles at Three Castles Head on 17th-23rd and Mizen Head (both in Cork) on 23rd.
Two of the seven Great Grey Shrikes noted during the week were already on their wintering grounds in Derbyshire, with singles elsewhere in Shetland, Northumberland, Norfolk, Nottinghamshire and Powys.
In Norfolk, a Red-rumped Swallow was seen along the north side of Cley village on 17th and was followed by a report of three birds at Addiewell station (Lothian) on 20th with another at Dounby, on the Orkney Mainland, on 22nd. Three of the week's Bluethroats were on Shetland ~ at Baltasound on Unst on 17th, with two on Fetlar, at Houbie, on 18th ~ with the fourth appearing at Easington (East Yorkshire) on 23rd.
Shetland was still looking after the most-talked about Lesser Spotted Woodpecker for many years, still present in Scalloway to 20th.
Just nine Wrynecks were reported this week, including the long-staying bird at Brean Down (Somerset) ~ still present on 21st. Two birds were found in County Cork, and there were also two birds seen in west Cornwall, with singles in Dorset, Glamorgan, East Yorkshire and on Shetland.
At least 22 Red-breasted Flycatchers were found during the week ~ with up to five on Scilly (on St. Mary's, St. Martin's, two on St. Agnes on 21st, and one on Tresco), three in Cork (on Cape Clear and Dursey islands on 18th and at Galley head on 22nd), with two more in Ireland ~ in Galway, on Inishmore and Donegal, at Malinmore. Eight singles were spread along the east coast mainland from Fife (at Kilminning) to Kent (at Sandwich Bay), with singles on Tiree and Orkney, while the final bird of the week was the first to arrive, at Holyhead, on Anglesey.
Barred Warblers totaled 11 this week, including two on Mainland Shetland, two on Barra (Outer Hebrides) and two in Cork ~ the others were spread from Scilly, through Dorset and up to Durham, Northumberland and Fife.
The number of Yellow-browed Warblers fell away this week ~ down to some 145 or so (but new arrivals continued to appear every day with a surge on 23rd). Just 13 birds were noted in Scotland (including three on Orkney), with 12 in the North East, eight in the North West (including up to five birds in Lancashire), 18 birds were seen in Wales ~ including five on Bardsey on 23rd ~ while 14 birds in East Anglia were split seven each for Suffolk and Norfolk.
In the south east, at least 24 Yellow-browed Warblers were noted including four at Sandwich Bay (Kent) on 20th and an inland bird adjacent to the racecourse at Ascot (Berkshire), also on 20th. Southwestern counties fared best of all though, with nine in Dorset (including at least four on Portland on 22nd), 14 in Cornwall and at least 17 birds on Scilly. Cork stole the lion's share of Irish birds, 12of the 20 seen there this week were found in the county (with three on Dursey Island on 23rd, with three up on Inishmore too).
Around 70 Waxwings arrived, mainly confined to Shetland, Orkney and the Outer Hebrides, with nine at Stromness (Orkney) on 22nd the largest group of the week. The only records away from Scottish islands were four at Filey (North Yorkshire) and one at Saltholme (Cleveland) on 22nd and 23rd respectively.
Only three Common Rosefinches were seen over the last few days ~ a single at Houbie, on Fetlar on 18th was followed by one at Balranald, North Uist on 19th and another, trapped and ringed, at Orford Ness (Suffolk) on 20th. Three was also the magic number for Rose-coloured Starlings ~ juveniles were at Haverfordwest (Pembrokeshire) from at least 20th, with further youngsters following on St. Agnes from 21st and at Cape Cornwall from 22nd.
Unusually, there were several records of Serin this week ~ one flew over Samson Hill on Bryher on 18th, and another was at Kenidjack on the same day. On 19th, a Serin was seen over Porthgwarra and two were seen heading west along the cliff tops at Pegwell Bay (Kent) on 20th with singles again on Bryher, and also St. Mary's during the course of the same day. Two separate Serins were seen along the Devon coast on 21st ~ at Orcombe Point and East Soar, with records on the 22nd coming again from Cornwall (near Land's End) and Kent (at North Foreland).
Finally, on Tresco, a Penduline Tit was seen around the Great Pool from 20th (although it had probably been present since 18th).
A look ahead at the weather charts for the next few days seems to suggest that there may be one or two more opportunities for the big Eastern P megas to find their way to us before the attention turns to Pomarine Skuas and Little Auks ~ polar air is on its way apparently as the temperatures fall from the mild mid-teens to chilly low single figures, with hints at the first snow of the late autumn on the cards.
What birds could follow? Who knows! But a neat and tidy, fit and healthy Brunnich's Guillemot wouldn't go a miss (woe betide you if it's on a seawatch tho') and a far-flying, "sticking" Pine Grosbeak wouldn't go astray either (though they may be a touch early)…..
…but imagine the scene (the unbridled glee and joy) if someone, somewhere chanced upon something even better from the Arctic Circle, a magnificent bird that is perched right at the top of the most wanted tree ~ Surnia ulula anyone…?
Mark Golley
24 October 2012
This weeks contributors
For their help and contributions this week a special thanks goes to: Rob Fray for sending through his Chestnut-eared Bunting photos in time for publication


And thanks to all our other contributors for their photos and videos
Penny Clarke
,
Richard Stonier Richard Stonier Photography
,
Steve Arlow - Birders Playground
,
Joe Pender - Sapphire Pelagics
,
Tony Mills
,
Bob Flood - Scilly Pelagics
,
Jeff Hazel - Levels Birder
,
Luke Dray
, Frank Golding, Andy Thompson, Erich Hediger, Phil Woollen, Steve Ashton, Dave Curtis, Michael O'Cleary, Paul Barker, Dennis Morrison, Colin Manville, Chris Baines,