Weekly round-up: 10 - 16 Oct 2012
The week at a glance
Ireland's first South Polar Skua flies by the Cork coast
Shetland's autumn list now includes Foula's Eyebrowed Thrush
Eastern Olivaceous Warbler arrives in Fife along with a Pechora Pipit
Barra boys land a White's Thrush
Scilly birders finally get Nearctic vagrants Blackpoll Warbler & Solitary Sandpiper
The fourth mainland Pallas's Grasshopper Warbler of the autumn arrives in Co. Durham
Tacumshin's juvenile Northern Harrier in situ at the start of the week
Kerry holds on to the week's only American Buff-bellied Pipit
Another glittering set of prizes for the rarity hunter this week as yet another set of high quality birds made themselves known ~ smiles all round on Scilly as birders there finally got a piece of the autumn action while birders in the northeast and the Northern Isles were licking their collective lips as some enticing southeasterlies kicked in as the weekend approached.
Initially it was, however, an Atlantic influence in the weather that provided the autumnal shot-in-the-arm for birders in the far southwest but as the low pressure slipped away it let in a hefty blast of winds that were just made for birders from Spurn northwards.
But it wasn't a wader or a warbler that were at the forefront of the rarity race. That accolade went to a seemingly forgotten seabird…
Headline birds
Its hard to imaging that any other week this year would have been able to live up to the sumptuous feast of outstanding species reported upon last week but, fair's fair, there was a more than decent effort brought up t0 the rare-seekers table over the course of the last seven days.
Top of the pile has to be the pale South Polar Skua watched heading past Mizen Head (Co. Cork) during the morning of 12th which, if accepted, will be a long anticpated first for Ireland (Britain, of course, still awaits its first acceptable record).
From the Finder - Cork birder Owen Foley on his Southern Star
Every year for the past five years I, my brother and father have worked the Mizen Head area for migrants, for a period of 1-2 weeks in October. This has often varied in success, with some years having bumper crops of rarities and some, like this year, having very little in terms of migrants.
Having had a couple of very quiet days, with little more than one or two Yellow-browed Warblers lingering on the head, my brother and father were being tempted off to County Kerry, for long staying Buff Bellied Pipit and Surf Scoters.
Not leaving the house quietly, I was awake at 06.30 and had a leisurely breakfast. However, by the time the light came up, I was bored of Sky News and took off for the last garden on the Mizen Road.
It was a bit too cold for much activity in there, so I carried on to the lighthouse car park to see if there was any activity at sea. Seawatching from Mizen in October is not like seawatching elsewhere at this time of year. There are often large numbers of whales and dolphins in the area, and these often bring with them large numbers of Sooty Shearwaters which linger ~ previous autumns having produced flocks of several thousand following Minke Whales.
Looking with binoculars I could easily pick up Sooty Shearwaters moving west, and having found a Fea's Petrel some days before in similar conditions (which was a tick for my brother), I grabbed my scope and set off for the cliff edge. The elevation was good, as was the light, and birds were moving by quite close. A large feeding flock of Gannets and Kittiwakes were just off shore to my right, with several Sooty Shearwaters milling around in the fray with them. Two Bonxies were causing havoc in the melee, and birds were drifting in from the east to join them. At about 9 a.m, I picked up an extremely pale bird, close in (about ¼ the way out), out to my left. It was instantly recognizable as "not your average skua", to say the least!
Strikingly ice cold, white-grey on the head, and underparts with a smooth, "smoky" quality, it contrasted strongly with jet black underwings. The upperwings too, were solidly dark on all the coverts, and the darkness of the wings in general, seemed to make the white flash on the primaries all the more brilliant. The tail, rump and mantle were all dark, contrasting with the pale nape. The bill was thick and seemed evenly bulbous, giving the bird an almost comical expression, like the bill did not quite belong. The face was also pretty much evenly pale, lending the bird a further "kind" and open look to it. A hint of a white "blaze" just behind the bill was visible, but in good light, was contrasting little with the rest of the bird's plumage. This was surely a bird that belonged on Antarctic Ice Floes?
Jizz wise the bird did seem slightly sleeker than Bonxie, however, whether this was an effect caused by the smooth plumage and the way light played on it I cannot say for certain. During the five minutes it was passing, it was on view with a Bonxie sadly for only a brief second (though there had been Bonxies much further out in the background at times), so a prolonged comparison of structure could not be made. However with such a distinct plumage it made little difference to the ID process.
After the bird was lost to view, I blinked for the first time in what felt like an eternity and I rapidly made my way back to the car and poured over the field guides I had to hand to cement my thoughts.
Without a doubt a pale phase South Polar Skua. I managed to text the news out (phone signal is always patchy and random on Mizen) and the news was quickly disseminated on the Cork Twitter feed. With the temperature rising, I resumed birding the various gardens during the day, but to be honest, was not much use...I was looking forward to a beer too much!
South Polar Skua is a species which has been, for almost two decades, almost a forgotten item in terms of British and Irish claims ~ the intoxicating world of Pterodroma and Fregata petrel species, and Yelkouan and Scopoli's Shearwaters have captured many a seabirder's imagination ~ and as we know they have manifested themselves to a lucky (often extremely persistent) number of seawatchers over the time that it has taken South Polar Skua to slip silently away off the radar.
In one of those beloved birding coincidences, it was 30 years to the very week that seabird guru Peter Harrison made the audacious first claim of seeing a South Polar Skua on a seawatch off St. Ives Island, not once but twice within a week (on 14th and then 18th of October 1982). He promptly illustrated them, beautifully, in the following year's Cornish Bird Report.
It was all to no avail though despite, literally, being the man who wrote the book, Harrison's birds were consigned to the BBRC "rejected" bin (no shilly-shallying with a "Not Proven" comfy sidestep in those days) but the two records certainly opened up birders' conciousness to a potential, previously unimagined, seabird vagrant.
When asked, at an indoor meeting in Plymouth the following autumn (while busily signing a copy of his revelatory tome "Seabirds"), whether he was surprised by the occurence of South Polar Skua off the Cornish coast, Peter Harrison's reaction was an all-knowing raised eyebrow and a slightly withering, though ultimately friendly, response to such schoolboy impertance of "no, no, not at all ~ these birds are out there, we just have to know how to find them".
And for a few years, people were "finding" them. Further reports included birds off St. Ives on the legendary seawatch of 3rd September 1983 (though some present there on that extraordinary Saturday struggle to remember that claim) with another there the following month. Further St. Ives birds were reported in August 1985 and also on consecutive days between 8th and 10th October 1987.
The same year, in August, one was reported from one of the groundbreaking Harrison-led pelagics in the Western Approaches aboard the M.V. Chalice while a multi-observed classic-looking intermediate South Polar Skua was seen well (and photographed) on a glassy sea on 28th October from the M.V. Scillonian III. Another claim from waters off Scilly came in August 1993, while one was reported off the north Norfolk coast in September 1985.
All of the birds submitted from the batch mentioned above (it should be noted that not all of them were put in front of the Ten Rare Men) were given the heave-ho and South Polar Skua records quietly slipped away. Aside from a brief flurtation with one off Bridges of Ross in August 2006, nothing was heard of this teasing, tricky and sometimes tough to identify speices.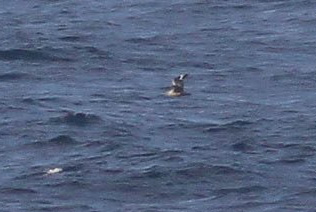 Then ~ in June last year ~ South Polar Skuas were suddenly all the rage once more. A dark bird was photographed off Madiera and then a marvellous pale bird was seen from the Spanish mainland in August, heading past Punta de Estaca de Bares, Galicia and Dave McAdams managed a set of shots to make everyone sit up and take notice.
Further birds were seen from the same site in September 2011 and again in August this year (as well as two birds there in 2010). Elsewhere in Spanish waters, three individuals were seen from a pelagic off the Canaries in September last year (captured beautifully by Dani Lopez Velasco) while another record in the Portugeuse waters of Madeira came in June this year.
And now, Owen Foley's Irish fly-by. Its wonderful to see the resurrection of the species in a context that we can identify with (even if the historic records won't get a look in again) and you wouldn't want to bet against those most perceptive and skillful observers who tirelessly work the seas off Scilly on-board the MV Sapphire being the next ones to score ~ and there's every chance that some exciting images would follow with it too....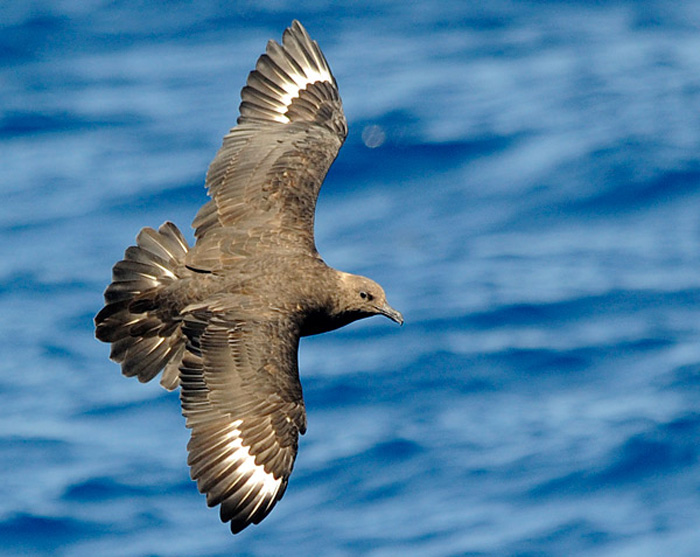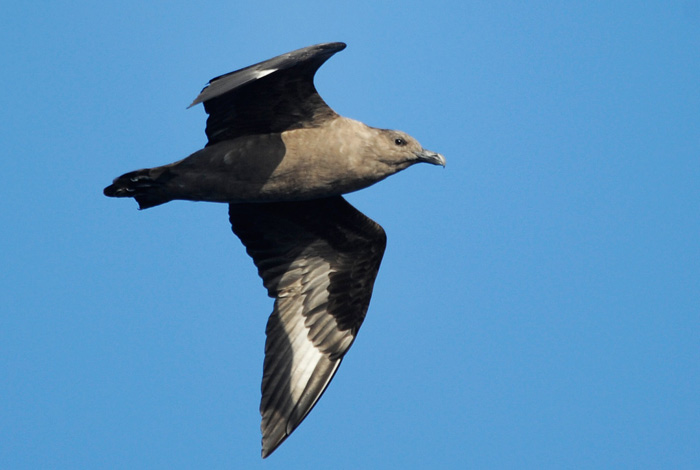 However, these wouldn't be the first records of a "southern" skua to be accepted here. Currently two birds are accepted on the British list as being either Brown Skua or South Polar Skua ~ birds on Scilly (picked up on the Gugh bar in October 2001) and the Gower Peninsula in February 2002 (also picked up and taken in to care at Kenfig) were initially thought to have been young "dark" Bonxies but subsequent laboratory work revealed they were Brown Skuas but this significant development was then revised and the birds were re-classified as "southern" skuas.
It could be argued that its all a bit of a mish-mash but with pale birds it becomes a that little bit easier (hybrids aside) ~ so let us bid the Cork bird a fair wind as it flies on by towards the Committee stage.
There shouldn't be such an issue for the next high-quality mega this week ~ as Shetland's third-ever Eyebrowed Thrush was found during the morning of 13th at the north end of Foula.
The only other Shetland records have both been on Fair Isle, the first spending nine days on the island from October 7th-15th 1987 while the second was a one-day wonder on October 4th 1992.
Until this week, there had been just 19 records of this beautiful eastern thrush in Britain. The first two were found within an October fortnight of each other in 1964 (at Oundle, Northamptonshire, followed quickly by one on North Rona, Outer Hebrides) with a third following in December the same year on Scilly (a really remarkable threesome). The fourth record, another one day individual, came 14 years later (in Renfrewshire in October 1978) with the fifth and sixth following in the spring of 1981 (in Yorkshire and Aberdeenshire).
For many birders, the vibrant, carroty-orange fronted, first-winter male around the mucky fields at Salakee, on St. Mary's on October 20th 1984 was the first multi-observed record of the species (so rich and bright in tone it was initially suspected to be an American Robin...) and further single birds on Scilly in 1987 (on St. Mary's and a different bird on St. Agnes) were also suitably well-received by the 1000 or so listers embedded on the islands.
The start of the 1990's saw Scilly continue to dominate records of Eyebrowed Thrush ~ birds on Tresco in 1990, St. Mary's and Tresco in 1991 and St. Mary's and St. Agnes in 1993 taking the total recorded there to seven but since Scilly's last, just four more have been recorded (until this week).
A three day spring male was at Auchmitie (Angus) in May 1995, another was trapped on Bardsey in October 1999, while the only records of the 2000's have been on St. Kilda in October 2001 and a twitched bird on North Ronaldsay in Ocotber 2009.
While we're the ever-popular theme of mega-thrushes, we'll make a nod in the direction of the Outer Hebrides and to Barra where a White's Thrush was trapped and ringed near Brevig during the afternoon of 13th and which was still present towards the end of the day. This becomes the fourth record for the islands, following birds on St. Kilda in 1993 and Lewis in 1998 and 2004.
Its already been a pretty decent year for what is, ultimately, the uber-thrush of the British List ~ three records so far this autumn ~ the Inner Farnes bird coming first with brief sightings following on Orkney and, last week, in Cornwall. Somewhat surprisingly Shetland has yet to be graced by a White's Thrush in 2012, but there's still time.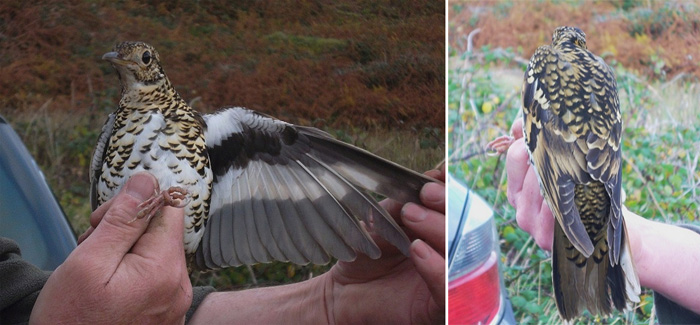 What is arguably the most mindboggling (and happy) turnaround of the year came in Scotland this week with the discovery of an Eastern Olivaceous Warbler at Kilminning (Fife) on 14th. Incredibly its less than two months since the very same species was reported from the very same site ~ but the mid-August bird was re-identified, from photographs, as a Chiffchaff. Now though the real deal has hit the Scottish east coast and it was still in place over the next couple of days for folk to enjoy ~ and what a super bird, and outstanding find, it was.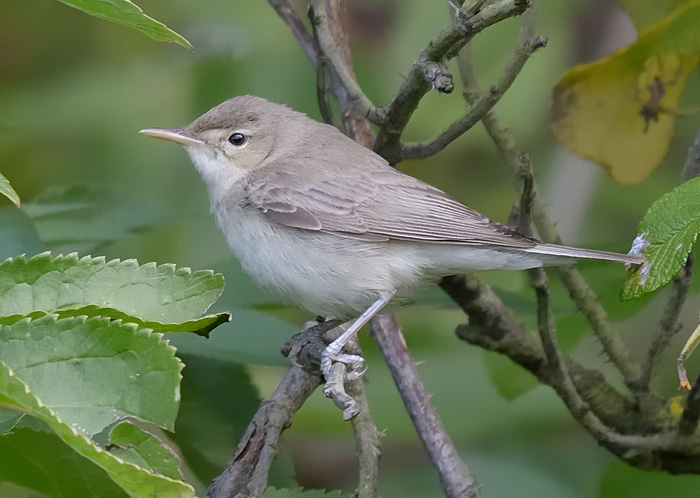 There have been 20 records of this one-time Hippolais warbler since the discovery of the first two birds just four September days apart in 1967 (on the Isle of May and Kent). This will be Scotland's tenth record, seven of them on Shetland. In terms of occurence, its only the third October Olivaceous ~ the other two were found in consecutive years on Scilly, both on St. Mary's, in 1984 and 1985.
Meanwhile, on the Isle of May, off Fife's coast, a Pechora Pipit was found on 13th ~ its not only a first for the island, it will also be the first-ever county record. That was quite some weekend along the Scottish coast….
Last week the general glumness of Scilly birders was touched upon as Ireland (well mainly Inishmore) was awash with fabulous birds from the Nearctic. This week things improved considerably with the arrival of two birds from the Americas….
….and Bryher was were it was at ~ a Blackpoll Warbler came first, seen on 11th and again on 13th-16th, with a juvenile Solitary Sandpiper following soon after, on 12th and that too, was in place for the rest of the week.
Scilly has dominanted Blackpoll Warbler records since recording its first, on St. Agnes, in 1968. Ten birds followed during the 1970's (including an amazing run in 1976 when two Blackpolls were on St. Mary's and two (even three) were on St. Agnes at the same time (7th-13th October). Five individuals were seen in the 80's (including two in 1984), three in the 90's and four birds have been accepted so far in the 00's (including another twosome in 2007). These 23 Scilly Blackpolls form part of an overall total of 50 accepted records in Britain and Ireland (42 for the former, 8 for the latter).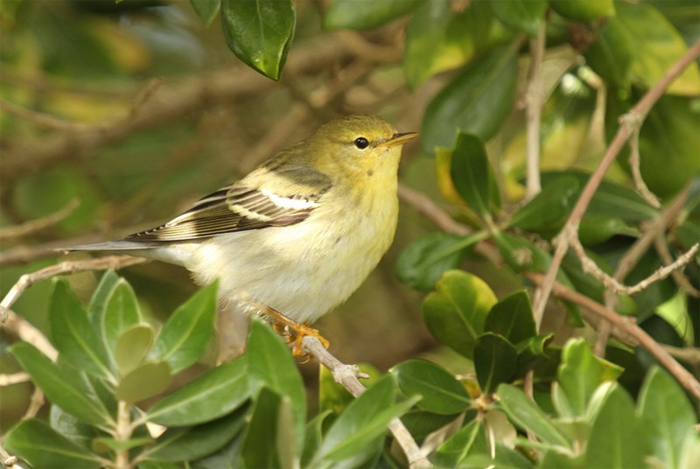 Meanwhile the 2012 Solitary Sandpiper will become the 14th Scilly record of this ever-popular long-haul shorebird. The first was shot on St. Mary's in the autumn of 1882 but it was 92 years until the next one ~ a summer bird on Rosevear, arriving on 23rd July 1974, before moving to St. Mary's and Tresco, with a second bird arriving on Tresco later that year.
Single birds were seen in consecutive years between 1983 and 1985 while in 2003, another summer arrival appeared ~ coincidentally on the very same date as the Rosevear bird of 1974 ~ July 23rd.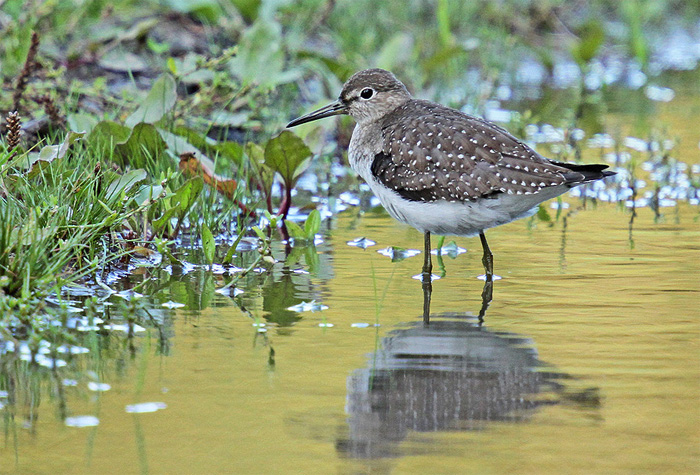 This is the fifth Solitary Sandpiper of the new millennium and follows a popular, often showy bird last autumn, frequently seen around the pool near the dump on St. Mary's, often with a Northern Waterthrush not too far away. The bird from the school of 2012 was on Bryher until 14th and made an appearance on St. Mary's on 15th and 16th.
The autumn's fifth Pallas's Grasshopper Warbler was found at Marsden, near Whitburn (Co. Durham) on 12th ~ an amazing fourth mainland record this year and the second for the area (the first came on September 26th, trapped at Whitburn on a day when three arrived along the east coast). The bird was seen just once after its initial discovery, confirming that it really is still a pretty tough customer when it comes to twitching one.
In Ireland, the juvenile male Northern Harrier remained at Tacumshin on 11th while the only American Buff-bellied Pipit to linger for a new week was the bird in County Kerry, still at Smerwick Harbour to 13th.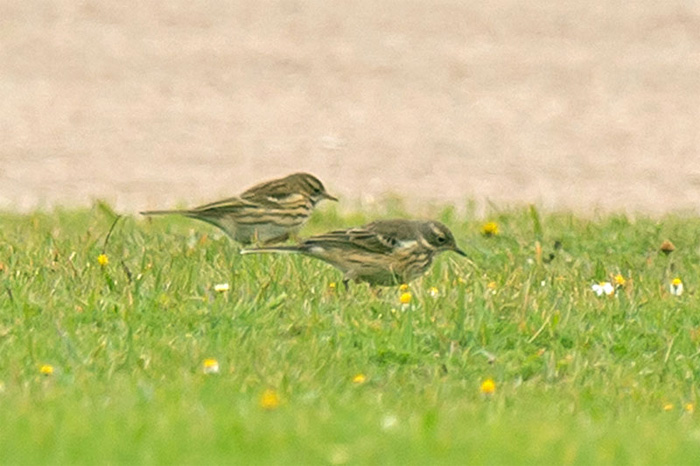 Seabirds
No real surprise this week to see so few large shearwaters reported ~ we're certainly coming to the end of the time that we'd be expecting to see any. A Cory's Shearwater was seen flying past Flamborough Head on 10th with another reported the following day from Thorpeness (Suffolk).
Around 110 Balearic Shearwaters had their weekly tally boosted by a count of 44 from Pendeen Watch on 11th. Other significant counts were 19 off Hartland Point (Devon) and 13 from Porthgwarra on 16th and 10 from Prawle Point on 15th. There were better numbers, as you'd expect in mid-autumn, for Sooty Shearwaters with four double figure counts ~ 11 off Flamborough and 18 from North Ronaldsay on 10th, 20 from Mizen Head on South Polar Skua day (12th) and another 11 were seen from Bridges of Ross (Co. Clare) on 13th. The week's biggest count was back at Mizen Head, 100 counted off there on 13th.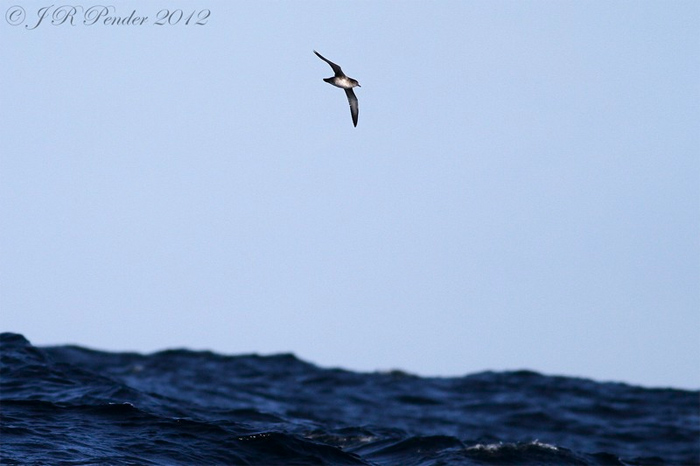 Seven single Long-tailed Skuas were reported this week ~ two were in Lincolnshire on 10th (at Gibraltar Point and Frampton Marsh) with further records coming on 12th, from the Scillonian and heading past Dursey Island (Co. Cork). Singles were also reported from Bo'ness (Forth) on 15th and Strumble Head (Pembrokeshire) and Steeper Point (Cornwall) on 16th. Just over 40 Pomarine Skuas this week included 11 from Kilcummin Head (Co. Mayo) on 14th, five from Thorpeness (Suffolk) on 11th, three from Cape Clear on 12th and four off Strumble Head (Pembrokeshire) on 13th.
Cork accounted for three of the week's ten Sabine's Gulls ~ single birds were seen from Cape Clear and Mizen Head (on 11th and 12th respectively) while the adult was seen again at Kennedy Pier, Cobh on 13th-16th. Other records this week were of an adult at Minsmere RSPB on 12th, singles at Dunraven Bay (Glamorgan), St. Abbs Head (Borders) and Kilcummin Head, all on 14th, with two off St. Ives Island and one off St. Mary's airfield on 16th.
It hasn't been the greatest week ever for Leach's Storm-petrels, only four singles seen, at Minehead (Somerset) on 12th, from Bridges of Ross on 13th, Sheringham (Norfolk) on 14th and off Ainsdale on 16th. Four of the week's Grey Phalaropes were also noted from Bridges, three on 12th and one on 13th, with three off Dursey Island on 12th and singles off Strumble on 13th and at Llanfairfechan (Conwy) on 16th the only other records.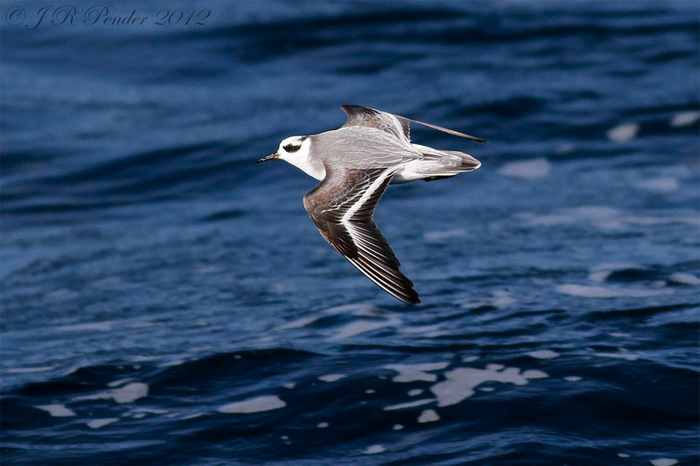 Twenty Little Auks were noted off Anstruther (Fife) on 12th, with singles elsewhere in Kent, Norfolk, Lincolnshire, East Yorkshire, Highland and Shetland.
Herons, Egrets & allies
At least seven of last week's newly arrived Glossy Ibis remained in west Cornwall this week ~ they were seen together near Brew Pool on 13th with further records of one, two and four birds from assorted nearby sites (Trevorian Pool, Sennen, St. Levan and Brane) during the rest of the week, with one making it on to the Lizard on 14th and another was at Marazion on 16th.
A new arrival was seen at Rainham Marshes RSPB (London) on 14th before heading off towards Dartford later the same day (though it was back on 15th) and a flock of eight birds was reported heading over the M20, near Maidstone (Kent) on 15th. Lingering birds remained in County Cork, at Timoleague to 11th at least, in Cambridgeshire, on the Ouse Washes until 13th and in Pembrokeshire, at Marloes Mere to 16th.
The Purple Heron remained at Radipole Lake RSPB in Dorset throughout the week, while the only Cattle Egret reported was one still at Catcott Lows (Somerset), present on 11th. At least 24 Great White Egrets were spread between 15 counties and included two birds along the Avon river in Hampshire on 10th, two more at Dungeness RSPB on 11th, three together over Burton Marsh (Cheshire) on 12th, three headed southeast from Angmering (West Sussex) on 13th and back in Cheshire, three were at Parkgate Marsh on 16th.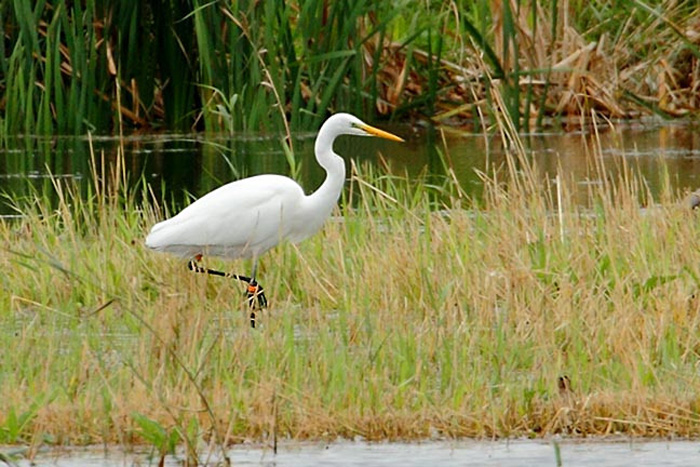 In Dorset, 18 Spoonbills were on the lagoon on Brownsea Island on 16th while smaller numbers elsewhere included groups of four at Yelland Marsh (Devon), Pagham Harbour (West Sussex) and Bawdsey (Suffolk), three first-winters at Cley (one of them a German ringed youngster) and notable singles in East Yorkshire (at Blacktoft Sands), on Scilly (on Samson) and in Warwickshire, at Ladywalk NR, on 10th, flying west from there during the morning.
Groups of 13 Common Cranes were seen in the far west and the far east of Norfolk during the week, at Welney WWT on 13th and Heigham Holmes on 10th. Four adults remained near Goole (East Yorkshire) on 10th and three were seen again over Burton Marsh (Cheshire) on the same day. Another four Cranes were photographed over Lodmoor on 13th and two more were reported from Tonyrefail (Glamorgan) on 11th.
In Devon, at Seaton Marshes, the Spotted Crake continued to show until 11th and another was found on Foula on 14th while single Corncrakes were noted at either end of the country ~ on Fair Isle on 11th and at Porthgwarra on 13th with another on Dursey Island (Co. Cork) on 15th.
Ducks & Geese
New this week was the female or first-winter Blue-winged Teal at Rahasane Turlough (Co. Galway) on 14th ~ the fifth record (but sixth individual) for the county, two birds were present here for 12 days in September and October 2010. Also fresh in from the Atlantic, the flock of three Ring-necked Ducks on St. Mary's (Scilly) on 16th ~ the first-winter drake and two first-winter ducks seen heading from Lower Moors towards Porth Hellick late in the day.
In West Yorkshire, the drake American Wigeon was still at Angler's CP and nearby Wintersett Reservoir for the week (still present on 16th) while a returning drake was back at Lochmaben (for its fourth winter), on Kirk Loch (Dumfries & Galloway) from 13th. In Wexford, the eclipse drake remained at Tacumshin until 14th. The week's only drake Green-winged Teal was found at Netherfield Lagoons (Nottinghamshire) on 14th.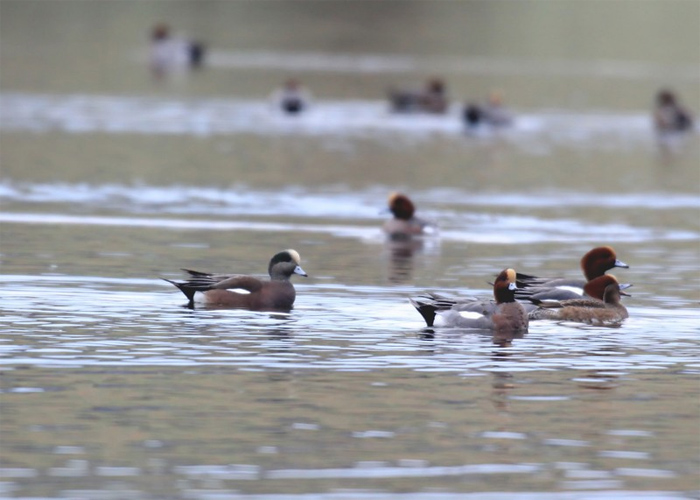 Two American ducks remained on Achill Island (Co. Mayo) this week ~ the drake Black Duck at Srhuill Lough and the drake Ring-necked Duck on Lough Doo, near Tonatavally, both to 12th. In Somerset, the drake Lesser Scaup remained at Chew Valley Lake throughout the week with a second drake present on site from 15th.
Seaduck included the drake King Eider lingering off Burghead (Moray) until 12th at least while in Wales, three drake Surf Scoters were found at Llandulas (Conwy) from 12th-14th. Another drake was seen in Largo Bay (Fife) on 13th and in Ireland, a female or juvenile Surfie was at Ballyvaughan (Co. Clare) on 16th, with another some eight miles or so away at Black Head the same day.
An adult Red-breasted Goose was an early-ish autumn arrival at South Swale NNR (Kent) on 14th, nestled in amongst a flock of some 2,000 Dark-bellied Brents. Lone Black Brants were on the Fleet, at Littlesea (Dorset) on 10th, Hayling Island (Hampshire) and Leigh-on-Sea (Essex) both on 14th. In Ireland, a Richardson's Canada Goose was with the Barnacle Geese at Lissadell (Co. Sligo) on 16th and over on the Outer Hebrides, two Snow Geese were reported from Balranald RSPB on 15th.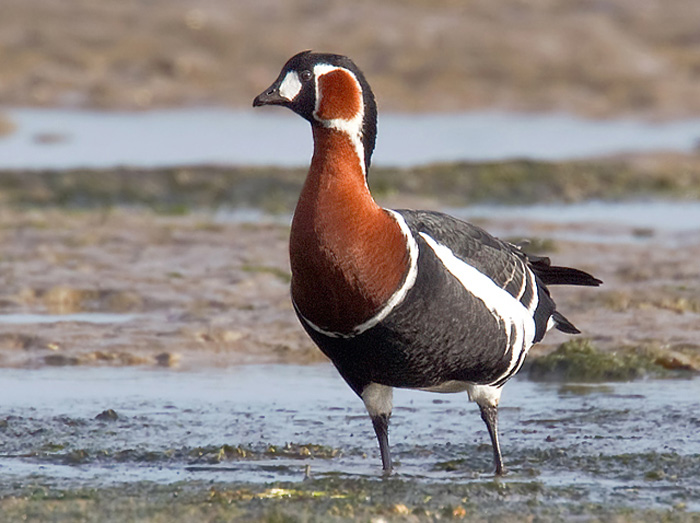 Raptors
Records of interesting raptors were pretty thin on the ground this week ~ a Black Kite flew over Pegwell Bay (Kent) on 15th with three single Honey Buzzards in the same county on 10th (at Shuart, Halstow Marshes and Grain). Three further HB's were reported on 13th, two over Milford-on-Sea (Hampshire) and one at Durlston Country Park (Dorset) and one was reported from Essex on 15th and Suffolk on 16th. Rough-legged Buzzards were reported this week from Holme (Norfolk) on 14th, on 15th at Lydd (Kent) and Saltfleetby (Lincolnshire) and at Greylake RSPB (Somerset) on 16th.
Shorebirds
Ireland scored three new Spotted Sandpipers this week, all found on 13th. Two birds were at Moyasta (Co. Clare) ~ in itself a very rare event ~ and the third bird was found at Ballysadare Bay (Co. Sligo). The two County Clare birds represent the first multiple Spotted Sandpiper occurrence since two juveniles were seen on Tresco in August 1978. Two birds were also seen on St. Mary's in October 1976 and the only other multiple occurrence was the nesting pair on Skye in June and July 1975 (nest built, four eggs laid, but the birds were unsuccessful). This year's Irish duo remained to 16th.
In Cork, the juvenile Baird's Sandpiper was still at Rosscarbery on 10th, with another at Owenahincha, also in Cork, on 15th. The Republic also hosted two White-rumped Sandpipers ~ singles still at Seafield (Co. Clare) and Tacumshin (Co. Wexford), on 10th and 13th respectively, while the north was graced by a new bird at Lough Beg, in Derry, on 15th.
Nine American Golden Plovers were noted during the week ~ almost all of them would appear to be leftovers from previous weeks. On 10th, lone birds remained on Shetland at Veensgarth, on Orkney on North Ronaldsay, on the Outer Hebrides at Linclate on Benbecula, and on Scilly, on St. Mary's. The juvenile was again on The Curragh (Co. Kildare) on 11th and others were still at Tacumshin and also on Loop Head, in County Clare. On 14th, a new bird was seen over St. Levan (Cornwall) and a further new arrival followed on 15th, seen on the Cashen Estuary in County Kerry.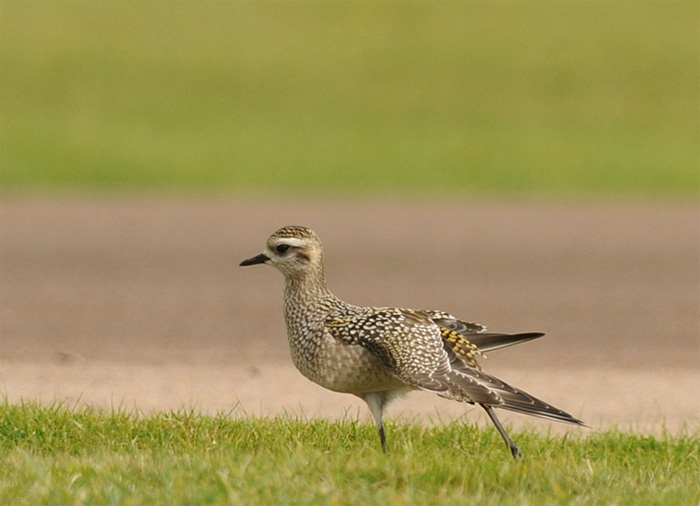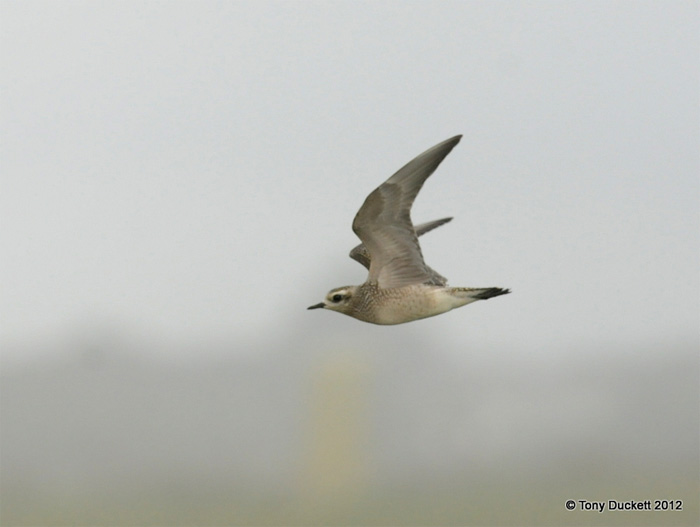 Just four Buff-breasted Sandpipers made it to this second full week of October ~ one remained in fields near Bridges of Ross from 10th-13th, another was seen on Annagh Head (Co. Mayo) on 12th and in Scotland, singles were at Aberlady Bay (Lothian) on 13th and Loch Hempriggs (Highland) on 14th.
A new Lesser Yellowlegs was found in County Kerry, at Ballinskelligs on 13th (and was still present the following day). The bird on Bull Island (Co. Dublin) remained all week and in Somerset, what may be the same roaming individual seen previously on Curry Moor (at the end of September and very early October) was at Greylake and Othery (only a couple of miles away from each other) on 10th-12th. A Yellowlegs sp., was reported at Northwick Warth (Gloucestershire) on 16th.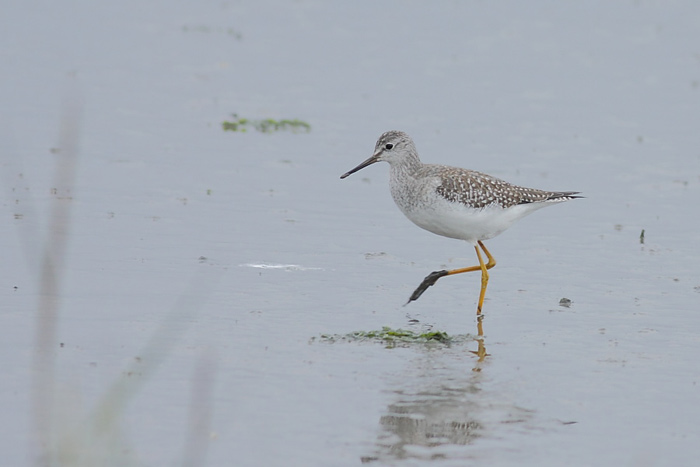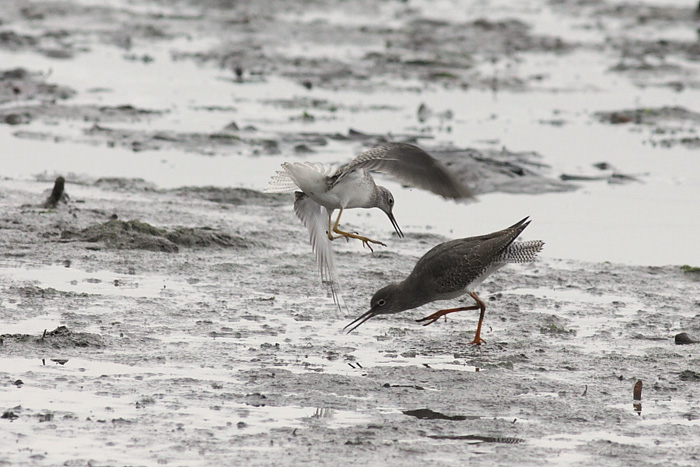 Staying in Gloucestershire, the adult Long-billed Dowitcher at Slimbridge is coming up for its third full calendar month of residence (it arrived on July 21st), still present to 16th. The juvenile at Alkborough Flats (Lincolnshire) continued to show until 13th and in Cheshire, a Long-billed Dowitcher was at Burton Mere RSPB on 13th-16th (one was seen here earlier in the month, but there's nearly two weeks between records).
The juvenile Pectoral Sandpiper at Kelling (Norfolk) continued to show well throughout the whole of this week, still in place for grateful weekenders on 13th-14th. Only five others were seen during the last seven days ~ at Stodmarsh NNR (Kent) on 10th, Ham Wall RSPB (Somerset) on 12th, Kinsale Marsh (Co. Cork) and Old Hall Marshes RSPB (Essex) on 13th and at Old Hall Marshes (Essex) on 14th.
Also in low numbers, for another week, were Dotterels ~ only five birds reported. One remained on Scilly for most of the week, one was at Filey (North Yorkshire) on 10th, two were seen near Coverack (Cornwall) on 12th and another was seen the following day heading west over Reculver (Kent).
All of the species named above are all to be expected in October ~ less of an autumn bird is Black-winged Stilt, but one was seen this week at Saltfleetby (Lincolnshire) flying south on 13th. If accepted, this will become just the 13th October record of the species from a grand total of well over 370.
Gulls and Terns
There were very, very few gulls of note this week ~ but one of them was a local county mega….
The Bonaparte's Gull that flew past Strumble Head (Pembrokeshire) on 16th will be the third for the county if accepted ~ the other records were in 1888, a bird shot at Solva and a first-winter, also seen off Strumble, on September 28th 1997.
The adult Ring-billed Gull was again at Kinneil Lagoon (Forth) on 12th and a couple of new second-winter were found on 15th; at Timoleague (Co. Cork) and Black Hole Marshes, Seaton (Devon). An impressive potential Azorean Yellow-legged Gull (or at least an "Atlantic" Gull of some sort) was on show at Rutland Water (Leicestershire) on 12th-15th.
Five of the week's eight Glaucous Gulls were in the far north or northwest of Scotland ~ two were on Shetland (at Cullivoe and Belmont) and there were singles seen on North Ronaldsay and on Lewis, with a juvenile at Fraserburgh (Aberdeenshire) on 12th. The only other birds this week were at Ballycastle (Co. Antrim) on 12th, Ross Starnd (Co. Mayo) on 14th and, back in Antrim, at Portballintrae on 16th. On Shetland, on Fair Isle, the week's only Iceland Gull was seen on 11th.
Back in Ireland, the adult Forster's Tern was still finding County Louth very much to its liking, still on parade (this time in Dundalk, a couple of miles from Soldier's Point) on 13th.
Passerines
The weather that has piled in to east coast counties from the Humber northwards for much of the week was almost guaranteed to yield a good mix of typical mid-October rarities. One of those hoped for species is Pied Wheatear and the first of 2012 was found during the afternoon of 14th, when a super first-winter male was found at Snipe Point on Holy Island (Northumberland).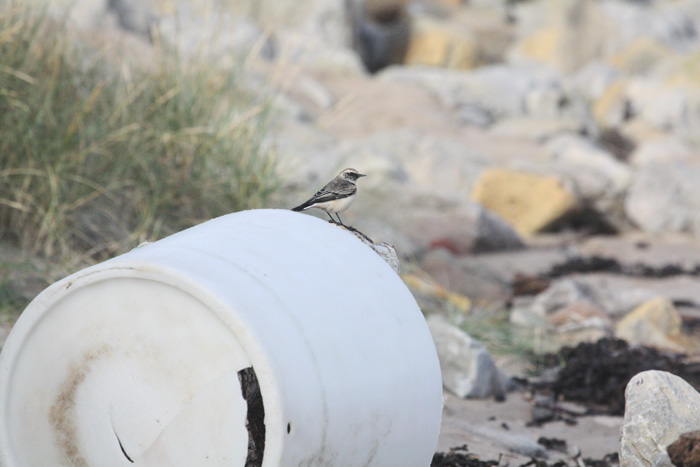 After the first two British records in Fife in October 1909 and Orkney in November 1916 there was a gap of 38 years until the third, at Portland in October 1954. Britain's fourth followed in Pembrokeshire 14 years later and there were eight years until the fifth record, in Aberdeenshire in September 1976. Two further records followed in the '70's and the bird remained rare throughout the 1980's but the 13 birds that arrived almost doubled the existing total.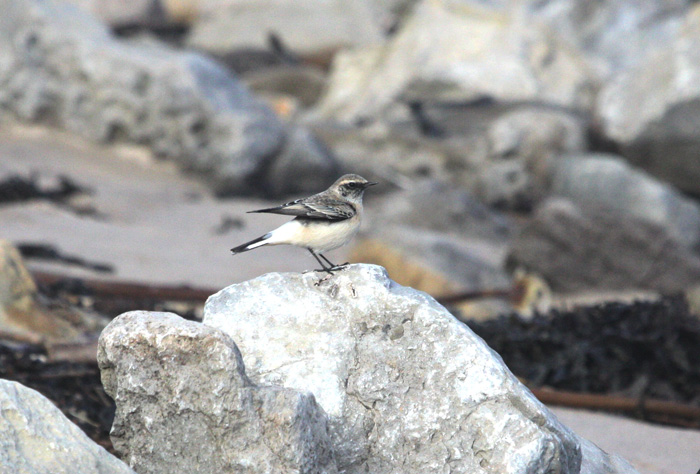 The 1990's saw a further doubling-up of records, 25 accepted for the decade and we're up to 23 records in the past 12 years. The Holy Island bird is the fifth county record for Northumberland, the first was an adult male at Boulmer in late October 1979, with another male at Seahouses in October 1997, a female at Tynemouth for a week in December 1998 and another female at Newbiggin-by-the-Sea in October 2004.
Two birds were found last year (in Gloucestershire and East Yorkshire) and they took the overall total to this exceedingly smart visitor from far eastern Europe up to 67 birds.
A mainland Lanceolated Warbler is big news but sadly the bird found at Long Nab, Burniston (North Yorkshire) on 12th was on private land and therefore unavailable. There are just two previous records in Yorkshire as a whole ~ one was at Filey, also North Yorkshire, on October 10th 1994 with the second appearing at Spurn in East Yorkshire in September 1996 (both birds were trapped). (Meanwhile Fair Isle's long-lasting Lancie lingered to 16th).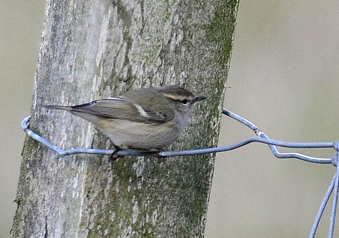 Coming right up to date and it was Spurn that hosted the first Radde's Warbler of the year, one trapped there on 11th with the second following on Bardsey on 14th (the fourth record for the island ~ and county ~ the others arriving in the Octobers of 1987, 1990 and 2006).
Two autumn warbler firsts appeared on 12th ~ a Dusky Warbler was on Shetland, at Symbister, Whalsay on 12th (just under 50 Dusky Warbler have been seen on the islands) with the same date seeing the arrival of a Hume's Yellow-browed Warbler at Cambois (Northumberland) ~the 12th record for the county and the 10th of the 2000's.
The second (and still on the early side) Hume's Yellow-browed was seen around the Dump Clump on St. Mary's on 15th-16th ~o nly the third record for Scilly (the others both November birds, one in 1996, the other in 2002 and both of them on St. Mary's) with a third found on Shetland, at Valyie, Unst on 16th ~ the seventh Shetland record after three in 2003 and three more in 2008.
The warblery-Phylloscopus firsts theme continued with Pallas's Warbler ~ making their 2012 debut were single birds in Scotland on 13th, at Muchalls (Aberdeenshire) and Hatton (Angus). A third was found adjacent to a birder's garden at Knott End (Lancashire) on 15th, drawing a bit of a crowd in to the bargain and a fourth was at Flamborough Head (East Yorkshire) the same day.
In Dorset, a first-winter male Subalpine Warbler was seen along Avalanche Road, Portland on 14th while, leaping genera, the Paddyfield Warbler found last week at Church Cove, Lizard remained to 13th.
Another Paddyfield Warbler was reported from St. Mary's Island (Northumberland) but as observers gathered on site, it was soon established that the bird in question was actually a Blyth's Reed Warbler, one of up to six seen during the week, the others noted on Fair Isle on 11th, at Dale of Walls, Mainland Shetland on 12th, at Helvick Head (Co. Waterford) from 15th and on Barra (Outer Hebrides) and at Wester Quarff, Mainland Shetland on 16th. There was also a little bit of late news from Ireland re:- Blyth's Reed ~ one was seen and photographed on Tory Island (Co. Donegal) on 8th.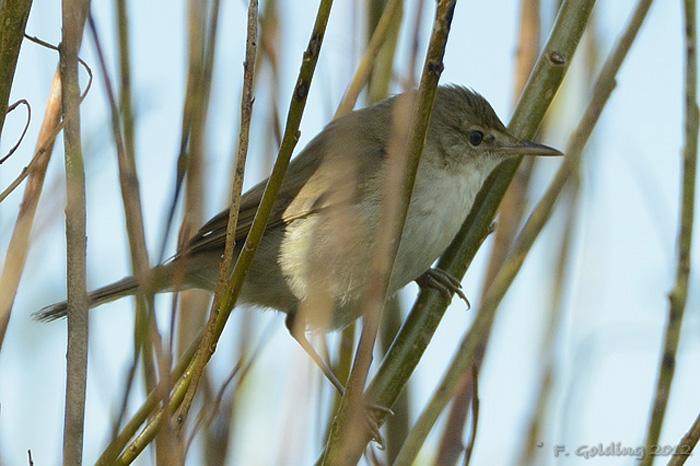 Shetland was awash with Olive-backed Pipit this week ~ a whopping 14 birds found there, including nine individuals on 13th-14th. Two birds were on Fair Isle on 11th and over the weekend seven birds were discovered on Mainland (at Quendale, Hillwell, Vidlin, Helendale, Scatness, Tresta and Levenwick) with an eighth on Unst, at Haroldswick with the ninth on Foula. Birds 10 and 11 followed on 15th, one discovered in the plantation at Kergord with the second in Scalloway along Lover's Lane with the round dozen notched up on Unst on 16th, with birds #13 and #14 appearing on Fair Isle and at Mulla Voe (Mainland) later the same day.
….but all of these OBP's, especially the Scalloway bird, played second fiddle to the discovery of a Lesser Spotted Woodpecker in the gardens of the local Health Centre during the afternoon of 15th. This is potentially the very first record for Scotland of this diminutive cute-as-you-like tree-hugger ~ the (exceptional) double volume "Birds of Scotland" lists just one accepted record, from the winters of 1968 to 1970, with just two records within the period, of up to three birds visiting a bird table in Aberfoyle. On one occasion the birds were seen without binoculars and just one observer was involved.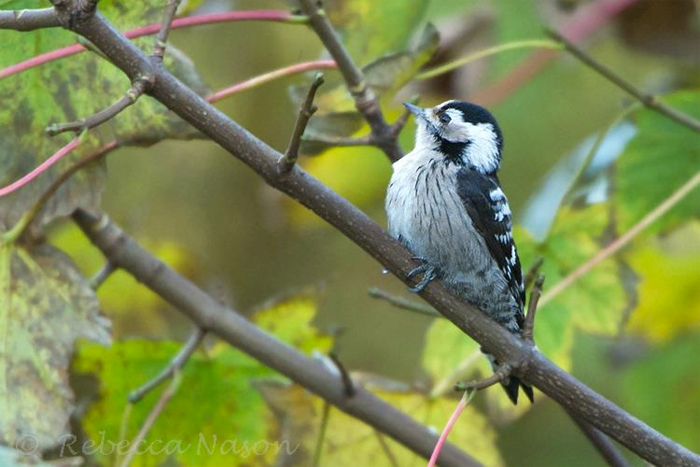 They have passed a few reviews of the Scottish List, but now there is unequivocal evidence of one ~ but given a fair wind from the right direction it was perhaps even on the cards….a record 300 Lesser 'peckers were noted passing through Cape Puise in Estonia towards the end of September, so they were on the move….for those with a Shetland, and Scottish list, this genuine national mega was still present the next day.
Elsewhere, two Olive-backed Pipits were on Orkney, on North Ronaldsay on 12th and Westray on 14th, while another was found on the Farnes (Northumberland) also on 12th. Last week's bird at Pendeen was still present to 12th with the week concluding with further Olive-backed Pipits on St. Martin's and Barra, both on 16th.
The Barra birders also uncovered a Little Bunting on the same day as the Olive-backed Pipit but half of the week's total of eight Little Buntings found there way to Shetland ~three on Mainland (at Scatness, Geosetter and Sumburgh) and on Yell (at Burravoe) between 12th-14th. Others were found at South Shield (Co. Durham) on 13th and North Ronaldsay and St. Mary's (Scilly) on 14th.
Back on Shetland and, specifically on Unst, both Arctic Redpoll forms were seen there this week ~ the spherical Hornemann's Arctic Redpoll remained at Norwick on 11th (and a new one arrived on Foula on 16th) with a Coues' Arctic Redpoll at Valyie on 13th.
Another big and bold Hornemann's was at Port Nis, Lewis (Outer Hebrides) on 14th and two more were found on the same island, this time in the teahouse gardens at Eoropie on the morning of 16th ~ all three captured beautifully by finder Tony Marr.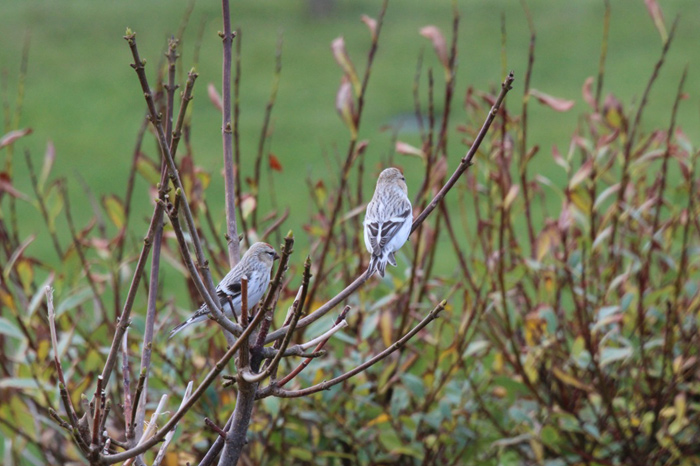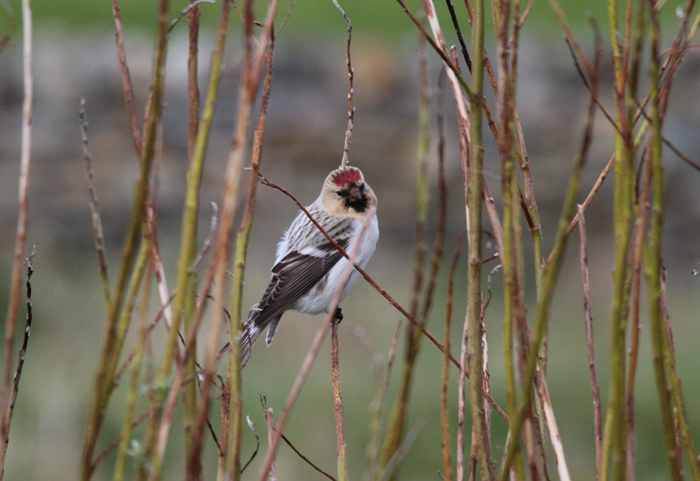 Let's hope that Tony found time to celebrate with a sweet comestible from said tearooms ~ a yummy Tunnock's Snowball or perhaps even a slice of Arctic Roll would seem to be suitably apt….
Bardsey's first Citrine Wagtail arrived on the island on 10th and was still present the next day before reappearing again 14th. As well as being a first for the island, it was also a first for Gwynedd too. Two was the magic number for each of the three reports of Bluethroat this week ~ two were on Papa Stour (Shetland) on 10th, two were seen on North Ronaldsay on 11th-12th and two more were lurking on Foula on 14th.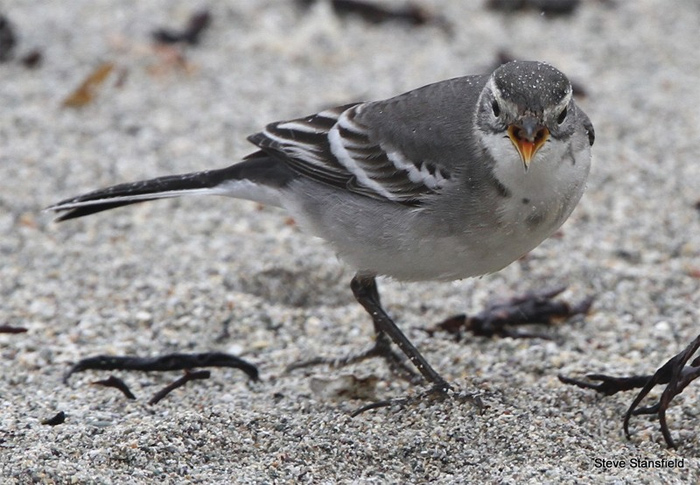 Half a dozen Red-throated Pipits were reported during the week, almost all of them flyover only individuals, five of which were noted on 14th alone. Those birds were on St. Agnes, Scilly, Lands End and Porthgwarra on the Cornish mainland, over Cape Clear Island in County Cork and at Walpole Highway in Norfolk. The first bird of the week was heard over Leasowe (Cheshire) on 10th.
A Tawny Pipit was at Easington and Spurn on 13th-15th and the total of Richard's Pipits exceeded 25 this week ~ including three at Burwick, South Ronaldsay on 14th, with two on Bardsey on the same day. Four birds were recorded on Shetland and also on Scilly through the period with two in Devon and East Yorkshire as well. A single Richard's Pipit also reached the northwest coast of Ireland, on Tory Island (Co. Donegal) on 14th.
The weekend of 13th-14th saw a significant push of more Red-breasted Flycatchers in to the country ~ at least 23 birds noted. Two were at Kilminning (Fife) on 14th, while Shetland played host to five singles on four different islands (two on Mainland, with ones for Fair Isle, Foula and Out Skerries). There were three each for Aberdeenshire and Northumberland and two for East Yorkshire. Singles were also noted on the Outer Hebrides (on Barra) and down to Devon and Cornwall and also across to County Clare, one seen at Kilbaha on 11th and County Donegal, a male on Tory Island on 16th.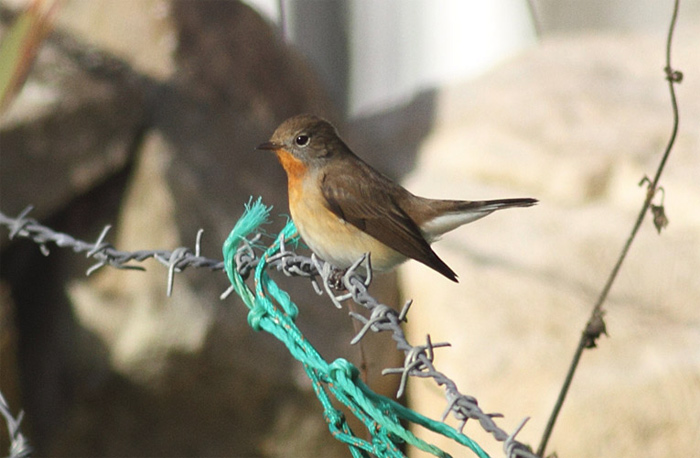 The only news on Melodious Warbler this week was a little bit of late news for last week ~ one was present on Inishmore on 7th (they probably had a few other things on their minds….).
Getting on for 30 Barred Warblers were found during the week, with four birds in Ireland (two for Cork, on Cape Clear and still at Firkeel, Wexford's North Slob on 13th and Donegal's Tory Island on 14th), four birds in Northumberland (including two on Holy Island on 13th), with three on Shetland and twos in Fife, North and East Yorkshire and also in Dorset.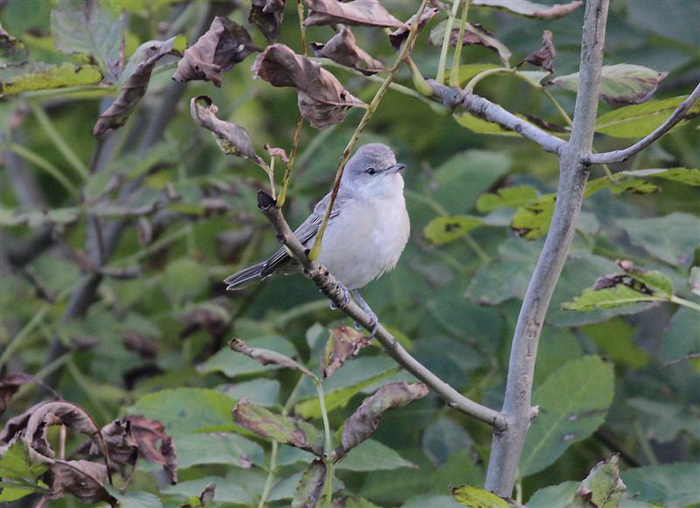 Yellow-browed Warblers had another push this week, some 250 or so recorded across Britain and Ireland. The southwest of England scored heavily, at least 75 birds recorded from Dorset and Somerset west to Scilly, with six on St. Martin's on 10th the equal highest individual location count for the last seven days. At least 21 birds were recorded on Scilly, while Cornwall saw at least 25 noted, with 18+ in Dorset, a total that included three at Southwell, on Portland on 10th (at least five were present on the isle that day). Devon's total nudged double figures, thanks largely to a haul of five birds being trapped and ringed on Lundy on 14th.
The southeast recorded at least 14 birds, including one in Surrey, while East Anglia registered just under 30 birds, with 17 or more in Norfolk, including three in the woods at Wells on 12th. A dozen birds were seen in Wales, including five in Glamorgan, while the northwest managed five birds, including two birds on the Wirral. In the northeast, Yorkshire managed 18+, with three at Scarborough on 13th, with seven in Lincolnshire and five each for Durham and Northumberland.
Some 50 Yellow-browed Warblers were recorded in Scotland, including 12 on Shetland and eight on the Outer Hebrides. On the Scottish mainland, nine birds were in Aberdeenshire and there were seven in Angus and five in Fife.
Cork dominated Ireland's haul of some 25 birds, with at least 14 in the one county ~ five were seen on Mizen Head on 10th and four were counted on Cape Clear Island on 12th. Two birds were in Waterford and there was one for both Kerry and Galway but six on The Mullet (Co. Mayo) on 16th was a quietly impressive tally.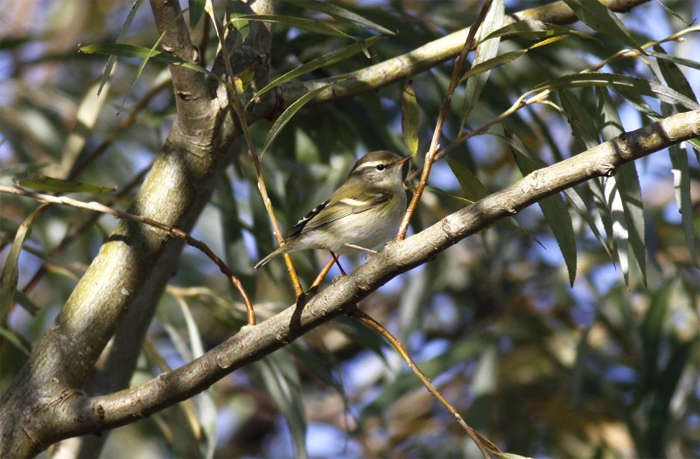 On Inishmore in Co.Galway the county's first Woodchat Shrike was present on 10th. The showy young Red-backed Shrike remained in the Salisbury Plain Training Area, at Weather Hill Firs all week, with the only other birds noted were at Housel Bay, Lizard (Cornwall) to 16th, on Whalsay (Shetland) from 14th and in County Cork, at Three Castles Head, on 16th.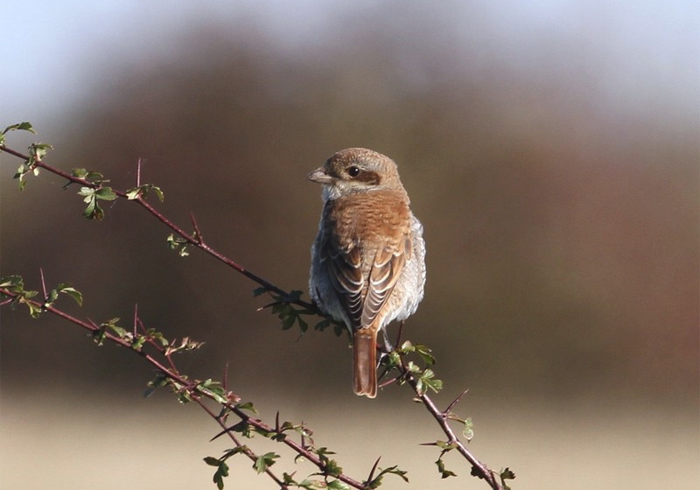 The first small push of autumn Great Grey Shrikes was apparent this week ~ on 11th birds were seen on Blakeney Point and Fair Isle. The following day saw singles appear at Kelling (Norfolk), Flamborough Head and Auchmitie (Angus) with new arrivals on 13th noted in Norfolk (one over Hunstanton, then on Roydon Common later in the day), County Durham (at Hurworth Burn Reservoir) with another in Angus (at Castlesea Bay).
The third Angus record followed on 14th, one seen near Carnousite, and further Scottish birds were at Kilduncan (Fife) and on Unst on the same day (the latter site seeing the arrival of one the first Waxwings of the autumn too, with one earlier in the week on South Ronaldsay). In Wales, a Great Grey Shrike was seen in Powys, at Craig Cerrig Gleisiad NNR, also on 14th while in Northumberland, on Brownsman Island another arrived on 15th. The final birds of the week made landfall in Shetland ~ one for Fair Isle and one at Baltasound on Unst, on 16th.
After last week's mini-influx of Red-rumped Swallows it was perhaps a slight surprise that there was just one recorded this week ~ a bird noted in the pre-roost gathering over the reeds at Titchwell RSPB on the evening of 15th. Three Hoopoes were found during the week ~ near the lighthouse at Buddon Ness (Angus) on 12th, on Out Skerries on 14th and Rathlin Island (Co. Antrim) on 15th.
For the umpteenth week in a row, the southwest was the dominant region for Wrynecks ~ 20+ recorded from Dorset westwards, with two for Somerset, three in Dorset, five in Devon, four in Cornwall and at least six around Scilly including three on St. Martin's on 13th. The only birds this week were in Glamorgan and County Cork.
The only Ortolan Bunting of the last seven days was at Housel Bay, Lizard on 10th-11th while eight of the 12 Common Rosefinches were on Shetland (seven on Mainland and one on Fetlar), with three in Ireland (two in Cork and one in Kerry) with the tenth of the week arriving on Bryher on 15th.
A juvenile Rose-coloured Starling was reported from Holme (Norfolk) on 13th while at least one was still buzzing around St. Mary's throughout the week. Scilly also laid claim to a Serin ~ one seen on the Garrison, St. Mary's on 14th before presumably the same bird moved across to the plantation on Gugh later that morning while the only Short-toed Lark of the week was also a Scilly bird, present at Carn Friars, on St. Mary's on 15th-16th.
This week's round-up concludes with news of another Penduline Tit for Dungeness ~ the bird seen there on 15th ~ until the end of 2010 there had been 43 birds recorded on site, with a further three or four (at least) following last year. A remarkable total for a single location….
As the autumn drifts by we start to enter that funny time in October ~ a time when the biggest birds of the year can make themselves known….
In 2003, Fair Isle landed a double-whammy of Savannah Sparrow and Siberian Rubythroat during the new week that we're heading towards and followed those two up with an even more spectacular duo the following year ~ blitzing a Chestnut-eared Bunting and Rufous-tailed Robin within an incredible week between October 16th-23rd in 2004. Another Rubythroat followed there in mid-October 2005.
Away from the remarkable island recent treats have included Two-barred Greenish Warbler in North Yorkshire in 2006, the Eastern-crowned Warbler in County Durham in 2009 and, last year, the male Rubythroat on Shetland and mainland Short-toed Eagle and Scarlet Tanager. And they are just the start of a long, long, long list of wonderful mid- to late October birds.
There's still a fair old way to go before this autumn is done….
Mark Golley
17 October 2012
This weeks contributors
For their help and contributions this week a special thanks goes to: Owen Foley


And thanks to all our other contributors for their photos and videos
Daniel López Velasco
, Dave McAdams,
Steve Young - Birds on Film
,
Joe Pender - Sapphire Pelagics
,
Jeff Hazell - Levels Birder
,
Brydon Thomason - Shetland nature
,
Paul Kelly - Irish Bird Images
,
Grzegorz Burkowski
,
Rebecca Nason Photography
,
Jon Hall - Bumbling Bears
, Stuart Green, Mike Thrower, Brian Henderson, Steve Ashton, Tony Duckett, Andy Mould Frank Golding, Tony Marr, Steve Stansfield, Steve Egglestone, Neil Cowley,