Weekly round-up: 03 - 09 Oct 2012
The week at a glance
The first Eastern Kingbird for the Western Palearctic arrives off the coast of Galway
….and a Belted Kingfisher hits the same county too!
….as do one or even two Myrtle Warblers, with a third in County Cork….
….which also hosts a new juvenile male Northern Harrier
….back in Galway, Inishmore scores one more….Blackpoll Warbler!
Scilly hosts 1st ever Sykes's Warbler and also Grey-cheeked Thrush
Fair Isle pops in a Pallas's Grasshopper Warbler and Black-throated Thrush
One or perhaps two Swainson's Thrushes on Barra as the week begins
Cornwall's first White's Thrush for 50 years makes it to Cot Valley
Two British and two Irish American Buff-bellied Pipits remain from last week
….and a new one arrives on Scilly
The Lodmoor Short-billed Dowitcher clocks up a calendar month in Dorset
Cork's fourth Fea's-type Petrel of 2012 breezes past Mizen Head
Mega, mega, mega…..everywhere there were megas. Well, that's how it felt as the weekend approached and it seemed as though all the action was centred on one single county on the west coast of Ireland…actually, make that one single island.
The weather suggested that yes, there could be a few good birds from the Nearctic in the early to middle part of the week but, in truth, the small ripples of "action" along a strung out band of rather innocuous-looking Atlantic weather systems really didn't indicate the truly spectacular quality of arrivals in Galway this week.
After the excitement (and despair) of the weekend came and went, the weather settled down as high pressure and some gentle south-easterlies eased some quality birds in to the far southwest. The autumn was, unquestionably, in full flow.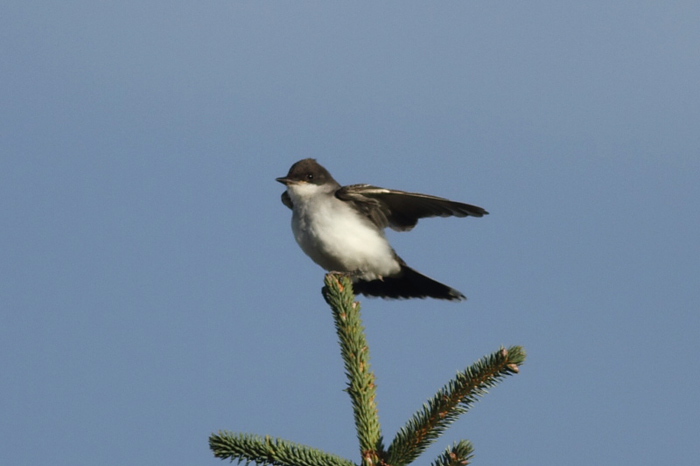 Headline birds
During a weekend full of mega megas, there was a move afoot from some quarters of the round-up team to leave a little vacant space on the appropriate webpage on the RBA site and just have a little online sign saying "gone birding, back in November".
As tempting as that would have been, there's been far too much to ignore in what has been another extraordinary week, not only on a par with a fortnight ago, but exceeding even that to become the best rarity week of 2012.
After the euphoria and general "cor blimey!" reaction to the magnificent Magnolia a couple of weeks ago (coupled with the distant sound of the gnashing of twitcher's teeth as that Monday morning dawned) it must be said that last week saw a downward shift (only from sixth gear to fifth) ~ no disrespect to mainland Pallas's Grasshopper Warblers or a Hebridean Swainson's Thrush, but they were not of the calibre of Setophaga magnolia.
With the weather as it was, a handful of rippling little Atlantic fronts heading vaguely north, it seemed likely that somewhere on the west coast ~ again the all encompassing "Scilly to Shetland" suited many needs in terms of predicting at least where the next mega might appear ~ but predicting the species itself became a complete guessing game, once you get beyond the usual Nearctic suspects.
Early in the new review period, a couple formidable clues arrived ~ one in County Cork (more on that later) and on Ouessant, off the French coast, a newly arrived Cliff Swallow suggested that more was certainly on the way.
…and on the way it was…..! And "it" was, arguably, better even than Fair Isle's marvelous Maggie…..
Árainn Mhór, or Inis Mhór, is one of the three Aran Islands, situated in Galway Bay. In recent years, its appeared on the radar on a few occasions ~ along with notable flocks of Yellow-browed Warblers (in 2007), birds from across the Atlantic have included (in a hectic 2008) Long-billed Dowitcher, a sensational Punk-flock of 15 Ring-necked Ducks later joined by a Blue-winged Teal and a Semipalmated Sandpiper too. Green-winged Teal, Kumlien's Gull and Buff-breasted Sandpiper have followed and then, two years ago, a Myrtle Warbler was found around the Dun Aengus hostel (until this week, the most recent record of the species).
So it was then, that at midday on 5th, Irish birder Hugh Delaney had his "golden moment" when he discovered the Western Palearctic's first-ever Eastern Kingbird at Kilmurvey, towards the west end of Inishmore. What a moment that must have been…it's the moment that everyone dreams of ~ a 1st for the Western P!!! ~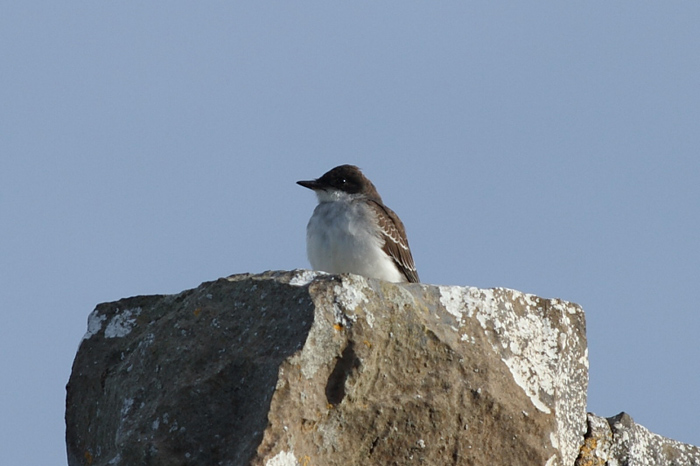 From the Finder - Hugh Delaney recalls his 'King of Finds'
Having arrived on Inishmore late on October 2nd, I spent the following two days birding in dire conditions, strong westerly gales interspersed with showers ~ not unlike being lashed with a powerhose ~ that forced me on more than one occasion to have to cower behind a stone wall!
I saw a handful of Chiffchaffs and little else and was somewhat disappointed that I hadn't even seen a Yellow-browed Warbler - a few of which were being seen elsewhere. However the weather was set to improve considerably and as another Inishmore stalwart - Dermot Breen - said to me prophetically on the phone 'Friday looks to be your day'.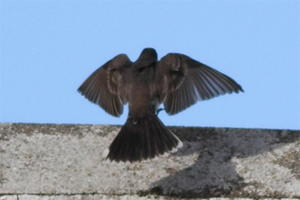 I had a leisurely start to Friday the 5th, and eventually started west at 10.30. The weather had improved considerably and now, in sunny spells and light winds, it was clear the prospects for finding something were much better so I decided to bypass many of the normal sites I'd usually check and just begin birding at Kilmurvey and go west from there. I had checked Kilmurvey wood and it at least had some Chiffchaffs and behind the cafe - a single Willow Warbler. A quick bite to eat and I was on my way along another boreen west from Kilmurvey Village, a low cliff on the left that is dotted with some bushes at its base has produced some good migrants in the past so from the bicycle I consciously scanned those closely. Whilst doing this I noticed, with the naked eye, something black and white sitting on top of a stone wall that crossed a field between me and the cliff.
It looked immediately extremely interesting and out of place! Stopping the bicycle I raised my binoculars and, as it was reasonably close and in good light, I said to himself, EASTERN KINGBIRD!! I had seen many in the U.S. on two trips there so was well familiar with the species.
I hastily dismounted the bicycle and watched it another moment or so as it did sallies up off the wall catching insects, returning to more or less the same stretch of wall. I was so astounded that, bizarrely, I almost felt I didn't know what to do, but decided best at least talk to somebody, so I rang Killian Mullarney and, in a rather excited phone call, ran a couple of features past him.
At this stage I'd gotten slightly closer, I was still watching it with binoculars as I was petrified that if I went to unpack my telescope in my backpack I may loose sight of the bird. Killian calmly said to me to sit back and enjoy a W.P 1st! I had no camera whatsoever with me and given that there were no other birders on the Island, and - as things stood then - none likely to arrive in time that day to see the bird I knew it was imperative that I get some sort of image of this MEGA
In between watching the bird, and agonisingly watching it make some further and further forays, I waved down tour buses and pleaded with bemused and unimpressed tourists could they join me to take a picture of a bird! I had little joy here but eventually word had spread down to a local photographer and she turned up and much to my relief obtained some decent record shots...I could now truly soak up and savour the bird, watching it often alone or with a few curious locals all afternoon.
I was delighted to hear Dermot Breen and Aongus O'Donaill had secured seats on a plane at 4pm. It stayed more or less faithful to the Kilmurvey wood/village area, in flight it took on a larger appearance, using its often fanned tail for precision maneuvers, catching large flies and even butterflies. How appropriate such an incredible bird such turn up in the shadow of the Island's famous prehistoric cliff top fort - Dun Aonghasa.
By 4.30 several eager faces had appeared by my side, and the celebrations continued long into the night!!
As Hugh mentions, the bird was twitched by four well placed Irish birders during the late afternoon and early evening ~ showing immediately upon arrival, Dermot Breen's glorious set of shots showing how well the bird performed and, equally, what a stunning looking thing it really was.
Generally not thought to be one of the more glitzy and glamourous passerines to see on a trip to the US or Canada (or to encounter in Britain or Ireland…everyone wants the colourful ones….), a perusal of Dermot's images show what a deliciously subtle gem Eastern Kingbird really is ~ delicate slate grey and coal black upperparts contrast with snow white underparts. Narrow white wingbars and feather fringing, coupled with gleaming white tips set against the dark, dark tail enhance a bird full of field marks. Throw in some fabulous flycatching antics from any available "high point" ~ stone walls, roof tops, chimney pot and tree tops ~ and it all adds up to a most beguiling first….
On the breeding grounds (it's a widespread species across North America, with the exception of northern Canada and the southwest of the USA), Eastern Kingbird lives up to its tyrant flycatcher family grouping ~ flying insects their primary food source. Interestingly, once on their South American wintering grounds, they travel in flocks and are often covert to fruit-eaters.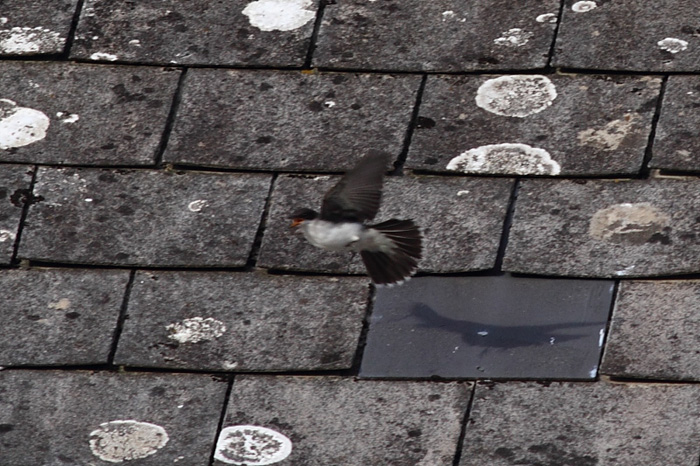 The Inishmore first-winter was last seen heading around the back of the wood at around 6pm ~ but as some of Dermot's shots show the bird was a) very active, feeding constantly and b) that the skies were sailor-suit blue and clear as a bell….those two elements alone generally add up to just one thing….
….Saturday's dippers (some 60 or 70 were on the early morning boat over from Doolin) were on hand to uncover not one, but perhaps two Myrtle Warblers as they searched the island for the departed Kingbird ~one at nearby Kilmurvey wood and the other in willows near the cemetery (though they were apparently not seen at the same time).
By way of compensation for the time, money, effort and lack of sleep expended on the Quest for the Kingbird, two delightful American wood-warblers still won't cut the mustard, but with negative news from Kilmurvey and some more breaking mega news from mainland Galway, some at least got something for their troubles….
Inishmore's regal arrival was almost matched in the grandeur stakes by another royal visitor, also first seen on 5th ~ a novice birder described seeing a large, grey-backed kingfisher around Lough Fee, between Letterfrack and Leenane and early the following morning (on 6th) it wasn't long before that initial report was firmed up and the clarion call was sounded….Belted Kingfisher!
This fabulous species is another of those birds that will always, always make the stomach do a flip or two when news breaks of the arrival of one of these monster trans-Atlantic travelers. Desperately rare and absolutely stunning to look at, Belted Kingfisher is one of the most exciting birds on the British and Irish lists ~ this one taking the Irish total to five and the overall tally to 10.
The Galway bird proved to be rather mobile, ranging along the north shore of the lough for much of the morning before heading south at lunchtime on 6th, relocating a couple of miles away, at Kylemore Lough, during the afternoon but disappearing not long afterwards, at around 4pm.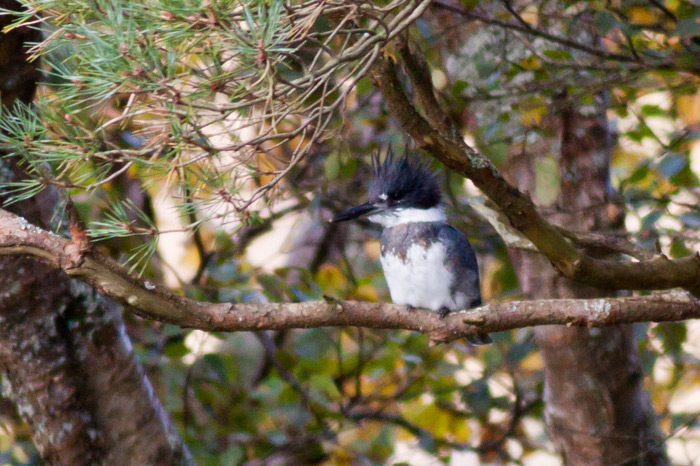 Belted Kingfisher has a fascinating past here ~ famously the very same site hosted the first and second British records for the species, at Sladesbridge, near Wadebridge in Cornwall with 71 years between them (November 1908 and October 1979). The latter bird was a hugely long stayer, cruising the river valley until June 1980, before reappearing in the west of the county, at Boscathnoe Reservoir, near Penzance for a few days in August.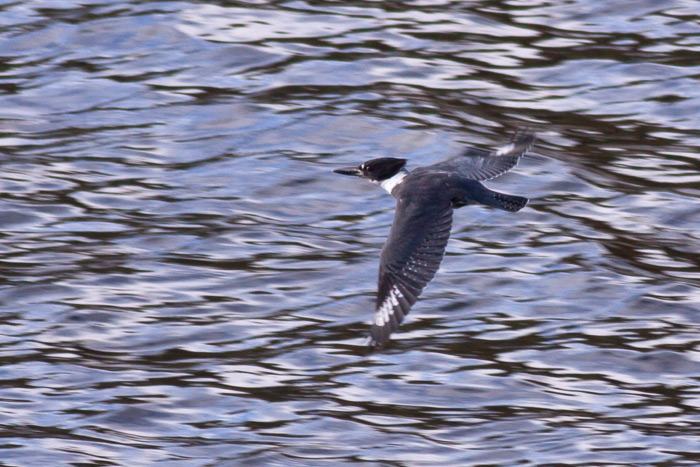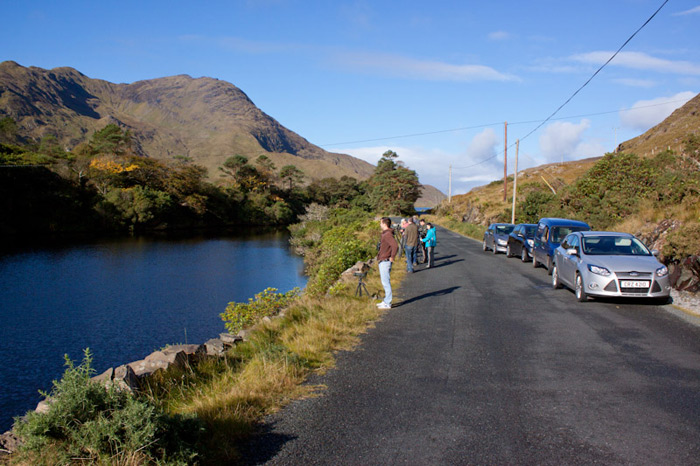 More recently, and more famously, in one of the most extraordinary birding coincidences ever, the 2005 April Fool's Day bird found by Roger Broadbent at Shrugborough Lake in Staffordshire was re-found three days later in Aberdeenshire, at Peterculter, by Roger's birding son Ian….unbelievable! The 2005 bird was also tracked heading through East Yorkshire, appearing at Eastington Ponds the day after its afternoon stay in the Potteries.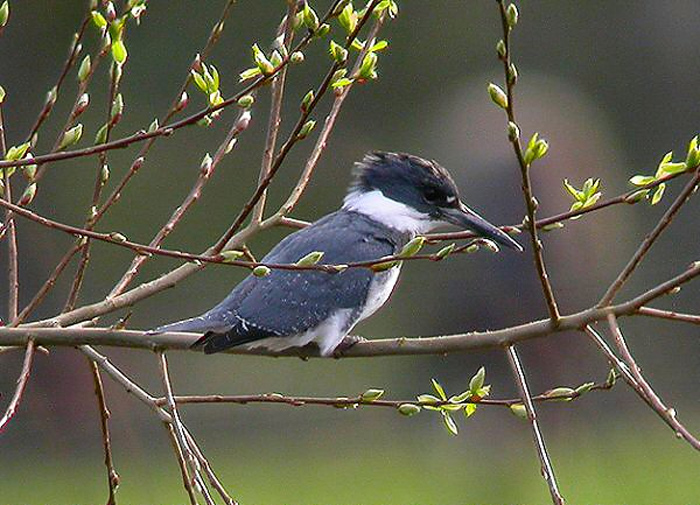 Ireland's first BK was a female on the Bunree River, near Ballina in Mayo in the winter of 1978/'79 (she was shot on February 3rd) with the same fate befalling the next one too ~ another female ~ that one appeared at Dundrum Bay (Co. Down) on October 12th 1980.
A much-admired female spent over two months around the edge of Galway Bay, at Ballyvaughan (Co. Clare) from October to December 1984 ~ ahhhh, happy days… bunking off school, scoring great views in the pouring rain, with talk of cocaine in the tiny local chippy (good chips too) and members of the L3 asleep under the cherry red Datsun ~ ask you dad, he'll tell you all about them :o) ~ with presumably the same bird later appearing in County Tipperary, near Killaloe, in February 1985.
So, Kingbird and Kingfisher ~ in the same county and on the same day. Woweee.
Properly exciting stuff and although the species involved where nigh-on-impossible to predict, there were glimmers of what was to come right at the start of the new round-up week….
….yes, no sooner had the last review been tinkered with at RBA HQ, then thoughts had already started to turn to what the headline birds for this week could be ~ and which direction would the star birds come from.
Well, before you could even look at the clock on the morning of 3rd and think "ooooo goody, it'll soon be time for elevenses" it was County Cork that provided the answer to the birder's eternal October question of "what's next"?
Dursey Island ~ Baoi Bhéarra or Oileán Baoi ~ lies just off the coast of Cork, tucked away deep in the southwest of Ireland and it has become an island that has an increasingly impressive track record of turning up some extreme rarities, whether in an Irish or a Western Palearctic context.
Ireland's first Red-flanked Bluetail was found there in November 2009 and the second Irish (and first live) Ovenbird (and fourth for Britain and Ireland combined) was discovered amongst the stone walls in September 1990, a bird that put the island to the forefront of many birder's minds. There's also been (amongst other things) Northern Parula (in September 1989), Blackpoll Warbler (in October 2006) and, last year Grey-cheeked Thrush too ~ while in May 2003, a male White-crowned Sparrow in Dursey Sound, just a few 100 yards from the famous ocean-crossing cable car meant that the pull of that particular corner of Cork remained strong....
....now, the rugged island can add Myrtle Warbler to the list. Although not the rarest American wood-warbler on the British or Irish list, it is right up there and it remains an exciting moment when the words pop up on the pager screen. There are 30 accepted records on the books at the moment ~ split 17 for Britain and 13 for Ireland, with County Cork leading the way with an impressive 10 records ~ a figure made all the more remarkable when you realise that all of them have been discovered on Cape Clear.
The first Myrtle Warbler for Britain was a wintering male discovered in a garden in Newton St. Cyres, near Exeter in January 1955 ~ this bird stayed for just over a month before succombing to the chills of a Devonian winter (and, in a lovely touch, the house that the bird frequented saw its name changed to Myrtle Cottage too) while the second was also found in Devon, spending 10 days on Lundy in November 1960.
An eight year gap followed until Scilly claimed its first ~ on St. Mary's in late October 1968 with number four also on Scilly (this time on Tresco) coming along in October 1973. Ireland's first record, as you may have guessed, was on Cape Clear in 1976 and was one of two recorded that year ~ another appeared on the Isle of Man later in the same month.
The next Myrtle Warbler was a massive surprise ~ a delicious spring male, found by the South Light on Fair Isle by Devon birding legends John and Jean Woodland in May 1977 (following on just three days after Britain's first White-crowned Sparrow arrived on the same island). A second spring male on Fair Isle was to follow in June 1999, with the only other spring bird occuring on the Calf of Man in May 1985.
Many birders first encounter with a Myrtle Warbler came along Penninis Head or down by the old school on St. Mary's in October 1985 (it was one of two birds on the island that year) and subsequent popular individuals were seen on Ramsey Island and in Bristol in 1994, on Tresco for 12 days in 1995 (that one was the last for Scilly to date), Orkney in 2003 and, again, on Cape Clear, for nine days in 2010.
Myrtle Warbler in Britain and Ireland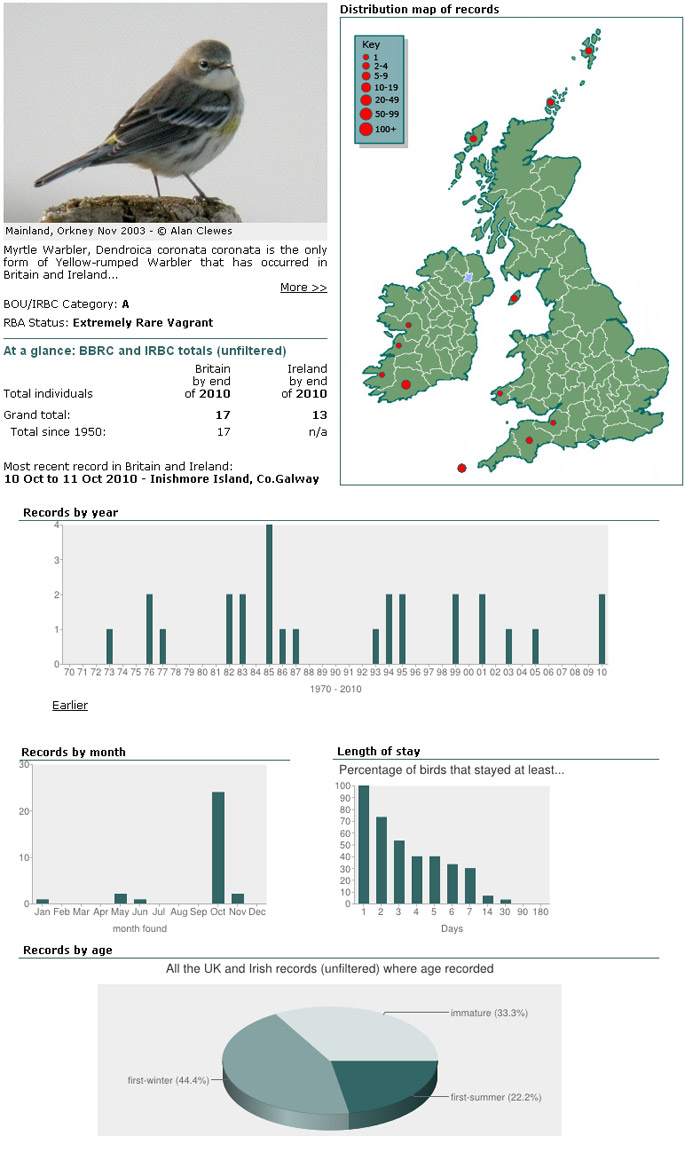 Spring and the wintering records aside, the remaining 27 birds have all occured within a relatively narrow autumn window. Its one of the "later" North American vagrants to appear, the earliest was found on October 2nd 2001 (on Cape Clear) and the latest was the previously mentioned bird in Eastville Park, Bristol, which was located on 16th November 1994.
Including this week's trio, seven of the last nine Myrtle Warblers have been found in Ireland ~ three more for Cape Clear, one on Great Blasket off the coast of Kerry and, the most recent prior to this week, as mentioned earlier, was on Inishmore in 2010. The Dursey bird was last seen on 6th while there's been no further news from Inishmore since the same date.
Dispersed around them come two birds for Orkney (the previously mentioned bird at Evie in 2003 with another on North Ronaldsay in 1995), one for Shetland (the 1999 spring bird) and another in 1999, an October bird on South Uist. That 17 year, 10 bird gap for Scilly could fall at any time and if it does, it could prove to be rather popular.....
Moving across to southeast Ireland, we head to Wexford where a juvenile male Northern Harrier was seen at Churchtown, near Rosslare and then Tacumshin during the afternoon and evening of 6th, remaining to 9th.
Within just a couple of years, this soon-to-be-split (surely!) form has swung right on to the radar of many birders, thanks to the well-watched juvenile male in Norfolk in the winter of 2010/'11 and the fabulous-looking juvenile female that was found at Tacumshin in the same late autumn spell as the Norfolk bird.
With identification criteria now fully understood, both sexes in their juvenile plumage can be called correctly now (with good views they can be sexed with confidence) and after a 30 year gap from the juvenile on Scilly in the autumn of 1982, the mystique surrounding (the more elegantly named) Marsh Hawk is no more.
While the identity of the stunning Tacumshin bird of 2010 was never in doubt, there was much debate surrounding he Norfolk bird ~ many seeing the fact that a Northern Harrier could find its way to the east coast as the first significant barrier (the fact that an Empidonax flycatcher had just a few weeks beforehand was neatly side-stepped) and its appearance was barrier number two.
A gentle nudge towards the fact that the suite of characters shown by juvenile male Northern Harriers in the US where exactly the same as the bird in Norfolk helped and soon enough, the bird was embraced as such and enjoyed by hundreds of winter visitors.
Remarkably, a photographed second-winter male (a true "Grey Ghost") came to light as online discussion on the Norfolk bird was in full flow ~ the bird, snapped in County Durham in 2009, subsequently became Britain's second accepted hudsonius with the Norfolk bird the third.
Once Tacumshin had one, the place hasn't stopped scoring them since. The juvenile female of October 2010 was last seen in May 2011 then, this time last year, on 8th October, a second-winter male was found there with, incredibly, a juvenile there later in the month with both birds seen in to November.
Now Tacumshin has its fourth Northern Harrier in two years (!) and it starts to become hard to see what all that 30 year fuss was about….

Meanwhile back on the all-action island of Inishmore, a Mr Delaney of Dublin wasn't just content with an Eastern Kingbird ~ oh no, he decided to go for the Sunday Supplement when he uncovered another Irish mega, a Blackpoll Warbler near Kilronan.
Up until the end of 2010 there were just eight records in Ireland, the most recent being seen at Garinish, in County Cork in October 2009 ~ the fifth record for the county. Wexford and Waterford have had one a piece (in the Octobers of 1985 and 1993) while Galway's previous record, in October 2000, was also found out on Inishmore.
We'll take a brief interlude here to take a look at the weather maps for the past few days …..Andy Stoddart takes a look at the synoptic charts and tries to fathom out just why there was such a significant arrival of superb American species…
The appearance of 3rd October's Myrtle Warbler on Dursey Island is relatively easy to understand. A low pressure moved into the Labrador Sea on 28th September, pulling a brisk westerly airflow around its southern flank and off the mainland of Quebec/Newfoundland. By 30th this low was south of Iceland but another low west of Greenland maintained the offshore flow. Any bird entering this area would have had a clear run across the North Atlantic straight to northwest Europe by 2nd or 3rd, just within the assumed potential survival time for a small passerine.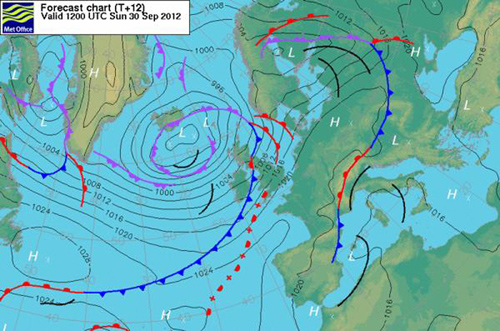 The arrivals in Galway from 5th are, however, much harder to fathom. The departure 'window' from Quebec/Newfoundland was closed by 1st October and the only other eastbound parcel of air was associated with the 'warm sector' of a new low which left the Labrador coast on 2nd. This low moved rapidly east through the mid-Atlantic on 3rd, though at lower latitudes than the previous depression, and by 4th was throwing its strongest winds northeastwards towards the British Isles.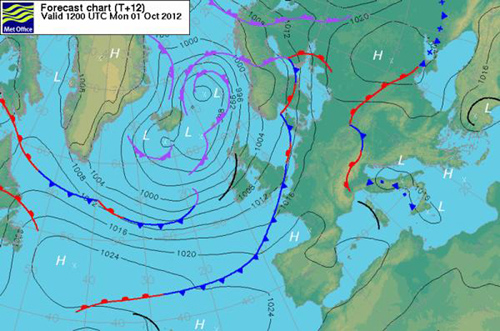 Any birds in this region would have been propelled towards the southern fringe of a new, weak low developing west of Ireland. As this low moved away on 5th, dragging the wind into the northwest behind it, it could have brought birds to Ireland.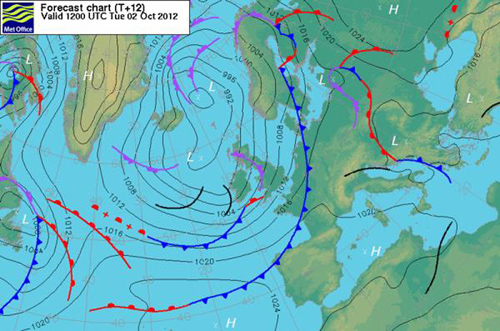 Under this scenario the Eastern Kingbird, Belted Kingfisher, Myrtle Warbler(s) and Blackpoll Warbler could all have made landfall somewhere on 5th. By 6th the vector was gone and a later landfall would imply a transatlantic flight time of at least four days - perhaps too long?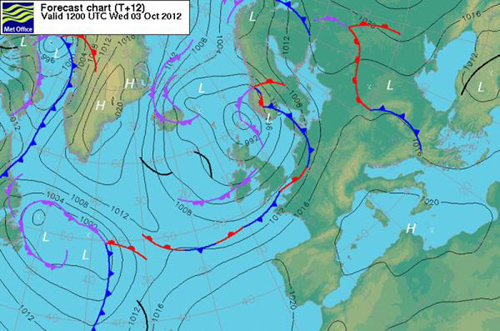 Another possible scenario involves an arrival in Galway on 5th of birds reorientating in the northwesterlies and northerlies behind the latter low pressure after a landfall two or three days earlier in northwest Scotland or the Faeroes. The Swainson's Thrush and Buff-bellied Pipit on the Western Isles on 2nd indicate that this is at least a theoretical possibility.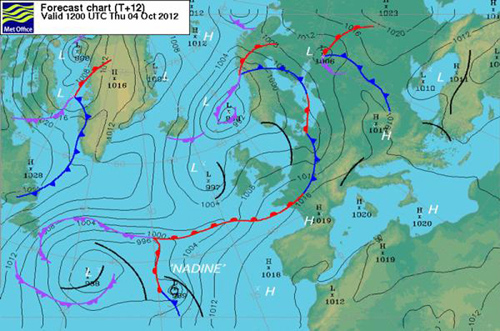 Such scenarios are little more than guesswork, however - we still have much to learn about the mechanisms of transatlantic passerine vagrancy and the endurance of these tiny birds.
Down on Scilly, any birders there for a holiday full to the brim of rares must have been feeling rather glum as news of the increasingly large and significant Irish haul of megas filtered through to them.
Still, things perked up considerably as the islands first-ever Sykes's Warbler was found late in the afternoon of 5th on Tresco.
There's been one near-miss with the species on Scilly before ~ the much-discussed bird at Green Farm, St. Mary's between 15th-22nd October 2006 was touted as a potential Sykes's Warbler and the line between rama and caligata was, in this instance in the field at least, a very fine one. Eventually the bird was trapped and the measurements and subsequent DNA analysis confirmed that it wasn't Scilly's first Sykes's after all, but it was the 15th Booted Warbler.
No such issues it seems with the Tresco bird, it's the second Sykes's Warbler of the autumn after the recent find on Foula, and was still present on 6th.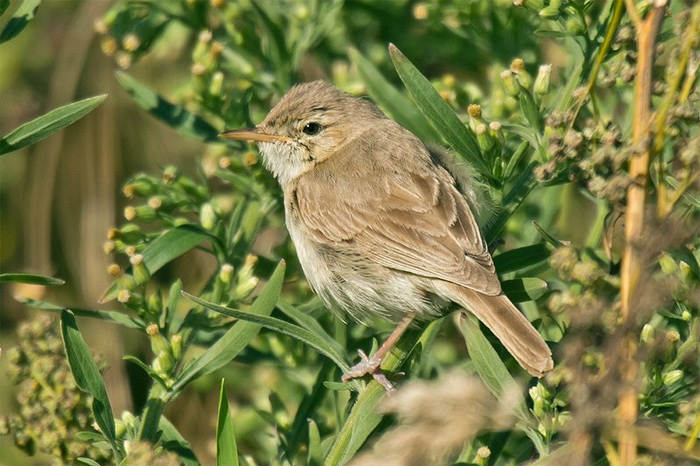 Not quite as rare, but still one a species to cause more than a frisson of excitement is Grey-cheeked Thrush and birders on St. Agnes kept the Scilly flame of hope burning bright when one was found, very late in the day on 6th, on the track to the campsite at Troy Town. Initially there was negative news the next day, despite the bird going to roost it had decided to be somewhere else by dawn. And that was, unfortunately, in a private area on the same island….talk about galling….but thankfully, later in the day of 7th, it popped out in a spot where it could be enjoyed by all. It remained to 8th at least and posed nicely for at least one snapper….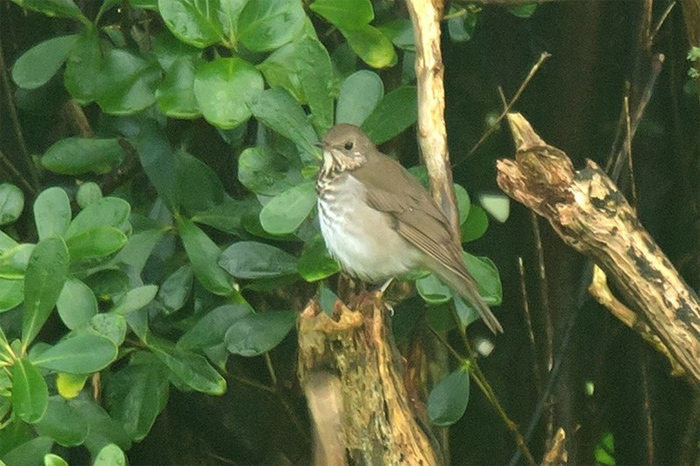 Until the end of 2010 there had been 25 accepted records of Grey-cheeked Thrush on Scilly, almost exactly half of the total of 51 birds (with a further six in Ireland).
The first for the islands came in 1976 (four birds arriving in October that year, three on St.Mary's and one on Tresco) while the extraordinary arrival of eight birds in 1986 may never be bettered (a year which also included the finding of Tresco Bicknell's Thrush too ~ a second candidate of this hotly-debated form following in 1991 on St. Mary's).
Away up on Shetland, it was nice to see that normal service was resumed this week with the arrival of a Pallas's Grasshopper Warbler on Fair Isle. Found down by the South Light on 3rd, the bird was trapped and ringed and then performed around Skerryholm and the Haa.
As was mentioned last week, Fair Isle dominates records of this enigmatic supreme-skulker, this one taking the island total to an amazing 23 birds (from a Shetland overall haul of 39).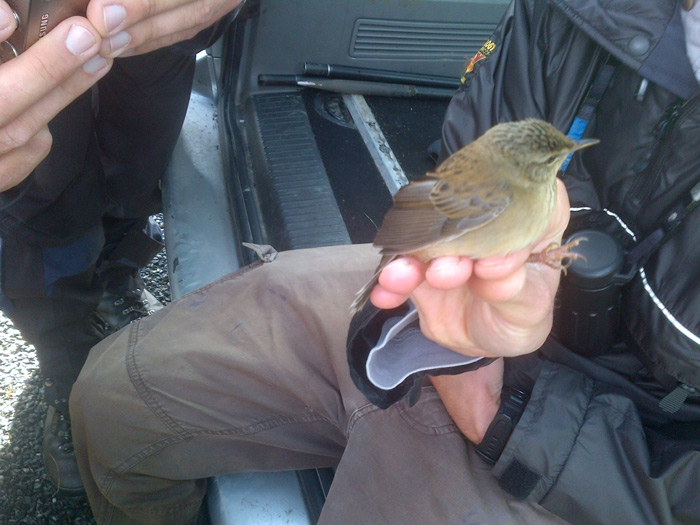 Britain's second, third and fifth Pallas's Grasshopper Warblers were found on Fair Isle and it was almost inevitable that the sensational last two weeks on the island would see the full set of "most wanted" eastern vagrants completed ~ Pechora, Lancie and now Pallas's Gropper.
Once upon a time that trio would have been off the scale, many birders used to go to Fair Isle for just two speciality birds, Lanceolated Warbler and Yellow-breasted Bunting. Sadly, the demise of the latter is now well documented and the eastern trio of a pipit and two warblers are now outscoring the one-time "nailed on" September favourite with considerable ease.
Fair Isle's most recent record of Yellow-breasted Bunting was in 2006, and Shetland as a whole has had three completely blank years since then (2007, 2009, 2010) with just three more birds in all, two in 2008 and one in 2011.
A quick check of the stats book is more revealing than first thought~ between Fair Isle's last Yellow-breasted Bunting (seen on 15th-16th September 2006) and the three other single birds on Shetland, the three other classic specialities have mustered the following totals....
Lanceloated Warbler ~ 25 records between 16th September 2006 to 3rd October 2012
Pechora Pipit ~ 22 records between 16th September 2006 to 3rd October 2012
Pallas's Grasshopper Warbler ~ 11 records between 16th September 2006 to 3rd October 2012
...compare those figures to the paltry four records of Yellow-breasted Bunting in the same time frame and the concern for that once annual species seems entirely justified.
Also on Fair Isle this week, the remarkable run of outstanding birds continued in to the weekend when a Black-throated Thrush was found at Hill Dyke on 6th. Until the end of 2010, there were 70 accepted records of this most handsome of thrushes in Britain (Ireland has yet to get off the mark) and from the total of 70, Shetland has 28 and, perhaps unsurprisingly, Fair Isle has had the lion's share of them….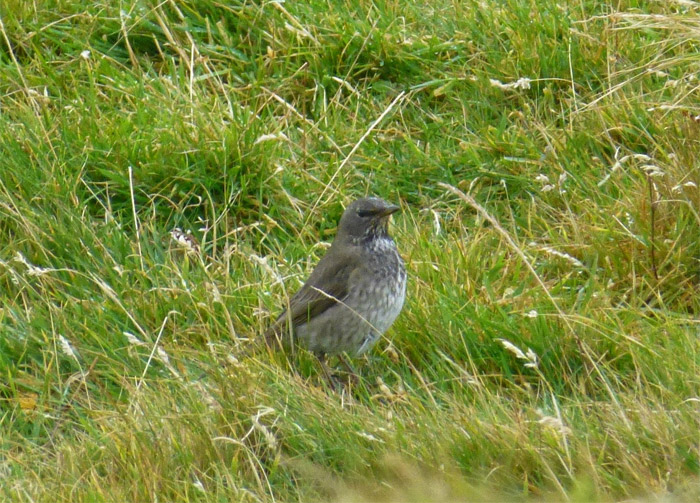 Since the first for Shetland, an adult male was found on Fair Isle in 1957, a further 13 birds have followed (including this week's new arrival). One bird was seen on the islands during the 1970's (another male in October 1978), with the only bird of the 80's, another male, appearing in October 1982. During the 1990's three Black-throated Thrushes were seen, including two on 17th October 1994, with the remainder following through the 2000's (in 2001, 2003, two in 2005, 2007 and 2010).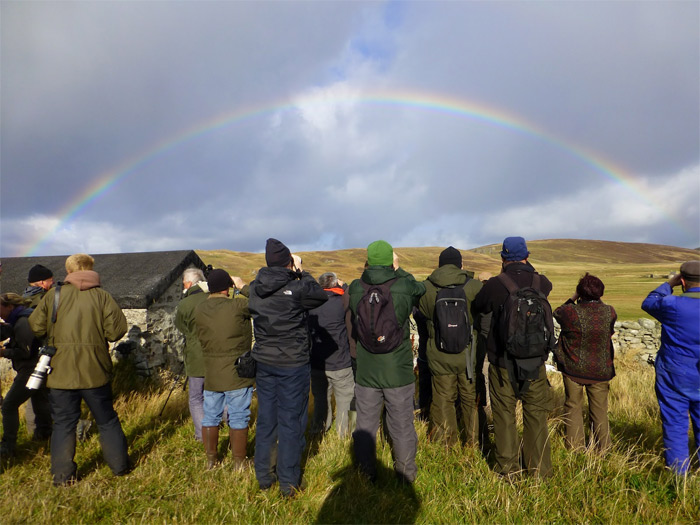 On the Outer Hebrides, on Barra, the Swainson's Thrush at North Bay was still present on 3rd, and showed well on occasion, in the gardens of the local B&B. The following day, some three miles away, it (or another Swainson's), was trapped and ringed in the plantation at Brevig ~ either way, it's pretty exciting stuff!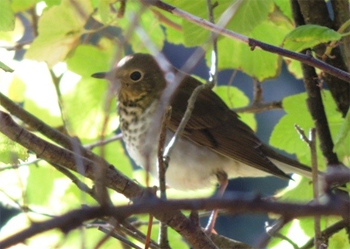 ….and talking of exciting….Cornish birders would have been sent scrambling and scrabbling towards Cot Valley on 8th when news broke of a White's Thrush seen briefly at the top end of the valley just before lunchtime. Subsequent searches were fruitless and, given the amount of cover in the area, that was perhaps no real surprise.
There are just two other county records of this awesome eastern vagrant ~ the first was killed at Probus in January 1874, the second spent two days at Bude at the start of January 1962.
Once accepted, it will be the first mainland White's Thrush since a freshly dead corpse was picked up in East Yorkshire in October 2007, the most recent live mainland bird being the twitchable one-dayer at Easington on October 10th 2004.
Ok so, what else do we have to mop up in Headline corner?
We'll move quickly on to the tasty morsels of left-overs from recent weeks….four American Buff-bellied Pipits were still on offer ~ two in Britain (at opposite ends of the country) and two in Ireland.
On Scilly, the mobile bird from last week resurfaced on St. Mary's (around Penninis Head and then the airfield) on 6th-7th (possible on 4th as well) while on Shetland , the bird at Rerwick was seen again on 3rd. Ireland's duo were the single birds at Smerwick Harbour (Co. Kerry) and Carrickfergus (Co. Antrim) ~ both still present to 5th at least. Then as the week drew to a close another bird was found on Scilly, this one on Bryher, during the morning of 9th.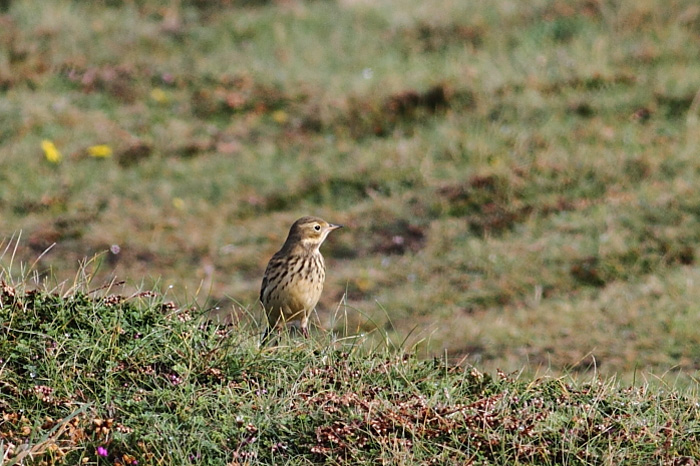 In Dorset, at Lodmoor the now first-winter Short-billed Dowitcher was still finding the RSPB reserve very much to its liking, still present on 6th but after having clocked up a calendar month on site, it wasn't seen subsequently. So much for liking the place!
Finally, to round off an absolutely sensational collection of rarities, another Fea's-type Petrel, another one for Cork (the fourth of the year) and another for Mizen Head (one was seen heading past the same site on July 17th and singles have followed off Cape Clear on 19th August with another off Galley Head on 29th August).
As was mentioned earlier in the summer, Cork has had 31 accepted Fea's-types since the first one off Cape Clear in 1974, with Mizen Head recording six ~ including this year's two.
Seabirds
Only two big shearwaters to report this week. A Great Shearwater was noted off Frinton-on-Sea (Essex) on 8th and a Cory's Shearwater was seen heading south off Skningrove (Cleveland) on 9th in a week that saw the seawatching (Cork Fea's aside) begin to slow down a touch.
The start of the week saw a few Balearic Shearwaters continuing to head past a few south coast headlands, 39 were seen off Portland Bill and 23 were seen from Orcombe Point (Devon) on the same day. Also in Devon on 5th, 35 birds were counted off Berry Head with 17 off Portland with the latter site recording another 17 on 6th.
Sooty Shearwater counts this week included 59 birds from Bridges of Ross on 3rd and 61 from Annagh Head, on the Mullet (Co. Mayo) on 5th, with birders there also seeing four Long-tailed Skuas on the samewatch.
Further records of Long-tailed Skua (in a lean week for the species) included singles off Pembrokeshire (at Strumble Head) on 3rd, Anglesey (from Point Lynas) and Forth (from Blackness) on 4th and Lincolnshire (off Gibraltar Point) and Mayo (at Kilcummin) on 5th. A total of 25 Pomarine Skuas by the end of 7th came from seven different sites and included seven off Annagh Head, again on 5th with six off Kilcummin Head the same day. Then on 8th came news of 42 Poms seen from Frinton-on-Sea, nudging the weekly total up somewhat.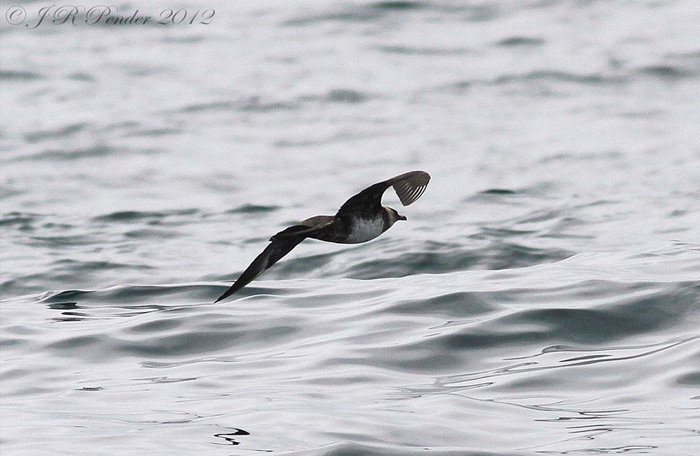 An adult Sabine's Gull was seen from Kennedy Pier, Cobh on 4th and again on 9th (what no House Crow?) with another off Mizen Head the same day. A further 10 were reported during the week, including three on Anglesey ~ two juveniles passing Point Lynas on 4th with an adult at Cemlyn Bay on 5th and a super looking juvenile was photographed from a Scilly pelagic on 9th.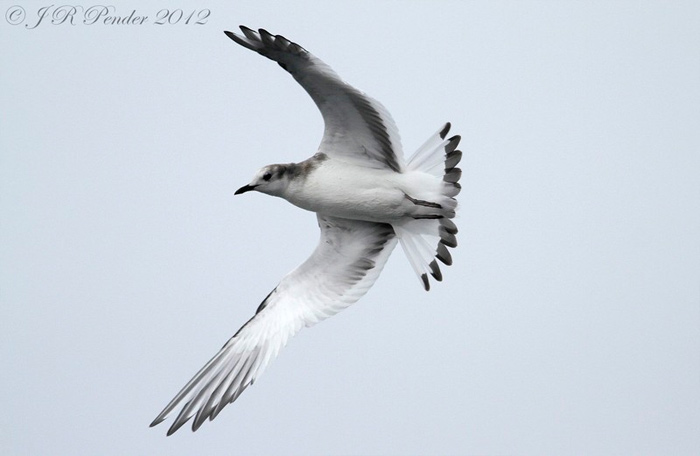 Leach's Storm-petrels mustered 23 birds this week, 10 of which were counted from Bridges of Ross on 3rd (with five there the following day) and the same site also scored heavily with Grey Phalaropes ~ 30 birds seen on the seawatch of 3rd, with seven from Annagh Head on 5th worthy of note in a overall weekly total of around 55 birds.
The week's only Little Auks were singles at Scalloway, Mainland Shetland on 3rd, Mizen Head on 4th, Gibraltar Point on 8th with nine off North Ronaldsay on 9th.
Herons, Egrets & allies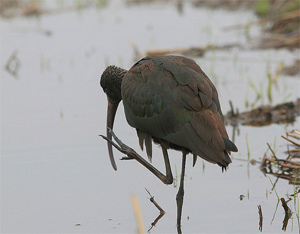 After several weeks of the same single Glossy Ibis remaining at their assorted stations, this week saw a new mini-invasion take place in the far west of Cornwall. Its tricky to know exactly how many involved, but we do know that it was at least a minimum of 15 ~ a flock of that number flew west past Land's End at midday on 6th.
Some 10 minutes before that, seven had been seen at Marazion Marsh (not the only rare septet at that site this week…) and eight were seen on the Lizard, at Windmill Farm NR earlier the same morning. Then, half an hour or so after the Marazion birds were last seen, seven were picked up off Sennen Cove, before flying off inland. Some of these birds presumably then accounted for birds then noted at Brew Pool and Trevorian Pool on 7th-8th.
Elsewhere, a Glossy Ibis was seen at Bosley Reservoir (Cheshire) on 4th, and further singles remained at Marloes Mere and the Ouse Washes.
A Purple Heron was found in the reedbeds at Radipole Lake RSPB on 6th, decamping briefly to Morden Bog on 8th before heading back to Radipole later the same day. On the Outer Hebrides, the Cattle Egret at Loch nam Magarlan on North Uist was still present on 4th, with another at Catcott Lows (Somerset) on the same date, that one remaining to 9th.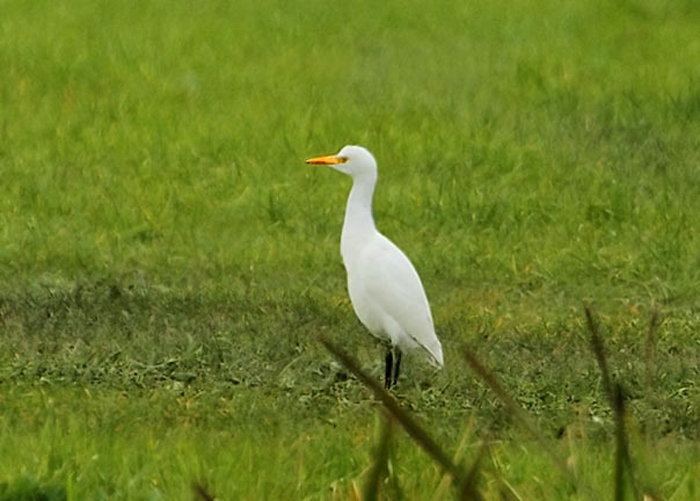 At the start of the week, two Great White Egrets were to be seen in Derbyshire, one at Carr Vale NR, the other at Combs Reservoir. Further Midlands birds (these in the west rather than the east) were seen over Sandwell Valley on 3rd and still at Grimley (Worcestershire) to 7th. Four Great Whites remained in Kent this week, two still at Stodmarsh and one for both Dungeness and Elmley while in Cheshire, two birds were at Parkgate Marsh on 4th, with one for much of the remainder of the week.
Two more flew out to sea from Portland on 6th and lone birds were seen in Cornwall, Somerset, Hampshire, Hertfordshire, Cambridgeshire, Essex and Lincolnshire.
In Dorset, the number of Spoonbills at Middlebere shot up to 19 on 7th and both Elmley and Dungeness saw a flock of 10 head through (south past the former site, then west past the latter) on the afternoon of 4th ~ it is sooooo tempting to suggest they may even have been heading to Dorset, though perhaps Mauretania is as likely a destination as Dorset….
At least 11 Spoonbills were still at Titchwell (Norfolk) at the start of the week and five were at Felixstowe Ferry (Suffolk) on 7th. Single Spooners were noted in Scilly, Devon, Dorset (one over the Obs., at Portland on 7th), Hampshire, West Sussex and Lincolnshire.
There were 13 Common Cranes at Waxham (Norfolk) on 7th with singles on the same day seen at Marshside RSPB (North Lancashire) and Bidford-on-Avon (Warwickshire) while another was reported earlier in the week at Castletownroche (Co. Cork) on 4th. Eight Cranes were at Welney WWT on 8th rising to 10 on 9th. The same date saw what could even have been the start of a small influx:- three were seen at Burton Marsh (Cheshire), four were seen near Goole (East Yorkshire) and five flew over near Newport Pagnell (Buckinghamshire).
The only Spotted Crakes of the week were the long-staying bird at Greylake RSPB (Somerset), still present daily from 3rd-7th and at Seaton Marshes (Devon) on 8th-9th, while the only Corncrake was flushed from the grass alongside Prescot Reservoir (Lancashire) on 4th.
Ducks & Geese
Three new American Wigeons were found this week ~ on Loch Bee, South Uist on 4th an eclipse drake, at Tacumshin from 7th and at Angler's CP (West Yorkshire) on 8th. Also new for the autumn, though perhaps a returning bird, was the drake Green-winged Teal found at Kinneil Lagoons (Forth) on 5th ~ one has been seen here every autumn since 2006 but whether they are all one in the same seems unlikely.
The Achill Island Black Duck is certainly a returning bird, and he was still present on Srhuill Lough on 5th while other lingering duck species included the eclipse drake Lesser Scaup at Chew Valley Lake (still present to 5th) and the drake Ring-necked Duck at Orgreave (South Yorkshire) to 7th. A new drake Ring-necked Duck was found in County Mayo this week ~ on Lough Doo, near Tonatavally, Achill Island, present on 6th-7th.
In Scotland, at Burghead in Moray, the drake King Eider was seen again on 8th while the drake Surf Scoter lingered in Olna Firth on Mainland Shetland to 3rd. An adult female Surf Scoter was in Brandon Bay on 7th while late news form last week concerned a juvenile on Mull on 1st.
A couple of weeks ago, we mentioned the flock of five Todd's Canada Geese (form interior) that were reported from the fields near the post office in Ennis (Co. Clare). Well this week, the quintet were still there, still present in the area to at least 5th ~ a flock which may be the largest group of vagrant Canadas seen here in decades (ever?) (assuming they are the real deal, which seems to be the likely scenario). On Islay two more vagrant Canada Geese were seen this week ~ on 3rd a Lesser Canada Goose (form parvipes) was found amongst the Barnacle Goose flock at Loch Gruinart and the following day saw the arrival of a Richardson's Canada Goose (form hutchinsii) at the same site.
The only reports of Black Brant this week were both from Essex, one was seen at Wakering Stairs on 6th with it or another seen the following day at Leigh-on-Sea.
Raptors
What appears to be Britain's first ever adult (or adult-type) female Pallid Harrier was identified in South Yorkshire this week ~ the bird at Firsby Reservoir had been present for some three weeks or so prior to this week and its identity pondered over within that time.
Finally the call was made and ID buffs poured over a few photos of the bird.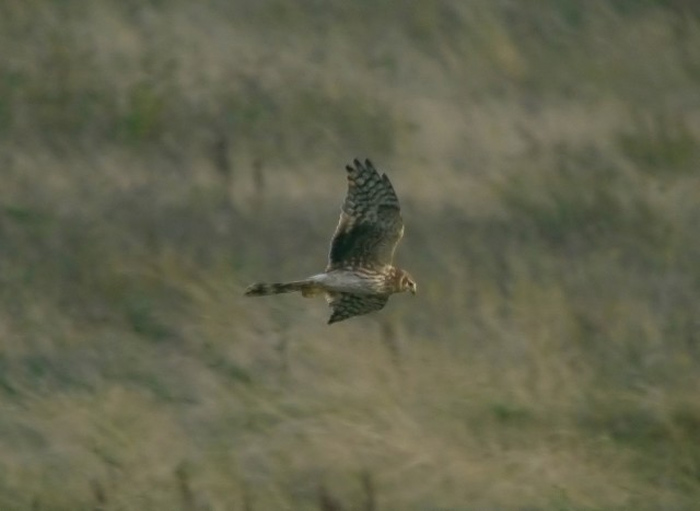 The heavy structure and underwing pattern eliminated Monatagu's Harrier immediately and Hen Harrier was ruled out by, amongst other things, the wing point structure and number of visible primaries (four on Pallid compared to Hen & Marsh Hawk's five) along with the underwing pattern as well.
And what about the potentail of a Pallid X Hen hybrid? There is an increasing likelihood that more will be detected here in forthcoming years but on the South Yorkshire individual there is nothing obvious to invoke such a theory. It does seem to be a female Pallid Harrier and equals a very fine bit of detective work for those involved. Perseverance pays off once more….
After showing, off and on for a few days this week, the bird was last seen on 7th, flying from its reservoir roost before heading over nearby Connisburgh a couple of hours later.
The only other accepted female on the British list is a two-day bird, a first-summer female, that was seen on Blakeney Point in mid-May 2003.
Seven single migrant Honey Buzzards included two in Lincolnshire (over Theddlethorpe on 4th and Alkborough Flats on 6th) with others in Kent (on 5th and 9th), Norfolk (on 6th), Lancashire (on 8th) and East Yorkshire (on 9th) while Rough-legged Buzzards were reported at Sheringham and Hempstead (Norfolk) and also Alkham (Kent) on 4th, on 6th, at Redmires Reservoir (South Yorkshire) and Bowers Marshes (Essex) with another in Essex, at Deal Hall on 9th.
Shorebirds
One of the best shorebirds of the week was the heard-only Upland Sandpiper ~ it must have been exciting and frustrating in equal measure as it headed over Lissagriffin (Co. Cork) on 7th.
New this week was a juvenile Baird's Sandpiper at Rosscarbery (Co. Cork) from 4th-9th with single White-rumped Sandpipers appearing in Ireland at Seafield (Co. Clare) on 6th and in County Kerry, at Reenroe on 7th and Smerwick Harbour on 9th. The adult at Tacumshin was still present early in the week.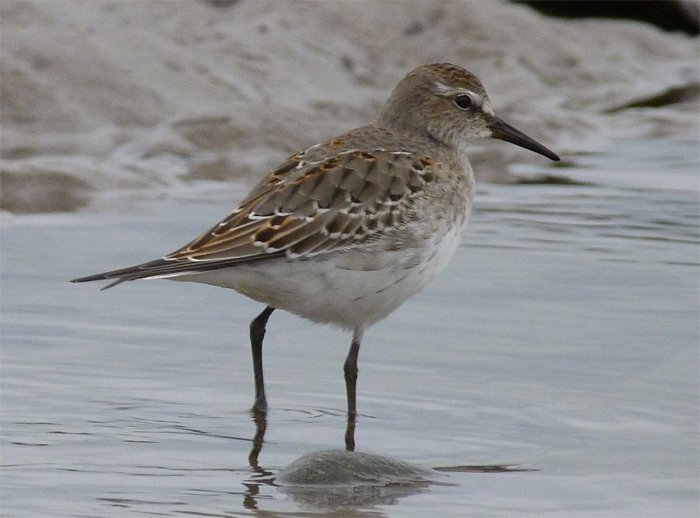 Staying briefly with White-rumped Sandpipers, but a little further a field from the west of Ireland, there was some remarkable news from the Azores this week. After almost a full day of heavy rain an incredible 250+ White-rumped Sandpipers were seen around the islands, including a mind-boggling flock of 150 at Santa Maria.
Back here, there were 22 or more American Golden Plovers noted this week, with at least 11 in Britain and a further 11 or more in Ireland too.
At least five birds were seen around the Outer Hebrides ~ an adult was at Eoropie, Lewis on 3rd, with a juvenile at Ardvule Point, South Uist on 4th with an adult on North Uist the same day, with one or probably two juveniles around the latter island on 5th-7th. Other Scottish islands hosted four birds, Tiree scoring one (on 4th), Orkney two (the adult still on North Ronaldsay for much of the week with a juvenile on Mainland on 5th) and Shetland one (the adult still at Veensgarth to 7th). The only mainland record this week was also in Scotland, at The Wig, Loch Ryan (Dumfries & Galloway) from 4th-7th.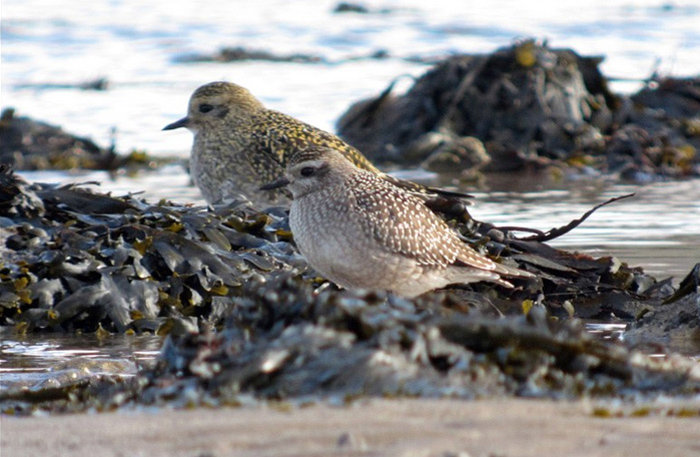 Two juveniles were seen on Scilly on 8th, one appeared on St. Agnes before heading off, presumably then being the bird that popped up on the airfield a little while later. A new bird was seen in flight over the Garrison later in the day and one flip-flopped between the two islands on 9th.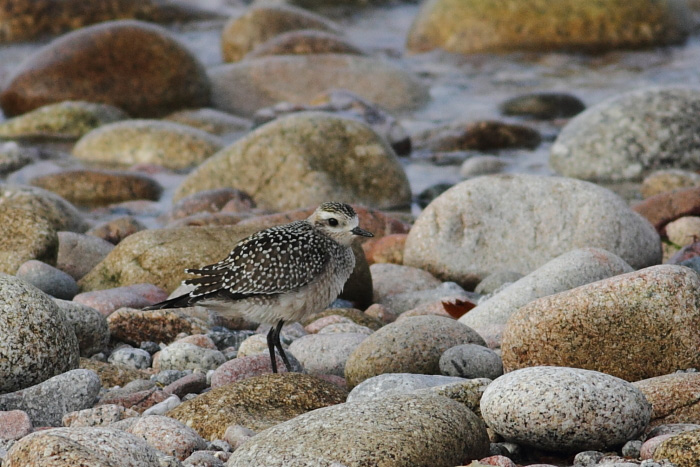 Irish birds were reported from Bridges of Ross in County Clare (a juvenile on 3rd), Carrahane Strand in County Kerry (one there on 5th), Tacumshin in Wexford (two juveniles present on 7th) with another youngster in Bannow Bay on 6th, Annagh Strand in County Mayo (three birds there, an adult and juvenile at the start of the week and two juveniles on 6th) County Cork (single juveniles were at Ballydonagh and Rosscarbery on 7th and Pilmore on 9th) and again at The Curragh in Kildare, where a juvenile was seen on 8th.
As may be expected, as the autumn pushes on, numbers of Buff-breasted Sandpipers start to tail off and this week was certainly proof of that, just nine birds reported during the course of the last seven days.
At least three were seen at Bridges of Ross on 3rd with birds from last week still present on St. Mary's (Scilly), Davidstow (Cornwall) and Curry Moor (Somerset). On 4th, another Buff-breast was found at Slimbridge and two birds were still being seen at Loch of Strathbeg (Aberdeenshire).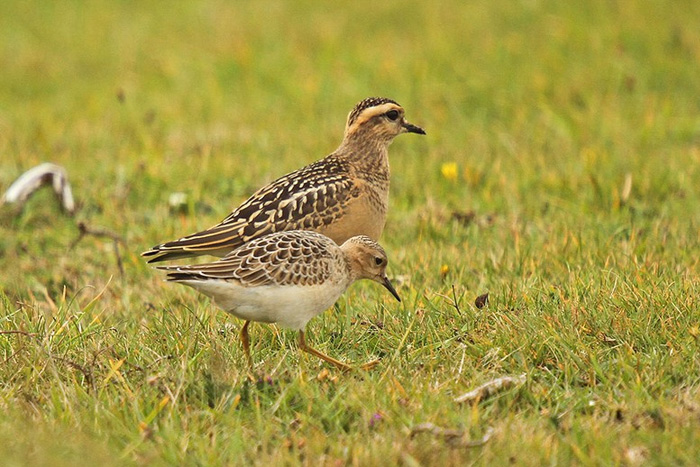 Last week's Lesser Yellowlegs on the Isle of Bute was still around on 3rd, departing north just before teatime. The second of the week was found on Bull Island (Co. Dublin) on 7th and remained to 9th.
Three or four new Long-billed Dowitchers were discovered this week ~ one on the east coast and two on the west. The first two were both found on 4th ~ one at Alkborough Flats (Lincolnshire), the other at Loch Grogary on North Uist, with the former bird (possibly hot-foot from Northumberland?) present to 5th and the juvenile on the Hebrides still in place on 6th. Cork landed the third new arrival of the week, at Lough Beg on 7th (could it have been the bird seen briefly at Rosscarbery on 9th?) while the long-staying adult in Gloucestershire continued to move between Slimbridge and Walmore Common to 7th.
Loch Grogary also hosted three Pectoral Sandpipers on 6th-7th while one or two were seen along the north Norfolk coast, with further singles in Kent, West Sussex, Gloucestershire, Northumberland, Lincolnshire and Somerset as the week progressed, with one bird reported from Ireland, at Tacumshin. Dotterels remained in short supply, one on Scilly seemed quite content up on the airfield to the end of the week, with the only other report coming from County Cork, two birds on Roberts Head on 6th.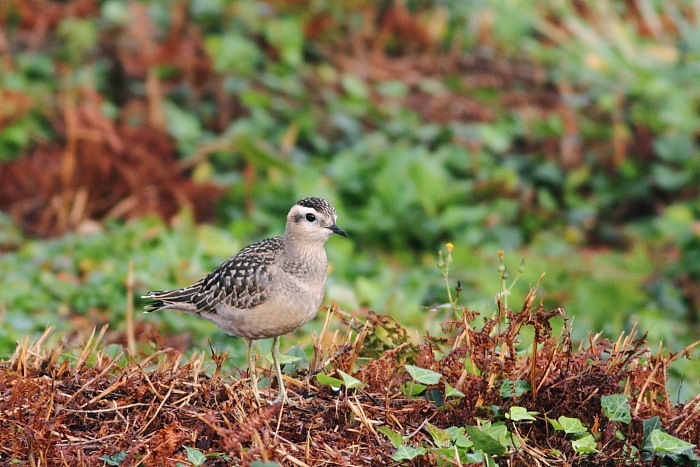 The only Red-necked Phalarope was last week's leftover juvenile in Lincolnshire, still showing at West Ashby from 4th-7th.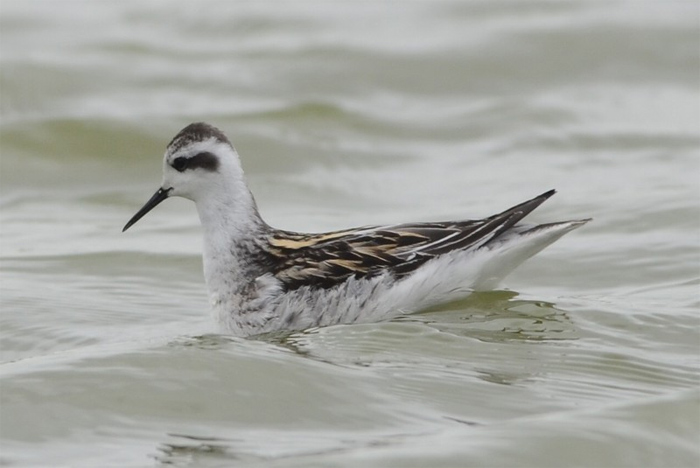 Gulls and Terns
In County Antrim the adult Bonaparte's Gull was in the bays around Larne on 5th while the third-winter Ring-billed Gull was still at Groomsport, in neighbouring County Down on 7th. An adult was seen at Blackrock Starnd (Co. Kerry) on 9th with the only other Ring-billed Gull, another familiar face, was still at Kinneil Lagoon on 7th.
Ireland also hosted two of the week's four Glaucous Gulls (one for Antrim, one for Clare) the others both noted in Shetland. The only Iceland Gull was on North Ronaldsay on 3rd.
In County Louth, the adult Forster's Tern started its sixth week at Soldier's Point ~ first noted at the end of August, the showy bird was present to 6th at least.
Passerines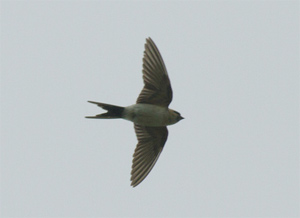 Red-rumped Swallow wouldn't often be considered to be the "lead-off" bird in this section of an October round-up but the record-equalling flock found this week is certainly worthy of top billing.
It started slowly at first, when a single bird was over the RSPB reserve at Marazion Marsh late in the morning of 5th. By noon, three birds were present and quickly four more appeared with all seven birds remaining in the area until dusk, being seen again early the next morning. Then nothing, they'd vanished.
Elsewhere in the southwest on 6th, single birds were on St. Agnes (Scilly) and at South Milton Ley (Devon) and two Red-rumped Swallows were at Lands End. On 7th, one was again at Marazion with another Cornish individual at Tregunna, and there was another one for Devon (in Plymouth) and one for East Sussex too (at Seaford). Back in Cornwall, on 8th, another single was at Pendennis Castle near Falmouth.
This mini-invasion doesn't match the famous autumn influx of 1987 ~ 52 birds seen between October 19th and November 21st, with the first significant push occurring (again) in the far southwest when four appeared on Bryher on 19th, with five on St. Mary's on 23rd rising to seven on 27th.
A further five, possibly seven, were found at Point of Ayr (Flintshire) on 26th, and four birds were at Gibraltar Point between 24th-28th. Four threes were noted, at Flamborough (on October 22nd), Marazion (5th-7th November), Edinburgh (6th November) and Happisburgh (11th November).
Britain's first Red-rumped Swallow was found on Fair Isle in 1906 and it was a remarkable 43 years until the next ~ in Hertfordshire ~ with the third coming to Cley in March 1952. The first multiple sighting was at Spurn, two there on 22nd October 1987.
Around 500 birds were accepted by BBRC before the species was removed from the British List in 2005 ~ but with a Cliff Swallow joining a flock of nine Red-rumped Swallows on Ouessant earlier this week, there's plenty of reason to really check hard through hirundine flocks at the moment.
…..and that's before we get to Asian Red-rumped Swallow ~ Britain's first (on Orkney then, remarkably, on the Isle of Skye) in June 2011 still awaits the thumbs-up from the BOURC, but has to be a (sub-)species on everyone's radar. The next one will prove highly popular for sure…..
Cornwall (and the south coast in general) was becoming the focus of attention as the week concluded. There was a notable drift of eastern species (mainly Yellow-browed Warblers) in to southwestern counties and, as well as the brief Cot Valley White's Thrush, there were another couple of significant finds down in Kernow.
Leading the way was Cornwall's fourth Paddyfield Warbler found at Church Cove, Lizard on 8th-9th. All county records have come in the last 16 years, the first Cornish record was a late bird at Marazion Marsh in November and December 1996 (it stayed for 43 days and was last seen just before the turn of the New Year) and further birds (both one day individuals) were at Cot Valley on November 15th 2001 and Sennen on October 14th 2004.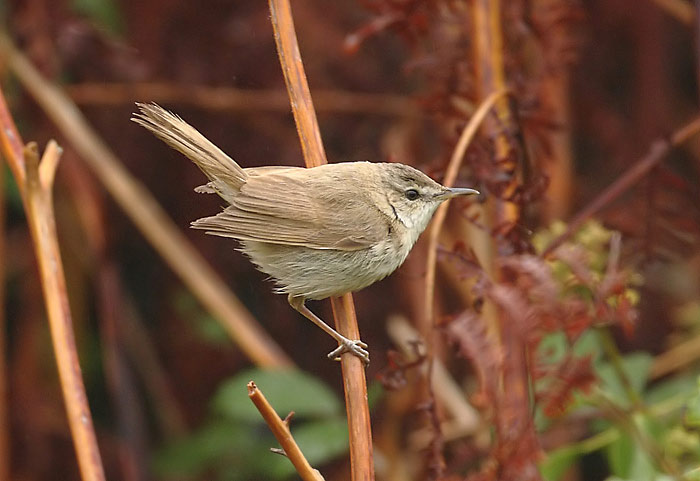 Not far behind, certainly in terms of rarity value in the far southwest, was the Olive-backed Pipit seen at Pendeen on 9th. The bird was watched near the coastguard cottages before heading off up the valley, reappearing later in the day. It will become the ninth record of the species for Cornwall and all have been seen at the extreme western tip of the county within a small radius of Lands End.
The only other OBP this week was also in the southwest, seen out on Lundy on 7th ~ watched for 15 minutes during the morning the bird flew out to see at around 11 o'clock to who knows where. This lovely pipit is rarer still in Devon, just four records to date, two of those on Lundy (in 1989 ~ the county's first ~ and 2009) with the others at Prawle in October 1996 and Brixham, across nearly four months from January to April 1997.
On Shetland, the first-winter Isabelline Shrike remained around the Toab area of south Mainland from 3rd-5th while on Fair Isle a Lanceolated Warbler found at the end of last week seemed reluctant to take it leave, still present to 8th at least. Fair Isle also played host the only Citrine Wagtail of the week, seen on 5th.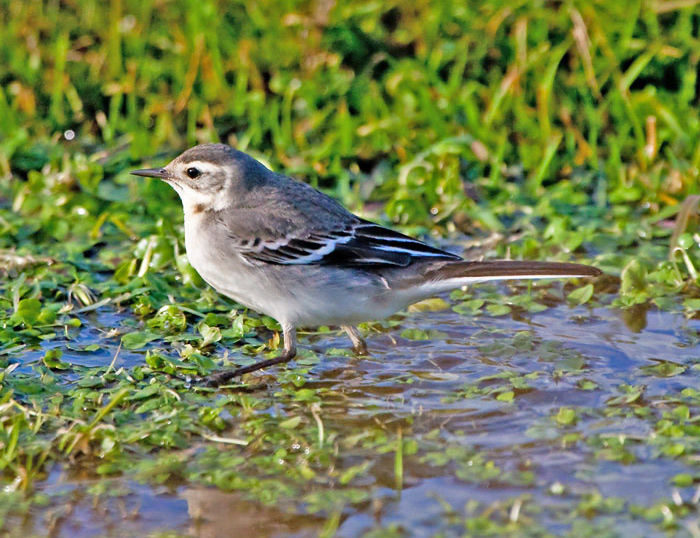 The second Great Reed Warbler of the autumn was seen in the reedbed at Rerwick on 5th and the first-winter male Siberian Stonechat remained at Hoswick, on Mainland until 8th at least (if only it was that storming Caspian Stonechat that's been in the Netherlands this week…). Another popular Shetland bird was the lingering Hornemann's Arctic Redpoll at Norwick, on Unst (still present on 4th) with another making it to Out Skerries on 5th (and a probable was at Uyeasound, Unst on 7th). The 6th saw Orkney snag one of these glorious snowballs, seen at Pierowall, on Westray.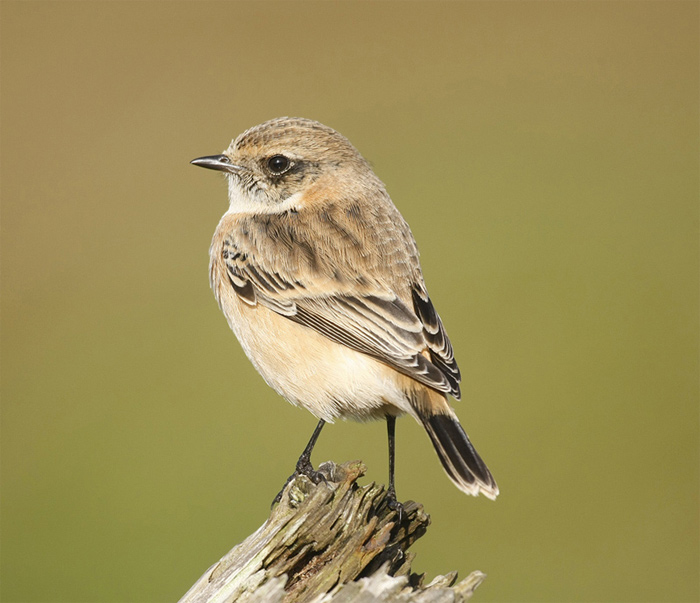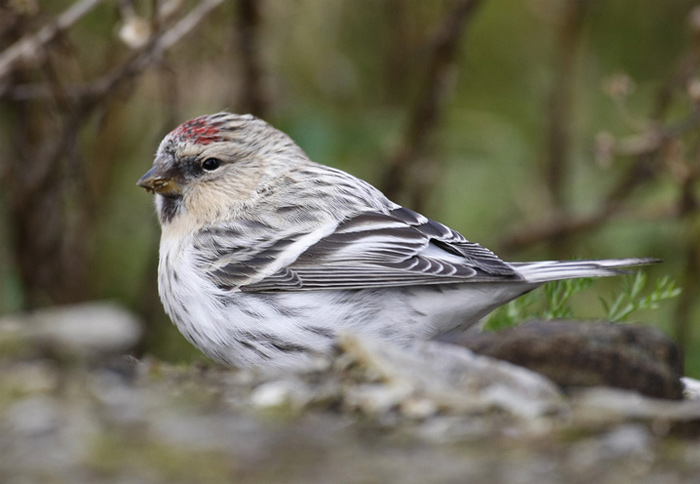 Orkney also clocked up the first Rustic Bunting of the autumn, seen briefly on North Ronaldsay on 5th while Shetland hosted four of the week's five Little Buntings ~ one was on Foula on 3rd, two were seen on Fair Isle on 4th and Whalsay had one on 5th. The week's fifth bird was on Portland, at Southwell, on 6th.
Blyth's Reed Warbler remains a very rare bird in Ireland (despite over 120 in Britain, Ireland has just six) so this week's news of two different birds was significant indeed. The first was found on Galway's Inishbofin on 5th-7th (somewhat overshadowed by Inishmore's bird on the former date…) with the second turning up at Ballinacarraige, Firkeel (Co. Cork) on 8th.
Cork has had four Blyth's Reeds prior to this week (two on Cape Clear, in October 2006 and October 2011 with one at Mizen Head in October 2007 and another on Dursey Island in September 2010) with singles in Mayo (on the Mullet in October 2007) and Kerry (at Glanfahan in September last year).
The third Blyth's Reed Warbler of the week was identified on North Ronaldsay on 9th. There have been 14 records of this sometimes-troublesome Acro on Orkney, 11 of which have occurred on North Ronaldsay (two were at Holm, Mainland and, earlier this autumn, one was found on Sanday).
On Scilly, the Western Bonelli's Warbler was still showing well on St. Martin's to 6th and off the Welsh coast, the sole Melodious Warbler was on Skokholm on 6th-7th. Some 20 Barred Warblers were recorded during the week, only five of which were seen on the British mainland (two in Lothian, and singles in Northumberland, Kent and Cornwall), with six on Shetland (two for both Mainland and Unst, with one each for Bressay and Fair Isle), two or three on the Outer Hebrides (all on Barra), singles for the Isle of May, Calf of Man, Bardsey and Skomer, with three more in Ireland, two in Cork and one in Galway.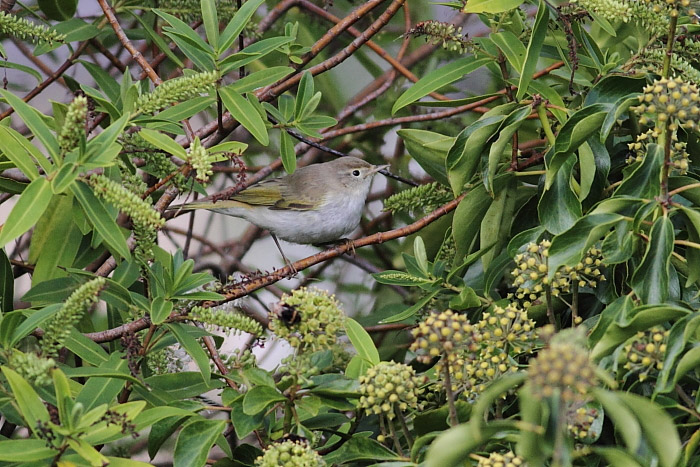 Numbers of Yellow-browed Warblers fell away a little this week, but there were still plenty on offer ~ around 170-175 birds noted, 140 or so in Britain and 30+ in Ireland.
The shift away from the Northern Isles towards the south and west coasts of both Britain and Ireland was pretty apparent as the week went on ~ at least 25 birds were seen around Shetland through to the weekend (with seven on the Hebrides, including three on Barra on 5th) with singles in Argyll and Orkney.
East coast counties, and those in the southeast saw very few birds recorded this week (just one reported from the North East, four in East Anglia and seven in southeastern England) while Wales and the North West managed around 22 or so.
As the round-up period drew to a conclusion, more and more birds were being found in the southwest of both England and Ireland ~ at least 70 birds were seen between Dorset to Scilly including four on St. Martin's on 8th with seven on Portland on 9th and at least 10 were shared between the Cornish valleys of Nanquidno, Porthgwarra, Cot and Kenidjack on 8th. County Cork held at least 20 birds, with four for the Mizen Head area on 7th and four on Sherkin Island on 9th.
There were two Red-breasted Flycatchers on Barra and they were part of a weekly total of 13 birds. Up to four were seen around Shetland, while further island birds were one on North Ronaldsay and two were on Scilly, with mainland birds at Kilnsea (East Yorkshire) on 3rd, Berry Head (Devon) on 5th, Climping (West Sussex) on 6th and Margate (Kent) and Crosby Marina (Merseyside) on 9th.
Two single Red-throated Pipits were found in the southwest this week ~ one was on the cricket pitch on St. Martin's on 7th and another was found in Devon, at Orcombe Point on 9th. This remains a really rare species in Devon, just a dozen accepted records where on the record books until the species was removed from the BBRC list in 2005. There have been just four subsequent reports (including one at Orcombe Point, in exactly the same area as this week's, in October 2009).
The 15 or 16 Richard's Pipits reported this week were spread far and wide ~ three were in Kent during the week (including two on 9th, at Dungeness and Pegwell Bay), there two each for Fair Isle (on 4th) and St. Mary's, Scilly (on 7th-8th) with singles in Cornwall, Devon, the Isle of Wight, Anglesey, Conwy, Lincolnshire and Northumberland while particular mention should go to the bird found near Daventry (Northamptonshire) on 6th ~ a great inland find.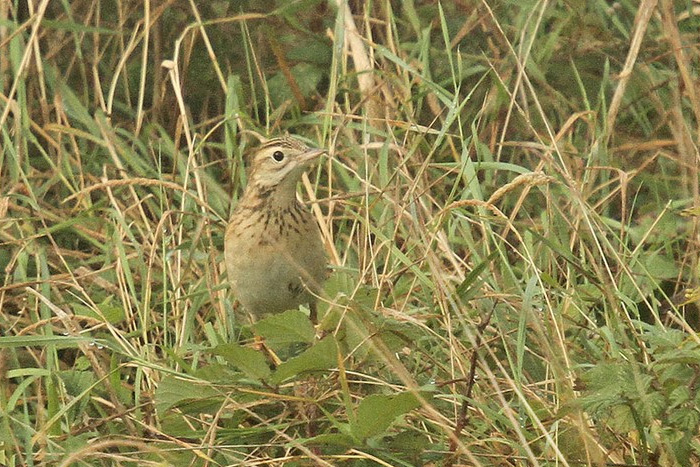 Another neat inland discovery this week was the Red-backed Shrike around the Salisbury Plain Training Area (Wiltshire) from 6th, one of eight noted (two made it to Shetland, one got across to the Outer Hebrides (found at Eoropaidh, on Lewis on 7th), another was found on Lundy, also on 7th with others in East Yorkshire, Dorset and Cornwall.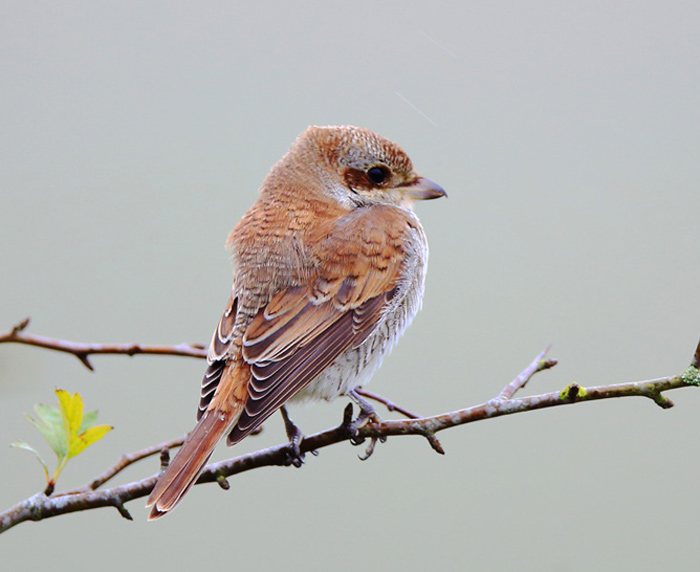 Three Hoopoes included two in Devon, one in the south of the county, flying over St. Budeaux, Plymouth on 6th with another in the middle, at Christow on 6th-7th. The third Hoopoe for this week was seen over the racecourse at Great Yarmouth on 5th. Sixteen Wrynecks were found through southwest England, with eight on Scilly, four in Cornwall and three in Dorset. Two Wrynecks were seen in both Kent and Pembrokeshire, with singles in Essex, Suffolk and Lothian brining the week's total up to 23 birds.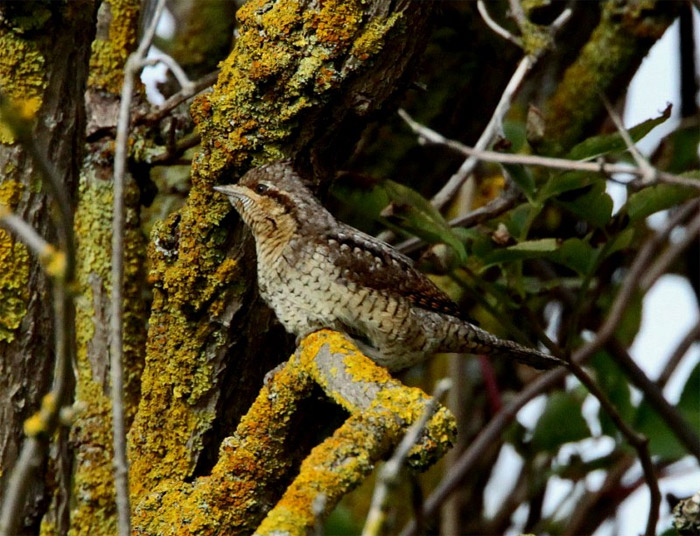 Cork and Scilly held the only Ortolan Buntings of the week ~ two remained on St. Mary's, in Hugh Town and near the Golf Course while it was Lissagriffin and Mizen Head that held Cork's duo, while the same Irish county also played host to two of Ireland's four Common Rosefinches (on Cape Clear on 6th-7th and Sherkin Island on 9th), the others were found out on Inishbofin (Co. Galway) on 3rd and 9th. Just two more Rosefinches were noted, both on Shetland, one on Unst at the start of the week, the other spending 7th-9th at Boddam on Mainland.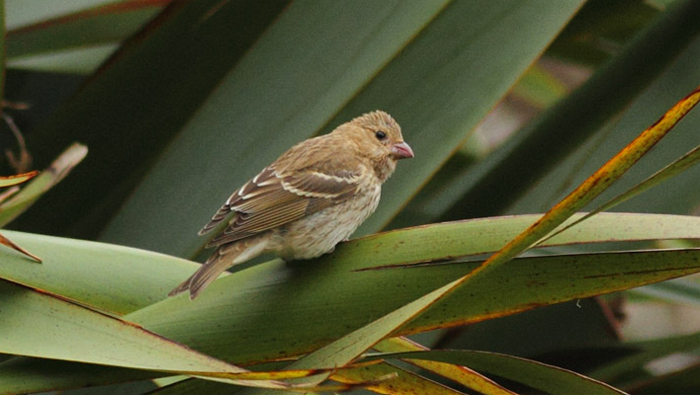 A Rose-coloured Starling was found on Arranmore Island (Co. Donegal) on 3rd and was one of four seen through the last seven days ~ juveniles remained on both St. Martin's and St. Mary's (to 6th and 9th respectively) while an inland bird was reported from Barnby in the Willows (Nottinghamshire) on 6th.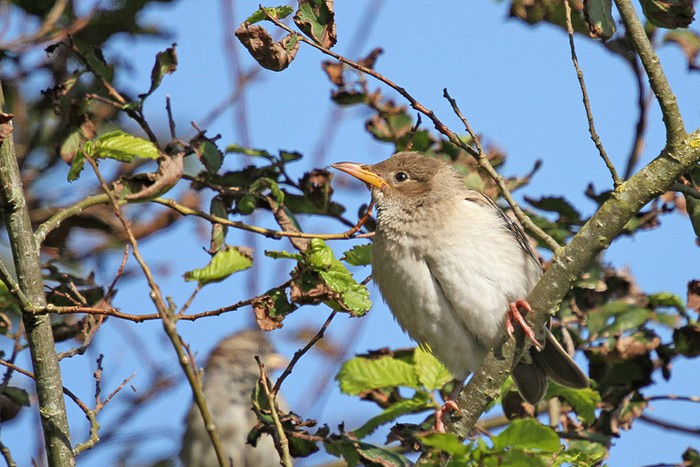 There we are then ~ another remarkable autumn week has drawn to close. Ireland has nipped in with a huge Nearctic passerine just days after Shetland did exactly the same….an autumn with a Magnolia Warbler and an Eastern Kingbird is a very special autumn indeed.
But Scilly has yet to do what it did last year….but there's still a good three weeks or so for any one of the islands there to produce an American passerine of the very highest order. With some WNW'ly winds forecast, maybe something will drop off the end of Ireland and hit the Parsonage, the Abbey Gardens or Holy Vale. It only takes a moment, a very special moment, to see a Cerulean Warbler or a Black-throated Blue Warbler emerge in front of you….it's going to happen to someone somewhere someday.
You never know….
It could be you.
Mark Golley
10 October 2012
This weeks contributors
For their help and contributions this week a special thanks goes to:
Hugh Delaney
and
Dermot Breen
And thanks to all our other contributors for their photos and videos
Steve Young - Birds on Film
,
Tommy Hyndman - Fair Isle
,
Joe Pender - Sapphire Pelagics
,
Paul Kelly - Irish Bird Images
,
Ashley Fisher - Scilly Pelagics
,
James Packer - Somerset Birder
,
Davey Farrar
,
Paul Freestone - Cornwall Birding
,
Jeff Hazel - Levels birder
,
Jon Hall - The Bunbling Bears
,
Dave Hutton
,
Micky Maher
Darren Robson, Killian Mullarney, J.Selby Will Soar, Justin Carr Mike Youdale Andrew Hood, Michael Trew, Chris Baines, Andy Stoddart,