Weekly round-up: 19 - 25 Sept 2012
The week at a glance
Fair Isle lands a star on Sunday ~ Britain's second-ever Magnolia Warbler
Foula pops in with a "west meets east" special ~ Swainson's Thrush and Sykes's Warbler
….and then a Blyth's Pipit follows the next day……
White's Thrush braves the gales and find itself on Inner Farne
The Wirral peep kicks off a new ID debate, and ties in with the Uist bird too
Successive American Buff-bellied Pipits arrive on the Outer Hebrides and one reaches County Cork
Both juvenile Short-billed Dowitchers head in to another week
The Rainham Marshes Baillon's Crake continues its autumn stay for a little longer
….and, at last, the east coast gets birds, Yellow-browed Warblers leading the way…..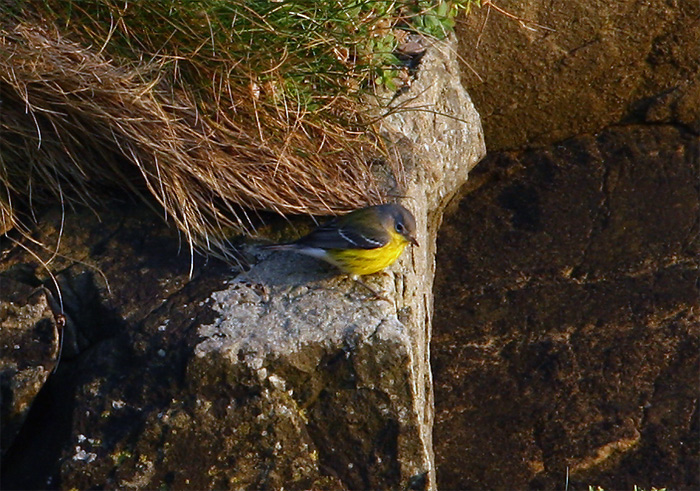 Wow. What can you say? What an incredible week. After weeks of anticipation (and several high quality birds already) through the early part of the autumn, this week saw some wonderful vagrants making landfall in the Northern Isles, along with a fulsome supporting cast of rarities and scarcities across the rest of Britain and Ireland.
The weather produced some torrid conditions across some parts of Britain as former Hurricane Nadine whipped through the English Channel and off to the continent, pressure deepening all the while ~ after the strong westerlies came equally brisk easterlies and one or two charts looked right on the money as the weekend approached.
….and sure enough, Nadine delivered…..and, funnily enough, despite the foul conditions to the south, one of the best birds of recent years appeared within a deep geo bathed in autumn sunshine, with calm seas below and not a hint of the grim wet weather that was lashing the country to the south…..
It had been a long time coming but there was little doubt that the autumn was here, finally, and with a very big bang to boot……
Anyway. Enough already…there are megas to discuss…..!
Headline birds
There are some birds from the past three decades or so that have had that certain je ne se quoi. For many years one of them was Yellow-browed Bunting. Another was Cream-coloured Courser. There was Siberian Rubythroat too and many, many years ago, even Pallid Harrier. All of those have appeared in the recent past and their air of mystery has vanished, to some degree or another….
…..then there are species that remain a step above even those supreme gems….Aleutian Tern, Egyptian Nightjar, Houbara and a few more besides…nestling amongst them, despite their collective "commoner" vibe, a select band of one-time only, much longed-for, American wood-warblers.
Count them out ~ Bay-breasted Warbler, Canada Warbler, Wilson's Warbler, Golden and Blue-winged Warblers and, of course Cape May Warbler. Oh, and one other. Magnolia Warbler.
Magnolia Warbler…..oh my goodness….. its another one of those Skimmer-esque, heart-stopping moments when those two words rocked up on the pager screens on the early evening of Sunday 23rd. Blind panic fails to see just where it is….then….oh no…it's on Fair Isle…..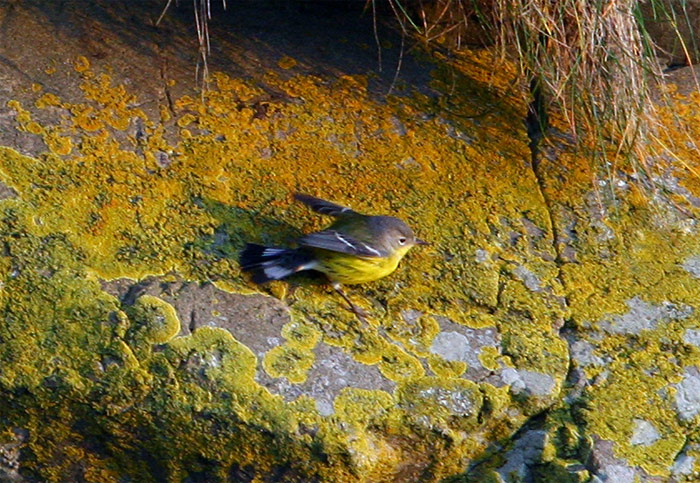 ….but for those 30 or so birders who've endured some trying conditions recently on that most famous birding island, this was surely everything that they could have wished for and, having taken the undoubted risk of heading off-island and spending a fair amount of cash to do so, what they most certainly deserved.
Imagine what was in the mind of Assistant Warden Jason Moss as he headed towards Ler Ness and gazed down in to Copper Geo ~ expectations high perhaps, but not knowing that he was just moments away, one short binocular lift away, from being confronted with something absolutely sensational....that first gasp of incredulity, that first split-second of realisation of what was below him as he stared down the cliff face must have been truly wonderful. What on earth must he have felt when confronted by such a delicious vision of yellow and green, black and white….eyerings, wingbars and tail patches ~ a dazzling Star Spangled vision in the evening light….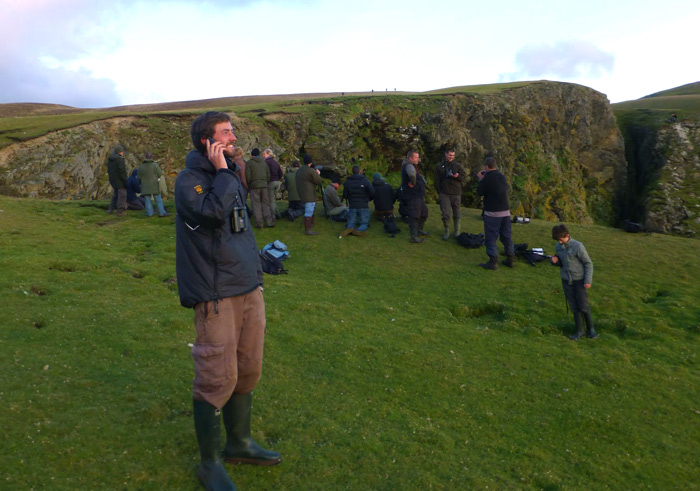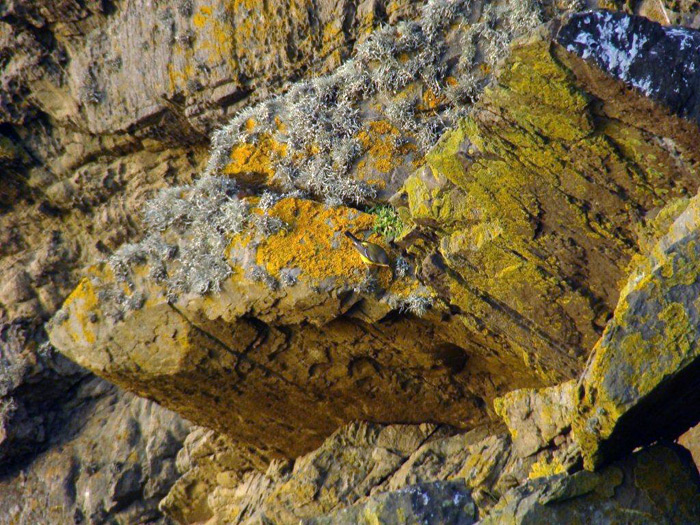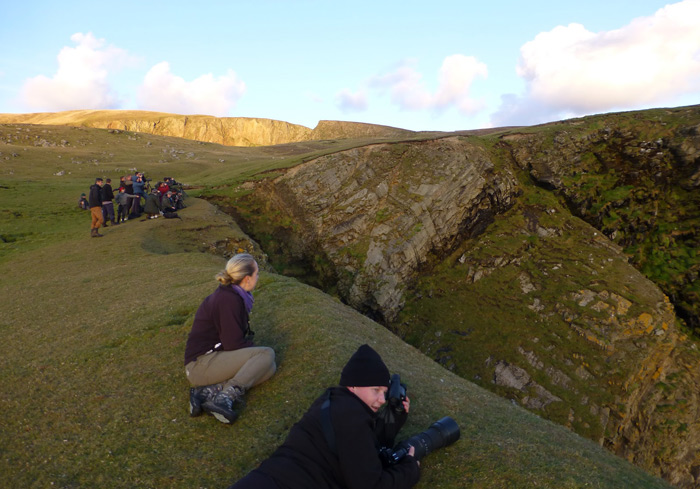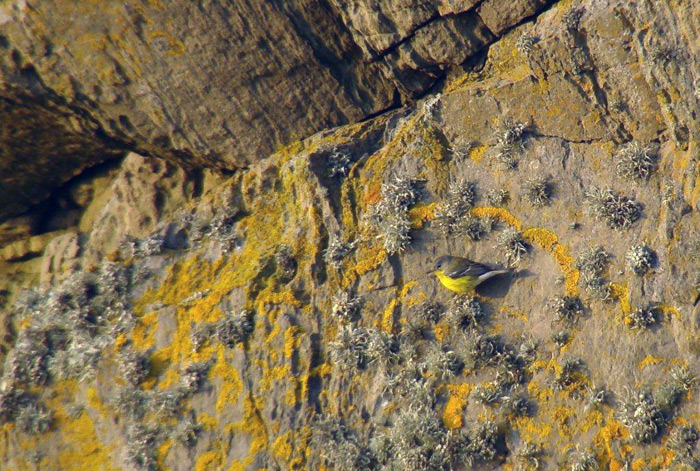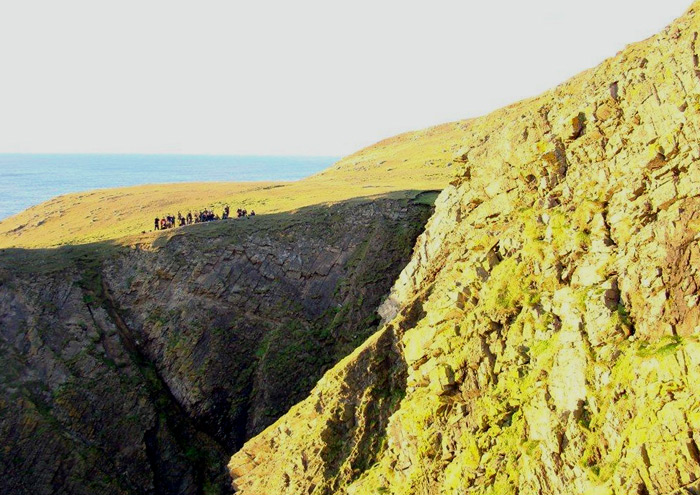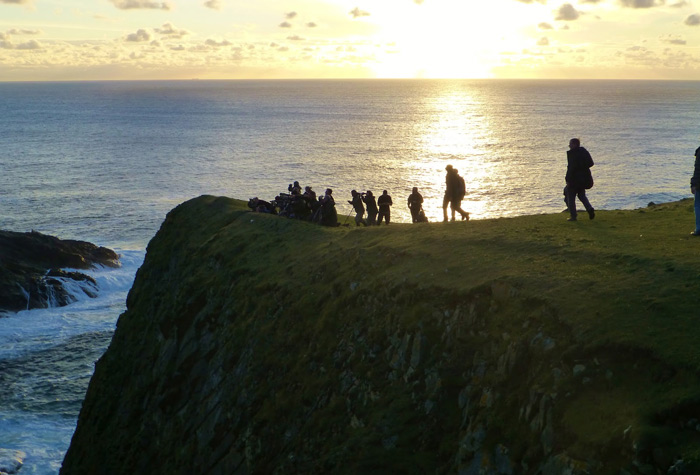 The bird was on show for some two hours or so after discovery, seemingly behaving well in the geo before heading to roost just before 7.30. Identity confirmed, photos obtained, it was time to enjoy this marvellous migrant. As the Observatory party started (that would have been some evening I guess, mine's a Bitter & Twisted), the charter planes were being lined up for Monday morning…
….but, as we know, they stayed put at their respective airfields ~ the Magnolia Warbler was gone to who-knows-where and birders on Fair Isle could start their day's birding knowing that they were in a rather elite club……
Britain's only other Magnolia Warbler was discovered by Shane Enright and Alaric Sumner in the pittosporum hedges along Barnaby Lane, on St. Agnes (Scilly) on 27th September 1981 ~ the bird showed throughout the following day but was only seen by some 60 or so birders ~ some of whom did make the trip across on 28th to see the bird before a grumpy local resident took a stick to the bushes.
Many said then, and still do today, that it was one of the best birds they've ever seen in the UK and there's little to suggest that the Fair Isle crowd of 230912 will think any differently…..
….with the two big Scilly birds from the class of '81 having fallen this year ~ Orphean Warbler and Magnolia Warbler ~ what's next to break the 30 years plus barrier?
I guess that if bird finding were likened to football matches ("thank heavens they aren't" comes the cry in reply), uncovering a Magnolia Warbler must be like a Champions League win, Roy of the Rovers stuff. The impressive finding of a Swainson's Thrush on Foula (also on Magnolia Day, the 23rd) would perhaps be comparable to something in the Premier League top five maybe (and certainly still worthy of a Mega Alert).
This will become the 30th record of this still tough-to-see vagrant for Britain (a further six have been seen in Ireland) and the shift of records to Shetland in the past decade or so is striking.
Between the discovery of the first in 1956 (an Irish spring bird, picked up freshly dead at Blackrock Lighthouse in Mayo ~ the first British record was on Skokholm in October 1967) and the start of the 2000's, there had been just three (of 22) birds recorded in Orkney and Shetland (one for the former, two for the latter).
Since then, of the 14 birds recorded in Britain and Ireland, Shetland has hosted eight ~ one on Mainland in 2000, two singles on Unst in 2003, one on Fetlar in 2007, one each for Fair Isle and Mainland in 2010, with another for the big island last year and now, Foula's first in 2012. The Isles of Scilly, once the place to hope to encounter this delightful Catharus thrush has 11 accepted records by its name, but none since one on Gugh in 2004.
Swainson's Thrush in Britain and Ireland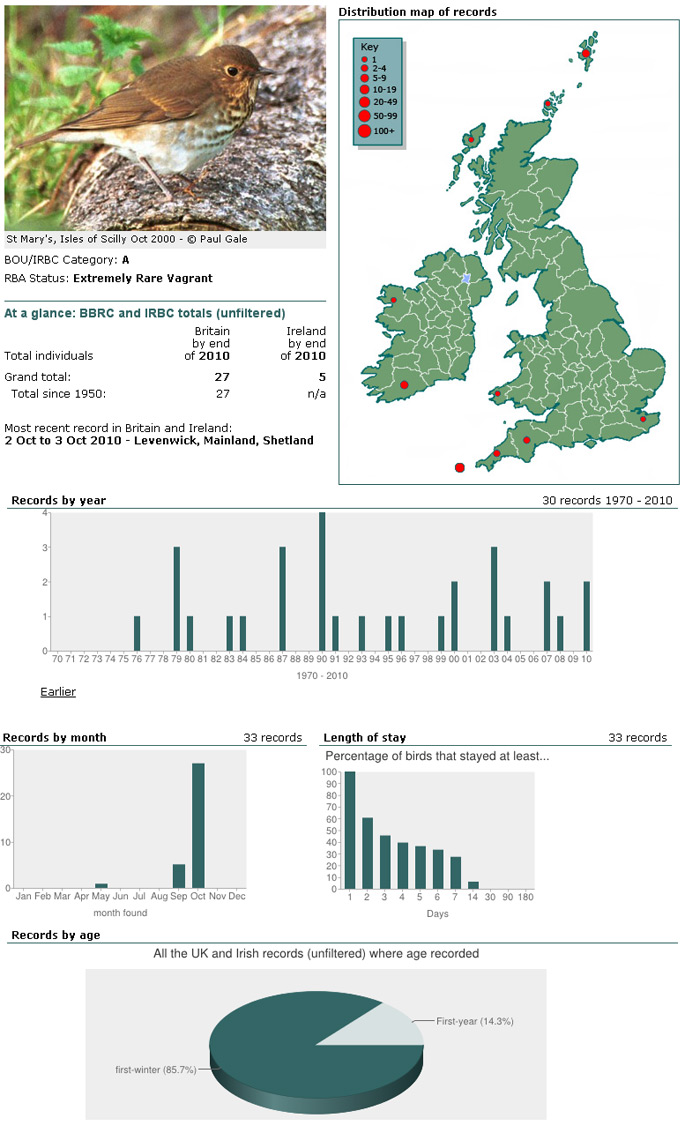 Foula's birders didn't do too badly on 23rd as within hours of the Swainson's Thrush came another superb rare ~ a Sykes's Warbler, found in gardens at Braidfit where it showed well during the afternoon and remained for a further two days.
Shetland has dominated records of this relatively recent split from Booted Warbler, with eight of the 14 accepted records (prior to 2011) coming from the islands. The first and second accepted records came from Fair Isle (in 1959 and 1977, both August birds) and the first bird to really put rama on the radar was also a bird on Shetland, the Seafield individual of October and November 1993. It took some time to unravel its identity but once the bird was trapped and measured, Sykes's Warbler was the conclusion.
It was another seven years before astute twitchers had a chance to engage with, what was at the time, still only a race of Booted Warbler ~ a one day bird at Portland on July 1st 2000 drawing a crowd (of sorts) to position themselves nicely for the insurance tick. An afternoon/evening bird followed in Norfolk in August 2002, one of a remarkable three birds in a week (Norfolk's was followed by singles in Orkney and East Sussex).
More Northern Isles birds have followed (another for Orkney and now six for Shetland) but for many, their first chance of encountering a Sykes's came thanks to a two day bird at Druridge Bay in August 2010.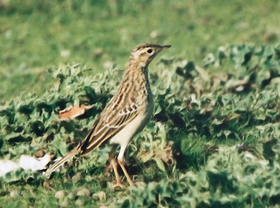 ….and as if that wasn't enough, the following day (24th) saw a significant fall of rarities on Foula (more of most of them later on) but at the top of the heap, the first Blyth's Pipit since 2007.
Ancient record aside (it was, once upon a time on the list of much discussed but almost mythic species such as Pallid Harrier and existed solely due to a record from 1882) the rise of Blyth's Pipit is, most certainly, a modern day phenomenon.
The first recent record was identified on Fair Isle in the classic spell of October 1988 (after nothing during "peak" time, the island scored Pechora Pipit, Pallas's Grasshopper Warbler, multiple Lanceolated Warblers, Blyth's Pipit and a male Blackburnian Warbler within a week of each other ~ sounds familiar doesn't it?) and was followed by a popular bird at Skewjack (Cornwall) in 1990, another on Fair Isle in 1993 and another much twitched mainland bird, in Suffolk, in 1994.
Ten records were accepted between 2004 and 2007, four of them on Shetland (raising the tally there to six) and now comes this new arrival…..
Blyth's Pipit in Britain and Ireland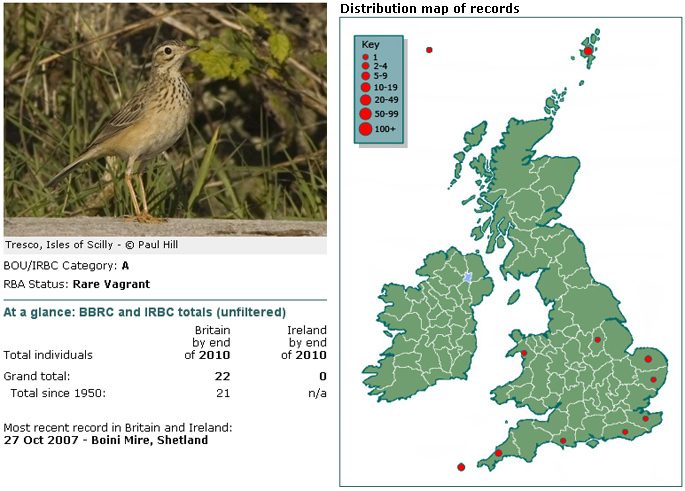 Another species so often thought of as a Shetland specialty is White's Thrush ~ and with a third of British records to its name (27 records out of 74 to the end of 2010) its easy to see why. However, this week it was somewhere other than Shetland that was given the rare treat of such a wonderful bird ~ the resident birding wardens on Inner Farne striking gold (and black and white) on 24th with Northumberland's first White's Thrush in 98 years (the other was seen on Holy Island in November 1914).
Found in borderline unbirdable conditions, the persistence of the rare-finding foot-soldiers paid off, the exuberance of youth triumphing over some of Mother Nature's foulest weather….reaping their rewards with a marvelous find which managed to pop itself in to the shelter of the island's "gas cage" where it was rescued by finder Will Scott.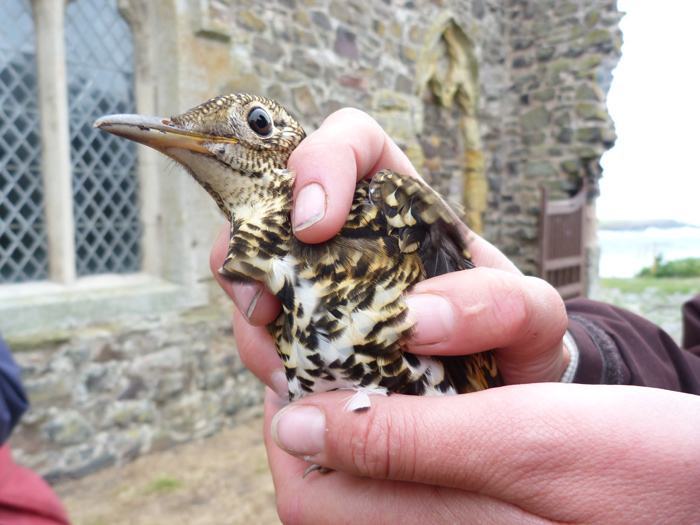 There really aren't enough superlatives in the dictionary to do justice to the astonishing beauty of this sensational thrush but what would certainly go down well for a fair few folk would be an obliging stayer on the mainland. Aside from twitchable birds in Easington in 2004 and Brora in 1991, they remain as rare as hen's teeth away from islands (be it Shetland, Orkney, Scilly or even off the Irish coast) and there's no doubting the buzz of excitement and clamour in the crowd if one hung around a while on the mainland.
Moving on in what has been the week of the year so far….its time for everybody to take a few deep breaths because we've reached another fork in the road with a juvenile peep…..
It's a familiar pattern. An identification jigsaw begins and the picture looks like its finished. Then someone comes along, takes away the edges and corner pieces and makes everyone start again…..
…..last week, mention was made of the fact that the bird found on the Outer Hebrides earlier in the month was finally beginning to get some exposure in the field of identification debates (as touched upon in the last couple of round-ups, the bird at Balgarva was a fascinating bird and well worthy of discussion). Then, lo and behold, a bird that looked really similar (remarkably it could be the very same bird, Brian Small presenting compelling photo analysis evidence to prove the point) was found at the start of the new review period and generated yet more peep heat…..
So, this week's "is it or isn't it" head-scratching award goes to the lovely looking little wader found on the sandy beach at Hoylake, on the Wirral, during the morning of 19th. Initially suspected to be a Semipalmated Sandpiper (still a great find in any circumstances) a review of the multiple images collected over the course of its four or five hour first-day stay quickly had a number of folk heading down the road signposted Western Sandpiper.
Within a few hours, the discussion was in full flow ~ comments and ideas batted back and forward, pros and cons offered for both species from both sides of the Atlantic.
In some shots the feel was undeniably Western-like ~ the "egg shape" look of the body, with legs set well back, was a familiar feel to those who had spent more than a fleeting visit to the bird at Cley during 2011/'12, while the face pattern, uniform crown and nape, contrasting rufous scapulars and greyish looking coverts also felt like WESA features. Likewise, the head shape and bill length. But is it as easy as that? Simply put probably not, no.
Just as you think you've got it sussed, a perusal of more images of the same bird gave a different feel altogether ~ the bill looks a little more Semi-p shaped, the scapulars look dull and plain and some apparently "soft" features for Semi-p became rather more favourable towards that initial call.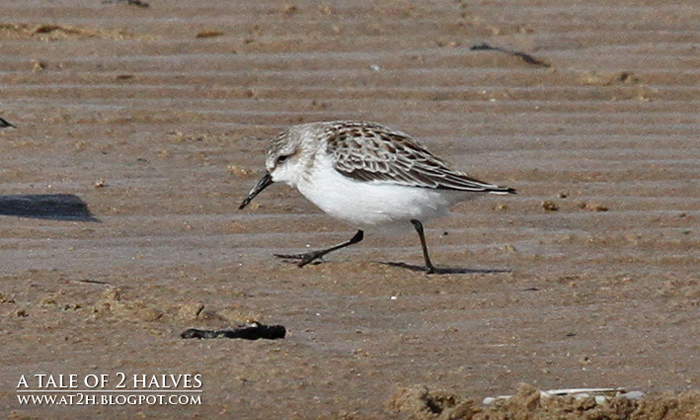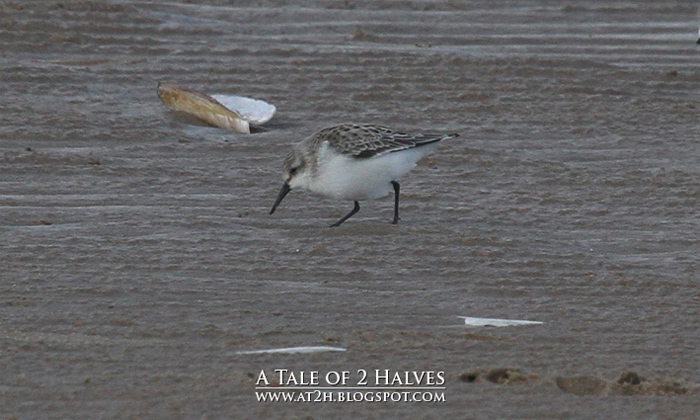 Resolution? Well, there will be something. Plenty of informed opinion will be offered up in the next few days (to add to that already posted online) on the identity of the Hoylake bird (which reappeared on the beach the following day and on until 24th).
Opinions from both the east and west coast of the USA with regard to the individual on the Hebrides bird has, generally, been pretty overwhelming in terms of support for Western Sandpiper. But some caution has been exercised there as well…..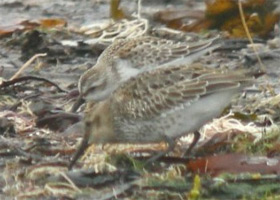 Whether one in the same individual or two very similar looking birds ~ both have been well documented ~ and, upon discovery, "both" were initially considered to be Semipalmated Sandpipers ~ and "both" were then the subject of some interesting ID discussions. Opinion is still split, but now seems to be nudging away from the rarer option a little.
The issues of posture and plumage appearance on any given day can, of course, give any number of different impressions of an individual bird (especially when captured in a single split-second moment in a digital image) and that adds further spanners-in-the-works where these tricky critters are concerned and, unless you're looking at a "classic" (preferably right in front of you in the field) due caution still appears to be the way to progress.
Conclusion? Well, first up, we've absolutely been here before. Secondly, peeps are hard! They remain a contemporary challenge, whether they are in their full juvenile dress (the Uist and Wirral bird), a dull first-summer disguise (the Dawlish Warren bird) or in a rarely encountered plumage in Europe (the first-winter bird at Cley). For all the bluster of some online "experts", there are others who will offer up sound reasoning to back up their thoughts and, in all cases, birds like these need to be carefully unraveled and thought about ~ a solution will follow, but not necessarily immediately.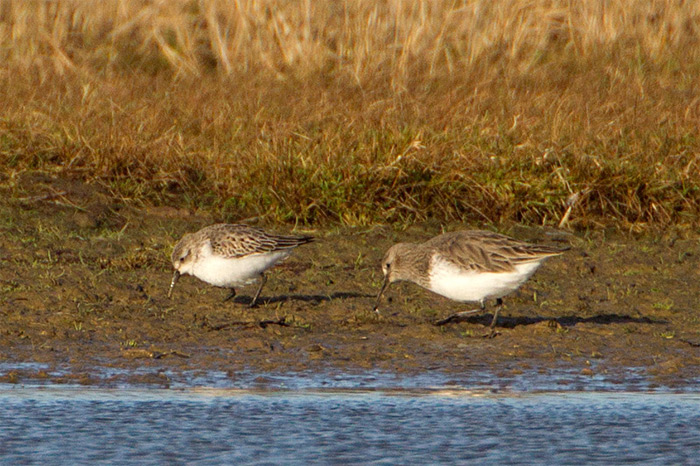 Further arrivals from across the Atlantic that added further flavour to the increasingly rich pot of rares was the American Buff-bellied Pipit found amongst the seaweed on the strandline at Rubha Ardvule, South Uist (Outer Hebrides) on 19th.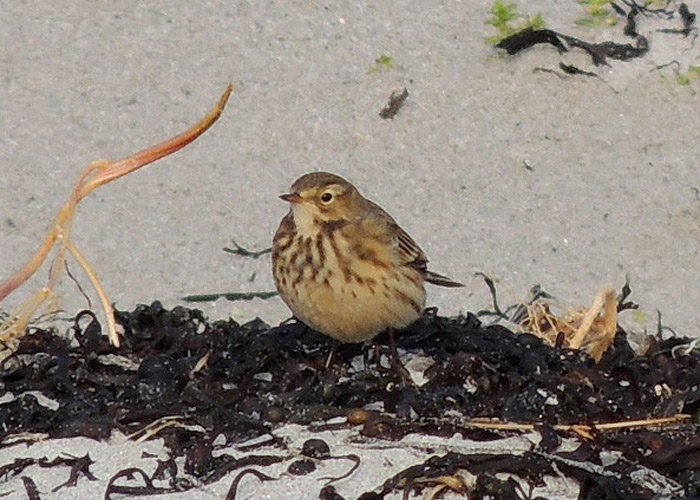 Another terrific bird for an island that is enjoying a massively productive spell, this will become the fifth record for the islands as a whole and it was quickly followed by the sixth, found some 10 miles north of the first bird, on the beach at Smerclate from 21st.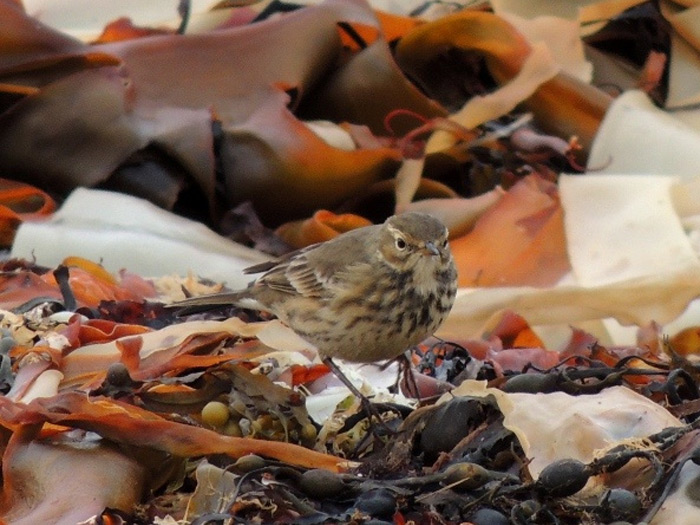 In recent years, single rubescens were found on St. Kilda in September 2008, with another on South Uist at the start of November of the same year. The year before, a Buff-bellied Pipit was found (and photographed) on Benbecula. The only other record for the islands came nearly 100 years before that ~ Britain's first ~ an immature male caught on St. Kilda at the end of September 1910, the skin now residing in the National Museum of Scotland.
Then on 24th came a third, this one appearing on Cape Clear Island (Co. Cork) and nudging the list there up by one. It was only a matter of time before a Nearctic passerine made it to Ireland and now that there's one…..
Up until the end of 2010, there were 20 accepted records of this subtle, yet engaging pipit on the British List, with a further 15 in Ireland (four of them in Cork). After the St. Kilda bird, it wasn't until 1951 until another was identified, this one being Ireland's first, on Great Saltee Island in the second week of October and was followed by one on Fair Isle in September 1953.
Then there were none for 35 years until a well-twitched bird spent 11 days in the bulb fields adjacent to the airport on St. Mary's ~ then it was a further eight years until the next (also on Scilly, on St. Agnes, then Tresco), in October 1996 and another nine years from there until the one that "unblocked" the species for many listing newcomers ~ a wintering bird in Lincolnshire in December 2005.
Since then they've been annual, with 13 accepted birds (in Britain and Ireland) in 2007, four birds in 2008, two birds in 2009 and eight birds in 2010 with upwards of nine more last year (depending on the views of assorted committees).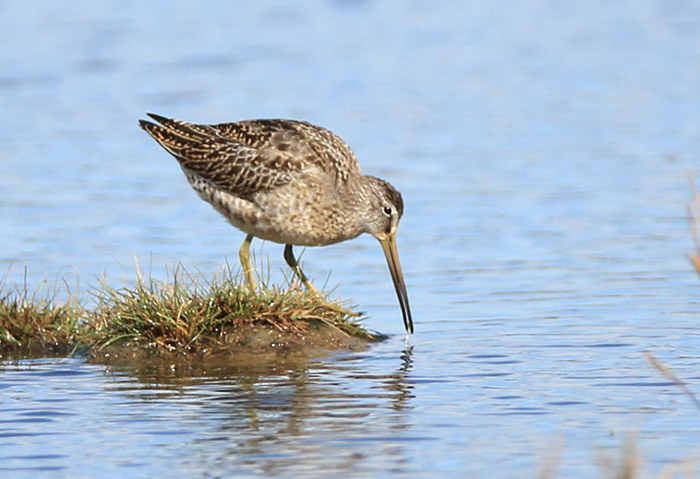 Both Scilly and Dorset held on to there juvenile Short-billed Dowitchers for a few more days ~ the Scilly bird still present on Tresco to 21st while the Lodmoor bird continued to show until 25th, and was often seen (like the Long-billed at Slimbridge) amongst a bunch of islandica Black-tailed Godwits. Either of these two Dowitchers could spring a little surprise later in the winter if they head further south or next spring when they head back north….the godwit flocks spread themselves across many regular sites in the UK and Ireland and to find a snazzy summer plumaged Long-billed or Short-billed Dowitcher amongst them would be a red-letter day indeed…..
On the Essex/London border, at Rainham Marshes RSPB, the juvenile Baillon's Crake continued to play the "now you see me, now you don't" game to 22nd at least. As was touched upon a couple of weeks ago, we'll never know if this bird is a continental hatcher or ~ wow! ~ a homegrown bird, but a little delve in to the newly uploaded BBRC Work-in-Progress file (a fine way to waste an hour or two on a dull day…) revealed a little more in terms of the spread of some of the singing males that became one of the stories of the summer.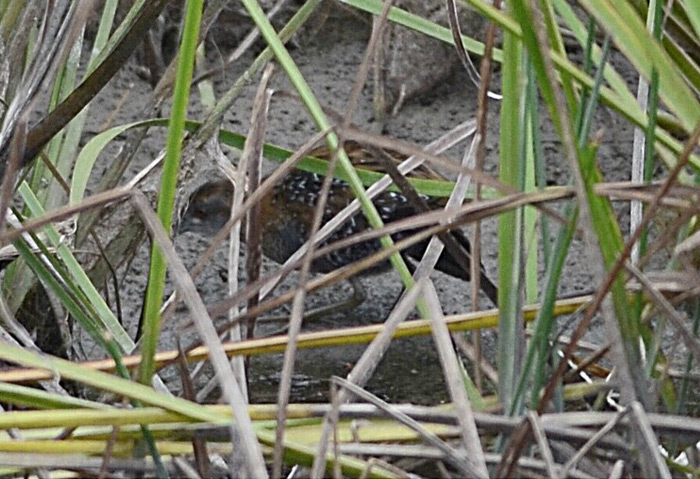 As well as the already-known-about twitched bird on Anglesey, there's a submission listed of single Baillon's Crakes in Cambridgeshire (on the Nene Washes) between June 7th – 19th and another for Wales, at Ynys-Hir in Ceredigion, from June 25th – 28th. Four birds at a single secret site (even the county is, rightly, withheld) from May 22nd – July 14th perhaps offers the most hope of something extraordinary happening (as if four singing males at one site wasn't amazing enough).
As the weekend approached, many birders began to gear themselves up for what looked like a terrific weekend as the weather charts (and bird news) indicated that, at long last, the chances of birds streaming in from the "east" were high in the extreme. As we know now, that was absolutely the case but while most of the eastern action (in terms of sheer quality) was away up to the north, many birders did have a chance of a slice of the action, thanks to an annual favourite…..
The first appearance of Yellow-browed Warblers for autumn 2012 came on 21st, with single birds arriving in Norfolk (at Holme) and on Orkney (on North Ronaldsay). As the area of low pressure deepened overnight, the near enough perfect conditions for the whole of the east coast saw the new day of 22nd dawn with a massive rush of these delightful Phylloscopus warblers in full flow….
….by the end of the day, at least 185 Yellow-broweds had been reported during the busiest news day of the year so far. Shetland lead the way with at least 97 birds spread across the island group as a whole ~ Foula hosting 24, Fair Isle 14, with individual sites on Mainland scoring highly too ~ 10 at Geosetter, eight at Quendale and six around Virkie.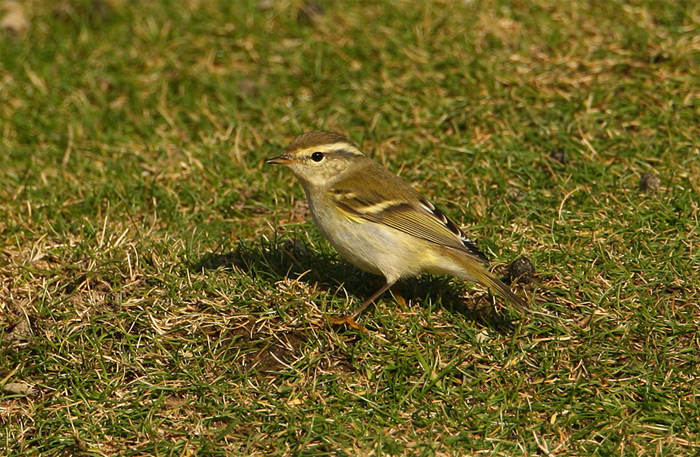 On Orkney, at least 32 birds were recorded, with at least 19 on Sanday alone while on the British mainland, Spurn recorded at least 11 birds (in East Yorkshire's tally of 23). Further south, Norfolk registered at least 13 birds, with four in the Dell at Wells Woods, and birds reached as far south as Rainham Marshes and three sites in Kent. Another also made it to inland South Yorkshire, trapped and ringed at Bessacarr.
More were to follow in the following days, over 20 were seen on Fair Isle on 23rd (though presumably counting stopped at around 5.35pm….) and there were 10 on North Ronaldsay on the same day. Fair Isle's tally rose to at least 28 on 24th and estimates of actual totals post Arrival Day are tough, but it would seem likely that at least 250 - 275 birds, maybe many more, made it across the North Sea in a two or three day spell.
Seabirds
Hot on the heels of last week's potential Black-browed Albatross off the Calf of Man (on 18th), the first day of the new review period (19th) saw a probable Black-browed Albatross fly north past South Stack RSPB, in the company of Gannets. Being only a day apart, the inevitable conclusion was that these sightings related to one in the same bird.
Two Cory's Shearwaters were tracked past at least three seawatching sites on the Suffolk coast on 23rd (with a single passing two other Suffolk sites during the same morning). Also on 23rd, a Cory's Shearwater flew past Hornsea (East Yorkshire) and on 24th one was seen from Gibraltar Point (Lincolnshire) while earlier in the week, another was noted passing Inner Farne.
Smaller numbers of Balearic Shearwaters were noted during the early part of the week (though still heading towards three figures) but spiked sharply with 39 off Hope's Nose and 74 off Berry Head (Devon) on 23rd, 51 off Portland Bill on 24th and then at least 150 from the latter site on 25th. Sooty Shearwaters made it in to the low 100's countrywide, with 25 off North Ronaldsay and 21 from Whitburn (Co. Durham) on 21st the highest counts of the week.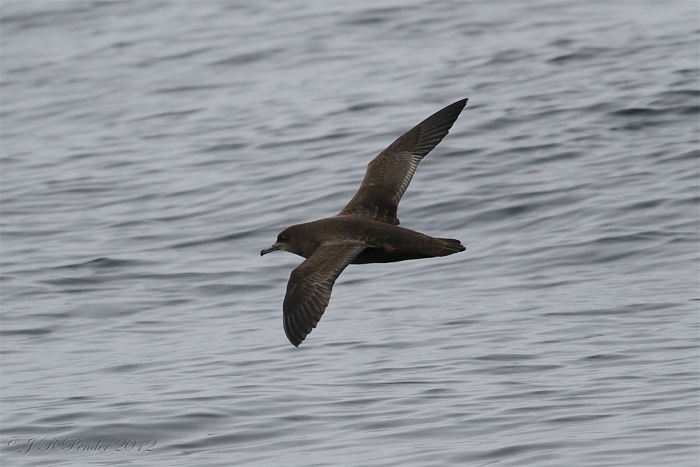 Anything that was in the North Sea as the strong east to northeasterly kicked in over the weekend was always going to be pushed in to towards coastal headlands and that was certainly the case for Long-tailed Skua ~ over 210 birds logged, with 21st being the busiest day of the week, 66 seen including 17 off Hartlepool Headland (Cleveland), 14 from St. Mary's Island (Northumberland) and 12 from Filey Brigg (North Yorkshire). A further 30 were recorded the following day, including 20 past Whitburn and birds peppered the east coast across 23rd, 24th and 25th. By the middle of the weekend the total of Pomarine Skuas recorded stood at around the 50 mark ~ made up of entirely of low single figures counts from Essex to Lothian and Fife ~ by the end of the following day, a further 50 or so had been added to the total. Then on 25th a massive 80 were reported from Inverkeithing (Fife) ~ along with seven Leach's Storm-petrels and seven Little Auks.
Sabine's Gulls nudged in to the mid 50's, all ones and twos at first until five west past Canvey Island on 23rd), and almost all on the east coast (from Essex northwards) except for a juvenile that appeared at Burton Mere RSPB (Cheshire) on 20th-23rd, (intermittent in its time there, the bird was also seen at Puddington on 21st) and one off Brownstown Head (Co. Waterford) and two from Strumble Head (Pembrokeshire) on 24th.
The rough weather in the northwest on 19th continued to produce some decent numbers of storm-driven Leach's Storm-petrels with traditional sites around the Wirral (predictably) faring best of all. At least 95 birds were seen off Hilbre Island, with 52 at Hoylake, 25 off Leasowe, 22 off Wallasey, 20 from Red Rocks and, further north, 11 off Formby Point (Lancashire). Later in the week, 16 birds were seen on 22nd and on 23rd at least 14 separate reports were logged along the Suffolk coast by the middle of the morning, with birds continuing to move north throughout the rest of the day, with 40 reported by close of play, including four off Kessingland and Lowestoft.
Around 25 Grey Phalaropes were recorded during the week and included three off the ferry to Barra on 19th and one was seen from a Scilly pelagic too.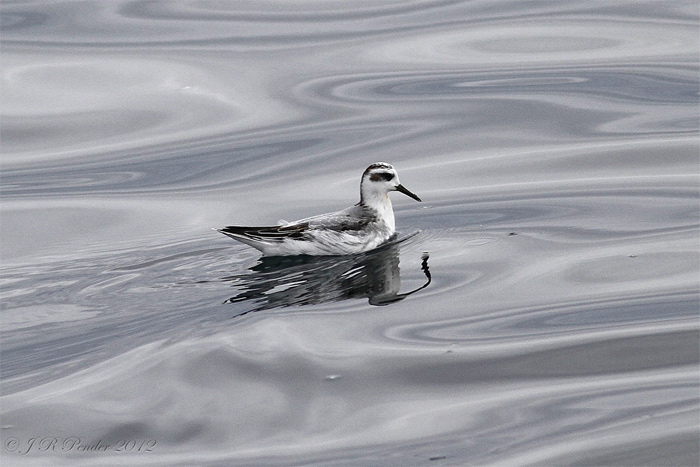 Slotting in to the "one that got away" category ~ the probable Bridled Tern that was reported flying close inshore, heading north, past Newbiggin-by-the-Sea (Northumberland) on 25th ~ there's a lot of people waiting for one of those….
Herons, Egrets & allies
At Welney WWT, what was presumably the Cambridgeshire Glossy Ibis became the Norfolk Glossy Ibis on 22nd (although the Ouse Washes bird was still in the neighbouring county on the same day….). In Wexford, a Glossy Ibis was again at Cahore from 20th-23rd and the now second-winter Glossy Ibis remained around Marloes Mere (Pembrokeshire) throughout the week.
A Cattle Egret was seen in fields at Corpach (Highland) on 23rd, while there were two Great White Egrets each for Stodmarsh RSPB (Kent), Burton Mere RSPB (Cheshire) and over Poringland (Norfolk) this week making up the numbers in a total of some 16 birds. Kent hosted two further singles (at Dungeness and Elmley), there were two singles reported in Essex (at Old Hall Marshes and Wallasea Island) while on 23rd the Home Counties scored with one at Wilstone Reservoir (Hertfordshire) with another in London, at Beddington SF. Other lone birds were seen in Lancashire, Shropshire, Cambridgeshire, Hampshire and Glamorgan.
In East Anglia, Spoonbill numbers fell away during the week, birds departing for warmer climes presumably (four or five were seen heading southeast way off, and way up, from Cley on 19th) and numbers at Titchwell fell below double figures for the first time in a while, eight birds on 22nd the high count there. In Dorset, 11 birds were at Brownsea Island NT on 23rd, with four birds again at Isley Marsh in north Devon at the start of the week. There were three birds for both Breydon Water (Norfolk) and Gibraltar Point (Lincolnshire) and singles were at Dawlish Warren (Devon) and Pett Levels (East Sussex) ~ on 20th and 21st-22nd respectively.
Five Common Cranes were again at Welney WWT on 22nd with three (a juvenile accompanying two adults) on the Nene Washes (Cambridgeshire) on 23rd. A single Common Crane flew over Loch Indaal, on Islay, on 21st.
The showy Spotted Crake was seen at Greylake RSPB Somerset on 19th-21st, with further singles still at Marazion Marsh and on Scilly, on St. Mary's at Porth Hellick Pool (both on 19th) while in Gloucestershire, at Coombe Hill Meadows, a Spotted Crake was again present on 22nd-23rd (one was at the same earlier in the month). East Yorkshire hosted a couple of Corncrakes this week, one in the dunes at Spurn Point on 22nd was followed by one at Easington on 24th. The same date saw two make it on to Fair Isle, tho' sadly one was found freshly dead.
Ducks & Geese
Last week's sometimes elusive Blue-winged Teal at Marshside RSPB (Lancashire & North Merseyside) was the same for some of this week too ~ seen again on 19th but not since. Over on the Irish west coast, the drake Black Duck was lingered on Sruhill Lough, Achill Island (Co. Mayo) to 20th.
The eclipse drake Lesser Scaup remained at Chew Valley Lake (Somerset) all week while the drake Ferruginous Duck at Far Ings NR (Lincolnshire) was still in place until 22nd at least. The singleton's list of Aythtya species is completed by the eclipse drake Ring-necked Duck, still seeming to be having a good time on the lagoons at Orgreave (South Yorkshire) to 22nd at least.
Off the coast of Aberdeenshire, at Blackdog, an immature drake Surf Scoter was seen on 20th-21st while on the other side of the Scottish coast, on Islay, two Snow Geese were at Kilchoman on 21st and then two Snow Geese were reported with 1,500 Pink-footed Geese at Beal Point (Northumberland) on 23rd.
Meanwhile, from Ireland came a fascinating report of a party of five Todd's Canada Geese (form interior) in fields at Ennis (Co. Clare) on 24th (having been present for a week or so). The date would be good, the weather and location too, would be spot on. But which form will they prove to be?
Raptors
Staying in Northumberland, a male Red-footed Falcon flew northeast over Fenwick on 21st ~ still a rare bird in the county with, prior to its removal from the BBRC Rarities list in 2005, only 12 accepted records (there have been very, very few reports in the county since).
Five passage Honey Buzzards were reported over the course of the week, all of them on 22nd ~ in Cornwall, East Sussex, Nottinghamshire, Norfolk and Cambridgeshire. The only Montagu's Harrier this week was a male in flight over Gallows Bridge Farm NR (Buckinghamshire) on 21st.
Shorebirds
First of all, last week's Pacific Golden Plover report in Derry appears to have been a little premature ~ it seems to have been a Grey Plover.
The first Great Snipe of the year was reported from Mainland Shetland, at Wester Quarff, on 23rd. a classic Shetland bird, it seems odd that there hasn't been one or two more this week.
Hoylake peep aside, some rather more straightforward Semipalmated Sandpipers included one lingerer from last week (at Tyninghame Bay in Lothian to 20th) and new birds at Garretstown (Co. Cork) on 20th (two there on day one, with a singleton until 22nd) with another in Wales, at Ynyslas the same day which stayed until 22nd. The fourth new bird was found at Blennerville (Co. Kerry) on 24th while belated news from 17th concerned a re-identified bird in Kent ~ not the Little Stint as initially thought, it was in fact a juvenile Semipalmated Sandpiper, only the second county record ~ the other was at Elmley in July 1984.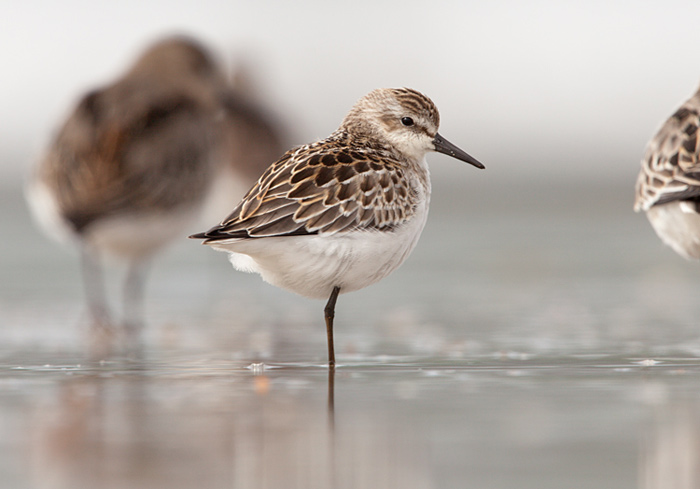 In Norfolk what looked like a new Baird's Sandpiper was found at Titchwell on 19th appearing again on 22nd-23rd. There's an eight day gap between the two records and the bird this week does look a little different ~ but it is hard to tell from the images available what's going on. The second Baird's Sandpiper of the week was a super inland find in South Yorkshire, at Old Moor RSPB ~ the eighth record for the whole of Yorkshire.
Continuing to arrive this week were new White-rumped Sandpipers, including one on the same strip of beach as the debated peep at Hoylake on 21st. Also fresh in were a juvenile in Northumberland (at Elwick) also on 21st, at Tacumshin and Carnan, on South Uist on 22nd (with two birds at the latter site on 23rd) with another new juvenile found in Wexford, at Cahore, on 23rd. Leftovers from last week were at Steart (Somerset) to 22nd and on the Ouse Washes (Cambridgeshire) to 23rd.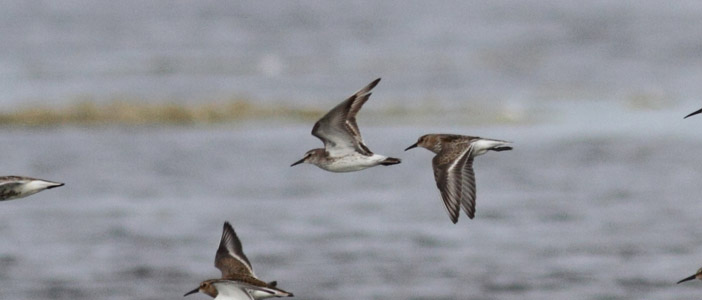 Back on the Outer Hebrides, the juvenile Spotted Sandpiper was still at Rubha Ardvule, South Uist on 19th while at least seven American Golden Plovers were noted around the Hebrides this week ~ one on Lewis on 19th, an adult on South Uist on 20th, a juvenile on the same island, at Kilpheder, on 21st with two there the next day, with another juvenile on the island, at West Gerinish, also on 22nd, with the final bird on North Uist, at Greinetobht on 23rd being joined by a second on 24th.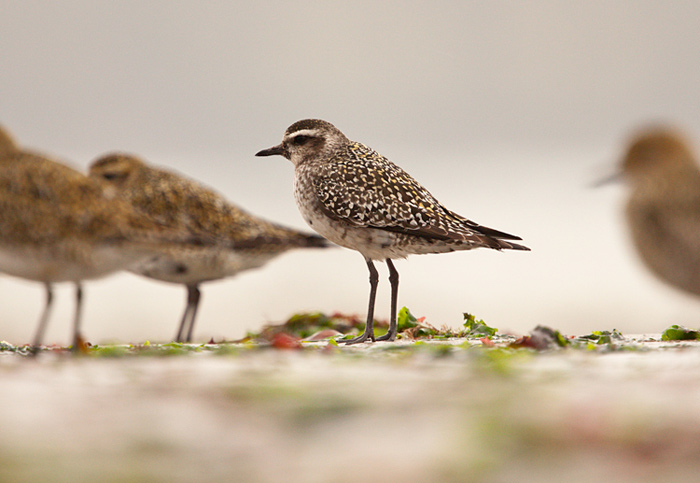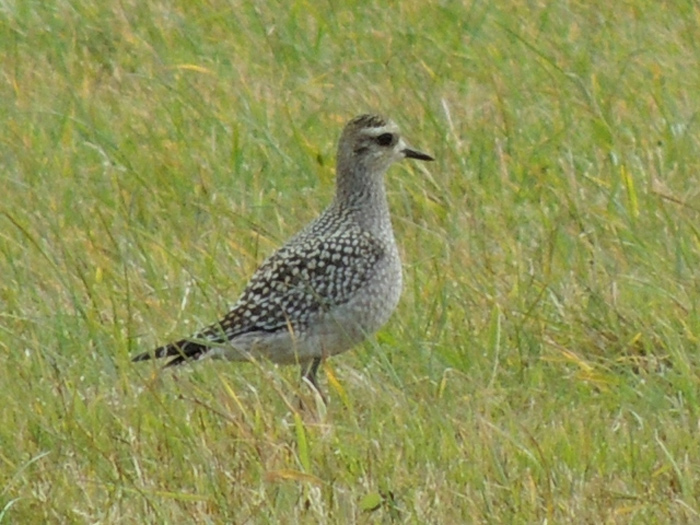 In Ireland, seven counties shared 11 dominicas ~ singles in Louth, Kerry, Donegal and Clare, with two in Wexford (a juvenile at Tacumshin and an adult at Rosslare, both on 22nd), Cork (at Mizen Head and Pilmore, both on 23rd) and three in Galway (including two at Aillebrack on 24th). The week's only other record was the mobile adult in Cumbria, present to 24th.
Twenty-two Buff-breasted Sandpipers were widely scattered from Cornwall to Shetland (four birds there, including two on Esha Ness) while there were two singles in Cumbria (at Selker and Walney) and twos in Scotland remained at John Muir CP (Lothian) and Loch of Strathbeg (Aberdeenshire) during the week. Around 45 Pectoral Sandpipers were also spread far and wide, also from Cornwall to Shetland and included inland singles in Bucks & Berks., and three birds at Welney WWT, from 19th-20th and Slimbridge WWT on 23rd.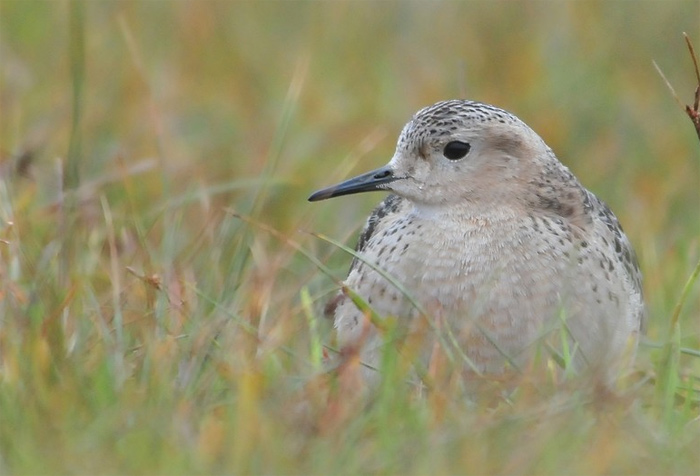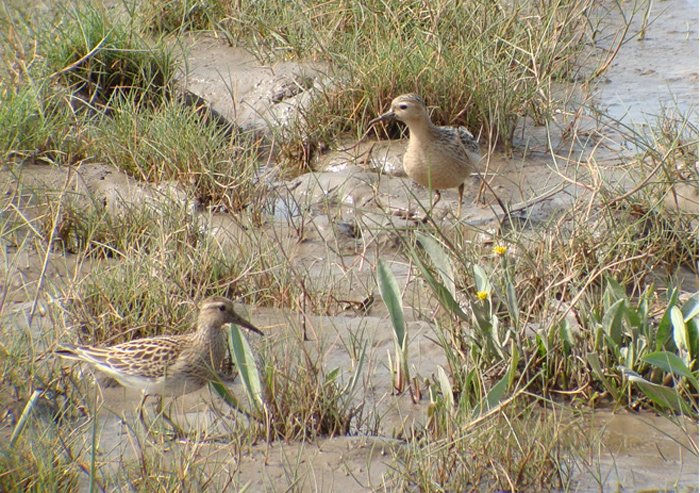 Also at Slimbridge this week, the Long-billed Dowitcher remained to 24th at least while another American visitor that looks set for a long stay was the first-winter Lesser Yellowlegs at Kingsmill Lake in Cornwall, present throughout the week.
Single Dotterels were at Woodingdean (East Sussex) and Havergate Island (Suffolk) on 21st, at Uwchmynydd (Gwynedd) on 22nd, Porthgwarra (Cornwall) on 23rd and on Tresco on 25th.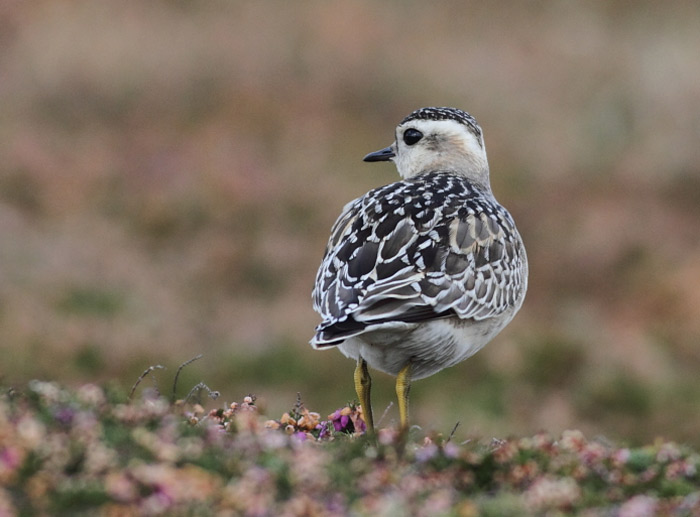 Gulls & Terns
The adult Bonaparte's Gull was seen again, albeit briefly in County Antrim on 21st, with the same county also still hosting an adult Ring-billed Gull, at Portrush, on 20th. Ireland also held lingering Ring-bills in Down and Sligo, with the returning adult still at Kinneil Lagoon in Lothian on 23rd.
Four different Glaucous Gulls were seen around the assorted counties of Yorkshire this week ~ one in North Yorkshire (at Filey), singles in East Yorkshire (an adult in Bridlington and a juvenile off Spurn) with another youngster in West Yorkshire, at Wintersett Reservoir, on 22nd. Two Iceland Gulls were noted too ~ at Brigg's Rock (Co. Down) on 22nd and at Covehithe (Suffolk) on 24th.
In County Louth, the Forster's Tern was still around Solider's Point on 23rd, while in Cork, presumed Azorean Yellow-legged Gulls were at Timoleague on 20th and Rosscarbery on 22nd.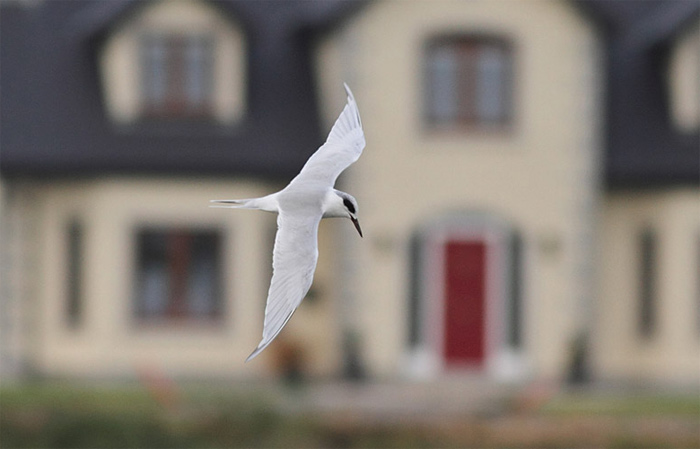 Passerines
In a bog standard week, there's every likelihood that a Pechora Pipit would be nibbling around the outer edges of "headline bird" territory but this is no ordinary week, so this week's exciting find on Out Skerries on 21st can really only lead the "passerine" frontline….
That said, the 2012 Shetland Pechora is still a major bird and represents a remarkable 80th record for the islands, out of a total of 94 records in all for Britain. There were two birds on Shetland last year (including one that kept the male Siberian Rubythroat company at Gulberwick) following a blank year in 2010. The year before that, an amazing 10 Pechora Pipits were accepted for the whole of Shetland.
The most recent Pechora away from Shetland was a two day bird on the Outer Hebrides, on North Uist, in October 2008 while one of the very few twitchable mainland birds occurred the year before, spending five days, often showing wonderfully well, at Fishguard in Pembrokeshire.
And of course there is another species that Shetland, famously, rules the roost with and that is Lanceolated Warbler ~ three more of which were found this week. The first was another great find for the birders on Out Skerries, uncovered on the same day as the Pechora with the second bird arriving on Fair Isle on Magnolia Day. Bird number three was trapped and ringed at Skaw, on Whalsay, on 25th.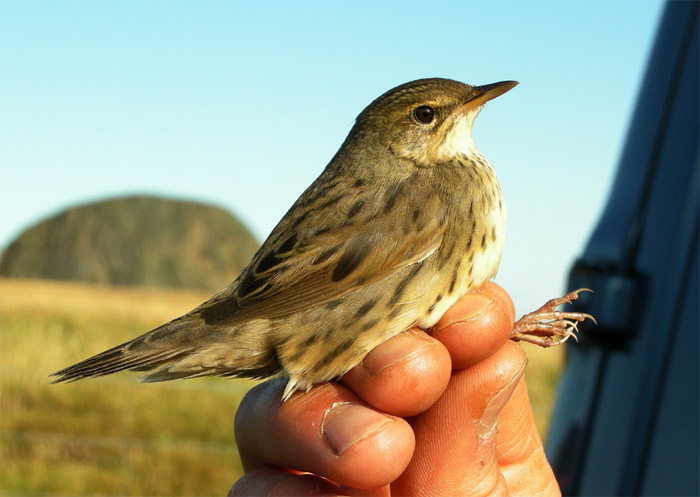 Up until the end of 2010, there was a grand total of 130 accepted of this waif-like Locustella ~ with a massive 105 found on Shetland ~ and you have to go all the way back to 1983 for the most recent blank year for the species on the islands, a remarkable run for such a hard-to-see species. As with White's Thrush and Pechora Pipit, mainland birds remain really rare and ever-so-tricky to connect with…..
Orkney's third-ever River Warbler was found around the church at Burwick on South Ronaldsay on 24th, following the ten-day bird at Evie in June 2008 and on North Ronaldsay in September 1995, while a Blyth's Reed Warbler on Sanday on 21st will be the 11th record of this (still) rather enigmatic vagrant.
Five more Blyth's Reeds were identified on Shetland this week, at Baltasound, Unst on 21st, on Fair Isle on 22nd with the third arriving at Skaw, Whalsay on 24th and birds four and five on Foula on 25th.
Long gone are the days when this species was thought to be unidentifiable outside of a ringer's hand ~ the autumn birds at Filey and, in particular, Warham Greens in September 1996 laying down the rules for what the observer needs to confirm an in-the-field identification that was once thought to be an impossible task…..
Given what's already past so far this week, it'll be no surprise that Shetland also popped in a Paddyfield Warbler (on Fair Isle during the morning of 24th, no Magnolia-induced hangover for someone then…) which will be the 37th record for the islands (from an overall tally of around 85 birds) and also a Great Reed Warbler which spent some of 22nd at Norwick, on Unst….what a moment that must have been, as a large Acro leaps up in front of you, dreams of a Thick-billed Warbler quickly vanquished though…..oh, and before we go too far forward, Shetland also popped in a Booted Warbler too ~ one on Fair Isle on 22nd adding to a monstrous list of quality birds seen there in the last week (and there's more to come….).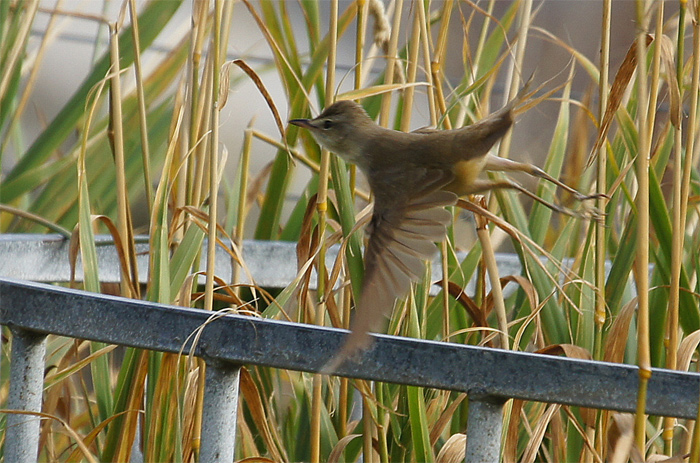 Another Booted Warbler was found along the seawall at Burnham Overy (Norfolk) on 23rd ~ the seventh in the county since the start of the 2000's and the 10th in all (since the first at Titchwell in September 1982).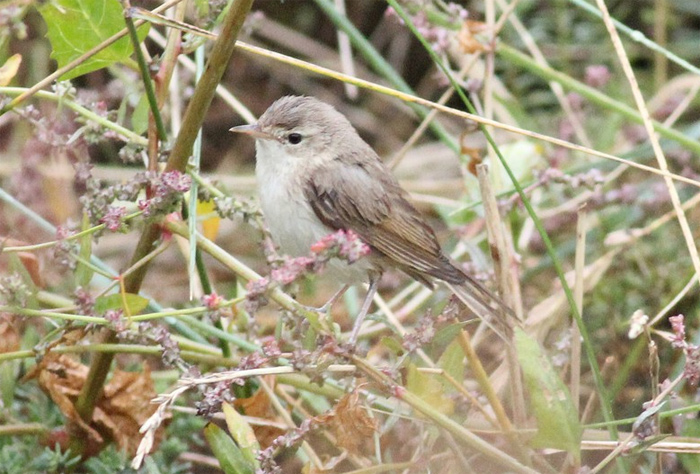 In East Yorkshire, at Spurn, a lovely dinky looking "eastern" Lesser Whitethroat (a halimodendri type) was trapped and ringed on 23rd. The status of vagrant Lesser Whitethroats here is all a bit messy, several birds appearing to fit eastern birds such as the one at Spurn ("Central Asian Lesser Whiethroat" as Shirihai et al., listed it in 2001) while others are thought to have been thought to be a closer match to minula ("Desert Lesser Whitethroat") ~ the bird at Redcar in November 2000 appearing to be an outstanding candidate.
Lesser Whitethroat taxonomy remains a deeply complex issue and there's nothing to suggest that anything will change fast as different authors assign the same form to different species groups. For potential non-curruca types here, careful study of plumage tones, an accurate assessment of size and, ideally, a sound recording of the call will all be useful in narrowing down the identification task.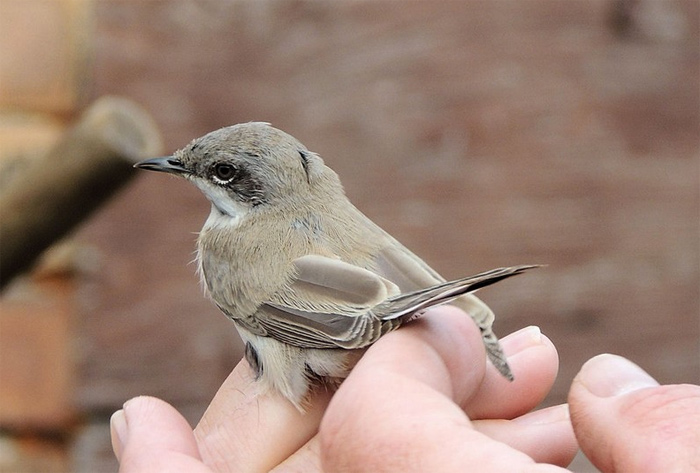 Back on Shetland (where else?) an Arctic Warbler was on Fair Isle from 21st-23rd and a Greenish Warbler arrived on Unst, at Valyie, on 23rd with a second bird being found on East Hills (Norfolk) on 24th. A third was seen at Filey (North Yorkshire) on 25th.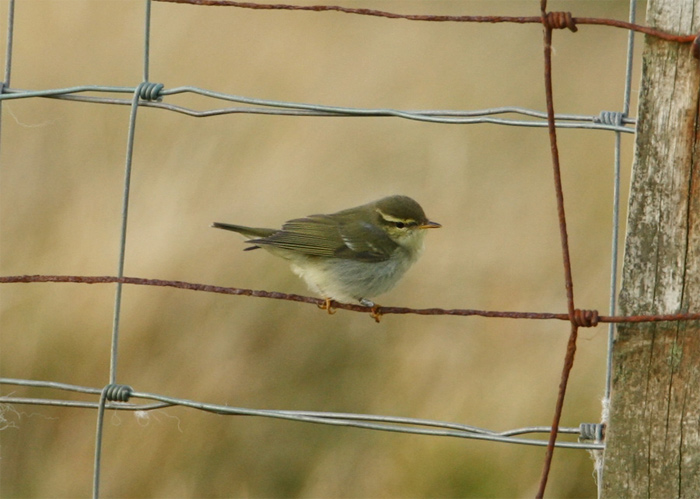 Down on Scilly (they must be feeling a little left out at the moment…) a Western Bonelli's Warbler was found on The Garrison, St. Mary's on 20th where it remained for two days. Scilly also hosted an Aquatic Warbler this week, one seen around the edge of Porthloo Duckpond on St. Mary's on 25th.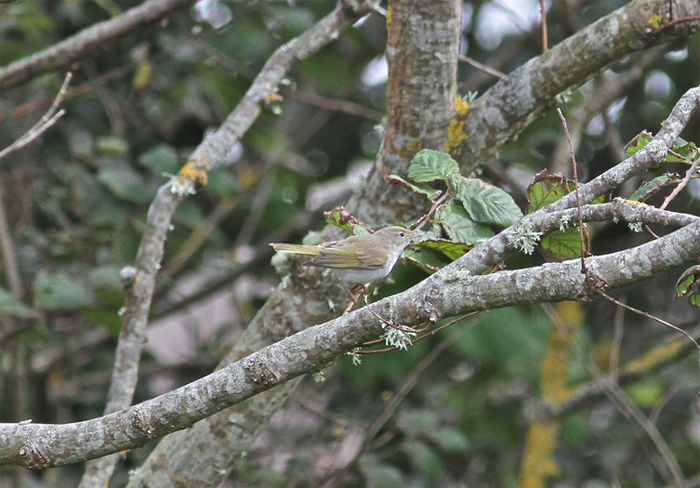 There was just one Melodious Warbler to report this week, out on Lundy from 20th-22nd while three Icterine Warbler were noted ~ at Filey (North Yorkshire) on 22nd and Holy Island and Farne Islands (Northumberland), both on 25th.
Shetland registered the only Marsh Warbler noted over the past seven days, one on Foula on 22nd while the same island group was utterly dominant where all things Barred Warbler was concerned ~ at least 27 of the week's 55 or so birds recorded this week were found on Shetland, with five on Fair Isle on 23rd and three at Norwick, Unst the previous day being of particular note. Norfolk scored six and Orkney five, with Yorkshire bagging the same number, while two birds made it to Scilly as the week came to a close.
A minimum of some 40 birds represented a very tidy week for Red-breasted Flycatchers ~ and, once again, Shetland fared best of all. Eight birds were seen on seven islands this week (two on Mainland, with singles on Unst, Fetlar, Foula, Whalsay, Bressay, Fair Isle) while five birds in East Yorkshire included four on 22nd, including two at Spurn and Kilnsea. Three birds were seen on Holy Island (Northumberland) on 25th, with three more at Filey the same day, while Norfolk also hosted four birds during the week, including a singing male at Warham Greens and another male on Blakeney Point, also on 22nd, while further males were at Whitby (North Yorkshire), another arrival on 22nd and at Loch of Strathbeg RSPB (Aberdeenshire) on 25th.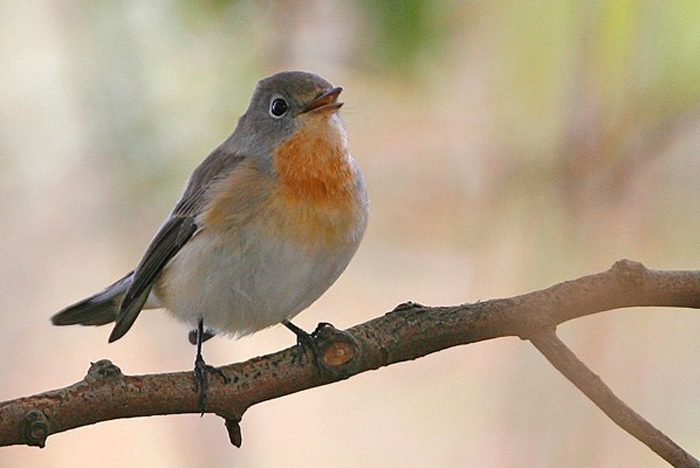 The 24th saw two single Olive-backed Pipits arrive on Shetland (the first of the autumn) and it really wasn't too much of a surprise to see the words "Fair Isle" and "Foula" pop up alongside the two records. The former of those two islands also notched up a Citrine Wagtail this week, one there on 21st, with others in Lothian (at Barns Ness) on 22nd-23rd, back on Shetland (at Muckle Roe) on 23rd with one on North Ronaldsay on the same day, with Tresco welcoming one to the island on 24th. The week's five Bluethroats saw a 4-1 split between Shetland and Orkney (at least two on Fair Isle and one for both Foula and Mainland) while one made it to North Ronaldsay (all of them seen from 22nd onwards).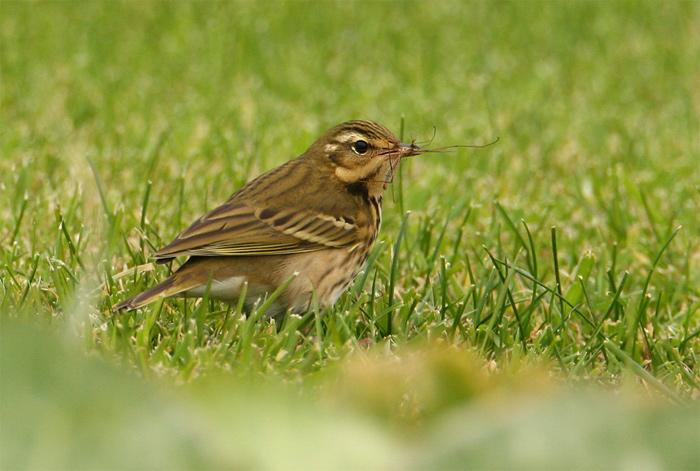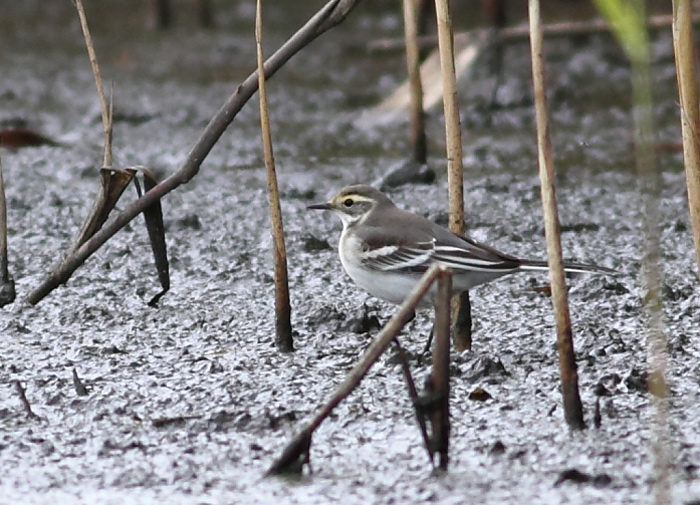 A Tawny Pipit flew over Cuckmere Haven (East Sussex) on 23rd and Richard's Pipits were seen on Foula and South Uist, both on 24th and Fair Isle and West Runton (Norfolk) on 25th. Eight Red-backed Shrikes saw three drop in to Shetland (Fair Isle, Out Skerries and Mainland) with two reported in Suffolk (at Bawdsey and Trimley) and further singles on Orkney and in East and North Yorkshire, while the first Great Grey Shrike of the autumn arrived at Beadnell (Northumberland) on 25th.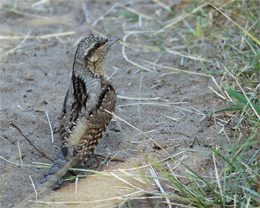 Up to 20 Wrynecksincluded four on Scilly (three of them on St. Mary's), two on Orkney, two at Filey and two for Norfolk while a Hoopoewas in gardens to the west of Lisdoonvarna (Co. Clare) on 24th.
Its been a good week for Common Rosefinches ~ at least 25 found ~ including six birds on Orkney on 22nd alone, with three on Copinsay and two on Sanday. At least eight birds were on Shetland during the week, including two on Fair Isle and two on Unst, while noteworthy singles were on the Isle of May, Lundy, Holy Island and at Gibraltar Point, Kilnsea, Whitburn and also Auchmitie, in Fife.
Ortolan Buntings were initially confined to western coasts this week ~ one over Skibbereen (Co. Cork) on 20th was followed by one or two birds on St. Mary's (Scilly) on 2oth-21st, with perhaps one of these accounting for the super-showy bird at Little Porth, in Hugh Town from 23rd (captured wonderfully by Ashley Fisher in this video clip)…..
…..an Ortolan or two also made it to St. Agnes, singles birds recorded on 21st and 24th-25th, while others were seen on Lundy and Blakeney Point (on 21st), at Grimston (East Yorkshire) on 24th and Portland (Dorset) and Rame Head (Cornwall) on 25th.
Following on from an unconfirmed report of a Little Bunting at Holme on 22nd, further records were received from North Ronaldsay on 23rd and Burnham Overy Dunes (Norfolk), Fair Isle ~ well, they may as well have one of these as well :o) ~ and South Gare, all on 24th, while the final day of the review period saw what may be a second bird arrive on Fair Isle and others dropped in to Cresswell Ponds (Northumberland) and North Ronaldsay too.
Finally, finally (thank goodness ~ my typing fingers are worn away to veritable stumps) we draw to the end of this particularly twisted road of rares with news of Rose-coloured Starlings at Samphire Hoe CP (Kent) on 20th, St. Martin's (Scilly) and Cape Cornwall on 21st, Cunningsburgh (Mainland Shetland) on 22nd, St. Mary's (Scilly) on 24th and Holme (Norfolk) on 25th.
A momentous week in many ways then, as a long-time dream repeat bird finally makes itself known, but to a select gathering of folk who were in the right place at the right time. They paid their money, they took their chance. Their reward was rich indeed…..
Last week's round-up concluded with another successful prediction (!) ~ bigging up the arrival of a top-drawer American wood-warbler, followed by an array of birds from the east as well as the west.
A look at the weather that we had at the start of the last review period meant that such thoughts were pretty much on safe ground ~ but the hugeness of Fair Isle's glorious Setophaga couldn't really have been thought of (tho' a Maggie has always been on any number of birders' "most wanted" lists).
What's to come next week, as we cross over in to October? Its not quite so easy to be honest, early suggestions hint at a potential mini-lull in the proceedings though surely that wont be the case. The airflow looks likely to swing back to the southwest, so maybe its Ireland or Scilly's turn to land the biggie.
The guessing game starts here I suppose….a Rubythroat on mainland soil would be nice, but that may be a week or two away…..but we're surely due for a Red-flanked Bluetail or two ~ or have they decided to become rare again?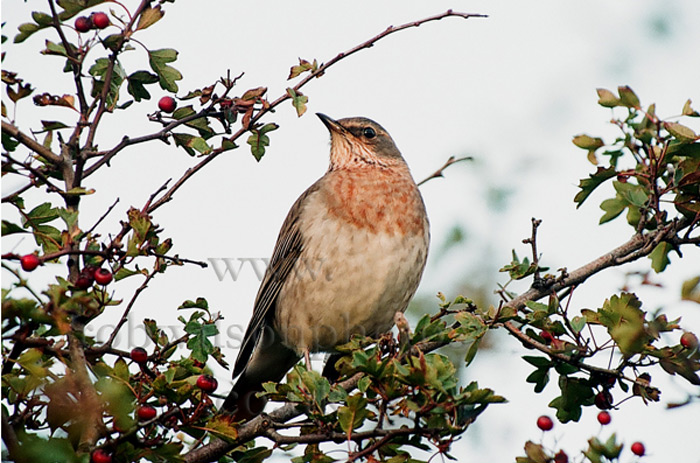 Another "red" that has appeared in the week that's coming is one of those one-time only megas that is seldom mentioned (how come?) ~ Britain's only Red-throated Thrush arrived at Walton-on-the-Naze on September 29th 1994 and, despite a nine day stay, there were those who decided against making the trip to Essex as, at the time, it was still lumped with Black-throated Thrush…DOH! Big mistake! And there was another outstanding goodie on the very same date a couple of decades before that….so, to end this monster, here's a quick skim through the rarity history book ~ take a look at the following day-by-day nuggets….
26th September ~ Hudsonian Godwit in Aberdeenshire (1988)
27th September ~ Magnolia Warbler on Scilly (1981 ~ but you knew that one right?!?)
28th September ~ Scarlet Tanager on Scilly (1975)
29th September ~ Pallas's Reed Bunting on Fair Isle (1976) and Red-throated Thrush in Essex (1994)
30th September ~ Savannah Sparrow on Fair Isle (1987)
1st October ~ Northern Parula on Scilly (1983) and Siberian Thrush on Orkney (1992)
2nd October ~ Common Yellowthroat and Isabelline Wheatear on Scilly (1984 and 1988)
…and they are just the best birds…nor room for a couple of Waterthrushes, two Black & White Warblers, the first Brown Shrike and so many more ace rares….
It really is all to play for…..
Mark Golley
26 September 2012
This weeks contributors
For their help, contributions and photos this week a special thanks goes to:
Steve Arlow - Birders Playground
,
Tommy Hyndman - Fair Isle
,
Alan Tate - AA Bird Pix
,
Jason Atkinson - A Tale of Two Halves
,
Steve Duffield - Western Isles Wildlife
,
Chris Upson
,
John Kemp - Western Isles Wildlife
, Mike Trew Andrew Hood
Joe Pender
,
Graham Clarke
,
Paul Kelly - Irish Bird Images
, Stuart Gillies, Espen Quinto-Ashman
Ashley Fisher - Scilly Pelagics
,
Mike Pennington - Nature in Shetland
, Ashley Banwell, Darren Ward, C H Moor
Rob Wilson - Rob Wilson Photographyv
,
Penny Clarke - Penny's Hot Birding and Life
, Deryk Shaw.