Weekly round-up: 12 - 18 Sept 2012
The week at a glance
Shetland scores its first-ever Red-eyed Vireo way up on Unst
Britain's second and third Short-billed Dowitchers still hanging loose in Dorset & on Scilly
The juvenile Baillon's Crake continues to show itself on the edge of London
Landguard's Spanish Sparrow continues to show from time to time….
Plenty more Nearctic shorebirds continue to find their way across the ocean
News too of more breeding success for Little Bitterns in Somerset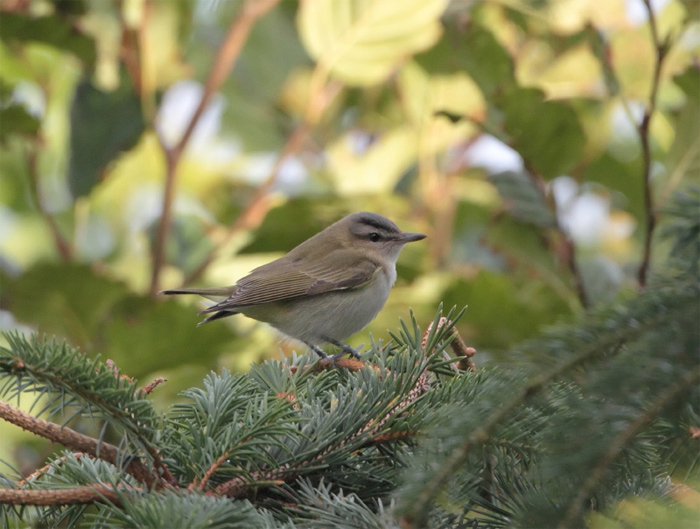 The heightening expectations of all things westerly were very much at the forefront of most birder's minds this week ~ a few more pulses of Atlantic weather and associated rippling fronts came our way and, yes, more Nearctic birds came along for the ride.
With the shorebirds came seabirds too, caught up in some northwesterly storms at the start of the weekend ~ as the lady golfers struggled around Hoylake on Friday in the British Open, local birders were enjoying a little bit of pelagic plunder nearby ~ but things settled a little as the round-up period drew to a close. The wind still blew, it was still pretty much from the west or northwest, but even though the sun shone, being September, birds still came whatever.
…and to cap it all….the first North American passerine of the autumn made landfall too….
Headline birds
"….and we could, if conditions are really kind, see our first American passerine of the autumn, anywhere from Scilly to Shetland…."
The penultimate paragraph of last week's round-up popped up with the hope that the weather systems that were heading our way could produce something to get folk excited ~ and, within an hour or two of the words going live ~ BINGO! ~ there it was!
It may not be the rarest of Nearctic immigrants, far from it, indeed the species in question ranks as easily the commonest "US" passerine of all, but to see the words Red-eyed Vireo appear on the pager is still something pretty exciting and pretty special ~ lose the buzz at the word Vireo in a British or Irish context and you may as well give up now….
…and for birders on Shetland, it was a particularly special discovery ~ representing the first-ever record of these chunky chaps. Found in gardens at Valyie, on Unst during the late afternoon of 12th, the bird remained faithful to the area, despite some pretty grim conditions, until 15th.
As well as providing the Shetland listers with a somewhat overdue addition to their avifauna, it becomes the earliest record of the species for Scotland (and Britain as a whole actually ~ beating a freshly dead bird below the lighthouse on Bardsey on September 19th 1998 and a live bird found on Scilly on 20th September 1989). Indeed the only bird that pre-dates this week's bird is one trapped on Cape Clear Island on 5th September 2004.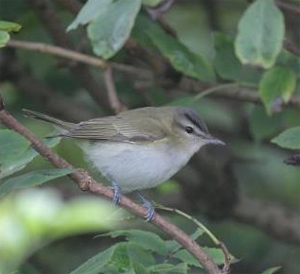 Ireland recorded its first Red-eyed Vireo in 1951 (another bird found below a lighthouse, this one out on Tuskar Rock, off the Wexford coast), while Britain's first ever Vireos were two birds found on the same day (4th October 1962) in the Parsonage, on St. Agnes, Scilly.
Up until the start of the 1980's, there were still only 10 records in Britain and Ireland, and for many birders, their first encounter with the species came around the bushes near Porth Hellick House on St. Mary's in the autumn of 1980 (the famous "hyper-zonky mega-crippler" from "A Twitcher's Diary"….) with just two blank years (1997 and 2002) in the 32 that have followed. Until the end of 2010, there were 119 accepted records for Britain and a further 53 in Ireland ~ and last year presented a further 10 or so to boost the numbers some more…..
While this bird was certainly a new arrival on Shetland, it is tempting to speculate as to whether it was brand new across the Atlantic or if the bird may have hit somewhere else first ~ one proposed theory being that it could have dropped off the end of Iceland and then made its way to Shetland (Iceland having recently scored an early Mourning Dove).
Whichever thought is correct, Red-eyed Vireo is still a genuinely exciting bird to see or, better still, find. And with 11 records down the east coast, from Lothian to Suffolk (a remarkable four for the latter county) it is the most likely Nearctic passerine to appear along North Sea counties….you never know your luck!
Red-eyed Vireo in Britain and Ireland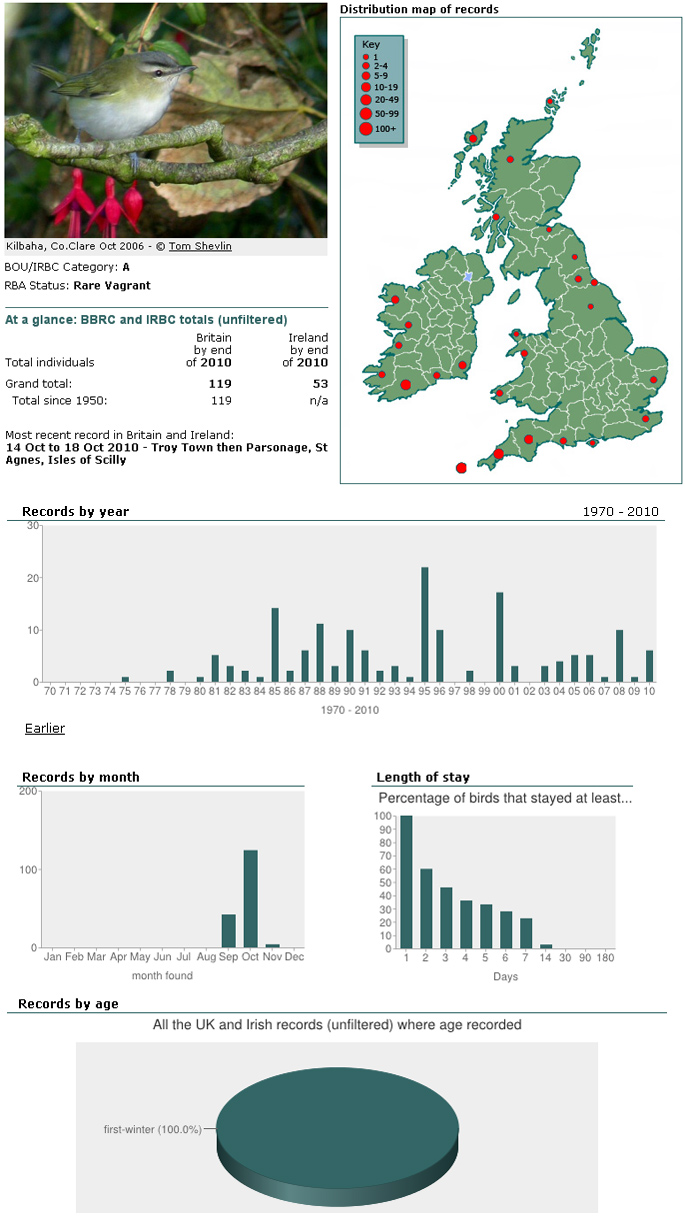 Far, far rarer than Red-eyed Vireo is, of course, Short-billed Dowitcher but it could be argued that despite its gross rarity status, it doesn't take too long to adjust to their presence. In no way is that meant to denigrate such a delightful long haul vagrant, but for many birders, American passerine will always trump American shorebird….
….but how can you resist such beautiful birds as the two juvenile Short-billed Dowitchers that continued their early autumn stays, on the wrong side of the Atlantic, at Lodmoor RSPB reserve in Dorset and on the sandy beaches and seaweed-strewn rocks of the birder's favourite rarity supermarket, Tresco.
Both birds were still in place until 18th at least and the youngster on Tresco features in this fabulous new video clip, shot by local birder Ashley Fisher…..
Ashley's awesome movie captures this exquisite bird in all its glory, and it becomes the 65th shorebird species recorded on Scilly ~ a list that not only includes Semipalmated Plover, Hudsonian Whimbrel, Western Sandpiper, some half a dozen Wilson's Snipe, 15 Upland Sandpipers, Cream-coloured Courser, Sharp-tailed Sandpiper, Sociable Plover and a whole heap of more frequent Nearctic species (from Least Sandpiper to Pectoral Sandpiper), it also includes a species that no one will ever see again ~ Eskimo Curlew ~ an adult shot on Tresco in September 1887 was the last record of the six seen in Britain and Ireland.
This new addition to the Scilly list takes the island tally to 437 ~and follows on from the recent add-ons in the shape of Steppe Grey Shrike in 2009, Hudsonian Whimbrel and Sociable Plover in 2008 and Great Blue Heron in 2007 (most of these being the work of the aforementioned Mr. Fisher!)
The week's other highlights were a couple more leftovers from recent round-ups ~ the super juvenile Baillon's Crake continued to be a tough cookie from time to time at Rainham Marshes RSPB reserve across a second weekend, but was still present on 18th and still showed itself nicely on the odd occasion.
In Suffolk, the male Spanish Sparrow at Landguard Point was seen again during the late afternoon of 14th (having been a no-show the previous day and on subsequent evenings too it seems).
Exciting news to round off this little section of the round-up and its good news too as it was revealed (by the Somerset Ornithological Society) that, for the third year in a row, Little Bitterns have bred within the sumptuous surrounds of the Somerset Levels.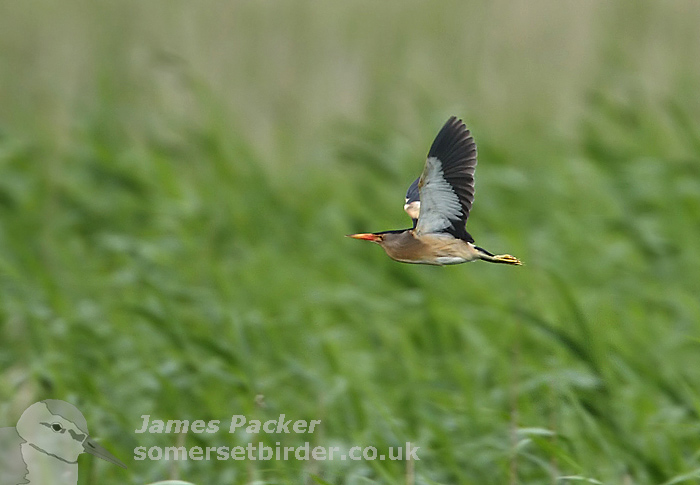 In 2009, a singing male was discovered on Walton Heath (part of the Ham Wall RSPB reserve) and spent over three months on site ~ from early June to late September. It seems likely that this was the male that appeared elsewhere on the Ham Wall reserve in late May of the following year and found a female to boot. During June and July, there was much to suggest that the birds were a breeding pair and, eventually, at least one fledged juvenile was seen.
Last year, despite a pair of Little Bitterns being present within the Avalon Marshes, there was no confirmed news regarding any success (it was thought that the pair had failed although its possible that something happened, the young can be tricky to find in a vast reedbed!) but in 2012 at least one juvenile was seen in flight with the adult male during late July to confirm that this astonishing site has registered Britain's second and now third successful breeding of this stunning small heron.
Although long suspected to have bred in Britain, the first, and only breeding pair, prior to the birds in Somerset were the famous couple at Potteric Carr, near Doncaster (South Yorkshire) in 1984. First noted in mid-June, three youngsters were raised before departing in mid-August, and the family of five began to attract the attention of the media (many of whom were camped out in the county as the government of the time went to war on the miners) ~ making a few appearances on the national news bulletins late in their stay.
The remarkable work applied to transforming the Somerset Levels to what they are now is a marvel of modern-day conservation and with Cattle Egret, Great White Egret and Little Bittern all now successful breeding species in the county, Somerset must be odds on to make headlines again soon ~ a pair or two of Glossy Ibis would be nice….
Seabirds
Contender for the headline news (if it could have been confirmed to species level) was the probable Black-browed Albatross seen heading south from the observatory on the Calf of Man on 18th. The days of twitching Sula Sgeir are already seeming like a long way off, while the memories of perching on the Saito outcrop at Hermaness are for those of middling years or older.
The only Great Shearwaters reported this week were a long-range bird off Cley's nearly below sea-level seawatching shelter (the Beach Hotel to the older readers amongst you....) on 14th and a slightly closer individual below the lookout at St. Ives (Cornwall) on 18th.
There were still plenty of Balearic Shearwaters to see from south facing coastlines ~ 51 from Portland Bill on 12th this week's highest count, with 20 there the following day while 17 were recorded off Porthgwarra on 15th.
Off the coast of County Kerry, at Brandon Creek, a mind-boggling 4,500 Sooty Shearwaters whizzed by in just 45 minutes on the morning of 14th ~ what an extraordinary spectacle that must have been. A further 1,000 were seen offshore from the same site on 17th. Figures elsewhere were, obviously, miserly in comparison, but 50 off the Farnes on 12th, over 260 from Bridges of Ross (Co. Clare) on 13th and further decent counts on 14th of 200 off Malin Head (Co. Donegal) and 286 from Kilcummin Head in Mayo are also worthy of a mention in despatches.
The stormy conditions from 14th onwards also threw some classic mid-September birds in to the mix, for birders on both sides of the country….
By the end of 16th, at least 65 Long-tailed Skuas had been recorded countrywide ~ on 12th, there were five each for Strumble Head and Hartlepool Headland, on 13th four were seen at Fort George in Highland, six flew past Cley and five were recorded from Pendeen on 14th and three were noted from Whitburn on 15th and Bridges of Ross saw the same number fly by on 16th. On 17th, a neat juvenile was seen inland, at Queen Mother Reservoir in Berkshire, and a further 14 birds (including three from Strumble Head) rounded off the week on 18th.
Over 100 Pomarine Skuas were seen up until the end of the weekend ~ almost all seen from the west coasts of Britain and Ireland with 30 from Kilcummin Head on 14th easily the largest single site count of the week.
At least 50 Sabine's Gulls were also caught up in the rough stuff ~ following day totals of seven on 12th and two on 13th, at least 23 were seen on 14th, with three each for Hilbre Island and Malin Head, with five off Kilcummin Head during the day. The 15th saw two adults lingering off Hartlepool Headland with three at Point Lynas, on Angelsey with numbers tailing off as the end of the round-up period beckoned (three on 16th and one on 17th for instance).
The Irish west coast was king when it came to Grey Phalaropes this week ~ Bridges of Ross popped in 13 on 12th, four on 13th, 16 on 14th and at least 35 on 16th, with Mayo's Kilcummin Head scoring 28 on 14th. At least 10 birds were counted in Stinky Bay on the Outer Hebrides on 16th. Elsewhere, a moulting adult was found on Craigavon Balancing Lakes (Co. Armagh) on 17th-18th.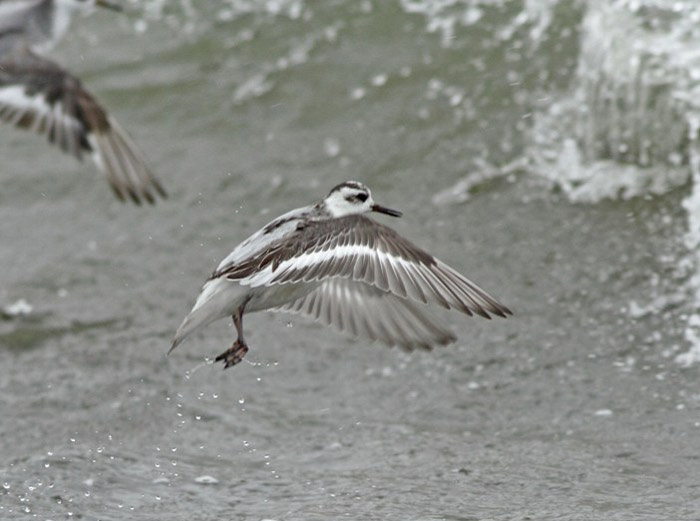 Making its Round-up debut this week is Leach's Storm-petrel ~ the generally favourable conditions (for seawatchers if no-one, or anything, else) meant that a fair few of these classic mid-September species were blown close to the coast and, as usual, west was best and the place to be to see them….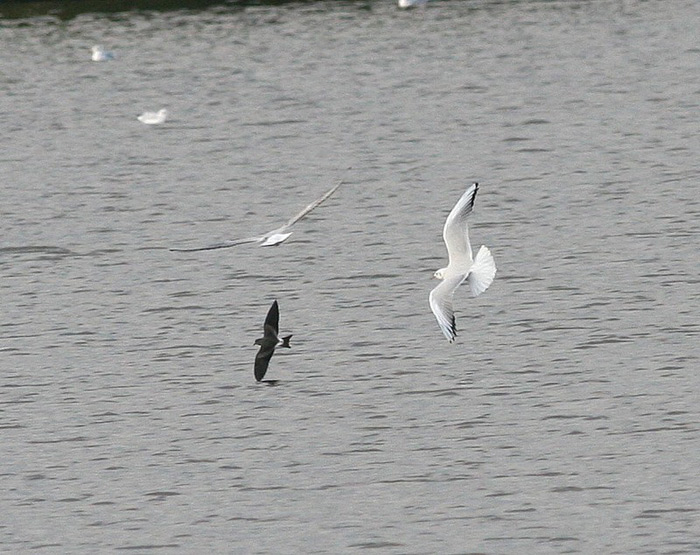 Over 100 birds were reported on 12th, thanks to 38 and 33 from the respective Antrim headlands of Ramore and Malin (with 15 off Kilcummin). Bridges of Ross racked up 44 on 13th when a waif strayed inland to Pennington Flash in Greater Manchester.
Another 100+ day was had on 14th, peak counts being 27 from Bridges, 20 off Ramore Head and 14 from Formby in Lancashire. Birders at Bridges of Ross clocked up another 13 on 15th but it was Hoylake that scored best, 15 counted there during the day. Back in County Clare, at Bridges of Ross, the 16th saw another 45 Leach's pass by with 16 the following day when 11 Leach's were seen from Troon (Ayrshire).
The last day of the review period was a pretty big day for Leach's Storm-petrel ~ 30 were seen from Wallasey, on the Wirral, in two hours in the middle of the day, with 15 each for Hoylake and Leasowe. Over the border in Wales, 29 birds flew past Strumble Head and 14 were noted from Bardsey in a day that saw at least 115 birds reported.
The first Little Auks of the autumn made an early appearance this week ~ single birds seen at Spurn (East Yorkshire) on 16th and Aberlady Bay (Lothian) on 17th.
Herons, Egrets & allies
In Kent, a Little Bittern was flushed at the Sevenoaks Wildfowl Reserve on 15th ~ if accepted it will become the 30th record of the species for the county and the first since a week-long singing male was seen at Dungeness in May 2003.
There were three single Glossy Ibis to report this week and they were, inevitably, the same three that we've reported on in recent weeks ~ singles lingering at Marloes Mere (Pembrokeshire), at Tacumshin (Co. Wexford) and on the Ouse Washes RSPB (Cambridgeshire).
The only Cattle Egret of the week was a gaudy summer plumaged escapee in Leicestershire (bearing some yellow bling and thought, perhaps, to have made the move from the county's Twycross Zoo).
Three Great White Egrets appeared at Stodmarsh (Kent) on 15th and single GWE's in the same county were seen at Dungeness from 12th-16th and at Elmley RSPB on 13th. Three birds remained around Shapwick Heath NNR in Somerset to 15th (with three at Westhay on 18th) and on 16th two birds journeyed through Nottinghamshire and then Derbyshire, heading over Annesley Pit Top first, then Ogston Reservoir and Miller's Dale later in the morning. Also in Derbyshire on 16th, another Great White Egret, this one at Carsington Water (at the same time as the two birds were in north Nottinghamshire) while further single Great Whites were also seen in Cheshire, Hampshire, Cambridgeshire and Essex and also in two Welsh counties (Glamorgan and Carmarthenshire) during the week.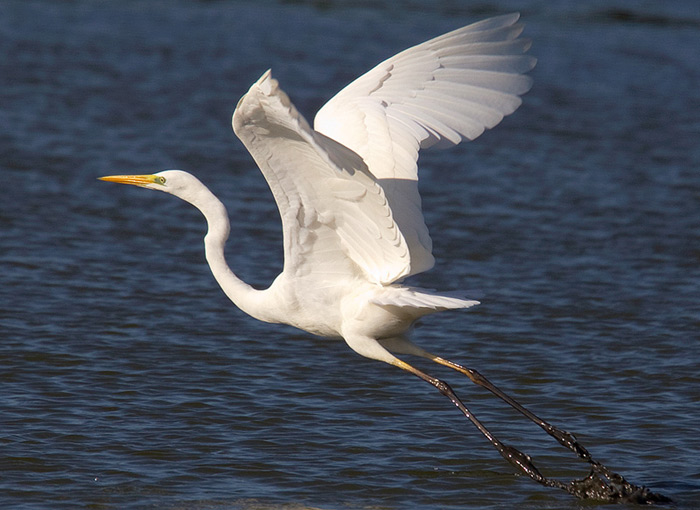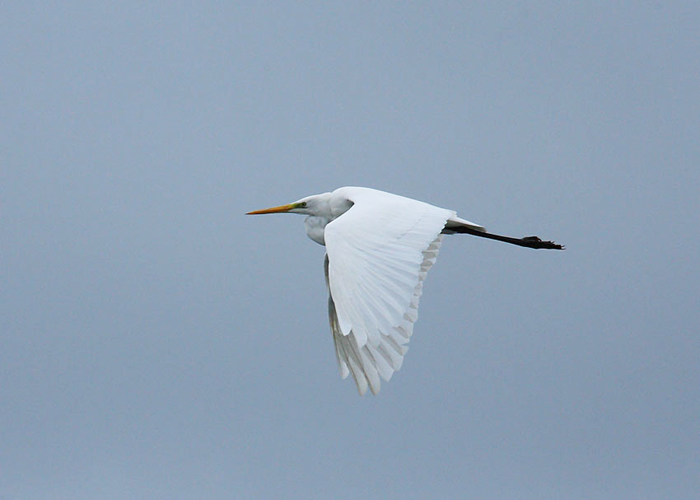 Spoonbills were beginning to settle down at some regular winter haunts ~ four at Isley Marsh in north Devon and nine at Brownsea Island in Dorset this week will doubtless be (pretty much) ever-presents from now until spring. In Norfolk, at least 19 birds were again at Titchwell RSPB on 16th with 17 at Orford Ness (Suffolk) the same day and there were nine at Cley and four were still being seen at Gibraltar Point (Lincolnshire) at the start of the week. A roaming Spoonbill was also seen at a few sites in Cambridgeshire (at the Ouse Washes, then Berry Fen near Bluntisham and finally Grafham Water.
With no vast sky-darkening Broadland throng of Common Cranes to report this week, its more mundane single figure tallies all round ~ Norfolk was host to five birds at Welney WWT on 16th and two were noted the previous day near Heacham. Elsewhere there were two seen in South Yorkshire and singles in Essex and Suffolk (possibly the same bird).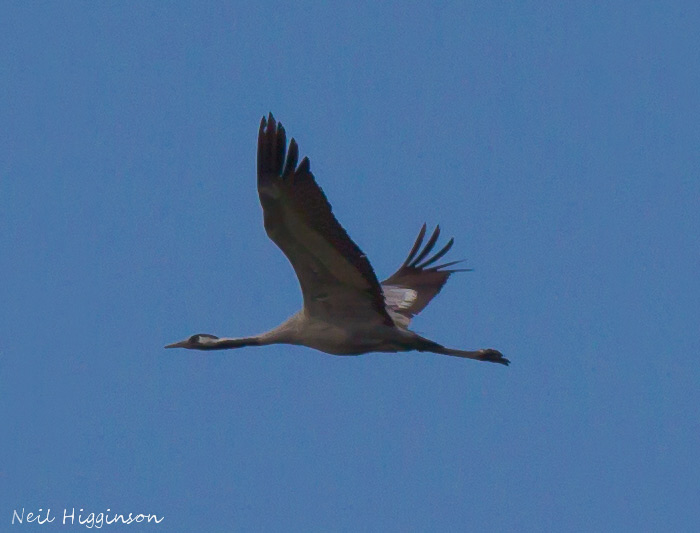 The wonderfully obliging Spotted Crake at Greylake RSPB in Somerset remained throughout the week, with a long-lingering bird still in place at Marazion Marsh for much of the week too. In Northamptonshire, a Spotted Crake was found at Stanwick GPs on 13th and showed (off and on) until 18th. The only Corncrake of the week was flushed from Salakee on St. Mary's (Scilly) also on 16th.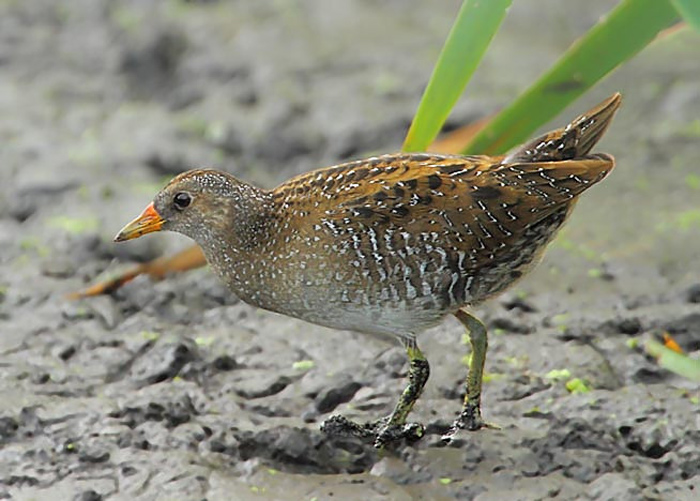 Ducks & Geese
Two new Blue-winged Teals were discovered this week as the arrival of Nearctic waterbirds continued. A one day bird was found at Lough Beg (Co. Derry) on 14th and was followed by another newbie at Marshside RSPB (Lancashire & North Merseyside) on 16th (captured neatly on celluloid, or whatever the charmless modern equivalent is, by the finder), reappearing there again briefly on 17th.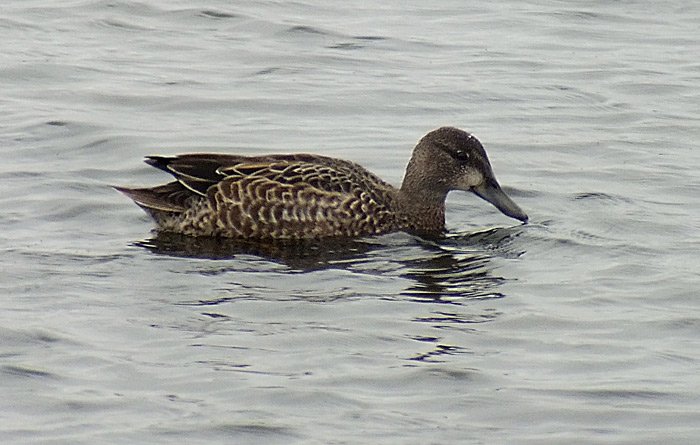 Another potential new arrival was the drake Lesser Scaup found at Vane Farm (Perth & Kinross) on 15th (there hasn't been a record in the county for over two years now, so it could be a fresh arrival) while the eclipse drake at Chew Valley Lake (Somerset) remained to 17th at least, while the same site saw two Ferruginous Duck reported on 13th, with one and a hybrid later in the week. Also on 13th, a drake Ferruginous Duck was found at Far Ings NR (Lincolnshire) where it stayed until 18th. Across in South Yorkshire, the eclipse drake Ring-necked Duck remained on station at Orgreave Lagoons for the week, while a new bird was discovered in Aberdeenshire, at Loch Kinord, on 17th.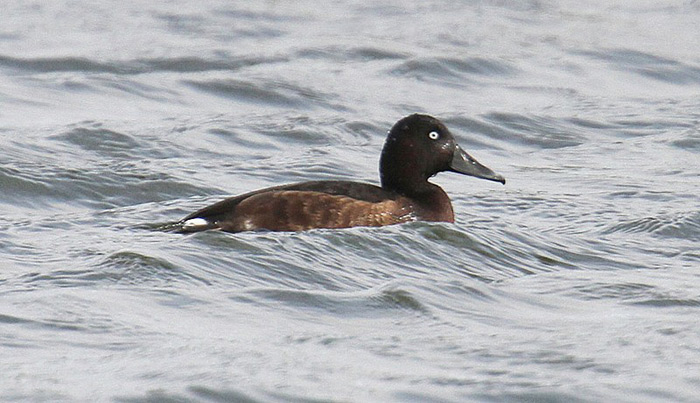 In Ireland, the returning drake Black Duck was still being noted on Sruhill Lough, Achill Island (Co. Mayo) between 13th-16th (with a hybrid female Black Duck X Mallard nearby too). The week's only Surf Scoters were seen off Musselburgh in Lothian, a female seen there on 16th and Uisead Point (Argyll), a young drake there on 18th.
Up on Orkney, on Sanday, a blue Lesser Snow Goose was found on 18th ~ the same island also hosted four different Nearctic waders (1 x American Goldie, 1 x Buff-breast and 2 x Pec Sands) and also Northwestern/Greenland Redpolls. How's that for back-up?
Raptors
Spartan times for raptor fans this week ~ aside from a surprise juvenile Black Kite on the wires at Spurn, before heading north at Kilnsea on 18th, there was little to get excited about.
Just seven Honey Buzzards were recorded (singles in Kent, Staffordshire and Durham on 15th, Surrey and Essex on 16th, Cornwall on 17th and another in Kent on 18th). The only Montagu's Harrier reports of the week all came from Suffolk ~ a juvenile was at Boyton & Hollesley Marshes RSPB on 12th-13th and again on 15th and 17th18th, with a juvenile at nearby Orford Ness on 14th and 16th. A juvenile was at Minsmere RSPB on 15th and an unaged/sexed bird was reported from Gedgrave Marshes on 16th.
Shorebirds
Despite a whole heap of commoner North American shorebirds continuing to find their way in to western Europe, this week's rarest wader report came from the other way, a moulting adult Pacific Golden Plover found at Derrybeg (Co. Donegal) on 15th will be the first for the county (if accepted) and become only the 12th or 13th record for the Republic (Wexford taking the lion's share with six).
Two new Semipalmated Sandpipers arrived over the past few days ~ juveniles found at Ballykelly, on Lough Foyle (Co. Derry) and at Tyninghame Bay (Lothian), both on 15th. Elsewhere in Scotland, leftovers from last week remained at The Wig (Dumfries & Galloway) and in Broadford Bay on the Isle of Skye to 12th and 13th respectively.
On the Outer Hebrides, a Semipalmated or Western Sandpiper was seen on the beach at Balgarva, South Uist, on 17th ~ it may well be the bird mentioned last week that, despite its striking look, didn't seem to generate too much online chitter-chatter.
At least 13 American Golden Plovers were recorded this week ~ with most of the spoils divided between Scottish islands and Ireland. On Orkney, two adults remained on North Ronaldsay throughout the week and another adult was found on Sanday on 16th. Over on the Outer Hebrides, on South Uist, an adult was at Ormiclate on 15th and two or even three juveniles were seen between Loch Eileen an Staoir, Bornish and Milton on 16th (and Askernish on 18th) while a little further to the north, on Benbecula, an adult American Goldie was seen at Liniclate on 17th.
In Ireland, an American Golden Plover was again at Bridges of Ross on 12th and 16th, single adults were in Wexford (at The Cull and Tacumshin) on 15th and 16th, while an obliging juvenile was seen at Keel, Achill Island on 15th. Another new bird was found as the week drew to a close, an adult at Truska (Co. Galway) on 18th.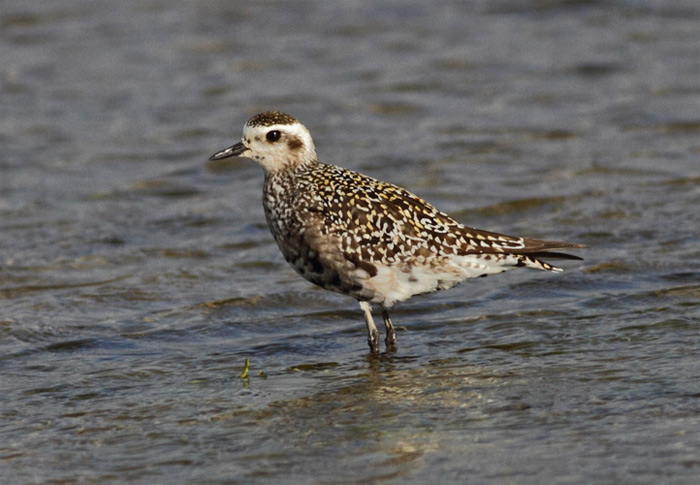 The only English American Goldies were found at Edderthorpe Flash RSPB (South Yorkshire) on 13th and Port Carlisle (Cumbria) on 18th.
Four (or perhaps five) new Baird's Sandpipers made their way across the Atlantic this week ~ a young bird was found at Webb's Field, Kilcoole (Co. Wicklow) on 14th and on 16th, 100's of miles apart, came singles at Esha Ness, Mainland Shetland and Tean and Tresco (Scilly). On 17th came news from Hampshire of a retrospectively identified Baird's Sandpiper at Pennington Marshes on 14th while last week's juvenile at Seaton Snook, in Cleveland, was last seen on 12th.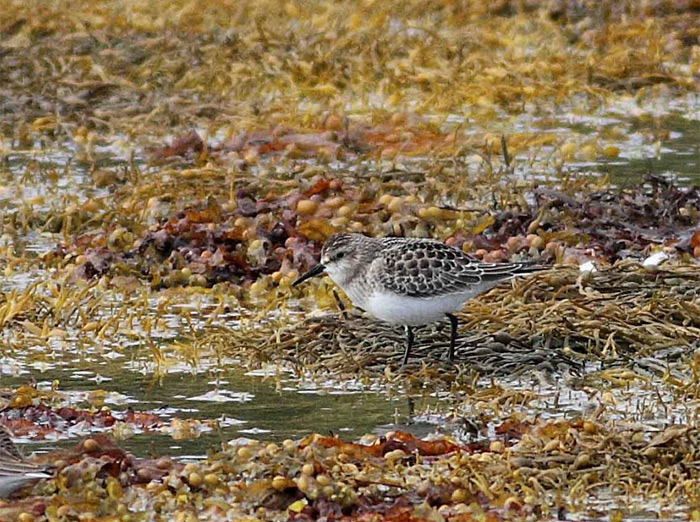 A worn adult White-rumped Sandpiper at Steart (Somerset) was another new arrival this week, found on 15th and still present to 17th. Another new bird added to the already exceptional list of shorebirds that have found there way to the Outer Hebrides in the last two weeks or so, dropping in at Balgarva, on South Uist. Birds seen last week remained on the Ouse Washes in Cambridgeshire (to 13th) and at Tacumshin in Wexford (to 17th).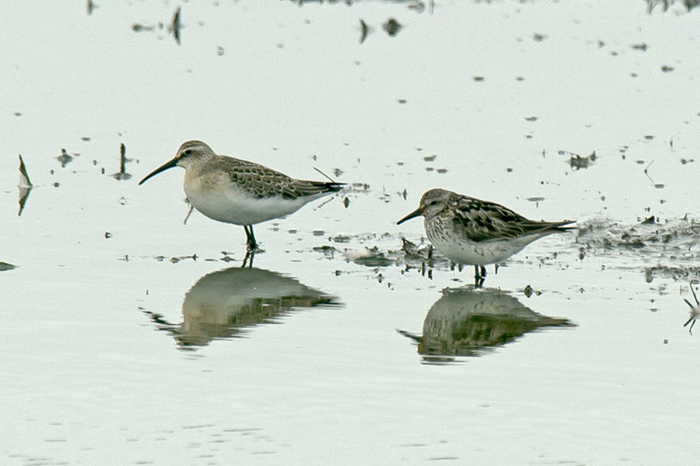 Also lingering a little longer were leftover juvenile Spotted Sandpipers at Smerwick Harbour (Co. Kerry) and Rubha Ardvule, South Uist, both present to 16th, with the latter bird still present on 17th. In Cornwall, the first-winter Lesser Yellowlegs was loafing around Kingsmill Lake all week.
There were at least 30 Buff-breasted Sandpipers on offer this week and, as with American Golden Plover, it was Scotland and Ireland that took the majority of birds. The largest flock of the week was four at Carrahane Strand (Co. Kerry) four there from 14th (with Kerry adding another that day with one at Reenroe). Three birds were on Myroe Levels in Derry on 17th and there were singles in Clare, Donegal and Wexford.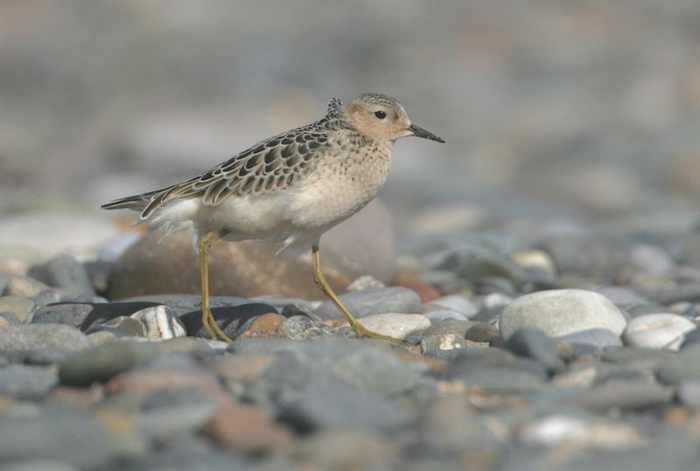 Scottish Buff-breasts included at least six on the Outer Hebrides still, three for South Uist (at Bornish), two for Lewis (at the Butt of Lewis on 17th, along with a steady stream of Lapland Buntings, 57 counted heading through) and one for Benbecula. There were two twos, at Loch of Strathbeg and John Muir CP, while three singles were seen on Shetland and ones were on Tiree and Sanday. To the south of Hadrian's Wall (just) were two birds at Goswick (Northumberland) on 16th with another at Slimbridge the same day.
A second wave of Pectoral Sandpipers headed our way this week ~ some 80 or more birds noted this week (it was 70 odd last week) and there were many new birds reported. The big day was 16th, upwards of 30 new birds seen that day, with pairs noted in Aberdeenshire, Northumberland, South Yorkshire/Nottinghamshire border, Lincolnshire, Cambridgeshire (on the Ouse Washes again), Kent, on Skokholm and also in Cork. There were further new twos on 17th at Welney (Norfolk ~ five birds in the county in the week) and on Sanday (Orkney). Amongst another significant arrival, four birds pitched up on North Ronaldsay and at Loch of Strathbeg on 17th (and two more found their way to the Ouse Washes making it four there as well) while three Pecs were at Tacumshin, also on 17th.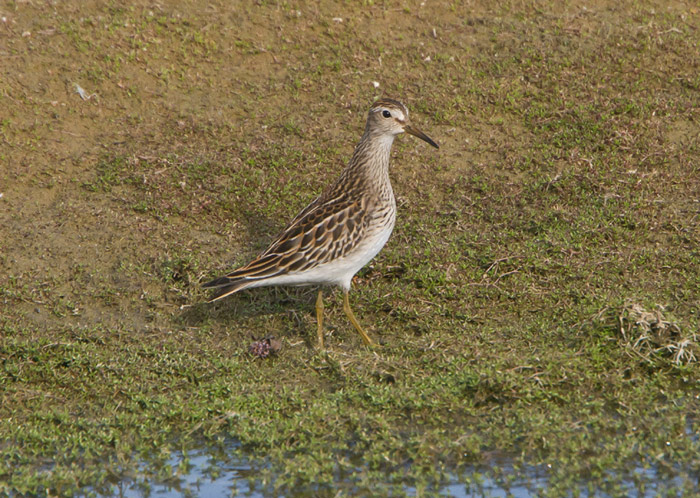 Heading rapidly towards completing its second month on site was Slimbridge's adult winter Long-billed Dowitcher (found on 21st July, it was present throughout the week) ~ it was nice to see that the northwest's supreme snapper Steve Young did indeed do the Dowitcher double mentioned here last week ~ bagging both species on 16th, with some smart shots to go with it.

Other notable waders with not hint of American influence were a pair of Black-winged Stilts reported at Cottam (Nottinghamshire on 18th, a Red-necked Phalarope in East Sussex, at Newhaven, also on 18th and a Temminck's Stint at Christchurch Harbour on 16th and a Dotterel still out on St. Martin's to 15th with another at Woodingdean (East Sussex) on 17th.
Gulls & Terns
A first-winter Gull-billed Tern was seen heading north past Flamborough Head (East Yorkshire) on the morning of 18th ~ it could become the fourth record for the site, following on from birds in 1995, 1979 and 1976).
In Cork, a near-adult Azorean Yellow-legged Gull was seen near Clonakilty on 17th and in Antrim, an adult Bonaparte's Gull from 14th was presumably the same bird that spent some wintertime there earlier this year. A new adult Ring-billed Gull was seen on the beach at Inch (Co. Kerry) on 14th and regular fixtures were still at Groomsport and Kinneil Lagoon throughout the week.
There were a handful of new Glaucous Gulls on offer this week ~ singles in Borders, Lothian, Shetland and Waterford adding to birds from recent weeks in Ayrshire, South Uist and Antrim, while new Iceland Gulls arrived on Orkney and Scilly on 18th.
Passerines
Shetland's 42nd Lesser Grey Shrike, a male, was found on Fetlar, at Aith, on 14th ~ the first on the island since a first-winter spent four days there in September 1999. It's the eighth Lesser Grey Shrike on Shetland since the start of the 2000's and records date all the way back to the first for the islands in 1927. The week's only Red-backed Shrike was found on Sanday (Orkney) on 18th.
The first Red-breasted Flycatchers of the autumn were also Shetland birds, one at Skaw, Whalsay on 15th with another at Halligarth, Unst on 17th-18th. On Fair Isle a dead River Warbler was found in the Plantation on 16th (cue sad face….). This was the bird from last week, trapped in the Obs., Garden on 11th and it would seem that a combination of North Sea crossing and inclement conditions proved too much for the bird (found in an emaciated condition anyway). A little happier (hopefully) was the Marsh Warbler trapped and ringed on the island on 12th.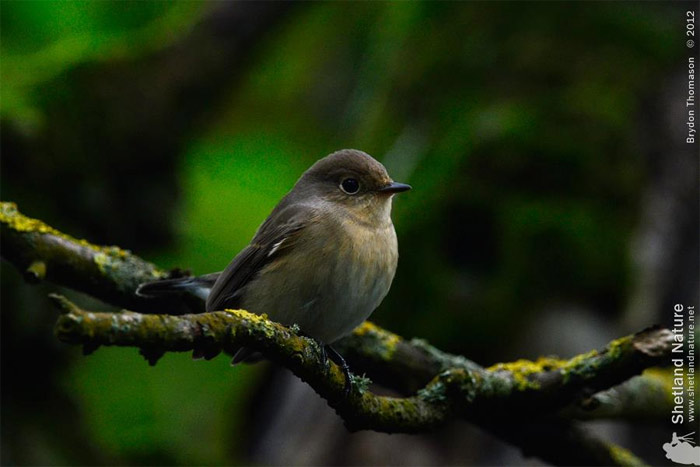 In East Yorkshire, an Arctic Warbler was reported at Bempton Cliffs on 13th while off the west Wales coast, on Skomer, the Greenish Warbler found at the end of last week remained until 12th. Nearby, over on Skokholm, a Melodious Warbler was found on 15th with further new Melodys appeared on Lundy on 13th (though it had actually been there a week) and at Sandwich Bay on 14th. On Bardsey, a Melodious Warbler remained for another week. Ten Barred Warblers included two birds on Unst on 14th, singles in the southwest for Cornwall and Devon (at Cot Valley and Prawle Point) and others from Pembrokeshire to Fair Isle, with an unusually long-stayer still at Holme (Norfolk) throughout the week.
Two first-winter Citrine Wagtails continued their little September vacation on St. Mary's this week ~ generally the birds were split between Lower Moors and Porth Hellick Pool but on the evening of 16th, two were together around the latter site (and they were together again on 18th).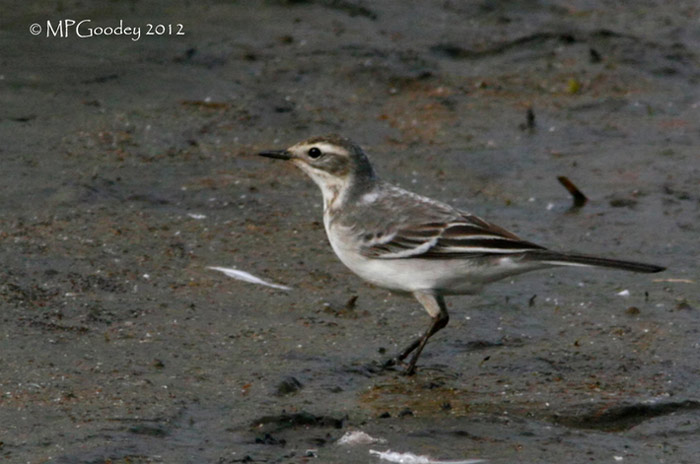 A Short-toed Lark was seen on Lundy on 12th ~ could it be the bird seen there in June and July? Two of last week's four Ortolan Buntings remained on Tresco on 12th-14th and another was found on St. Mary's on 14th as well. Galway's first-ever Ortolan was still on Inishbofin on 12th and on 17th, one was trapped at Portland Bill.
Shetland was the only place to host any Common Rosefinches this week ~ four birds were seen on Unst, one at Norwick from 12th-16th and three were at Baltasound on 16th, while Fair Isle had a minimum of three birds this week (present on 17th).
While Shetland held all the Rosefinches it was western Britain that held almost all the week's Wrynecks. At least nine birds were seen around Scilly, including three on St. Martin's on 13th, with three singles on St. Mary's, two on Tresco and one each for St. Agnes and Bryher. Seven birds were found in Dorset, while there were three for Devon and two for Cornwall and one in Somerset. A little further afield came three in Pembrokeshire, four for Hampshire and three in West Sussex.
A Hoopoe was reported on private land in Shropshire on 13th and a Rose-coloured Starling appeared on the rooftops of St. Agnes (Cornwall) on 14th-15th to round off another mixed bag of goodies….
As September edges closer still towards a new month, expectations of what's next will (as ever) become higher and higher. The weather hints at more Atlantic crossing shorebirds for the first few days of the new week (and more seabirds too) but, after that, it's a bit of a guessing game….
Birds from east and west always pop up at this time of year of course, but arguably the most eye-catching species to have made landfall in the days to follow have always been American wood-warblers and their allies….
September 20th boasts the first Hooded Warbler (on Scilly in 1970), the first Chestnut-sided Warbler (on Shetland in 1985) and the first (and only) Yellow-throated Vireo (the stunning bobby-dazzler at Kenidjack, Cornwall in 1990). Any of these would be hugely popular and so too would a Black-billed Cuckoo ~ 22 years have fallen away since the one day bird at Watermill (for some it was their third, for many their second) ~ and 23rd September 1975 saw the east coast score its only one, at Redcar.
Tennessee Warbler, Ovenbird and Black-and-white Warbler have also all turned up in the days that are to come, so there's plenty to dream of and its not just the west coast ~ it was only two years ago, on September 25th that the Blakeney Point Empidonax was found, so its anything/anywhere time from now on….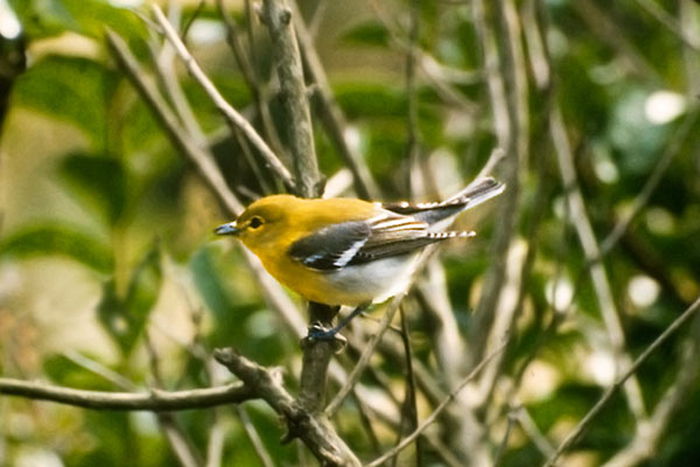 Mark Golley
19 September 2012
This weeks contributors
For their help, contributions and photos this week a special thanks goes to:
Robbie Brookes - Nature in Shetland
,
Ashley Fisher - Scilly Pelagics
,
James Packer - Somerset Birder
,
Steve Duffield - Western Isles Wildlife
, Peter Stanfield, Steve Ashton, Neil Higginson,
Jeff Hazel - Levels Birder
, Neil F Hunt, Simon Spavin ,
Paul Kelly - Irish Bird Images
,
Joe Pender - Sapphire Pelagics
,
Steve Young - Birds on Film
,
Sean Gray - Gray Images
, Martin Casemore,
Brydon Thomason - Shetland nature
, Martin Goodey,
Alan Tate - AA Bird Pix
,
Tony Davidson - Simply Birds & Moths