Weekly round-up: 29 Aug - 04 Sept 2012
The week at a glance
The first Black Skimmer for the Western Palearctic tracks past the Mayo coast
Britain's second-ever Short-billed Dowitcher has identity resolved in Dorset
Juvenile American Black Tern comes and goes between Lancashire and Merseyside
Suffolk's first Spanish Sparrow reappears, out on the weekend
Yelkouan Shearwater heads along the coast of County Durham
The fifth Fea's (type) Petrel of August seen in Cork
Unconfirmed report of a Barolo Little Shearwater off west Cornwall
A new Azorean (Yellow-legged) Gull found in Cork, another remains from last week
Belated news of Eleonora's Falcon in East Sussex
First pulse of Nearctic shorebirds of the autumn hit the west coast
"There's something happening here, what it is ain't exactly clear"
Well, what a week ~ a whole host of birds made their way to the shores of Britain and Ireland this week as the predicted first real push of Nearctic arrivals made their collective presence known through the round-up period.
Fronts rippled across the Atlantic as the week commenced ~ and even if the most startling arrivals had little or nothing to do with Hurricane Issac, there's little doubt that something is was up in the ocean out to our west.
Unsettled conditions countrywide produced birds right the way through the weekend, but as the review period began to draw to a close, high pressure looked set to build and the hefty showers and breezy conditions seemed likely to be replaced by settled conditions, sunshine and rising temperatures….
Headline birds
What can you say? The buzz and beep of a Mega Alert is always something that will get the pulses racing. That first recognition of the sound and the first glimpse words on the pager screen fill birders with dread and excitement in equal measure….will it be a tick? Will I have to spend a lot of cash to see it? Where is it and, most importantly, what is it? Do I need it?
Obviously depending on the size of said list (and who'd honestly have a pager if there wasn't an interest in a list to some degree or another?) the Mega Alert effect can vary. A Spanish Sparrow may well be a justifiable mega, but a lot of people have seen one. As neat a record as it maybe, it will elicit a pretty cool response.
Birds that a lot of folk still "need" will certainly quicken the heart rate ~ at the end of last week's round-up, as well as surmising that the incoming weather would bring seabirds and shorebirds from the Americas, Yellow Warbler was mentioned as a potential star turn for this week ~ imagine the scene if a sulphurous Setophaga had rocked up in a west Cornish valley this week ….! But it still wouldn't be a shock….a surprise yes, but a jaw-dropping shocker, no.
Then you come to those moments of near disbelief….this year's big bird, the Western Orphean Warbler, didn't warrant shock and awe ~ it was a huge bird yes, 30 years of waiting unblocked in a May day, but it was always on the horizon, however distantly.
You have to look beyond birds even of the calibre of Orphean Warbler. Look way out ahead, look to the mindbenders. Anglesey's Black Lark? That was a different ball game ~ that was in a different league ~ that was off the scale, as texts and call of genuine disbelief crashing around mobile networks on that Sunday afternoon….the same rules could be applied to Kent's astounding Tufted Puffin too…..
….and this week's top, TOP bird had that exact same effect ….a moment or two of recognition of just what you were reading on the pager screen. Black Skimmer. In Mayo. A Black Skimmer in County Mayo. Wow! Wow!! WOW!!!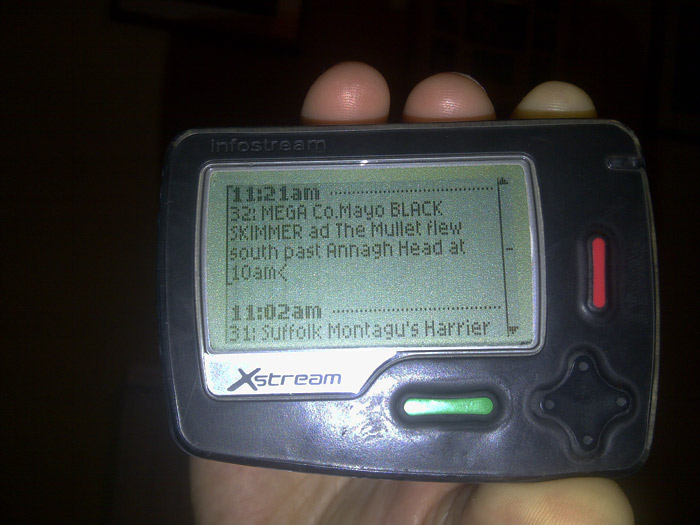 The bird, thought to be an adult, was seen by a single observer (the most envied man in birding this week) flying south, some 700 metres offshore, past Annagh Head on the end of the Mullet, during the morning of August 30th.
A quick look at the map gave any number of potential options as to where it may be seen next ~ there was even a train of thought that wondered if an early evening fly past of the Clare coastline may be on the cards….but the guess work was to no avail. With no further sightings, the trail has gone cold on this ultimate rare ~ this GIGArare….for now a least….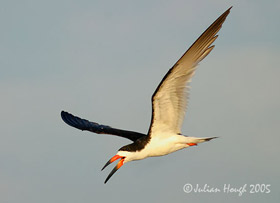 There's still hope though, assuming the bird has survived….Shannon Airport Lagoons or the estuaries of north Devon would be a nice stop off point….
In terms of vagrancy potential, there's nothing to say in terms of the Western Palearctic ~ in the north-eastern provinces of Canada, Black Skimmer records are known to be (almost always) connected to hurricane activity, occurring casually in New Brunswick and Nova Scotia and as a vagrant only species to Newfoundland and the coast of Labrador.
As a breeding species, their range extends as far north as New York State, some 500 pairs or so listed or so as an average yearly breeding figure (with small numbers extending up in to Massachusetts) and post-breeding groups can linger in to late autumn ~ that and hurricance displacement aside, the view from some birders on the Eastern seaboard is that there little to see them categorised as a potential vagrant.
What's needed to help things along is a little bit of back up ~ and, right on cue, up pops a couple more very tidy megas from the west….
The discovery of a newly arrived juvenile Dowitcher at Lodmoor RSPB (Dorset) on 3rd initially met with little more than a "that's early" mutter or two and thoughts of what would be next in the week's growing list of North American shorebirds. News was out that the bird had been identified in the field as a Long-billed and not much more was thought about it. Then, with the bird still present on 4th, a photo emerged online that shifted opinions swiftly towards something rather more exciting ~ suddenly it looked like it could morph in to a Short-billed Dowitcher at any moment.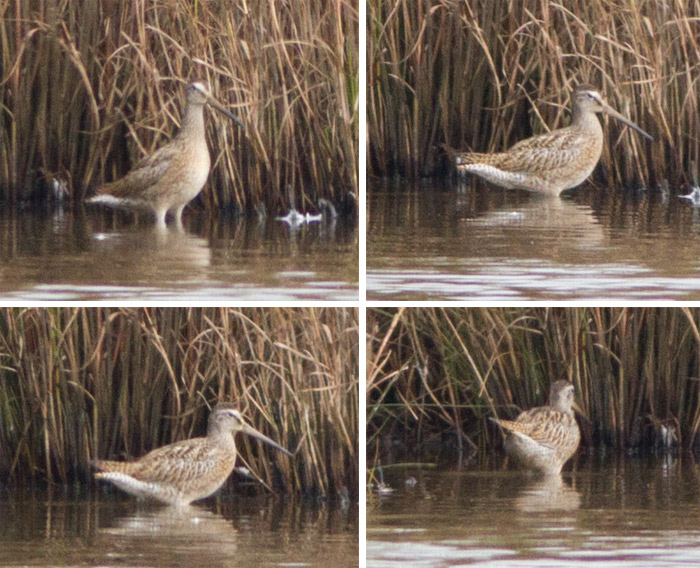 The single image showed what appeared to be a rather richly toned bird with a seemingly rather striking, contrasting head pattern, some degree of internal markings on the upperparts, some Bar-tailed Godwit like coverts and a very interesting looking set of tiger-striped tertials….all strongly indicative of Short-billed (although the latter feature was not unlike those shown by the interesting dowitcher at the same site in the autumn of 2010). With very few images available and the bird vanishing during the afternoon of 4th, its identity seemed to have hit the buffers ~ but there was a definite groundswell of opinion heading along the Road to Mega. As midnight approached, the plunge was finally taken and the news was out….
Britain's only Short-billed Dowitcher to date was the well-twitched juvenile at Rosehearty, in Aberdeenshire, from 11th-24th September 1999 (relocating to Cleveland later that month, where it remained until the end of October).
Ireland's first, another juvenile, came at Tacumshin in late September 1985, with a first-summer in County Meath and then County Dublin between March and September 2000 (returning in May 2001 to Dublin) with the Republic's third (and most recent) record coming from Wexford's Lady's Island Lake between June and August 2004, before moving to Bull Island, in County Dublin, in October that same year, where it remained in to March of 2005.
Short-billed Dowitcher in Britain and Ireland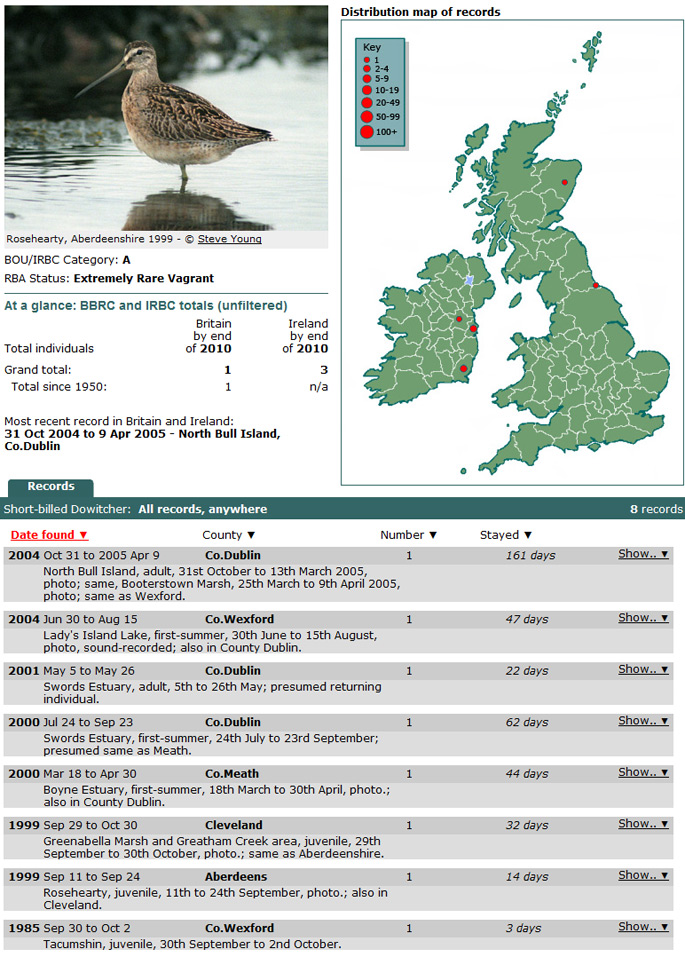 To go with this mega wader was a probable Semipalmated Plover ~ heard at least 10 times around Dunnet Bay in Highland on 3rd, but only seen in flight. With everything else that's been around this week, it seems completely feasible….
The third big bird of the week from across the Atlantic was Lancashire and Merseyside's super juvenile American Black Tern.
Found during the late afternoon of 30th (the same day as the Skimmer….) at Eccleston Mere, St. Helens, the bird went missing the following morning, only to reappear at the Mere (and nearby Prescot Reservoirs) the following afternoon. With prolonged views, the identification was clinched but as dusk approached, the new arrival was off, heading away to the west.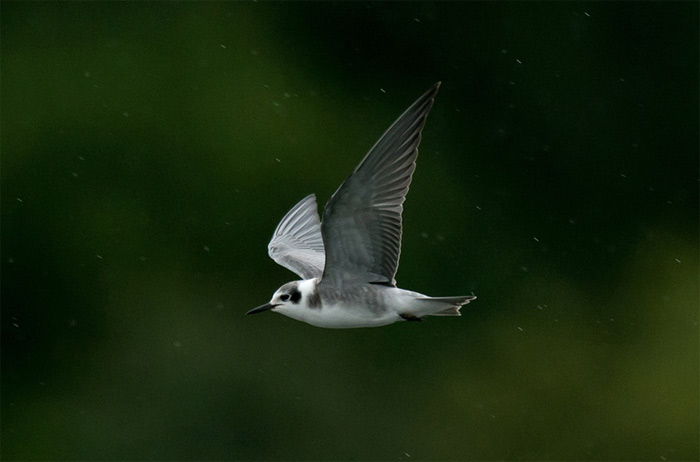 The morning of 1st brought the expected negative news from St. Helens but it wasn't long before better news came from the east ~ the American Black Tern had been relocated some 10 miles or so away (as the tern flies) at Pennington Flash, on the edge of Greater Manchester. The obliging bird showed for most of the day, but upped sticks just after 4pm ~ and there was no further sign by dusk. And that's because it was back at Eccleston Mere where it stayed (mainly) until the morning of 3rd, when it skedaddled off northwest….but returned by mid-afternoon. Clearly an active beast, the week closed with a return to Prescot Reservoir and an evening at nearby Eccleston Mere.
This really distinctive form (destined to be elevated to full species status at some point in the not-too-distant future) has become a bit of a fixture for birders in Britain and Ireland over the last decade.
Last September saw the arrival of a very obliging juvenile at Covenham Reservoir in Lincolnshire ~ its three week residency giving everyone a chance to enjoy the finer details of separating the US and European versions of this super looking marsh tern.
Before that, in August and September 2009, there was that remarkable trio at Farmoor Reservoir ~ juvenile American Black Tern, European Black Tern and White-winged Black Tern all jostling for position out on the buoys, often standing together, three in a row. Add to that birds in Ireland in 2011 (in Kerry), 2007 (Wexford and Galway), 2006 (Wexford again) and 2003 (another one for Kerry), along with brief birds in the Outer Hebrides and East Yorkshire (in 2008 and 2011).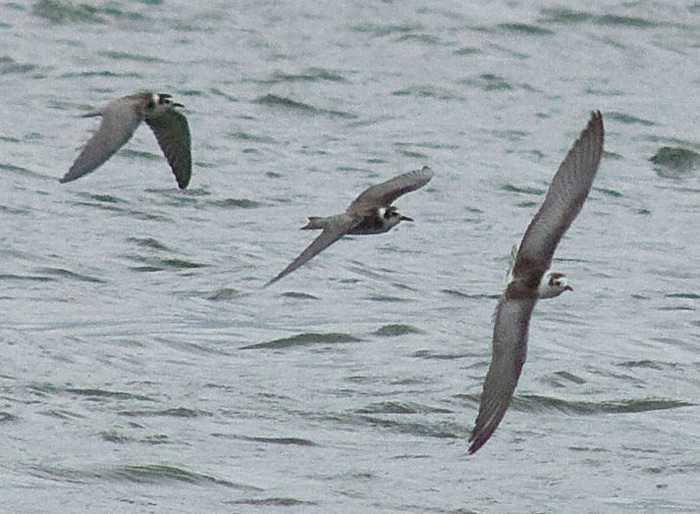 More of them then in the last ten years or so (since the original Irish records and the twitchable bird in Somerset) ~ are they getting commoner or is it (more likely) an understanding of the identification marks?
Last week brought news of a brief, one observer only, photographed male Spanish Sparrow at Landguard Point in Suffolk. The first for the county, and only the ninth for Britain, the new arrival decided not to play the game and, despite significant searches, was nowhere to be seen.
This week, there was better news for Suffolk listers and other interested parties ~ the bird was relocated during the afternoon of 1st and, although still tough to connect with, was seen again early the next morning and the late afternoon, as it came and went from its roost spot, with the last report coming on the evening of 3rd.
Skimmer aside, there's little doubt as to what was the star seabird of the week ~ a close inshore Yelkouan Shearwater seen off Whitburn (Co. Durham) during the late afternoon of 31st. On show for a couple of minutes, at some 700 metres out over a calm, enabling the two experienced seawatchers to piece together an excellent description, leaving little room to think anything other than bona fide Yelkouan.
In the past four years, there have been numerous mentions of "possible" and "probable" Yelkouan-type Shearwaters, almost entirely from west Cornwall's prime seawatch sites (Porthgwarra scoring most, with reports from Pendeen and St. Ives too) ~ but it looks as if Devon may be the county that secures a place on the British List for the species ~ a photographed bird seen some 250 metres off Berry Head on July 29th 2008 looks likely to be accepted as a Yelkouan (by BBRC at least).
This time last year, on a very similar date to this week's Whitburn bird, a Yelkouan Shearwater flew close inshore past the beach shelter at Cley (that bird ~ seen on August 29th ~ is with BBRC, along with birds seen in the Firth of Forth in December 2009 and Porthgwarra on August 10th 2010, as well as the Berry Head individual).
There are numerous flys-in-the-ointment though ~ taxonomic work (including sound analysis) points to a bit of a mess where some western Yelkouan-types are concerned (the "Menorcan" Shearwater, which looks like Yelkouan but has some Balearic mtDNA) and it looks as though any records that past muster at one committee level, may be held in limbo-land at another….
For the third week in a row there was a Fea's-type Petrel to report ~ the fifth in 11 days in fact ~ this one seen from Galley Head (Co. Cork) on 29th. It's the fourth one in Ireland in that spell of just under a fortnight (after two off Carnsore Point on 18th and one from Cape Clear on 19th) with last week's bird being seen from Porthgwarra.
Cornwall's famous seawatching headland also saw a report of a Barolo Little Shearwater this week, seen during the evening of 29th, but additional information is scant at present and remains "unconfirmed". If something positive comes to light, it could be the third Little Shearwater in nine days, following singles past Cork's Toe Head and Clare's Bridges of Ross.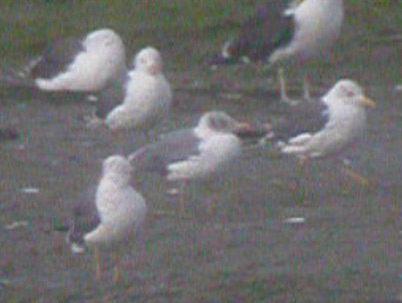 In London, at Rainham Tip and along the nearby River Thames, the possible third-winter Azorean (Yellow-legged) Gull was noted again between 1st-3rd at least. Not much more has been offered by way of opinion as to what that bird may be (beyond being just a possible) but the same was said about the final of last week's Cork trio of contenders.
With grateful thanks to Owen Foley, it looks as though the bird reported in Britain as just a "possible" at Ballycotton on 26th was anything but a possible ~ like the birds elsewhere in the county that day, it seems to be the real deal.
Elsewhere in Cork this week, a near-adult Azorean Gull at Ring, Clonakilty on 3rd-4th was another new arrival and the near-adult was again at Rosscarbery on 4th (that's four birds in just over a week in one county….are there any more out there?)
Finally, in the headline news this week, following on from the photographed young dark morph Eleonora's Falcon at Porthgwarra on August 11th, news this week of another report of this notoriously hard to connect with mega. A visiting birder from the continent apparently saw (and perhaps even photographed) a dark Eleonora's at Boreham Street (East Sussex) on 19th. That bird was reported as flying east and could tie in nicely with the report of a dark Eleonora's over Ramsgate (Kent) the same day. Thickening plots and all that…..
Seabirds
The turbulent conditions of 29th-31st were always looking likely to produce a host of good seabirds and as well as the headline makers, there were plenty of other wayward seafarers to have a crack at.
Once again, numbers of Great Shearwaters were low, just 16 noted this week ~ with three from Porthgwarra and Brandon Point (Co. Kerry) on 29th (with two at Bridges of Ross the same day and two there on 4th) with two at Pendeen on 30th and singles off Scilly and Flamborough Head on 30th and 31st. Two Greats were seen off Annagh Head on 4th with another off Kilcummin Head (Co. Mayo) where there were also two Cory's Shearwaters, part of a low weekly tally of 13 birds which included five off Horse Point, St. Agnes (Scilly) and three from Galley Head on 29th the only multiples of the week.
Better numbers of Balearic Shearwaters were seen over the three day period, well in to three figures, with the 29th pushing at least 83 birds past Berry Head and at least another 33 off Portland Bill. A little further down, at the bottom end of the English Channel off the coast of Jersey, over 400 Balearics were counted on the same day….
Sooty Shearwater isn't a species that will feature often within the round-up of the week's birds, but the fantastic tally of 2,100 birds off Bridges of Ross during the morning of 4th seemed too good to ignore…while Kilcummin Head weighed in with a massive 2,716 on the same day.
It's been another good week for Long-tailed Skuas with over 80 birds seen. At least 11 birds were reported on 29th (from Devon to Fife and Forth), with over 40 (possibly up to 50 birds) seen the following day. Once again it was Thorpeness that topped the list this week, 14 birds there on 30th, with six off Filey Brigg (North Yorkshire) the same day with others spread from Scilly to Aberdeenshire. Numbers began to tail off on 31st ~ five passed Norfolk's Blakeney Point and five were seen off the Suffolk coast, with September seeing just three birds on 1st, one or two on 2nd, one on 3rd and five on 4th. Around 55 Pomarine Skuas were totted up over the week ~ a couple of fours, a five and a six aside, it was all just ones and twos.
Bridges of Ross was the place to see Sabine's Gulls during the windy weather, with 11 passing by on 29th (comprising eight adults, a first-summer and a couple of juveniles). These were followed by an adult and two juveniles on 31st and three juveniles on 1st. Elsewhere on 29th, five were seen from Annagh Head and singles were logged in Hampshire, Pembrokeshire, Moray and County Kerry. Half a dozen birds on 30th were shared between Cornwall, Dorset, Anglesey and Ayrshire and three flew by Strumble Head (Pembrokeshire) on 2nd, with two off the Anglesey coast on 4th.
Six of the week's eight Grey Phalaropes were noted on 30th ~ three were seen from a Scilly pelagic and there was one each for St. Ives, Aberavon (in Glamorgan) and Bardsey. The final birds of the week were seen on North Ronaldsay and South Uist on 4th.
Herons, Egrets & allies
It was as-you-were for Purple Herons this week ~ early risers could still catch the juvenile at Grove Ferry, still present (pre 6AM) on 30th while on the Ouse Washes in Cambridgeshire, another juvenile was still in place to 4th, along with the non-adult Glossy Ibis, Spoonbill and the only Common Cranes of the week (two there on 2nd, having been seen over Wicken Fen NT on 31st).
Other Glossy Ibis this week were all singles ~ one was again at Marloes Mere from 29th-2nd, while in Ireland the bird in Wexford, this week at Ring Marsh and then Cahore Marsh, was presumably the long-staying Tacumshin bird having a wander….In Cork, the bird at Timoleague was seen again on 2nd with the same date yielding a flyover at Hesketh Marsh in Lancashire.
In Kent, Dungeness doubled up on unusual egrets this week, a juvenile Cattle Egret on 30th joining the Great White Egret seen there in the last week or so (the latter still present on 2nd when single Kentish Great White Egrets were also present at Oare Marshes and Stodmarsh). In Somerset, two birds were at Ashcott Corner on 2nd, with lone birds at Shapwick Heath on 1st and Steart on 2nd. The Great White Egret at Grimley (Worcestershire) was still present for much of the week and others were reported from Shropshire, Essex, Hampshire and Pembrokeshire.
With the long-lingering quartet of White Storks becoming a fading memory, we were back to single birds of unknown provenance this week ~ on 29th, one was seen near Messingham in Lincolnshire and on 3rd, one took to the lamp posts of Dalton-in-Furness (Cumbria).
East Anglia hosted a minimum of 40 Spoonbills this week ~ 24 at Titchwell on 3rd and 16 at Havergate Island on 1st making up the numbers, with up to five still being seen around Cley and one appearing at Minsmere during the last few days. Just over the Wash, at Gibraltar Point, six birds were present on 29th-1st while Devon welcomed back three birds to Islay Marsh this week and five birds were in the creeks at Arne (Dorset) on 2nd. A noteworthy inland record came from Broom GPs (Bedfordshire) on 31st (heading off north, then south later in the day) with presumably the same bird, a juvenile, appearing the next day in Cambridgeshire (at Paxton Pits).
Marazion Marsh scored a hat-trick of Spotted Crakes on 31st (an adult and juvenile had been seen there at the start of the round up period) with two still present on 2nd, with one on 3rd. On Scilly, a single Spotted Crake was on the Lower Moors pool to 29th with one again at Slimbridge on 29th while in Somerset, a singing bird was heard at Chew Valley Lake and another spent 30th-4th at Portbury Wharf NR.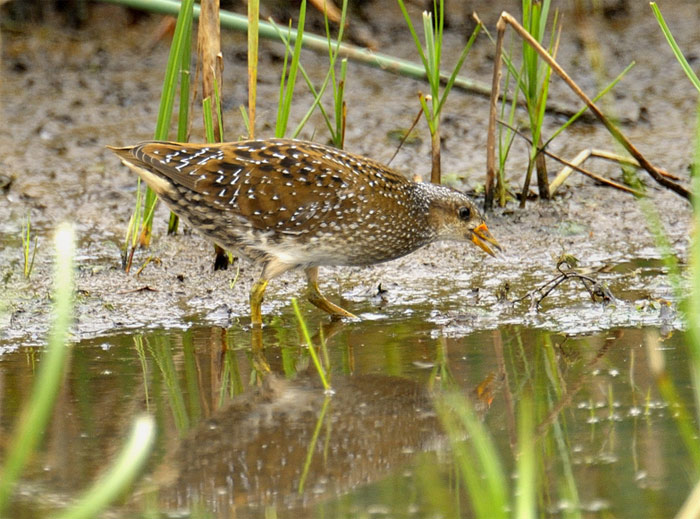 A calling Corncrake was heard in South Yorkshire, near Sprotburgh, on 30th and the following day saw a cracking ringing tick for someone at Hartlepool Headland (it must make a change from White-throated Robins and Orphean Warblers…).
Ducks & Geese
Top billing this week (based entirely on circumstantial evidence only ~ flimsy at best ~ but let's go with it for a bit…) has to go to the intriguing flock of 13 Lesser Snow Geese that pitched up in Lancashire on 29th. Initially nine strong, the group at Pilling Lane End soon became 13 and comprised 10 adult and 2 juvenile white birds along with a single blue goose.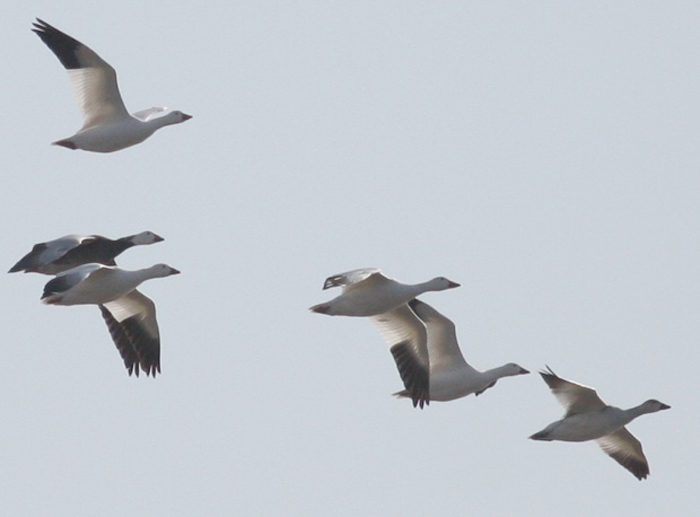 After leaving Pilling, the flock was seen off Rossall Point, Fleetwood later in the day before heading over the visitor centre at Slimbridge the following morning ~ a journey of just under 200 miles.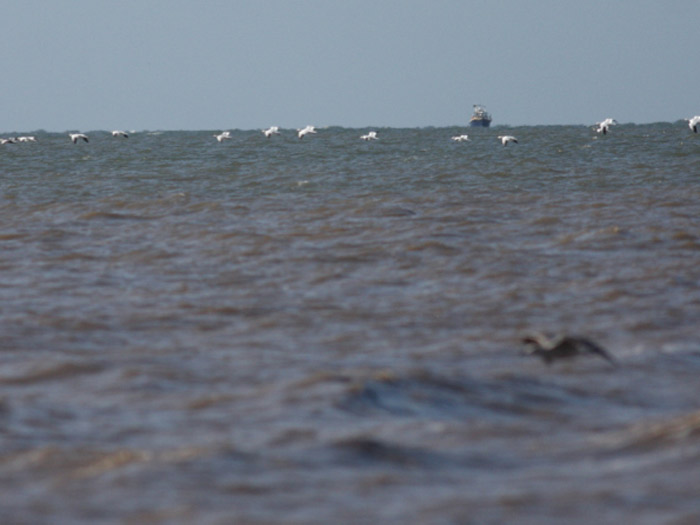 The popular money remains on these birds being feral stock from the Low Countries (remember earlier this year the German colour-ringed Snow Goose that was seen on Orkney?) but is there a chance that they may have been the real McCoy? Within 24 hours of their appearance, the Black Skimmer and American Black Tern made themselves known and the rest of the week was peppered with new trans-Atlantic arrivals. The general opinion certainly goes against them, but should that be so?
In Clyde the eclipse drake Blue-winged Teal remained between Carbarns Pool and Baron's Haugh RSPB from 30th-2nd at least, while the eclipse drake Lesser Scaup at Chew Valley Lake was present throughout the week along with a drake Ferruginous Duck on 30th at least (it had also been reported as a hybrid and a hybrid was seen there on 4th).
Raptors
Slim pickings for raptor fans this week ~ some nine or ten Honey Buzzards were recorded (with two each for Kent, Suffolk and Derbyshire) while Montagu's Harriers were seen in Dorset (at Hengistbury and Arne on 31st and Hurn on 4th), in Suffolk (at Bawdsey on 30th and Orford Ness and Havergate Island on 2nd) while the long-staying first-summer female at Tacumshin was seen until 2nd at least.
On Arranmore Island, the male Snowy Owl was still in situ on 2nd ~ entering his third calendar month on the island, having arrived in mid-July.
Shorebirds
The Atlantic weather systems that provided us with such exciting lead birds this week also provided us with a whole host of new shorebird arrivals ~ its hard to know where to start with them really, but the old school/old-timers amongst us remember just how rare Semipalmated Sandpiper was once, so that's as good a place as any…!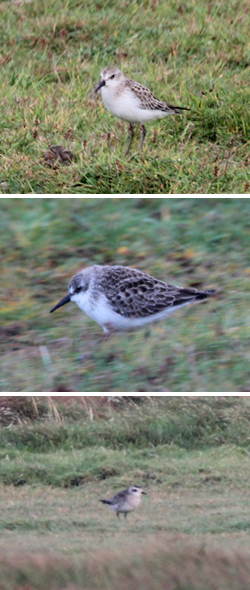 Four lovely juvenile Semi-P's were found this week, all way up on remote islands off the northwest coast. First came one in Gott Bay, on Tiree, on the 2nd (and which was still present on 4th). Bird two was discovered at the Butt of Lewis (Outer Hebrides) during the stormy morning of 3rd ~ 30 seconds after discovery it was gone, flying off east, but Tony Marr rattled off 10 shots in those brief moments….
Remarkably, the following day saw Tony pull a second, darker looking juvenile out of the bag (in grim conditions ~ heavy squalls and Force 10 westerly gusts) and that bird stayed for most of the day around the lighthouse pools. And, for good measure, the one-time chairman of the BOURC produced the autumn's first juvenile American Golden Plover on the evening of 4th to complete an outstanding trio of finds. Back to Semi-P's and bird number four, which was found at the other end of the Outer Hebrides, on South Uist, at Baile Gharbhaidh.
Next up, the first-winter Wilson's Phalarope found at Kinsale Marsh (Co. Cork) on 2nd-3rd, potentially the second in a fortnight for the county, following on from a bird at Rosscarbery on August 25th. On 4th, a juvenile Spotted Sandpiper was found at Smerwick Harbour, Baile an Rennaigh (Co. Kerry) while a new Lesser Yellowlegs dropped in to the beach at Flamborough Head (East Yorkshire) on the morning of 1st (flying west before many had had breakfast). This week's bird will be the fifth record for the county, and the second record for the site, the first coming in December 1978. A second juvenile Lesser Yellowlegs was found at Kingsmill Lake in southeast Cornwall on 2nd ~ by coincidence, a first-winter spent some time there earlier this year (last seen on the last day of March).
The only White-rumped Sandpiper of the week was a new bird at Garretstown (Co. Cork) on 3rd while new Baird's Sandpipers were found at Seaton Snook (Cleveland) on 3rd and on the beach at Marazion on 31st, sometimes seen alongside one of the week's 10 Buff-breasted Sandpipers.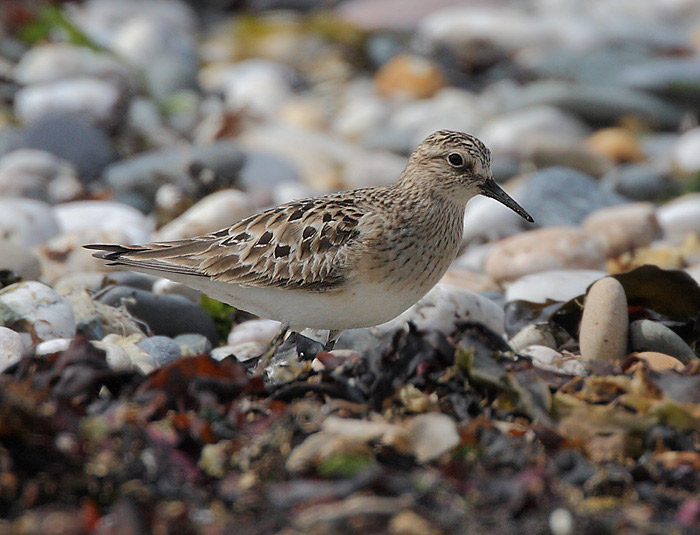 The first to appear was a juvenile on the airfield on St. Mary's (Scilly) on 29th and was followed by singles at Kilshannig (Co. Kerry) and the Marazion bird, both on 30th, on Cape Clear Island (Co. Cork) on 31st and at Myroe Levels (Co. Derry) and on South Ronaldsay (Orkney) on 1st. Two juveniles were on St. Mary's Airfield on 2nd and on 3rd, and on 3rd singles arrived at Bridges of Ross and Tacumhsin (both of these sites have hosted flocks of these delightful waders in the recent past ~ whether there will ever be a flock to surpass last year's astonishing group 26 at Tacumshin is anyone's guess but for most people, one would be nice….).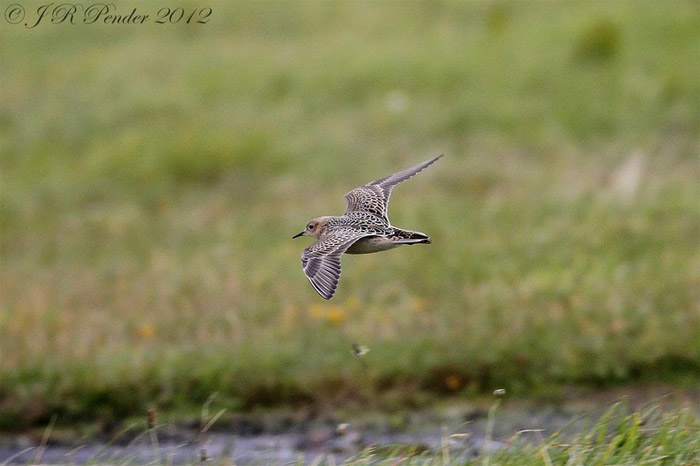 Also new were some 24 Pectoral Sandpipers ~ spread from Cornwall to Argyll and across in to Ireland too. Three birds were found at Kirkapol, on Tiree, on 2nd, when there were also three birds at Tacumshin. Six more were seen in Ireland during the week, including four in County Kerry, while there were two each for Lancashire, Lincolnshire and Hampshire. Last week's threesome on the Hayle Estuary remained to 1st at least and two were seen together in County Durham, at New Lambton, on 4th.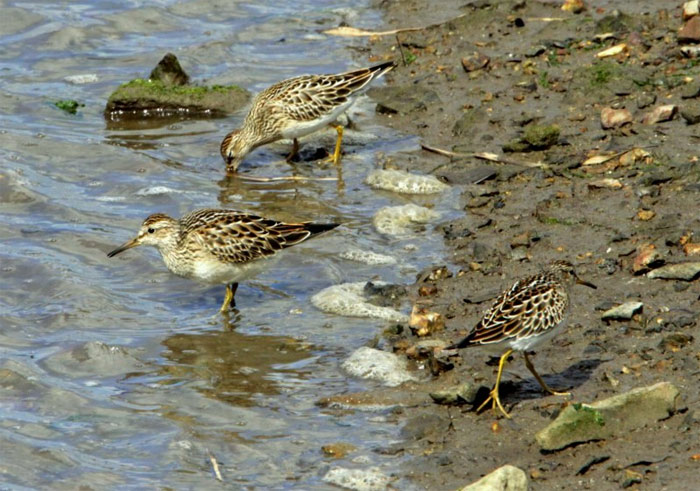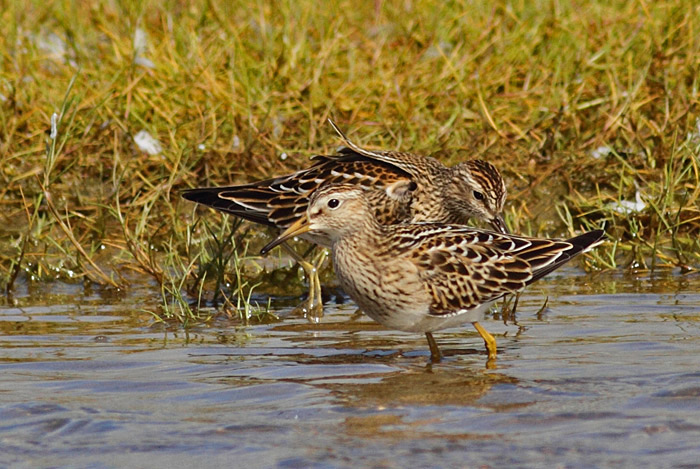 In Gloucestershire, the adult winter Long-billed Dowitcher remained at Slimbridge throughout the week, while from closer to home, came four single Dotterels ~ one on The Mullet (Co. Mayo) on 30th was followed by flyovers at Porthgwarra on 31st, St. Margaret's at Cliffe (Kent) on 1st and St. Martin's (Scilly) on 3rd. The juvenile Red-necked Phalarope at Frampton Marsh RSPB (Lincolnshire) stayed until 1st and new arrivals, all youngsters, were seen at Old Moor RSPB (South Yorkshire) and Cley Marshes NWT (Norfolk) on 30th and Rutland Water (Leicestershire) on 31st-1st.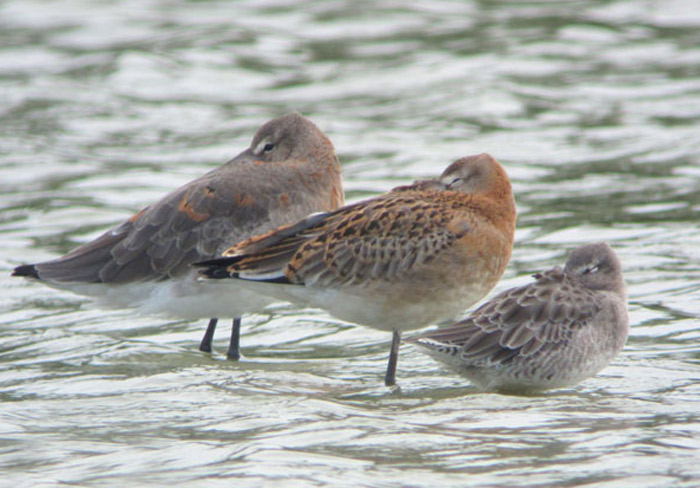 Gulls & Terns
In County Louth, a winter-plumaged adult Forster's Tern was found at Soldier's Point on 29th, where it remained until 2nd at least. This is presumably the same bird that has been seen in the county each autumn (bar 2010) since 2006 although its arrival dates in four of those years has been October (2006 – 2009) with a November appearance last year and it has always been along Cruisetown Strand (but that's less than 15 miles from this week's location).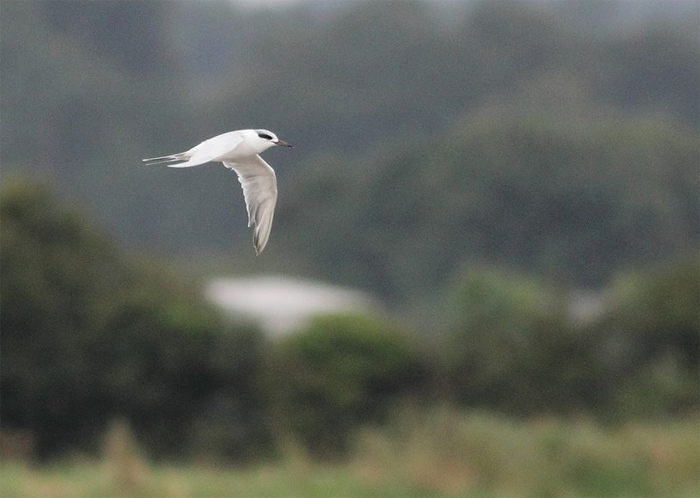 Whether this is the bird that spends the summer in Wexford or the winter in Galway isn't yet proven, but it'll be one of them! Also in Ireland this week a juvenile White-winged Black Tern at Poulaphouca Reservoir (Co. Wicklow) on 29th, with the same date seeing a gathering of some 2,000 Roseate Terns at Sandymount in County Dublin. Irish birders are used to some big post-breeding groups but that number is pretty special wherever you are….
In County Durham, the adult Bonaparte's Gull continued to move between Whitburn and nearby Roker this week, still present between 31st-3rd at least. The long-staying Ring-billed Gull at Groomsport, now a third-winter, was seen to 3rd while a second-winter was seen again in Sligo on 31st and a near-adult was at Carrahane Strand (Co. Kerry) on 4th. Single Glaucous Gulls were noted in Ayrshire, Antrim and Mayo.
Passerines
There were two Citrine Wagtails to report this week ~ at opposite ends of the county. Both birds were found on 31st, one at Ham, on Foula (Shetland) and the other on St. Mary's (Scilly) ~ with the Foula bird present to 3rd, the Scilly bird to 4th.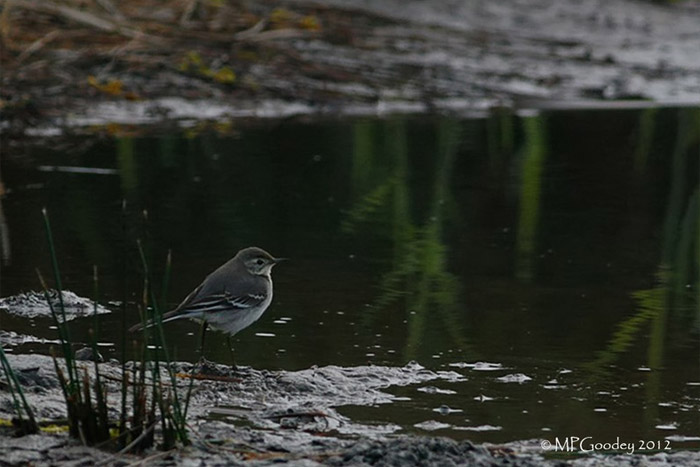 Shetland clocked up two more Arctic Warblers this week ~ the first arrived on Fair Isle on 29th, where it remained until 1st (the second on the island in the month) while bird two arrived at Halligarth, on Unst, on 1st-2nd. Further south and proving very popular too was the sometimes showy bird in the Old Fall Hedge at Flamborough on 1st-2nd. The fourth record of this super Phylloscopus for the site, it's the first at Flamborough since September 1995 (the others coming in September 1994 and August 1987).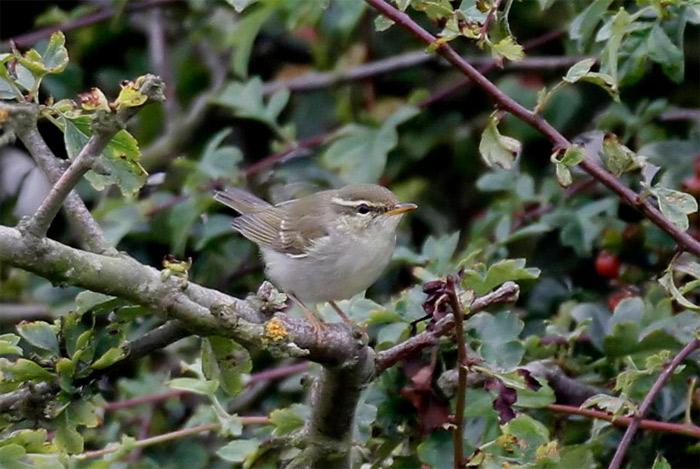 The only Greenish Warbler of the week was found in Conwy, on the Great Orme on 29th and will, if accepted, become a first for the county. Hippolais warblers were pretty thin on the ground, just three Melodious Warblers to report ~ one was seen on St. Mary's (Scilly) on 31st another trapped and ringed at Hallsands (Devon) on 2nd, with the third bird spending 2nd-3rd on Skokholm. The week's only Icterine Warbler was found late in the day at Lowestoft Suffolk) on 4th.
North Ronaldsay remained the place to see Barred Warblers ~ at least four birds present there on 29th and there were part of a figure of some 25 birds noted down the east coast this week. At least five were dotted around Shetland, with a minimum of two on Fair Isle, while there were three each for East Yorkshire and Norfolk, and two apiece for Northumberland, Cleveland and Lincolnshire. Also of particular note, the Barred Warbler found on Arranmore Island on 2nd, the first county record for a couple of years.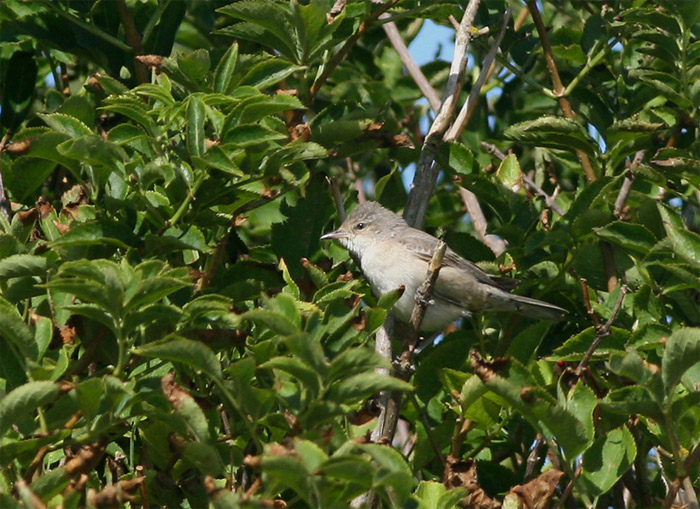 Late news too this week of a Bonelli's Warbler sp., on Bryher (Scilly) on 27th ~ a lovely looking though silent bird, present for just a day, but captured for posterity in a photo or two…Western would be the favoured option, but without the call, it may be safer to say "sp."
An Ortolan Bunting spent a few hours at West Bexington (Dorset) on 4th while two Common Rosefinches were on Fair Isle on 2nd, with another Shetland bird on Unst. Singles were at Orford Ness and Hollesley (Suffolk) on 1st and 2nd respectively, with another reported at Holme (Norfolk) during the week.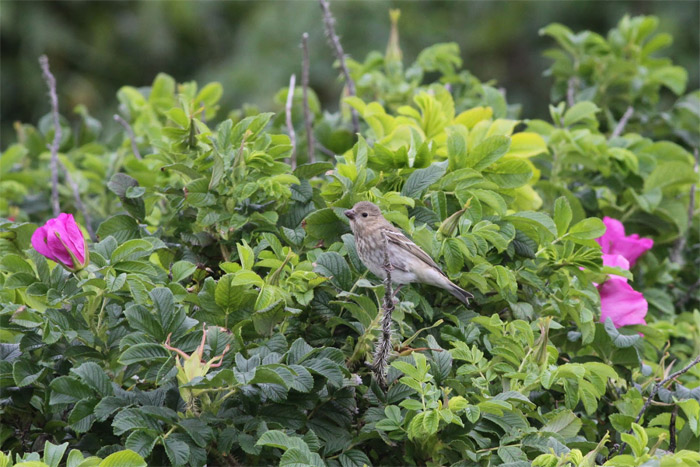 In South Yorkshire, a potential Two-barred Crossbill was sound recorded by BBRC man and general boundary-pusher Martin Garner, heading over Rod Moor, near Sheffield, on the morning of 30th. It'll be interesting to see what further analysis of the call and sonograms produce.
Down to Dorset again, where the first-summer male Woodchat Shrike at Wyke Regis lingered to 1st while half a dozen Red-backed Shrikes included three birds arriving on 31st (in East Sussex, Norfolk and Shetland), one trapped and ringed in Lincolnshire (at Gibraltar Point) on 3rd and singles in Cornwall (at Mullion) and Devon (at Wembury) on 3rd and 4th respectively.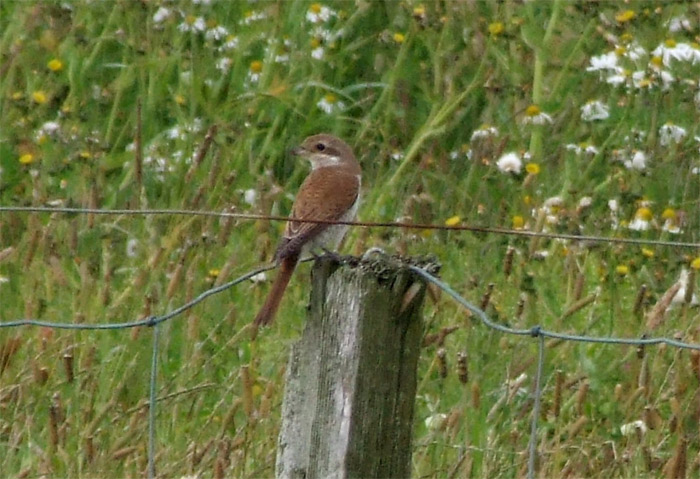 A good week this week for Wrynecks with at least 30 recorded, nine of which were in Dorset including two at West Bexington on 4th. Two made it to Wales (in Glamorgan and Pembrokeshire), two were at Scatness on Mainland Shetland, while there were also two found in Northamptonshire.
In Surrey, a Red-throated Pipit was reported over a garden in Mid Holmwood on the evening of 3rd and a presumed Richard's Pipit proved elusive on Tresco on 31st while a couple of Red-rumped Swallows were seen during the week ~ over Frodsham Marsh (Cheshire) on 29th and Conwy RSPB on 3rd. This week concludes, once again, with the adult Rose-coloured Starling that remained in Llansantffraid (Ceredigion) until 2nd at least.
…..quite a week then…..but will the next seven days offer anything as exciting as some of the birds uncovered in the last seven days? A look at what weather lies ahead hints at a rather quieter week to come, with rather settled, generally dry, sunny and sometimes warm condition to come.
The winds look generally light, so there could be some drifters to be had, there maybe a continuing nudge of Nearctic shorebirds to be had before the lull sets in completely and the surprise element is always needs to be considered….
….two of Britain's four Tennessee Warblers have been recorded in early September (on Fair Isle from September 6th 1975 and on Orkney from 6th September 1982) and two of Britain's most recent Pallas's Sandgrouse were recorded now too (both in Northumberland, both in September 1969 ~ one on the 5th and one on the 6th). Neither of those two species seem likely in the days to follow, so perhaps it's a mainland Yellow-breasted Bunting or a first Isabelline Shrike of the year to dream of unearthing. But its September and anything can happen.
Mark Golley
05 September 2012
(…would you believe it ~ just a few hours after this was "put to bed" ~ bar a few tweaks, the Finns go and pull a Pallas's Sandgrouse! As a well known bespectacled, big-collared comic might say "what are the chances of that happening?")
...And finally for those of you who got the reference in the quote at the beginning enjoy this

This weeks contributors
For their help, contributions and photos this week a special thanks goes to:
Dave Parnaby
and
Fair Isle Bird Observatory,
Paul Kelly,
James Lees,
Martin Goodey,
Joe Cockram,
Julian Hough,
Steve Young,
Geoff Gradwell,
James Packer,
Joe Pender,
Dave Mansell,
Tommy Hyndman,
Graham Etherington, Chris Baines, Peter Philips, Tony Marr, Owen Foley, Mike Coleman Philip Bishop, Kevin Lane,