Weekly round-up: 22 - 28 Aug 2012
The week at a glance
Dapper male Spanish Sparrow makes a brief touch down in Suffolk
Fea's (type) Petrel cruises past the tip of west Cornwall
Another Irish Barolo Little Shearwater this week, and it's Bridges of Ross that scores
Influx of Azorean (Yellow-legged) Gulls in Ireland, after candidate in London
Decent mix of seabirds and passerines caught up in unsettled Bank Holiday weather
August Bank Holiday weather generally comes in one of two forms ~ more scorchio than a Paulo Fisch Fast Show forecast or wet and windy, just how birders like it.
The ABH of 2012 was, for many, far closer to the latter than the former and that was certainly a good thing for those scanning the sea or bashing the bushes through many parts of the country.
A run of showers and then heavier spells of rain was prevalent along the western side of the country with southwesterly winds getting the week up and running. As the long weekend approached, the frontal systems angled themselves to the north bringing both seabirds and passerines to many eastern counties, with the emphasis soon shifting to the south coast….all in all, a nice mixture….
Headline birds
The undoubted star of this week almost passed by with barely a ripple created in the rarity puddle ~ a handsome male Spanish Sparrow bidding a brief "hola" to Landguard Point, in Suffolk, during the morning of 24th.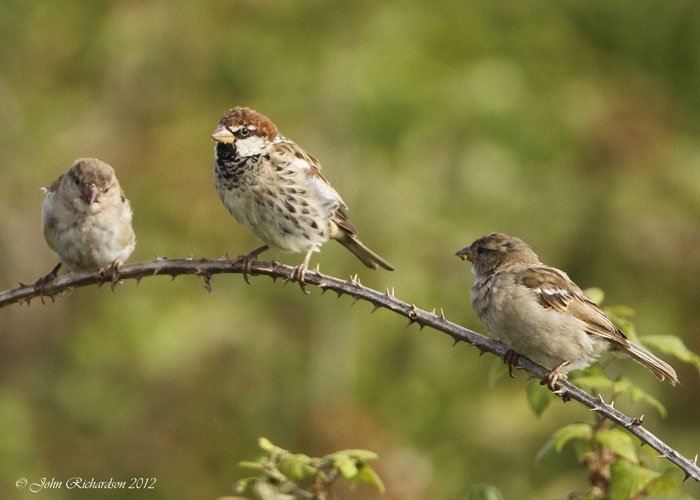 Initially thought to be a Tree Sparrow, the bird was quickly re-identified when the finder's images were reviewed on the back of his camera. Despite some pretty intensive searching from keen county listers (it will become the first record for Suffolk), the bird had already made its hasta la vista move and was never seen again.
Why barely a ripple? Despite being only the 9th ever Spanish Sparrow to make it to British shores, there have been two records of the species (one earlier this year of course) which have ensured that anyone who has wanted to see a Spanish Sparrow here probably has by now….
Hundreds made the New Year journey to Calshot, in Hampshire, a few months ago to enjoy the obliging male there (he was last seen around March 23rd) while the famous two and a half year resident in Cumbria, at Waterside, saw a procession of admirers head to the far northwest of England during his 884 day stay.
2012 will become the second year that has seen more than one Spanish Sparrow observed in the same 12 months ~ in 1993 males were seen in Pembrokeshire and on Orkney, the latter the first twitchable bird of the modern era.
Britain's first Spanish Sparrow was discovered on Lundy in June 1966 (famously appearing two days after Britain's one and only Rufous-sided Towhee) and was followed by two on Scilly (in 1972 on St. Mary's and in 1977 on Bryher ~ the one in the field with an Arctic Redpoll) with the other record (Britain's seventh) being a one day male in southeast Cornwall in November 2000.
This particular Landguard mega was an even briefer visitor than another famous "it'll stay for a while won't it?" cracker for the site ~ the Crested Lark in October 1996 caught a few folk out by disappearing within just a handful of hours of discovery and taunted the dippers by reappearing (very briefly) a week later…..
The 24th was something of a red-letter day too for seawatchers in Cornwall ~ birders at Porthgwarra scoring a fly-by Fea's (type) Petrel as teatime beckoned. All accepted Cornish records of this still incredibly exciting seabird have been seen from Porthgwarra and Gwennap Head, five records in all, all listed as Fea's/Zino's Petrels.
The first for the county was seen across three days in the middle of August 1989 and further records followed in 1996, 1999, 2008 and 2009 ~ the latter bird assumed to have been doing sizeable feeding passes of the headland, accepted for dates between August 30th – September 2nd.
Last week, we went in to some depth with regard to the number of accepted Fea's/Zino's in Britain and, in particular, Ireland, with both Cape Clear and Bridges of Ross coming out bathed in a heady Pterodroma glow. Cork also gained a thumbs up following on from the Barolo Little Shearwater seen from Galley Head last week ~ this week, given the weather, it seemed almost inevitably that another would be seen and the Bank Holiday Monday afternoon of 27th produced the goods for seawatchers on the coast of Clare at ~ where else ~ Bridges of Ross.
It was fitting that Niall Keogh, who provided us with some wonderfully evocative shots of this supreme seawatching spot was amongst those on hand to enjoy this still ultra-tough-to-see seabird ~ to the end of 2010 there were still just 20 accepted Irish records of Little Shearwater, the most recent being off Bridges on August 24th 2008 ~ the seventh IRBC approved for the site since the first in 1991. Since then, Little Shearwaters have been reported from Bridges of Ross in both August 2009 and August 2011.
Following on from late news of a potential near third-winter Azorean (Yellow-legged) Gull (L.(m). atlantis) on the vast tip at Rainham (London) on 21st, no fewer than three candidates were found in County Cork on 26th.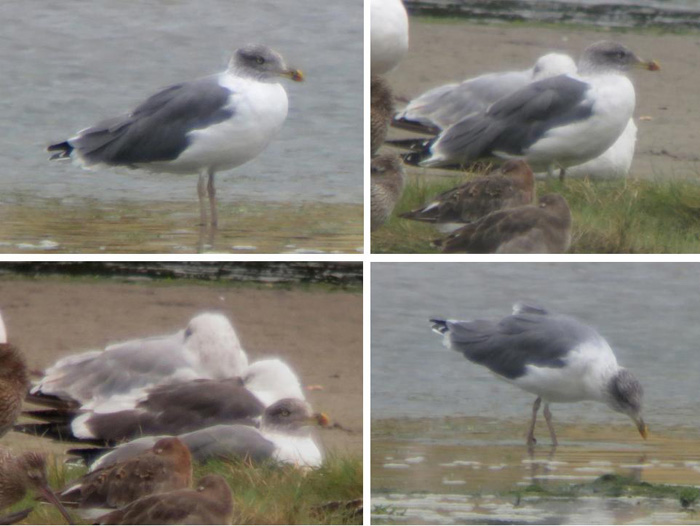 Particularly striking, and utterly convincing, were the near-adult at Rosscarbery and the second or third-winter type at Ring, Clonakilty (below), with the final bird, listed only as a possible, seen near Ballycotton.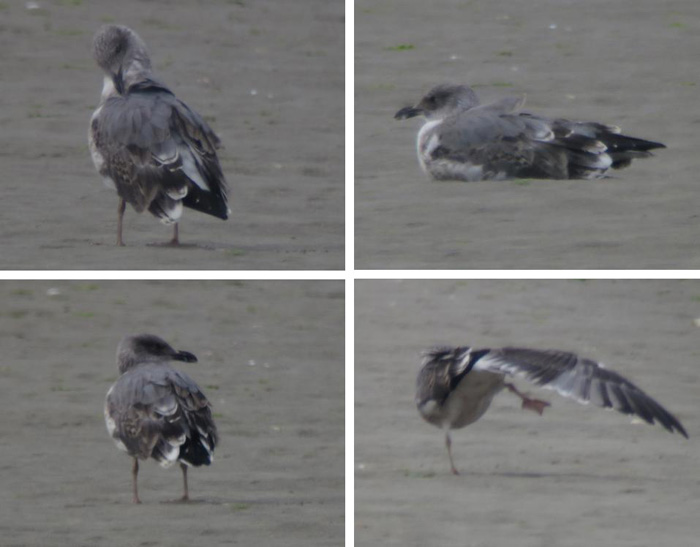 More people have encountered (presumed) Azorean Gulls than Baltic Gulls, thanks to some obliging (and outstanding) contenders over the past five or six years. In 2006, a few Canada Warbler twitchers headed to Kerry to admire the impressive adult at Carrahane Strand while in 2008, as folk headed to Scilly, the second-winter Azorean Gull in the fields around Sennen was collected (if not admired) by many. The following year, the long-staying adult at Appleford Tip in Oxfordshire drew steady crowds for a couple of months ~ all of them well documented and all looking like the real deal.
As has been discussed here in the last couple of weeks, the Atlantic weather systems of late have been coming from some exciting areas, not least slap-bang in the middle of Azorean Gull range. With the evidence presented so far, it looks as though we're in for a potentially remarkable arrival of this species-in-waiting……
Seabirds
The deepening area of low pressure that pushed through much of the country as the weekend arrived may have brought some dodgy weather for the sun-worshipper but for many coastal based birders it was all good….
In Cornwall, seawatchers at Pendeen enjoyed a decent day on 25th, with at least 11 Great Shearwaters and 13 Cory's Shearwaters amongst the highlight of their hours alongside the lighthouse wall. A lone Great Shearwater was reported from the Norfolk coast, off Sheringham during the early morning of 26th (it remains a crinklingly rare bird off the coast of the county) with another heading north past Hartlepool Headland the next day. Three Irish counties (Kerry, Mayo and Cork) also saw a handful of Greats fly by during the week, including four from Cape Clear on 27th.
That quartet came off the back of a passage of some 40 Cory's Shearwaters seen from the Cape the previous day ~ with others seen elsewhere in Cork, at Mizen Head and Crookhaven on the same day (26th). On Scilly, 11 Cory's flew past Horse Point, St. Agnes on 25th with two from the Scillonian crossing on 28th, with another for Cork on the same day.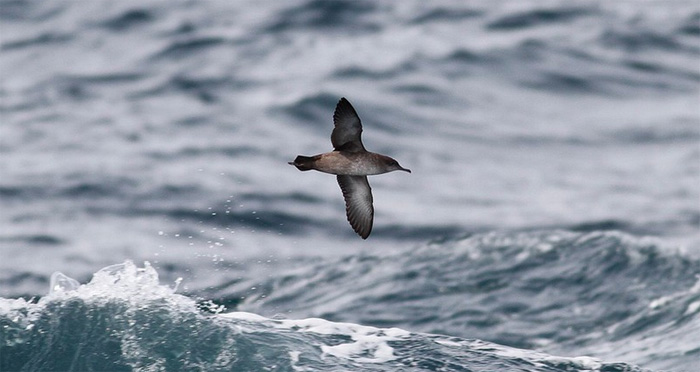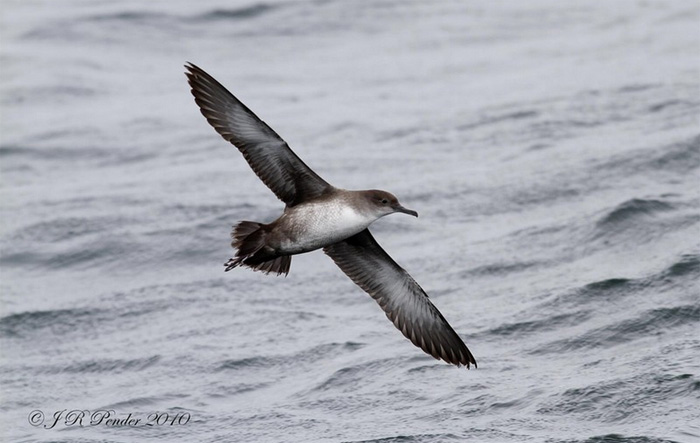 Several double figure counts of Balearic Shearwaters were noted this week ~ Berry Head (Devon) grabbing 11 on 24th while, on 25th, Strumble Head (Pembrokeshire) scored 10, Pendeen had 12, Dawlish Warren managed 13 while Dorset's Portland Bill managed at least 20. The blustery weather on 27th produced the highest count of the year so far, 53 off Berry Head (with 134 Arctic Skuas and 68 Bonxies) with 21 counted from Prawle Point the same day.
Also of note were the two Balearics seen off the coast of Derry, near the mouth of the Bann Estuary on 22nd while, just outside the British and Irish waters, a passage of 235 was noted off the coast of Jersey, from La Coupe on 22nd.
It was a decent week for Long-tailed Skuas this week, recorded from at least 17 counties, with 26th and 27th being especially productive, particularly for birders on, firstly, the east coast and then the south coast.
Leading the way on 26th were the 11 birds seen from Thorpeness (Suffolk) on the aforementioned 26th, with Sheringham managing six (with four seen from nearby Blakeney Point) and Flamborough Head (East Yorkshire) managed to call at least five, while others were noted from Scilly and Cornwall up to Highland, with two seen from the Wexford coast as well.
The following day at least 50 Long-tailed Skuas were reported and it was mainly south coast counties that fared best. Ten birds were seen passing Dungeness during the morning, with nine counted past Berry Head. Elsewhere in Devon, five were seen from Dawlish Warren and four from Prawle and Hope's Nose, with singles off Beer and Budleigh Salterton. In East Yorkshire, 10 Long-tailed Skuas were noted off Flamborough Head (in three hours during the late afternoon) and singles were noted in Argyll and Lothian.
Pomarine Skuas were noted at several sites countrywide over the weekend too, from Devon to Dundee and Cleveland to County Clare ~ the latter county's Bridges of Ross scoring some 20 of the week's 55 or so birds.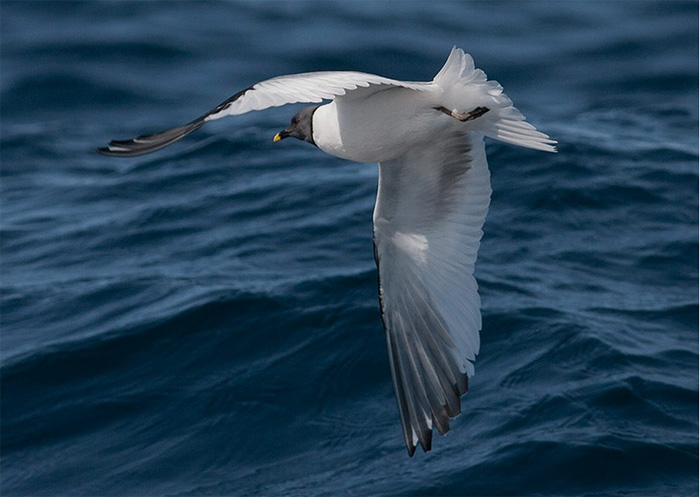 At least 22 Sabine's Gulls were notched up during the past seven days, with Bridges of Ross faring well with them too ~ three were seen there on 22nd with two each on 24th and 25th (and one on 28th). Two Sabine's were seen from both Point Lynas (Anglesey) and Filey Brigg (North Yorkshire) on 26th and the exciting mix of birds seen from Dungeness on 27th also included a Sabine's Gull (along with Pomarine Skua, eight Balearic Shearwaters, 115 Arctic Skua and an excellent tally of some 290 Black Terns).
Grey Phalaropes managed to sneak towards a double figure tally for the week, Annagh Head (Co. Mayo) seeing two pass by on 22nd with a single on 26th with further lone birds noted from Spurn on 22nd, Strumble Head on 24th and 26th, Kilcummin Head (Co. Mayo) on 25th and both Cape Clear Island and Berry Head on 27th. The final ones of the week were singles seen from the Scillonian on the morning crossing to St. Mary's on 28th and off Portland Bill the same day.
Herons, Egrets & allies
No sign this week of the Pennington Marshes Night Heron, but Kent's Grove Ferry Purple Heron continued to play the game ~ the juvenile still showing in the very early mornings to 27th at least. In Cambridgeshire, an adult Purple Heron was reported at the Ouse Washes RSPB reserve on 23rd and a juvenile was then seen some four miles or so away, at Witcham, from 25th-27th.
A Cattle Egret at Abbotsbury (Dorset) was the second of the month (the other was at Elmley a fortnight ago), while Great White Egrets included a juvenile still around the historic breeding site at Shapwick Heath NNR on 22nd and two singles still in Kent (at Stodmarsh and Dungeness) on the same date, with another at Westenhanger the following day.
Further singles were seen at Slimbridge (Gloucestershire) on 22nd, Wet Moor (Somerset) and Farmoor Reservoir and Cassington GPs (Oxfordshire) on 23rd, Titchwell RSPB (Norfolk) on 24th and over Flamborough Head on 27th. Long stayers remained at Grimley (Worcestershire) and Burton Mere Wetlands (Cheshire) too.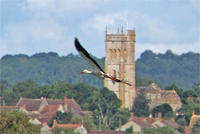 Back at Wet Moor, the four White Storks that initially departed to the northeast at noon on 21st were seemingly on something of a trial run ~ they were back on the morning of 22nd but as the day drew to a close the quartet had moved south to Dorchester. The following day they were noted drifting east across Dorset and were later picked up over both Guernsey and Jersey as they finally made their way back towards the continent at the start of their autumn migration.
No obvious signs (yet) that the Marloes Mere Glossy Ibis will be on its way just yet ~ still present in the west Wales countryside to 23rd at least (though a Glossy Ibis at Steart in Somerset on 26th-27th and at the Wetlands Centre in Llanelli on 28th could even be one and the same), with much the same to be said for the first-summer bird at Tacumshin, that bird still present on 26th. On 24th, the Ouse Washes welcomed a Glossy Ibis into their bird-filled midst (along with the Purple Heron, they also hosted sizeable three-figure tallies of Little Egrets to go with a Spotted Crake and a remarkable 83 Garganey).
At the start of the round-up period, there were still up to 22 Spoonbills making use of the facilities at Titchwell, with a further 13 along the coast at Cley. At least two singles were seen around Lancashire, with others in Forth, Northumberland and London (one over Rainham Marshes on 26th). In Greater Manchester, two Common Cranes reappeared at Chat Moss on 22nd with the only other records coming from Orkney (one at Loch of Swannay, Mainland, on 25th) and in East Yorkshire (another single bird over Hornsea Mere on 27th).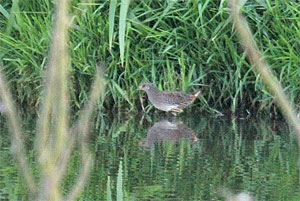 In Leicestershire, the number of Spotted Crakes at Birstall Meadows doubled from one to two on 25th ~ with two (unringed) birds also noted at the more traditional Porzana staging grounds at Marazion Marsh at the tail end of the week, with another double appearing on Lower Moors, St. Mary's on 28th. In Dorset, a single Spotted Crake remained at Stanpit to 24th and one was seen sporadically at Slimbridge as the week drew to a close. In County Tipperary, at Cabragh Wetlands, a Spotted Crake was trapped and ringed on 28th ~ still a pretty tough bird for Irish birders to catch up with, perhaps fewer than six or seven noted there in the last decade (although singing birds have been heard in Tipperary and Donegal in the past three years). Elsewhere in Ireland, a migrant Corncrake appeared on Old Head of Kinsale (Co. Cork) on 27th, with one on Fair Isle (Shetland) the same day.
Ducks & Geese
In Clyde what is presumably the returning drake Blue-winged Teal was back in the county, at Carbarns Pool, on 25th-28th, moving to Baron's Haugh RSPB on the latter date. Earlier this year a drake Blue-winged Teal was seen at two sites in Clyde ~ Gilmourton and Bridgend Farm Pools ~ spending nearly two months around the county, with perhaps the same bird arriving the autumn before (in September 2011), also at Bridgend Farm Pools. The second drake of the week was seen at Tacumshin on 25th-26th (coming a fortnight after two birds, both thought to have been females, were seen there).

This week saw the return of an old favourite to south Wales with the discovery of an eclipse drake Lesser Scaup in Cardiff Bay. This returning individual has been seen every year since 2008 (when it was discovered as a first-winter male on Boxing Day) and, until now, was last noted towards the end of April this year. Whether the eclipse drake Lesser Scaup found on 28th at Chew is the same bird remains to be seen, but it is possible… In Suffolk, the female Ferruginous Duck continued her late summer stay at Minsmere RSPB ~ still present on 23rd.
The late summer mixed scoter flock at Blackdog held at least four Surf Scoters this week ~ three drakes there on 23rd with a drake and a female present on 25th, while sharp eyes picked out a drake Surfie amongst the vast throng of some 15,000 Common Scoters in Colwyn Bay on 28th.
Raptors
In London, a Black Kite was seen over Rainham Marshes and, an hour or so later, at Crayford Marshes on 23rd. Only six or seven passage Honey Buzzards were reported during the week (all bar one along the south coast), seven Montagu's Harriers included three birds moving through Kent during the week, while the long-staying first-summer female at Tacumshin was still on site on 25th.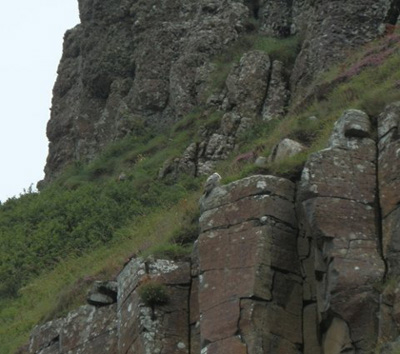 On Arranmore Island, off the coast of Donegal, the male Snowy Owl was still showing throughout most of the week, still present from 23rd-26th.
Over in Antrim, a very unseasonal adult Gyr (type) was reported at the Giant's Causeway on the evening of 26th and again the following day (having been around for a few days beforehand too, it seems) when it was confirmed to be the proud owner of a (presumed) captive ring. It also seemed to be a little too tolerant of the tourists nearby….
If it had disappeared on Day 1, and been accepted as gen, it would have become only the fifth-ever Gyr record for August (others coming in 1954, 1949, 1943 and 1879, all of them in Scotland).
Up until the end of 2010 there were 124 accepted Gyrfalcons for Ireland, with another 387 in Britain. Antrim's birders will have to wait for their eighth record, the most recent Gyr, also at the Giant's Causeway, was in February 1979.
Subsequent rummaging suggests that a handful of hybrid large falcons are flown along the north coast of Ireland and it seems as if there's been a degree of wire-hopping recently with some flown birds of prey. One of these birds presumably accounted for the falconer's hybrid that was trapped on Tory Island last week and possibly the Gyr type seen in Cork on August 10th.
Shorebirds
The first Wilson's Phalarope, a juvenile, was found at Rosscarbery (Co. Cork) on 24th, remaining to the middle of the following morning. Also new was an adult White-rumped Sandpiper at Kilcoole (Co. Wicklow) ~ found on 22nd and still in place on 26th ~ while at Blennerville (Co. Kerry) a teasing Dowitcher sp., and a White-rumped Sandpiper were discovered on 24th, both were one day birds only though.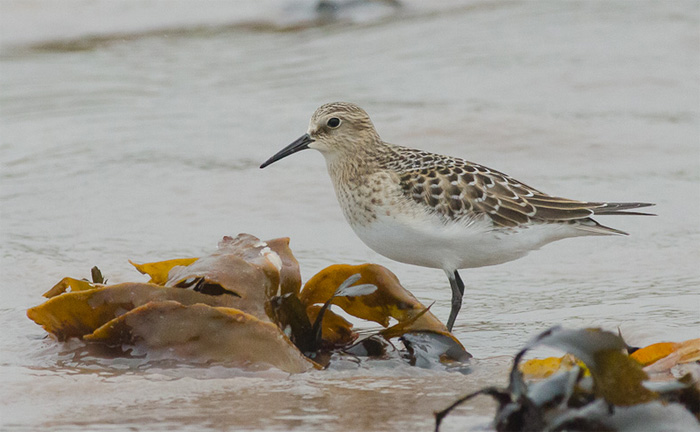 The transition from summer glory to a slightly more dreary greyish winter garb of Slimbridge's Long-billed Dowitcher has been captured beautifully this week by WWT warden James Lees. The bird remained throughout the week and seems in no hurry to leave Gloucestershire. What a difference a month makes….

In Wales, the ultra-obliging juvenile Baird's Sandpiper was still performing wonderfully well on the beach at West Angle Bay (Pembrokeshire) to 26th at least, while across the Irish Sea in Wexford, at Tacumshin, a Buff-breasted Sandpiper was noted again on 25th.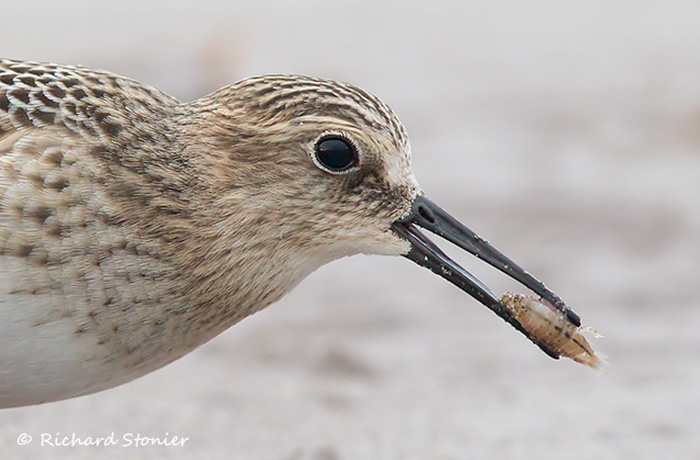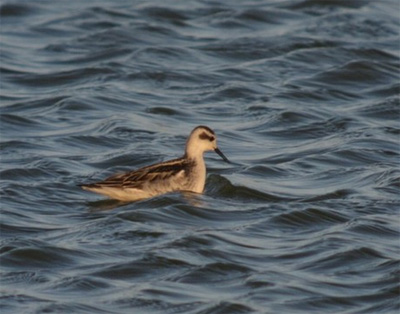 The first-summer American Golden Plover found last week in Cambridgeshire was seen at four different sites (within a handful of square miles…) until 24th, when it was seen with just five Golden Plovers in a rape field at Haddenham Fen.
In Cleveland, the juvenile Broad-billed Sandpiper found at the end of last week's round-up period remained until the evening of 22nd when it departed high and south. Whether it was the same bird that appeared for half an hour at Nosterfield LNR (North Yorkshire) just after tea-time on 25th isn't known ~ but it's only around 35 to 40 miles to the south-southwest as the Sandpiper flies….
Earlier in the week, Nosterfield had also welcomed a Pectoral Sandpiper, present on 22nd-24th, with others noted at Loch of Strathbeg (still present on 23rd), at Burton Mere (Cheshire) on 25th, Tresco's Abbey Pool on 26th and at Walton Hall Marshes (Essex) on 27th. The week finished with three Pectoral Sandpipers making landfall on the Hayle Estuary (Cornwall).
In Kent, a male Kentish Plover was a brief visitor to Dungeness RSPB on 24th while Dotterel records this week included one still at Porthgwarra on 23rd, on the summit of Ben Lomond (Clyde) on 23rd and on the beach along Blakeney Point on 25th. The juvenile Red-necked Phalarope remained throughout the week at Frampton Marsh RSPB (Lincolnshire) ~ completing just short of a fortnight on site ~ while a new arrival, another juvenile, was found at Caerlaverock (Dumfries & Galloway) on 28th.
Gulls & Terns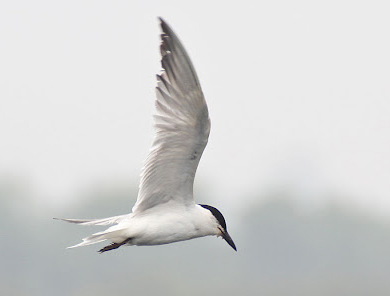 No question as to what the pick of the gulls and terns was this week ~ the lovely Gull-billed Tern found at Tophill Low NR (East Yorkshire) for a short time during the afternoon of 25th. Fortunately there was enough time for a whole host of shots to be taken of this super reserve first ~ the 268th species recorded on the site since the early 1960's.
Another brief rare tern visitor were the two juvenile White-winged Black Terns that flew in to Hampshire's Langstone Harbour on 24th ~ the first youngsters of the year.
Up in the northeast, the adult Bonaparte's Gull reappeared off Whitburn on 28th ~ its most recent report came on 20th. Last week's three Ring-billed Gulls were this week's three Ring-billed Gulls ~ second-winters remained at Doonbeg (Co. Clare) and Groomsport (Co. Down) and the long-returning adult was still in Forth, at Kinneil Lagoon. Five Glaucous Gulls included two still at Kilbaha in Clare, with four in total for Ireland this week.
Passerines
The Isles of Scilly notched up their seventh Lesser Grey Shrike this week ~ a one day bird found on the Garrison, St. Mary's on 22nd. This is the fourth Lesser Grey Shrike in a row for the largest island in the Scilly chain, birds appearing in September 1956, May 1976 and September 2010.
The latter bird, a stunning male, had made his first landfall on the north Norfolk coast, at Kelling on August 17th where it remained for two more days. Some three weeks later, he was relocated on St. Mary's (a number of characteristic marks providing conclusive evidence that the Norfolk and Scilly birds were indeed one and the same).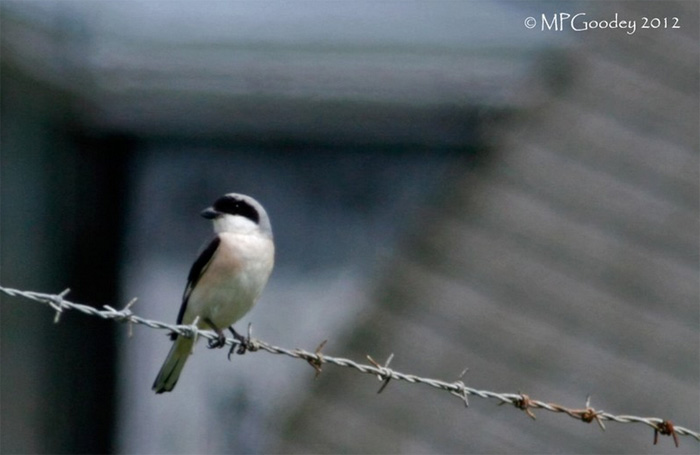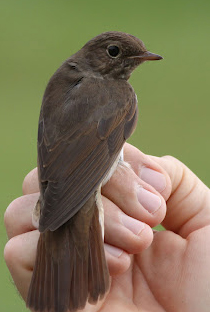 Up to Fair Isle now, where they clocked up the island's third Thrush Nightingale of 2012 this week ~ following two in five late May days, a juvenile was trapped and ringed on 26th.
This famous little land mass is utterly dominant where this species is concerned ~ up until the end of 2010 there were 187 accepted records for Britain, a whopping 53 of which have been found on Fair Isle.
It seems rather appropriate that the first record of the species was collected on the island, a male shot on May 15th 1911. A gap of 46 years followed, Britain's second Thrush Nightingale was found on Fair Isle (in May 1957) and the third, fourth and fifth British records were also discovered on the island.
Fair Isle's total of 53 accepted birds has included "fours" in 1970 (between May 8th-14th), 1989 (between May 21st-25th) and 1998 (between May 10th and June 5th) and the grand total will increase once again once last year's lone bird and this year's trio gain official recognition.
Along with its third Sprosser of the year, Fair Isle also popped in its third Citrine Wagtail of 2012 (the third for August actually) ~ one arriving at Easter Lother Water on 25th.
Thrush Nightingale in Britain and Ireland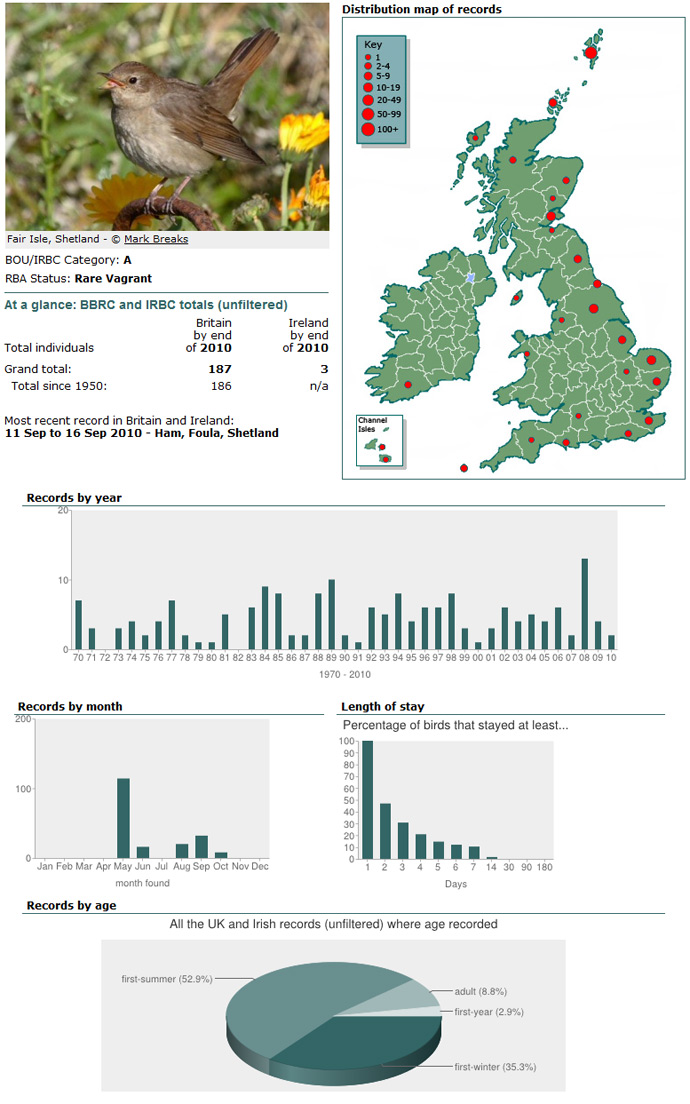 Northumberland scored a hat-trick of Greenish Warblers on 26th ~ at Tynemouth, St. Mary's Island and on Inner Farne (the St. Mary's bird remaining to 28th, the Farnes bird turning into a singing male) ~ and further down the east coast on 26th Greenish Warblers dropped in to Kilnsea (East Yorkshire) and Blakeney Point (Norfolk), the latter still present to 28th.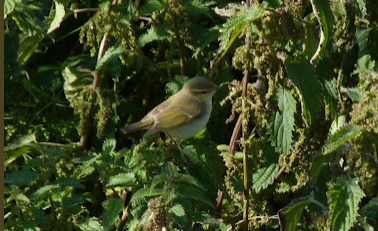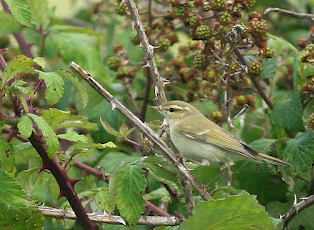 Two of the week's four Icterine Warblers were found on Fair Isle on 24th, with singles at Flamborough Head and Filey on 25th and 26th-28th respectively. Off the Welsh coast, a Melodious Warbler was trapped and ringed on Skokholm on 28th. The only Aquatic Warbler of the week was also pulled from nets, this one at Gunwalloe, on the Lizard Peninsula, on 23rd. Some 20 Barred Warblers were spread across the east coast from Norfolk and Lincolnshire, north to Shetland ~ two each for East Yorkshire and Cleveland, five for Northumberland (including two on Brownsman Island), three remained on North Ronaldsay on 23rd and four were counted on Fair Isle on 24th.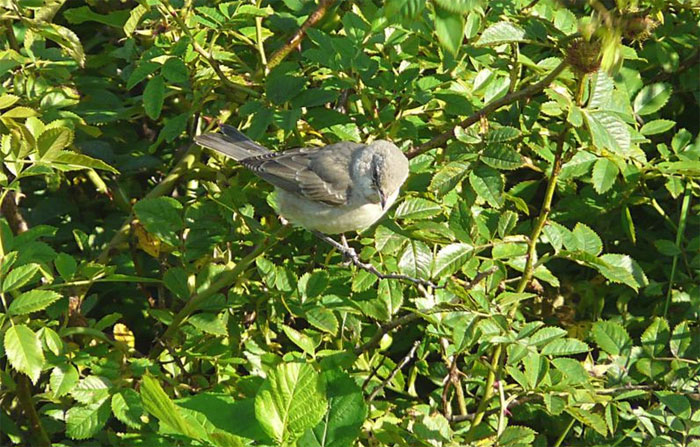 Staying for a few more days on North Ronaldsay was last week's Ortolan Bunting, still present on 24th, while it was Shetland that grabbed two of the week's three Common Rosefinches of the week ~ one each for Fair Isle and Unst, with Skokholm bagging the third on 28th.
The former Shetland island also hosted a Red-backed Shrike from 24th-26th with singles also noted on North Ronaldsay on 23rd and Great Ormes Head (Conwy) on 26th. A pale first-winter shrike on St. Agnes couldn't be conclusively identified on 25th ~ the possibility of a red-tailed Isabelline type couldn't be eliminated. In Dorset, the Woodchat Shrike at Wyke Regis remained for the week, still in place on 28th.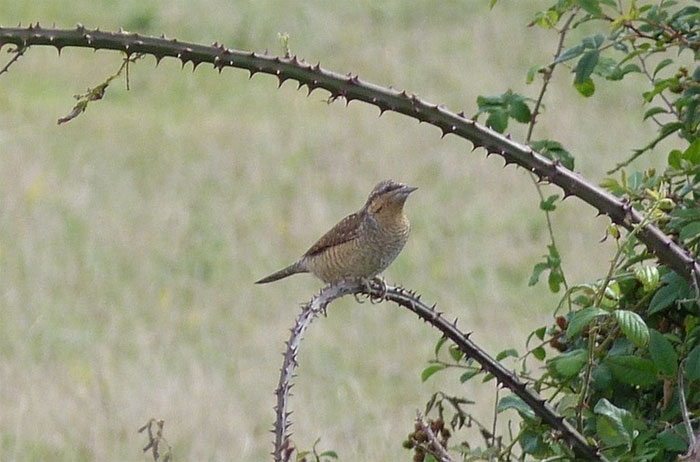 It seems to have been a decent week for Wrynecks, especially for birders in the Westcountry and southwest England ~ at least 30 birds recorded this week with over half found from Dorset westwards to Cornwall and Scilly.
Leading the pack was Dorset, seven birds there, with four each for Devon and Cornwall while Wiltshire managed two as well. Notable singles were found at Cilgerran (Ceredigion) on 24th and in east London, at Wanstead, from 25th. The east coast could manage just four birds, while Shetland and Orkney shared three (two and one).
Three Hoopoes were reported this week, near Blackmoorfoot Reservoir in West Yorkshire on 22nd, in gardens at Tresta on Mainland Shetland on 24th with another near the coastguard lookout at Prawle Point (Devon) the same day.
The round-up concludes with two single Rose-coloured Starlings. The first of the week was seen in private gardens at Perranporth (Cornwall) on 24th and was followed by one at Llansantffraid (Ceredigion) on 26th-28th.
What could the next few days hold for us? Well last week's Little Whimbrel musings pre-empted a report of a calling vagrant moving through Schleswig-Holstein on 24th, so perhaps a look at the weather maps (particularly those on the eastern seaboard of North America) may be an indicator of what could be on its way next….
….shorebirds and seabirds seem likely for Ireland and the southwest but could some of the weather that's forecast produce a late August triple bundle of top drawer rarities like 2008 on Cape Clear? A Yellow Warbler (one of two in Cork) was followed by a Northern Waterthrush and Solitary Sandpiper….four of the nine accepted Yellow Warblers in Britain and Ireland have been found in late August, so if you do fancy pulling an American wood-warbler out of the bag in the next few days, make sure you've got your sunnies on…!
Mark Golley
29 August 2012

This weeks contributors
For their help, contributions and photos this week a special thanks goes to:
Dave Parnaby
and
Fair Isle Bird Observatory,
John Richardson,
Richard Hampshire,
Derek Charles, Mike O'Keeffe,
Joe Pender,
Ashley Fisher,
Rick Hoy, Robin Mawer,
Paul Kelly,
Simon and Karen Spavin,
Mark Hipkin,
Richard Stonier,
Mike Youdale, James Lees,
Martin Goodey,
Will Scott,
Joe Cockram,
Jeff Howarth, Clifford Rogers.