Weekly round-up: 18 - 24 July 2012
The weeks highlights
Earliest ever autumn Sharp-tailed Sandpiper
Mobile Caspian Tern in Norfolk
New Snowy Owl in Ireland
Terek Sandpiper in Sussex
Summer finally arrived this week! Cloudy and damp conditions prevailed for most until 20th but thereafter the long-awaited high pressure slid in from the southwest and brought, at least for southern England, cloudless skies and the first spell of hot weather since May! By 24th temperatures in the Southeast were touching 30 degrees. The joy was not shared everywhere, however, with northern England, Northern Ireland and Scotland experiencing further significant rain.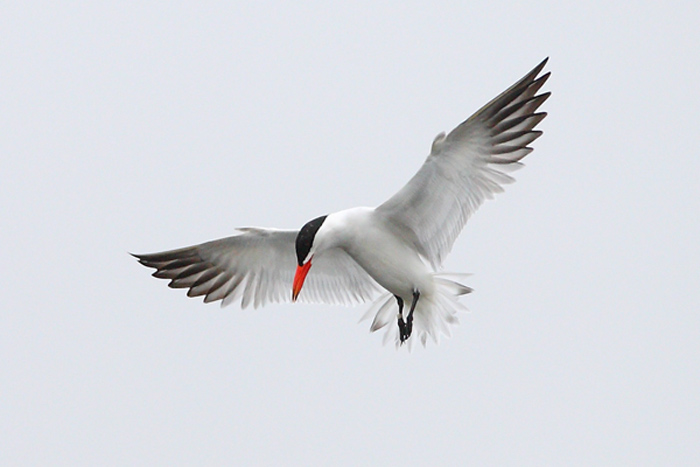 Headline birds
On the bird front I can report with some satisfaction that last week's top prediction - Sharp-tailed Sandpiper - duly arrived, though its chosen location - Swartmill on Westray, Orkney - ensured that it was enjoyed by only a few. Found on 20th, it then remained all week. This is an outstanding find, the first for Orkney and only the 5th for Scotland. Sharp-tailed Sandpiper remains a very rare bird nationally too, with only 30 British records to the end of 2010 (with another 5 in Ireland). And not only is Sharp-tailed Sandpiper rare but it's a stunning-looking species as well, complete with ginger cap, staring 'spectacles' and liberal chevrons all over its underparts. Most occur from August onwards, with only two previous July records, both found on 27th. This Orkney bird is therefore the earliest autumn bird by a whole week.
Sharp-tailed Sandpiper in Britain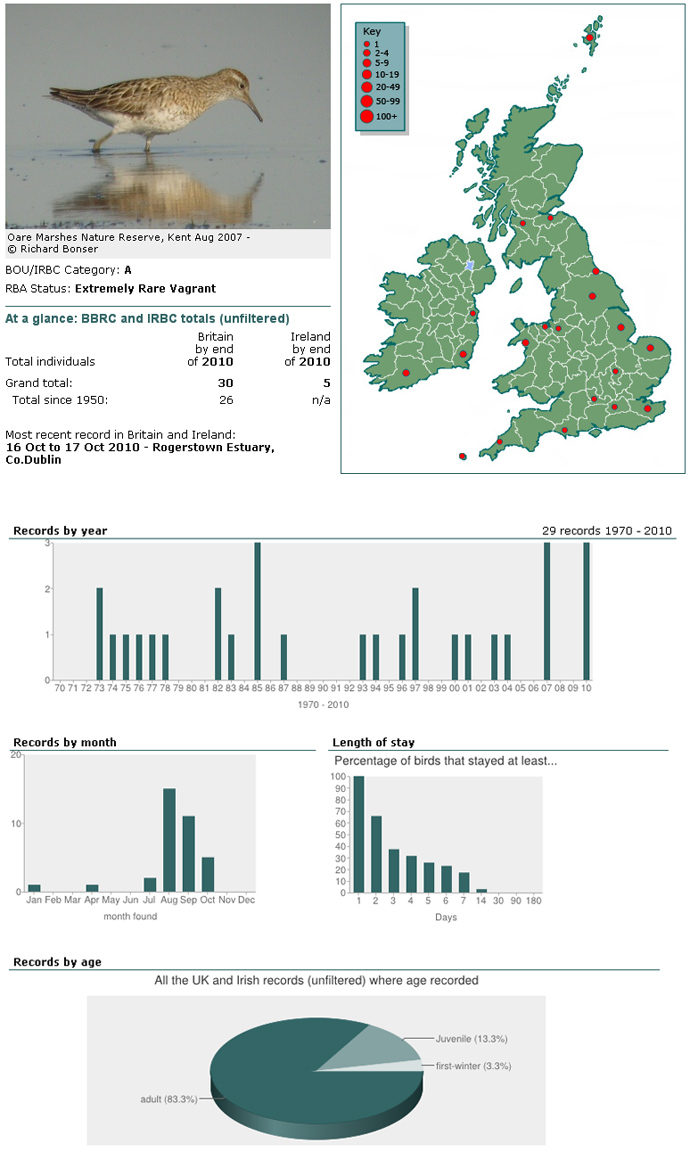 The Caspian Tern which arrived at the end of last week at Strumpshaw Fen, Norfolk remained on 18th and 19th though was, as ever with this species, extremely mobile. Though favouring some shallow pools near the windmill at Buckenham Marshes, it wandered regularly to Strumpshaw to the west and as far as Breydon Water to the east on both evenings. Nevertheless a strategy of patience or driving around would have resulted in most catching up with this fine bird. Norfolk retains its status as a top county for this species, this being the thirtieth since 1970 alone.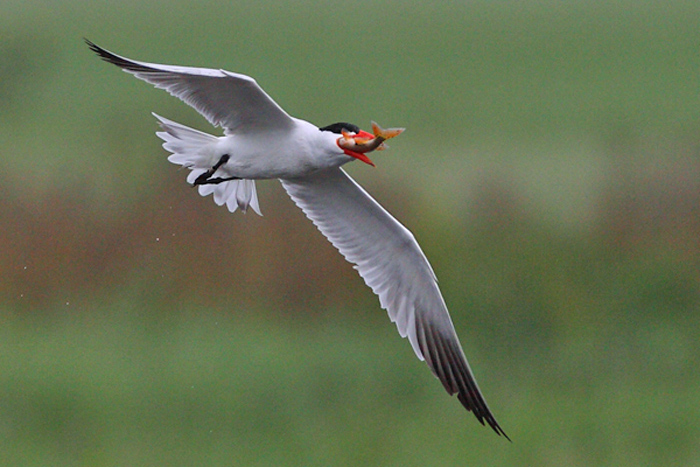 A male Snowy Owl on Arranmore Island, Donegal was an exciting discovery on 18th. Could it be the bird from North Uist (and previously Lewis), Western Isles, last seen on 11th June? It lingered in Donegal to 21st before disappearing again whilst, to its south, the adult female was still on The Mullet, Mayo to at least 21st. Will they find each other?
Right at the very end of the week, one of its best birds just managed to sneak in - an adult Terek Sandpiper reported on the River Adur at Shoreham, Sussex for half an hour in the late evening of 24th before flying off. Most Terek Sandpipers occur in late spring but July is also a good month for one, with 12 of the 73 British records between 1950 and 2010 falling in this month. This is only the 4th record for Sussex, the last being at Rye Harbour on 31st May 2008.
Headlines further afield included a Greater Sand Plover just across the water in Holland on 20th (definitely one to look out for here) and a Moustached Warbler in Germany on 21st (probably not one to look out for here). Three more Pacific Golden Plovers also reached northwest Europe this week (in Norway, Sweden and Holland), so a repeat here seems highly likely.
Seabirds
With the advancing high presuure, the promising seawatching conditions of last week were cut short and this week saw far fewer large shearwaters. A Wilson's Petrel was seen from a Scilly pelagic on 19th, as was a Cory's Shearwater , and another Wilson's Petrel was off Galley Head, Cork on 22nd, on which date singles of both Great and Cory's Shearwater passed Mizen Head, also Cork. A Cory's Shearwater was also reported off Arran, Ayrshire on 22nd.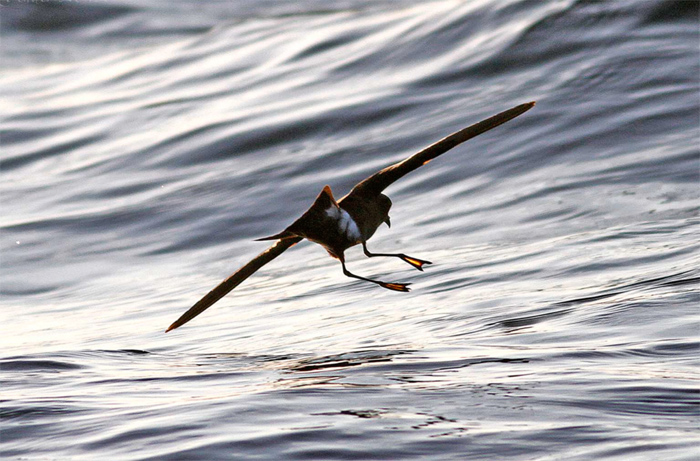 Herons, Egrets & allies
At least five Great White Egrets remained at the Somerset breeding site and birds were also recorded at Burton Marsh, Cheshire on 18th, Whisby Nature Park, Lincolnshire on 22nd and 23rd, Wakefield, Yorkshire on 22nd and Allhallows on Sea, Kent on 23rd. Now much rarer again, a single Cattle Egret at Terrington Marsh, Norfolk on 21st was the only one reported.
This week saw another new Glossy Ibis , this time at Tralee, Kerry on 20th, whilst the familiar long-stayers remained at Pagham (Sussex), Timoleague (Cork) and Tacumshin (Wexford).
The long-staying three White Storks remained just east of Templecombe on the Dorset/Somerset border on 18th but could not be found thereafter, nor were they reported anywhere else. Have they now left the country? The only other White Storks reported were singles south over Deddington, Oxfordshire on 21st and at Curry Moor, Somerset on 23rd.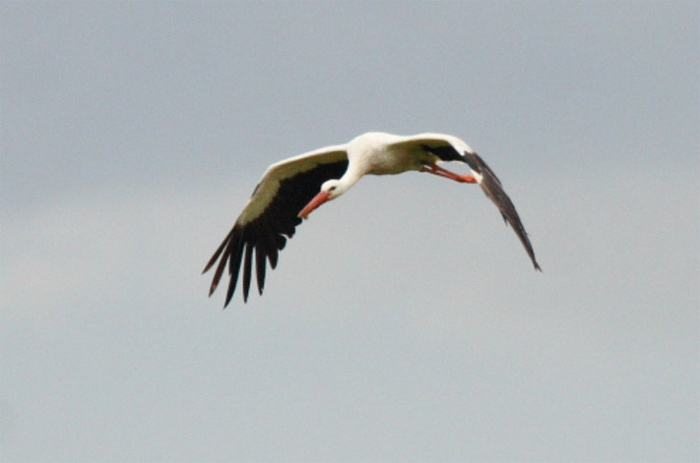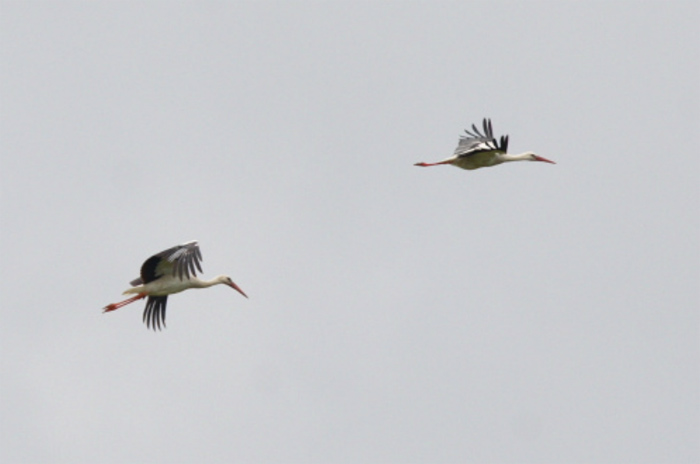 The traditional summer gatherings of Spoonbills were still on offer, featuring up to 15 at Cley, Norfolk all week and 12 at Havergate, Suffolk.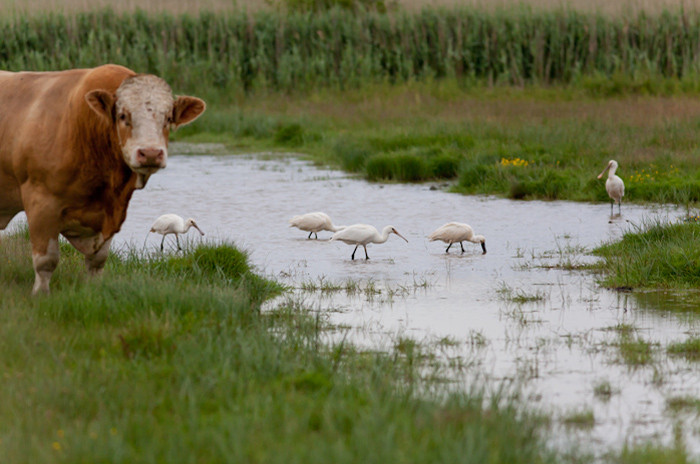 Ducks & Geese
Rare ducks remained few and far between, the only notable bird being the lingering adult drake Ferruginous Duck at Blagdon Lake, Somerset all week. In Scotland up to two Surf Scoters were off Blackdog, Aberdeenshire on at least 20th to 22nd, with another down the coast at Lunan Bay, Angus on 23rd.
Raptors
Montagu's Harriers were the only rare raptors of the week, notably the long-staying first-summer female at Tacumshin, Wexford, though Lincolnshire had two records - near Wainfleet St. Mary on 20th and east of Louth on 23rd.
Shorebirds
Away from Orkney, the week's best wader was a fine summer plumage adult Long-billed Dowitcher amongst the Black-tailed Godwits at Slimbridge, Gloucestershire from 21st to 24th. Last week's mini-influx of White-rumped Sandpipers also continued, with new east coast discoveries at Snettisham, Norfolk and Havergate, Suffolk, both on 22nd and at Cley, Norfolk on the morning of 24th. The long-stayer was also still at Frampton Marsh, Lincolnshire all week.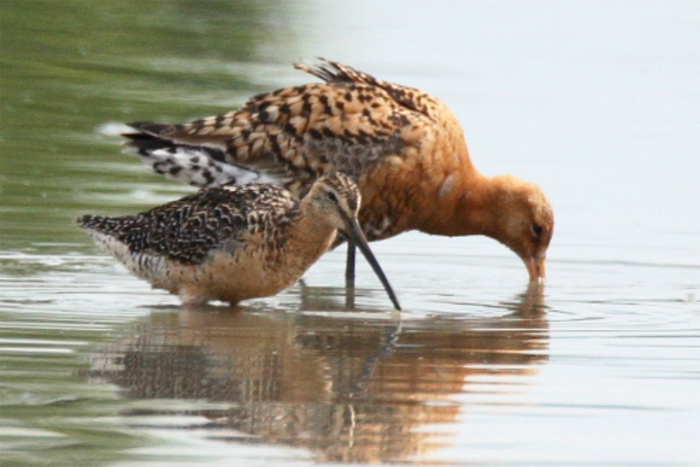 As last week, Pectoral Sandpipers were also still very much in evidence, with birds at Old Hall Marshes, Essex on 18th to 22nd, on the Boyne Estuary at Queensborough, Louth on 18th, at Greatham Creek, Cleveland on 18th and 19th, at Low Newton-by-the-Sea, Northumberland on 22nd to 24th and finally at Belfast Lough, Antrim on 24th.
Other wader news involved a Temminck's Stint on the Ythan Estuary, Aberdeenshire on 20th, with another at Cley, Norfolk on 24th, a moulting Grey Phalarope in near-winter plumage at Old Moor, Yorkshire on 20th and an adult female Dotterel with Golden Plover on South Uist on 24th.
Gulls & Terns
The Caspian Tern was the week's tern highlight but a few Roseate Terns popped up away from breeding areas, most notably up to 5 along the Suffolk coast, with temporary congregations at both Lowestoft and Minsmere. Elsewhere a single was at Weymouth on 21st with two more at Dawlish Warren, Devon on the same day. On 22nd one was at Titchwell, Norfolk and another at Spurn, Yorkshire whilst another visited the Ythan Estuary, Aberdeenshire on 24th.
In keeping with the poor seawatching conditions, there were only two Sabine's Gulls – off Inverbervie, Aberdeenshire on 21st and Seven Heads, Cork on 23rd. The long-staying second-summer Ring-billed Gull was still at Groomsport, Down this week but another, also a second-summer, was discovered near Clonakilty, Cork on 22nd.
Somewhat out of keeping with the summer weather, this week saw a good scatter of Glaucous Gulls , with singles in the Western Isles, Ayrshire, Shetland, Northumberland, Lincolnshire, Antrim and Highland.
Passerines
Unsurprisingly, passerines were in very short supply. The only new bird was a Rose-coloured Starling at Dungarvan, Waterford on 19th to 24th.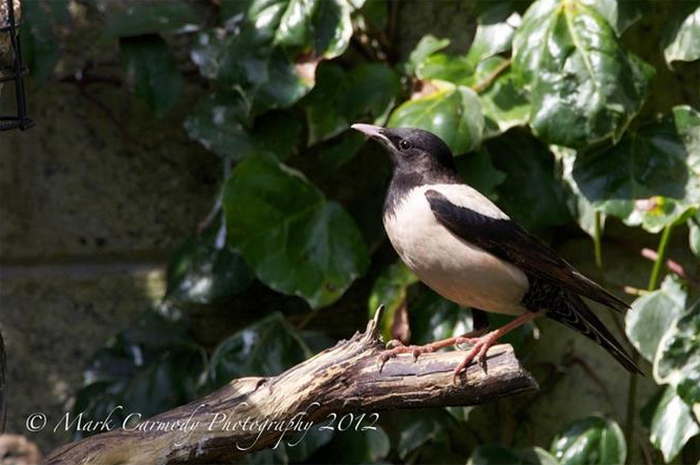 Much more surprising, however, was the reappearance of the Western Bonelli's Warbler in the garden of Holland House, North Ronaldsay, Orkney, last seen on 2nd July. Its continued presence (despite not being seen in the interim) neatly echoes the long stays of the River and Paddyfield Warblers just to the north on Fair Isle, Shetland.
The week's other magically-reappearing bird was the famous House Crow at Cobh, Cork, last mentioned on 3rd April but apparently still present and correct.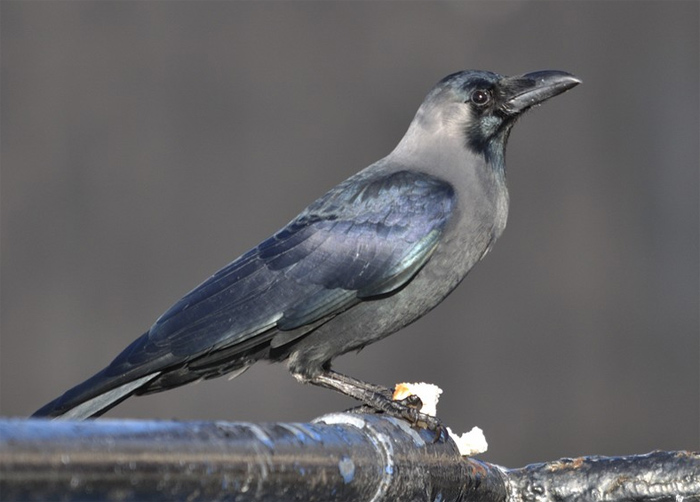 Also still present this week was the singing Iberian Chiffchaff still trying to attract a female to Porlock, Somerset but the popular male Red-backed Shrike at Hayes, London was only present until 22nd.
Given modest success in the predictions department for the last two weeks I am really pushing my luck now but will go for three waders this time - Red-necked Stint (yet again), Pacific Golden Plover and Semipalmated Sandpiper. I'll let you know what happens next week!
Andy Stoddart
25 July 2012
This weeks contributors
For their help, contributions and photos this week a special thanks goes to: