Weekly round-up: 27 June - 03 July 2012
The weeks highlights
Little Swift on Wirral becomes longest-staying ever
Arctic Warbler on Whalsay, Shetland
Paddyfield Warbler on Fair Isle, Shetland
Black-browed Albatross reported again from the Channel
Late news of male Pallid Harrier in Norfolk
Late news of Western Black-eared Wheatear in Lincolnshire
After the excitements of last week, this week looked set to be quieter but, yet again, turned out not to be. Alongside a mouth-watering list of headline birds there was also a Squacco Heron, two Gull-billed Terns, a Western Bonelli's Warbler and a run of Alpine Swifts! Though some of these birds were late reports or in far-flung locations, this was nevertheless a haul worthy of autumn rather than what is supposed to be the 'summer lull'.
The weather was, however, more typical of a British summer - blustery winds and torrential downpours, particularly in the Midlands and the North-east, where there was serious flooding and travel disruption. The high temperatures and strong winds also added pollen to the list of hazards.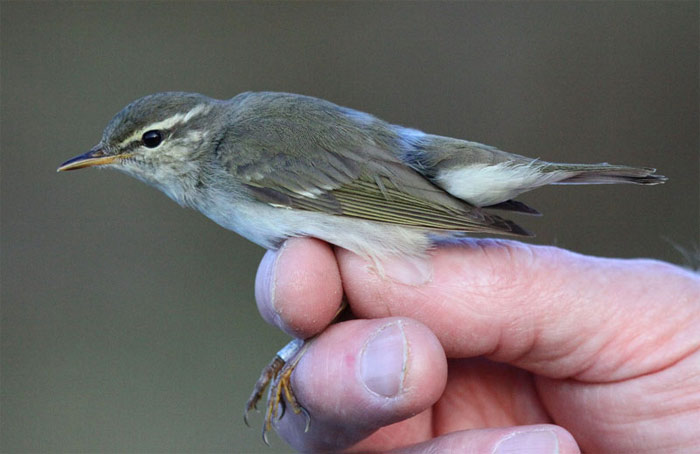 Headline birds
The delightful Little Swift remained over and around New Brighton, Wirral to 29th, officially the longest-staying ever, but with fewer looking it became ever harder to find.
As well as some unusually late scarce migrants, this week also saw some more spectacular migrants - an Arctic Warbler on Whalsay, Shetland on 27th (reported as singing!) and a Paddyfield Warbler on Fair Isle, also Shetland, on 30th.
Arctic Warbler is a spectacular passerine migrant in every sense, perhaps second only to the Wheatear. Despite its breeding range extending from northern Norway all the way to western Alaska, all Arctic Warblers winter in the southern parts of South-east Asia, the Norwegian birds moving due east into eastern Siberia in autumn before turning south-east into Manchuria and passing through eastern China, a journey of some 13,000 km! Their equally amazing return journey doesn't begin until late April or early May and the Norwegian birds don't arrive back on their breeding grounds until the second half of June, tying in nicely of course with the timing of this week's bird on Shetland.
There have been three previous British records in June, doubtless all referring to overshooting Norwegian breeders – on Fair Isle, Shetland on 27th June 1995, Foula, also Shetland on 21st June 1996 and Fair Isle again on 22nd-23rd June 2005. Another 7 have occurred in July, again all in Shetland apart from a bird at Titchwell, Norfolk on 5th July 1975.
Arctic Warbler in Britain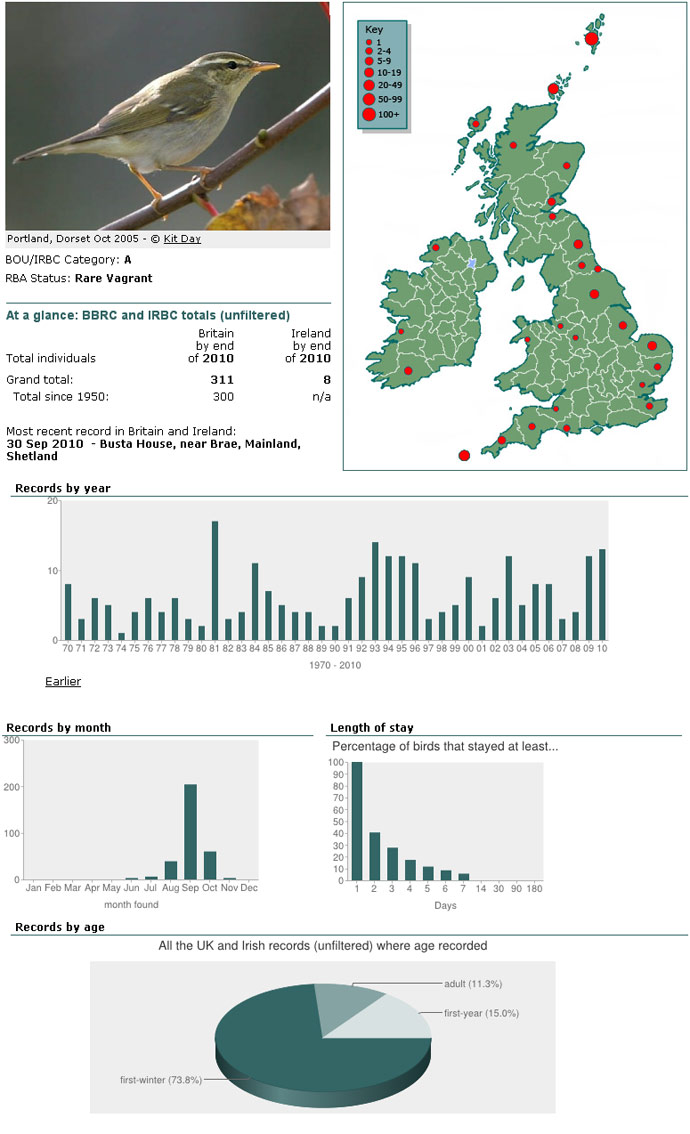 Almost as rare was the Paddyfield Warbler trapped on Fair Isle, Shetland on 30th and still present on 3rd July. This is an increasingly recorded bird in Britain, though mainly in autumn. Spring records have increased, however, with 12 records to 2010, nine of which were on the Northern Isles and another in Fife. In England, only Suffolk and (surprisingly) Cheshire have so far hosted a spring Paddyfield Warbler.
These birds still count as 'spring migrants' though the definition is now becoming a little stretched as, after 1st July, we enter the true mid-summer 'passerine limbo period'. However, for many birds it is already full autumn. Given that the Little Swift and Pacific Golden Plover were both 'autumn migrants', this week's events provide ample proof that in Britain spring well and truly meets, indeed overlaps, with autumn, and that summer doesn't really exist at all, a notion happily reinforced by the weather!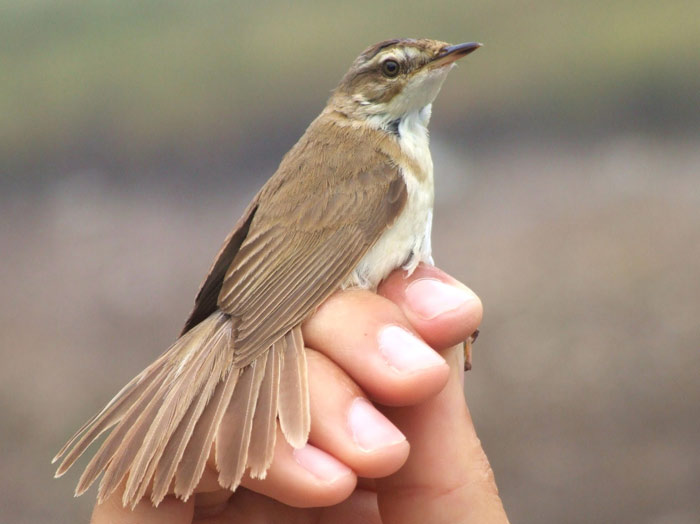 The subadult Black-browed Albatross was reported again from the Channel on 28th. There were conflicting reports last week over this bird's precise location (with separate websites reporting two entirely different locations for 17th) but wherever it is this is still an exciting bird and, it would seem, still out there!
The week's final headlines were both pieces of late news. From Norfolk came belated news of a Pallid Harrier at Horning on 25th. Amazingly, this is hardly headline news these days but this one would have been more popular than most if it had hung around for it was apparently a ghostly male - still a real prize.
Then came news of a first-summer female Western Black-eared Wheatear at Frampton Marsh RSPB on 12th June - the first for Lincolnshire. Only present briefly, it was, however, well photographed, enabling it to be identified retrospectively - an increasingly familiar scenario. Fortunately, the image is excellent and clearly shows a suitably beautiful, sandy, rather demure-looking little bird.
Two words spring to mind with Black-eared Wheatears - erratic and unpredictable. They have a remarkably dispersed occurrence pattern, with many having turned up well away from traditional migrant hotspots. There are 62 records in Britain and Ireland to 2010, the majority in spring. Interestingly, however, they have become much rarer this century, with only three spring records since 2000. As might be expected, only 5 spring birds were females. Not all these records are assigned specifically to Eastern or Western but of those identified to form, there is an even split of 12 Westerns and 12 Easterns.
Seabirds
Balearic Shearwaters and Pomarine Skuas again featured in the west of England this week but the seabird highlight was 2 Wilson's Petrels off St.Mary's, Isles of Scilly on the evening of 2nd July, along with a Great Shearwater and a Sabine's Gull. Another Great Shearwater flew past Start Point, Devon the same day. All the other rare seabirds were in Cork - a Long-tailed Skua off Toe Head on 28th, a Great Shearwater off Cape Clear on 30th (with 30 Pomarine Skuas there on 3rd July) and a Cory's Shearwater off Galley Head on 1st July, the large shearwaters both being firsts for the season.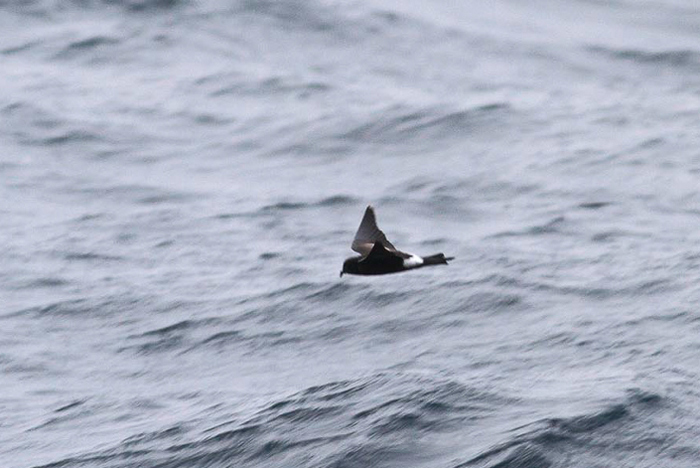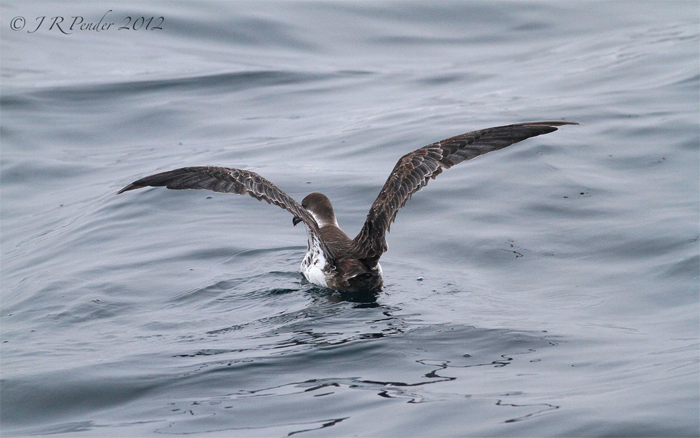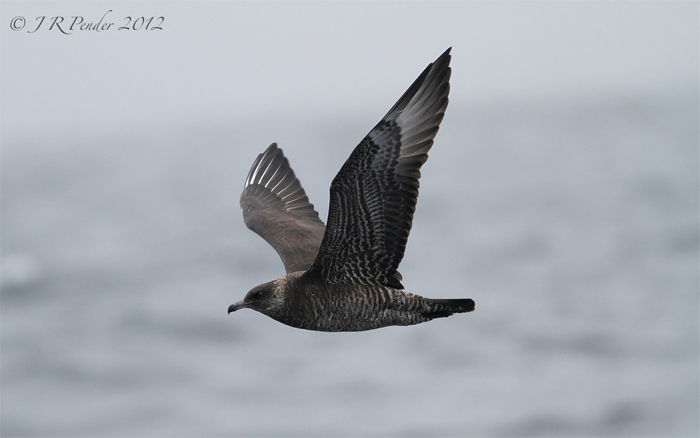 Herons, Egrets & allies
The heron 'top spot' was taken this week by another Squacco Heron, this time at Welney, Norfolk on 30th where it remained for visitors until 1st July. Other herons included a Purple Heron between Stodmarsh and Grove Ferry, Kent from 29th to 1st July, a Night Heron over Hampton, Surrey on 1st and a dead Night Heron picked up at Sandvoe, Mainland Shetland on 28th.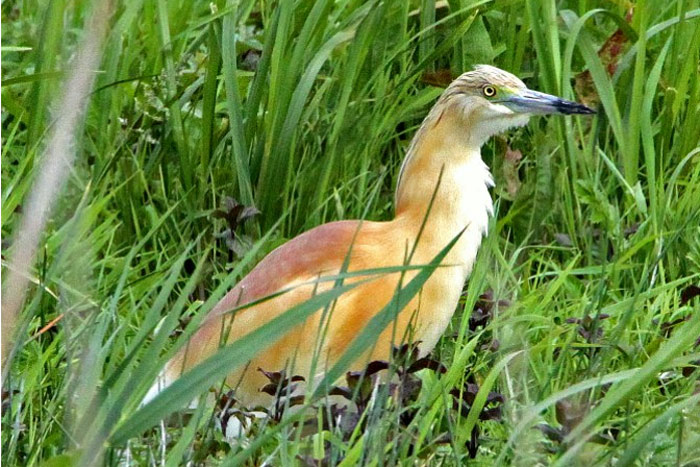 The White Stork picture remained confusing - 3 wandered around Sussex all week, one was over Guildford, Surrey on 27th and then 4 were reported over Bamford, Derbyshire on 28th. Finally, another was at Moreton-in-Marsh, Gloucestershire on 1st July.
Glossy Ibises lingered in the usual places - Minsmere and Orford Ness (Suffolk), Marloes Mere (Pembrokeshire), Pagham (Sussex) and 2 at Tacumshin (Wexford). Finally, the Sacred Ibis of somewhat dubious origin remained at Salthouse, Norfolk.
Ducks & Geese
The wildfowl headlines were again dominated by the seaduck fest in Aberdeenshire. The Black Scoter remained there (though was elusive and only reported sporadically), as did the drake King Eider and now 6 Surf Scoters. Also in Scotland a 'Northern Eider' was at Dornoch on 27th, another Surf Scoter off Monifieth, Angus on 1st to 3rd July and a Ring-necked Duck was still on Islay, Argyll on 26th. In Ireland, a Blue-winged Teal added to the amazing rarity haul at Wexford's Tacumshin on 30th and was still present on 1st July. The English highlight was a late report on 2nd July of a female King Eider drifting past Gibraltar Point, Lincolnshire with a small Eider flock on 1st.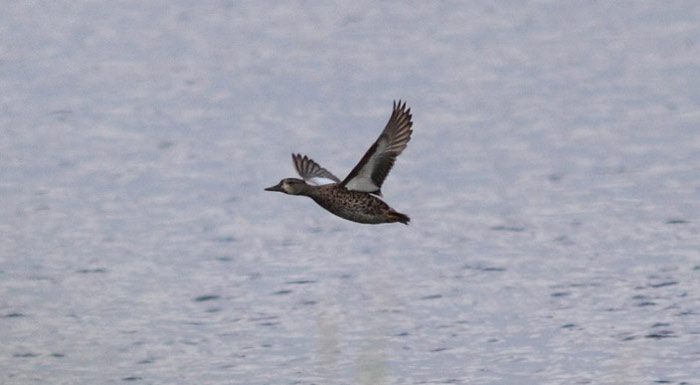 Raptors
A Red-footed Falcon in Antrim was new on 27th but otherwise the only rare birds of prey were lingerers - the Black Kite still on Shetland (at Collafirth, Mainland on 27th) and the Montagu's Harrier still at Tacumshin.
Shorebirds
Disappearing for pastures new this week was the sparkling Pacific Golden Plover at Cley, Norfolk, last seen late on 27th. New rare waders were few and far between, however, just a Pectoral Sandpiper on Fetlar, Shetland on 29th, with another on Tiree, Argyll the same day, and single Red-necked Phalaropes between Backworth and Earsdon, Northumberland on 1st July, at Minsmere, Suffolk on 2nd and still at Coombe Hill Meadows, Gloucestershire on 3rd. The only definite Nearctic wader was a Buff-breasted Sandpiper on the Inishkea Islands, Mayo on 2nd July.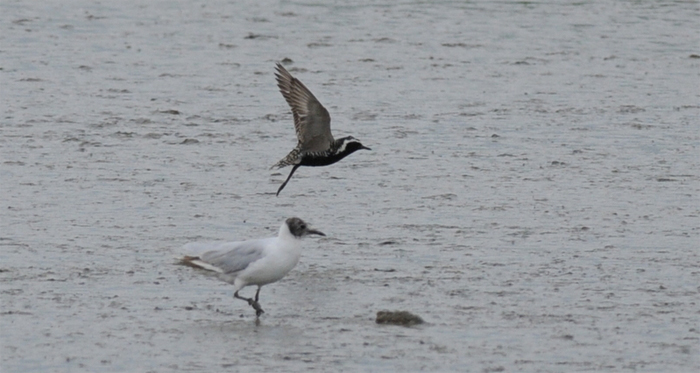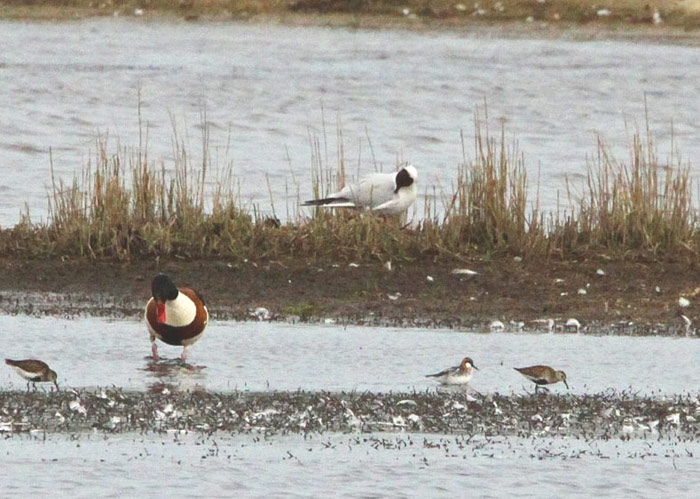 Gulls & Terns
Gull-billed Terns were a real feature of this week. Last week's bird south-east of Llanelli at the National Wetlands Centre WWT and Loughor Estuary remained to 27th and then relocated either to Lodmoor, Dorset or to Ballyneety, Waterford, both sites hosting a Gull-billed Tern on 29th only. An adult White-winged Black Tern at Cotswold Water Park, Wiltshire on 27th moved to Shapwick Heath, Somerset on 28th and a Whiskered Tern was reported briefly at Brandon Marsh, Warwickshire on 3rd July.

Glaucous Gulls this week were seen at Elsham, Lincolnshire, South Uist (Western Isles), Fetlar and Lerwick (both Shetland) and Troon (Ayrshire) whilst Iceland Gulls were at the Mullet, Mayo and Moine Mhor, Argyll. A Sabine's Gull flew past Folkestone, Kent on 30th whilst another was a crowd-pleaser at Startop's End Reservoir, Hertfordshire/Buckinghamshire on 1st to 3rd July. Finally, the second-summer Ring-billed Gull was still at Groomsport, Down all week.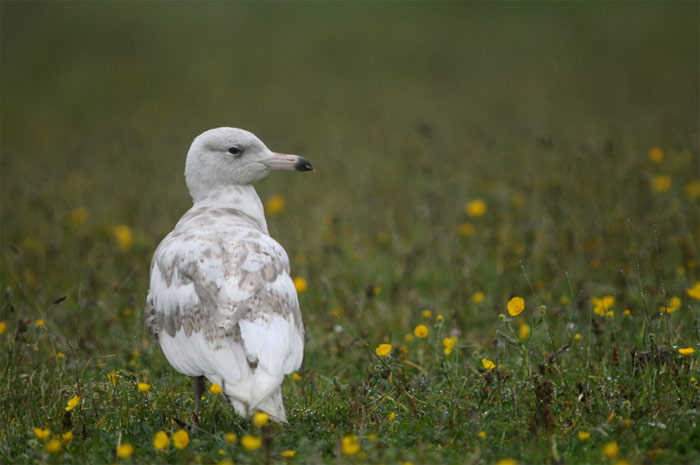 Swifts
Despite the eventual departure of the Little Swift, swifts remained in the news as the blast of muggy air from the continent brought with it a scatter of Alpine Swifts , the first at (where else?) Tacumshin, Wexford on 28th but quickly followed by others lingering along the cliffs at Bempton, Yorkshire from 29th to 3rd July, briefly at Blakeney Point and Cley, both Norfolk, on 30th and another south past Spurn, Yorkshire on 1st July.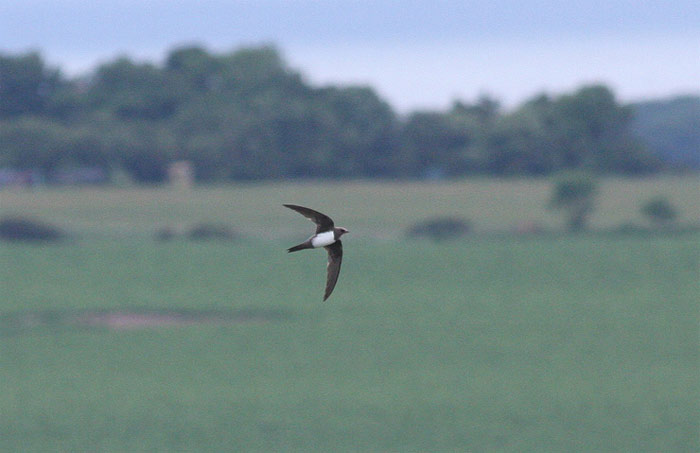 Passerines
Apart from the Arctic and Paddyfield Warblers, the top new passerine of the week was a Western Bonelli's Warbler on North Ronaldsay, Orkney on 1st and 2nd July. Almost as good was the second Greenish Warbler of the spring for Bardsey, Gwynedd (on 30th) and a fabulous addition to an already long list of late spring rarities at this site. The Irish Sea basin has long been recognised as the premier location for spring Greenish Warblers but this year has reinforced the pattern with a vengeance. A Great Reed Warbler at Boddam, Shetland on 28th was also a quality find, adding to a spectacular list of late spring warblers in the Northern Isles, whilst, to complete the picture, Fair Isle's River Warbler was still present on 29th.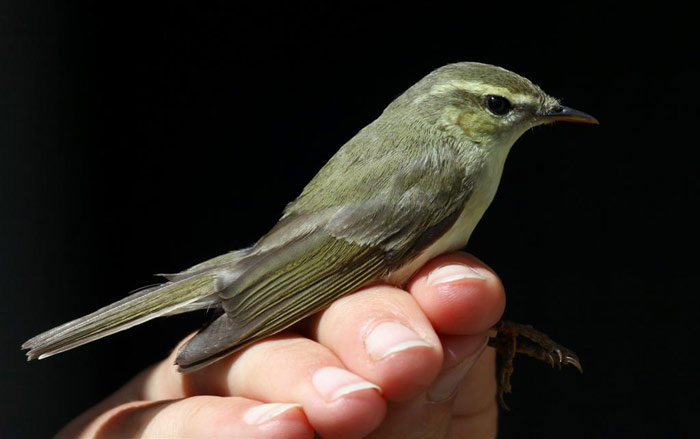 Other late migrants included a Marsh Warbler, also on North Ronaldsay, Orkney on 27th to 30th, another at Baltasound, Unst, Shetland on 28th and 2 more on Fair Isle, Shetland on 30th, one still present next day. Leftovers from last week were the Icterine Warbler at Sumburgh, Shetland on 30th and the Marsh Warbler at Hauxley, Northumberland on 27th.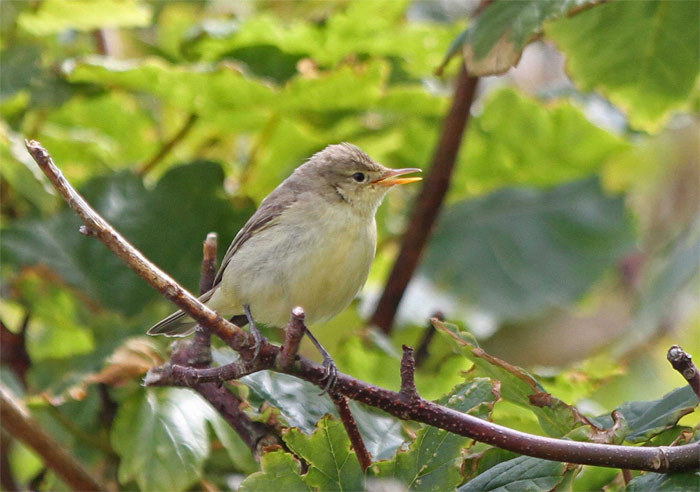 This year has seen an unusually prolonged arrival of east and northeast European migrants, with a steady trickle of birds right to the end of June. Last week I provisionally awarded the prize for 'latest spring migrant' to an Icterine Warbler on the Farne Islands but this was tempting fate of course! This week the birds continued to come and the prize has now been won by the two Marsh Warblers on Fair Isle and the Bardsey Greenish Warbler, all on 30th. Will the prize be claimed next week by something else?
Also still present this week were the Iberian Chiffchaff at Porlock, Somerset (to 1st July at least), singing Savi's Warblers at Tacumshin, Wexford and Blacktoft, Yorkshire and the Serin at Landguard, Suffolk. A Bee-eater was belatedly reported from Abereiddy, Pembrokeshire on 28th June.
Looking ahead to next week is a tricky task. Though seabirds and waders should be providing the action soon, this week's evidence suggests that more passerines may be around the corner - what about a Syke's, Eastern Olivaceous or Ruppell's Warbler?
Andy Stoddart
03 July 2012
This weeks contributors
For their help, contributions and photos this week a special thanks goes to:
John Lowrie Irvine,
Nature in Shetland
,
Tommy Hyndman
, Tony Duckett, Chris Baines,
Paul Kelly - Irish Bird Images
, Ian Williams, Mike Spicer, Derek Turner, Andy Cook, Mark Stirland,
Richard Brown