Weekly review: 18 - 24 April 2012
The weeks highlights
Juvenile Thayer's Gull starts the week in Lincolnshire
Greater Yellowlegs remains in north-east Scotland
Report of a drake Black Scoter in Highland waters
Sensational flock of 9 White Storks last week in Worcestershire, six in north Wales this week…
So another April week came and went with, pretty much, more of the same in terms of both birds and the weather.
Those long-term forecasts seemed to have got this one right ~ a procession of showers, driven along by wavering winds from, occasionally, the south-east or even east-south-east, but predominantly the west-sou'-west meant that it was pretty slow progress again for the expectant migrant and rarity hunter.
It is pretty hard not to sound like a broken record, but a change will come (admittedly it doesn't look like it will come any time soon) and the migrants will continue to push towards us anyway. This week we've had a few new overshoots to keep some on their toes (though they weren't quite of the calibre of Denmark's Black-winged Kite or Sicily's Bar-tailed Desert Lark) but it proves the point that however grotty the conditions are, the birds keep on coming.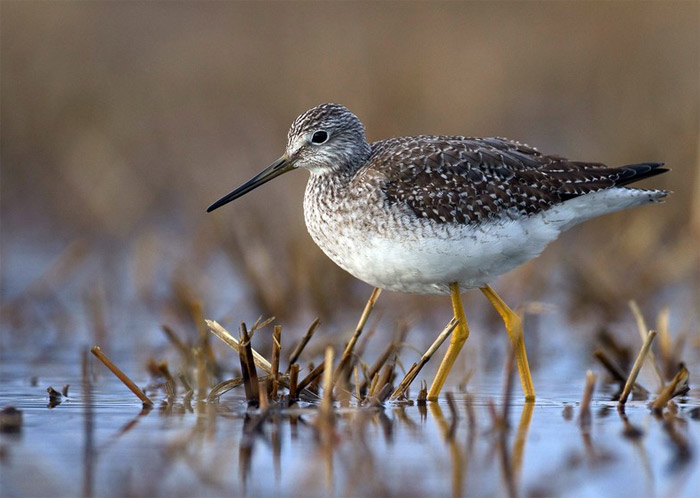 Headline birds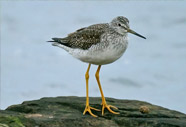 BOU/IRBC Status: A
RBA status: Extremely rare
Accepted British records: 29
Accepted Irish records: 13
Most recent accepted record:
11 Oct 2007 - Foula, Shetland
Prime month(s) to occur:
May and September
The top two birds this week have been among the top birds for a few weeks now ~ leading the way once again, the much-twitched juvenile Thayer's Gull in Lincolnshire seen again near Elsham on the morning of 18th and reported there again early the next day. After that, nothing…..how long it lingers is anyone's guess, but its as likely to have as much to do with the farmer ending his "drilling" in his fields as is it the migration urges of this impressive larid.
Fighting through all the debate regarding this particular bird's identity has come a much wider (and potentially more far reaching), taxonomic discussion. The sub-specific/specific status of Thayer's Gull has, of course, been a hot potato for decades but it looks like its about to be popped back in to the oven once again….
Initially named as a species in its own right, the first specimen was taken by Winthrop Sprague Brooks, a zoological collector, on a trip to Alaska and Siberia in 1913. That trip was funded by a group of Harvard graduates, including John Eliot Thayer, and Brooks named the new gull in Thayer's honour.
Larus thayeriwas relegated by the American Ornithologist's Union, in 1917, to being a sub-species of American Herring Gull and stayed there until 1973 when the AOU split Thayer's Gull once again, based largely on work presented to them by Neal Smith. Smith's work sparked much controversy ~ his research was often disputed ~ but Thayer's Gull remains a good species to this day.
Now though, another change maybe on the cards ~ recent published work dealing with DNA alone, from almost 1,000 large white-headed gulls (nothing relating to morphology is used) is head-achingly tricky to negotiate with no scientific background but, through all the discussion of "Arctic clades", "shared haplotypes", "private haplotypes" and more, it seems as though Thayer's Gull could be in for a rocky ride in the future. It really is evolving, in every sense, and the debate will run and run. But the lump looks more and more likely ~ all this for a species that's still not on the British List of course…..
Coming in behind the Thayer's is the first-winter Greater Yellowlegs which was still being seen at the Loch of Strathbeg RSPB reserve ~ present to 23rd at least. No problems with any taxonomic challenges here ~ it is just about the enjoyment of a delightful Tringa that remains a species that will always be the cause of a buzz of excitement whenever it appears.
Staying in Scotland along the north-east coast, to the north-east of the Cromarty Forth at Portmahomack, came a report of a drake Black Scoter, on the morning of 18th. The bird was still present later that day, along with a drake Surf Scoter, but the following day it was negative news that came forth ~ the Surfie remained but no Black and all that was mentioned was "an atypical Common Scoter with a predominantly yellow bill".
The intrigue picked up once again when the drake Black Scoter was reported as being present on 20th.
This time last year, many people had a chance to enjoy the species off the coast of Northumberland, one present near Bamburgh from 14th-27th April, before what must have been the same bird became one of (a remarkable) five scoter species seen in the Blackdog flock, off the coast of Aberdeenshire, intermittently, from late June to early October, before appearing again off the coast of Northumberland for almost a month from the second week of October.
Before the roaming drake of 2011, most folk had only experienced the species some way off the coast of north Wales, a returning wintering drake was noted at Llanfairfechan from 1999 to 2006 (only becoming a BOU split in 2005 and therefore causing a bit of a kerfuffle for those who had been "taking it easy" where all things Melanitta americana had been concerned) and then, the Lancashire train line bird aside, nothing.
Not known for its headline making is White Stork ~ as has been touched upon here recently, these engaging birds are often (though not always) of suspect origin (as several recent birds have been). However, news emerged this week of an astonishing flock of nine birds (nine!) in the heart of Worcestershire at the end of last week. Seen feeding in deep furrows of a freshly ploughed field on April 17th, this extraordinary gathering were photographed on a mobile phone by farmer Mike Morris ~ birders travelling across Europe may be used to seeing foraging groups of White Stork but in Worcestershire?!?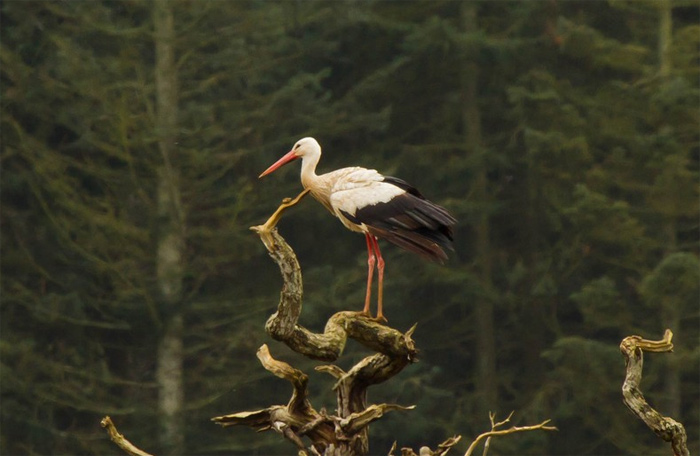 They must have been an amazing sight ~ we can only speculate as to their route in to the country (you'd definitely think you were seeing things if nine of those flew over) and, of course, the significant question was "where have they gone?" No migrating flocks had been seen anywhere else during the week, so it seemed, and it was assumed that they made landfall, fed, and immediately re-calculated the overshooting issue and headed back to the continent. Then, on 23rd, six White Storks were sighted heading west over Colwyn Bay towards Llandudno ~ and it then turned out that they'd been seen the previous day in Flintshire. The hunt was on! Where's the next stop going to be?
Goodness knows how far back in to the ornithological history books you have to go to find the last time there was this size flock of White Storks in the UK or Ireland (its certainly a modern day record) but what does seem to be accepted as gospel is that the only British breeding attempt came in 1416 when a pair attempted to bred on top of St. Giles Cathedral in Edinburgh.
Finally, it seems as though we may have bid farewell to the Scilly Northern Waterthrush. As mentioned last week, the bird was still present on April 16th, but there's been no news since. It seems that it may finally have moved, heading to goodness knows where ~ wherever it ends up, it will remain one of the star birds of 2011's extraordinary mid-September. It could be some time before we have the chance to enjoy the next one.
Herons, Egrets & allies
A male Little Bittern was one of the week's best surprises ~ found at the Teifi Marshes, near Cardigan in Pembrokeshire on 19th, the bird was seen again, briefly, the following day.
There have been seven county records since 1964 ~ one in the 60's (April 1964), one in the 70's (April 1970), one in the 80's (early May 1983), two in 1990's (April '93 & April '95) and, most recently, a male in Haverfordwest in May 2008 (picked up dead on the last of a four-day stay). It looks pretty clear as to just when any local Pembs. listers may want to head out and throw their hat in to the Little Bittern finding ring….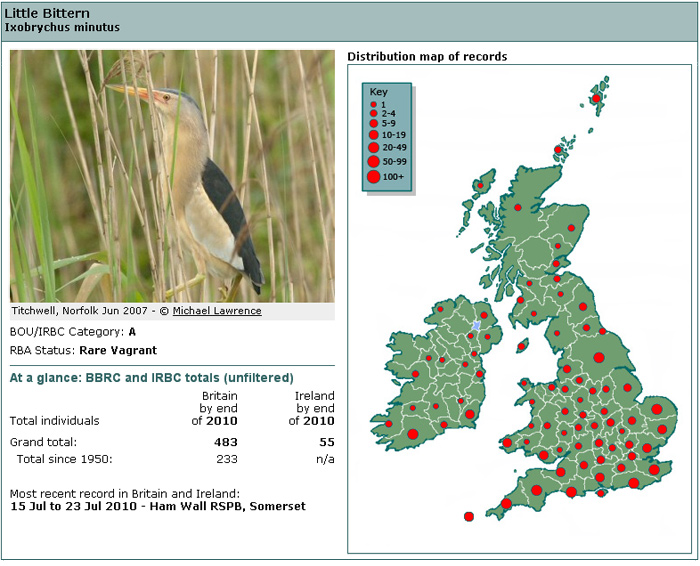 In Ireland, the Purple Heron remained near Seafield in Waterford until 19th while the only report of Night Heron was of a ringed adult in Derbyshire, seen last week (on 15th) but only reported on 19th. There's perhaps every chance that it could be the Dutch-ringed bird (from Arnhem) that was seen in Warwickshire in January.
A Glossy Ibis appeared at Arnside (Cumbria) on 18th (one was seen here a couple of times over the winter too) while it was basically as you were for the other nine or ten reported this week. Still leading the way the three birds at Marloes Mere in Pembrokeshire and the Outer Hebrides' second-ever record, still on North Uist to 24th. Further singles were still being observed in Dorset, Gwynedd, Lancashire, Cleveland and in Ireland, in Cork, at Timoleague (the long-staying bird there still in place on 21st, having last been reported on the 3rd of this month) and Galway, at Mullaghmore Lake (last reported on March 27th).
The only Cattle Egrets were seen at the Walmsley Sanctuary in Cornwall and at Bannow Bay in Co. Wexford (just one there now) while Great White Egrets were mainly confined to the north-west ~ birds seen in Cheshire, Lancashire and Greater Manchester during the past week, with new birds seen at Glynde, East Sussex and Munlochy Bay, Highland, both on 24th.
Back on the Outer Hebrides, a Common Crane was still around South Uist this week while another made it to Fair Isle on 21st, moving to mainland Shetland the following day, while a flock of four was in the Highlands, near Inverness on 22nd. Four more were seen near Tewkesbury (Worcestershire) on 24th and three Cranes were seen flying over Filey on 23rd. Two birds moved around bits of Cheshire on 24th and one remained in Staffordshire (at Radford Meadows) all week and another was seen in Lancashire (at Martin Mere WWT) on 22nd-24th. Other lone birds were reported on the north Norfolk coast and in Nottinghamshire and Durham, while eight over Banwell, in Somerset, were presumably re-introduced birds.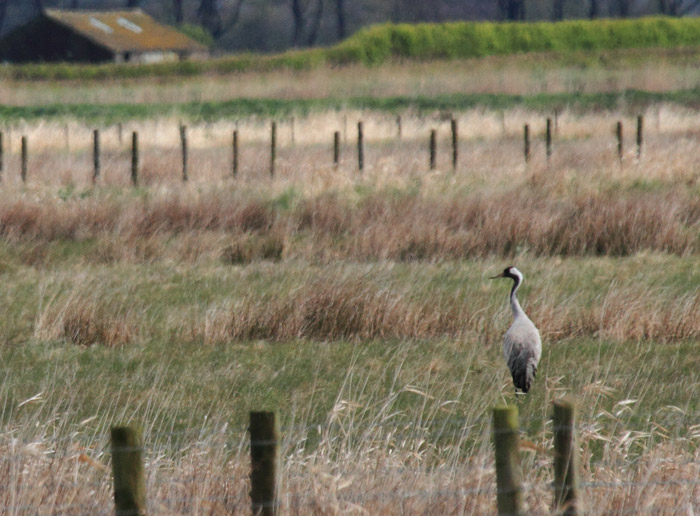 Five Spoonbills remained near Brownsea Island in Dorset this week and Cley still hosted four as the week drew to a close. Three were seen at Boyton Marshes in Suffolk on 23rd, while two birds were seen on Samson (Scilly) on 20th. Further spatulate-billed duos were noted in Devon and Kent with a long-staying single remaining in Cheshire.
Fantastic flocks aside, White Stork records were as confusing to pinpoint (in terms of birds of wild origins) as ever. Two spent a couple of days near Spalding (Lincolnshire) on 23rd-24th (splitting off from the main Worcestershire group?) before heading south. What may have been last week's Grove Ferry bird was seen over Pett Level in East Sussex, then near Horsham and The Burgh in West Sussex on 20th-21st and in Dorset, near Wool, on 23rd. Further White Storks were recorded in Surrey on 20th (over Wisley), in Somerset on 21st (near Bath) and Whitchurch (Buckinghamshire) on 24th, while in Northumberland and Durham a ringed bird was assumed to be a definite escape).
Seabirds
Two (possibly three) White-billed Divers (including an adult in summer plumage) were seen off Burghead (Moray) on 20th-23rd and two were seen from Port Skigersta, on Lewis, on 23rd. Another White-billed Diver remained off Portsoy (Aberdeenshire) for much of the week while, elsewhere in Scotland, the report of two Great Shearwaters off the coast at Loch Gairloch (Highland) on 23rd remains unconfirmed at present. The same goes for the Cory's Shearwater reported from Selsey Bill on 21st.
A tiny trickle of Pomarine Skuas was recorded through the last seven days, 15 birds reported from eight counties, with three off Berry Head and two together off Pendennis Point, Falmouth on 23rd the pick of the bunch. Four Balearic Shearwaters flew past the Hampshire coast (off Milford-on-Sea) on 18th and singles were seen in East Sussex and Cornwall too.
The 18th was a pretty stormy day along the south coast and it would be remiss not to mention the record-breaking spring tally of 288 Great Skuas seen at Dungeness that day. Comfortably beating the site record of 95, the near gale-force southerly winds and heavy rain also produced 22 Black-throated Divers and 69 Manx Shearwaters too.
Ducks & Geese
In Dumfries & Galloway, the Red-breasted Goose was still around Southerness Point on 24th (in the company of 2,000 Barnacle Geese), while a new bird (another first-winter) was found near Brora (with Pink-footed Geese), alos on 24th. Two single Richardson's Canada Geese continued to linger on west coast Scottish islands this week ~ one was seen at Aird an Runair on North Uist, with the other still at Loch Gruinart on Islay. Both birds were present on 21st. The Richardson's Canada Goose seen in Glamorgan may have been the bird that has spent the winter in Somerset (origins unknown of course…the same goses for the still present Cackling Canada Goose at Slimbridge). In County Clare, at Ennis, a Todd's Canada Goose (form interior) was seen on 22nd.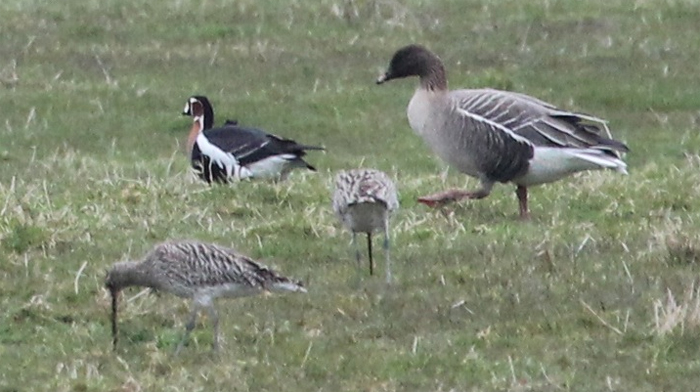 A flock of six Snow Geese over East Newton in East Yorkshire on 20th where then picked up heading over Mire Loch (Borders) on 21st and by 22nd they had arrived at Wasbister, on Mainland Orkney. Crucially, one bird was in possession of a darvic-ring ~ early indications suggest that it may be from a German project that colour-rings assorted "introduced" species across the country. It will be fascinating to see what develops from here. Down in Perth & Kinross, at Loch Leven, a lone Snow Goose was reported on 22nd but a Ross's Goose was mentioned for the same site the following day (presumably last year's summering bird back again). Another Ross's Goose was found (with Pink-footed Geese) near Forres (Moray) on 24th.
Staying at Loch Leven where a handsome drake Blue-winged Teal was discovered this week, present from 22nd (perhaps the bird seen recently in Clyde), while the drake in Somerset, at Ham Wall RSPB reserve was reported again on 18th (it had last been seen there on 12th). The female remained in north Cornwall, on the Amble Marshes, to 23rd at least.
Three new drake Green-winged Teals were found towards the end of the round-up period, at Hornsea Mere from 22nd, Welney on 23rd and Blithfield Reservoir on 24th. Last week's new arrival at Chew Valley Lake was still present on 18th, while longer-stayers remained at Tacumshin, Caerlaverock WWT and on Fair Isle and Islay.
The inevitable drake Lesser Scaup was at Cosmeston Lakes on 23rd and Cardiff Bay on 24th, while three drake Ring-necked Ducks were seen this week, one still at Stithians Reservoir (Cornwall), one on Cross Lough, the Mullet (Co. Mayo) and another in Lincolnshire, at Kirkby-on-Bain GPs. Females were noted on Benbecula (Outer Hebrides) and the pits of south Yorkshire.
A female King Eider was photographed from a pelagic in the Wash, just off the Lincolnshire coast, on the morning of 21st ~ a major county bird (only the second, following a male in September and October 2009) and although its likely to be almost untwitchable, birders in Lincolnshire, East Yorkshire and Norfolk should keep an eye on any flocks of Common and Velvet Scoters they may see in the next few days though, the Queen was apparently consorting with them. Up on the Ythan Estuary, the drake King Eider was seen again on 20th.
As well as the drake Surf Scoter off Portmahomack, further single drake Surfs were seen on Mainland Orkney, off Rerwick Head, on 19th-21st and still at Garretstown in County Cork on 22nd.
Raptors
The Black Kite in Pembrokeshire this week, at Spittal on 18th was the third in three years in the county. Numbers of Rough-legged Buzzard tailed off again this week, the juvenile lingered at The Burgh (West Sussex) to 20th at least, with further reports coming from Essex and Leicestershire on 20th, Suffolk on 22nd and the Wirral on 24th.
Shorebirds
More roamin' around from assorted Black-winged Stilts over the past seven days ~ last week's round-up detailed the movements of single birds from Somerset to Dorset and from Wexford, to Oxfordshire, Leicestershire and Lincolnshire. This week, a new pair appeared in the West Midlands, at Clayhanger Marsh on 19th, moving up the M6 overnight and appearing at Leighton Moss RSPB the next morning.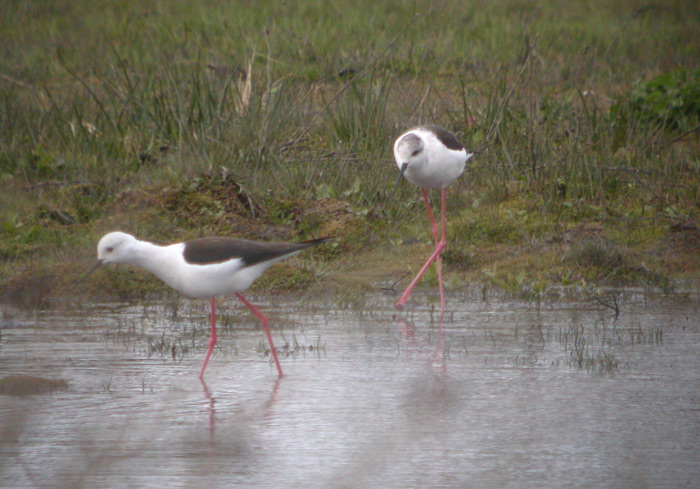 One of last week's journeymen was on the move again this week ~ Lincolnshire's bird leaving Willow Tree Fen LWT reserve for Frampton Marsh RSPB (at the former site on 18th, the latter site on 19th) while the Black-winged Stilt at Abbotsbury in Dorset was last seen on 18th.

Black-winged Stilt movements in spring 2012. View in larger map
Somerset continued to host the ever-more spotty Spotted Sandpiper at Chew until 21st (though not since) and the moulting first-summer Long-billed Dowitchers continued to enjoy life at Meare Heath to 24th, with single Dowitchers remaining at Kidwelly in Carmarthenshire and The Cull in Wexford. Another was reported in County Antrim, at Belfast, on 19th.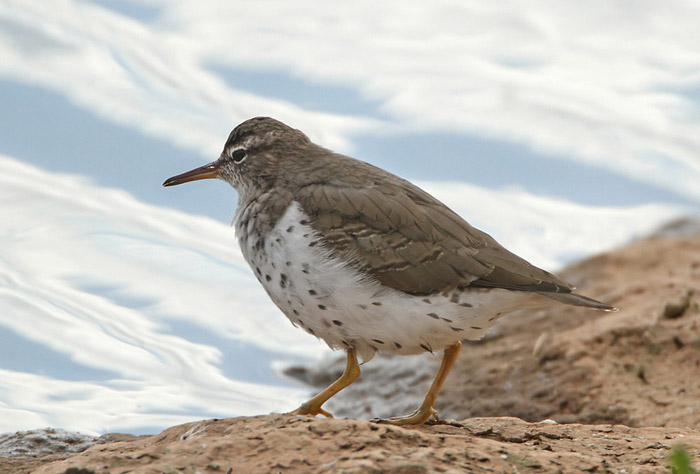 Back in Wexford, an American Golden Plover flew over Tacumshin on 20th and in Herefordshire, a Pectoral Sandpiper was an excellent find at Stretton Sugwas Pits on 21st. That bird remained until 23rd while the wintering bird at Dundonald Camp (Ayrshire) was still in place on 18th.
The only Dotterels this week were three birds at Elmley on 24th and single birds on Tiree on 18th and in Oxfordshire, at Balscotte Quarry NR, on 22nd-24th. A Kentish Plover at Ynyslas, Ceredigion was the first in Wales for nearly two years.
Gulls & Terns
A somewhat unseasonal adult Sabine's Gull flew past Cape Clear Island on 24th. Slightly more typical for the time of year are Ring-billed Gulls ~ but just two were reported ~ second-winters at Lochgilphead in Argyll on 20th-23rd and at Groomsport in County Down for the duration. Plenty of Iceland Gulls remained for yet another mid-spring week, though we're down to just ones, twos and threes now. On Skye, a trio of Icelands remained in Broadford Bay on 18th, three were at Mellon Udrigle (Highland) on 19th, with three more (all juveniles) at Nimmo's Pier (Co. Galway) on the same date. The 19th also saw three birds noted at Loch of Hillwell on Shetland. The sole Kumlien's Gulls were at Beddington and Ardglass while Glaucous Gulls mustered some 15, widely spread, birds (from Devon to Shetland).
Not rare, but always welcome at this time are year are those tight flocks of Arctic Terns that push through the country and on 24th they did pushed hard, as northerly winds and rain forced dozens and dozens of birds across the spine of England, with 60 or more for Staines Reservoir, Broom GPs in Bedfordshire and also through the Ouse Valley in Cambridgeshire. Over 70 where together at Rutland Water and in Northamptonshire at least 115 were counted at Tharpston as midday approached.
Passerines
Prime contender for passerine of the week (actually bird of the week to be fair) was the male Ashy-headed Wagtail at Burton Mere RSPB reserve in Cheshire. Found on 18th, the bird was still in place the following day and really did seem to tick all the boxes in terms of appearance for this always rather scarce, devilishly handsome, spring overshoot.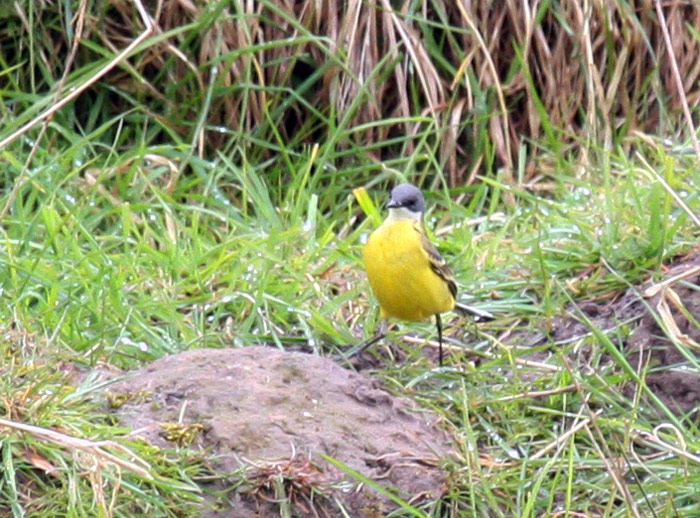 In terms of dates, this week's bird fits in nicely with recent reports of cinereocapilla, it is still, generally, a week or two too early to see overshooting Grey-headed Wagtails making landfall in the UK for instance.
The most impressive Ashy-headed Wagtail spring of recent years was 2006 ~ males were found in Norfolk on April 9th-10th, at Pentney, with a second male arriving off Cley's East Bank on April 25th. The Pentney bird may then have reappeared at Covenham Reservoir, in north Lincolnshire, on April 12th-13th with further males uncovered at Thurlestone, Devon, between April 17th-19th and at Christchurch Harbour, Dorset, also on 17th. The most outstanding spring of recent years for the form concluded with a sixth male, at Portland, on May 3rd.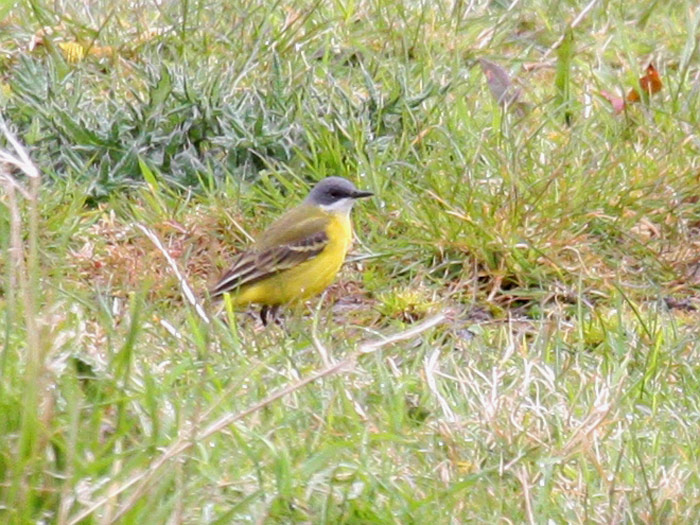 Talking of Cley, that site hosted three fascinating male "yellow" Wagtails during the week ~ a very brief Blue-headed type was seen and photographed on 21st ~ there was a train of thought that suggested that perhaps Spanish Wagtail was an option. Then on 24th, two apparently darker headed males were seen and, although at some distance and very mobile, they appeared to be more interesting still than the photographed flava type from earlier in the week.
One most closely resembled an Ashy-headed (complete with contrasting darker ear coverts to paler hood, white throat but also a small white rear supercilium). The other looked midway between an Ashy-headed and Blue-headed (or Spanish)…..a proper mish-mash but completely stunning too. Conclusions? Aside from much head-scratching, better views and a call or two would be the next stop for those seeking resolution.
Another peek at the current BBRC Work-in-Progress" files shows a number of "southern wagtails" being looked at currently, a set of records that presumably includes reports of both Ashy-headed and Spanish Wagtail (M.(f). cinereocapilla and M.(f). iberiae). The lumping of the forms as "southern Wagtail" may just be a flag of convenience, but perhaps it could actually be a pointer as to something coming our way from the BOU taxonomic sub-committee? It would be a split and everyone with a list loves a split! However, when the committee giveth, the committee can taketh away too…and being wagtails, nothing is likely to be straightforward.
The standard bearers for all things progressive are the Dutch ~ at the moment there are four "species" of "yellow" Wagtail on the CDNA list ~ Yellow Wagtail (M. flavissima), Blue-headed Wagtail (M.flava), Grey-headed Wagtail (M. thunbergi) and White-throated (our Ashy-headed) Wagtail (M. cinereocapilla). Word has it though that even the Dutch committees and taxonimists may be having second thoughts ~ the word "lump" looms large across the North Sea.
Will we ever see this many (more as we also have Black-headed Wagtail too) wagtails on the official British List? With allsorts of subtle differences within almost each individual "southern Wagtail" that have occurred recently and, coupled with quick online trawls, it doesn't take too long to find Spanish-types that look closer to Ashy-headed and vice versa….the umbrella approach is, for now, perhaps the safest approach after all….
Alongside the Ashy-headed Wagtail, the passerine strike force this week was headed by a singing male Savi's Warbler at Steart (Somerset) on 21st (the bird was heard only though), a summer-plumaged Red-throated Pipit at New Passage (Gloucestershire) on 22nd (only the second to be reported in the county in the past decade ~ the only accepted record prior to the bird coming off the BBRC list in 2005 was the famous "Twitcher's Diary" bird at Frampton-on-Severn in the spring of 1980), a brief Red-rumped Swallow at High Eske NR (East Yorkshire) on 21st and a singing male Iberian Chiffchaff in Cambridgeshire.
The Chiffchaff was found at Castor Hanglands, north-west of Peterborough on 22nd and sang and showed well the following day. Once accepted, this will become the first record for the county of this rather enigmatic little bird.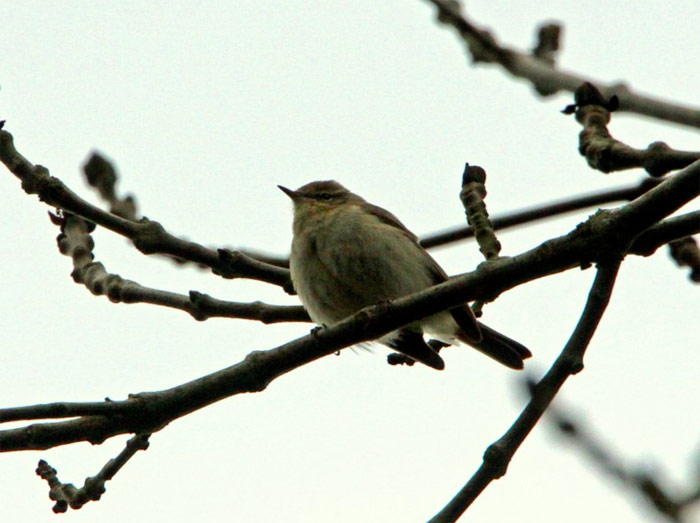 In West Sussex, last week's much debated bird at Apuldram, near Fishbourne remained throughout the week. An aberrant Chiffchaff appeared to be the general consensus, though possible Iberian was still mooted in some quarters.
The singing male Yellow-browed Warbler was still around Warndon (Worcestershire) between 19th-21st, while other (almost) unseasonal species included eight Waxwings over Sheffield on 18th, the elusive and secretive Richard's Pipit again at Kelling on 19th and several Great Grey Shrikes heading back from whence they came….
New singles were noted on the eastern side of the country at Nocton Fen (Lincolnshire), Filey (North Yorkshire), Gullane Point (Lothian) as well as birds in Borders and Aberdeenshire. Four singles from previous weeks lingered in Surrey, Ceredigion, Lancashire and Northumberland. It was Shetland though that scored most ~ up to nine birds seen this week, four on Mainland, two over on Whalsay on 22nd-23rd, one on Unst and two on Fair Isle (one of which was trapped).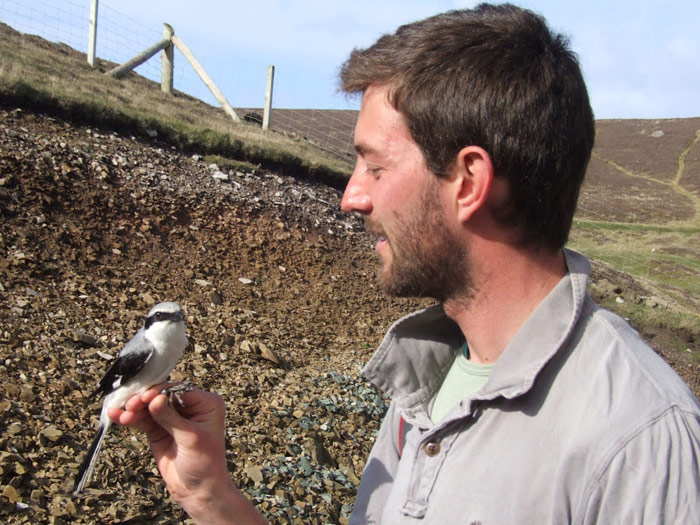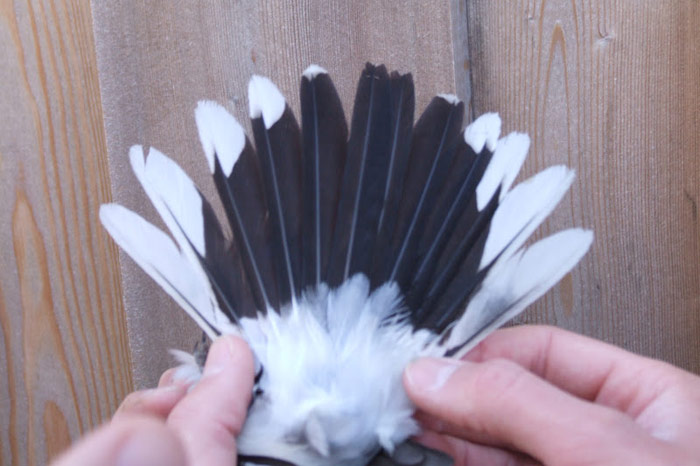 As Shetland scored shrikes, it also scored a few other spring overshoots too ~ the 21st saw both Hoopoe and Wryneck arrive on Fair Isle (along with 23 Ring Ouzels) with four more Wrynecks found elsewhere around Shetland on the same day (three on Mainland and one on Bressay). One or two were seen on North Ronaldsay between 20th-22nd as well. An Alpine Swift was seen in Ireland at the end of the week, near Kilcoole, on 24th.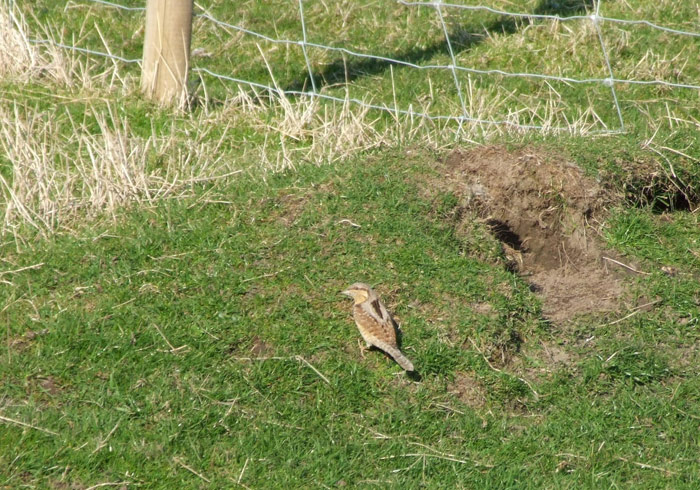 Other Hoopoes this week included two at Sandwich Bay on 21st, with another Kentish bird at Hythe on 19th. Devon scored one, at Loddiswell, on 18th as did Gwent, one at Caerleon on 23rd, while further significant counts of Ring Ouzel included 11 around The Hangs, near Cley (Norfolk), 13 at Bredon Hill (Worcestershire), 15 near Haslingden (Lancashire) and 20 at Cleeve Hill (Gloucestershire) on 21st.
Lastly, belated news from County Galway of a Hornemann's Arctic Redpoll on April 13th ~ seen near Murvey, it fits beautifully into the spring pattern of occurrence envelope discussed here last week.
….so, that was about it…..a decent week, not a classic by any means, but plenty still on offer.
The weather forecasters still show banner headlines of "much more rain" to come over the next few days but despite the inclement conditions, there are hints at high pressure coming.
Someone, somewhere is going to chance upon something exceptional any day now…..we're slap bang in the middle of Calandra Lark time while the last day of this round-up period (April 24th) has produced three British firsts ~ Eastern Phoebe in 1987 and, incredibly, both Moussier's Redstart and Brown-headed Cowbird the following year.
Mark Golley
25 April 2012
This weeks contributors
For their help, contributions and photos this week a special thanks goes to:
Paul Brady
Mark Eggleton
Andy Williams
Chris Baines