Weekly round-up: 20 - 26 June 2012
The weeks highlights
Crowd-pleasing Little Swift at New Brighton, Wirral
Black-browed Albatross lingers around the Channel Islands
Pacific Golden Plover at Cley, Norfolk kicks off the wader season
Black Scoter reappears in Aberdeenshire
Late report of Red-headed Bunting on the Western Isles raises interesting issues
With the weather stuck in an autumnal rut and the bird news early in the week amounting to little more than a few lingerers, all seemed set for a quiet report this time, not wholly unexpected for late June. Unless anything happened, the wandering White Storks looked likely to be promoted to 'birds of the week'! But things can change fast! After a slow couple of days, last week's prediction of action on the seabird and wader fronts quickly came true but the best birds were a surprise to all - a swift on the Wirral and a rather featureless bunting on the Western Isles…..
What role the weather played in the appearance of any of this week's birds is hard to pin down but conditions were shocking nonetheless! After a brief glimpse of summer on 20th (the longest day of the year) there was an immediate descent into autumn with yet another low pressure crossing the country from 21st and bringing the inevitable wind and rain. This week's winds were exceptionally strong for June and the extra heavy rain brought severe flooding to parts of the country, particularly the North. By 25th things had calmed down a bit, however, and temperatures slowly began to recover.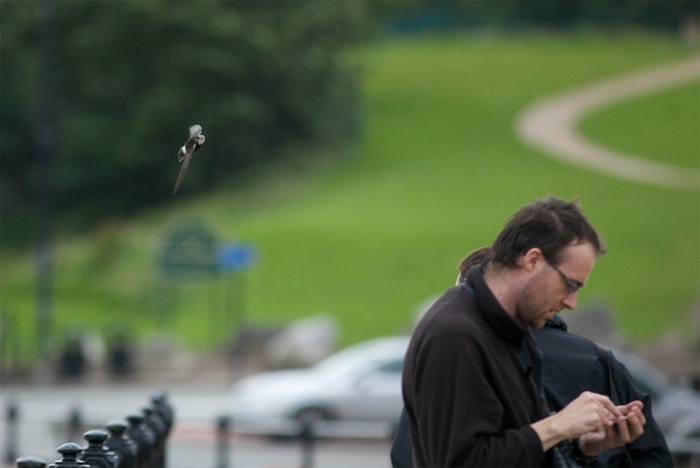 Headline birds
The best bird of the week was undoubtedly the Little Swift at New Brighton, the Wirral. Found on the early afternoon of 22nd, it roosted on a building that night and was then present until 26th though it became more mobile during the week and, with fewer people looking, became harder to find. It also wandered across the river to the Merseyside side to become the second for that county (following the first, at Seaforth on 22nd May 1984).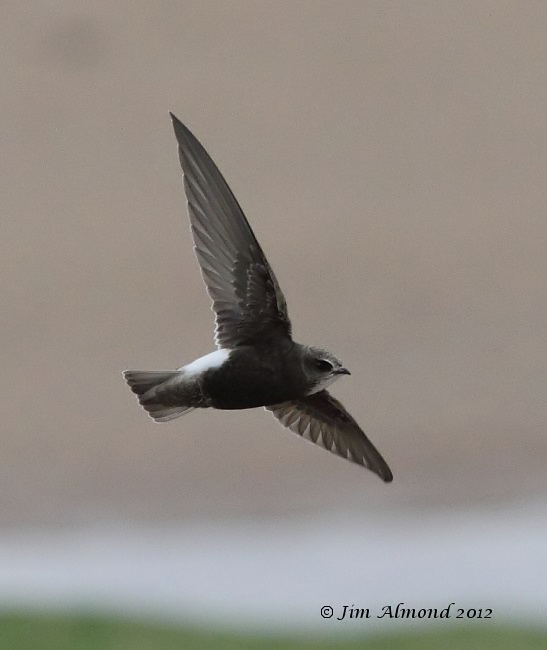 It often showed at very close range, delighting observers and photographers alike, and must rank as the best-showing Little Swift ever. New Brighton's somewhat faded glory formed an interesting backdrop to the bird, as did the famous skyline of Liverpool's waterfront, and for those familiar with this site and its long history of Leach's Petrels this was an interesting twist indeed on the 'small dark bird with a white rump' theme. Since the first Little Swift, on Cape Clear Island, Cork on 12th June 1967, a further 23 have been accepted to the end of 2010. Spring is by far the best time, with records spanning April to June. Unsurprisingly this was a first for the Wirral.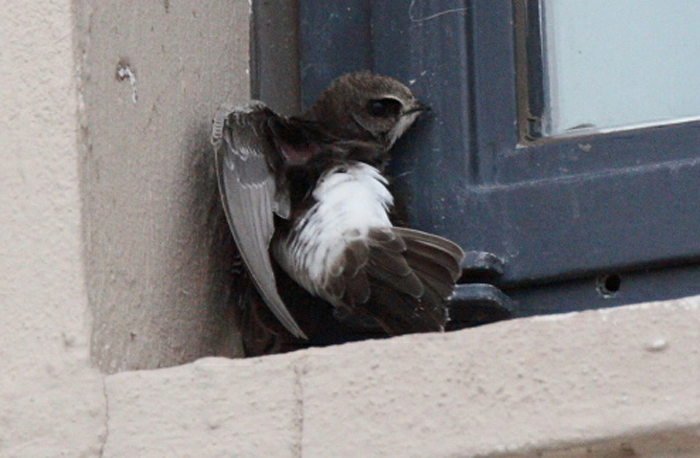 Given the excellent views (and photographs) of this bird it is tempting to consider its ageing and form/origin. The strong white fringes to the upperwing, underwing and uppertail coverts all indicate that this is a juvenile, as does the very fresh condition of its wing and tail feathers (so this is actually an autumn bird!). This is not the first 'spring' Little Swift to be aged as a juvenile but this implies that its parents should have been breeding by March, a little earlier than the mid-April egg-laying date given in BWP for North African birds. Either these birds can actually breed earlier than we think or it means that at least some of our Little Swifts may be from other more distant populations. Most of the species' range lies in Africa south of the Sahara but there are also populations in the Near and Middle East. Thoughts of the Asian counterpart form/species House Swift, however, seem to be contradicted by this bird's extremely broad white rump, lack of a shallow tail fork and pale undertail coverts.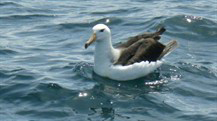 Vying for bird of the week (though it was actually last week) was a sub-adult Black-browed Albatross seen around the Channel Islands. First seen on 17th 20 miles north of Alderney, it spent 1.5 hours attending a fishing boat with Fulmars and was well photographed. Further sightings then followed on 20th, from a boat off Alderney, and then on the afternoon of 22nd north-west of Guernsey. It has since emerged that it was also seen 20 miles west of Guernsey on 24th May whilst presumably the same bird was 184 miles south-west of Mizen Head, Cork on 29th February.
Such excellent views of a Black-browed Albatross from a boat immediately bring to mind the bird off the Isles of Scilly in Sept 2009 but since the first records, picked up at Linton, Cambridgeshire on 9th July 1897 and another at Staveley, Derbyshire in August 1952, almost all British albatrosses have fallen into two categories - brief, unpredictable fly-bys on seawatches or from boats (over 40 records to 2010) or long-stayers in Gannet colonies (Bass Rock, Lothian 1967-69 and perhaps the same Hermaness, Unst, Shetland 1972-95 and, more recently, Sula Sgeir 2005-07). This latter category has offered the only real hope of seeing this species in Britain though none is available today.
The other quality find this week was a pristine summer pluamge (presumably adult male) Pacific Golden Plover on the North Scrape at Cley, Norfolk on the evening of 22nd. Missing most of the day on 23rd, it turned up again in the evening and was then present to 26th, commuting between North Scrape and the adjacent Eye Field.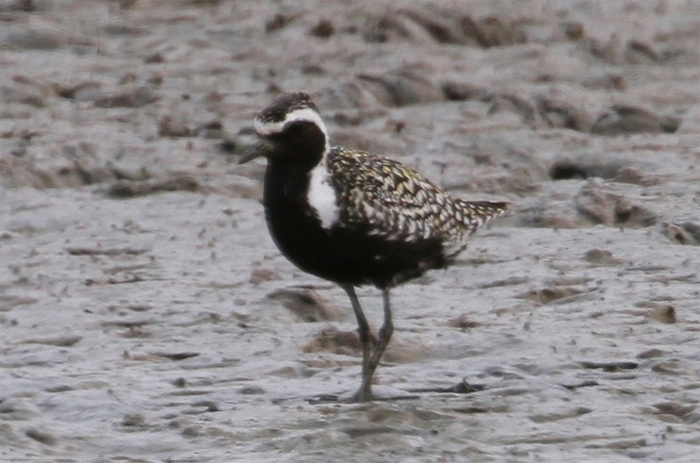 Though distant at first, it nevertheless sported a complete set of Pacific features and therefore offered no identification difficulties. It was typically slightly 'stumpy' at the rear end with long tertials extending as far as the tail-tip and minimal primary projection. This was of course sufficient to 'nail' it as a Pacific but it also showed the requisite list of 'softer' features - very long legs, a broken flank line, modest white breast-side patches which didn't extend forward to 'pinch' into the black breast centre, a brightly gold-spangled mantle contrasting with black-and-white wing coverts and an extensive white forehead which met the bill base. Some of these individual characters may of course be approached or matched by American Golden Plover but they are each entirely typical of Pacific and, in combination, offer a watertight 'back-up' to the key structural features. Up to 2010 this is the 75th accepted record since the first, shot at Epsom, Surrey on 12th November 1870, and is the tenth for Norfolk.
This week also saw the reappearance of the first-summer drake Black Scoter amongst the seaduck off Murcar Golf Course, Blackdog, Aberdeenshire on 24th and again on 26th.
Potentially even more exciting was a belated report of a female Red-headed Bunting on North Uist, Western Isles on 19th. This is a tough identification but the photographs posted online show very fine forehead/crown streaking, a rather bland face and clear green in the rump. If accepted as a Red-headed Bunting and deemed a wild bird this would require an elevation of the species to Category A of the British List and make this 'bird of the week' (or at least 'bird of last week').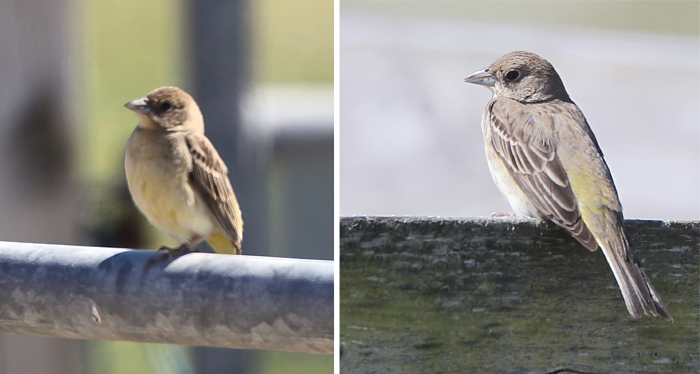 Seabirds
Apart from the albatross there was little seabird activity to report despite the week's very strong winds. A few Pomarine Skuas , Storm Petrels and Balearic Shearwaters were noted in the west but the best was an adult Long-tailed Skua at Ballycotton, Cork on 23rd.
Herons, Egrets & allies
The Sacred Ibis which has been at Cley, Norfolk for most of the week showed exceptionally well on 24th and revealed itself to be unringed. This at least means that it can't be deemed a proven escape and given the size of the feral population in western France (now at least 3,000 birds), has the long-awaited genuine 'Category C vagrant' finally arrived? Sadly this is unprovable and the bird is perhaps more likely to be a British escapee. Whatever its origins, however, this is not a bird we want to see much more of. The species has a shocking record of predating the nests of breeding birds, particularly terns.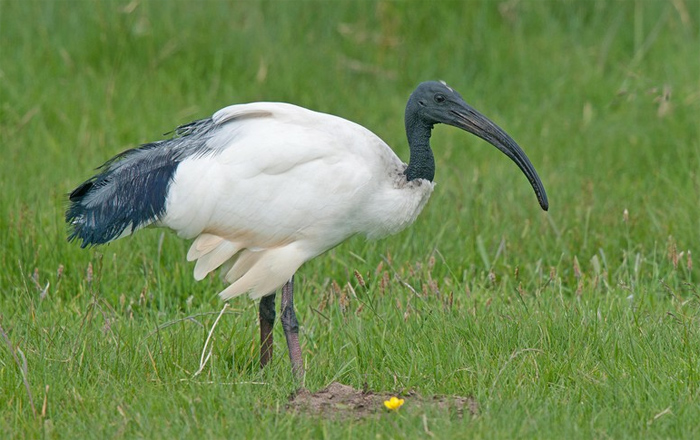 As usual, all the other ibises this week were Glossy Ibises , the list comprising the familiar long-stayers at Minsmere (Suffolk), Keyhaven (Hampshire), Marloes Mere (Pembrokeshire) and Pagham (Sussex). Another was at Cahore, Wexford on 24th and one was at Tacumshin, also Wexford, on 25th.
The best heron of the week was a Squacco Heron at Seaford Sussex on 21st Photographed in trees, it then flew off, chased by gulls, and was never seen again. This is only the seventh Squacco Heron for Sussex and the first since one at Pett Level on 10th June 2000. Other herons included a Great White Egret at Rainham Marshes, London on 20th, with another at Burnham Norton, Norfolk on 26th, a Night Heron on Holy Island, Northumberland on 25th and the lingering Night Heron still south of Lymington, Hampshire on 21st.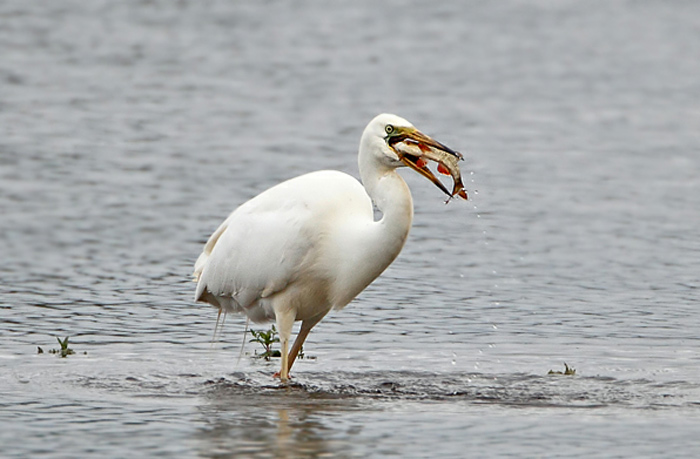 Our White Stork flock now seems to be a flock of three, seen over Felpham, Sussex on 20th and then settling down betweenBognor Regis and Barnham from 20th to 24th. On 25th they flew over Worthing early morning.
Ducks & Geese
In Aberdeenshire the King Eider and up to 4 Surf Scoters continued to bob offshore at Blackdog Aberdeenshire whilst, just down the road, the drake American Wigeon was again at Loch of Strathbeg to the end of the week.
Raptors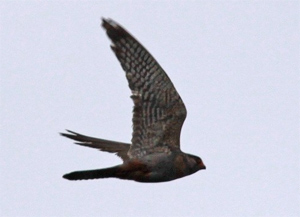 Last week's Black Kite on Shetland remained well and truly stuck there. After aborting an attempted departure via Sumburgh it headed north to try its luck on Unst on 21st, only to be faced with another expanse of open sea. Not surprisingly, it lingered around Unst until at least 23rd and was then on Fetlar on 26th. Another was reported over Stonehenge, Wiltshire on 23rd. The only other raptor was a new first-summer male Red-footed Falcon found at Montaigh's Moss, Antrim on 26th.
Shorebirds
The prize for best-looking wader of the week again went to the fabulous adult female Grey Phalarope which was again, albeit intermittently, at St. John's Loch, Highland until at least 24th. A suitable echo of this bird was provided by the female Red-necked Phalarope at Coombe Hill Meadows all week.
The rarest new wader, however, was a brief adult Spotted Sandpiper at Hillfield Park Reservoir, Hertfordshire on 24th. Otherwise the only scarce or rare waders were Dotterels on Fair Isle, Shetland on 21st and Berneray, Western Isles on 25th.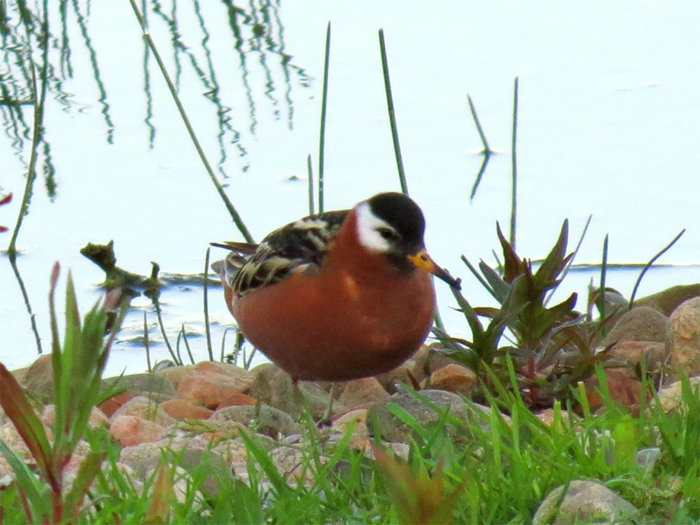 Gulls & Terns
The highlight for this section was a Gull-billed Tern at the Loughor Estuary on the Glamorgan/Camarthenshire border on 24th to 26th whilst last week's White-winged Black Tern remained at Fairburn Ings, Yorkshire until 20th and then, probably the same bird, at Leighton Moss, Lancashire for a couple of hours only on 24th. On 25th a White-winged Black Tern was also very briefly at Grove Ferry, Kent, followed by a sighting at Staines Reservoir, Surrey later the same day.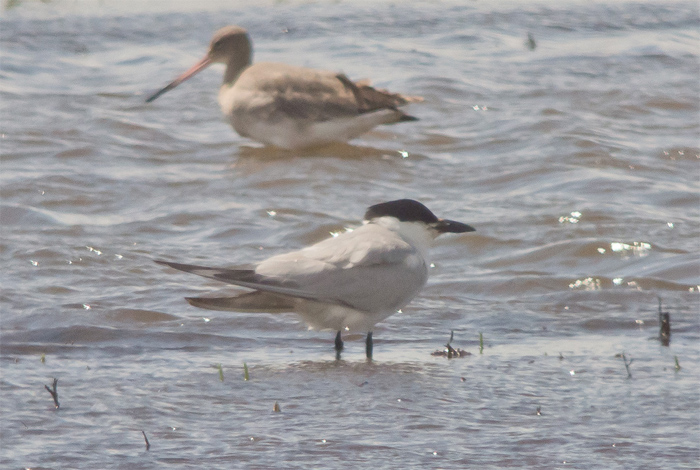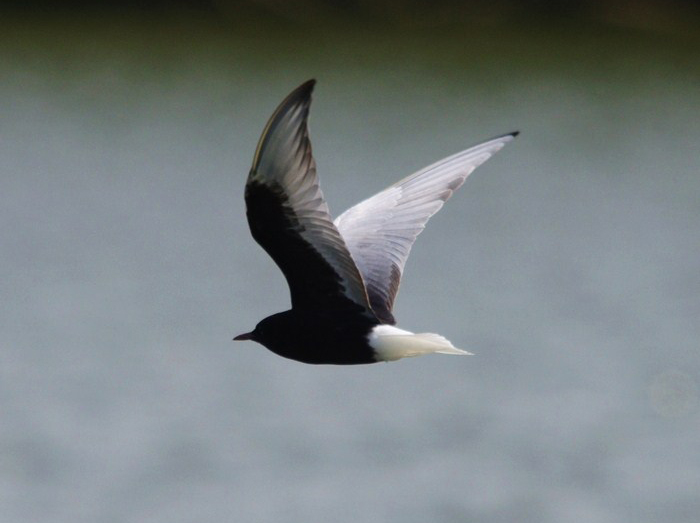 A few more white-winged gulls were noted this week, Glaucous Gulls from South Uist (Western Isles), Troon (Ayrshire), Iona and Loch Crinan (both Argyll), North Ronaldsay (Orkney), Fetlar (Shetland), Doagh Island (Donegal) and Cullenstown Strand (Wexford) and Iceland Gulls from Wick (Highland), Tiree (Argyll) and Barnes Wetland Centre and Beddington Sewage Farm (both London). To complete the gulls, a Sabine's Gull flew past Workington, Cumbria on 23rd and a Ring-billed Gull was at West Kilbride, Ayrshire on 25th.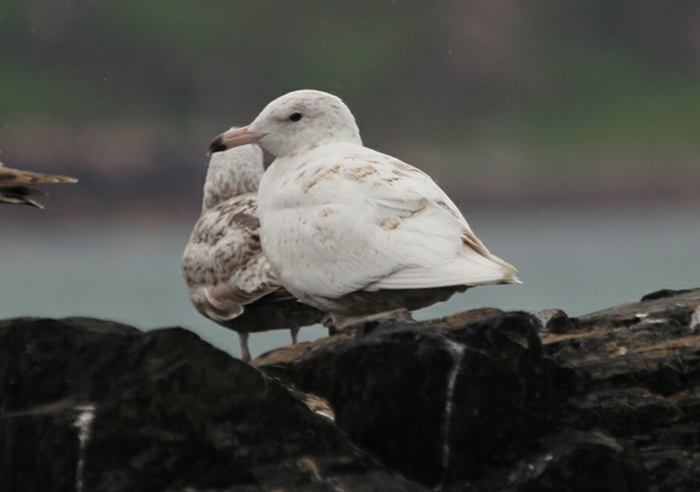 Passerines
The best passerines of the week were actually 'late news' from last week - a male Black-headed Bunting in Glamorgan on 17th and another (or the same?) near Ystalyfera, Camarthenshire on 18th, apparently still present on 24th.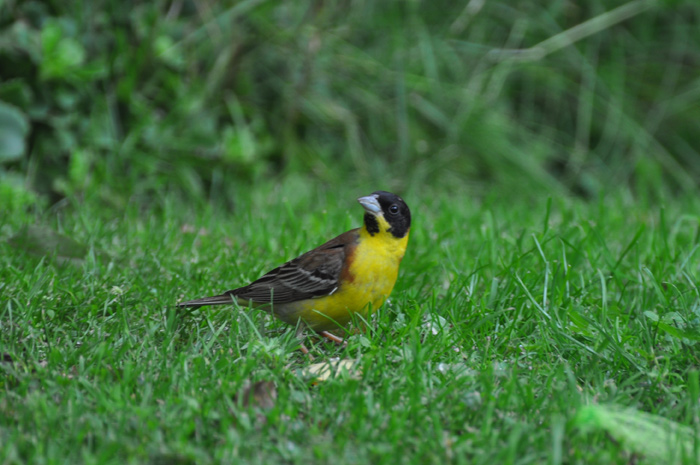 This week, the rarest small birds were the lingering Iberian Chiffchaffs at Porlock, Somerset all week and St. Just, Cornwall (to 20th at least). The other duo of lingering warblers were Savi's Warblers - at Topsham, Devon still on 23rd and Blacktoft, Yorkshire still on 20th - whilst another Savi's Warbler was at Tacumshin, Wexford on 25th and 26th. Last week's River Warbler on Fair Isle, Shetland made a surprise reappearance in the observatory garden on 24th and 25th.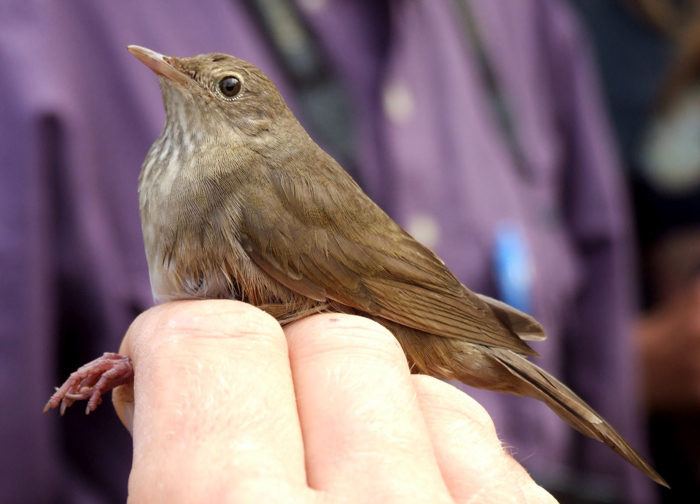 Against the odds, a few extra-late spring continental migrants also made it through this week, mostly to Shetland, where a Marsh Warbler was found at Skelberry on 20th, a Grey-headed Wagtail on Fair Isle on 21st and 3 Marsh Warblers there on 22nd, an Icterine Warbler at Sumburgh on 23rd-26th and a Red-backed Shrike on Whalsay on 24th with another Marsh Warbler on Fair Isle the same day. Elsewhere, a Marsh Warbler was near Ringwood, Hampshire on 20th and other Red-backed Shrikes were found at Lebberston Carr, Yorkshire on 20th and at Spurn, Yorkshire and East Chevington, Northumberland on 24th-25th whilst an Icterine Warbler was on the Farne Islands, also Northumberland on 25th - the last east coast passerine migrant of the spring? Watch this space!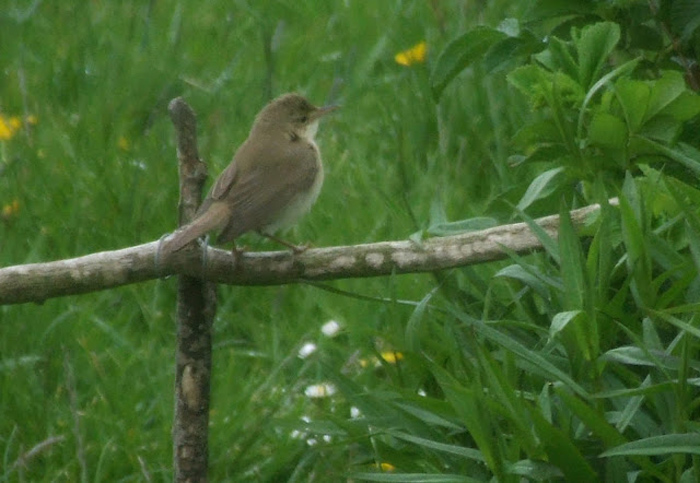 Rose-coloured Starlings 2012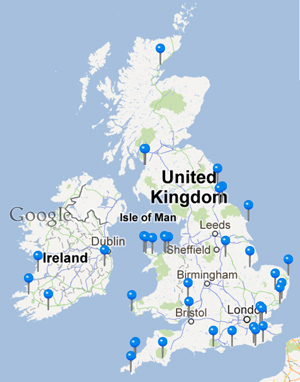 The main passerine event, however, continued to be the influx of Rose-coloured Starlings , the total now around 30. As previously, many were found in the far west, with Ireland dominating the records. Birds were in Wicklow on 20th and on Mizen Head, Cork on 24th while late news emerged of another on the Skelligs, Cork on 15th. What a stunning setting for a lost bird! The Mizen and Skellig birds also continue the trend of birds on far-flung western headlands. As with last week's bird in Kerry, the next stop for these birds is America! Also in the west, the Rose-coloured Starling lingered at Rhos-on-Sea, Conwy to at least 24th whilst another was at Valley, Anglesey on 22nd and it or another at Langefni, also Anglesey, on 25th. The only confirmed English bird was the long-stayer at Frampton Marsh, Lincolnshire to 25th at least although a member of the public reported 3 in his garden in Scratby, Norfolk on 21st.
Southern birds were represented by Bee-eaters at Prawle Point, Devon on 20th and at Chivelstone, also Devon, on 22nd whilst another graced Glynde, Sussex on 23rd. As is typical, however, none lingered. The female Woodchat Shrike remained at Gunton, Suffolk to 20th and another was found just south of Whitby, Yorkshire on 26th, Golden Orioles were at Sandy, Bedfordshire on 20th and Biddenden, Kent on 23rd and a Short-toed Lark was at the Cull, Wexford on 23rd-24th. Finally the Serin was again at Landguard, Suffolk on 25th and 26th and another was at Portland, Dorset on 25th.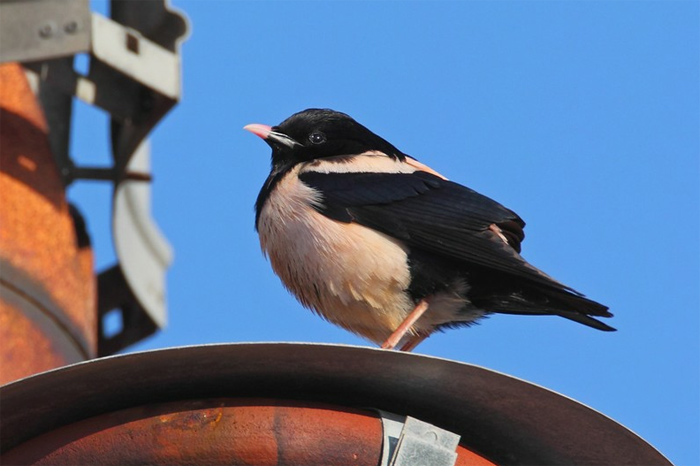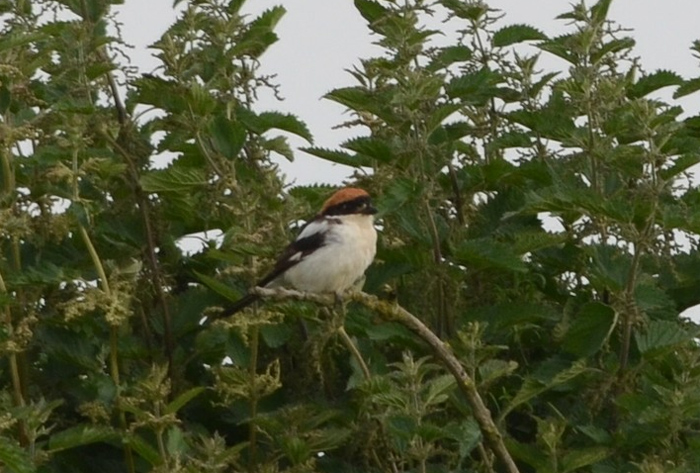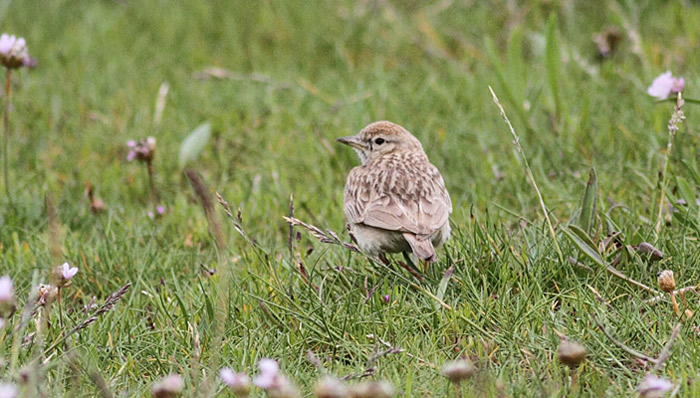 With the weather still very much in autumn mode, the sensible money still seems to be on waders and seabirds providing next week's highlights, though this week's ultimately busy schedule shows that an open mind is the main requirement.
Andy Stoddart
27 June 2012
This weeks contributors
For their help, contributions and photos this week a special thanks goes to:
Anthony Griffiths,
Jim Almond
,
Andy Jordan
, Paul Bishop,
Ian Fulton
, Lawrie Webb,
Gary Thoburn
,
Derek Charles
, Mark Hipkin,
Josh Simmonds - Fish On Charters
,
Perry Fairman Ecological Experiences
, Ashley Saunders, Gary Harper,
Tommy Hyndman
, Ivan Ellison, Andrew Hood,
Paul Kelly - Irish Bird Images
,
Julian Smith - St.John's Pool Birds