Weekly round-up: 13 - 19 June 2012
The weeks highlights
Little Bittern plays hide and seek in Hertfordshire
A new Black Scoter in Aberdeenshire
Roller splashes its colours in Yorkshire to 14th
First Wilson's Petrel of the autumn off Scilly
Fair Isle's River Warbler remains to 13th
The third week of June is always something of an in-between period, the very last of the spring migrants fading away, each one vying to be the last, whilst at the same time the very first hints of autumn start to be noted.
This year was no exception, with a tiny though steady trickle of east coast passerines doing their best to extend the season whilst definite stirrings were noted in the seabird department.
As ever, the weather dominated the events of the week, affecting both the bird headlines and those of the national news as well. With continuing depressed temperatures, yet more rain and now strong winds as well, the birds (as well as the rest of us) could have been forgiven for thinking it was already full autumn.
The week began with a cool northerly airflow and heavy cloud before a deep low pressure area crossed the country on 14th-16th bringing highly unseasonal strong winds and rain. As has been typical this spring, its track was again well to the south, ensuring a soaking for southern Britain yet better weather for at least parts of northern Scotland.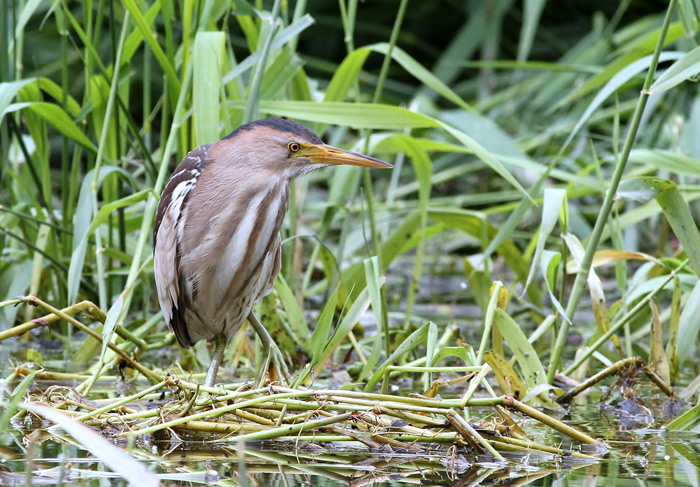 Headline birds
Although not the rarest bird, a female Little Bittern along the River Colne near Stocker's Lake, Rickmansworth, Hertfordshire was the highlight of the week. Though first noted on 10th, it was only available for visitors from 13th before disappearing once more, only to reappear on 16th and 17th. Despite playing such a hide and seek game, it nevertheless gave excellent views when it was there and the photographers should have gone home happy. This is only the eighth Little Bittern for Hertfordshire and the first since a bird at Rye Meads in May 1997.
Little Bittern in Britain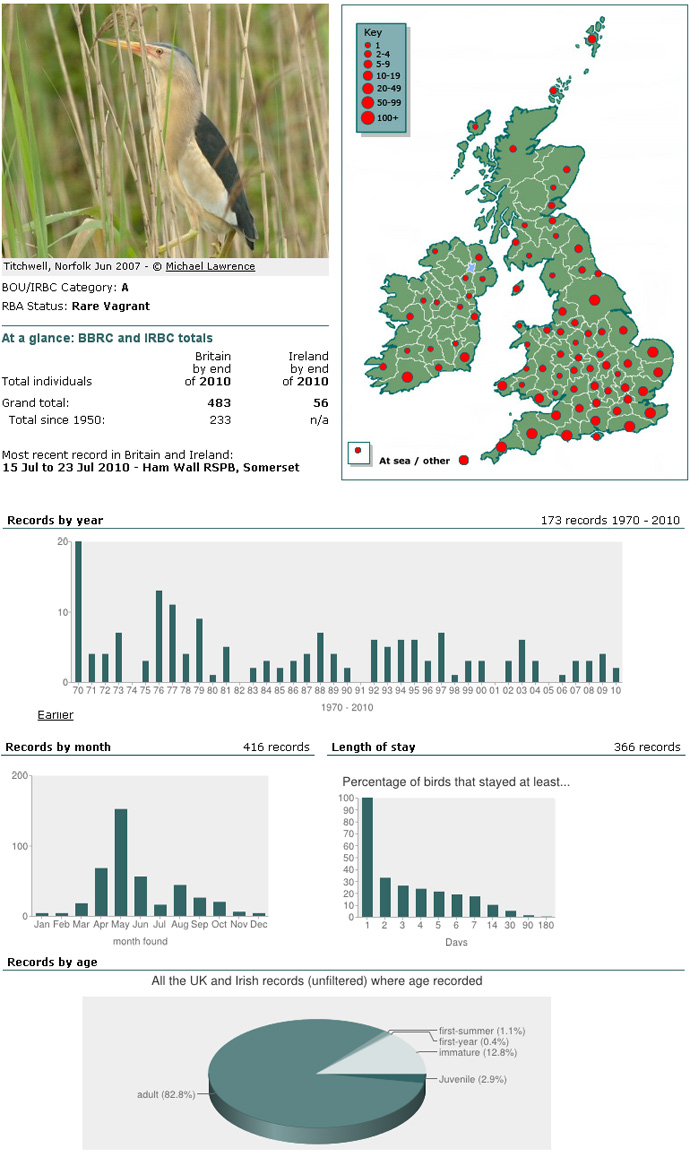 The rarest bird of the week, however, was another (this time a first-summer male) Black Scoter in the target-rich seaduck flocks off Murcar Golf Course, Blackdog, Aberdeenshire. This is now the second for the county, following hot on the heels of the adult drake at the same site from June to October 2011. To add to the merriment, the Black Scoter shared its stretch of coast with a King Eider and four Surf Scoters . Black Scoter is still a very rare bird in Britain with only eight previous records since the first, at Gosford Bay, Lothian in 1987/88. Prior to these recent Aberdeenshire birds, the only other records this century come from Burghead (Moray), Llanfairfechan (Gwynedd) and Leighton Moss (Lancashire).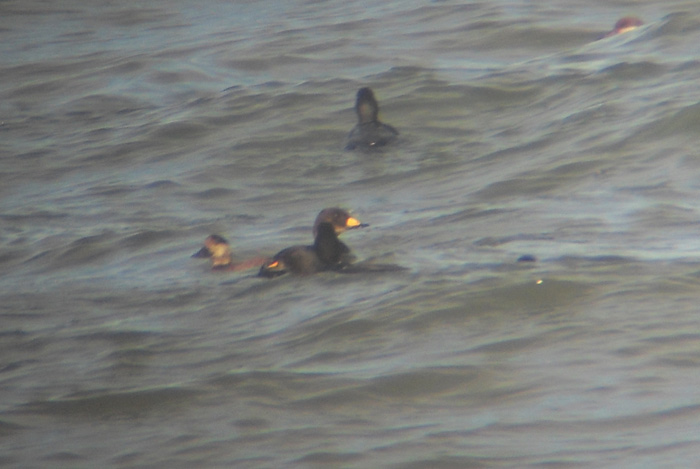 Still lingering was Yorkshire's Roller. As if to please the photographers even more, this exquisite bird remained in and around its field at Aldbrough, Yorkshire until 14th but could not be found next day. This must count as one of the most-visited Rollers ever and certainly the one with the best pictorial record of its stay.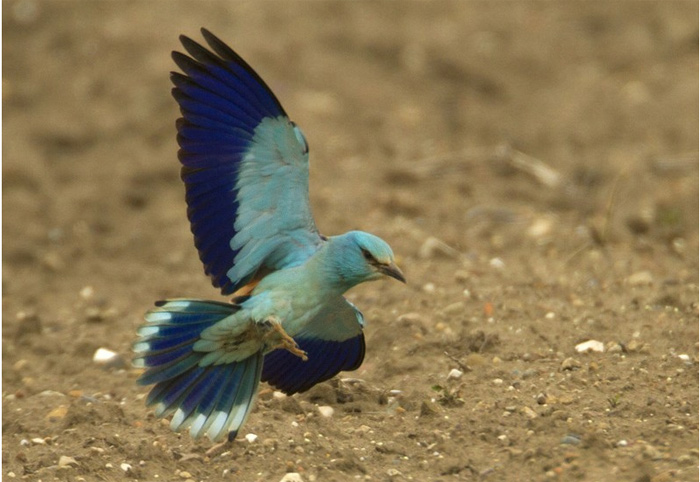 Right on cue, the first Wilson's Petrel of the season was seen off St. Mary's on 13th. Although now an expected feature of the summer/early autumn (and not even a BBRC rarity) these amazing wanderers from the southern oceans are still a thrill to imagine. They also still represent a teasing prospect for the bird-finder for away from Scilly they remain a quality prize indeed. Although we can no doubt look forward to many more in the coming weeks, the news of each one still surely gives a little frisson of excitement.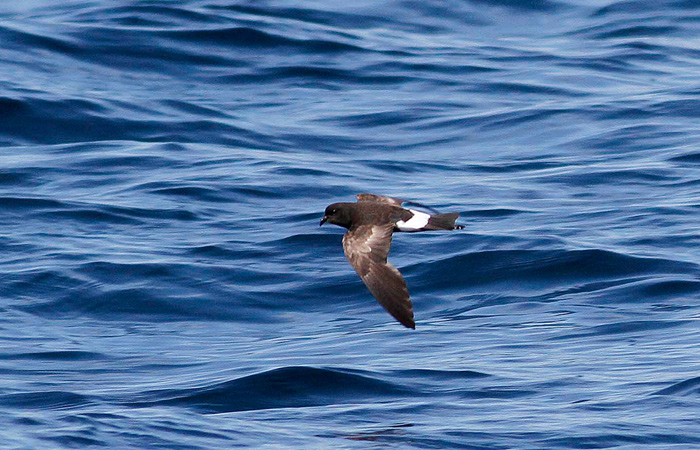 Finally, Fair Isle's River Warbler, found on 11th, remained to 13th and so just sneaks into this week's report as well.
Seabirds
As well as the Wilson's Petrel, there were other seabirds on the move this week as strong southwest winds encouraged a spot of seawatching in west Wales and the Southwest. All points recorded a similar mix of species - a scattering of skuas, a few Balearic Shearwaters and, perhaps most notable, some good tallies of Storm Petrels.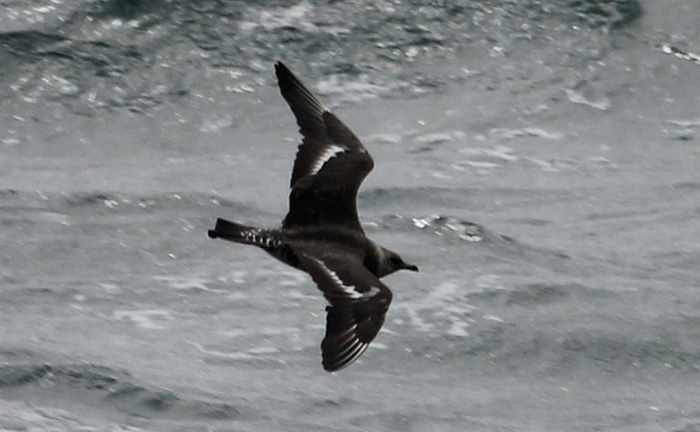 Herons, Egrets & allies
Apart from the photogenic Little Bittern, the main interest of the week surely centred on the continued wanderings of the White Stork 'fab four' as their grand tour of Britain continued. Having previously visited Dorset, Somerset, Devon, Suffolk, Yorkshire, Norfolk, Gwent, Gloucestershire and Conwy, this week saw them back in Somerset, this time at Hay Moor and Curry Moor, apart from a report of them on a little trip into Dorset on 17th. Then, at the end of the week (on 19th) they headed north once more on a repeat visit to Conwy where they flew over Penrhyn Bay. Another circled over St. Helens, Lancashire on 18th.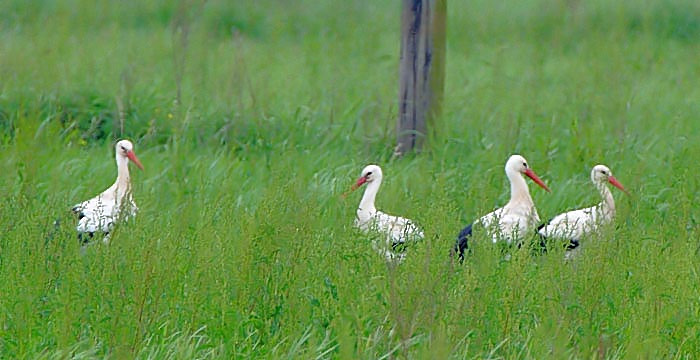 No it is not an office doodle but a map showing White Stork movements this spring. View in a larger map.
Glossy Ibises continued to be available, with long-stayers still at Pagham Harbour (Sussex), Farlington Marshes (Hampshire), Marloes Mere (Pembrokeshire) and up to two at Minsmere (Suffolk). In Ireland, another lingered at Upper Lough Erne, Fermanagh. It might not be too long now until another autumn influx tops up our supply.
The Great White Egret highlight was of course the continued first British breeding attempt in Somerset. We'll keep our fingers crossed for a successful outcome to this exciting event and for a quick repetition, here or elsewhere, next year. Other lingering birds hung on at Parkgate, Cheshire and at Brading Marshes, Isle of Wight whilst one flew over Langness, West Sussex on 15th, also seen at Pulborough Brooks on 19th.
To complete the herons picture, a Night Heron remained south of Lymington, Hampshire all week and a Purple Heron was at Dungeness, Kent on at least 13th and 14th.
Crakes
A Corncrake singing at Otmoor RSPB during the week was of course invisible but nevertheless an exciting opportunity to hear this once-common bird.
Ducks & Geese
Away from the Aberdeenshire seaduck festival there was, as befits the season, little to report on the wildfowl front. Most noteworthy was the continued presence of the magnificent dresseri Eider off Malin Head, Donegal, reported again on 13th and 17th, on the latter date also accompanied by a 'Northern Eider' . Elsewhere, a female Surf Scoter was off Burray, Orkney for most of the week whilst a drake American Wigeon reinforced Aberdeenshire's wildfowl dominance by popping into Loch of Strathbeg on 17th and 18th. Finally, a Ring-necked Duck was still on Islay, Argyll on 18th.
Raptors
Despite some good numbers in France, this has not been a great spring for Red-footed Falcons in Britain (blame the weather), and only two were reported this week - a brief first-summer male at Tophill Low, Yorkshire on 13th and a lingering bird, also a first-summer male, at Slemish Mountain, Antrim until at least 18th. Also in Ireland, Wexford's amazing Tacumshin hosted a Montagu's Harrier (a rare bird indeed in Ireland) until at least 17th. Another lingered between Formby and Great Altcar, Lancashire. Three Black Kites (the other traditional 'spring raptor') were also noted, firstly over Lincoln, Lincolnshire on 17th and then one flew south out to sea and then (having thought better of it) back north again at Sumburgh, Shetland on 18th before lingering around Lerwick next day. Also on 19th, one flew over St. John's Loch, Highland.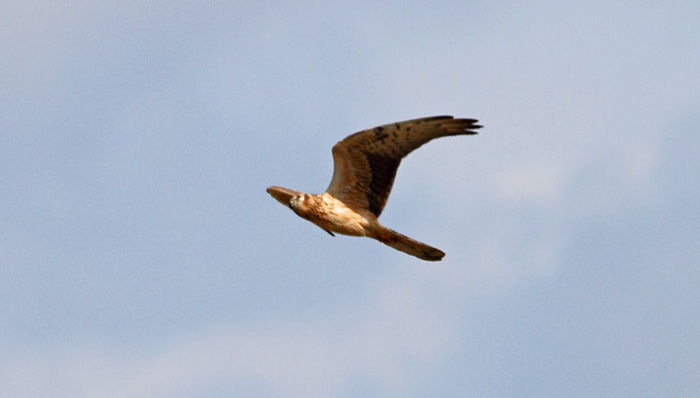 Shorebirds
The first Spotted Redshanks of the autumn duly made their appearance this week but the best wader was undoubtedly the adult female Grey Phalarope at St. John's Loch, Highland on 13th. It then disappeared only to make a reappearance on 19th, the same day as a Black Kite at the same site! Hands up if you've seen a Grey Phalarope in summer plumage in Britain (or indeed anywhere!). The other wader highlight of the week was the evening discovery of a Spotted Sandpiper at Scaling Dam, Cleveland on 18th though, sadly, it departed overnight.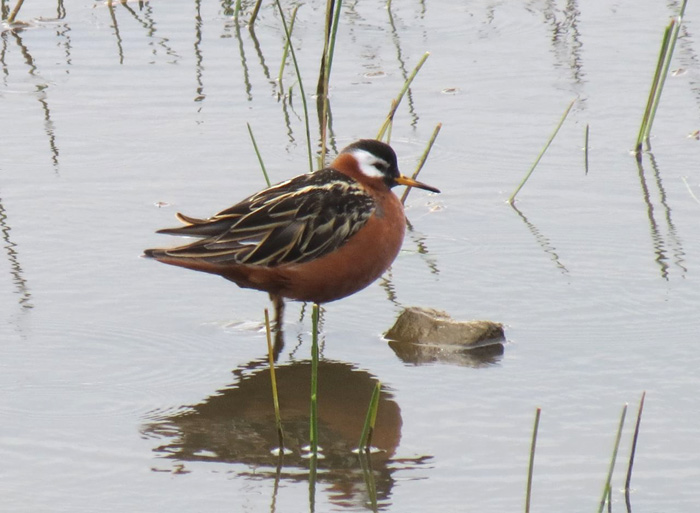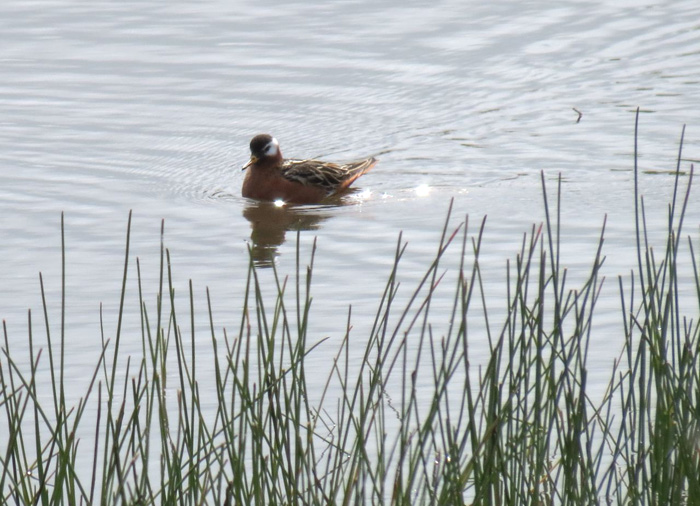 Following an outstanding spring for this species, both in Britain and on the near-continent, Cley's female Black-winged Stilt remained in Norfolk, relocating to Welney where it spent the whole week. In Cleveland, the long-staying Long-billed Dowitcher remained (though its availability was distinctly on and off), the only other American (or at least notionally American) waders of the week being a Pectoral Sandpiper on Fetlar, Shetland on 14th and (more definitively Nearctic) a Buff-breasted Sandpiper at Nosterfield, Yorkshire on 15th.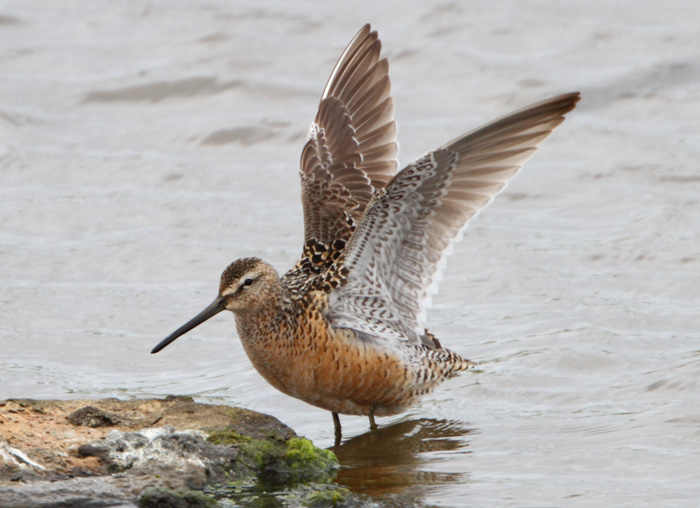 Palearctic wader highlights were confined to a Dotterel on Islay, Argyll on 14th and a Temminck's Stint at Fairburn Ings, Yorkshire on 17th.
Gulls & Terns
The 'gull and tern' highlight species of the week was White-winged Black Tern . One spent 14th dipping and dancing over Ranworth Broad, Norfolk but was sadly gone the next day. It or another then appeared at Swillington Ings, Yorkshire on 18th before relocating to nearby Fairburn Ings on 19th. At Tacumshin, Wexford the Forster's Tern remained until at least 17th.
Very much less seasonal were the lingering juvenile Iceland Gull at Beddington Sewage Farm, London all week, with an adult at Skinflats, Forth on 19th, and two Glaucous Gulls on South Uist, Western Isles, a somewhat more appropriate location. In Ireland, a second-summer Ring-billed Gull remained at Groomsport, Down.
Passerines
The passerine highlight was last week's River Warbler still on Fair Isle but Iberian Chiffchaffs carried on singing at Porlock, Somerset and at St. Just, Cornwall.
Despite the cold, autumnal weather there was a steady arrival of new birds, however. The mix was typical of the season, featuring the expected late northern European migrants (mainly on the east coast) and southern/southeastern overshoots (mainly elsewhere).
The best bird in the former category was a Red-breasted Flycatcher on the Farne Islands, Northumberland on 16th but Marsh Warblers were also still in evidence with birds at Hauxley, also Northumberland, all week, on Fair Isle, Shetland on 15th and 16th, Sumburgh, also Shetland, on 16th and 17th, on Burray, Orkney on 17th and, less typically, on St. Mary's, Isles of Scilly on 19th. Icterine Warblers were also on Fair Isle on 13th and 16th and North Ronaldsay, Orkney on 19th.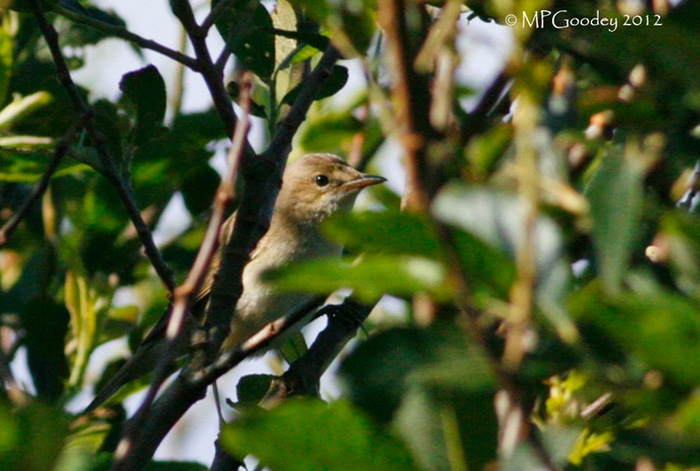 A flurry of late Red-backed Shrikes was also recorded - near Newcastle-under-Lyme, Staffs on 16th, on Fair Isle on 13th and at Minsmere (Suffolk), Holy Island (Northumberland) and the Isle of May (Fife), all on 17th and, on 18th, singles on North Ronaldsay (Orkney), Scaling Dam (Cleveland) and near Grimston (Yorkshire). A final bird reached the Plantation on Blakeney Point, Norfolk on 19th. To complete the standard set of late spring northern European birds, a Common Rosefinch was also on the Isle of May on 17th.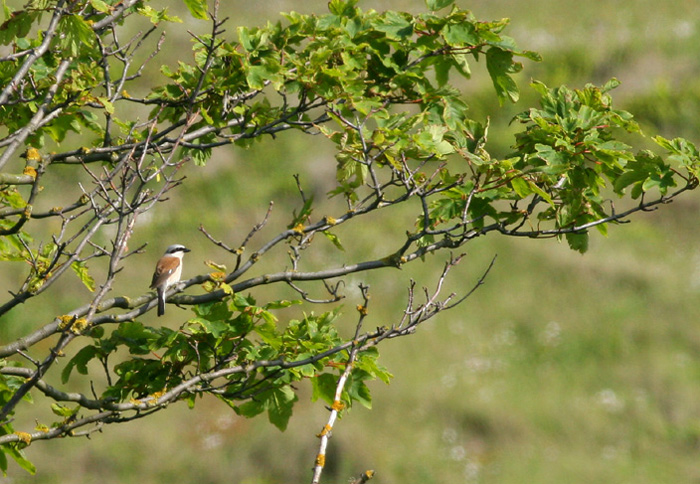 More evocative of sunnier climes were Woodchat Shrikes near John O'Groats, Highland on 13th and at Great Ormes Head, Conwy on 14th, both far to the north or west, as is traditional with such late spring overshoots. A further bird reached Gunton, Suffolk on 19th, not far from Winterton, Norfolk where the pale-headed female continued its long stay (from 1st) until 14th.
A notable feature of the late spring has been a small arrival of beautiful 'Camay-pink' Rose-coloured Stalings . This week birds were noted at Spanish Point, Clare on 13th, Whitley Bay, Northumberland on 15th, Colwyn Bay, Conwy on 16th to 19th and at Minions, Cornwall on 17th. As above, many of these reached the furthest extremities of the country before coming to a stop. Indeed the Irish bird couldn't go much further west if it tried!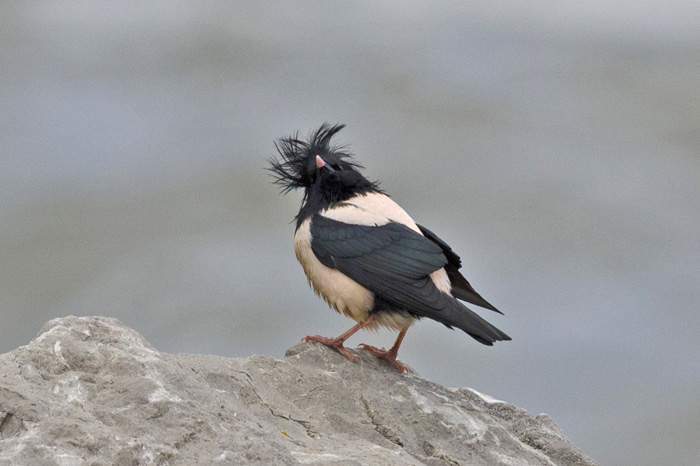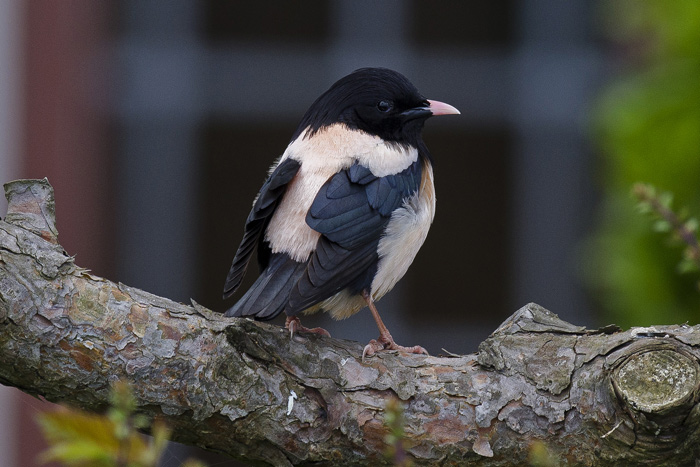 To add further colour to the passerine round-up, four Bee-eaters were over Climping Beach, West Sussex on 14th with five (no doubt the same flock) over Ninfield, also Sussex, on 17th and then near East Grinstead on 18th. Singles also flew over Minsmere, Suffolk on 18th and Hunstanton, Norfolk on 19th whilst (to round off an excellent spring for this species) single Golden Orioles graced Kilnsea, Yorkshire on 14th and Kergord, Shetland on 15th.
Somewhat less colourful were a Savi's Warbler at Blacktoft, Yorkshire until 14th and two Short-toed Larks on Lundy, Devon, whilst the prize for the most unseasonal passerine goes to a Great Grey Shrike on South Ronaldsay, Orkney on 13th.
Next week might see the very last spring migrant of all but our attention now should really be shifting towards waders and, given any more windy weather, to seabirds as well. The end of June is traditionally quiet but there is, as ever, much potential for a surprise. This week's fabulously titled 'Euronews' featured a Rose-breasted Grosbeak and a Great Knot , in Norway and Sweden respectively, so who knows what might be on the cards. Is something already lurking in one of our seabird colonies?
Andy Stoddart
20 June 2012
This weeks contributors
For their help, contributions and photos this week a special thanks goes to:
Mark Rayment, Nick Littlewood, Colin Smale,
Joe Pender - Scilly Pelagics
, Andy Williams,
Jeff Hazel
,
Paul Kelly - Irish Bird Images
,
Julian Smith - St.John's Pool Birds
, Craig Storton,
Martin Goodey Photography
,
Joe Cockram
,
Phil Woollen
, and Youtube users
Night Heron Production
,
Team PB Wildlife Films
,
Port Meadow Birding
,