Weekly round-up: 30 May - 05 June 2012
The weeks highlights
Roller settles down and behaves itself in East Yorkshire, then a second appears…
Anglesey's singing male Baillon's Crake still at Malltraeth
Greater Yellowlegs seems to have snuck away from Scotland
American Eider discovered again along the coast of Donegal
The final days of May have, for decades, frequently built to a splendid crescendo of rarities as the month fades away and the early summer edges in. Last week's magnificent collection of finds on 29th fulfilled all the required criteria (and, one bird in particular, the hopes of many of the keenest birders) as a trio of great birds, led by an almighty mega, headed up an impressive list of new arrivals and old faithfuls too….
This week, well, it was harder going as the new round-up period got under way ~ new arrivals seemed to become fewer and fewer and it felt as though the summer lull had come a tad early.
The weather though, certainly as the weekend arrived, suggested a trip backwards through the seasons ~ rain and cool (sometimes chilly) northeasterly winds pushed in across much of Wales and England as Saturday turned to Sunday. Northern areas were drier, but cooler still. As the long weekend drew to a close (with a day or two of sunshine), a run of south to southwesterly winds along with a bunch of showers set in, June's inglorious start continued….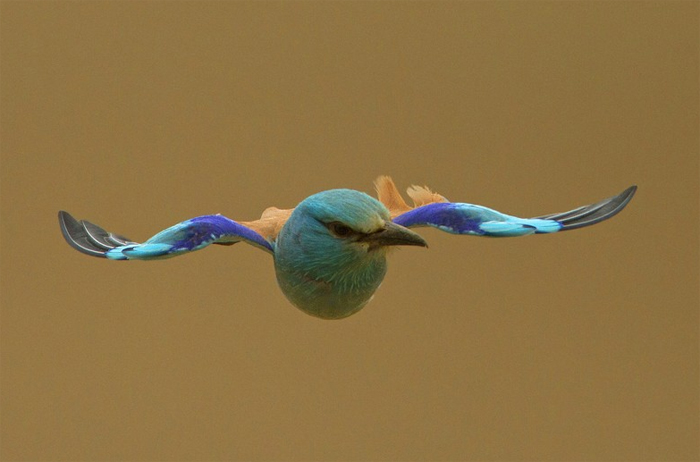 Headline birds
Last week's hectic final round-up day, May 29th, saw a terrific trio of exciting birds arrive ~ rarest was, of course the Western Orphean Warbler (no sign of him during the morning of 30th) followed by Ireland's first Collared Flycatcher off the coast of Donegal (negative news there too on Wednesday morning) and, although comfortably the commonest of the three Tuesday morning vagrants, the Roller discovered at Spurn was still a find of the highest order.
For many who headed north to Hartlepool, the prospect of a funky double dissipated as the clock struck noon ~ the Roller had taken its leave of the famous East Yorkshire peninsula, heading north near Kilnsea just before midday. That appeared to be that.
Move forward 48 hours or so and, on the evening of 31st, news came from Aldbrough (some 20 miles or so further north along the Yorkshire coast) of the reappearance of the Roller ~ and that's where it stayed for the following few days too ~ on to June 5th ~ performing well to all those who came to marvel at its wonderfully intense, almost otherworldly, combination of blues, black, cinnamon and deep lilac.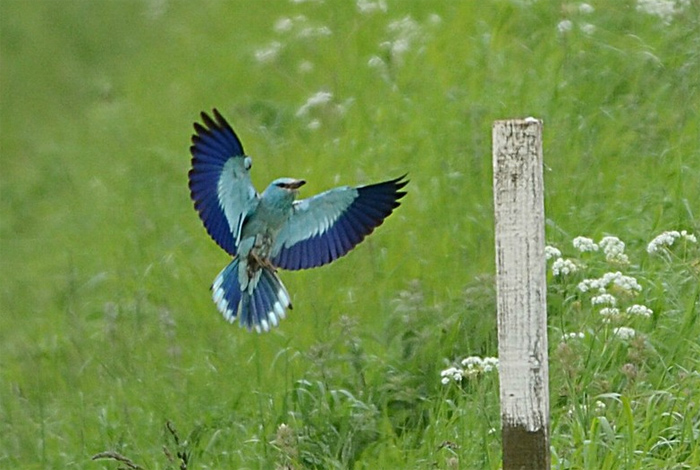 Incredibly, during the afternoon of 4th, a second Roller was reported, just six or seven miles along the road from Aldbrough, flying over the road near the east end of Hornsea Mere. You have to go back to 1973 for the last time a county hosted two Rollers in the same year (Norfolk actually recorded three that year) but to have two Rollers in the same county on the same day is almost unique ~ a pair were present at Skelton Castle, near Redcar in the summer of 1846, the female killed with eggs inside her) and two were reportedly shot at Blackheath in Suffolk at some point in 1879.
European Roller in Britain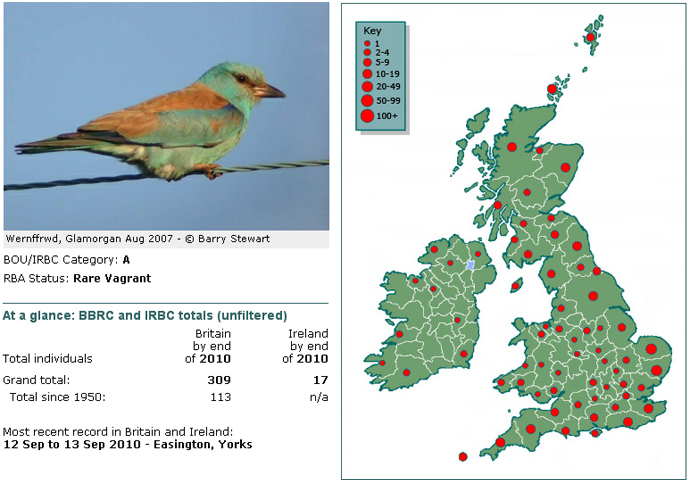 Less of a performer (in terms of "on stage" appearances) was the male Baillon's Crake that continued his "Oh Lonesome Me" chorus into the wee small hours at the RSPB reserve at Malltraeth Marsh on Anglesey for several days this week, still present early on 4th.
Up in northeast Scotland the first-summer Greater Yellowlegs finally made its excuses and upped and left the confines of the Loch of Strathbeg RSPB reserve ~ negative news came on June 1st and confirmation that there'd been no confirmed sightings since May 27th followed shortly after. This week though, another clue ~ the Greater Yellowlegs had been seen on the Loch of Mey (at the top of Caithness, close to John O'Groats) the day after it left Aberdeenshire. By car, it's a five hour drive of over 200 miles ~ the route across the North Sea from the far northeast to far north of Scotland would be rather less.
The bird had spent almost three months at Strathbeg (appearing on March 3rd) although it did take a little bit of time out in early May, spending a few days on the Ythan Estuary. Prior to that, the bird had made a one-day showing at Dornoch, in Highland, on February 20th, before that it had resided on Loch Fleet from December 14th to January 14th after moving from Northumberland on December 12th, having made its first appearance, at East Chevington, on November 11th.
As one star turn from the world of all things Americana took its leave another returning star appeared off the coast of Donegal, The bird in question, the drake American Eider (form dresseri) and he was back at his temporary summer home on the Isle of Doagh from 3rd.
Last year, the bird appeared on the island on June 8th and was seen there, off and on, until June 19th. Later in the summer, it appeared in Ballyhiernan Bay, spending two days on site in the third week of August. The bird's first appearance came in the picturesque bays around Fanad Head in January and February 2010 where all his key features ~ broad frontal lobes, green along the lower edge of the black cap, a parallel or bulging black loral line, a "kinked" bill profile and white sails ~ were all on show to add up to a 100% American Eider and an outstanding find to boot.
No sign yet of a split, but a number of insurance listers have yet to take out this particular policy, but with hints that one has been around since the autumn of 2007 (a possible was reported around Fanad) time is still on their side, for now at least.
Finally, while we're still thinking of Donegal, a brief update on last week's Collared Flycatcher out on Tory Island. The lovely looking bird, Ireland's first, was present for just one day (last Tuesday, 29th) but the discussion as to the age and sex of the bird has continued.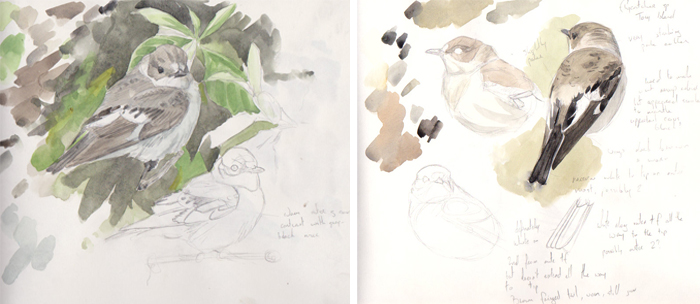 Initially thought to be a first-summer female, the possibility was then mooted of it being a young male (albeit a grey morph young Collared, something that seems still to be an unproven variant for that species ~ as was mentioned here last week).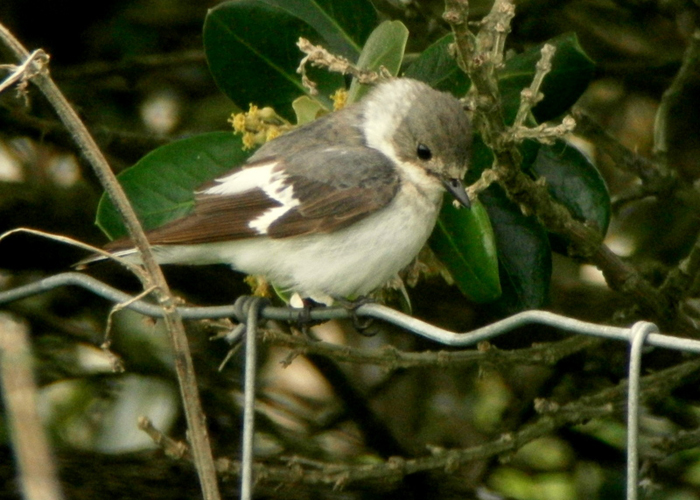 Expert comment, from home and abroad, has moved things on further and it now seems to be at least a second-summer (3cy) bird (the tips of the primary coverts and particularly the tail seem rounded rather than pointed as you'd see on a first-summer) while the tertial and greater covert patterns would seem to resemble a female rather than a male Collared. The pronounced collar and forehead patch wouldn't appear to be exceptional for a female, so the consensus for this super find appears to be heading towards a second-summer (or older) female Collared Flycatcher.
Seabirds
There's no real surprise that there has been little in the way of noteworthy seabirds this week. On Mainland Orkney, near the Broch of Gurness, a summer plumaged White-billed Diver was seen on 3rd, while four Balearic Shearwaters were seen off assorted coasts ~ two were seen off Ballycotton (Co. Cork) on 2nd and singles were seen off Worthing (West Sussex), Kilcoole (Co. Wicklow) and Whitburn (Co. Durham) during the past seven days. A sub-adult Pomarine Skua was noted from one the first Scilly pelagics of the new summer season on 4th.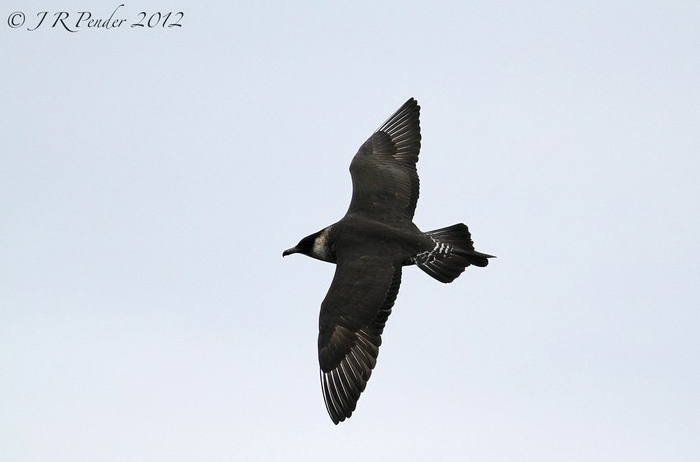 Herons, Egrets & allies
Following on from last week's two reports of Black Stork (in Northamptonshire and Buckinghamshire) late news emerged this week of a Black Stork seen at Tregaron Bog (Ceredigion) on May 27th.
This was followed by big news from the Irish Republic, where a Black Stork was noted over County Clare on 4th (seen over Kilmaley and then near the lagoons at Shannon Airport before heading towards County Kerry). A massive rarity in Ireland, this is only the second ever record ~ the first was seen in County Dublin, at Foxrock, on August 16th 1987. Could the Welsh bird and this week's Irish bird be one in the same perhaps? Seems likely…..
The quartet of White Storks continued their travels this week ~ their Bob Dylan-esque "Never Ending Tour" still in full flow. After traversing three counties in southwest England and then appearing over the western side of East Anglia towards the end of May, the new month saw the birds appear further north still, heading over Aston and Redmires Reservoir (both South Yorkshire) on 2nd, before tracking east to Norfolk, heading over Titchwell during the early evening of 4th. Two birds were then seen the following day near Mundford, on the edge of the Brecks. A single White Stork was seen at Rodbridge Corner (Suffolk) on 1st and an escape was reported over the M9 near Stirling on the same date.
In Kent, a Squacco Heron at Dungeness was an exciting find on the morning of 30th ~ only the ninth record for the county and the third seen at Dungeness, one spent a day there on June 9th 2007 and last year one was on site from June 15th-19th.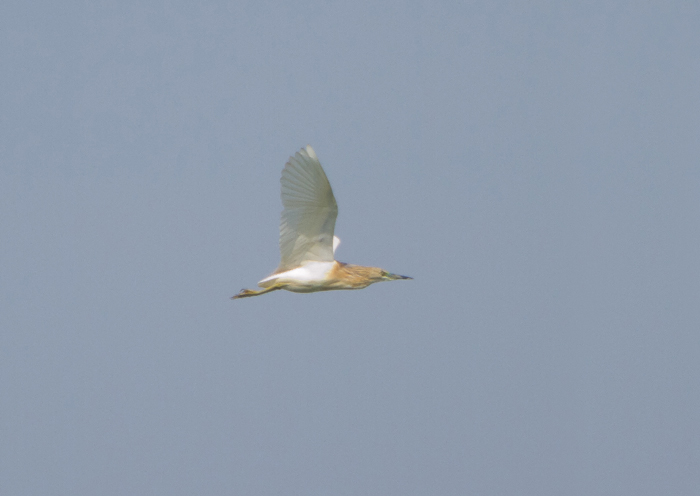 An adult Night Heron was found in trees near the fishponds Pennington Marshes (Hampshire), on 2nd, and was still in place until the end of the day on 4th when it called several times near dusk before heading out towards the Isle of Wight (Night Heron is a rare bird in Hampshire, this is only the fourth reported in the county in the last 10 or 11 years).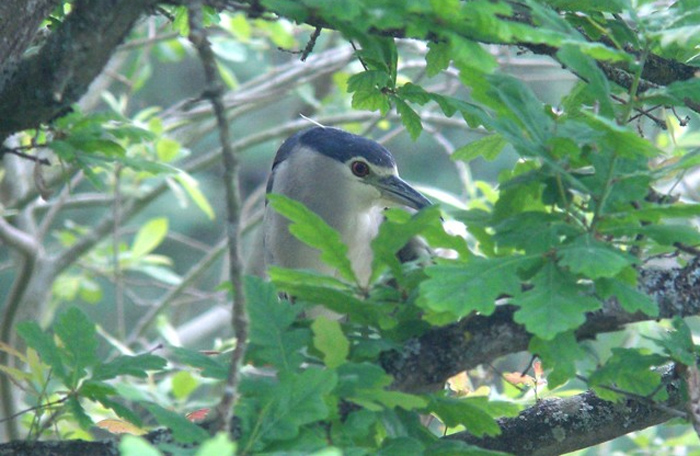 In Bedfordshire, a Purple Heron was seen heading south over Brogborough Lakes on 2nd (the second report in the county within the last month, following one over Broom GPs on May 2nd) with number two for the week (a first-summer) appearing at Church Norton (West Sussex) on 4th with perhaps the same bird on Denge Marsh, Dungeness the following day.
It was very much a case of "as you were" for this week's Glossy Ibis ~ three remained at Marloes Mere (occasionally it was just two, but generally it was three) throughout the week ~ at one point they were seen heading south, towards Skokholm, but were back soon enough ~ while two birds remained at Minsmere to 2nd (with one still there on 5th) and singles were still on Exminster Marshes RSPB and Dawlish Warren (Devon), Pagham Harbour LNR (West Sussex) and again at Pennington Marshes ~ it went missing for a few days ~ while a "new" bird was seen in Essex, flying over Belhus Woods CP, on 1st.
Away from assorted breeding pairs, three single Common Cranes were reported this week ~ over the airport at Tingwall, on Mainland Shetland, on 30th, high over the Hampshire countryside, near Godshill, on 31st and in Borders, at Chirnside on 2nd. Eleven English counties registered Spoonbills this week, with six at Cley on 5th and five at Havergate Island on 1st the highest tallies noted away from the Norfolk breeders. Others were reported from Cornwall, Devon and Somerset up to Lancashire on the west side and Northumberland in the northeast corner.
In Somerset, a second young Great White Egret has now surfaced in the nest of the historic pair on Shapwick Heath ~ the two youngsters in the company of their two parents, with two other adults in the area too.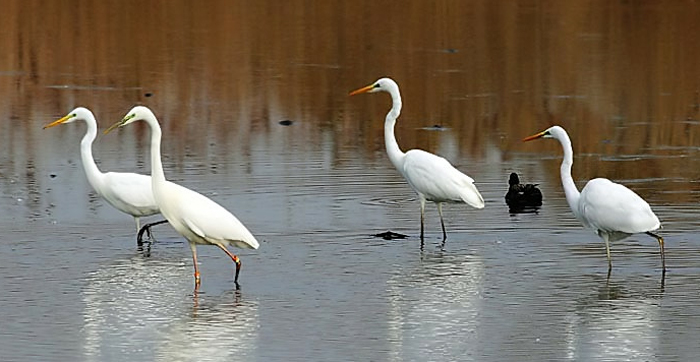 Elsewhere, a Great White Egret was seen around Cley and Blakeney on 30th and another flew over the harbour at Lowestoft on 31st. Two birds were on the Isle of Wight, at Brading Marshes RSPB, for a couple of days from 3rd while the 4th saw single Great White Egrets noted at Parkgate (Cheshire) and Lough Carra (Co. Mayo), while the 5th saw a single bird fly past Newport Wetlands NR (Gwent).
Ducks & Geese
Two single (presumably dubious) Snow Geese were seen this week, heading north with Greylag Geese over White Cross Bay in Cumbria on 30th, with another on the same day heading past Hartlepool Headland (well, it makes a change from all those mega passerines…).
In Donegal, a drake Ring-necked Duck was seen again on Blanket Nook, Lough Swilly, on 3rd (having last been reported there on May 13th) and another drake was found at Frodsham Marsh (Cheshire) on 4th. In Somerset, a Ferruginous Duck appeared at Shapwick Heath on 5th while up in northeast Scotland, the drake King Eider spent the week at Blackdog, with a drake Surf Scoter there on 5th. A new Surfie was found on the west coast of Scotland on 30th, a first-summer drake in the waters at the head of Loch Gairloch (Highland).
Raptors
In Lincolnshire, a young Pallid Harrier was seen near Barton-upon-Humber, off and on, during 5th ~ one was seen in the county just under a month ago and what may have been the same bird then moved in to East Yorkshire, spending a few days at Patrington Haven. Whether this week's bird is the same or another new arrival remains to be seen.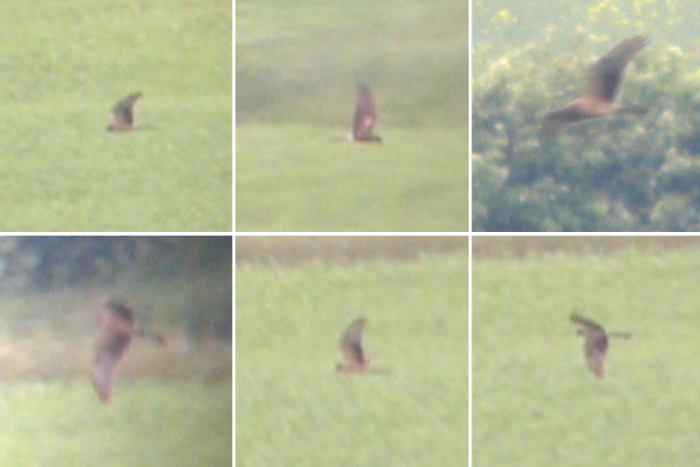 After an impressive haul of Black Kites last week, there were slim pickings over the past seven days with just three birds reported, two of them on 31st. The first was seen over the airfield at Cranfield (Bedfordshire) and the second appeared over Otterham Station (Cornwall), with the final Black Kite of the week noted at Faseny Bridge (Lothian) on 4th.
Better news for admirers of Red-footed Falcons though ~ with five birds seen on 30th. First-summer males were at Abberton Reservoir (Essex) and still at Tacumshin (Co. Wexford), the latter still in place on 4th, while females were at Rockland Broad (Norfolk), having first been seen there on 29th, over Minsmere RSPB (Suffolk), that bird remaining to the following day and also at Dull (Perth & Kinross), this one in place to June 1st.
Further Red-foots included a male over Vange (Essex) on 31st, first-summer males at Willington GPs (Derbyshire) and Tealham Moor (Somerset) on 4th with an adult male in County Galway, at Killeenaran, on the same day.
On the Outer Hebrides, the impressive male Snowy Owl was still in semi-residence around the machair tracks between Solas and Greinetobht (North Uist) to 4th at least (it was seen enjoying a rabbit during the week, the same sense of enjoyment couldn't be guaranteed for the bunny tho')….
Shorebirds
In Ireland, an adult female Pacific Golden Plover was a great find out on the Inishkea Islands, off the Mullet (Co. Mayo) on 4th. An American Golden Plover was found on North Ronaldsay (Orkney) on 3rd (the first for the island group since one, also on North Ron., in September 2010)
A Buff-breasted Sandpiperspent the afternoon and evening in Tyninghame Bay (Fife) on 5th while Pectoral Sandpipers this week included two at Beacon Ponds (East Yorkshire) on 2nd and two more at Tacumshin (Co. Wexford) on 4th. Singles were found at Truska (Co. Galway) on 30th, Dawlish Warren LNR (Devon) on 1st, in Wicklow, at Newcastle on 4th and on Walney Island (Cumbria) on 5th.
After last week's day and a half appearance (on 24th-25th), the summer adult Long-billed Dowitcher resurfaced at Saltholme RSPB in Cleveland on 2nd, and lingered a little longer this time, still there on 4th.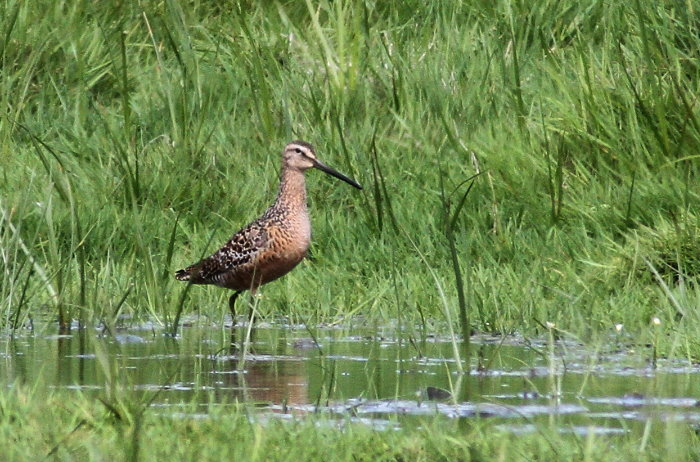 The only Dotterels reported this week were singles at Danby Beacon in North Yorkshire, present on 2nd-3rd and on the Isle of Arran (Ayrshire) on 5th. Six single Temminck's Stints were seen, including three in Norfolk (at Cley, Titchwell and Welney) and others on the Farnes on 30th, Fetlar on 31st and at Coombe Hill Meadows in Gloucestershire on 3rd, which continued to host the long-staying female Red-necked Phalarope, also to 3rd (before presumably heading back to Slimbridge on 5th).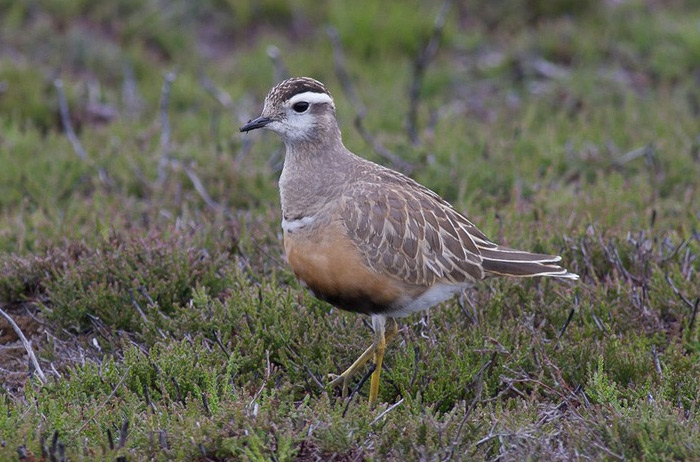 Further to the northwest, two single Red-necked Phalaropes were seen on the Outer Hebrides this week, near Loch Bee, South Uist on 30th and at Loch Bhrusda, North Uist on 31st while across in Ireland, two Red-necked Phalropes were seen on Inishkea on 4th with a single bird in the harbour at Tory Island the same day. This was followed by a Red-necked Phalarope at The Shunan, on Mainland Orkney on 5th.
This roamer was followed by two birds at Pennington Marshes (what a decent week birders there have had) between 2nd-5th and another was at Curry Moor (Somerset) just before 4pm, also on 2nd. Within a quarter of an hour a second bird had appeared, and then as teatime approached, bird number three had joined the gang.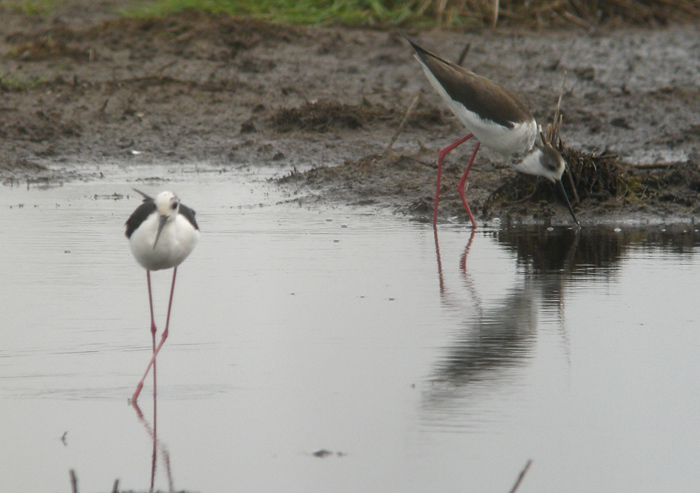 Gulls & Terns
After the capital's birders had all the fun of the Bonaparte's Gull fair in the last couple of weeks, it was Shetland birders who had their go this week, an adult seen on the Loch of Tingwall, Mainland on 30th. Once accepted, this will become only the fourth record of this lovely North American gull for the islands ~ most recent was one at Veensgarth, near Tingwall, in July 2005, and that one day bird was preceded by one of the same, a first-summer, at Loch of Spiggie in May 1987, with the first for Shetland spending 17 days on Fetlar in the summer of 1982.
Another rare gull for this group of Northern Isles is Ring-billed Gull, so the finding of a first-summer at the south end of Fair Isle on 4th was certainly of note. The third record for the island and only the seventh seen on Shetland in the past 10 years or so, the bird was still present on 5th.
At least twelve Iceland Gulls included three in Argyll (two different birds reported at Loch a' Phuill during the week), two on Unst and one on Iona which hosted two of the week's fourGlaucous Gulls, the others seen on South Uist and in Wexford.
One of the more notable discoveries this week was the Gull-billed Tern that spent three hours or so at Thorne Moors NNR (South Yorkshire) on 30th. Only the second to be seen in the county, the other (the most recent accepted for the whole of Yorkshire) was seen at Old Moor, Wath, on May 29th 2003. In total, there have now been 10 records of Gull-billed Tern in Yorkshire ~ the first was seen at Spurn in July 1976 and a further six records have been accepted for East Yorkshire. North Yorkshire is represented by two birds off Filey Brigg on August 18th 1992 and now South Yorkshire has nudged ahead with two.
Over the Irish Sea to Wexford where, at Tacumshin, the adult summer Forster's Tern continued to oblige throughout the week.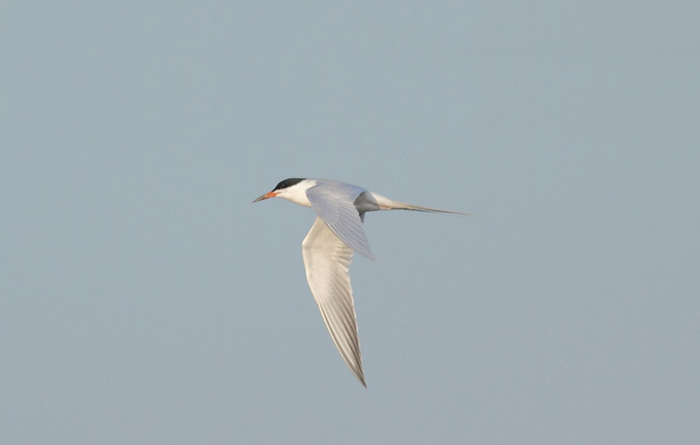 Passerines
Leading the way for another week at the head of the Passerine parade comes Greenish Warbler ~ two more seen this week to take the total from May 25th – June 4th up to five. The first this week was seen and heard (albeit briefly) on Cape Clear Island on 30th and it was followed by Cumbria's first Greenish Warbler in a decade ~ one trapped and ringed on Walney Island on 4th.
The bird remained around the Bird Observatory garden for a while after release, doubtless to the relief of any county listers who hadn't had the good fortune to see any of the previous four accepted records ~ in 2002, also on Walney Island, 1997, at South Walney and 1992, another for South Walney and with a singer at Arnside. Four of the five Cumbrian records have now come in June, the 1997 Walney bird the odd one out, that appeared in September.
On the Isle of May, a Thrush Nightingale was trapped and ringed on 30th and showed (sometimes very well indeed) to 2nd. John Anderson's stunning shots are testament to how well the bird performed and are, arguably, two of the nicest images of this always-tricky species taken in this country.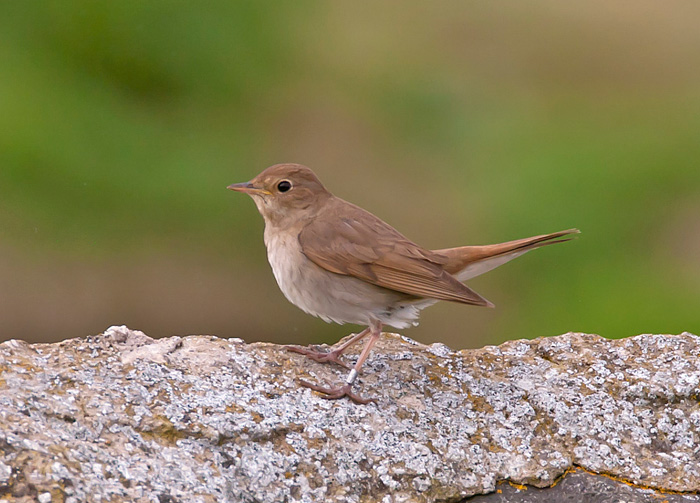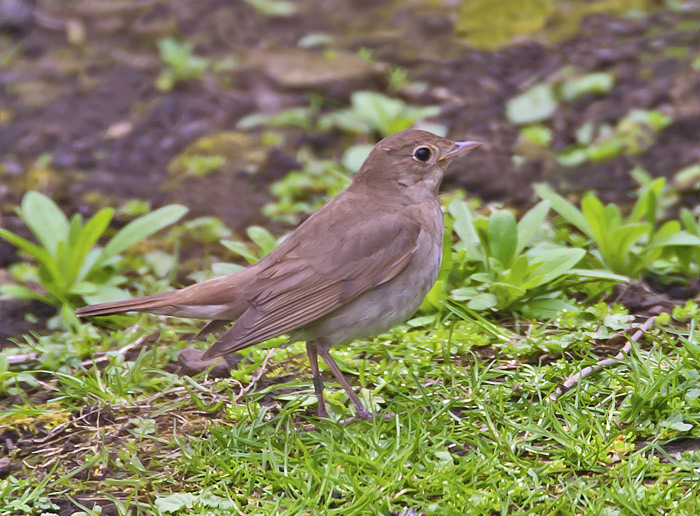 The 30th was a pretty productive day for birders on the Isle of May ~ as well as the Thrush Nightingale, they also laid claim to the only Red-spotted Bluethroat of the week (tho' a bird on the island on 1st could have been a different again) and also an Icterine Warbler. Three Icterines remained on Fair Isle on the same date, while Northumberland snagged a couple of singles (on the Farnes on 30th and Holy Island on 31st) and further lone birds were on North Ronaldsay on 30th, a singing male was at Flamborough Head on 1st and another was on the Isle of May on 5th.
The latter site also hosted a fine male Red-backed Shrike on 3rd-4th and others included a female and then a male around the Horsey area of east Norfolk on 30th and 1st, single males on Mainland Orkney, at Evie on 30th, at Land's End briefly on 1st and on Lundy on 2nd, while females were seen near Kilnsea on 4th and on Westleton Heath (Suffolk) on 5th.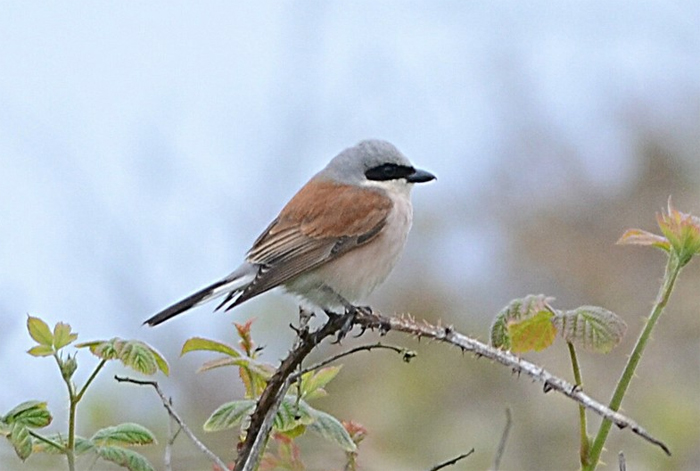 Other early summer drifters included five more Common Rosefinches ~ at Spurn and on Lewis, Outer Hebrides, and Fair Isle, all on 31st, along the seawall east of Wells-next-the-sea (Norfolk) on 2nd with singing males on Bardsey on 4th and in Theddlethorpe Dunes (Lincolnshire) on 5th. A single Wryneck was at Sumburgh on Mainland Shetland on 2nd and at least 12 Marsh Warblers were spread from London to Shetland (with two each for Lincolnshire and East Yorkshire), the most popular of which were singing males at Rainham, Cleethorpes and Blacktoft (all present to 4th at least).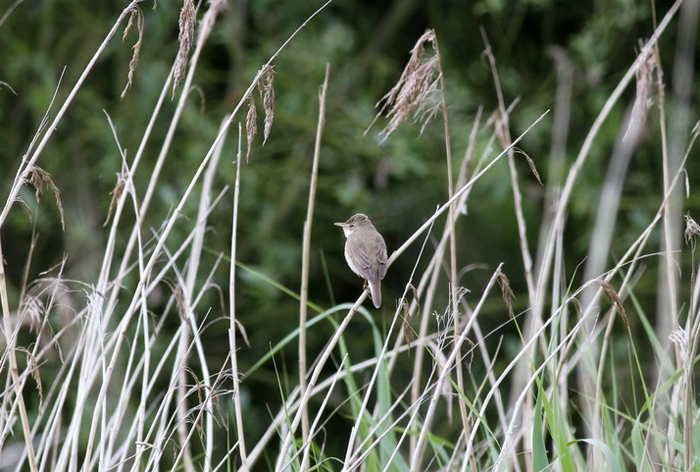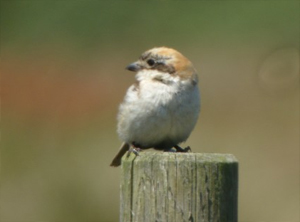 A female Subalpine Warbler spent 29th-2nd at Quendale, at the south end of Mainland Shetland and on Lundy, two male "Sub-A's" (an adult and a first-summer) were trapped and ringed on the island on the morning of 30th, with one still present on 2nd. Also on the island this week were two Short-toed Larks, present on 1st-4th, with singletons on St. Martins (Scilly) on 30th, Unst (Shetland) on 31st and Cape Clear (Co. Cork) on 3rd.
County Cork also hosted one of the week's four Woodchat Shrikes ~ a male found on Sherkin Island on 30th stayed for three days, while a male near Lydiate (Lancashire) on 30th was a one day wonder. In Norfolk, a first-summer female spent 1st-5th in the dunes at Winterton and a first-summer male was trapped and ringed on Bardsey Island, off the coast of Gwynedd, on 4th. Bardsey was also host to a singing male Melodious Warbler, present on 3rd-5th.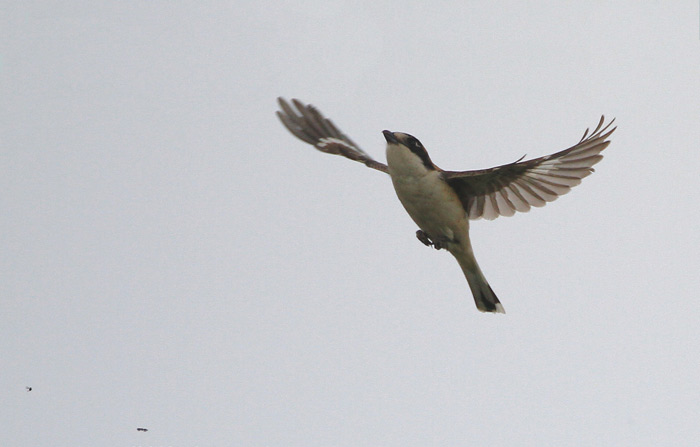 At least 13 Golden Orioles were found this week, spread from Kent and Norfolk to Shetland, with an inland singing male at Tempsford (Bedfordshire) and a female-type way out on Loop Head (Co. Clare), both on 3rd, being of particular note. A Red-rumped Swallow was a brief visitor to the back end of Cley village on the muggy morning of 30th while Bee-eaters included one on Bardsey on 30th (birders there enjoying a good week, although the Bee-eater may not have had so much fun, last seen with a Peregrine in hot pursuit), two over North Foreland (Kent), also on 30th, and five headed south over Spurn on 4th. Other singles were seen at Durlston CP (Dorset) and near Carnoustie (Angus) on 2nd.
The singing male Great Reed Warbler that had set up a temporary home at Weston-super-Mare finally left this week ~ still present on 2nd, there was no sign of him on the morning of 3rd. New Great Reeds this week were found along the East Bank at Cley on 30th and near Mullion, on the Lizard (Cornwall) on 3rd-5th. Elsewhere in Cornwall, the singing male Iberian Chiffchaff remained at the top end of the valley Kenidjack throughout the week.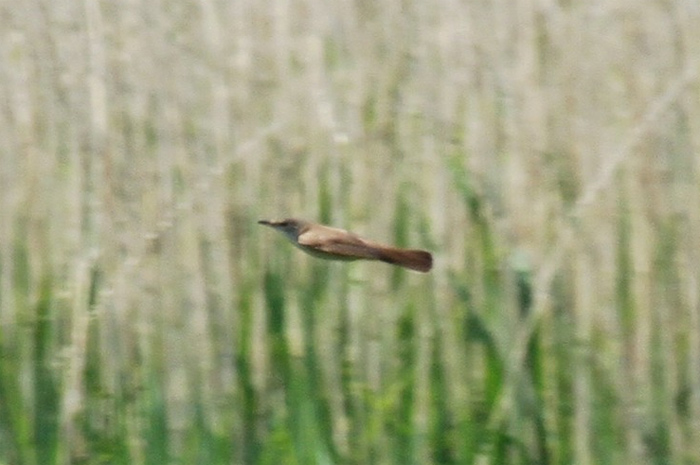 Two single Hoopoes, both on private land, were seen in Dorset and Clwyd this week, while in Suffolk, the female Serin was back at Landguard Point, present intermittently from 30th-4th, with another noted heading south over the seawatching hut at Spurn on 2nd. In Kent, single Rose-coloured Starlings were seen in Gillingham on 3rd and Higham on 4th and on 5th, an adult Rose-coloured Straling was found at Martin's Haven (Pembrokeshire).
A neat male Rustic Bunting found on Inner Farnes on 31st proved popular during his two-day stay while the stunning male Black-headed Bunting found at Gloup, on Yell (Shetland) remained until 1st, allowing for some wonderful images to be captured….this shot from Larry Dalziel the pick of the bunch….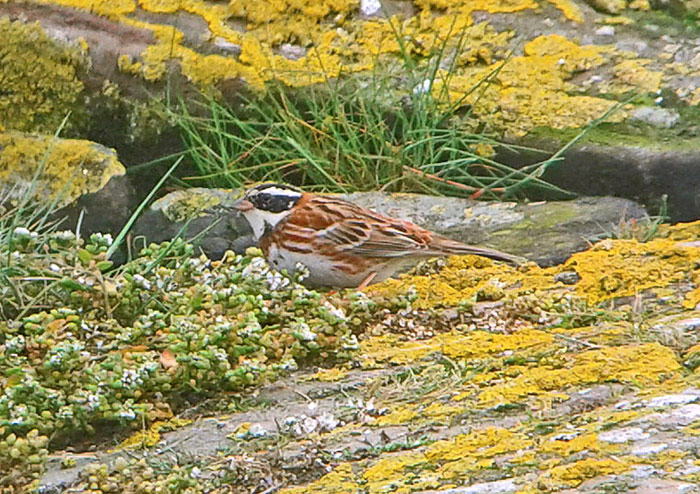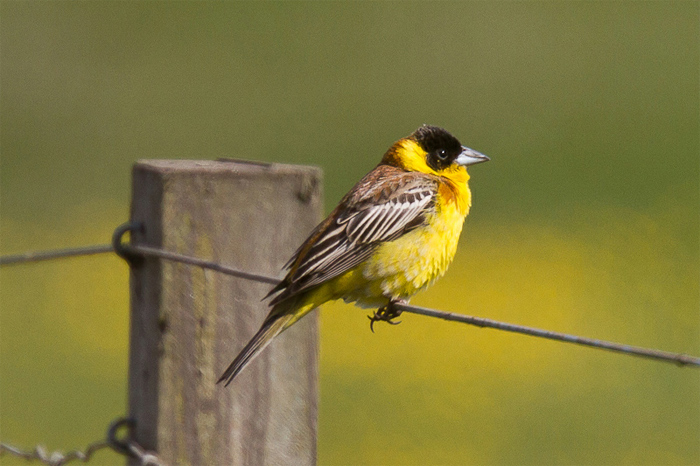 That's it for this week ~ Andy Stoddart is in the round-up chair for the next few weeks as duties call elsewhere, so fingers crossed he'll have plenty of news to bring you over the course of the next month or so.
Mark Golley
06 June 2012
This weeks contributors
For their help, contributions and photos this week a special thanks goes to:
Colin Smale, Andrew Hood,
pryce68 on Youtube
,
Robert Vaughan
,
Joe Pender - Scilly Pelagics
,
Martin Casemore
,
Jeff Hazel
, Tom Lowe, Martyn Sidwell, Andy Johnson, Ian Forrest,
Paul Kelly - Irish Bird Images
,
John Anderson
, Craig Morris, Phil Boardman,
Paul Bishop
,
James Kennerley
, and
Larry Daziel - Nature in Shetland