Weekly review: 23 - 29 May 2012
The weeks highlights
Cleveland's Western Orphean Warbler causes some Tuesday morning madness
Ireland's first Collared Flycatcher found off the coast of Donegal
Roller rocks up in East Yorkshire
Cream-coloured Courser heads west from Herefordshire
Singing male Baillon's Crake serenades itself on Anglesey
The Greater Yellowlegs still in residence in north-east Scotland
All that excitement from last week spilled over in to the final full week of May with an increased sense of anticipation well to the fore, as a new week began with not one but two A-list rarities on the books.
Along with the Courser & Crake double bill, expectations were high for more of a similar quality to head this way as the days passed by….the weather warmed up (highs of 28 degrees or more for the Highlands, and some night-time "lows" of a muggy 18 degrees in Wales) ~ could the birds match up too?
Those expectations, on paper, did seem to be justified ~ a look at the weather charts showed an increasingly sizeable area of high pressure spreading way, way off into continental Europe, heading right off the map to reach all the nooks and crannies that possess the birds that we long for in late May….yes, one look at the synoptic charts and local forecasts spelt out only one thing.
RARES.
But, did they come? Eventually….and then some….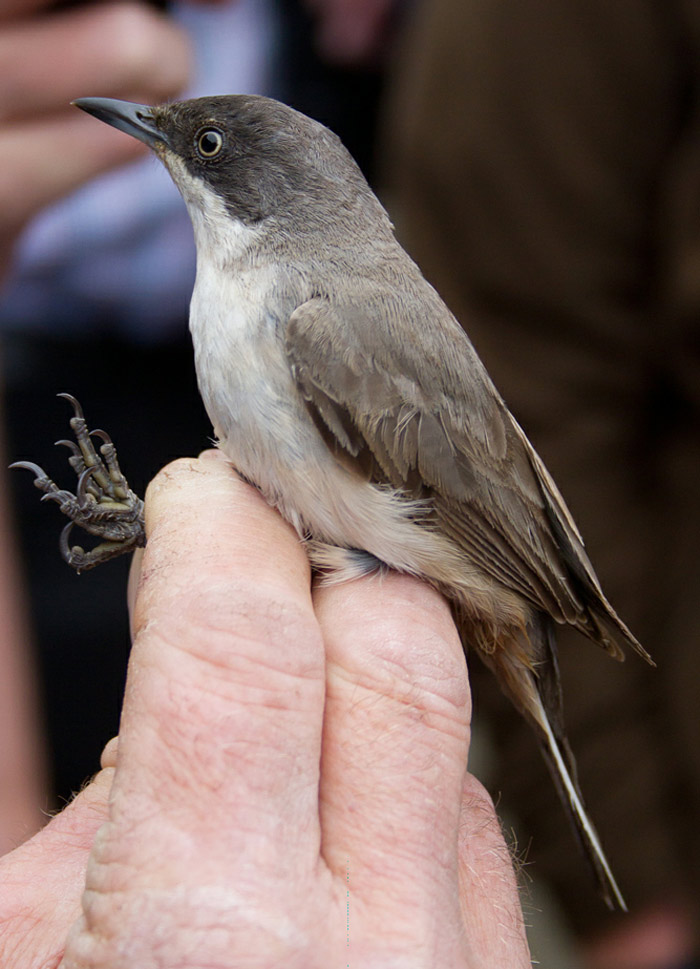 Headline birds
Yes it all looked as if, despite the most agreeable weather of the last week or so, the traditional late May mega was going to pass us by. A busy weekend produced nice birds everywhere but the big one? Nah. Uh-uh. Not a sniff….
Monday was similarly uneventful and then, at breakfast time on Tuesday, with some light northerlies and crucially, cloud and a hint of drizzle across the east coast, some extraordinary news woke everyone from their sleepy-eyed slumbers as a bird with an undeniable W.O.W. factor was discovered on the famous rarity-enticing headland at Hartlepool.
There, in the net, was a first-summer male Western Orphean Warbler ~ a monster rare if ever there was one. Almost 31 years have been run up on the clock since the only other twitchable Orphean Warbler ~ the famous Scilly bird of October 1981, currently unassigned to form ~ so this was a bird that was guaranteed to cause quite a kerfuffle.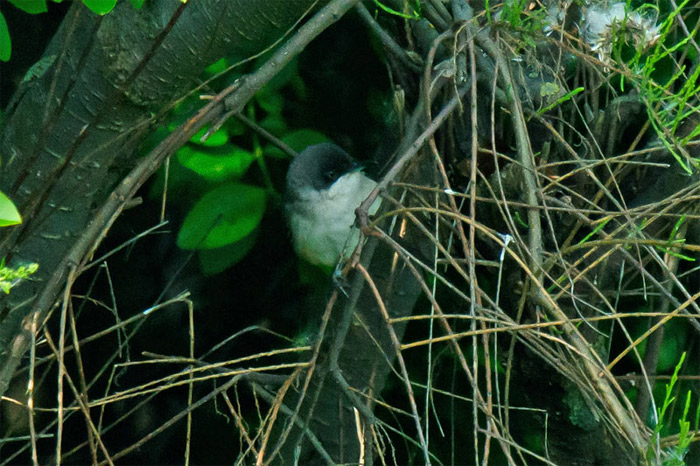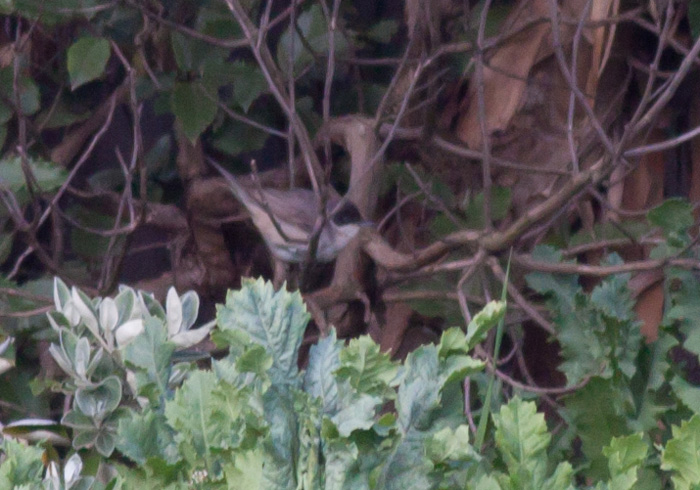 After due diligence was employed during the in-hand processing (biometrics, undertail covert pattern and moult strategy all indicative of the nominate hortensis) the beefy bird was released in to the bushes on the outer bowling green (last year's late spring mega at Hartlepool, the White-throated Robin, was often on the inner bowling green) where it remained, often stock-still but occasionally perky, until mid-afternoon when it suddenly upped and headed away over the houses of Hartlepool.
Mortified new arrivals exhibited a downcast air, wandering aimlessly whilst avoiding eye contact with the smiling faces all round and then took themselves away to search the green pockets of suitable habitat nearby. Soon enough the bird was discovered in the shadow of St. Hilda's Church before darting back along the streets and alighting back in the bowling green bushes. And there it stayed for the rest of the evening ~ often hidden once more, but when it did show, it showed really well and everyone headed home happy.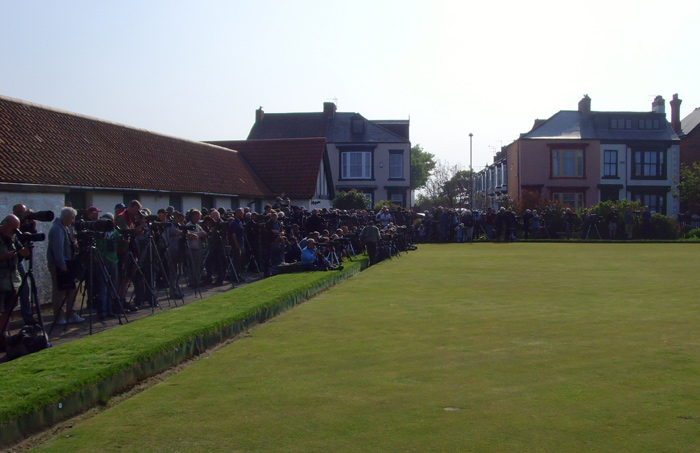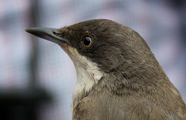 BOU/IRBC Status: A
RBA status: Extremely rare
Accepted British records: 5
Accepted Irish records: 0
Most recent accepted record:
20 - 22 May 1991 - Saltash, Cornwall
Prime month to occur:
October
This will become the sixth Orphean Warbler to be recorded in Britain and only the second to be assigned to a specific race. Britain's first Orphean Warbler, also a Western hortensis, was trapped and ringed at Portland Bill on September 20th 1955 ~ in 2006, the BOURC announced that it would be accepted as a nominate race bird, thanks mainly to a single feather that had been collected at the time and which was then, decades later, sent off for DNA analysis. The results of that work suggested that "the DNA was strongly indicative of nominate hortensis".
Britain's second Orphean Warbler was trapped at Porthgwarra in October 1967, and then came the 1981 bird on Scilly to make it three. A year later, on October 10th 1982, one was trapped at Seaton Park in Aberdeenshire and then, in May 1991, a three day singing male was in semi-residence in a birder's garden in Saltash, in southeast Cornwall.
Which of these, if any, were Eastern crassirostris is unlikely to ever be resolved, though a skirt through the BBRC files may offer some clues for the two trapped October birds. Some of the old-guard present at Hartlepool who saw the Scilly bird may have an ulterior motive of course ~ the push for Eastern Orphean Warbler starts now presumably!
That's for the future ~ right now, many of those lucky enough to get to the north-east owe a huge debt of gratitude to the local ringing group for their willingness to share such remarkable birds as Western Orphean Warbler and White-throated Robin. Hopefully the collection buckets had plenty of money in them as dusk came down…..
As things all went a little bit bonkers in Britain on a busy, busy 29th, Irish birders were struck with a "Red Alert" with the discovery of a remarkable looking Collared Flycatcher out on Tory Island, off the coast of County Donegal. Once accepted, this will become the first record of the species for Ireland and what a bird it seemed to be! At first thought to be a first-summer female (the obvious grey pallor, pale collar and white forehead smudge all indicating a female-type), opinion later went back and forth between a (grey-morph?) first-summer male (do grey male Collared Flys exist?) and a well-marked, utterly striking, female.
Given the recent entertaining issues regarding Ficedula flycatchers, a bird such as this could be the cause of more discussion ~ sexing it correctly is the first task and several images have been posted online of female Collareds that have more than a passing resemblance to the Tory Island bird…but wherever the debate leads us, it's a beautiful looking bird for sure….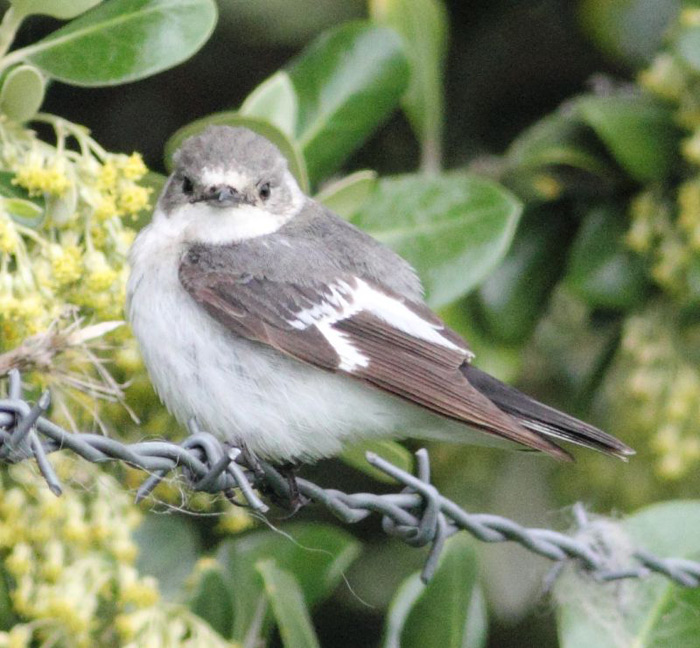 …and while we're on such matters, the hectic mad, mad day of 29th was kick-started by the finding of a magnificent Roller on the Spurn peninsula. Present off and on throughout the morning it became only the fourth for East Yorkshire (with three of those recorded within the last five years ~ prior to this week's morning glory, single birds were present at Easington for a couple of days in mid-September 2010 and also in mid-July 2007, before that the only record was of a shot bird, taken at some point during 1868, at Bridlington).
There may be over 300 records of Roller accepted for Britain (and just under 20 for Ireland) but news of one will always be of significant interest and no little envy….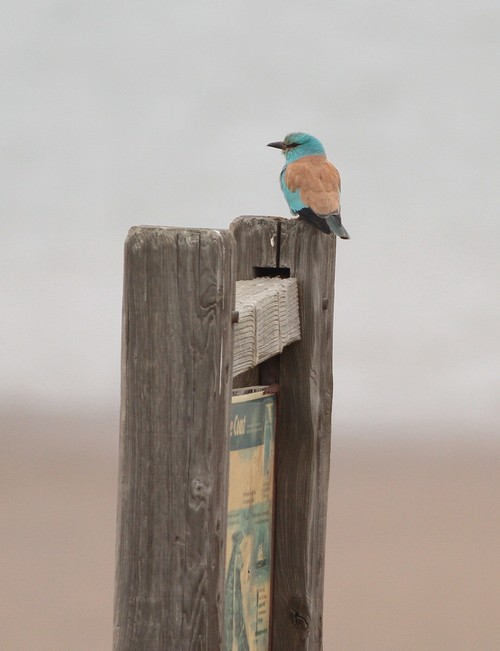 Last week's major bird managed to hang on for a few hours into the 23rd to remain one of this week's most significant birds ~ the Bradnor Hill Cream-coloured Courser deciding to head off to pastures new during Wednesday morning ~ setting a westward passage to who knows where after too close a call with a ball that, apparently, went a little too "straight down the middle" ….
Those with a Welsh list, and a keen sense of ambition, would have been keeping their eyes peeled, just in case, and even those in Ireland would have been advised to cast a cursory eye over any suitable bits of habitat. Given its astonishing hit-rate, there's every chance that Tacumshin may be the next site to host this wonderful bird….should it choose to reappear. (Which, errrrr, it hasn't….!)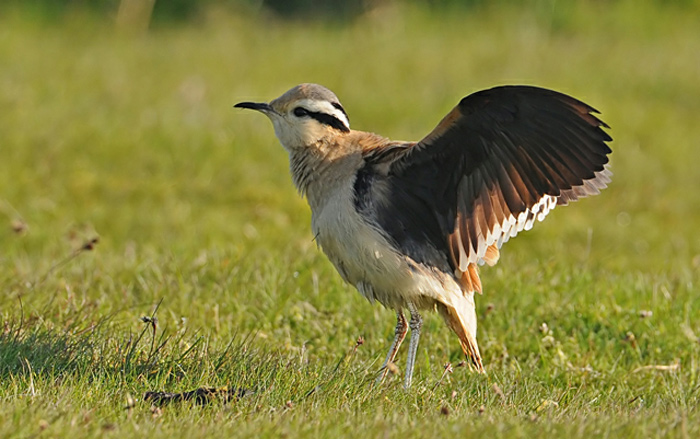 Just as the last round-up had been put to bed and posted, news came of a late-night songster on the marshes at Malltraeth on Anglesey ~ a male Baillon's Crake conducting a lonesome crepuscular chorus overnight on 22nd and again on 23rd into 24th and the subsequent days that followed (being seen briefly from time to time too).
After the fabulous bird that graced Great Saltee a couple of months ago, this will become the 14th Baillon's Crake of "modern times" and the fifth record for Wales. Three records of the four records so far in the Principality have come from (what is now) Gwynedd ~ a male found dead on Bardsey on June 16th 1990, another dead bird was found at Aberdyfi in January 1932 with the other county record coming further back still ~ a male Baillon's Crake caught by a dog at Llangwsteinin in November 1905. The only other accepted Welsh record was at Llantwit Major (Glamorgan) in February 1976.
2012 will become the fifth year in the last 50 or so that has boasted the appearance of two Baillon's Crakes within a twelve month period ~ the others being 2001 (birds in Kent and Shetland), 1995 (males in Cornwall and Devon), 1990 (the already mentioned bird in Gwynedd and another in Hampshire) and 1970 (singles in Leicestershire and Yorkshire). Further back in time, Baillon's Crake doubled-up in 10 years (dating back to 1840) but nothing matches 1874 ~ seven accepted records that year, something that seems unlikely to be beaten in the foreseeable future….
Baillon's Crake in Britain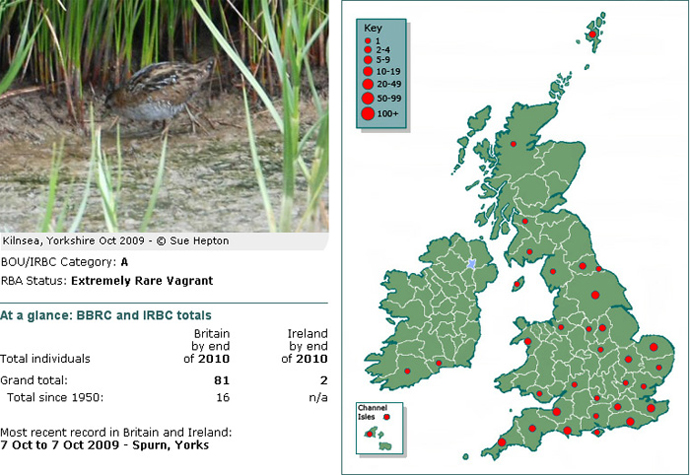 Meanwhile, in Aberdeenshire, the first-summer Greater Yellowlegs spent another few days at Loch of Strathbeg RSPB reserve, still present on 27th with the potential for a whole summer here on the cards now.
Seabirds
With such calm, sunny and warm weather, it was little surprise that so few seabirds were recorded. On Shetland, a summer adult White-billed Diver was off Sumburgh Head on 28th, while the returning, summering Long-tailed Skua was still at East Burra at the end of last week's review period. The only other bird of note was a single Pomarine Skua seen off the Lancashire coast, at Fleetwood, on 26th.
Herons, Egrets & allies
Black Stork is one of those classic warm weather late May drifters and there were reports on two days this week ~ along the River Nene, at Earls Barton (Northamptonshire) on 24th and Emberton Park (Buckinghamshire) on 25th. It (or they) could pop up anywhere in the next few days ~ despite their apparent obviousness, any number of these majestic overshoots have managed to hide themselves away from time to time and this one may have done the same.
Four White Storks did a little tour of three southwestern counties this week ~ starting in Dorset, they flew over Radipole Lake RSPB, then Portland and Overcombe on 23rd before heading over Meare Heath (Somerset) the following day with another south coast flyover on 25th, this time in Devon, heading across the Kingsbridge Estuary during the middle of the afternoon. Three days later, a quartet of White Storks were seen over Lakenheath Fen on the afternoon of 28th ~ the grand tour continues...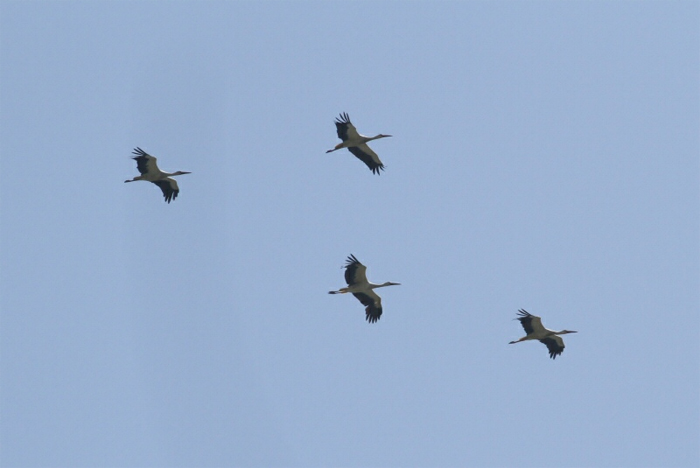 Single White Storks of unknown origins flew over Nottinghamshire and Clyde on 25th and 26th, while escapes were logged in Worcestershire and Suffolk.
The meanderings (or otherwise) of the Marloes Mere Glossy Ibis has become something of a guessing game of late ~ the week began with an adult and an immature on site on 23rd-25th (with no sign during the evening of the latter date). Two birds were seen again on the morning of 27th, with three later in the day and on to 29th. Over at Tacumshin, two Glossy Ibis arrived during the evening of 24th, where they remained until the morning of 27th at least.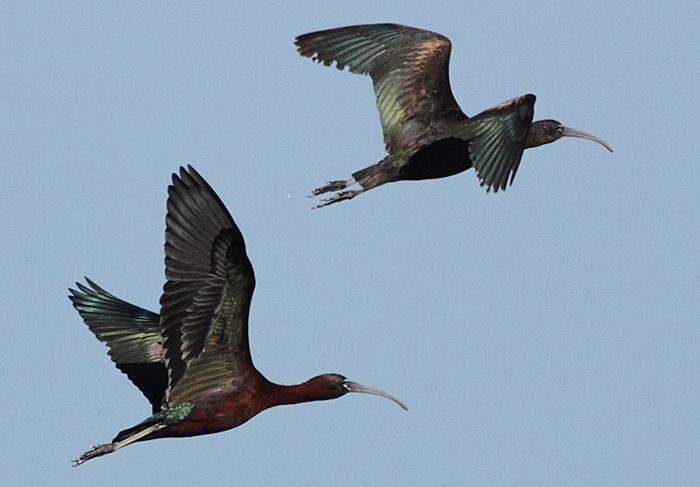 Two more Glossy Ibis flew north along the Pannell Valley in East Sussex on 25th and were seen at nearby Icklesham the following day. On 24th, a single bird had been seen at Rodmell, also in East Sussex while next-door in West Sussex, another bird was at Pagham Harbour on 26th-28th with perhaps the same bird re-surfacing later in the day at Pennington Marshes (Hampshire). The week concluded with one at Exminster Marshes RSPB and two hopping along the Suffolk coast, moving from North Warren to Minsmere.
Back in West Sussex, at Pulborough Brooks, an adult Night Heron was discovered on the morning of 23rd and remained on site throughout the day, but wasn't seen again. A Purple Heron flew north over the Tamar Bridge (on the Devon side apparently) on 28th and the second of the day followed later in the day at Lakenheath Fen (presumably the only single site in the country to host Common Crane, White Stork and Purple Heron on the same day).
Three Cattle Egrets were seen during the week ~ first up was one at Shandrum, near Bantry in County Cork on 23rd, while the next day a Cattle Egret was seen in Dorset and Devon, tracking along the south coast (passing West Bexington and Seaton) with five Little Egrets. Still Devon, at the north end of the county, another was found at Yelland on 25th, reappearing at nearby Isley Marsh the following day.
As well as at least three Great White Egrets at the successful breeding site in Somerset (with another single nearby) the only other records of this always impressive species came from Norfolk (around Hickling Broad on 23rd and Burgh castle on 29th), Devon (at Thurlestone from 24th-28th), Cheshire (one at Parkgate Marsh on 27th) and East Sussex (at Bewl Water on 29th).
Common Cranes this week (aside from assorted breeding birds in East Anglia) were seen in Aberdeenshire, Shropshire, north Wales and Lincolnshire, with a flock of six over assorted bits of north Norfolk on 25th the largest flock of the week (tho' they seem to lose one of their number before midday ~ soon after six flew over the raptor watchpoint at Swanton Novers, five were seen over nearby Melton Constable with the same quintet heading south over Wiveton a couple of hours later).
At least 22 Spoonbills were recorded this week ~ notable amongst the eight singles were inland birds over the Lower Derwent Valley (North Yorkshire) on 25th and Ouse Fen (Cambridgeshire) on 26th, while there were "threes" for Cley and Scolt Head (Norfolk), Arne and Middlebere (Dorset) and, on 26th, Spurn in the early morning arriving at Donna Nook (Lincolnshire) by late morning.
Ducks & Geese
…were few and far between this week. A Snow Goose was seen at Point of Ayre, on Mainland Orkney on 23rd, origins unknown of course. Less likely to be questioned were the pair of American Wigeons found at Haroldswick, Unst on 24th (moving to Gutcher on Yell later the same day, with just the male back at Haroldswick the following day). In Aberdeenshire, the drake King Eider has moved from the Ythan to Blackdog, present there on 28th-29th.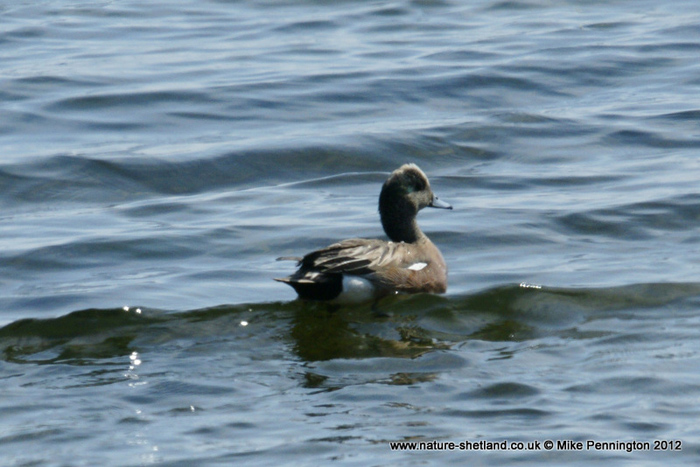 Raptors
A male Pallid Harrier remains one of the birds to see in Britain, despite the once-mythic status of this beautiful bird of prey being toppled to that of expected autumn vagrant. There are a few records of young males (notably on Orkney in 1995 and in Kent in 2002) but adults remain pretty thin on the ground ~ one in Cornwall and Yorkshire in the early spring of 2003 was preceded by one in Leicestershire in September 1993 ~ and that's been about it, so news of an adult male in Northamptonshire, at West Haddon and then Long Buckby, cruising to towards Leicestershire, during the early evening of 28th was still cause for much excitement.
An easier-to-predict species, especially given the sizeable push of warm continental air is Black Kite and this week at least 10 birds were reported across the country. The first of the week headed over Kelling Heath (Norfolk) on 23rd and was followed on 24th by one at Newton Ferrers (Devon) and on 25th by two birds, one at Whitcombe (Dorset) and another in Norfolk, reported over the end of Blakeney Point (seen on a morning boat trip to see the seals).
The 26th was the big day of the week for Black Kite ~ at least half a dozen seen. In Gwynedd an early morning bird headed over Bardsey Island before appearing over Uwchmynydd 75 minutes later. In Lancashire, singles were seen at Crosby and Keer Holme, in Cornwall singles were at Connor Downs and Kelynack, with one each for Dorset (at Bridport), Hertfordshire (in the Lee Valley) and Cumbria (at Levens). On 28th, another Black Kite was reported in Dorset, this one at Upton, while further high flyin' birds on 29th were seen at Tankerton (Kent) and over Blakeney (the village not the Point this time).
There was a 2-2 draw between Cambridgeshire and the Republic of Ireland in the "who has the most Red-footed Falcons competition". The Fenland county took the lead with a female heading over Wisbech on 23rd, but Cork equalised for the RoI with an adult male at Owenahincha the following day. The discovery of a first-summer (2cy) male Red-foot in Wexford (inevitably it was at Tacumshin) on 25th (and still present to 29th) gave the Republic the lead, but a male reported over Ouse Fen RSPB on 27th drew the scores level. Thankfully, a female near Stowmarket (Suffolk) on 28th-29th and a first-summer male at Flamborough Head on 29th means that a particularly hammy, Euro 2012 inspired (well, loosely speaking), section of this week's round-up can, mercifully, come to a conclusion…..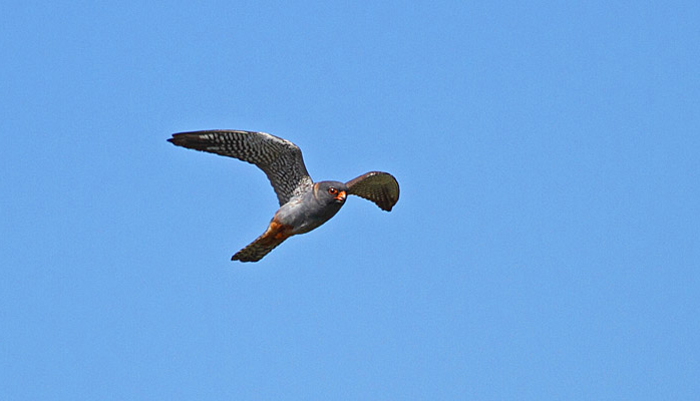 Nothing hammy about the splendid male Snowy Owl that was still performing on North Uist, at Solas and Greinetobht, until 27th at least, while a sub-adult White-tailed Eagle was reported flying over Otmoor RSPB reserve in Oxfordshire on 24th.
Shorebirds
Last week the Butt of Lewis on the Outer Hebrides played host to a couple of Pectoral Sandpipers ~ this week, the first Buff-breasted Sandpiper of the year was found there on the afternoon of 27th. It was just a short stop-over though ~ the bird was away soon after. Better still, the same island group hosted spring's first Broad-billed Sandpiper ~ found at West Gerinish near Loch Bee on South Uist, on 28th. A real birder's bird if ever there was one…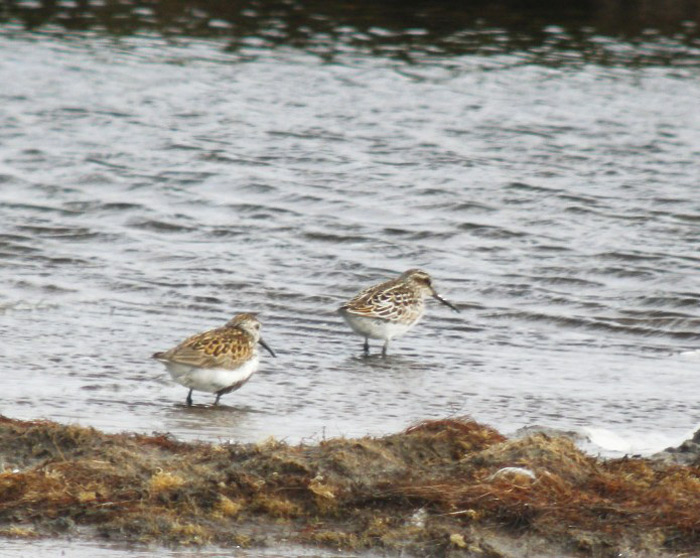 In Cleveland, a summer adult Long-billed Dowitcher must have been a neat morning surprise for the finder at Saltholme RSPB on 24th, becoming only the second record for the area ~ following the first at Seal Sands for two days in November 2007. The 2012 individual was last seen mid-morning of 25th ~ it wandered out of sight and wasn't seen again.
After such a decent double-figure tally last week, numbers of Pectoral Sandpipers fell to a more typical level over the past seven days ~ only four birds seen. The first of these was seen on Inishkea, off the coast of County Mayo, on 25th and was followed by two birds on 27th; at Swillington Ings (West Yorkshire) and at The Shunan, on Mainland Orkney. The final Pectoral Sandpiper of the week was found on Exminster Marshes on 29th. Dotterels too were in shorter supply this week ~ Mainland Orkney scored again though with three birds at Graemeshall on 23rd, two were on North Ronaldsay on 26th while the only other bird of the week was at Hatfield Moors (South Yorkshire) on 27th.
If there was a lack of Pectoral Sandpipers and Dotterels there was certainly a decent spread of Temminck's Stints this week. At least 30 birds were reported, spread from two in Somerset (at Meare Heath on 23rd) to three on North Ronaldsay on 25th with 14 more counties being graced by these northbound waifs. Four birds (two twos) were seen in Lancashire on 26th-27th, up to five were seen in Lincolnshire (including three at Frampton on 28th), there were two each for Cley, Holy Island and Marshside RSPB, as well as two singles in Staffordshire and notable inland loners were also seen in Cambridgeshire and Bedfordshire.
Two sites already mentioned (with regard to Pectoral Sandpipers) also hosted a Red-necked Phalarope each this week ~ one was seen briefly at The Shunan on Orkney on 24th and a female was seen on Inishkea on 25th. The only other Red-necked Phalarope this week was the lingering female at Coombe Hill Meadows in Gloucestershire, she was present all week long.
The warm weather must have made the half a dozen (or thereabouts) single Black-winged Stilts fell rather at home ~ several sites that have already hosted this wonderfully elegant wader already this year got another helping this week. Another push of new birds perhaps, or just a revolving (though very elusive) set of singles hopping from location to location?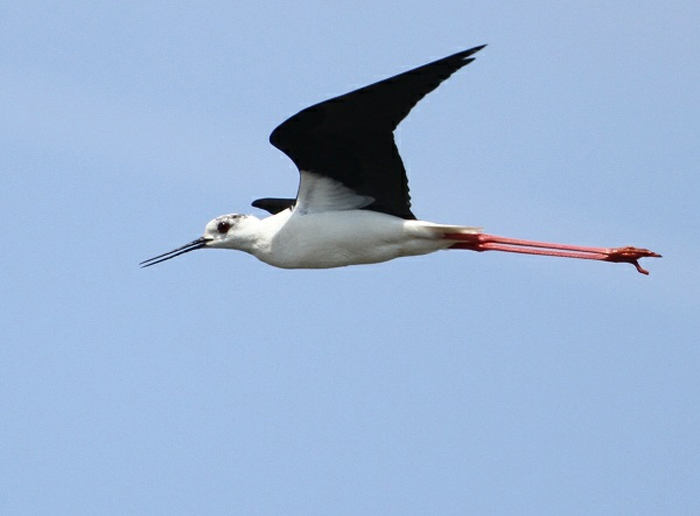 The first bird of the week was seen heading towards Lodmoor from Radipole Lake on 24th where it duly settled and stayed until 25th. Further along the Dorset coast, at the end of the Fleet, at Abbotsbury, another Black-winged Stilt appeared, also on 24th and that bird remained to 27th at least.
In north Devon, at Yelland, a Black-winged Stilt was reported on 24th, while on 27th, towards the south-east side of the county, another appeared on the River Exe, initially at Exminster Marshes before moving to Powderham later in the day, where it stayed until 29th.
Moving up to Cambridgeshire where, after last week's brief flyover at Needingworth, a Black-winged Stilt was seen at Paxton Pits for around 20 minutes on the evening of 24th. Earlier this month, a Stilt had six days here (last reported on 9th) so it would be fascinating to know whether its all one bird….
The final Black-winged Stilts this week were singles at the Newport Wetlands in Gwent, present on 25th, at Pennington Marshes in Hampshire on 27th and 29th, Hodbarrow RSPB in Cumbria on 28th and Shibdon Pond in County Durham on 29th ~ the bird in Gwent was the first since a male was seen at the same site in May 2008 while it was Hampshire's first bird for four years too, since two birds were seen at Beaulieu at the end of June 2008. The Cumbrian bird was better still for local birders, a county first no less and another great bird for the reserve (following on from the summer plumaged Long-billed Dowitcher there a fortnight ago). It seems as though it could then have made its way to Durham (almost a straight west to east line) where it could become the second record for the county (the only other was recorded in the spring of 1993).
Gulls & Terns
Birding can be a funny old game (as someone once said) and the goings on along the River Thames in the past few days prove that old epithet once more. For several days, a first-winter type Bonaparte's Gull was being seen the Cross Ness/Thamesmead area of the river and it was still in place for much of this week, pretty much hoodless and, from time to time, still heading over the river to Barking Bay. On 26th, the finder of the first bird duly went and found a second bird, a more advanced first-summer bird with a developing hood, in exactly the same place as bird one…! The two birds were eventually seen at the same time at Cross Ness on 29th.

Up to 10 Iceland Gulls lasted in the melting May weather (two in Cork, two in Shetland and singles from Scilly to Orkney) while Glaucous Gullswere only to be found on Scottish islands this week ~ on Iona, Benbecula, Skye and Unst.
In Scotland, a Caspian Tern flew south past Kinnaird Head during the early evening of 27th, the third record of the species in the county since 2009 (prior to that there were only three accepted records, all in the mid-1970's). Two adult White-winged Black Terns spent 26th at Stodmarsh (Kent) performing well over the main lake throughout the day and a second-summer arrived the following day at Saltholme RSPB ~ birders there are having a decent week….Meanwhile at Tacumshin, the adult summer Forster's Tern was present until 28th at least.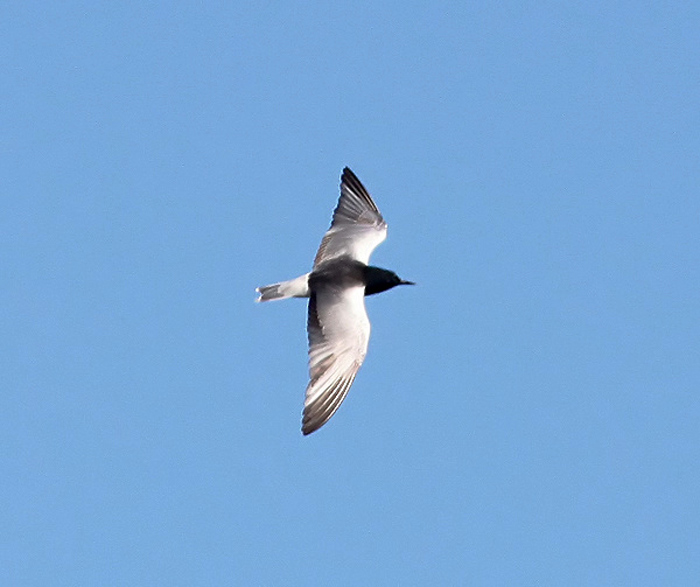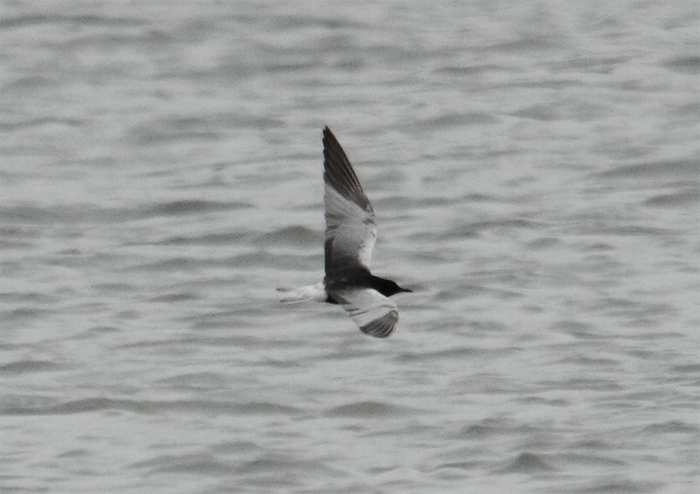 Passerines
The northeasterly drag plonked a number of species along, predominantly, the east coast this week and leading the way (in terms of smaller passerines) where the three Greenish Warblers found between 25th-26th. First came one in the Old Fall Hedge at Flamborough (that was on 25th) and was followed by singles at Landguard (it was trapped and ringed) and Northward Hill (a singing male), both on 26th.

The Suffolk bird was the first in the county since September 2010, while the bird in Kent was the first in the county since an autumn bird, at Samphire Hoe, in late September 2007.
Fair Isle bagged its second trapped Thrush Nightingale of the month on 25th (the first bird, trapped last week, was last seen on 22nd). There was also some belated news this week from Norfolk, where a Thrush Nightingale was trapped and ringed on Weybourne Camp on 13th (not the 6th, or 20th, as has been stated elsewhere).
Other, always-welcome, late May drifters and overshoots continued to head our way this week. Five new Red-breasted Flycatchers were found ~ one was on North Ronaldsay on 23rd, a female was on the Isle of May on 24th, an adult male was on Dursey Island (Co. Cork) on 25th-26th and the fourth newbie this week appeared on the Farnes on 26th, with the fifth arriving at Dungeness on 29th. Last week's female at Collieston (Aberdeenshire) was still present on 23rd.
After almost 20 birds last week, this week's tally of Red-spotted Bluethroats fell to seven this week. Two were on Fair Isle midweek, and singles were on the Farnes (on 23rd), at Tetney Lock in Lincolnshire (a singing male there, also on 23rd), on Holy Island and Mainland Shetland, at Scousburgh, both on 27th and Blakeney Point on 29th.
Shetland dominated all things Red-backed Shrike this week (with Orkney faring well too) ~ both Fair Isle and North Ronaldsay scoring high numbers (more on them in a mo). Well over 20 birds were seen around Shetland (excluding Fair Isle) in the week (possibly up to 30) with at least seven on 23rd and maybe a dozen more noted on 24th alone with, later in the week, three birds at Quendale on 27th.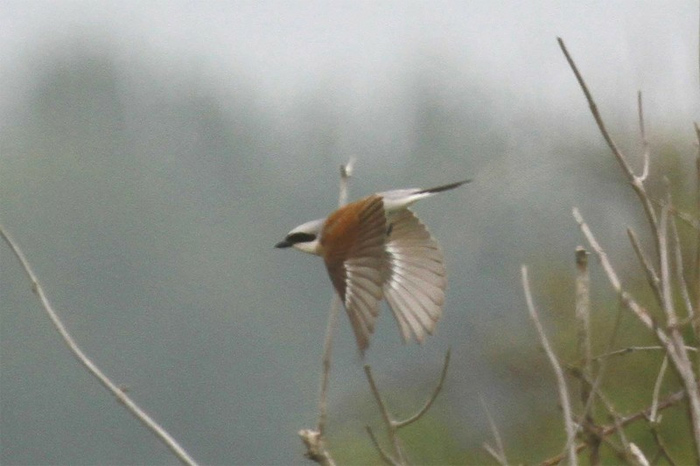 Orkney grabbed at least eight away from North Ronaldsay, including two males at Cara on South Ronaldsay on 23rd. Other notable Red-backed Shrikes included a male in Somerset on 23rd (at Burrowbridge), three in Ireland (two for Wexford ~ of course there was one at Tacumshin…! ~ and one in Dublin) and five birds were found across mainland Scotland.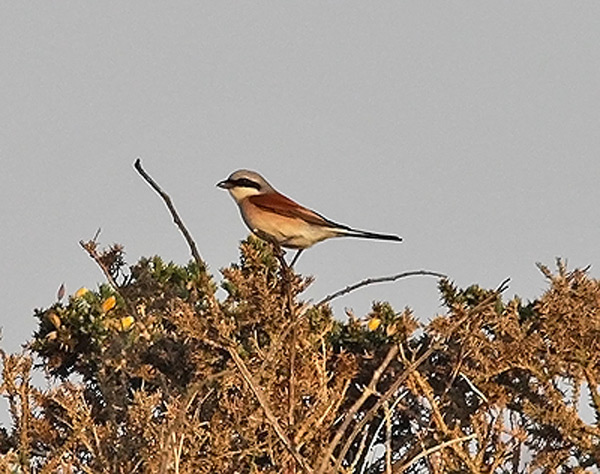 As with so many other species, Shetland fared well for Icterine Warblers this week ~ as well as a monster total for Fair Isle (see below…), singles were noted at Scatness and Skaw (on Whalsay) on 23rd, on Bressay on 24th, Geosetter, Mainland on 26th-27th and on Fetlar on 27th. Elsewhere, one remained on the Farnes on 23rd, one was trapped and ringed at Portland on 24th and a singing male spent most of 26th at Corton (Suffolk). A further five were recorded as the week came to a close, singles on Shetland, Orkney and the Isle of May, with one each for North and East Yorkshire.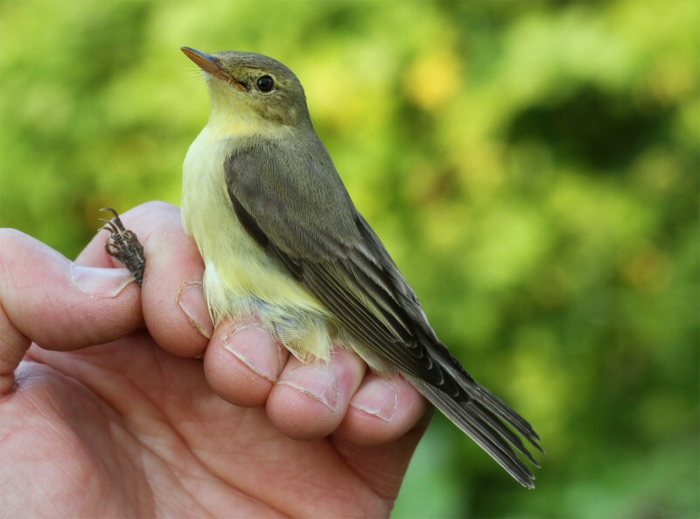 Last week Fair Isle stole the show with a significant arrival of birds on 22nd ~ this week, the same island takes the honours once again, with a mouthwatering list from 23rd. A remarkable 10 Icterine Warblers were counted around the island (surely some sort of recent record?), with nine Red-backed Shrikes, three Common Rosefinches, two Bluethroats, two Wrynecks, two Dotterel and a Quail thrown in for good measure (and they still had a Red-rumped Swallow too).
Also impressive was the collection of birds noted on North Ronaldsay on 24th ~ eight Red-backed Shrikes, four Icterine Warblers and a Common Rosefinch must have made for a hugely entertaining day in the field….
Other Rosefinches this week included a singing male at Princetown, on Dartmoor, on 23rd, one on Portland's Top Fields on 24th, another for Orkney, on Hoy, also on 24th, a male on Yell on 25th (when there were two at Scousburgh on Mainland Shetland), three singles in East Yorkshire (at Spurn, Thornwick Bay and Easington on 26th-27th) along with another over on Bardsey on 27th-28th and a singing male in County Donegal, at Meenbannad, on 28th.
At least 22 Marsh Warblers arrived during the week ~ all of them along the east coast, from Shetland to Suffolk. The latter county scored at least five (including the first-ever Dutch-ringed bird in Britain, controlled at Landguard on 28th, which hosted three during the week). There were five birds too for East Yorkshire, including two each for Spurn and Flamborough,), four birds on Shetland, two in North Yorkshire and singles included birds in Argyll, Fife, Angus, Lincolnshire and Norfolk.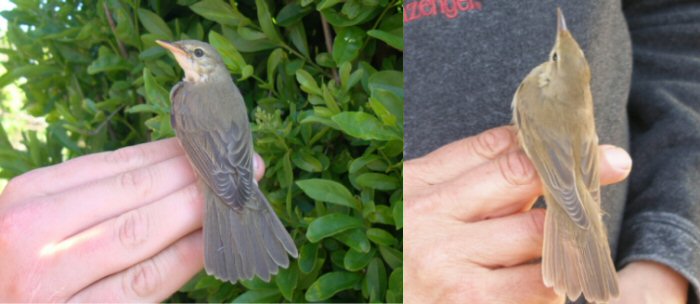 Wrynecks away from Scottish islands comprised of one at Loch Skipport, on South Uist, on 23rd, at Old Town churchyard on St. Mary's on 25th, with another on the same date in north Wales, near Bangor.
Also around Shetland this week were a female Subalpine Warbler on Fair Isle on 26th, and two more Red-rumped Swallows, both on Unst on 25th. Further Red-rumps included two in Ireland, at you-know-where in Wexford on 23rd and over the Mullet on 26th along with one on St. Mary's (Scilly) on 24th while another Subalpine Warbler, a male Eastern, spent 10 minutes in gardens on Tiree on 28th.

In Dorset and Somerset, the singing male Great Reed Warblers remained at Radipole Lake RSPB and the UV Pools at Weston-super-Mare until 24th and 29th respectively while an impressive looking Iberian Chiffchaff was discovered in the valley at Kenidjack in west Cornwall on 28th. A probable Iberian Chiffchaff was also reported from Borders (and Scotland also hosted a probable Savi's Warbler in Forth this week, while East Yorkshire claimed a definite Savi's ~ singing at Blacktoft Sands on 29th).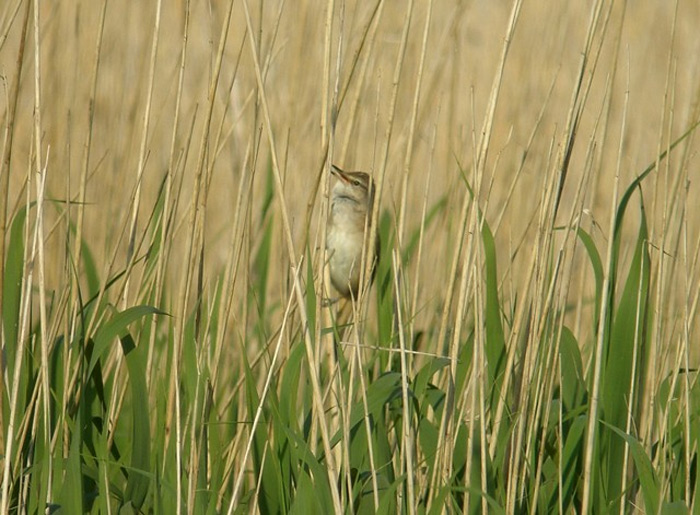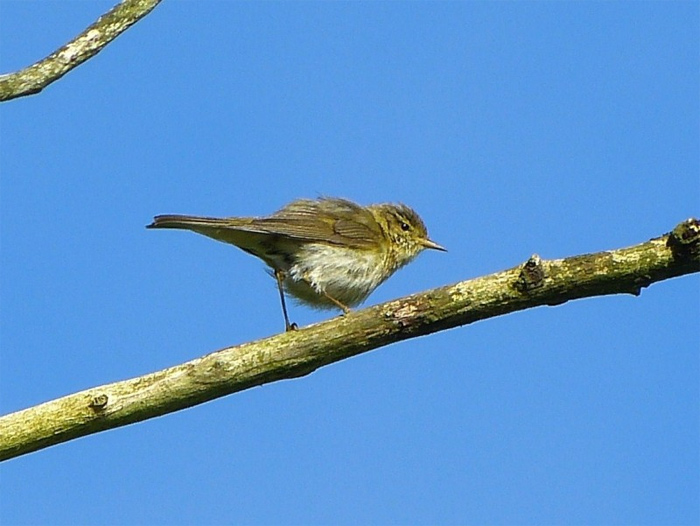 Single Short-toed Larks were on the runway on St. Mary's Airfield on Scilly on 23rd-24th, with another arriving on the Farnes on 27th-29th. Back on Scilly, this time on Tresco, where a Woodchat Shrike was seen on 24th presumably different to the birds seen around the islands the week before) and was one of three noted this week ~ the others being a young male at Portland on 23rd and in west Cornwall, at Sennen on 27th-28th and at nearby St. Levan on 28th.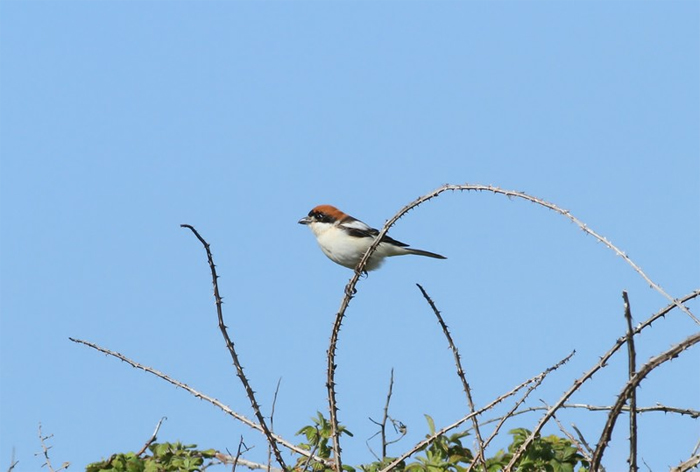 Spurn birders enjoyed red-letter day for Golden Orioles on 25th ~ five birds recorded that morning, with birds seen daily between 23rd-26th. At least four birds were seen around St. Mary's on the same day, with a further six elsewhere around the UK that day, from Suffolk to Argyll), with up to 25 more recorded throughout the rest of the week, from Cornwall to Shetland and Norfolk to the Outer Hebrides (with special mention for inland birds in Nottinghamshire on 25th and the West Midlands on 26th).
A flock of six Bee-eaters were hot-footing it (so to speak) around the coast of East Anglia over the course of 25th-26th ~ starting at Eccles-on-Sea, on the east coast of Norfolk, the flock were reported as heading south during the morning of 25th and early the next morning, a flock of six birds were seen heading north over The Naze and five hours later, a flock of six was back in east Norfolk ~ scooting over Bradwell and then Waxham before heading north over Eccles. And that was the last was seen of them…there is a chance that the Norfolk six never strayed much further than Bradwell and it was just coincidence that six headed over the Essex coast a few hours previously. Indeed, the Essex and Norfolk birds could be last week's Kentish Six, seen at Cliftonville on 21st (as mentioned here last week).
Three Bee-eaters were seen in Kent this week, at Sholden, on 24th and further multiples included two at Hickling Broad on 26th, two at Weir Wood Reservoir (East Sussex) on 27th and at least five (could it have been six?!?) sending a Technicolor trail across the sky at Minsmere early on 28th. Seven singles were noted elsewhere, including two birds in west Cornwall on 26th ~ at Porthgwarra and Carbis Bay.
Hoopoes this week were seen at Lodmoor (Dorset), Hailsham (East Sussex) and Pitlochry (Perth & Kinross) on 25th and Hollesley (Suffolk) on 26th. A Tawny Pipit flew over Capel le Ferne on 28th and single Serins were reported from Berry Head (Devon) on 25th and Colkirk (Norfolk) on 26th. A Rose-coloured Starling was an early morning visitor to Landguard Point on 25th and the second of the week was seen briefly at Arlington Reservoir (East Sussex) on 27th.
Three devilishly handsome male Rustic Buntings dropped in on the Northern isles this week ~ first up was one on North Ronaldsay on 23rd and was quickly followed by a singing male at Sumburgh Head on Mainland Shetland from 24th-27th with a second on Mainland Shetland appearing at Scousburgh on 26th.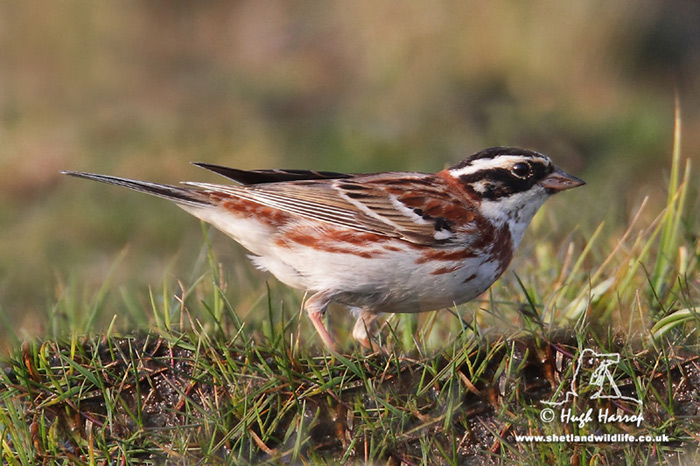 Last but certainly not least comes news of a male Black-headed Bunting on Bryher on 28th ~ another classic hot-weather mover, this was the first spring male on the islands since one on St. Agnes in June 1997. An autumn bird on Tresco followed in September 2002, with an adult female on St. Agnes in June 2007 while a young bird, also on St. Agnes, in October 2010, remains in limbo (some feel that the photos show something more like a first-winter Red-headed Bunting…leave that one with you…). Not be outdone though, Shetland popped in its own male the day after the Bryher bird, at Gloup, on Yell (the fifth record on the islands in the last four years).
Talking of Red-headed Bunting, we're nudging towards the time for that species…the last twitchable one of those came in early June 2004, in Dumfries & Galloway. It's been possibles ever since (the ID headache of autumn birds still unresolved in some instances ~ see above) but those spring males are no bother, tho' you have to find one first. They've become desperately rare in the past decade ~ is that tied up with a tightening of importation laws (thereby meaning that fewer are escaping) or is it because they have, pure and simple, just become rarer than they ever have been before. A nice male in the next couple of weeks will prove popular for sure….
Mark Golley
30 May 2012
This weeks contributors
For their help, contributions and photos this week a special thanks goes to:
Paul Bishop,
Richard Bonser
, Will Brame,
Derek Charles
, Will Dawes,
Steve Duffield
,
Bob Flood and Ashley Fisher
,
Martin Garner - Birding Frontiers
, Lee Gregory,
Hugh Harrop/Shetland Wildlife
,
Marc Heath
,
Paul Hindess
, Andy Johnson, Kevan Joynes,
Paul Kelly - Irish Bird Images
, Alan Lewis,
Paul Oldfield
, Mike Pennington
Nature in Shetland
, Peter Philips, Mark Rayment, Martyn Sidwell, Will Soar, John Swann, and Steve Young.