Weekly review: 16 - 22 May 2012
The weeks highlights
Britain's first-ever spring Cream-coloured Courser appears in Herefordshire
A White-throated Sparrow drops in briefly on the Isle of Skye
The Greater Yellowlegs still in residence in north-east Scotland
Great White Egrets nesting successfully for the first time in the UK
The forecasters were spot on with their predictions of a decent north-easterly airflow this week and, coupled with assorted bits of murk and grot, the favourable conditions ensured a tasty arrival (in relative terms) of typical mid-May species, many of them making their collective presence felt along the coastline of the North Sea.
Birders in east coast counties were indeed licking their lips as pockets of birds appeared at many a familiar location and plenty of news was forthcoming and the occasional surprise here and there kept everyone on their toes.
In truth though, despite the "fall", it seemed as if it was still all a little on the slow side, and the first few days of the new round-up period passed by with little to really trouble the scorers but, with the metaphorical birding stumps being drawn and close of play on Sunday having passed a couple of hours beforehand, news broke of what is, undoubtedly, the bird of the year so far…..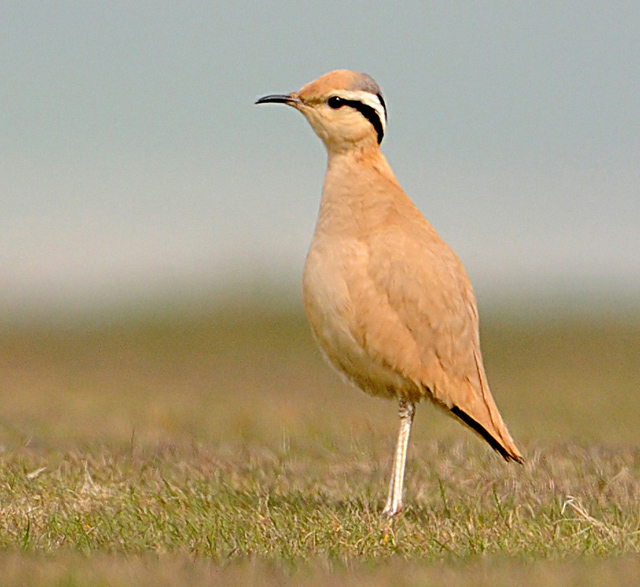 Headline birds
There are many locations which, in mid to late May, are always top of many birders' hit-lists in terms of places they may have to drop everything to head for ~ Shetland is always there or thereabouts (for those with time and deep pockets), waiting to unleash a bird of Pallas's Sandgrouse quality once again. Spurn, Filey and Flamborough always have the potential for something outrageous if the weather is right, likewise Norfolk's Blakeney Point or the fabled East Hills along with any number of choice sites running from the northern most Scottish islands right the way down to Kent and all the way along the south coast. Yes, if conditions suit, something sensational could be uncovered ~ which made the late evening news on 20th even more remarkable….
As many folk headed to bed, or caught up with Family Guy, the late night headline of a Cream-coloured Courser in Herefordshire was one of those shake-your-head, rub-your-eyes bits of news that, even if you've been fortunate enough to see the species in the UK before, was still a massive surprise (a Cream-coloured Courser, in Herefordshire, in strong north-easterlies ~ huh!?!) and incredibly exciting too….
Found in the last hour or so of the day by a local lady talking her dog for a walk on Bradnor Hill, there was even a photo to go with it ~ as bold as brass there was Britain's first-ever spring Cream-coloured Courser, a delicious adult, standing in some cut bracken on the edge of the local golf course. Incredible.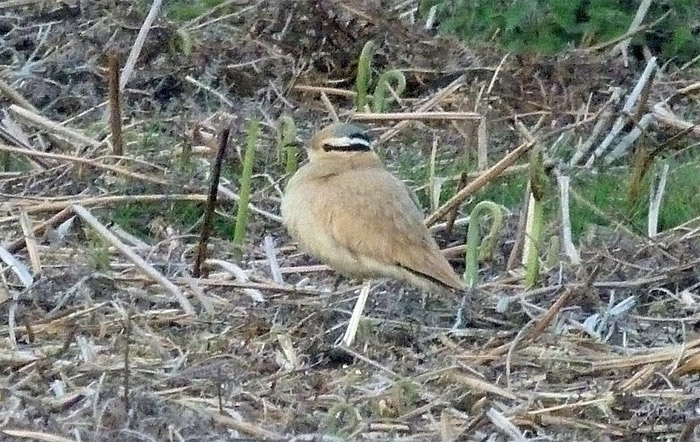 Happily, the bird was still present the following morning and remained to 22nd. As well as being the first-ever spring record, the Herefordshire individual became just the fourth Cream-coloured Courser since 1980 (and only the third twitchable one of that quartet).
Cream-coloured Courser in Britain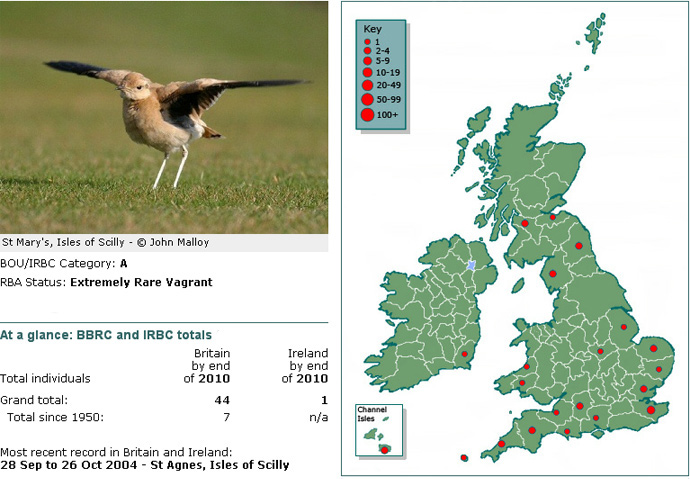 Many birders saw at least one of the most recent 3C's (it keeps that little motif running along nicely after two weeks of the F3….) ~ the obliging island-hopping youngster on Scilly in the autumn of 2004 attracted the crowds, while hundreds also paid homage to the only other twitchable Courser of the modern era, the muddy-billed bird at Hadleigh Castle in Essex, in the autumn of 1984 (immediately christened "Cream-cup and saucer" by those of a certain youthful air).
Prior to that, you have to head to the brief appearance of one at Ruan Lanihorne (Cornwall) in October 1980, before that, its all the way back to October and November 1969, when a Cream-coloured Courser graced Blakeney and then Ormesby before finding itself in the Castle Museum in Norwich….
Britain's first Cream-coloured Courser was recorded in Kent in 1785 and several of the records that followed over the next couple of centuries were never dated. Those that have had notes regarding their dates of occurrence show an overwhelming peak for late September and early October, with half of the 44 records to date falling between September 9th and October 23rd. November and December have three records each.
The earliest of the British bunch was at Dungeness in 1916 (though a bird on Jersey in 1995 beats the Kent record by three days, appearing on September 6th) and also of note is the only multiple occurrence ~ three birds spending a day in Lanarkshire on October 10th 1949.
The Scilly individual of 2004, as well as being one of the star turns that autumn, also became the ultimate padder too ~ birders who made the trip to see the ultra-showy Ovenbird at the end of October also managed to take in the Cream-coloured Courser too ~ and those two species also run hand-in-hand as being (arguably) the two rarest species recorded in the last couple of decades (or more) in Herefordshire….this year's Courser proving to be rather less controversial than the wintering (photographed) Ovenbird in the county from December 2001 to February 2002.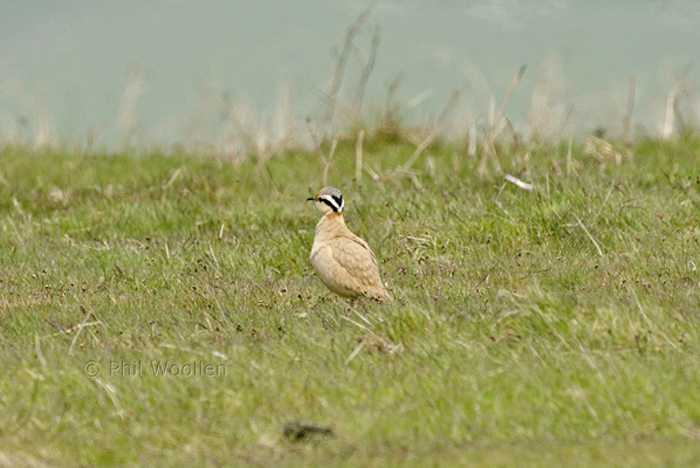 The other major bird of the week, also found on 20th, pretty much slipped under the radar as the Courser stole all the headlines. Funnily enough, White-throated Sparrow is still (just) rarer than this week's star bird ~ but the location, Broadford on the Isle of Skye, the short amount of time it was under observation, and the relative frequency of "available" records in the past decade or more meant that it barely caused a ripple in the birding pond.
Its the first new White-throated Sparrow for nearly two years ~ the spring of 2010 providing a remarkable run of no fewer than seven records between April 30th and June 19th ~ singles for Scilly, Cornwall, Suffolk, Lincolnshire and Gwynedd and two for Shetland (which now boasts a startling 15 records) ~ and this is only the second record for the west of Scotland (Britain's first White-throated Sparrow was shot on the Outer Hebrides on May 18th 1909) and only the second ever in Highland (the first spending around four months at Thurso from May 1970).
White-throated Sparrow in Britain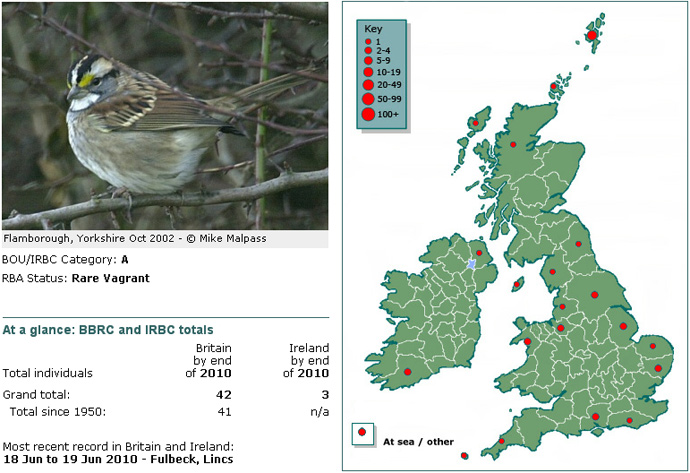 Amongst all this commotion, the Greater Yellowlegs remained faithful to Loch of Strathbeg, still present on 22nd, heading towards its third month in situ.
On the morning of 22nd, historic news emerged from the Somerset Levels regarding the first-ever successful breeding of Great White Egrets in Britain. A pair of these wonderfully elegant birds set up territory at Shapwick Heath NNR late in the winter and in early April a local birder noticed that something was happening…..now, six weeks on, the pair have at least one youngster in their nest ~ the round-the-clock protection employed by volunteers from Natural England, the RSPB and the Somerset Ornithological Society seems to have paid dividends and history has been made.
Great White Egrets have found the Somerset Levels to their liking in recent years and breeding behaviour has been rumoured in the past couple of years but never substantiated. Over recent months, ones and twos were frequently reported, there were several occasions when three birds were seen together and on October 16th and three dates in December last year, five birds were noted, culminating in eight together at Shapwick on February 3rd this year.
This species now joins a growing role call of continental herons that have bred successfully in the UK ~ Little Egrets have firmly established themselves as a breeding species across many parts of the country now, following their first successes in Dorset in the mid-90's. The Somerset Levels have, in the last five years, hosted successful pairs of Cattle Egret and Little Bittern, while Purple Herons raised young for the first time in Kent in 2010 with a small colony of Spoonbills establishing themselves in north Norfolk the same year. The next candidate must surely be Glossy Ibis….
Seabirds
After last week's hefty push of Long-tailed Skuas along the coast of the Outer Hebrides, this week's numbers were much reduced, but 36 off Wats Ness on Mainland Shetland on 16th would have looked the business anyway. Three more were seen the following day at John O' Groats. Back to Wats Ness, where the only double figure count of Pomarine Skuas was recorded, 13 birds there (also on 16th) with fewer than 20 birds recorded elsewhere this week from Devon to the Hebrides (four off Dungeness on 18th the maximum).
Also on Shetland this week, a summer-plumaged White-billed Diver was at West Burra on 19th while another remained in the waters off South Ronaldsay (Orkney) to 20th.
Herons, Egrets & allies
The rather dashing Squacco Heron stayed at Blagdon Lake for a couple more days this week, last seen on 17th. A Purple Heron was on the Abbey Pool on Tresco on 19th while three Night Herons were reported this week ~ one at Waltham Brooks (West Sussex) on 17th-18th, another spent the day roosting at Ranworth Broad on 18th (much to the chagrin of local Norfolk year-listers….) and one was seen roosting at Slade Reservoir, near Ilfracombe, in north Devon, on 21st.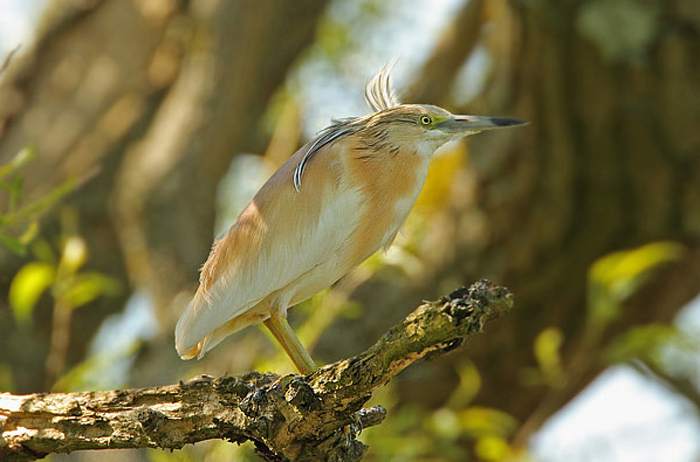 The first White Stork reported this week was one at Fermoy (Co. Cork) on 16th (the species remains a real rarity in Ireland) with further records for the same day coming from Hertfordshire, Somerset (last week's lingering birds still around West Moor and Curry Moor) and West Sussex (one flew over the Arun Valley and two were again over Pulborough Brooks RSPB). Three birds were seen in flight over Broughton (Hampshire) on 17th with three (the same three presumably) over Dawlish Warren on 21st, with a single bird over Finchley (London) the same day. On 22nd, a White Stork toured Bedfordshire and Hertfordshire again (heading over London Colney ~ perhaps waving goodbye to Robin van Persie?). A White Stork in Essex, at a school in Great Dunmow this week was touch tame….so not too much there to debate regarding that bird's origins…
In west Wales, the four Glossy Ibis clocked up another few days at Marloes Mere, still present to 21st at least, with further birds (all singles) noted in County Cork (at Courtmacsherry) on 16th, again on Anglesey (at Malltraeth) on 17th, in West Sussex (at Pagham Harbour on 20th), in Devon (on Exminster Marshes, over Dawlish Warren and then on the Otter Estuary) on 21st and in Cheshire (at Moore NR) on 22nd.
The only Cattle Egret of the week spent three days at Old Wolverton (from 19th) and the gentle puff of south-easterly wind at the start of the review period produced four Great White Egrets in north Norfolk on 17th ~ two together at Burnham Overy, with two singles following during the morning at Cley. Four birds were also noted on 19th, two for Pulborough Brooks and singles over Holbeach Marsh in Lincolnshire and Elmley Marshes in Kent. The following day, a Great White Egret flew over Fen Drayton in Cambridgeshire.
Two Common Cranes started the week in Shropshire, at Whixall Moss, before heading off northeast and a lone bird was still on Shetland, at Gott. Two birds were seen in Argyll on 17th and singles followed in Northumberland, Lancashire and County Donegal (a first-summer at Kiltooris Lough from 19th) while two birds remained at Lakenheath Fen throughout the week.
Spoonbills maxed out at three each for Norfolk's Cley and Suffolk's Hollesley, while two over Frensham Great Pond (Surrey) on 18th and two over the Ouse Washes (Cambridgeshire) on 19th were also of particular note. Two Spoonbills arrived on Cornwall's Amble Marshes on 18th, two more remained in Dorset, with further singles seen in Kent, Carmarthenshire, Norfolk (at Titchwell) and Devon.
Ducks & Geese
A Snow Goose flying past Holy Island (Northumberland) on 18th falls in to the familiar "of unknown origin" category, words which presumably don't apply to the drake Blue-winged Teal that remained at Bridgend Farm Pools (Clyde) for a few more days (to 22nd at least) this week. The drake American Wigeon on North Ronaldsay remained until 16th while sea-duck this week had a new representative in the shape of a young drake King Eider at the south end of Roaninish Island, off the coast of Donegal, on 18th-19th. The adult drake King Eider was still on the Ythan Estuary, present to 21st, while the only Surf Scoter appeared in Gullane Bay (Lothian) on 20th.
Raptors
In East Yorkshire, the juvenile Pallid Harrier continued to show itself to all callers around the fields of Patrington Haven until 18th. Half a dozen Black Kites arrived during the week ~ on 16th one flew in off the sea at Dungeness and was followed by one over St. Agnes and then St. Mary's during the afternoon of 18th, another over the Isle of Wight on 19th, single birds in West Sussex (at Greatham) and Cornwall (in off at Downderry) on 20th with the final bird of the bunch heading west over Wembury (Devon) on 21st.
In Kent, a male Red-footed Falcon (only the second of the year so far) cavorted amongst a flock of Hobbies at Stodmarsh NNR on 16th and another male was found in Buckinghamshire, at Jubilee Park NR, on 21st (remaining to 22nd). A female Red-footed Falcon appeared in Lincolnshire on 22nd while an all together different beastie, the male Snowy Owl remained on the machair at Greinetobht, North Uist all week.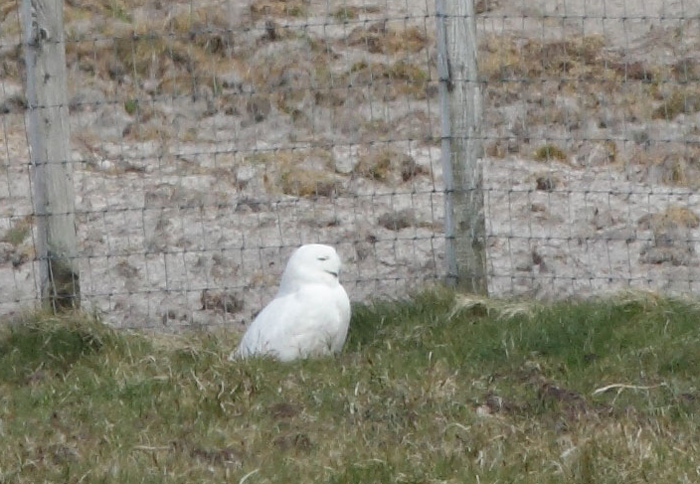 Shorebirds
Following swiftly on from last week's photographed adult White-rumped Sandpiper at Cley came a White-rumped Sandpiper on Holy Island. With so few seen in the spring, there's the obvious temptation to link the two sightings but, one bird or two, it's a great springtime find and the bird in Northumberland stayed to 21st at least ~ affording local birders with their first White-rumped Sandpiper for almost four years (the most recent lingerer in the county was at Cresswell Ponds in July and August 2008). Holy Island also held on to its male Kentish Plover, still present to 18th, with another reported at Spurn on 20th.
At Tacumshin, the American Golden Plover was still present on 16th with it, or another, offering a brief flyover on 20th. A second (or third!) bird was seen in Cork, on the Old Head of Kinsale, on 17th and it or another was at Ballycotton, also in County Cork, on 22nd. Cork also played host to a summer-plumaged Long-billed Dowitcherthis week, seen on the Gearagh on 16th.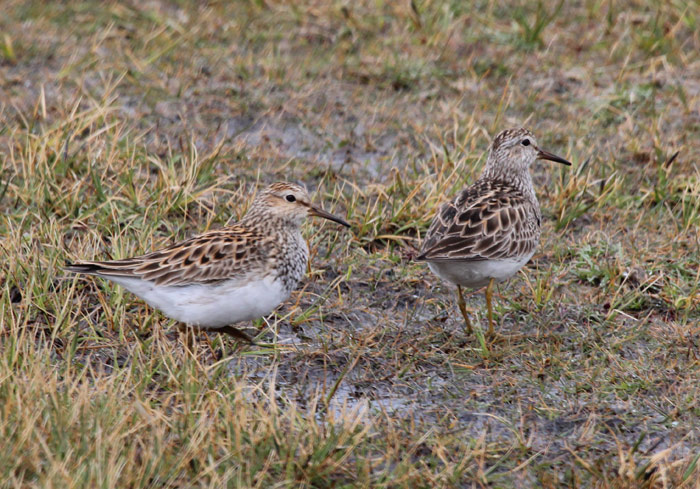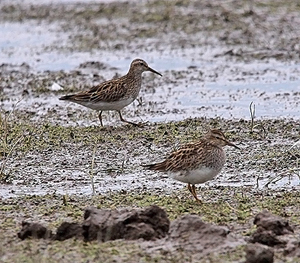 The decent push of Pectoral Sandpipers continued this week following on from last week's quintet. At least six new birds were discovered, with a couple of left-overs thrown in for good measure. In Derry, three birds were at Lough Beg on 20th while at the start of round-up period, a second bird appeared at Butt of Lewis (Outer Hebrides) on 16th. Also new this week were singles (both on 16th) in Norfolk (at Buckenham Marshes RSPB) and in Gwent (at the Newport Wetlands) while birds from last week remained on Tiree and in Wicklow.
Dotterel numbers didn't quite hit the heights of last week's biggest flock, but a couple of double figure scores were noted ~ 10 birds were at Saligo Bay on Islay on 17th and 10 were at Ingleborough in North Yorkshire on 21st. Seven birds were still at Kirriemuir on 16th with six remaining at Shebster (Highland) to the same date. Five Dotterels were on North Ronaldsay on 19th and elsewhere three were seen at Hazeltonrig Hill (Northumberland) on 17th with another trio on Mianland Orkney on 22nd while singles were noted in Norfolk, Lancashire, Anglesey, the Isle of Man and on the Outer Hebrides.
Up to four Temminck's Stints were seen at Cley this week, with a further dozen or so reported elsewhere around the country, including three on Tinker's Marsh (Suffolk) on 20th, two at Heslington (North Yorkshire) on 20th and notable singles at Middleton Moor (Derbyshire) on 18th-19th and at Kingston (Moray) on 18th. A Red-necked Phalarope was seen in Gloucestershire, at Slimbridge on 16th-17th then at Coombe Hill Meadows from 18th-21st and a female was found in Stinky Bay, on Benbecula on 21st. In Lincolnshire, the Black-winged Stilt stayed put at Frampton Marsh RSPB until 18th and one was seen in flight over Needingworth (Cambridgeshire) on 22nd.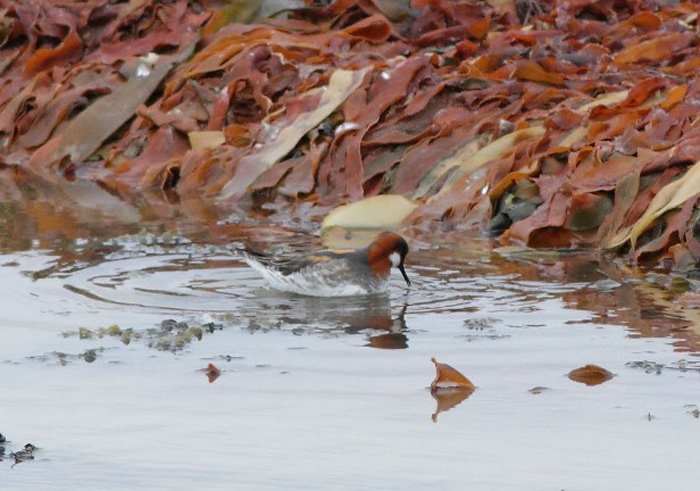 Gulls & Terns
Leading the way for gulls this week was the surprise discovery of a first-winter Bonaparte's Gull in London, towards the east end of the Thames, at Cross Ness on 19th. Only the second record for the capital (the other accepted record was a first-winter at Barn Elms Reservoir in January 1983) the bird commuted between Cross Ness and Barking Bay to 22nd (taking a brief trip further along the river to Rainham Marshes on 20th and Greenwich on 21st) and becomes a most welcome addition to the lists of London's keenest birders.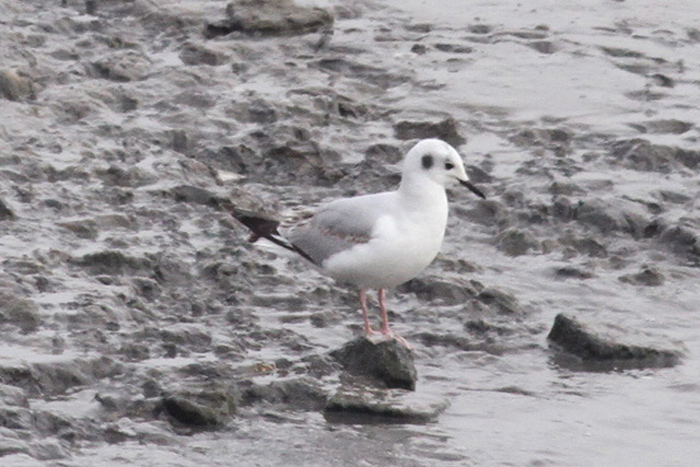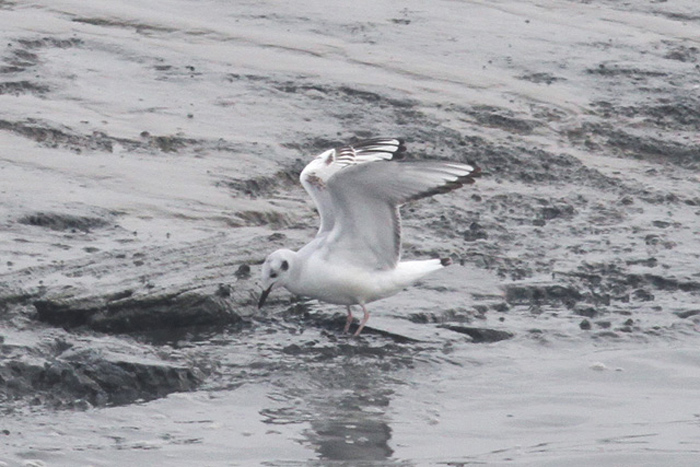 A first-summer Ring-billed Gull remained at Timoleague (Co. Cork) to 17th while Iceland Gulls numbered around 20 (including two still at Beddington) with Glaucous Gulls were around half the number of their cuter white-winged relatives ~ 10 noted, including two still together at Bay of Skaill on Mainland Orkney.
The first White-winged Black Tern of the year spent half an hour or so on the Abbey Pool, Tresco on 18th while in Wexford, at Tacumshin, the adult Forster's Tern was seen from 18th-20th.
Passerines
With the northeasterly winds and drizzly, overcast conditions, a decent arrival of classic mid-May species was always on the cards this week and few (in the right places) were disappointed….
Most of the prettiest fall species are always red (to a degree) and this week's starting line-up reiterates that ~ summer plumaged Red-throated Pipits were found at Scourie, in Highland, on 18th, with a second bird found several hundred miles to the southwest, on St. Mary's the following day (the latter bird remaining until 20th). The Farnes collected a Red-breasted Flycatcher on 18th and a perky, though largely elusive, first-summer male was at Warham Greens (Norfolk) on 20th-22nd. A third RBF arrived on Shetland, at Arisdale, on Yell, on 21st and birds four and five followed on 22nd ~ at Collieston in Aberdeenshire and on Coquet Island in Northumberland.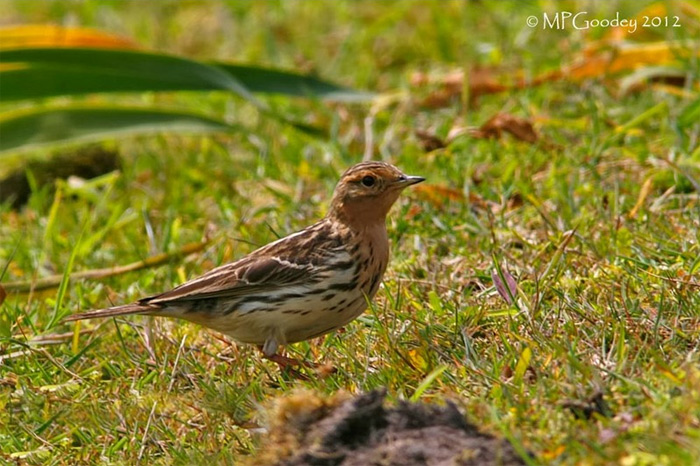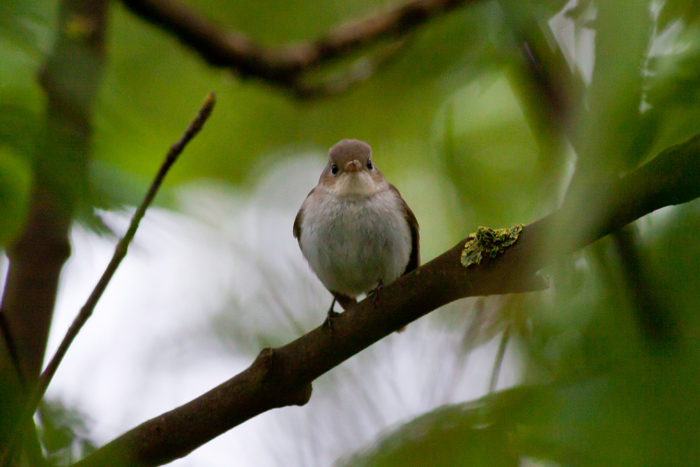 At least 19 Red-spotted Bluethroats is, these days, not to be sniffed at (the halcyon days of significant falls are a long-gone thing of the past) and it was the Isle of May and the Farnes that lead the way, with three (all females) on 19th for the former and three (also all females) for the latter on 21st.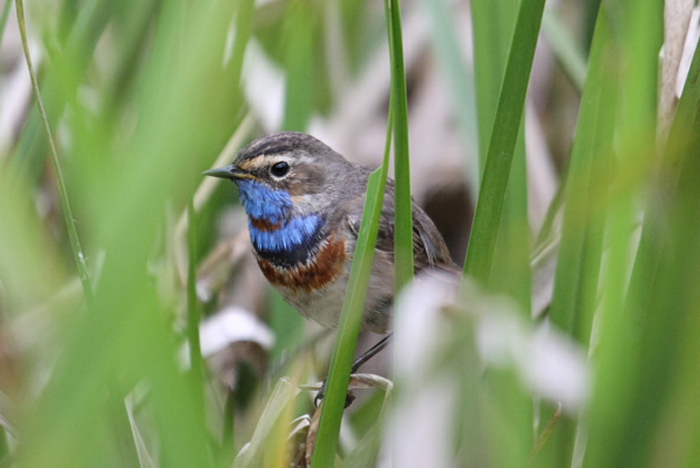 Two Bluethroats were on Fair Isle on 20th and there was a further male and female for the Farnes, and also Holy Island, during the week. The Norfolk coast popped in a male at Stiffkey on 19th and females at Cley on 19th-20th and another female along Blakeney Point on 20th. A male on Tory Island (Co. Donegal) on 20th was a great find but, arguably, better still was the one day singing male at Doxey Marsh (Staffordshire) on 20th ~ the third record for the county.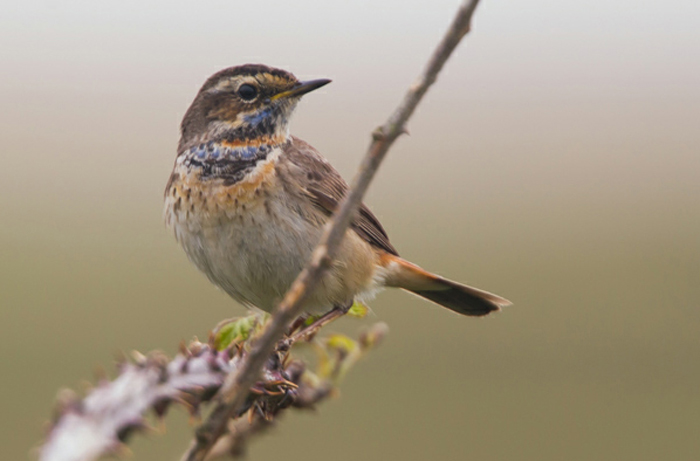 Completing the fourth side to our red square is Red-backed Shrike, at least 26 of which appeared over the last seven days. Northumberland scored five, all males, between 18th-21st, with Norfolk bagging three (a female and two males) on 19th-20th. Along the Spurn peninsula, a male and female Red-backed Shrike were found on 19th and singles were also noted on Tresco on 17th and at Gibraltar Point, the Isle of May and on Fair Isle in the middle of the week, with a new females in Suffolk and North Yorkshire on 22nd, on which date there were two birds each for Borders and Aberdeenshire.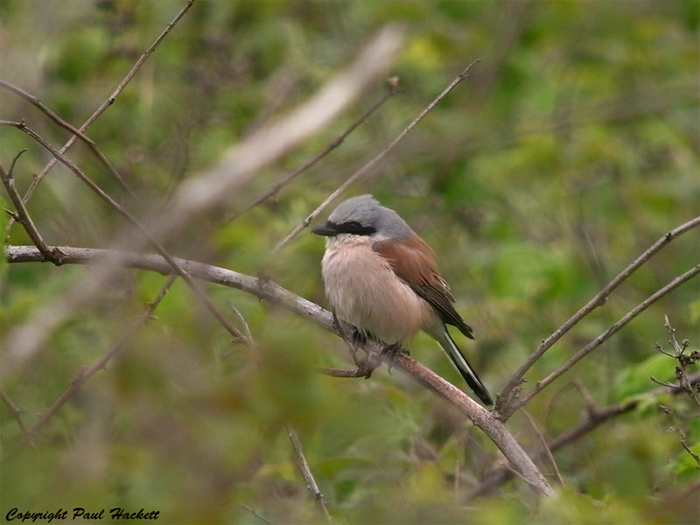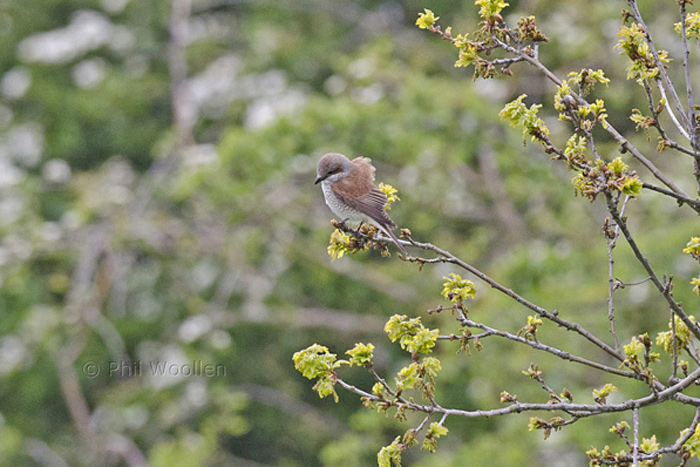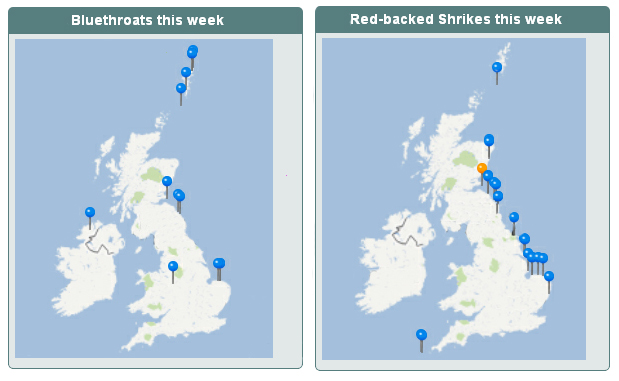 Further classic May fall birds this week included the first Thrush Nightingales of 2012 ~ with the last two mentioned islands above being the two islands to score with this increasingly tricky-to-catch-up-with species. The first arrived on the Isle of May on 19th and Fair Isle followed on with one the following day (the latter bird still present to 22nd). Mainland Sprossers are hard to come by these days, the most recent long-stayer (and that was only four days) was at Minsmere in June 2008.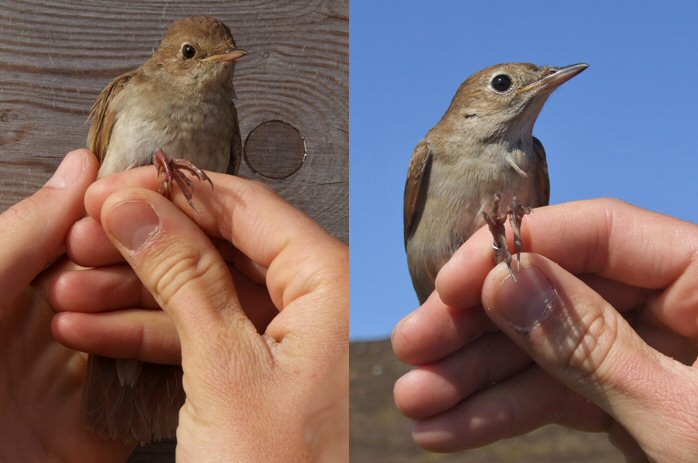 At least 10 Icterine Warblers appeared in the almost-optimum May weather this week. Single birds were at Flamborough and on Fair Isle on 20th and the following day, in the dunes at Burnham Overy (Norfolk), the bushes at Saltfleet Haven (Lincolnshire) and the flat island habitats of the Farnes. Around nine Wrynecks were in the mix too (five for Fair Isle on 21st, along with three singles on Orkney on 17th-22nd and also one inland at Riseley, Berkshire on 19th).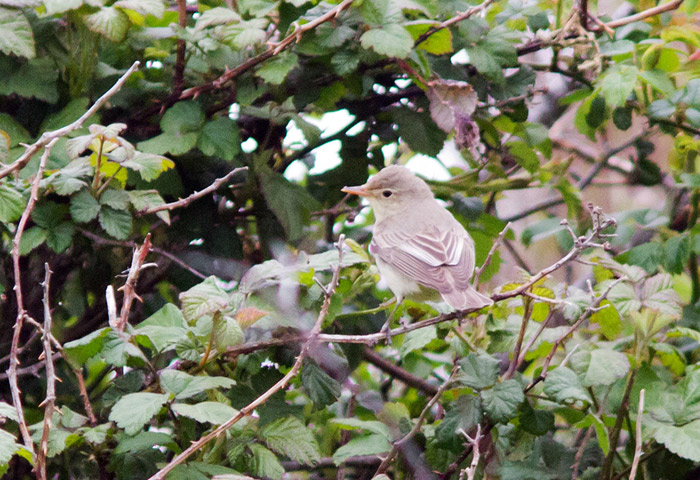 Included in the totals above are those from the fall of the week which came on Fair Isle on 22nd. As well as the, still present, Thrush Nightingale, the island played host to seven Red-backed Shrikes, four Icterine Warblers, two Common Rosefinches and another Bluethroat ~ not a bad day's birding that….
Spring Citrine Wagtails are almost to be expected these days and a rather fetching first-summer male spent 19th-20th around Thornwick Bay in East Yorkshire, the first in the county since August 2010.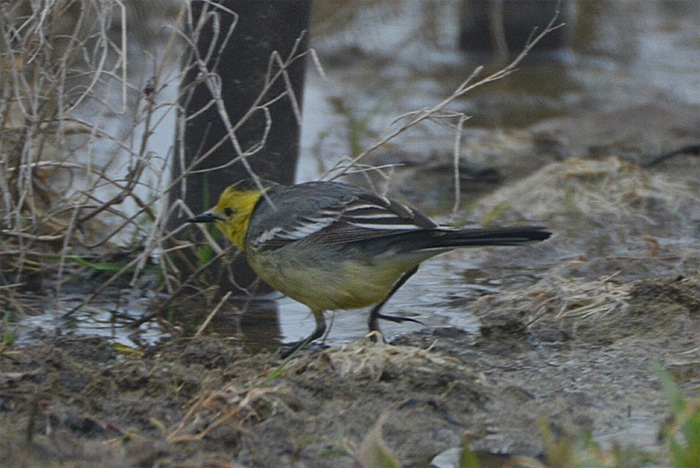 With many people's interests focused largely on the east coast, it was easy to forget that perhaps the "best passerine of the week award" should actually head to London ~ a singing male Melodious Warbler may not be a top drawer rarity but when it's in Leyton, in northeast London, it becomes a really outstanding find. Found on 16th, the bird remained to the early morning of 18th (doubtless delighting London's listers who've had a rather good week this week….). Two other Melodys popped up this week ~ briefly at Northward Hill (Kent) on 16th with another singing male arriving on 19th, this one on St. Mary's (Scilly).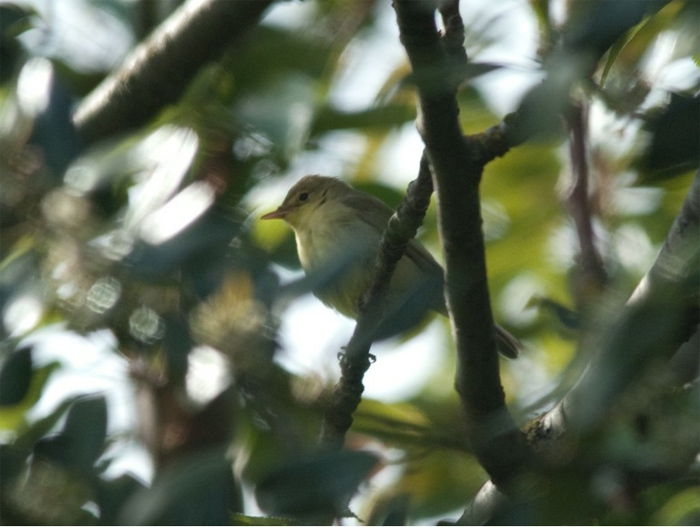 A singing male Great Reed Warbler was another impressive find this week ~ making himself known on the UV Pools at Weston-super-Mare from 19th-22nd ~ becoming the fourth record for Somerset, following one day singing males at Chew Valley Lake in 2008 and 1992 (both birds in May) while the first for the county was found at Combwich in August 1969. The second singing male of the week was found at Radipole Lake RSPB on the morning of 22nd.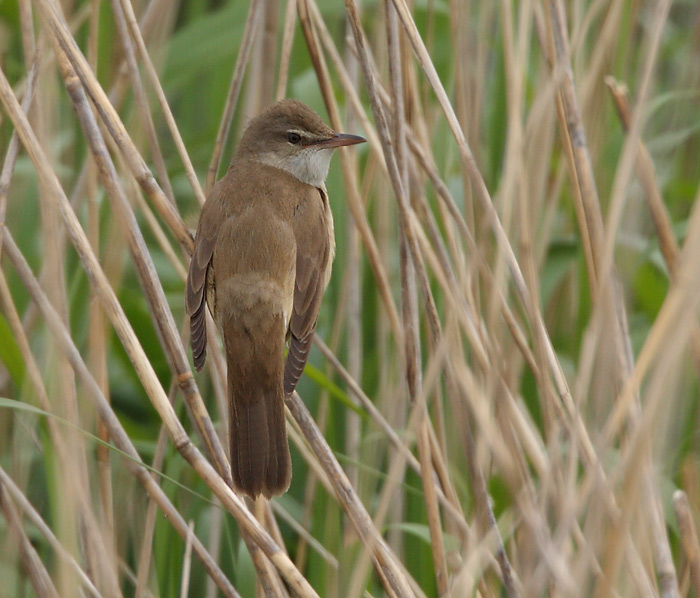 In Borders, a Subalpine Warbler was trapped and ringed at Mire Loch on 20th ~ the fourth county record following on from birds in 1981, 1997 and 1998 ~ and a second bird, a first-summer female was a brief visitor to the western edge of Weybourne Camp on the morning of 20th. Seen off by a "local" Whitethroat, the bird wasn't seen again…..Bird number three was a male on Whalsay (Shetland) on 21st with Shetland's second following the following day, a female found at the Pool of Virkie.
Back in Norfolk was a singing male Savi's Warbler at Strumpshaw Fen RSPB ~ word was out on 16th but that was actually the bird's eighth day on site but it remained there (always elusive, always distant) to 22nd. The second Savi's of the week was found at Wilstone Reservoir (Hertfordshire) from 20th-21st, though that bird proved even harder to see.
The week's two Short-toed Larks saw a 2-1 win for Scilly over Fair Isle (St. Mary's and then St. Agnes scoring for Scilly) while the same island group thrashed all-comers where Woodchat Shrikes were concerned ~ a minimum of five were found around the archipelago this week with at least two on St. Mary's on 16th-17th and one each for Bryher (on 18th), Tresco (on 19th) and Annet (on 20th). Further new Woodchats were found at Tenby (Pembrokeshire) on 17th, on Lundy (Devon) and at Carnsore Point (Co. Wexford) on 19th and Martin Down (Hampshire) on 20th while birds remaining from last week were still at Noss Mayo and Land's End.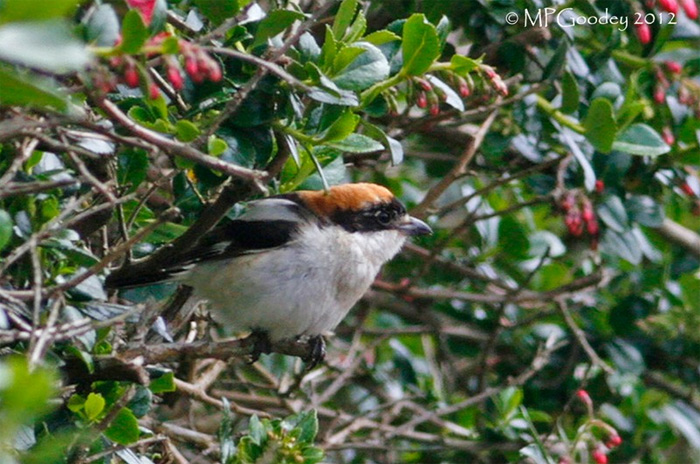 Scilly was also (again) the dominant spot for Golden Orioles this week ~ perhaps as many as a dozen (or more) present around the islands, with two on St. Martin's, up to three on Bryher and an absolute minimum of seven or eight on St. Mary's, including four near the airfield on 18th. Five or six migrants were seen on the Suffolk coast (including two at Minsmere on 22nd), two were in East Yorkshire, Kent and Cornwall along with singles were in Dumfries & Galloway, Cheshire, Dorset, Leicestershire (a singing male present at Swithland Reservoir from 19th-21st) and in Essex, where a male was at Rylands Park, near Chelmsford on 22nd.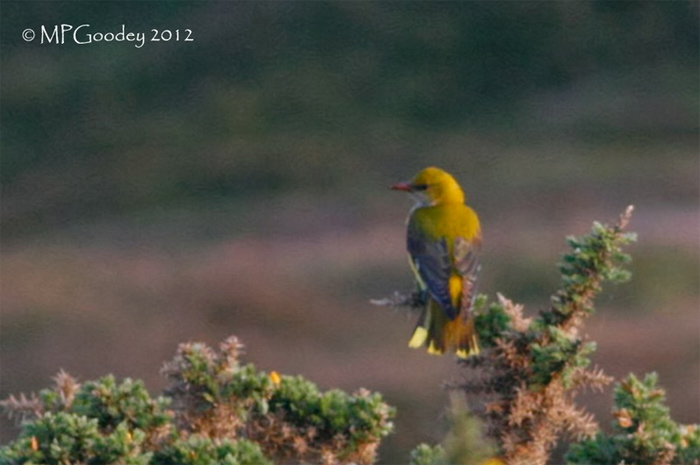 Half a dozen Hoopoes arrived through the last few days, two singles in Dorset on 16th were followed by birds in Hertfordshire on 17th, Norfolk on 19th and in Kent and on Fair Isle on 20th.
Following the recent surge of Red-rumped Swallows, it was back to normal this week ~ seven birds noted with Dungeness opening up the proceedings on 16th, followed by one at Tacumshin from 17th-21st, at Grafham Water (Cambridgeshire) and Freiston Shore (Lincolnshire) on 18th, Plessey Woods (Northumberland) on 19th, along the Fleet (Dorset) on 20th and on Fair Isle on 22nd.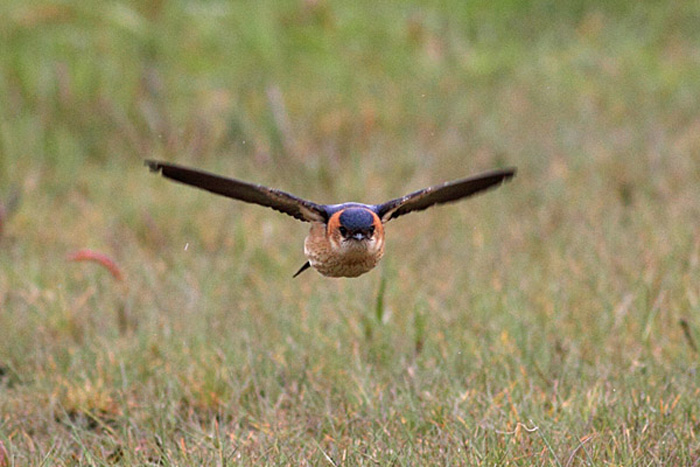 The final splash of vivid Mediterranean colour came by way of Bee-eaters, the most obliging of which was the bird around Cley and surrounding parishes from 18th-21st ~ showing particularly well on the wires along the Glaven valley at the end of the weekend. Two birds performed near the Patrington Pallid Harrier after first appearing at nearby Kilnsea on 17th, before turning up at Sunk Island later the same day. Also on 17th, single birds were noted in Hampshire, on the Isle of Wight, Kent and Cambridgeshire. Moving to 19th, lone Bee-eaters were in East Sussex, Pembrokeshire, Kent again (Dungeness grabbing its second, with a third sighting coming at the end of the round-up period) and Lincolnshire, while on 20th, one was seen in south Yorkshire and was followed by a flock of six at Cliftonville (Kent) on 21st ~ though they only lingered for a few minutes. The same day saw at least one Bee-eater head over the Lizard, another was photographed in Devon, near Ugborough and one tracked over the Irish Sea, to Ram Head in Waterford.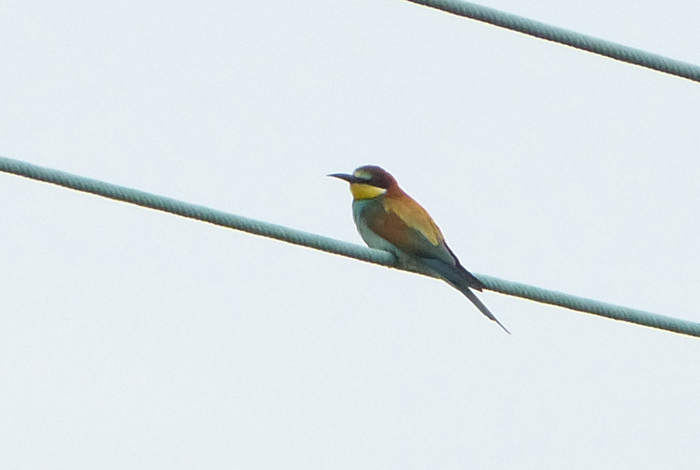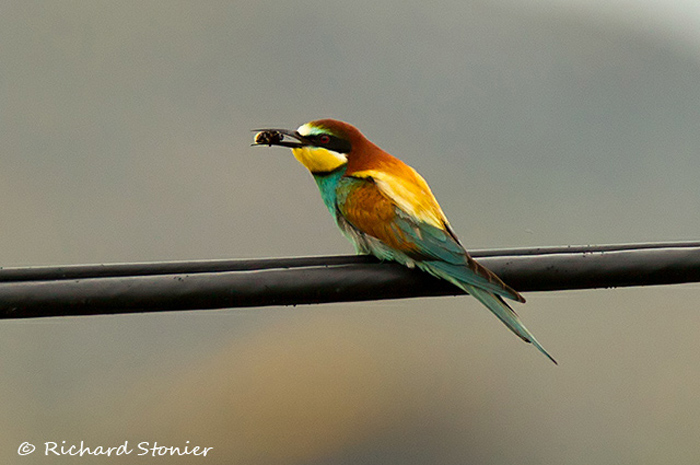 A Tawny Pipit was a brief visitor to the beach at Worthing (West Sussex) on 20th and single Ortolan Buntings were on Whalsay (last week's bird still present at Skaw on 18th) and on the week's hot-spot location, Holy Island, on 20th. Shetland hosted two of the week's Common Rosefinches, on Fetlar on 19th, Mainland on 20th and Fair Isle on 21st, with one making landfall on Blakeney Point, also on 21st. A singing first-summer was at Easington on 22nd, with another male arriving on Shetland, at Cunningsburgh the same day. The female Serin lingered at Landguard Point until 21st and a second Serin, another female, paid a brief visit to Dungeness on 18th. In Cornwall, a Rose-coloured Starlingwas at Mullion on 18th.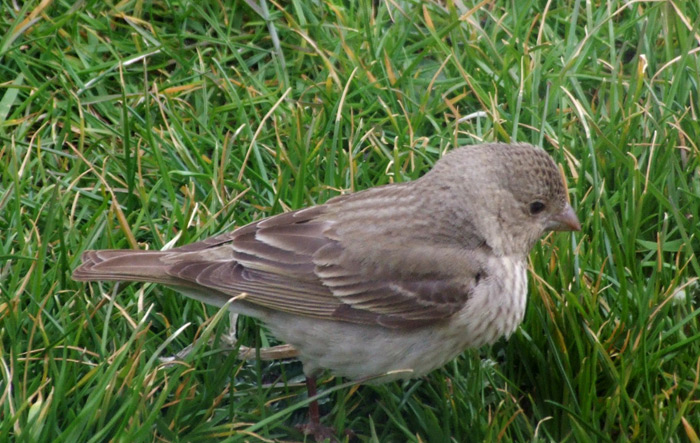 We'll finish up with a rare bunting duo ~ a Little Bunting was found on The Garrison, on St. Mary's on 19th (reported again on 20th) while in North Yorkshire, a male Rustic Bunting was near the old tip at Filey on the afternoon of 21st (a year to day since a male Rustic Bunting was seen at the same site…).
An impressive week then, and a better week looks set to follow….the forecast has easterly winds and clear skies on the horizon and that means that anything could turn up anywhere ~ a mega could easily hurtle over the east coast and end up on the west side. But what could it be? After this week's 3C's carry on, guessing games may seem futile ~ another Dutch Black-shouldered Kite and a stunning Finnish Green Warbler are hints at what's lurking elsewhere ~ but the weather points at maybe something like a handsome mainland male Caspian Plover….though an Oriental Plover would be better...
Mark Golley
23 May 2012
This weeks contributors
For their help, contributions and photos this week a special thanks goes to:
Andrew Hood
Marcus Nash
Tony Marr
Kevan Joynes
Nick Pegler
Sean Wileman
Paul Hackett