Weekly review: 09 - 15 May 2012
The weeks highlights
The Flamborough Ficedula Flycatcher puzzle is resolved….
Scottish Greater Yellowlegs to-ing & fro-ing in Aberdeenshire
Significant arrival of Red-rumped Swallows continues….
Another week of "mixed bag weather" which didn't seem to hold too much back….a moist, rather warm (certainly compared to recent days) push of air from the southwest at the start of the round-up period seemed to assist a few overshoots and as the seven days ticked away there were any number of nice mid-May birds on offer.
It must be said that the Grade A, 5-Star mega was notable by its absence but that's the way it is sometimes, even in May….but a quick glance through this week's list provided any number of extremely tidy scarcities and rarities to play with.
As the week drew to a close, there was a whole bunch of wobbly westerly (or north-westerly) winds to deal with across almost the whole of the country ~ but May being what it is, the surprise package will be just a binocular scan away…
So, what of this week? Well, first and foremost, the test results are in and the answer surprised many…..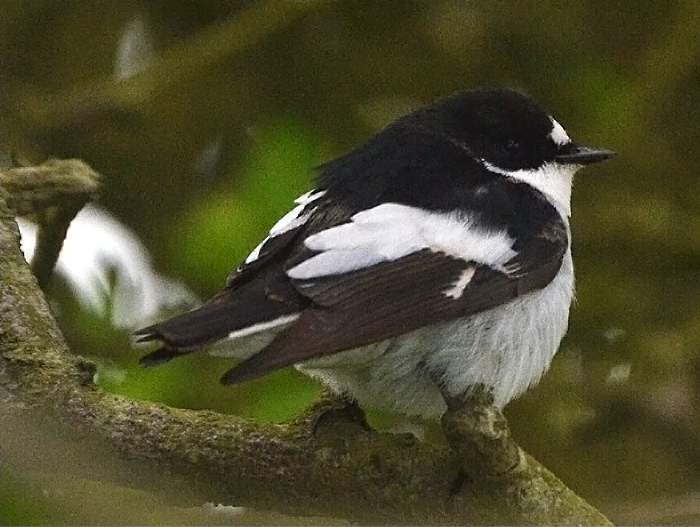 Headline birds
Hands up at the back who thought that the F3 (the Flamborough Ficedula flycatcher) would turn out to be a Pied Flycatcher? No, not many…..and even those who had gone down the Pied Flycatcher route had preceded those two words with "Iberian" (could they though, in the long run, still be proved right…?)
The work undertaken in the labs in north-east Scotland saw Dr. Martin Collinson pronounce on Saturday that, cat amongst the pigeons time, the F3 was a Pied Flycatcher. Who better to summarise the work undertaken, and its findings, than Dr. Collinson himself…..
"Genetically, the four Western Palearctic black-and-white Ficedula species are all quite distinct from each other, and the feathers from the Flamborough bird provided a potentially foolproof way of deciding whether it was an Atlas Flycatcher. At the mitochondrial DNA level, the Pied, Atlas, Semi-collared and Collared Flycatchers show about 2.5-3.5% divergence in their sequences. On the first round of analysis we successfully sequenced 3000 base pairs of mitochondrial DNA from 4 separate genes and the Flamborough bird was identical, or almost identical (0 to about ~0.1% divergence) to nominate Pied Flycatchers. While we can occasionally make small mistakes in reading long stretches of DNA sequence, there is no way to make enough mistakes on that scale to turn Atlas Flycatcher DNA into another species. For example for 991 bases of the cytb gene, the Flamborough bird was identical to, or only 1 base pair different from, nominate Pied Flycatchers but 29-35 bases different from Atlas, Collared and Semi-collared Flycatchers. Whatever the Flamborough bird was, it wasn't an Atlas Fly.
Another initial possibility was that the bird was a Collared x Pied Fly hybrid. The mitochondrial DNA comes down the female line, so to that point we only knew that its mum was a Pied Fly. To find out what its dad was we needed to sequence nuclear DNA, which would be a mixture of genes from both parents. Fixed differences between Collared and Pied Flycatcher genes have been defined previously by other labs – e.g. at position 315 of the RHO-1 gene, Collared Flycatchers always have a 'G' and Pied Flycatchers always have an 'A'. If the bird was a hybrid, at that point the sequencing machine would get confused as an 'A' and a 'G' went through the reader together. For the Flamborough bird, the sequence was only 'A' – its dad was a Pied Flycatcher too.
Iberian Pied Flycatcher was the final possibility. Genetically, the iberiae subspecies is very close to nominate birds but appears to be, just about, reliably distinguishable. At the cytb gene, the Flamborough Flycatcher was 4 bases different from Iberian Pied Fly sequence, and similarly different at other genes. There wasn't a lot in it, but it seems as though it was not an Iberian bird either.
Conclusion? Pied Fly. More cautiously, either the bird really was 'just' an aberrant, or extreme, Pied Flycatcher showing plumage features more consistent with Atlas or Iberian Pied Flycatcher, or there is something even more weird going on – maybe a second or third generation hybrid, or with some Iberian ancestry that we have not picked up on the first round of analysis. We will continue to work on this bird. It seems to have made the certain field identification of vagrant black-and-white Ficedulas a more daunting task."
A massive thanks to Martin for taking the time to lay out the whys and wherefores of the work undertaken to resolve the puzzle and, as he touches on at the end of his final paragraph, as news of the bird's lineage is absorbed, its now time to take stock, ask more questions and wonder what it means for the safe identification of Atlas Flycatchers away from its normal breeding range. If a Pied Flycatcher can really look like this, how safe are some (all?) of the records of Atlas Flycatcher from Europe now?
Given the remarkable appearance of the bird (and what it was meant to sound like) there remains a school of thought that still suggests that the potential for the F3 to still be an Iberian Pied Flycatcher remains (despite the initial findings from Aberdeen). For those who feel that there is still mileage along the Iberian road, their first step is to find a nominate hypoleuca that mirrors the plumage of the Flamborough bird. Google images may be in for a busy time….
The bird politely remained on station for the start of this round-up period, last seen on 10th, but saved his blushes by departing before the pronouncement was made as to his parentage. Many birders may also be questioning the bird's parentage, but some may choose a rather more Anglo-Saxon approach to that matter, having gambled time and money to see the bird (such are the occasional risks for the insurance lister).
The positives are endless though ~ much has been learned over the course of the bird's double-figure day stay and it was an entertaining exercise in extrapolating what you wanted to from the endless posts on the topic across the assorted online debating chambers. All that newly acquired knowledge can be used to further the identification processes of black-and-white flycatchers.
No one looks daft, no one has "lost face" in the last two weeks ~ this superb-looking bird has pushed things along and all those parties involved (however disappointed they may be) have played their part in a sometimes-riveting discussion and identification puzzle. The fact that resolution came only in the lab gave things an air of uncertainty, mystery and no little excitement.
While all this was going on, there was very little else happening by way of new "big birds". In fact, there weren't any….! The only other star turn this week was the long-lingering Greater Yellowlegs that was seen again on the Ythan Estuary on 12th (having last been reported, at the same site, on 5th) before heading back up to the Loch of Strathbeg on 14th. It just doesn't seem to know what to do with itself….its UK "staycation" could be longer than predicted.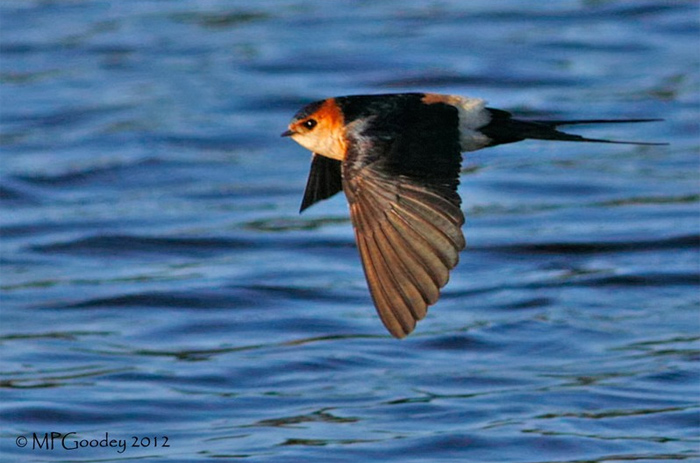 Red-rumped Swallows spring 2012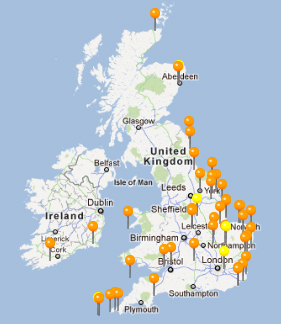 Rarely do Red-rumped Swallows make the headlines ~ but the continued push of birds in to the country during the past few days is worth highlighting. Last week around 20 birds were recorded, this week there's been another leap in numbers, at least 31 birds seen (the total could actually be closer to 35 or more depending on how some counties records are dealt with).
Top of the heap was Scilly ~ four birds seen amongst the hirundine flock over Porth Hellick on the evening of 12th and local opinion suggested that thoughts of as many as six individuals around St. Mary's that day was not unreasonable.
Up to four birds were seen in East Yorkshire (including three fly-throughs over Spurn) and four were also seen in Norfolk (with two over Blakeney Freshmarsh on 10th). Four more were in Suffolk, with two for Minsmere on 12th, while Lincolnshire scored three on 11th (including two at Frampton with another there on 15th), Northumberland had three on 12th (including two at Lynemouth) while Kent and Cambridgeshire also rattled in three singles during the week. Elsewhere singles were found in Cornwall, North Yorkshire, Aberdeenshire and Wexford.
Seabirds
The big news this week was the superb passage of Long-tailed and Pomarine Skuas off the Outer Hebrides. A feature of spring for decades, this annual event is sometimes something of a damp squib but this week local seawatchers were in for a treat….
During the evening of 13th, at least 100 Long-tailed Skuas flew past Ardivachar Point on South Uist, with some 25 Pomarine Skuas joining the fun. A couple of islands away, numbers were better still ~ in a period of just over two hours (from 5pm to 7.15pm) at least 417 Long-tails and 172 Poms headed past Aird an Runair, on North Uist. The grand total for the whole day's watching ~ 550 Long-tailed Skuas and 600 Pomarine Skuas. Awesome!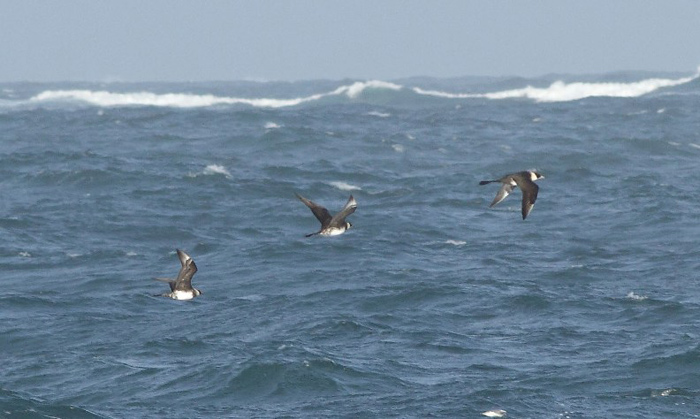 The following day, a further 635 Pomarine Skuas were counted off Aird an Runair, with just four Long-tailed Skuas noted. Elsewhere, single Long-tails were noted in the Sound of Harris on 9th, off the coast of Ayrshire and Argyll on 12th, Cumbria and Dumfries & Galloway on 13th, again off Ayrshire on 14th and Durham and Northumberland on 15th. The 14th also saw 23 Long-tailed Skuas move through Birsay, Mainland Orkney (along with 46 Pomarine Skuas) while on 15th, two adults were seen flying over Drayton Bassett Pits (Staffordshire) ~ a remarkable inland spring record.
Away from the Hebrides, Pomarine Skua passage was generally fairly light, 31 off Brownstown Head (Co. Wexford) on 10th, 17 off Newbie (Dumfries & Galloway) on 12th and 27 off Bowness-on-Solway (Cumbria) on 14th the highest counts, while a lone bird on Chew Valley Lake was particularly obliging on 12th.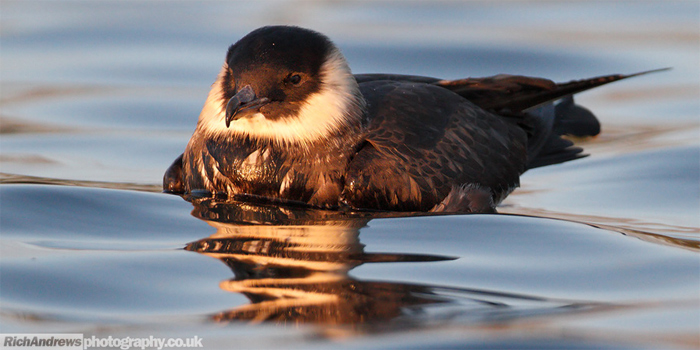 Aside from skuas, few other seabirds of note were recorded this week ~ a moulting adult White-billed Diver was still being seen in the bay at Herston, South Ronaldsay this week, present to 14th and another was seen at sea, from a whale-cruise boat, four miles west of Melvaig on 10th. A couple of Balearic Shearwaters flew past Portland Bill on 9th while Leach's Storm-petrels were seen on 14th, off the Butt of Lewis (Outer Hebrides) and Saltcoats (Ayrshire), with birds off Spurn and Sheringham the following day. The strong north-westerly airflow also produced a Sabine's Gull flying past Nairn harbour (Highland) on 15th.
Herons, Egrets & allies
In Somerset, the exquisite Squacco Heron settled down at Blagdon Lake, present from 9th-15th and was often showing well. A Night Heron took up temporary residence in Flamborough village from 10th onwards and another was seen in the West Midlands, at Willenhall, on 12th (there has been a rogue Dutch escape in the region in recent months of course…) and back in Somerset, a Purple Heron was seen at Shapwick Heath on 13th, with others reported in Gloucestershire (at Walmore Common on 10th) and in Gwent (flying over the road near Castleton on 13th).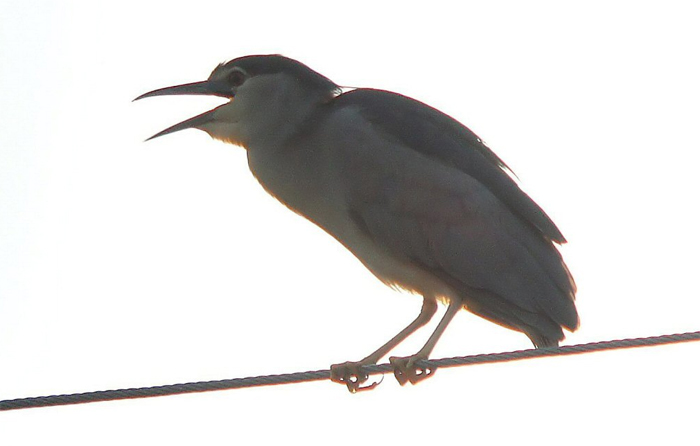 A pair of White Storks started the week at Appledore and were then seen over Woodchurch on 13th, ending up at Pulborough Brooks RSPB (West Sussex) later the same day and on 15th, they appeared over Arundel. Another twosome were seen in Essex on 12th (with a single bird in the county from 10th-15th) and further singles appeared in Hertfordshire and Buckinghamshire on 12th and 13th respectively, in North Yorkshire and Devon, and also in Somerset, one in the Curry Moor area from 13th-15th.
No (random?) guesswork on which Glossy Ibis are which this week ~ just the hard facts! On 9th, three birds were again at Marloes Mere, with two remaining at Pagham Harbour. Single birds were seen in Essex (Wat Tyler CP) and Lancashire (Leighton Moss RSPB) on 10th with further singles at Tacumshin and on the Somerset Levels on 11th. By 12th, bird four reappeared at Marloes Mere (three adults and a younger bird) ~ they stayed put until 15th ~ and a new bird was seen in Ireland on 13th, flying west at Greystones, in Wicklow.
The only Cattle Egret of the week was reported at Litlington (East Sussex) on 9th while just three Great White Egrets were noted ~ one at Old Hall Marshes RSPB (Essex) on 10th and 13th, with others reported from Clevedon (Somerset) on 12th and flying over Ramsey Island (Pembrokeshire) on 15th.
On Shetland, two Common Cranes lingered in to another week ~ seen at Esha Ness on Mainland on 9th, with a single (or assorted singles) around various parts of Mainland for the rest of the week, with another lone bird on Unst on 9th-10th. Further south, two Cranes were seen at Collieston and then Meikle Loch between 12th-13th, with further twos in East Yorkshire, Shropshire, Cheshire, Lincolnshire and Norfolk during the week, while singles were reported from Staffordshire, Suffolk and North Yorkshire. The largest group of the week was seen on the Nene Washes on 15th ~ eight birds noted there.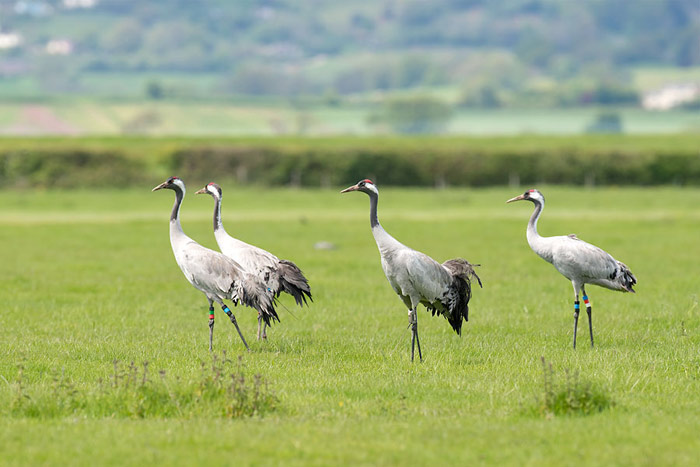 Four Spoonbills at North Warren RSPB (Suffolk) on 12th was the largest group noted this week, with three still at Cley with another Norfolk trio at Breydon Water on 13th. Doubles were in traditional spots in Devon and Dorset, while notable singles were at Appleford GPs in Oxfordshire on 9th-10th and over the old Aust services in Gloucestershire on 14th. Six further singles were seen, from Cornwall to Cleveland.
Ducks & Geese
Perhaps unsurprisingly, there was little in the way of hot goose news this week ~ the sole representative being the adult Black Brant, in the company of four Pale-bellied Brents, in Stinky Bay on Benbecula on 11th.
In Clyde, the drake Blue-winged Teal remained at Bridgend Farm Pools from 9th-15th, while new this week was the drake American Wigeon seen on North Ronaldsay on 14th-15th. In Highland, at St. John's Loch, the drake Lesser Scaup was still present to 11th (having last been reported at the end of March) and Ring-necked Ducks were represented by the drake at West Ashby (Lincolnshire) (until 11th) and another on Lough Swilly (Co. Donegal) on 12th-13th.
Seaducks relied on an old faithful again for this round-up ~ the Ythan Estuary's drake King Eider (present all week) ~ while two drake Surf Scoters were in the Sound of Barra on 15th and another drake spent much of the week off Port Seton (Lothian).
Raptors
Leading the way, just, was the report of a grey morph Gyr heading over Buttermilk Hill in west Cornwall on 14th. Grey Gyr is a big call, and May birds (of any colour) aren't too common ~ a freshly dead white morph Gyr was found on St. Kilda on May 20th 2007 and an adult was seen on South Ronaldsay 12 months before that, on May 23rd. Prior to that comes a Shetland May Gyr in 2002, before that, a moribund female in Mayo in May 1994.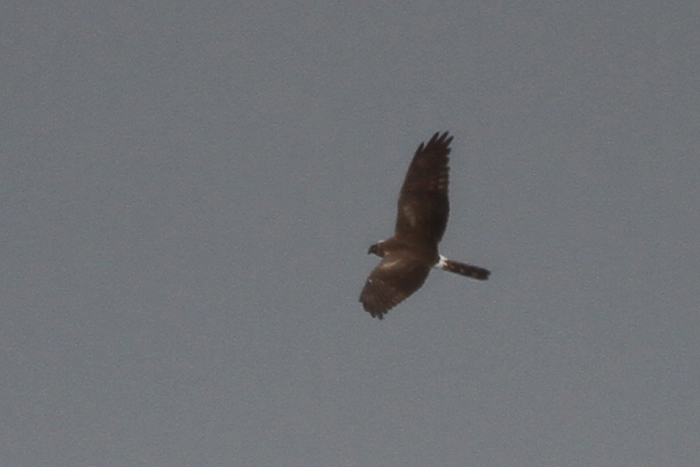 Last week Pallid Harriers were recorded in Norfolk, Lincolnshire and East Yorkshire. This week, it was exactly the same scenario ~ but which ones were new? Who knows, but for the record, a juvenile/first-summer was at Waxham (Norfolk) on 9th, and that bird was followed by another young bird at Rimac and Donna Nook (Lincolnshire) on 11th-12th and at Welwick and then Patrington Haven (East Yorkshire) on 14th-15th.
The first Red-footed Falcon of the year, an adult male, spent five minutes near the main A149 at Babingley, west Norfolk on 13th while a Black Kite appeared over Lady Island's Lake (Co. Wexford) on 15th. Shetland played host to the week's only Rough-legged Buzzard, seen at Underhoull, Unst on 10th.
Up on the Hebrides, on North Uist, a Snowy Owl was on the machair at Greinetobht on 14th-15th (one was present here at pretty much the same time last year).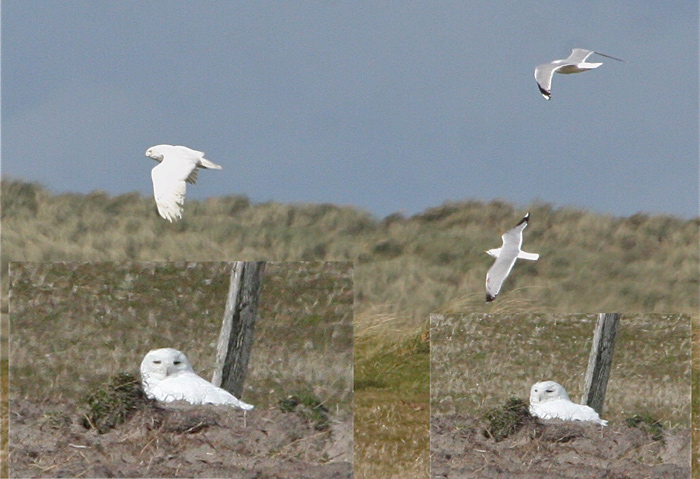 Shorebirds
The push of Black-winged Stilts seems to have come to a halt this week ~ no new arrivals reported ~ the only birds noted being the long staying bird at Frampton Marsh RSPB (seen on 11th and 15th) and the two still at Elmley Marshes RSPB, from 9th-11th. The bird at Paxton (Cambridgeshire) was reported on 9th, but there was no sign of it later the same day.
In Wexford, a Spotted Sandpiper spent at least three days at Tacumshin from 11th where the moulting adult American Golden Plover was also still in place, to 12th at least. A Long-billed Dowitcher was found at Hodbarrow RSPB in Cumbria on 9th, and remained there to 12th, while a White-rumped Sandpiper was reported briefly on 11th, on the North Scrape at Cley.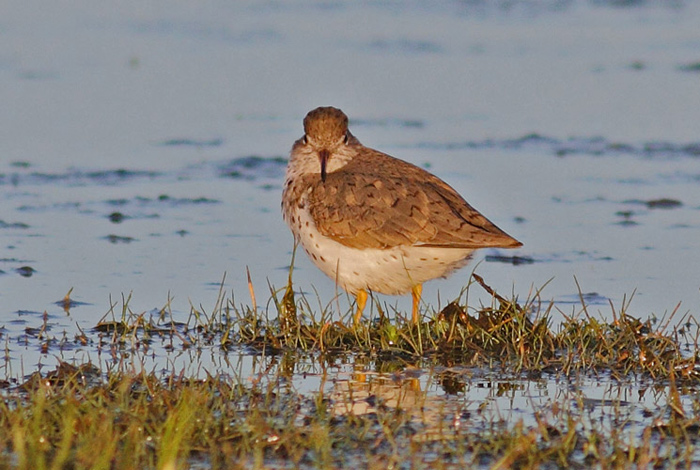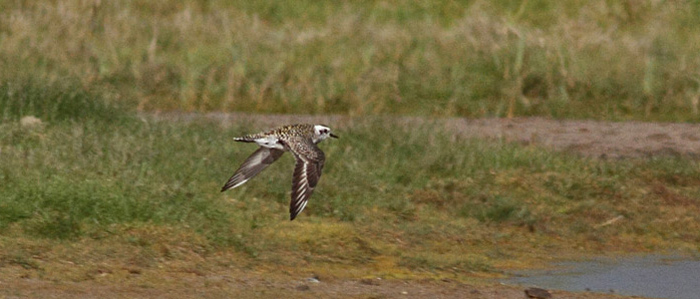 Five Pectoral Sandpipers were found during the week ~ the first was found on Exminster Marshes RSPB on 9th and was followed by singles on Scottish islands on 14th ~ one on Tiree and another on North Ronaldsay ~ with birds on 15th appearing at Butt of Lewis and also at Kilcoole (Co. Wicklow).
Staying in Scotland, in Angus, an impressive trip of Dotterel must have been having a ball at Kirriemuir this week ~ 11 started the week there, rising to 17 by midday on 11th with 31 birds there later the same afternoon. A dozen remained to the following day. Seven Dotterel flew over Guisborough Moor (Cleveland) on 9th, groups of six were at Foxton (Cambridgeshire) on 12th and Shebster (Highland) on 15th, while three were at Rhosneigr on Anglesey on 14th. Two birds were on Islay on 11th, in Aberdeenshire on 13th and on the Outer Hebrides on 15th, with singles in Lincolnshire, Shropshire and Derry during the rest of the week.
In Cornwall, a female Kentish Plover at Marazion Marsh RSPB on 9th was joined by a dashing male the following day and both were still present on 11th, with the male remaining to 12th. A fly-over KP was reported at Cley on 10th and another was found amongst 1,500 Ringed Plovers on Holy Island on 15th. Up to three Temminck's Stints were seen around the NWT reserve at Cley during the week and three were at Hatfield Moors NNR (South Yorkshire) as the week came to a close. Two more Temminck's were at Rutland Water on 13th and single birds were at Pegwell Bay on 10th and near Peterborough on 15th. In South Yorkshire, a Red-necked Phalarope was an early morning visitor to Old Moor RSPB on 10th and a female spent the morning (at least) of 15th at Upton Warren in Worcestershire.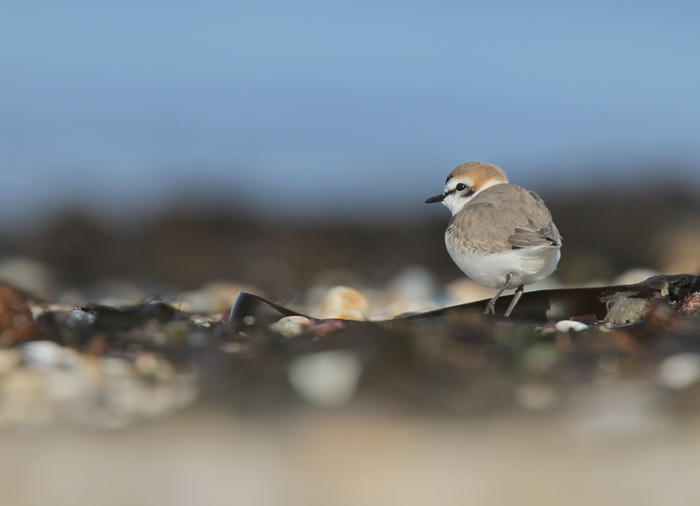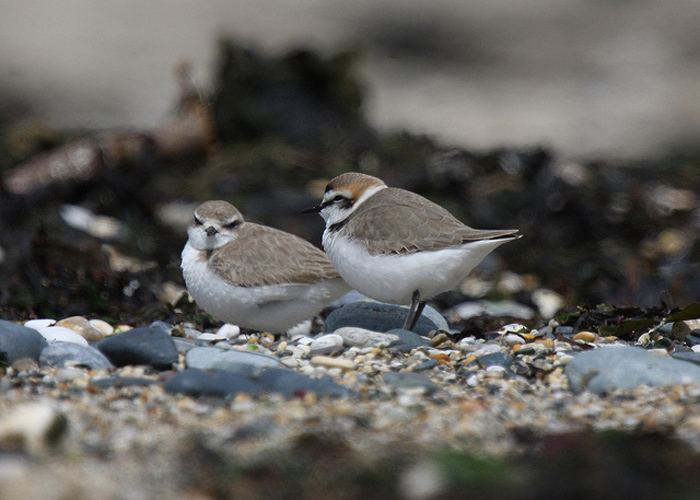 Gulls & Terns
In Wexford, a Forster's Tern reappeared for what could be another summer at Tacumshin (where else ~ what a run of birds that site has had in recent years…) on 12th. The same bird has appeared on site every spring since 2008 ~ that year it arrived on May 15th and stayed until early July. The following year it returned on April 22nd and was last reported at the end of June that year. In 2010, the arrival date was May 8th, departing by 25th June and last year, it checked in on May 11th, remaining to June 27th at least.
The only Ring-billed Gulls this week were at Timoleague (Co. Cork) on 10th and Black Rock Strand (Co. Kerry) on 15th. Some 20 Iceland Gulls included up to three different birds at Beddington with the rest scattered (mainly) around the west coast, from Cornwall to the Hebrides. A dozen or so Glaucous Gulls included two on Mainland Orkney on 11th.
Passerines
A first-summer male Western Subalpine Warbler was discovered in the bird observatory garden at Portland on 9th (where it was later trapped and ringed) and a first-summer female was a nice find for the birders on Bardsey on 14th. In Suffolk, a male Savi's Warbler was singing at Walberswick on 12th, the first in the county for a couple of years.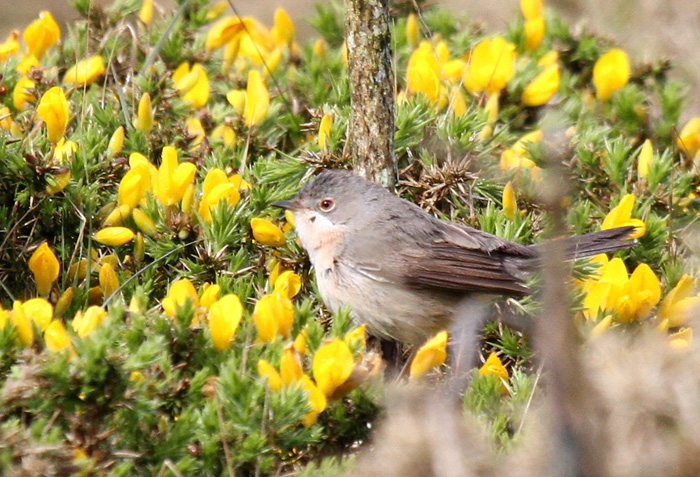 A Red-breasted Flycatcher has been seen "recently" on Fair Isle and three Red-spotted Bluethroats were seen there on 12th. Five other Bluethroats were seen this week, three in the north-east of England ~ a male was on the Farnes on 10th-11th, and the latter date also saw another (really showy) male arrive at Hartlepool Headland, with others at Sandwick and Skaw, Whalsay (Shetland). On 11th, a male Bluethroat was found at High Newton-by-the-Sea in Northumberland ~ he remained to the following day.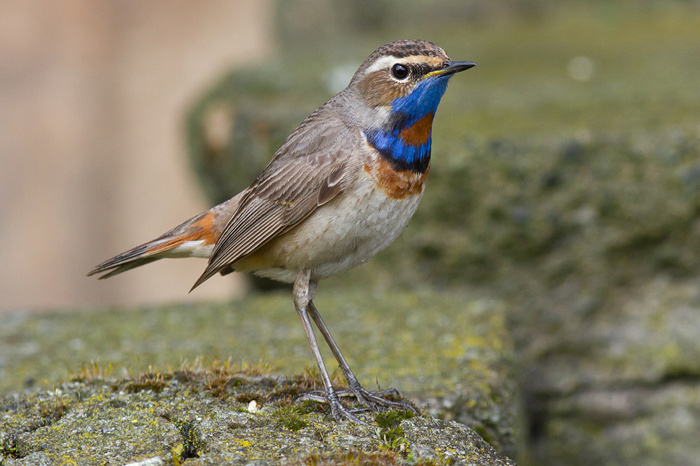 Along with Red-breasted Flycatcher and Bluethroats come Wrynecks, five of which were found at the end of last week (May 8th) on North Ronaldsay and Fair Isle (again "recently") also had a five-Wryneck day (three were still present there on 10th). At least eight birds were on Shetland this week with a further four or five in Northumberland, and singles in Fife, Cleveland, East Yorkshire and Norfolk. A Richard's Pipitwas reported on 15th at Durlston Head (Dorset).
Another typical mid-May arrival is Red-backed Shrike, five of them noted this week ~ one was on Lundy on 9th and was followed by a male on North Ronaldsay, two birds on Shetland and a male at High Hauxley (Northumberland) on 11th. A Woodchat Shrike was still on Peninnis Head, St. Mary's from 9th-11th with three new arrivals appearing on 12th ~ at Keyhaven Marshes (Hampshire) and in Devon, at East Soar Farm and Noss Mayo ~ and two new birds in west Cornwall on 13th, at Land's End and Sennen. A late-leaving Great Grey Shrike lingered in Borders, at Coldingham, to 11th.
An Alpine Swift was tracked along the Lincolnshire coast early on 11th (heading south over Theddlethorpe St. Helen and Huttoft) and in London, another Alpine Swift flew over Upminster on 13th. The most interesting swift of the week wasn't rare but certainly looked as though it should be….photographed at Strumpshaw Fen in Norfolk on 11th, this groovy zoomer of a Common Swift gave the air of a Pacific Swift (it was reported as a possible) and may even have accounted for a report of a possible Pacific Swift in Suffolk the following day. Thankfully this excellent flight shot was obtained of the Norfolk bird ~ it's a shame it isn't rare, but it looks like a neat bird anyway….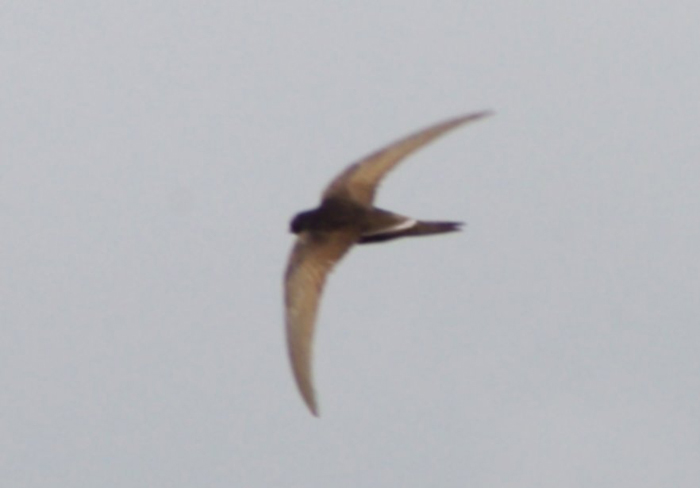 Five Hoopoes were seen during the latest round-up period, in Dorset (at Charmouth) on 12th, in East Yorkshire (at Bempton) and Somerset (at Wilmersham Common) on 13th, in Cornwall (at Probus) on 14th and in Powys (near Llanfair Caereinon) on 15th. Around 24 or 25 Golden Orioles were found over the last seven days, spread far and wide, with three singles on Scilly, two at North Foreland (Kent) and on Lundy on 11th, two singles at Gibraltar Point during the week, and two singles for both Dorset and Cambridgeshire too. At Lakenheath, two males were seen on 12th ~ hopefully there's a female tucked away there somewhere too…..A final burst of summer colour came in the form of a Bee-eater in Pembrokeshire ~ seen near Dale on 10th and then near Marloes on 12th. A flock of 10 were reported from north London last week, over Chingford on 7th.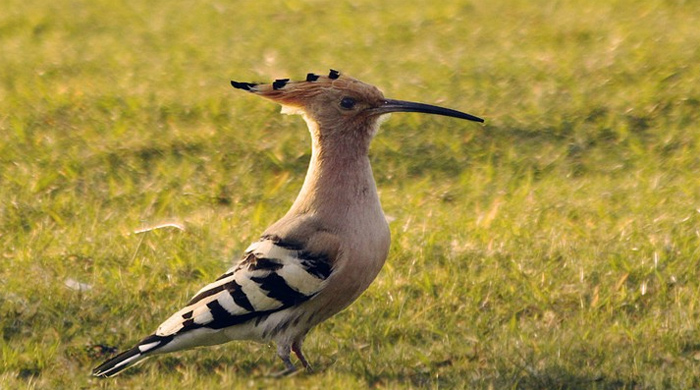 The first Common Rosefinches of 2012 were found at Skaw, on Whalsay (Shetland) on 9th and an Ortolan Bunting was at the same site on the same day (lingering to 13th). Two more Ortolans were found on Shetland during the week, on Fair Isle on 9th-10th and at Wester Quarff, Mainland, on 13th.
On Scilly, two Serins flew over the golf course on St. Mary's on 9th and they were followed by one flying over The Warren at Spurn and a singing male at Landguard Point, both on 11th, with a female at the latter site on 14th-15th. An adult Rose-coloured Starling rounds off the week's proceedings, one seen again at Selsey Bill (West Sussex) on 10th-13th.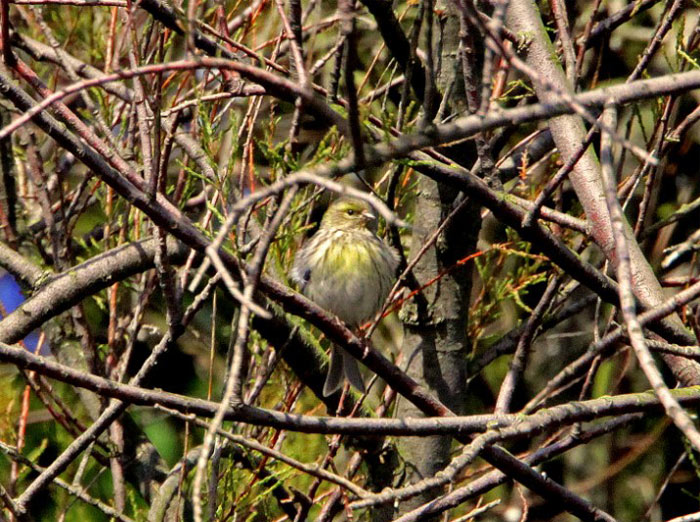 A funny old week (again) then….but there's hope on the horizon for east coast birders at least. The forecast for the week ahead suggests that there may be some decent weather on the way and we all know that the later it gets in to May, the better the birds become. Will that age-hold theory hold for next week…..? The week ahead celebrates the 27th anniversary of the last accepted British Wallcreeper ~ at St. Catherine's Point on the Isle of Wight (May 16th 1985) ~ imagine the crowd for the next one of those….
Mark Golley
16 May 2012
This weeks contributors
This week, we are especially grateful to Dr. Martin Collinson for his insight in to the world of Flycatcher sequencing….
For their photos this week, thanks to:
Andrew Hood, Chris Baines, Martin Goodey, Steve Duffield -
Western Isles Wildlife
,
Rich Andrews
,
TeamPBWildlifeFilms
, Tony Dixon, Paul Marshall, Dave Andrews,
Craig Round
,
Paul Kelly - Irish Bird Images
, Brian Field, D.King,
Ben Porter
, Martyn Sidwell, David Bryant, Paige Dickens, Chris Baines,