Weekly review: 02 May - 08 May 2012
The weeks highlights
Flamborough Ficedula Flycatcher continues to perform and to baffle…
Calandra Lark takes a break with flying visit to Kent….
….and a Crested Lark behaves better two days later in the same county….
The first Black-winged Pratincole for three years appears in Cheshire
Two months on the clock for the Strathbeg Greater Yellowlegs ~ then it moves!
Despite the often grey, occasionally wet, and generally pretty cool conditions it was, all in all, a pretty entertaining week with plenty of impressive new arrivals on offer across the country.
The generally gloomy conditions came courtesy of assorted weak frontal systems coming up against the edge of a sizeable ridge of high pressure across central Europe and away in to the Mediterranean ~ no one area of weather could really outmuscle the other, so the run of rather chilly (for the time of year) N to ENE winds were generally dominant across much of the country.
New birds forced their way through, with a wide array of incomers through the week but many people could only really concentrate their efforts in trying to follow what was happening in East Yorkshire…..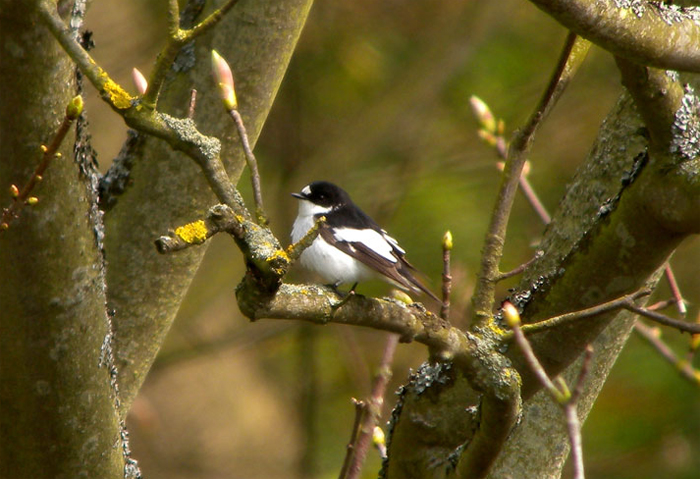 Headline birds
The identity of the Flamborough Ficedula flycatcher (from here on in known as the "F3" ) was still at the forefront of most people's minds this week ~ as the delightful first-summer male, of unknown parentage, continued to oblige all comers to the wooded valley at South Landing throughout the week.
Often showing well, and often showing very close to the car park, the bird just couldn't help himself, showing off any number of field marks as he flicked and flitted just below the canopy of the newly-leafed trees ~ easy to follow as the gleaming white and deep velvet-black plumage caught the eye with every little twist and turn as he sallied here and there.
Strong cases continue to be presented by the Atlas Flycatcher camp, and equally strong arguments were thrown into the identification debating room by those adamant that the F3 was, plain and simple, nothing more than a hybrid (dad = Collared Flycatcher, mum = Pied Flycatcher the popular parentage split opinion).
With the in-hand analysis perhaps throwing up as many questions as answers (the biometrics, apparently, conclusively rule out Iberian Pied Flycatcher ~ a very significant look-a-likey to the F3) and field observations unable to add anything to the identity of the bird, it really does come down to what can be determined from the laboratory (as was touched upon in last week's review).
The job of processing and investigating the data from the F3 has fallen to Aberdeen University's Dr Martin Collinson ~ big-hitting geneticist and chair of the BOU. Will Doc Martin stomp his size 12's all over the hopes of those keen to add another British first to their lists? We should know in the next few days apparently.
A trawl through some old BOU online notes on the split of Atlas Flycatcher (again touched upon last week ~ the decision to separate Atlas from Pied Flycatcher came in 2003) offered up the fact that, genetically, the "distance" between Atlas Flycatcher and both Pied and Collared is similar to that between Pied and Collared. It also states that Atlas Flycatcher is "more different" from Pied than it is Collared Flycatcher.
These stats., may be totally irrelevant if it comes back (as some wholeheartedly expect) as a Pied X Collared Flycatcher hybrid, but it will also push the I.D. envelope a little further too. It may even call in to question the identity of some of the birds seen elsewhere in Europe this spring (especially if, they too, were first-summer males and not trapped) and it may also require previous records of anything other than adult males across Europe to be reviewed too.
No such problems with the other star turns of the week ~ leading the line, a Calandra Lark at Sandwich Bay (Kent) on 5th. Seen in flight, heading towards the Golf Course this predicted vagrant (see the review from a couple of weeks ago….) will become Kent's first record of this always mega-lark if accepted.
Britain's first Calandra was discovered at Portland Bill in April 1961 and it was fully 17 years until the next ~ found on Fair Isle in April 1978. A further seven years followed until the first-ever twitchable individual was found (on St. Mary's, hot on the heels of a corking male Pine Bunting) in April 1985.
All bar two of the subsequent dozen or so accepted records have come in April or May (the exceptions being birds on St. Kilda in September 1994 and at Spurn in October 2004) and Shetland leads the way with five records (four of them on Fair Isle) and its also Shetland that hosted the last two accepted records (in 2007 and 2008).
The 2012 bird appeared on Cup Final day and it continues the long-held thought that there's always a good bird when Wembley beckons. Indeed, the last truly twitchable Calandra Lark, on the Isle of May from May 12th-17th 2006, was seen by a few boatloads of birders the day Liverpool and West Ham met on the hallowed turf.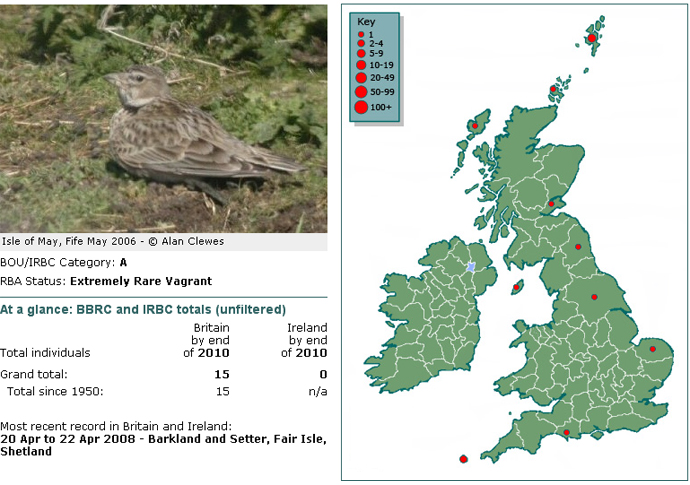 While the Kent Calandra Lark really didn't want to play the game and give itself up, the second mega-lark in Kent over the Bank Holiday weekend was more obliging as a Crested Lark at Dungeness on 7th performed for much of the afternoon after its lunchtime discovery.
Many birders would have caught up with the species at the same site almost exactly three years ago (from April 27th-May 4th 2009) ~ a surprising number of people missing the only other twitchable Crested Lark of recent times, at Landguard in October 1996.
There are now 21 accepted records of the species in Britain, nine of those coming before the start of the 20th century. One of those pre-1900 records was Kent's first Crestie ~ caught at Dover in April 1879. Just under 100 years later came number two, at Dungeness in September and October 1975 and the third followed in 2009. Dungeness has now clocked up three Crested Larks, tied with Marazion Marsh (the birds there coming in 1965, 1850 and 1846).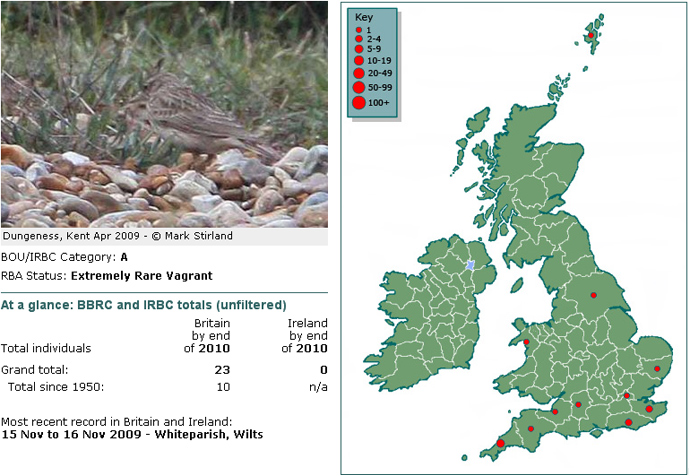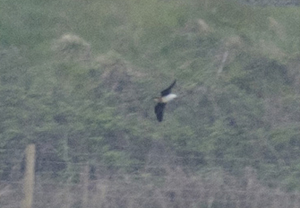 Away from Kent, the new RSPB reserve at Burton Mere, in Cheshire, also scored big this week with another find from the top-drawer ~ Black-winged Pratincole.
Found during the evening of 3rd, the initial news was of a pratincole sp., being present, distance precluding a firm identification. As the evening wore on, the bird flew south and its identity confirmed ~ Black-winged it was.
Fortunately, the bird behaved itself and reappeared again early the next morning before heading south again before noon. Local county listers breathed a sigh of relief ~ this was only the second Cheshire record of Black-winged Pratincole, the first being a one-day bird (also on the border with Flintshire) at Inner Marsh Farm on June 2nd 1988.
This will become the 36th record of Black-winged Pratincole for Britain (34 of them have occurred since 1950, the others were recorded on Fair Isle in 1927 and the first was shot in Yorkshire in 1909).
The most recent record prior to this was of a popular, often very showy, bird that made itself known in Kent on May 10th 2009 (at Reculver) before spending a fortnight around Stodmarsh and Grove Ferry, with a visit to Elmley as it started its way north, arriving in Norfolk on May 31st. Another double figure stay (13 days) followed, the bird performing wonderfully well around Ringstead and Titchwell (becoming the fourth for the county in the process).
Before the 2009 bird, Black-winged Pratincole had become desperately rare ~ one or two birds were seen in Wales in the summer of 2001 (another photographed bird at Spurn in 2001 was never submitted) with accepted records for 2000 and 1999. But that eight year gap was the largest since the 22 year gap between birds in Mayo in 1935 and Somerset in 1957.
….and, for those of a certain age (or from certain twitching generations ~ a fabled story, it's been handed down through the ages….), Black-winged Pratincole will always raise a smile….its 1976 and the words "Manor Farm sewage farm", "irate farmer" and "muck-spreader" add up to the inevitable whiffy conclusion. That the angry tractor man also set fire to the nearby bank alongside the railway line (to immolate rampant twitchers in a hedge) is a subsidiary to the story that is often neglected…..
Anyway, back to the here and now ~ no smelly goings on at Loch of Strathbeg where the Greater Yellowlegs continued its lengthy stay in Aberdeenshire, completing its second month in situ on the reserve by 4th and then moved to the Ythan Estuary on 5th. It's a funny southbound movement, of around 25 miles or so, but this bird has already produced the odd unexpected leap since its arrival last autumn.
Staying in Scotland, time to clear up last week's report of a Scops Owl at Skye of Curr ~ all wasn't what it seems (so it seems) ~ the record now deemed erroneous.
Seabirds
In the waters off the Moray coast, two White-billed Divers continued to be seen between Burghead and Hopeman all week, with one of these remaining to 6th. On Orkney, one of last week's birds, the one on South Ronaldsay, was still present on 3rd-8th and one was off North Ronaldsay on 6th.
At Spurn, a sub-adult Long-tailed Skua flew over The Narrows on 2nd and three birds flew past Bowness-on-Solway (Cumbria) on 7th. After last week's tidy-ish showing of over 160 Pomarine Skuas, numbers this week were slightly fewer ~ on 7th, 18 flew past Dungeness and 15 were counted off Orcombe Point (Devon) but the week's high count came on 8th when 34 flew past Bowness-on-Solway (Cumbria). Kent, West Sussex, Gwynedd, Argyll and the Outer Hebrides were also on the be-spooned register too….
Herons, Egrets & allies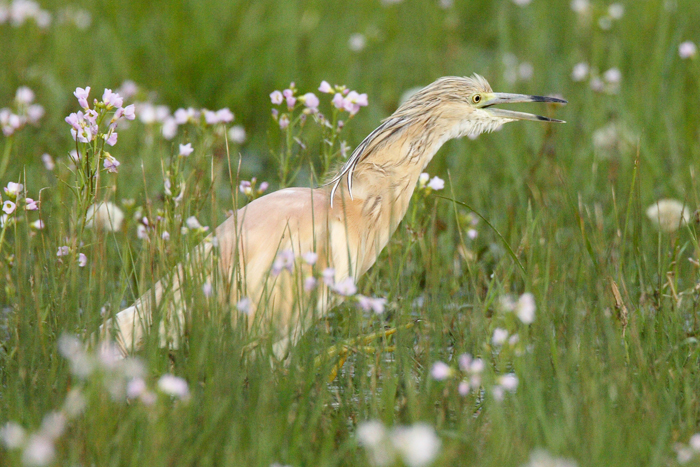 Squacco Heron is another of those species that, when you hear about it, always sends a ripple of excitement coursing through the body. This week's news of one appearing at Chew Valley Lake on 2nd was no different and its reappearance on 4th and 5th would have helped to draw a crowd. From then on, the bird flip-flopped between Chew and nearby Blagdon Lake, seen at both sites on 6th-8th. Somerset has now scored eight of these super birds, including four since 2005. Only one of the seven records prior to this one stayed for more than a day though ~ at Shapwick Heath from June 17th to 18th July 2006.
After the untimely demise of one of the Oxfordshire White Stork sextet last week, the now quintet took to the skies and set a course for the south coast ~ on 2nd-3rd they opted for a mini-tour of West Sussex (seen at seven sites countywide in their two-day jaunt) before drifting westwards, clocking up appearances in Hampshire on 4th (over Havant) and then Dorset on 5th-6th (saying hello to Weymouth, Portland and then Morden Bog).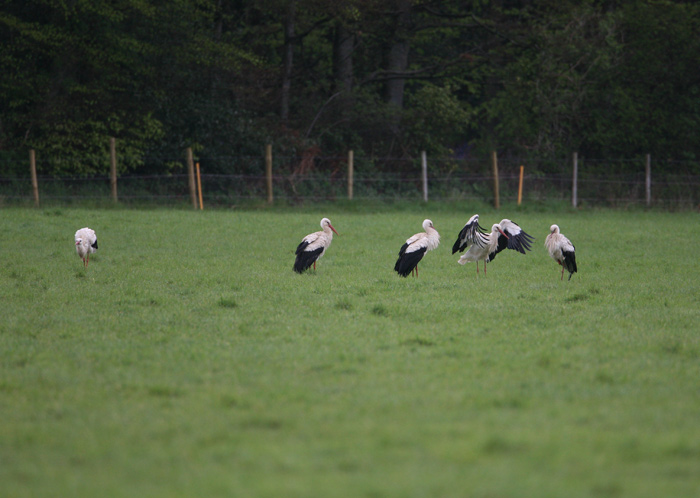 White Storks on the move view in larger map
Elsewhere, the two White Storks that appeared near Scotney (Kent) early on 4th (perhaps the same two seen in Hampshire at the end of the week) may well have been the two birds seen last week in Norfolk. They reappeared on 5th in East Sussex, at Rye Harbour while errant singles were reported from Cumbria (trying to land at the M6 services), on a rooftop in Nottinghamshire (the regular rogue escape that one) with Somerset making up the numbers with one at large in the county from 3rd-5th.
Three new Purple Herons popped up and made themselves known over the last seven days ~ an immature flew over Broom GPs in Bedfordshire on 2nd with further fresh arrivals appearing at Tacumshin and Holkham Freshmarsh on 4th, with both birds in place the following day. On 6th what may have been the original Norfolk bird was seen flying in off the sea at nearby Burnham Overy Dunes and heading off inland over the main coast road.
Glossy Ibis numbers took a turn for the good again this week ~ several new birds appearing including a fourth bird joining the three (the Young, to the Crosby, Stills and Nash perhaps) at Marloes Mere on 4th. The quartet were still present on the morning of 6th, but then it appears (appears that is…not a definite!) they took off and headed west ~ the fact that four birds were seen flying in off the sea, a couple of hours later, at Tacumshin in Wexford was no coincidence and the Marloes Mere birds were indeed absent later that day and the following morning too. Needless to say, just to ruin the speculative theory, two were (back) at Marloes Mere on 8th, potentially knocking the roving four idea on the head….
Further multiples included two birds new at Pagham Harbour, also on 6th (one arrived the previous day) and three still at large in Aberdeenshire to 5th. New singles were in Dorset, Hampshire, Essex (two separates there), Shropshire and Ayrshire, with regulars on offer included birds at three sites in Cork, culminating in three at Clogheen on 7th and Timoleague on 8th ~ with just one bird left at Tacumshin, could that be the four splitting again? ~ one in Galway as well as birds still in Cleveland, on Anglesey and also Dorset.
Cattle Egrets remained in Cornwall, Northamptonshire and Gloucestershire with a new bird appearing around the Stanpit area of Dorset from 5th. A Great White Egret on the Hayle Estuary on 4th was new, as was a bird at Old Hall Marshes on 7th, while singles remaining from previous weeks in Cambridgeshire (at two sites), Northamptonshire (at the same site ~ Summer Leys ~ as the Cattle Egret above), Lancashire and Cheshire.
Up to eight separate "twos" of Common Cranes were noted ~ Highland, Cheshire, West Yorkshire, Nottinghamshire, Cambridgeshire, Norfolk, Suffolk, London and Kent, as well as Shetland, all scoring there ~ while "threes" were tracked over Berkshire and Buckinghamshire on 5th with another trio in Hampshire the same day. On 6th, three were seen in Lothian but the largest groups of the week were seen at Bawsey, in west Norfolk, five birds there on 5th and ten birds on the Cambridgeshire Washes on 7th.
Cley managed an extra Spoonbill or two this week, up to five seen by Bank Holiday Monday, with three birds still on Brownsea Island (three at Middlebere were almost certainly the same as the Brownsea birds) with six other counties/areas also hosting the species this week, spread from Scilly to Cumbria.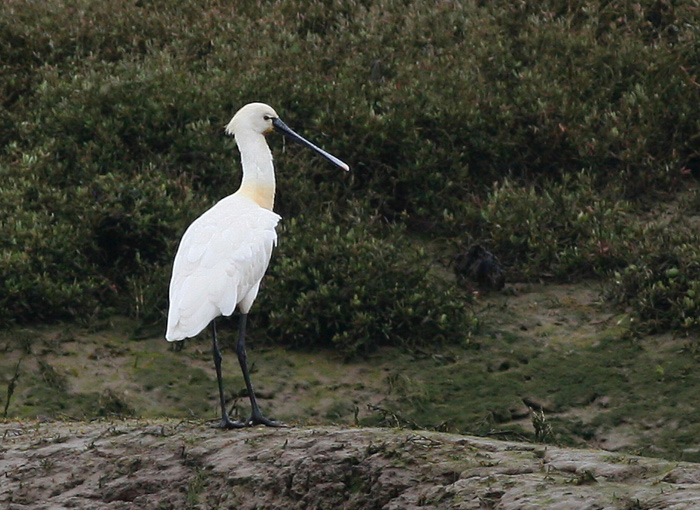 Ducks & Geese
A Black Brant (straight out of the "bobby dazzler" mould) was a surprise discovery on the saltings at Warham Greens (Norfolk) on 5th ~ accompanied by two first-winter hybrids for good measure. This tight family group appear to be new arrivals on the north coast and, aside from another "BD" at Kelling around the time of the Arctic Redpoll there in February, it could be the only pure Black Brant seen in the county this "winter" ~ assorted adult hybrids, with varying degrees of Brant-ness about them, have been inhabiting the Wells area throughout but always seem to fail the toughest scrutiny. The weekend juniors of 5th will continue those headaches, should they return…
Four Snow Geese in Northumberland where, typically, of unknown origin, while news filtered back of the origins of the ringed Snow Goose, seen on Orkney a couple of weeks ago. As was indicated at the time, it was of German origin, and it transpires that it had been ringed, as a gosling near Dusseldorf in 2009. It took in a bit of the Netherlands in the intervening two years (last seen near Utrecht last November) before hitting Orkney.
The female Blue-winged Teal continued her residence on the Amble Marshes, near Wadebridge to 2nd at least and a drake was back in Clyde (at Bridgend Farm pool) on 6th-8th. Four drake Green-winged Teals included new birds at Kilvington (Nottinghamshire) on 3rd-4th and Maer Lake, near Bude (Cornwall) on 7th, with others hanging on in Lancashire and Shetland (the long-staying drake still content with life on Fair Isle to 6th). The only Ring-necked Duck of the week, a drake, was seen again at West Ashby (Lincolnshire) on 7th-8th.
The drake King Eider continued to look pretty on the Ythan Estuary this week and a drake Surf Scoter was off Ferry Ness (Fife) on 8th.
Raptors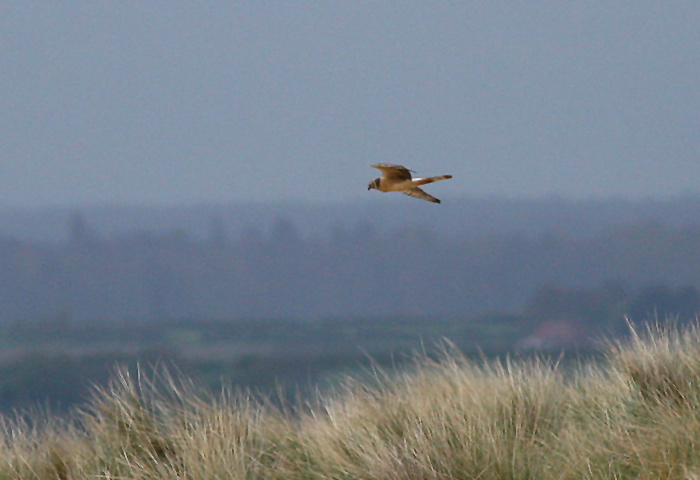 In Norfolk, a young male Pallid Harrier flew through Cley early on 5th before settling down to perform along Blakeney Point until early afternoon when it headed a little further west, to Warham Greens. Two days later, he was apparently back again (had it gone away at all?), flying west down Blakeney Point once more, but that report remains wholly unconfirmed. The county's third spring record, it falls nicely between the first two ~ a first-summer female, also on Blakeney Point, on May 16-17th 2003 and a youngster over Aylmerton on May 1st 2009. Once accepted it will become the six county record in total.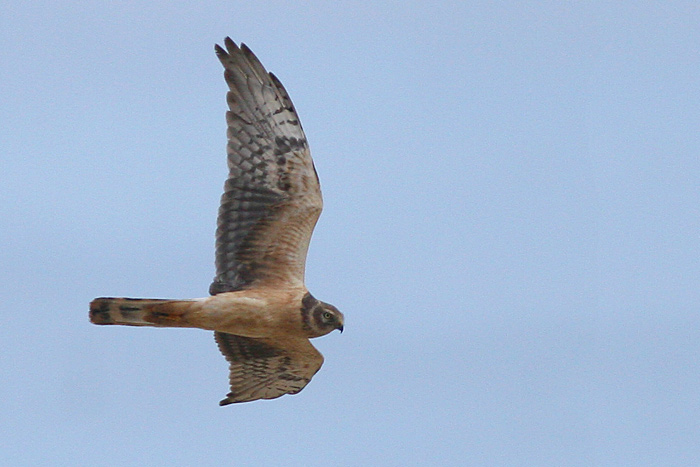 After a "possible" on 5th, Spurn birders nailed a fly-through young Pallid Harrier the following day, heading south just before noon. Currently (up until the end of 2010) there are just three accepted records of the species on the Yorkshire list ~ the first, a young male, was shot near Driffield in October 1953, the second, a male, was seen at Pulfin Bog in September 1993 and Spurn scored with a belting adult male in April 2003.
Not to be outdone, Lincolnshire got in on the act with a juvenile Pallid Harrier at Gibraltar Point on 8th ~ a county first, the bird was seen later in the day heading north at Theddlethorpe St. Helen (heading back towards Spurn perhaps?). How many birds are involved is hard to say at the moment, one, two or three ~ take your pick!
Last week it was a Welsh Black Kite in Pembrokeshire, this week it was a Welsh Black Kite in Ceredigion, seen at Llanon on 2nd. Another Black Kite was seen over Ibsley Water Meadows (Hampshire) on 5th and others were reported from Somerset, near Porlock, on 6th and, back in Hampshire, at Hatchett Pond and Andover on 8th, with another in Kent, at Margate the same day. Luckily a bird seen briefly on 6th near Cadgwith on The Lizard (Corwall) was photographed and the image below is a cropped version of Graeme Willetts superb photo found on the Cornwall Birding website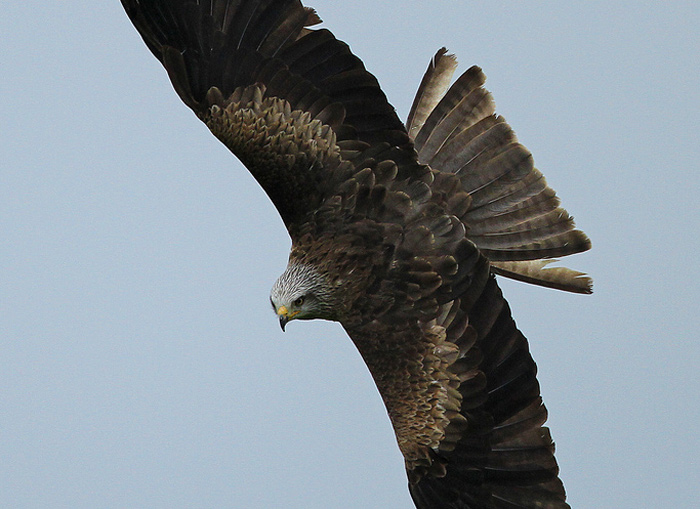 The brisk NNE'ly of 5th presented an unseasonally chilly feel to the north Norfolk coast and it felt only right to see a Rough-legged Buzzard in such finger-whitening weather ~ one performing not too far from the Purple Heron at Holkham. Further singles on 5th were reported in Suffolk and on South Uist, while another was seen at Hornsea Mere at the start of the round-up period (on 2nd).
Shorebirds
The Black-winged Stilt merry-go-round continued to revolve some more this week ~ and at the head of the queue were the foursome that arrived at Elmley RSPB on 5th. This is the county's largest group to date, with three at the same site on May 26th 1998 the previous Kentish high (out of a further 36 records).
New single Stilts were found at Christchuch Harbour (Dorset) on 2nd, at Paxton (Cambridgeshire) on 3rd-6th and Exminster Marshes (Devon) on 5th, while birds in Cornwall, Lincolnshire and on the Isle of May (the Scottish mega) remained to 4th, 4th and 5th respectively (amazingly, a second bird appeared at Frampton on the final date). On 7th, two birds arrived at Minsmere (coincidentally the Elmley four were now a two).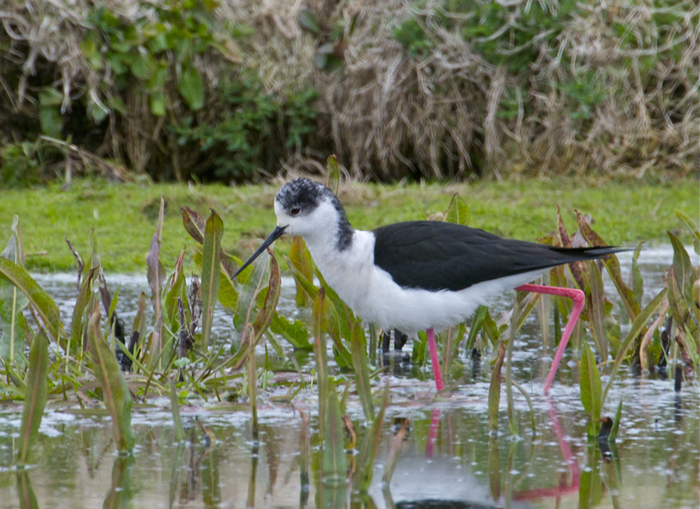 Black-winged Stilts 02-08 May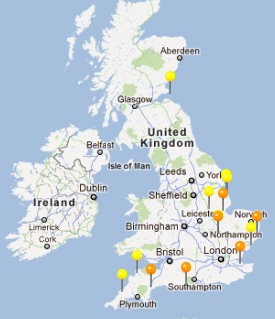 This surprisingly decent spring arrival (considering the not-always clement travelling conditions) could, in part, be down to a significant push of Black-winged Stilts in to northern France this spring. Will Oliver got in touch this week and mentioned the following….
"Given the smattering of Stilts in Britain in the last few days I thought it might be of interest that there seems to have been a large influx into Northern France.
I was over there last weekend (28th-29th April) and saw 17 together at a site near Dunkirk on Sunday (near the villages of Hondschoote and Killem about 10 miles inland from Dunkirk). French birders then saw 28 (!) together there on Monday and Tuesday. I myself saw some on nests."
With numbers like that, so close to us, it seems as though we could be in for more and more of these crazy waders….thanks to Will for the cross-Channel insight.
After some six weeks residing around the Somerset Levels, the handsome first-summer Long-billed Dowitchers seem to have taken their leave of Meare Heath this week, not seen after 2nd. In Wexford, a first-winter was still in Bannow Bay on 4th, with a stonking adult in Derry the day before, gracing Lough Beg and proving to be somewhat photogenic too….
Also pleasing all-comers this week was the stunning summer-plumaged bird at Livermere Lake (Suffolk) ~ found on 4th, this will be seventh county record ~ the first was of two birds at Havergate Island for around six months from October 1977 to April 1978 and singles have followed since, with the most recent one being a border-hopper (with Essex) in the early spring of 2007. Suffolk purists will go back to the wintering bird (mooted as a potential Short-billed when found) at Alton Water in 1985 ~ a bird that bagged high "padder points" when it became part of the supporting cast after the Westleton Nutcracker arrived……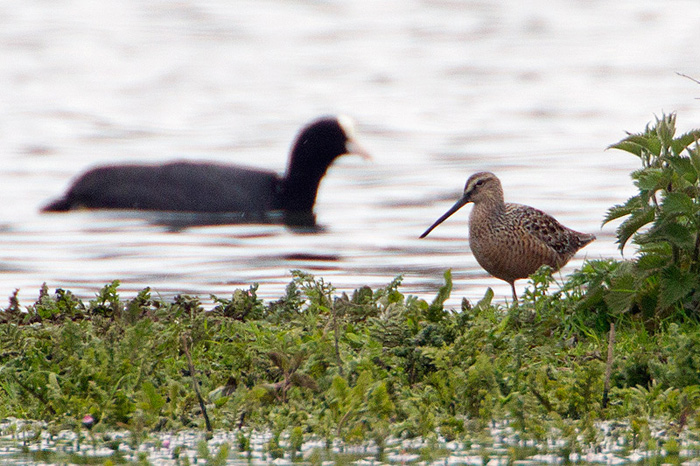 A moulting adult American Golden Plover appeared at Tacumshin on 6th and was still present the next day, while a new Pectoral Sandpiper made landfall on North Ronaldsay the day before.
The week's tally of Dotterel started nicely with five at regular stop-off point Pendle Hill (Lancashire) on 2nd, with three still near Slyne Head (Co. Galway) on the same day. A flyover on a Clyde hilltop on 3rd was followed by a trip of 15 at Burgh Heath (Surrey) on 4th with 10 the following day on the summit of Cairnsmore of Carsphairn (Dumfries & Galloway) and singles in Conway, Cheshire, North Yorkshire and (still) in Oxfordshire. Counties Derry and Powys popped in singles on 6th.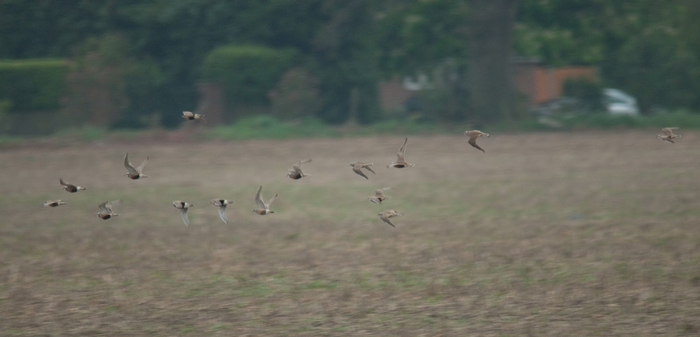 Two Kentish Plovers were discovered on 2nd (at regular haunts ~ Ferrybridge in Dorset and Pegwell Bay in Kent) and on 3rd, one appeared at Rye Harbour (remaining in East Sussex to 6th) and on 4th, another "KP" was reported from Hickling Broad (Norfolk).
The 2nd of the month also saw the first Temminck's Stints of 2012 arrive ~ in Lincolnshire, Norfolk and Cheshire (another neat bird for new hotspot Burton Mere) and they were followed by four at Old Hall Marshes (Essex) the following day and singles in East Sussex, the Isle of Wight, another (?) in Cheshire and three at Abberton Reservoir (Essex) on 6th. Last week saw notice of the first Red-necked Phalarope of the year, at Llynheilyn (Powys) and that bird lingered until 2nd. The second of the year was seen at Slimbridge and Saul Warth on 3rd.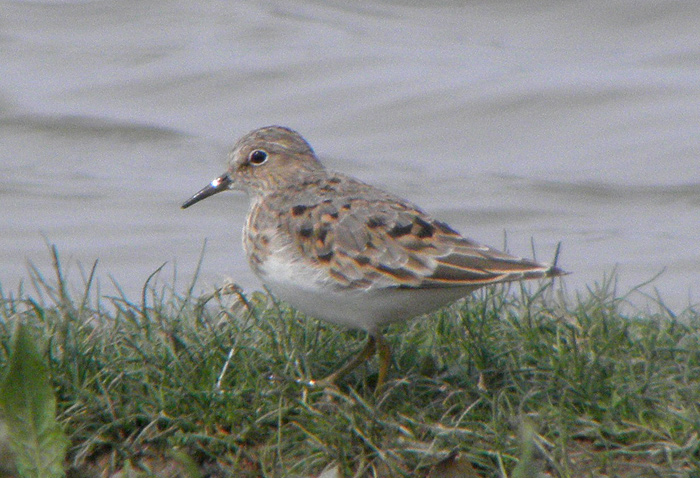 Gulls & Terns
The only Ring-billed Gull of the week was a second-summer at Blennerville in County Kerry on 2nd. Numbers of white-winged gulls continued to drop (its May after all!) but there were still an exceptional for the month, 50 or so Iceland Gulls on offer, dotted from Cornwall and Devon through to Shetland while just 10 Glaucous Gulls lingered ~ north from Gwynedd and East Yorkshire (with five in Scotland, up to Highland).
Passerines
Last week's Passerine section opened with new s of a brief male Citrine Wagtail in Norfolk and it seems rude not to start this week's Passerine section with news of a male Citrine Wagtail in Norfolk (its so tempting to suggest they were one in the same!). Whether it was one or two individuals, there's no doubting the dazzling beauty of this startling sulphurous male that showed at Holme on the morning of 4th. The following day, a female Citrine Wagtail was found in County Cork (the first spring record for the county in the past 10 years) near Ballycotton.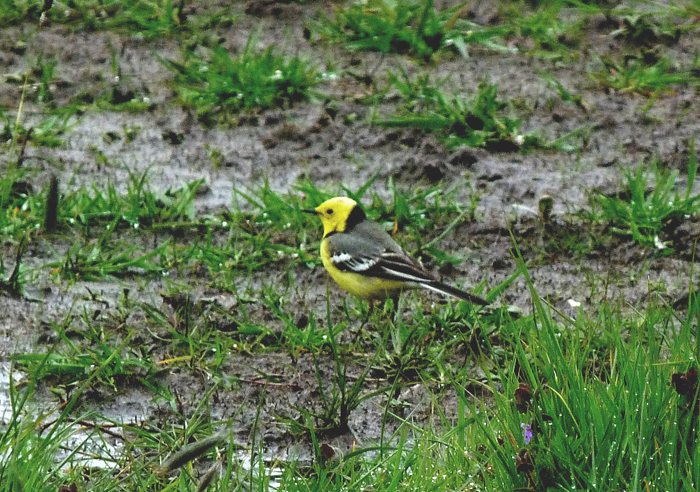 Back to Norfolk, where a delicious looking male Red-breasted Flycatcher on Blakeney Point on the somewhat parky afternoon of 2nd became the earliest countyrecord by five days, and the same site then rattled in a lovely male Red-spotted Bluethroat four days later (equaling the earliest ever Norfolk arrival date for svecica and completing a tidy hat-trick with that Pallid Harrier too….). Further Bluethroats this week arrived on Fair Isle (on 2nd and 8th) and the Isle of May (on 3rd).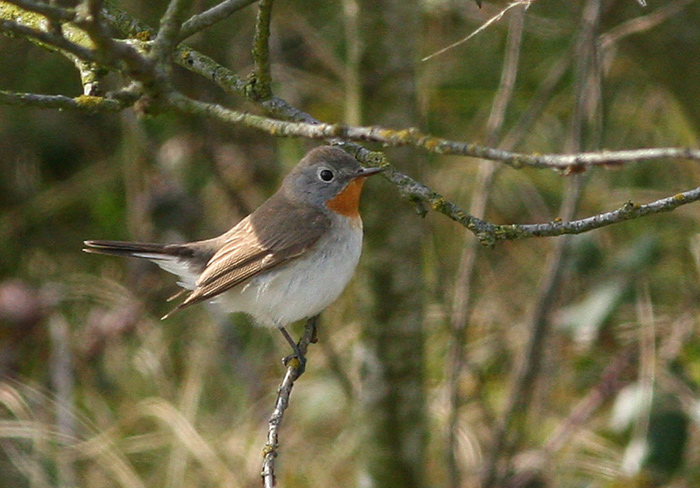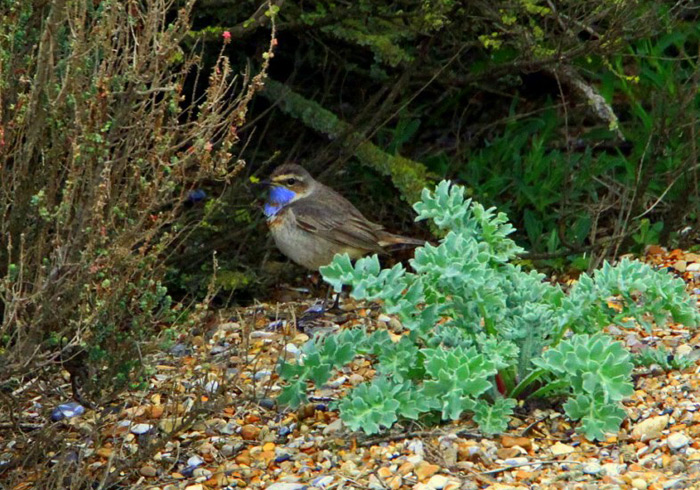 One or two Short-toed Larks were on Scilly on 2nd (one was on Bryher late morning with it, or a second bird, on St. Mary's in the evening) and, also on 2nd, another Short-toed Lark was found on Anglesey, at Rhosneigr. Scilly also chipped in with a Richard's Pipit on the golf course on St. Mary's on 6th-7th, with one still on Lundy to 5th. In Suffolk, a Tawny Pipit was found at Landguard Point on 6th and a Red-throated Pipit was reported in Herefordshire on 7th with another on the Lizard the following day.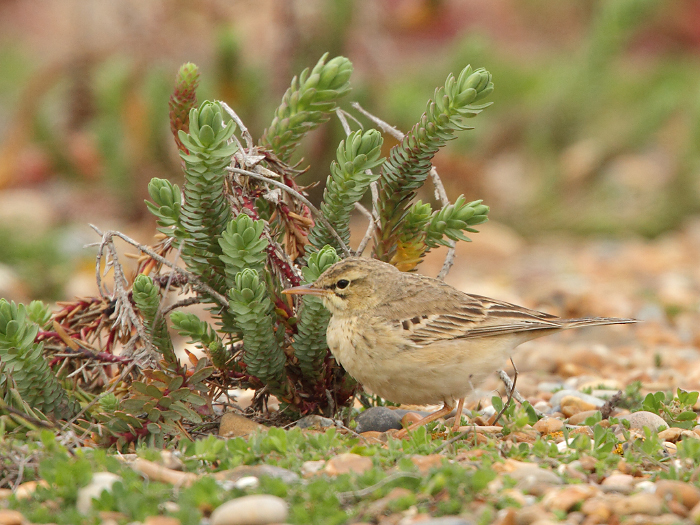 Crossing the seas once more to Scilly, which also figured prominently within the week's tally of Red-rumped Swallows ~ up to 20 birds arriving during the week and four islands (St. Martin's, Bryher, Tresco and St. Mary's) all recorded Red-rumps this week ~ two birds on St. Martin's on 3rd were presumably the two birds that then settled on St. Mary's from 5th-6th. Other birds were seen from Cape Clear and Bardsey to East and North Yorkshire with individuals at Farmoor Reservoir in Oxfordshire and Newport Wetlands in Gwent proving particularly popular. Further inland birds at Grafham Water (Cambridgeshire) on 7th and Staunton Harold Reservoir (Derbyshire) on 8th were also of particular note.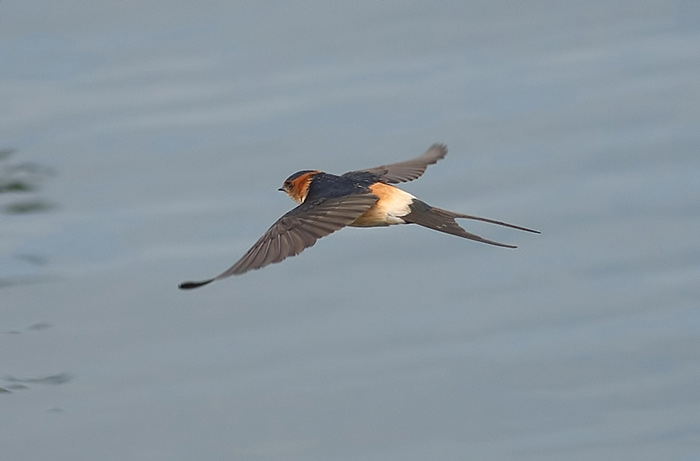 Birders on (where else!) Scilly, especially those on the islands on 3rd, would have done well to avoid a Golden Oriole ~ up to 11 recorded that day, with five in the gorse above Great Bay on St. Martin's and three near the Garrison on St. Mary's the main headliners. One or two were seen on Bryher and another single was on St. Mary's. Four birds were still on St. Martin's on 7th.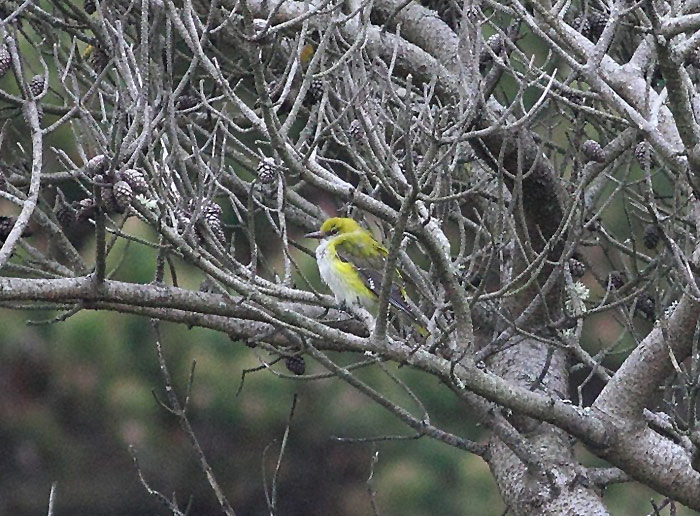 Elsewhere, the showy male at Snettisham Country Park remained to 3rd, while three or four singles were in Cornwall and others were in Devon, Kent, Pembrokeshire and on Lundy and Cape Clear. Even more colour would have been forthcoming with the Bee-eater (or two) that headed south over Great Orme (Conwy) on 4th.
The male Woodchat Shrike remained at Cape Cornwall until 3rd and new arrivals were found on Bryher on 2nd and St. Mary's on 8th, while Great Grey Shrikes were seen in South Yorkshire, Cleveland and Lancashire (at Whiston, near Redcar and Marshside RSPB reserve respectively).
Around 11 Hoopoes were found this week, with up to three singles in Dorset and two in Lincolnshire, with one also uncovered in County Kildare, at Pollardstown Fen, on 2nd-3rd. Faring better were Wrynecks ~ at least 22 of those recorded during the week, including two on Fair Isle on 2nd, two at Minsmere on 5th (four were in Suffolk in all) and the east coast dominance was confirmed with at least eight birds in East Yorkshire (by the end of the weekend it was hard to keep track on how many were being seen ~ at least two were trapped at Spurn on 7th). Also of note was the Wryneck at Maw Green Landfill Site (Cheshire) on 5th-6th.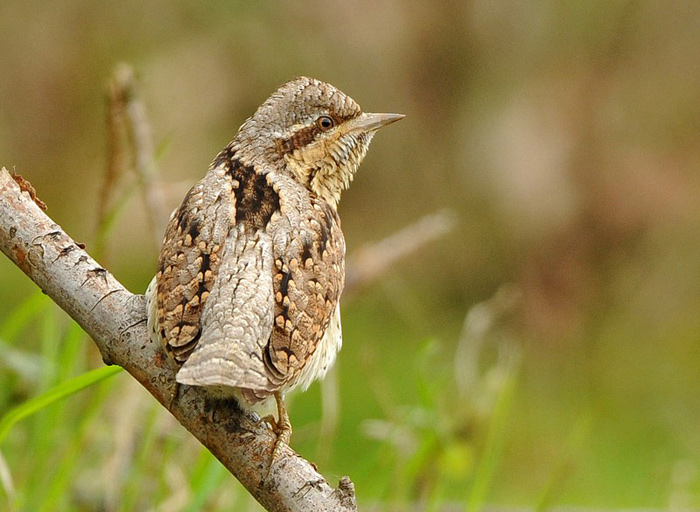 The possible male Iberian Chiffchaff was again at Coombe Hill Meadows (Gloucestershire) on 2nd while somewhat easier to identify was the reeling Savi's Warbler at Rutland Water (Leicestershire) intermittently from 4th-8th (the same site hosted an accepted Savi's in April 2005). A Yellow-browed Warbler spent 3rd-4th at Spurn and another was found on 8th, in Wells Woods (Norfolk), taking the month's tally to three, while the first Icterine Warbler of 2012 appeared on the Farnes on 8th.
A Serin on Great Saltee Island (Co.Wexford) on 5th was a great record for the Irish Republic and was one of three birds seen this week ~ the others were at Abbotsbury on 2nd and Landguard on 4th. In Kent, at Sandwich Bay, the Little Bunting trapped last week was re-trapped again on 4th and was still present the following day. Along the coast, in West Sussex, a Rose-coloured Starling was at Selsey Bill on 6th.
Given the generally chilly air this week, we'll finish with Waxwings ~ three different spots around Sheffield still hosted up to 25 birds this week and two were also seen in County Durham, at Consett, on 3rd.
A very decent week then, two cracking rares for Kent and the F3 conundrum seems likely to be resolved before the next edition of the RBA rarity round-up goes online. If the weather starts to behave itself, we may find ourselves inundated by migrants, common, scare and rare…..
The more May days that pass, then the more those hoped-for rarities will have every chance of at least matching the quality of some of this week's birds. 25 years ago, on 12th May, Cley was graced by the famous pair of Slender-billed Gulls and a second pair appeared at the same site 12 years ago this month. Aside from a bird in Kent in 2000, there's been none since…so, how about one or two of those in the next seven days?
Mark Golley
09 May 2012
This weeks contributors
For their help, contributions and photos this week a special thanks goes to:
Lynne Demaine, Phil Woollen,
Andrew Jordan
Dorian Mason
Joe Cockram, Graeme Willetts, Graeme Stephen,
Chris Upson
, David Campbell, David Godden,
Dave Evans
, Chris Baines, Chris Mayne,
Dave Hutton
, Peter Phillips, Jon Evans, Will Oliver,