Weekly birding round-up: 17-23 Aug 2016
The week at a glance
Brown Booby reported off Kerry
Swinhoe's Petrel on Fair Isle again
Royal Tern in Mayo and Kerry
Fea's/Zino's Petrels off Cork and Clare
Black-browed Albatross off Devon
Terek Sandpiper in Wexford
Solitary and Least Sandpipers still in Clare
Greenish Warblers from Cornwall to Shetland
American White-winged Scoter still in Aberdeenshire
Hudsonian Whimbrel still in Cornwall
Dalmatian Pelican still in Cornwall
The easterly flow which set in at the end of last week continued until 19th when an unseasonably vigorous area of low pressure swept in from the Atlantic, bringing rain and a switch in the wind to the south and south-west. It was very blustery in the west on 19th and then everywhere on 20th before another weaker low pressure approached from the west on 21st. Things then quietened down and by 23rd it was true summer once more with lighter southerly winds and temperatures reaching the high twenties.
Given the above multiplicity of vectors, this was unsurprisingly another busy week, with a good old-fashioned arrival of drift migrants on the east coast (the first of the autumn), a near-simultaneous rush of seabirds in Ireland and the Southwest and no pause in the flow of rare waders. As so often at this time of year, however, the prominence of seabirds and waders in the mix meant that Ireland really dominated proceedings.
Brown Booby
Potentially the best bird of the week was a young Brown Booby apparently photographed sitting on a trawler just a couple of miles off the coast of Kerry, initially reported as 'sometime in the last few days' and then firmed up as having been seen on 13th and 14th August. Assuming it's all entirely genuine, this becomes an Irish (and 'British and Irish') 'first' although it is not a wholly unexpected vagrant, with records from Morocco, the Azores and even southern Spain. Nor is it an unlikely scenario, Boobies being habitual sitters on boats, buoys, pontoons etc. Doubtless related to higher sea temperatures, warm water seabirds are on the rise around Britain and Ireland, comprising a high proportion of our recent mega-rarities. Just in the last few years the list of such birds includes Ascension Frigatebird, Black/White-bellied Storm-petrel and Red-billed Tropicbird and more are doubtless on the way.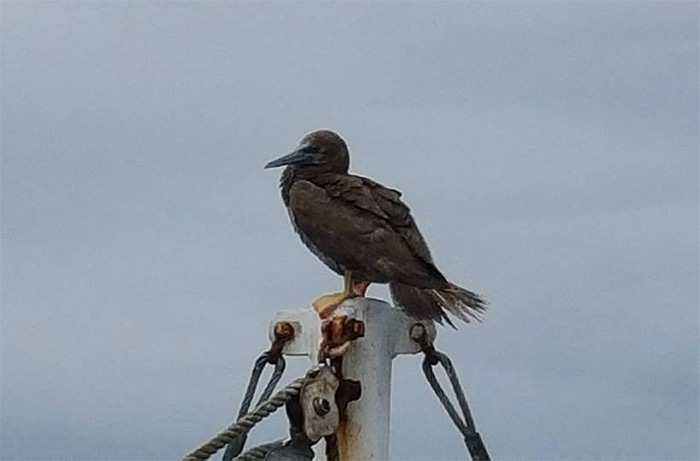 Swinhoe's Petrel
Also in the mega-rare seabird category, last week's Swinhoe's Petrel on Fair Isle, Shetland was heard from 0045 on 23rd during a petrel trapping session but it was not seen or caught.
Royal Tern
The best bird actually to be seen by birdwatchers was last week's Royal Tern at Roonagh Lough, Mayo, just making it into the review period until 0645 on 17th when it somewhat inconsiderately flew out to sea. It didn't return and the trail of this bird seemed to have gone well and truly cold until suddenly, on 23rd, it was back, this time at Beale Strand, north-west of Listowel on the south (Kerry) shore of the Shannon Estuary. In a straight line, this is about sixty miles south of where it was last week but presumably the bird actually passed the Bridges of Ross and rounded Loop Head to get there. Found at 0950, it remained (apart from an hour's disappearance) until 1825 when it disappeared once more. It can't be far away though and, in an exact re-run of this time last week, the twitch is on again. Will it be there on 24th? By the time you read this, we will know.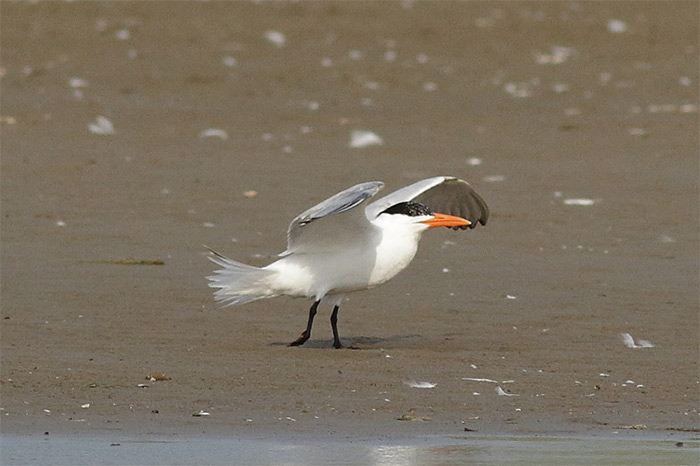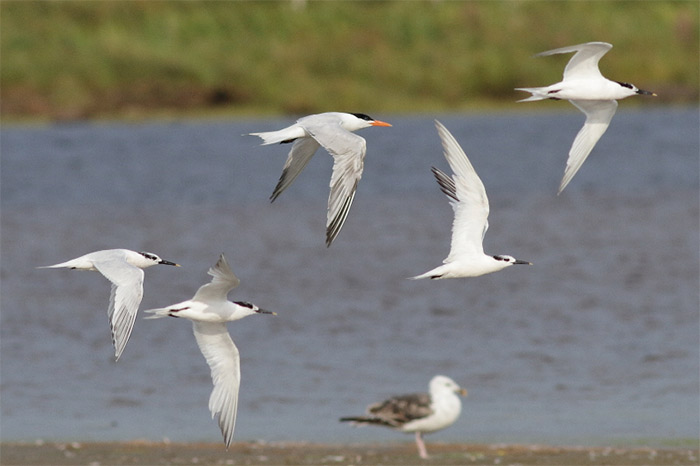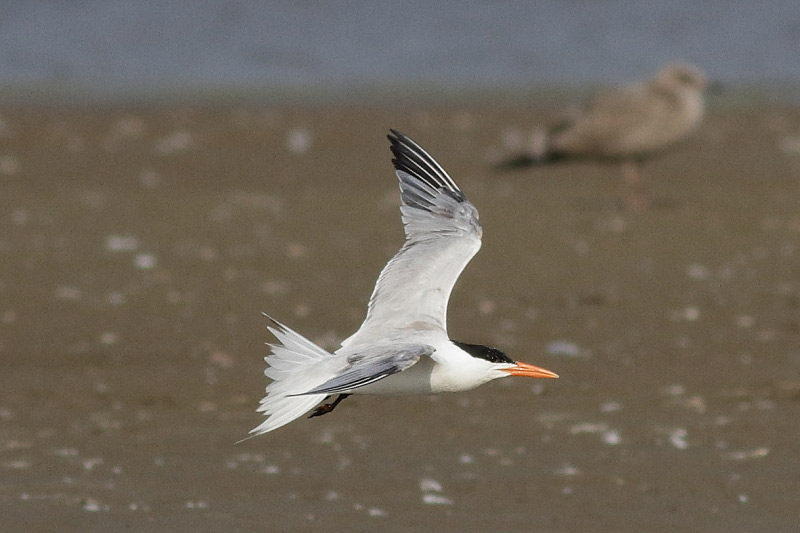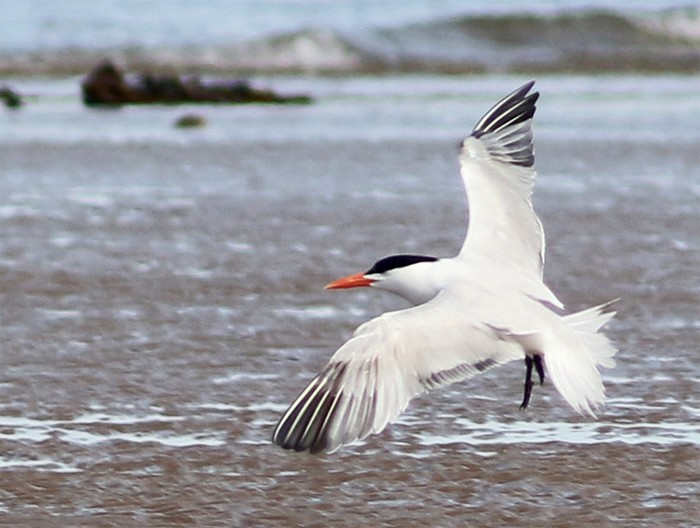 Fea's/Zino's Petrels
In between these sightings, however, events had moved on and Ireland had become the focus not of a Royal Tern twitch but of a seabird spectacular. The south-westerlies of 19th brought, as expected, a profusion of birds to Galley Head, Cork, most notably a Fea's/Zino's Petrel at 0851 and then it or another at 1034. With a switch in the wind on 20th, Bridges of Ross, Clare became a better proposition and, sure enough, another passed very close inshore there at 0710 enabling a series of remarkable, indeed gripping, photos to be taken which show a solid-looking bird with an apparently quite heavy bill – all suggestive of Fea's. Finally, another passed Cape Clear, Cork at 1015 on 21st. Mid-August has really become the key time to see this species in Ireland, with the country having now racked up a positive abundance of records. Cork alone has amassed around fifty and Clare almost thirty.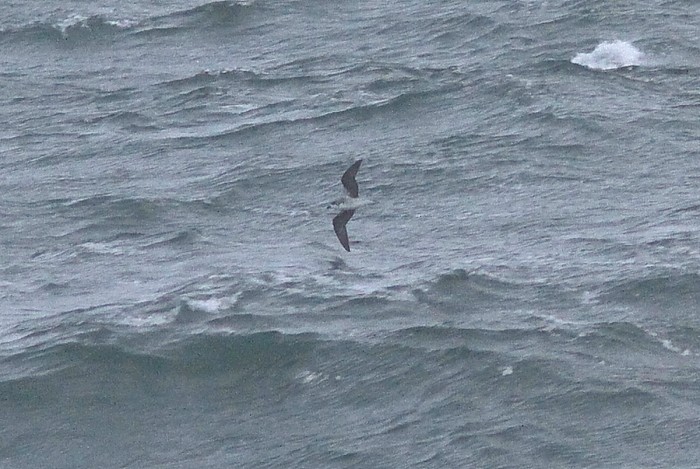 Black-browed Albatross
Surprisingly, however, the best seawatching prize was claimed not in Ireland but in Devon where a Black-browed Albatross passed Prawle Point at 0815 on 19th. Though actually a near-annual bird in British waters, this species still maintains something of an aura. For anyone too young to have seen the famous long-staying bird at Hermaness, Unst, Shetland (last seen in 1995) or the Sula Sgeir, Western Isles bird of 2005-2007, it is now a near-impossible bird to catch up with. The bizarre Minsmere occurrence of 12th July last year was the closest we have come to a recent albatross twitch but no sooner had that bird been noticed amongst the Mute Swans than it was off. Nevertheless, the continued presence of this individual in Germany and Denmark (and its visit to Fair Isle, Shetland on 28th May this year) provides some hope of a repeat performance. Given that albatrosses can live for decades, this is one trail which most definitely hasn't yet gone cold. That bird aside, however, the best chance of seeing one is to rack up thousands of hours seawatching and hope for the best!
Terek Sandpiper
Back in Ireland, a Terek Sandpiper discovered at the legendary Tacumshin, Wexford on 21st (and still there to 23rd) was another fabulous discovery though, following hot on the heels of the bird at North Bull, Dublin in July, could it be the same bird? Either way it's yet another glittering prize for this somewhat other-worldly site. If you've got a spare half-hour just run through the list of rare and extremely rare waders to have graced its muds over the last two months, compare this with the tally from your local wader site and sob softly into your coffee. Also in Ireland, last week's rarity double of Solitary and Least Sandpipers remained at Loop Head, Clare, the former to at least 20th, the latter to at least 21st.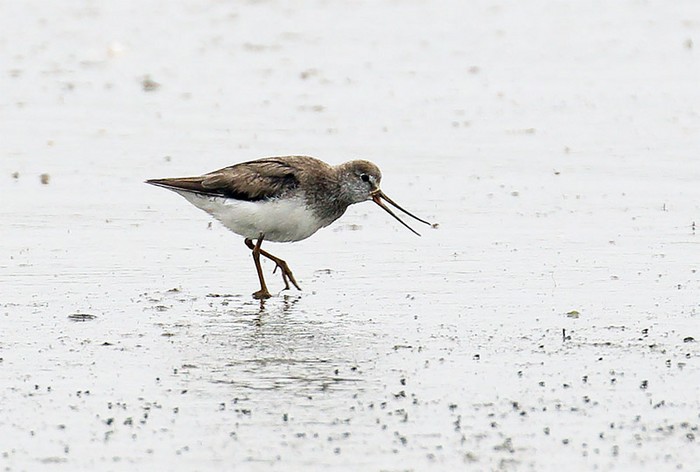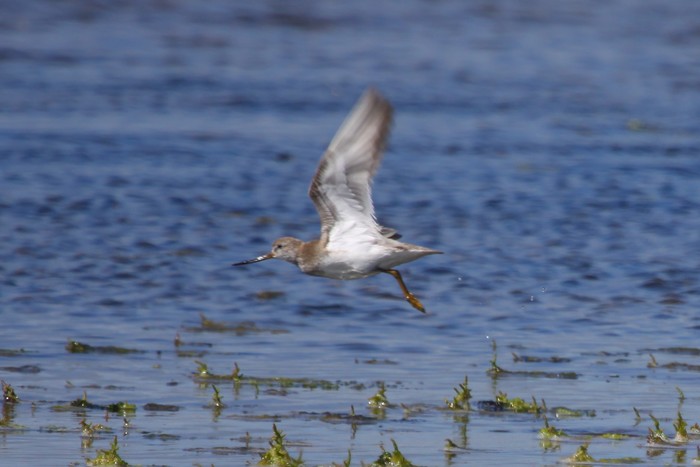 Greenish Warblers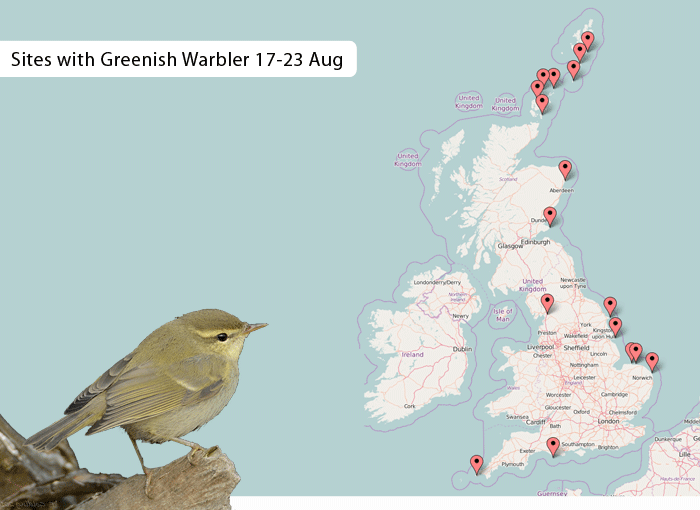 Meanwhile, in eastern Britain it was a strangely different story. Instead of howling winds and crashing surf it was nice and sunny with light easterly breezes rustling the sycamore leaves. In the third week of August such conditions are pretty much guaranteed to bring Greenish Warblers and, as ever, they arrived with relatively few travelling companions - just the traditional sprinkling of Willow Warblers and Pied Flycatchers.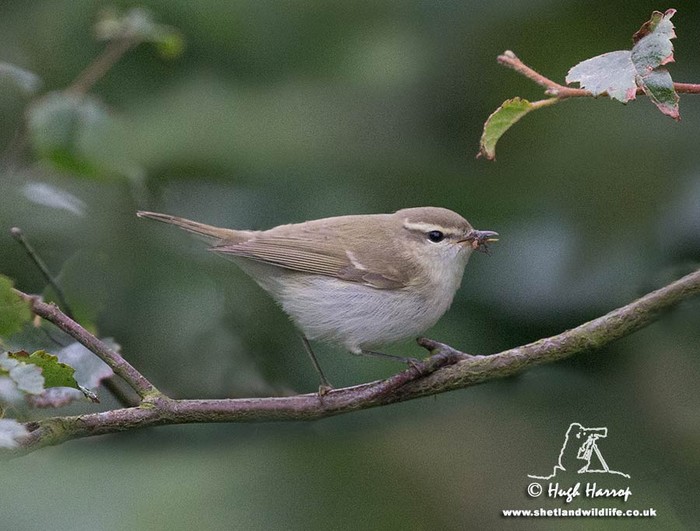 Given the shift of 'arrival weather' from south to north during the week, the occurrence pattern was predictable. The initial arrivals were focused on Norfolk and Yorkshire with two at Blakeney Point – the classic location for the species – on 18th and one at Spurn the same day. The story then moved (along with the south-easterly winds) to Scotland where singles were found on Fair Isle and at Quendale, Shetland and at Sands of Forvie, Aberdeenshire on 19th, at Kilminning, Fife and Papa Westray and South Ronaldsay, both Orkney, on 20th and on Noss, Shetland and North Ronaldsay, Orkney on 21st. A bird at Portland, Dorset on 22nd was in a less traditional location but then things quickly reverted to the script with one at Evie, Mainland Orkney the same day and a new bird on Fair Isle on 23rd. Finally, however, the Southwest produced another - at Porthgwarra, Cornwall - on 23rd also. With last week's three birds, these extra fifteen make a total of eighteen - not a bad start to the season and with plenty of time for more.
Considering that they have travelled from at least as far as the eastern Baltic, their immediate appearance with the first breath of an easterly wind and their (in relative terms) high numbers are remarkable - Asian Phylloscopus warblers are dynamic things indeed! They are also gorgeous - compact, large-headed and short-tailed, energetic and restless, with a beautiful 'open' face, lime-tinged upperparts, silvery-white underparts and the most delicate of wing-bars. Once a decent rarity, they are now well into scarce migrant territory but their increasing numbers here are very welcome indeed. Every encounter with a Greenish Warbler is an absolute joy.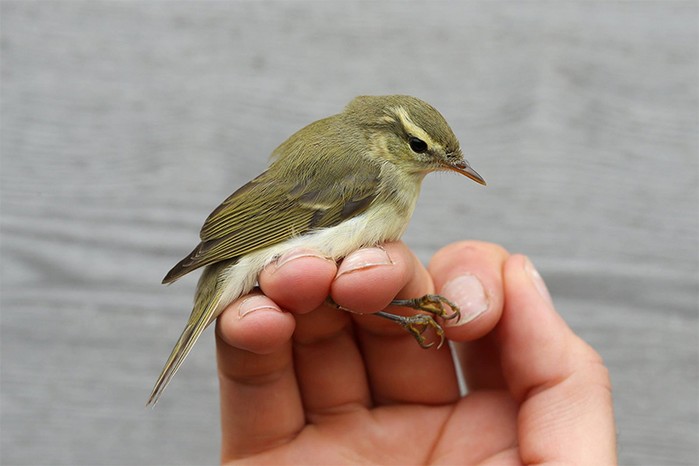 Lingering rarities
Finally, our now-familiar trio of mega-rare lingerers - the drake American White-winged Scoter off Murcar, Aberdeenshire, the Hudsonian Whimbrel at Perranuthnoe, Cornwall and the Dalmatian Pelican at Restronguet Creek, Cornwall - all remained all week.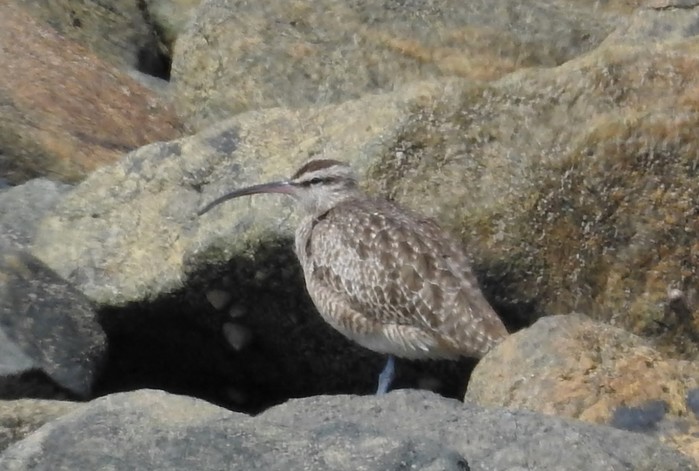 Further afield
This week's 'Euronews' features the usual eclectic mix - a Lammergeier in Poland, a young Steppe Eagle in Belgium and then in Germany and, of possible relevance, a (slightly) out of range Western Purple Swamphen in Isère, southeast France. Then, on 23rd, the Netherlands had a good day with a Black-winged Kite and a Sociable Plover .
The week started quietly for seabirds with just two Great Shearwaters in Mount's Bay, Cornwall on 17th. Next day brought singles of Great Shearwater and Cory's Shearwater off Pendeen, Cornwall with four Greats and three Cory's off the 'Scillonian'.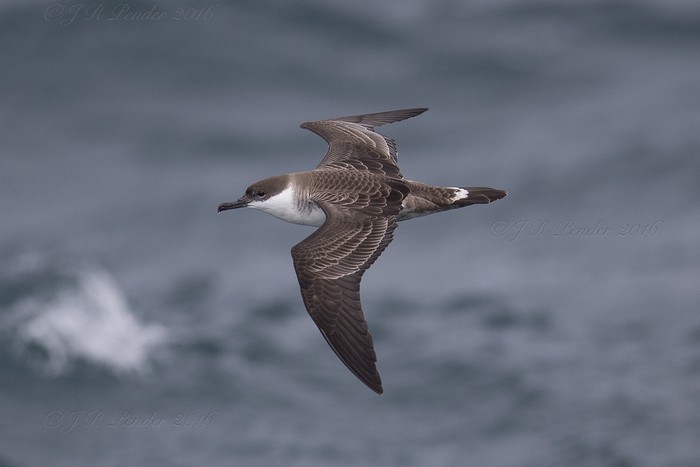 Things picked up significantly on 19th, however, with 359 Great and 341 Cory's off Galley Head, Cork and 100 Greats off Old Head of Kinsale, also Cork. Numbers in Britain were much lower, with three Greats and 60 Cory's (and a Grey Phalarope ) off St. Agnes, Isles of Scilly, one Great and 29 Cory's off Porthgwarra, Cornwall and one or two Cory's off south Devon. In the latter county, Berry Head did best with 62 Balearic Shearwaters ) and a Long-tailed Skua ). On the other side of the country, a Long-tailed Skua passed Whitburn, Durham.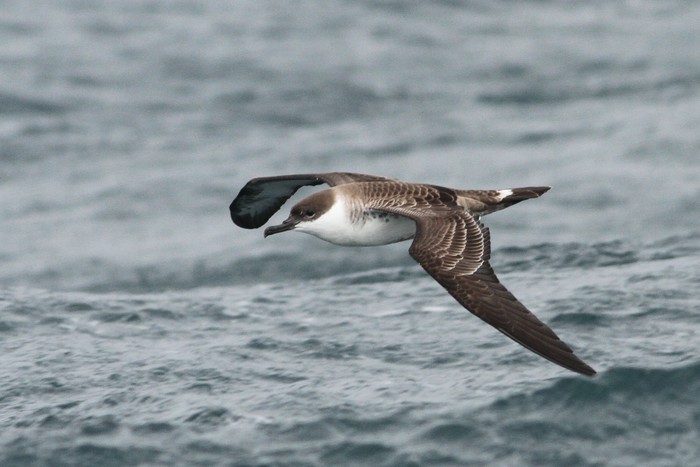 The shift in the wind shifted the action on 20th further round the Irish coast to Bridges of Ross, Clare where observers enjoyed a classic day which included four Wilson's Petrels ), twelve Sabine's Gulls , five Long-tailed Skuas, five Great and seven Cory's Shearwaters and a 'Blue Fulmar' .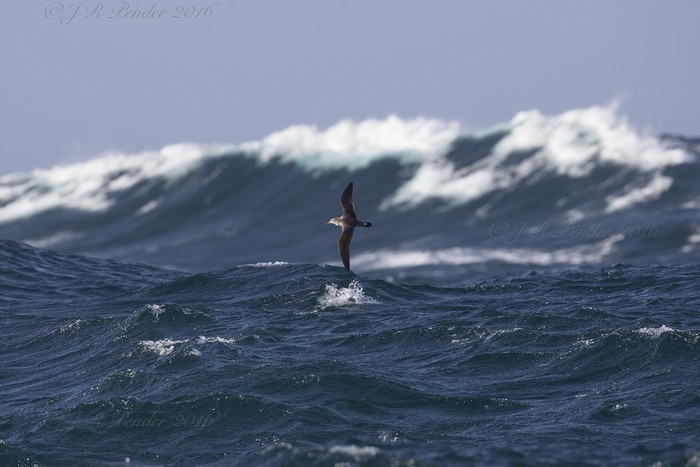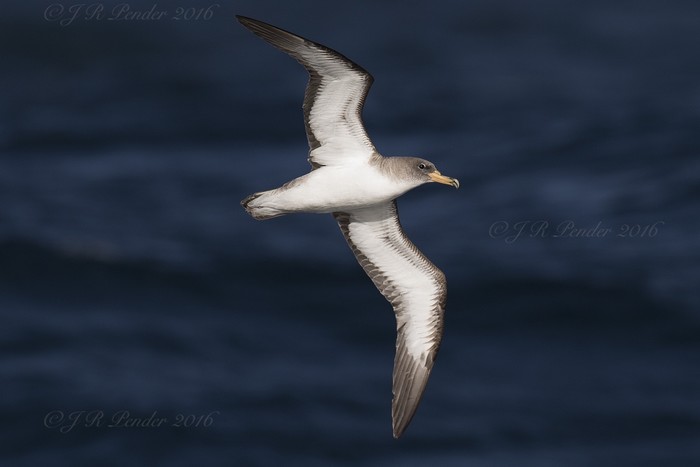 Brandon Point, Kerry also fared well with 30 Great and 18 Cory's shearwaters, two Sabine's Gulls and a Long-tailed Skua. Also in Kerry, a 'Blue Fulmar' passed Kerry Head. In Southwest England 137 Cory's and one Great Shearwater passed Porthgwarra with 30 Cory's past The Lizard and 13 past Pendeen. Off Scilly, four Wilson's Petrels were seen from a pelagic along with seven Greats and 25 Cory's. Finally, there were some remarkable movements of Balearic Shearwaters with 116 off Rame Head, Cornwall and, further up the Channel, no fewer than 532 off Portland, Dorset (with a Long-tailed Skua off Chesil Cove).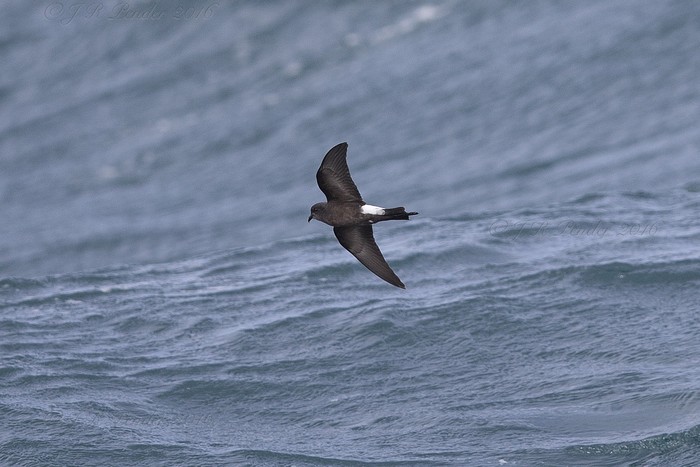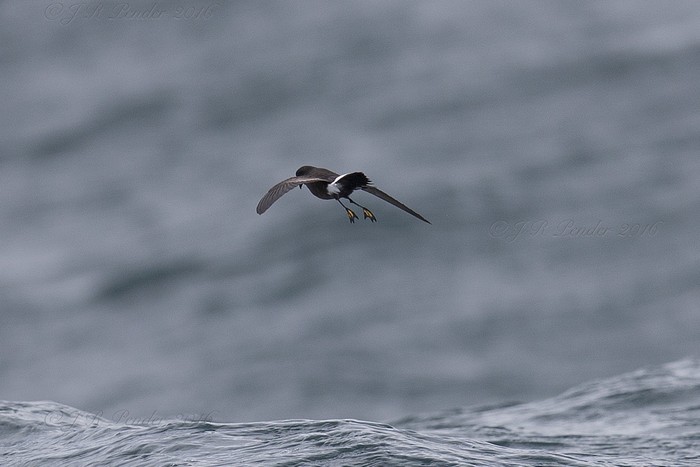 The 21st was much quieter, with Pendeen perhaps the best location, seawatchers here logging up to three Wilson's Petrels, seven Cory's and eight Great Shearwaters, a Long-tailed Skua and a Sabine's Gull. Elsewhere, a Great passed Porthgwarra, a Cory's and two Greats passed Strumble Head, Pembrokeshire and a Cory's was as far up the Channel as Portland. Three Cory's, a Great and a Long-tailed Skua were off a Scilly pelagic with another Long-tailed Skua off Bardsey, Gwynedd. In Ireland five Cory's, 14 Greats and three Grey Phalaropes passed Cape Clear, Cork, six Greats and a Cory's passed Galley Head and a Sabine's Gull was off Valentia, Kerry. In the Irish Sea another Sabine's Gull was on the beach at Morecambe, Cumbria and a Long-tailed Skua on the beach at Ainsdale, Lancashire whilst, on the opposite side of the country, a Balearic Shearwater was off Cley, Norfolk.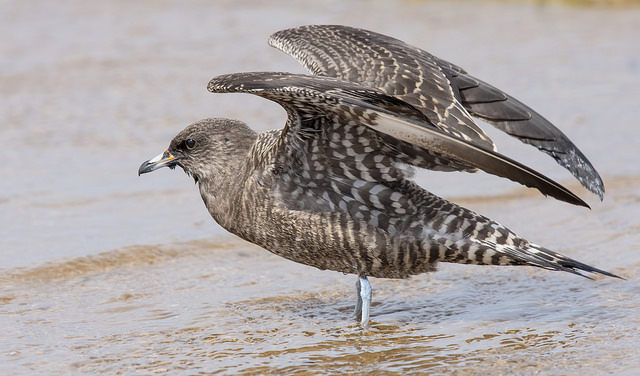 The 22nd was quieter still with 2 Cory's and 2 Great Shearwaters past Porthgwarra, a Wilson's Petrel and a Sabine's Gull off the Bridges of Ross and four Wilson's Petrels and a Sabine's Gull off a Scilly pelagic.
The eclipse drake Ring-necked Duck at Loch of Bosquoy, Mainland Orkney on 21st and a drake on Fair Isle (the second record for the island), Shetland on 23rd (the same bird?) were the only rare ducks of the week.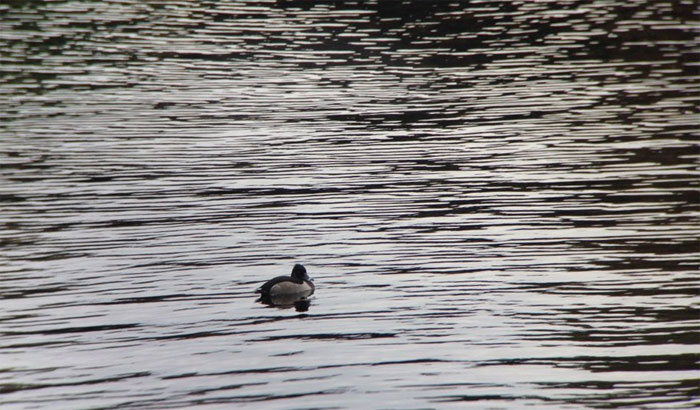 The biggest surprise in the herons and egrets department was a juvenile Little Bittern at Marston Vale Millennium Country Park, Bedfordshire on 20th though there was no sign of it next day. Unsurprisingly, this is a major rarity indeed for Bedfordshire, indeed it is only the second county record, the previous one being as long ago as September 1894!
Otherwise it was a familiar tale of Great White Egrets in the usual places, the furthest north being at Leighton Moss, Lancashire and Loch of Strathbeg, Aberdeenshire. In the Midlands, a Purple Heron was at Brandon Marsh, Warwickshire on 17th and Marsh Lane, West Midlands on 18th whilst the long-staying bird was still at Otmoor, Oxfordshire to 23rd.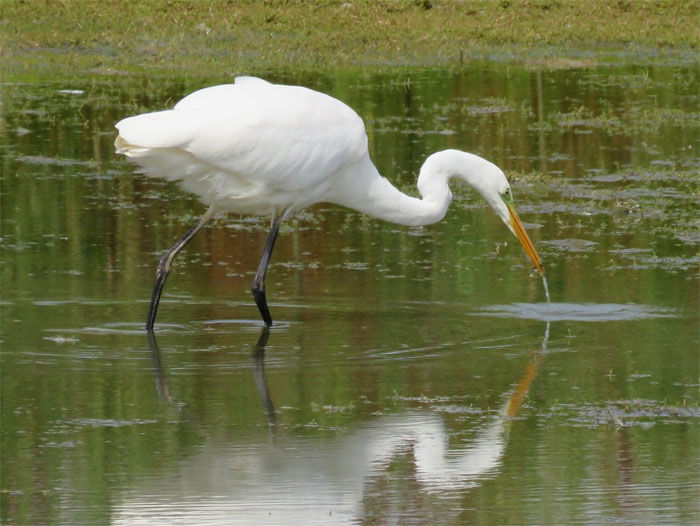 Single Cattle Egrets were still at Marshside, Merseyside and Tacumshin, Wexford with two still on the Nene Washes, Cambridgeshire. A bird at Slimbridge, Gloucestershire on 21st was new, however.
Glossy Ibises remained at King George V Reservoir, London, Rogerstown Estuary, Dublin, Ham Wall, Somerset (two), Llanelli, Camarthenshire, Vange Marsh, Essex, Minsmere, Suffolk, Pembroke, Pembrokeshire, Austerfield, Yorkshire, Strumpshaw Fen and Potter Heigham Marshes, Norfolk, and Newington, Nottinghamshire.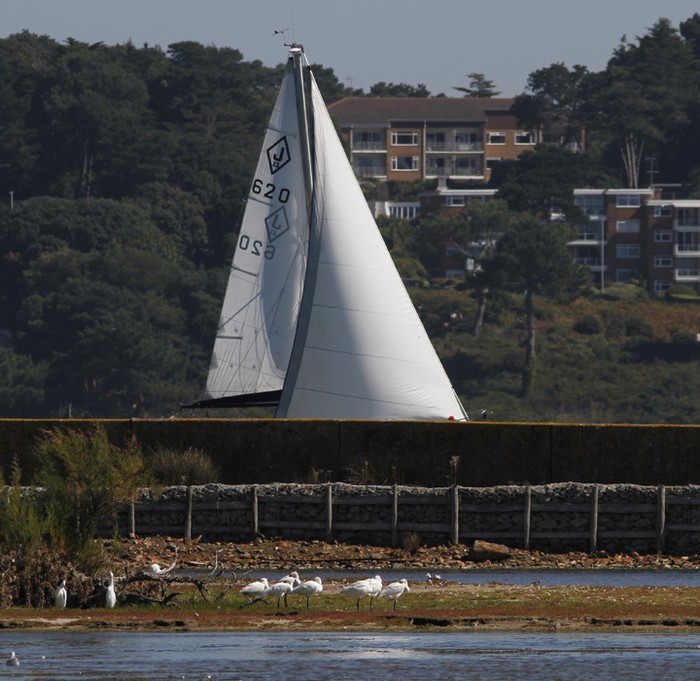 Spoonbill counts reached 35 at Titchwell, Norfolk, 26 at Stiffkey Fen, also Norfolk, 25 at Aldeburgh, Suffolk, 18 at both Gibraltar Point and Alkborough Flats, both Lincolnshire, 17 at Aldeburgh, Suffolk and 12 at Burton Mere, Cheshire and Wirral.
Finally, the Common Cranes were still on Benbecula, Western Isles to 22nd and at Hillwell, Mainland Shetland, also to 21st.
Honey-buzzards this week were at Nanjizal, Cornwall on 17th, Westleton/Minsmere, Suffolk to at least 21st, East Bergholt, also Suffolk, on 17th, Titchfield Haven, Hampshire on 18th, Kessingland, Suffolk on 19th, Edderthorpe Flash, South Yorkshire and Dungeness, Kent on 21st, Croydon, London and Black Down, Sussex (three) on 22nd and Shapwick Heath, Somerset and Bo'ness, Forth on 23rd. A Montagu's Harrier was at Great Massingham, Norfolk on 17th.
The Spotted Crake remained at North Cave Wetlands, Yorkshire to 23rd and another was at Cliffe Pools, Kent on 21st. A Corncrake was at Gibraltar Point, Lincolnshire on 19th.
The real wader event of the week was the sudden and widespread influx of Curlew Sandpipers during 19th. Some large flocks were found on this day including 25 at Paull Holme Strays, Yorkshire, 70 at Frampton Marsh, Lincolnshire, 32 at Titchwell, 27 at Cley and 26 at Hickling, all Norfolk, 17 at Minsmere, Suffolk, 33 at Cliffe, Kent and 24 as far west as Tiree, Argyll. Subsequently birds were reported widely, including down the west coast, with the biggest count an outstanding 143 at Frampton Marsh, Lincolnshire on 21st.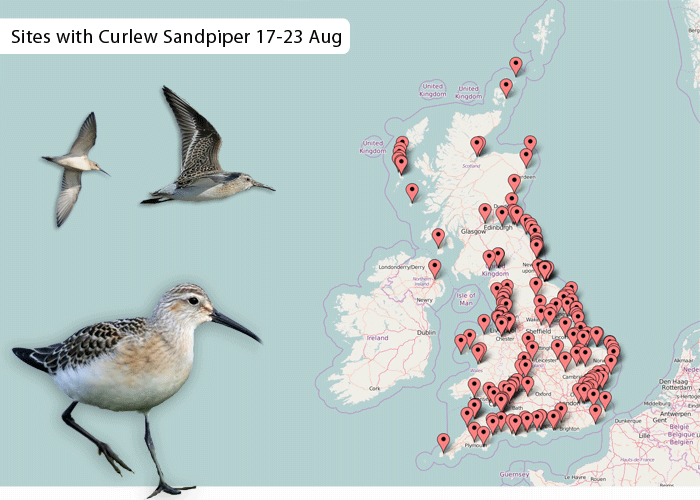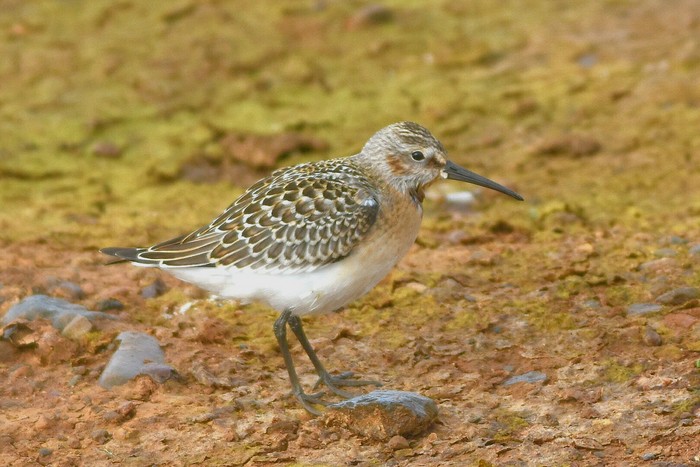 The rare waders were mostly in the west. A beautiful juvenile Semipalmated Sandpiper showed well on South Uist, Western Isles from 18th to 20th and an adult was at Waterville, Kerry on 20th and 21st.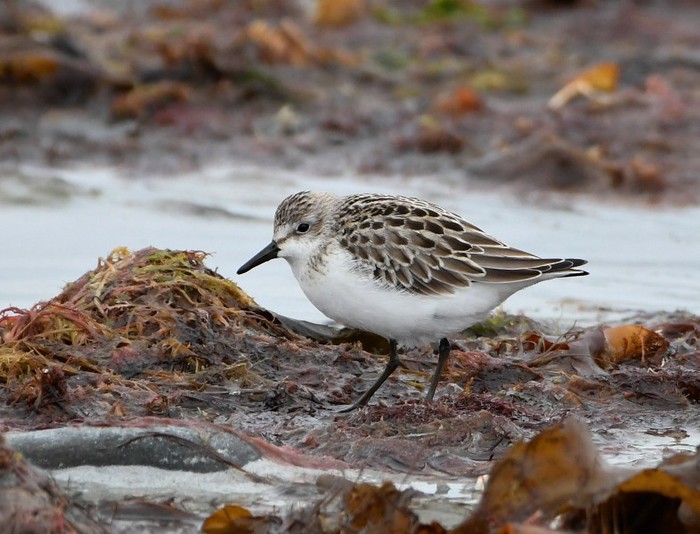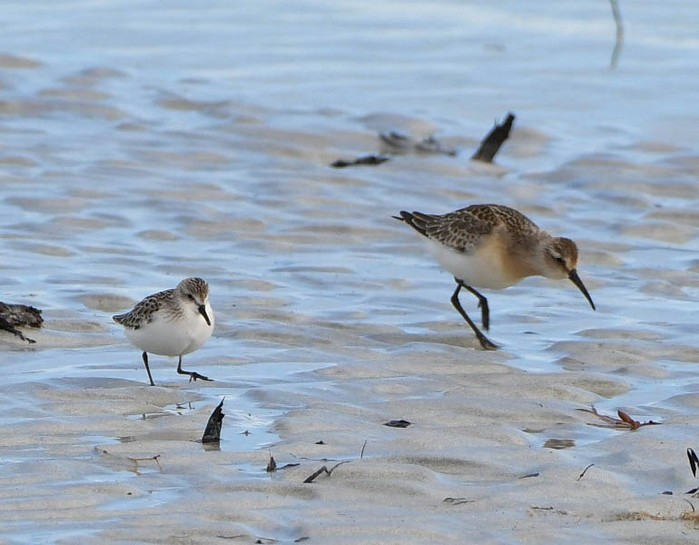 Last week's Lesser Yellowlegs were still at Clonakilty, Cork on 17th and the Rogerstown Estuary, Dublin to 23rd with new birds found at Blackrock, Kerry and (no surprises) Tacumshin, Wexford on 19th (where it remained until 20th) and, in England, at Blithfield Reservoir, Staffordshire on 20th and Vange Marsh, Essex on 22nd and 23rd.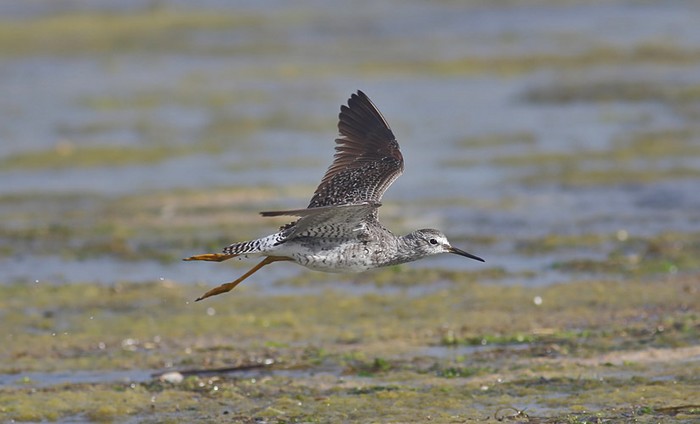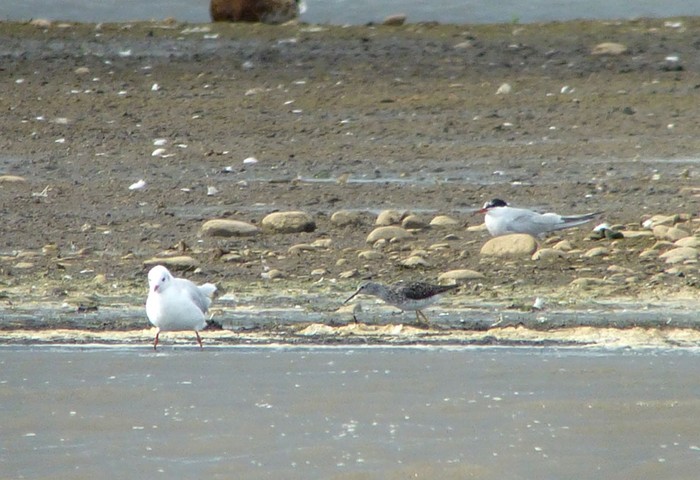 Also new were American Golden Plovers at Ring Marsh and (obviously) Tacumshin, Wexford on 21st, a Baird's Sandpiper at Deerness, Orkney on 17th and White-rumped Sandpipers at Amble, Northumberland on 21st to 23rd and Banks Marsh, Lancashire on 23rd.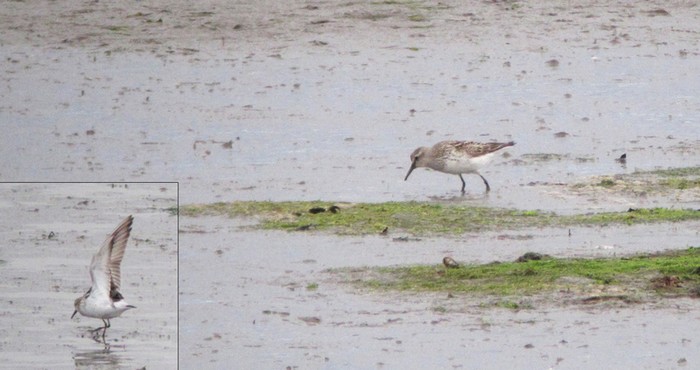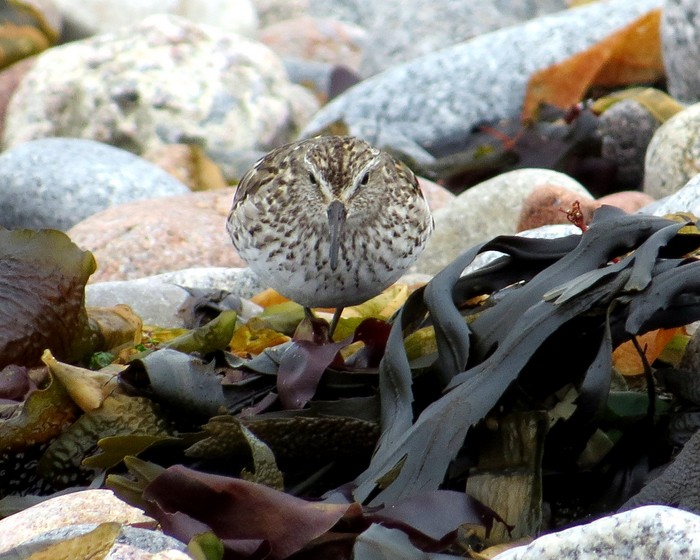 Otherwise it was a case of lingering birds including the juvenile Spotted Sandpiper still on Tiree, Argyll to at least 19th and the adults still at Dunbar, Lothian to 21st and Hauxley, Northumberland on 18th. An adult White-rumped Sandpiper at Cley, Norfolk on 17th may well have been the bird seen a couple of times there recently whilst the adult was still at Girdle Ness, Aberdeenshire to at least 21st.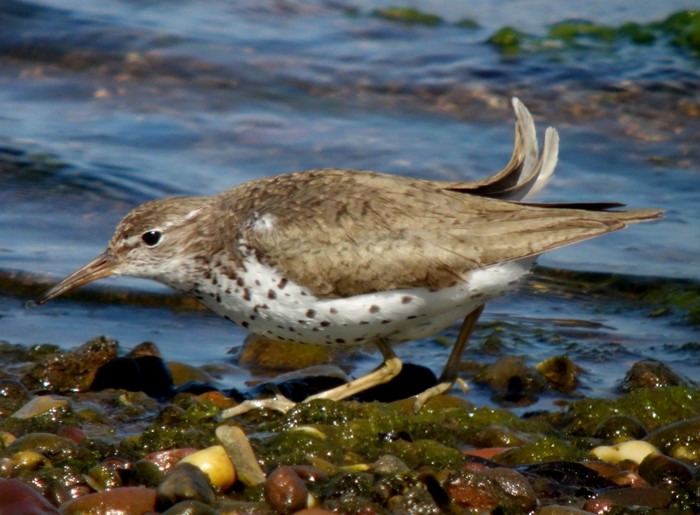 By contrast, Pectoral Sandpipers were noticeable by their absence, with not a single new bird, the only one reported being last week's bird still at Tophill Low, Yorkshire to 21st. This disparity in occurrence patterns between Pectoral Sandpipers and other American waders, noted also in last week's review, was recognised as long ago as the 1960s and may reflect a Siberian origin for many of our 'Pecs', particularly those in early autumn in eastern England. The wader roundup is completed by some definitively Palearctic waders - Dotterels at Westray, Orkney on 21st and 22nd, Loop Head, Clare on 22nd and Dungarvan, Waterford on 23rd, Temminck's Stints at Greatham Creek and Seal Sands, Cleveland on 17th and 18th, Rainham Marshes, London on 22nd to 23rd and Whisby, Lincolnshire on 23rd and (just to boost the list there a little) a Red-necked Phalarope at Tacumshin, Wexford on 20th.
An adult Bonaparte's Gull at Dawlish Warren, Devon on 20th was new for the week but may represent a returning individual. In Kent the summering adult was still at Faversham to 23rd.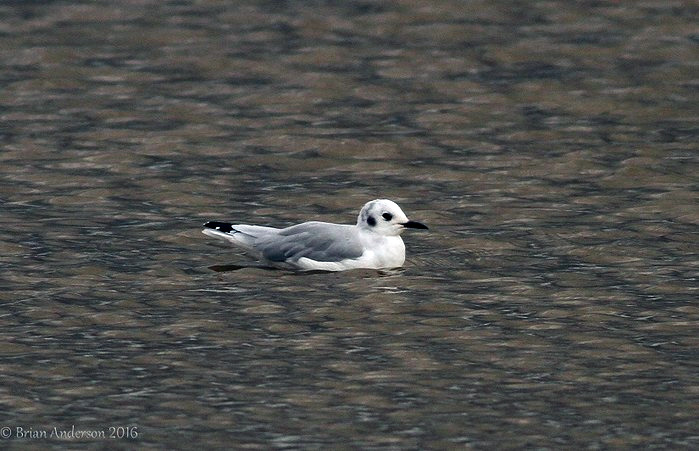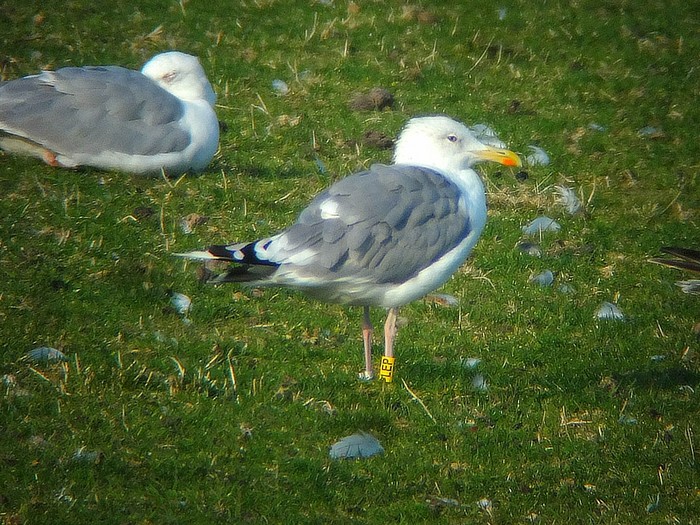 Caspian Gulls extended a little further north this week with singles at Cleadon Hill, Durham and Amble, Northumberland. Out of season white-winged gulls were represented by an Iceland Gull still on Benbecula, Western Isles and a Glaucous Gull still at Ullapool, Highland.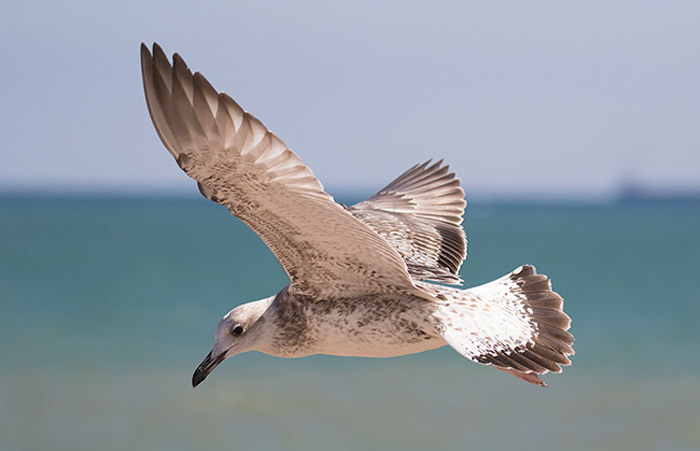 The best rare terns on offer were the autumn's first juvenile White-winged Black Tern at Watermead Country Park, Leicestershire on 21st and 22nd (associated with a modest influx of Black Terns across the country) and the long-staying Irish Forster's Tern at Dundalk, Louth on 22nd and 23rd. Away from Ireland and the Northeast, a Roseate Tern was at Rainham Marshes, London on 18th.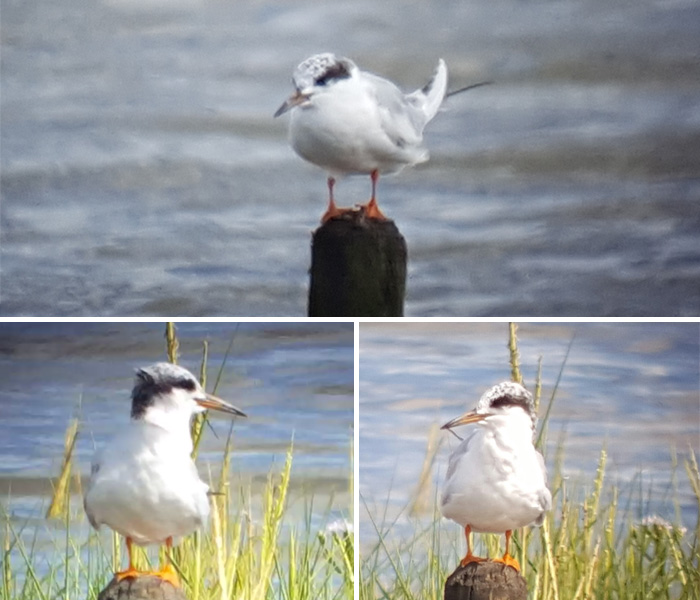 Near-passerines and Passerines
The best near-passerine was a Bee-eater which lingered at Minsmere, Suffolk on 18th and the morning of 19th, often visible from the North Wall in the direction of Dunwich. A Hoopoe was at Aldborough Hatch, London on 18th.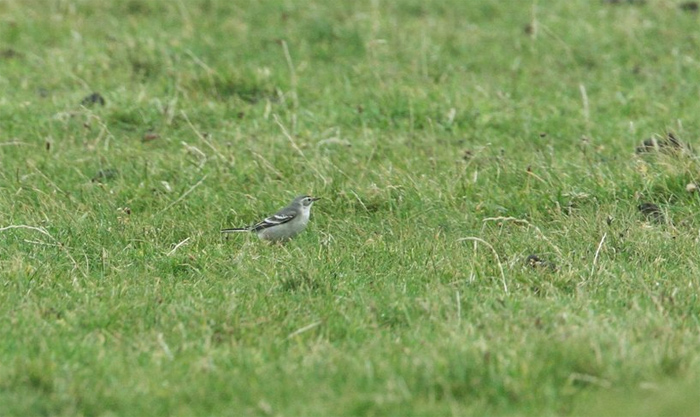 The rarest passerines were both, remarkably, on Bardsey, Gwynedd on 17th - a Citrine Wagtail and (actually present since 15th but only identified on 17th) a Western Bonelli's Warbler . Also typical of late August were the autumn's first Booted Warblers though they could hardly have been further apart. One was on Fetlar, Shetland on 22nd whilst another made a change from seawatching at Porthgwarra, Cornwall on 23rd.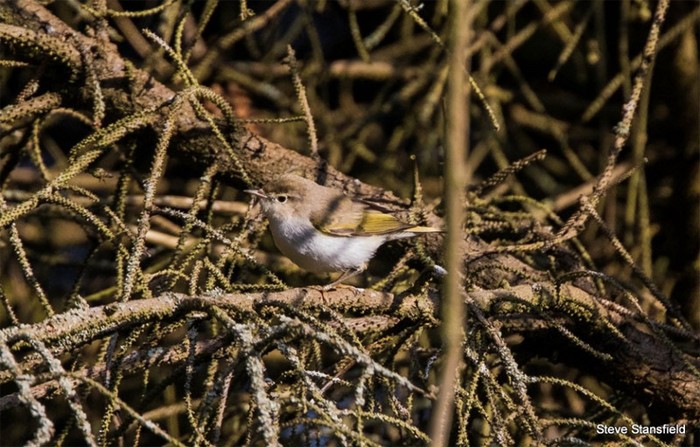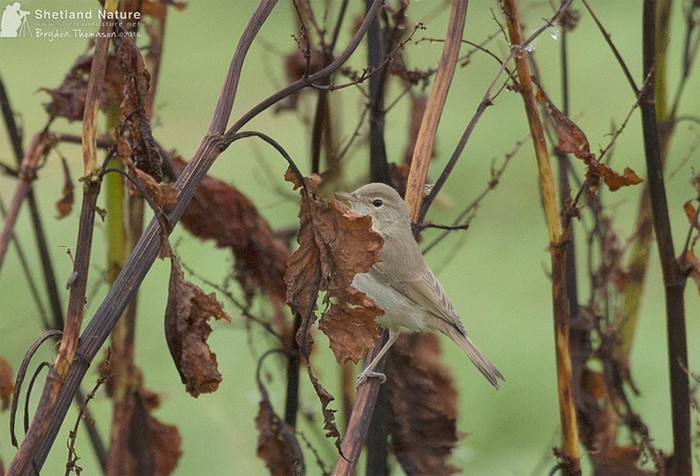 With the arrival on North Sea coasts of Willow Warblers, Pied Flycatchers and associated Greenish Warblers, there was also, unsurprisingly, a good scatter of the traditional August scarcities. Icterine Warblers were prominent with at least seventeen noted between Kent and Shetland. Away from the east coast, birds also reached The Lizard, Cornwall and St. Mary's, Isles of Scilly.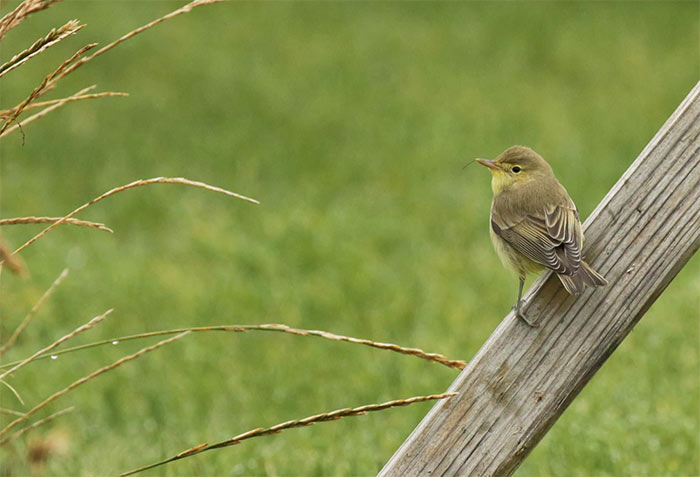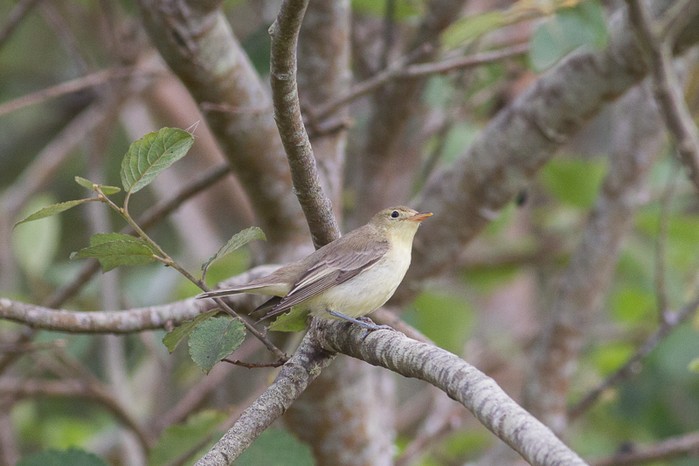 In greater numbers were Wrynecks , with at least thirty logged, again mainly on the east coast and on Shetland but with birds also at Beachy Head, Sussex, Farlington, Hampshire, Lytchett Bay, Dorset, Castlemartin, Pembrokeshire, Dawlish, Devon and St. Mary's and St. Agnes, Isles of Scilly. The propensity of this species to turn up inland was amply demonstrated by one on Salisbury Plain, Wiltshire on 18th.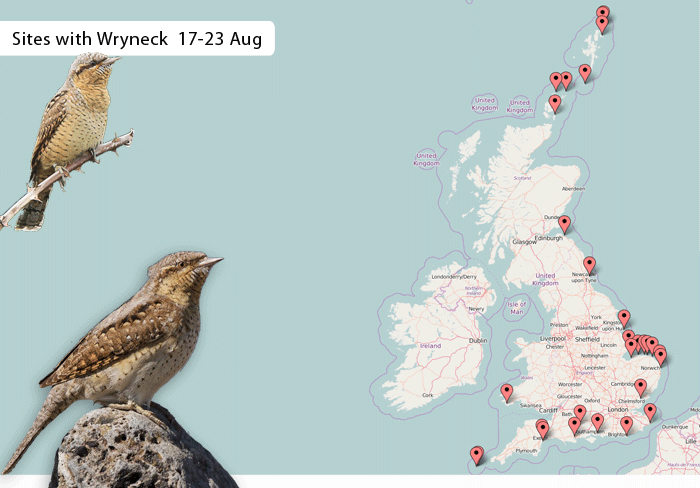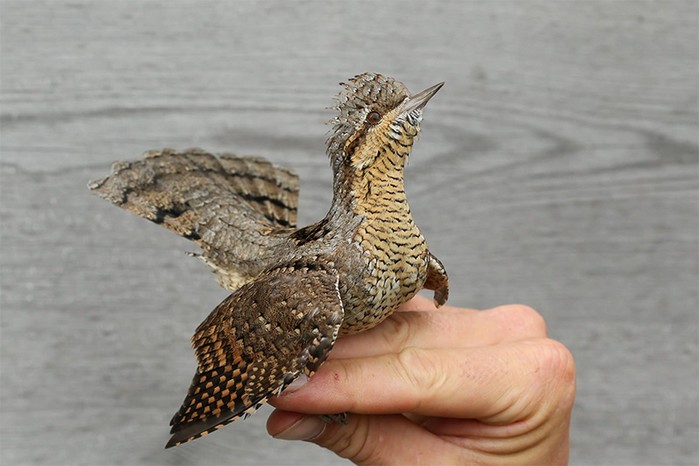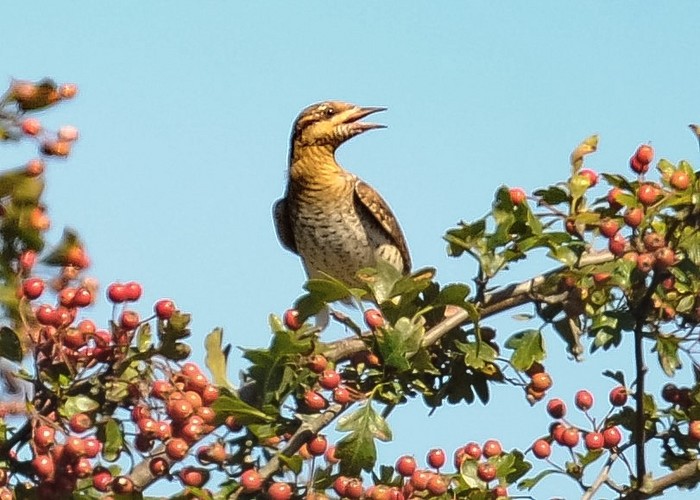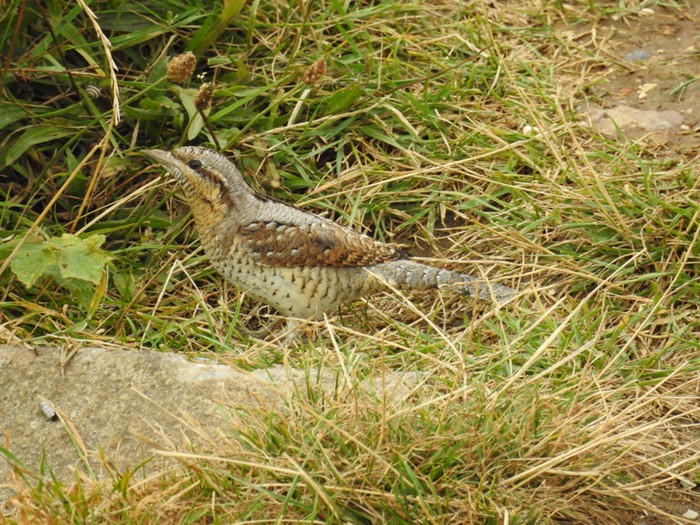 Red-backed Shrikes followed a similar pattern with singles at Deal, Kent, The Naze, Essex, North Ronaldsay, Orkney and Fair Isle, Shetland, with two at West Runton, Norfolk and Collieston, Aberdeenshire. In the west, one reached Skokholm, Pembrokeshire on 23rd.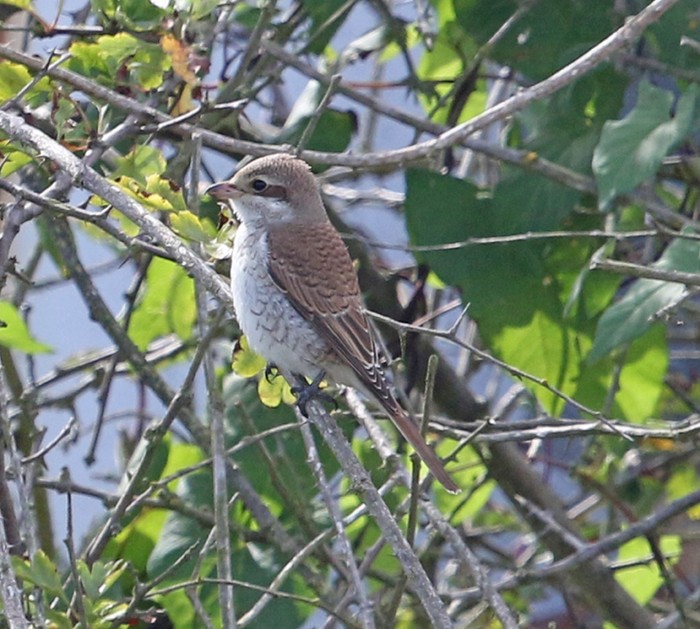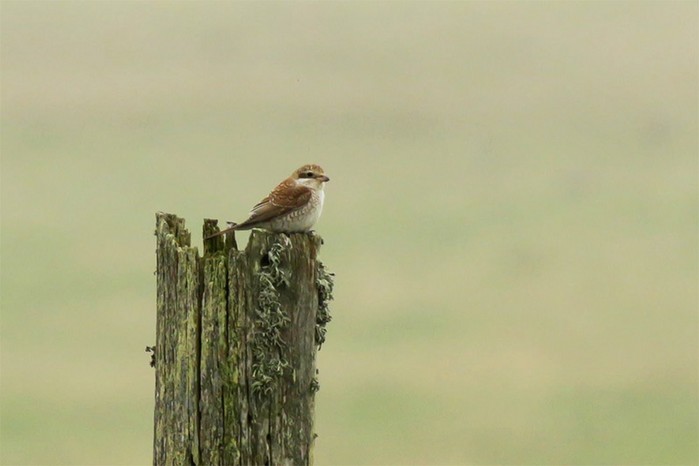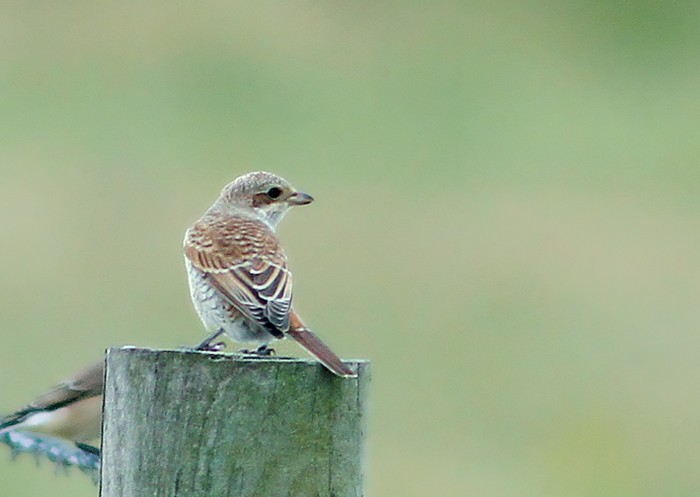 Completing the traditional August scarcity set, Barred Warblers were at Spurn and Filey, Yorkshire, Holy Island, Northumberland, Deerness and North Ronaldsay, both Orkney, and Fair Isle, Unst and Noss, all Shetland.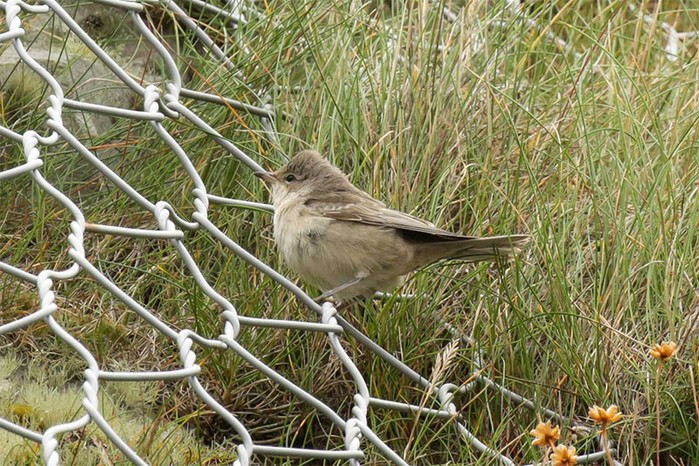 As for other scarce warblers, Melodious Warblers were on St. Agnes, Isles of Scilly on 18th and 22nd and at Beachy Head, Sussex on 23rd and a Marsh Warbler was on Unst, Shetland on 23rd . Ortolan Buntings (nowadays increasingly rare) were at Spurn, Yorkshire and Skokholm, Pembrokeshire on 17th, on a ship forty miles north-east of Peterhead, Aberdeenshire on 19th and on St. Agnes on 23rd. Finally, the autumn's first Common Rosefinch was on Unst, Shetland on 20th with others on Fetlar, also Shetland, on 22nd and Fair Isle on 23rd.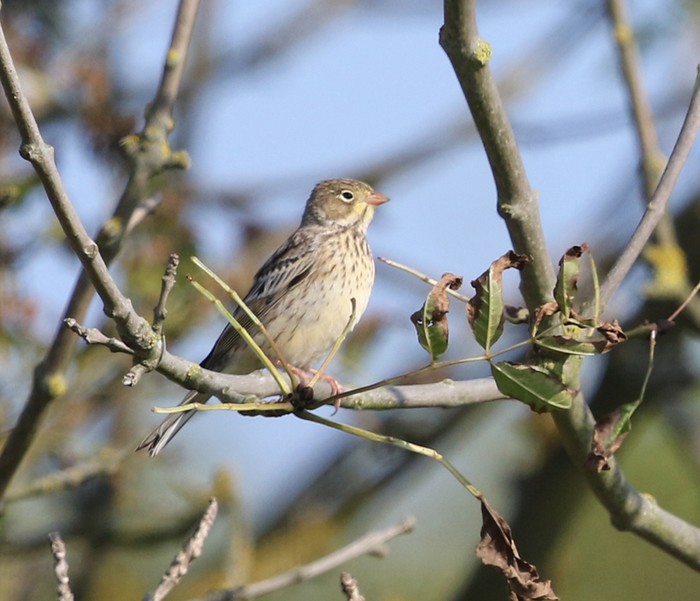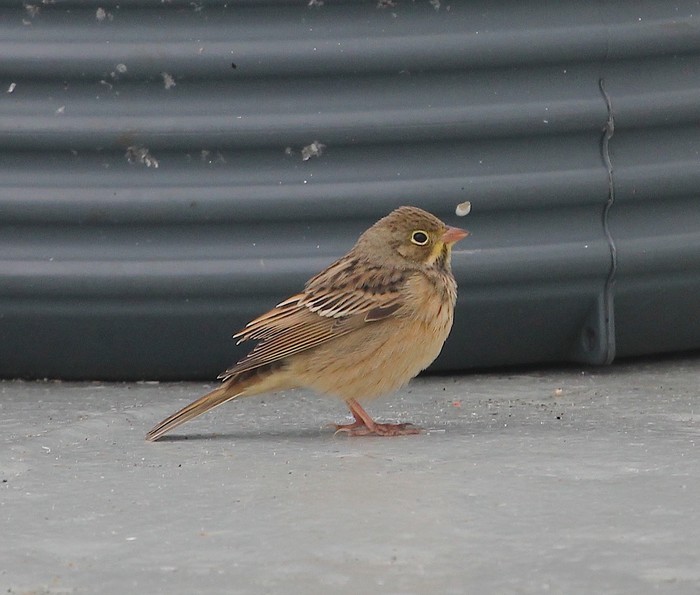 Next week's weather looks complicated with rather slack anticyclonic conditions and high temperatures, at least to begin with. With no clear vector, either from west or east, predicting its highlights is a tough call but it is tempting (or is it wishful thinking?) to suggest that Ireland's dominance of the rarity scene might be over. Given the influx of Curlew Sandpipers and Little Stints this week could the door now be open to other waders from the east, perhaps even the now really rather rare Sharp-tailed Sandpiper?
Andy Stoddart
24 August 2016
Many thanks to all contributors for the photos and videos this week.
Dermot Breen, Seamus Feeney, Lee Gregory / Fair Isle Bird Observatory, Paul Connaughton / shearwaterwildlifetours.com, Paul Kelly / Irish Bird Images, Davey Farrar / Kerry Birding, Aidan G. Kelly, Tom Shevlin, Jimmy Murphy, Hugh Harrop / Shetland Wildlife, Anthony Williams, Joe Pender / Sapphire Pelagics, Rob Stonehouse, John Tymon, David Parnaby, Brian Anderson, Lee Evans, Lorne Bissell, Andy Hood, Jonathan Woodcock, John Kemp, Steve Duffield / Western Isles Wildlife, Jonathan Farooqi, John Nadin, Andy Hood, Martin Casemore, Gerry O Neill, Steve Stansfield / Bardsey Bird Observatory, Brydon Thomason / Shetland Nature, John Pringle, Penny Clarke, Dave Tucker, Simon Spavin, Andy Williams,
Please note: we put a lot of time and effort into sourcing and and producing the images, videos and graphics for each roundup. Some of you (probably Apple users) may notice some photos etc. that appear to have incorrect captions. Please try refreshing the page as they are correcty captioned. If after a refresh they are still showing the incorrect captions then please email us
Contributors websites