Pine-ing for a Grosbeak
Lessons in how not to twitch a mega…
Here's five words for you. Who. Is. Britain's. Worst. Twitcher?
Any number of replies and responses and names might hurtle forth ~ each little listing enclave and carload around and about the place will have formulated their own list over the years. Some thoughts will be founded on their own local knowledge and experience of the more haphazard or inadequate members of their local twitching scene, while some will be based on rumour and hearsay, with occasional nuggets added in over a decade or two….
We've all heard the stories (true or false, the more febrile online outlets perpetuating and embellishing whatever, and whenever, the mood takes the collective spirit) and most of us will also have come across those who's only birding activity is to thrill-seek through the Mega Alert.
A few years ago I wrote a piece which revolved around the whole spectre of what drives birders and twitchers….
"Twitching is full of tension, pressure, frustration and elation…..often adding to the drama of life in the Noughties…blood pressure soars as the pager's Mega Alert goes off…a few seconds before the "reveal" of the species involved can feel like an age…the heart beats faster in an split-second instant…"what is it, what is it" the repeated refrain, over and over and over again before the head rush euphoria of the "wow…I really want to see THAT" moment…
…the nervous energy kicks in straight away….tension, stress and unbridled excitement combine to gnaw away at the senses, a feeling that doesn't subside from a restless body until the moment you see, or don't see, the bird in question….
These two incredibly contrasting moments present the ultimate highs and lows and almost defy description….from "man hugs", high fives, broad smiles, even impromptu rounds of applause and cheers to moments of quiet devastation, reflection, crooked "if only" grins, pin-drop silence and occasional tears….what a doctor would make of that is anyone's guess, but a psychologist, well they could have a field day….
Quiet devastation. Pin-drop silence. Occasional tears. Some of us (many of us?) have been there. Fewer of us will ever admit that birding is able to drive grown men and women towards moments of (temporary) despair. "It's only a bird" say the nearest and dearest….they really don't know the half of it….
And what causes this withdrawal from wanting to communicate with the outside world? What is it that can make people who really are old enough to know better feel genuine frustration and emotion at missing out on the simple sighting a bird? One word and one word alone can push you teetering towards the edge of "phasing" or, ultimately, towards the extreme contemplation of hanging up your bins for good. One word, three letters, rhymes with "trip"…..
D.
I.
P.
Dip.
It's a nice word in other respects (few could resist investing a few pocket money pence on the fizzing, liquorice-infused charms of a Sherbet Dip and what's better on a warm, summer day than a "dip" in the ocean?) but in the context of twitchers, there's no word that is worse (other than perhaps "rejected" for those who strive in the field or "escape" for those with their checklist to muse upon) than the word dip. And that word is what brings me back to the question at the top of this piece…
Who is Britain's worst twitcher. Right now, as it stands that accolade feels like it could rest extremely comfortably across my broad shoulders. How come? A majestic example of how not to twitch a top-drawer mega is why.
For someone in his mid-40's, who's seen an awful lot of birds in the UK & Ireland over the past 30 years of listing (nestled nicely in at least the 520's ~ it has been a while since I counted), it is a prime example of seemingly learning nothing at all in those same three decades. Of course, in the cold light of day, I know that that particular statement is bonkers, plainly codswallop, but after finally deciding to spend a few hundred quid to make the effort to head away to the Northern Isles for a species that has now popped itself nicely into a select band (a ever-growing list) entitled "bogey birds", it does feel as though I should have followed my senses and done one of two things…
Option 1)
…blow my self-imposed budget-ceiling as soon as the claxon blared< strong>"PINE GROSBEAK"
or …
Option 2)
…stick to my own oft-favoured, option and not even entertain the idea of heading to Shetland again for a single rare ~ my last experience there, with another of those birds in the column listed "bogey", put me off making that leap of faith in to the unknown for several years. And that dip too was a prime example of a monumental listing cock-up….
We'll quickly hurry back to the early winter of 2005. While working in the offices of the Football department at the BBC, the pager goes off ~ "Brunnich's Guillemot, Lerwick". This was a species I already had form with ~ in 1987, I'd blown my money on a two-tick trip to Shetland for Harlequin and a Brucey-bonus White-billed Diver, so there was nothing left in the poor 6th form student's kitty to head back north for the Burra bird. In 1989 I couldn't head to the cliffs at Sumburgh because I was doing my bit for the Lincolnshire Trust as a seasonal warden at Gibraltar Point.
Come 2005, I was working in the media, as a freelance television producer, and with days of work booked for at least a couple of weeks ahead, there seemed no chance of heading north for this particular Bee Gee. I wasn't prepared to blow out the opportunity of good money, and a dent in my work reputation, for a Shetland twitch concerning a species with little or no staying power.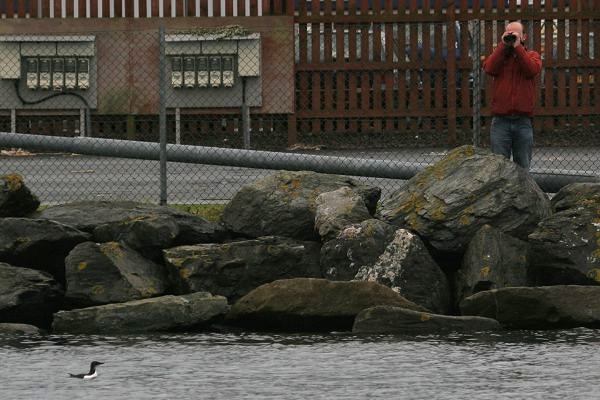 Day after day passed by, days that soon morphed to a week and then to two…the lure was becoming irresistible as the fit and healthy Guillemot showed to all. A free weekend beckoned, the ferry was booked and off we went…
...yes, off we went in to the eye of a fearsome Northerly storm with isobars so tightly bound together you could have made a rope from them. A 12 hour crossing became a near 20 hour epic as we hugged the Scottish coast in crazy conditions before tracking north to Lerwick. Needless to say after such fearsome weather, the Guillemot was gone ~ the last 90 minutes of snowy Shetland's Saturday daylight showed not a sniff of the quarry either in Lerwick Harbour or over on Bressay. A mournful Sunday couldn't pass quickly enough as waited to head back to Norfolk (a further dip followed ~ at Girdleness in 2007 and also a "reject" off Cley the same year ~ thanks for all your faith in that one BBRC…).
A bogey bird for sure then and now Pine Grosbeak has joined the growing list….
Why has it appeared on that list despite a lengthy stay? Arguably because of more dithering and bungling….but is it that straightforward?
First of all, Pine Grosbeak is another species with which I have history (there's Nighthawk and Blue-cheeked Bee-eater too, but those stories of doom and gloom can be saved for a rainy day).

The 1992 Shetland Grosbeak came at a time when, as Assistant Warden at Cley, I was coming back to the north Norfolk coast, broke after a winter of signing on in Norwich. No money and I'd just had some minor surgery too. Not a great combo, so Shetland was out. The Maywick bird wasn't twitchable. The Spurn bird? A classic double-dip day as Graham Etherington and I swiftly left the scene of Norfolk's one and only Grey-cheeked Thrush, in the middle of some bloody Breckland forest, to track north as fast as the Oatcake could carry us. All to no avail. A sorry bunch gathering around a lonesome set of trees, utterly free of a Grosbeak after (what turned out to be) a three day stay. Only the local chippy made that day bearable….god, I even dipped the appalling Essex escape.
Now, I've dipped another.

We all know the story. It's been told on the RBA website by some of the parties involved. Local man sees funny bird in pine, takes photo…sends to mate…mate susses it straightaway…PINE GROSBEAK trumpets the pager. Negative news follows. Then…it's there again! Another local man says "I saw that in November" and Facebooks a photo to prove it. Twitchers spend £100's, see it, come home and go and have their tea.
If only I'd made it that easy for myself….
Put simply Shetland makes me dither and dally. There've been Rubythroats and Chestnut-eared Buntings which I've looked at on line, thought, "yeah, nice ~ I'll see one of those in Norfolk, everything comes here" ~ the classic in-denial, default setting of this particular east coast birder. Generally, over the past 25 years or so of living at Cley, that's sometimes been the case as birds I've not contemplated twitching then appear in the county ~ Rufous-tailed Robin, check. White-crowned Sparrow (just 229 paces from my door), check. I'm still waiting for the Long-tailed Shrike, the Blue-cheeked Bee-eater and the aforementioned recent Shetland combo of a cut-throat chat and a subtle chunky bunting and now I'm waiting for a Pine Grosbeak as well.

My Shetland dithering stems from so many things, cost being upper most in my mind ~ I'm not a Top 10 lister, I never will be (I'll settle for a place in the Top 40 I guess), and I struggle continually with the cost conundrum. Do I really want spend upwards of £500 for a bird I can fantasize about as being potentially a home-county bird? There's getting there too and also the time factor and work commitments too. Dropping work at short notice is not necessarily ideal ~ and add in lost earnings (I always work weekends, football won't accommodate my hopes for games on a Wednesday and Thursday say) to the cost of that Shetland twitch and, in some cases, you start to look at close to a four-figure sum in the minus money column. Eskimo Curlew or maybe Houbara aside, for me, no bird is worth that. However, let's not detract from all those who do act on impulse, who do take up the thrill of the chase in an instant. Hats off to ya….as much as I dither, I also get a little green with envy and much of the above goes a long way to explaining why, after all these years, I'm not in with a sniff of the Top 20, let alone the Top 10!
…and then, in the back of my mind, in the instance of the Grosbeak, was the memory of that grim weekend of 2005.
Funnily enough, and in a curious irony that only birders could figure out, it was bad weather that may have helped me out on this occasion. The glorious, unseasonal sunshine and (relatively) mild late February temperatures may well be the reason why the object of my desires this time around decided to do one…..
This year's "Shetland Dither" was a protracted affair. After the "wow" moment when the bird was found at Collafirth by local resident Bert Ratter and the secret "phew, I'm glad that's not there" follow-up with the first batch of negative news, I thought I'd got away with it. By the Saturday, it was all so different, the bird was re-found just along the road in the gardens at Saltoo and the game changed.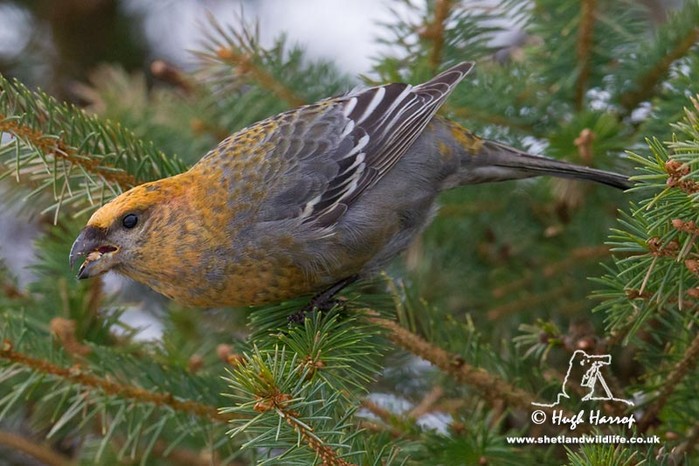 Abandoning my generally more conservative approach (see my Option #2 above), I got myself on a charter for the first Monday. Great. Then we all saw the weather forecast. Not great. Not great at all, as a fearsome front laid in to Shetland with the biggest waves in the world. The charter was re-scheduled for Tuesday, from a different spot and a new, higher price tag. A price I wasn't prepared to pay.
Weekends were out, I was encased in the MOTD production office at MediaCity in Salford, and with those commitments and a few writing ones too, things looked bleak. I still spent hours pouring over travel options…all monstrously expensive….and even when there was half a chance, I decided against it. Dither, dither, dither.
Then, a glimmer of hope. I was booked to work on the BBC's "6 Nations" Outside Broadcast at Murrayfield on February 24th. The bird was still there and, if it was seen on the Saturday, that was it, I'd go.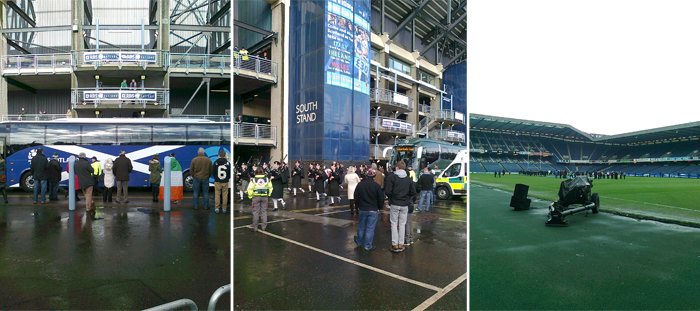 Sure enough, Saturday dawned, and texts from on-site and the pager confirmed that the bird was still there in the morning. What didn't emerge until later, after flights had been re-booked to incorporate Sumburgh to Norwich was that the bird was only seen until around 10am. Would it have made a difference? No. Probably not….and then just as we went on air on Sunday, a glance at the pager relayed the news I really wasn't expecting…when you see the species name in lower case with the words "no sign of" at the start of the message, you know it isn't good news. And it wasn't. Despite glorious conditions for searching, there was no sign of "the boy". Misery was compounded later in the day by the words "no sign…all day…." ~ and a text from Shetland Wildlife's Hugh Harrop to say much the same.
What to do now?
I'd booked my train to Aberdeen, I'd booked the ferry and a plane ride back to Norfolk was in place. Despite the woeful news, with more of the same on Monday, I decided to treat it as a day out birding.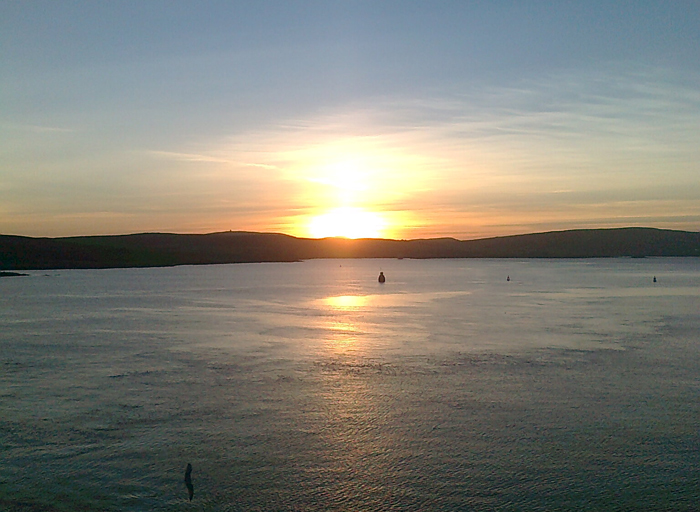 And, in truth, it was very nice day's birding indeed. It is strange going somewhere when you know the bird you've yearned to see really does seem to have done a bunk ~ two and a half days of "no sign" is a fair indicator that the bird won't perform a miraculous Lazarus-like reappearance in the few hours you're in place, so the mental games begin and you tell yourself that actually, despite everything, it isn't a dip after all! You know the bird isn't there, so why not enjoy a day's birding….
…so that's just what I did. With Hugh on hand to share his expert knowledge of where and what the Grosbeak had done, we went through the motions of searching the requisite spots.
First up Saltoo, the last location for the bird from Saturday. Then over the hill to Housetter before tracking back to Greenbrae and Forsa…familiar names all to those who've followed the story of where and when the bird had been seen. Three other Southern souls were also on the not-a-dip dipping trip and after a few hours of diligent searching, back and forth between the four sites (and a trip to Urafirth where it was seen in November) it became obvious that our time would be better spent moving on and drawing a veil over the sunlit fiasco. A quick chat with Bert and a head-scratch of disbelief at the size of the dwarf clump of pines in his garden and we left the scene…

Hugh and I headed down to Scalloway and soon, thanks to a ropey loaf of Hugh's spelt bread, we were soon enjoying super views of the beast of a first-winter Ring-billed Gull.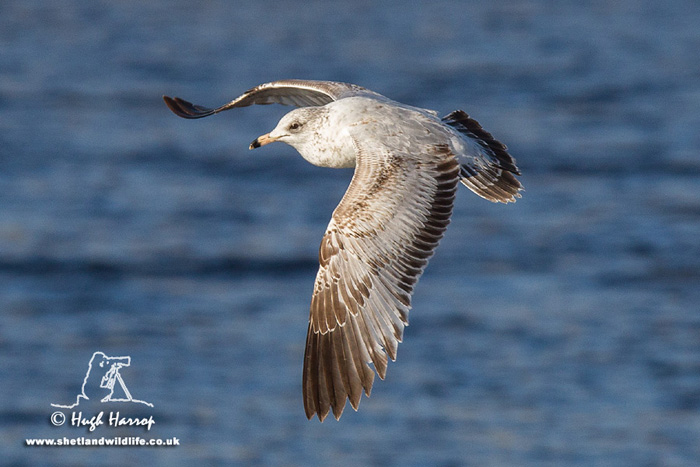 From there we headed down to a gull-free (almost) Shetland Catch. Otter tracks in the mud and a flotilla of magnificent Long-tailed Ducks, complete with a sinister horde of up to 35 switch-backing, free-falling, tumbling Ravens over Bressay were the initial highpoints here, tho' a Peregrine spook over the bay soon pushed a snowy white young Glaucous Gull our way.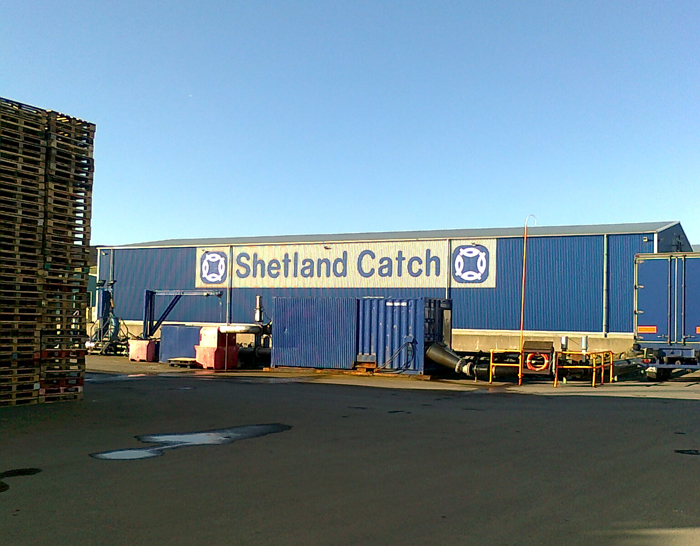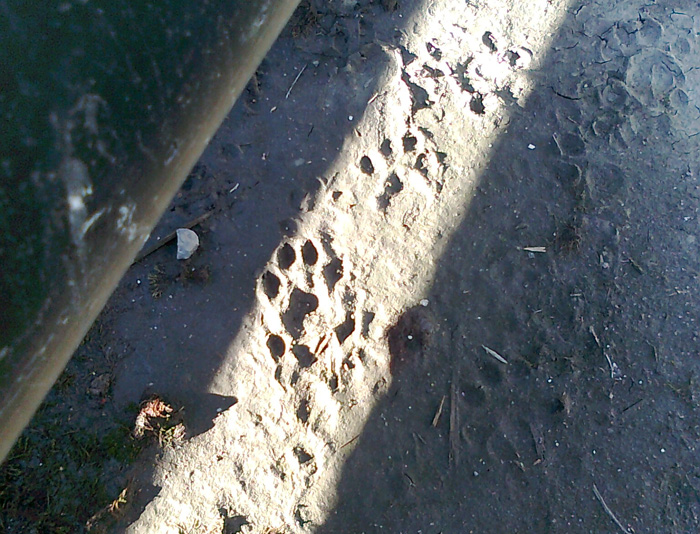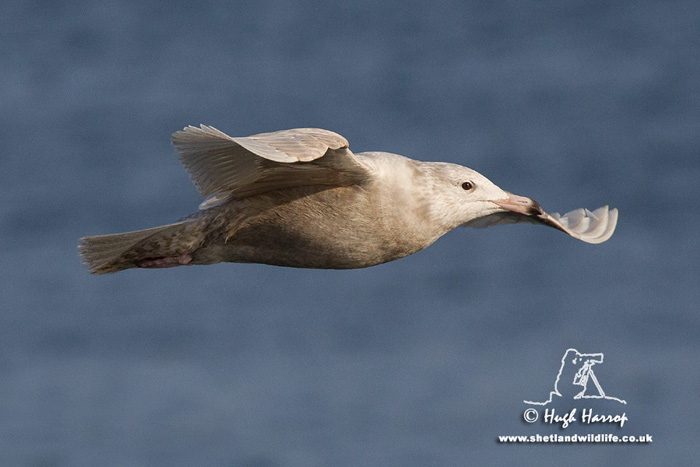 The weather remained marvelous as we drifted south during the late afternoon ~ the tides weren't ideal for otters at Boddam, but a group of "skridding" Purple Sands and some lovely scenery almost made up for it. Hugh pointed out the garden where the infamous Olive-tree Warbler had been and then the day was almost done….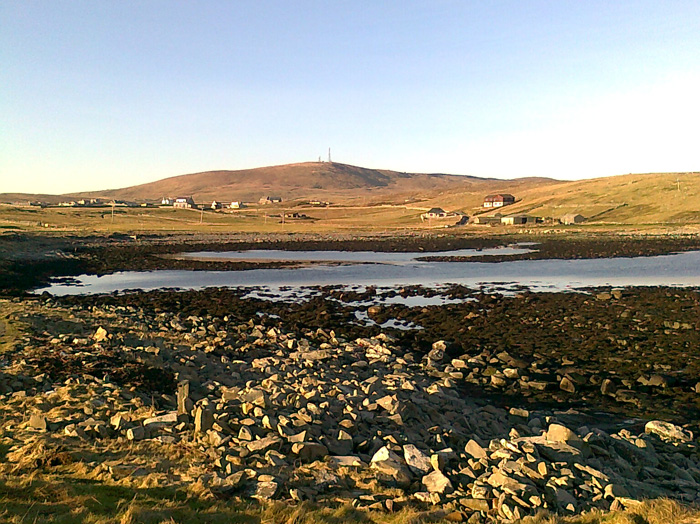 …a walk around the edge of the Pool of Virkie, watching the scarlet and oranges of an incredible sunset turn to lilac and pink as the buttery full-moon loomed over the horizon was a joy ~ enhanced by more Long-tailed Ducks and a chance encounter with local birding resident Roger Riddington.
The day was done, the bird was gone and I didn't feel too bad….a brief Viking curse and rueful smile brought the birding day to a close ~ my dithering had cost me a wonderful bird, again, and makes me think, again, about what I may, or may not do, the next time these amazing northern islands have something extra special on offer.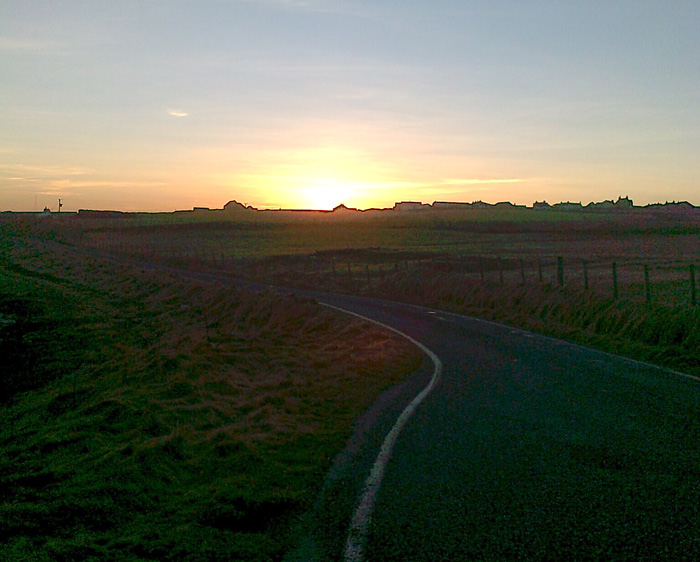 Travelling home, the feelings so familiar to anyone who's dipped a mega were all too apparent, which seemed strange given the fact that I already knew before I left Edinburgh that I wasn't going to see the Pine Grosbeak. But at least the gnawing sadness in my gut was probably going to be less intense than the poor guys who arrived at Collafirth on the Sunday just gone….at least I wasn't the first to dip….(no consolation I know, but it feels like a mini-triumph).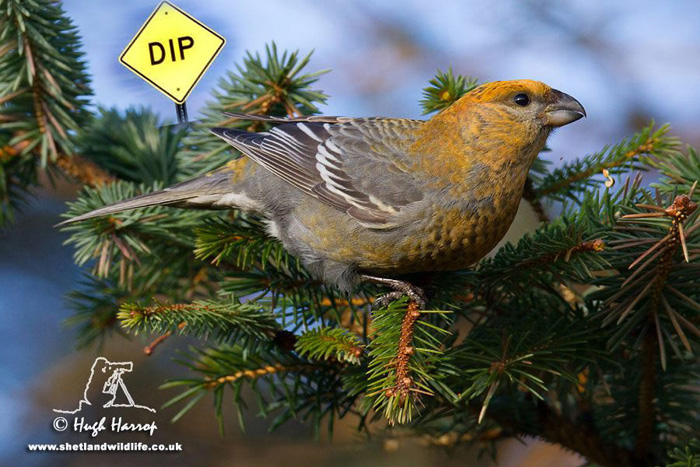 Why those feelings of overall gloom enveloped its miserable shroud around me then was anyone's guess, but no end of geeing up and telling myself to "get over it" could alleviate the glum air. The north Norfolk coast couldn't come along quick enough. I wanted to be at home and birding Cley as soon as possible now. I longed to turn the page on another chapter entitled "Ditherers Don't Tick".
Will this new dip stop me from twitching again? No, of course not. I have definitely encountered misses which far exceed this one. But Lady Luck, Shetland and I look set for a long-term parting of the ways. Our seven year trial separation since missing the 2005 Brunnich's Guillemot have now been added to by way of this particularly unsuccessful adventure. Divorce is definitely on the cards….
…that in itself seems sad, as in the past twitching decades, we've certainly had our good times together…
It happened to be "right place, right time" for me with the one day Virkie Great Knot in 1989 (a one afternoon bird actually) and the Sandhill Crane from the early 1990's was a triumph. And the permanent silver lining to the current Shetland cloud remains a bird that hundreds of the new crowd would give their eye teeth to have on seen….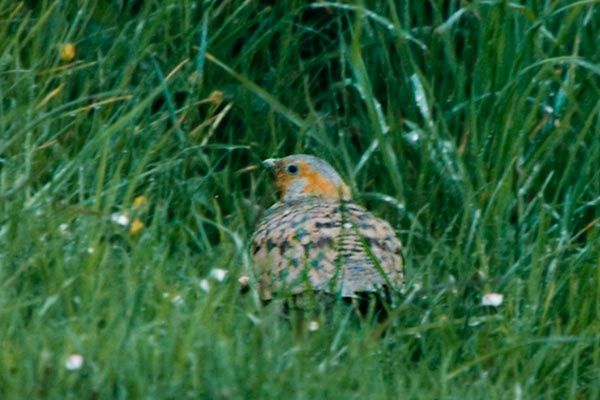 Given the imaginary choice of dipping Sandgrouse or Grosbeak, I'd take a miss on the latter species over the immense former one every single time.
So, y'know, maybe things aren't so bad after all….
Mark Golley
Cley, Norfolk
March 2013
With special thanks to Hugh Harrop from Shetland Wildlife.