Challenge Series: Winter
Martin Garner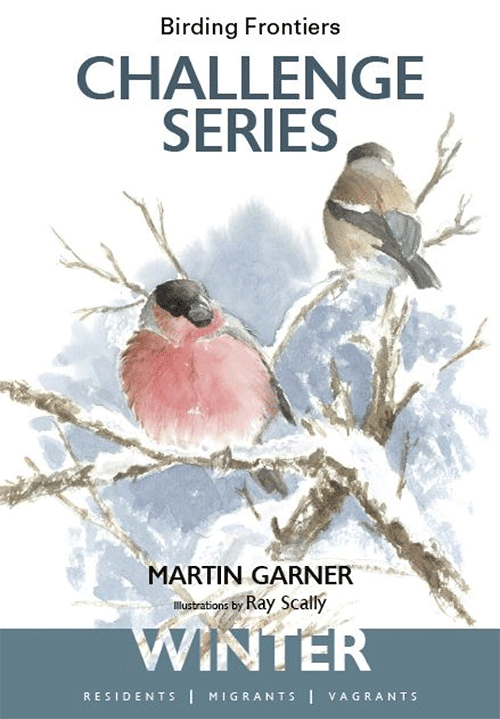 This is the second book in Martin's new 'Challenge' series, following his first 'Autumn' publication last year. The approach and underlying philosophy are therefore already familiar -promoting close observation, personal questioning and, above all, cultivating a sense of wonder and delight in what we see.
The introductory section (entitled 'Discovery and Wonder') provides a couple of anecdotes from Martin's recent birding - unexpected encounters with Todd's Canada and Greenland White-fronted Geese - which illustrate just the kinds of discovery which lie at the heart of this and the previous book. Incidentally I particularly approved of the stance taken towards the use of photographs. Whilst these can be useful in capturing minute detail, they routinely 'lie', giving entirely false impressions of both structure and plumage. Furthermore, the act of picture-taking can get in the way of that special moment of encounter and prevent the kind of close observation which this book is all about.
The book's subject matter is diverse, covering a host of gorgeous birds which can be enjoyed in winter. Coastal birdwatchers will particularly benefit from the content on Eiders, Black Guillemots, large auks and Snow Buntings but those living inland are well served too with sections devoted to Turtle Doves, Barn Owls, large falcons, Great Grey Shrikes, Redwings, large pipits, Water Pipits, Buff-bellied Pipits, Bullfinches and Redpolls. Wherever you live, there will be something here to engage with right on your doorstep in the cold, dark months ahead.
For all these taxa the content is a complex distillation of the author's personal discoveries and experience combined with information gleaned from others (acknowledged in each section) and from the standard literature. The best examples here of Martin's personal engagement in projects are probably his early investigations into the appearance and status of Northern Eiders in Northern Ireland and his more recent studies of Caucasian Water Pipits in Israel.
In truth some of the sections are a little more 'at the frontier' than others but everyone will find something new here. I learned much about some birds which I have never seen such as Dresser's Eider, Mandt's Black Guillemot and Blakiston's Water Pipit but it was also enjoyable to read summaries of more familiar topics such as Redwings, Bullfinches and Redpolls.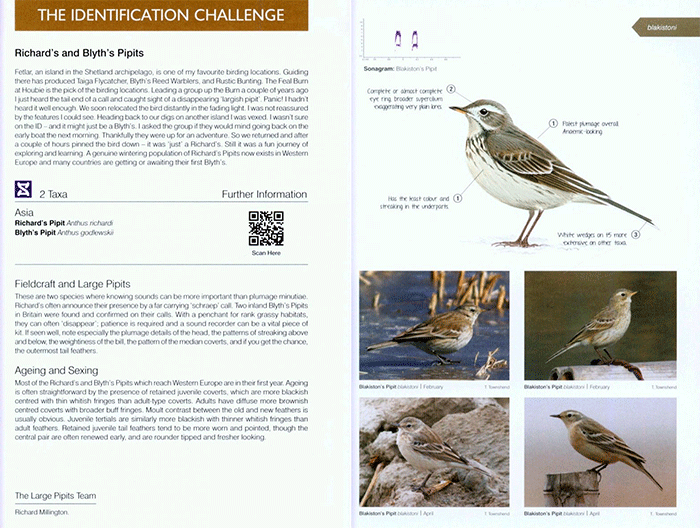 As in the previous volume, each section is introduced with an anecdote or personal insight, ensuring that what might become somewhat dry material comes across as both fresh and exciting. The text is clear and focused but there are once again no references (although there is a bibliography at the end), an approach which enhances readability but it is not always obvious whether some of the assertions are derived from the literature, received wisdom or personal opinion. Be aware also that, as in the 'Autumn' book, Martin readily takes his own taxonomic positions which do not necessarily mirror those of BOURC or indeed any other authority. This might not matter very much but the reader should certainly remember that this is the case.
Published: Aug 2015
Birding Frontiers
Hardback: Pages: 132
ISBN: 9780992975715
SPECIAL OFFER:
Pay just £19.99 inc FREE p&p when you quote discount code RBA90
Very important please read before ordering: When ordering via WildSounds, the value of the voucher will be deducted from your order when the order is processed. The total displayed on your shopping basket excludes the value of the promo but this will be applied before final payment is taken.

The 'branding' and 'feel ' are exactly as in the first book with a highly attractive layout and the text deliberately pared down to a minimalist 'bullet point' style. Instead, much of the book's impact is visual, relying on images. Whilst this approach risks over-simplifying complex problems, it is nevertheless both engaging and accessible (as well of course as much more commercial). Each main text page is accompanied by a well-sized range map, opposite which lies a montage of photographs and artwork. Despite the comments made above, the photographs are well chosen, whilst the paintings by Ray Scally are functional, diagramatic and illustrate well the identification features under discussion.
In summary, this book is a terrific addition to the 'Challenge' series and should encourage us all to get out more in what is often unfairly regarded as a 'quiet' time of year. There are plenty of hints too here that this book won't be the last. It doesn't take a genius to guess that 'Spring' and 'Summer' might be in the pipeline but a gulls volume is flagged up as the next instlament in the series. Something else to look forward to!
Andy Stoddart
09 Sept 2015
Commission for Conservation
Rare Bird Alert does not profit from the sale of books through Wildsounds. Instead we are part of their Commission for Conservation programme where a percentage of every sale made through RBA helps supports BirdLife's Spoon-billed Sandpiper Fund.