Weekly birding round-up: 22 - 28 Mar 2017
The week at a glance
The second spring Red-flanked Bluetail for Norfolk livens up the weekend news
New for 2017, Gloucestershire lands the first Iberian Chiffchaff for the county
Oi, oi - a mini-surprise caused by the return of the male Blue Rock Thrush in Gloucestershire
In Scotland, the Pied-billed Grebe returns to Argyll & Bute
Cleveland's male Eastern Black Redstart keeps the rare flag flying
On the Outer Hebrides, the American Coot is reported once more from North Uist
Back again - the Cornish Hudsonian Whimbrel resurfaces in Mount's Bay
The male Northern Harrier seen again on North Ronaldsay
High pressure settled over the whole of Britain and Ireland almost all week which, at first glance seems like a good thing. A closer inspection of the synoptic chart was more revealing - yes, there was a good deal of sunshine but boy, oh boy the northeast wind that came with the high was pretty raw at times.
Temperatures, especially on the east coast, facing in to that bitter-at-times forceful breeze struggled to see double figures until the weekend and night time digits hovered around the zero mark in sheltered areas.
As is always the way, more early migrants made their way to us but passage was generally light as those at the head of the queue must have been thinking they'd made the wrong move and wanted to turn tail for the Sahara again. Presumably the thought of dodging the bullets, lime sticks, illegal mist-nets and scandalous carnage of the murderous Mediterranean, plus their natural-born evolutionary migratory urges dissuaded them.
Generally all was good though - the Chiffchaffs excitedly chiff'ed and chaff'ed from the tree tops, Blackcaps warbled their exuberant early spring melodies from within snow-white blossom, Kites and Buzzards bobbed and weaved in fulsome displays, Lapwings danced and threw their zig-zag shapes over the marshes whilst the larks ascended - and that was just around my local patch. Early spring is truly one of Mother Nature's aces in the pack. Glorious…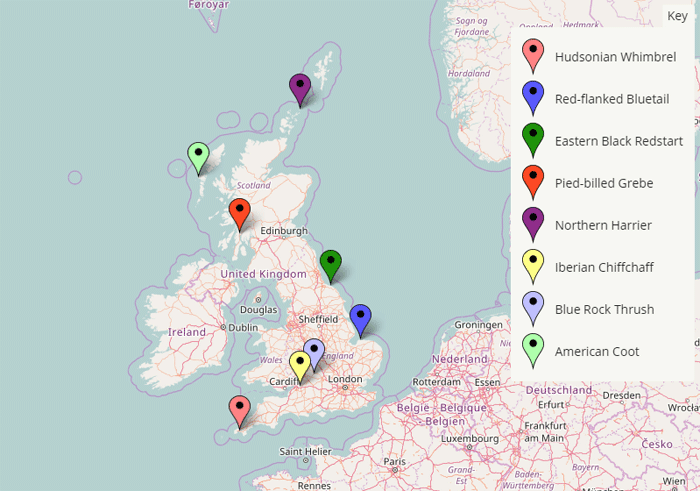 This was shaping up to be one of the shortest Headliner sections on record.
Winter's primary stalwart, the Blue Rock Thrush had appeared to have upped and gone and be on his way, while the popular Pacific Diver took off last week and it leaves, in a wobbly, webbed-footed wake, not a huge amount…
Red-flanked Bluetail
A glorious sunny late March Saturday afternoon seemed to be craving the appearance of a new rarity to enliven a marvellous day in the field.
The signs were there, as a few records from elsewhere on 25th were hinting that despite the colder wind of late, the higher temperatures of the day and the slackening in the breeze was encouraging both new arrivals and re-orientating winterers to move around the country and it all fitted together perfectly with the afternoon discovery of a first-winter Red-flanked Bluetail along the Meadow Trail at Titchwell RSPB (Norfolk).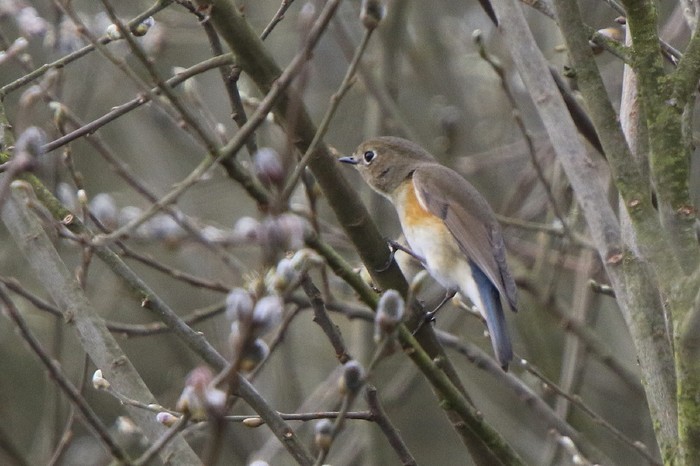 As discussed recently, exceptionally early spring records are becoming an increasingly frequent occurrence here now, reflecting the upward curve in autumn records across the past 10-15 years. This week's find becomes the 5th March record, all of them since 2007, and the Titchwell individual becomes, by a day, the earliest record to date.
The five records for the month are as follows…
Easington, East Yorkshire - March 31st 2007 (a one day bird, found dead later in the day)
Galley Head, County Cork - March 26th 2012 (another one day bird)
Uigen, Lewis, Outer Hebrides - March 31st-April 7th (a stay of eight days)
Fair Isle, Shetland - March 30th, again on April 6th 2014 (between two and seven days on the island)
Titchwell RSPB, Norfolk - March 25th-28th 2017 (a four day bird at the moment)
There are also four April records - more on those at the tail end of this week's review.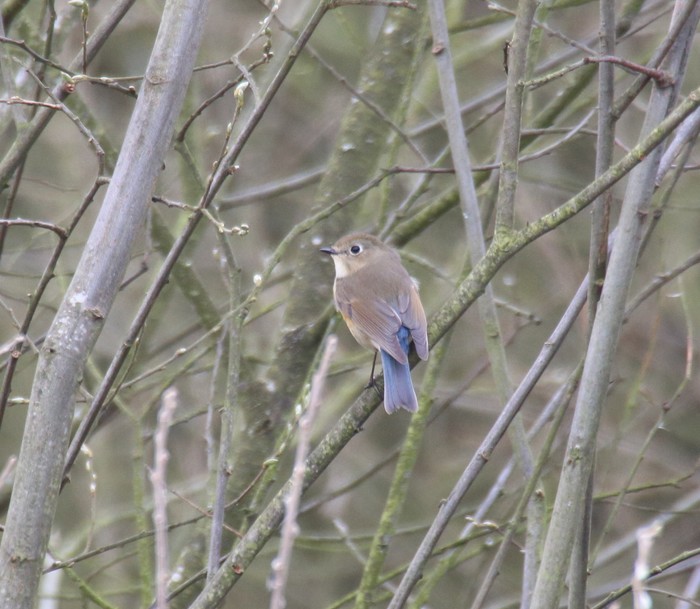 Norfolk has now amassed 26 records in all, and this week's newbie which showed well in the sallows until the end of the review period is the second spring record, the other being a one day bird at Horsey on April 14th 2013 (which followed an unsubstantiated report of a male in the dunes at Burnham Overy a week beforehand).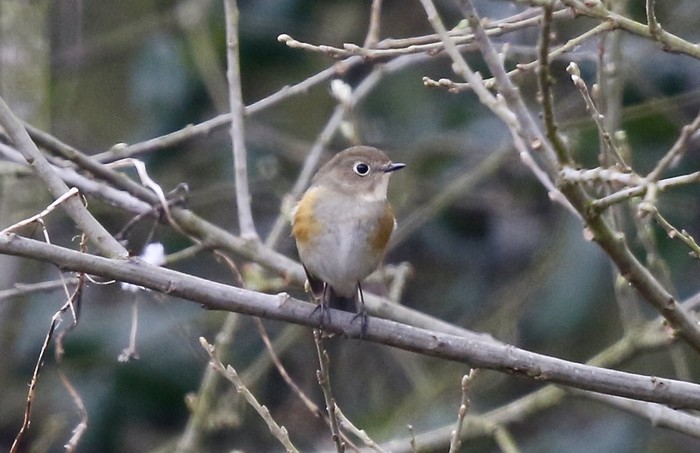 Iberian Chiffchaff
Despite being around four times rarer than Red-flanked Bluetail and being rather more tricky to identify, the somewhat dowdy (to some eyes) Iberian Chiffchaff continually fails to capture the imagination in the way our cobalt-tailed chum can and "guilty m'lud", it still can't make it to top ranking this week.
It is, of course, still a super find (one for the purists) and county birders in Gloucestershire would have been more than happy to venture to Kingsgate Park, Yate on 25th-26th to study the characteristic field marks and field notes of the county's 1st Iberian Chiffchaff.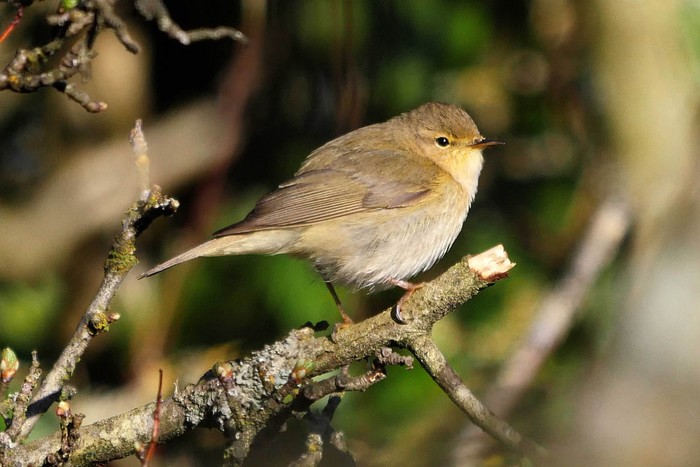 If accepted, this will become the first March record for the species (how long will it remain a species I wonder?); almost half of the accepted records have come in April (19:40) and the earliest of them was at Stiffkey Fen, Norfolk on April 3rd 2010 (it was an upcoming prediction for next week until I got to the computer on Saturday evening…).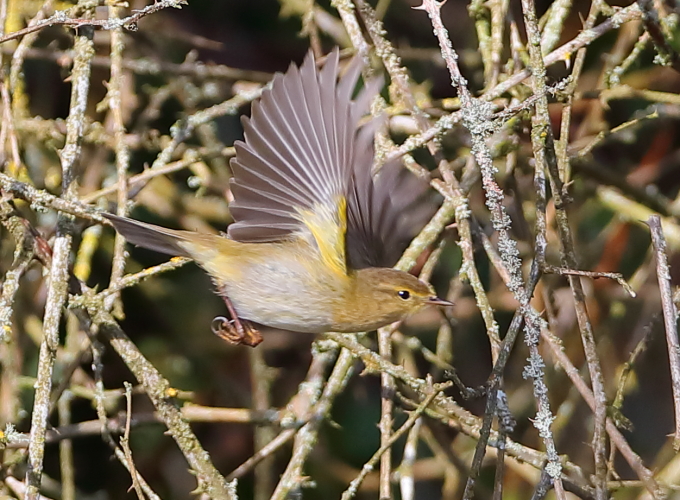 To date, all 40 accepted records have fallen between April and June, but this one, the breeding birds in Wales in 2015 and a first autumn record from 2016 are all breaking the mould.
Blue Rock Thrush
Well, well, well. We don't have to move too far for our next headline act.
Yep, looks who's back. After five days roaming away from his favoured site, the male Blue Rock Thrush was apparently back on station in the gardens of Stow-in-the-Wold on 26th.
Presumably he hadn't wandered too far but he obviously knows where he likes to be - the missing five days aren't quite on a par with Bob Dylan's missing couple of months in 1966 but some online scribes will doubtless spin the absence one way or t'other (aha, I see they already are…).
Is it good that he's appeared again? Should he have moved already or should he hang fire and make the final move next month? What if he doesn't go at all? All those shelved questions from last week have been quickly dusted down and its "here we go again". You'd think that there's still nothing untoward in what's going on and that all those listers who worry about these things will wipe a sweaty brow and reassure themselves that there's no hard and fast evidence for BBRC to do anything other than accept it.
Chill folks. Remember there's no bar lower than that for Hooded Merganser and this feels far better than some of those post Hebridean quackers.
Pied-billed Grebe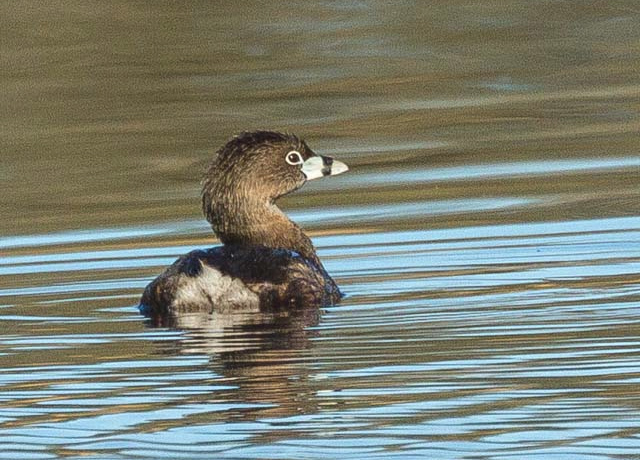 BOU/IRBC Status: A
RBA status: Rare vagrant
Accepted British records: 44
Accepted Irish records: 12
Most recent accepted record: 25 Apr to 4 May 2015 - Leighton Moss RSPB, Lancashire
Prime month(s) to occur: April
Having made a first appearance at Loch Feorlin, near Minard (Argyll & Bute) in the late spring of 2014, the adult male Pied-billed Grebe was back again for another spring showing as the new week drew to a close on 28th.
The 2014 sighting was the second relocation of the same bird - he had wintered on North Uist through until April 19th before appearing on April 20th at Loch Thom, in Clyde, spending 11 days on site before being found a month later in Argyll & Bute. The following year was seemingly blank but 2016 saw three days spent at the same site, again in May, this time from May 6th-9th.
Assuming the bird has actually left the area between May '16 and March '17, it will be interesting to see how long he sticks it out for this time around.
Eastern Black Redstart
Not doubting the most heroic avian species this week ~ the 1st winter male Eastern Black Redstart has duly been awarded the RBA Long Service Medal for Struggling Review Writers, courtesy of his continuing presence at Skinningrove (Cleveland) throughout the week.
At one point on Friday morning, it felt as though there'd be nothing whatsoever to scribe about within the higher echelons of the review this week, what with the departures mentioned above and before the R-f Bappeared, but there was a mini whoop of happiness when news of this lingering star popped up on the pager during a sunny pre-weekend lunchtime.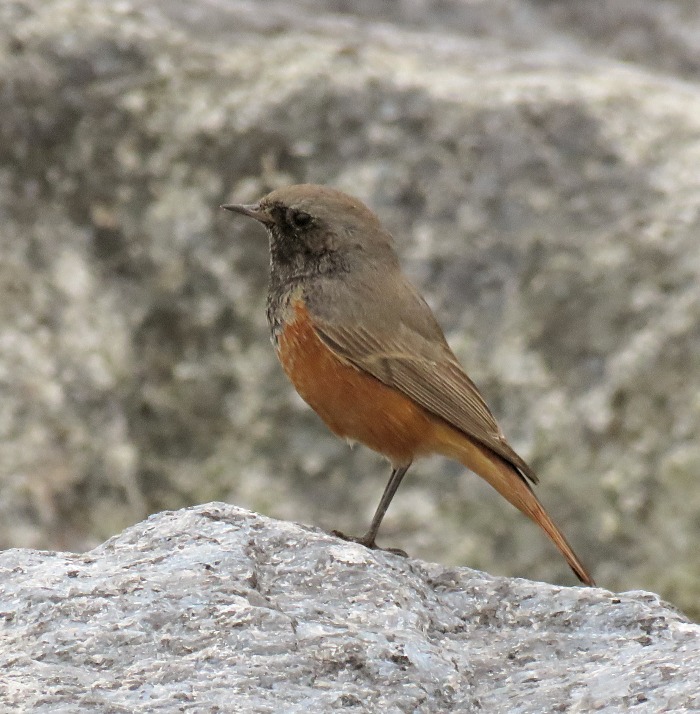 As usual, it can be a dangerous game when you try and get ahead of the game as just when you think its safe to move on, there's that nervy double of pager bleep and mobile buzz to daze and confuse with news of the newest Mega, but this week, it was largely church mouse quiet (where's that American Royal Tern when you need it?)
American Coot
Regular readers will know that there's a general lack of enthusiasm for anything noted as being" reported" (so often a tell-tale sign of duffness in pager speak) but we'll ignore that naughty little word as needs must, so its away to North Uist and the Balranald RSPB reserve where the 23rd saw news (reported news) of the first-winter American Coot still being present on Loch nam Feithean.
There's no reason why the long-haul Coot shouldn't still be around, it has already been discussed here in the last month that it is odds on to shift in a week or two (as is almost the norm for previous vagrants of the same species).
Hudsonian Whimbrel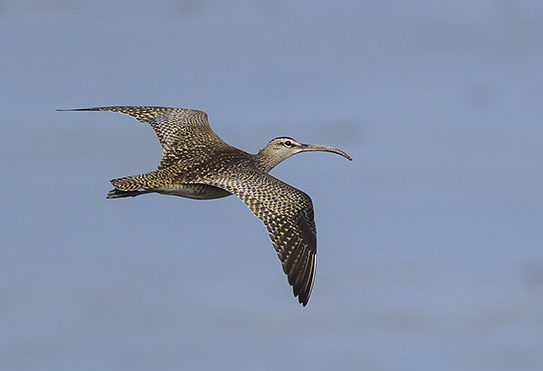 BOU/IRBC Status: A
RBA status: Rare vagrant
Accepted British records: 10
Accepted Irish records: 3
Most recent accepted record: 30 Oct 2015 to 2016 - Marazion to Perranuthnoe, Cornwall
Prime month(s) to occur: September
When times get tough you can sometimes seek out that knowing ex- for some comfort and gentle soothing and this week, a soon-to-be-ex (as in ex-species) has reappeared to bring its own brand of feathered comfort by simply allowing me to have some more rare news to scribble about.
Almost a whole month has passed since the last report (with some negative news in between) but the Hudsonian Whimbrel was back in the favoured haunt of Boat Cove NT (Cornwall) on the afternoon of 24th and it stayed through to 28th.
The last known sighting had been February 28th so maybe the bird had wanted to have "a moment" after the impending demotion by the I.O.C. (still a curious one that, flying in the face of most other authorities and scientific work too). It will be sad to lose this one from our lists but that's the way it goes - there are more gains than losses coming, so it isn't all bad.
So, here was one ex- that was reliable and dependable and helped out when times were tough. The embrace when full species status is regained will be one to savour.
Northern Harrier
Wrapping things up, the male Northern Harrier who made another pass over North Ronaldsay on 27th - his only appearance this week.
Bang on cue, the Banana Bills are back!
Yes, the now expected late winter/early spring pre-migration gathering of White-billed Divers along the border of Aberdeenshire and Moray is happening just when it was expected to, and this week saw local birders log up to eight birds during a busy 23rd; singles were seen off Portsoy (Aberdeenshire) and Cullen (Moray) with a super six seen from Findalter Castle (three miles WNW of Portsoy) with at least four there the next day too. Not too far along the Moray coast, a single bird was seen in Burghead Bay on 27th with the same date seeing another noted from Eoligarry, Barra (Outer Hebrides).
Another White-billed Diver seen in what may turn in to another regular stop-off site was the single bird noted off Donegal's Tory Island on 24th. Last year up to three were noted in early May off the island while all of the county's three other records have all appeared since 2000, two of them in spring.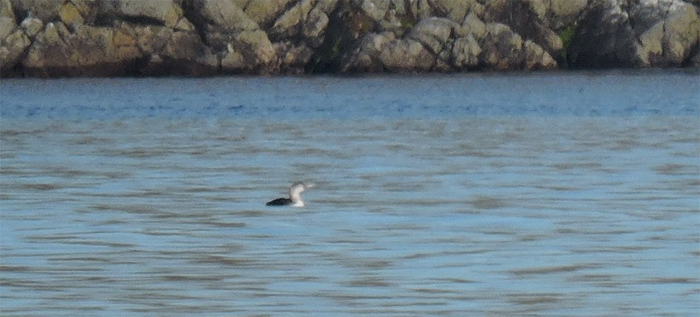 Also seen in the Tory Island waters on 24th was a late Little Auk and that appeared to be it for seabirds this week, aside from another regular White-billed Diver, the South Ronaldsay bird still in Orcadian waters to 26th and an offshore Great Shearwater logged some 125 nautical miles to the WNW of Mayo's Anngah Head, from the R.V. Celtic Explorer also on 26th.
With the early days of spring really starting to have an influence, there wasn't too much surprise in seeing the numbers of wintering Cattle Egrets fall off pretty sharply through the last seven days, down from just over 200 to 149, spread across 17 counties in Britain and Ireland.
The southwest was again dominant with 104 birds recorded, 88 of them split between Cornwall and Devon. The former county hosted 37 in all (down big style on last week) with the largest gathering being 20 still along the Helford River, at Frenchman's Creek where 20 birds were noted on the evening of 20th. Half a dozen remained around the Gannel Estuary, near Newquay to 26th at least, just five were at St. Clement, three or four were around St. Erth and the Hayle Estuary while new were two birds on the Lizard on 22nd (maybe the same two then appeared near Helston on 26th).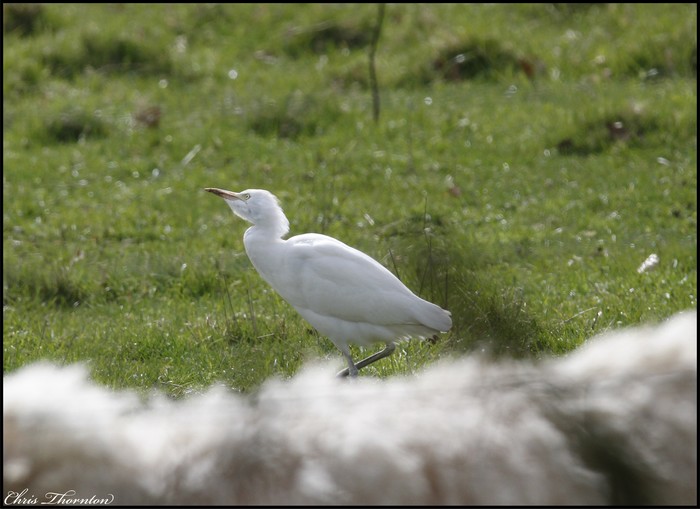 Devon's numbers were down markedly on last week but there were still 53 recorded around the county, with flocks of 18 at East Prawle on 28th and 14 at Topsham on 25th being particularly impressive (11+ were still in place on 28th). Six or more remained near Totnes at the start of the week with five still in north Devon, at Fremington to 23rd and in the far east of the county, six were still at Seaton to 26th. A couple of singles and a two were also noted during the week.
Over in Dorset there was a bit of a clear out, seven noted including six still at Litton Cheney on 28th, while two threes were seen in Somerset, on West Sedgemoor RSPB on 22nd and Chew Valley Lake on 23rd while one lingered at Dunster to 28th.
A further 54 Cattle Egrets were logged around the rest of Britain and Ireland; up to 11 were in the Midlands, including up to 10 in Gloucestershire, five still at Saul with perhaps four others at Frampton and one remained at Holme Pierrepont (Nottinghamshire) to 22nd. At least nine were still in the northwest, with three and then six at Marshside RSPB on 23rd and 25th, the sextet were presumably the same six that remained around Southport to midweek, seen at the brilliantly named Dobbie's Garden Centre - cue endless smirks as Peep Show comes to mind, whatever next, Super Hans Car Dealers, Johnson's Deli and Coffee House - with a further Lancashire single at Leighton Moss RSPB and one or two singles in Cheshire.
Four southeastern birds included a new arrival or two in East Sussex, at Pevensey Levels on 26th and Littlington on 27th while one of East Anglia's two birds moved from Weybourne to Felbrigg (Norfolk) on 22nd. The northeast and Wales held one each while 12 of Ireland's 15 were at Tacumshin (Co. Wexford) on 25th.
New this week were the group of three Glossy Ibis that headed over Rainham Marshes RSPB (London) on 25th, a trio that boosted the weekly total to eight in all. The others were all regulars from the past few weeks, still at Thorncross (Isle of Wight) and Copt Hall (Essex) to 24th, at Ely (Cambridgeshire), Cossington LWRT (Leicestershire) and Ham Wall RSPB (Somerset) to 26th (still two birds there) and Cossington LWRT (Leicestershire) to 27th.
Less than 20 Spoonbills were noted, a weekly high of four was at Wrafton (Devon) on 26th while Great White Egrets remained plentiful and included three at Welney WWT (Norfolk) on 23rd, another three at Burton Marsh Wetlands RSPB (Cheshire) on 25th with four at Leighton Moss RSPB (Lancashire) the same day. Another quartet were on the Somerset Levels on 26th.
The Broadland Common Cranes had their first multiple outing along the Norfolk coast on 22nd; a fine flock of seven picked up initially around Brancaster and Titchwell RSPB as they headed west towards the Wash, they disappeared for 40 minutes or so before appearing back over Titchwell. Just after midday, they were at Holme and 40 minutes later, well-trained Grus-detecting eyes caught sight of them as they entered the Cley square, beating their way against the strong SW wind between Morston and Blakeney.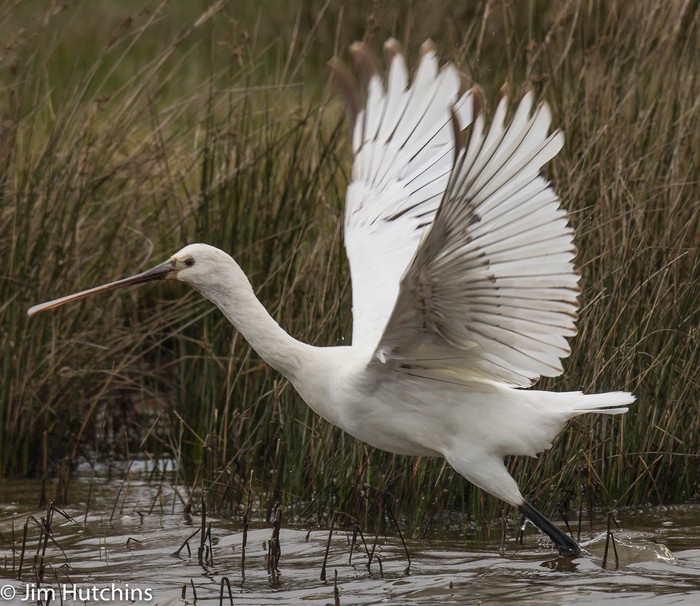 For the next half an hour they made steady progress behind Blakeney, starting to head south before taking a line along the Glaven Valley and then turning east towards Salthouse and Kelling. An hour and a half after being seen heading SSE near Weybourne they were back near favoured territory passing over near North Walsham. A nice round trip of some 80 miles or so.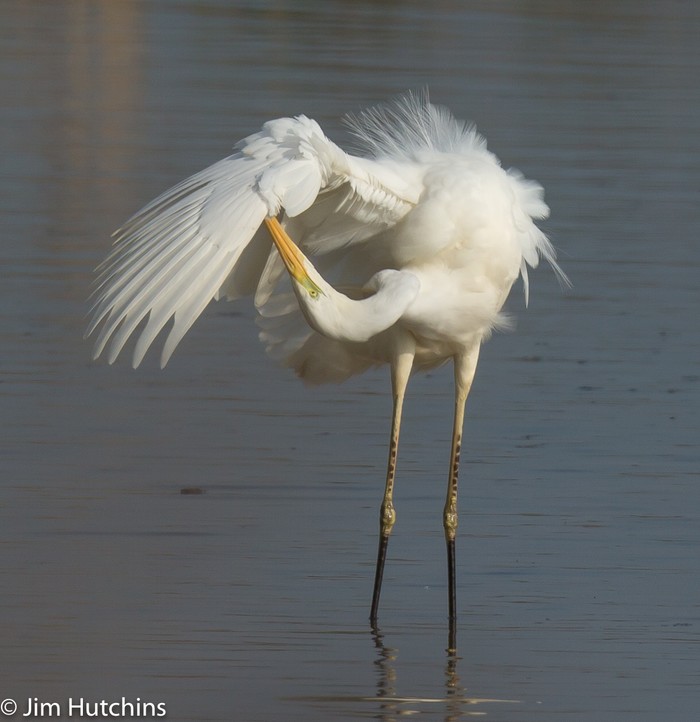 Three more Common Cranes headed west over Norwich city centre on 23rd with two north over Breydon Water and a single at Haddiscoe on the same day.
Elsewhere, at Eldernell, the Nene Washes flock stayed on the 14 mark until 25th when they'd gone up three to 17, which may just be a coincidence of course, but a look at the map shows Eldernell to be almost directly due west of Norwich. Two more Cambs., birds were at Teversham and Oxlode on 25th-26th.
A further roaming three were tracked across various points of Wales during the weekend - the unringed trio (so therefore not from the WWT reintroduction scheme at Slimbridge) were first seen heading over Skokholm Island (Pembrokeshire) during the morning of 25th before heading over New Quay (Ceredigion) later that afternoon and then flew east over Penysarn (Anglesey) on 26th. It seems reasonable to link them with the three that hit Saltholme Pools RSPB (Cleveland) on 27th and then Potter Brompton (North Yorkshire) on 28th.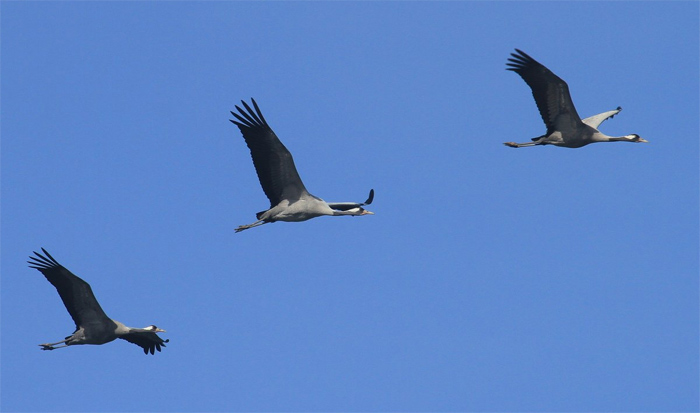 Elsewhere, a single was seen near Fawley (Hampshire) on 24th, when two were also noted at Fairburn Ings RSPB (West Yorkshire). What was presumably the Hants., singleton was seen over Broadwater (West Sussex) and Thursley Common (Surrey) on 25th.
Finally, an East Anglian White Stork or two. These are such a pain in the rear…and make also records committee's life a misery, be it Norfolk or Suffolk.
This week's rogues were seen at Badington (Suffolk), not too far from Framlingham and Saxlingham and, on paper, a decent way from the Acle free-flyers. However, a quick look at the map actually shows that is not that far at all between the two areas, certainly no distance for a slightly flappy, still-remembers-what-migration-is duff Stork. Game over presumably.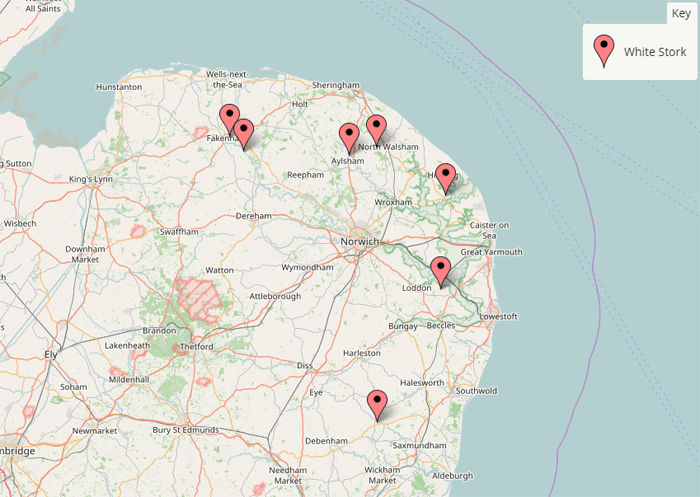 One of those Acle/Thrigby birds is presumed to have been one of two seen in Norfolk on 25th; starting out at Potter Heigham Marshes, it was then seen over Stalham, Femingham and near Aylsham through until just after midday. Not far away, at the same time (give or take) as the sightings of the White Stork heading from east to northwest, another was noted over Fakenham and Guist, which was then seen near Great Ryburgh the next day. One of these two or three was then seen at Thurlton, on the edge of the Broads, on 28th.
Origins for all are unknown and presumed to be suspicious but unfortunately, we'll never know if a good one has slipped through the net due to the unholy mire of duffness here in Norfolk.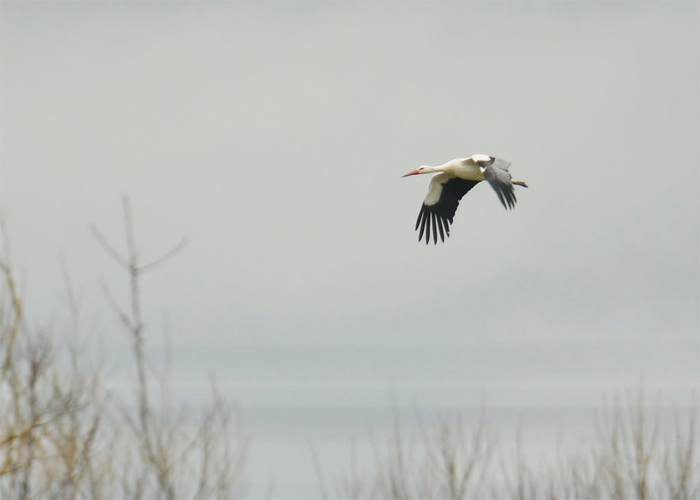 The blue Lesser Snow Goose that shifted to Cheshire last week remained around Sandbach Flashes to 23rd, departure must be imminent, if it hasn't left already. Moving northeast along the edge of the Moray Firth were last week's two blue Snows seen on 27th in Findhorn Bay.
Mayo delivered two species of white-cheeked goose on 28th, both out on the Mullet. A Richardson's Cackling Geese was seen on Annagh Marsh and a Todd's Canada Goose was at Termonncarragh Lough.
Both the snaky-necked Todd's Canada Geese recorded of late remained for a few more days as well; still at Wexford Wildfowl Reserve to 23rd and at Crossens Outer Marsh (Lancashire) on 24th-25th.
Black Brants were in increasingly short supply, only two seen through the week, both on the east coast. One remained at Frampton Marsh RSPB (Lincolnshire) to 23rd and another lingered at Kilnsea Wetlands and Spurn (East Yorkshire) throughout the week.
An interesting report came from Nottinghamshire on 26th - two female Blue-winged Teals were claimed on the lake at Clumber Park; if deemed legitimate at rarity committee level, they would become the 4th county record, the first was in January 1979, the next came in April 2000 with the most recent record being a one-day drake at Idle Valley NR in July 2014.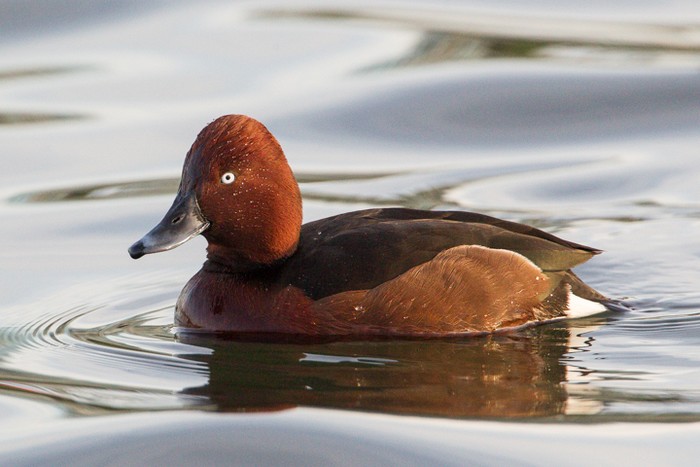 A new female Lesser Scaup was an excellent find at Crosby Marine Park (Lancashire) on the evening of 22nd. Seen to depart towards Seaforth Docks, the bird hasn't been noted again and will be the eighth county record, four accepted birds recorded from 2011 to 2014. In Cornwall, the elderly drake was at Dozmary Pool until 24th but had checked out of the area next day.
Moving a couple more miles this week was the drake Ferruginous Duck that spent 23rd at Gosforth Park NR before shifting a little to Killingworth for the 24th.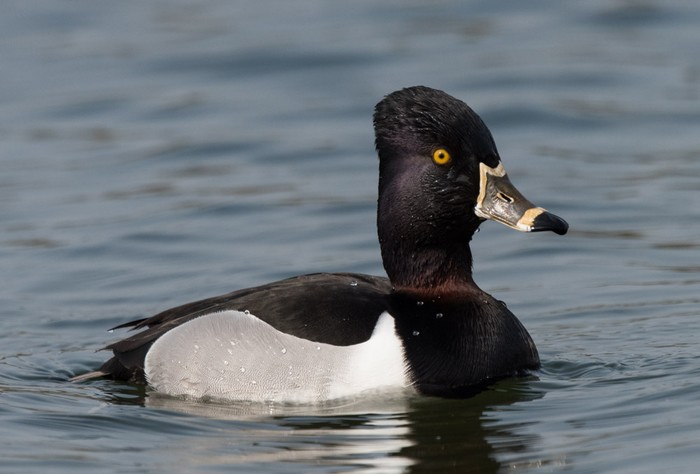 Origins of the newest rare Aythya for Northumberland are less questionable, a drake Ring-necked Duck arriving at Hauxley NR on 24th before flip-flopping to East Chevington and back during the weekend before settling at Hauxley as the week ended. A rare bird in this part of the world, the last report was in October 2010. Also fresh to the review this week, the drake that appeared at Cosmeston Lakes CP (Glamorgan) on 27th.
The northeast and Welsh representatives were the only newbies this week, four others were recorded, all of them regulars; appearing again in Scotland was the drake near Pitlochry (Perth & Kinross) on 25th and 28th; an Irish drake was still at Lough Skean (Co. Sligo to 25th) and a female remained at Tuosist (Co. Kerry) all week. Another female lingered at Paxton Pits NR (Cambridgeshire) to the 27th, when the Dungeness drake was also logged as "still present".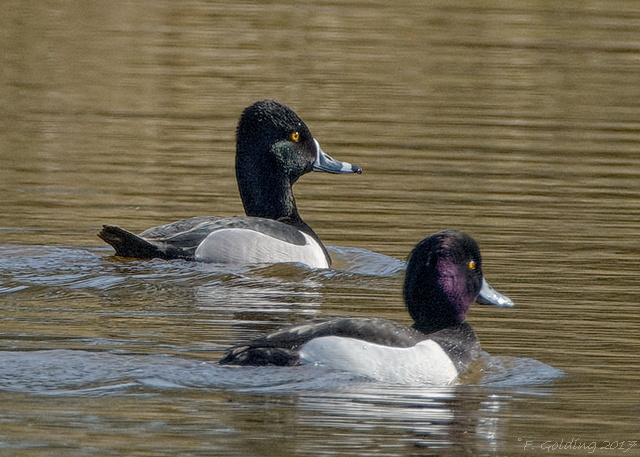 Another species with falling numbers is American Wigeon just three of which were seen through the past seven days. Two drakes stayed put at Hunterston (Ayrshire) to 23rd and Dundrum (Co. Down) to 28th while the mobile 1w female in Worcestershire was at Holt until 24th before moving back to Grimley the same day but she was back to Holt by 27th.
Four new this week drake Green-winged Teals were found this week; on Papa Westray (Orkney) on 25th, Paddy's Dub, Lough Beg (Co. Derry) on 26th in Ballysadare Bay (Co. Sligo) and Pool of Virkie, Mainland (Shetland) both on 28th, they were four of eight noted. A drake reappeared at Saltholme Pools RSPB (Cleveland) on 24th while others remained at Caerlaverock WWT (Dumfries & Galloway), Ashleworth Ham NR (Gloucestershire) and Lytchett Bay (Dorset) to 27th.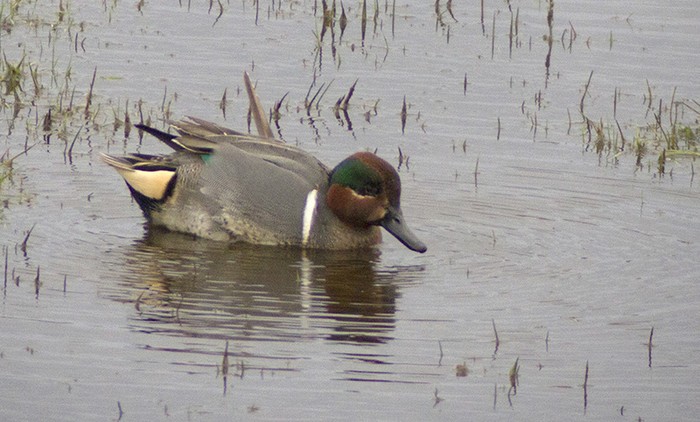 There weren't too many Surf Scoters up for grabs either, two drakes off Salterstown (Co. Louth) on 25th, two birds (including a drake) were in Claggan Bay (Co. Mayo) on 28th with a drake at Uyeasound, Unst (Shetland) on 27th the only three records. There were two King Eiders up for grabs; the queen was at Castlegregory (Co. Kerry) to 27th and, back again in Aberdeenshire, was the fine drake King Eider who returned to the Ythan Estuary on 27th.
While we await the first Kentish Plover of the year and the soon-to-be-trippin' Dotterels there are still a handful of shorebirds to think about. Shetland's Killdeer remains the best of the small, select bunch, still at Sandwick, south Mainland until 28th.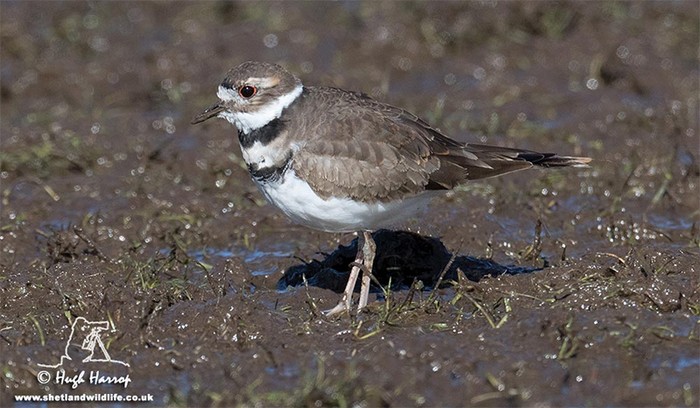 In southeast Ireland, the first-winter Long-billed Dowitcher lingered at Tacumshin (Co. Wexford) until 26th while Dorset's wintering Lesser Yellowlegs finally got a mention on 27th.
After being an exceptional fine find for all Clyde birders, what is presumably the same adult Bonaparte's Gull became an exceptional fine find for all Ayrshire county listers to enjoy this week when it was showed at Noddsdale Burn, Largs on 23rd-24th.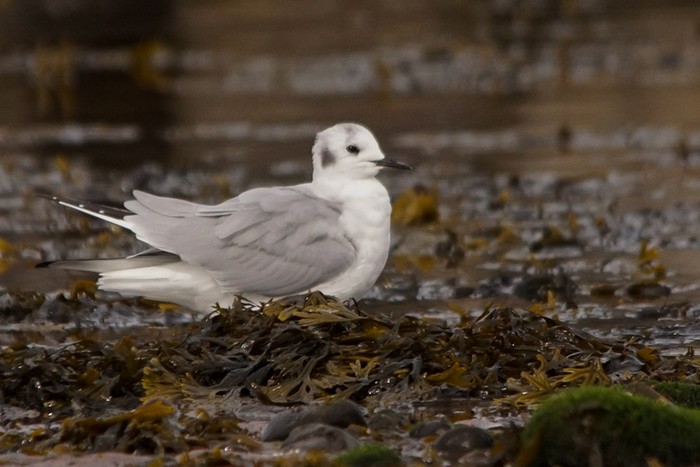 When in Clyde it was the second county record and the first in the modern era (the only other record was in April 1850) and now it has moved to Ayrshire, it has become a county first.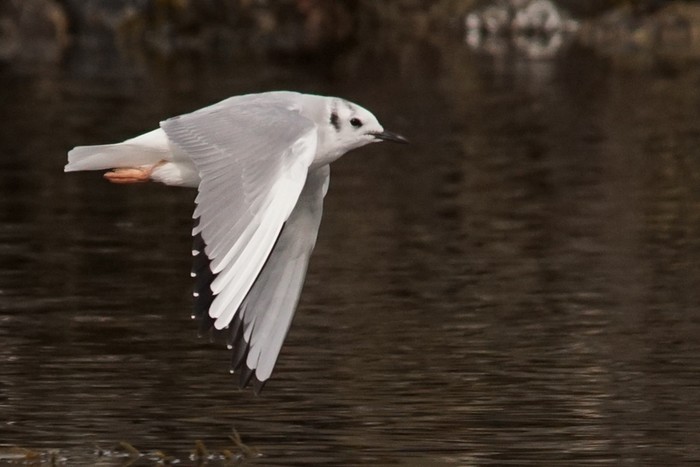 Cornwall's first-winter Bonaparte's Gull was still around the boating lake in Helston until 24th with perhaps the same bird then being seen briefly on consecutive days on the Hayle Estuary on 26th-27th. Another new southwestern 1w was found at Bowling Green Marsh RSPB (Devon), also noted on 26th-28th ~ the 17th county record and the first new arrival 2011. The fourth record this week (a good showing) was the third first-winter of the week, still at Kenmare (Co. Kerry) to 28th.
Some 11 Ring-billed Gulls made the news this week, all bar two in Ireland; two adults and a first-winter were still at Tralee Bay Wetlands (Co. Kerry) on 22nd (with a lone 1w on site to 26th at least) with new first-winters at Ballydehob (Co. Cork) on 23rd and Falcarragh , near Dunfanahgy (Co. Donegal) on 25th. Ireland's final birds were regular adults at Cuskinny Marsh NR (Co. Cork) to 27th and three at Sandymount (Co. Dublin) on 28th. The only other Ringos this week were seen at Newport (Pembroekshire) on 23rd and Marazion on 28th.
Continuing the theme of increasingly diminishing returns, there's just two definite Kumlien's Gull to report, an adult seen at Reenard Pier (Co. Kerry) on 24th and a near-adult was on the Bann Estuary, at Barmouth (Co. Derry) on 26th. The possible juvenile remained at Bray (Co. Wicklow) to 23rd when another possible (also a juvenile) was at Cahermore (Co. Cork).
Iceland Gulls are down again, 126 last week, 115 from 38 British and Irish counties across the past seven days. As has been the way for much of the late winter period, Scotland performed best again, 43 birds in nine counties/regions with at least 23 on the Outer Hebrides, including nine at Port Nis, Lewis on 25th with the same island seeing six at Stornoway on 24th.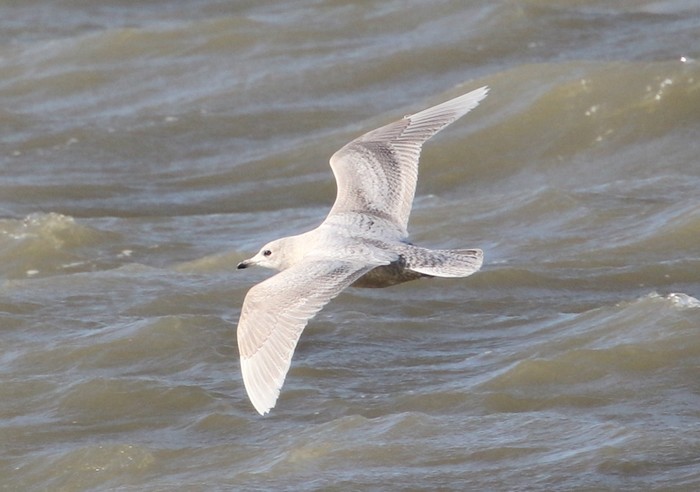 England was next, 38 birds in 17 counties, with 13+ in the southwest, at least 10 of them in Cornwall leading the way with the northeast next with their dozen which included three in the Nosterfield roost on 25th. Five were in the southeast, fours were noted in East Anglia and the northwest with two for the Midlands. Wales managed three singles in three counties. Ireland wasn't far behind, 35+ present, including five on Annagh Beach (Co. Mayo) on 28th and four in Sligo Town on 23rd.
Down too (as expected) were Glaucous Gulls, 64 seen this week in 24 counties, with England ahead this time, birders around the country registering 28 birds (in 13 counties) with 13 of those individuals appearing in the northeast, five of them in East Yorkshire. Five appeared in the southeast, with up to four in London, there were also 4's for the northwest and East Anglia, with two in the southwest (and the Midlands scored nil points).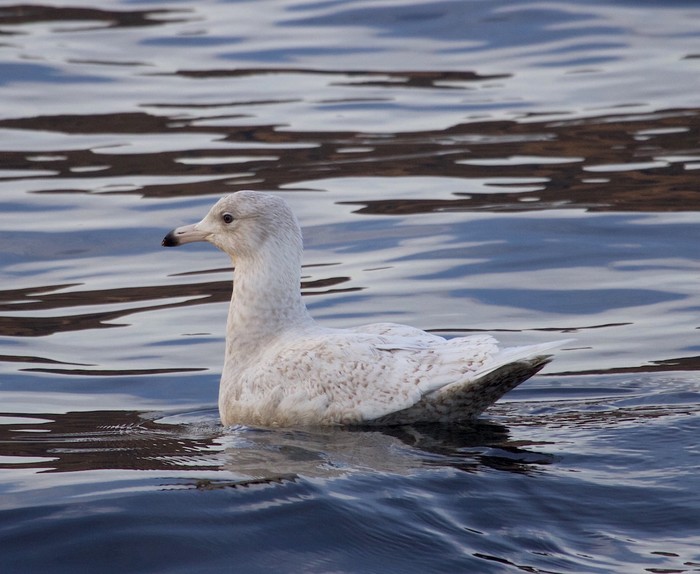 Twelve of Scotland's 21 were on the Hebrides, while an impressive eight (from 13 for Ireland) were seen at Bangor (Co. Down) on 25th. Wales managed two through the week.
Making another appearance for the month is the Galway Forster's Tern, seen at Furbogh, near Spiddal, in the mighty Galway Bay on 25th-26th.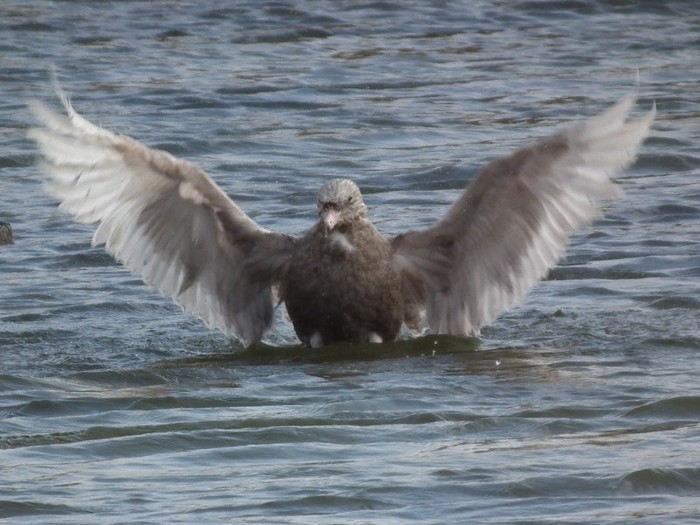 Time to claim a solid points victory now - after Tony Marr's super patch-find of a fine white Greenland Gyrfalcon on Lewis did its best to scupper my predictions for this week, the appearance on 22nd of a Gyr some 80 miles or so to the southwest, at Udal, at the northern tip of North Uist meant all was well and the rare-o-meter was firing on all cylinders again.
There is a chance that it could be the same bird of course, coasting down the island chain, the distance covered over the space of four or five days would be nothing to this supreme flyer but, for now, it looks destined to be logged as a different individual. As mentioned at the end of last week, there have been 20 records across this seven day period in the past and a fair few of those were on the Hebrides (some 75 or so up until the end of 2015).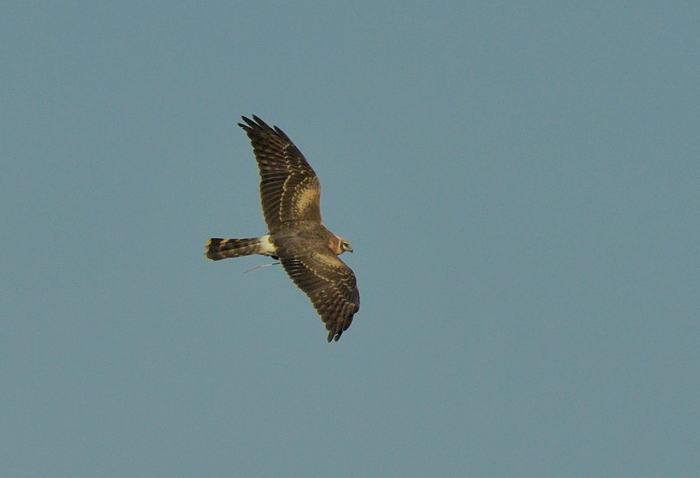 In Norfolk, the juvenile female Pallid Harrier continued to play hide & seek around the back lanes of New Holkham and the Creakes, seen roughly once a day between 22nd-24th. Come the sunny 25th, she had her wanderin' wings on, starting off near New Holkham before drifting over to North Creake mid-morning. By the afternoon, her travels had taken her well to the west, appearing at Great Massingham before popping up again at New Holkham in the late afternoon. Sometime around 5.45 the bird disappeared and 15 minutes later, it was over the saltings at Burnham Norton, not far from Scolt Head Island (it transpires, she'd been there the previous evening (24th) as well).
It was back to normal on 26th, the bird seen at New Holkham with another evening rendezvous at Burnham Norton and it was still in the area on 27th.
The last BoP to mention this week is the report of a White-tailed Eagle that was seen at Nare Head, south of Veryan (Cornwall) on 27th; a exceptionally rare bird in the far southwest, the most report of this giant species in the county was May 24th 2004, when one was seen at Navax Point, northwest of Hayle.
The weekend yielded two new nice-and-early Alpine Swifts; the first was seen at Sigginstown Island, Tacumshin (Co. Wexford) on 25th and the 26th saw one zoom across St. Mary's (Scilly).
Another nice new spring arrival, a Hoopoe was seen in west Wales this week, found near the church at Manordeifi (Pembrokeshire) on 27th.
East Anglia has a solid track record for Black-bellied Dipper occurrences and this week saw a new arrival located in the heart of the Brecks, on the Norfolk/Suffolk border at Santon Downham on the morning of 23rd.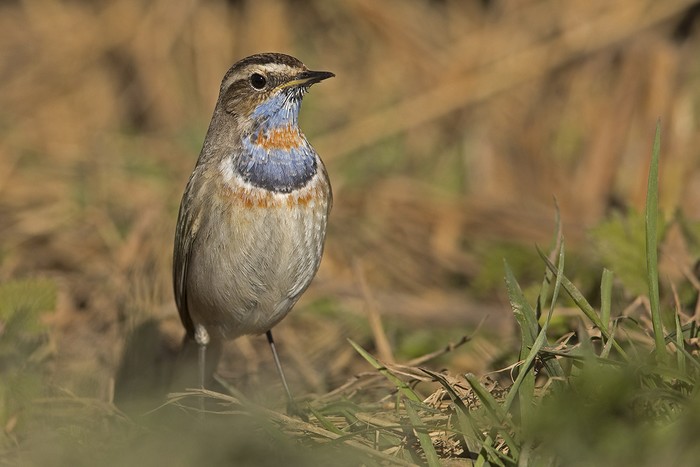 Last autumn, Suffolk birders enjoyed a showy bird at Needham Market for over a month, from mid-October to late November, while Norfolk's most recent records came from the birds seen around Thetford between November 2012 and March 2013 (the lone bird was joined by a second on Thursday March 21st - exactly four years to the day splitting that bird's arrival and this week's birds' discovery).
Review regulars of late have been the Portland Hume's Yellow-browed Warbler and Lincolnshire's first-winter male Bluethroat and they stay in the "likes" list this week too - the Dorset warbler on Portland and the Willow Tree Fen LWT Luscinia both on site until 28th, the latter becoming all the more handsome as each day passed by.
Eight of the 10 Yellow-browed Warblers recorded this week were seen in southwest England; five remained in Cornwall, at Swanpool, near Falmouth, at Penryn, Tehidy, near Camborne, St Erth and Hayle at various points over the last few days; Devon's three singles were all seen on 25th, remaining at Dartmouth, Starverton and Exmouth while another lingering bird was near Kinver (Staffordshire) to 26th. New was a bird seen at Rawcliffe Lake, near York (North Yorkshire) on 22nd.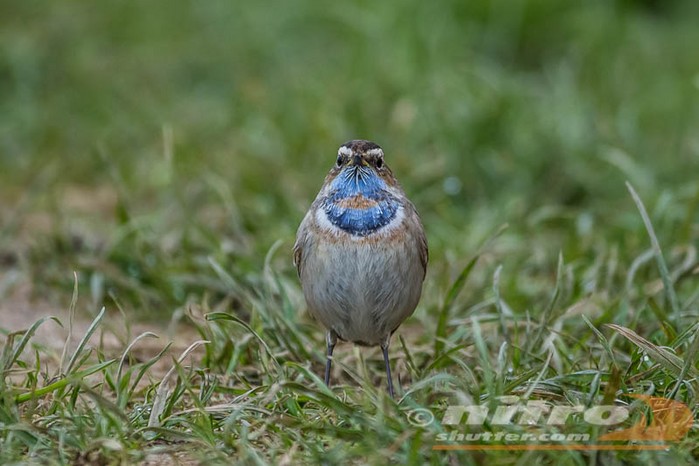 Also in Cornwall this week, a new Dusky Warbler, presumably in transit through, rather than over-wintering, at Nanjizal valley, seen there on 27th.
New too was the exiting Little Bunting was found in private gardens on Flamborough Head (East Yorkshire) on 25th while the wintering bird at Great Barford GPs (Bedfordshire) was seen until at least 23rd. Down in Dorset, the two wintering Richard's Pipits were mentioned again at Abbotsbury on 27th, the first report for at least a fortnight.
Great Grey Shrikes weren't in quite such good numbers as previous weeks, they too departing our shores it seems, but there were still over 30 birds reported from 30 English, Welsh and Scottish counties.
Top of the pile this week was the Midlands; new Great Greys included two in Derbyshire, at Calver on 23rd and Leash Fen on 28th and Slimbridge WWT (Gloucestershire) on 25th. Lingering individuals in Gloucestershire were still at Hawling to 22nd, the Forest of Dean to 26th and Cleeve Hill to 28th with others in the region still near Owler Bar (Derbyshire) and on Swallow Moss (Staffordshire) both to 27th.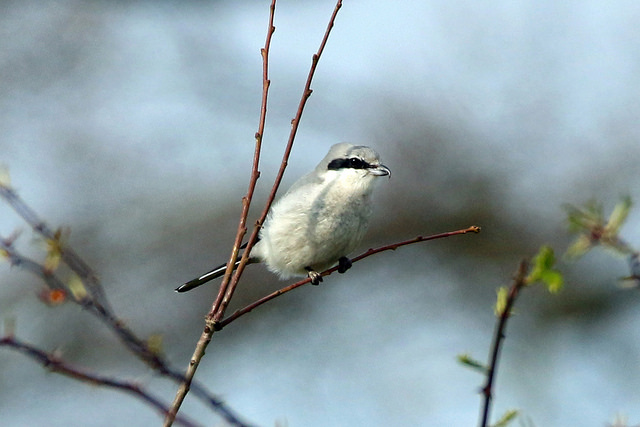 In southwest of England, seven birds were noted including three still in Dorset, at Hartland Moor to 25th and also Morden Bog/the Wareham Forest and at Verwood to 27th. Two remained in Somerset, in the Quantock Hills to 25th and at Aisholt to 28th and while new was one on a favourite old Devonian haunt, Woodbury Common, on 25th and 28th. Also in Devon and another old, old stomping ground for the species was the bird that remained at Warren House Inn to 28th.
Next, with six each were southeast England and Wales; the SE's half dozen were noted at Frensham Common to 27th and Thursley Common NNR (Surrey) to 28th, with other lone birds remaining at Little Staughton (Bedfordshire/Cambridgeshire border), Wishmoor Bottom (Berkshire) and in the Ashdown Forest (East Sussex) to 25th and one was in Hampshire's New Forest to 26th.
Wales' sextet saw Powys pick up new arrivals at Lake Vyrnwy on 23rd and Bwlch-y-sarnau on 25th. Also new were singles in Gwynedd, seen near Bala, at Trum-y-Sarn on 24th and Pembrokeshire, at Plumstone Mountain on 26th, while at least one (perhaps two) were in the Clocaenog Forest (Denbighshire) between 23rd-26th. In Gwent, one was still at Abersychan to 28th.
In East Anglia, Norfolk singles were still at Cockley Cley and Sparham to 28th with the Suffolk songster around the Upper Hollesley Common area throughout the week. Also in the region was the infrequently mentioned bird that remained at Wicken Fen NT (Cambridgeshire) also to 27th. Also on three birds was the northeast of England, loners lingering in North Yorkshire in the Langdale Forest and near York and also at Prestwick Carr (Northumberland) throughout the week.
Last but not least, sole offerings from the northwest and also Scotland; singles noted again at Soddy Gap (Cumbria) to 28th and near Drumoak (Aberdeenshire) on 26th.
Dropping a touch but still holding pretty strong despite April looming in the near-distance are Waxwings, close on 3000 were noted last week, while the past seven days have seen some 2786 logged countrywide. Numbers in Scotland rose as birds heading north and back towards Scandinavia, but it was the Midlands that still held the most birds through the week.
SW (4) - 4 still at Corfe Mullen, Dorset to 26th
Wales (71) - 41 still in Newbridge-on-Wye, Powys at the start of the week
Ireland (c.96) - 50 at Newtonabbey, County Antrim on 24th
NW (170+) - 50 in Northwick, Cheshire on 23rd
EA (176+) - 75 at Melton, Suffolk on 22nd
SE (287) - 83 still in East Malling, Kent to 23rd
NE (430+) - 65 Swanpool, Lincolnshire on 23rd
Scotland (640+) - 60 at Abernethy, Perth & Kinross on 23rd
Midlands (912+) - 85+ in Mansfield, Nottinghamshire on 28th
After teasing with a northward flight off the north end of Guernsey last week, the American Royal Tern loomed large off the ENE side of the island again this week, seen at Belle Grève Bay on 25th (still three weeks to go before the über-prediction goes out the window).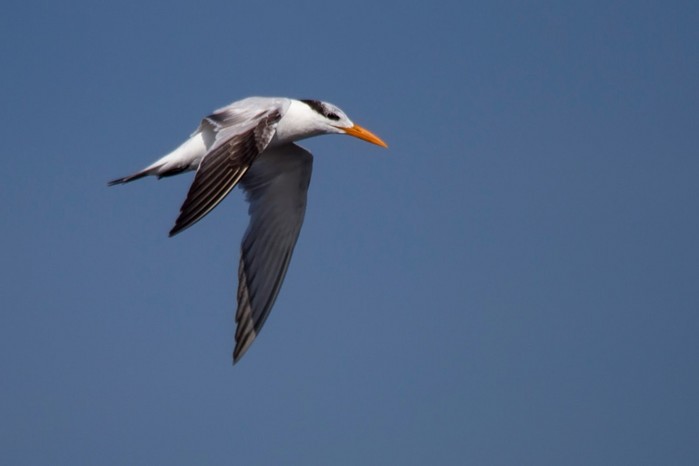 After the mini-mayhem caused by the arrival of the Netherlands' second Moustached Warbler (only just a year after the first of course) thing seemed to revert back to type this week in a quiet week across the Western Palearctic. Birders travelling to the warbler site, at De Biesbosch, Noord-Brabant were still enjoying views of the Blyth's Pipit to 25th at least, but there's not been too much mention made of the far rarer draw this week. Dutch birders could also still enjoy their young drake Baikal Teal, still present at Noordwijk, Zuid-Holland to 23rd.
Spanish news centred on two birds for 24th; a Hudsonian Whimbrel was at Santona, Cantabria and, better still, an American Robin was found at Las Llanas de Codes, Navarra, Aguilar de Codes. Also still in the country this week, the adult Thayer's Gull seen at San Cibrao, Galicia on 27th while big news in Italy centred on the country's fourth-ever White-crowned Black Wheatear, seen at Tuscania, Veebania on 26th.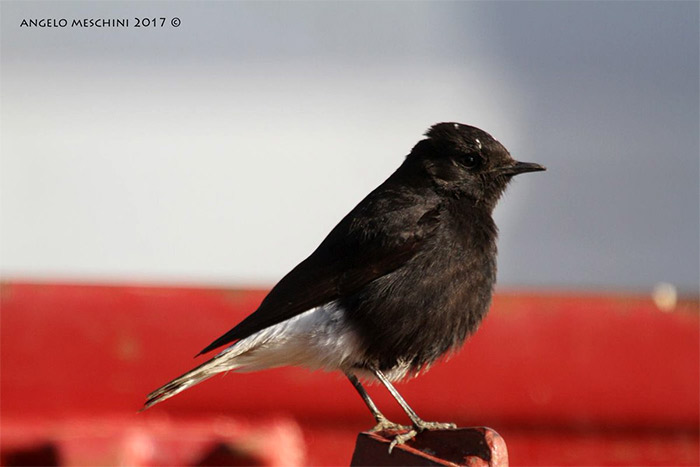 Scandinavian treats included a unique WP occurrence with two drake Black Scoters seen on 28th at Hirtshals, Nordjylland and in Norway, the Siberian Accentor remained at Slettmoen Øst, Løten, Hedmark, also to 28th.
Elsewhere, the popular White-throated Bee-eater continued to draw WP listers to the hotel gardens of Dakhla, in the Western Sahara to 24th with the same date seeing a male Pine Bunting appear at Lividi tou Passia, Troodos, the 9th record for the country.
The coming week…
We've lost those raw high pressure northeasterlies and there's some warmth and some southerly airflow on the way as an Atlantic front jogs in to change things a little - winds swing to the southwest and south as temperatures are set to exceed the mid-teens again, the start of the new week (and beyond) look promising - certainly in terms of the first significant push of common migrants is concerned.
The sometimes sluggish transition from the embers of the very latest days of winter to the earliest days of spring can be many things - really rather dull, really rather interesting or, occasionally, really rather good. One thing's for sure, there's no doubting the eclectic mix of rarities that have found there way here across the week ahead in the days that used to be…
From Brünnich's Guillemot to Slate-coloured Junco and Great Bustard to Semipalmated Plover, there's a dizzying mix of species for what is so often a time of year that can be an unholy struggle (especially if the weather doesn't do us any favours).
At the bonkers end, there was the return of the Ancient Murrelet to Lundy's cliffs on March 30th 1992 (it was the bird's final farewell appearance and remains one of the most extraordinary vagrant records of all time here).
Another amazing seabird that has already outscored our old mate Muzza is Red-billed Tropicbird - a species that seems to attract controversy in the blink of an eye - mutterings were loud and long after the sighting (the accepted sighting) from on board the M.V. Scillonian on March 29th 2002 (though it was nothing compared to the dumbfounded roars of indignation post-Pendeen). With six records between 2001 and 2015, it is only a matter of time before a really big show in front of a bigger seawatch crowd than the one that enjoyed the Porthgwarra fly-by in August 2015.
Not doubting the most famous rarity of the week that we head towards now; the amazing Belted Kingfisher that spent a crazy few days tracking northeast through the country in 2005, starting in Staffordshire on April 1st (that still has to be one of the best pager messages ever, "THIS IS NOT AN APRIL FOOL!") before moving swiftly into Yorkshire the following day before settling for five days in Aberdeenshire.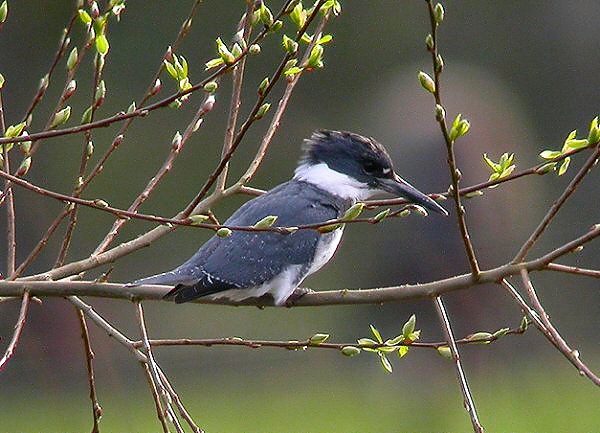 All birds of which dreams are made of, but the more here and now rares are where we ought to be looking towards - should the weather behave and give us some warmer air (as seems likely), the chances increase rapidly where the likes of Purple or Night Heron, Red-rumped Swallow and Subalpine Warbler are concerned. Scilly, Cornwall, Devon and Dorset - stand by!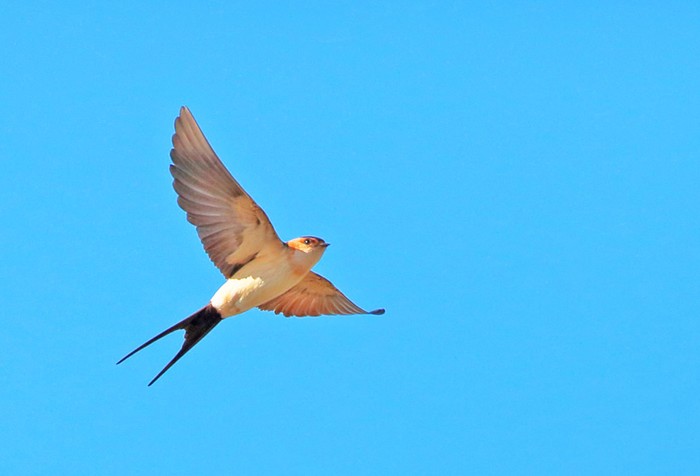 A rarer Sylvia is Sardinian Warbler and if you fancy your chances of digging one out from a thick bit of cover somewhere, you'd do worse than look on St. Agnes on March 29th, two have been seen there on that date (a female in 1996 and a male in 2002) while Norfolk birders enjoyed the male on Beeston Bump, near Sheringham on the same date in 2003.
The first four days of April have yielded seven Great Spotted Cuckoos, including three on 3rd (on Anglesey and in Wexford and Sussex) with another two found on 4th (another in Sussex and one also in Devon). That's one that's high on the list this week…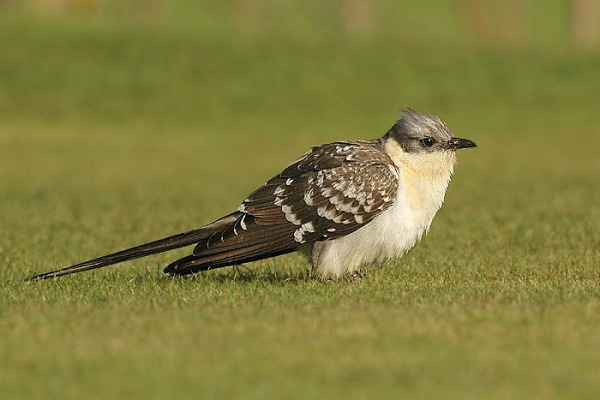 …as is another species mentioned in dispatches last week as "one to watch" was Red-flanked Bluetail and they remain high on the list of potentials for the week ahead (how weird does that seem?!?) at least five have been found in the seven days ahead of us since 2007 (records ranging from Dorset and East Yorkshire to the Outer Hebrides and Shetland).
And, while we're at it, the prospect of landing a re-orientating Siberian Accentor somewhere along the south or east coast feels as though it could be on within the next fortnight to three weeks too.
Male Pallid Harriers too have a had a (small) habit of moving through the country as March wags it's tail and April picks up the stick - the Sennen bird was seen on March 29th 2003 and another was in Surrey, at Ripley on March 30th 2013. The Cornish bird is always thought to have been the same male that was at Spurn on April 1st and 3rd of 2003 (it might have been…) but there was also the Frampton male too, photographed in Gloucestershire on April 3rd 2012.
Plenty of options then, from colourful, skulking warblers to once mythic BoPs but let's end with a nod to history - larks maybe not be everyone's cup of tea but some are exceptionally rare and desirable; Crested Lark still has just 22 accepted records, four of them have been in April including a one-day bird at Marazion (Cornwall) on April 4th 1965.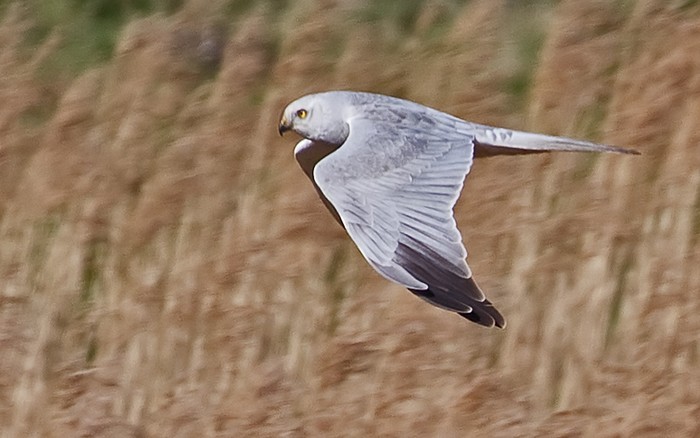 Then there's the rarer Calandra Lark too; our very first was found on Portland Bill on April 2nd 1961. This remains a fiendishly hard bird to twitch, unless you island hop and even then it isn't easy (there are 18 records in all, only six have been on the mainland and none of those have been twitchable). A third of the accepted records have been found in April, so it is certainly one to bear in mind for the next four weeks or so.
A settled bird anywhere on the Mainland, anywhere away from Shetland (which has now accounted for another third of all records, five of them since 1999) always seems highly unlikely, but if there was one, it would prove to be exceedingly popular.
Mark Golley
29 March 2017
Share this story
Tweet


Many thanks to all contributors for their photos and videos this week.
Dave Burns, Luke Nash, Derek Scarrow, Mark Coller, Michael Trew, Matthew Mellor, Adam Hartley, Justin Carr, Bruce Talyor, Chris Thornton, Wat Birder, Jeff Hazell, Jim Hutchins, Richard Brown, Mick Davis, Alan Curry, Peter Howlett, Frank Golding, Andrew Russell, James Nangle, David Boult, Roger Riddington, Sean Nixon, Andy Williams, Baz Scampion, Chris Upson, Ivan Sansom, Nick Wakeling, Chris Waring, Bodor Gábor, Darren Robson, Marc Read, Richard Jones, Dave Andrews, Angelo Meschini, Hugh Harrop,