Weekly birding round-up: 15 - 21 Mar 2017
The week at a glance
Gloucestershire's male Blue Rock Thrush takes star billing once again but may have done a bunk, right on cue
The juvenile Pacific Diver appears to have ended the late winter stay in Northumberland
Cleveland's male Eastern Black Redstart not off just yet tho'
New for the week, another Black-throated Thrush - and it becomes another quality bird for Northumberland
The wintering American Coot remains on North Uist…
…and on North Ronaldsay, the male Northern Harrier stays put
The new week began with swathes of blue skies and sunshine across many areas of the country making for a rather nice couple of days out in the field, despite a fresh feeling westerly airflow that kept the temperatures down a tad for some, although a year high of almost 19 degrees was to be had at Kew Gardens on 15th - springlike and then some…
A colder feel was evident ahead of the weekend, even where the sun shone, and on the west side of the country an extensive band of rain was coming in from the Atlantic to give a bit of a dowsing to many areas on the west and northwest side of the country as the tail end of Storm Stella brought wet and gusty weather in the wake of her transatlantic crossing.
More sunshine followed once Stella had cleared through but the winds remained generally from the west or southwest and they stayed fresh too.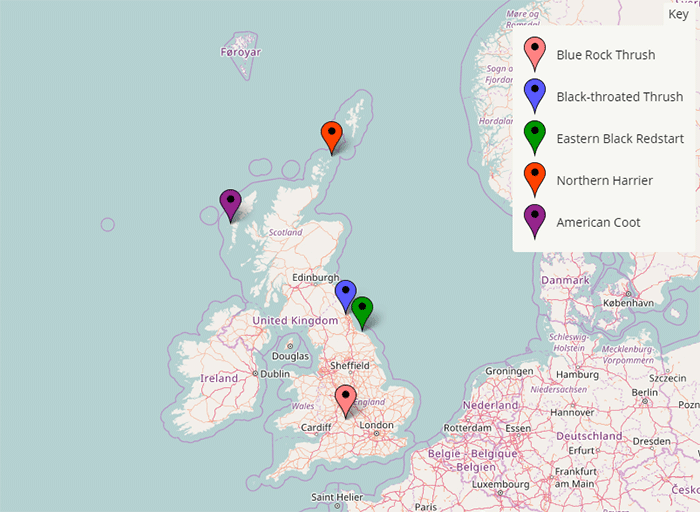 As can often be the way as winter takes her leave and spring creeps in gently, there's a lot of bits and bobs outside of the headline acts to mop up, so with little new information to impart re:- all these significant staples, we'll rattle through them and plough on to the meat on the bones…
Blue Rock Thrush
As has been the way for quite some while now (give or take the odd exception) first stop this week is the honey-stoned haven of Stow-in-the-Wold (Gloucestershire) where the singing male Blue Rock Thrush was seen to 20th.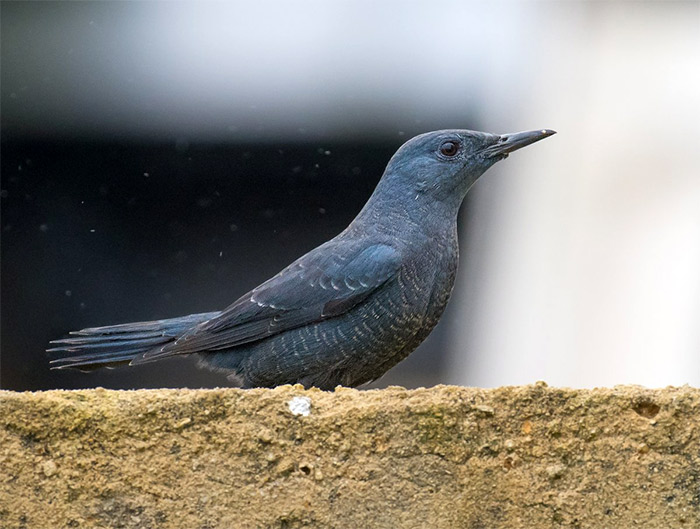 Those who are hoping that provenance will be backed up by a migratory urge will soon be getting nervy ~ or perhaps not actually, as late on 21st came negative news so he may have upped sticks right on cue. Hundreds will have breathed a sigh of relief when they saw that…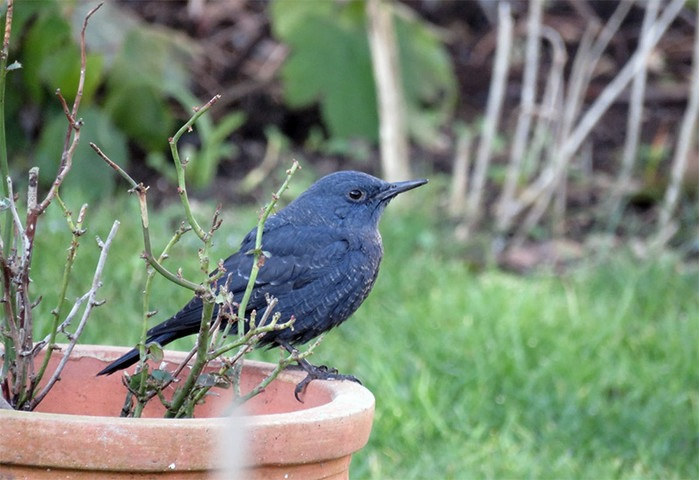 Pacific Diver
Part #1 of the northeast's duo of sticking winter rares, the juvenile Pacific Diver was on site at East Chevington NWT (Northumberland) through until 16th… and news of a sad finale to the story were, in the end, premature - the soggy corpse seen in the water on 18th was initially thought to have been the main attraction but it transpired that it was a recently deceased Greylag Goose. Local sites were checked and there was no sign throughout the day, so hopefully the end of this entertaining chapter has reached a natural, migratory conclusion.
Eastern Black Redstart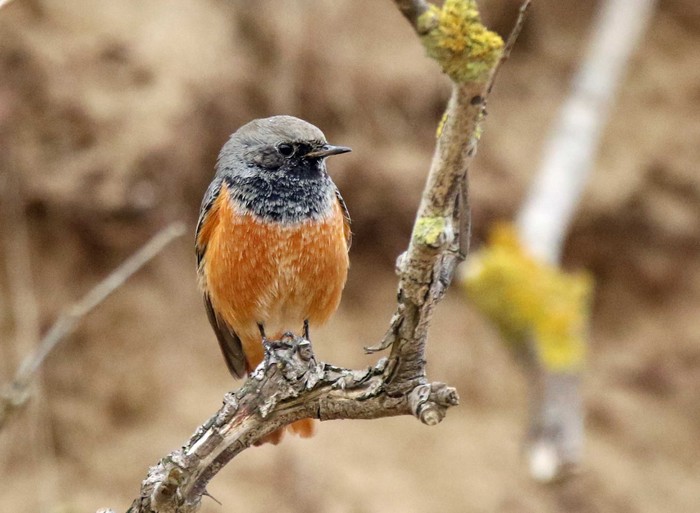 … Part #2 of the NE's rarity-act, the male Eastern Black Redstart was still fit and healthy around the rocks at Skinningrove (Cleveland) throughout the week to 21st.
It looked as if all three of these wintering big-boys might hang fire here for a little while longer but with the Diver and now potentially the Blue Rock Thrush both giving up the ghost with their departures this week, there's a chance that we're going to be down to just one of the winter mainstays next week.
Black-throated Thrush
The far northeast of England remained a focus of attention after the weekend when Northumberland collected a Black-throated Thrush, at Prestwick Carr, on 20th.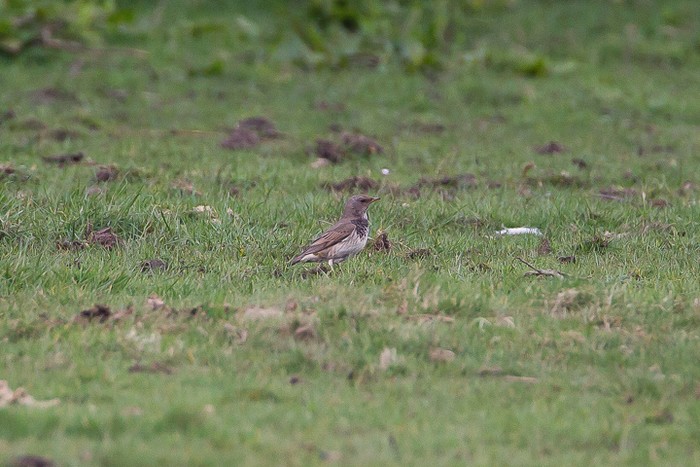 After last week's Lancastrian 1st record and wave after wave of Redwings heading across the country and making a bee-line for the coast over the last week, it isn't a huge surprise that there's been another rare thrush but rather than being the more frequent (of late) young female Black-throated this time we had a nice male to admire.
Until now, there had been just two previous records of this tasty Turdus, a one-day male on Holy Island on January 28th 1979 and a long-staying female that straddled 2006 in to 2007, 44 midwinter days spent at Riding Mill. This week's fine fellow departed south after around 90 minutes or so but did enable a few locals the chance to catch up with a rather natty looking vagrant.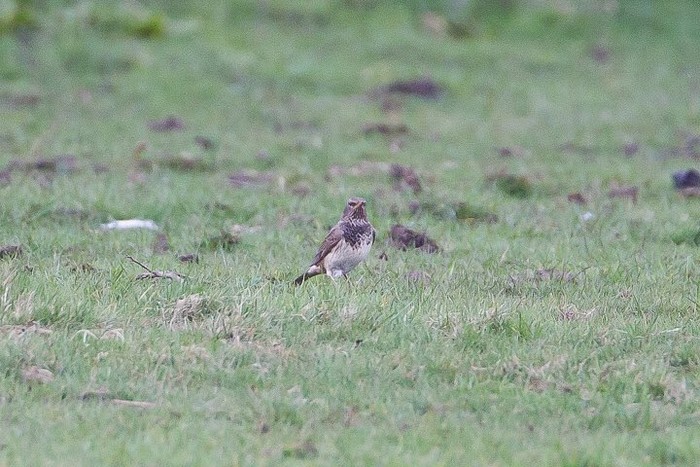 American Coot
Another wintering rarity that is presumably drawing closer and closer to thinking about moving on is the North Uist American Coot that was still at the Balranald RSPB, on Loch nam Feithean, reserve to 17th.
Recent departure dates for other vagrants, including the bird on the very same stretch of Hebridean water a couple of winters ago all indicated a leaving date somewhere in the first two weeks of April and there's nothing to suggest that this long-haul vagrant will be any different.
Northern Harrier
From one Scottish island to another as we skip north-northeast to Orkney most northerly inhabited island where the somewhat enigmatic male Northern Harrier continued to show himself sporadically around North Ronaldsay, seen there again on 15th-19th.
It is hard to imagine a more beautiful rarity in the country at the moment and you can also imagine the crowds if he'd chosen a mainland location for his second winter sojourn.
After that remarkable run of accepted juveniles between 2008 (that was a North Ron bird too) and 2013 when Tacumshin alone saw an incredible half dozen recorded out of nine youngsters (along with two sub-adult males as well) it is interesting to note a) a decided easing up of juveniles across the last four years and b) the three most recent acceptances (up to and including this bird) have all been adult males; in west Cornwall in late November 2013, over Portland Bill in Dorset the following April and then the North Ronaldsay bird who first appeared in late September 2015.
There's a chance that the records from the southwest could even have been one in the same but this "new" species is rapidly heading back to must-see status.
The first three days of the new week produced not one single seabird to write about…
…but thankfully the wintering Pomarine Skua in Mount's Bay (Cornwall) broke the duck on 18th with a Balearic Shearwater past Prawle Point (Devon) the following day with three from nearby Start Point on 20th. Not far away, the week concluded with two more Poms in the bay off Slapton on 21st.
Last week the theme of scarce and rare birds moving around and rearranging themselves ahead of potential departures was one that ran throughout (even if only in small doses). This week there was undoubtedly something going on amongst a few of our Cattle Egrets, a number of which seemed to be aligning themselves for something…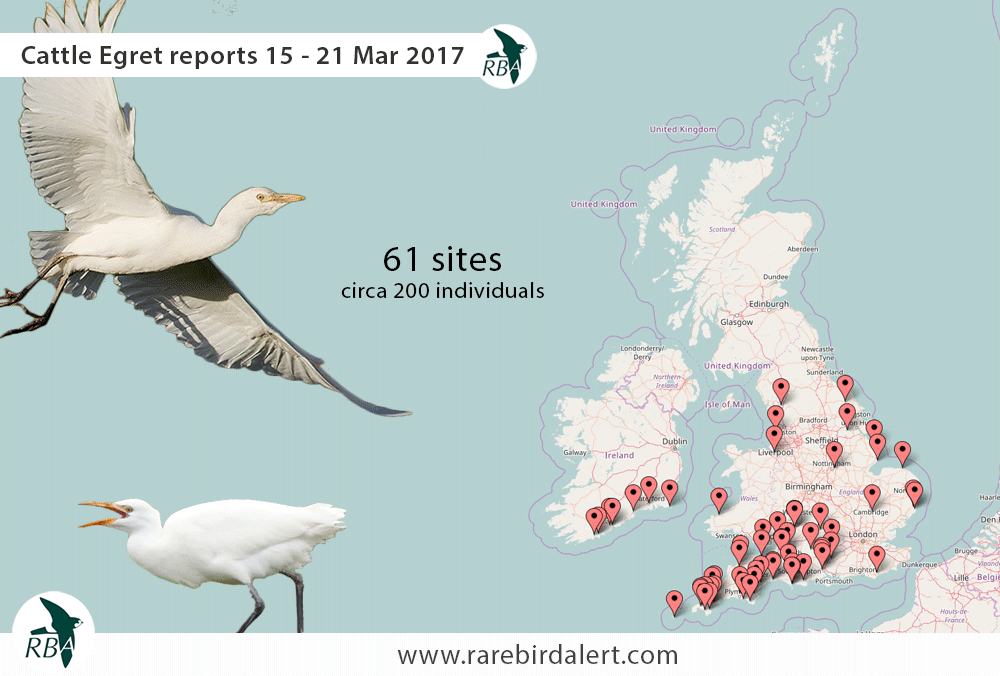 However, there were plenty of familiar sites still being mentioned for this rather charismatic little egret and, of correct, there were some quite extraordinary numbers mentioned from the species' core winter range over the last few weeks, Cornwall.
The roosts around the creeks and river valleys of the deep south of the county yielded as many as 71 birds on the evening of 19th alone - 16 were noted at Loe Pool, near Helston, with 20 more not that far away at St. Clement while a report of 35 along the Helford Passage, not far from Falmouth could be a blockbuster British record flock. Elsewhere in the county, half a dozen birds started the week along the Gannel Estuary, near Newquay, between three and five were noted around St. Erth and the Hayle Estuary through much of the week while new was a lone bird at St. Mawgan on 18th - upwards of 73 for the county in all this week.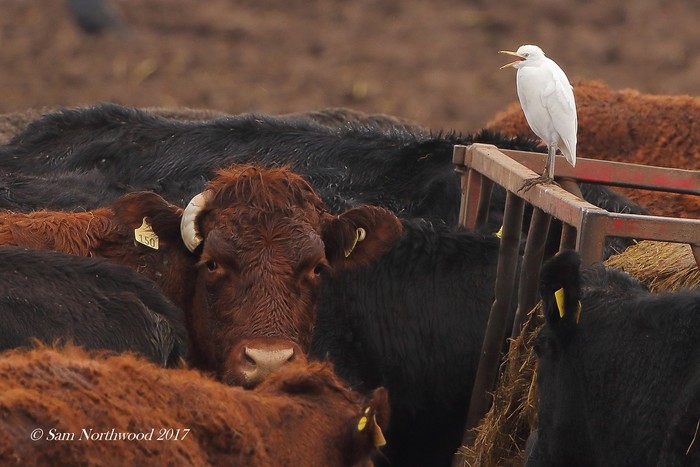 The southwest's remaining three counties offered up a further 56 or more; Devon birders logged up to 40, including 11 at Noss Mayo on 17th, eight still around Teigngrace to 16th and also at Totnes on 21st, six new birds were around Colyton and Seaton from 16th and four remained at Fremington (with seven seen a few miles down the Torridge, at Weare Giffard on 21st). Dorset's 14 birds included nine still roosting at Radipole Lake RSPB to 16th while four singles in Somerset and a new bird over St. Mary'sm (Scilly) on 20th took the region's score to just over the 130 mark. Extraordinary.
A further 65-75 Cattle Egrets were recorded around the rest of Britain and Ireland - at least eight were in the southeast (perhaps up to 15, if the report of seven near Bampton, in Oxfordshire on 18th was right); the Midlands recorded between 10-13 including six at Saul (Gloucestershire) early in the week with a new bird at Holme Pierrepont (Nottinghamshire) from 17th; two or three were seen in East Anglia, at Snape and Iken (Suffolk) between 16th-19th (perhaps the same bird) with a new Norfolk bird found at Weybourne on 20th; new in the northeast were two singles in Lincolnshire on 19th (at Gibraltar Point NNR and Alkborough) and also at Thornton-le-Dale (North Yorkshire) the same day; all of the northwest's seven were in Lancashire, including six still at Birkdale; Scotland drew a blank, Wales managed three with newbies in Glamorgan and Gwent with Ireland rounding things off with their 30 - up to 21 were in Cork, including 11 at Crosshaven on 21st while in Wexford, Tacumshin's total rose to 12 on 18th.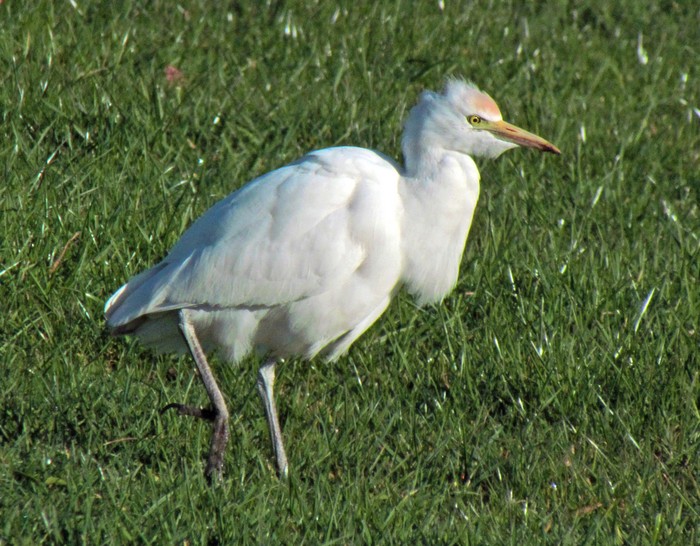 That's an overall score of around 200 Cattle Egrets in just one week - unthinkable just a couple of decades ago.
Despite a few re-orientating egrets, as is the case with numerous elements of a weekly roundup at this time of year, there are numerous "as you were" moments to be had and that's the case this week with Glossy Ibis. Two remained at Ham Wall RSPB (Somerset) from the start of the new seven day period as did the singles seen lately at Fremington Quay (Devon), Cossington LWRT (Leicestershire) and also Ely (Cambridgeshire). Also still in place come the weekend was the singleton at Copt Hall (Essex). And that was that.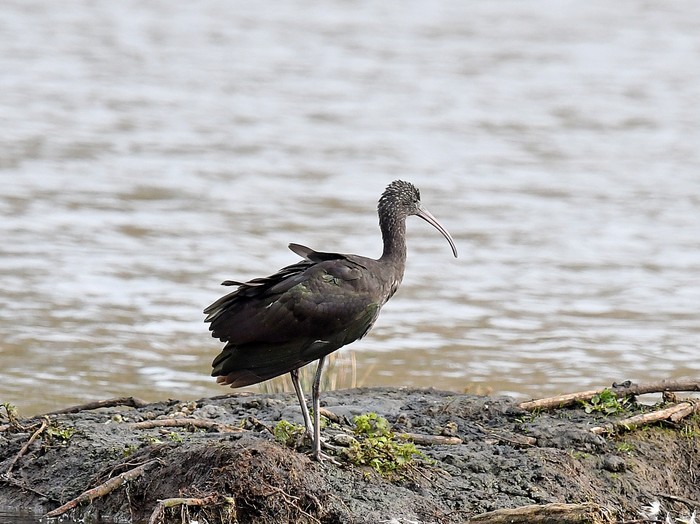 The changing of the seasons is most certainly reflected by Spoonbills - aside from nine off Shipstal Point, Arne RSPB (Dorset) four still up at Wrafton (Devon) at the start of the week and four at Keyhaven (Hampshire) at the end of the week, there wasn't much to report there (bar singles, doubles and an Irish triple, which is good because I'm not meant to be talking about them anymore!) while the also shouldn't-be-mentioned-but-can't help-it Great White Egrets were spread like carroty-billed giant confetti across the country, including a five and a three out on the Somerset Levels.
The week's maximum Nene Washes Common Crane count was an impressive 20 near Eldernell on 15th with the only other report being four at Hickling Broad NWT (Norfolk) on 19th.
Lancashire's blue Lesser Snow Goose moved some 10 miles at the start of the week from last week's final resting place of Whitewell to Stocks Reservoir on 15th - seemingly finding the Greylags and Canadas still much to its liking. Presumably the same bird then suddenly appeared at Sandbach Flashes (Cheshire) on 21st - what's it up to?
New were the blue and nearly blue intermediate Lesser Snow Geese together at Ardersier, near Inverness (Highland) on 19th-20th.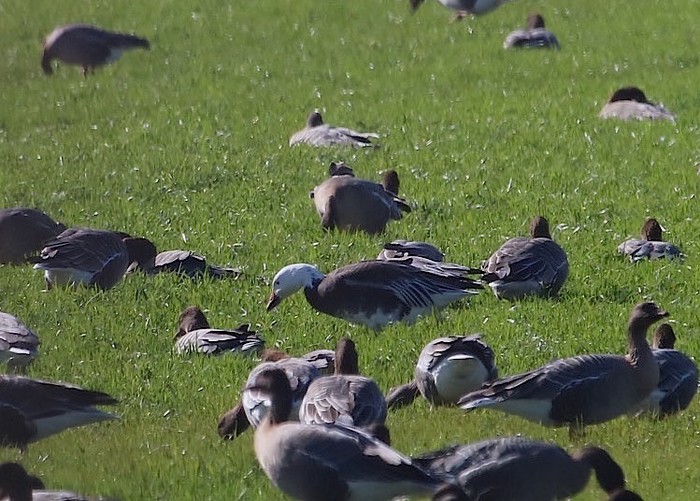 Still hanging out in northwest England was the Todd's Canada Goose which appeared again at Banks Marsh on 15th and another interior was again at the Wexford Wildfowl Reserve with a Lesser Canada Goose at New Ferry (Co. Antrim) on 20th-21st. Other Brantas of note were the week's three Black Brants were up for grabs ahead of the weekend, review regulars at Swalecliffe (Kent), Kilnsea Wetlands (East Yorkshire) and Cley NWT (Norfolk) - this being the second or third for the site this winter and it was in the area until 21st.
Same old same old, the drake Black Duck that's been at large around for at least six years in and around Strontian (Highland) was, unsurprisingly, still present this week, seen again on 18th while we appear to be down to just the one drake Lesser Scaup, another old stager still at Dozmary Pool (Cornwall) to 16th.
In a surprise move (in a very literal sense) the drake Ferruginous Duck that appeared at the Washington WWT reserve in County Durham on October 30th 2015 through until mid-July last year, and then again from November 2016, decided to move a few miles along the road and over the county line to Northumberland when it appeared at Gosforth Park NR on 15th-20th - the same site hosted the last county Fudgey-D, in April 2014. Innarestin'… (and what a great name for a big star rapper… duckz in da hood and all that).
By the close of the weekend, it was all about three's were our nine Ring-necked Ducks were concerned; there were three new birds to note, there were three regulars knocking about the south of England and Ireland hosted three through the week too.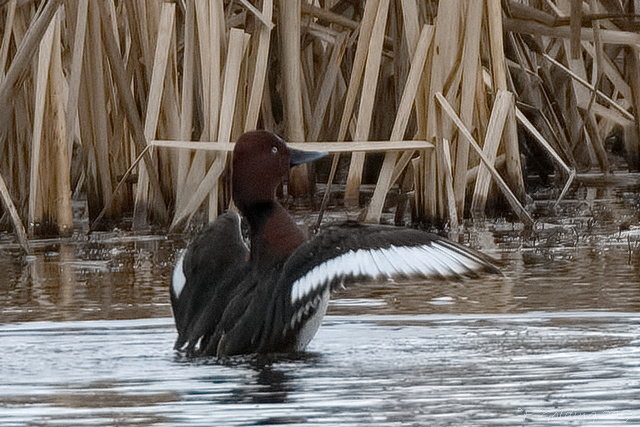 New drakes were seen at Linlithgow Loch (Lothian) on 15th and, on 19th, Quoile Pondage NR (Co. Down) and Tollesbury Wick EWT (Essex). The three old hands (as it were) at Paxton Pits (Cambridgeshire), Dungeness RSPB (Kent) and Brent Reservoir (London) all lingered to 20th at least while Ireland's trio were the two drakes that lingered at Knockaderry Reservoir (Co. Waterford) to 15th and the lone male that stayed near Cork's Union Hall to 19th.
Only four American Wigeons to mention this week; the young female in Worcestershire moved from Grimley to Holt on 18th. Also on the move, the drake in Ayrshire, dropping down from Fairlie back to Hunterston by 19th while single drakes at Udale Bay (Highland) and Dundrum (Co. Down) were seen until 17th and 21st respectively.
Green-winged Teals were up a touch on last week, with nine drakes recorded through the past seven days. Scotland hosted three, with singles on Orkney on Loch of Skaill, Mainland to 17th and North Ronaldsay to 18th with one still at Caerlaverock WWT (Dumfries & Galloway) to 16th. New in the northeast was the drake at Austerfield (South Yorkshire) on 18th; new in the northwest was the bird at Martin Mere WWT (Lancashire) on 17th-18th; new in the Midlands was the bird at Newington (Nottinghamshire) from 18th-21st, with one still at Ashleworth Ham NR (Gloucestershire) to 21st; in Ireland there was a drake at Cahore (Co. Wexford) on 19th and at Ballymena (Co. Antrim) on 20th-21st while still in place in the southwest, the wintering bird at Lytchett Bay (Dorset), he was around for the whole week.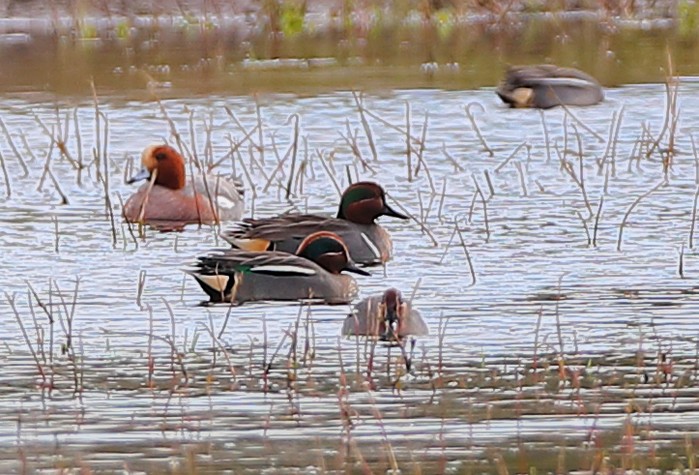 A flock of four Surf Scoters (three drakes and a duck) were seen off Baltray (Co. Louth) on 19th with the same date seeing two drakes (a 1w and adult) noted in Lothian, off Joppa and Musselburgh. The eighth and final bird of the week was the young male that remained off Man Sands (Devon) to 15th.
Ireland continued to host two different King Eiders this week; the drake was back again off Ballysadare (Co. Sligo) on 17th-18th while the female was still at Castlegregory (Co. Kerry) to 19th.
It was almost a fortnight since the 1w Killdeer had been seen around the Sandwick area of Mainland Shetland so it was kinda nice to see news on 18th that the bird was still on site, clocking up over four full months on the island in the process.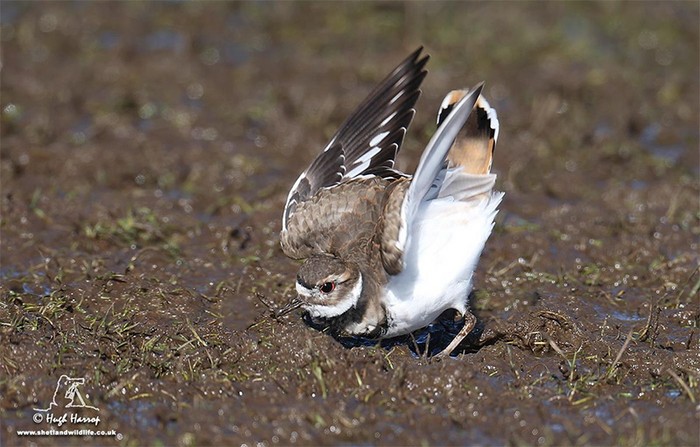 Wexford's young Long-billed Dowitcher has been in Ireland even longer than the Killdeer has been on the Northern Isles, arriving at Tacumshin on October 21st last year. Despite an absence from late January to early March (it was presumably fairly close by) the bird remained until 20th this week.
The other overwintering Nearctic shorebird that was also still in situ over the last few days was Dorset's reliable Lesser Yellowlegs - this one is the longest stayer of the lot; found on September 18th and present until March 19th it has clocked up nigh on six months in and around Poole Harbour.
Out and about in the Staffordshire countryside this week was the wintering Temminck's Stint that resurfaced at Barnston GPs on 21st, the first sighting for 10 days.
Both of the recent 1w Bonaparte's Gulls were still present this week, at Kenmare (Co. Kerry) to 16th and Helston (Cornwall) to 20th.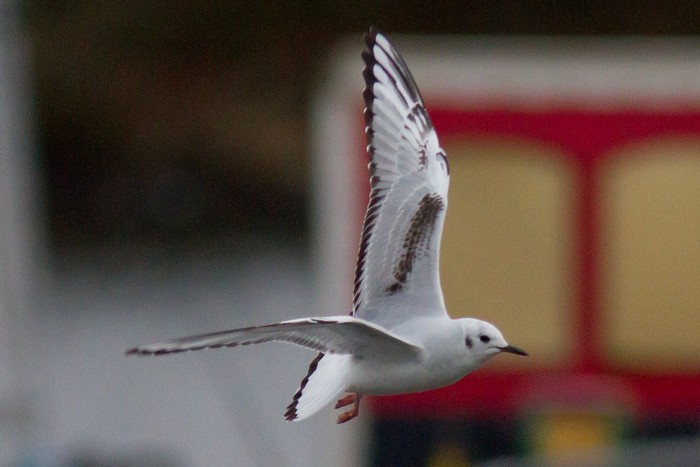 Falling off sharply this week were Ring-billed Gulls, down around ten, to a dozen birds in all, eleven of them in Ireland. Three of those, two adults and a first-winter, were at Tralee Bay Wetlands (Co. Kerry) to 19th when two adults were also seen at Sandymount (Co. Dublin). The 15th saw an adult noted again at Timoleague (Co. Cork) when a first-winter was on the Bann Estuary, near Barmouth (Co. Derry). Further adults in Cork were at Castletown Bearhaven on 16th and Cuskinny Marsh to 20th and Drimnagh (Co. Dublin) and Lurgangreen (Co. Louth) on 21st. The only other record this week was an adult new at Martin Mere WWT (Lancashire) on 19th.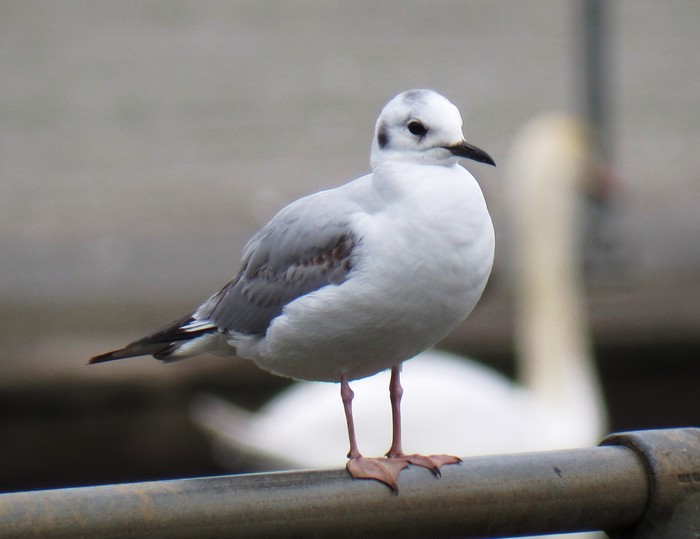 Also tailing off, Kumlien's Gulls - a juvenile remained at Belfast Lough RSPB (Co. Antrim) to 20th and another non-adult was at Tiumpan Head, Lewis (Outer Hebrides) on 19th, with a second Hebs bird near Stornoway on 20th. The possible KG was also still at Bray (Co. Wicklow) this week, still around to 21st.
Iceland Gulls fell away to around a little this week, 126 birds reported from 36 British and Irish counties, with Scotland way out in front with almost half the birds in all, 59 in all, seen in 10 counties/regions. Shetland managed 19 including six at Haroldswick, Unst on 15th, while Port Nis, Lewis registered at least 12 from a Hebridean total of 17 or 18.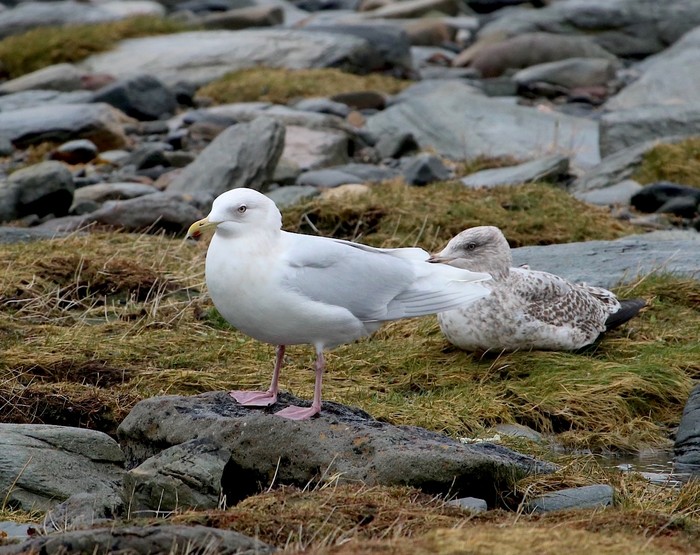 In England, there were 36 Icelands in 16 counties, widely spread around the place with 14 in the northeast, nine in the southwest (eight of them in Cornwall) and seven logged in the southeast. Ireland's birders notched up 28, with 11 for Cork and eight in Waterford and two remained in Wales.
There was a definite drop for Glaucous Gulls over the past week, down from 100 to 75 over the last seven days, split across 26 British and Irish counties.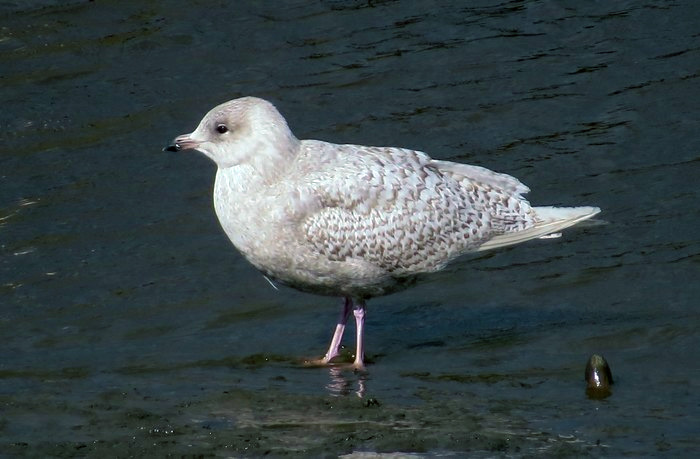 Scotland came out on top, 34 birds noted there, in six regions and counties with 10 on Shetland and eight for the Hebrides the highest regional tallies. England came next with 32 birds in 14 counties, with a dozen in the northeast and up to nine in East Anglia (six of them in Norfolk) being the main scores on the doors. Ireland managed seven in all with two for Wales.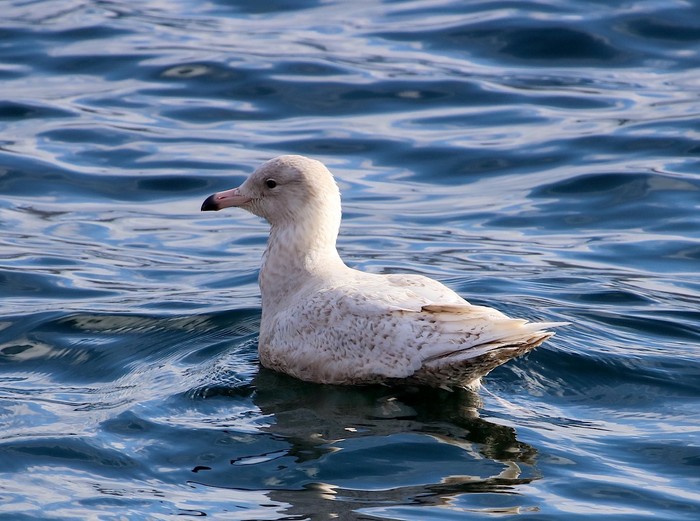 As was mentioned last week, Norfolk's young female Pallid Harrier appeared to have changed her strategy from spending a fair amount of time around the New Holkham area and had clearly taken up somewhere else, thought to be somewhere further (if not that far) to the west.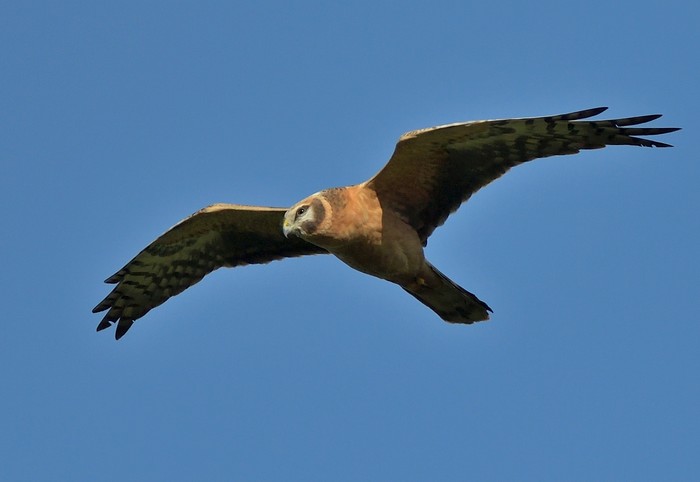 And so it was as the clues offered by some behaviour prior to the end of last week suggested that a mooch around the Creakes, North and South, may prove beneficial and so it was on a glorious sunny day on 15th when your correspondent and a learned BBRC man discovered the obliging bird behind Creake Abbey where a tremendous (if intermittent) show lasted for the best part of three hours - the bird tangling with local corvids from time to time before cruising effortlessly around the expansive, rolling fields nearby.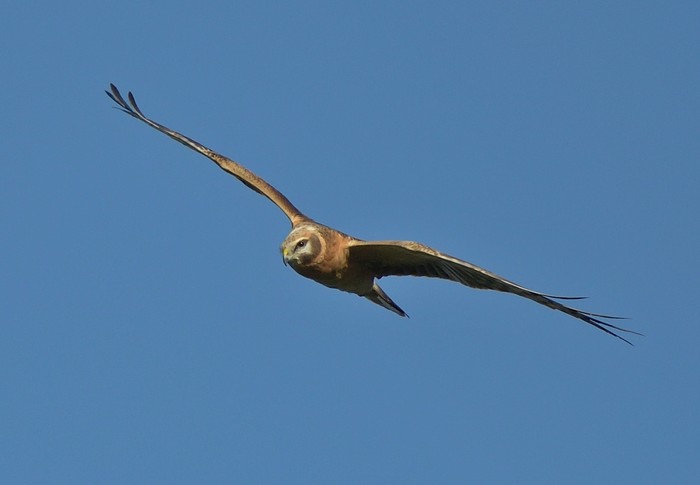 The Harrier showed again at Creake the following morning and then on 17th the focus swung dramatically to a bird that a couple of us present on 15th had already been musing on as a Norfolk bird - an adult White-tailed Eagle drifting eastwards having made transit south from East Yorkshire (some would say following the Pallid down the coast but a comparison of the underwing pattern quickly eliminates that thought).
The Eagle had made a debut at the start of the new review week in North Yorkshire, heading over the Wykeham Forest Raptor Watchpoint (almost three years to the day since an adult did the same thing over the same site, on March 21st-22nd 2014) but this time the bird headed southeast and in to East Yorkshire later the same day, being seen over Bransholme and Hull during the afternoon of 15th.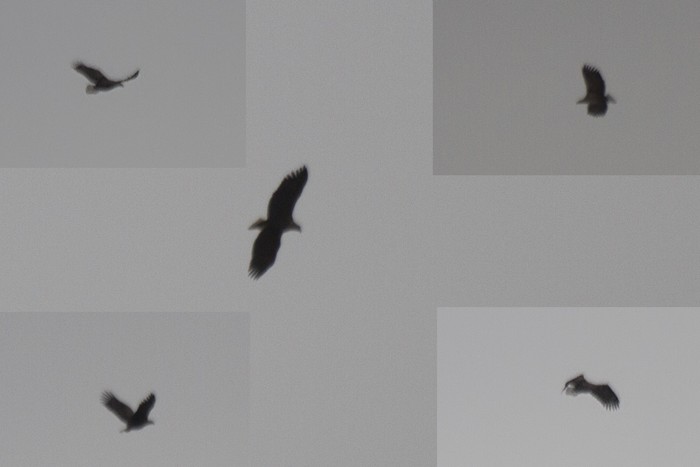 That route, and the time it was seen close to the Humber, prompted those same-day predictions at North Creake but it seems as though I was out by some 45 hours (and a day scanning the skies on 16th for the Eagle looming up over the north Norfolk horizon felt right but ultimately wrong, if you see what I mean). Right idea, right place, wrong time.
What the deuce…
It seems most likely that the White-tailed Eagle made landfall in west Norfolk during the sunny 16th and then spiralled off higher and higher at North Creake the next day before heading east. Next stop would be, well, the Broads or Benacre maybe? Or the nearby continent? (It looks like Suffolk, given news of a probable near Brampton on 19th).
Meanwhile the Pallid Harrier was again around New Holkham again on 18th-21st trundling back and forward to Creake Abbey.
Undoing all my efforts for next week's predictions was the, ummmm, predicted Gyrfalcon which circled the equally predicted Outer Hebrides, circling the Butt of Lewis for a few minutes on 18th - the island chain has closed in on almost 80 records in all and this week's bird is the second or third for the Hebs this year, following on from one on North Uist in late January with perhaps the same individual on Harris in the first week of February.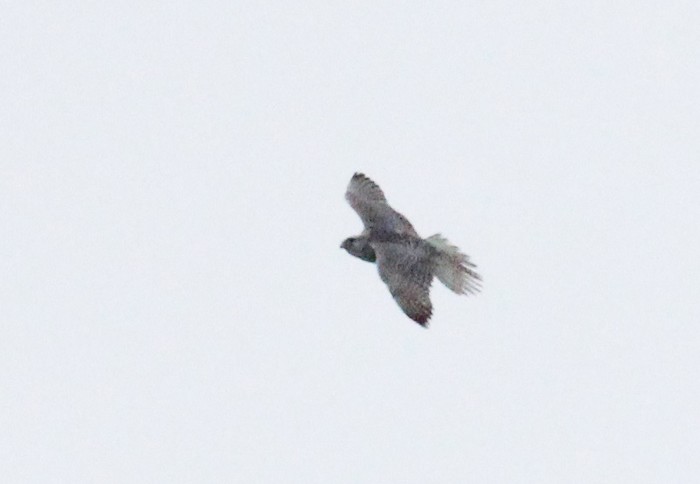 Another ermine-clad killing machine was the female Snowy Owl that was seen again out on Eday (Orkney) on 21st, the first mention for over a month.
Lastly, a report of a Rough-legged Buzzard over Stanwick GPs (Northamptonshire) on 20th, seen with a Common cousin.
With the brisk NW airflow, the sub-specific identity of the Arctic Redpoll at the top of Lewis, at Lional, near Port Nis on 17th was certainly going to be an interesting one. Scandinavia or Greenland? The weather strongly suggested northwestern origins and when a rather neat shot of the bird appeared, it showed a nice, chamois-washed faced and a number of other features that ensured that, as expected, Hornemann's was the indeed the answer.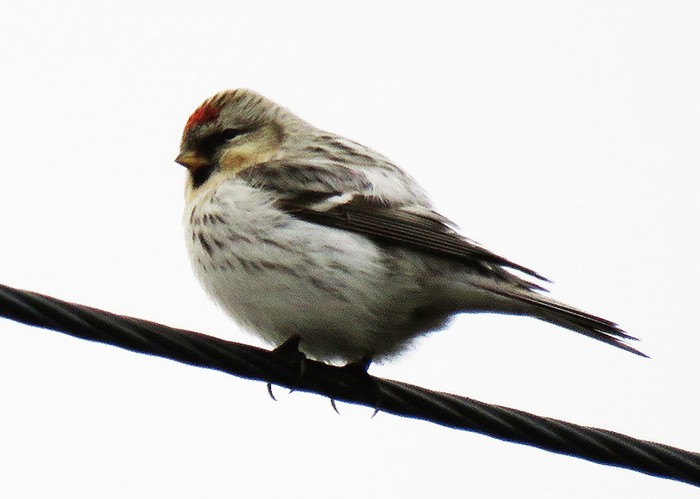 Norfolk claimed a bird of northeastern origins, in the form of a Coues' Arctic Redpoll in gardens at Cockley Cley on 20th.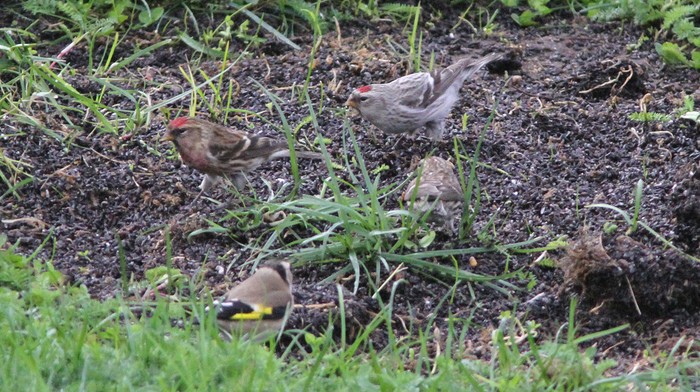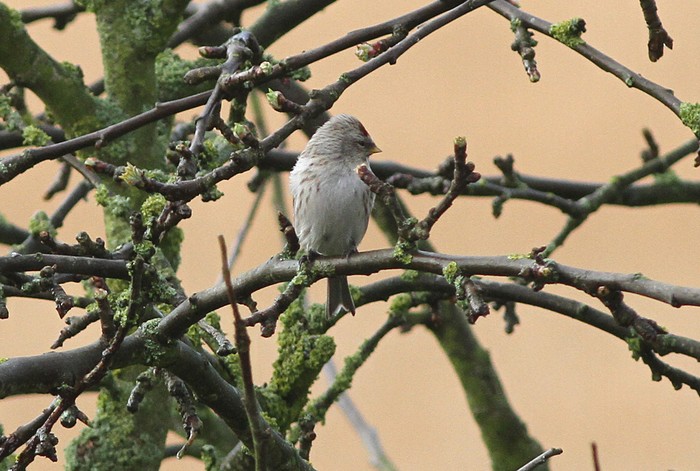 Snowballs such as the Hebridean redpoll are the stark reminder that we still have a little bit of winter left to get through despite those southeastern 19° temperatures and the largely cool westerly airflow that held many early starters at bay but there was the odd early spring overshot - the third Hoopoe of the month found at Gorran Haven (Cornwall) on 17th being the most telling example ahead of the surprise Alpine Swift at Barons Haugh RSPB (Clyde) from 19th-21st which was possibly only the third county record, others seen in 1992 and 2008.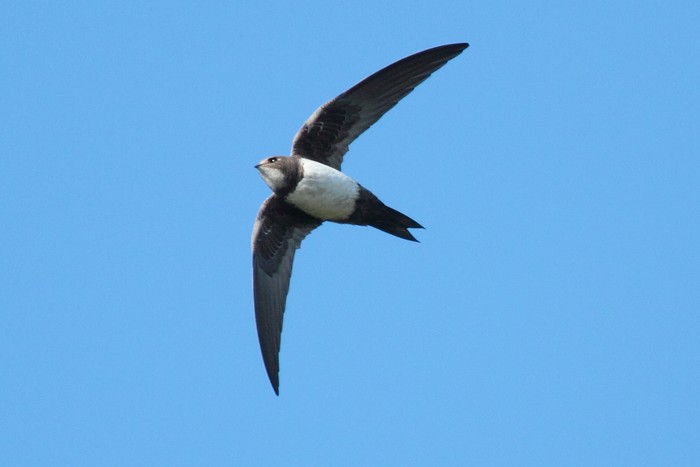 Lincolnshire's first-winter male Bluethroat remained at Willow Tree Fen LWT until 21st while another wintering attraction, the Hume's Yellow-browed Warbler at Portland lingered in Dorset throughout the week.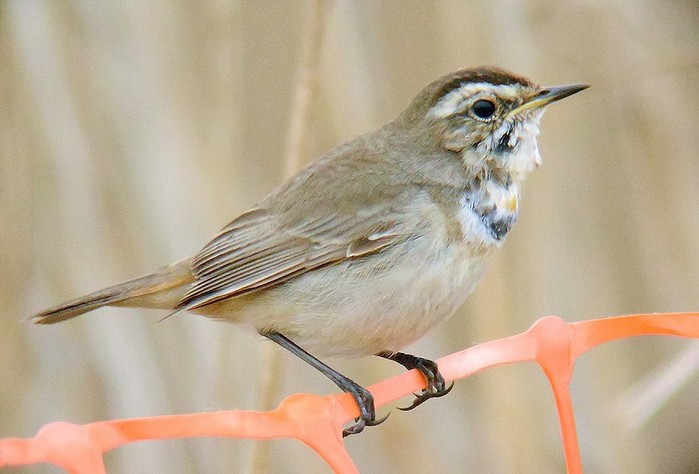 After a strong showing seven days ago, this week's total of Yellow-browed Warblers fell from at least 14 to only two (to the start of the weekend), singles still at Tehidy (Cornwall) and Dungarvan (Co. Waterford). They can't have all gone can they?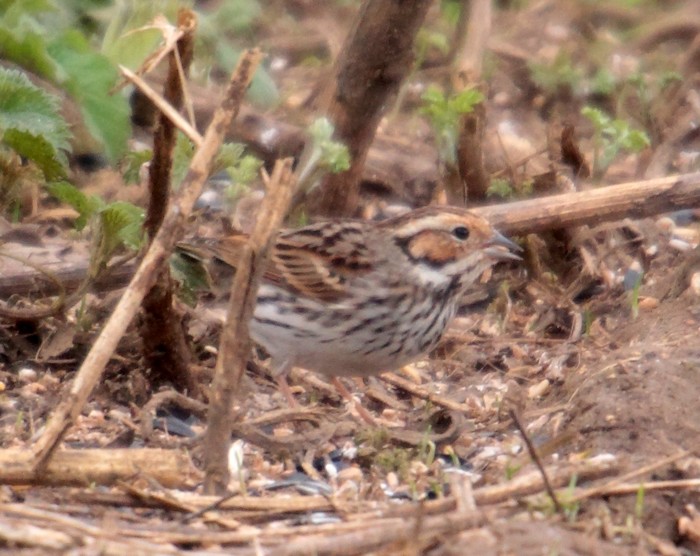 Well no, but there still weren't too many others mentioned, three more surfacing, all from previous weeks, at Dartmouth (Devon) and two remaining at Swanpool, Falmouth (Cornwall) to 18th.
Two birds that hadn't gone anywhere just yet were the 1w male Rose-coloured Starling in Crawley (West Sussex), he was still in place until the end of the review period, as was the wintering Little Bunting that stuck it out at Great Barford GPs (Bedfordshire) all week.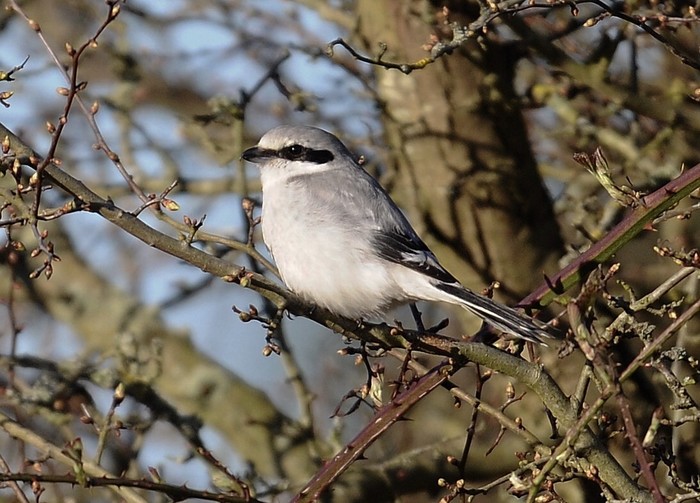 The new week began on 15th with broad spread of eternally popular Great Grey Shrikes on offer, 16 in all, spread around 13 counties in England and Wales.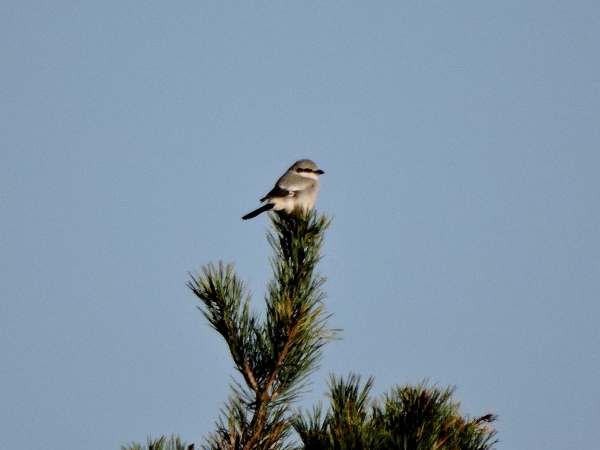 Four were in the southeast, still at Little Staughton (Bedfordshire/Cambridgeshire border), Beaulieu Road Station, in Hmapshire's New Forest and in Surrey on the commons at Thursley and Frensham. Another four were in the Midlands, two around the Forest of Dean (Gloucestershire) with others still at Swallow Moss (Staffordshire) and near Owler Bar (Derbyshire).
East Anglia hosted three Great Greys on 15th - two in Norfolk, still at Cockley Cley and New Holkham with the singing male in place again at Upper Hollesley Common (Suffolk) while there were two birds each at the start of the week for both the southwest, at Morden Bog (Dorset) and Aisholt (Somerset) and also for Wales, at Cross Inn Forest (Ceredigion) and Clocaenog Forest (Denbighshire). The northeast accounted for the final bird of the opening day of the week, still near York.
The northeast's second bird of the week was noted again at Prestwick Carr (Northumberland) on 16th, with the same date seeing news of another for Gloucestershire, still at Hawling and also one for East Sussex, one noted again in the Ashdown Forest. Somerset's second of the week followed on 17th, one still in the Quantock Hills (the 20th for the week) with two further Midlands Great Grey Shrikes noted, a winter staple still at Black Hill (Shropshire) and new at Longdon Marsh (Worcestershire). Norfolk's third of the week appeared again at Sparham on 17th and another appeared in the New Forest, this one at Holmsley Passage - taking the total for the week to 24 (before the start of the weekend).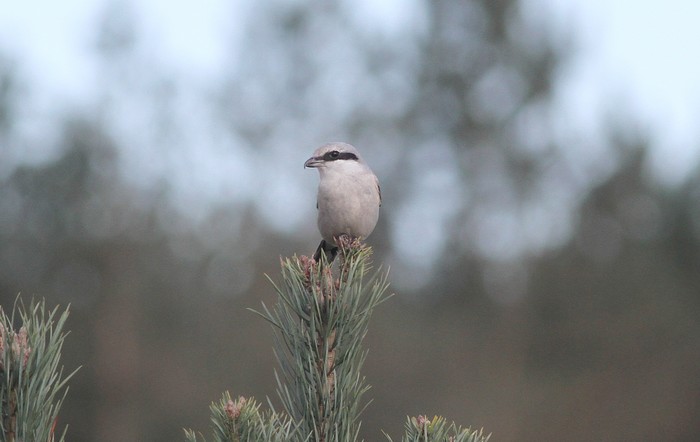 The weekend added the wintering bird at Wishmoor Bottom (Berkshire) and two additional birds in Hampshire, still at Cranes Moor and new at Burley Street with possibly a third New Forest bird noted too.
Holding firm on a figure of some 2917 (similar to the last couple of weeks, up a couple of hundred actually) were Waxwings - again well spread, with the Midlands faring best in terms of regions but Cheshire saw the largest flock of the week recorded.
SW (10) - 4 at both Corfe Mullen and Broadstone, Dorset on 16th
Wales (40) - 40 at Newbridge-on-Wye, Powys on 16th
Ireland (c.97) - 30+ in Belfast, County Antrim on 20th
SE (236+) - 70 in East Malling, Kent on 19th
EA (c.294) - 81 in Woodbridge, Suffolk on 18th
NW (335+) - 175 in Kelsall, Cheshire on 16th
NE (466+) - 40+ in Sheffield, South Yorkshire on 17th
Scotland (490+) - 52 in Elgin, Moray on 16th
Midlands (989+) - 92 at Sutton Coldfield, West Midlands on 18th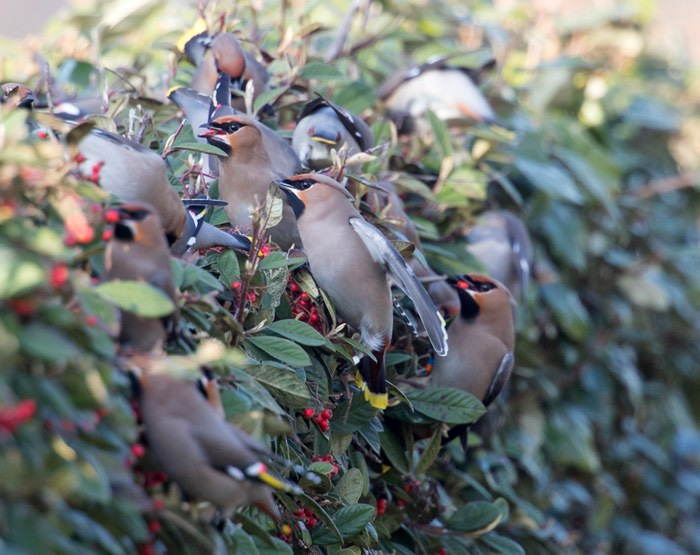 Elsewhere around the vastness of the Western Palearctic there wasn't a huge amount to report that was of startling significance.
After a good run of birds last week out on Cape Verde, the third African Desert Warbler for the islands was noted at Santa Maria, Sal on 16th, apparently he had been around for a few days previously. Also within North Africa, the White-throated Bee-eater remained in the hotel gardens at Dakhla, in the Western Sahara all week long and in Morocco, at least three Cape Gulls were noted on 15th at the Khnfiss Lagoon and a female Lesser Scaup was at Ouarzazate on 18th (they can get to Africa but they still don't know where Norfolk is…).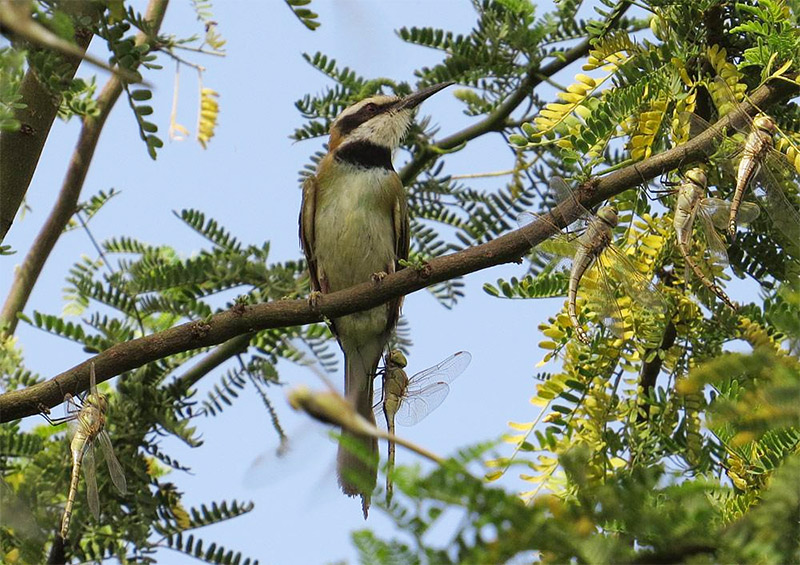 Within Europe, Iceland continued to host the (American) White-winged Scoter deglandi until at least 15th while elsewhere in northern climes, Norway hosted two Pine Buntings at Tangvall, Vest-Agder on 21st with a drake Black Duck at Frøya, Sør-Trøndelag on the same day. To the east, in Poland, the country's 6th American Wigeon was found at Ktery, Lódz on 16th.
Cyprus hosted the island's second-ever Oriental Turtle Dove at Mandria on 20th (don't let it get near one of murderous military bases) while new in Spain, on the same date, was the Sociable Plover at Alcazar de San Juan, Ciudad Real with a Catalonian record coming from Baix Ter, Girona on 19th.
The Dutch Blyth's Pipit was recorded at De Biesbosch, Noord-Brabant throughout the week but there was a huge surprise on the morning of 19th was the discovery, at the very same site, of a singing Moustached Warbler, only the 2nd record for the country, hot-on-the-heels of the bird found in a net last spring at Nijimegen (a bird that caused no little frustration for listers who could hear but not see it at a "sensitive site"). This year's exceptianlly early arrival was in song to 21st.
Finally the ringed American Royal Tern remained on Guernsey this week, seen off La Claire Mare (on the far western side of the island) on the morning of 20thand then the next day (fascinatingly!) heading north from Bordeaux (in the far NNE of the island) - you know the way to Dorset!
The coming week…
Trawling through the archives is a far safer pursuit than bothering to get involved with what's what in the here and now, so let's cocoon ourselves away in the controversy-free bubble of yesteryear as the week ahead's prospects are considered.
There are, sadly, few glimmers of that longed for first hard pulse of southerlies that always opens up the doors as April starts to loom on the near horizon. There's a wobble of northwest and northeast winds approaching by the look of it and although not ideal, they can produce the goods from time to time.
The most obvious shout is for Gyrfalcon and, despite the Lewis bird ruining all the good work employed here before it appeared, we'll persevere with the factoids uncovered ahead of it; historically, the seven days ahead have yielded 20 accepted records, including six on March 24th and five on March 26th. The far southwest, the Irish west coast and the Hebrides are all favoured locations for this most regal of falcons and it seems a matter of when, not if when one appears.
Should conditions suddenly take a turn for the good, the options are wide and varied. Overshooting herons are always a good bet, ditto the mentioned-last-week Woodchat. We're heading towards Black-winged Stilt time too, sure April onwards is better but there are late March records too.
A relocating wintering Red-flanked Bluetail shouldn't be dismissed as an option these days either; early, early spring records are becoming more frequent across the past decade as the westward range extension continues and autumn copses and spinneys are full to bursting with them. Cork scored on March 26th 2012 so a repeat somewhere soon wouldn't be a huge surprise. If the weather decided to play nicely and gave us a puff of something from the east, there's our first realistic chance of a White-spotted Bluethroat too.
More significant rarities that have been known to make a late march showing include a couple of Short-toed Treecreepers in the week ahead, at Landguard Point from March 24th 2011 and, inevitably, Dungeness from March 27th 2001. Kent has also hosted a Fan-tailed Warbler too, at St. Margaret's at Cliffe on March 28th 2010.
Many birders will be willing the weather in the next few days to emulate the remarkable spell late in the month in 2002, a spell which produced an exceptional run of rare birds in southwest England, all within the space of four days; a male Little Bustard on St. Agnes kicked off proceedings on 22nd and was followed the next day by the Western Black-eared Wheatear at Nanquidno. The day after that, up popped a Scops Owl in the car park at Porthgwarra and Scilly nipped in with a rare March Pallid Swift on 25th.
Scilly has had another March Scops too, around the end of Higher Moors on March 25th 2012, while other rare wheatears include a couple of Deserts.
The rarest birds found historically in the seven days ahead share the same family name - Shetland was the focus of attention 25 years ago when the young male Pine Grosbeak put on a show on Mainland while further back in time, we arrive at species mentioned a couple of weeks ago; Britain's first (and one of only two don't forget) Evening Grosbeaks was seen and photographed on St. Kilda on March 26th 1969.
Imagine the scene if one of those beauties broke cover in the next week or two…
Mark Golley
22 March 2017
Share this story
Tweet


Many thanks to all contributors for their photos and videos this week.
Lee Evans, Dan White, Mark Leitch, Portmeadowbirding, Alan Curry, Sam Northwood, Richard & Hazel Millington, Rob Wolstenholme, Andy Williams, Chris Waring, Frank Golding, Michael Trew, Hugh Harrop, Seamus Enright, Robin Mawer, Paul Davidson, Baz Scampion, Dave Andrews, B A E Marr, Samantha Hawkins, Ashley Banwell, Liam Reid, Andrew Russell, Barry Woodhouse, Sean Wileman, Justin Carr, John Pringle, Brian Hill, Sean Nixon, Chris Bell,