Weekly birding round-up: 11 - 17 Jan 2017
The week at a glance
Black-throated Thrush in Yorkshire
Lesser White-fronted Goose in Essex
Blue Rock Thrush in Gloucestershire
Dusky Thrush in Derbyshire
'Eastern Black Redstarts' in Cornwall and Cleveland
Snowy Owl on Orkney
Killdeer on Shetland
American Coot on the Western Isles
Black Scoter in Northumberland
Pallid Harrier in Yorkshire
Pacific Diver in Cornwall
Hudsonian Whimbrel in Cornwall
The birds played second fiddle to the weather this week with, for much of England at least, the worst conditions of the winter so far. The week began with strong winds and snow across northern Scotland with, to the south, a low pressure nudging into East Anglia and the Southeast on 12th bringing snow here also. This was quickly followed by the passage of a cold front down the North Sea, behind which came strong northwesterly winds. Combined with high spring tides, this brought a traditional 'storm surge' to counties surrounding the southern North Sea which, although lower than the last such event in 2013, still flooded a number of properties in Hornsea, Yorkshire and inundated the Norfolk Wildlife Trust reserve at Cley. Thereafter, conditions settled down, with an area of high pressure pushing in from the southeast. This brought milder conditions to northern England and Scotland but chillier, calmer weather to East Anglia and the Southeast.
The best new rarity of the week was a Black-throated Thrush in Yorkshire although news also emerged of a Lesser White-fronted Goose in Essex. However, the main bird event for most - a continuing influx of Glaucous Gulls - was much more in keeping with the wintry conditions, not least through the species' scientific name. Riding this week's gales, this impressive Arctic gull did indeed evoke Hyperborea - the land beyond the north wind.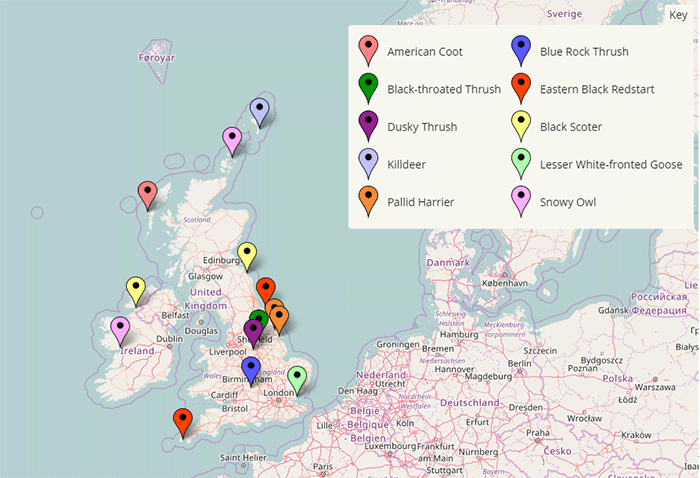 Black-throated Thrush
Bird of the week was a first-winter female Black-throated Thrush found at Old Moor, Yorkshire on 15th and still present to 17th. After the deluge of eastern passerines last October, the appearance of another of these Russian thrushes was hardly shocking news but it was a great find nonetheless and the seventh record of the species for Yorkshire. Remarkably, it was yet another female. Of the eight or so recorded since last autumn, all but one have been of this much less obvious plumage type.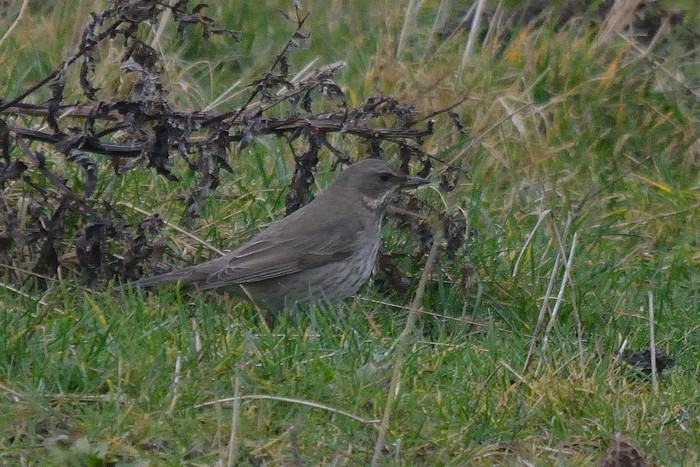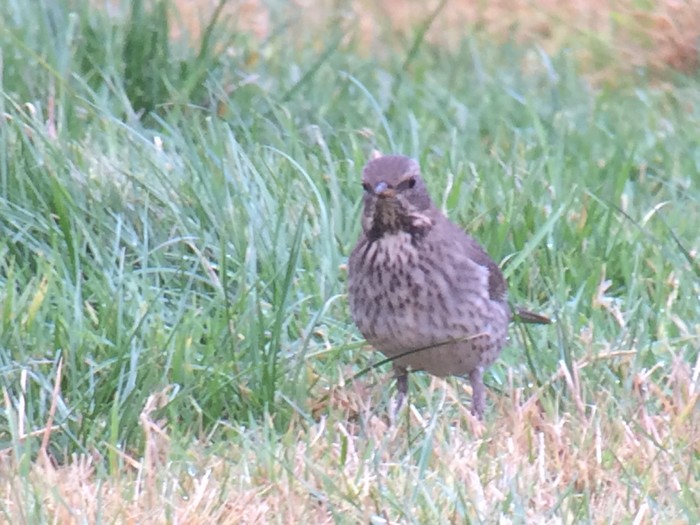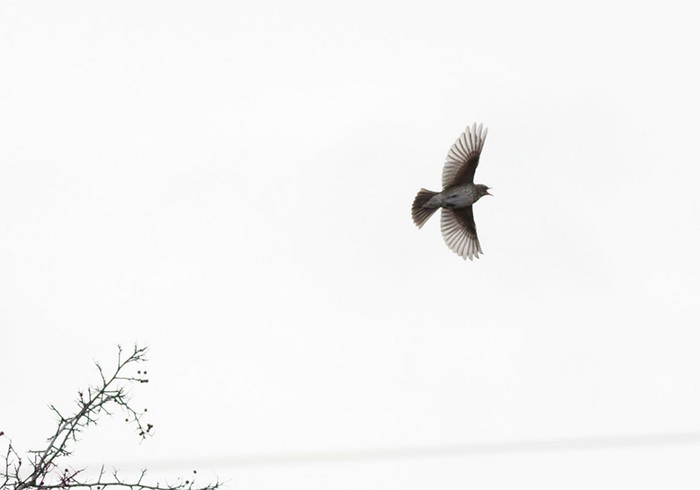 Lesser White-fronted Goose
Also new this week (although it had apparently been present since mid-December) was an adult Lesser White-fronted Goose with White-fronted Geese at Foulness Island, Essex. Given that many of Europe's Lesser White-fronted Geese are now from released stock (a controversial topic in its own right), the origins of this bird are unclear to say the least but wherever it's from it presumably arrived as part of the pre-Christmas mass arrival of White-fronts which also brought the Red-breasted Goose to Norfolk. Access to this part of remotest Essex is problematic, however, with much of the area under MOD management, road access restricted, and access on foot apparently only via the ancient and mysterious but notoriously dangerous 'Broomway' across Maplin Sands - not a journey to be undertaken lightly.
Lingering passerines
The winter's lingering star passerines were still present this week - the adult male Blue Rock Thrush at Stow-on-the-Wold, Gloucestershire to 17th, the first-winter female Dusky Thrush at Beeley, Derbyshire also to 17th and the first-winter male 'Eastern Black Redstarts' at Skinningrove, Cleveland to 17th and Mousehole, Cornwall to at least 15th.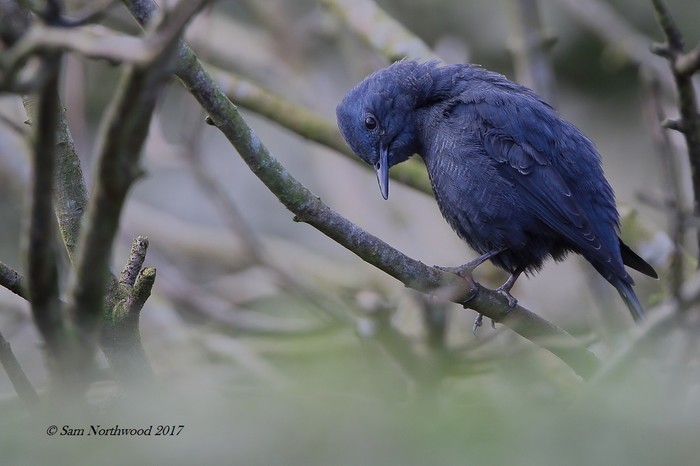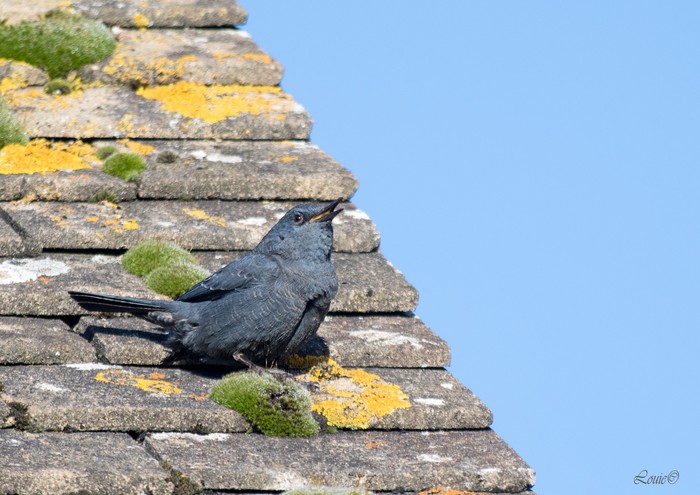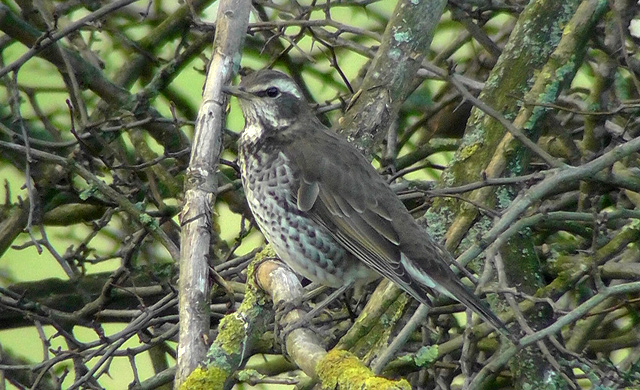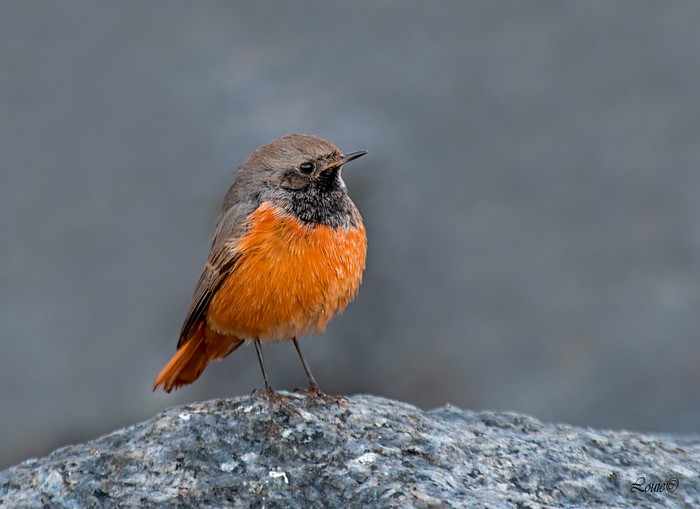 A revisiting of the DNA analysis of the Dungeness stonechat this week revealed, as expected, that it was in fact an aberrantly-plumaged European Stonechat and not a 'Stejneger's Stonechat'. The original incorrect identification was, however, due to an administrative error rather than any more deep-seated problems with the analysis itself. The resolution to this conundrum is very welcome news. Firstly, this column has felt obliged to report the presence of the bird for two weeks now whilst at the same time subtly and politely (but hopefully very obviously!) distancing itself from the proposed identification. Secondly, and more importantly, we can now be reassured that our understanding of the identification criteria for Siberian Stonechats in general (and increasingly for stejnegeri in particular) remains firmly-based. For a full overview of the fundamentals of genetic analysis and some fascinating and topical case-studies of its application there is no better read than Martin Collinson's 'CSI: Birding' paper in the latest issue of 'British Birds'. As a supplement to standard birding techniques, genetic analysis is already telling some fabulous new stories and we should embrace its insights with enthusiasm.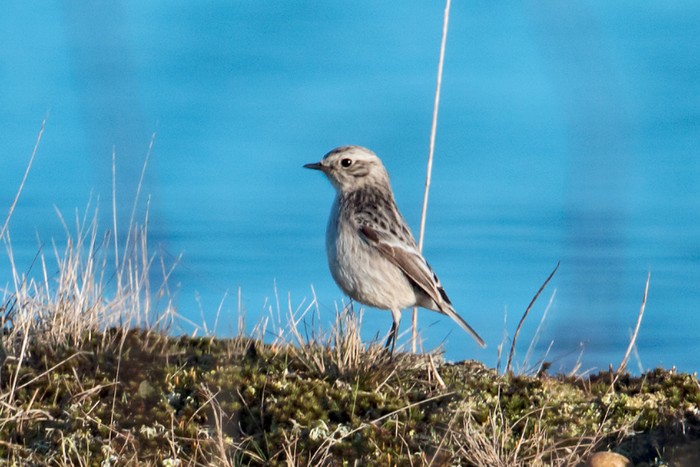 Lingering non-passerines
There was a healthy list of lingering non-passerines too. The female Snowy Owl was on Eday, Orkney to at least 11th with, on neighbouring Shetland, the Killdeer at Sandwick, Shetland to at least 16th. Also in Scotland, the American Coot remained at Balranald, North Uist, Western Isles to 17th.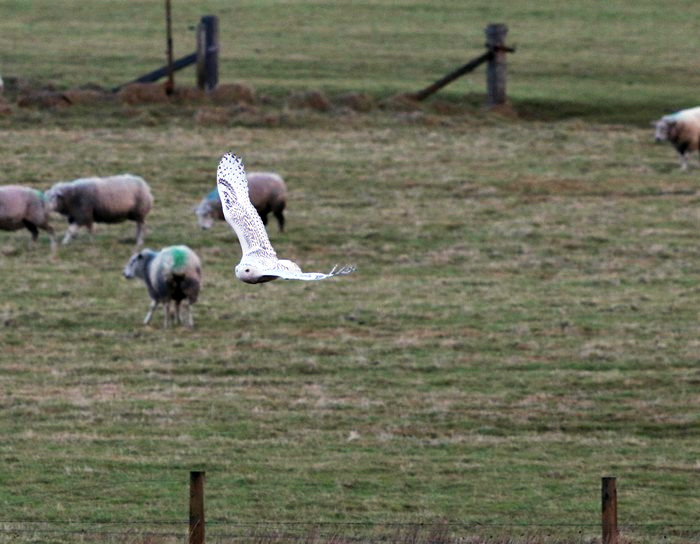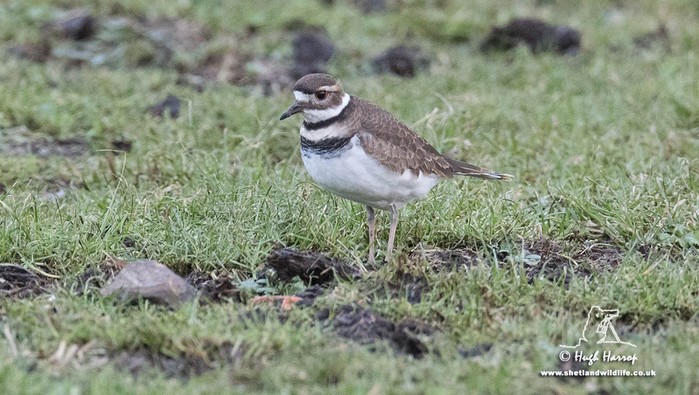 In England, the drake Black Scoter was at Goswick, Northumberland to at least 16th, the juvenile Pallid Harrier at Welwick, Yorkshire to at least 14th, the Pacific Diver off Penzance, Cornwall to 17th and the Hudsonian Whimbrel at Perranuthnoe, Cornwall to 17th also.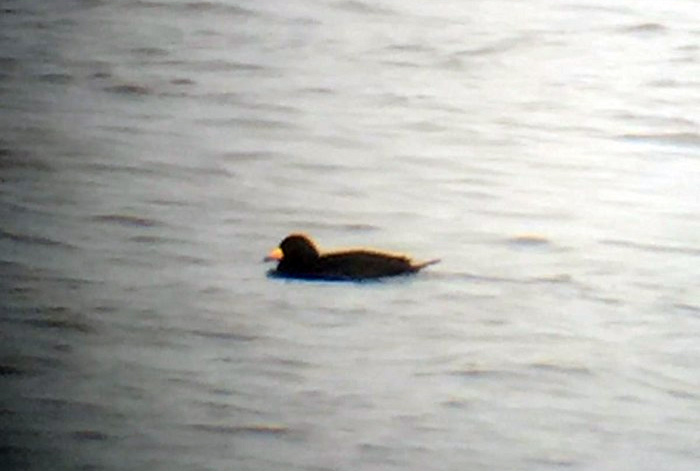 Further afield
In Europe, Siberian Accentors managed to hit the headlines yet again with another found this week in Sweden. Elsewhere in Scandinavia, a Pine Bunting and an Iceland Gull were in Finland. Continuing the gulls theme, another Iceland Gull was in Estonia, a Ring-billed Gull in Bulgaria, the returning adult Thayer's Gull in Spain and a juvenile on the Azores. Finally, an 'Eastern Black Redstart' and a Blyth's Pipit were in the Netherlands, a Sociable Plover in Spain and another 'Basalt Wheatear' in Israel.

A White-billed Diver was reported as being still off South Ronaldsay, Orkney on 16th. The strong winds this week brought a handful of Little Auks inshore, with birds noted off Unst, Shetland on 11th, Burghead, Moray on 12th, Seaton Sluice, Northumberland (two) on 13th, Flamborough, Yorkshire, Sandbanks, Dorset, Skye, Highland and Whitburn, Durham on 14th and off the Isle of May, Fife, St. Mary's, Mainland Orkney and at sea off Heysham, Lancashire on 17th. More impressive, however, were sixteen 'Blue' Fulmars off Unst on 11th.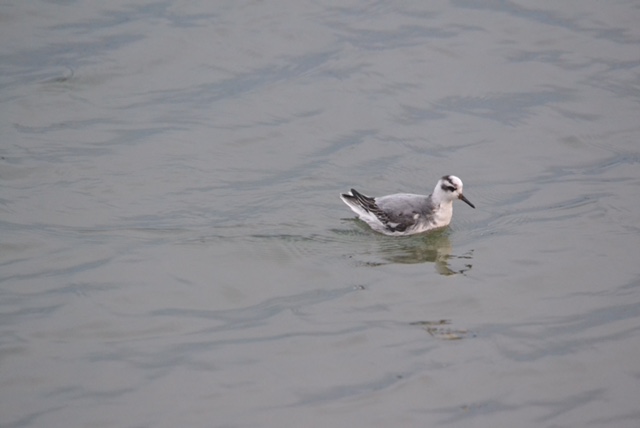 With no sightings of the Red-breasted Goose this week, the only rare geese reported were a Cackling Goose still on Islay, Argyll on 16th and 'Black Brants' at Weymouth and Poole Harbour, both Dorset, Kilnsea, Norfolk and Foulness Island/West Mersea, Essex.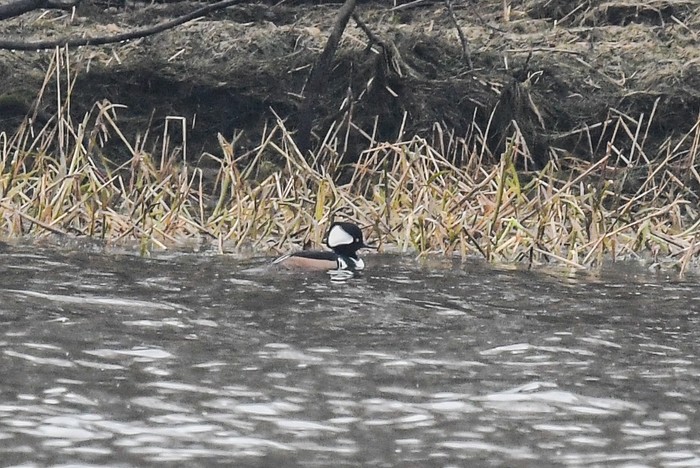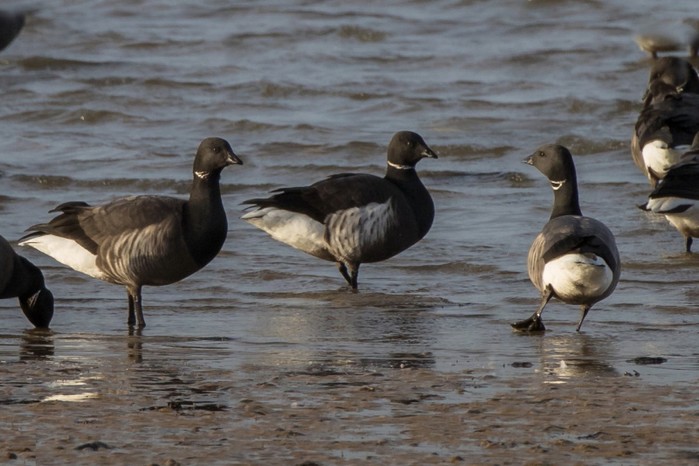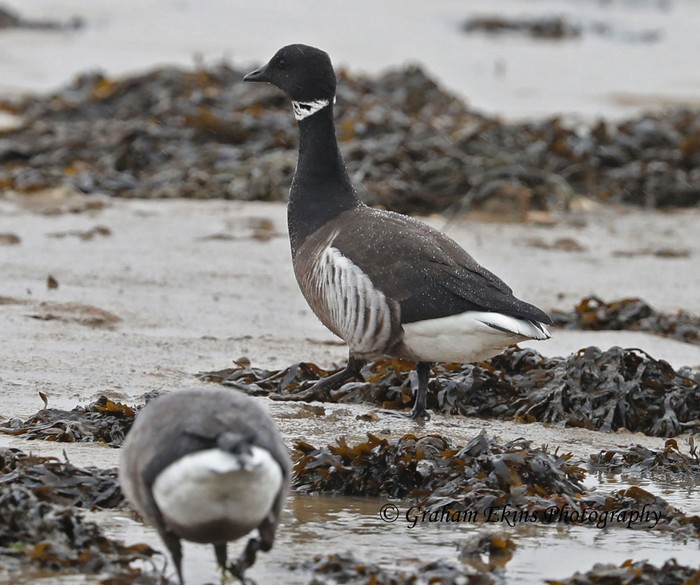 The best rare ducks were the drake Hooded Merganser at Lochwinnoch, Clyde still to 17th, the Lesser Scaup still at Dozmary Pool, Cornwall and Ferruginous Ducks at Ranworth and Holme, both Norfolk. As for other diving ducks, Ring-necked Ducks numbered sixteen - at Cloonee Lough, Kerry, Carlingwark Loch, Dumfries and Galloway, Dungeness, Kent, Castle Ward, Down, Lough Morne, Monaghan, Knockaderry Reservoir, Waterford (two), Pitlochry, Perth and Kinross, Kirkby-on-Bain, Lincolnshire, Chew Valley Lake, Somerset, Lough Morne, Monaghan, Loch of Clumly, Orkney, Garryhesta Quarry, Cork (three) and Paxton Pits, Cambridgeshire.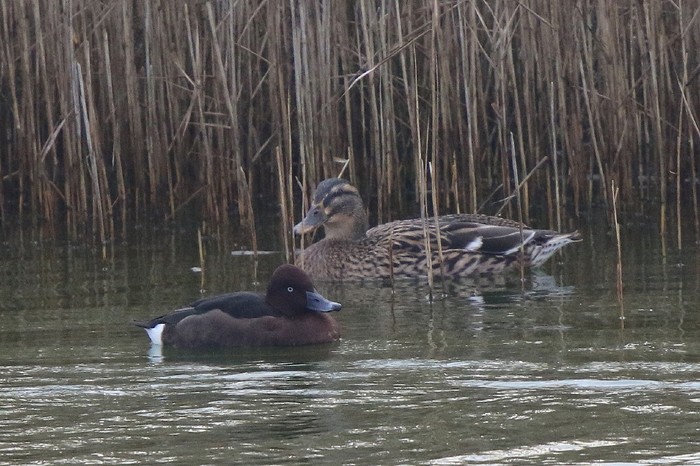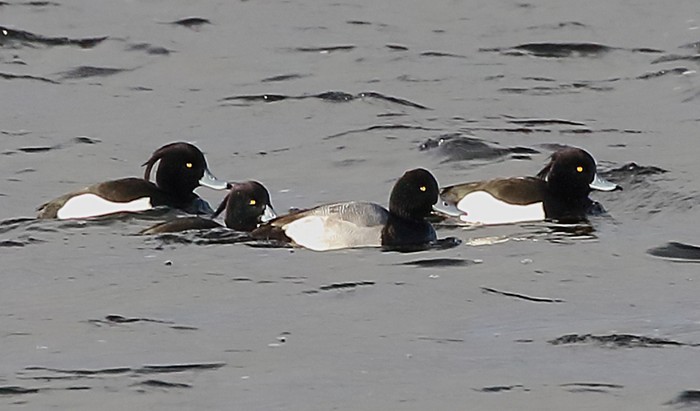 American Wigeons were at Caerlaverock, Dumfries and Galloway, Countess Wear, Devon, Loch of Strathbeg, Aberdeenshire, South Kessock, Tain, Udale Bay and Clachnaharry, all Highland, Kingsmill Lake, Cornwall and Barra, Western Isles.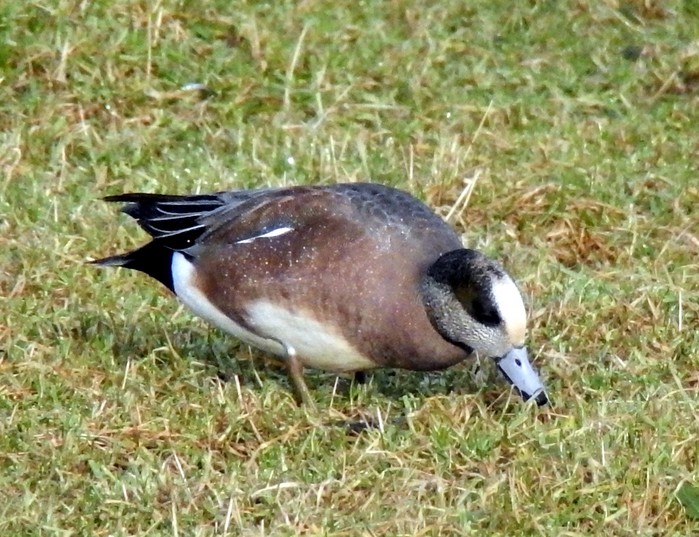 Green-winged Teals were at Poole Harbour, Dorset, Hayle Estuary, Cornwall, Kinvarra, Galway, Saltholme, Cleveland, Malin Head, Donegal, Ballymena, Antrim, Rutland Water, Leicestershire, Loch Flemington, Highland, North Cave Wetlands, Yorkshire, Carsebreck Loch, Perth and Kinross, Burton Mere, Cheshire and Wirral, Islay, Argyll, Tiree, Argyll, Martin Mere, Lancashire and Inverness Airport, Highland.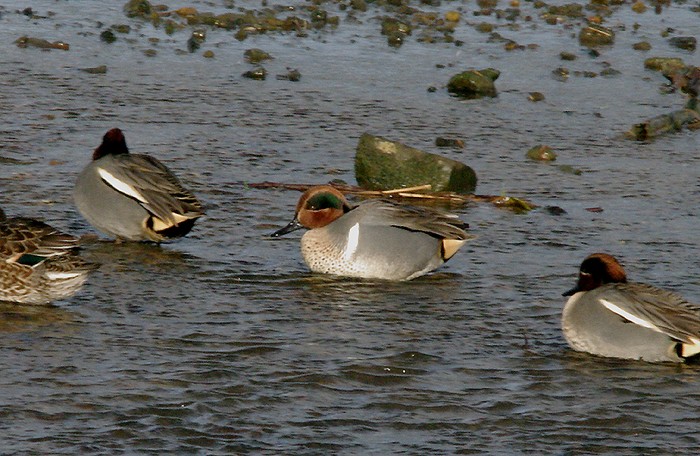 Turning to seaducks, the drake King Eider was still off Mullaghmore, Sligo to at least 11th and another was off St. Combs, Aberdeenshire on 17th. The juvenile Surf Scoter was still at Rutland Water, Leicestershire to at least 11th with others at St. Andrews, Fife (two), Quanterness, Mainland Orkney (two), Laytown, Meath (two), Fisherrow and Musselburgh, both Lothian, Torbay, Devon, Murvagh, Donegal, Bluemull Sound, Shetland and Inny Strand, Kerry.
Herons, egrets, crakes etc.
Cattle Egrets remained widespread in the Southwest and Ireland with eleven at Newquay, ten at Helston and nine at Bude, all Cornwall, nine at Crosshaven, Cork, six at Tomhaggard, Wexford, five at Malltraeth, Anglesey, four at Saul, Gloucestershire, Wroughton, Wiltshire, Warblington, Hampshire and Nottington, Dorset, three at Clonakilty, Cork, Bicester, Oxfordshire, Halvergate, Norfolk, Middleton Stoney, Oxfordshire, Devoran, Cornwall and Waddeton, Devon.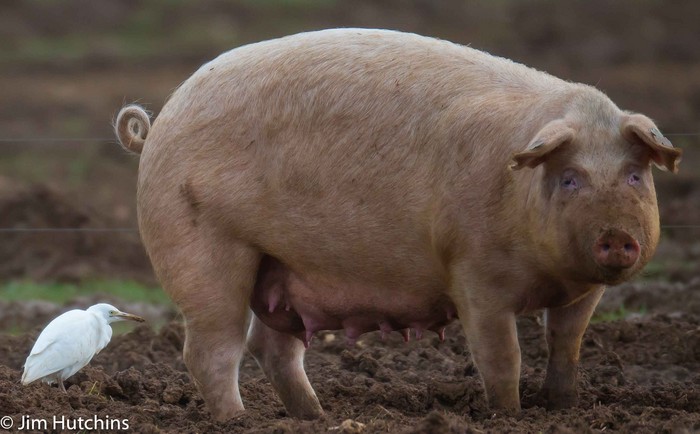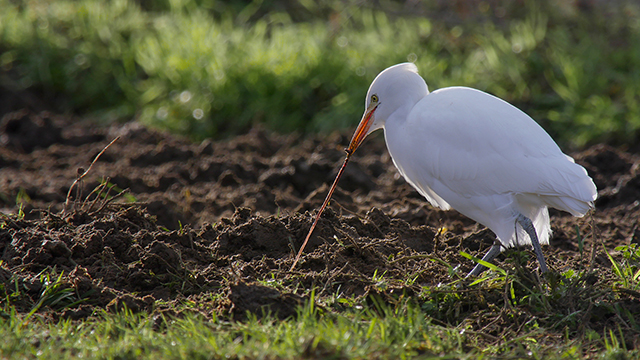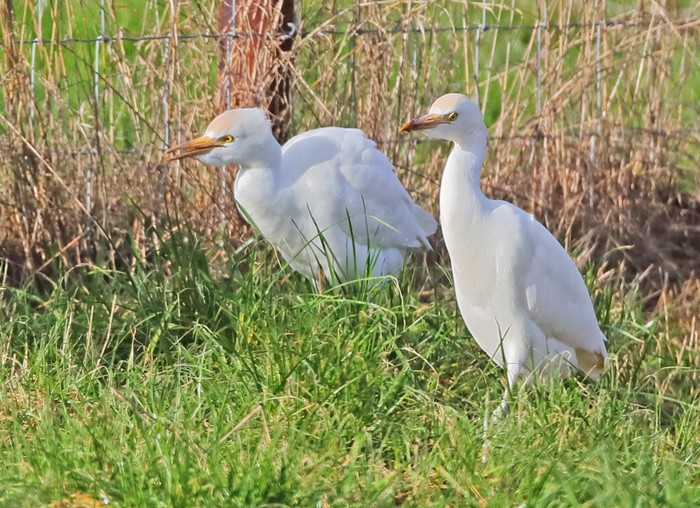 Glossy Ibis reports comprised two still at Ham Wall, Somerset and a single still at West Mersea, Essex.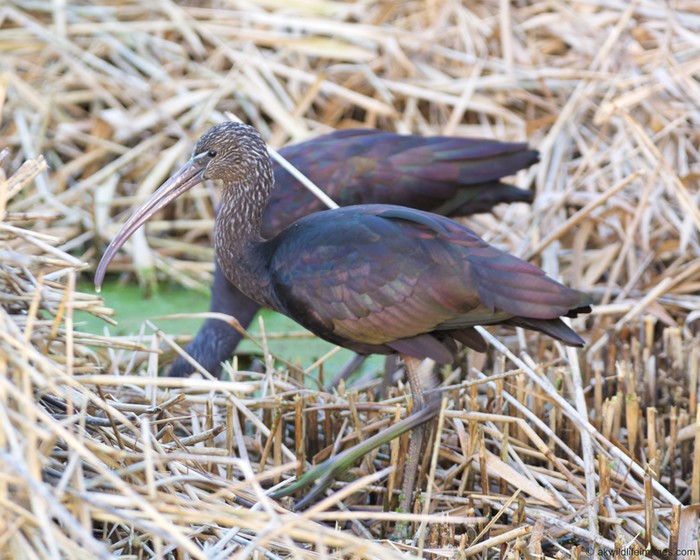 The only Rough-legged Buzzard of the week was at Thorney, Cambridgeshire still on 14th.
The winter's two rare waders - the Lesser Yellowlegs at Poole Harbour, Dorset and the Long-billed Dowitcher at Tacumshin, Wexford - were both still present this week.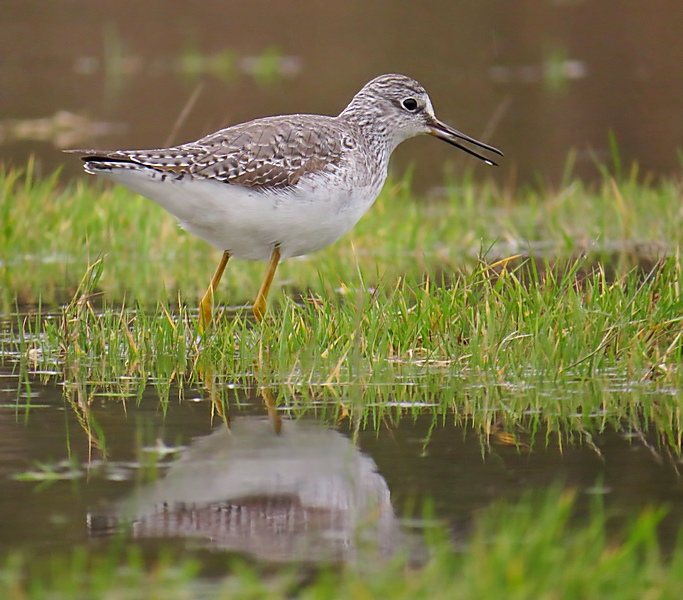 Once again the adult Bonaparte's Gull at Exmouth and Dawlish, Devon was the week's rarest gull but the headlines were dominated once again by a further influx of white-winged gulls. Glaucous Gulls were particularly prominent though near-impossible to count. Perhaps 250 were noted, a considerable increase on last week. Notable totals included seventeen at Killybegs, Donegal, fifteen on Unst and ten on Fair Isle, both Shetland, and at least twelve on North Uist, Western Isles. Further south, Yorkshire counts of up to six were made at Ruforth, Yorkshire and five at Filey and four were at Draycote Water, Warwickshire. The southernmost birds reached Kent and the Isles of Scilly.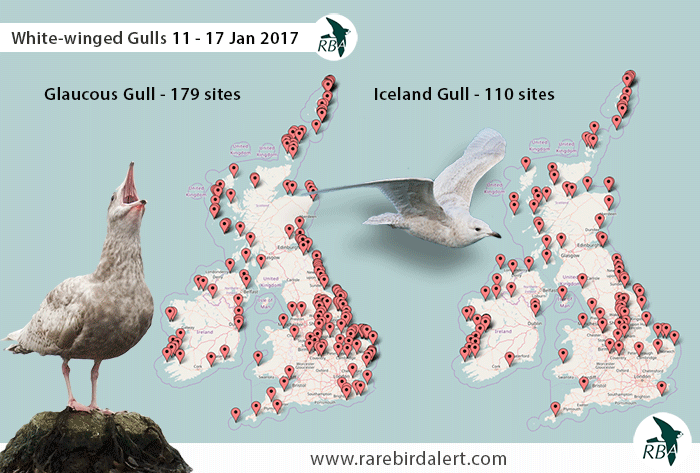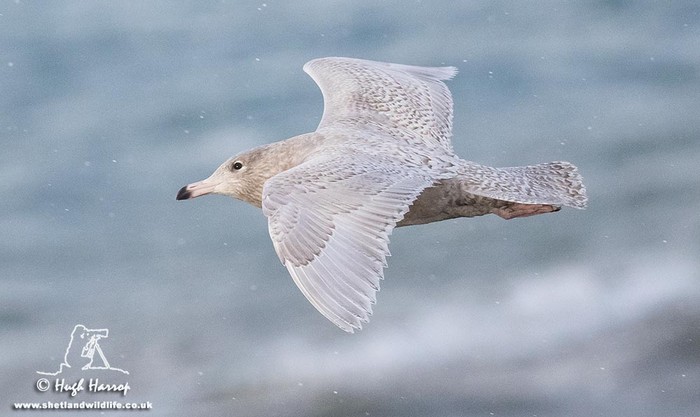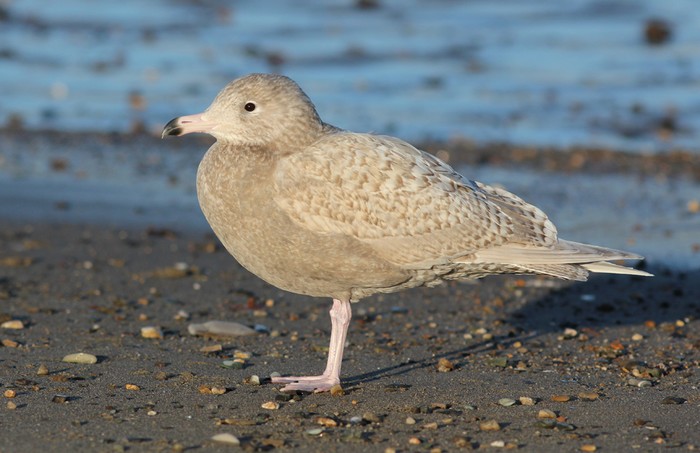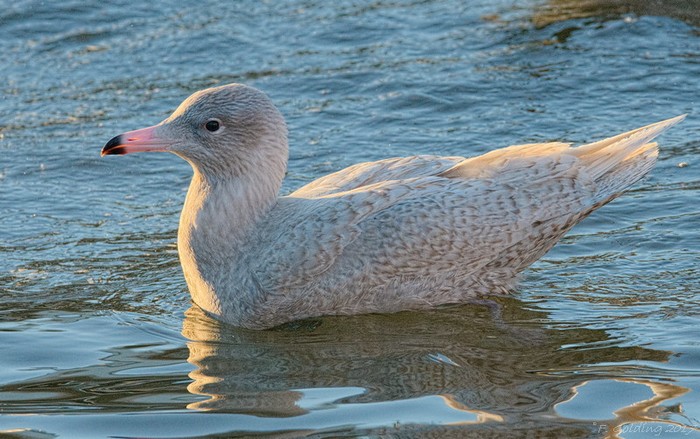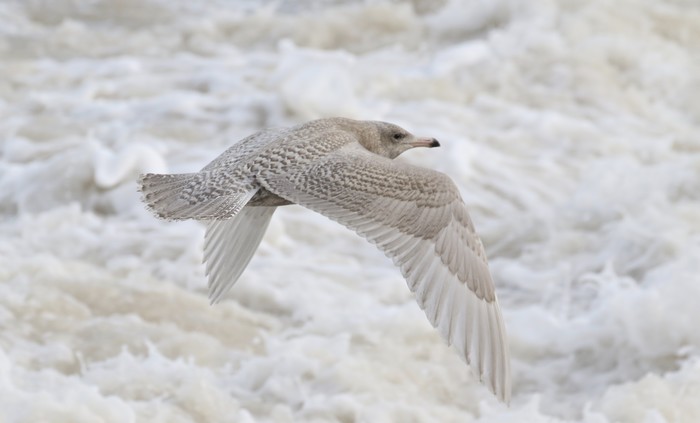 Iceland Gulls were more prominent too with comfortably over eighty noted, also an increase (albeit a more modest one) since last week. Eight were at Loch Kishorn, Highland and five at Killybegs, Donegal but most were singles, scattered widely across the country, with two as far southeast as Kent. Despite the influx, however, the only 'Kumlien's Gulls' noted were at St. Buryan, Cornwall on 13th and Ballycotton, Cork on 17th.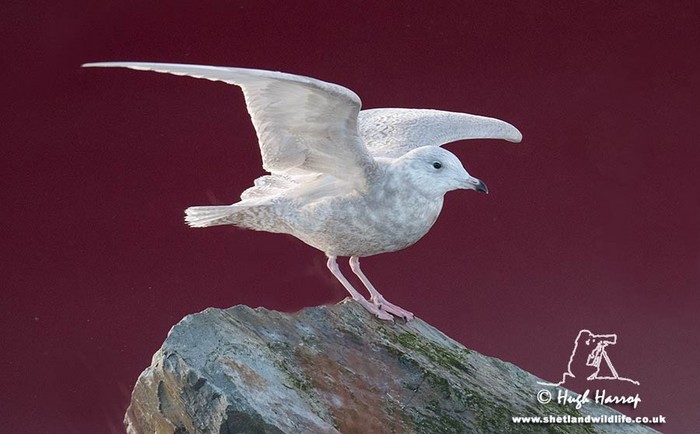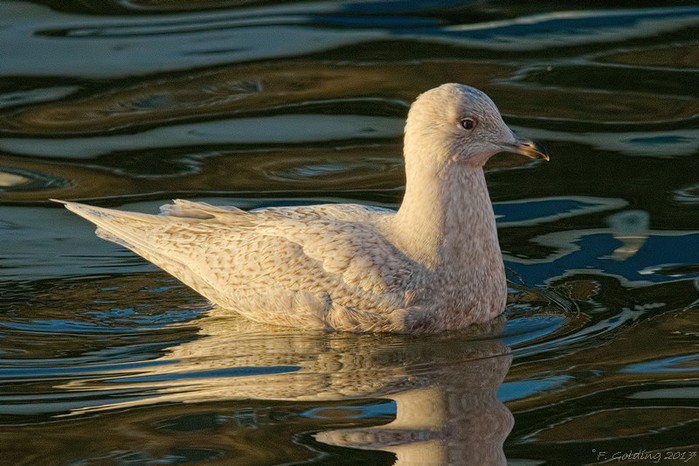 Ring-billed Gulls again put in a good showing with at least seventeen logged in Ireland. England hosted birds at Blashford Lakes, Hampshire (up to two still), the Gannel Estuary and Marazion, both Cornwall, whilst Scotland had one at Motherwell, Strathclyde and Wales one at Llys-y-fran Reservoir, Pembrokeshire.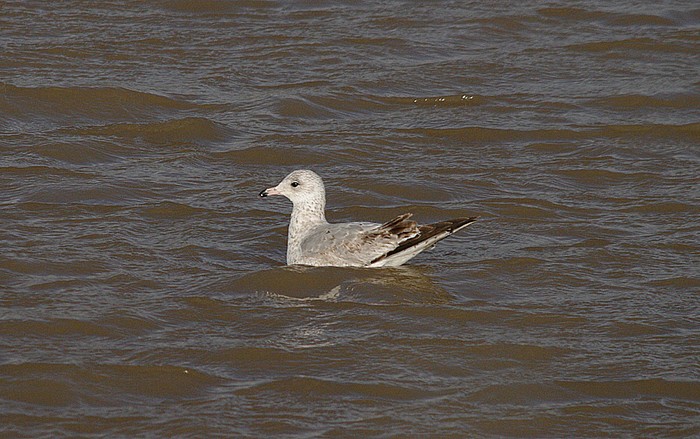 Back in Ireland, the Forster's Tern was at Kinvarra, Galway on 14th.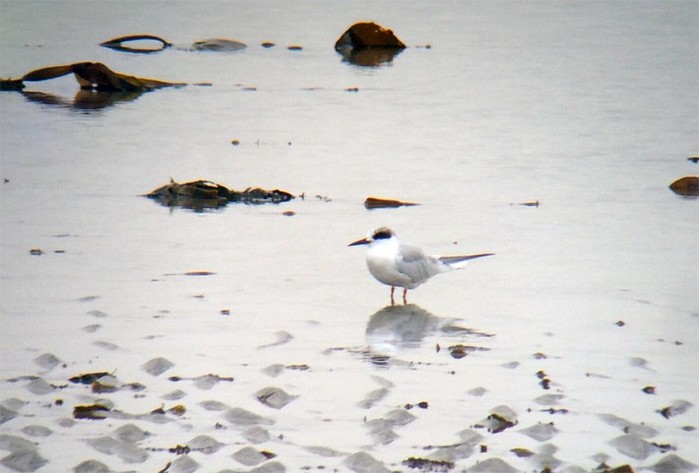 The passerine picture remained fairly stable this week with the wintering male Desert Wheatear at Thurlestone, Devon to 17th, the Pallas's Warbler at Kessingland, Suffolk to at least 12th, the Little Bunting at Knettishall, Norfolk to at least 14th, the Richard's Pipit at Arlingham, Gloucestershire to 17th, the Serin again at Newhaven, Sussex on 16th and the Rose-coloured Starlings at Crawley, Sussex and Dorchester, Dorset to 17th.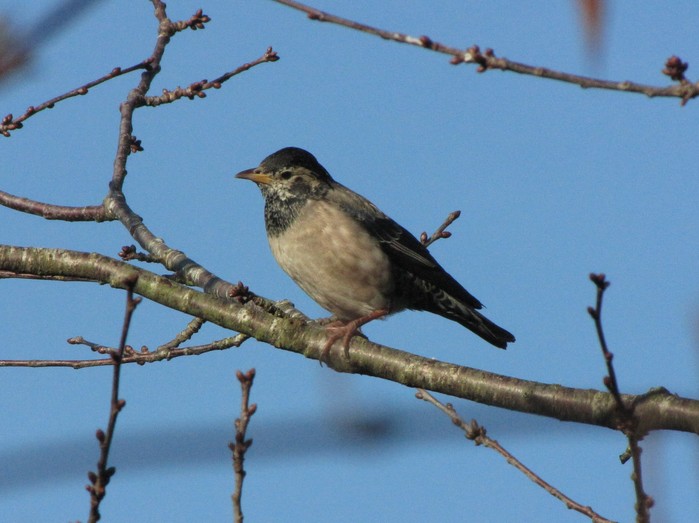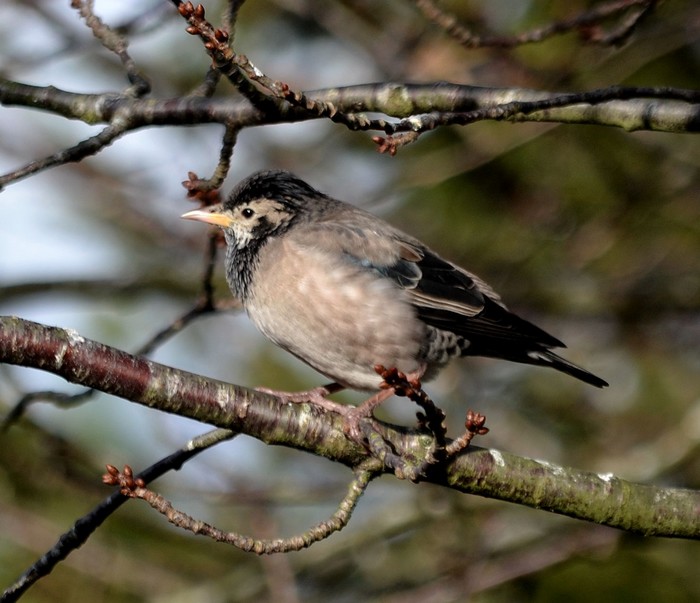 Yellow-browed Warbler reports totalled around twenty, all in Dorset, Devon and Cornwall apart from the long-stayer at Kinver, Staffordshire still to 13th and another at Dungarvan, Waterford on 15th.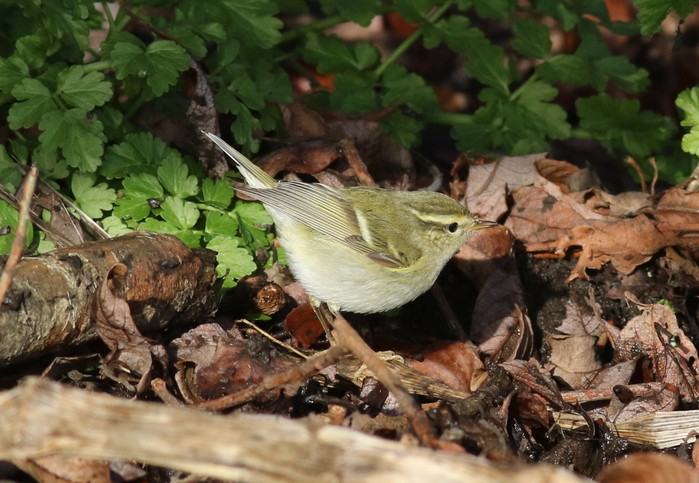 Up to thirty Shorelarks frequented Holkham Bay, Norfolk early in the week but were then displaced by the storm surge and presumably then relocated to Brancaster where 34 were counted on 14th before the flock returned to Holkham by the end of the week. Further north, seven were still at East Chevington, Northumberland, sixteen at Long Nab, Yorkshire and 21 at Tyninghame, Lothian. Great Grey Shrikes numbered around fifteen, most at traditional southern England heathland sites but singles were at Warenford, Northumberland on 14th, Loch Duntelchaig, Highland on 15th and Ashie Moor, also Highland, on 16th.
The southward movement of Waxwings over the last couple of weeks maintained its momentum with more birds and larger flocks now recorded in southern England. These included groups of up to 35 in London, 34 in Hertfordshire, 44 in Essex, 32 in Sussex and 60 in Kent. In the Southwest, a flock of nine reached Devon and in Ireland two reached Fermanagh.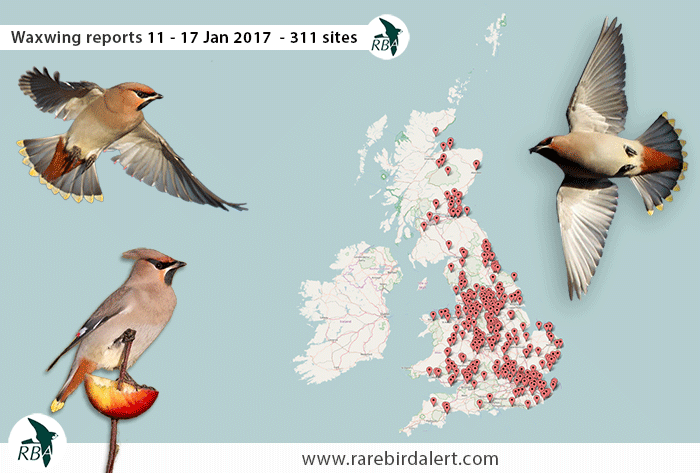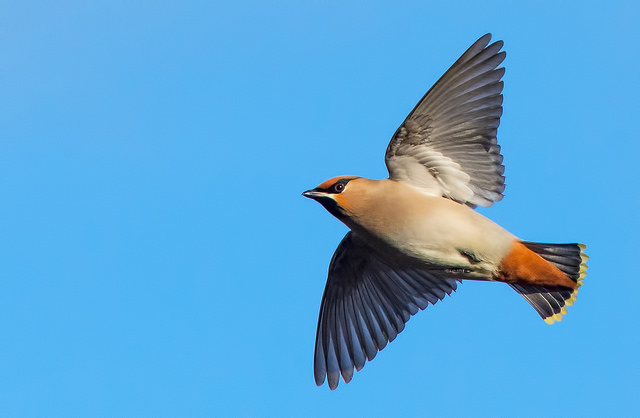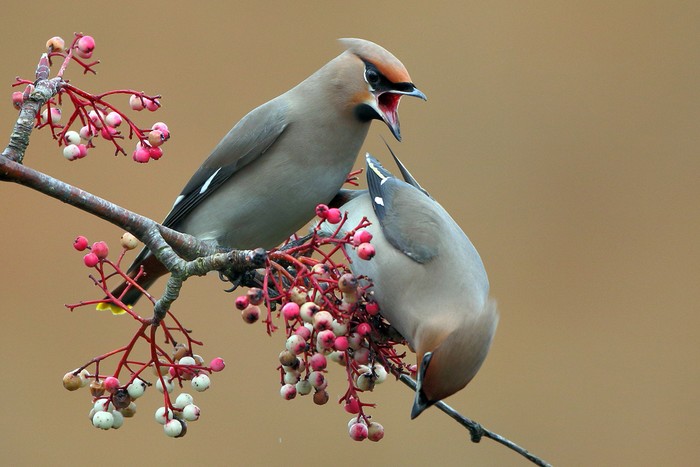 Further north, the large flocks seem to have become more fragmented with the only three-figure flock in Scotland being 250 in Aberdeen, Aberdeenshire. In England many of the large flocks were now in Yorkshire where 100 were in Leeds, Rotherham and Dewsbury and 150 in Hunslet. Elsewhere 120 were in Liverpool, Merseyside, 130 in Newcastle, Northumberland, 120 in Glossop, Derbyshire, 100 in Warrington, Cheshire and Wirral and (the furthest south three-figure flock so far) 105 in Brownhills, West Midlands. In Wales, 150 were in Kinmel Bay, Conwy.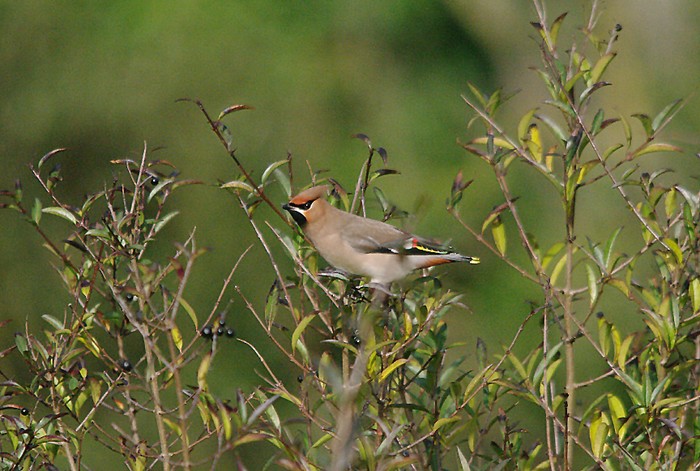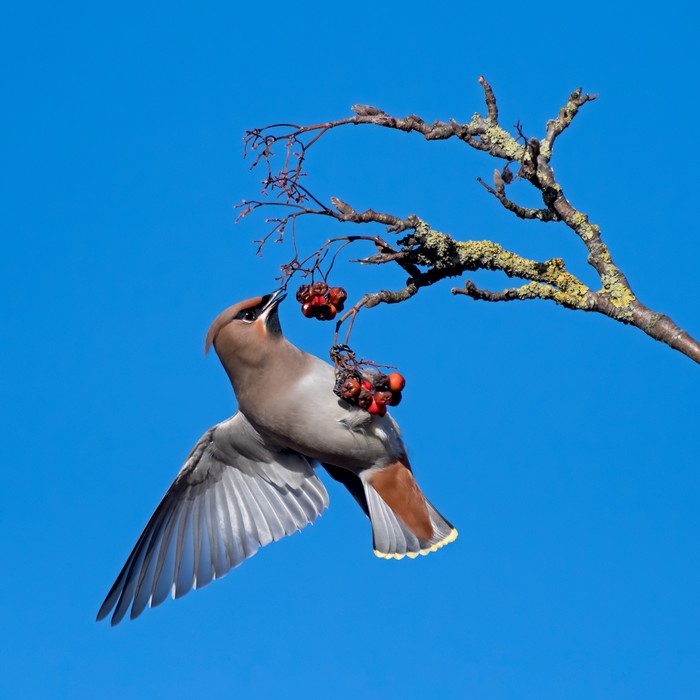 Looking ahead to next week, we are due a period of relative stability with an anticyclone keeping things calm, cool and cloudy in the Southeast. Further north promises to be breezier under the influence of Atlantic air although temperatures there should be higher. With the gales and snow out of the way it is perhaps time to revert to passerine-hunting. With Pine and Little Buntings and Black-throated Thrush already found in Britain this year, there must be more still to be discovered. And with some Pink-footed Geese already drifting north and a few minutes of extra light in the evenings can we start to look forward to the first stirrings of spring?
Andy Stoddart
18 January 2017
Share this story
Tweet


Many thanks to all contributors for their photos and videos this week.
Mick Hemingway, Adam Hutt, Jeff Wragg, Sam Northwood, Louie Horleston, Philip John Parsons, Alan Tate, George Gay, Hugh Harrop Shetland Wildlife, John Nadin, Jordi Sala Parra, Phillip Hubbert, Rob Wolstenholme, PT Saunders, Graham Ekins, Dave Burns, Stephanie Murphy, Brian Henderson, David Stone, Jim Hutchins, Jason Coppock, Scott Mayson, Michael Trew, Andrew Kirby, Ian Ballam, Eric Dempsey, Frank Golding, Andrew Hale, Niall Keogh, Tess Wright, Peter Law, Mike Morse, Oriole Birding, John Tymon, Adam Mcpherson,
Contributors websites