Weekly birding round-up: 7 - 13 Dec
The week at a glance
Slate-coloured Junco in Essex
Snowy Owl in Galway
Dusky Thrush still in Derbyshire
'Masked Wagtail' still in Pembrokeshire
'Eastern Black Redstarts' in Gloucestershire, Lothian and Cleveland
Isabelline Wheatear still in Norfolk
Killdeer still on Shetland
Pallid Harrier still in Yorkshire
American Coot still on Western Isles
Hudsonian Whimbrel still in Cornwall
This week brought much milder conditions than of late although for most it was somewhat grey, damp and gloomy. The winds began the week in the southwest, dragging in very warm air from the Canaries, before settling into a more westerly transatlantic pattern. As last week, October refused to relinquish its continuing influence over bird arrivals and discoveries. One or two more eastern birds were found to act as a counterweight to the more traditional winter fare, and there was an American passerine too!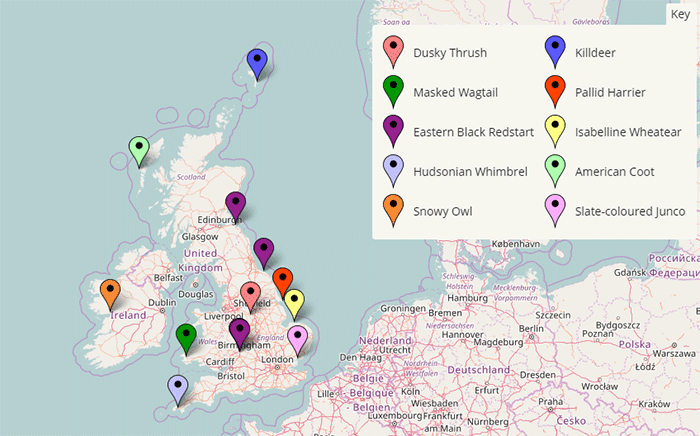 Slate-coloured Junco
The American passerine was a splendid-looking apparent adult male Slate-coloured Junco found in a garden at West Mersea, Essex on 8th. It was reported as 'showing well' around a bird bath and feeder but, to the surprise of many, there was no sign of it next day.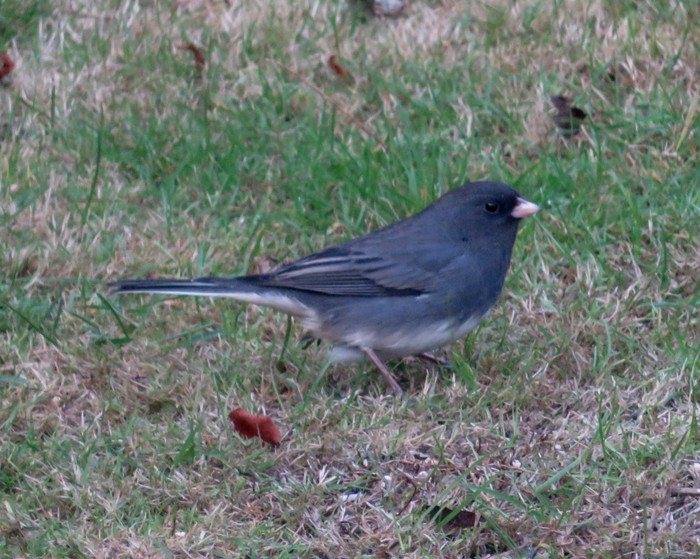 Slate-coloured Juncos are famously erratic in their occurrences in Britain. There are now around forty British records (though with only another three in Ireland), mostly in spring, especially in May, but with a number in winter too. Interestingly, two of the three months with no records at all are September and October. The geographical spread of records is also wide and includes not only the usual vagrant hotspots (for example the Northern and Western Isles) but also a good number of inland sites with a noticeable cluster in the Sussex, Hampshire, Dorset and Isle of Wight area - perhaps a pointer to ship-assisted arrivals in Southampton. There are only two other East Anglian records (both in Norfolk in 2007) so this is the first for Essex but, given that its location lies between Felixstowe and Tilbury, ship assistance is a likely scenario here too. Whatever the story of its arrival, however, this is still a terrific record and yet another great bird for the already legendary autumn of 2016.
Snowy Owl
The other new headline bird of the week was a female Snowy Owl near Spiddal, Galway on 10th and 11th. There can be few more exciting species than this magnificent High Arctic owl and few more beautiful settings in which to see one. Sadly, the days of breeding and semi-permanent residence on Fetlar, Shetland are now long gone, although they are still remembered fondly by many who made the trip to see not only this species but the similarly semi-resident Black-browed Albatross on neighbouring Unst. Since then, Snowy Owl has remained largely a bird of the far west with a number of long-staying birds in both Ireland and the Western Isles representing the best opportunity to catch up with one. Spiddal has hosted a Snowy Owl before but whether this is a returning bird or a new one is not clear. Whatever its history, this is the first Snowy Owl to feature in the news for a little while. Perhaps it will linger into the New Year to feature in the western Ireland gull-spotting itineraries of early 2017.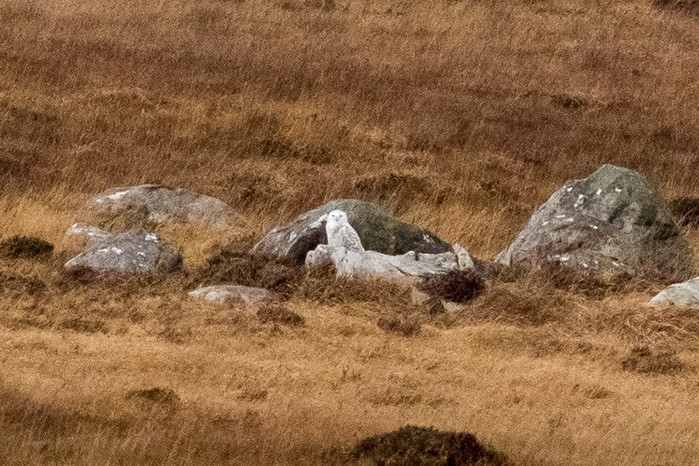 Dusky Thrush
The other top birds of the week were all lingerers, the best being without doubt the female Dusky Thrush still at Beeley, Derbyshire to 13th. Thanks to the hospitality and goodwill of the Dukes Barn Outdoor Activity Centre, Chatsworth House and local residents, what could have been a troublesome situation seems to have passed off without too much difficulty and, despite the bird remaining skittish and elusive, the many hundreds of visitors seem to have enjoyed, with patience, at least brief views. With the first weekend rush now out of the way, things will now hopefully settle down a little for the locals (and for the bird too).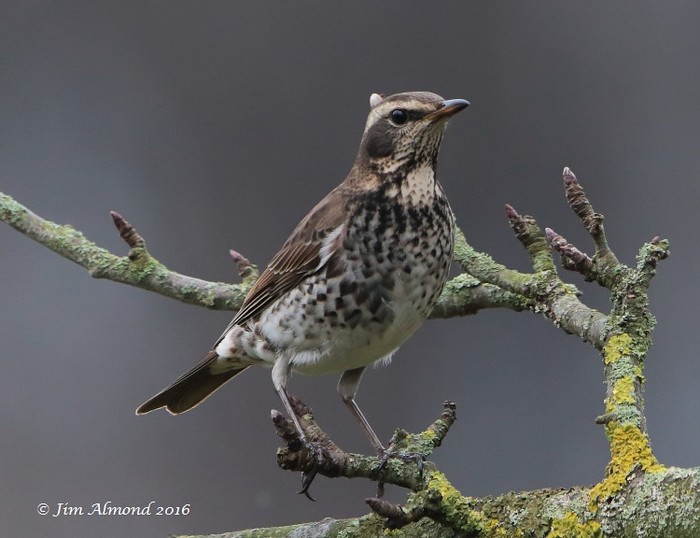 'Masked Wagtail'
Still flaunting itself around the rooftops of Camrose, Pembrokeshire was the 'Masked Wagtail' , present to at least 13th.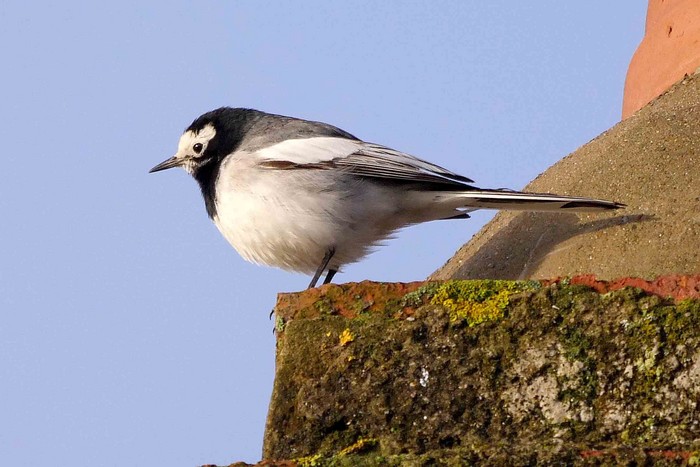 'Eastern Black Redstarts'
'Eastern Black Redstarts' still featured prominently in the news too. The most notable event was the rediscovery of last week's short-staying bird at Ripple, Worcestershire at the delightful surroundings of Tewkesbury Abbey, Gloucestershire. Identified on 11th, it had actually been there since 7th and was originally spotted on the Abbey's webcam. Sadly though, no sooner had its presence been rumbled than it departed. Although across a county boundary, the two sites are very close indeed and the same bird is surely involved. Further north, the other long-staying individuals were still at Skinningrove, Cleveland and Torness, Lothian to 13th, both still adding a touch of brightness to an increasingly dull and gloomy month.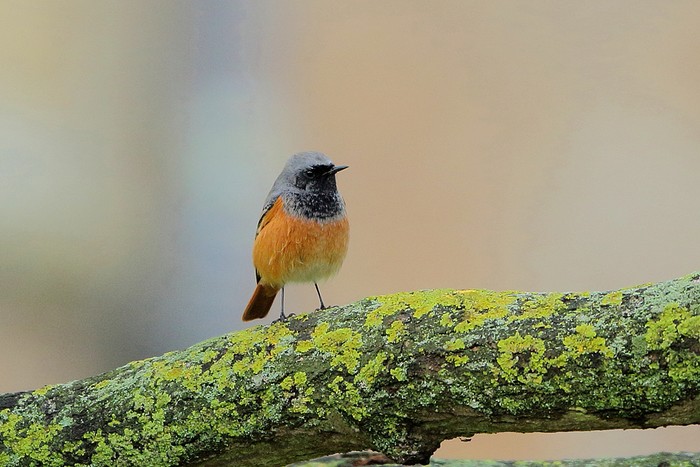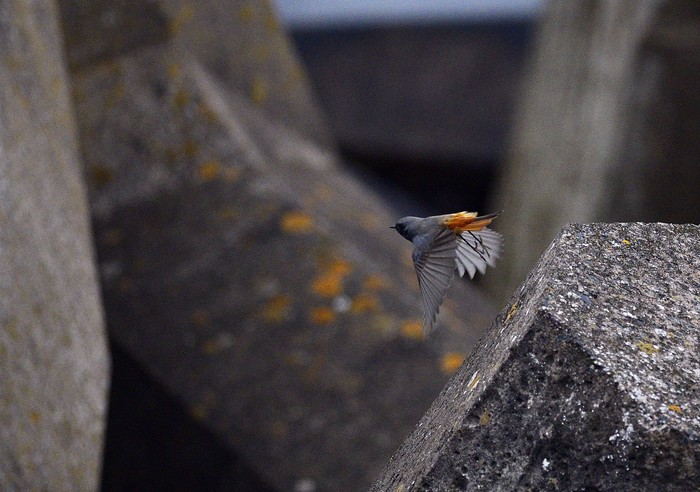 Lingerers
Also still hanging on were Britain's latest ever Isabelline Wheatear , still at Burnham Overy Dunes, Norfolk to at least 10th, the Killdeer at Sandwick, Mainland Shetland to 13th, the juvenile Pallid Harrier at Welwick and Easington, both Yorkshire, to 13th also, the American Coot on North Uist, Western Isles to at least 11th and the Hudsonian Whimbrel still at Perranuthnoe, Cornwall to at least 10th.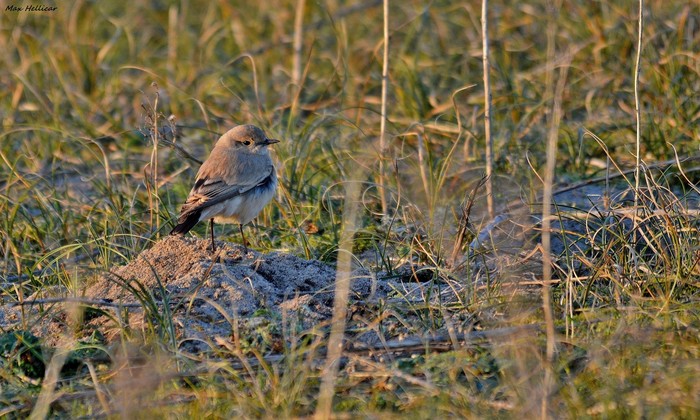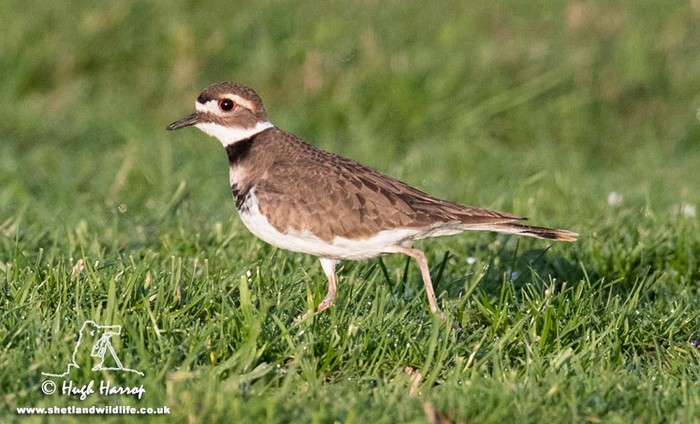 Further afield
'Euronews' was inevitably a little more sparse this week though the main story of the autumn - the Siberian Accentor influx to Scandinavia - continued with three more found in Sweden, thus taking the northwest Europe total for the autumn to a crazy 237. The rarest bird, however, was an Allen's Gallinule at Palma, Majorca. Otherwise the highlights comprised single Pine and Little Buntings in Austria, a Laughing Gull in Spain and Hume's Yellow-browed Warblers in Italy, the Netherlands, Spain and Germany.
The only seabird of note in the whole week was a lonely Little Auk in Cayton Bay, Yorkshire on 7th.
The only rare geese actually reported this week were three Snow Geese at Loch of Skene, Aberdeenshire still to at least 9th, the 'Richardson's Cackling Goose' and two 'Todd's Canada Geese' at Lissadell, Sligo on 11th and 'Black Brants' at Barling, Essex and Ferrybridge, Dorset (two).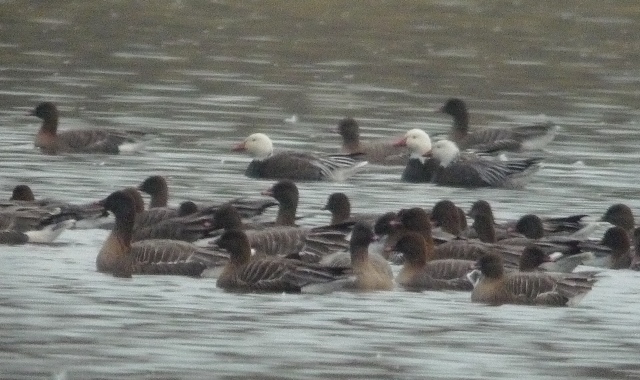 The best new duck discovery was an adult drake King Eider off Ballysadare and Mullaghmore, Sligo on 11th but the rarest duck was the Hooded Merganser still at Kilbirnie Loch, Ayrshire to 13th.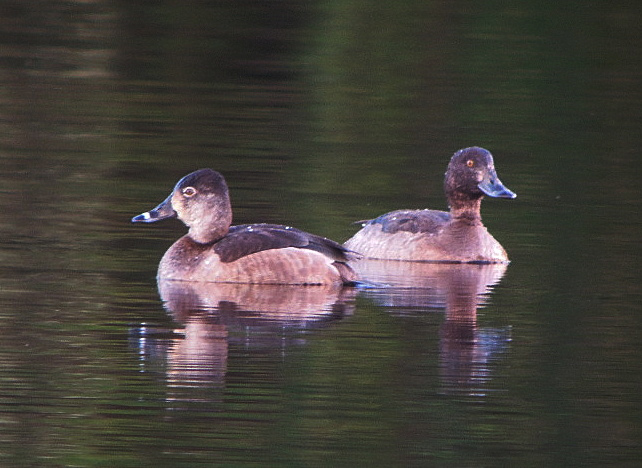 As for the 'normal' diving ducks, Lesser Scaups were still on Birsay, Orkney to at least 12th and at Lough Gara, Sligo to at least 11th, and nine Ring-necked Ducks were at some largely familiar locations - Dungeness, Kent, Paxton Pits, Cambridgeshire, Pitlochry, Perth and Kinross, Knockaderry Reservoir, Waterford, Tittesworth Reservoir, Staffordshire, Loch of Skaill, Orkney, Killarney, Kerry, Carlingwark Loch, Dumfries and Galloway and Lower Cloonee Lough, Kerry.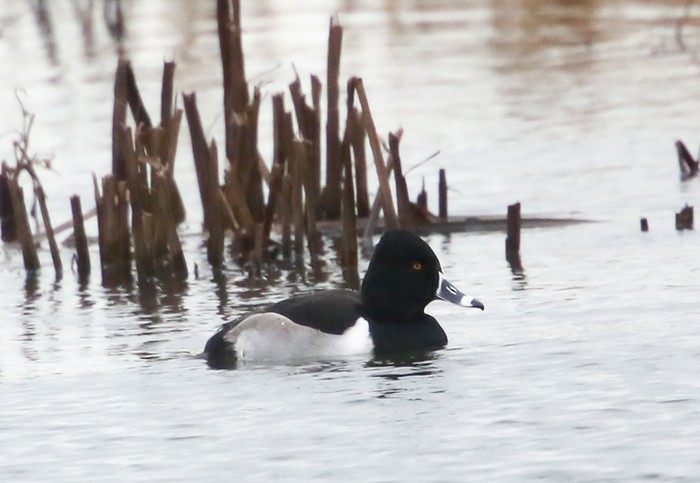 Half a dozen American Wigeons were also still at wintering sites - Tain, Highland, Loch of Strathbeg, Aberdeenshire, Loch of Lintrathen, Angus, Caerlaverock, Dumfries and Galloway, Clachnaharry, Highland and Exminster, Devon.
Green-winged Teals were commonest, with over a dozen noted - at Ballymena, Antrim, Poole Harbour, Dorset, Caerlaverock, Dumfries and Galloway, Woolston Eyes, Cheshire and Wirral, Loch of Skaill, Orkney, Martin Mere, Lancashire, Venus Pool, Shropshire, Loch Leven, Perth and Kinross, Lound, Nottinghamshire, Hayle Estuary, Cornwall (two), Lurgangreen, Louth and Belvide Reservoir, Staffordshire.
Turning to the sea, Surf Scoters were at Largo Bay, Fife, Brandon Bay, Kerry (two), Llandulas, Conwy, Man Sands, Devon, Portobello and Joppa, both Lothian, and Kirkwall, Orkney (three).
Herons, egrets, crakes etc.
Cattle Egrets remained widely distributed around southern England, Wales and Ireland, with the greatest concentrations being seven at Teigngrace, Devon and Lady's Island Lake, Wexford, five at Nottington, Dorset and three at Saul, Gloucestershire and Newquay and Truro, both Cornwall. The only bird in northern England was at Hightown, Merseyside.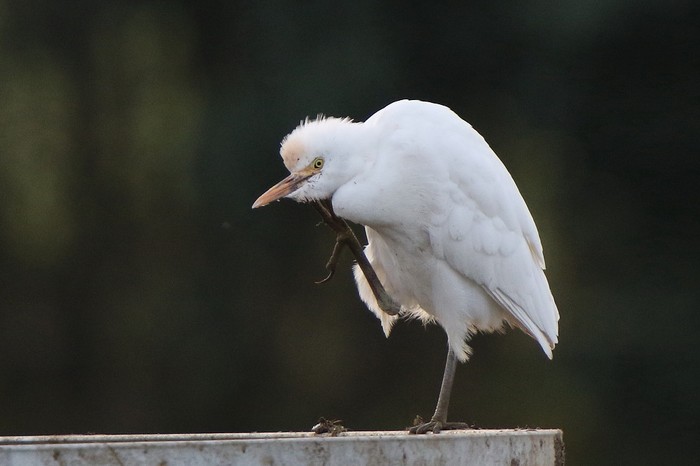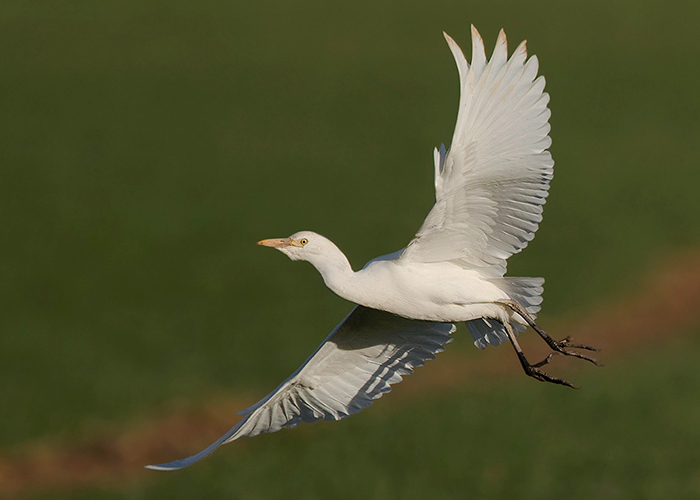 Great White Egrets were widespread throughout southern England though there none in Wales, Ireland or Scotland. The largest numbers were again in Somerset and Bristol (sixteen at Chew Valley Lake and ten at Blagdon Lake) and the furthest north were three in the Lyth Valley, Cumbria on 9th.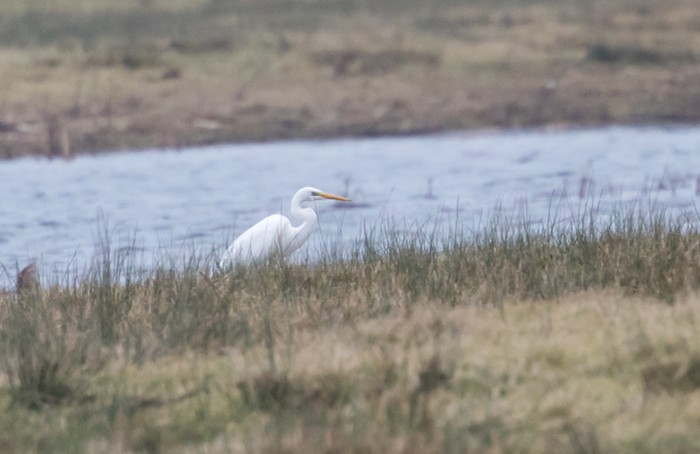 Glossy Ibises were still on the Taw Estuary, Devon, at West Mersea, Essex, near Ely, Cambridgeshire and at Cossington Meadows, Leicestershire.
A Rough-legged Buzzard was reported intermittently in the Titchwell and Choseley area of northwest Norfolk all week.
The wintering Lesser Yellowlegs at Poole Harbour, Dorset and the Long-billed Dowitcher at Tacumshin, Wexford both remained in situ this week.
Only around sixteen Glaucous Gulls were noted this week - at Whitburn, Durham (up to two) to 10th, Stromness, Orkney on 7th, Felixstowe Ferry, Suffolk on 8th, South Uist, Western Isles on 8th and 9th, North Uist, Western Isles on 9th, Salthouse, Norfolk, Barra, Western Isles (two), Unst, Shetland and Rosslare Bay, Wexford on 10th, Whitley Bay, Northumberland, Lewis, Western Isles and Flamborough Head, Yorkshire on 11th and Crookhaven, Cork and Skye, Highland on 12th.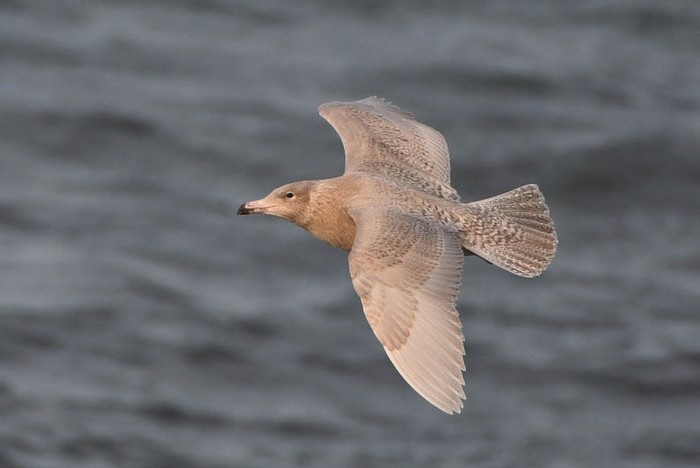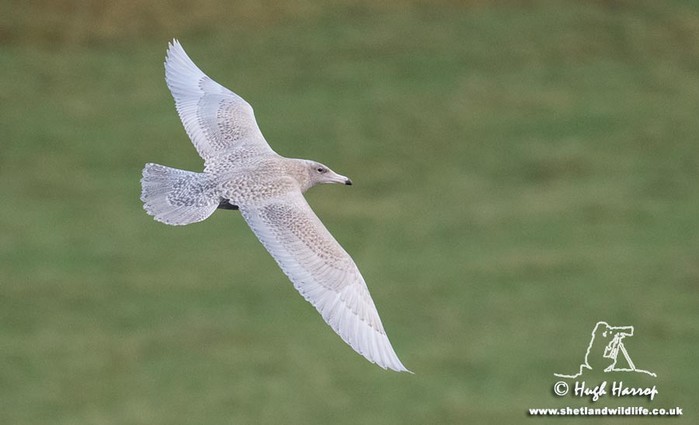 Iceland Gulls numbered just thirteen - at Eigg, Highland (two) on 7th, Stromness and Loch of Skaill, both Orkney, Dublin, County Dublin and Castle Eden Dene, Durham on 9th, Larne Lough, Antrim, Sancreed, Cornwall and Drift Reservoir, Cornwall on 10th, Nosterfield, Yorkshire on 11th and 12th, Birsay, Orkney and Loch Kishorn, Highland on 12th and Dunworley, Cork and Duncannon, Wexford on 13th. Peak white-winged gull time is usually February/March so there is still plenty of time for an influx.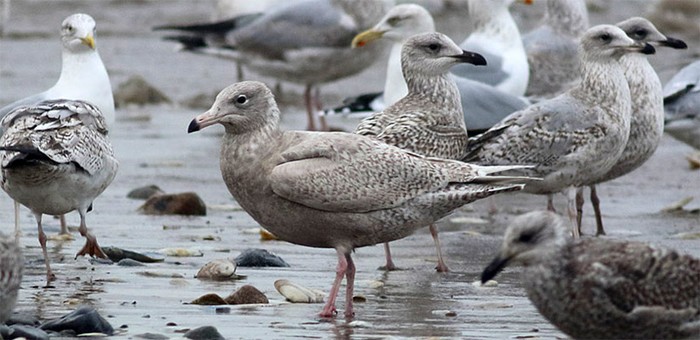 Ring-billed Gulls were mainly in Ireland - second-winters at Enniskillen, Fermanagh on 7th and Ennis, Clare on 13th and adults at Nimmo's Pier, Galway on 11th and Timoleague, Cork on 12th. In England up to two adults were still at Blashford Lakes, Hampshire to at least 11th. This is nevertheless a pretty sparse collection of what was once a much more common transatlantic visitor.
Also in Ireland, Forster's Tern reports came from Broadstrand, Cork on 8th and Aughinish, Clare on 11th.
Near-passerines and Passerines
The best new passerine discovery of the week came on 7th with the final identification of a Hume's Yellow-browed Warbler at Scratby, Norfolk where it had been present, although very elusive, since 4th. It then remained, though still elusive, until 10th. The week's other new eastern paserine was also in Norfolk – yet another Little Bunting , this one trapped well inland at Guist on 8th.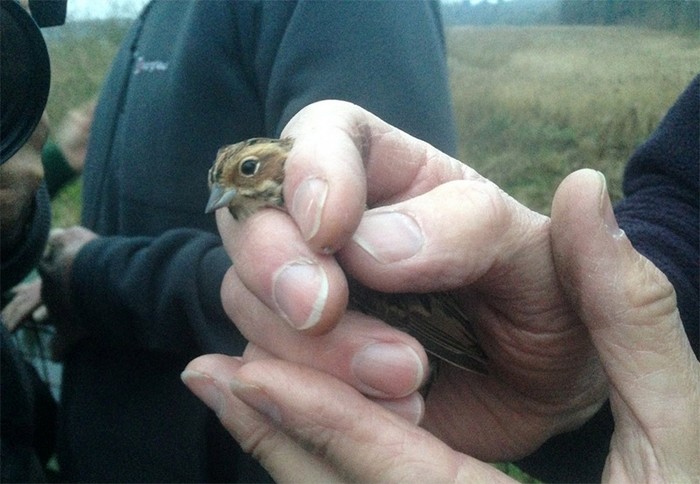 Further west, two Dusky Warblers were still at Ripple, Worcestershire to at least 12th and the long-staying first-winter male Desert Wheatears still at Bexhill, Sussex to at least 9th and Thurlestone, Devon to 13th. Also in Sussex, the Rose-coloured Starling remained at Crawley to at least 11th whilst the Richard's Pipit was still at Sheppey, Kent on 11th.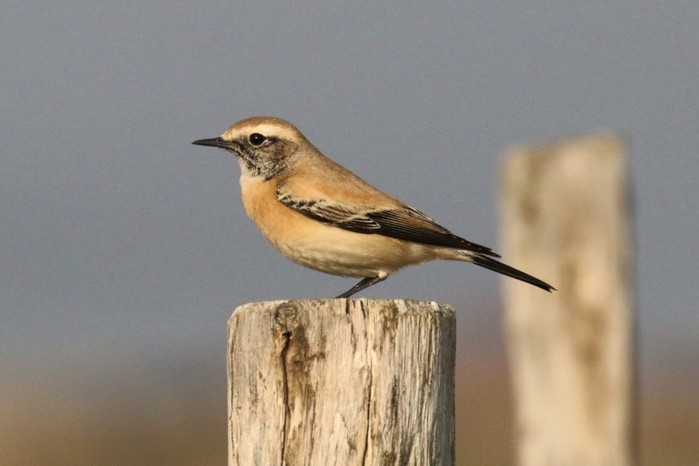 Down in the Southwest, at least a dozen Yellow-browed Warblers were noted across Dorset, Devon, Cornwall and the Isles of Scilly with two at Exeter, Plymouth and Paignton, all Devon. The only 'outlier' was one at Wanstead Flats, London still to 13th.
The winter passerine highlights were represented by at least a dozen Great Grey Shrikes , up to 45 Shorelarks at Holkham Bay, Norfolk and seventeen at Tyninghame, Lothian and, of course, lots of Waxwings , although these remained far to the north still.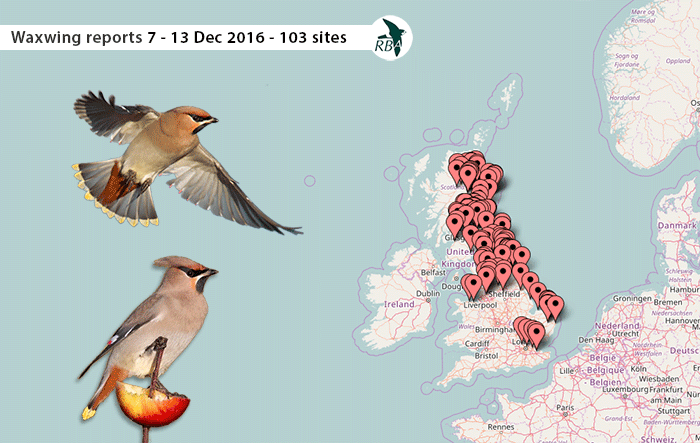 In Scotland the largest flocks included 500 in Aviemore, 400 in Inverness, 250 in Nethy Bridge, 300 in Grantown on Spey and 100 in Strathpeffer, all Highland, 100 in Elgin, Moray, 150 in Glasgow, Clyde, 250 in Perth and 150 at Loch Leven, both Perth and Kinross, 100 in Dundee, Angus, 150 in Edinburgh, Lothian and 250 in Falkirk, Forth. In England all the large flocks were still in Cumbria - 220 in Penrith, 140 in Kendal and 120 in Carlisle. The only reports in southernmost England came from Watford, Hertfordshire (two) on 8th, South Ockendon, Essex (two) on 9th, Chatham, Kent (up to four) on 7th to 12th and Cliffe, also Kent, on 12th.
The beginning of next week promises mild, cloudy conditions and a southerly or southwesterly airflow. This is not an obvious arrival vector but the clear lesson of the last two or three weeks is that the rarities we are looking for are probably already here, waiting to be discovered in some secluded corner. So, as Christmas looms, keeping an eye on your own garden or your nearest supermarket car park is as sensible a bird-finding strategy as any....
Andy Stoddart
14 December 2016
Share this story
Tweet

Many thanks to all contributors for the photos and videos this week.
Hugh Harrop / Shetland Wildlife, Dougal Urquhart, Dermot Breen, Jim Almond, Alan Shaw, Mark Coller, Sean Cole, Adam Mcpherson, Adrian Plumb, Max Hellicar, Jonathan Farooqi, Hugh Addlesee, Fionn Moore, Sean Nixon, Dave Burns, Steve Ashton, John Kemp, Paul Kelly, Ashley Banwell, Chris Holt, Shaun Ferguson, Mike Langman.