Weekly birding round-up: 30 Nov - 6 Dec
The week at a glance
Dusky Thrush in Derbyshire
'Masked Wagtail' in Pembrokeshire
'Eastern Black Redstarts' in Worcestershire, Lothian and Cleveland
Isabelline Wheatears in Argyll and Norfolk
Killdeer still on Shetland
Pallid Harrier still in Yorkshire
American Coot still on Western Isles
Hudsonian Whimbrel still in Cornwall
The week began with continued anticyclonic conditions, remaining very cold in England but with a milder Atlantic flow 'around the top' into Scotland. The rest of the week remained largely calm and settled with light winds throughout and varying amounts of cloud, the latter lifting temperatures slightly. The end of the week brought widespread fog to much of England whilst Atlantic air and dramatically milder temperatures started to push in from the west.
December normally counts as winter in the bird world, with the main focus firmly on wildfowl and gulls. However, the main story of this week was the continued legacy of October's record-breaking arrival of eastern birds. Amazingly, four more top quality eastern passerine rarities were either found or identified this week, extending even further the already outstanding autumn.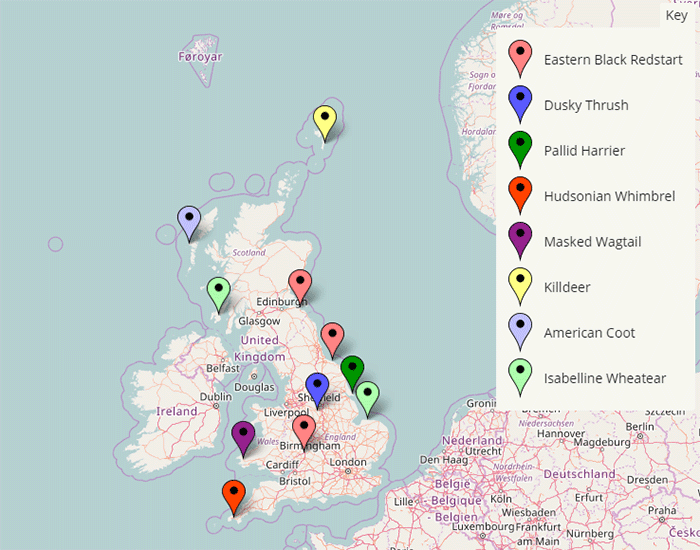 Dusky Thrush
Top of the pile was a Dusky Thrush photographed in the village of Beeley, Derbyshire on 4th and identified that evening from images. It was still present to 6th, though somewhat shy and elusive, and provoked a good old-fashioned suburbia twitch with lots of interest from locals and the media alike. Despite the potential for problems, the event seems to be going well, with no doubt very welcome funds being raised for the charity bearing the brunt of the occupation. Hopefully this can continue to be a good news story for birders and village residents alike. Meanwhile, the thrush seems happy on its diet of apples and, if unperturbed by the dramatic overnight shift in weather on 6th, has the potential to be a long-stayer. For what it's worth, the images so far show no suggestion of hybrid influence.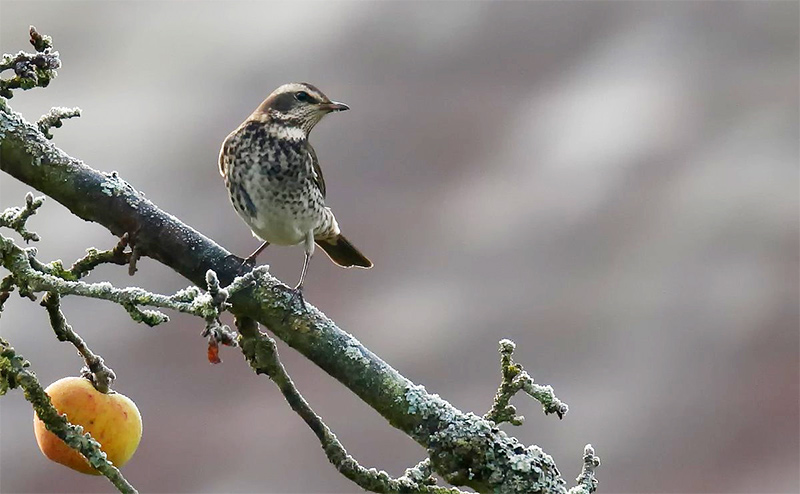 After years, in fact decades, of mythical 'super-rarity' status, Dusky Thrush is experiencing something of an upturn in fortunes as a vagrant to Britain. With one in 1905, one in the 1950s and two in each if the following three decades, this species has always been both very rare and adept at avoiding crowds. Indeed between the bird at Skomer, Pembrokeshire in December 1987 and that at Leigh, Greater Manchester in December 2010 (a period of some twenty-three years) there were no records at all. Only in May 2013 did a Dusky Thrush finally give itself up to be twitched - at Margate, Kent - though rumblings persist about the involvement of a Naumann's Thrush in its parentage (as they do also about the bird at Firth, Shetland in November 1975). October/November 2013 brought another - to Brixham, Devon - and 2016 has now also produced two, the first, albeit briefly, on St. Mary's, Isles of Scilly on 26th October.
'Masked Wagtail'
Just knocked off top spot by the Dusky Thrush was the delightful (and much rarer) 'Masked Wagtail' still at Camrose, Pembrokeshire to at least 6th. Here it remained faithful to its adopted territory, showing well and allowing some excellent photographs to be taken. It was even heard singing although, rather more worryingly, it was also witnessed feeding in the road, fighting Robins and dodging passing traffic.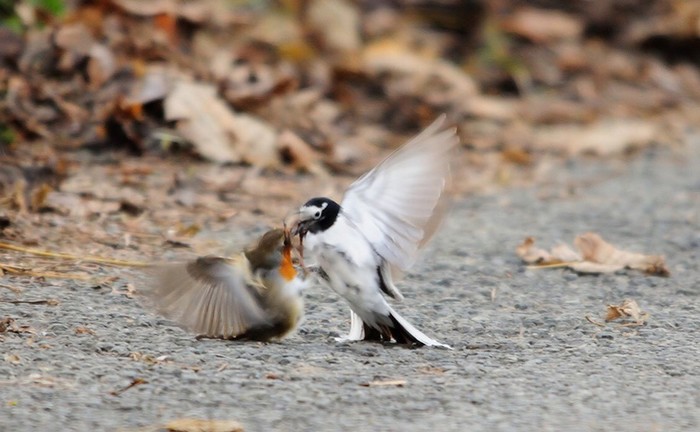 It is perhaps not surprising that 'Masked Wagtail' (subspecies personata) and 'Amur Wagtail' (subspecies leucopsis) have been the first vagrant White Wagtail subspecies to be discovered in Britain. They are, after all, the most striking of the potential vagrant forms. 'East Siberian Wagtail' (subspecies ocularis) must represent the best bet, however. Its Siberian range is very large and it is the form which also breeds in Alaska. Its identification features are a little more subdued than those of its flashier cousins but careful watching of a sewage treatment works somewhere in Britain should surely produce one eventually.
'Eastern Black Redstart'
Although the late autumn headlines had already been grabbed by a record influx of five 'Eastern Black Redstarts' , the story wasn't over for another (the autumn's sixth and a splendid new bird for Scotland) was found at Torness, Lothian on 1st and identified next day. It was still there to 5th. Then, even more surprisingly, came yet another (the autumn's seventh), this one on 6th at Ripple, Worcestershire, a location previously unheard of by most until a Dusky Warbler was found there earlier in the week (see below). Also still available to at least 6th was the bird at Skinningrove, Cleveland, now present there since 27th October.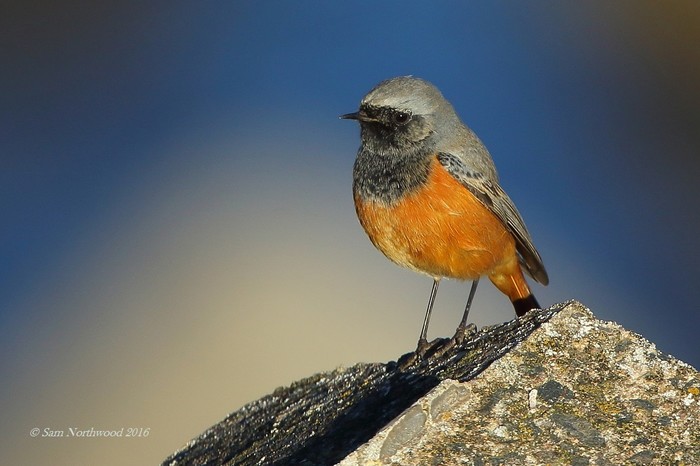 Yet again, the Lothian and Worcestershire birds were males. Who will be the first to find a female? They are undeniably subtle yet good views and photographs should be sufficient to clinch one. All November/December Black Redstarts (and certainly any late 'Common Redstarts') clearly deserve the closest scrutiny.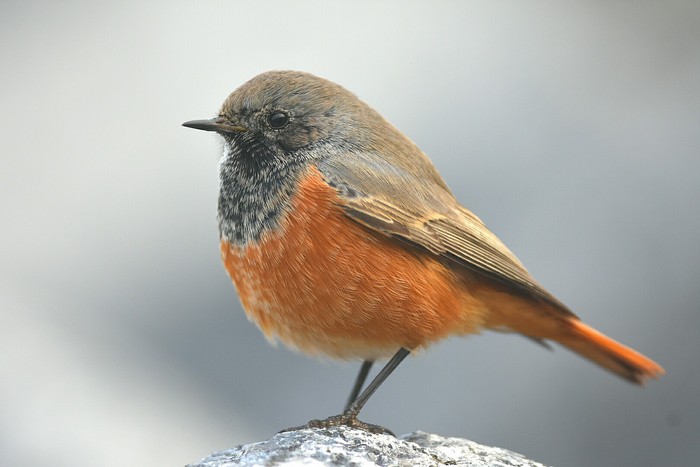 Isabelline Wheatear
Isabelline Wheatears have also been rather high profile this autumn, yet another species which has already put in a record-breaking performance. The long-staying bird at Burnham Overy Dunes, Norfolk, surprisingly rediscovered last week, was still present this week to at least 5th, further extending its claim to be the latest ever seen in Britain.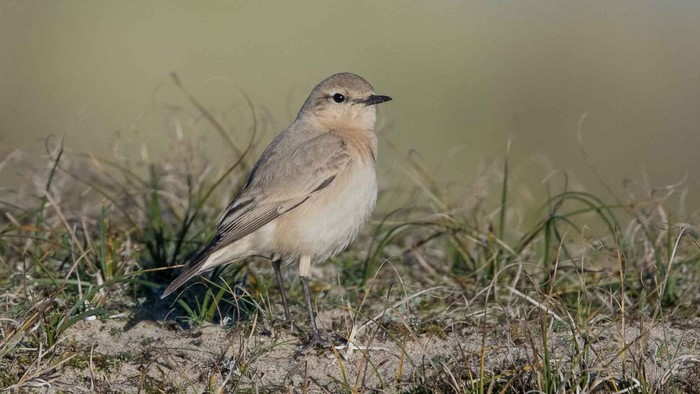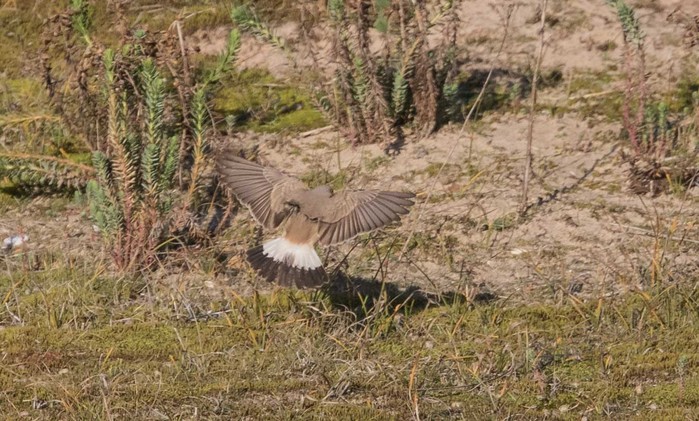 This was surprising in itself but there was more Isabelline Wheatear news to come. Early in the week came reports of a 'pale wheatear' on Islay, Argyll, apparently present for over a week and causing not a little head-scratching. The first record shots were intriguing but somewhat contradictory. Some seemed to show a pretty obvious Isabelline Wheatear whilst others looked very much more like Northern Wheatear - a perennial problem with less than perfect images, particularly of pale and subtle birds. Anyway, more field views and much better photographs quickly placed the matter beyond doubt - this was yet another Isabelline, and a new species for Argyll to boot. It was present to 3rd but could not be found thereafter.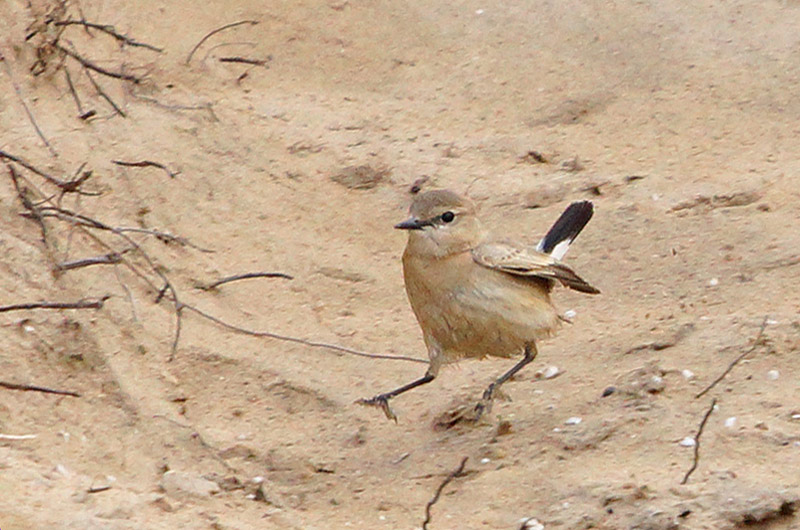 Lingerers
The rest of the week's headline birds were all lingerers - the American Coot on North Uist, Western Isles still to at least 5th and the Killdeer at Sandwick, Shetland, the juvenile Pallid Harrier at Welwick, Yorkshire and the Hudsonian Whimbrel at Perranuthnoe, Cornwall all still to at least 6th. It was also clarified this week that last week's report of the Cornish Dalmatian Pelican on 22nd was erroneous and that, for the record, its last sighting was indeed that over Botallack on 20th.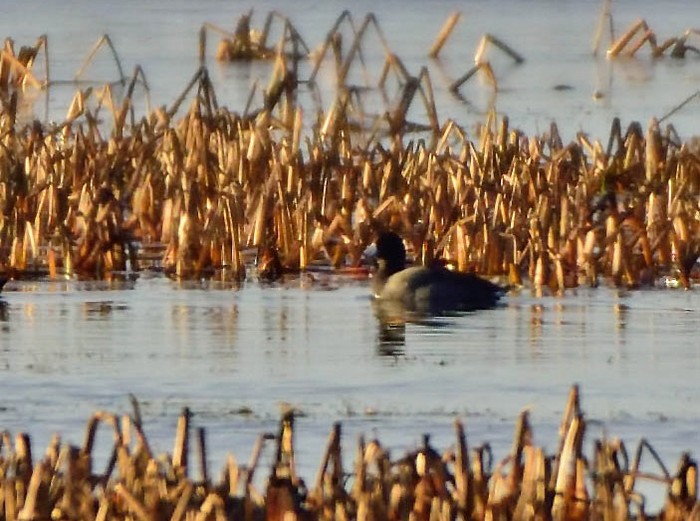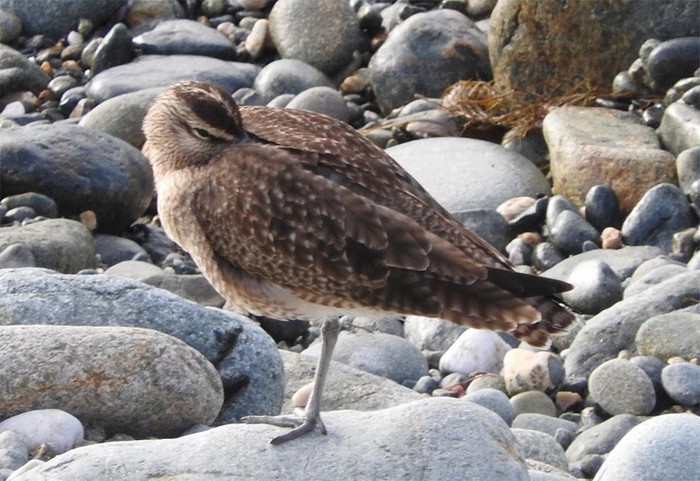 Further afield
Finland dominated the 'Euronews' this week with another two Siberian Accentors , another Black-throated Thrush and another Pine Bunting - a neat reprise of some of the autumn's star species across northwest Europe.
Perhaps the best bird, however (and certainly the most skilful find) was an apparent second-winter Slaty-backed Gull in Poland. Other highlights included a drake Stejneger's Scoter and a Hume's Yellow-browed Warbler in Spain, a Red-flanked Bluetail in the Netherlands, a White-billed Diver in Hungary, a Glossy Ibis in Estonia and a Hume's Yellow-browed Warbler in Sweden.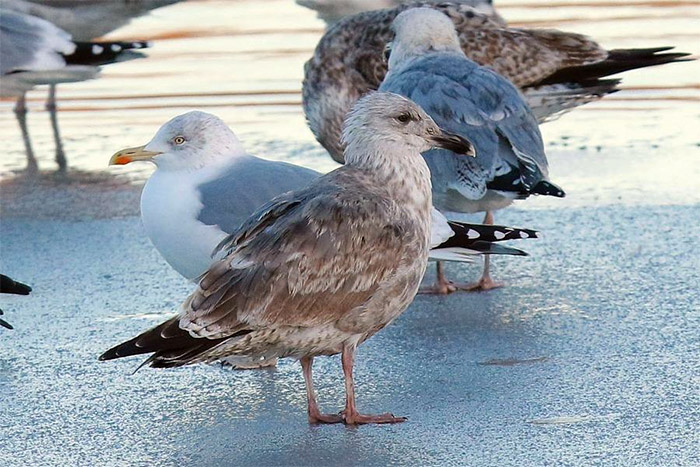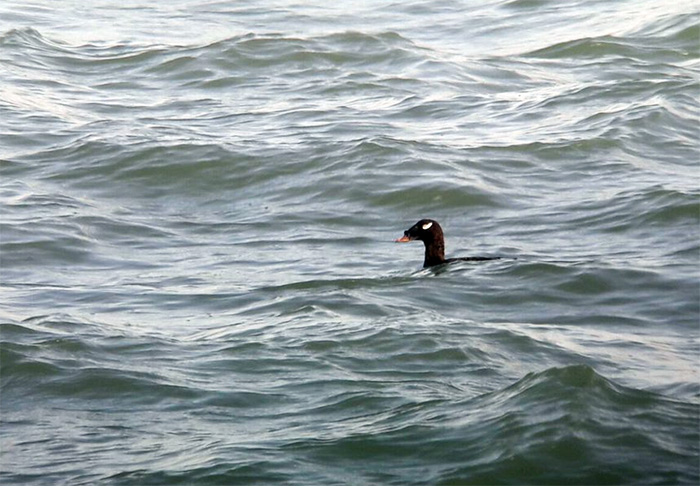 Seabirds were near-invisible this week in the slack conditions though the already notable concentration of White-billed Divers off Papa Westray, Orkney became truly remarkable with no fewer than thirteen counted on 5th. Otherwise the seabird interest amounted to two Grey Phalaropes - at Titchwell, Norfolk on 2nd and Broom Gravel Pits, Bedfordshire on 2nd to 4th - and four or five Little Auks - at Lossiemouth, Moray on 1st and 4th, Gibraltar Point, Lincolnshire (two) on 2nd and Tarbat Ness, Highland on 5th.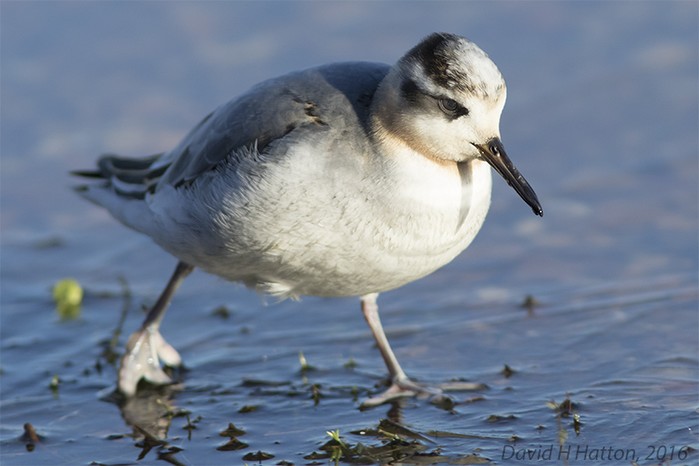 The goose highlights remained the interior/parvipes Canada Geese (all considered to be interior) in northwest Norfolk and (two) at Lissadell, Sligo. Also still frequenting the latter site was a 'Richardson's Cackling Goose' . From the same direction, three Snow Geese were at Loch of Skene, Aberdeenshire on 30th with another at Alness Point, Highland on at least 1st to 4th. The only 'Black Brant' specifically reported this week was at Poole Harbour, Dorset though the others were doubtless all present too.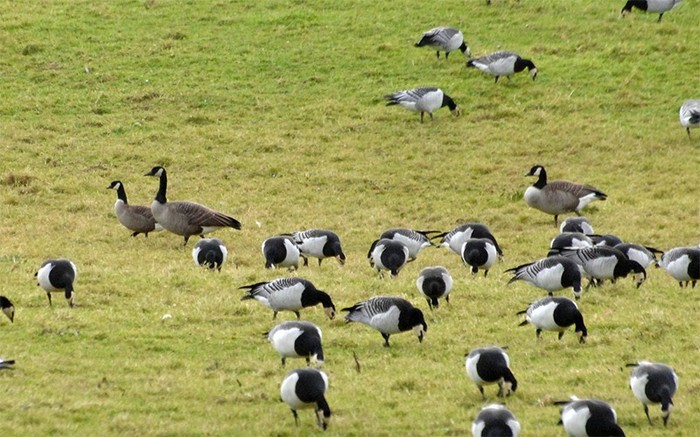 Turning to ducks, a Black Duck at Ballymote, Sligo on 3rd was an excellent find of what is still a very rare bird in Britain and Ireland. In Scotland, the resident drake was still at Strontian, Highland on 4th, with the drake Hooded Merganser at Kilbirnie Loch, Ayrshire to at least 5th.
Rare dabbling ducks included eight American Wigeons , all in the north or west - at Caerlaverock, Dumfries and Galloway, Exminster, Devon, Ynyslas, Ceredigion, Loch of Strathbeg, Aberdeenshire, Sanday, Orkney, Udale Bay and Clachnaharry, both Highland, and Loch of Lintrathen, Angus.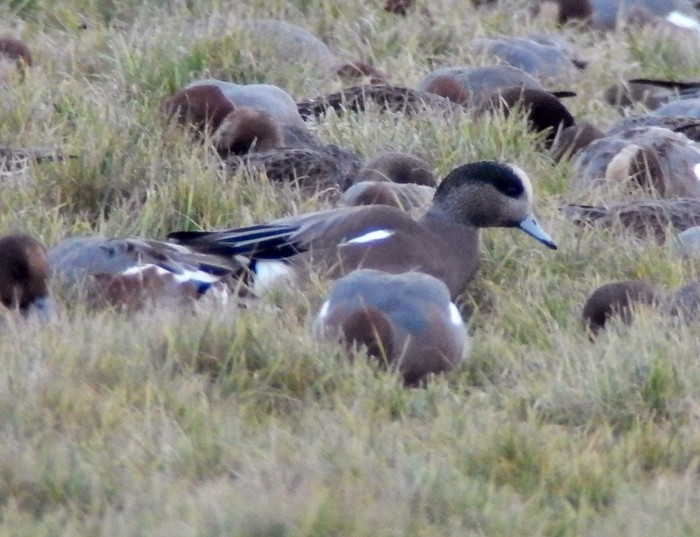 Green-winged Teals mustered exactly eight also, with a near-identical northern and western distribution - at Woolston Eyes, Cheshire and Wirral, Venus Pool, Shropshire, Caerlaverock, Dumfries and Galloway, Tiree, Argyll, Hayle Estuary, Cornwall, Poole Harbour, Dorset, Kinvarra, Galway and Kirkwall, Mainland Orkney.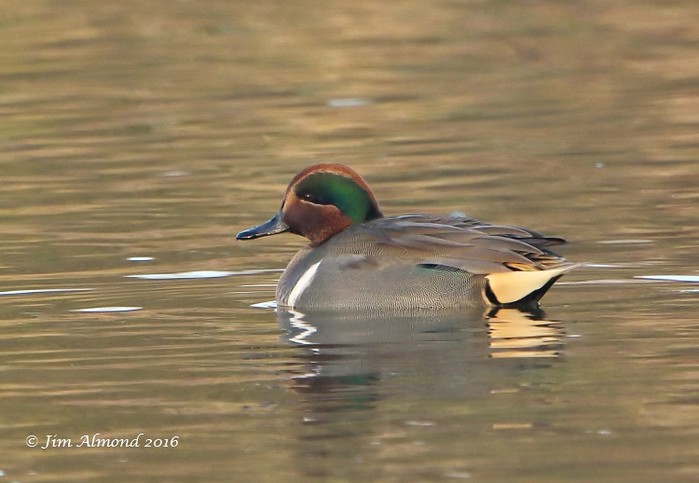 Orkney also hosted the rarest Aythya - the Lesser Scaup still on Birsay, Mainland to at least 4th. A female Ferruginous Duck was again at Theale Gravel Pits, Berkshire on 4th. Otherwise the rare Aythya story was one of Ring-necked Ducks , with a dozen noted - at Abberton Reservoir, Essex, Paxton Pits, Cambridgeshire, Pitlochry, Perth and Kinross, Dungeness, Kent, Chew Valley Lake, Somerset, Carlingwark Loch, Dumfries and Galloway, Tacumshin and North Slob, both Wexford, Loch of Skaill, Mainland Orkney, Knockaderry Reservoir, Waterford, Lough Gara, Sligo and Lough Shivnagh, Donegal.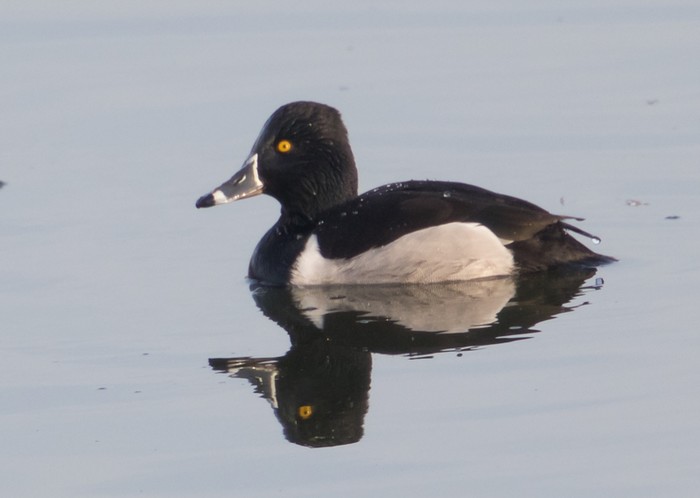 Up to six Surf Scoters were between Colwyn Bay and Llandulas, Conwy during the week with others at Kirkwall, Orkney (two), Murvagh, Donegal, Portobello and Gullane Point, both Lothian, Man Sands, Devon and Yell, Shetland.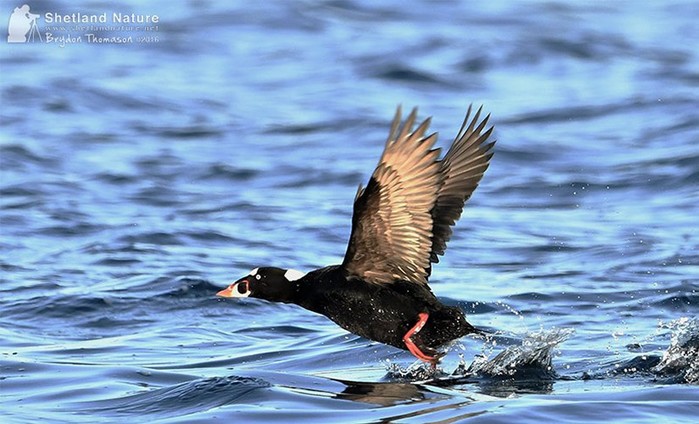 Herons, egrets, crakes etc.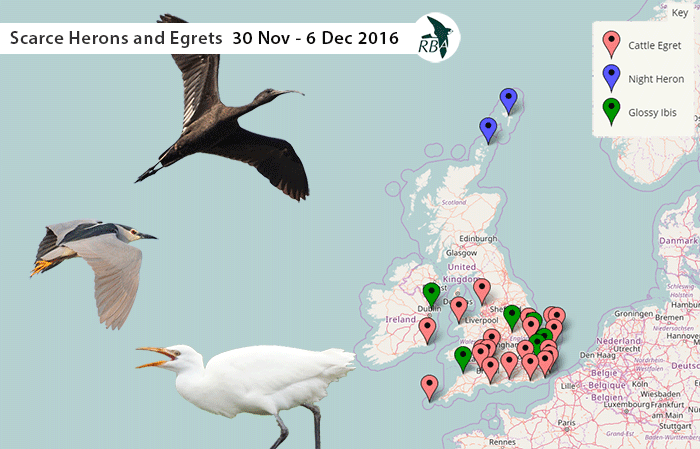 The rarest herons of the week were Night Herons on Sanday, Orkney on 3rd and at Haggersta, Mainland Shetland on 4th. Otherwise Cattle Egrets remained widespread, almost all in the south and west, with around twenty-five noted. The largest gatherings were four at Tacumshin, Wexford and Weymouth, Dorset and three at Gapton Marshes, Norfolk and Marshside, Merseyside.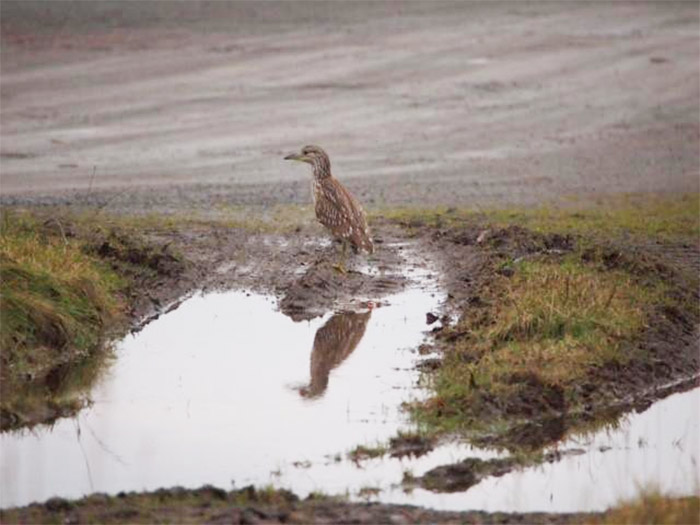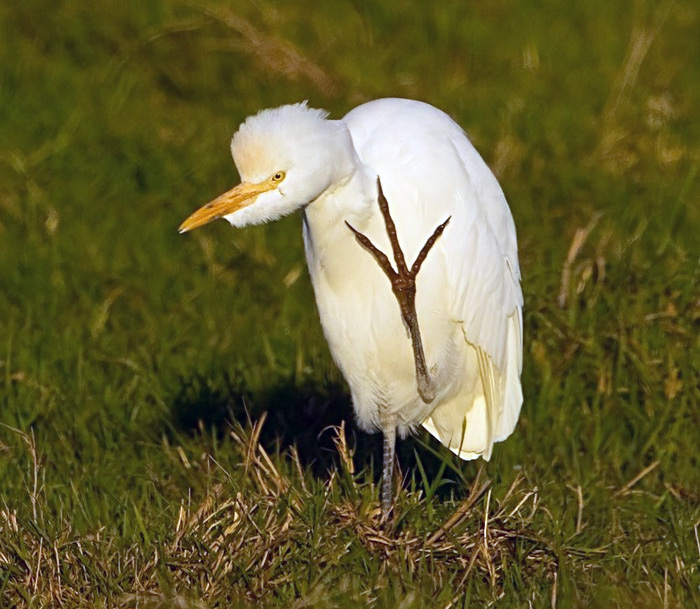 Glossy Ibises numbered four, all at traditional sites - at Ely, Cambridgeshire, West Mersea, Essex, Watermead Country Park, Leicestershire and the Rogerstown Estuary, Dublin.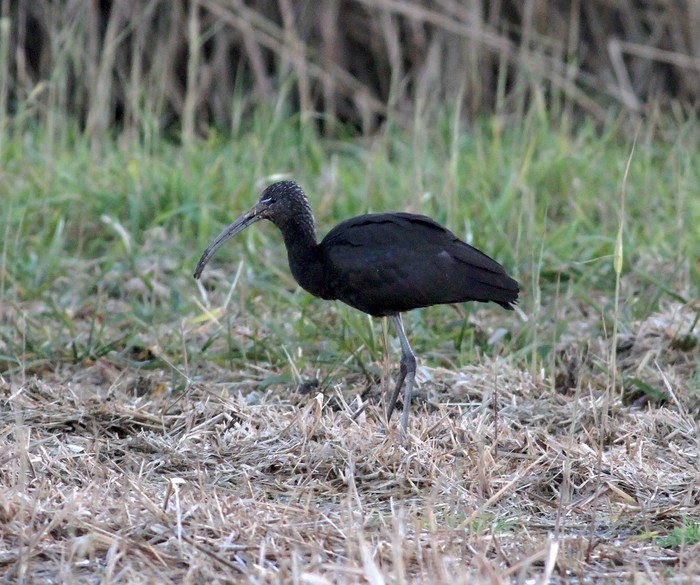 One of the oddest birds of the week was a Quail , well photographed at Sandwick, Mainland Shetland on 1st.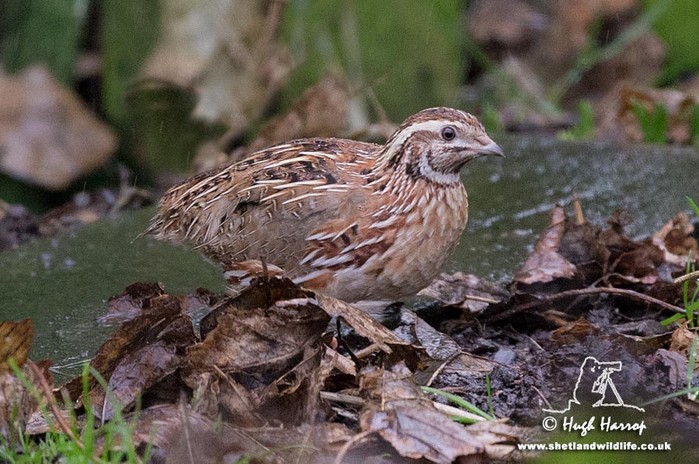 Late news emerged this week of a Spotted Sandpiper at Pickerings Pasture, Cheshire and Wirral on 29th identified from photographs. There was, however, no sign of the bird subsequently. New this week though was an adult American Golden Plover at Llanbadarn Fynydd, Powys on 4th and 5th. The other rare waders were the now resident Lesser Yellowlegs in Poole Harbour, Dorset and Long-billed Dowitcher at Tacumshin, Wexford.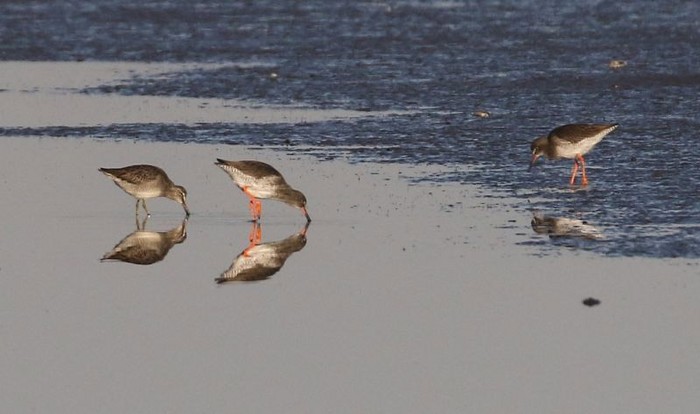 The long-staying adult Bonaparte's Gull was again at Exmouth, Devon on 3rd and the Ring-billed Gull was still at Blashford Lakes, Hampshire to 5th, with two there on 1st to 4th. Another (a second-winter) was again at Chelmarsh Reservoir, Shropshire on 3rd and an adult was at Blennerville, Kerry on 4th.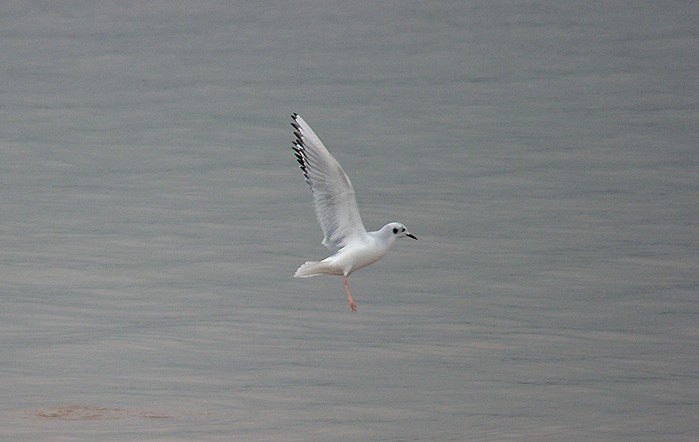 Glaucous Gulls numbered around a dozen, a still relatively modest total. Most were in the north and west though one continued to frequent south Suffolk and inland birds were at Sandbach, Cheshire and Wirral and Eyebrook Reservoir, Leicestershire.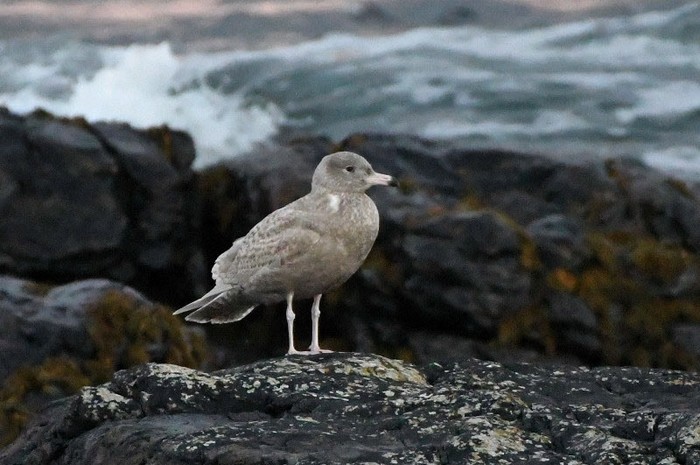 This week actually saw more Iceland Gulls , with at least twenty noted. Again, most were in the north and west but birds also reached Cley/Salthouse and Hemsby, both Norfolk, Draycote Water, Warwickshire and, furthest south of all, Fulham and Hamersmith, both London. For both the white-winged gull species, the next few weeks should see ever growing numbers.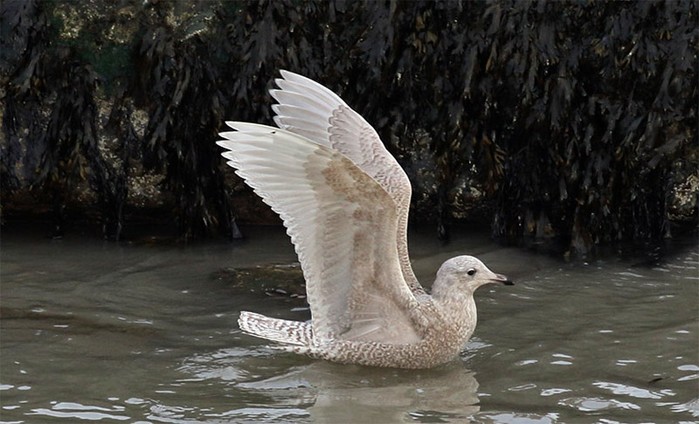 Near-passerines and Passerines
Apart from the highlights already mentioned, there were other passerine discoveries this week. The best were a 'Hornemann's Arctic Redpoll' on Yell, Shetland on 4th and a Dusky Warbler at Ripple Pits, Worcestershire (the site of the 'Eastern Black Redstart') on 3rd to 6th and, to add to the autumnal feel, there was also a Common Rosefinch on Unst, Shetland on 4th. Most intriguing, however, was a report of a Red-backed Shrike at Hallbankgate, Cumbria on 4th also. Only one photograph of the bird seems to be available but it appears to show that only the third and fourth primaries are emarginated - correct for Red-backed Shrike but not for Brown and Isabelline Shrikes which also have an emarginated fifth primary. However, it shows some slightly more puzzling features - its ear coverts are quite dark grey and the lores are solidly dark too whilst the tertials appear to be fully dark-centred (i.e. lacking dark subterminal fringes). And what about the warm chestnut forehead? Even if all this is somehow compatible with a Red-backed Shrike rather than something with Brown or Turkestan Shrike influence, this is still a remarkable record for Cumbria in December. Whatever it is, it presumably originates from somewhere in deepest Asia.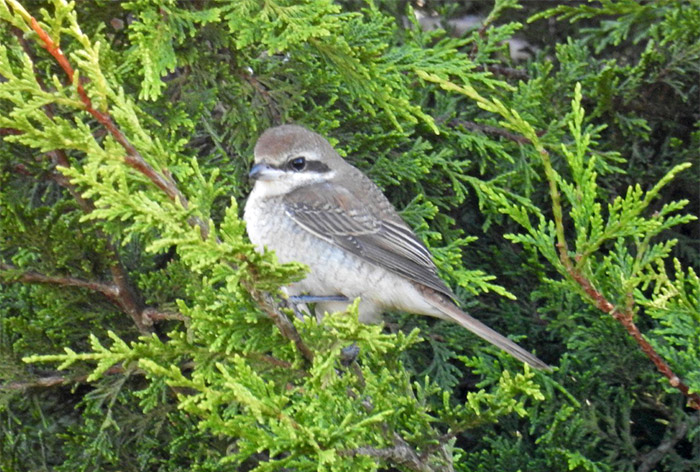 Lingering autumn passerines included the two south coast male Desert Wheatears - at Thurlestone, Devon to at least 5th and near Bexhill, Sussex to at least 6th. Yellow-browed Warblers remained prominent too, with at least fifteen reported, all as usual in the Southwest (Somerset, Dorset, Glamorgan, Devon and Cornwall). Clearly this species is well able to detect the marginally milder conditions south and west of Bristol.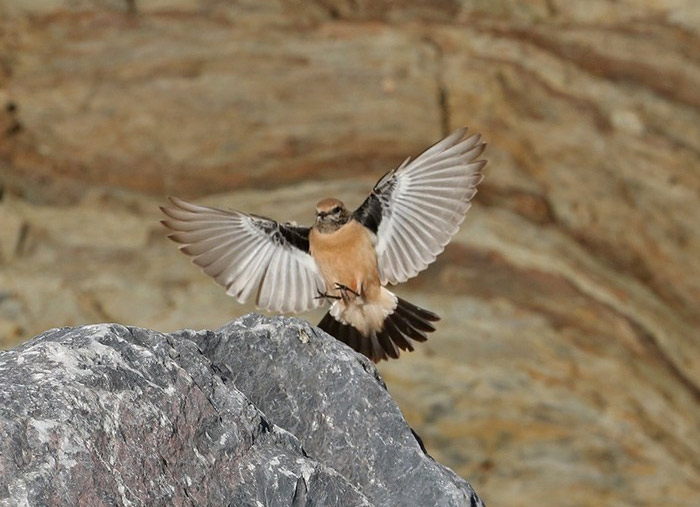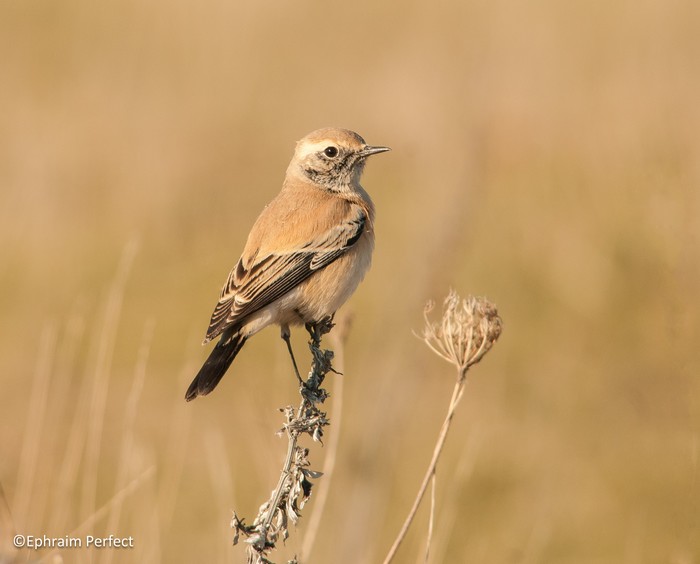 Otherwise, the Rose-coloured Starling remained at Crawley, Sussex to at least 6th and another was at Stanton St. John, Oxfordshire on 30th. Finally, Richard's Pipits were at Nash Point, Glamorgan to at least 5th and Sheppey, Kent to at least 4th.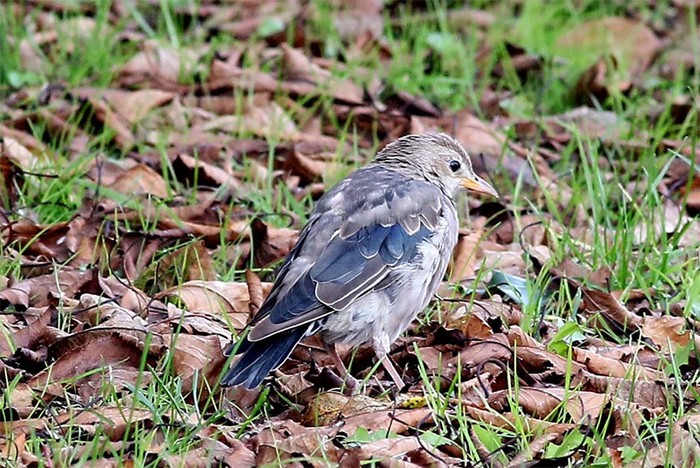 Turning to winter passerines, Shorelarks remained concentrated at Tyninghame, Lothian (twenty-seven), Long Nab, Yorkshire (eleven), Holkham, Norfolk (up to thirty-five) and East Chevington, Northumberland (seven). Much less usual, however, was one on top of Helvellyn, Cumbria on 5th. At least twenty-five Great Grey Shrikes remained on winter territories, with a notable three present in Langdale Forest, Yorkshire. All bar one - at Tyninghame, Lothian - were in England and Wales.
Finally, Waxwing flocks continued to impress although almost all the big numbers remained in Scotland and Cumbria. The biggest flock of the week was 500 at Aviemore, Highland but other sizeable Scottish flocks included 340 in Inverness, 200 at Grantown-on-Spey, 100 at Conon Bridge and 100 at Nairn, all Highland, 250 at Rafford and 150 at Elgin, both Moray, 200 at Kemnay and 100 at Bridge of Don, both Aberdeenshire, 100 in Perth, Perth and Kinross, 100 in Dunfermline, Fife and 220 in Dunblane, Forth.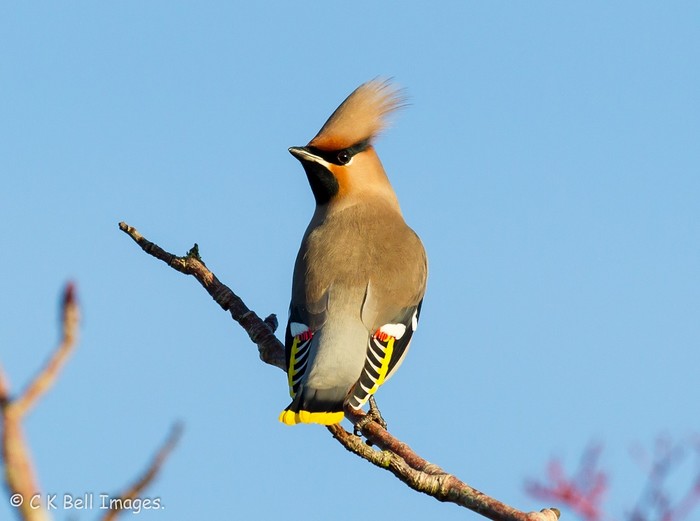 In Cumbria 300 were in Carlisle and 200 in Kendal, Penrith and Dalston. Elsewhere, 100 were in Cramlington, Northumberland and 100 in Bredbury, Greater Manchester. Interestingly, there were no three-figure flocks in Durham, Cleveland or Yorkshire. Further south and west, the odd bird reached as far as Oxfordshire, Camarthenshire, Suffolk, London and Sussex.
The week ahead promises a return to the traditional December mix of Atlantic air, record-breaking mild temperatures, stronger winds and rain. This may of course herald some Nearctic arrivals, perhaps a duck or two, but clearly we should still be looking for leftovers from the autumn as well. Sheltered, mild, food-rich sites, particularly inland and in the west, may yet be harbouring something unexpected…..
Andy Stoddart
7 December 2016
Share this story
Tweet

Many thanks to all contributors for the photos and videos this week.
Hugh Harrop / Shetland Wildlife, Tony Davison, Yoav Perlman, Lee Gardiner, Gonebirding610, Sam Northwood, Gus Guthrie, Steve Stansfield, Jim Dickson, Steve Duffield / Western Isles Wildlife, David Gibbs, Stanislaw Turowski, Adam Janczyszyn, Jana Marco, David Hatton, Michael Bell, Brian Henderson, Jim Almond, Sean Nixon, Brydon Thomason / Shetland Nature, Janet Davies, Nicholas Brown, Brendan Doe, Killian Mullarney, David Stone, John Kemp, Paul Kelly, Adam Moan, Steve Hopper, Ephraim Perfect, Organicbirder, Malcolm Freeman, Craig Bell).