Weekly birding round-up: 16 - 22 Nov 2016
The week at a glance
Siberian Rubythroat on Fair Isle
Forster's Tern in Essex and Suffolk
Pacific Diver back in Galway
American Coot still on the Western Isles
Killdeer still on Shetland
'Eastern Black Redstart' still in Cleveland
'Western Rufous Turtle Dove' still on Shetland
Pallid Harrier still in Yorkshire and Lincolnshire
Northern Harrier still on Orkney
Hudsonian Whimbrel still in Cornwall
Dalmatian Pelican still in Cornwall
This week's weather was very variable and dominated by a succession of low pressure areas crossing southern Britain. The passage of a cold front on 17th brought very windy conditions, particularly to Wales and the Midlands, and an abrupt drop in temperature. More rain and strong winds came overnight on 18th to 19th, particularly in the Southeast, courtesy of 'Angus', the first named storm of winter 2016/17. By contrast, Scotland found itself in unseasonably calm conditions. The end of the week then brought further headline-grabbing weather with more strong winds and heavy rain, and widespread flooding in the Southwest, on 21st. Inevitably, the switch from autumn migrants to winter birds continued and by the end of the week was almost complete. There was another switch too, away from Siberian rarities towards those from the Nearctic.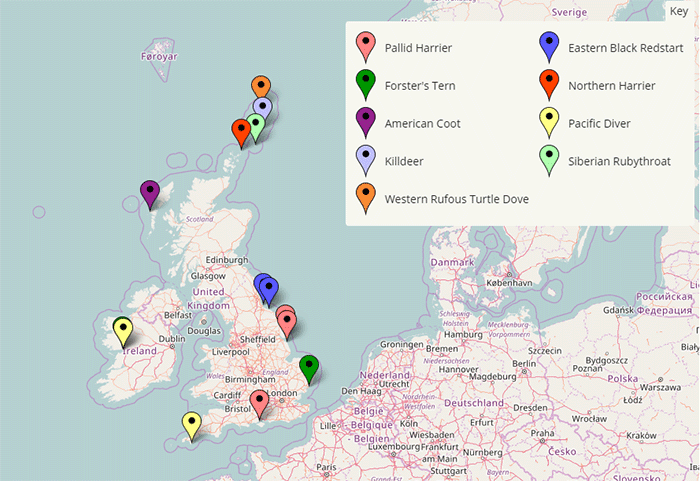 Siberian Rubythroat
The top bird of the week, albeit only seen briefly, was a male Siberian Rubythroat on (where else?) Fair Isle, Shetland on 18th. Totally unexpected this late in the autumn, this was the one species noticeably missing from October's epic line-up of Eastern Palearctic passerines. Sadly there was no sign of it on 19th but this record consolidates Fair Isle's position as the top place for Siberian Rubythroat in Britain. Seven have now occurred here, with another four on Shetland, leaving a paltry two (Dorset and Durham) for the rest of Scotland, England, Wales and Ireland combined. Although now outclassed in the rarity stakes, this species still retains its allure as perhaps the 'ultimate Sibe'.
Forster's Tern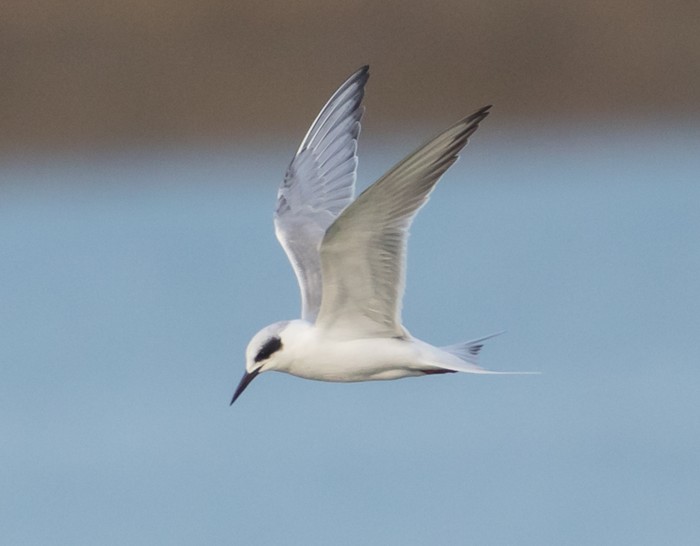 The week's other star bird came from the opposite direction - a first-winter Forster's Tern at Mistley Quay, on the Stour Estuary on the Suffolk/Essex border (and therefore in both counties) on 19th and 20th and then at Felixstowe Ferry, Suffolk on 21st. There was, however, no sign of it on 22nd. Though there has been a long-staying adult in Ireland for some years (and some other records too), this is a much rarer bird in Britain (twenty records compared with 39 in Ireland). In fact this is the first British Forster's Tern since one at Oban, Argyll in January 2003 and there have been only four other British discoveries since 2000 - at Hayle, Cornwall in November and December 2002, Tingwall, Orkney in October 2001, Dale and Pembrokeshire and Bangor, Gwynedd in December 2000.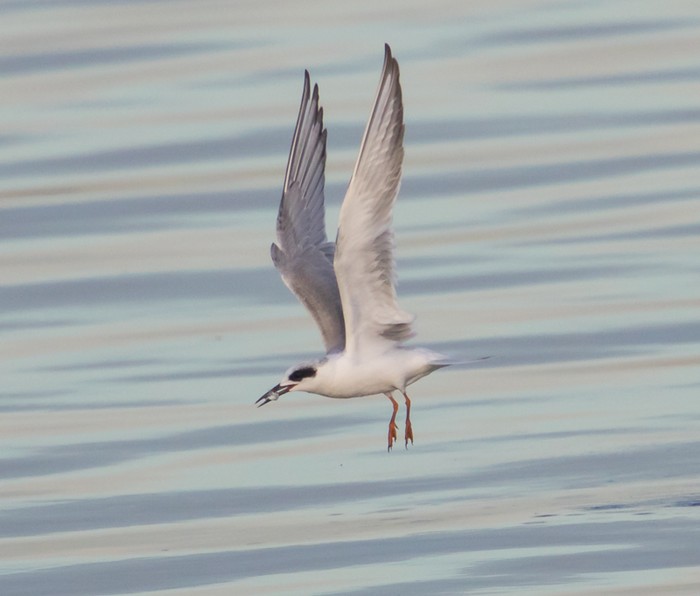 For a while in the 1980s this species was an easy one to connect with, thanks largely to a lingering and returning bird in North Wales and Northwest England. Since then, however, it has been a bit more difficult to see so this bird will have been much appreciated. Though, as expected, mainly occurring in the west, Forster's Tern has reached the North Sea before - at Musselburgh, Lothian in October and November 1985, Margate, Kent in October 1986 and various sites in Essex from November 1998 to April 2000. This week's bird is therefore Essex's second but another new bird for Suffolk in what has been a good year for additions to its county list.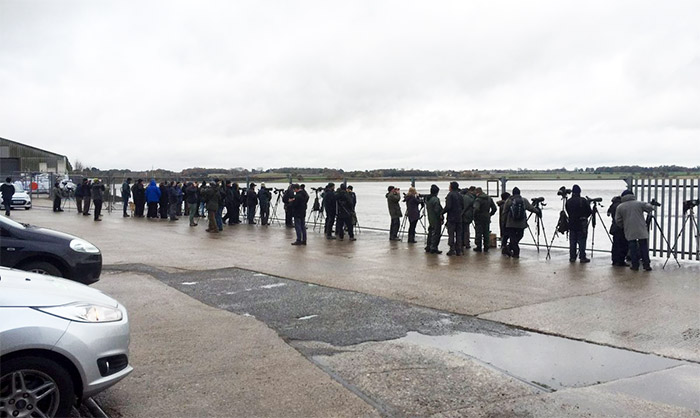 It is always interesting to investigate the historical figures behind our eponymous birds and Johann Reinhold Forster (1729-1798) seems to have been a particularly interesting character. A clergyman from Germany (but latterly resident in Warrington and London), he developed wide scientific and natural history interests and was appointed at short notice to accompany James Cook on the 'Resolution' on his second voyage around the world in 1772-75. During the voyage Forster kept detailed diaries and made extensive collections of natural history specimens, including, in Antarctica, a number of penguin species. On his return he published in 1778 'Observations Made During a Voyage Round the World' and went on to publish extensively on zoological subjects. Sadly, however, he seems to be best remembered as a thoroughly unpleasant character, quick-tempered, a constant complainer and a notorious troublemaker.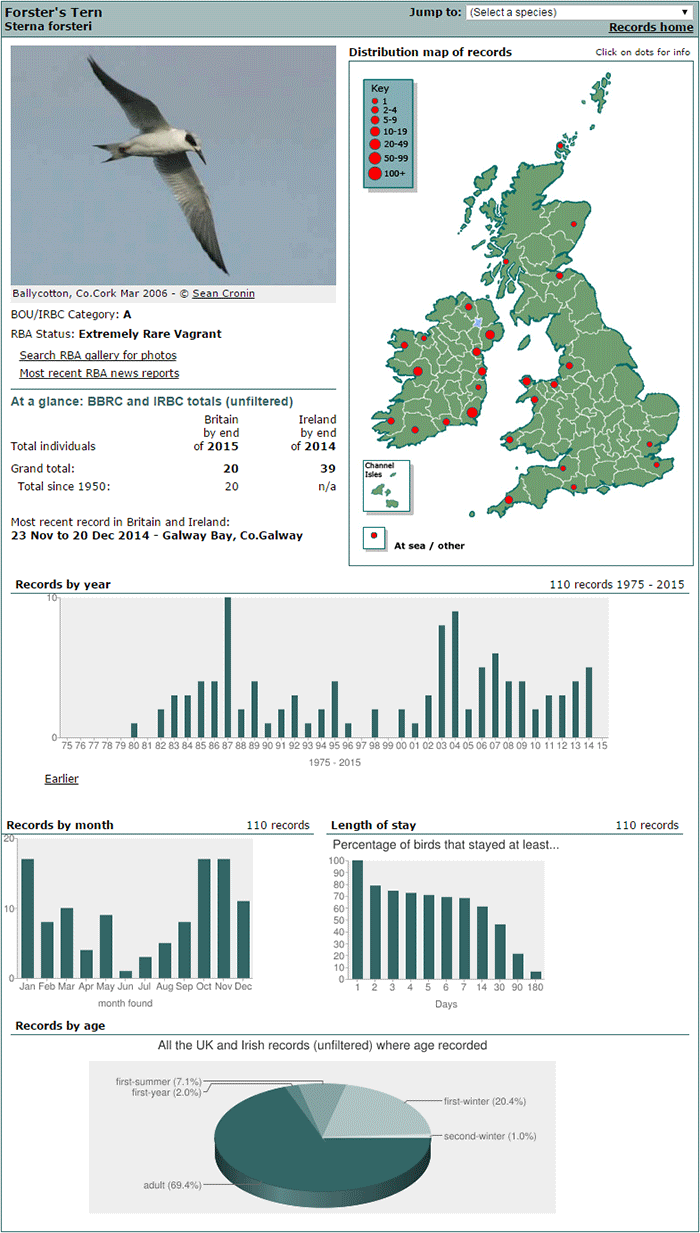 Pacific Diver
Also from across the pond, a super Pacific Diver was seen and photographed at Tawin, Galway on 19th and was still present on 20th. Presumably this represents a return by the bird present at the very same site on 5th April 2014.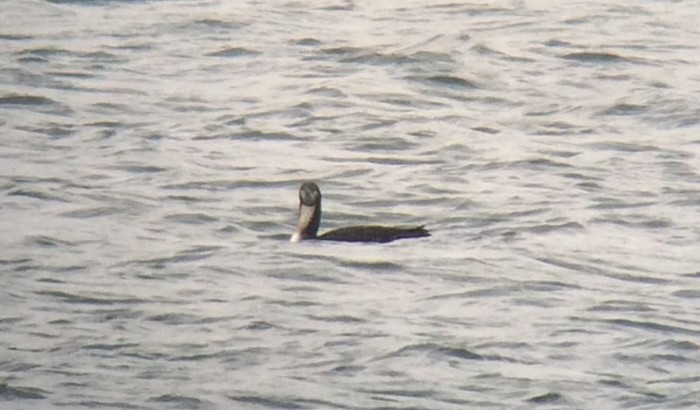 Lingerers
The week's remaining headline birds were all lingerers, most notably the American Coot still at Balranald, North Uist, Western Isles to at least 21st and the Killdeer at Sandwick, Mainland Shetland to 18th. As for Palearctic species, the 'Eastern Black Redstart' at Skinningrove, Cleveland remained to 22nd and the 'Western Rufous Turtle Dove' was still at North Roe, Mainland Shetland to 17th. Back on the mainland, the juvenile Pallid Harrier was still commuting across the Humber between Welwick, Yorkshire and the Donna Nook area of north Lincolnshire to 19th. Some late news concerned another juvenile Pallid Harrier, apparently present on 7th to 15th November at Needs Ore Point, Hampshire. Finally, the long-staying Northern Harrier was still on North Ronaldsay, Orkney on 21st. With at least the Killdeer and the Rufous Turtle Dove (and perhaps the Pallid Harrier) apparently now gone, it looks as though next week will see us enter the 'December doldrums'.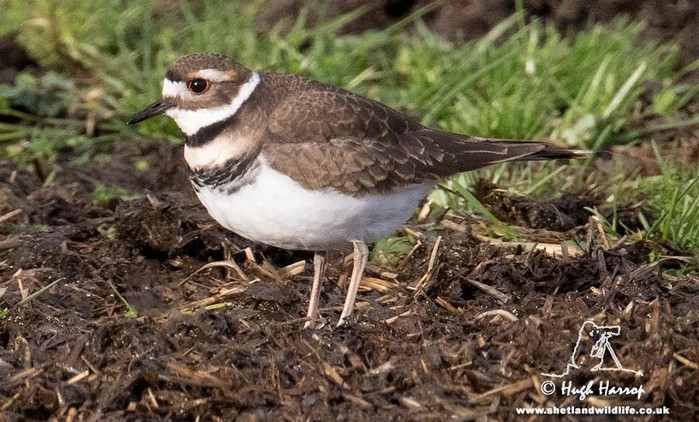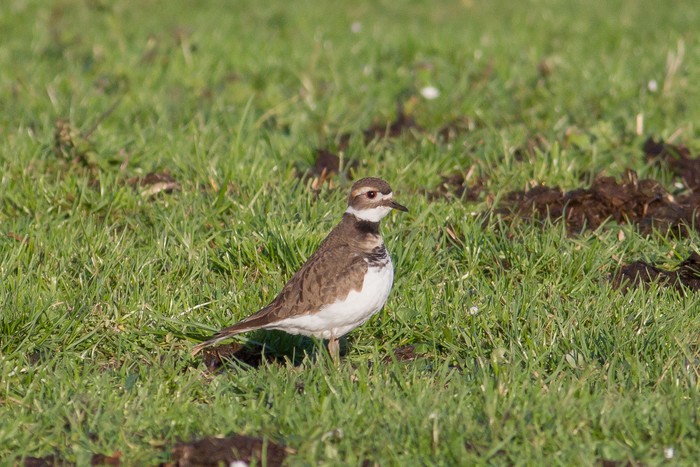 Cornish 'residents'
Hanging on grimly despite the advancing calendar (though not reported after 19th) was the Hudsonian Whimbrel at Perranuthnoe, Cornwall. The Dalmatian Pelican at Restronguet Creek, also Cornwall, was still present to 20th, on which date it flew over Botallack, in west Penwith. There were no reports thereafter (perhaps due to the bad weather?) so it will be interesting to see what this bird does next.
Further afield
The twin highlights of this week's 'Euronews' were the discovery of a Vega Gull in France and the continued presence of the American Tree Sparrow in Sweden. In the latter country another Siberian Accentor (the country's 73rd for the autumn) and another 'Eastern Black Redstart' were also found. Neighbouring Finland claimed another Siberian Accentor too (its 71st for the autumn) along with a Black-throated Thrush whilst two Pine Buntings and a Lesser Yellowlegs were in Norway. Further south, a Blyth's Pipit was in Spain and a 'Caspian Stonechat' in Italy. Some interesting late news concerned a Chinese Pond Heron in Denmark in June this year - another piece in the evidence jigsaw for this increasing vagrant to Europe.
Despite the unsettled conditions, seabirds were few and far between this week. By far the best were up to four White-billed Divers still off Papa Westray, Orkney with others past Titchwell, Norfolk on 19th and in Bluemull Sound, Shetland on 21st. A Grey Phalarope passed Cley, Norfolk on 20th, otherwise there was just a scattering of around twenty Little Auks from Yell Sound, Shetland in the north to Selsey Bill, Sussex in the south and Gyles' Quay, Louth in the west.
The wintering 'Richardson's Cackling Goose' and two interior/parvipes Canada Geese remained at Lissadell, Sligo this week with additional such Canadas around Brancaster and Docking, Norfolk and at Caerlaverock, Dumfries and Galloway. The latter site also hosted a 'blue' Snow Goose . A Nearctic 'Black Brant' was as Salterstown, Louth. As for Siberian geese, 'Black Brants' were noted at Seasalter, Kent, Spurn, Yorkshire and Ferrybridge, Dorset.
The headline duck was the drake Hooded Merganser still at Kilbirnie Loch, Ayrshire to 21st. Fellow American ducks included American Wigeons at Harris, Western Isles, Dundrum Bay, Down, Loch of Lintrathen, Angus, Hereford, Herefordshire, Barra, Western Isles, Newquay, Cornwall, Clachnaharry and Udale Bay, both Highland, and Grindon Lough, Northumberland. Green-winged Teals were at Caerlaverock, Dumfries and Galloway (two), Martin Mere, Lancashire, Hayle Estuary, Cornwall, Staveley, Yorkshire, Ollaberry and Muckle Roe, Mainland Shetland, South Uist, Western Isles, Burton Mere, Cheshire and Wirral, Lossiemouth, Moray, Islay, Argyll and Belvide, Staffordshire.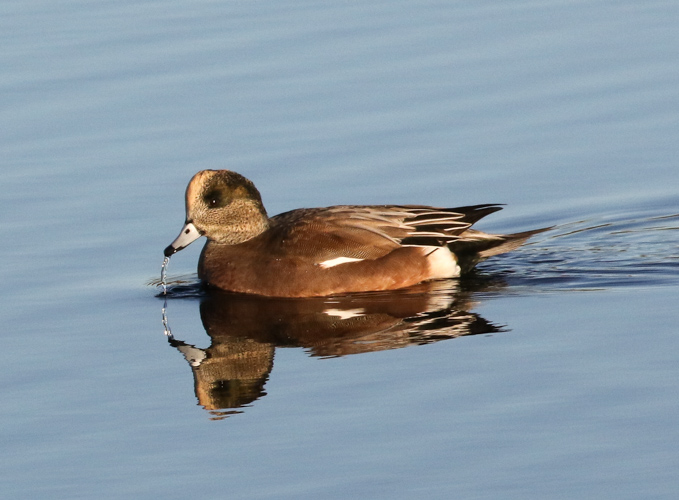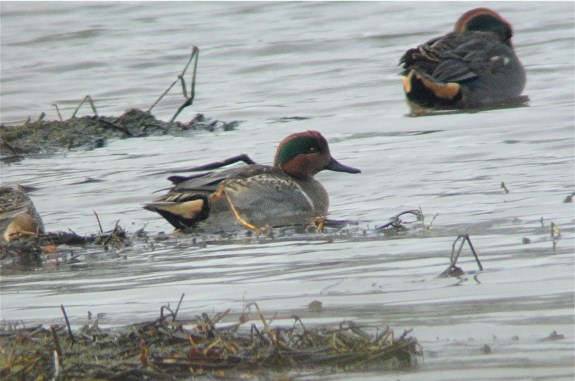 As for diving ducks, the Lesser Scaup was still at Loughrea, Galway on 19th and Ring-necked Ducks at Pitlochry, Perth and Kinross, Dungeness, Kent, Lough Gara, Sligo, Quoile Pondage, Down and Tacumshin, Wexford. Somewhat more tragic news concerned the drake Lesser Scaup with a red nasal saddle which has toured Britain and Ireland in recent years. It emerged this week that it had been shot at Lough Neagh, Northern Ireland on 10th September this year. First trapped (as a juvenile) on 20th December 2013 at Sao Jacinto Dunes in Portugal, it remained there until 3rd February 2014. It was next noted at Llangorse Lake in the Brecon Beacons National Park from 17th October 2014 to February 2015, turning up again in the Wintersett area, Yorkshire from 4th to 17th May 2015 and then at Vane Farm, Perth and Kinross on 30th to 31st July 2016. After delighting observers in England, Wales and Scotland, it is sad indeed that its first visit to Northern Ireland should end this way.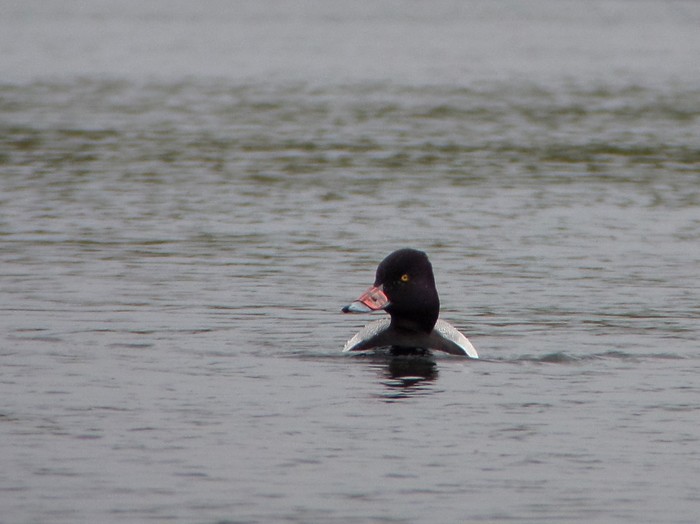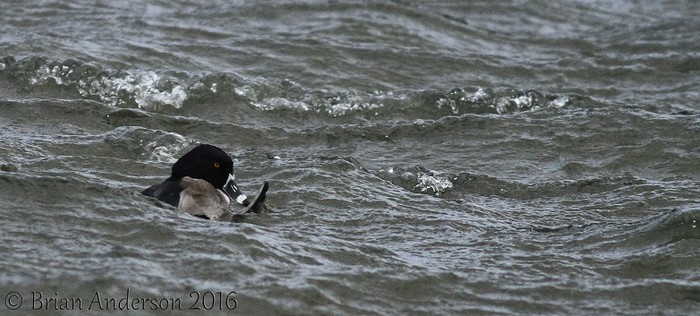 At sea, single drake Surf Scoters were at Musselburgh and Aberlady, both Lothian.
Herons, egrets, crakes etc.
Great White Egrets were widespread as usual with peaks of 21 at Chew Valley Lake, Somerset and nine at Heswall, Cheshire and Wirral.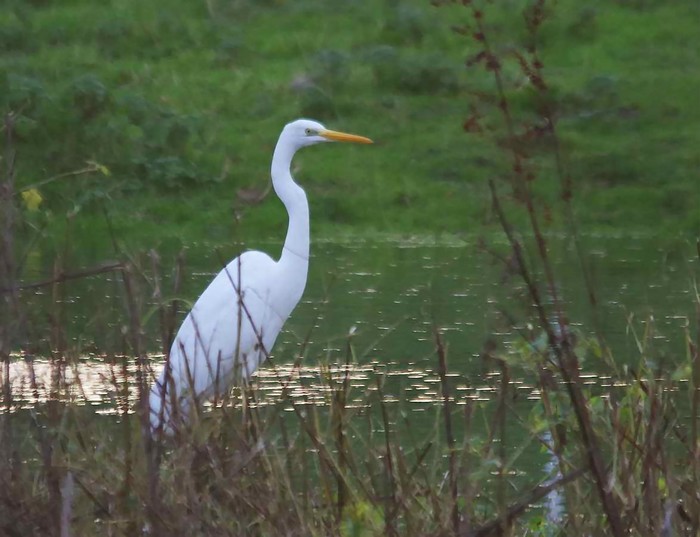 Cattle Egrets were also well scattered, numbering at least twenty with the most notable concentrations being six at Burton Mere, Cheshire and Wirral, four at Marshside, Lancashire and Frampton, Gloucestershire and three at Gapton Marshes, Norfolk.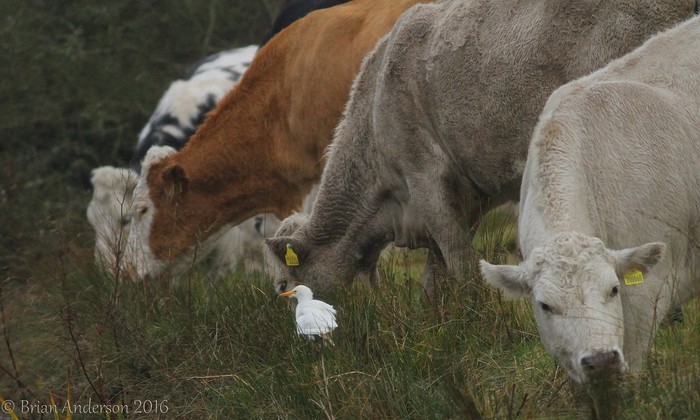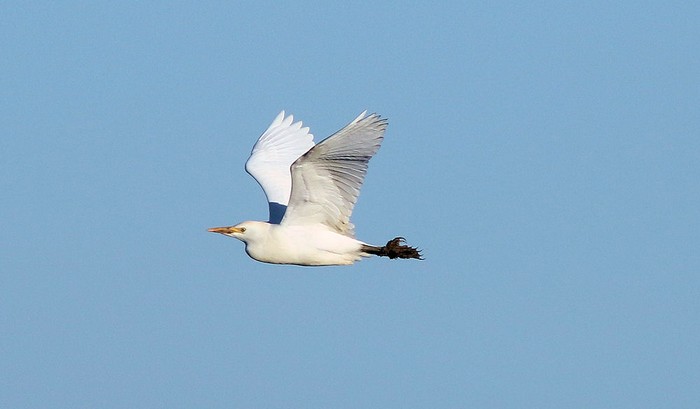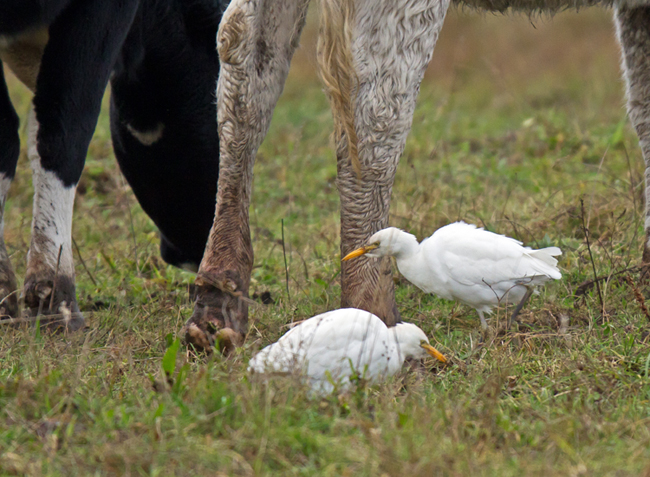 Glossy Ibises were down to three - at Wat Tyler Country Park, Essex, the Rogerstown Estuary, Dublin and near Ely, Cambridgeshire. Up to twenty Spoonbills were still in Poole Harbour, Dorset with a few others in Devon and Cornwall. The only bird away from the Southwest was at Cley, Norfolk on 19th to 22nd. In the far north, a Common Crane was still at Stromness, Orkney to at least 18th.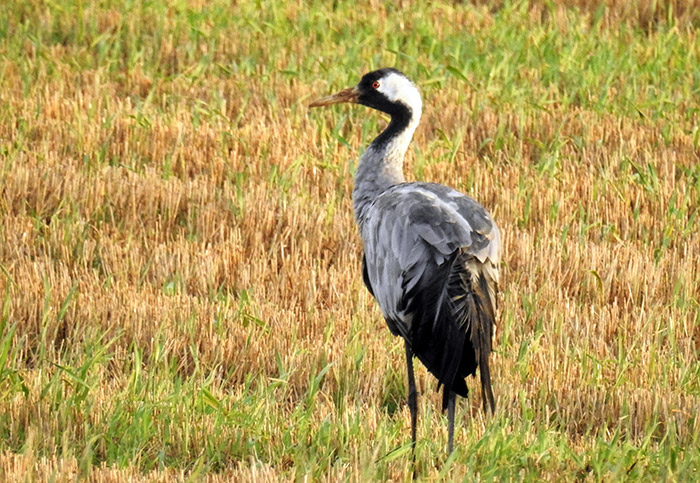 Two of the week's Rough-legged Buzzards were in Norfolk, albeit at opposite ends of the county. Last week's bird was still at Haddiscoe Island on 19th, on which date another was at Snettisham. Another was at Langrick, Lincolnshire on 20th.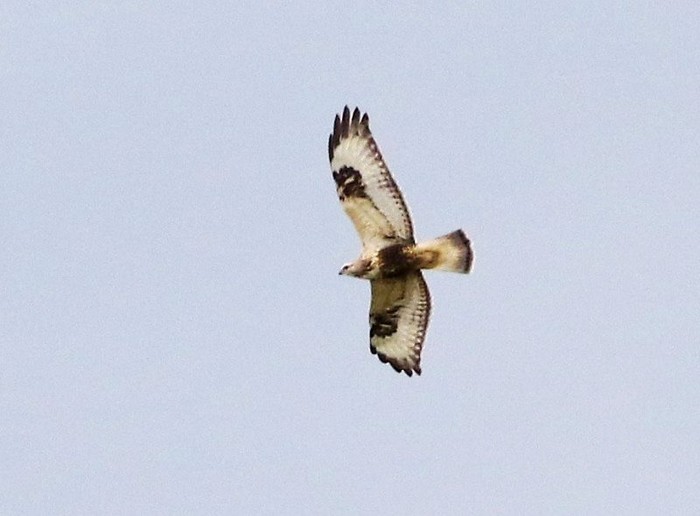 Four rare waders were still present this week, three of them in Ireland. These were a Semipalmated Sandpiper and a Long-billed Dowitcher at Tacumshin, Wexford to at least 20th and an American Golden Plover still at Carrahane Strand, Kerry on 20th. In Britain the Lesser Yellowlegs remained at Poole Harbour, Dorset.
The best gull of the week was agin the adult Bonaparte's Gull at Dawlish Warren, Devon to at least 19th though perhaps more newsworthy was an adult Ring-billed Gull at Blashford Lakes, Hampshire intermittently from 18th to 22nd. Another was at Ennis, Clare on 19th to 22nd.
Glaucous Gulls numbered around fifteen by 20th, all singles scattered from Shetland and the Western Isles down to Suffolk. The 20th saw a significant influx to Shetland, however, with no fewer than seventeen counted on Unst. With one or two more down North Sea coasts at the end of the week, the final total was well over thirty.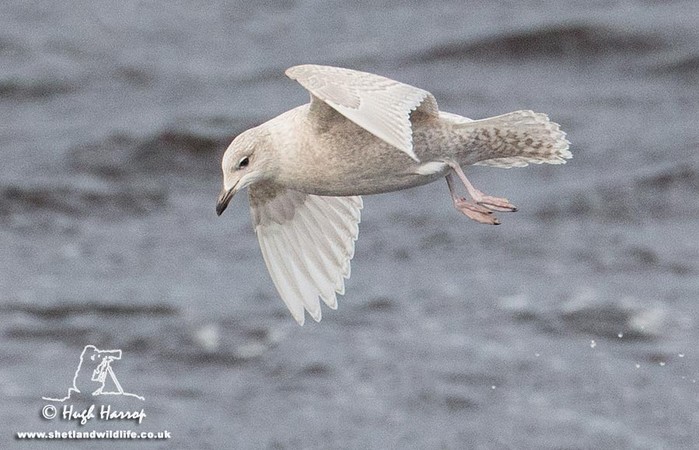 Iceland Gulls numbered around a dozen, similarly distributed from Shetland and the Western Isles down to Kent and Cornwall. Most interesting was the first of the winter's 'Kumlien's Gulls', a third-winter at Scatness, Mainland Shetland on 18th.
Meanwhile, Ireland's Forster's Tern was again at Kinvarra Bay and Nimmo's Pier, Galway.
Near-passerines and Passerines
The final Asian passerines of the autumn were a Red-throated Pipit at Steart, Somerset on 19th, last week's male Desert Wheatear still at Thurlestone, Devon to 22nd with another male at St. Anne's, Lancashire on 19th to 22nd, a Pallas's Warbler at Easington, Yorkshire on 20th, Little Buntings at Thetford, Norfolk on 16th and Garths Ness, Shetland on 22nd and a Richard's Pipit at Kilnsea, Yorkshire on 16th also. As for European passerines, a Wryneck on St. Martins, Isles of Scilly on 20th was very late.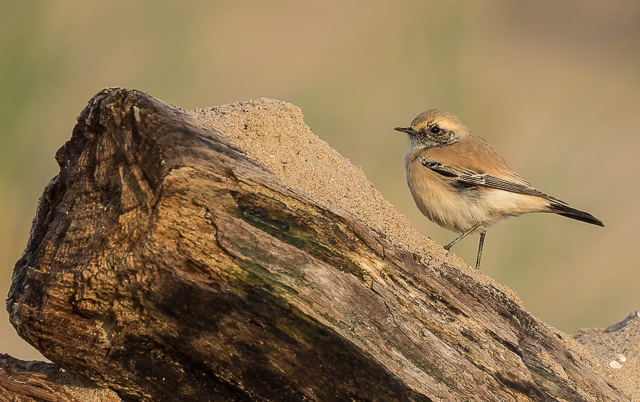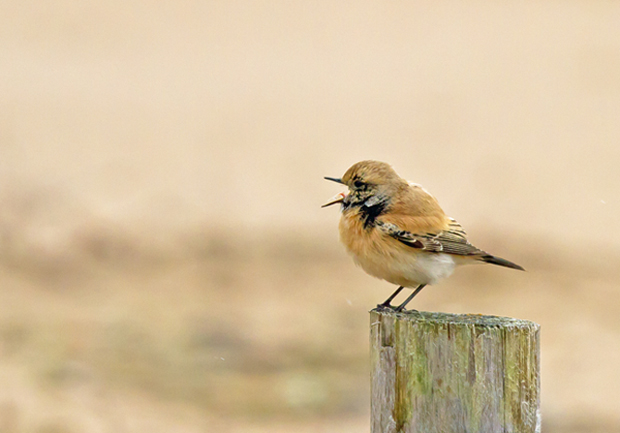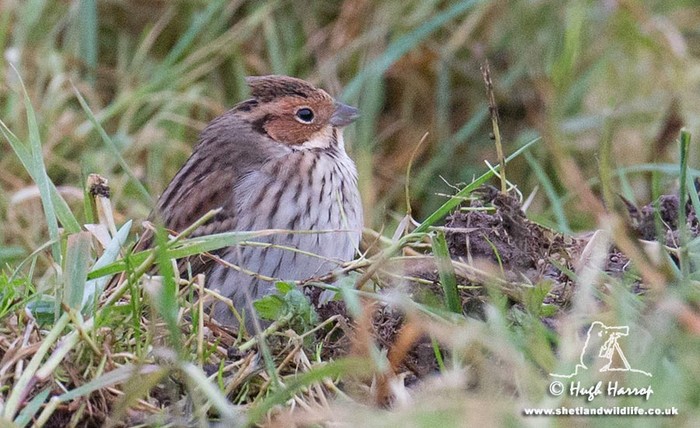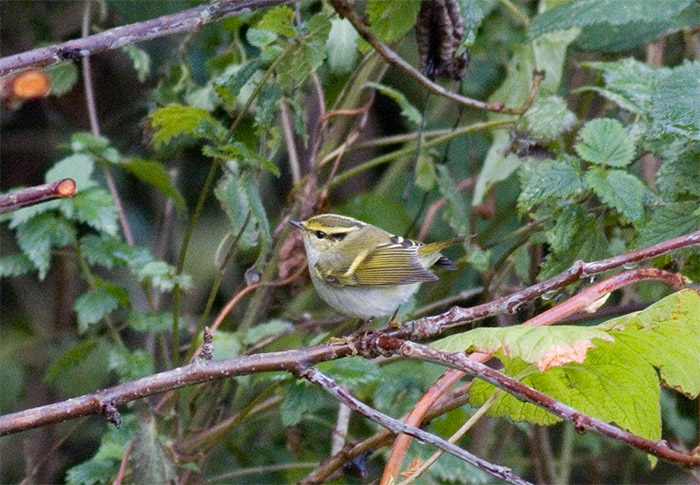 As for winter passerines, the long-staying 'Hornemann's Arctic Redpoll' was still on Unst, Shetland to at least 20th (now present since September) along with, on 20th a 'Coues's Arctic Redpoll' . On 19th and 20th another Arctic Redpoll (perhaps a Coues's as it was with Mealy Redpolls) was at Queenamidda, Mainland Orkney (the site of last week's Black-throated Thrush).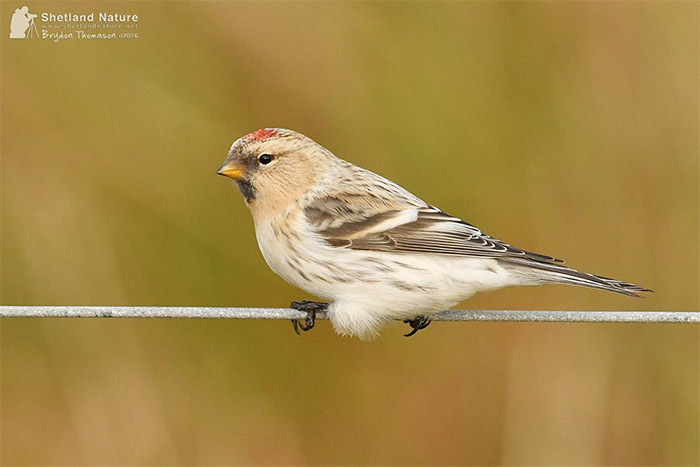 Further south, the Black-bellied Dipper was still at Needham Market, Suffolk to at least 22nd.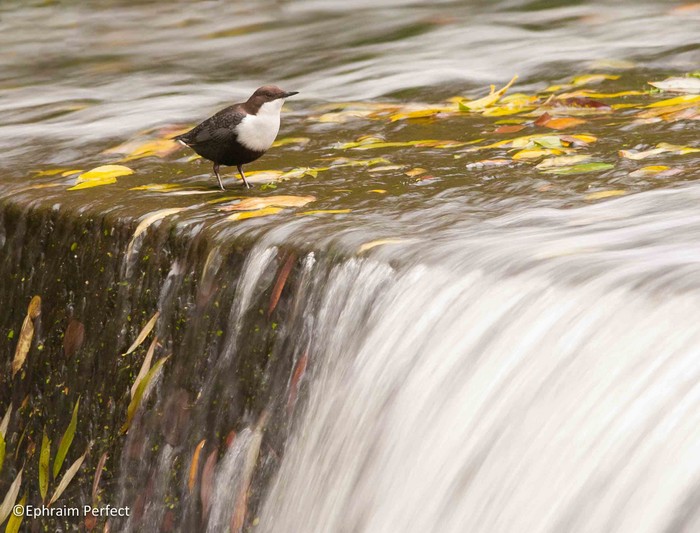 This week saw significant Shorelark flocks at Tyninghame, Lothian (twenty), Holkham, Norfolk (forty) and Salthouse and Blakeney Point, Norfolk (twenty).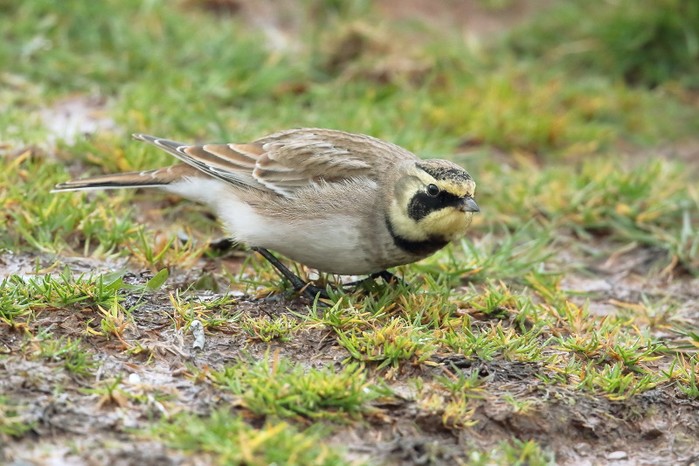 Great Grey Shrikes continued to occupy over twenty wintering sites, all singles apart from two at Thursley, Surrey. One on Papa Westray, Orkney on 22nd was, however, an exceptionally late migrant.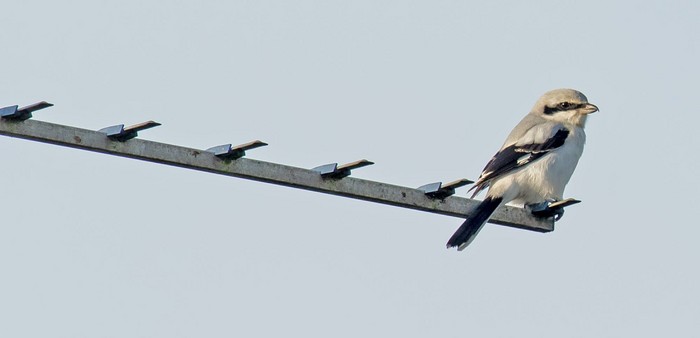 Waxwings remained the main passerine event with some very impressive flocks counted. These included 100 in Dunston, Durham, 100 in Inverurie, Aberdeenshire, 100 in Pitlochry, Perth and Kinross, 150 in Perth, also Perth and Kinross, 193 in Stirling, Forth, 200 in Jarrow, Northumberland, 200 in Falkirk, Forth, 223 in Brampton, Cumbria, 300 in Aviemore, Highland, 350 in Nairn, also Highland, 458 in Elgin, Moray and, largest of all, 500 in Inverness, Highland. The total number must be somewhere in the region 5,000.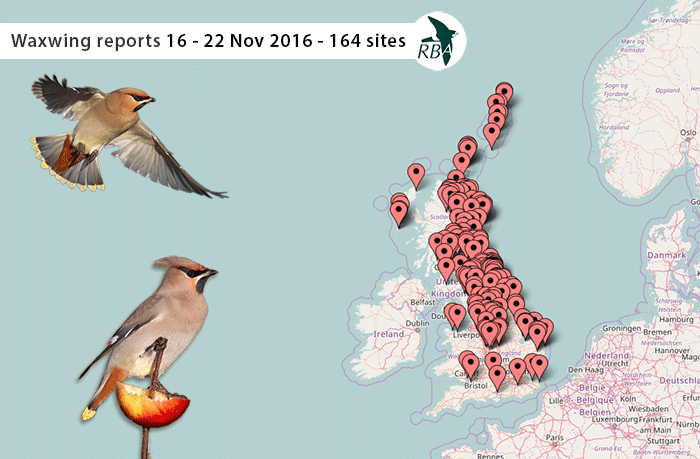 Almost all were recorded in Scotland and northern England with just a few south of Leicestershire. These outliers included birds in Staffordshire, Warwickshire, Somerset and Kent. Forty also got as far west as Glan Conwy, Conwy with seven on Anglesey.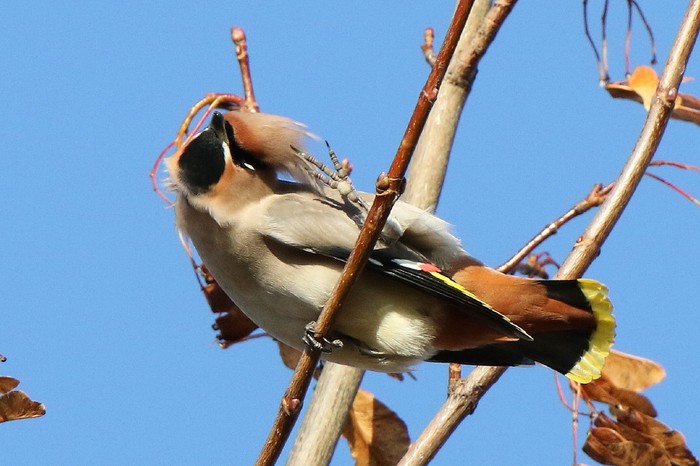 Looking ahead, next week promises a return to calmer, anticyclonic conditions, continental air and colder temperatures. Could this bring further influxes of Waxwings and Mealy Redpolls? Looking further afield, much of central and northern Asia has been experiencing unusually cold temperatures and almost complete snow cover. Astana, Kazakhstan, for example, has been down to minus thirty at night with daytime temperatures as low as minus twenty-four. Could this trigger movements of anything? What about a Pallas's Sandgrouse or a White-winged Lark?
Andy Stoddart
23 November 2016
Tweet

Many thanks to all contributors for the photos and videos this week.
Hugh Harrop / Shetland Wildlife, Tim Wotton, Sean Nixon, Nathaniel Cant, Max Hellicar, Sean Cronin, Niall Keogh, David Aitken, Jonathan Clarke, Bob McMillan, Brian Anderson, Steven Nuttall, Daniel Branch, David Bryant, Brian Anderson, Darren Ward, David Talbot, Tim Wotton, Paul Thomas, Jon Worthington, Pete Hines, Tim Jones, Brydon Thomason / Shetland Nature, Ephraim Perfect, Lewis Thomson, Martyn Jones, Dave Burns,