Weekly birding round-up: 9 - 15 Nov 2016
The week at a glance
Black-throated Thrush on Orkney
American Coot on the Western Isles
Killdeer on Shetland
Harlequin Duck in Cork
Siberian Accentor still in Highland
'Eastern Black Redstarts' still in Cleveland and Yorkshire
'Western Rufous Turtle Dove' still on Shetland
Northern Harrier still on Orkney
Pallid Harrier still in Lincolnshire
Hudsonian Whimbrel still in Cornwall
Dalmatian Pelican still in Cornwall
Isabelline Wheatear still in Norfolk
The week was dominated by westerly winds and periods of rain but the centres of the two areas of low pressure responsible crossed the country well to the south, producing short periods of north-easterly winds around their northern flanks. These brief 'windows' of continental air brought more winter thrushes and Waxwings but the long run of eastern passerines dried up almost entirely this week and for the first time in a while there were no new Siberian Accentors.
Black-throated Thrush
The best new bird of the week was a male Black-throated Thrush at Queenamidda, Mainland Orkney on 9th and then at Dale on 10th to 14th. Dale lies around four miles northwest of Queenamidda so presumably the same bird was involved at both locations. Like all the Asian thrushes, Black-throated Thrush remains an outstanding find and this bird is only the fifth for Orkney, the others being on North Ronaldsay in 1990, Mainland in 1992, Stronsay in 1995 and Mainland again in 2010. This has been an excellent autumn for this somewhat erratic species, this week's Orkney bird now the fifth. Could we be in for a winterer?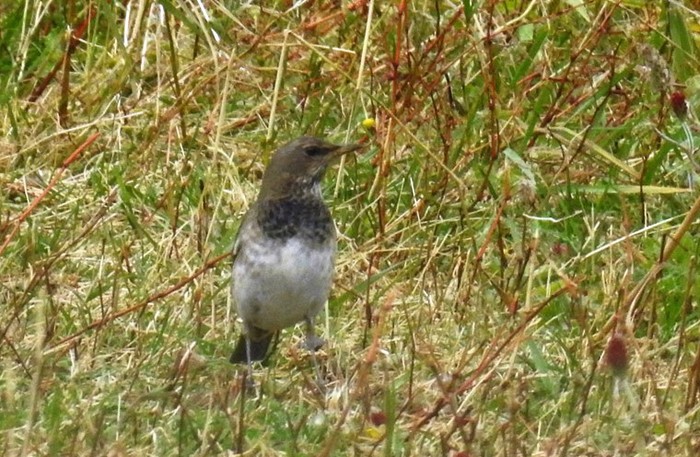 American Coot and Killdeer
Two of the other top rarity discoveries were, by contrast, from the Nearctic - an American Coot at Balranald, North Uist, Western Isles on 11th to 12th and a Killdeer at Sandwick, Mainland Shetland on 13th to 15th. Of these the coot is by far the greater rarity with only eight previous records in Britain and another four in Ireland. The Western Isles are fast becoming the premier location for this species, this bird becoming the fourth for the islands following records from South Uist in 2004, Benbecula in 2005 (at, appropriately enough, Coot Loch) and Balranald in 2014. This site therefore becomes the first to host the species twice. By contrast, Killdeer has amassed 56 records to the end of 2015, with another 22 in Ireland. It remains a desirable rarity in Shetland, however, with only three previous records in the islands - in 1993, 2007 and 2008.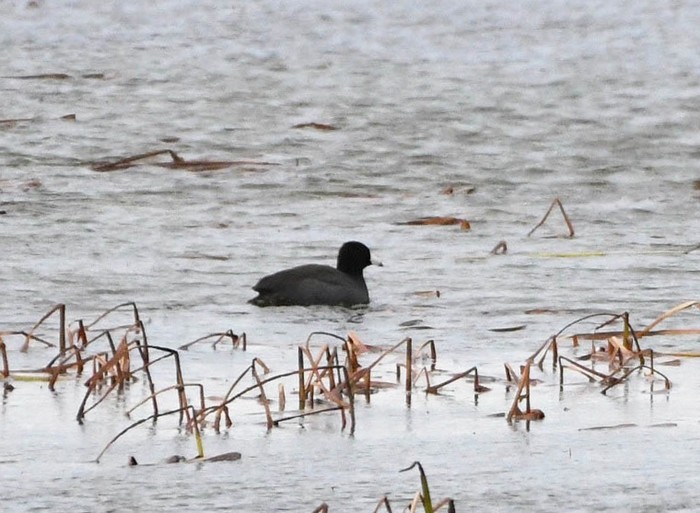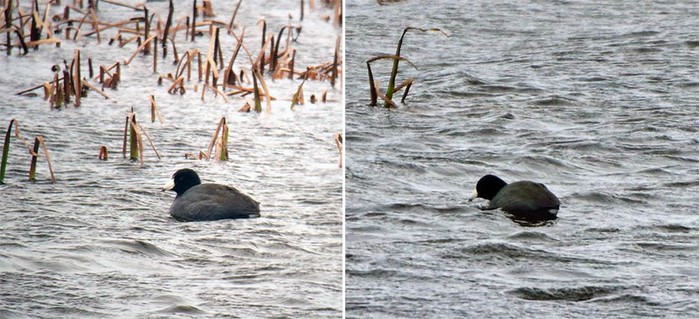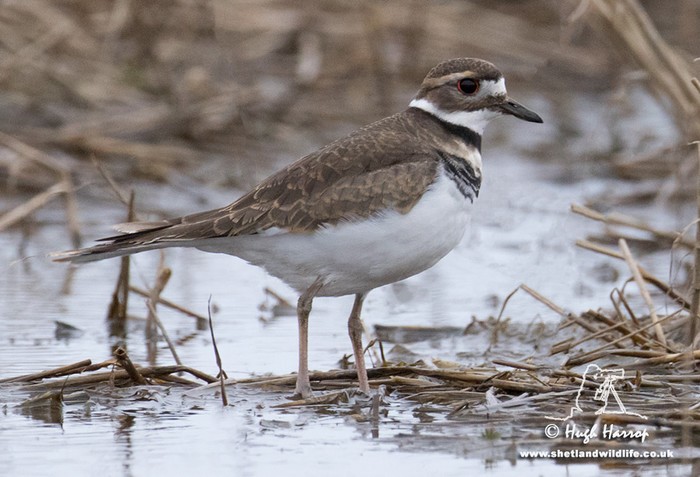 Harlequin Duck
The other top rarity of the week was a female or first-winter Harlequin Duck reported on 15th near Sherkin Island, Cork from the Cape Clear Island ferry. Amazingly, this is a new bird not only for Cork but for the whole of Ireland, the nearest previous birds being a female on Islay, Argyll in October 1987 and two females at Girvan, Ayrshire in April 1996. Britain has hosted around twenty individuals to the end of 2015 but this is very nearly a 'Scotland only' rarity, the English records dating from Yorkshire in 1862, Northumberland in 1886 and Lancashire in either 1915 or 1916. It is therefore now a hundred years since this species was seen in England!
Siberian Accentor
The rest of the week's rarity highlights were all lingerers from last week. The best was the Siberian Accentor at Avoch, Highland to at least 13th. Will this now be the last of this autumn's remarkable run?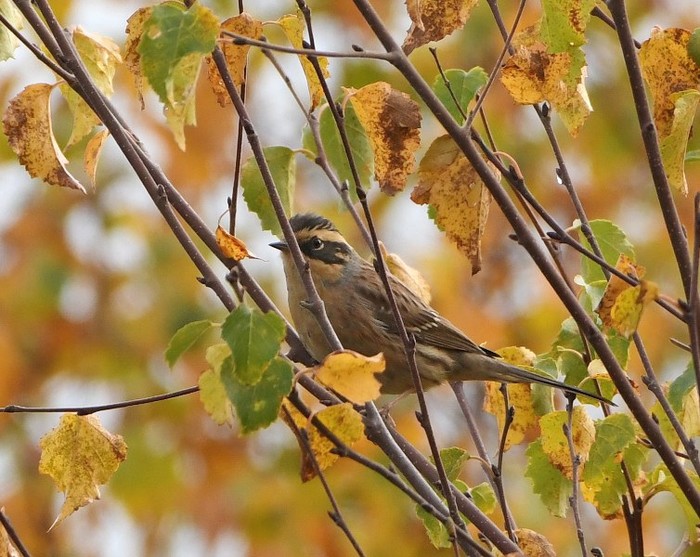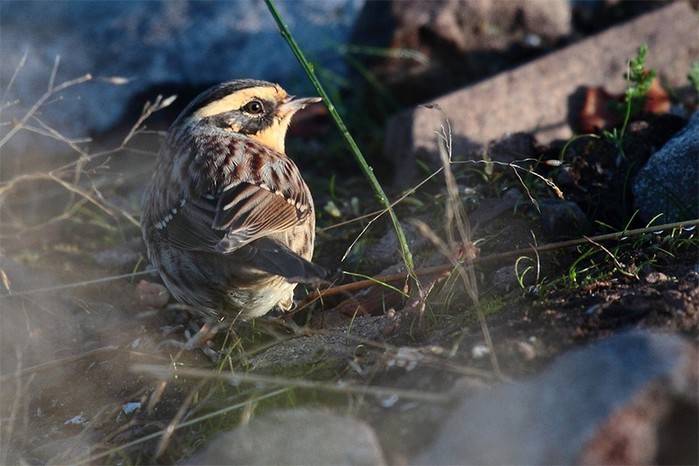 Eastern Black Redstart, Western Rufous Turtle Dove
The other headline birds were the three first-winter male 'paradoxus'-type 'Eastern Black Redstarts' still at Hartlepool and Skinningrove, both Cleveland, to 15th and Cayton Bay, Yorkshire to 11th. This autumn's birds have provided a valuable opportunity to revisit the identification criteria for this subspecies group. As with previous birds, the width of the tertial and secondary fringes (and hence the strength of the wing 'panel') has been quite variable. Although some show little or no panel it is now clear that, contrary to earlier beliefs, a moderate wing panel is not a bar to identification as 'Eastern Black Redstart'. It is also worth noting that this autumn's birds have all shown a grey forehead (i.e. they have lacked any white triangular patch) but this latter feature is present on some birds from the core breeding range of phoenicuroides at least and, if present on a British vagrant, would not automatically indicate influence from Common Redstart.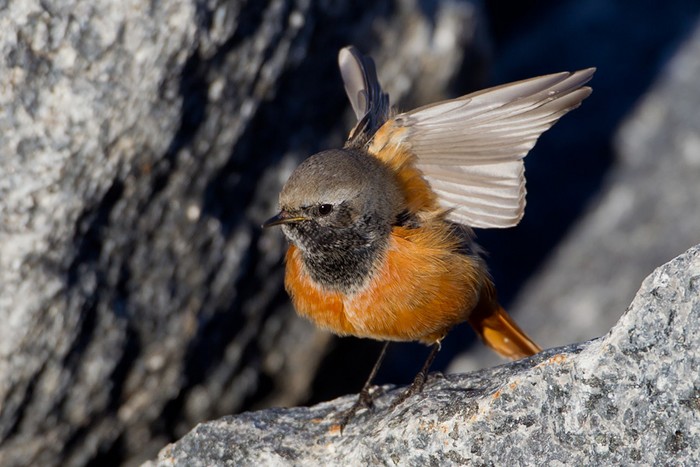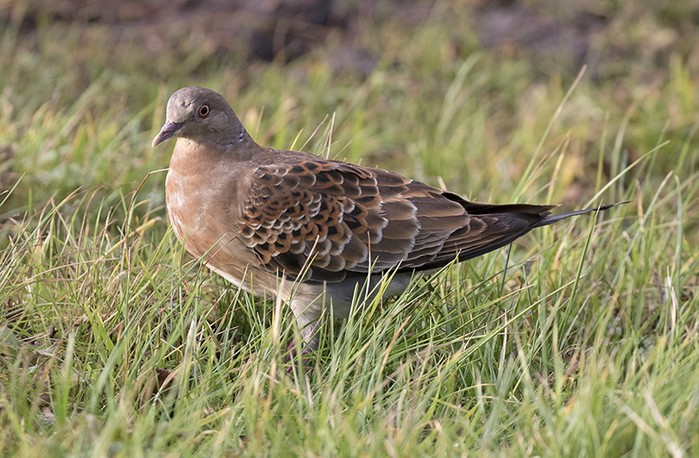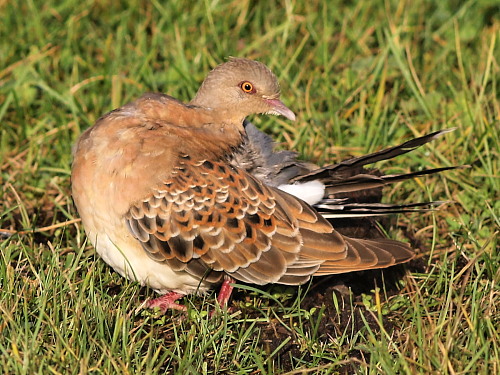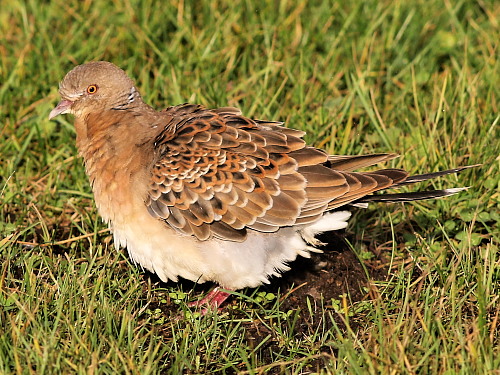 Lingering rarities
Also lingering was last week's 'Western Rufous Turtle Dove' at North Roe, Mainland Shetland. Despite being taken into care on the day of its discovery (but released again next day), it was present to 15th. On neighbouring Orkney the adult male Northern Harrier was still on North Ronaldsay to 15th whilst, further south, the juvenile Pallid Harrier continued to roam the Donna Nook, Grainthorpe Marsh and Tetney area of Lincolnshire to 15th also. Nearby, the Western Purple Swamphen was still at Alkborough Flats, Lincolnshire to at least 13th whilst, further south still, the Hudsonian Whimbrel was still at Perranuthnoe, Cornwall to 15th and the Dalmatian Pelican at Restronguet Creek, also Cornwall, to 15th also.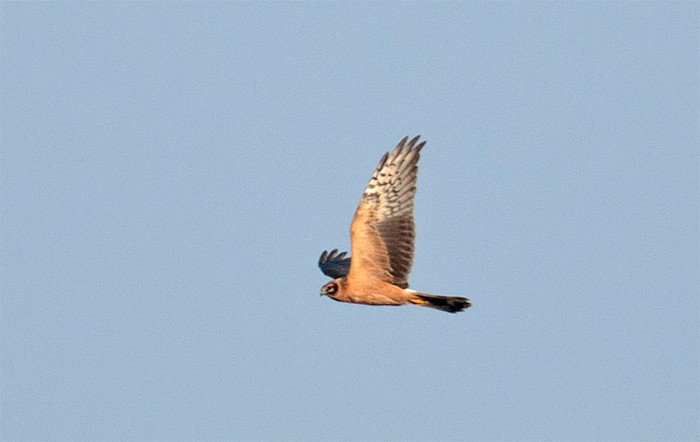 Any of the above-mentioned birds could now be here for the winter but, despite an unusually long stay, the same cannot be said of the Isabelline Wheatear at Burnham Overy Dunes, Norfolk, last seen on 12th.
Further afield
The highlight of this week's 'Euronews' was the discovery of the Western Palearctic's first American Tree Sparrow in Sweden on 12th. Although not perhaps the most likely vagrant amongst the Nearctic sparrows, it does breed into the Low Arctic alongside, for example, White-crowned, Fox, Lincoln's and Harris's Sparrows, and winters south into the United States and southern Canada. Ship assistance may of course have played a role in this particular occurrence although this may not prove a barrier to its acceptance onto the Swedish List.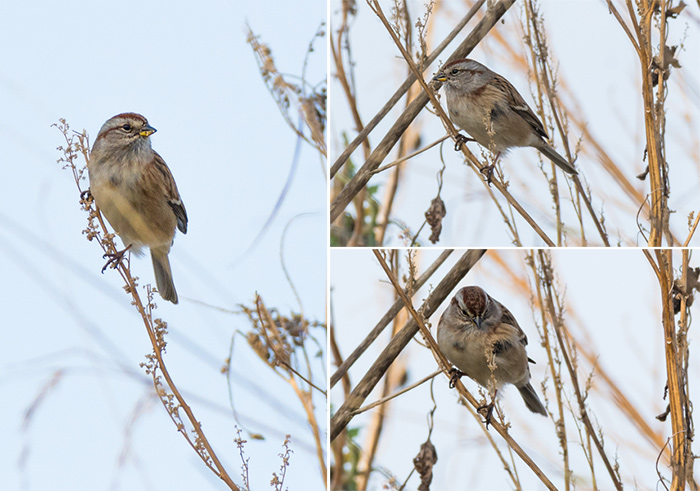 From the other direction, another Yellow-throated Bunting in Norway on 13th was also something of a surprise. Coming shortly after the occurrence of one in Norway only last week, this duo of records is a remarkable coincidence and perhaps more indicative of natural vagrancy than a mass break-out.
Otherwise the Siberian Accentor invasion continued although its pace slowed a little. Nevertheless new birds were found in Latvia, Finland, Sweden and Denmark, pushing the northwest European total to at least 222.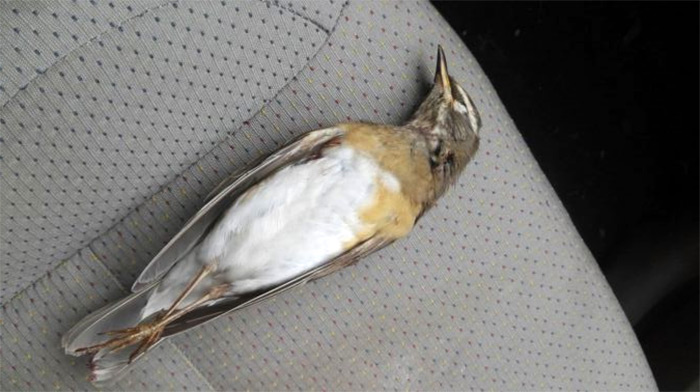 Other Palearctic highlights included an Eyebrowed Thrush (sadly shot) in Spain, an Oriental Turtle Dove in Finland, last week's Dusky Thrush still in the Netherlands (until sadly found dead), two Pine Buntings and a Steppe Eagle in Norway and an 'Eastern Black Redstart' and a Red-necked Stint in Sweden. This autumn's run of 'field-identified' (or at least 'back of camera-identified') Red-necked Stints in Iceland and Scandinavia surely means that we are missing them here. Or has it just been an exceptional autumn for them? The remaining headline birds were from America (a Bufflehead in Iceland and a Wilson's Snipe in Norway) and the Southern Oceans (a Black-browed Albatross in France).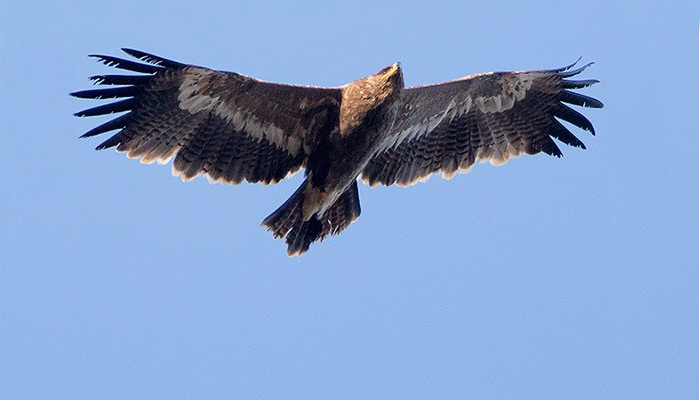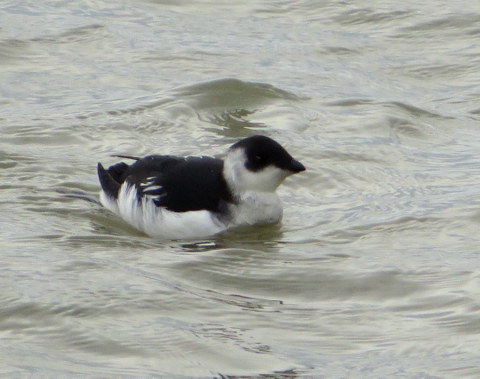 The undoubted seabird highlight of the week was a remarkable count of six White-billed Divers off Papa Westray, Orkney on 10th, with three still there on 12th. Such gatherings are increasingly the norm in early spring but are unusual indeed in early winter.
Given the milder westerly conditions prevailing this week, it was no surprise that Little Auks were suddenly scarcer, the only records being from Sheringham, Norfolk and Fair Isle, Shetland (two) on 9th, Titchwell, Norfolk on 10th, Fair Isle, Shetland on 11th, Greystones, Wicklow on 12th, Walton on the Naze, Essex on 12th and 13th, Hamford Water, Essex on 13th to 15th and Barns Ness, Lothian and Lossiemouth, Moray on 15th.
Sixteen Balearic Shearwaters off Pendeen, Cornwall on 9th represented a high count for November but the only other notable seabirds were a Sabine's Gull off Thurlestone, Devon on 9th and Grey Phalaropes at Tophill Low, Yorkshire to at least 13th, Strumble Head, Pembrokeshire on 9th and Ramore Head, Antrim on 10th.
The wintering 'Richardson's Cackling Goose' and two interior/parvipes Canada Geese remained at Lissadell, Sligo this week with another of the latter in the Docking and Choseley area, Norfolk on 13th and 14th. This year's birds are being referred to as interior though similar birds in other years have been labelled parvipes. For the moment, therefore, it seems sensible to continue to assign these vagrant Canadas simply to an 'interior/parvipes' subspecies pair. The other Nearctic goose highlight was a group of three 'Blue Snow Geese' at Loch of Strathbeg, Aberdeenshire on 10th. As for Siberian geese, 'Black Brants' at West Mersea, Essex, Weymouth, Dorset, Seasalter, Kent and Cockthorpe, Norfolk were all reported at some point this week.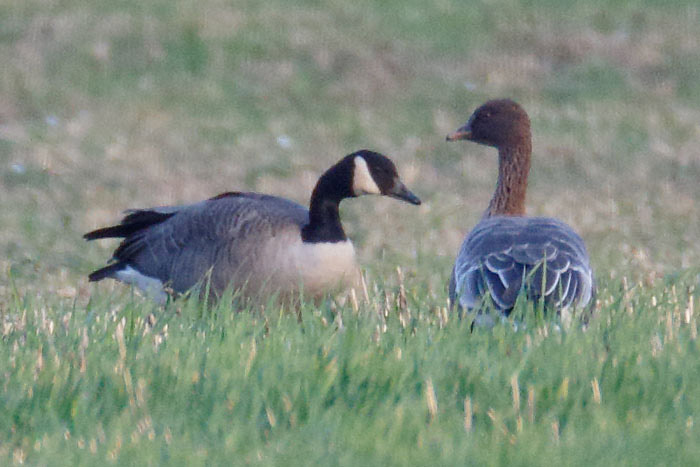 The duck highlight of the week was the drake Hooded Merganser at Kilbirnie Loch, Ayrshire from 9th to at least 15th whilst the Black Duck was still at Strontian, Highland on 10th.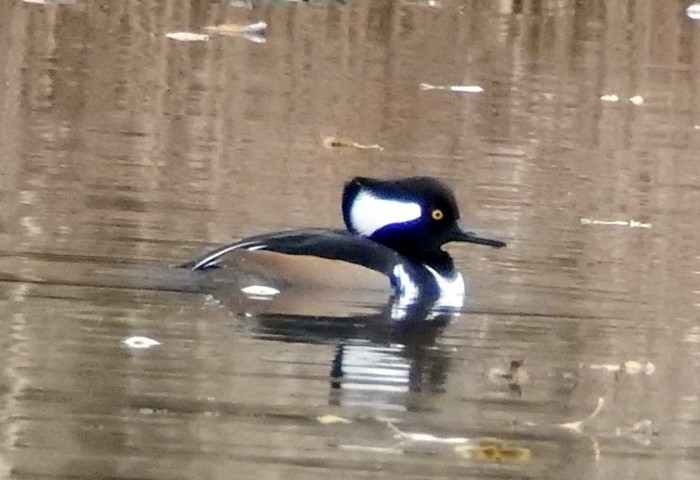 Nine American Wigeons were noted this week, four in Scotland - on Barra, Western Isles and at Inverness, Highland, Loch of Lintrathen, Angus and Loch of Strathbeg, Aberdeenshire - and five in England - at Grindon Lough, Northumberland, Hereford, Herefordshire, Exminster, Devon, Leighton Moss, Lancashire and Newquay, Cornwall.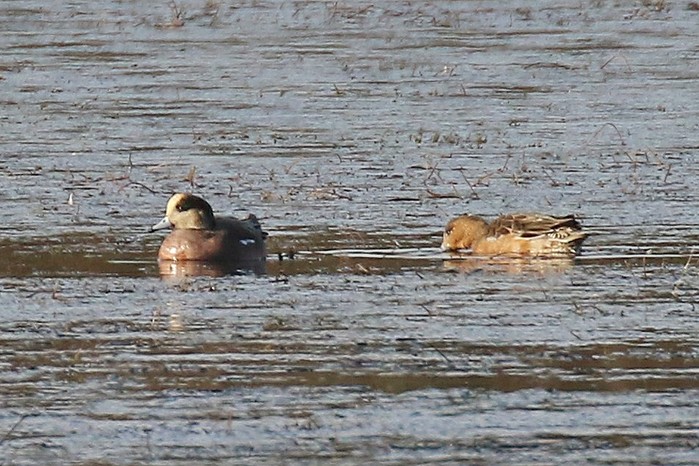 Green-winged Teals numbered six - at the Hayle Estuary, Cornwall, Caerlaverock, Dumfries and Galloway, Ollaberry, Mainland Shetland, Tiree, Argyll, Skegness, Lincolnshire and North Ronaldsay, Orkney.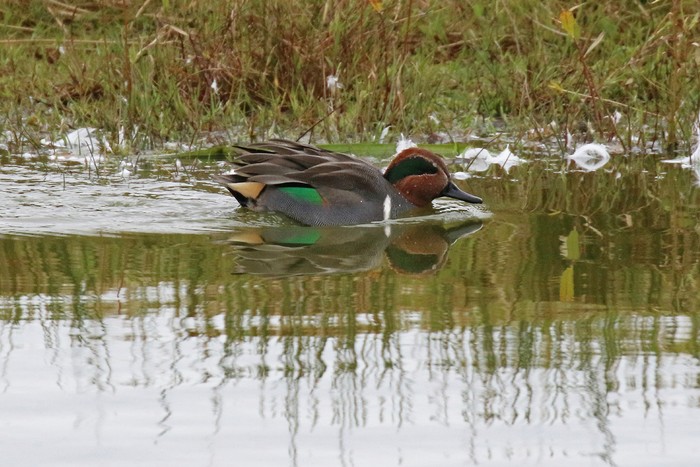 As for diving ducks, a Lesser Scaup was at Loughrea, Galway on 13th, Ferruginous Ducks at Wilstone Reservoir, Hertfordshire to at least 12th and at Blashford Lakes, Hampshire on 13th and Ring-necked Ducks at Dungeness, Kent, Pitlochry, Perth and Kinross, Tacumshin, Wexford and Lough Morne, Donegal.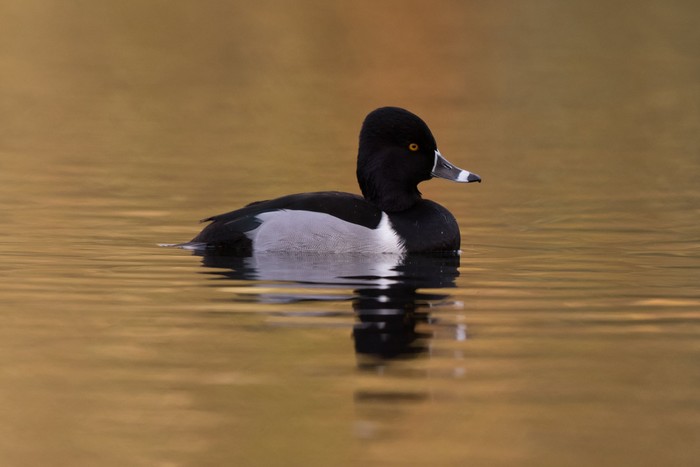 At sea, single drake Surf Scoters were off Largo Bay, Fife and Aberlady Bay, Joppa and Musselburgh, all Lothian.
Herons, egrets, crakes etc.
The rarest heron by far was the Squacco Heron in Pembrokeshire, first seen on at least 26th to 28th October at Narberth but this week at nearby Saundersfoot on at least 10th to 12th.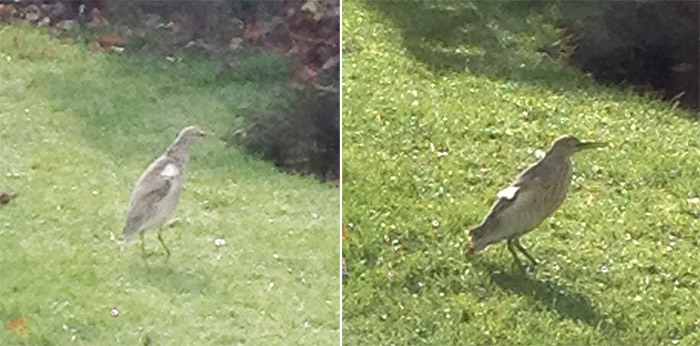 Great White Egrets continued their bid to take over the country with a conservative count for this week taking the total to comfortably over a hundred birds and perhaps as many as 110 or 115. The highest single-site count was again at Chew Valley Lake, Somerset which continued to host up to 26 birds. Most were in southern and western England with only one in Scotland (at St. Cyrus, Aberdeenshire) and one in Ireland (at Ballyalia, Clare), a distribution clearly pointing to a Dutch/northern French origin.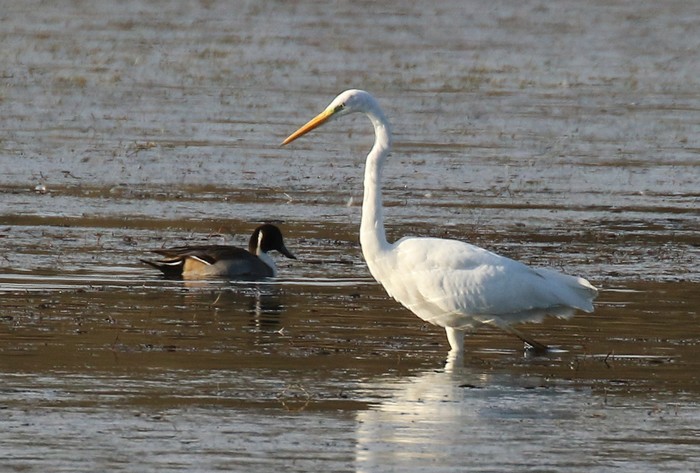 Cattle Egrets were also still prominent with around thirty-five present in Britain and Ireland. Notable flocks included seven at Carrigaline, Cork, six at Burton Mere, Cheshire and Wirral and five at Tacumshin, Wexford. All were in southern Ireland or southern England apart from two still at Southport, Lancashire and one still at Malin, Donegal. The very different distribution from Great White Egret, with so many birds in Ireland, is striking and clearly indicates an Iberian origin.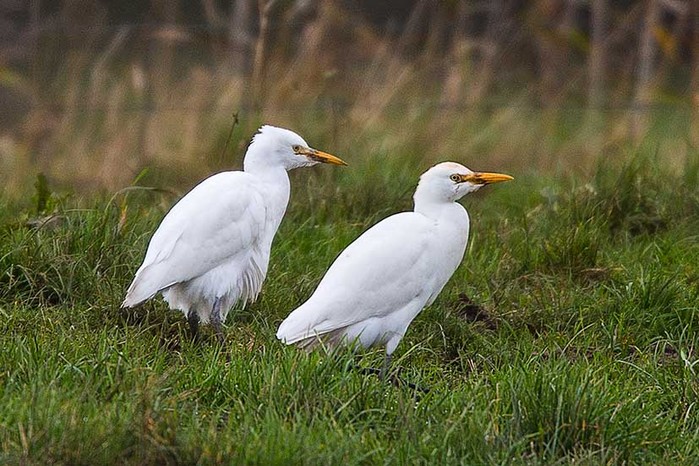 As for other long-legged birds, Glossy Ibises were down to five - at Ely, Cambridgeshire, Bray, Wicklow, Wat Tyler Country Park, Essex, North Ronaldsay, Orkney and Cossington Meadows, Leicestershire. Spoonbill numbers were also down, with only 24 now frequenting Poole Harbour, Dorset. Finally, a White Stork (the first mentioned here for some time) was at Holme Lacey, Herefordshire on 9th.
The only Rough-legged Buzzards of the week were at Sunk Island, Yorkshire on 10th to 11th, at Haddiscoe Island, Norfolk on 13th, Donna Nook, Lincolnshire on 14th and 15th and West Chevington, Northumberland and Cove, Borders on 15th.
Rare waders were very few this week. An Upland Sandpiper was reported heard over Rosscarberry, Cork on 10th and American Golden Plovers were at nearby Ballycotton on 10th to 12th, at Carrahane Strand, Kerry still to 12th and on South Uist, Western Isles on 14th. Also in Ireland the long-staying Long-billed Dowitcher was still at Tacumshin, Wexford to at least 11th whilst England's only rare wader was the Lesser Yellowlegs still at Poole Harbour, Dorset to 15th. More unusually, a late Dotterel was at Dungeness, Kent on 15th.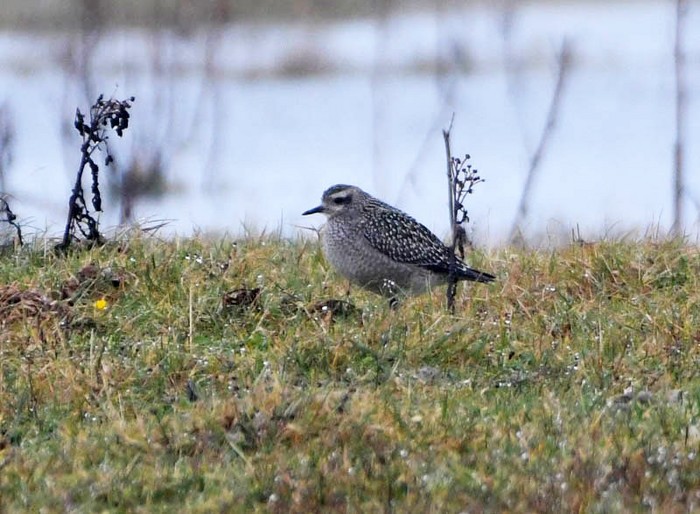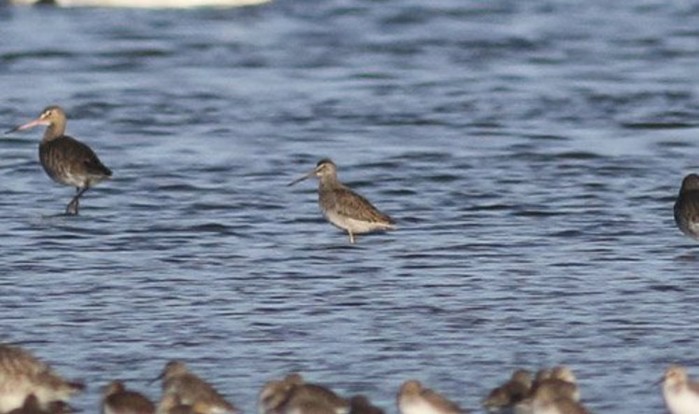 The best gull of the week was agin the adult Bonaparte's Gull at Dawlish Warren, Devon to 15th.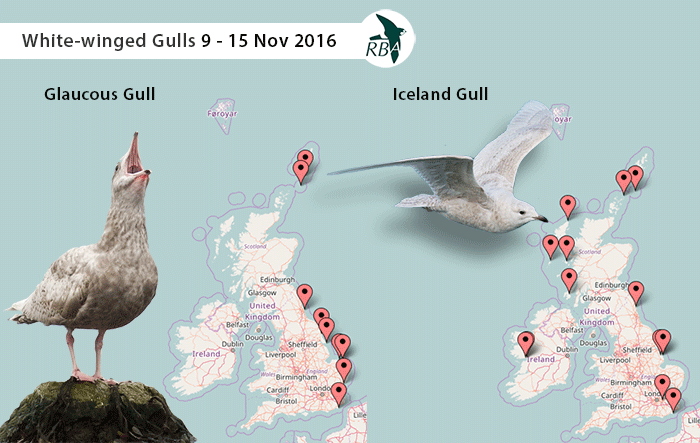 Last week's rush of Glaucous Gulls faded away rapidly with the return to westerly conditions and only nine were reported - at Fair Isle, Shetland on 9th and 13th, Barmston, Yorkshire on 11th, Unst, Shetland on 12th, Whitburn, Durham, Spurn, Yorkshire, Lewis, Western Isles and Landguard, Suffolk on 14th and Reston, Borders and Mallaig, Highland on 15th. By contrast, Iceland Gulls were more plentiful with ten logged - at Rainham, London and Fair Isle on 9th, Barra, Western Isles on 11th to 13th, Lewis, also Western Isles, on 11th and 12th, Dungeness, Kent and Elton Reservoir, Greater Manchester on 12th, Galway Bay, Galway on 12th and 13th, Mablethorpe, Lincolnshire on 13th and North Ronaldsay, Orkney, Rhum, Highland and Louth, Lincolnshire on 15th.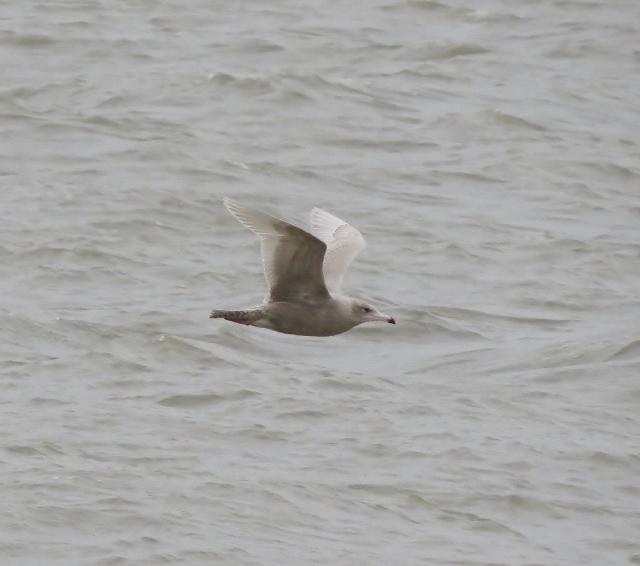 Caspian Gulls were noted as usual throughout the Midlands, East Anglia and the Southeast but nine at Albert Village Lake, Leicestershire on 9th and seven at Foremark Reservoir, Derbyshire on 11th were notable concentrations. Finally, the Ring-billed Gull was still at Nimmo's Pier, Galway to at least 13th.
Near-passerines and Passerines
Asian passerines continued to fade away this week but Dusky Warblers hung on at Land's End, Cornwall to 9th and on St. Mary's, Isles of Scilly to 10th, with one trapped at Nanjizal, Cornwall on 14th. Pallas's Warblers were on Bardsey, Gwynedd on 12th and Skomer, Pembrokeshire on 13th. Nine Richard's Pipits were noted - at Snettisham, Norfolk on 9th, Kilnsea, Yorkshire on 9th to 15th, Sheppey, Kent on 10th to 13th, Dawdon, Durham on 12th, East Chevington, Northumberland, Sheringham, Norfolk and Woodgreen, Hampshire on 13th, Sennen, Cornwall on 13th and 14th and St. Mary's, Isles of Scilly on 15th.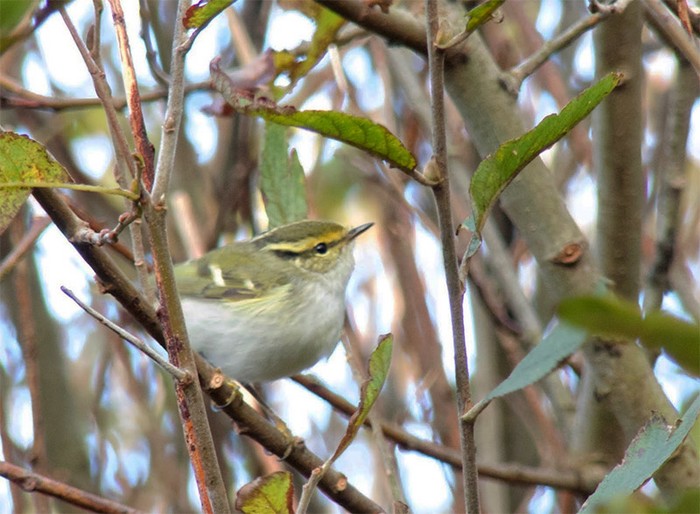 Also noted were a first-winter male Desert Wheatear again at Thurlestone and South Huish, Devon on 13th and 14th, a Barred Warbler at Deerness, Orkney still to 11th, a Red-breasted Flycatcher at Slyne Head, Galway still to 12th, a Rose-coloured Starling still at Penzance, Cornwall to 10th, a Short-toed Lark at Long Nab, Yorkshire on 13th, a Common Rosefinch at Gerrans, Cornwall on 9th and Little Buntings at Brake, Mainland Shetland on 12th, Bawdsey, Suffolk on 13th and 14th and Fair Isle still on 14th.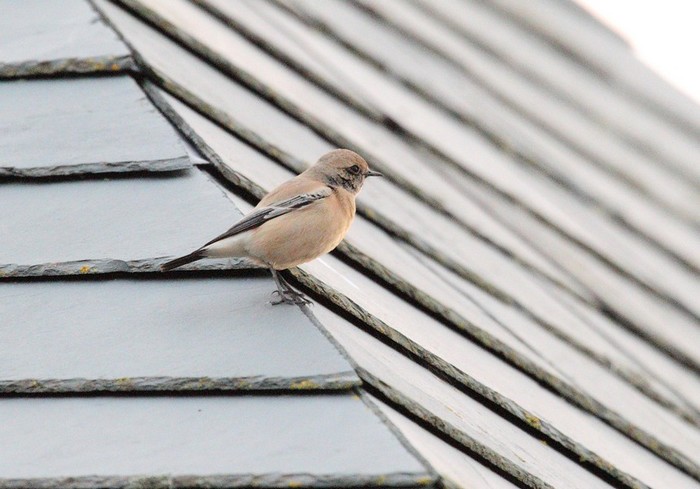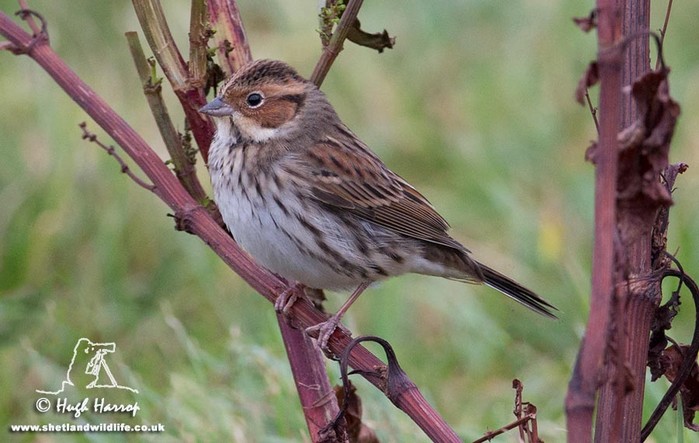 Yellow-browed Warblers were still relatively prominent with around twenty-seven noted this week, almost all in the Southwest where some sites held multiples - two on St. Mary's, Isles of Scilly, two at Paignton and Goodrington, both Devon, and in Cornwall two at Cot Valley and Marazion and four at Nanjizal. Three were still on the east coast - at Snettisham, Norfolk on 10th to 13th, at Kilnsea, Yorkshire on 11th and at Sunderland, Durham on 12th and 13th whilst one was inland at Stanwick Gravel Pits, Northamptonshire on 10th. Most far-flung of all was one on North Uist, Western Isles on 10th. These latter birds will presumably already be gone but the prospects for a number of winterers in the Southwest look good.
Turning to 'winter passerines', there was a further small arrival of 'Coues's Arctic Redpolls' though all five were on Shetland - one on Fair Isle on 9th with two there on 11th, one on Yell on 11th and, on Unst, one on 13th and two on 14th, the latter island also hosting two 'Hornemann's Arctic Redpolls' at the same site on 14th! Continuing the frosty theme, a beautiful 'Northern Treecreeper' was trapped at Burnham Deepdale, Norfolk on 11th. The 'Black-bellied Dipper' was still at Needham Market, Suffolk on 14th.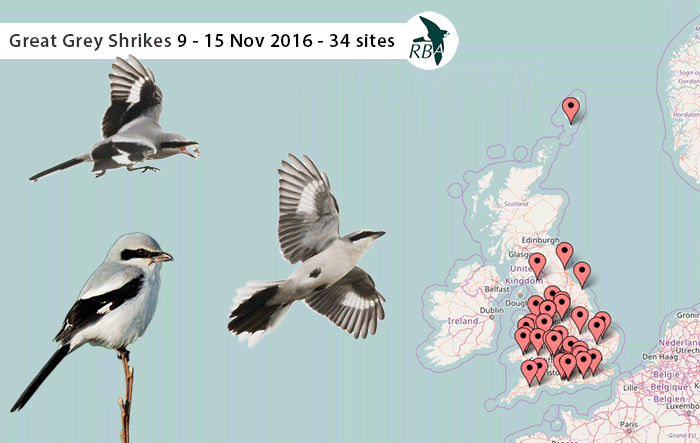 Great Grey Shrikes were recorded at over thirty, mainly inland, sites, all in England and Wales apart from one at Scousburgh, Mainland Shetland on 10th. The odd Shorelark was reported as far south as Kent but only three sites recorded significant numbers - twelve at Tyninghame, Lothian, 21 at Long Nab, Yorkshire and up to 75 at Holkham Bay, Norfolk.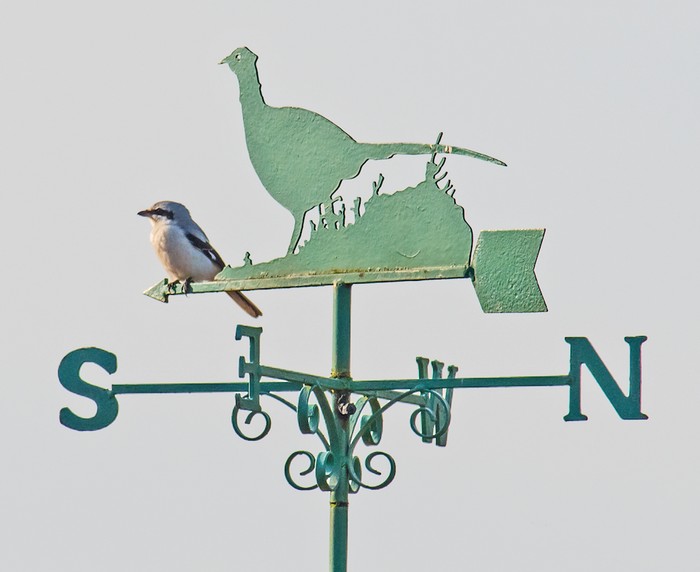 Waxwings continued to dominate the passerine headlines, however, with the invasion still well underway. The focus this week was firmly on Scotland and northeast England where some large flocks were recorded. In Scotland these included 150 at Perth, Perth and Kinross, 170 at Aviemore, Highland, 200 at Little Dunkeld, Perth and Kinross, 240 at Forres, Moray, 300 at Gullane, Lothian and 500 at Elgin, Moray.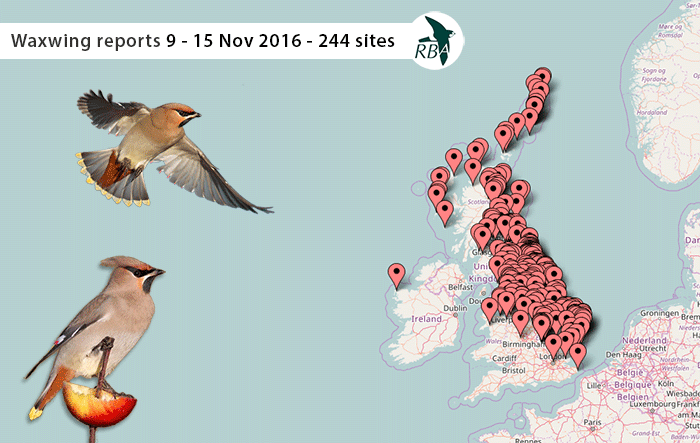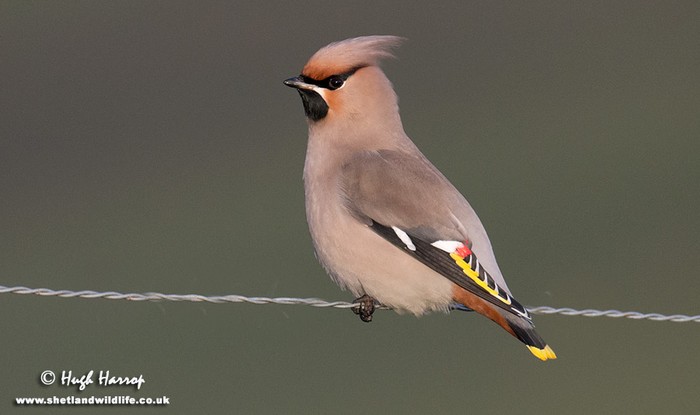 In England the largest flocks were 100 at South Shields, Durham, Cramlington, Northumberland and Snettisham, Norfolk, 108 at Blyth, Northumberland, 110 at Pickering, Yorkshire, 150 at Carlisle, Cumbria, 200 at Dalston, Cumbria, 214 at Brampton, Cumbria, 300 at Whickham, Durham and 320 at Ashington, Northumberland.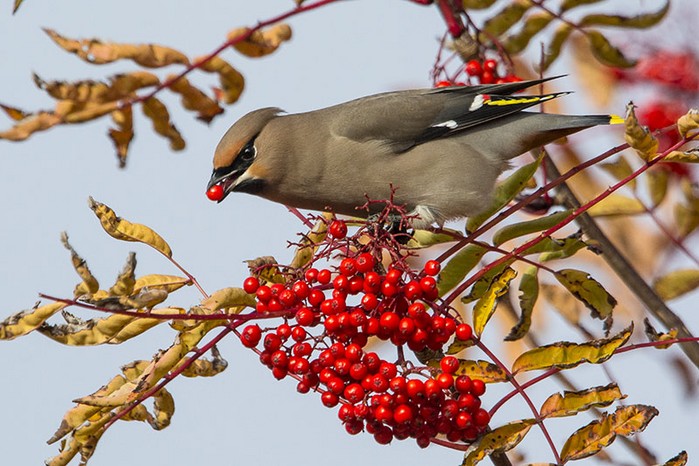 Looking ahead, the westerly flow appears set to continue. A final thinning out of the autumn's passerines therefore looks inevitable with the birding focus shifting firmly into winter mode - wildfowl, gulls and Waxwings. It is worth noting, however, that the winds early in the new week originate from northeast Canada and that the middle of the week sees a very fast-moving low pressure cross the Atlantic. Could there be a further Nearctic surprise? October to January is the best period for American Robin…..
Andy Stoddart
16 November 2016
Many thanks to all contributors for the photos and videos this week.
Hugh Harrop / Shetland Wildlife, Graham Catley, Tim Wotton, John Kemp, Steve Duffield / Western Isles Wildlife, Liam Reid, Martyn Sidwell, Justin Carr, Roger Riddington, David Cooper, Mike King, Shaun Ferguson, Juan Arizaga, Jan Kåre Ness, Peter Triston, Steve Gantlett, Brian Henderson, Gus Guthrie, Christopher Teague, Simon Knight, Wayne Tucker, Ron Marshall, Martin Adlam, Paul Kelly / Irish Bird Images, William Brame, Steve Stansfield, Alan Doidge, Mick Davis, Elliot Montieth, Martyn Jones, David Horsley, Bill Richmond.