Weekly birding round-up: 2 - 8 Nov 2016
The week at a glance
Siberian Accentor in Highland
Cliff Swallow in Suffolk
Eyebrowed Thrush in Northumberland
'Eastern Black Redstarts' in Cleveland and Yorkshire
Rufous Turtle Dove in Shetland
Isabelline Shrikes in Cornwall and Down
Pallid Harrier in Yorkshire and Lincolnshire
Isabelline Wheatear still in Norfolk
Red-eyed Vireo still on Scilly
Western Purple Swamphen still in Lincolnshire
Hudsonian Whimbrel still in Cornwall
Dalmatian Pelican still in Cornwall
This week began with an Arctic chill on 2nd - suddenly it was winter. The 3rd and 4th brought calmer westerly winds until a low pressure over the near-continent reintroduced cold Arctic air on 5th, bringing strong winds and frequent showers to eastern regions. As expected, there was a further dramatic reduction in the number of rare passerines but the 3rd and 4th brought significant arrivals of Waxwings and the second half of the week produced a noticeable influx of Glaucous Gulls . Against this increasingly wintry background there were nevertheless still some star birds and October's run of high quality birds continued.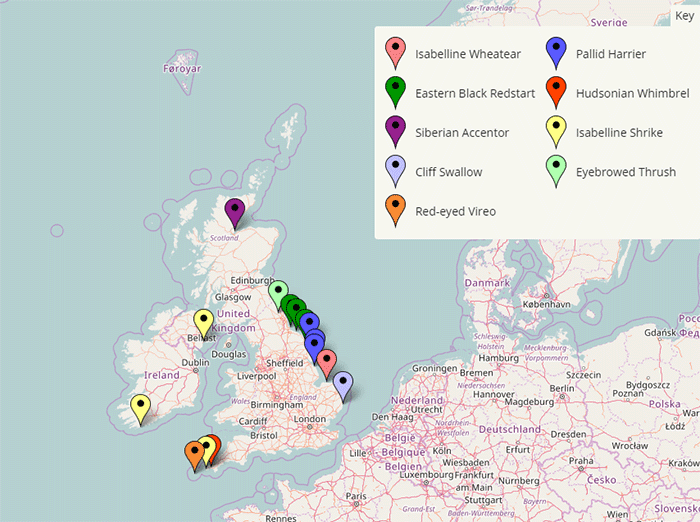 Siberian Accentor
Continuing the main story of the autumn was yet another Siberian Accentor , this one trapped at Avoch on the Black Isle, Highland on 6th and still present on 8th. The Baltic influx continues so there may yet be further birds still to be found. This is a hardy species, wintering in the often severe conditions of northern China and the Korean peninsula so the winter in western Europe should not pose too many problems for them. In fact they might find it rather balmy! Could they continue to arrive into the winter as do, for example, other irruptive species such as Waxwings and redpolls?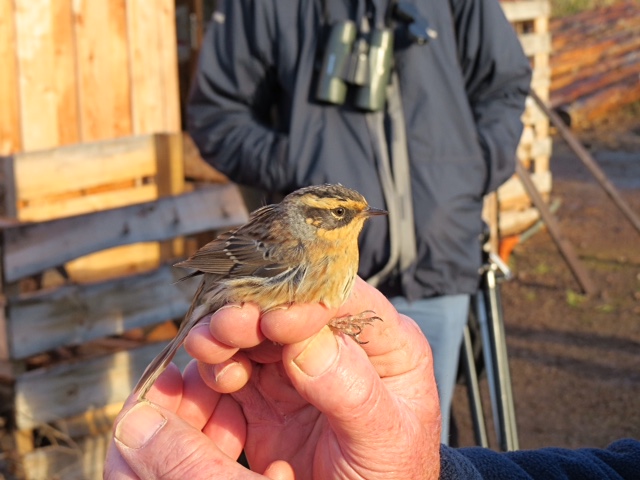 Cliff Swallow
Against this autumn's background of near-constant easterly winds and the best ever array of Siberian passerines, the discovery of a Cliff Swallow at Minsmere, Suffolk on 4th must rate as one of the most surprising events of the season. In an autumn with relatively few American passerines, the appearance of one on the east coast was hardly on the radar. It was found early in the afternoon over the reserve's visitor centre and subsequently seen going to roost. It was still there next morning, with seven Swallows, and showed well on and off all day sitting in bushes and hawking over the car park. After roosting once more it was present again briefly early on 6th but departed almost immediately and it was not seen again.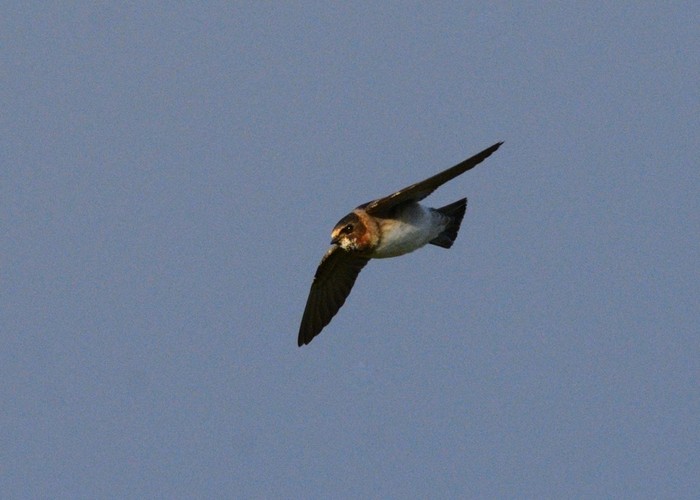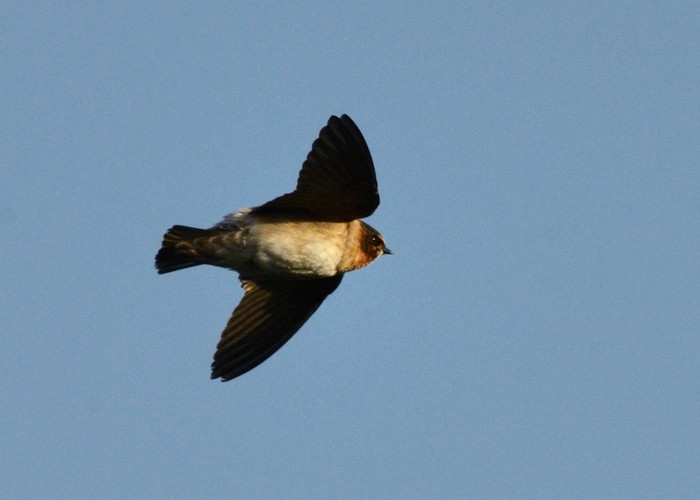 Quite how it got to Britain, let alone Suffolk, is not immediately clear but it represents a remarkable find in a county which has, for much of this autumn, found itself a bit 'round the corner'. It represents the 11th record for Britain and Ireland. After the first (on the Isles of Scilly in October 1983) there was a little run of records with another eight to 2001 but then a fifteen-year gap until the bird (again on Scilly) in September this year.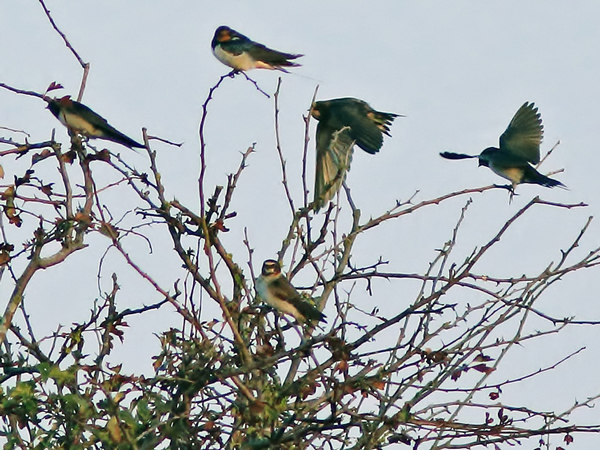 Five Cliff Swallows have reached Scilly and another has reached Ireland but, somewhat surprisingly, the remainder of the records come from the English east and south coasts so, although a new bird for Suffolk and East Anglia, its appearance is not without precedent. The previous east coast birds - in Cleveland in October 1988 and Yorkshire in October 1995 - were a long time ago, however, and neither was especially twitchable. Cliff Swallow is really a late September and October bird so the Minsmere bird is late. Only two have previously been recorded later than the end of October - in Kerry in November 1995 and on Tresco, Isles of Scilly in December of the same year.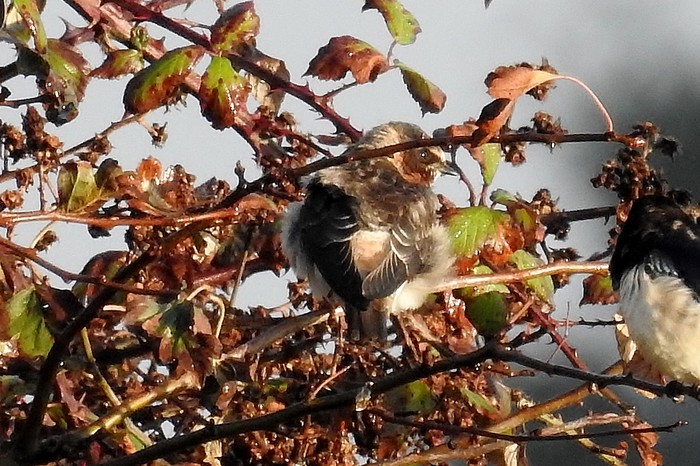 Eyebrowed Thrush
Also worthy of top billing this week was a splendid Eyebrowed Thrush at Bolam Lake Country Park, Northumberland on 4th. Identified from photographs that evening (and a splendid adult male to boot), it offered the prospect of an early morning twitch on 5th but sadly there was no sign of it next morning. This exciting bird almost completes the autumn 2016 eastern thrush line-up. With White's, Siberian, Black-throated, Dusky and now Eyebrowed Thrushes all recorded, we only need Naumann's and Red-throated for the set.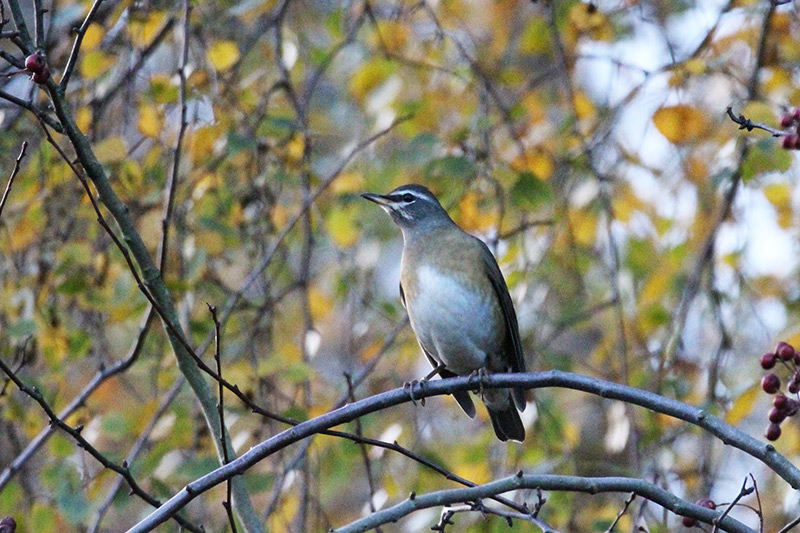 There have been twenty-two records to the end of 2015 but this species is today proving very hard to catch up with. The first records involved a trio of birds in late 1964 in Northamptonshire, the Isles of Scilly and the Western Isles but the most notable feature of Eyebrowed Thrush occurrences has been the remarkable run of six records on Scilly between 1984 and 1993.
This really was the 'golden decade' for this species and many people will have seen multiples, indeed for some years this was almost an expected bird, eagerly anticipated amidst the autumn's first rush of Redwings. Of these Scilly birds the most celebrated and the most memorable was the first, at Salakee, St. Mary's on 20th October 1984 - at the time a wholly unexpected, almost shocking occurrence and (being an adult male) the best-looking of the 'Scilly six'. It came as the undoubted highlight of an already great Scilly season which featured, amongst other things, a Hermit Thrush, an Eastern Olivaceous Warbler, a Common Yellowthroat and a Rock Thrush.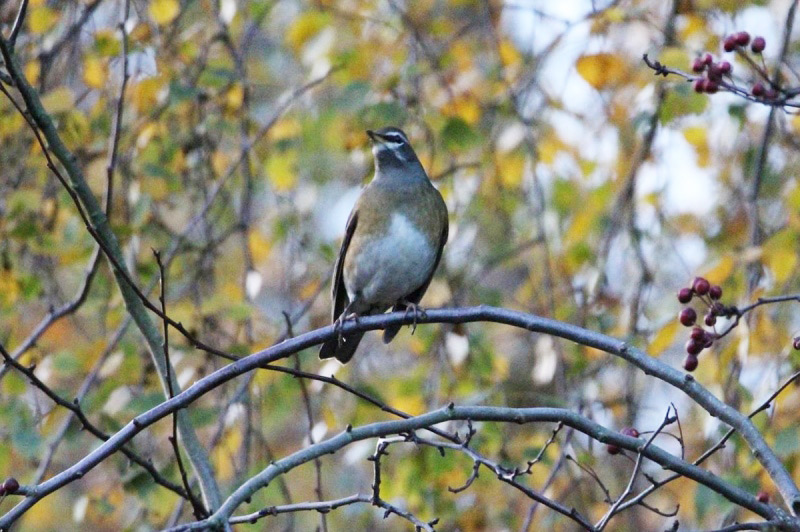 Since the last of the Scilly birds in 1993 there have been only another six but all have been either brief stayers or at far-flung locations (or both), with records from Auchmithie, Angus, Bardsey, Gwynedd, St. Kilda, Western Isles, Foula, Shetland and North Ronaldsay, Orkney (twice). October is the best month though two have occurred in the last days of September and one in December. Surprisingly, therefore, this is actually the first record for November. Somewhat unexpectedly, four have also occurred in spring - in Yorkshire in April 1981, in Aberdeenshire in May 1981, in Angus in May 1995 and on Shetland in June 2015. The absence of the Northumberland bird on 5th will have come as a disappointment to many but it does reinforce the allure of these eastern thrushes, Unpredictable and brief, wary and mercurial, they are some of our most desirable vagrants.
Eastern Black Redstart
Last week's splendid male 'Eastern Black Redstart' was still at Skinningrove, Cleveland to 8th and another male was found at Hartlepool, also Cleveland, on 3rd where it too remained to 8th. Amazingly, yet another male was discovered on 7th, this one at Cayton Bay, Yorkshire where it remained to 8th also. This now takes the autumn's total on from an already record three to a new record of five. Could there still be one or two yet before the autumn is over? Their occurrence pattern is already clear - they are a very late bird indeed, arriving almost exclusively in November, so there is hopefully yet time. There have been a number of others on the near-continent too so 2016 is already a 'banner year' for this exquisite redstart from High Asia. And where are the female-types?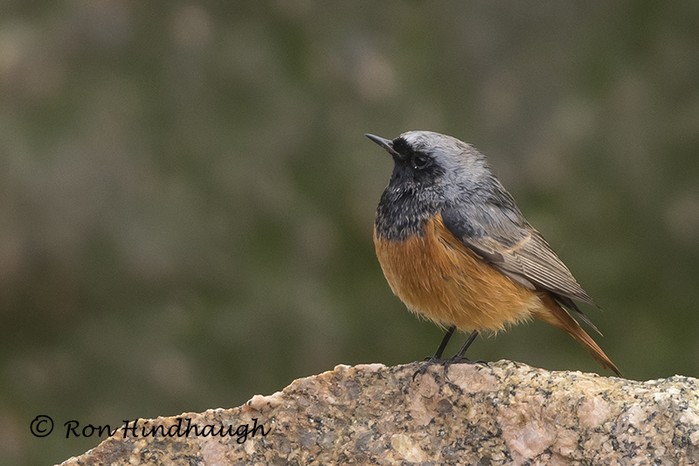 Rufous Turtle Dove
Also riding high in this week's headlines was a Rufous Turtle Dove found on 7th at North Roe, Mainland Shetland. This was a 'Western Rufous Turtle Dove', only the fourth specifically attributed to this form, the others being at Spurn, Yorkshire in 1975, on Mainland Orkney in November/December 2002 and in Highland in December 2003 to March 2004. It was not in good condition and was taken into care before the end of the day but was released again on 8th and gave what looked like good views.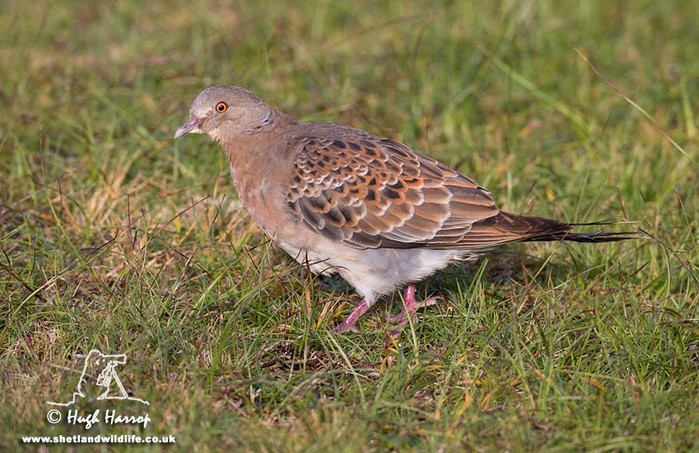 Isabelline Shrikes
Also new this week were two more Isabelline Shrikes - at Sennen, Cornwall on 2nd and Murlough, Down on 5th. Unlike the rest of this autumn's birds (most if not all of which have resembled 'Daurian Shrike'), the Cornish bird showed a striking rufous forehead and crown and a strong contrast between warm-coloured upperparts and white underparts - all indicating that it was the much rarer 'Turkestan Shrike'.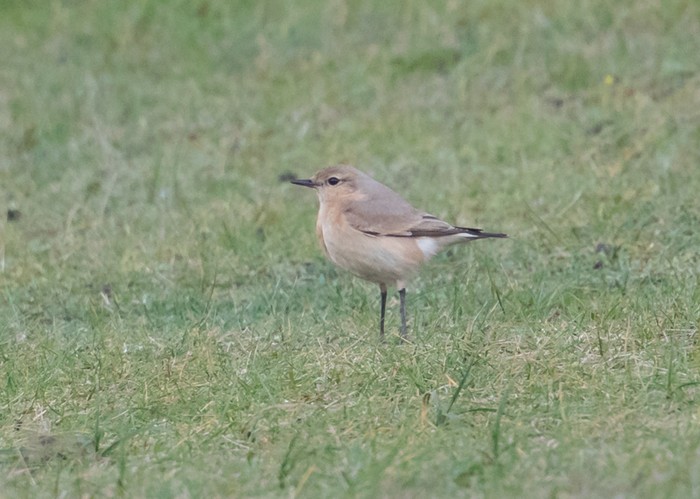 Pallid Harrier
A juvenile Pallid Harrier along the cliff-top at Buckton, Yorkshire on 3rd and 4th was another splendid addition to the county's glut of quality birds this autumn. Indeed observers between the Humber and the Tees must still be rubbing their eyes in disbelief at this autumn's riches. Unsurprisingly, the harrier eventually gravitated to the south and the bird at Welwick, Yorkshire on 6th was presumably the same individual. It was still present on the morning of 7th but then flew south through Spurn and was rediscovered at Grainthorpe Marsh, Lincolnshire on 8th.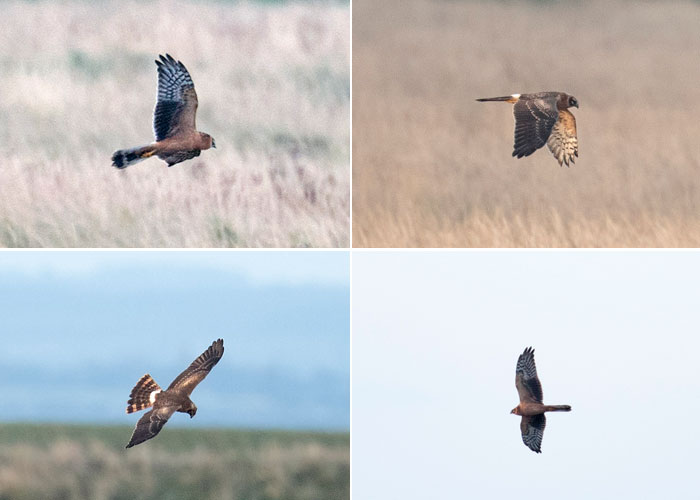 Isabelline Wheatear and Red-eyed Vireo
Turning finally to lingering birds, Norfolk's Isabelline Wheatear was still braving the winter chill at Burnham Overy Dunes to at least 8th and last week's Red-eyed Vireo was still on St. Agnes, Isles of Scilly to 3rd.
Long-stayers
Finally, our faithful trio of long stayers remained in situ this week - the Western Purple Swamphen at Alkborough Flats, Lincolnshire to at least 4th and, in Cornwall, the Hudsonian Whimbrel at Perranuthnoe to at least 8th and the Dalmatian Pelican on the Camel Estuary to at least 8th also. Given that the latter shows no signs of wanting to depart, its last remaining credibility as a genuine vagrant seems to be ebbing away by the week. Arguably it doesn't really merit a mention in the headlines now.
Further afield
The week's 'Euronews' included the continued discovery of Siberian Accentors with the two hundred barrier broken by 4th and a total of at least 219 by the end of the week. The most noteworthy records were one in the Czech Republic and five at one site in Finland! A potential highlight of the week was a Yellow-throated Bunting in Norway but questions over origin will always accompany records of this species. Untainted by such questions, however, were a (sadly dead) Siberian Rubythroat in Latvia, a Rufous Turtle Dove in Norway, a Myrtle Warbler in Iceland, Pine Buntings in Norway, Finland and on Guernsey, 'Eastern Black Redstarts' in Denmark, Germany (two) and The Netherlands (three), Black-throated Thrushes in Denmark and Finland and a Dusky Thrush and a Paddyfield Warbler in The Netherlands.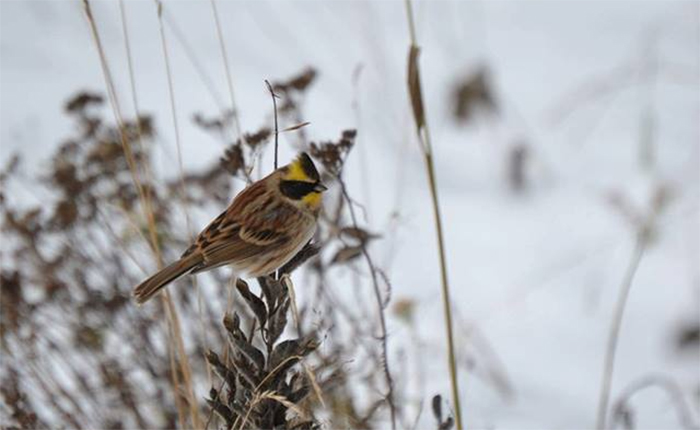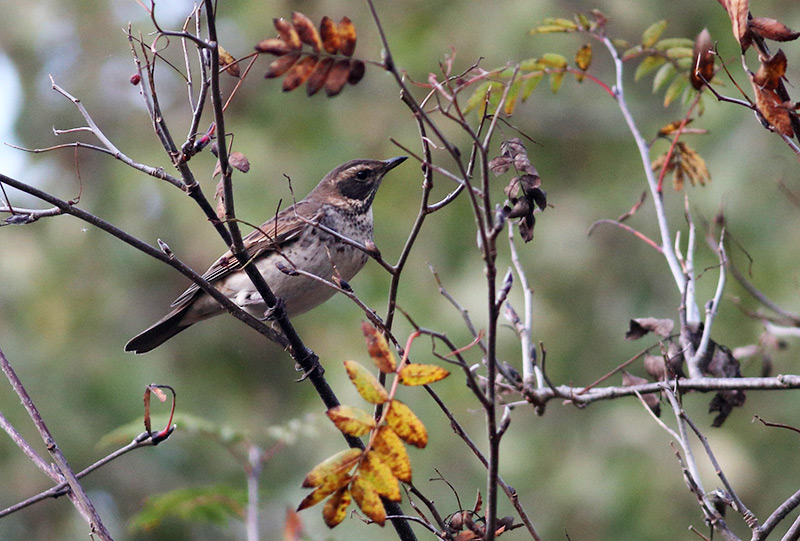 The blast of Arctic air on 2nd brought a small flurry of Little Auks to North Sea coasts though numbers were not great with counts of up to twenty as far south as Norfolk on both 2nd and 3rd. Also logged in Norfolk on 2nd were a Sabine's Gull off Weybourne, thirty-three Pomarine Skuas off Holme, and two Grey Phalaropes off Sheringham.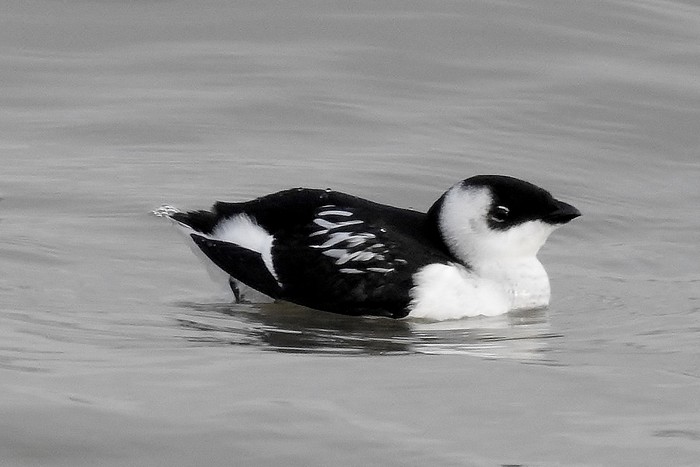 On Shetland, an impressive thirty-three 'Blue Fulmars' passed Unst – a true Arctic experience! The week's other seabird highlights were Grey Phalaropes off Flamborough Head, Yorkshire on 3rd and Strumble Head, Pembrokeshire on 4th and a Long-tailed Skua off Kilcummin Head Mayo, also on 4th, until renewed northerlies at the end of the period brought a few more Little Auks and Pomarine Skuas, most notably twenty-nine of the latter off Spurn, Yorkshire on 5th. On 6th a Sabine's Gull and a Grey Phalarope were off Snab Point, Northumberland and further Sabine's Gulls off the Farne Islands, also Northumberland, Hunmanby Gap, Yorkshire and Hartlepool, Cleveland with further Grey Phalaropes at Amwell, Hertfordshire and Tynemouth, Northumberland.
Best of all, however, was a White-billed Diver past North Ronaldsay, Orkney the same day. On 7th Grey Phalaropes were at Aberthaw, Glamorgan (to 8th), Ramore Head, Antrim, Flamborough Head, Yorkshire and Tetney, Lincolnshire whilst a Long-tailed Skua was off Newbiggin, Northumberland, two Sabine's Gulls off Sheppey, Kent and twenty-nine 'Blue Fulmars' off Fair Isle, Shetland. Finally, a Cory's Shearwater flew past Whitburn, Durham on 8th, Grey Phalaropes were at Tophill Low and Spurn, both Yorkshire and a Sabine's Gull passed Freathy Point, Cornwall.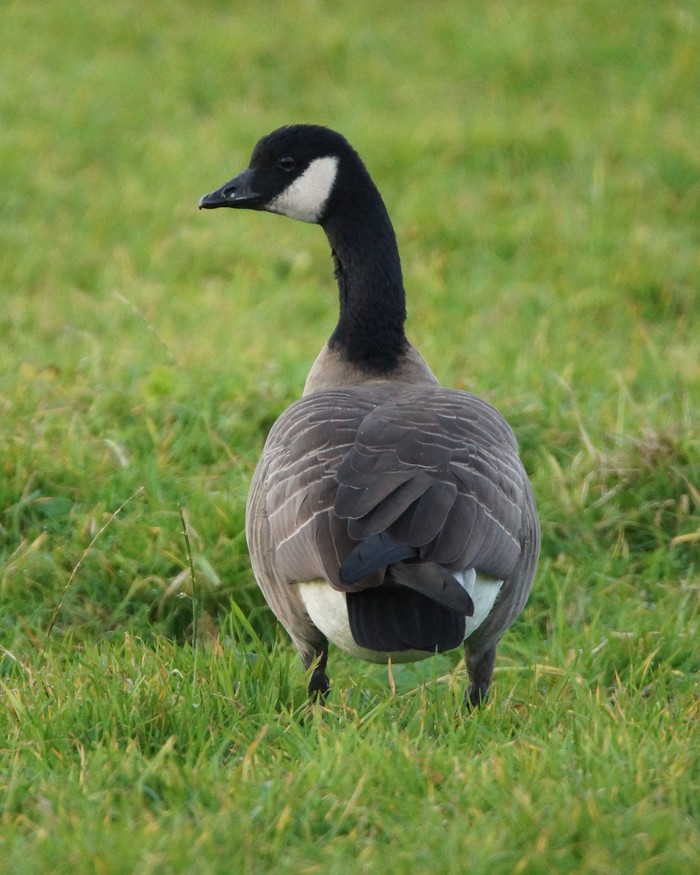 Settling down for the winter were a 'Richardson's Cackling Goose' and two 'Todd's Canada Geese' with the Barnacle Geese at Lissadell, Sligo. Also Nearctic in origin were Snow Geese at Caerlaverock, Dumfries and Galloway and on the Beauly Firth, Highland. From the other direction were 'Black Brants' at Cleethorpes, Lincolnshire, Hayling Island, Hampshire, Havergate, Suffolk, Church Norton, Sussex and Ferrybridge, Dorset with the usual hybrid at Burnham Overy, Norfolk.
Back to Nearctic wildfowl and up to two drake Green-winged Teals were at Caerlaverock, Dumfries and and singles at Loch Flemington, Highland, Ollaberry, Mainland Shetland and Gibraltar Point, Lincolnshire. American Wigeons were at Exminster, Devon, Leighton Moss, Lancashire, Barra, Western Isles, Udale Bay, Highland, Loch Leven, Perth and Kinross and the Culdaff Estuary, Donegal.
The best diving duck was a Lesser Scaup at Barry, Glamorgan on 8th. Otherwise Ring-necked Ducks had a good week, with some new arrivals. Singles were at Kilconquahr Loch, Fife, Blagdon Lake and Chew Valley Lake, both Somerset, Dungeness, Kent, Pitlochry, Perth and Kinross, Tacumshin, Wexford, Tittesworth Reservoir, Staffordshire, Startop's End Reservoir, Hertfordshire and Tiree, Argyll. The Ferruginous Duck was still at Wilstone Reservoir, Hertfordshire all week.
Out at sea, the drake King Eider was again at Burghead, Moray and another flew north past Whitburn, Durham on 8th. Drake Surf Scoters were at Musselburgh, Lothian all week, on Yell, Shetland on 4th, at The Hermitage, Louth on 5th, off Fishtown of Usan and Lunan Bay, Angus on 6th and in Largo Bay, Fife on 8th.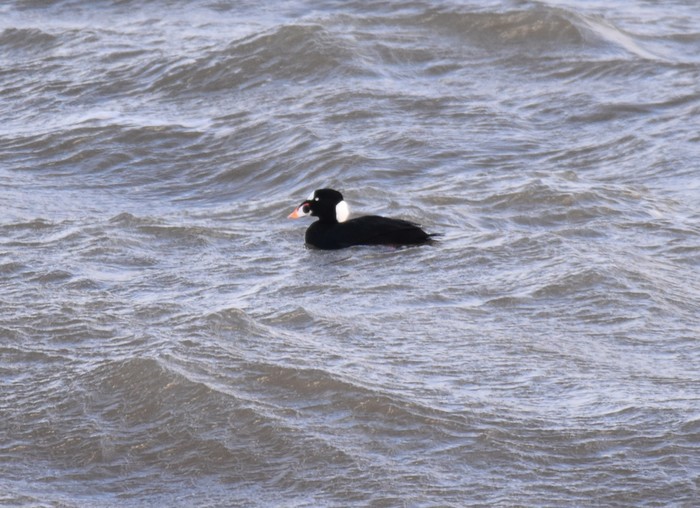 Herons, egrets, crakes etc.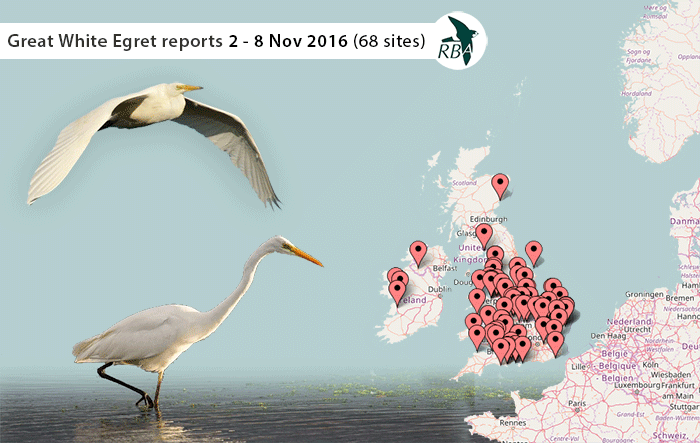 Great White Egret counts remained high, reaching twenty-four at Chew Valley Lake, Somerset, sixteen at Dungeness, Kent and twelve at Burton Mere, Cheshire and Wirral.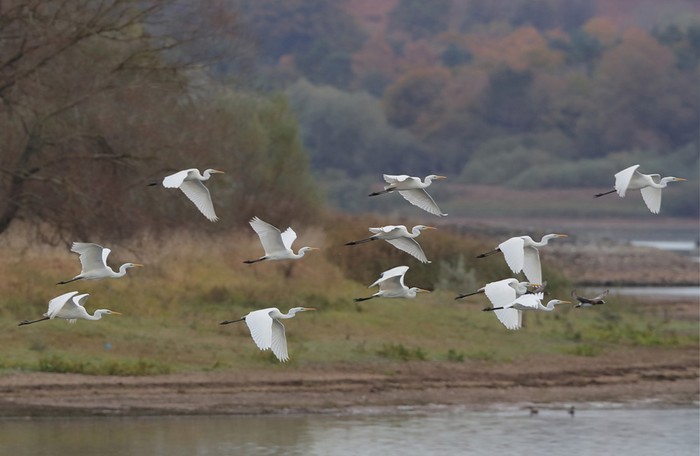 Cattle Egrets were again widely distributed with six at Slimbridge, Gloucestershire, Baltimore, Cork and Burton Mere, Cheshire and Wirral, five at Marshside, Lancashire and at least fifteen singles scattered across southern England and Wales as far north as Yorkshire and two more in Ireland.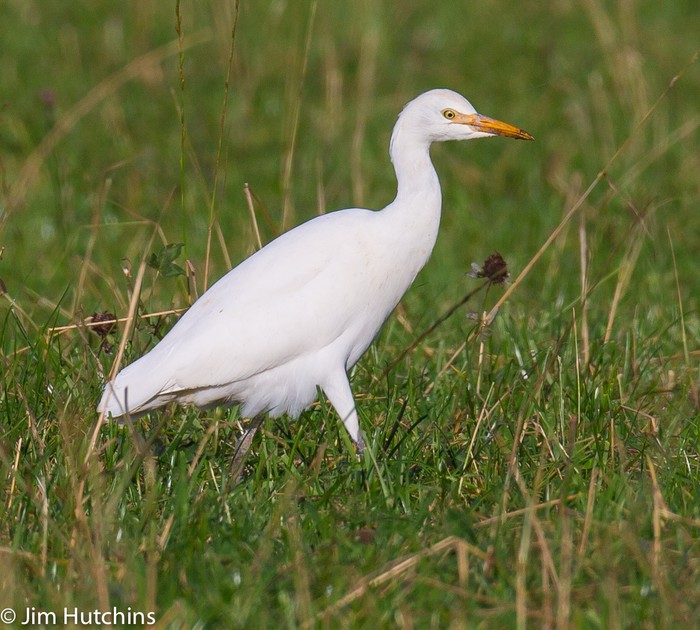 Glossy Ibis reports continued to decline, with reports this week from only five sites - Ham Wall, Somerset (two), Nosterfield, Nottinghamshire, Old Hall Marshes, Essex, Frampton Marsh, Lincolnshire and the Swords Estuary, Dublin. Finally, up to thirty-five Spoonbills remained in Poole Harbour, Dorset.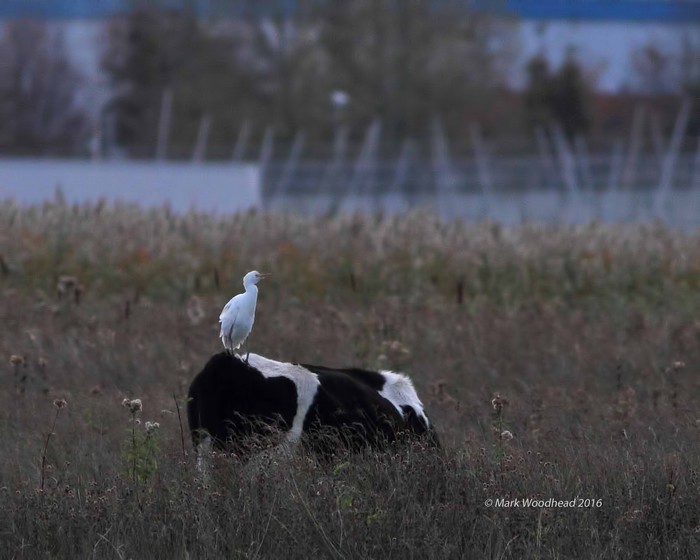 The only scarce raptors of the week were two Rough-legged Buzzards (last week's adult plus a new juveneile) at Spurn, Yorkshire on 2nd, with one still at nearby Welwick on 6th. Clearly we are not in for a bumper winter for this species.
New American waders this week were an American Golden Plover on the Hayle Estuary, Cornwall on 3rd to 8th and a Baird's Sandpiper at Dornoch Point, Highland on 2nd. Lingering still, and now potentially wintering, were Long-billed Dowitchers at Frampton Marsh, Lincolnshire, Faversham, Kent and Tacumshin, Wexford and Lesser Yellowlegs at Cheddar Reservoir, Somerset and Poole Harbour, Dorset. Finally, a Pectoral Sandpiper was still at College Reservoir, Cornwall on 2nd.
The adult Bonaparte's Gull was again at Dawlish, Devon to at least 6th but the main gull news this week was a noticeable surge of Glaucous Gulls , with around fifteen noted in the Northern Isles and down North Sea coasts with others on Skye, Highland and Lewis, Western Isles. Single Iceland Gulls were at Cley, Norfolk on 2nd, Larne Lough, Antrim on 5th, Loch of Skene, Aberdeenshire on 6th, Whitburn, Durham, Isle of May, Fife and Dunbar, Lothian on 7th and Islay, Argyll on 8th.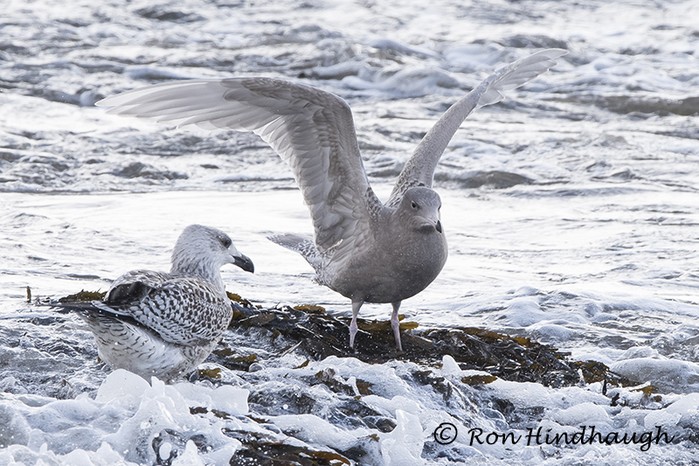 The only tern of note was the adult Forster's Tern at Nimmo's Pier, Galway on 4th to 6th at least.
Near-passerines and Passerines
Turning finally to passerines, the onset of winter ensured a hasty departure by most of last week's Siberian birds. A Desert Wheatear at Thurlestone, Devon and a Pallas's Warbler at Donna Nook, Lincolnshire, both on 8th, were new but almost everything was a leftover - the Siberian Stonechat at Quendale, Shetland to 3rd, Little Buntings on Unst, Shetland on 3rd and Barra, Western Isles and Fair Isle, Shetland on 4th, Dusky Warblers on Unst, Shetland on 2nd, at Land's End, Cornwall still to 8th, on Yell, Shetland on 3rd and at Broadsands, Devon on 4th to 6th and Pallas's Warblers on Bardsey, Gwynedd and at Rhossili, Glamorgan on 3rd. Richard's Pipits were at Wallasey, Cheshire and Wirral, Cleave Camp, Cornwall (two) and Filey, Yorkshire on 2nd, Sennen, Cornwall on 3rd to 8th, Parkgate, Cheshire and Wirral and Hunstanton, Norfolk on 4th, Sheppey, Kent on 6th and Kilnsea, Yorkshire and West Kirby, Cheshire and Wirral on 7th.
After an epic autumn, Yellow-browed Warblers remained obvious until 5th but numbers dropped sharply thereafter. During the first half of the week around forty-five were noted, almost all in the Southwest with multiples at Hengistbury Head and Portland, both Dorset, Paignton, Devon, Land's End, Cornwall and St. Mary's, Isles of Scilly. There were some striking 'outliers', however, at Ardmore Point, Argyll on 2nd, Hoswick, Mainland Shetland and South Uist, Western Isles on 3rd, Fair Isle, Shetland on 4th and Tiree, Argyll on 5th.
As for late European/western Russian passerines, Barred Warblers were on St. Mary's, Isles of Scilly and at Deerness, Mainland Orkney on 2nd and Flamborough, Yorkshire on 8th and Red-breasted Flycatchers on Cape Clear, Cork on 3rd, Brownsea Island, Dorset on 4th and Slyne Head, Galway on 7th. Rose-coloured Starling were at Largs, Ayrshire on 3rd, Limpenhoe, Norfolk on 4th to 6th and Penzance, Cornwall still to 6th and Serins at Portland, Dorset and Heybridge Basin, Essex on 3rd.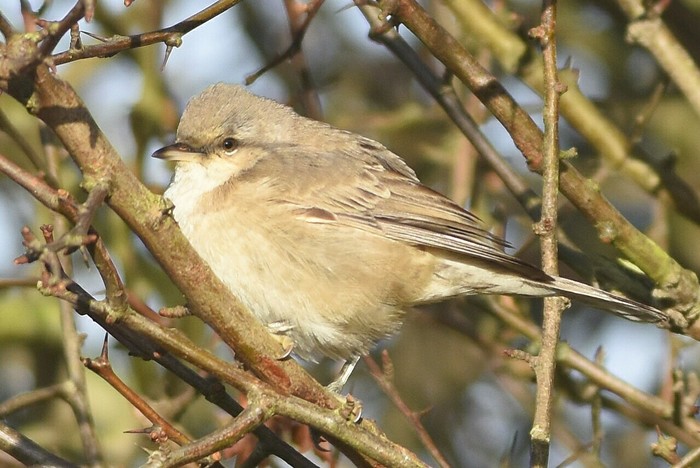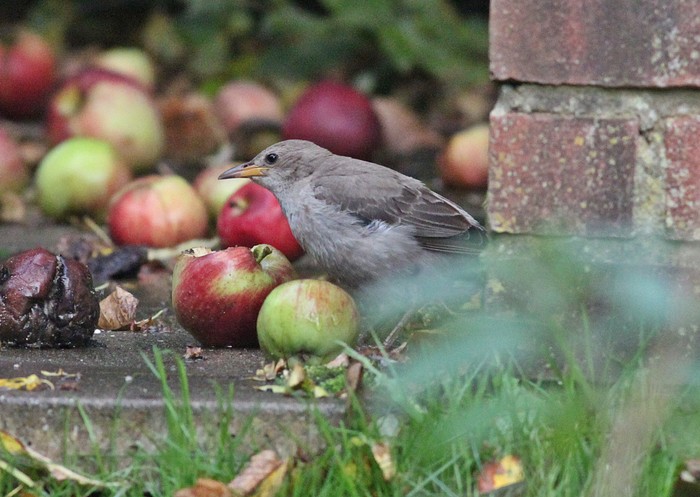 Winter passerines included two 'Northern Long-tailed Tits' on Mull, Argyll on 7th, a 'Coues's Arctic Redpoll' at Dunstanburgh, Northumberland on 6th, up to twenty widely scattered inland Great Grey Shrikes , the 'Black-bellied Dipper' still at Needham Market, Suffolk and up to around a hundred Shorelarks at Holkham, Norfolk.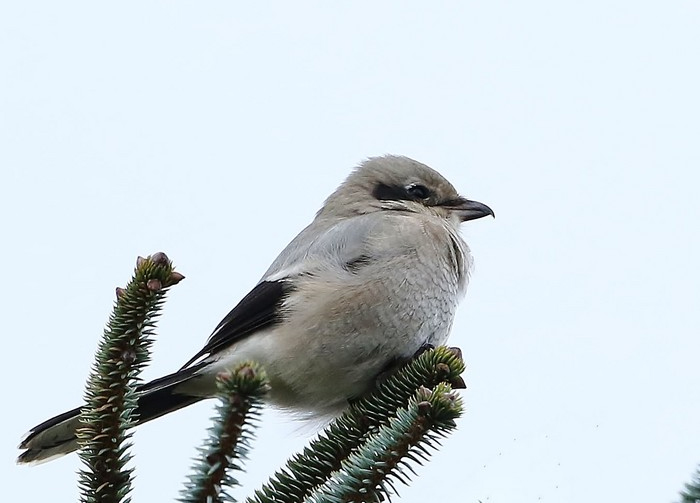 The main passerine event of the week was, however, a notable arrival of Waxwings . These have been arriving in small numbers for a week or so already but the relatively slack conditions of 3rd and 4th brought a much larger influx, with many coastal areas in the east echoing to their familiar silvery trill. Centred on Norfolk, this arrival presumably involved birds from The Netherlands rather than points further north. Counts in Norfolk on 3rd included sixty at Snettisham, forty at Holme, seventy at Titchwell and no fewer than 223 counted over Hunstanton during the day. Northwest Norfolk continued to host the largest numbers on 4th with 120 at Holme, seventy-five at Hunstanton and eighty at Heacham. Further north, the only really large flock was of 105 at Gullane, Lothian with 150 there on 5th. Arrivals slowed again in the strong winds of 6th but fifty were at Santon Warren, Norfolk. On 7th the largest numbers were further north with fifty in Carlisle, Cumbria, fifty in Dumfries, Dumfries and Galloway, fifty in Morpeth and sixty at Wide Open, both Northumberland, seventy-five in Elgin, Moray and at least a hundred at Whicklam, Durham. On 8th ninety-two flew south over Hunstanton, Norfolk, fifty were in Gateshead, Durham and Inshegra, Highland and sixty in Ashington, Northumberland.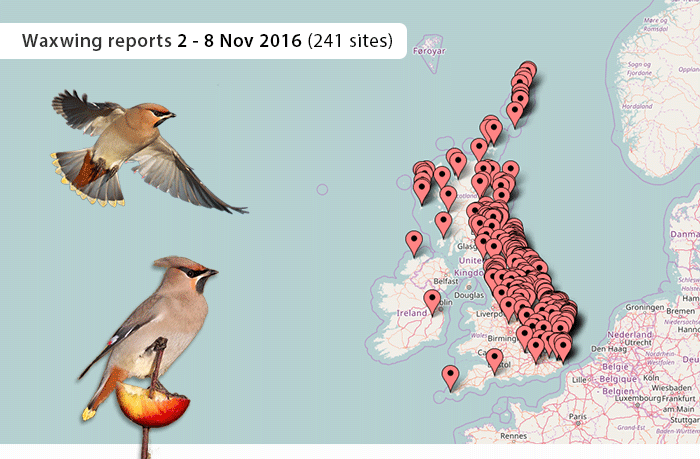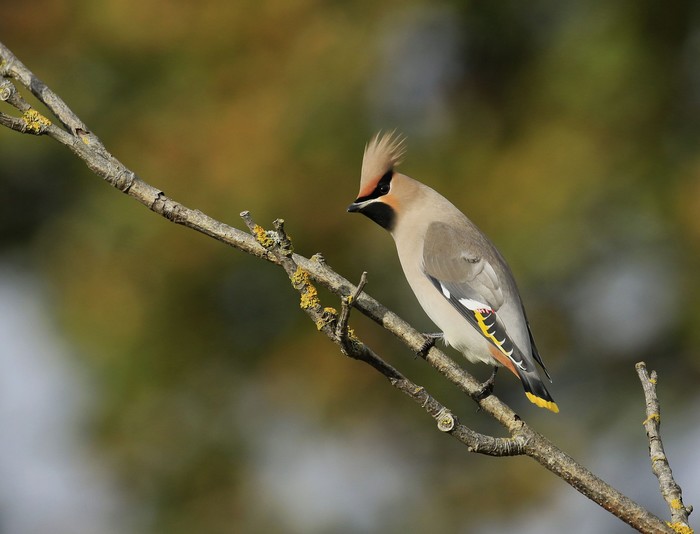 Looking ahead, next week will be dominated by a cool westerly airflow. This looks somewhat unpromising but if the winds are light we may see further arrivals of winter thrushes and Waxwings. It would be foolish to write the autumn off yet, however. With eastern rarities still on the near-continent the chances must be reasonable for one or two final treats before the Christmas shopping kicks in. 'Eastern Black Redstart' and Siberian Accentor look like good candidates still but, after the last few weeks, who knows what might be coming?
Andy Stoddart
9 November 2016
Many thanks to all contributors for the photos and videos this week.
Dave Tanner, Tom Hines, David Carr, Anthony Williams, Ross Moore, Ron Hindhaugh, Hugh Harrop / Shetland Wildlife, Sean Nixon, Graham Catley, Anette Myrvold, Jos Welbedacht, Anthony Williams, Steve Percival, Kris Gibb, Lukasz Pulawski, Michael Trew, Jim Hutchins, Mark Woodhead, Dave Hutton, Ashley Fisher, Andy Hood, Drew Lyness, Mick Davis, Meurig Garbutt, Karl Price, Mike Langman, Jeff Hazell, Birds of Poole Harhour, Justin Carr, Matthew Mellor, Jonathan Clarke.