Weekly birding round-up: 21 - 27 Sept 2016
The week at a glance
'Mega-fall' of Yellow-browed Warblers in Yorkshire
Swainson's Thrushes in Argyll and Western Isles
Two Red-eyed Vireos on Scilly
Brünnich's Guillemot in Fife
Brown Shrike on Shetland
Western Purple Swamphen still in Lincolnshire
Hudsonian Whimbrel still in Cornwall
Dalmatian Pelican still in Cornwall
The week began with a generally southerly flow, slightly east of south in the east and southwest in the west. Atlantic air quickly dominated, however, and the wind spent most of the week swinging between the south and the west.
Last week's irruption of Yellow-browed Warblers reached its climax on 21st but then slowly faded away and the subsequent headlines were dominated by a small arrival of American passerines in the west. In most places, however, there was an abrupt return to normality as last week's rush slowed considerably although a number of birds lingered in the generally mild conditions. Only the Northern Isles, ever a reliable venue in late September, produced new rarities despite the unfavourable conditions.
Yellow-browed Warbler influx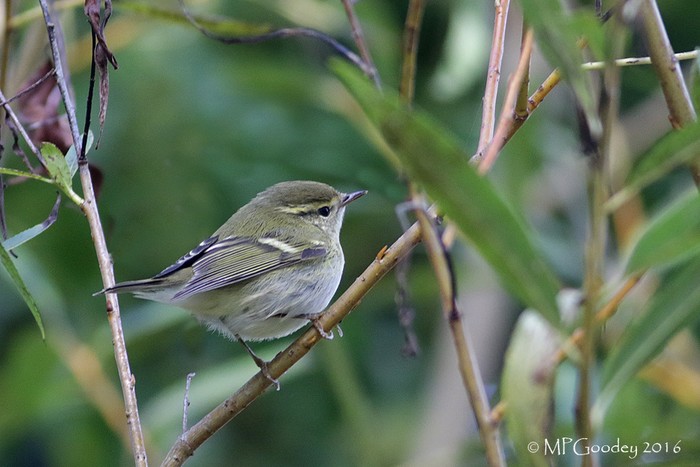 There was no doubt about the main event of the week. The large influx of Yellow-browed Warblers last week culminated on 20th in a count of 28 at Flamborough Head, Yorkshire which I described as 'astonishing'. A whole new vocabulary was therefore required on 21st as a much larger arrival took place, bringing a near-unbelievable 127 to the Flamborough area - 96 east of the Dykes and a further 31 in the Bempton, Buckton and Speeton stretch. Just up the road, 34 were at Filey, with another 17 at Scarborough. These numbers are of course unprecedented for the British mainland, indeed they exceed even last year's amazing arrivals on Fair Isle and the rest of Shetland.
Nor was it just the numbers which were amazing for this was an extraordinarily localised 'fall'. North of Scarborough there were very few, with observers from Cleveland all the way to Aberdeenshire struggling to find any at all! To the south, the Spurn area recorded 'only' 15 while new arrivals in Lincolnshire or Norfolk were barely detectable. Only on Shetland, where the weather was different again, were new birds noted in any numbers, Fair Isle recording a still-impressive 27. The reason for this extremely focused arrival clearly lies with the weather and the position of a weak front in the North Sea. This resulted in a relatively narrow flow of north-easterly winds into the Flamborough to Scarborough stretch of coast so that most Yellow-browed Warblers over the North Sea somehow found themselves channelled in the same direction. The 'whole country' total for 21st was over 300, of which more than 200 were in Yorkshire.
With the change in the weather on the English east coast on 22nd - the wind swinging into the southwest - new arrivals here effectively ceased. Further north, however, the weather was still conducive, with the Northern Isles recording some high counts. On Shetland these included 31 on Fair Isle, 26 on Unst, 20 in South Mainland, 17 on Out Skerries, 12 at Hoswick and eight on Whalsay. North Ronaldsay, Orkney contributed another 20. The grand total for the week must therefore be way over 400.
Thereafter numbers everywhere fell slowly but steadily but, unsurprisingly, some were found inland and in the west - on 22nd at Billing, Lancashire, Wantage, Oxfordshire, Wylfa Head, Anglesey, Skomer, Pembrokeshire and St. Mary's, Isles of Scilly. However, despite the onward movement from the east coast, the numbers found in the west were surprisingly modest with only a couple more such discoveries by 24th - at Woolston Eyes, Cheshire and Wirral and Porthgwarra, Cornwall. Even by 25th only another five had been found away from the east coast - one at Swanmore, Hampshire, three on St. Mary's and, the first in Ireland, at Bolus Head, Kerry. One also reached Tiree, Argyll on 27th. So where did they go? Might the British hinterland have hosted up to a couple of hundred Yellow-browed Warblers, all unseen by birdwatchers? And where are they all now? Interestingly, even North America joined in the fun - a Yellow-browed Warbler was on St. Paul in Alaska's Pribilof Islands (north of the Aleutian chain) on 24th.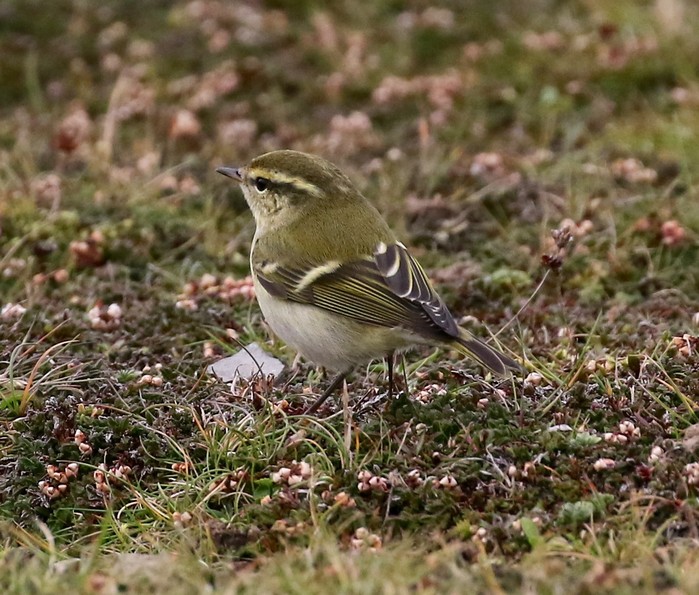 Swainson's Thrushes
As predicted last week, the change in the weather on 22nd quickly resulted in some American passerines in the west. Two Swainson's Thrushes were found that day in quick succession - firstly one at Balephuil, Tiree, Argyll and then another at Bornish, South Uist, Western Isles. Given that one had been on Iceland just a day or two beforehand, their appearance was hardly astonishing but very welcome for their finders nonetheless.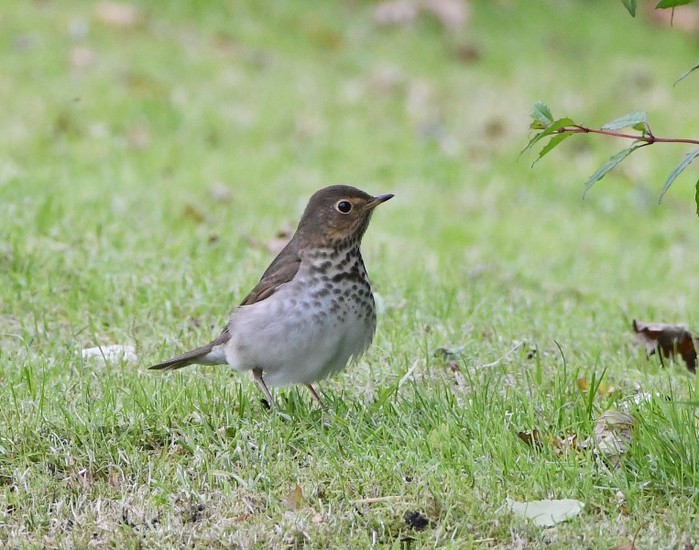 Neither bird will have resulted in a significant twitch for Swainson's Thrush is one of our more regular American passerines with, to the end of 2014, a total of 32 in Britain and another six in Ireland. It is becoming harder to catch up with though. For many years it was an Isles of Scilly regular, this archipelago having hosted no fewer than ten birds. Anyone visiting the islands regularly in the 1980s and 1990s will probably have seen several. However, the last one there was as long ago as 2004 and although there have always been records further north, the balance has now shifted decisively in that direction. Of the eleven birds in the period 2004 to 2014, two were in Cork and one in Clare but the other eight were all in northern Scotland, one on the Western Isles, one on Orkney and six on Shetland. This week's two birds therefore clearly reinforce that pattern. They were early too. Most Swainson's Thrushes come in October with only one - on Shetland on 21st September 2011 - being earlier than this week's pair. There is but one spring record - the very first one of all, found dead at Blackrock Lighthouse, Mayo on 26th May 1956.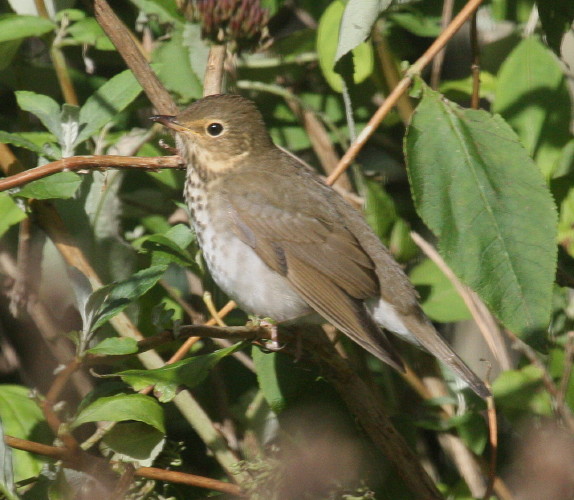 The Tiree Swainson's Thrush remained to 23rd, with the one on South Uist remaining to 25th.
Red-eyed Vireo
The American passerines story was, however, kept alive by the appearance on 25th of that real Isles of Scilly staple, a Red-eyed Vireo , this one in the Parsonage on St. Agnes. Out of 130 in Britain (and 61 in Ireland) to the end of 2014, no fewer than fifty have been on Scilly! It was still present on 26th on which date, as if to prove the point, another was promptly found in the same place! Both were then still there to 27th. There are some wonderful resonances here. This double discovery in St. Agnes's legendary Parsonage inevitably brings to mind Ian Wallace's splendid account in 'Discover Birds' of his part in the finding of Britain's first (and then the next day its second) Red-eyed Vireo in the very same place on 4th and 5th October 1962. Rare birds do have a habit of repeating themselves but this neat bit of symmetrical ornithological history is even more pleasing than most.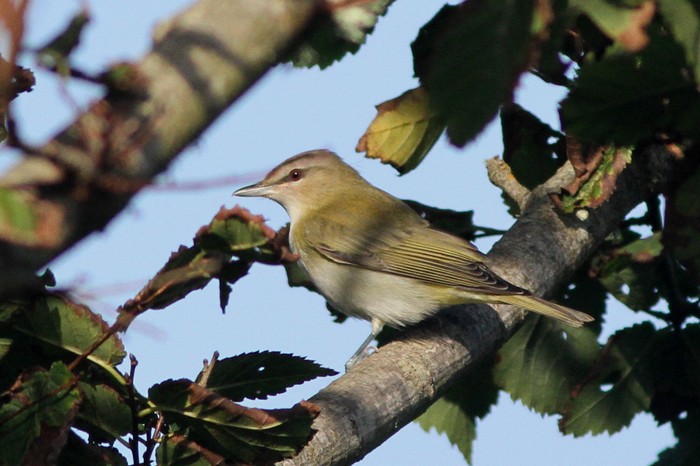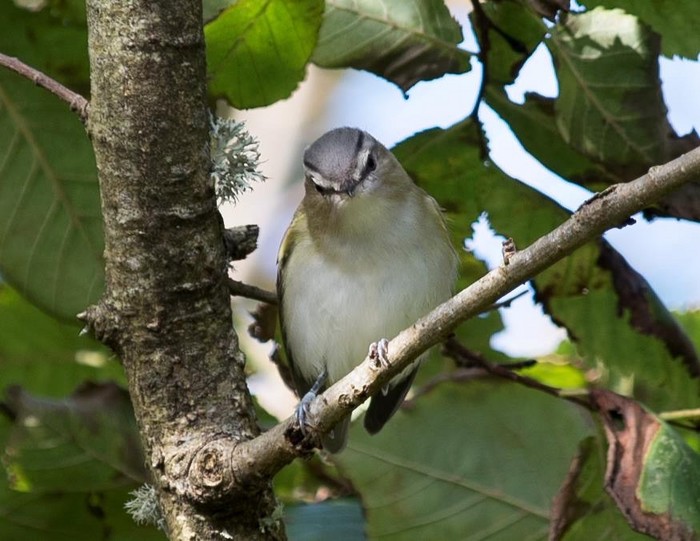 Brünnich's Guillemot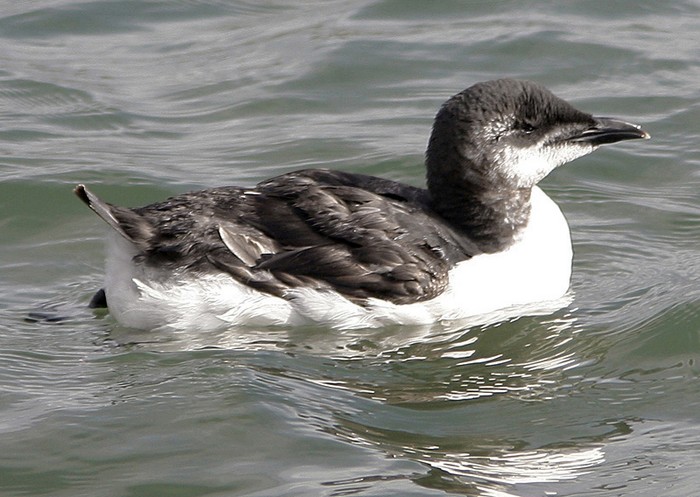 The week's next top bird was, by contrast, totally unexpected - a moulting adult Brünnich's Guillemot in Anstruther Harbour, Fife on 25th to 27th. It showed a full set of typical Brünnich's Guillemot characters - a short bill with a strongly curved upper mandible and discernable gonys, a pale bill tip, a tomium stripe, a 'bumpy' forehead, a 'chunky' head and clean white flanks. It did, however, show a little white flecking above the gape line and behind the eye and its upperparts showed brown hues - both somewhat 'non textbook'. Presumably the white flecking falls within the range of variation though (and given that it's a Brünnich's then it must!), with the brown hues simply a function of the natural process of wear and bleaching on black feathers, as occurs in, for example, Manx Shearwater. In this context it is worth noting that there are no previous September records of Brünnich's Guillemot in Britain (or indeed anywhere in Europe south of the breeding range) and, with most of us only having seeing summer breeders or winter vagrants, our collective knowledge of what birds look like at this time of year is pretty limited. This bird is therefore something of a mould-breaker, both in terms of its vagrancy pattern and its appearance.
Although doubtless a popular twitch for observers in southern Scotland, its appearance will probably not result in a mass northward dash. Thanks to the recent very obliging bird in Portland Harbour, Dorset in December 2013, most keen twitchers have now seen this species in British waters. It remains an enigmatic and highly desirable bird, however. Somewhat surprisingly, it represents the first record for Fife, the county having not even a tideline corpse to its credit.
Brown Shrike
The week ended with yet another great bird and, given the westerly conditions, somewhat against the run of play. This was a super first-winter Brown Shrike on Shetland but, rather inconveniently for those up there at the moment, on Out Skerries. This was a fabulous reward, however, for the observers currently resident on this tiny cluster of rocks, long recognised as a rarity hotspot (touted even as a rival to Fair Isle) but in recent years somewhat overshadowed by the ever-growing number of rarities unearthed by greater coverage of the rest of Shetland. This week must have been hard work on this barren outpost but this top quality bird certainly justifies all the time and effort and it is great to see Out Skerries back in the headlines. The first online photos of the bird show a wonderful combination of big head and bill, long, thin rusty tail, solidly dark-centred tertials and short, blunt wing-point.
After years of staying stubbornly rare, Brown Shrike is becoming increasingly regular in Britain, with (to the end of 2014) seventeen on the books and another in Ireland. The first was in 1985 but only another four were discovered before 2008. Since then it has become near-annual, with no fewer than five in 2013. Needless to say, Shetland has secured the most with (including this bird) six now recorded. The rest of Scotland accounts for another five (Orkney, Aberdeenshire, Fife, Argyll and the Western Isles) with the remainder in England (Yorkshire, Surrey, Hampshire, Cornwall and the Isles of Scilly) and Ireland (Kerry). Quite why Brown Shrikes are now increasingly on the agenda is a mystery but Siberian passerines are, if nothing else, famous for their ability to surprise and confound.
Long-stayers
As for the other top birds, it was very much a case of 'as you were'. The Western Purple Swamphen continued to plod around its pools at Alkborough, Lincolnshire to at least 26th and the two Cornish residents both remained in situ. The Dalmatian Pelican was back at Restronguet Creek on 21st and still there on 22nd before pitching up south of Rock on 23rd and then on the Camel Estuary on 24th to 27th. Nearby, the Hudsonian Whimbrel was still on the beach at Perranuthnoe to at least 27th.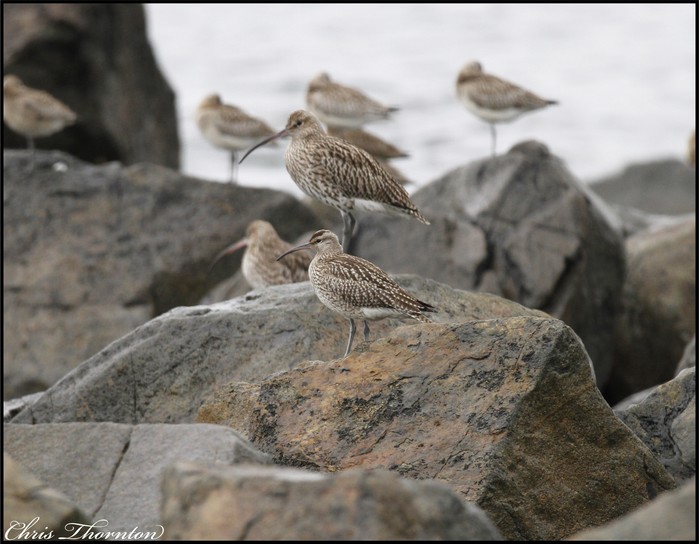 Further a field
This was a busy week for 'Euronews'. An apparent Alder Flycatcher in Norway was the American passerine highlight but otherwise in Scandinavia it was mainly a tale of Siberian birds - two White's Thrushes , another Pallas's Grasshopper Warbler , a Lanceolated Warbler , five Pechora Pipits and a juvenile Red-necked Stint all in Norway and Isabelline Wheatears in Sweden and Finland. Even closer to home, another White's Thrush was found dead in The Netherlands. With these birds now queuing up to jump the North Sea, here's hoping that the next weather 'window' won't be too far away.
Apart from the Alder Flycatcher, the other 'stand out' rarity of the week was an Amur Falcon photographed on wires with Red-footed Falcons in Romania. Otherwise, a Black Scoter was in Denmark and two Buff-bellied Pipits , a Yellow-rumped Warbler and another Black Scoter were in Iceland. Finally, the Dutch Rufous Bush-chat was still present, as was the Belgian Pygmy Cormorant .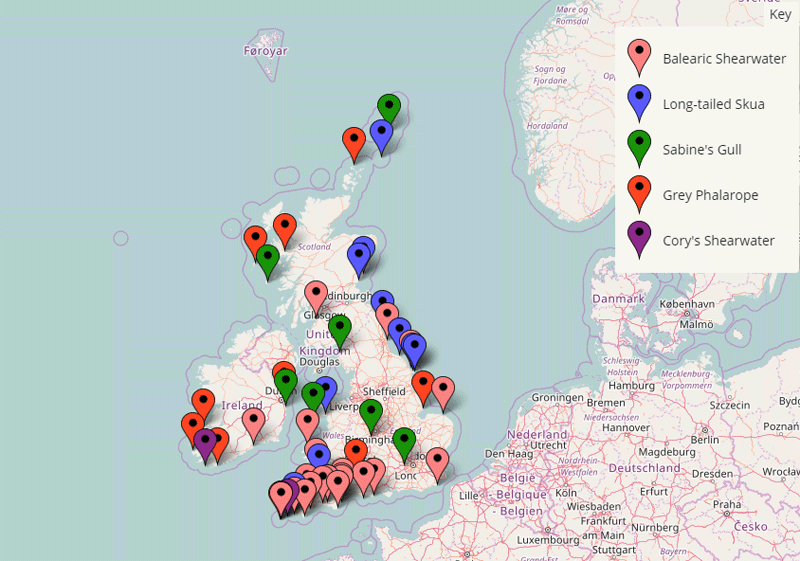 Seabird action was more limited this week with only a tiny handful of Cory's Shearwaters . Unlike last week, however, these were actually at sea - off Mizen Head, Cork on 21st, the 'Scillonian' on 22nd and two off St. Mary's, Isles of Scilly on 24th. Great Shearwaters were off Helvick Head, Waterford, Bass Point, Cornwall and The Lizard (two), also Cornwall, on 24th with, next day, one off Strumble Head, Pembrokeshire and three off Pendeen, Cornwall. As usual, almost all the Balearic Shearwaters were in the Channel (peaking at 63 off Start Point, Devon on 24th) but singles were off Barassie and Troon, Ayrshire on 22nd, Sheringham, Norfolk on 25th and Whitburn, Durham on 27th.
With no northerly winds in the North Sea (and an advancing calendar), Long-tailed Skuas faded away this week with only eight east coast birds noted - off Whitburn, Cleveland, Flamborough Head, Yorkshire and Fishtown of Usan, Angus on 21st, Carnoustie, also Angus, on 23rd, off Flamborough again on 24th and 25th, on Fair Isle, Shetland on 26th and off Chanonry Point, Highland on 27th. In the west one was off Criccieth, Gwynedd on 24th and, on 25th, one off Pendeen, Cornwall, three off Hartland Point, Devon and an excellent count of fourteen off Bridges of Ross, Clare. Another passed this latter site on 27th.
Sabine's Gulls were similarly scarce with birds off Flamborough on 21st, Tiree, Argyll and Greystones, Wicklow on 23rd and on 25th off Workington, Cumbria, Scalloway, Shetland, Strumble Head, Pembrokeshire, Pendeen, Cornwall (two) and Bridges of Ross, Clare (ten). Subsequently, another was off Bardsey, Gwynedd on 26th and two more off Bridges of Ross on 27th. An inland bird graced Upton Warren, Worcestershire on 21st to 22nd - a further dose of excitement for this excellent site following its very recent Baird's Sandpiper.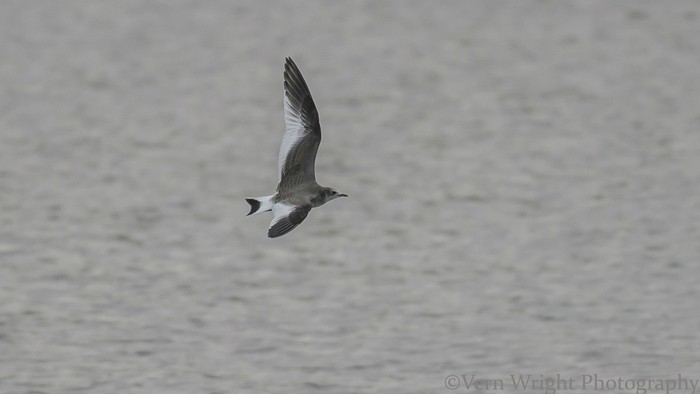 Finally, over forty Grey Phalaropes were noted though thirty of these were on a busy 25th at the Bridges of Ross, Clare. The remainder were also all in the west.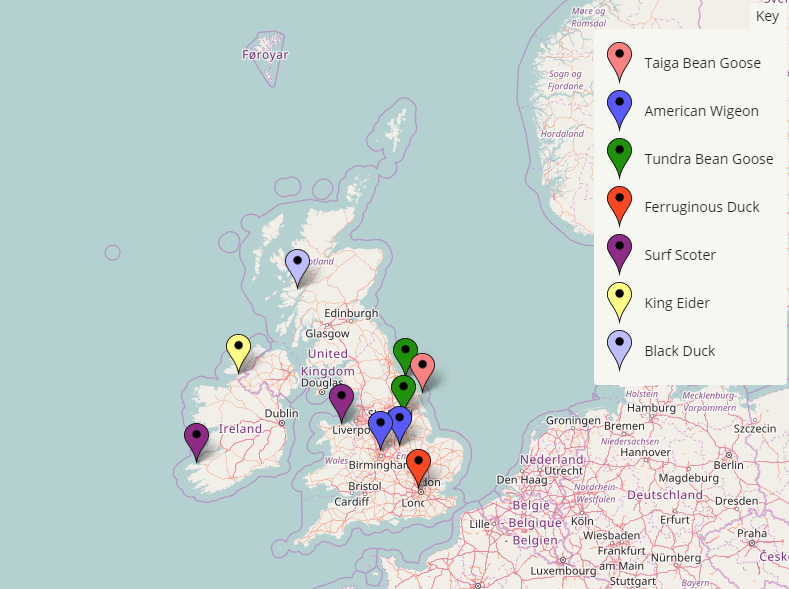 For the first time in weeks, the wildfowl paragraph features some geese though both were somewhat out of context lone (and early) individuals - a 'Taiga Bean Goose' with Greylag Geese at Flamborough Head, Yorkshire on 23rd to 27th (probably something of a tonic for observers exhausted by Yellow-browed Warblers) and a 'Tundra Bean Goose' at Hatfield Moors, Yorkshire on 24th. This inland site is also enjoying an excellent autumn with a good run of American waders.
As for ducks, a drake Surf Scoter was off Llandulas, Conwy on 23rd and single females or juveniles were at Lough Gill, Kerry on 25th and off South Uist, Western Isles on 27th. All these birds were new. Otherwise, last week's Ferruginous Duck was still at Brent Reservoir, London to at least 27th, the American Wigeon was still at Cossington Meadows, Leicestershire to at least 25th and the King Eider was at Murvagh, Donegal to at least 22nd. Finally, the resident Black Duck was still at Strontian, Highland on 22nd.
Great White Egret totals included fourteen at Ham Wall, Somerset and a new high of nine at Dungeness, Kent whilst a particularly far-flung individual was on the Isle of Skye, Highland on 27th. Single Cattle Egrets remained at Dungeness and at Burton Mere, Cheshire and Wirral. The long-staying Purple Herons were still at Otmoor, Oxfordshire to at least 27th and at Sheppey, Kent to at least 26th with another found dead at Allhallows, also Kent, on 24th.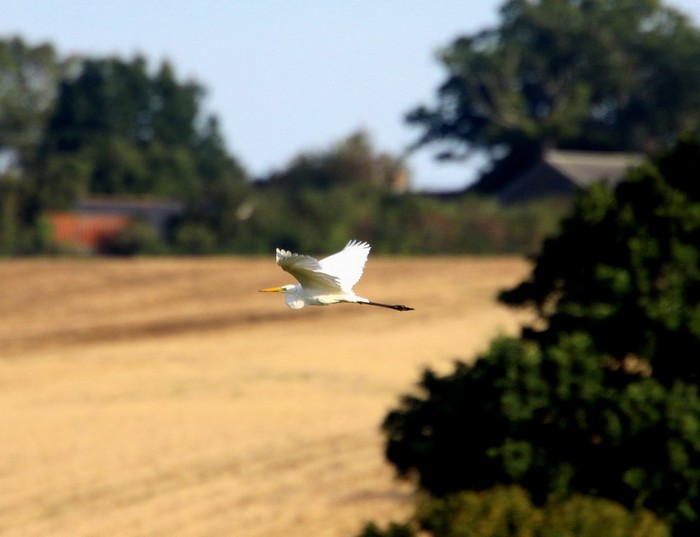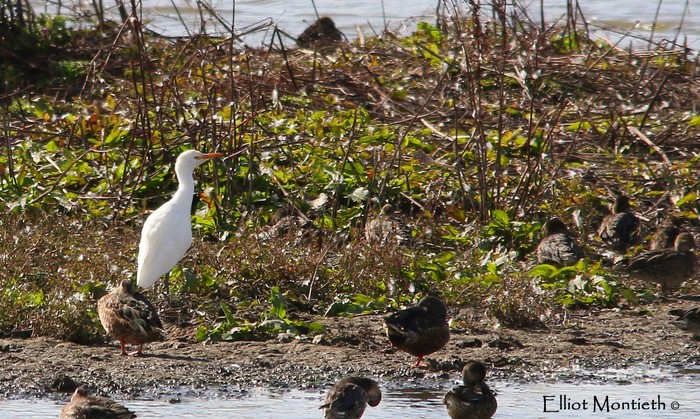 Glossy Ibises were down in numbers again, with just nine logged - two at Ham Wall, Somerset and singles at Newington/Lound/Misson, Nottinghamshire, Pitsea, Essex, Fremington Pill, Devon, Strumpshaw and Upton Fen, Norfolk, Dundalk, Louth, Dungeness, Kent and Stone, Worcestershire.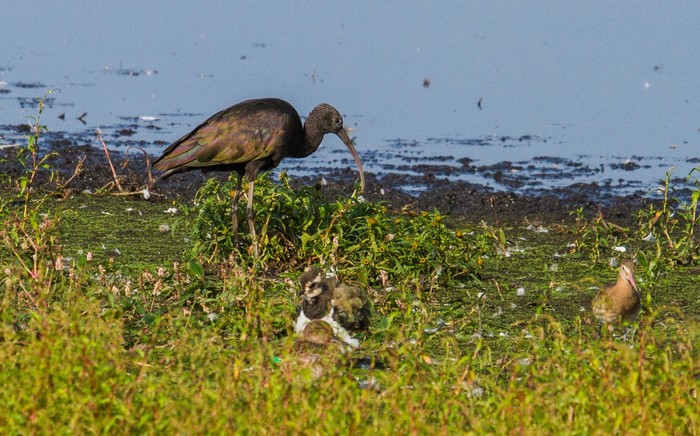 Spoonbill counts remained high though - 37 in Poole Harbour, Dorset, 35 at Stiffkey Fen and 33 at Burnham Deepdale, both Norfolk, and 25 in the Aldeburgh/Orford Ness area, Suffolk. Shetland's Common Crane was still at Loch of Hillwell, Mainland on 27th.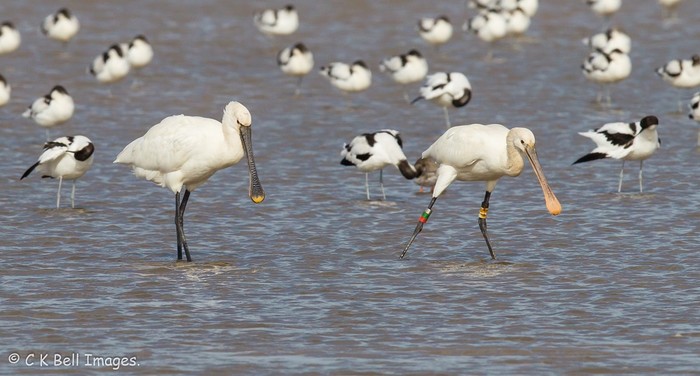 The juvenile Pallid Harrier remained on Mainland Shetland - at Hillwell on 21st to 23rd, Sumburgh and Levenwick on 24th, Quendale and Loch of Spiggie on 25th and between Easter and Wester Quarff on 27th. At the opposite end of the country, another juvenile was at Margate, Foreness Point and Elmley, all Kent, on 25th. A Pallid/Montagu's Harrier had been at nearby Dungeness on 24th.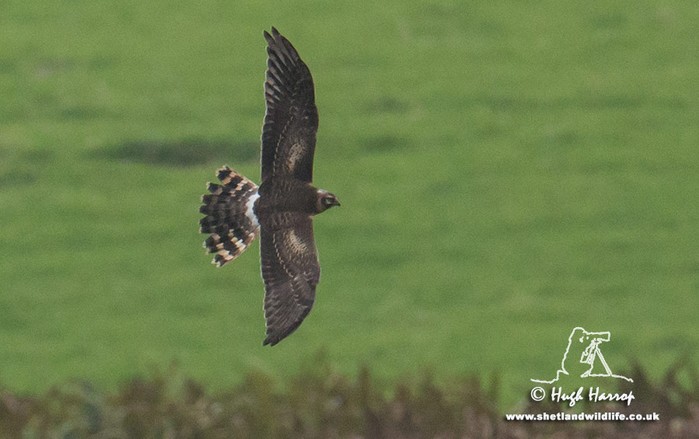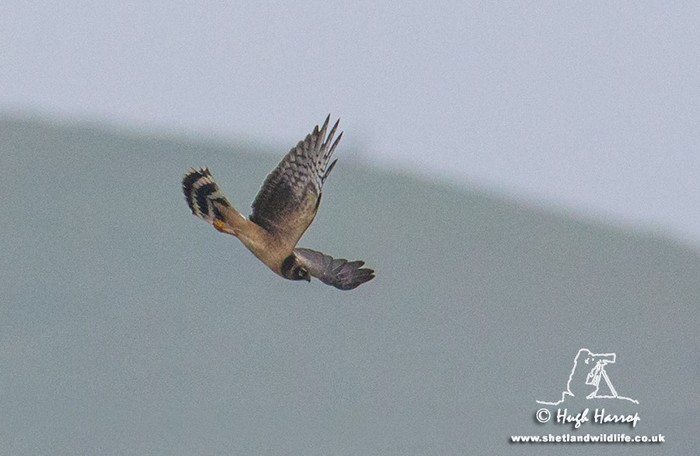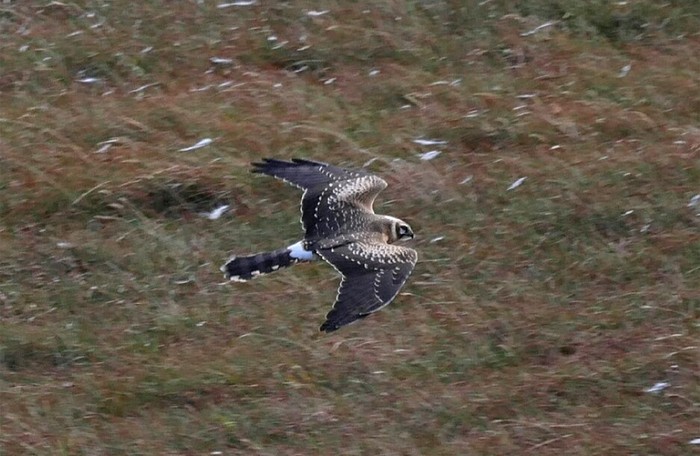 Honey-buzzards numbered about nine, all in southern England apart from one over Easington, Yorkshire on 25th.
Spotted Crakes were more prominent this week with singles on Fair Isle, Shetland on 21st and 26th, at Slimbridge, Gloucestershire on 21st to at least 25th, on St. Mary's, Isles of Scilly and at Chew Valley Lake, Somerset and Bristol on 26th and at Neumann's Flash, Cheshire and Wirral on 27th. Corncrakes were on Fair Isle, Shetland on 22nd, Unst, also Shetland, on 23rd and at Porthgwarra, Cornwall on 25th.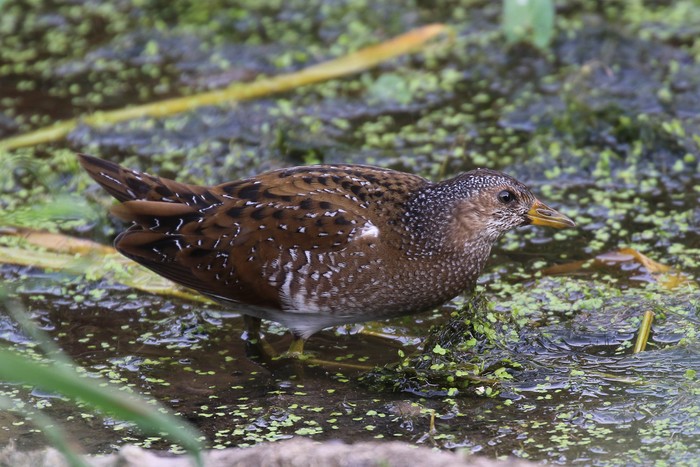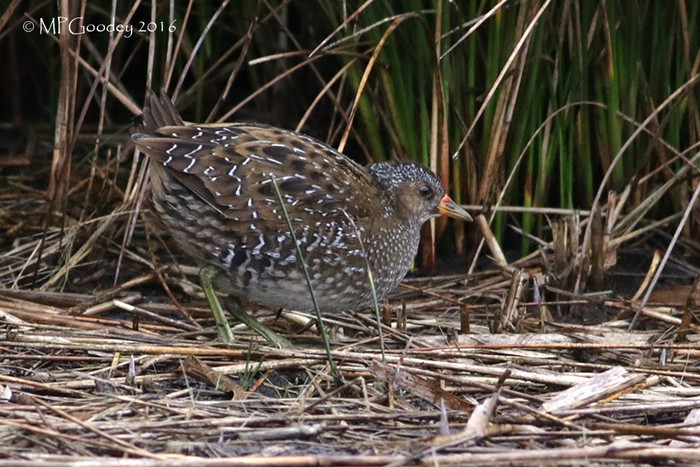 A Great Snipe on Out Skerries, Shetland on 27th (sharing the islands with the Brown Shrike) was the best new wader of the week whilst one on Fair Isle, also Shetland, on 26th and 27th was either a new bird or last week's elusive bird refound. Otherwise, it was the now familiar tale of American waders, headlined once again by Baird's and Semipalmated Sandpipers .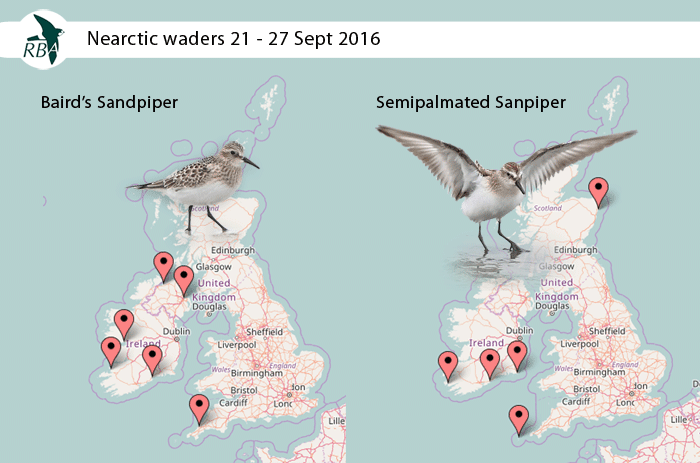 There were six Baird's, all but one in Ireland - at Dungarvan, Waterford on 21st to 22nd, Myroe Levels, Derry on 21st to 23rd, Black Rock Strand, Kerry on 22nd, Belfast Lough, Antrim on 23rd to 24th, Rusheen Bay, Galway on 23rd and the Gannel Estuary, Cornwall on 25th to 27th.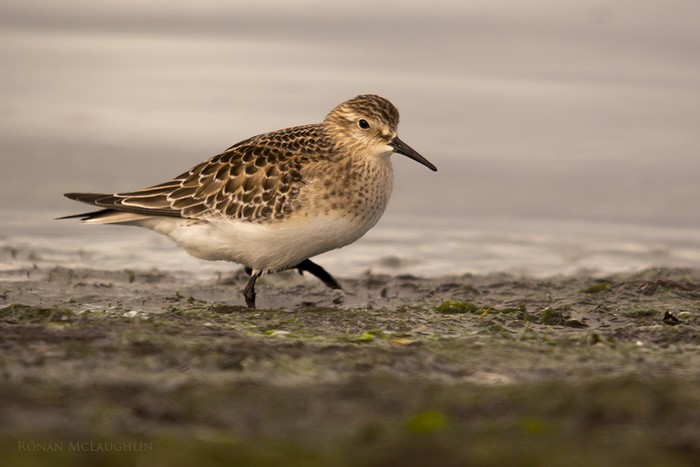 'Semi-ps' numbered eight although five of them were at Tacumshin, Wexford - a remarkable event even by the high standards of this wonderful site. Elsewhere, birds were still on the Ythan Estuary, Aberdeenshire on 21st to at least 25th, at Waterville, Kerry on 21st and at Pilmore Strand, Cork on 22nd.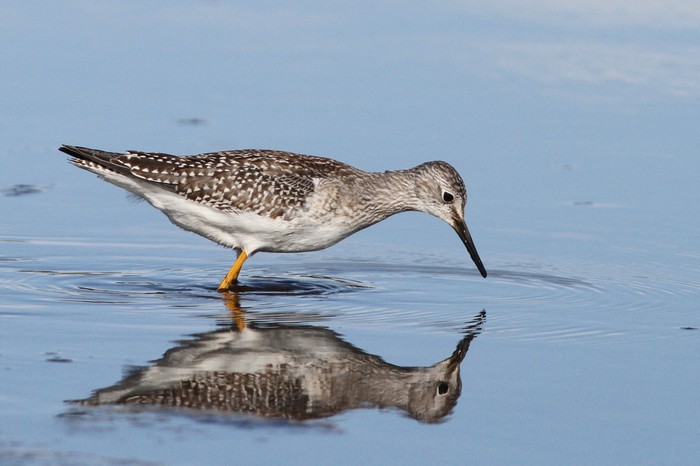 Most of the week's five Lesser Yellowlegs were leftovers from last week. Singles were at Colchester, Essex, on St. Agnes, Isles of Scilly and at Poole Harbour, Dorset to at least 27th, at Youghal, Cork to at least 25th and there was a new bird at Fremington Pill, Devon on 23rd to 25th.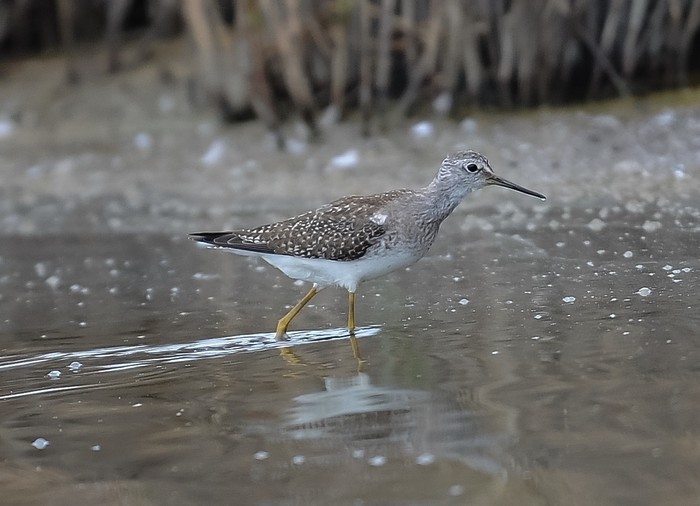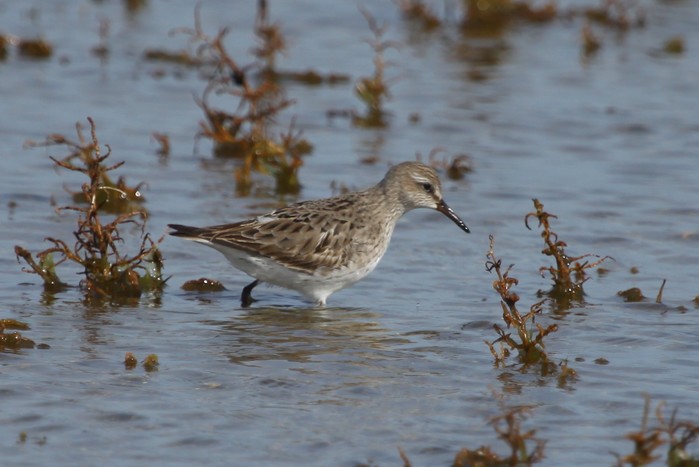 Other Americans included Long-billed Dowitchers at Rusheen Bay, Galway on 21st and Ballyshunnock Reservoir, Waterford on 22nd, White-rumped Sandpipers at Lymington, Hampshire on 21st to 26th and Tacumshin, Wexford on 22nd to 27th and American Golden Plovers at Davidstow, Cornwall on 21st to 22nd, on North Uist, Western Isles on 21st, at Ballycotton, Cork on 25th to 27th and on Sanday, Orkney and Tiree, Argyll on 26th.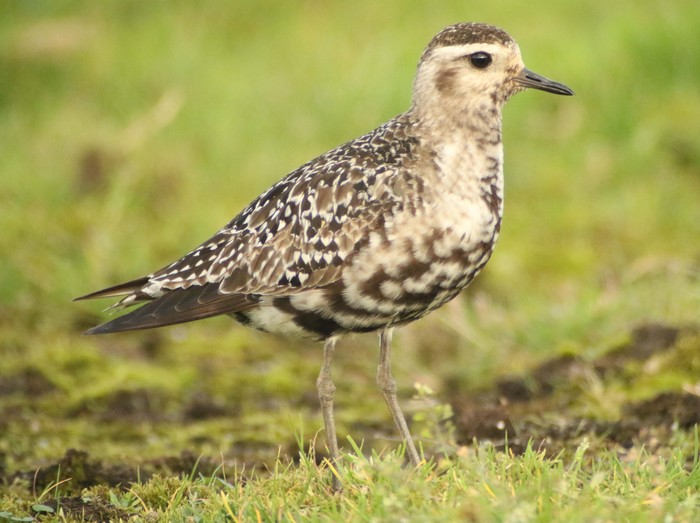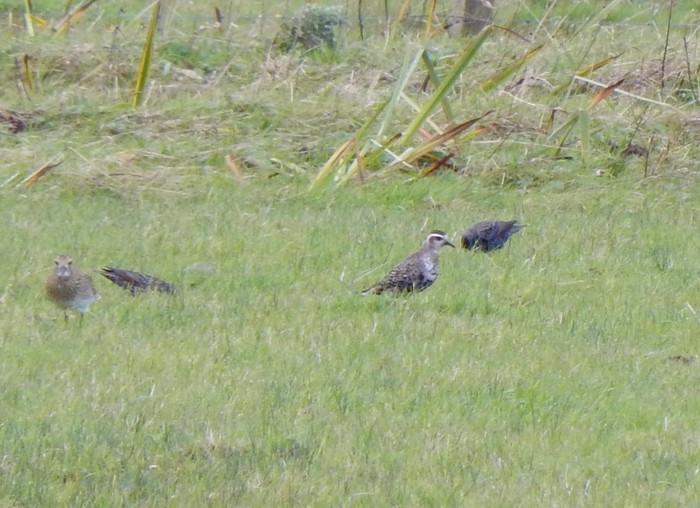 Pectoral Sandpipers remained widespread, with around twenty-five noted, only four of which were in Ireland. By contrast, there were fewer Buff-breasted Sandpipers than of late with only six noted - at Davidstow, Cornwall on 21st to 22nd, Myroe Levels, Derry on 21st to 23rd, Hatfield Moors, Yorkshire on 21st to 25th, Balcomie, Fife on 22nd, Tacumshin, Wexford on 23rd to 26th and Whalsay, Shetland on 26th.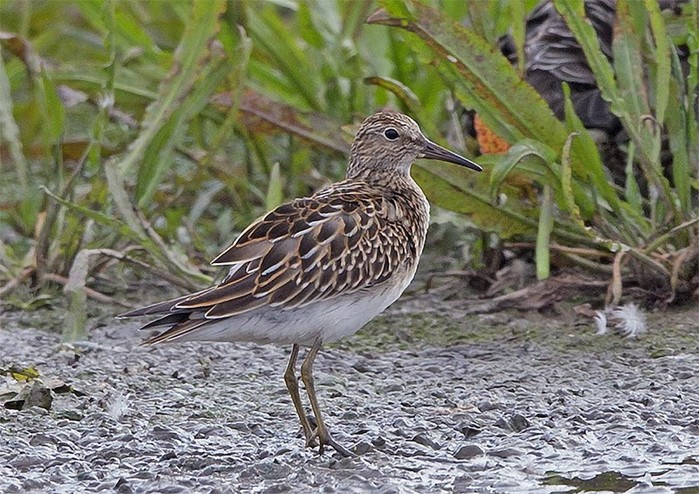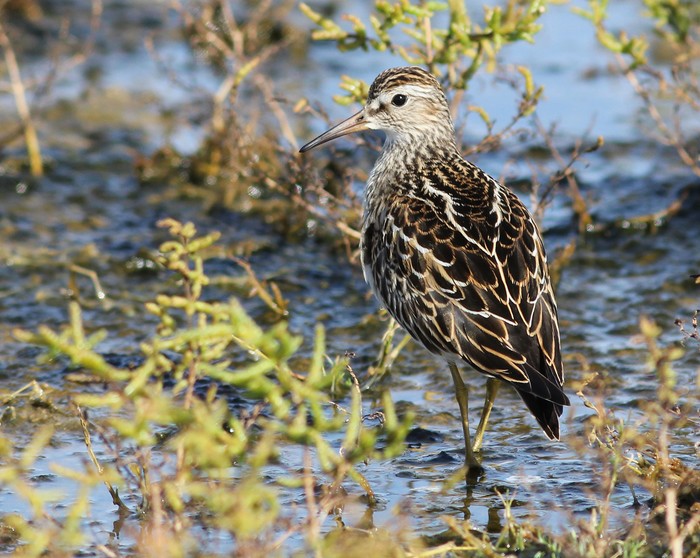 Turning to Palearctic waders, Dotterels were on Lundy, Devon on 21st to 22nd, at West High Down, Isle of Wight, Hengistbury Head, Dorset and Flamborough Head, Yorkshire on 21st, north of Loch Glascarnoch, Highland (a 'trip' of twenty) on 22nd and over Shuart, Kent on 26th. Temminck's Stints were at Hanningfield Reservoir, Essex still to at least 25th and at Frampton Marsh, Lincolnshire on 23rd to 24th. Finally, a Red-necked Phalarope was on South Uist, Western Isles on 25th.
The rarest gull of the week was the East Midlands adult 'Azorean Gull' which appeared at Grafham Water, Cambridgeshire on 25th. The only other rare gull was the Bonaparte's Gull still at Seafield, Clare on 22nd whilst the summering Glaucous Gulls were still at Ullapool, Highland and Lossiemouth, Moray and the summering Iceland Gull at Loch Ryan, Dumfries and Galloway. In Ireland, adult Ring-billed Gulls were at The Lough, Cork on 24th and Nimmo's Pier, Galway still on 26th.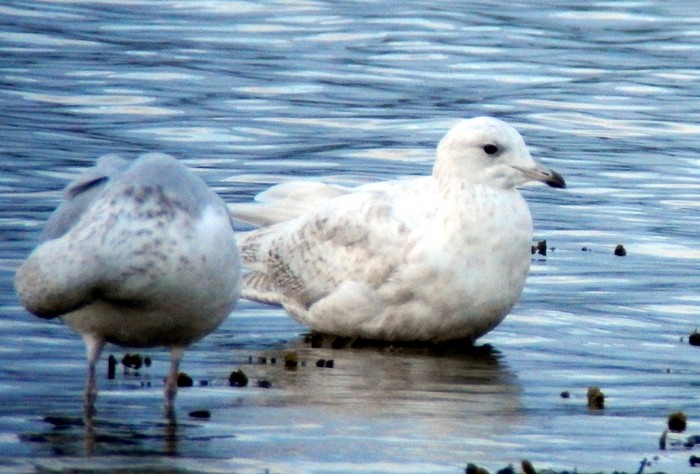 With no rare marsh terns this week and Roseate Terns now largely departed, the only rarity was the resident Forster's Tern still at Dundalk, Louth to at least 22nd.
Near-passerines and Passerines
Despite the unfavourable weather, the Northern Isles still managed to dominate the Palearctic passerine headlines. A number of eastern rarities somehow got through including new Lanceolated Warblers on Fair Isle on 21st and 26th (the second and third for the island this year), a Paddyfield Warbler and the autumn's first Radde's Warbler on Unst on 27th, a Great Reed Warbler at Quendale on 22nd, the autumn's first Olive-backed Pipits - on Fair Isle on 23rd and at Hoswick on 24th and 25th - and a trio of Arctic Warblers - at Hoswick on 21st to 25th, at Channerwick on 26th and on Foula on 26th to 27th. Also on Shetland were at least two Blyth's Reed Warblers (on Unst), around nine Little Buntings (four on Unst, three on Mainland and two on Fair Isle) and a Greenish Warbler (at Aith, Mainland on 26th). Last week's Isabelline Shrike was on Foula to at least 22nd.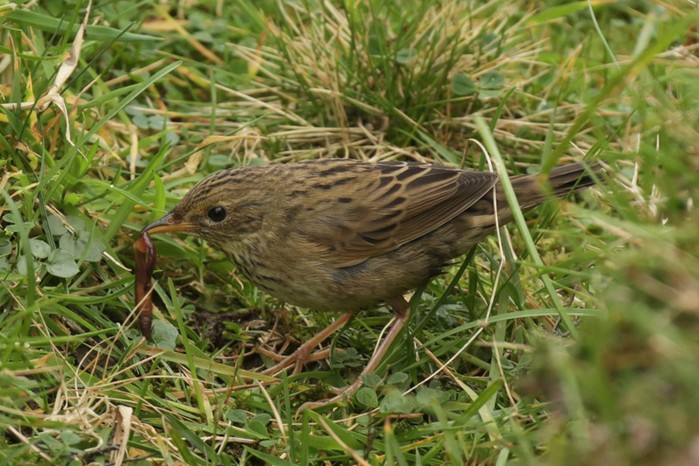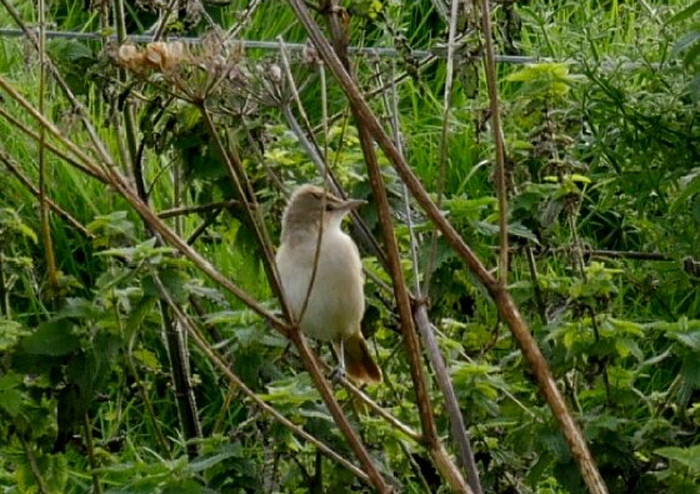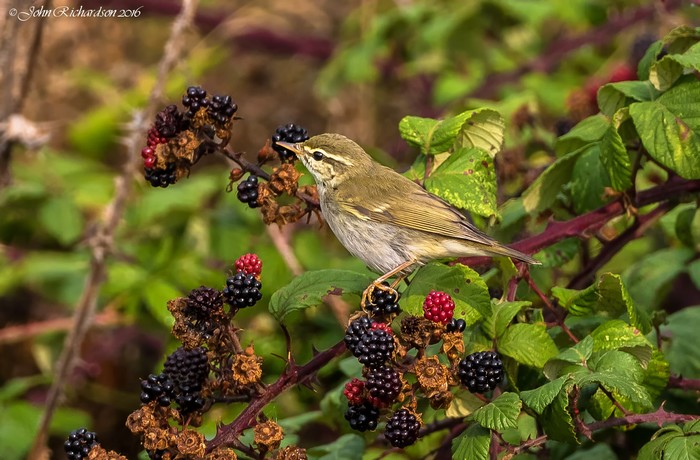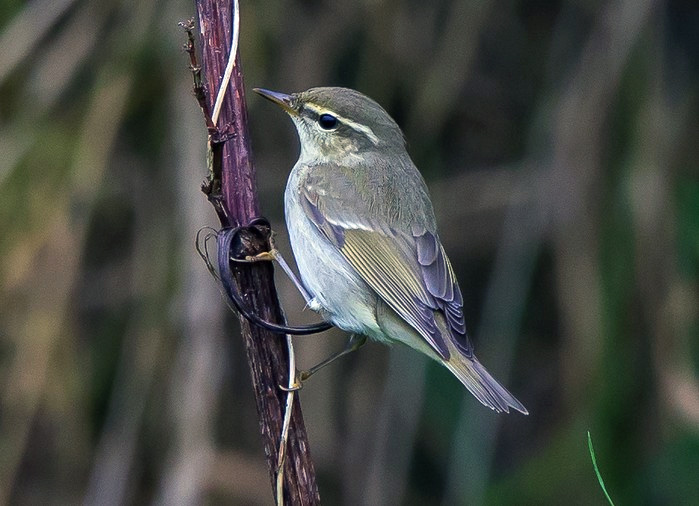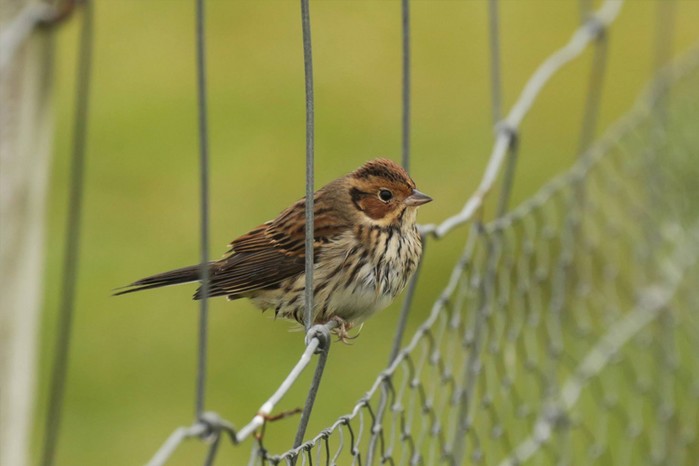 Passerine highlights elsewhere were few and were mainly leftovers, the best being last week's adult Lesser Grey Shrike still in Plymouth, Devon to 25th, Suffolk's Arctic Warbler still at Landguard to 21st, and the Blyth's Reed Warbler at Spurn, Yorkshire, present again on 21st and 22nd. The best new passerine in the rest of Scotland was a Citrine Wagtail on Benbecula, Western Isles on 26th whilst in England the pick of the bunch were a Greenish Warbler at Walmer Beach, Kent on 23rd, a Western Bonelli's Warbler on St. Mary's, Isles of Scilly on 25th, a Red-throated Pipit on Lundy, Devon on 21st, a Subalpine Warbler species at Nanquidno, Cornwall on 27th, a Tawny Pipit at Land's End, Cornwall on 21st and two Woodchat Shrikes - on Tresco, Isles of Scilly on 21st and at South Efford, Devon on 24th.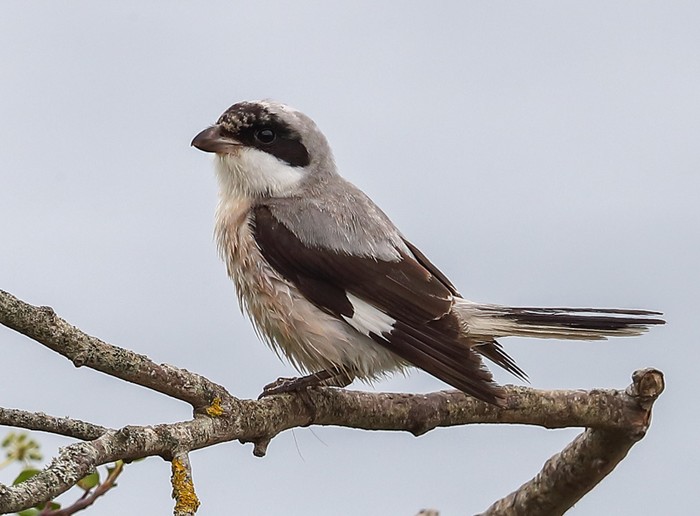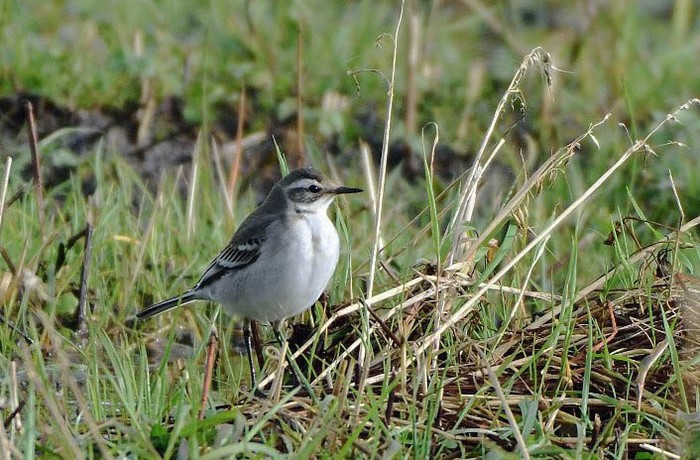 As for the 'rarer scarcities', there were only seven Richard's Pipits - at Spurn, Yorkshire and on Lundy, Devon on 21st, on Fair Isle, Shetland and at Gibraltar Point, Lincolnshire and Salthouse, Norfolk on 25th and at Sennen, Cornwall and Spurn again on 27th. Short-toed Larks numbered only three - at Galley Head, Cork still to at least 25th, on Fair Isle on 21st to 26th and on Out Skerries, also Shetland, on 24th to 27th. Bluethroats were at Flamborough Head, Yorkshire on 21st and, on Shetland, up to three on Fair Isle between 21st and 26th, on Mainland and Unst on 25th and on Fetlar on 26th.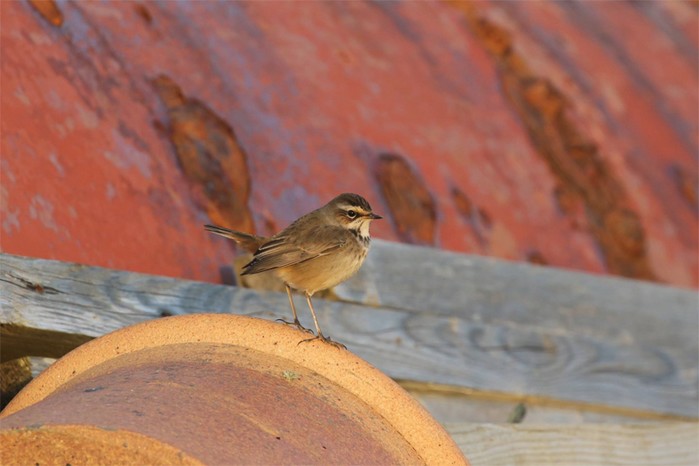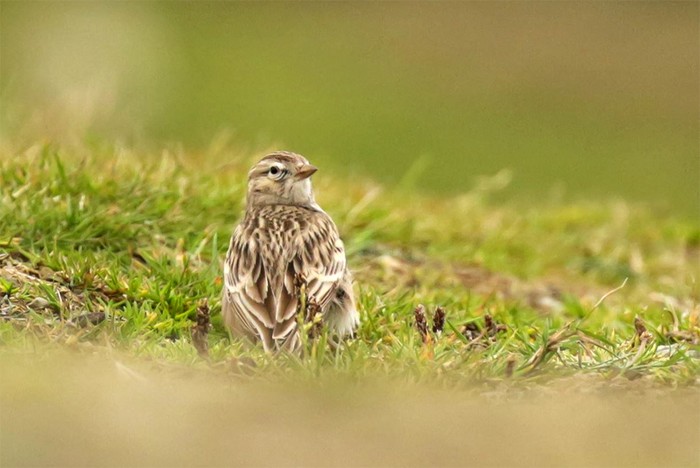 Other scarcities included an Ortolan Bunting still at Portland, Dorset on 22nd, the long-staying Melodious Warblers still on Bardsey, Gwynedd to 27th (with two on 26th to 27th), at Polgigga, Cornwall on 23rd and on St. Mary's, Isles of Scilly on 26th to 27th. Icterine Warblers also numbered four - on North Ronaldsay, Orkney on 22nd, on Unst, Shetland on 24th to 25th, at Portland on 25th and on The Lizard, Cornwall on 26th. Just a single Marsh Warbler was seen - at Spiggie, Shetland on 22nd.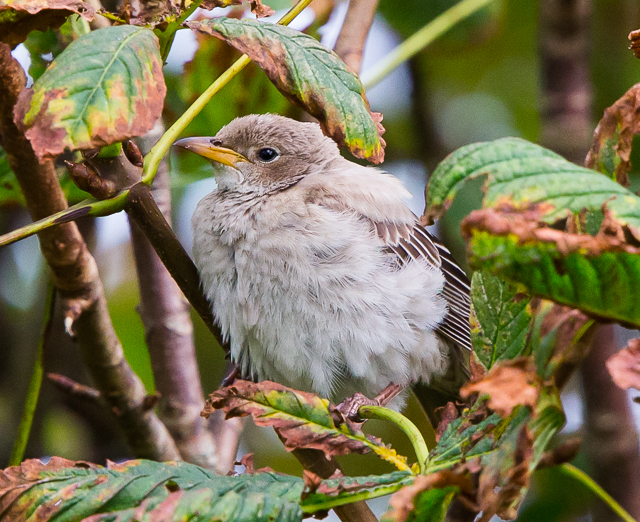 Juvenile Rose-coloured Starlings put in a good show, however, with singles at Portland, Dorset on 21st to 27th, Davidstow, Cornwall on 21st to 24th, Wooler, Northumberland on 21st to 27th, Gwithian, Cornwall on 20th to 25th, Borth, Ceredigion on 23rd to 27th (with two on 25th), Scalloway, Shetland still to 27th and Settlingstones, Northumberland on 25th.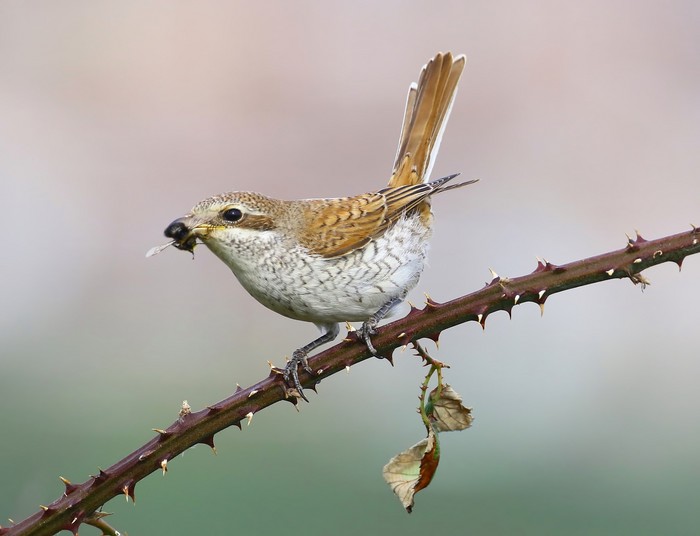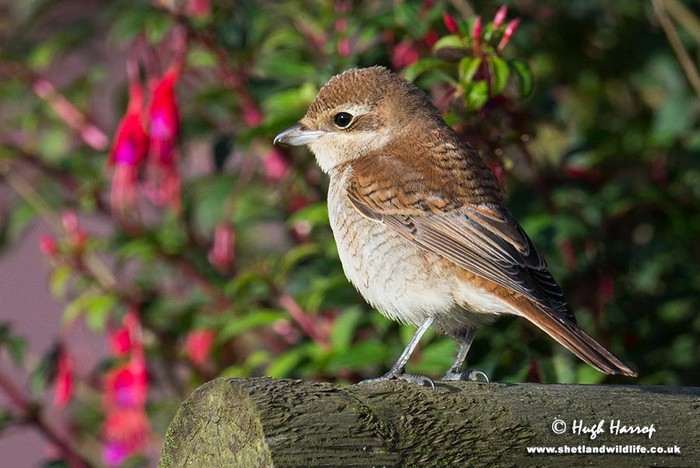 As for the 'commoner scarcities', Wrynecks totalled over twenty-five, all in the south of England or Wales apart from one at Ballinaboola, Wexford on 21st. There were at least thirteen Barred Warblers though their distribution was very different with at least five in the Northern Isles. One was in Ireland, at Hook, Wexford on 25th. The eleven Red-backed Shrikes were distributed in a similar fashion, all on east and south coasts from Shetland to Scilly apart from one at the far-flung outpost of Neist Point, Skye, Highland on 27th .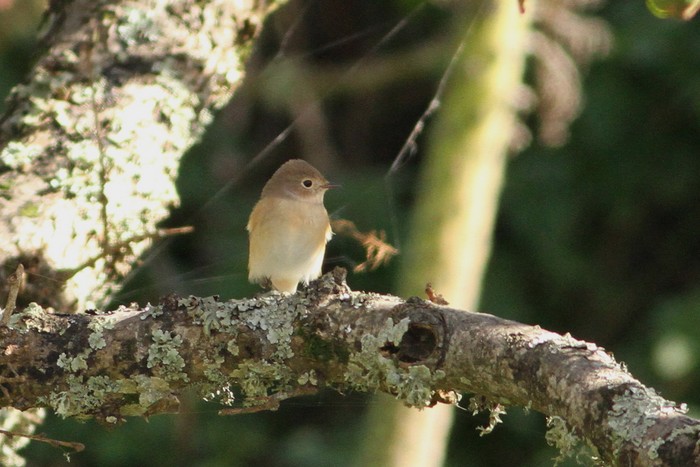 The seventeen Red-breasted Flycatchers this week represented their best showing of the year so far. There was a strong Shetland bias to the records, with eleven being found here (many in a surprising 'mini-surge' on 25th) but at the opposite end of the country two were on St. Agnes and another on Tresco, both Isles of Scilly. Common Rosefinches showed a similar pattern with six out of ten being in the Northern Isles, the outliers being singles on Bryher, Isles of Scilly and Cape Clear, Cork and two on Barra, Western Isles. As last week, Lapland Buntings remained prominent with over 40 on Fair Isle, Shetland and over 30 on North Ronaldsay, Orkney and on Loop Head, Clare. This week records also became numerous (albeit in smaller numbers) down the east coast, representing either a southward drift by birds arriving from the northwest or a separate arrival of Scandinavian birds.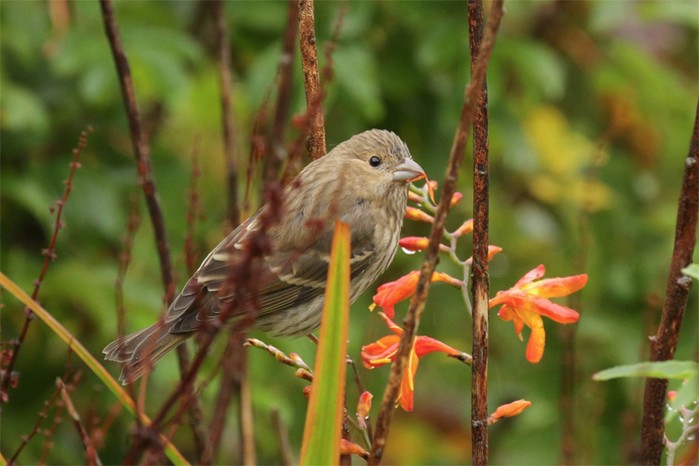 Finally, Shetland Hoopoes were at Sandwick, Shetland on 21st, Dale of Walls on 22nd and Easter Quarff on 26th. Elsewhere, Norfolk's bird from last week was still in the Brancaster area to at least 27th with others at Porth Joke, Cornwall on 23rd and at Reculver, Kent on 24th. Although Hoopoes are traditionally thought of as southern birds, their breeding range extends right across southern Russia, Kazakhstan, Mongolia and northern China. Might these birds therefore be from eastern European or Russia rather than the Mediterranean?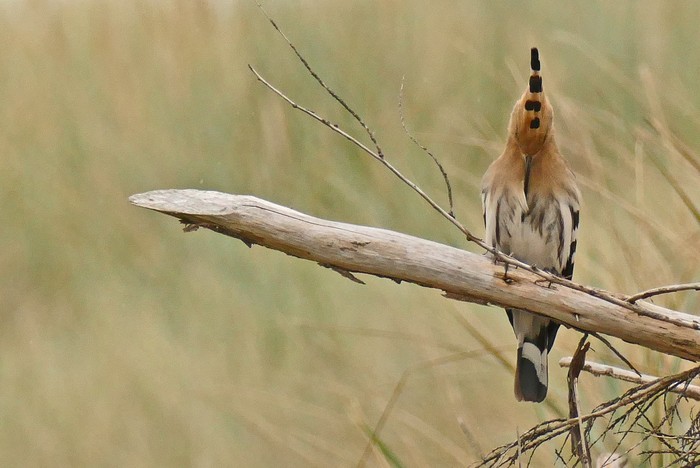 The first half of next week sees a continuation of active Atlantic weather, a succession of low pressures and a persistent westerly component to the wind. Right from the beginning of the week the isobars lead straight back to Quebec and Hudson Bay where the northern edge of an area of high pressure is projected to reinforce the windflow out into the Atlantic. It doesn't take a genius therefore to deduce that any early action is likely to involve American birds in the west. With Scilly slipping off the radar in recent years, is it time for a return of the 'good old days' of the 1980s? Or will Shetland claim the ultimate prize? Or Ireland? Or the Western Isles? From next weekend onwards, however, there appears to be the prospect of a 'window' to the east, at least for the Northern Isles. With White's Thrushes just a night's flight away, could we be in for a classic 'east meets west' scenario? One thing is certain though. As we enter October, the most magic month of all, there will be no shortage of surprises.
Andy Stoddart
27 September 2016
Many thanks to all contributors for the photos and videos this week.