Weekly birding round-up: 14 - 20 Sept 2016
The week at a glance
Common Yellowthroat in Derry
Pallas's Grasshopper Warbler in Yorkshire
Cory's Shearwater over London
Large influx of Yellow-browed Warblers
Red-footed Booby in care in Sussex
Western Purple Swamphen still in Lincolnshire
Hudsonian Whimbrel still in Cornwall
Dalmatian Pelican still in Cornwall
The week's weather was certainly varied. It began with continued southeast winds and astoundingly high temperatures in the south and east, the mercury soaring once more to well over thirty degrees – the hottest September for about a hundred years. It was a country of two halves, however, with much cooler and wetter conditions in the north and west.
The weather front responsible for this rain pushed through eastern England on the night of 15th/16th, switching the wind into the northwest and dropping the temperature dramatically. Central, southern and eastern England saw heavy, locally disruptive, rain and violent thunderstorms. The northwesterly flow intensified on 17th behind the low pressure, now positioned in the southern North Sea, before calmer autumnal conditions set in from 18th.
This complex situation provided the first real vectors of the month for continental passerines and, for the first time this autumn, the focus switched abruptly away from Ireland and the west to some good old-fashioned east coast (and Northern Isles) birding.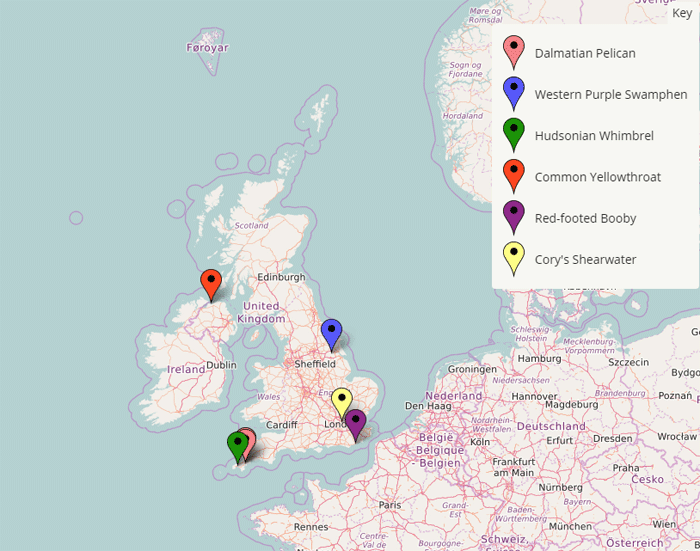 Common Yellowthroat
The week's rarest bird was, however, a significant departure from the above script - a Common Yellowthroat near Castlerock on the Bann Estuary, Derry. Its appearance was brief, however, and there were no subsequent reports. This would represent the twelfth British and Irish record but only the second for Ireland following a bird at Loop Head, Clare on 3rd to 4th October 2003.
Pallas's Grasshopper Warbler
Back to the script, the best Palearctic rarity was a Pallas's Grasshopper Warbler on 16th - not, as is usual, on the Northern Isles, but in a mist net at Spurn, Yorkshire. Although a marvellous start to the day for those on site, it was, perhaps predictably, not seen after release. This is Spurn's second record of this charismatic Siberian, the first being found in the field and then trapped on 14th September 2008. Although not in the 'ultimate rarity' category these days, this is still a hard species to catch up with, remaining very much a Shetland bird with 39 out of the 'up to 2014' total of 53 coming from this archipelago. The rest of Scotland combined can only muster a further three (Orkney, Aberdeenshire and St. Kilda), Ireland has two (Cork and Dublin) and the rest are English - Dorset, Hampshire, Norfolk (2), Cleveland, Durham (2) and Northumberland (2). Of these the only one to be witnessed by any number of people was the famous Blakeney Point, Norfolk bird of September 2001.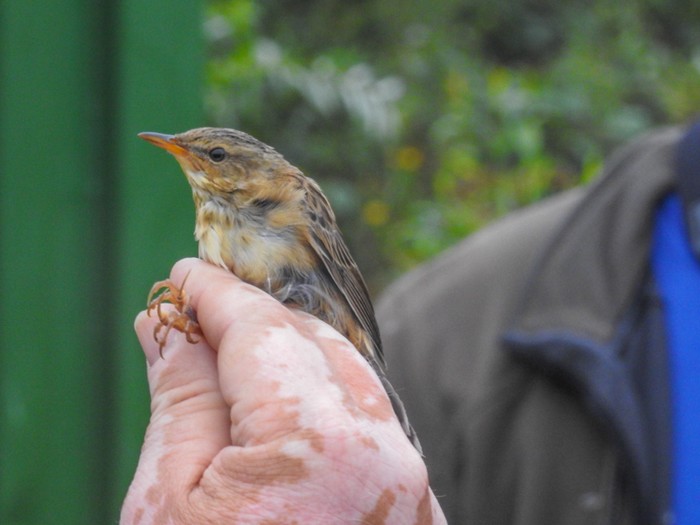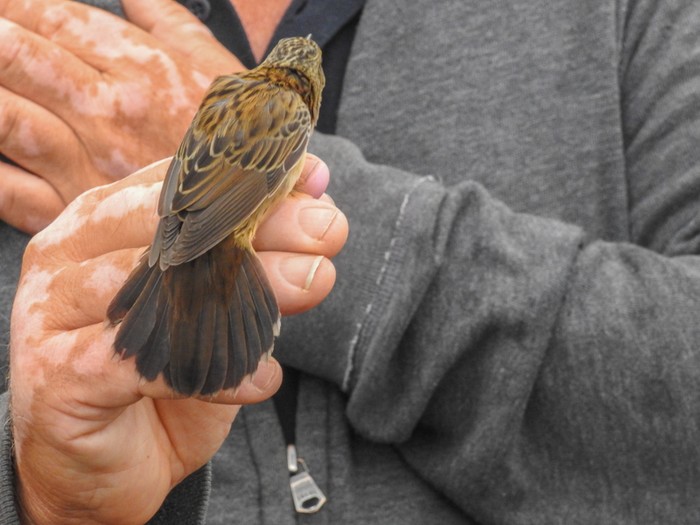 Pallas's Grasshopper Warblers deserve close attention, not just because of their rarity but because of the surprising variety of their appearance. Birds here have varied from rather Grasshopper Warbler-like to dark, swarthy and rather Dunnock-like. The species has a large breeding range with five generally recognised subspecies and more than one of these is likely to be occurring. The northern form rubescens doubtless accounts for many British vagrants, particularly the dark ones, but the large and pale western sparsimstriata, the mid-toned central Siberian certhiola and the pale southern centralasiae all look good vagrancy candidates too. If reliable identification criteria can be developed for first-winter birds there is surely much to learn about the origins of those reaching Britain.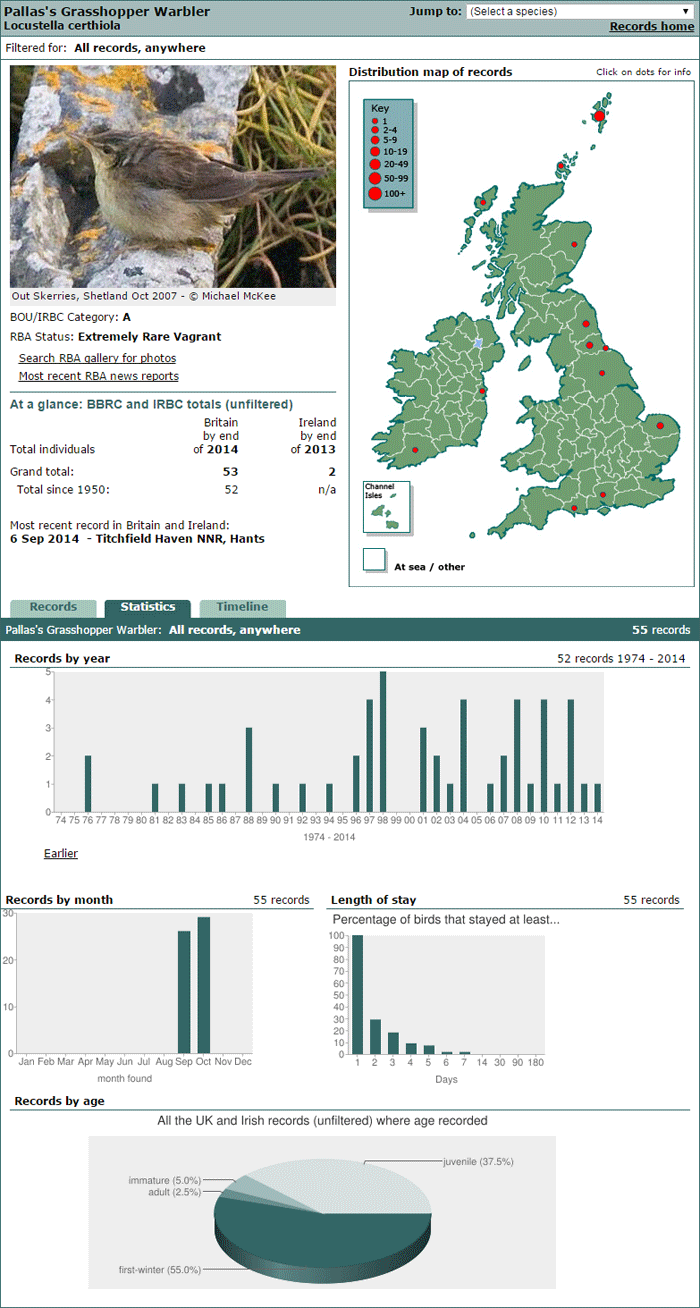 Cory's Shearwater
Although nothing like as rare (indeed not even a rarity), the prize for the most surprising bird of the week has to go to the Cory's Shearwater seen and photographed over Regent's Park, London on 15th. Truly in the 'you couldn't make it up' category, its appearance coincided with the first week for some time in which no Cory's Shearwaters were seen in British and Irish waters at all. The species has dominated the seabird headlines in recent weeks, with counts of hundreds off Ireland and Cornwall, but the Regent's Park bird represented 100% of all the Cory's Shearwaters seen this week! Regent's Park regular Dave Johnson picked up the bird as headed south west over the park. Luckily another RP regular Tony Duckett was also in the park, and following a call from Dave's, managed to get some record shots. Needless to say, this was the first record for London.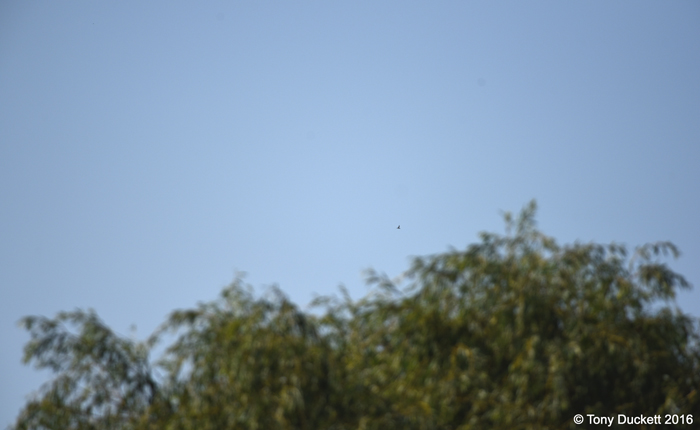 Yellow-browed Warbler Influx
For those of us not fortunate enough to be at Spurn or in Regent's Park, the main event of the week - and the chief product of the continental vector - was the expected (but very welcome) appearance of Yellow-browed Warblers , for many the true spirit of autumn. The first couple actually made landfall at the end of last week but this week saw the first big push, with birds appearing the length of the east coast, adorning many a sycamore and sallow and filling their observers with joy.
Norfolk produced the first two of this week - at Wells East Hills and Scolt Head on 14th - but the next day saw the first rush with at least 26 recorded, almost all on the east coast between Norfolk and Northumberland. Another dozen or so arrived on 16th with around half a dozen more on 17th and then the calm conditions on 18th typically brought another arrival, the light northerly flow in the southern North Sea bringing at least 30, mainly to Yorkshire and north Norfolk but also a few to the Northern Isles. A continued light northerly flow on 19th brought another 30 or so, around two-thirds of them to north Norfolk, including at least 15 between Wells and Burnham Overy. For the first influx to be in Yorkshire and Norfolk rather than the Northern Isles clearly just reflected the wind flows around the North Sea but it was unusual nonetheless. Needless to say, however, the Northern Isles bounced back on 20th with a larger arrival including at least 55 on Fair Isle, a good scatter on the rest of Shetland and thirteen on North Ronaldsay, Orkney. There were also around 50 in Yorkshire with an astonishing 28 just in the Flamborough Head area. The final total for the week must be heading towards 250.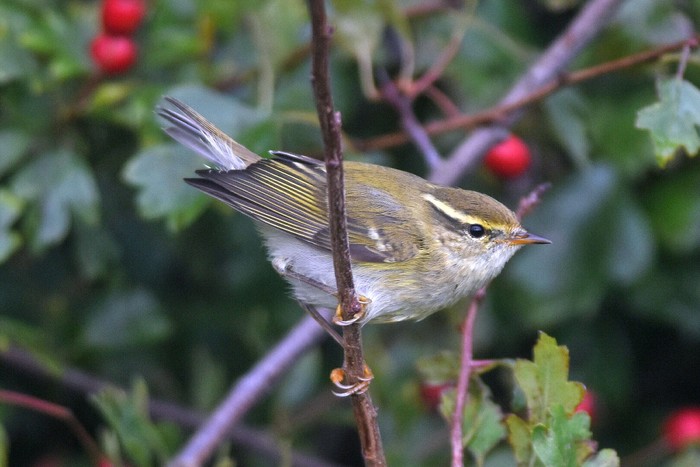 The sudden, almost irruptive, quality of this species' arrivals is now a well-known and eagerly awaited part of the autumn scene. This week has been typical, with birds pushing relentlessly westwards through any 'windows' of anticyclonic weather. Many continental migrants require quite specific drift conditions to reach us but Yellow-browed Warblers are on a mission to get here and more and more seem to want to do so each year. The reasons for this phenomenon are no nearer an elucidation but a progressively earlier arrival is evident, the first birds now arriving at least a week earlier on average than in the 1980s. Hopefully we can now look forward to their delightful presence and plaintive, penetrating calls for a few weeks at least.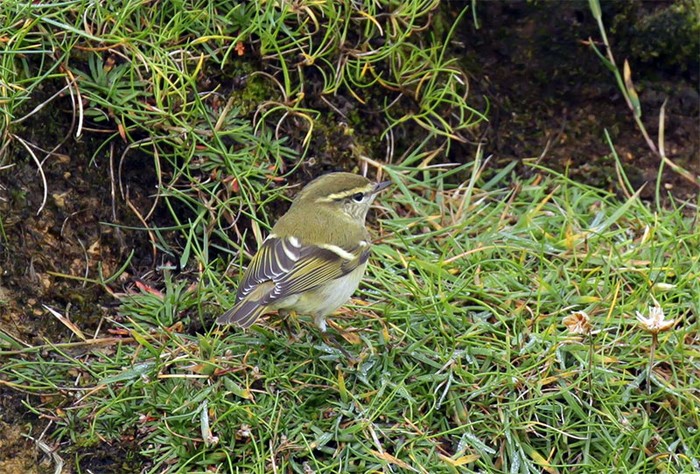 Western Purple Swamphen
Moving on from a tiny, perfectly-formed bird to one which is neither, the Western Purple Swamphen remained at Alkborough, Lincolnshire to at least 19th but reports of it became a little more erratic.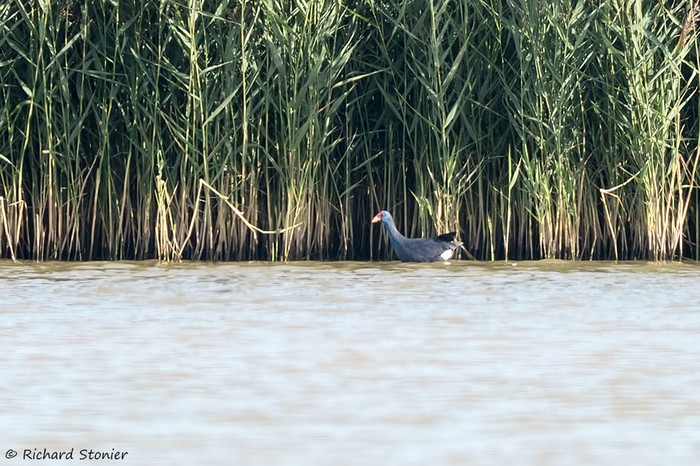 Red-footed Booby
Also in the 'big and ungainly' department, the Red-footed Booby in the RSPCA's care in Sussex contradicted last week's reports of deteriorating condition and weight loss by regaining its interest in food and putting weight back on again. An entertaining video released by the RSPCA showed it happily wolfing down sprats as fast as it could manage so hopefully its survival prospects are now looking up. The latest story is that it will be flown to Florida, however, so, if true, a public release is now presumably off the agenda.
Long-stayers
Finally, the two Cornish residents remained - the Dalmatian Pelican firstly at Helston Loe Pool and then circling north of the Helford River on 17th before joining the Hudsonian Whimbrel at Perranuthnoe next day and ending up at St. Clement on the Tresilian River. There were no reports of it on 19th but on 20th it was just southeast of Truro at Malpas.
Further a field
This week's 'Euronews' is headlined by a Rufous Bush-chat in The Netherlands, a Swainson's Thrush in Iceland, two Black-shouldered Kite sightings in Denmark, a Western Sandpiper in France and a Pygmy Cormorant in Belgium. Two more Pallas's Grasshoppers Warblers – both in Norway – suggest that more records of this species might be in the offing whilst Dusky Warblers in Sweden and Norway and an apparent Stejneger's Stonechat in Sweden perhaps hint at an early arrival of Siberian vagrants this year.
The rarest seabirds of the week were a reported Black-browed Albatross past Newton Point, Northumberland on 18th and two late season Wilson's Petrels off Brandon Point, Kerry on 16th. With the week's only Cory's Shearwater happily winging its way across London's skies, it was left to Great Shearwaters to remind us that large shearwaters are usually seen at sea. After the excesses of the last few weeks, this week's tally was much more modest with one off a Scilly pelagic on 15th, singles off Strumble Head, Pembrokeshire and Pendeen, Cornwall on 16th and, in the northwesterly blast of 17th, at least two in the North Sea, with sightings off Flamborough, Yorkshire, Whitburn, Durham and Newbiggin, St. Mary's Island and the Farne Islands, all Northumberland. The North Sea birds accompanied an impressive movement of Sooty Shearwaters , with several sites recording over two hundred and over a thousand past Flamborough Head, Yorkshire.
Given the sudden plunge of cold air into the North Sea on 16th and 17th, it was no surprise to see a mini-influx of young Long-tailed Skuas from Highland down to Kent. At least seventy were noted in the North Sea with a further fifteen in the west. The peak counts on 17th were off Yorkshire with eight logged off Spurn and seven off Flamborough, and a further nine were off Spurn next day.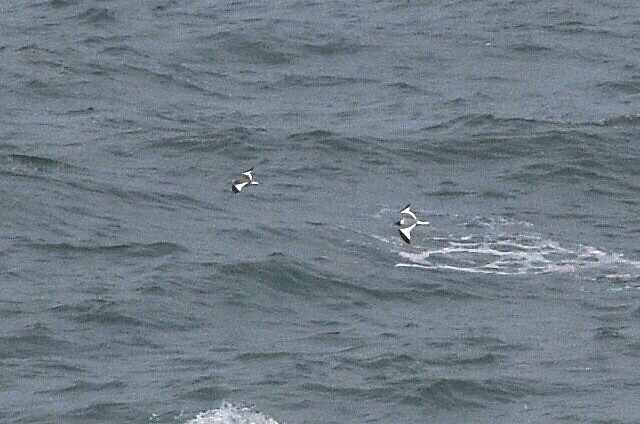 Also caught up in the North Sea seabird movements of 16th and 17th were Sabine's Gulls , with over a dozen noted (and another eight or so in the west). North Norfolk did best, with a minimum of three logged during 17th. An inland bird was at Queen Mother Reservoir, Berkshire on 20th.
Finally, there were just a few Grey Phalaropes – off the Scillonian on 14th, at Stert Point, Somerset and Mull of Galloway, Dumfries and Galloway on 16th, at Cley, Norfolk and Strumble Head, Pembrokeshire (three) on 17th and at North Bull Island, Dublin on 18th.
A Ferruginous Duck on the Brent Reservoir, London on 20th was new but otherwise the week's duck news was largely old news – the Black Duck at Strontian, Highland still on 17th, an American Wigeon at Cossington Meadows, Leicestershire to at least 18th and a Surf Scoter in Lunan Bay, Fife to at least 18th.
Great White Egret remained prominent, mainly at traditional locations, but one in off the sea with Grey Herons at Sheringham and Cley, Norfolk on 17th spoke of continental immigration. Good counts included seven at Dungeness, Kent and - interestingly all in the Northwest - at least four at Frodsham, Cheshire and Wirral, three at Banks Marsh, Lancashire and three on the Alaw Estuary near Holyhead, Anglesey.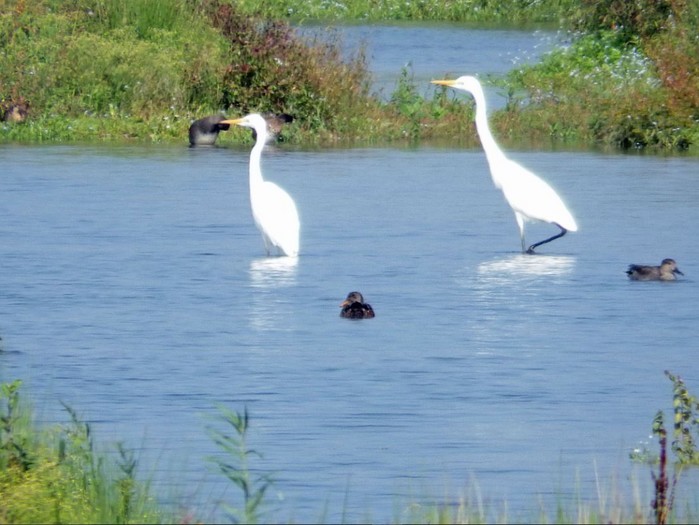 Single Cattle Egrets remained at Burton Mere Wetlands, Cheshire and Wirral, Dungeness, Kent, Marshside, Merseyside and Tacumshin, Wexford whilst the Purple Heron was still at Otmoor, Oxfordshire to at least 18th.
Glossy Ibises continued to frequent some of the usual locations but reports this week were fewer, coming from Ham Wall, Somerset (two), Lound and Newington, Nottinghamshire, Fingringhoe, Essex, Austerfield, Yorkshire, Rye Harbour, Sussex and Fremington Pill, Devon.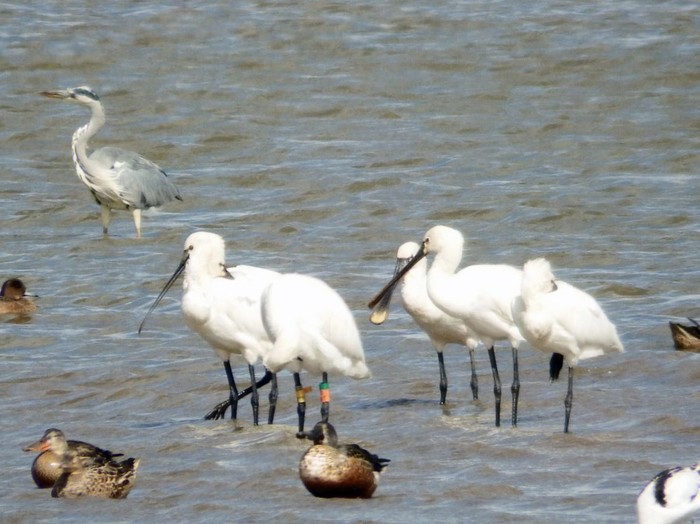 Spoonbill counts remained high, however, with 33 in Poole Harbour, Dorset, 31 at Stiffkey Fen, Norfolk and 19 at Alkborough Flats, Lincolnshire. Finally, the Common Crane remained on Mainland Shetland to at least 19th.
Juvenile Pallid Harriers were again in the headlines this week, with singles at Storrington, Sussex on 14th and 15th, Polgigga, Cornwall on 14th, Holy Island, Northumberland on 15th and 16th, Hillwell, Shetland on 17th and Dungeness, Kent the same day. Dungeness also hosted a Montagu's Harrier still on 17th, surely one of the few occasions on which both the slim-winged harriers have been at the same site on the same day. The only other rare raptor was a Black Kite at Blessington, Wicklow on 20th.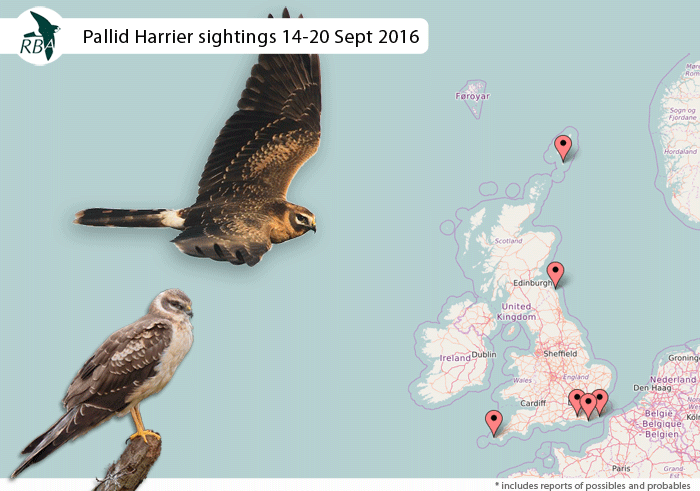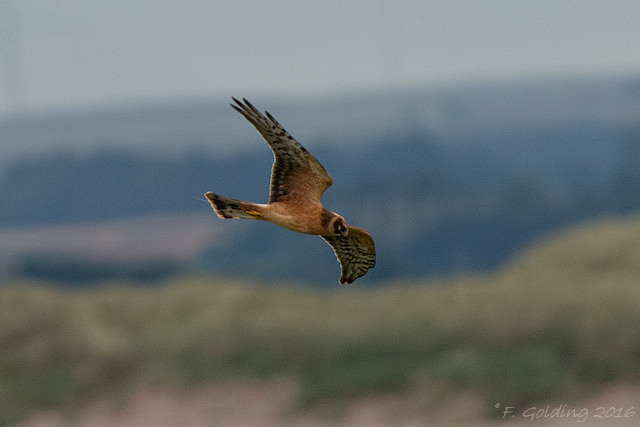 Otherwise the raptor news involved a small scatter of Honey-buzzards , with at least a dozen noted. Most were in the south but singles were at Thorne Moors, Yorkshire on 14th and Flamborough Head, also Yorkshire on 19th and, considerably further north, on Fair Isle, Shetland on 16th and Fetlar, also Shetland, on 18th.
Corncrakes on Fair Isle, Shetland on 15th and North Ronaldsay, Orkney and Fairburn Ings, Yorkshire on 18th and Spotted Crakes at Poole Harbour, Dorset and Ardingley College, Sussex on 19th were the only rare crakes of the week.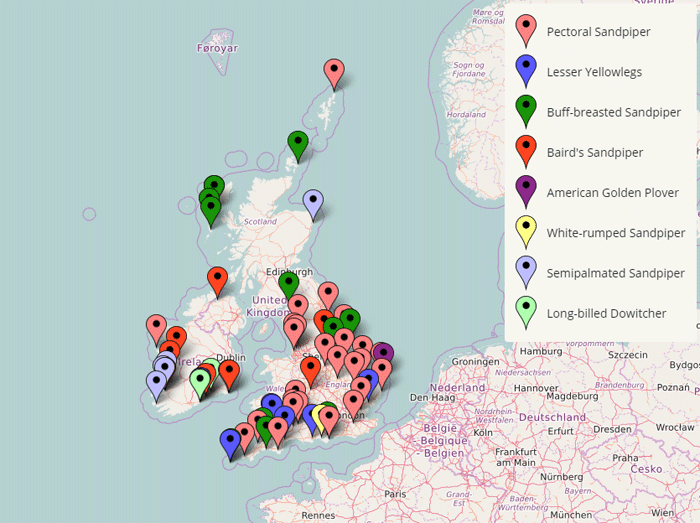 An elusive Great Snipe finally identified on Fair Isle, Shetland on 18th represented the culmination of an eight-day hunt. Otherwise it was a story of American waders though the pace of new arrivals was a little slower than in recent weeks.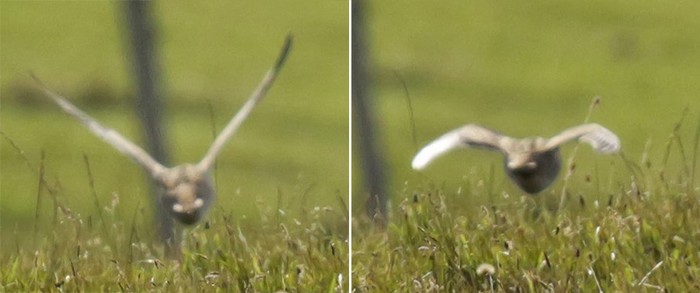 Baird's Sandpipers remained prominent, however, with birds still at Upton Warren, Worcestershire to 16th, Nethertown, Wexford to 16th, Dungarvan, Waterford to 20th, Myroe Levels, Derry again to 17th and new birds at Seafield Quay, Clare on 17th and 18th, Derrymore, Kerry (two) on 18th (with one to 19th) and Rusheen Bay, Galway on 19th and 20th.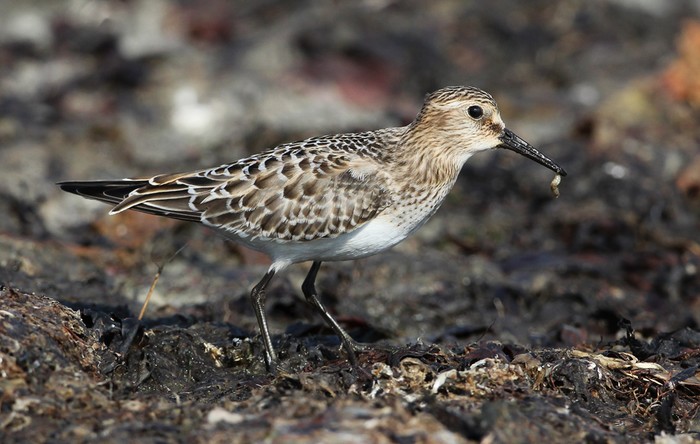 A Semipalmated Sandpiper was on the Ythan Estuary, Aberdeenshire on 17th to 20th but the others were all in Ireland - at Cashen, Kerry and Pilmore, Cork on 14th, Carrahane Strand, Kerry on 15th, Blennerville, Kerry still on 16th, Tacumshin, Wexford on 17th to 20th (with three on the latter date) and Inny Strand, Kerry on 18th and 19th.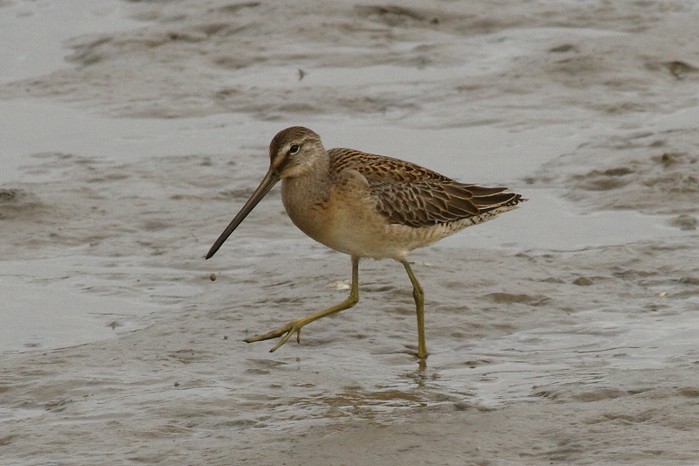 The remaining rare American waders comprised White-rumped Sandpipers at Pennington, Hampshire on 19th and 20th and Tacumshin, Wexford on 20th, American Golden Plovers at Davidstow, Cornwall on 14th to 17th and North Uist, Western Isles on 20th and Long-billed Dowitchers at Dungarvan, Waterford on 14th to 15th, Ballyshunnock Reservoir, Waterford on 17th to 19th and Rusheen Bay, Galway on 19th to 20th. Lesser Yellowlegs were on St. Agnes, Isles of Scilly on 14th to 20th and at Youghal, Cork on 14th to 16th, Tacumshin, Wexford on 15th, Fremington Pill, Devon on 15th to 20th, Bowling Green Marsh, Devon on 16th, Colchester, Essex on 18th to 20th, Poole Harbour, Dorset on 18th to 20th and Braunton Marsh, Devon on 20th.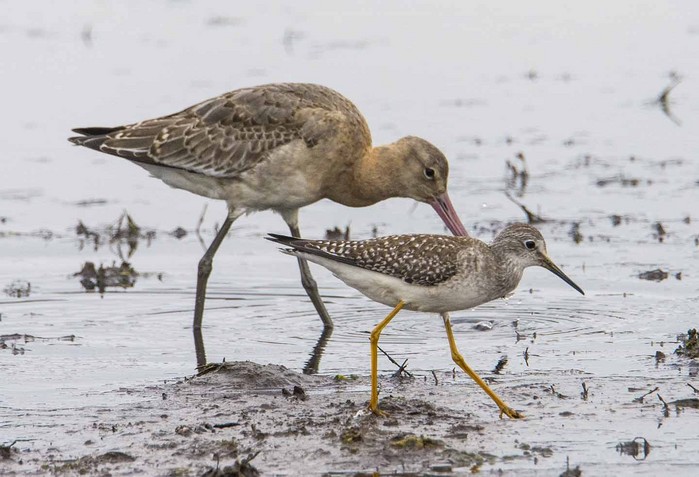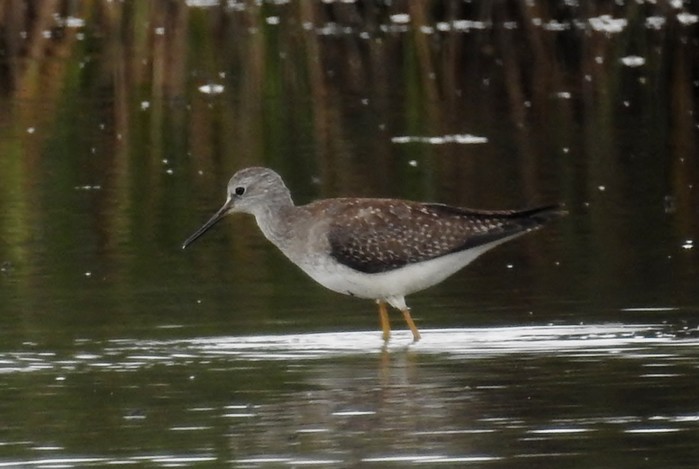 Pectoral Sandpipers remained obvious this week, with over twenty-five noted but, as last week, only a minority were in Ireland which recorded just three. Most were in the west but five were on the English east coast.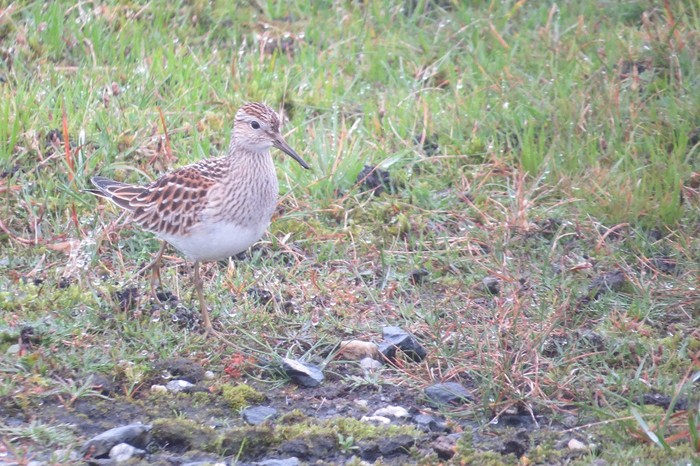 Buff-breasted Sandpipers were fewer this week, with only around seven recorded (and only one in Ireland) - South Uist, Western Isles on 14th, St. Mary's, Isles of Scilly on 14th to 19th, Davidstow, Cornwall on 14th to 20th, Titchfield Haven, Hampshire on 15th, Anthorn, Cumbria on 16th, Hatfield Moors, Yorkshire on 16th to 20th and Tacumshin, Wexford on 17th.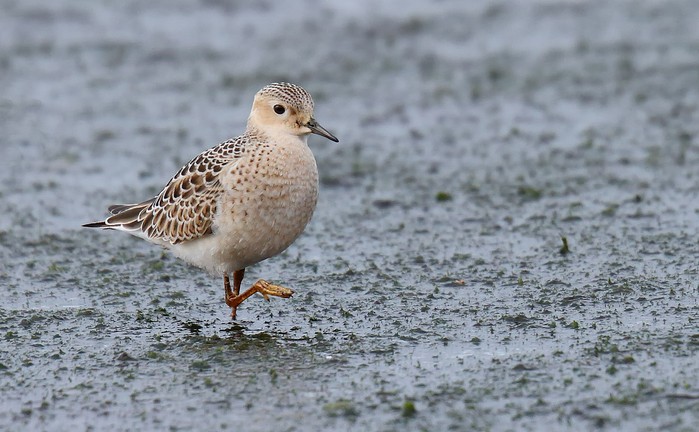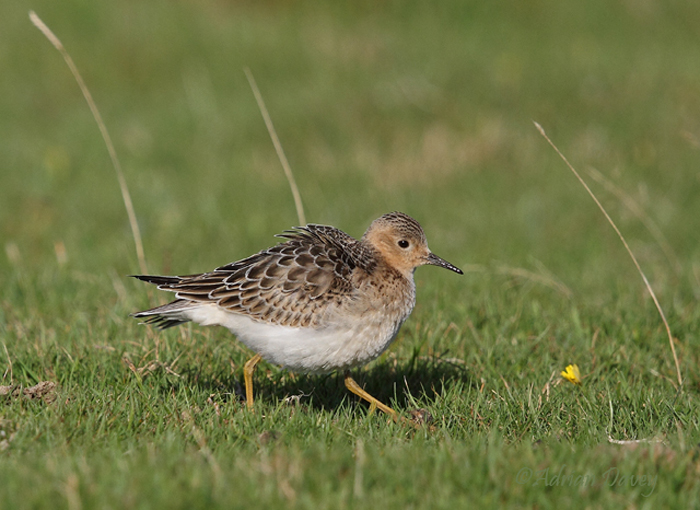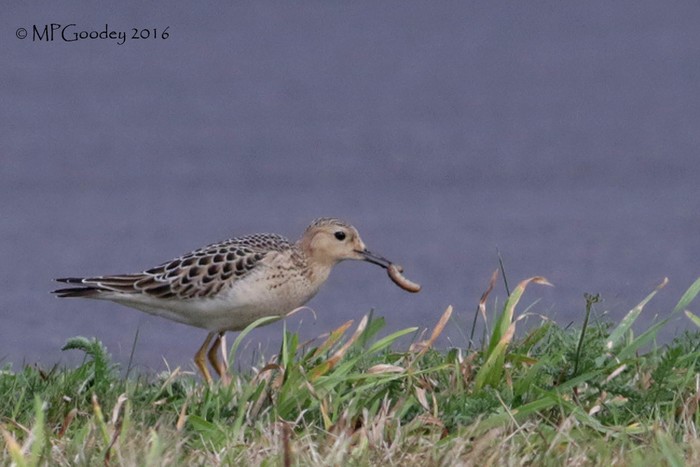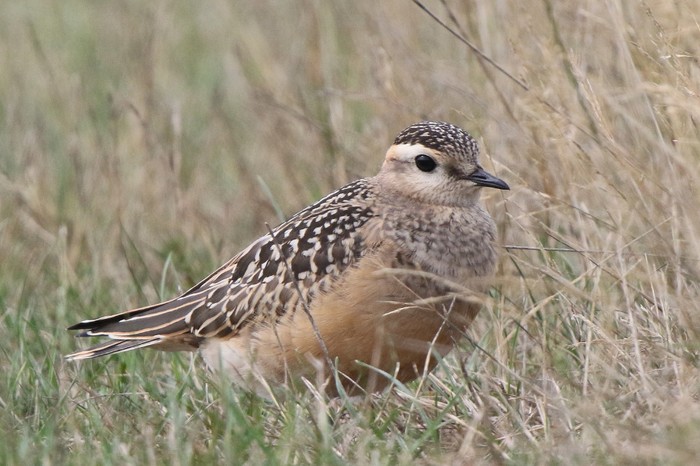 Turning to Palearctic waders, the Red-necked Phalarope was still at Thorney Island, Sussex to 15th and a Temminck's Stint at Hanningfield Reservoir, Essex on 18th. Dotterels were at Porthgwarra, Cornwall and South Stack, Anglesey on 15th, St. Mary's, Isles of Scilly on 16th, Sheringham, Norfolk (two) on 17th to 20th, South Foreland, Kent (three) on 19th and Flamborough, Yorkshire on 19th to 20th.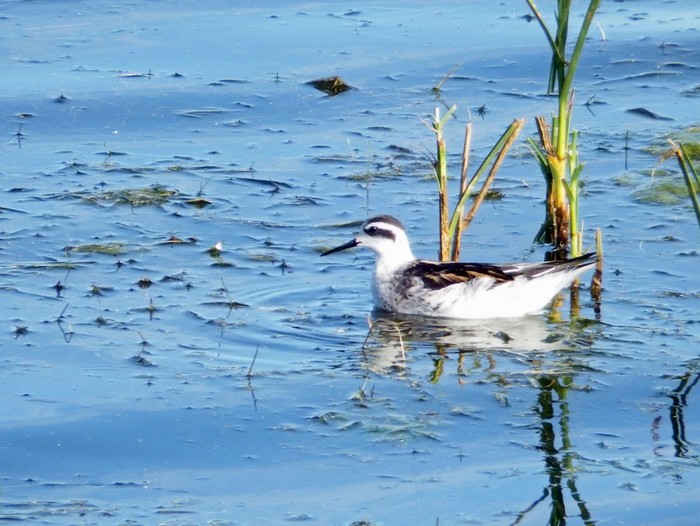 The best gull of the week was undoubtedly an adult Franklin's Gull at Whittle Dene Reservoir, Northumberland on 16th to 19th. Although well known for turning up almost anywhere and at any time of year, this was only the second record for Northumberland, following a bird at Newbiggin on 2nd to 3rd April 2005.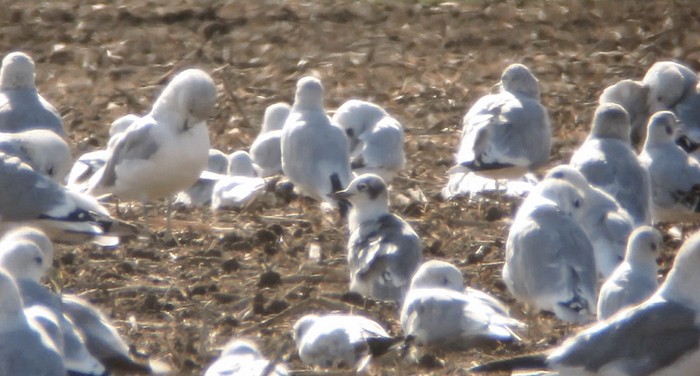 The week's other rare gulls were 'Azorean Gulls' at Blackrock Castle, Cork on 15th and 20th, with another reported at Chew Valley Lake, Somerset and Bristol on 18th, a Bonaparte's Gull at Seafield, Clare on 20th, Ring-billed Gulls at Tralee, Kerry on 16th, Enniskillen, Fermanagh on 16th to 19th and Nimmo's Pier, Galway on 20th and an Iceland Gull at Kirkwall, Orkney on 14th.
A juvenile Whiskered Tern at Argal Reservoir, Cornwall on 14th to 16th was an excellent find in this sometimes tricky plumage. This was the eleventh county record but only the second in autumn. Juvenile White-winged Black Terns were at High Rid Reservoir, Greater Manchester on 14th to 15th and again at South Gare, Cleveland on 15th whilst an adult was at Cliffe, Kent on 15th also. Finally, Ireland's resident Forster's Tern was still at Dundalk, Louth on 17th.
Near-passerines and Passerines
This week saw the first influx of rare passerines to Shetland. The best, all on 17th, were a showy Lanceolated Warbler at Sumburgh, an early Isabelline Shrike on Foula (to at least 20th) and a brief Black-headed Bunting at Haroldswick, Unst. Also on Shetland, last week's Little Bunting was still at Sumburgh to 16th with another on Unst on 18th, two there on 19th and one on 20th and another on Fair Isle on 20th. Something of an old-fashioned rarity these days, a Red-throated Pipit was on Fair Isle on 18th. Finally, a Blyth's Reed Warbler was on Unst on 20th. The peak Northern Isles season is now underway so the above-mentioned birds are surely just the frontrunners……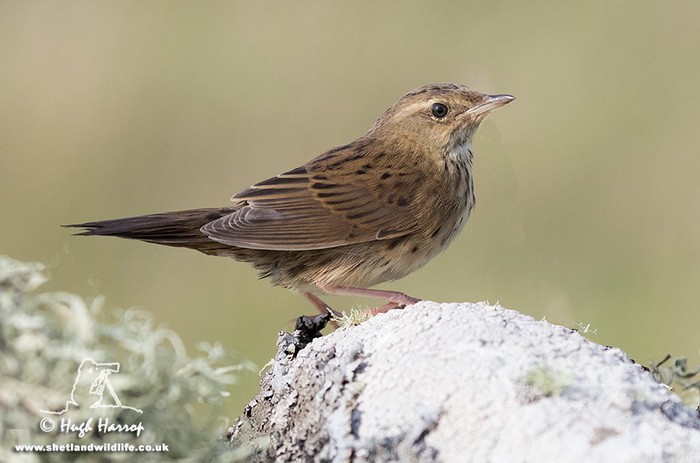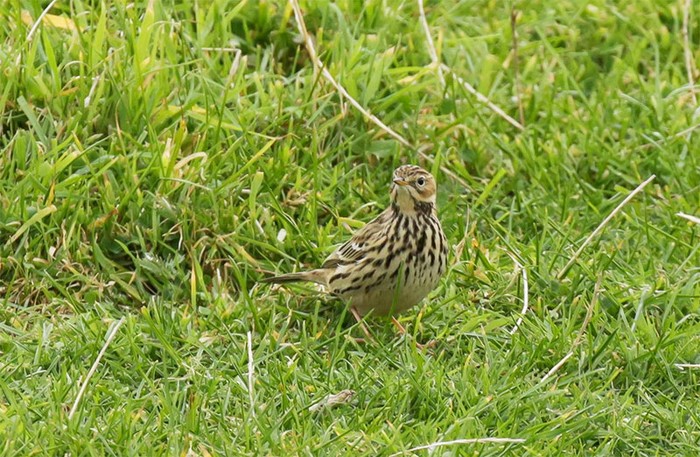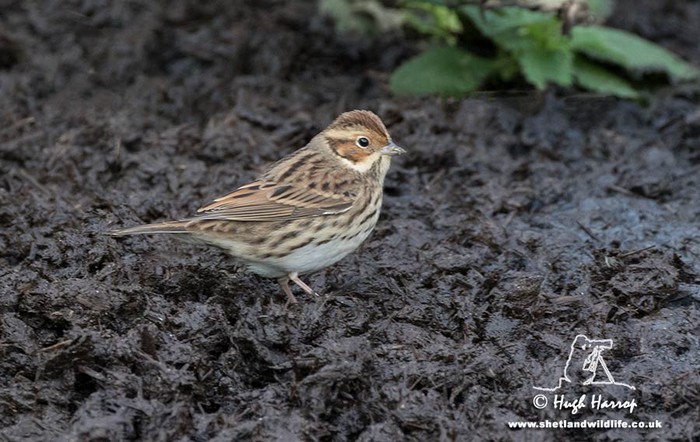 The best concentration of rare passerines away from Shetland was at Wells East Hills, Norfolk - an Arctic Warbler on 15th to 18th and then a Red-flanked Bluetail on 18th. The latter was also early, indeed only one has arrived earlier - on Fair Isle, Shetland on 16th September 1993. There are only two other records in the third week of September – at Sumburgh, Shetland on 19th September 2014 and, Britain's first ever, at North Cotes, Lincolnshire on 'about 19th September' 1903. Does this signal a bumper autumn for this perennial favourite? Other Norfolk highlights were a Little Bunting on Blakeney Point on 14th and Greenish Warblers on Wells East Hills on 16th and 17th and at Gorleston on 20th.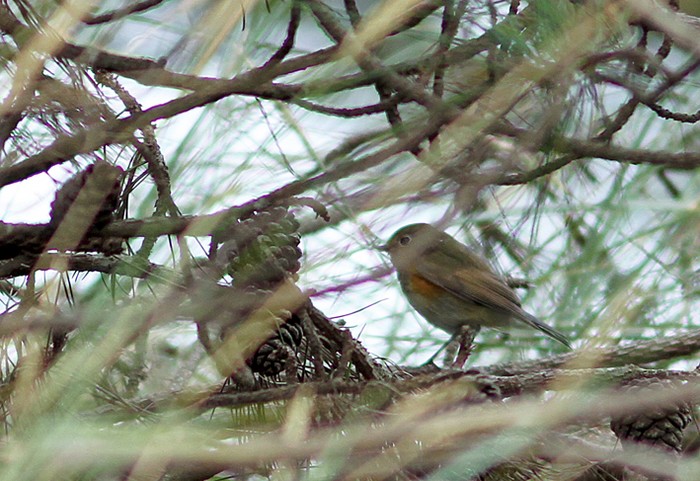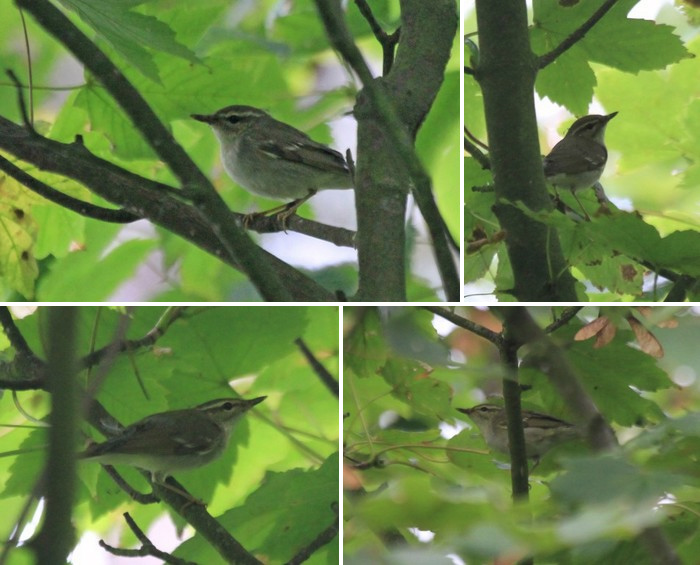 Elsewhere, the highlights were a showy Thrush Nightingale at Holy Island, Northumberland on 18th (complete with dusky breast and striking yellow gape), a Blyth's Reed Warbler trapped at Spurn, Yorkshire the same day and another Arctic Warbler, this time at Landguard, Suffolk on 20th. Otherwise, North Sea coasts hosted four more Greenish Warblers - at Saltburn, Cleveland on 15th to 17th, Holy Island, Northumberland (a busy week here!) on 17th, Easington, Yorkshire on 18th (a busy week here too!) and Dungeness, Kent on 20th. This will be the last flurry for this species. By the time of the next 'passerine window' they will all be gone. Finally, the released Lesser Grey Shrike from last week was again at Beadnell, Nortumberland on 20th.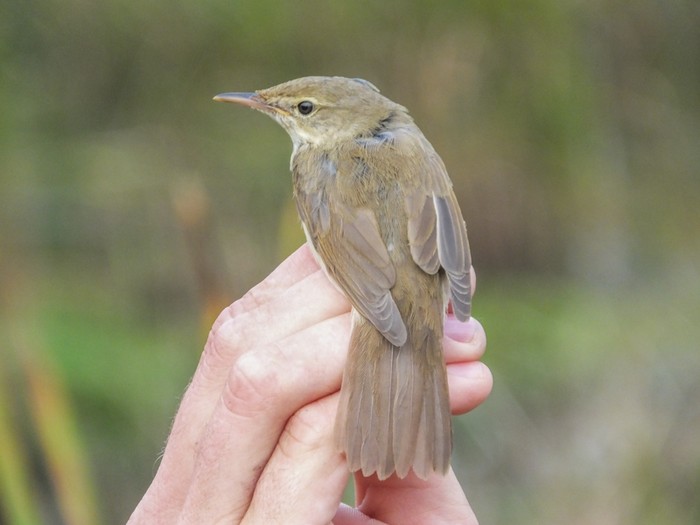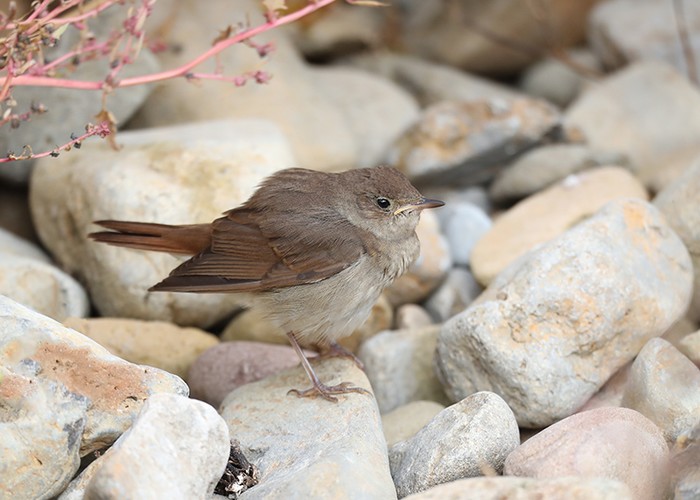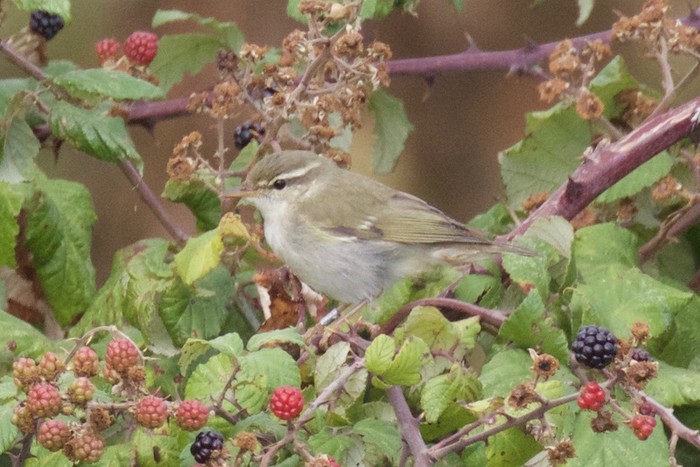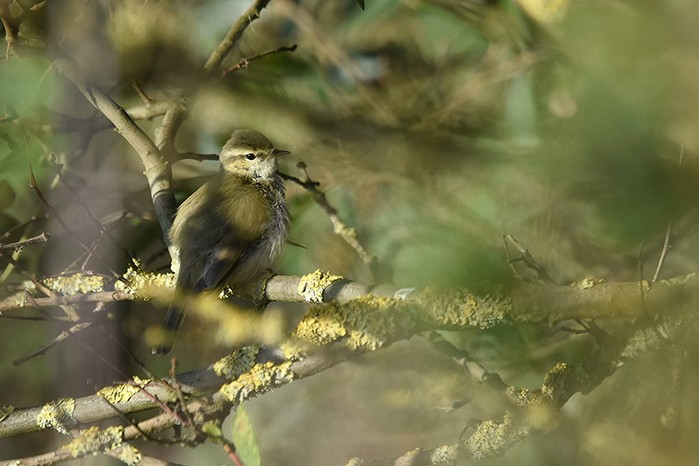 Away from the North Sea, the best passerines were an adult Lesser Grey Shrike at Plymouth, Devon on 19th and 20th and two Citrine Wagtails on the Isles of Scilly – on St. Agnes on 14th and Bryher on 18th. Otherwise it was a typically southern mix – Tawny Pipits at Portland, Dorset on 14th and Exmouth, Devon on 20th and a Western Bonelli's Warbler at Galley Head, Cork on 15th to 16th.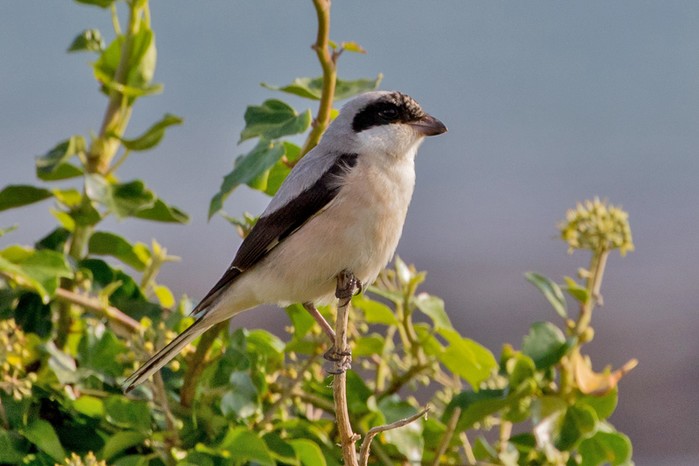 Turning to the scarcities, Short-toed Larks were on Fair Isle, Shetland on 14th to 20th, St. Agnes, Isles of Scilly on 14th to 20th also and at Galley Head, Cork on 17th to 20th. Rose-coloured Starlings were at Davidstow, Cornwall on 15th to 18th, Cape Clear, Cork on 15th to 16th, Portland, Dorset on 17th to 19th, Wester Quarff/Scalloway, Shetland on 17th to 20th and Dungeness, Kent on 19th and 20th. A Woodchat Shrike was on Tresco, Isles of Scilly on 16th to 20th.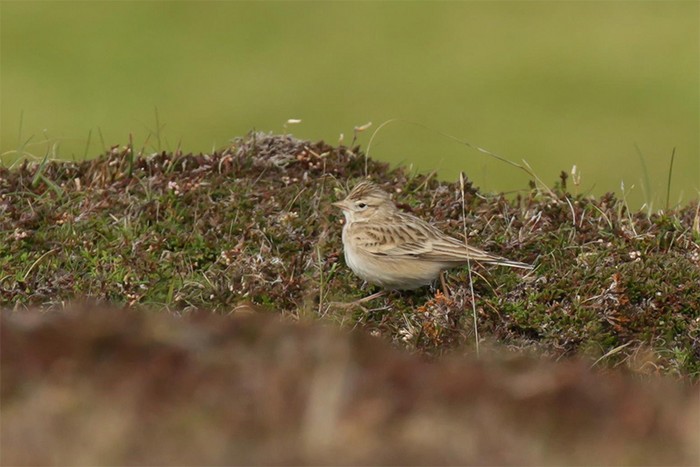 Ortolan Buntings were at Bardsey, Gwynedd on 14th, Portland, Dorset on 14th to 20th, Fair Isle, Shetland on 14th to 18th, St. Mary's, Isles of Scilly and Lundy, Devon on 14th, St. Martin's, Isles of Scilly and Polgigga, Cornwall (two) on 15th and Spurn, Yorkshire on 19th.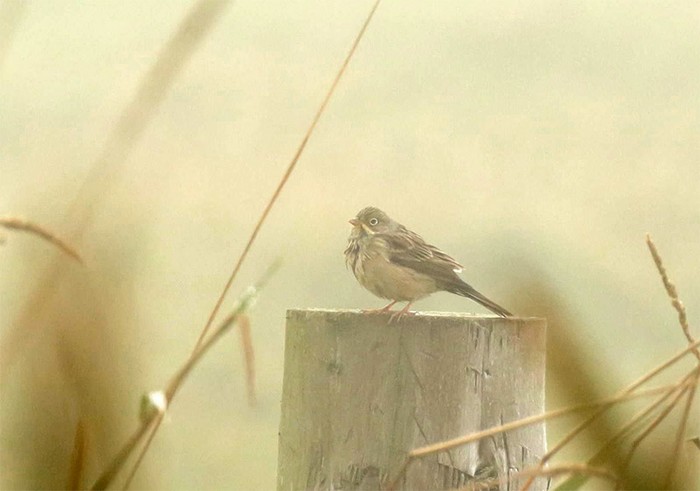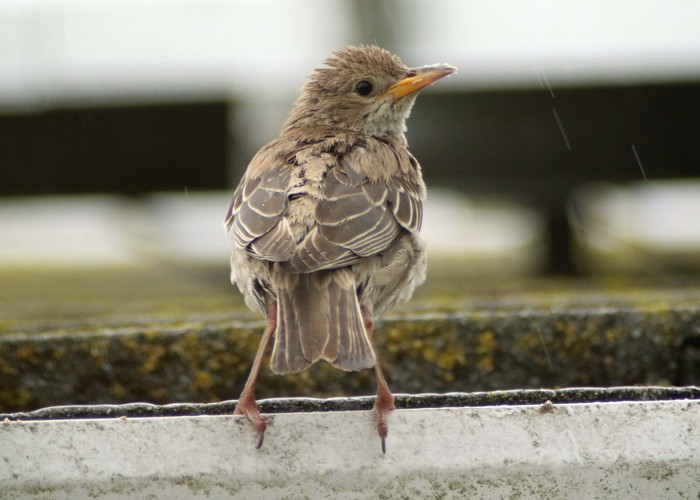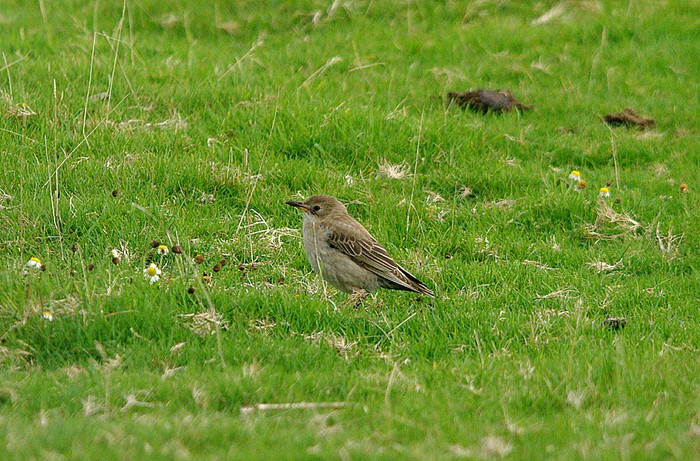 There were just three Melodious Warblers - on St. Mary's, Isles of Scilly on 14th, Bardsey, Gwynedd on 14th to 20th and Tory Island, Donegal on 19th and 20th. A Marsh Warbler was on North Ronaldsay, Orkney on 16th and 17th and Bluethroats - rare these days - were on Fair Isle, Shetland on 17th, Clousta, Shetland on 19th and Flamborough, Yorkshire on 20th. A Richard's Pipit - unaccountably rare this week - was at Spurn, Yorkshire on 19th.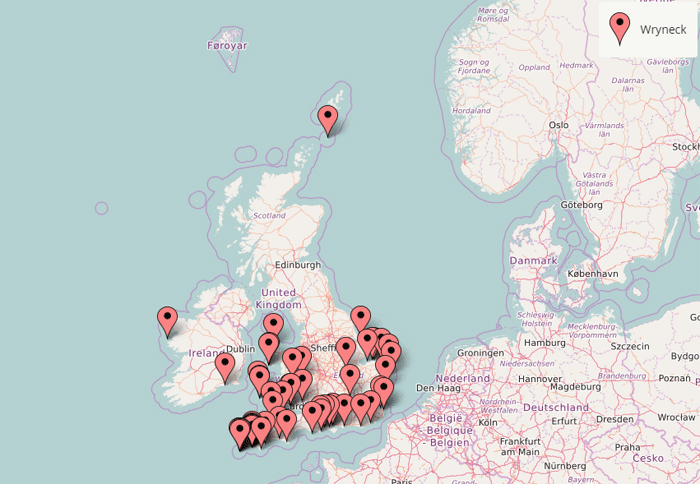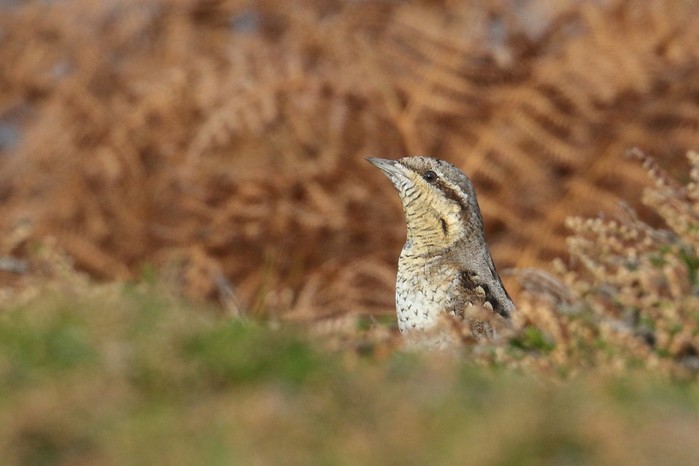 There were about fifty Wrynecks this week and again the Southwest was best, with a remarkable seven in the Land's End area, Cornwall on 14th.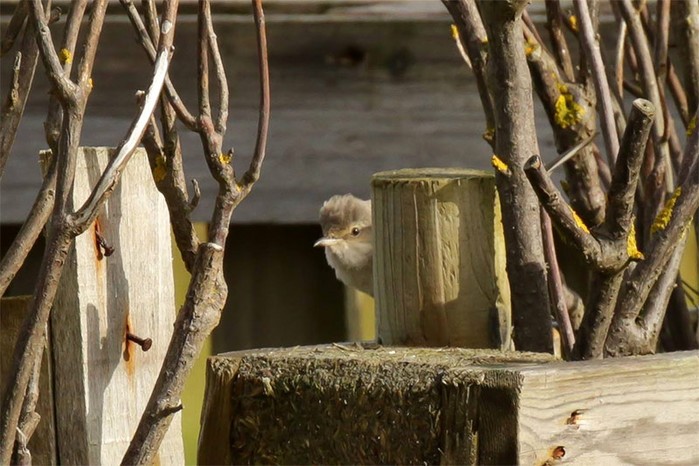 Icterine Warblers totalled only eight, scattered between the Isles of Scilly and Orkney but all were in the west, the only bird to feature in the North Sea arrivals being one at Gunton, Suffolk on 17th. As with Greenish Warbler, this species is now well past its occurrence peak and fading fast.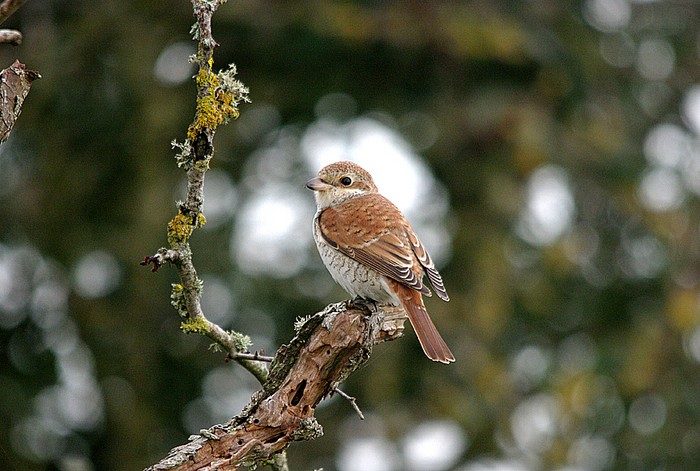 There were at least a dozen Barred Warblers , half of them on Shetland, the others being on Holy Island, Northumberland, at Spurn and Flamborough, both Yorkshire, at Winterton, Norfolk, at Landguard, Suffolk, on St. Mary's, Isles of Scilly and on Barra, Western Isles. Eleven Red-backed Shrikes were mainly in the South and Southwest but outliers were at Risley, Cheshire and on Whalsay, Shetland on 17th.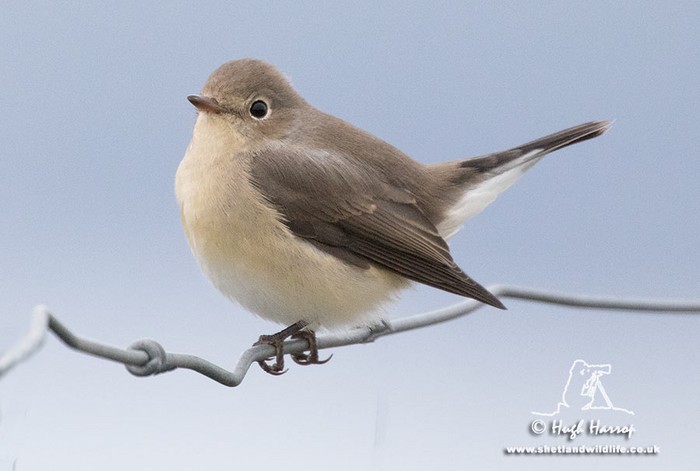 Hardly surprising given the weather, Red-breasted Flycatchers - the traditional Yellow-browed Warbler companion - put in their best showing of the autumn so far. About seventeen were logged, all on North Sea coasts from Shetland to Suffolk apart from singles at Portland, Dorset on 15th and Beachy Head, Sussex on 19th.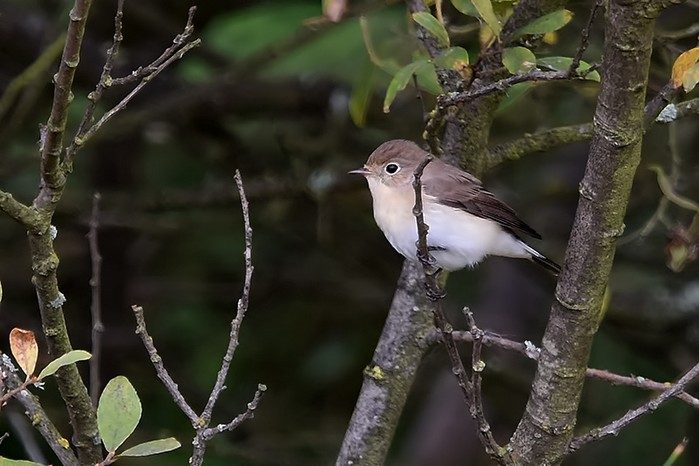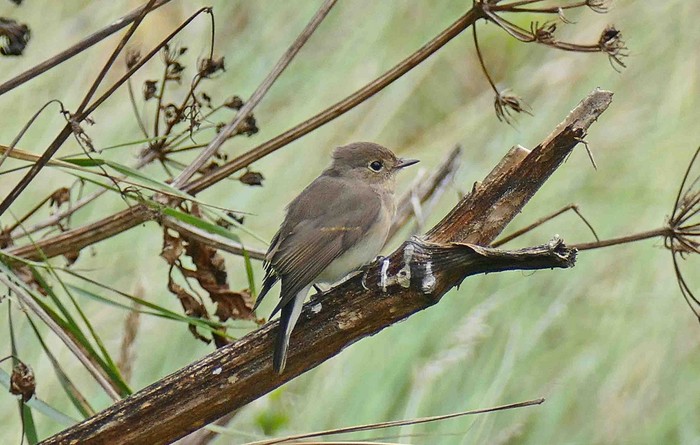 Common Rosefinches were also more obvious with up to twenty noted, most on the Northern Isles and the Isles of Scilly but singles were also on Lundy, Devon on 15th to 16th, at Nigg Bay, Aberdeenshire on 17th and at Buckton, Yorkshire on 18th.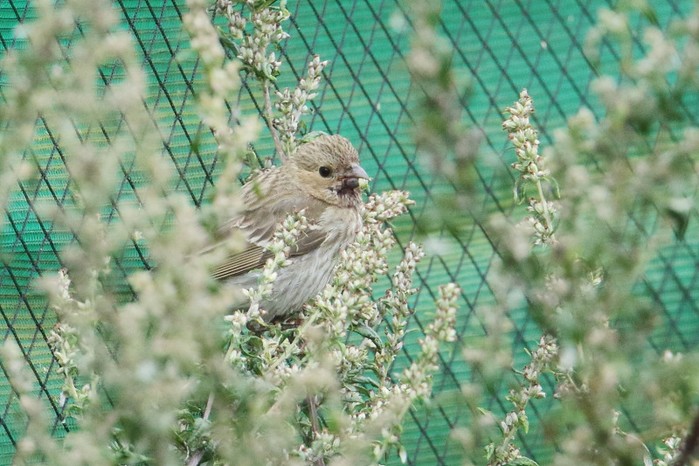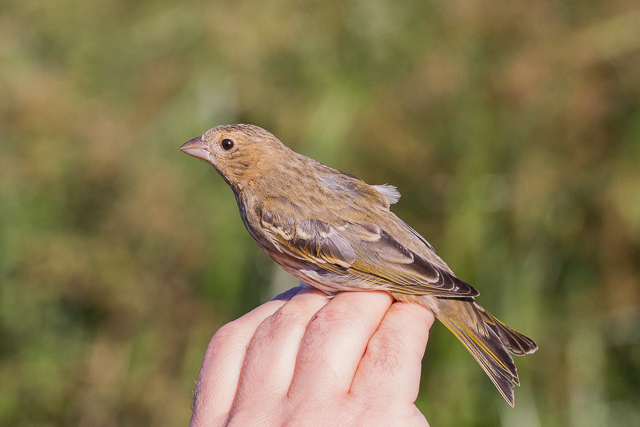 Mention must also be made of the continuing influx of Lapland Buntings to the Northern and Western Isles and Ireland, with 30 on Berneray, Western Isles, 30 on North Ronaldsay, Orkney, 49 on Fair Isle, Shetland and an impressive 71 on Tory Island, Donegal. From the same direction, two 'Greenland Redpolls' were at the northern tip of Lewis, Western Isles on 19th.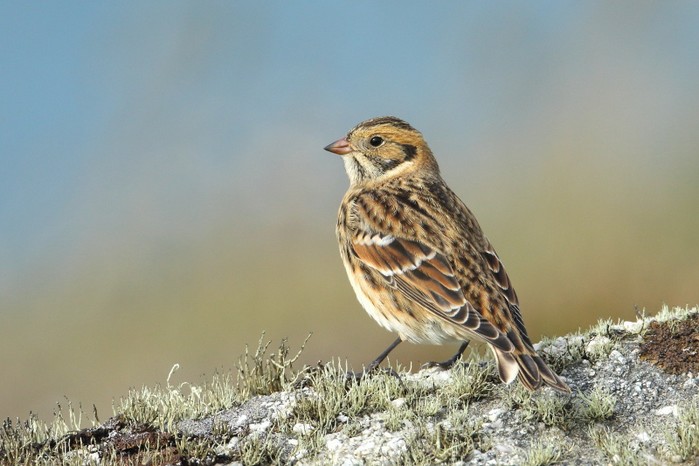 Finally, the week's only Serins were at Burnham Overy Dunes on 17th and Bawdsey, Suffolk on 18th and Hoopoes were (somewhat enigmatically) 'near Titchwell', Norfolk on 15th (and then at Brancaster Staithe on 18th), at Mid Yell, Shetland on 15th to 16th, near Killin, Forth on 16th and 17th and at Salthouse and Holme, both Norfolk, on 20th.
Next week will begin with southeasterlies but the wind will quickly swing into the southwest, signalling the inevitable return to vigorous Atlantic weather. Cue the door slamming on continental passerines but opening to American ones instead.
Andy Stoddart
21 September 2016
Many thanks to all contributors for the photos and videos this week.