Weekly birding round-up: 15 - 21 June 2016
The week at a glance
Great Knot in Norfolk
Pacific Golden Plover in Norfolk
Great Spotted Cuckoo still in Dorset
Dalmatian Pelican still in Cornwall
The week began with continued cyclonic conditions, a northerly airflow down the western side of the country and, in the light winds elsewhere, frequent and slow-moving heavy and thundery showers. The 18th brought a sudden cool airflow down the North Sea before a brief ridge of high pressure settled things down although Atlantic fronts brought rain, albeit with rising temperatures, for many on 20th.
Great Knot
June is a deceptive month, for the birdwatcher a strange mixture of late spring and early autumn. It is a quiet month for most, a time to enjoy our breeding birds, but it is also a somewhat unpredictable month too, capable of producing some very high quality rare birds.
This well-known fact was demonstrated in fine style on the very first day of the week by the discovery of a gorgeous full summer plumage adult Great Knot at Titchwell, Norfolk. Found at lunchtime on 15th, it accompanied about 2,000 tightly-packed roosting Knot on the freshmarsh but was easily visible at the front of the flock from the public footpath. It stayed in situ until just after 5pm when it flew north to the beach but remained visible. The prediction in last week's review for the first half of this week was indeed of a rare wader but this was a little better than anticipated and went a long way towards rescuing Norfolk's so far somewhat rarity-starved year.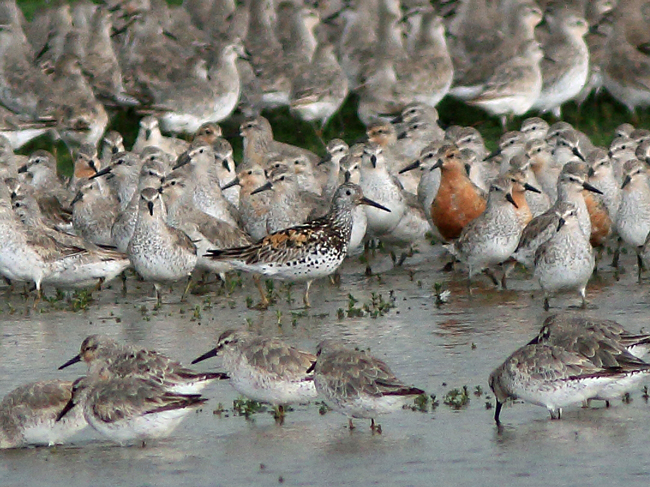 For those unable to visit on 15th, the bird was still present on and off to 21st, commuting between the freshmarsh, the beach and the southwestern corner of Scolt Head Island. For those yet to see it the omens look good. Considering that it is a non-breeding bird accompanying non-breeding Knot, it clearly has the potential to remain in the area for some time.
This is only the fifth British record, the previous occurrences being at Scatness and Pool of Virkie, Shetland on 15th September 1989, at Bran and Seal Sands, Cleveland on 13th October to 5th November 1996, at Skippool Creek, Wyre Estuary, Lancashire on 31st July and 16th-17th August 2004 and, most recently, at Breydon Water, Norfok on 13th to 15th July 2014. There is also one Irish record – at the Swords Estuary, Dublin on 25th July 2004 (and presumably the same bird as that in Lancashire).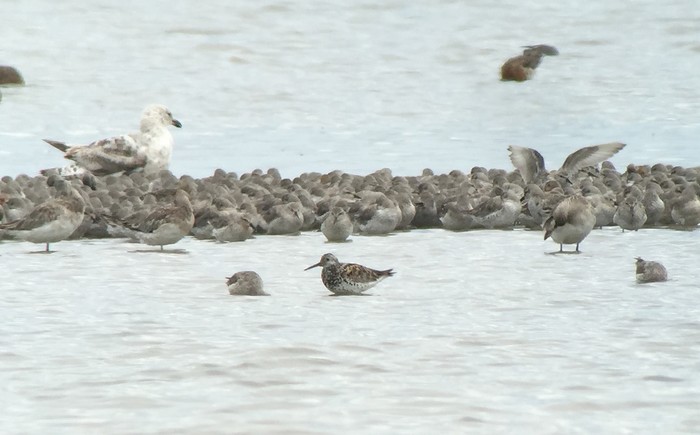 The Titchwell bird is therefore the earliest record to date and the first in June. Interestingly, all have been adults, mirroring the strong bias towards adults in other vagrant East Asian waders such as Pacific Golden Plover and Red-necked Stint. It is tempting to link this bird with the individual at Texel, the Netherlands for several days from 13th May this year but there appear to be a number of differences in the scapular and underparts patterning.
Despite its four previous occurrences, however, Great Knot has been a difficult bird to see well in Britain. The Shetland bird was brief and the Cleveland bird was, to say the least, mainly distant, fully deserving its 'Great Dot' soubriquet. The Lancashire bird was hardly more helpful, being somewhat erratic in its appearances whilst the 2014 Norfolk bird was also pretty distant for most. This second for Norfolk is therefore arguably 'the one to see', the best-looking individual yet and giving excellent prolonged and reasonably close views as well.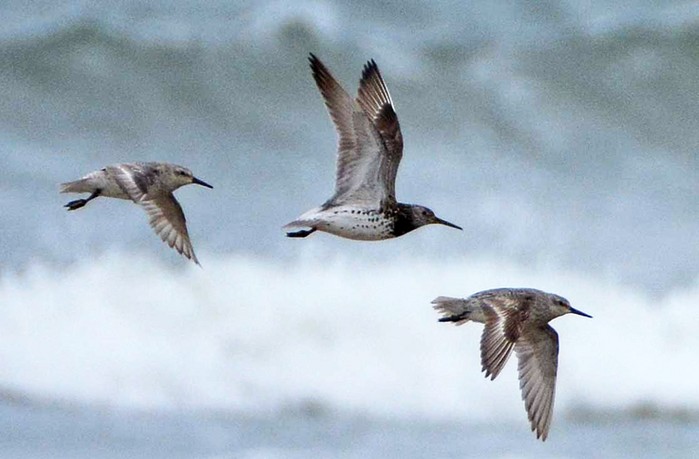 Perhaps surprisingly, Great Knot has been until recently a relatively poorly-known species. For example, BWP noted in 1983 that only two nests had ever been found. A 1995 'Dutch Birding' paper by Pavel Tomkovich revealed the reason for this. Firstly, Great Knots are extremely secretive at the nest with few change-overs during the day and the non-incubating bird generally being some distance (on one occasion 3km!) away. Furthermore, the species breeds not in river valleys and coastal tundra (the areas where people live and where ornithologists have tended to work) but in remote and little visited alpine and subalpine habitats. The breeding range is now known to lie entirely in inland north-east Siberia, both above and below the Arctic Circle. Here the species breeds at low density on mountain plateaus and slopes at an altitude of between 300 and 1700 metres.
The non-breeding range and true population size of Great Knot were also revealed only recently. In 1976 the world population was estimated to be as few as 10,000 individuals. By the mid-1980s, however, it was considered to be at least thirty times higher, in the region of 300,000. Despite these apparently high numbers, though, Great Knot is today a species of conservation concern, with a rapidly declining population on the East Asian Flyway which has been particularly impacted by the notorious Saemangeum tidal flats reclamation in South Korea.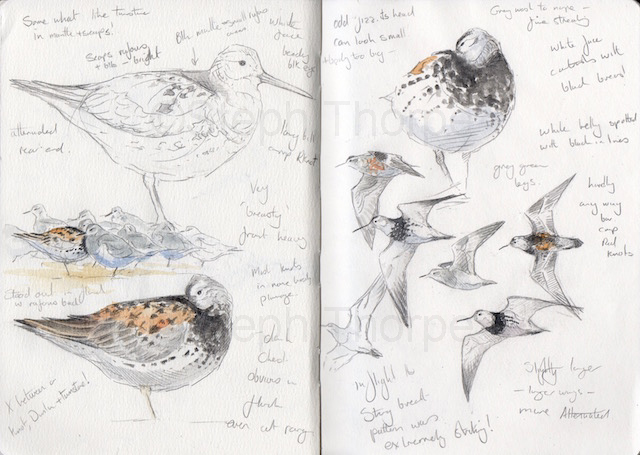 By 2006 the global population was considered to be around 380,000 but in the wake of the Saemangeum reclamation about 90,000 individuals just disappeared from the population. These have not been displaced elsewhere, and winter counts in Australia seem to confirm that these birds have simply died. The new population estimate is therefore around 292,000 to 295,000 individuals, a significant reduction and one which has triggered a recategorisation by BirdLife International as 'Endangered'. Given the ongoing destruction of estuarine habitat in the Yellow Sea, the prospects for this species do not appear rosy.
Pacific Golden Plover
Apart from the Great Knot the week's best discovery was a brief Pacific Golden Plover , also at Titchwell, Norfolk, on 18th. No sooner had it been identified, however, than it flew off west and was not seen again. This species is becoming ever more regular in Britain and it is also one of the very earliest 'autumn' rarities with an increasing number of June records, this latest Norfolk bird becoming the ninth for this month.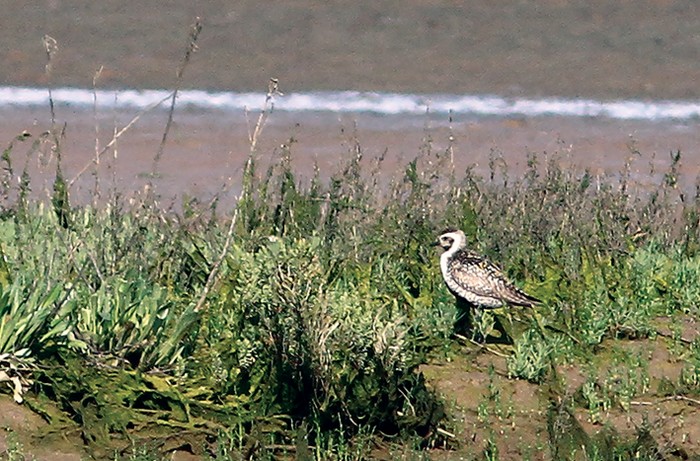 Great Spotted Cuckoo
The week's other highlights were the continued 'leftovers'. The Great Spotted Cuckoo at Portland, Dorset continued to play hide and seek. After an apparent absence on 14th it reappeared on 15th and was still present on 16th but disappeared again on 17th only to reappear on 18th before disappearing once more on 19th with no further sign by the week's end.
Dalmatian Pelican
Finally, in Cornwall the Dalmatian Pelican was still at Restronguet Creek near Falmouth to at least 19th though reports are now becoming ever more irregular. Last week's musings that it might be making a bid to leave the confines of the Southwest were clearly wide of the mark as the bird seems to have found an agreeable new home.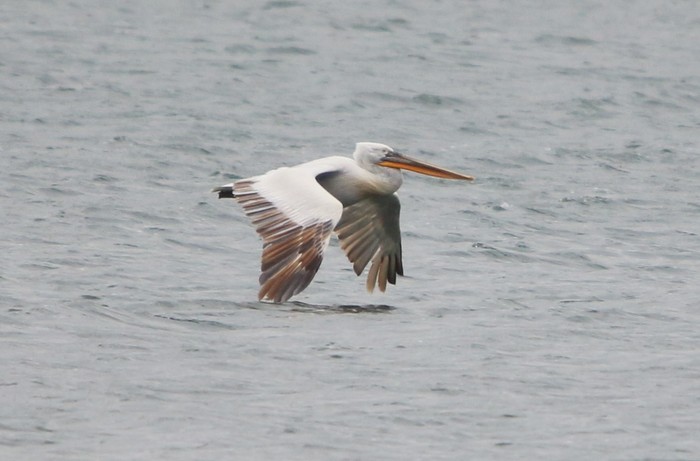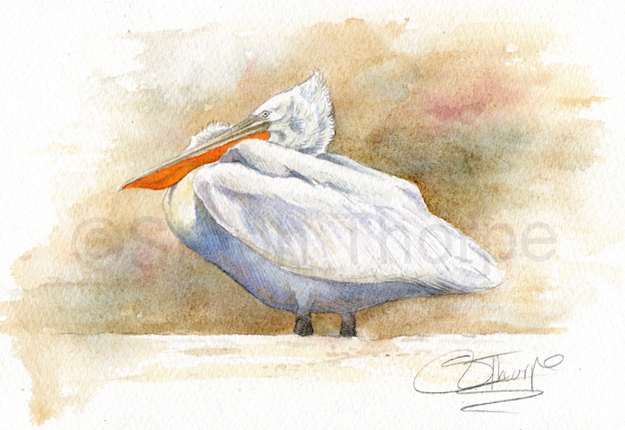 Seabirds will soon be featuring much more prominently in the weekly roundups but this week brought the first, albeit faint, hints of autumn. A cool northerly airflow down the North Sea on 18th produced an adult Long-tailed Skua past Tynemouth, Northumberland whilst from the opposite direction a Balearic Shearwater was off Dungeness, Kent the same day (with two on 20th). More surprisingly, another adult Long-tailed Skua was inland at Anglers' Country Park, Yorkshire on 20th. Otherwise it was a story of the odd Pomarine Skua . One was off Start Point, Devon on 15th with another there and singles off Porthgwarra, Cornwall on 19th and 20th. Away from the Southwest singles were at Sunk Island, Yorkshire on 17th, Walney, Cumbria (two) on 18th and North Uist, Western Isles on 21st. In Ireland three were off Bunmahon, County Waterford and three off Ballycotton, County Cork on 19th.
The duck highlight of the week was the reappearance of the female King Eider at Musselburgh, Lothian on 18th to 21st. Elsewhere a drake Ring-necked Duck was found at Marazion, Cornwall on 15th and another at Clumly Quarry, Orkney on 21st. A Surf Scoter was off Redcar, Cleveland on 18th whilst lingerers included the adult drake Ferruginous Duck at Washington WWWT, Durham still to at least 17th and the drake Green-winged Teal at Hale, Cheshire and Wirral to at least 19th.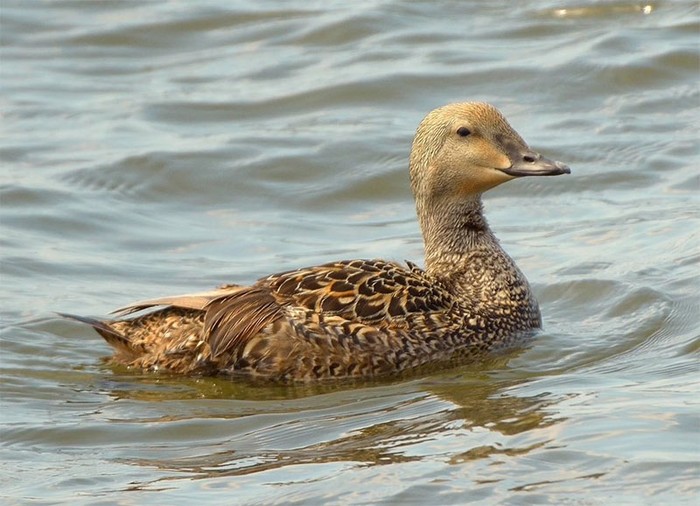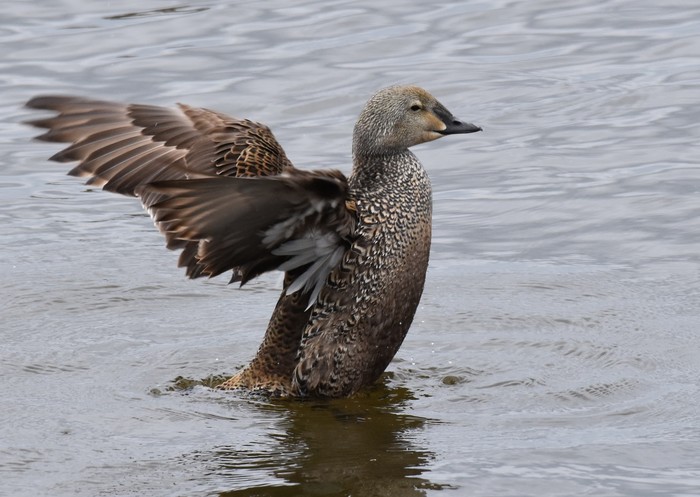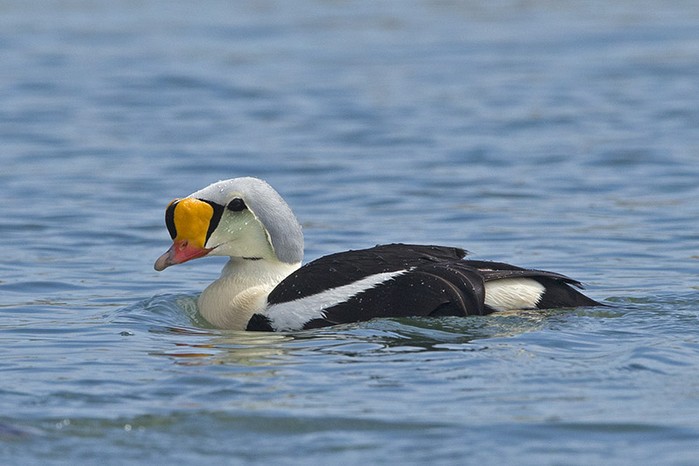 Amongst the herons, the best was again the male Little Bittern still at Old Moor, Yorkshire to 20th but late news concerned a singing male at Ham Wall, Somerset from at least 17th May to 11th June. The other rare herons were a Purple Heron at Llandewi Brefi, Ceredigion on 15th, a Night Heron at Ham Wall, Somerset on 16th and Cattle Egrets at Pagham Harbour, Sussex on 18th to 21st and Dungeness, Kent on 19th to 21st.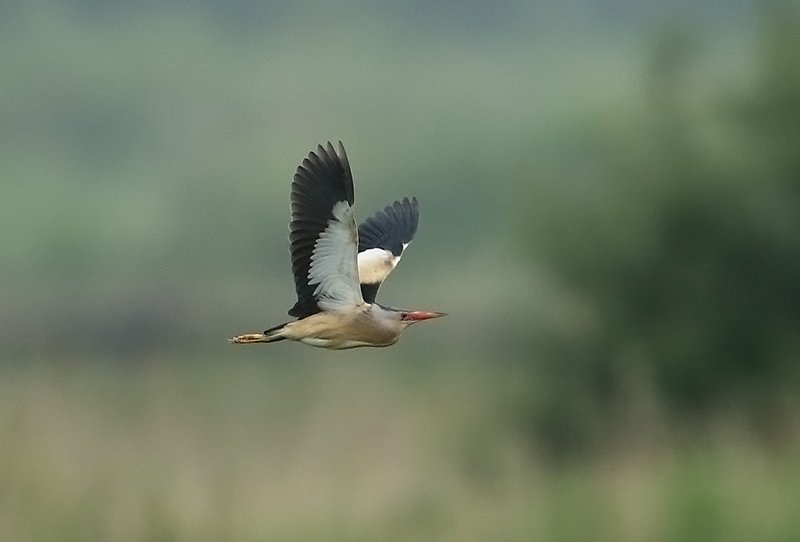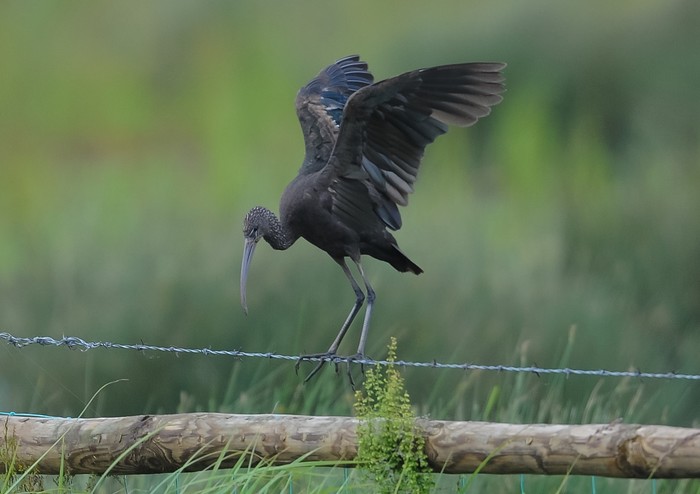 The usual parade of Great White Egrets was on offer in the south and east, most notably an astonishing 17 at Ham Wall, Somerset where at least five young are being reared in five nests. More far-flung individuals included singles on Benbecula, Western Isles still on 17th (with one also at Loch Hallan, at the opposite end of South Uist, on 16th), at Loch of Strathbeg, Aberdeenshire to 21st and, in Ireland, at Broad Lough, County Wicklow and Tacumshin, Wexford on 15th and Dooniskey, County Cork on 20th.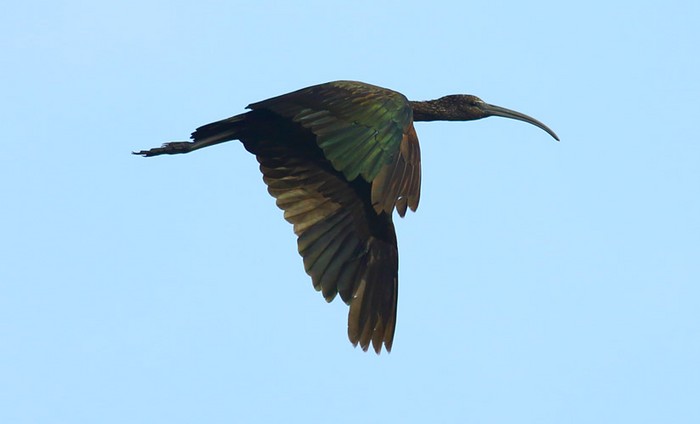 Glossy Ibises were still at Micklemere, Suffolk to 21st and at Ham Wall, Somerset on 15th, with two there on 18th to 21st. Two were also at Tacumshin, Wexford on 15th, with one to 21st and singles still at Marshside, Lancashire to at least 19th and Newington, Nottinghamshire to at least 20th.
White Storks of unknown or dubious origin were at Meare Heath, Somerset on 15th and (perhaps the same bird) at Slimbridge and Frampton-on-Severn, Gloucestershire on 16th and 17th and another over Potteric Carr, Yorkshire on 19th. Far away from breeding areas, Common Cranes were still on Benbecula, Western Isles to at least 19th and at Spiggie, Shetland on 18th.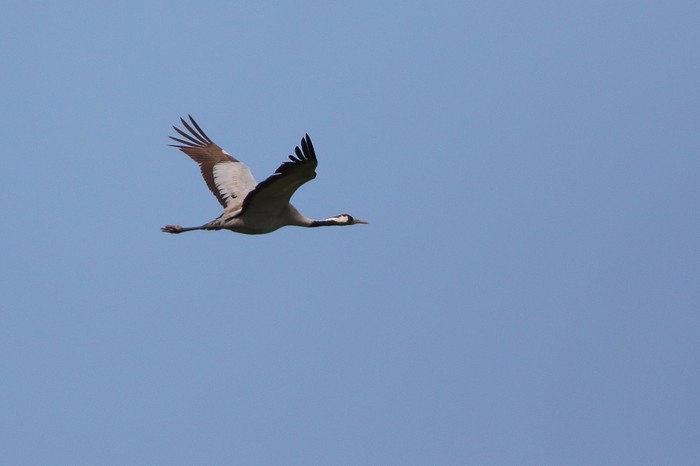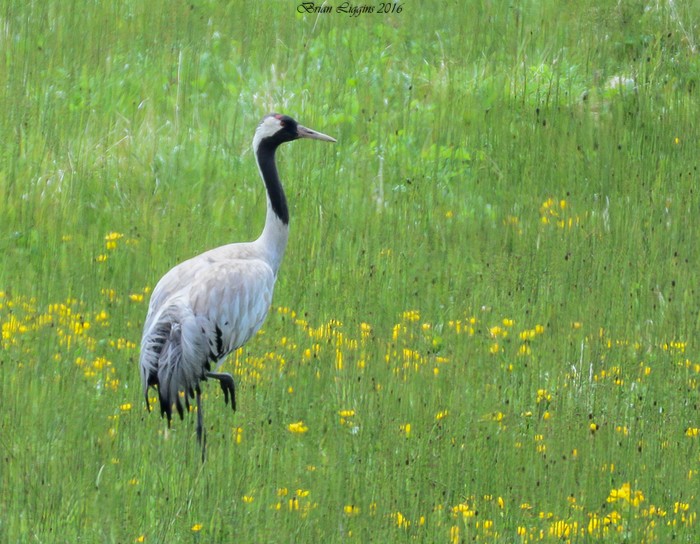 Rare birds of prey were almost non-existent this week though Montagu's Harriers were at Choseley Norfolk on 16th and Blacktoft, Yorkshire on 17th. A Honey Buzzard flew over Godlingston Heath, Dorset on 16th and another was over Endmoor, Cumbria on 21st.
Apart from the week's twin highlights, the best wader find was a Broad-billed Sandpiper at Newport Wetlands, Gwent on 18th to 21st, a remarkable repeat occurrence at this site which has already hosted the species on 22nd to 23rd April this year. Otherwise the only rare or scarce wader was the long-staying Red-necked Phalarope still at Grindon Lough, Northumberland to 21st.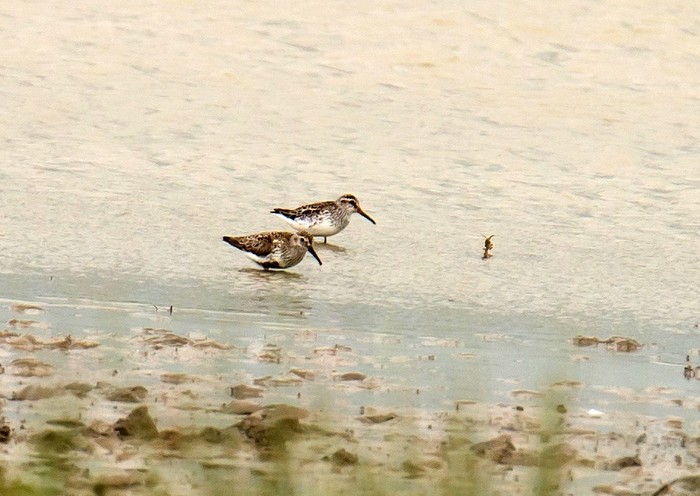 A
Spotted Crake
was singing at Shotton Pools, Flintshire on 19th and 20th.
An adult Bonaparte's Gull was an excellent find at Tacumshin, Wexford on 19th whilst the long-staying first-summer bird was still near Ashington, Durham to 21st.
Also in Ireland, the first-summer Ring-billed Gull was still at Fermanagh, County Fermanagh to at least 16th. Elsewhere, gull pickings were slim indeed with only three Caspian Gulls – at Brockhall Gravel Pits, Herefordshire on 17th and Norton Disney, Lincolnshire and Crosby, Merseyside on 20th – and two Glaucous Gulls – at Hopeman, Moray on 19th and Ullapool, Highland on 19th to 20th.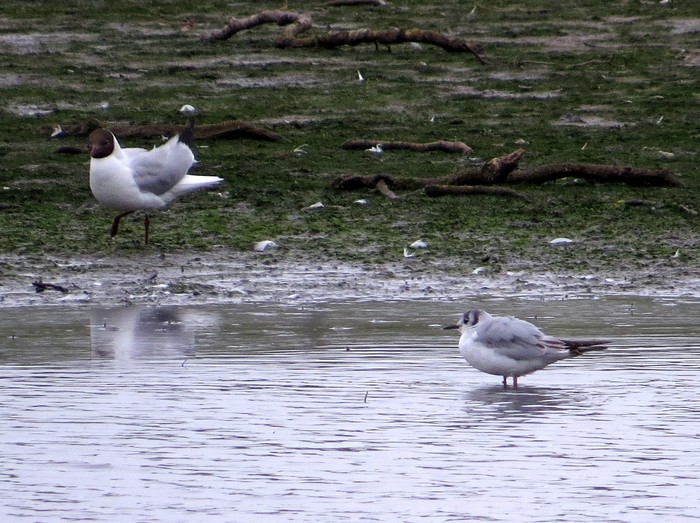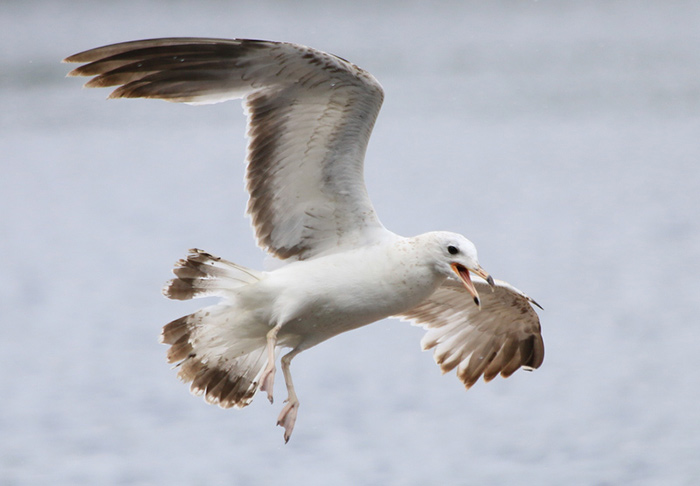 In Lothian the Gull-billed Tern remained near Grangemouth to at least 20th whilst another visited Tacumshin, Wexford on 15th. The two Caspian Terns remained at Gibraltar Point, Lincolnshire to 18th but could not be found next day. However, a single Caspian Tern, presumably one of these birds, was found in the late evening at Breydon Water, Norfolk – a traditional site for this species. It was still present on 20th performing the species' trademark comings and goings.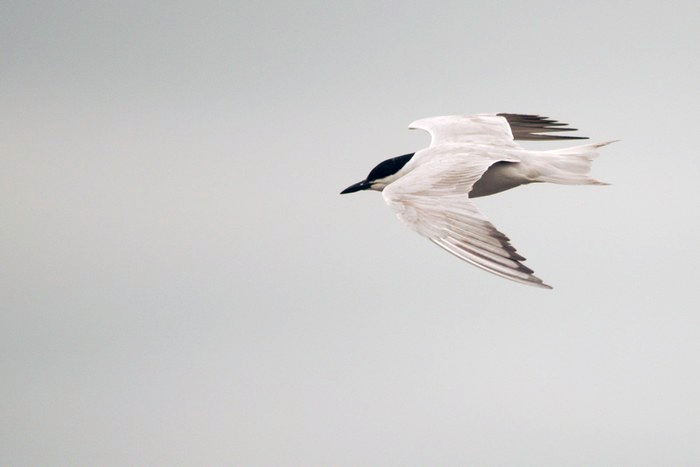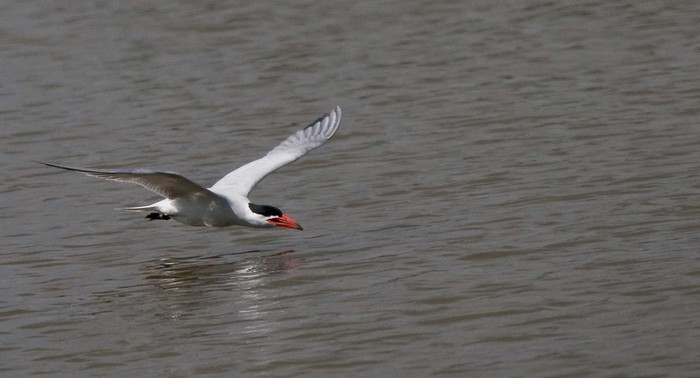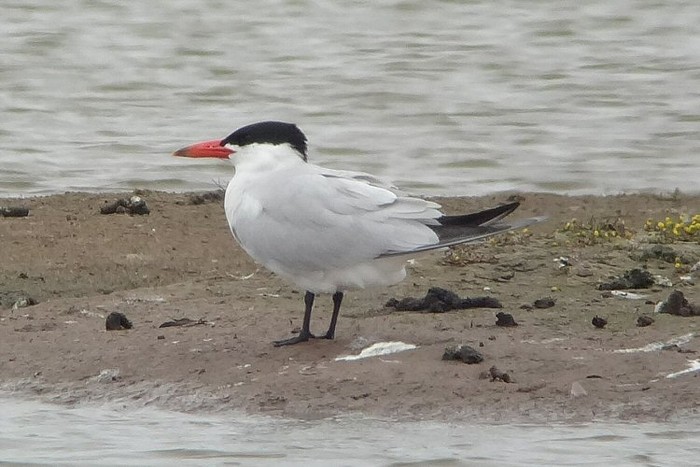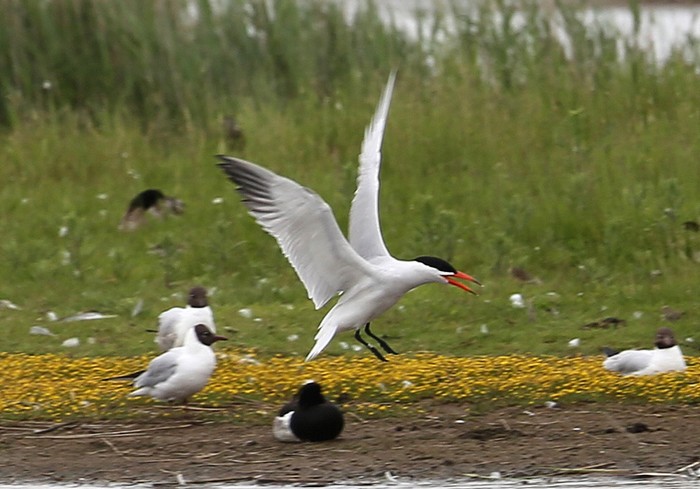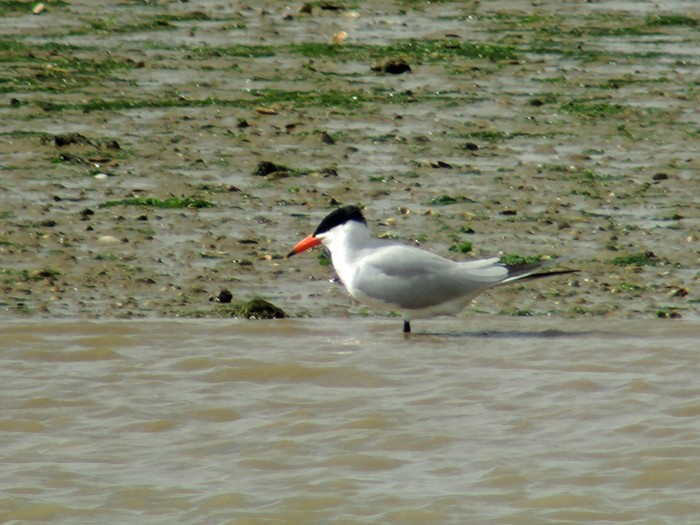 A mobile White-winged Black Tern in the Northwest also brightened up the week. On 17th it toured the upper reaches of the Dee Estuary, first visiting Connah's Quay, Flintshire then Shotton Pools and finally Burton Mere, Cheshire and Wirral. On 18th it had relocated to Martin Mere, Lancashire.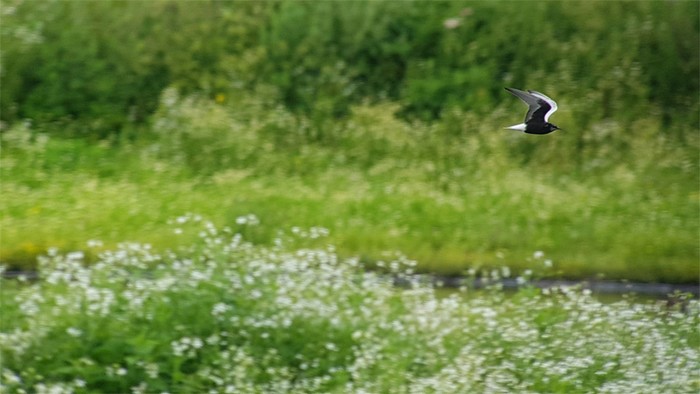 Away from Northumberland, two Roseate Terns were at Whitburn, Durham on 17th, 18th and 21st. Two (the same?) were also off Flamborough Head, Yorkshire on 18th and a single on the Isle of May, Fife on 19th.
The only Bee-eaters seen were singles at Cuckmere Haven, Sussex on 16th and Portland, Dorset on 18th and two reported at Chagford, Devon on 21st. One was heard over Stodmarsh, Kent on 19th. After the surge of records in recent summers and the increased incidence of breeding, this year has been poor for this charismatic species. A Hoopoe was at Little Odell, Bedfordshire on 18th.
Predictably, migrant passerines were even sparser this week but there were nevertheless some records of interest. Most remarkably, perhaps, a Greenish Warbler on Bardsey, Gwynedd on 16th was the fourth of the spring for the island. The phenomenon of late May and June Greenish Warblers at the Irish Sea observatories is well-known but Bardsey's record this spring is exceptional. Another Greenish Warbler was trapped at Portland, Dorset on 18th.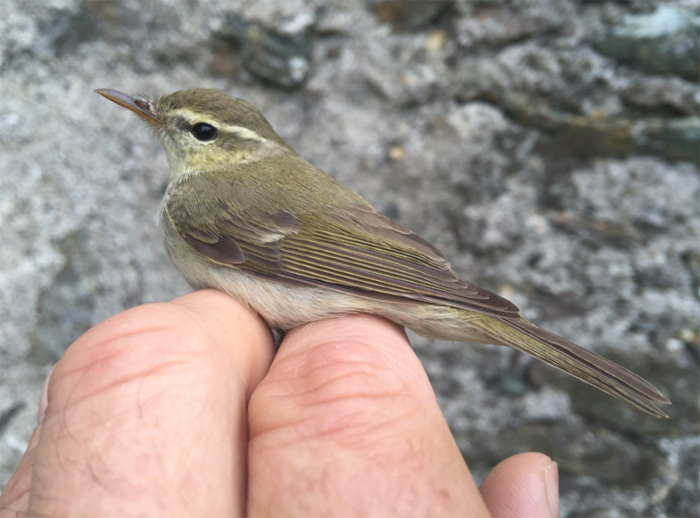 Spring Greenish Warblers show an interesting pattern – split between records on the east coast from Kent to Shetland and records in the Irish Sea, with Bardsey and the Calf of Man being particularly favoured venues. Records further west and north, however, are strangely few. They are, for example, rare on Scilly (where there has only been only one spring record) and only three spring birds have reached Ireland. As for northwest Scotland, none has penetrated any further than Argyll, with, most surprisingly, none recorded in the Western Isles. For a species so prone to overshooting in spring, this narrow distribution of records, so dominated by the Irish Sea observatories, is intriguing indeed.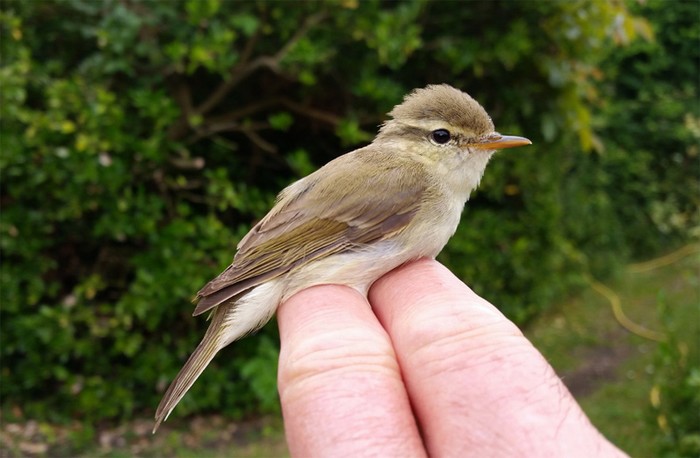 Also fitting comfortably into the 'spring overshoots to the Irish Sea' category were a female Black-headed or Red-headed Bunting on the Calf of Man on 17th and a Marsh Warbler on Bardsey on 15th to 17th but another Marsh Warbler, on Arranmore Island, Donegal on 15th, had truly reached Europe's furthest limits.
More traditional east coast arrivals were a female Rustic Bunting on the Isle of May, Fife on 18th and a male Woodchat Shrike at St. Abbs, Borders on 19th to 21st but perhaps best of all was the late news of a Barred Warbler at Mid Yell, Shetland on 6th and 7th June. Though familiar enough in autumn, spring Barred Warblers are extremely rare - a real coup - and this bird, almost a miniature Sparrowhawk with its crescentic underparts barring and staring yellow eyes, was a stunner.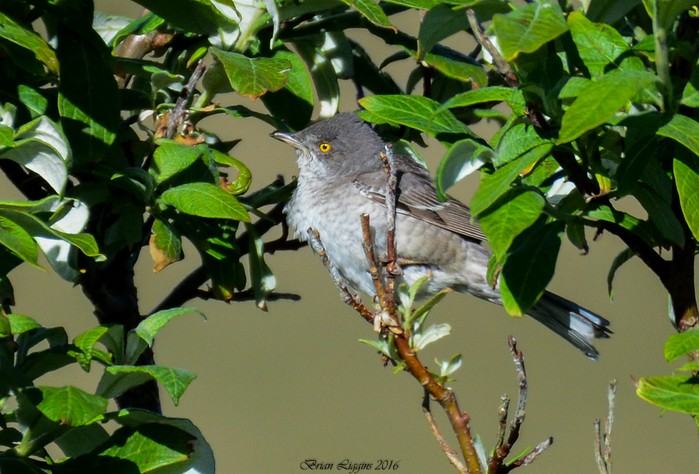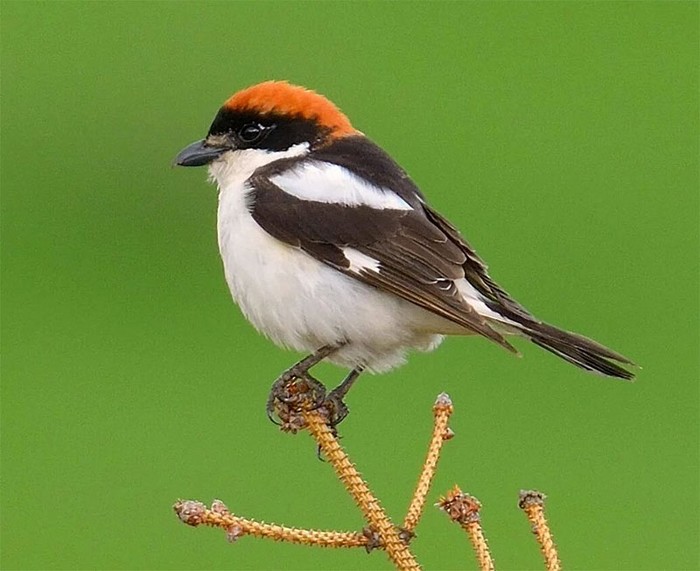 The rarest of the remaining passerines included the Great Reed Warbler still at Paxton Pits, Cambridgeshire to at least 16th, the Iberian Chiffchaff still on Tresco, Isles of Scilly on 17th and a late-reported singing Blyth's Reed Warbler near Rye Harbour, Sussex also on 17th. Otherwise the best of the rest were Golden Orioles at Spurn, Yorkshire and on Fair Isle, Shetland on 15th and at Wallington, London on 19th, Grey-headed Wagtail and Red-backed Shrike on Fair Isle on 20th, the Icterine Warbler still singing at Dalwhinnie, Highland on 18th with another at Kingussie, also Highland, on 15th and 16th, a Common Rosefinch at Bray, County Wicklow on 17th, a Serin at Felixstowe, Suffolk on 15th and, intriguingly, four Serins at Beachy Head, Sussex on 17th with two still there next day.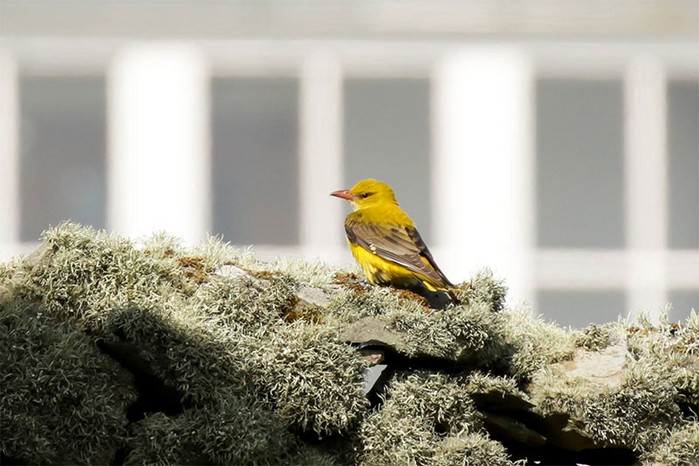 The week ahead looks to be dominated initially by southwesterly winds and then by humid air from the south. Although more rare waders are a good bet, other options presumably include Lesser Crested Tern (one is on the loose somewhere in Europe) and of course the German Black-browed Albatross. From the south, however, Bee-eaters or perhaps even a Little Swift might brighten someone's day.
Andy Stoddart
22 June 2016
Many thanks to all contributors for the photos and videos this week.
David Carr, Andrew Last, Ian Porter, Steph' Thorpe, Penny Clarke, Martin Cade / Portland Bird Observatory, Derek Wotton, Dennis Morrison, Lukasz Pulawski, Chris Upson, James Packer, John Pringle, Paul Kelly, Sam Northwood, Brian Liggins, Alex Barclay, Ted Pressy, John Nadin, Brad Robson, Andrew Russell, Chris Downes, Tony Dixon, Harry Murphy, Chris Boyd, Andy Bunting, Steve Stansfield / Bardsey Bird Observatory, John Nadin, Lee Gregory.
Please note: we put a lot of time and effort into sourcing and and producing the images, videos and graphics for each roundup. Some of you (probably Apple users) may notice some photos etc. that appear to have incorrect captions. Please try refreshing the page as they are correcty captioned. If after a refresh they are still showing the incorrect captions then please email us