Weekly birding round-up: 8 - 14 June 2016
The week at a glance
Belated news of possible Tufted Puffin off Cornwall
White-throated Sparrow in Argyll
Black-headed Bunting in Highland
Pied Wheatear on the Isle of Wight
Semipalmated Plover still in Wexford
Great Spotted Cuckoo still in Dorset
Dalmatian Pelican on the move in Cornwall
The week began with high temperatures and sunshine for most in relatively slack anticyclonic conditions. However, a low pressure with its associated fronts then began to make inroads from the west although its progress was slow. As it reached eastern Britain its interaction with a Scandinavian high pressure produced a brief period of southeasterly winds in eastern areas. Finally the fronts broke through into the North Sea whilst the low pressure itself remained slow-moving over central England. As a result the southern half of the country found itself in a south-westerly and then westerly airflow, with easterly winds confined to northern England and Scotland. There was significant thundery rain for many and even localised flooding for some.
Tufted Puffin
Certainly the most attention-grabbing news of the week concerned an apparent Tufted Puffin seen and photographed from 'Scillonian III' between the tip of Cornwall and the Wolf Rock although it was some three weeks ago - on 20th May. The bird was reportedly seen for around ten seconds and an apparently unsuccessful attempt made to photograph it only for a subsequent examination of the image to reveal a suspiciously dark-looking auk resembling a Tufted Puffin.
After a day or two of internet rumour on the subject, a brief finder's account finally surfaced online on 13th June together with the photograph which, although poor, appears to show a white face and a thick bill. Further details are apparently to be published shortly. Should this prove to be an acceptable Tufted Puffin it would represent the second occurrence in Britain, the first being the remarkable close inshore on the sea and well photographed adult on the Swale near Oare Marshes, Kent on 16th September 2009.
White-throated Sparrow
The best discovery of this week was very much in line with last week's prediction of Nearctic birds. As Atlantic began to air push in from the west, a tan-striped White-throated Sparrow was promptly found at Vaul, in the north-east corner of Tiree, Argyll. It proved to be a one day bird, however, with no sign the following morning.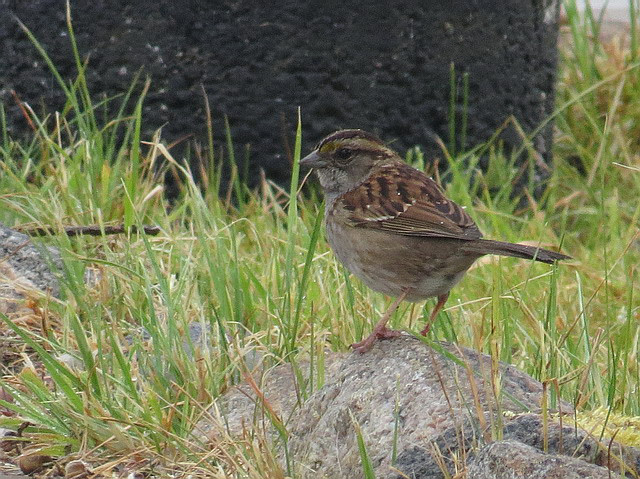 This bird fits neatly into the now traditional pattern for this species, with a preponderance of spring occurrences. Of the 48 recorded to the end of 2014, only eleven have fallen outside the spring period.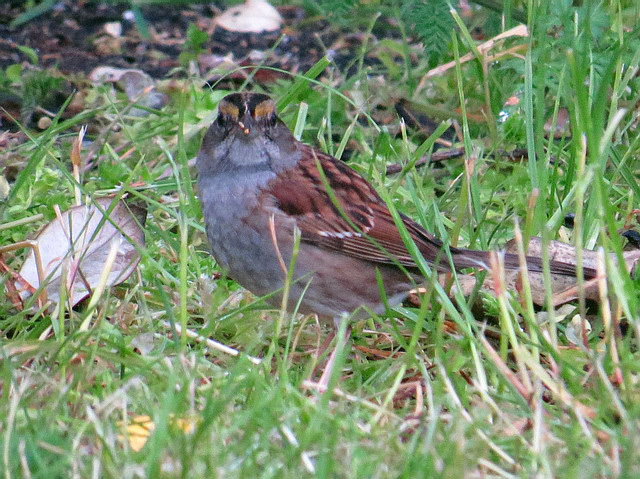 The northerly location is typical too although this was only the second for Argyll, the first being as recently as 2014 – a bird at Corra, Otter Ferry on 19th June. More regular watching of Tiree is certainly paying off with a now regular supply of scarce and rare birds, most notably the Northern Parula of September 2010 and the Cedar Waxwing (also at Vaul) in September 2013.
Black-headed Bunting
The other traditional 'late spring in the far north' seedeater, albeit from the opposite direction, is Black-headed Bunting and the week duly obliged by producing a typically dated record at a typical far-flung location. This one, as usual a male, was sharing a feeder with the local House Sparrows and Chaffinches at Glendale, near Dunvegan, on the far western tip of the Isle of Skye, Highland, found on 10th and still present on 12th. Over-shooting birds in May and June comprise the majority of British records (although more of the rather understated first-winters are now being found in autumn) and this bird was certainly an eager overshoot, overflying the whole of Europe and halted only by the prospect of a crossing of the Minch. This bird is the sixteenth for Highland but the first for Skye.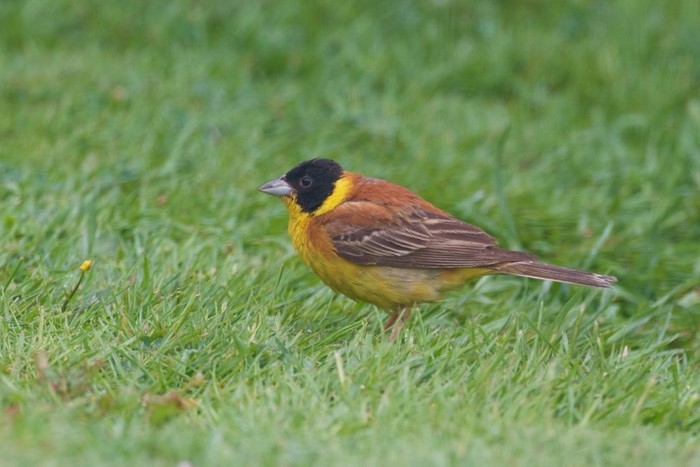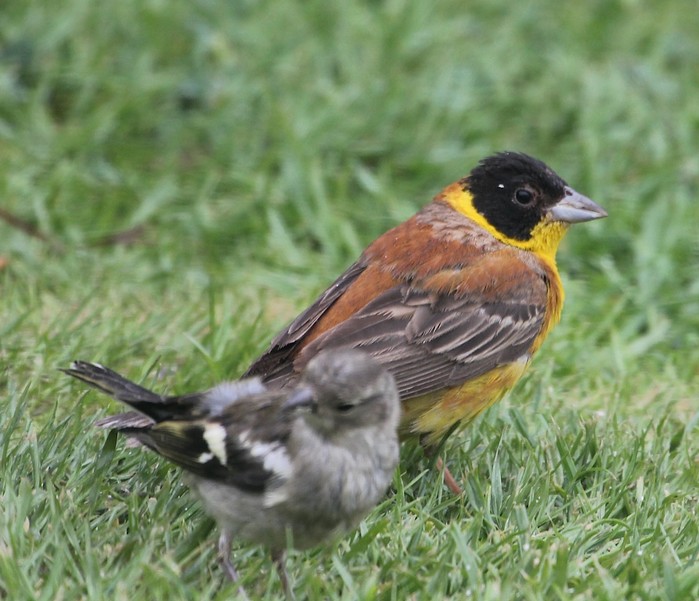 Pied Wheatear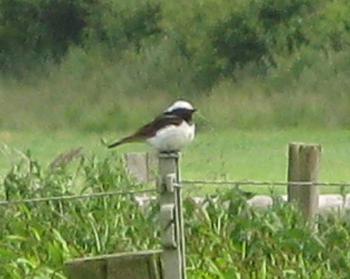 Very much an 'eleventh hour' piece of news related to the discovery of a male Pied Wheatear at Freshwater, Isle of Wight on 14th. No further details were immediately forthcoming but this is a rare bird at any season, particularly in spring. In fact there are only two previous spring records of this species and none this century. The first was at Winterton, Norfolk on 28th May 1978, the second at Spurn, Yorkshire on 20th June 1991 and then at Scarborough on 22nd to 23rd.
Semipalmated Plover, Great Spotted Cuckoo, Dalmatian Pelican
Otherwise the story of the week was that of lingering birds from May. The best was the first-summer Semipalmated Plover still at Tacumshin, Wexford to 9th but closer to home for most was the remarkably long-staying Great Spotted Cuckoo, still at Portland, Dorset to 13th but apparently not present on 14th. Finally the Cornish Dalmatian Pelican was still at Drift Reservoir to the morning of 12th but flew over Frenchman's Creek, near Falmouth, that afternoon and on 13th and 14th was just east of Devoran at Restronguet Creek although it took a short trip over the adjacent Argal and College Reservoirs on the latter date. Does this twenty-mile hop to the east mark the beginning of its 'breakout' from the confines of the Southwest?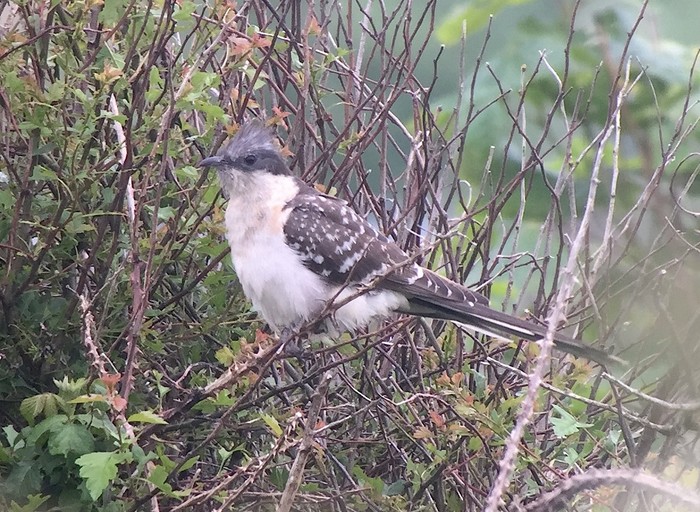 The only notable seabirds during the week were single Pomarine Skuas past Bunmohan, Waterford and Portland, Dorset on 12th and 14th and a Sabine's Gull south of St. Mary's, Isles of Scilly on 13th.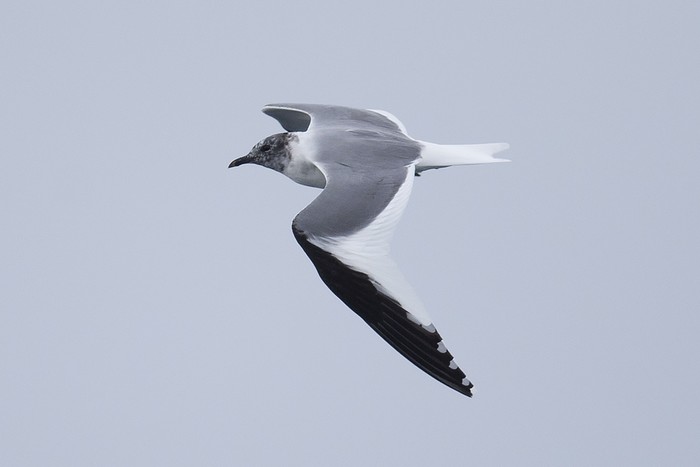 The week's most notable new duck discovery was a female King Eider at Musselburgh, Lothian on 9th though there was no sign of it next day. Also there on 9th was a Surf Scoter . Elsewhere, the long-staying drakes remained at Achiltibuie, Highland to at least 11th and at the Ythan Estuary, Aberdeenshire to at least 13th.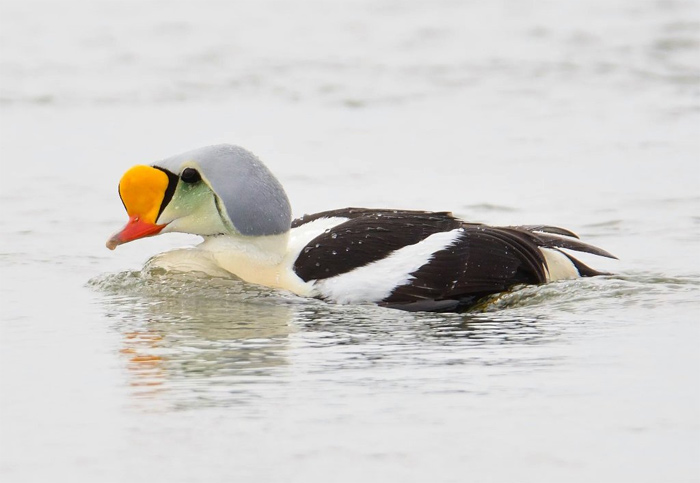 The other rare ducks comprised an American Wigeon at St. John's Loch, Highland on 13th, the Lesser Scaup still at Lower Lough Erne, near Enniskillen, Fermanagh to at least 10th, the drake Green-winged Teal at Frodsham and Hale, Cheshire and Wirral to at least 13th and the Ferruginous Duck at Washington WWT, County Durham to at least 11th.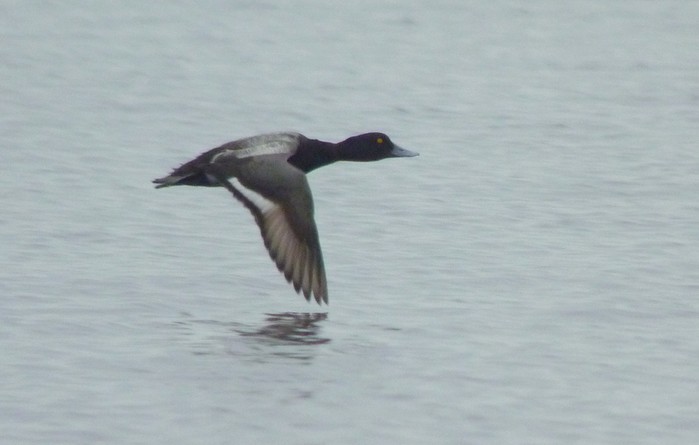 Amongst the herons, the best were the male Little Bittern at Trimley, Suffolk to 8th and the long-staying male at Old Moor, Yorkshire to 14th. Otherwise, the rare heron highlights were a second-summer Night Heron north over Spurn, Yorkshire on 8th, with another at Dungeness, Kent on 10th, and a trio of Purple Herons - at Tacumshin, Wexford on 10th, at Rye Meads, Hertfordshire and Beaumaris, Anglesey on 11th and at Llangefni, also Anglesey, on 12th.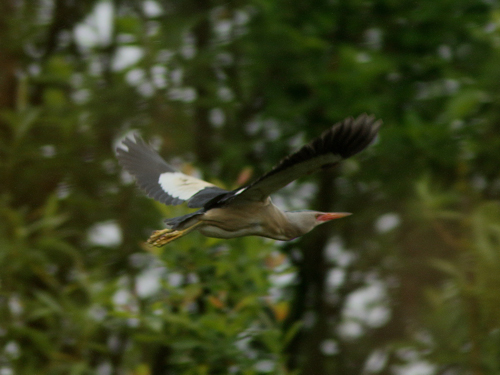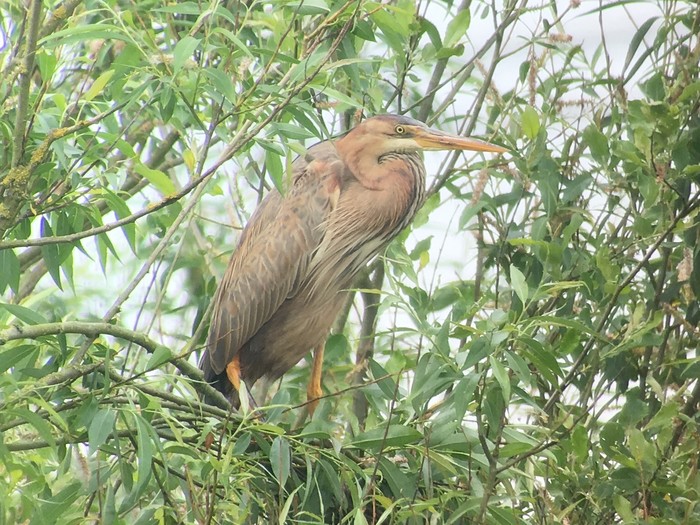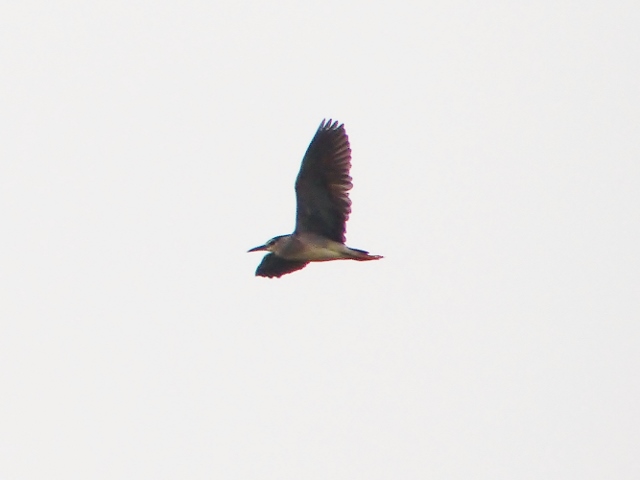 Turning to egrets, Cattle Egrets were at Ring Marsh/Lady's Island Lake/Tacumshin, Wexford on 11th to 12th and Brading Marsh, Isle of Wight on 13th and 14th. Great White Egrets mustered around forty individuals, the furthest north being at Loch of Strathbeg, Aberdeenshire and on Benbecula, Western Isles. Away from Somerset, where up to eight were at Ham Wall, sites hosting multiples included Druridge Bay, Northumberland (2), Burton Wetlands, Cheshire (3), Scunthorpe, Lincolnshire (3) and Leighton Moss, Lancashire (4).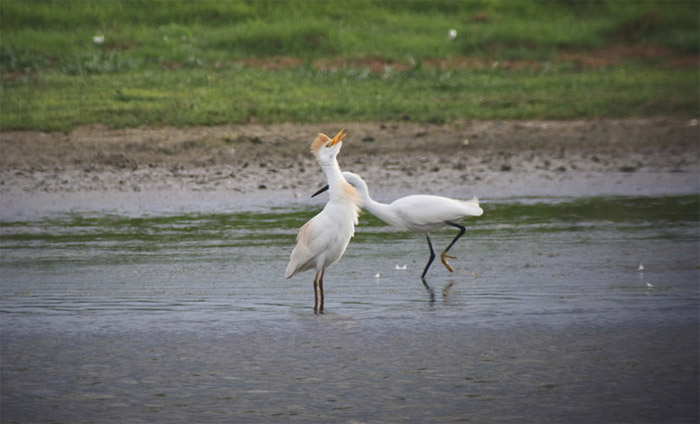 Glossy Ibises this week were at Mickle Mere, Suffolk to 14th, Newington, Nottinghamshire to 13th, Sheppey, Kent on 8th, Ham Wall, Somerset to 11th and Marshside, Lancashire, also to 14th.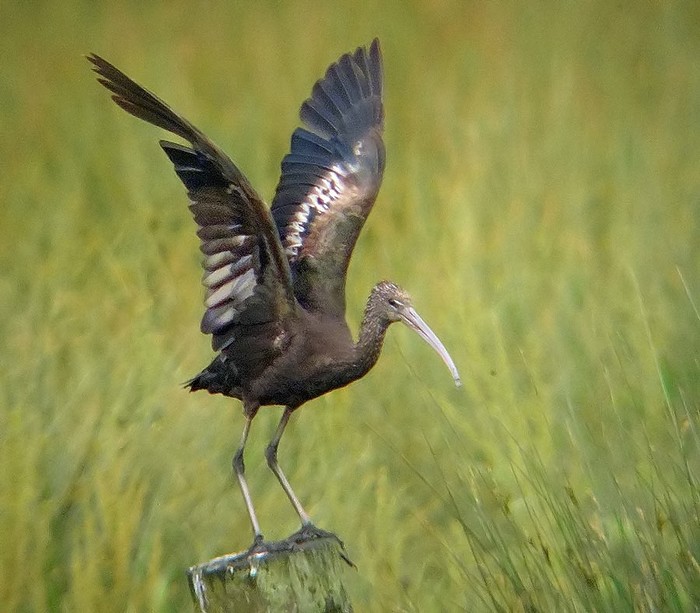 At least potentially wild White Stork reports came from Bridgend, Glamorgan on 9th, Steart WWT, Somerset on 10th and Otterhampton Marshes, also Somerset, on 11th to 12th.
Spoonbills were well distributed in the south and east but two were as far north as Dunbar, Lothian on 14th. Finally, an out of range Common Crane was still on Benbecula, Western Isles to 12th.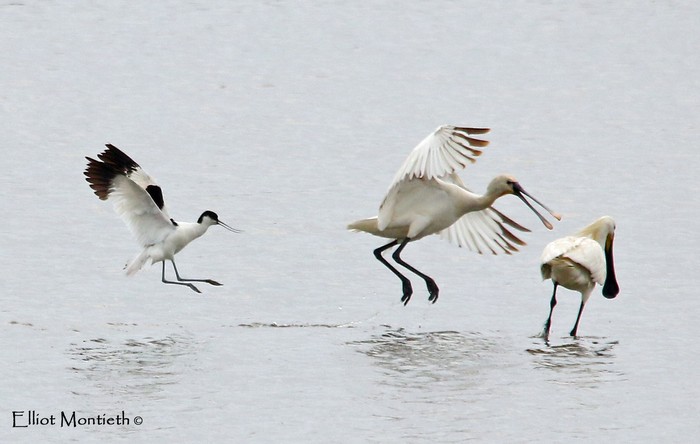 With no further Lammergeier reports and none of the near continent's Black-shouldered Kites making a cross-Channel bid, raptor action was very limited this week with just three Black Kites - at Littlebourne and North Foreland, Kent on 8th and at Danbury, Essex and Mayfield, East Sussex on 12th - and a female Red-footed Falcon south over Spurn, Yorkshire on 13th. Otherwise highlights were migrant Montagu's Harriers at Hemsby, Norfolk on 8th, Cliffe Woods Reservoir, Kent on 10th and Felixstowe Ferry, Suffolk on 13th and migrant Honey Buzzards on Tresco, Isles of Scilly on 9th.
Away from the headline birds, waders yielded perhaps the best of the week's discoveries. Top billing goes to a fine spotty summer plumage Spotted Sandpiper at Brent Reservoir, London on 11th, only the second for the London area, the first being at Barn Elms Reservoir in May 1988. Sadly, however, it was only present for the one day. Next best was perhaps the spring's seventh Broad-billed Sandpiper (though some duplication is possible), this one on the beach between Gronant and Point of Ayr, Clwyd on 11th and then, presumably the same bird, relocated at Kinmel Bay, Conwy on 13th and still present there on 14th.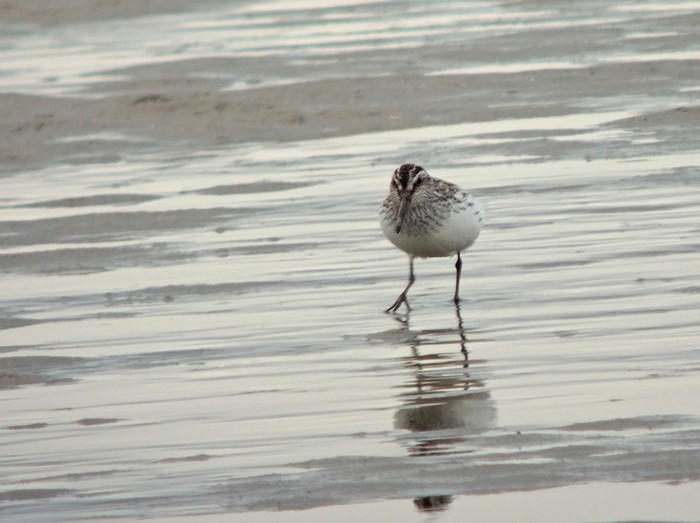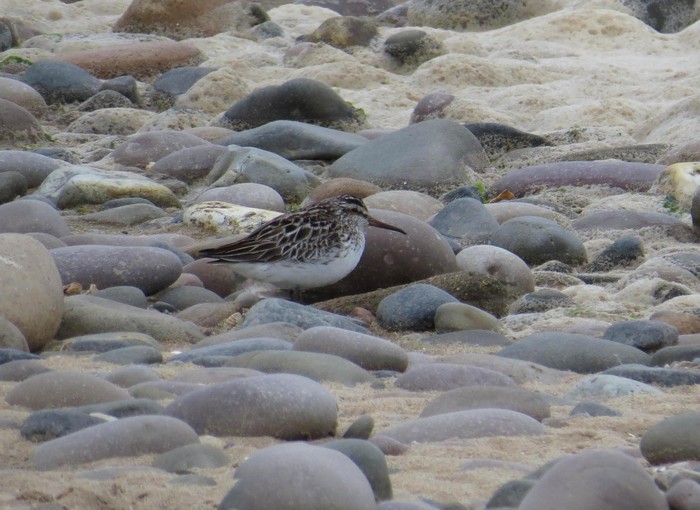 The other new arrivals were both in Norfolk - a Pectoral Sandpiper at Titchwell on 9th to 11th and a Buff-breasted Sandpiper at Swim Coots, Hickling, Norfolk on 10th, the latter visible courtesy of a Norfolk Wildlife Trust boat trip. The final American wader was the lingering American Golden Plover, still in its summer finery at Tacumshin to 11th.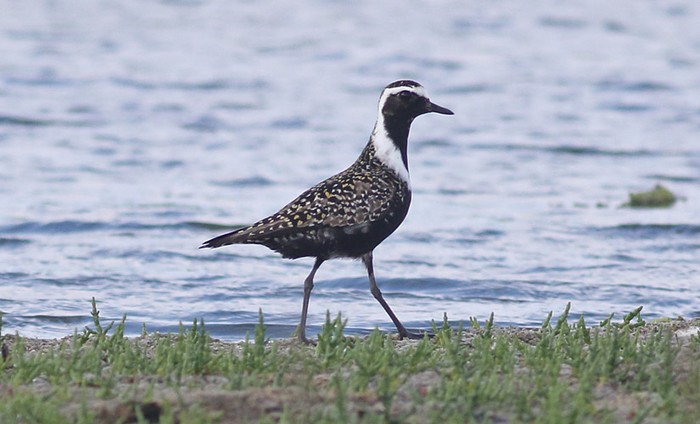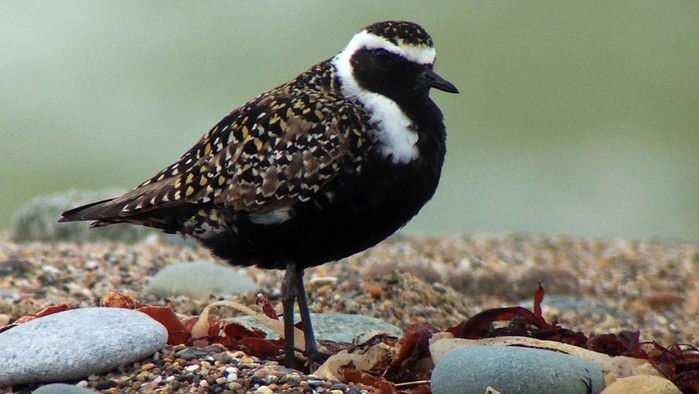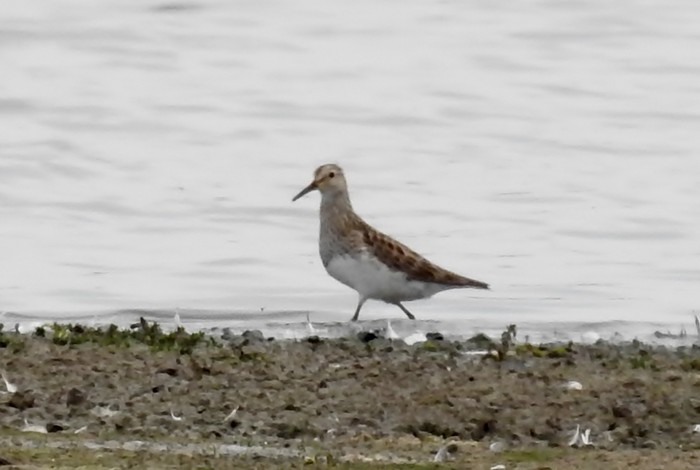 A flurry of Red-necked Phalaropes was notable, with singles at Blacktoft Sands, Yorkshire on 8th, Grindon Lough, Northumberland to 12th and on Tory Island, Donegal on 14th and pairs on North Ronaldsay, Orkney on 9th, at Potteric Carr, Yorkshire on 10th and at Woolston Eyes, Cheshire and Wirral, also on 10th.
The only rare gull of the week was the first-summer Bonaparte's Gull still at Ashington, Northumberland to 14th. Scarce gulls included a Ring-billed Gull at Fermanagh, Co. Fermanagh on 14th, Caspian Gulls at Albert Village, Leicestershire and Minsmere, Suffolk on 8th, Seaham, Durham on 12th and Willington GPs, Derbyshire on 14th, up to four Glaucous Gulls in Highland and Moray and lone Iceland Gulls in Cork City, Co. Cork on 11th and on Tory Island, Donegal on 12th.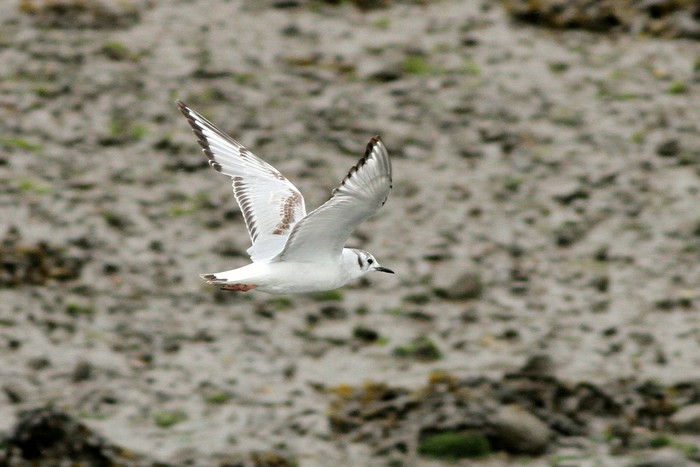 The best new tern of the week was a Caspian Tern just west of Skegness, Lincolnshire for twenty minutes on 13th with two present together at Tennyson's Sands, Gibraltar Point next day. Remaining from last week were the adult Whiskered Tern at Trimley, Suffolk to 9th and the Gull-billed Tern at Skinflats/Gosforth Bay/Musselburgh/Port Seton, Lothian intermittently to 14th whilst in Ireland another Gull-billed Tern was at Tacumshin, Wexford on 10th to 13th, completing another impressive rarity line-up for this top site. Also in Ireland the adult Forster's Tern made a reappearance at Tawnagh and Inishroo, Galway on 12th.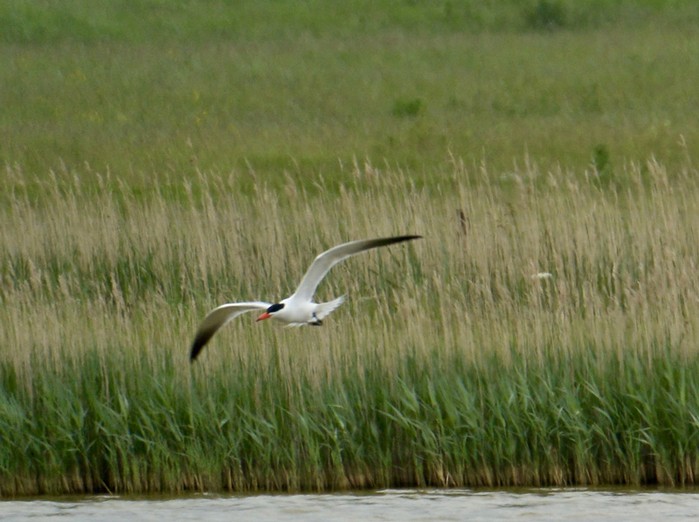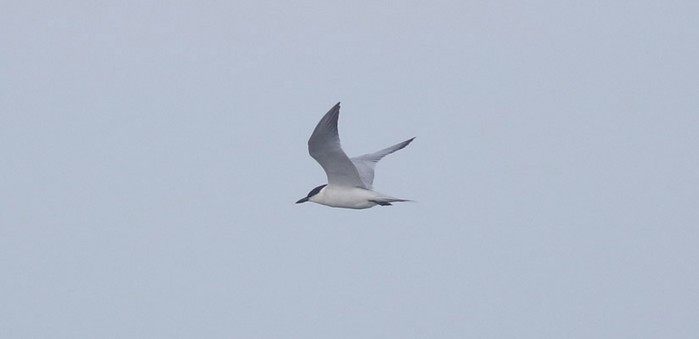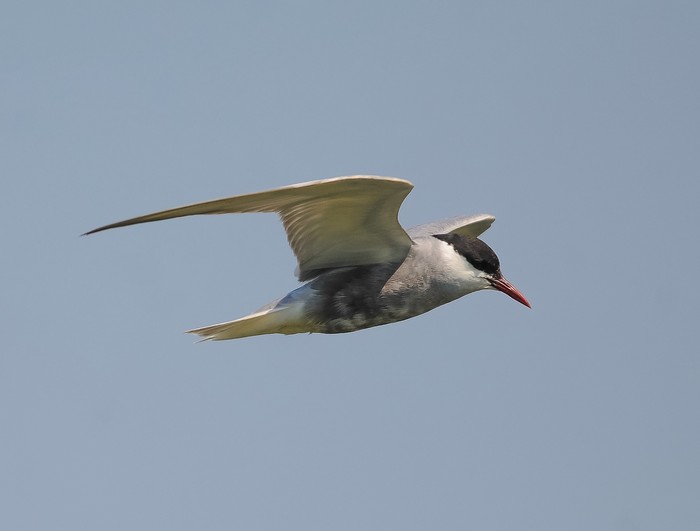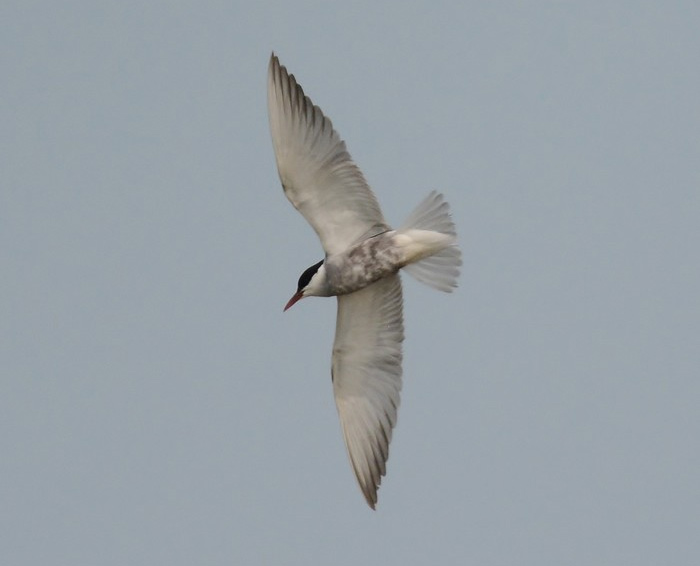 Scarce terns included a White-winged Black Tern on Unst, Shetland 9th and, away from any potential breeding sites, single Roseate Terns at Rye Harbour, Sussex on 10th and past Whitburn, Durham on 14th.
Near-passerine highlights were a Hoopoe at Nazeing, Essex on 9th and a trio of Bee-eaters - at Flamborough, Yorkshire on 8th, Martletwy, Pembrokeshire on 10th and Spurn, Yorkshire on 12th.
With little in the way of suitable weather in the southern half of Britain and the easterly winds further north producing little, this week felt very much like the end of the spring passerine season. As usual in early to mid-June, Marsh Warblers were a feature but there were only five - at Reydon, Suffolk to 13th, Spurn, Yorkshire on 8th, Fair Isle, Shetland on 10th, Lowestoft North Denes, also Suffolk, on 12th and Unst, Shetland on 13th.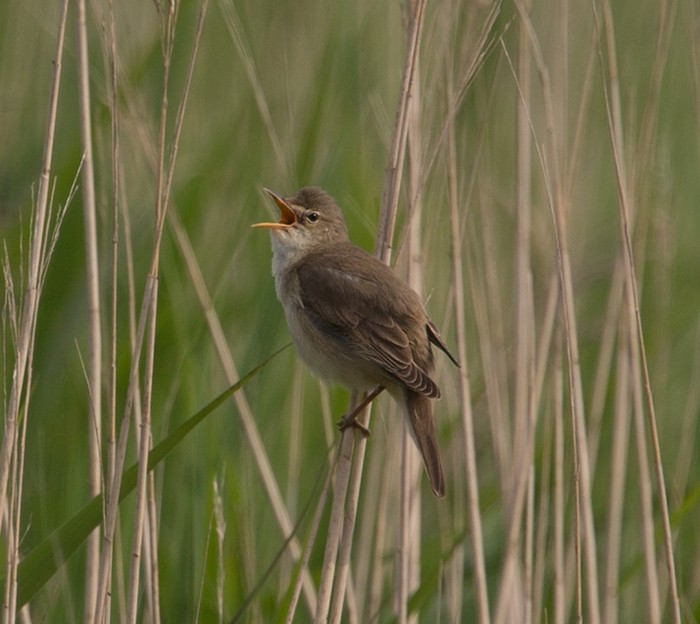 Otherwise new arrivals were very thin on the ground and showed no particular pattern. They included a Tawny Pipit at Kildonan, South Uist, Western Isles on 13th, perhaps another Red-rumped Swallow on St. Mary's, Isles of Scilly on 9th, a first-summer female Woodchat Shrike near Dorchester, Dorset on 10th to 14th, Icterine Warblers on the Isle of May, Fife on 8th, Tiree, Argyll on 9th and near Dalwhinnie, Highland on 9th to 13th and Red-backed Shrikes on Fair Isle, Shetland on 10th, at Dunwich Forest, Suffolk on 11th and at Gorefield, Cambridgeshire on 13th. Finally, a Common Rosefinch was on Lundy, Devon on 8th, a Serin was in gardens at Cley, Norfolk on 11th and Golden Orioles were at Rainham Marshes, London on 10th and Spurn, Yorkshire on 13th and 14th.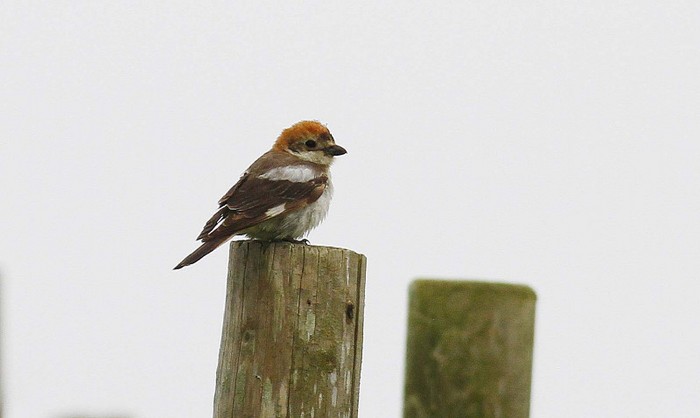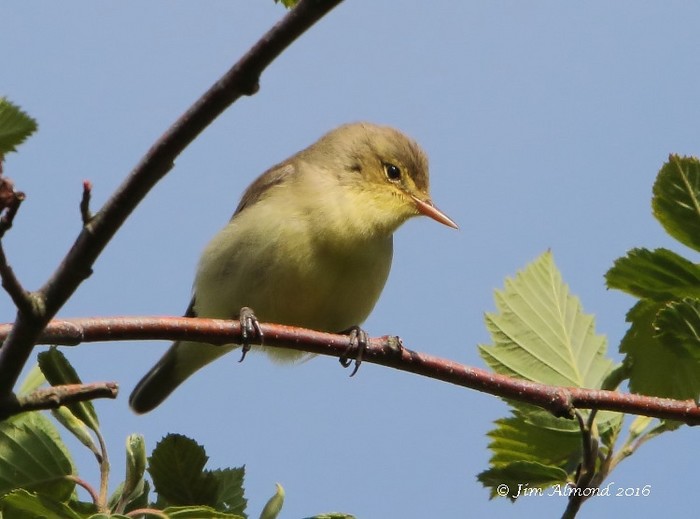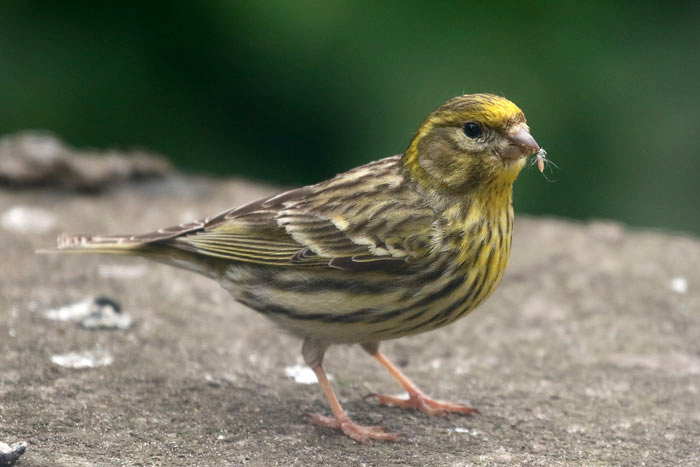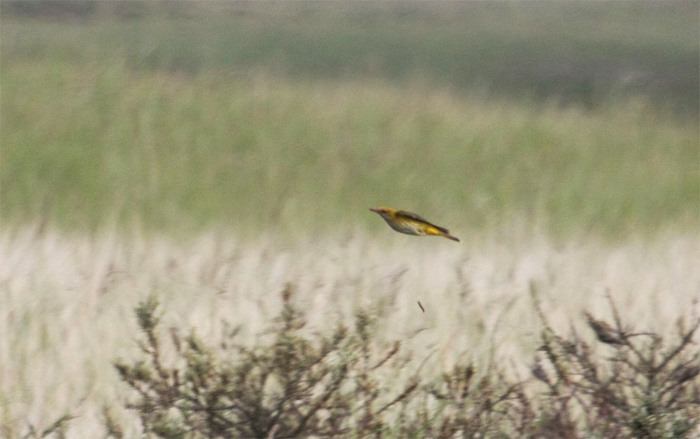 Lingering still were the Great Reed Warbler at Paxton Pits, Cambridgeshire to 12th, the Savi's Warbler at Blacktoft, Yorkshire to 10th and the Iberian Chiffchaff on Tresco, Isles of Scilly to 13th.
The first half of the week ahead looks to be dominated by cool northerly winds followed by a return to southwesterlies and a steady rise in temperature after the weekend. Given the unpromising weather map and the early onset of the June doldrums, a rare wader looks perhaps the best bet in the next three or four days although for the really adventurous an overshooting Arctic Warbler in the Northern Isles might be a worthwhile target. After the weekend, it's eyes to the skies again for Lammergeier and Dalmatian Pelican.
Andy Stoddart
15 June 2016
Many thanks to all contributors for the photos and videos this week.
Keith Gillon, Martin Benson, Andy Williams, Andrew Last, Joe Pender, Brad Robson, David Carr, Ian Bennell, Alan Whitehead, Paul Kelly, Barry Woodhouse, Dennis Morrison, Elliot Montieth, Nigel Talbot, Alex Humphreys-Jones, Brian Mccloskey, Anthony Williams, Rob Stonehouse, Paul Sullivan, John Pringle, Mick Davis, Graham Clarke, Brett Spencer, Jim Almond, Steve Gantlett, Daniel Branch.
Please note: we put a lot of time and effort into sourcing and and producing the images, videos and graphics for each roundup. Some of you (probably Apple users) may notice some photos etc. that appear to have incorrect captions. Please try refreshing the page as they are correcty captioned. If after a refresh they are still showing the incorrect captions then please email us