Mark Golley's weekly birding round-up: 20 - 26 April 2016
The week at a glance
Presumed Eastern Bonelli's Warbler trapped and ringed in west Cornwall
On the Isles of Scilly, the Snowy Owl reappears on Bryher
Iberian Chiffchaffs continue to roll in ~ Kent hosts a new singing male or two, with Shropshire and Scilly birds remaining to the weekend and beyond
The wintering first-summer Hudsonian Whimbrel continues to linger in west Cornwall
Late news from last week ~ a drake Bufflehead found in Argyll & Bute
The new week began, for many, with a sky full to bursting with blue sky and golden sunshine ~ it was a quite spectacular day for huge swathes of the country, with just northern Scotland and parts of southwestern England having to gaze up at a slightly more leaden looking skyscape.
A great big splodge of high pressure was plonked right above the Five Nations that comprise our all-encompassing recording area ~ the only down side to such a cracking day's weather was the cooling easterly breeze that was dragged along with that expansive set of isobars; but out of the waft from our right the warmth was pleasing in the extreme.
The weather continued in a similar vein for a couple of days, with most places seeing more cloud arriving (to one degree or another) and by the weekend the high had drifted left, out towards the mid-Atlantic and with a low pressure across the near continent, the winds began to be sucked downward from a chillier north to northwesterly direction ~ and with the fresh to occasionally gale force nor'wester came a run of April "sunshine and showers" weather as temperatures dropped and, in places, the snow fell and the wind swirled in blizzard conditions.
Spring may be here but those long-for southerlies seem as though they're never going to get here…the week ended with the feel of November or late February about it.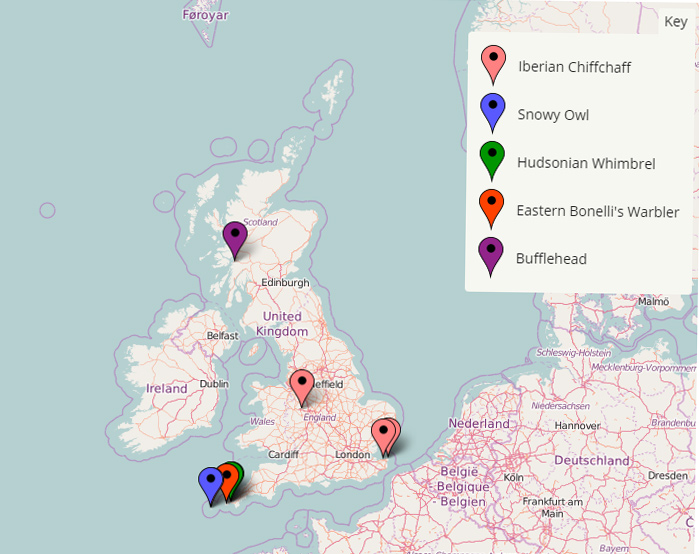 Eastern Bonelli's Warbler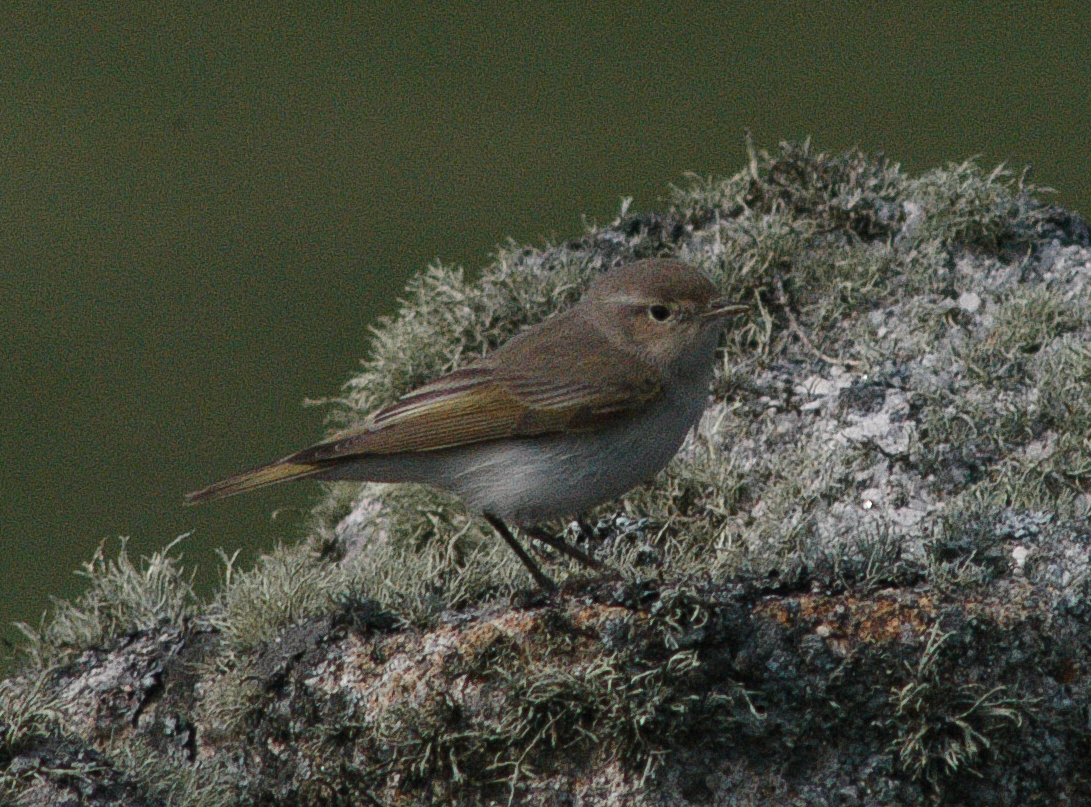 …indeed with such general un-rare friendly conditions it was hard to see just when and where the fun would start this week ~ but there was no need worry as the Phylloscopus camp kept a few folk entertained through the course of the seven days that have just left us.
Leading the way was the presumed Eastern Bonelli's Warbler that was trapped and ringed in the Nanjizal valley (Cornwall) during the morning of 23rd ~ post-processing, the bird was released in the pines at Bosistow and the work of trying to workout which of the two species was involved began.
Soon enough, the on-site ringers worked through the biometrics and they were pointing towards orientalis ~ prior to and during the ringing process the bird hadn't been heard to call or sing ~ and if the identification firmed up just a little more, then Cornwall would have a 1st county record on their hands and a big national rare too of course.
To date, there have been just seven acceptances of this tough-to-separate species and this week's Cornish individual will, if given the green light, become not only Britain's eighth Eastern Bonelli's Warbler but also the fourth in spring and also the earliest record so far.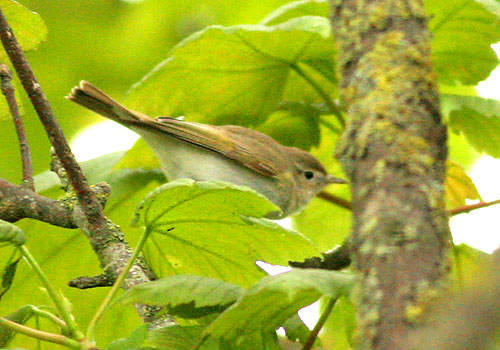 Currently, the earliest encounter here came on Lundy Island on April 26th 2004 (then just the 4th for Britain) and it was followed by two further (early) spring appearances ~ a singing male in Dorset, at Portland, on May 1st 2009 and another calling individual at Newbiggin-by-the-Sea in Northumberland on May 3rd 2014.
The remaining records are spread across the autumn, from the trapped bird at Sumburgh found on August 27th 1998 through to the controversial bird in Scalloway that was located on October 10th 2014. The final two records (our 1st and 2nd) were on St. Mary's (Scilly) from September 30th-October 10th 1987 and at Whitley Bay (Northumberland) from September 20th-29th 1995.
…that period from (now) April 23rd to May 3rd is a fascinating narrow window of occurrence (there are six accepted Western Bonelli's Warblers in the same 11 day span). Innarestin'…
Iberian Chiffchaffs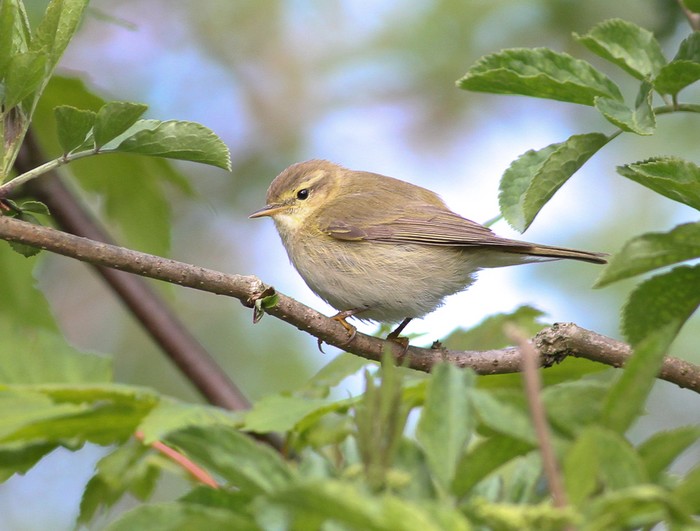 The first few weeks of spring '16 have been pretty tidy where Iberian Chiffchaffs have been concerned ~ already three definite males in song and this week saw the fourth and then fifth (within just ten days) both arrive in Kent, at Reculver and then just a few miles to the east, in Margate's Northdown Park.
The Reculver bird found during the morning of 20th, this latest bird was initially identified as a Siberian Chiffchaff (or was that just a mistakenly heard "s"?) but was resolved as the county's third ibericus during the early afternoon before promptly going missing and disappearing for good.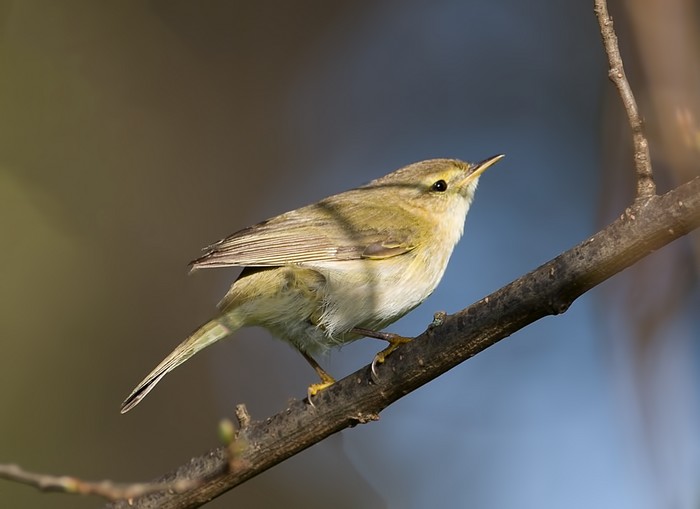 It is so tempting to suggest that, three days later, it had made progress eastward to Margate but with nothing more than ideal musing and intuitive feel by way of proof, let's assume it was another one ~ Kent rising from two to four records within the space of little more than 72 hours (the Margate bird staying on site to 26th). The two previous Iberian Chiffchaffs in the county came from Dungeness (between April 14th-17th 2001) and at Walderslade, near Chatham (seen and heard from April 29th to June 9th 2010).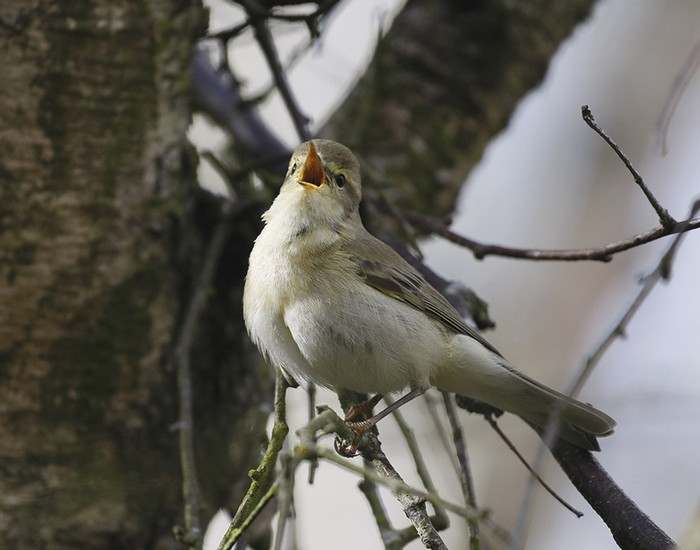 Meanwhile, two of last week's triumvirate was up for grabs over the past seven days, the singing males in Shropshire remaining on territory at Doddington Woods, near Telford and on Scilly, at Well Cover, on Tresco both until 26th.
Five is a very tidy haul where this undervalued and underrated rarity is concerned ~ this year's quintet equals the number of Iberian Chiffchaffs recorded in 2013. There is though still a little way to go to catch the record year of 2010, a whopping eight discovered between April 3rd and June 16th ~ the spread of birds including two each for Norfolk and Yorkshire (in South, one East), with singles in Kent (as mentioned above) along with Gwent, Shetland and County Waterford.
Snowy Owl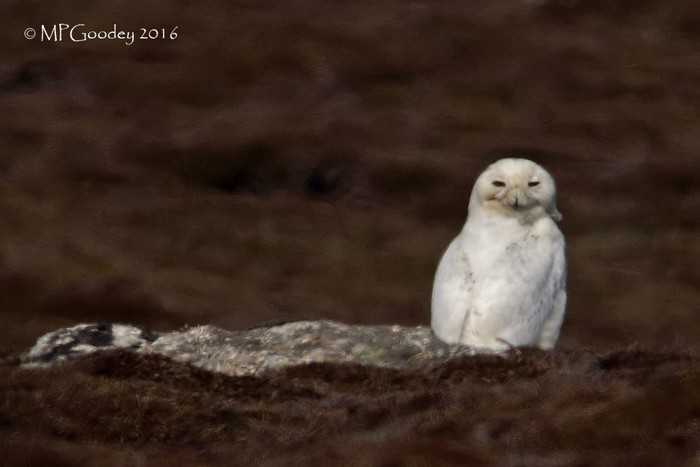 We now know that the male Snowy Owl is no stranger to an occasional game of hide-and-seek ~ he'd had a little go at the favoured parlour game in west Cornwall earlier in the month (AWOL in a small area for 11 day) before appearing over on Scilly on a sunny Tresco day last week (after laying low again on the mainland for another couple of days).
After some time on Tresco's moss-clad rocks on 18th, a little trip across the sound to beautiful Bryher followed but searches the following day proved fruitless, he's melted away once more…
…but presumably he hadn't been too far away (maybe loitering on Gweal or somewhere equally obscure and lovely) as the 23rd saw the reappearance back on (firstly) Shipman Down before staying put on the slopes around Hell Bay ~ and he was still on the island on 24th-25th too before heading back towards Tresco the same day. The week ended with another trip to Bryher where the surroundings seem ideal for a Snowy Owl to linger for a while to come ~ there's certainly enough food around the islands for this perfect stealth predator to even think of a little summer Scilly sojourn.
Old favourites ~just the one now…
Hudsonian Whimbrel
Still in and around the expansive Mount's Bay was the lingering first-winter Hudsonian Whimbrel ~ seen on both 22nd and 23rd around the coast at Perranuthnoe to push the duration of stay up to a whopping 177 days since arriving post-Scilly last October.
…and some old news…
Bufflehead
The new week was no more than a few hours old when up popped a belated note re:- what would have been one of the previous review's more prominent co-stars ~ a drake Bufflehead had been seen in one of the bays close to the harbour at Oban (Argyll & Bute) on 16th.
If accepted, this super record will become the first for the county and the sixth Scottish record in all ~ Orkney and Shetland have one a piece and the Outer Hebrides has three, one of which was (amazingly) shared with Highland ~ on June 7th 2007, a female Bufflehead was found on the Ardnamurchan Peninsula only to be relocated the very next day on Lewis, at Loch na Muilne.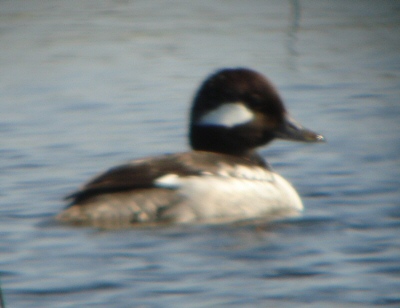 Recent records of the species have been tainted by assorted escapes (in Suffolk, Cheshire, Cumbria and most controversially Bedfordshire ~ the one-day metal ringed drake last October was swiftly consigned to the bin) while the most recent record in Lancashire (in the third week of February) remains something of a mystery.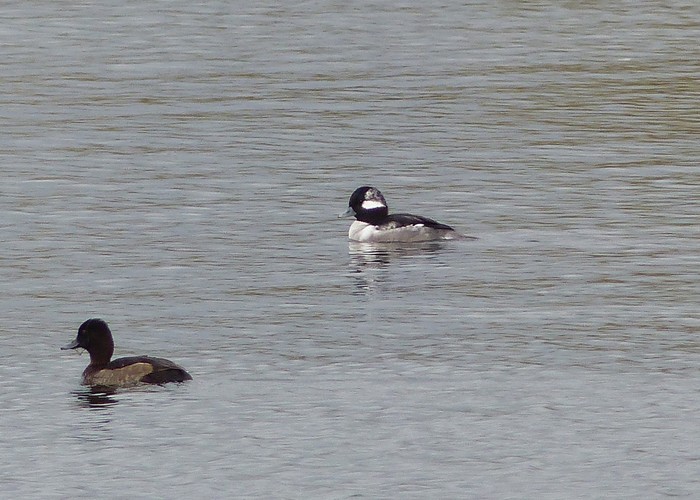 The Record Books currently show 26 records of 20 different individuals, the most recent acceptance being the dandy drake on Mainland Orkney in October and November 2014. There are two other April discoveries logged ~ the drake found in Greater Manchester, at Astley Moss on April 11th 2004 (which moved to West Yorkshire the following day) and the duck found in Lincolnshire, at Covenham Reservoir, on April 27th 2012.
So far this spring, the numbers of passage White-billed Divers off the Aberdeenshire coast have been on the minimal side ~ singles noted very occasionally offshore from Portsoy but this week changed somewhat, a fine seven logged off the northeast coast line on 21st with a single adult still present on 23rd. Elsewhere on the Scottish mainland, a lone bird remained on the waters off Burghead (Moray) until 23rd while off-islanders included on the Outer Hebrides, two lingering off Port Skigersta, Lewis to 24th and the singleton off Eoligarry, Barra to 26th, on Orkney, at Herston, South Ronaldsay to 22nd and new on Shetland, at Basta Voe, Yell on 22nd.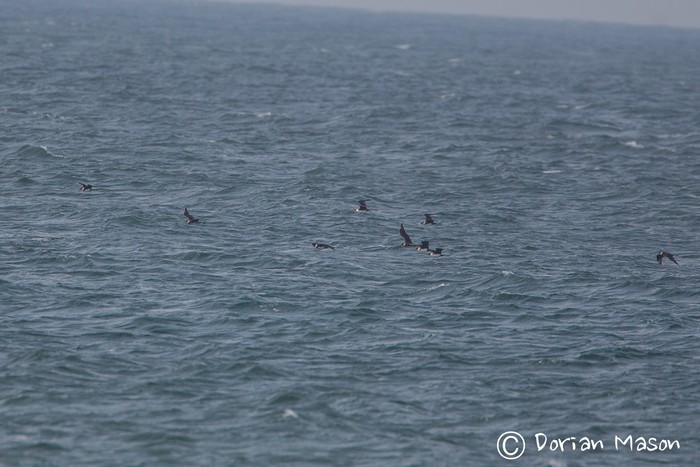 The first modest push of south coast Pomarine Skuas came along on a blowy 21st ~ a single was seen from Portland Bill (Dorset), two appeared off St. Catherine's Point (Isle of Wight), a flock of 10 was seen from two sites in Hampshire, firstly from Milford-on-Sea then 50 minutes later past Stokes Bay and groups of nine were seen in West Sussex, from Seaford's Splash Point and Selsey Bill (with a lone bird from the latter site later the same day).
Single Pomarine Skuas were logged from Dungeness (Kent) on 22nd and 23rd with two and then five on the same dates off Selsey Bill. Five more weekenders were seen, one trundling past Winterton (Norfolk), the other past Bognor Regis (West Sussex) while the northwest wind didn't deter a threesome of Poms from coasting by Dungeness on 24th. Another single was seen on 25th, this time off the coast of Somerset, at Burnham-on-Sea.
Back swiftly to the West Sussex coastline where 27 Balearic Shearwaters were seen off Selsey on 21st ~ nine through morning to late afternoon, with 18 seen in 15 early evening minutes as well.
The steady trickle of overshooting April Purple Herons continued this week ~ one was at Great Linford (Buckinghamshire) on 20th (the first in the county since a May bird in 2008) and the second of the week followed on the south Devon coast, on the marshes at South Huish on 23rd with the third appearing at the very same site the following day, with two birds on view (and they remained through to 26th).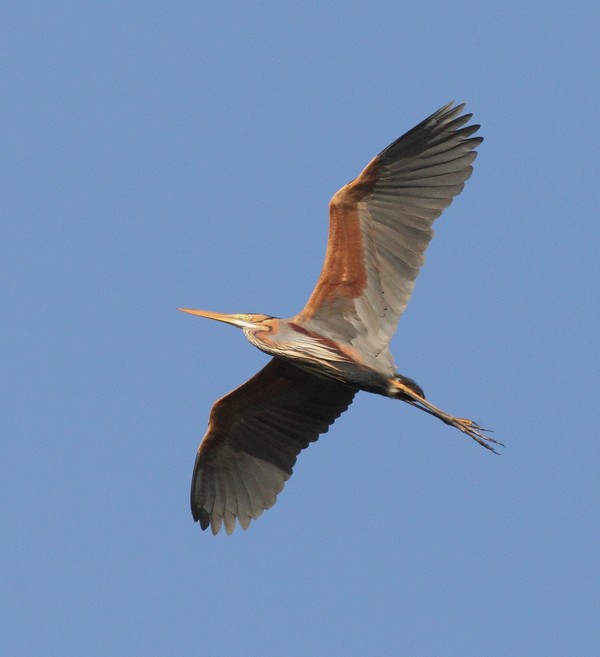 No surprises that, all of a sudden, it is becoming really hard to know precisely where and when the real White Storks that have arrived this week have been through the past week…
Late news from last week centred on the wide-ranging bird that trundled through the southwest of England and into Wales; it transpires that it spent 16th-18th in fields close to Afon Wen, Pwllheli (Gwynedd). Two birds were seen briefly in Lancashire on 21st, along the Alt Estuary and from there it gets a little bit murky.
A green-ringed bird was seen at Hollesley Bay RSPB (Suffolk) for 10 minutes on 20th ~ last seen heading south. What is presumed to have been the same bird was in Bedfordshire the next day, at Fenlake Meadows NR before heading off and on to Cambridgeshire, seen over Wisbech on 21st, then Pymoor on 23rd and then Milton and Coldham's Common on 24th. Another White Stork was reported in Northampton on 23rd and in East Yorkshire, a lone bird appeared at Southfield Reservoir on 24th and was still present until around 9am the next day before departing south. The week concluded on 26th with another report around Kent, this time at Dymchurch with one over the Observatory at Bradwell-on-Sea (Essex) the same day.
Norfolk saw Stork reports from five locations this week ~ no idea as to what's what anymore ~ seen from Fakenham to Acle during the week.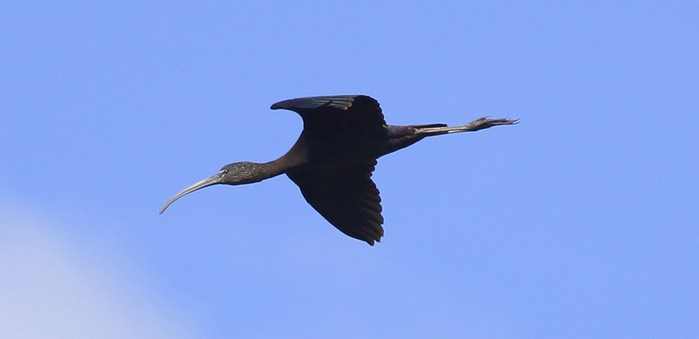 Nine or ten Glossy Ibis were still dotted far and wide around England, Wales and Ireland ~ the latter nation held four, three of them in Wexford where two remained at Cahore to 26th and another was at Tacumshin on 23rd-24th. After no news for a few days, the long-staying bird in Kerry was reported again in Smerwick Harbour on 26th. Wales saw one appear again at Goldcliff Pools NR, Newport Wetlands (Gwent) on 21st, where it stayed until 24th while English options included a new bird at Ellesmere Port and then Hale (Cheshire & Wirral) on 21st and 23rd-24th and long-stayers in the southwest at Seaton (Devon) to 23rd and around the Somerset Levels to 25th and in the southeast, in Kent, at Oare Marshes NR to 23rd (with another reported from Grove Ferry NNR on 22nd). A new sighting came from Charmouth (Dorset) on 25th ~ which was the eastbound departing bird from just along the coast at Seaton ~ but it was back in Devon not long afterwards.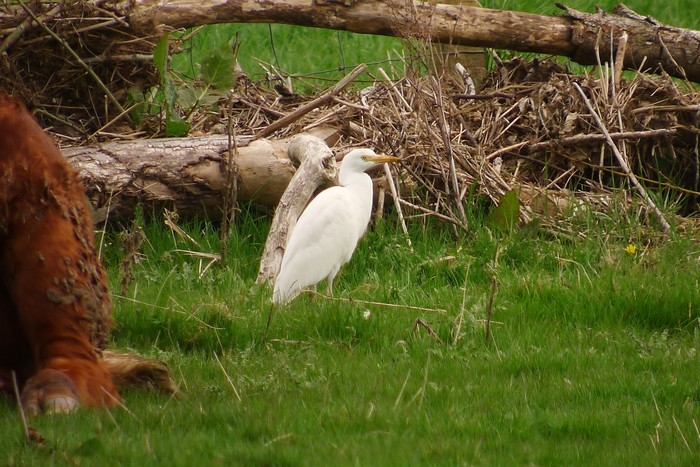 This week saw just five Cattle Egrets noted; last week's new arrival at Pagham Harbour (West Sussex) was present on 20th and Sligo's first remained at Enniscrone to the same date. The colourful bird at Tealham Moor (Somerset) was in place to 21st and new was one on the marshes at Boyton (Suffolk) on 22nd. Pick of the bunch? The 1st county record for Clyde on 24th, a 20-minute bird seen at Carbarns Pool on 24th (the species remains a big Scottish rarity, only around 15 ever seen in the country).
It wasn't the greatest week ever for Spoonbills ~ totals falling from 30+ last week to just 13 or 14 or so through the past seven days. One remained on the Hayle Estuary (Cornwall) to 25th with a minimum six along the south coast (in Dorset, Hampshire and around the corner in Kent). Just five birds were reported around East Anglia (just three in Norfolk and singles for Suffolk and Cambridgeshire), another was in Cheshire with the only others logged anywhere being two at Wexford's Tacumshin to 22nd-24th.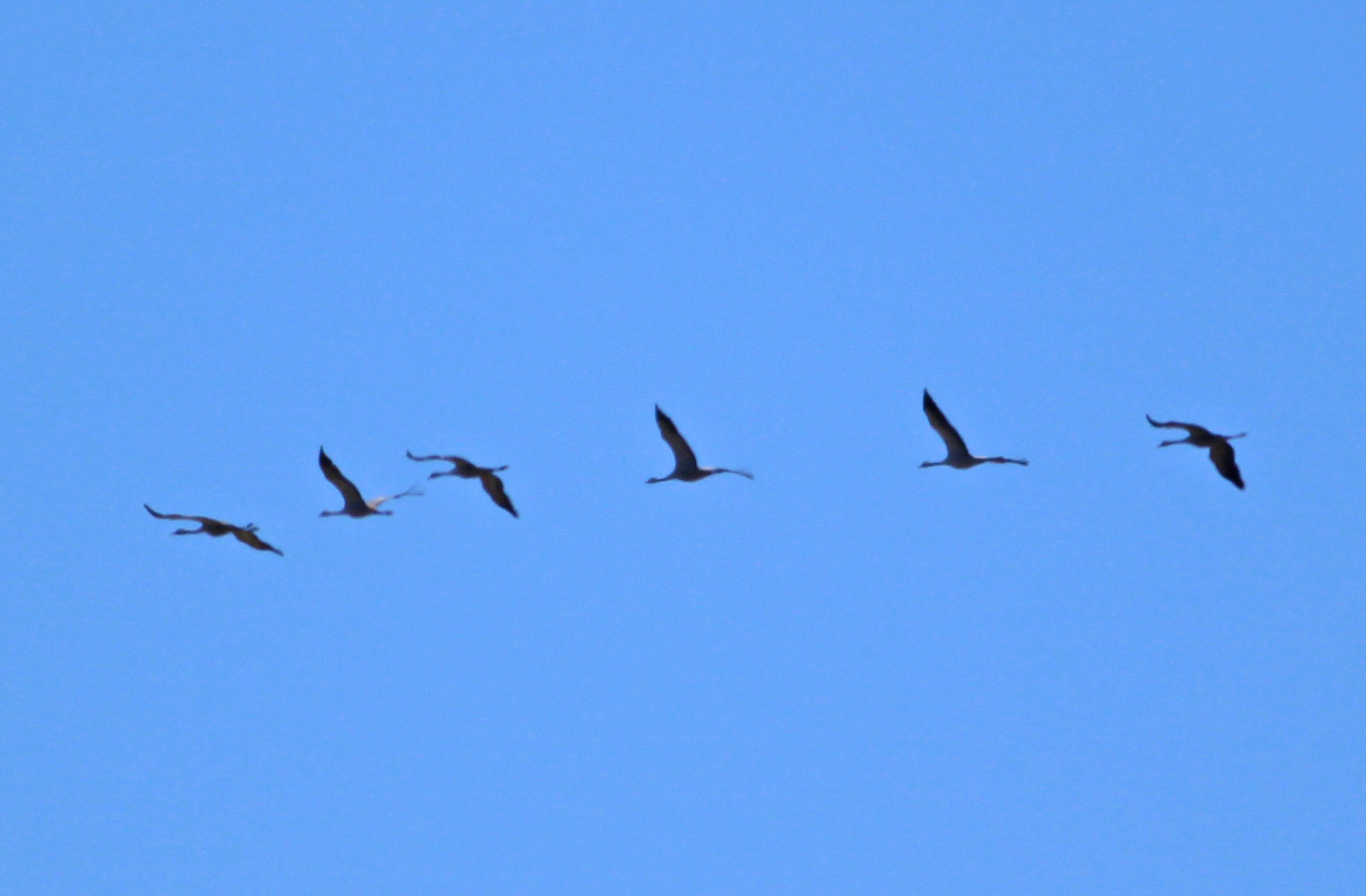 With those often clear pale blue skies, a little "thermal" warmth and a fresh east breeze blowing, it was almost a nailed-on certainty that the first couple of days of the new review period would see the Broadland Common Cranes doing their usual springtime wander along the north Norfolk coast and both 20th and 21st was a veritable riot of elegance as a Grustacular little movement came forth; the first of the two days mentioned saw a flock of five head north over Lessingham (at the "top end" of the Broads) at 0915; by 1010 they'd collected a sixth member of the band and were heading west over Cley Marshes NWT. Across the next 90 minutes they were seen from five sites away to the west of TG04 ~ the Burnhams, Brancaster, Titchwell and finally Holme where they were seen to head north. There were two options on the cards from there; they head over the Wash to Gibraltar Point or they do what they often do, turn back east and head home…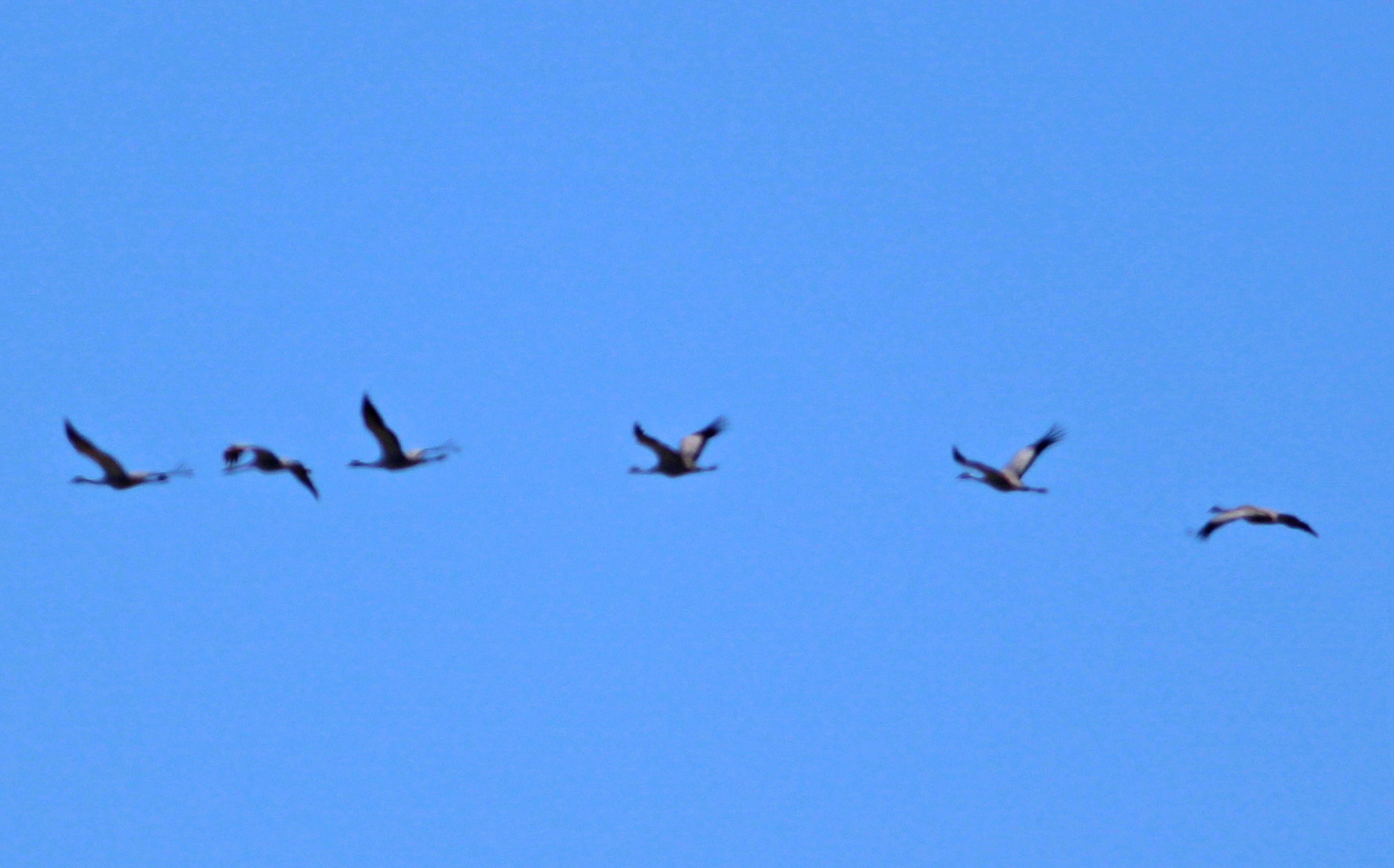 Sure enough, 50 minutes after heading over Holme they were drifting east past Holkham and then…nothing…until another 90 minutes elapsed and they were seen south of Wiveton and Cley before appearing at up to four sites along the coast, last noted from Incleborough Hill, near Cromer.
The next day, two were seen heading west past Muckleburgh Hill just after 10am and were watched from the Blakeney Bank heading over Cley and then, spiralling up over Blakeney itself they departed towards the northwest. A further hour and half later, a second westward group toured silently over the coast road in Blakeney and way off west again. "Common" they may be, but there's always a buzz when you clap eyes on these boyos…
Apologies for the somewhat self-indulgent paragraphs above ~ there were, of course other places aside from parts of my local patch that were also on the Crane friendly side this week. Starting in Scotland where singles were at Caerlaverock RSPB (Dumfries & Galloway) on 20th-21st, at Buckie (Moray) on 20th and (presumably the same) at Loch of Kinnordy RSPB (Angus) on 22nd and on Shetland, over Noss on 22nd and then Fair Isle the following day. A pair was noted on the Ythan Estuary (Aberdeenshire) on 23rd with perhaps the same twosome heading over Baldinnie (Fife) on 24th.
North Yorkshire hosted three birds on 22nd, two at Clifton Ings with another at North Duffield with, further down the east coast, another singleton at Frampton RSPB (Lincolnshire) on 23rd. A party of three were noted in Suffolk at Middleton, Minsmere RSPB and Carlton Marshes on 23rd with two the following day over Southwold, Reydon and (again) Carlton Marshes and up in Norfolk at least nine were in Broadland on 22nd with two over Breydon Water on 24th, with a single or two in both counties on the same day. A flight of three (may be even the Blakeney trio?) were at Sedgeford, near Fring on 26th while last of all, the unringed adult within the confines of Slimbridge WWT (Gloucestershire) to 20th.
Rounding off this section, news of two singing male Spotted Crakes ~ last week's bird at Leighton Moss RSPB (Lancashire) remained until 26th while in Suffolk, a new arrival was audible in Reydon on 23rd-26th.
Late news from Islay starts us off here ~ two Richardson's Cackling Geese were seen at Loch Gruinart RSPB on 19th.
Unsurprisingly, there wasn't a great deal more goose action, three Black Brants dug their heels in before departing to the taiga; one was at Heybridge Basin (Essex) on 20th, with the second of the past seven days remaining at Spurn (East Yorkshire) to 22nd with bird three still around Pegwell Bay (Kent) to 23rd.

The Welsh Lesser Scaup was still in Glamorgan this week, seen at Cosmeston Lakes CP on 21st and then back in Cardiff Bay on 23rd-24th. Also in short supply as May beckons were Ring-necked Ducks, only three on offer ~ the fine drake was again at Ham Wall RSPB (Somerset) until 20th and in Donegal, single drakes were at Inch Island on 23rd and Blanket Nook, Lough Swilly on 24th.
Two new drake American Wigeons were found through the week, the first was in County Cork, at White Marsh, near Clonakilty on 20th with the second arriving at Port Allen (Perth & Kinross) on 21st.
Numbers of Green-winged Teals have also taken a sizeable dip too ~ only two seen (down from nine last week) ~ last week's newbie in Cumbria remained at Siddick Ponds NR to 21st and at Tyninghame Inner Bay (Lothian) on 23rd.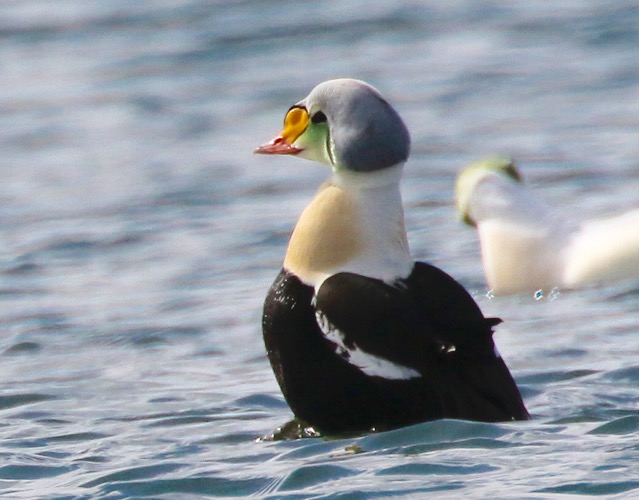 Continuing the downward-ducky trend, Surf Scoter was represented only by the first-winter drake that still hadn't left North Yorkshire's Filey Bay up until 25th at least while King Eiders held their own, the drake was again around the waters of Achiltibuie (Highland) to 24th with the female still in Fife's Largo Bay to 21st.
<!—Section Title -->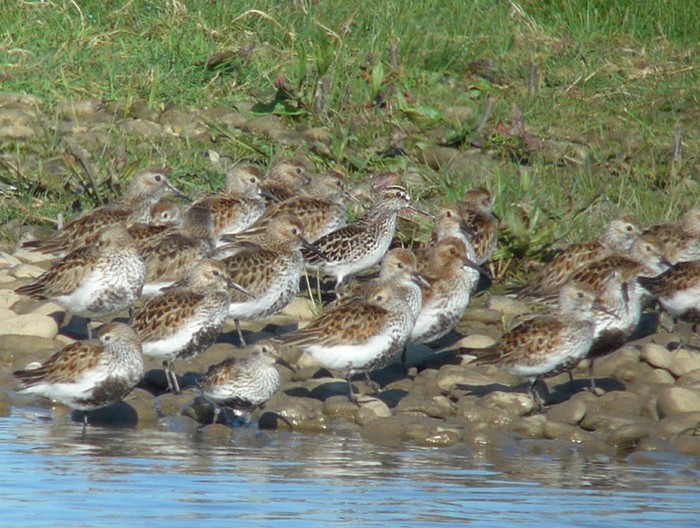 Broad-billed Sandpipers in April are a rare commodity indeed, so news of one at Goldcliff Pools NR, Newport Wetlands (Gwent) on 22nd was something of a surprise ~becoming the earliest record for the month . There are only three previous acceptances for April; killed at Breydon Water on April 23rd 1858, shot in "late April" at Hornsea Mere in 1863 and, in the modern era, at Shannon Lagoons (Co. Clare) on April 27th 1998 whilst the earliest ever appearance here was another Breydon bird, seen on March 8th 1991.
Not only is the species rare anywhere here in April, it is also a very rare bird in Wales, with this becoming just the fourth record for Gwent and the first since one at the same site for two days in the first week of May 2008. Previous records prior to '08 were both at Peterstone Wentlooge (then Monmouthshire) ~ seen there in the May's of 1988 and 1979.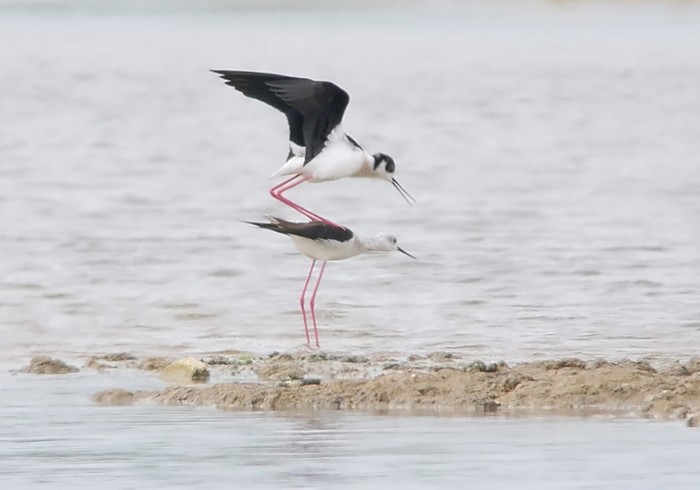 A rather fine Sunday surprise in Buckinghamshire was the pair of Black-winged Stilts that appeared at Manor Farm Quarry, Old Wolverton on 24th ~ only the second record for the land-locked Home County, the first being a double-bill of 1st summers that spent 12 days at Willen Lake in June 1988.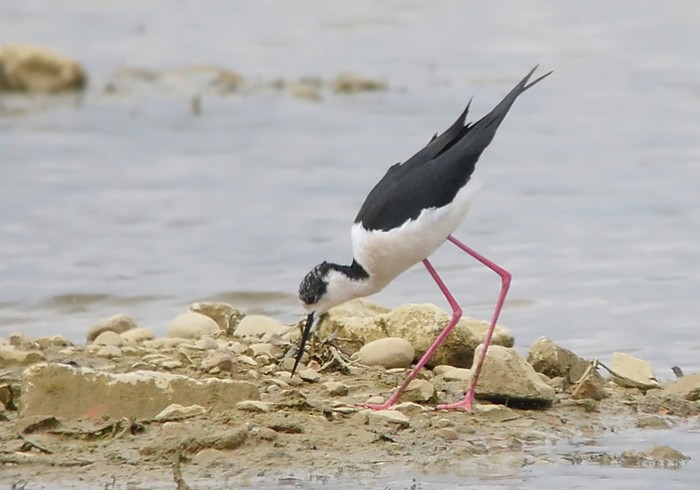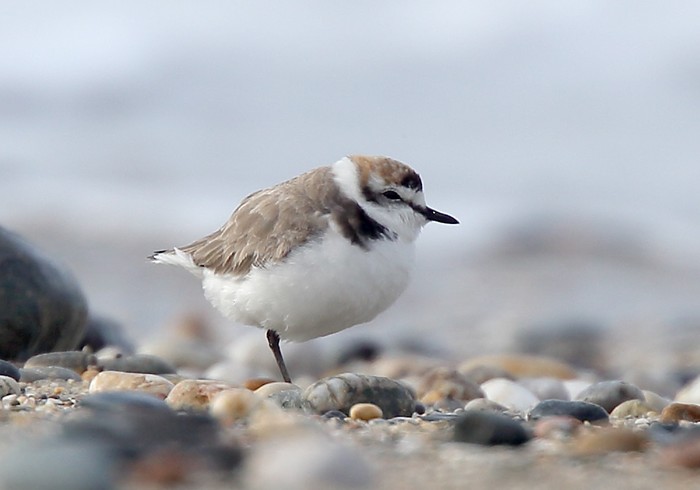 Down in Cornwall, a male and female Kentish Plover were a neat find on the beach at Marazion on 22nd, where they both remained through until 24th while perhaps the find of the week was the male KP at Audenshaw Reservoirs (Greater Manchester) on the morning of 25th ~ the first anywhere in the northwest region since 2011 and a quite spectacular record so close to such a sizeable conurbation (the first since 1980 apparently). It performed well throughout the day and through until 26th as well, proving to be quite an attraction for northwest birders ~ a patchwork find of the highest order…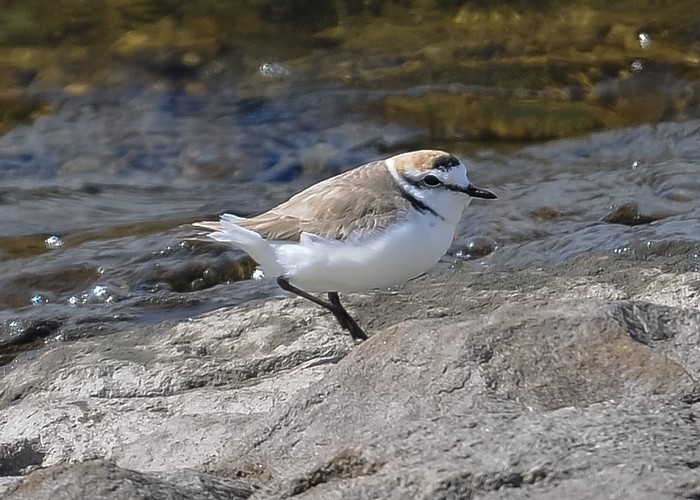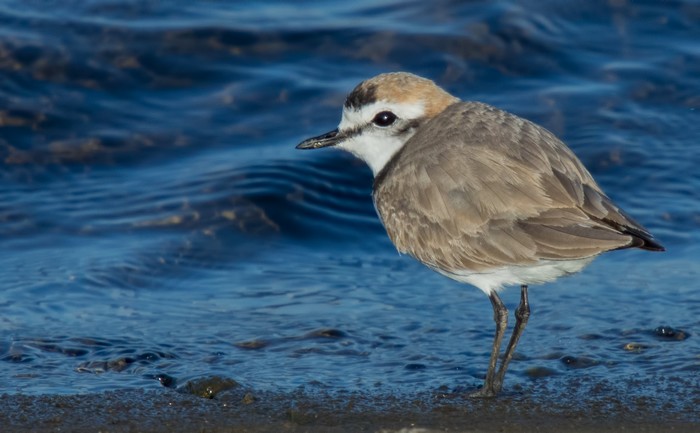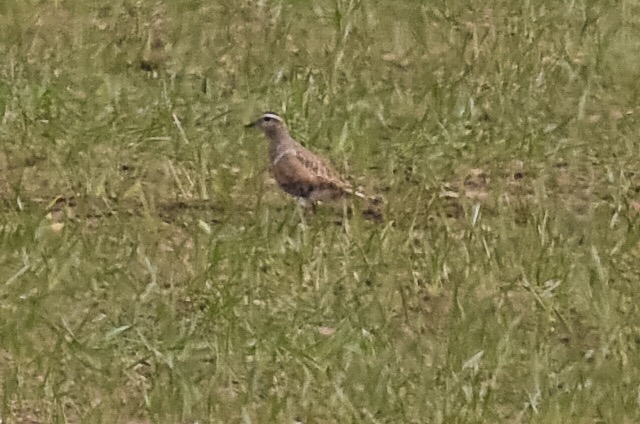 Dotterels
began to trickle in across the week; on 20th one made a brief stop off on Conwy's Great Ormes Head; the 21st saw 10 birds arrive ~ two were at Flamborough Head (East Yorkshire), three were on the summit of Helvellyn (Cumbria) and a small trip of five made their way to the familiar stop-off point of Pendle Hill (Lancashire); on 22nd, two birds arrived at Carnbee (Fife) and a single dropped in to Derbyshire, found at Ashover; further lone
Dotterels
on 23rd were near Tebay (Cumbria) and Mynydd Du (Carmarthenshire) and the 24th saw another loner alight not far from South Yorkshire's Broomhead Reservoir.
A rather more unseasonal find was the Grey Phalarope that was found at Staines Reservoir (Surrey) on 24th with the previous day seeing the appearance of the first Pectoral Sandpiper of the year, a brief visitor to North Cave YWT (East Yorkshire).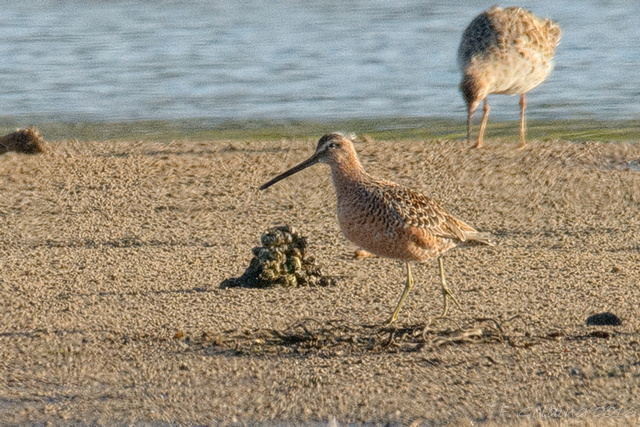 Showing no signs of departing just yet ~ it can't be long tho' ~ were the two rather handsome first-summer Long-billed Dowitchers that were noted at both Pennington Marshes (Hampshire) and Cresswell Pond NWT (Northumberland) through until the 26th.
The rarest gulls of the week were "as you were from last week; Cornwall held on to the two elusive American Herring Gulls in the far west of the county, the third-winter again at Jericho Farm, near St. Just and the first-winter back on Drift Reservoir, both seen on 21st. At the other end of the Country, the lingering first-winter was still around Castlebay, Barra until 22nd.
As much as the boundaries of possibilities are stretched here from time to time, it is hard to see quite how the adult Bonaparte's Gull found at Tacumshin (Co. Wexford) on 23rd (and again on 26th) could possibly be the same bird discovered in the small adjoining county of Carlow over a month ago ~ so we'll assume that it is a different bird, a passage bird moving north from either Devon or South Wales. There are 12 acceptances to date in Wexford (up until the end of 2014) and the county has recorded two this year so far (the other appearing at Hook Hea in January).
The sole Ring-billed Gulls this week were both seen at Belfast Lough RSPB (Co. Antrim) on 23rd, a second-winter and adult noted there.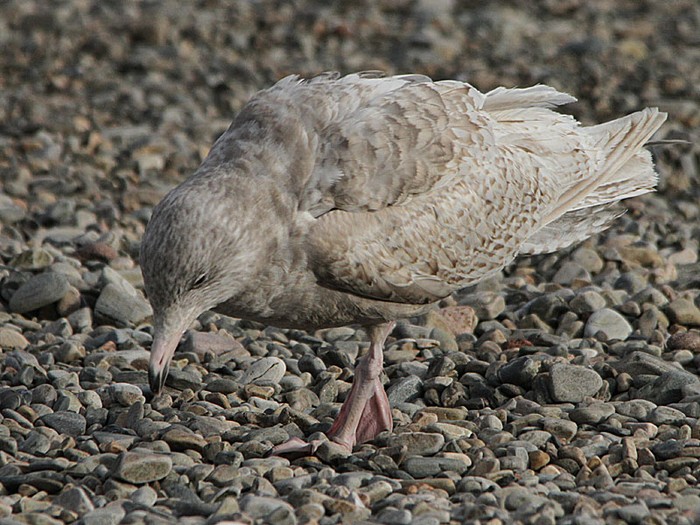 White-wingers fell away markedly over the past seven days; only a baker's dozen Glaucous Gulls reported from 10 counties across Britain and Ireland; two of Scotland's six were in Argyll & Bute, while two of Ireland's four remained on Mutton Island (Co. Galway) on 23rd. England hosted three while it was another zero for Wales.
Iceland Gull records fell from 50+ last week to 30+this week; eleven were in seven English counties, including two still on St. Mary's (Scilly) until 25th (at least five were seen in the southwest) with twos for the southeast, northeast and northwest of England as well. Scotland held nine (three in Highland), Ireland had seven more (two of them on Galway's Mutton Island on 23rd) while three were in Wales through the week. Just two Kumlien's Gull were seen; new was an adult out on The Mullet (Co. Mayo) on 22nd and the juvenile remained at Loch an Eilein, Islay (Argyll & Bute) to 26th.
The week's three Black Kite records were separated by several hundred miles ~ the first was found in Dumfries & Galloway at Moniaive on 22nd with Bird #2 appearing over Alexandra Park (East Sussex) on the same day. Bird #3 could even have been Bird #1 ~ seen at Liurbost, near Stornaway, on Lewis (Outer Hebrides) on 26th.
Prior to removal from the Rarities List 11 years ago, there were only two accepted Black Kite records in D&G, at Lochanhead in August 1987 and Loch Ryan in August 1997; just one more has followed prior to this week's bird, seen at Carsegowan Moss in late September 2009. Similarly, there were just two Hebs acceptances before 2005; one spent five days on North Rona in late June 1976 and another spent four days not far from this week's sighting, present at Stornoway in early May 2002 (another was seen and photographed around South Uist in September 2013).
There's just the one Montagu's Harrier to mention ~ a male seen over Pelistry, St. Mary's (Scilly) on 24th before showing on Tresco (with the Snowy Owl) on 25th-26th.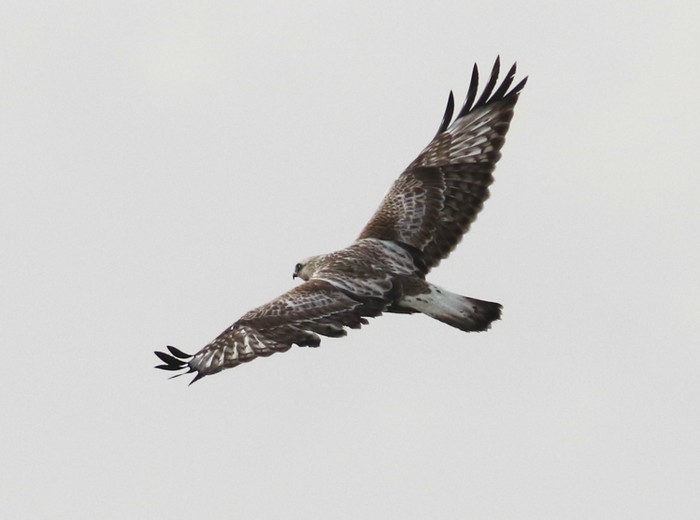 Making perhaps the final appearance here was the faithful juvenile/first-winter Rough-legged Buzzard that was still at Holland Haven CP (Essex) until 26th (it was first seen on October 20th last year). Two Scottish reports were also noted this week, in the Highlands, at Tomatin on 22nd and near Langholm (Dumfries & Galloway) on 26th.
Before departing the skinny bones of RaptorWorld, mention should be made of the intriguing falcon noted on Bardsey Island (Gwynedd) on 24th ~ seen briefly at the south end of the island, the bird was thought to be either a grey Gyr or a hybrid…tantalising stuff…which takes us back briefly to the Hebrides, where a white Gyr was reported near Barvas, on Lewis on 24th.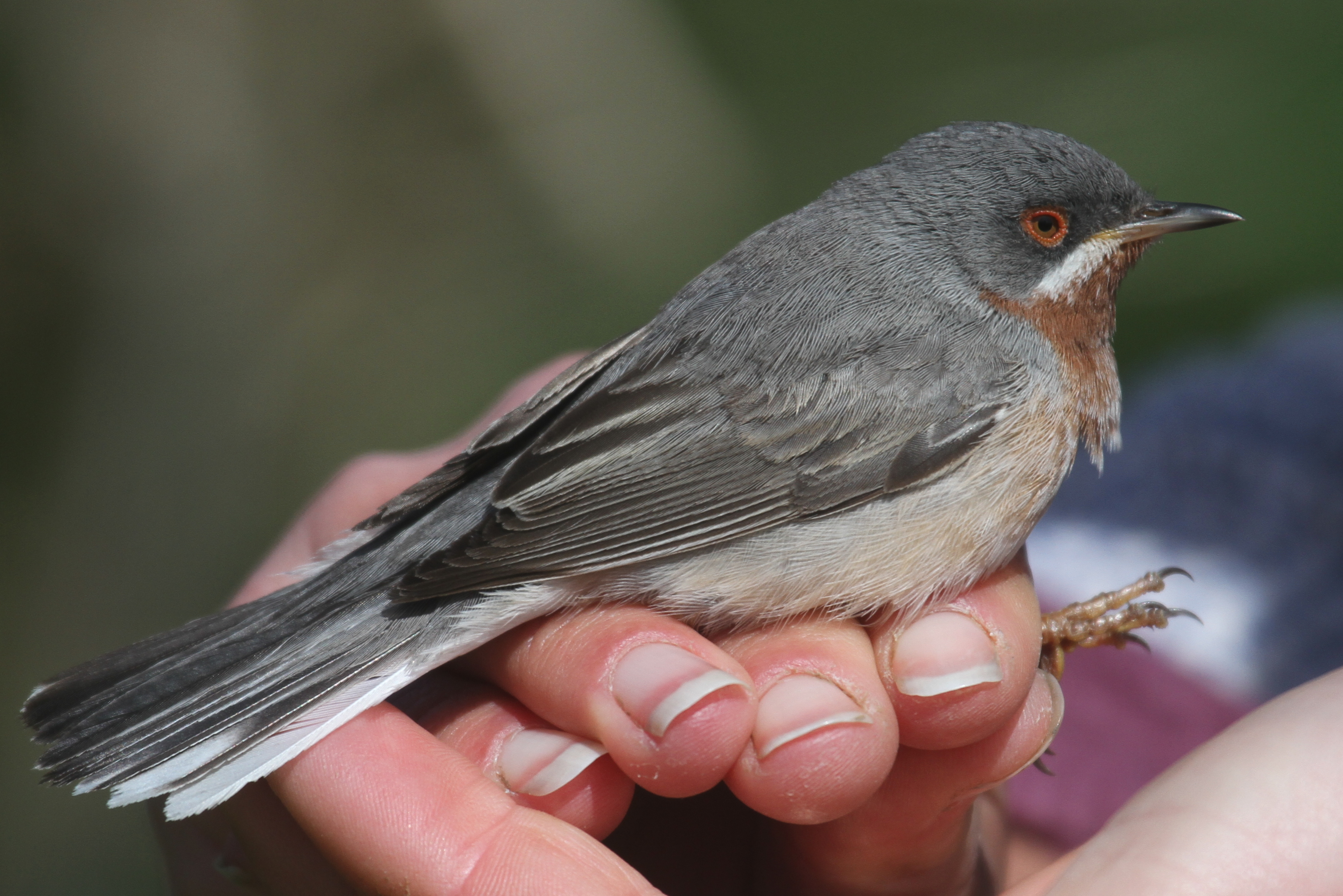 There are two or three birds vying for top-spot in this section and, on the toss of a coin, the male Eastern Subalpine Warbler seen around the bird observatory on Skokholm, off the Pembrokeshire coast on 24th wins out ~ it appears to be the fourth confirmed record of the form/species for the Welsh county to date (there are a good number of Sub-A records from the past ~ close to 30 in all ~ but (unsurprisingly) few have, until very recently, been identified to form level).
Previous accepted cantillans/albistriata (what BBRC now classes as Eastern Subalpine Warbler for Pembrokeshire are as follows; a male was on Ramsey Island in May 1993 and two were "ok'ed" for 2014, an early adult male on St. David's Head on April 13th with a photographed bird on Skokholm on May 15th.
If it had firmed up, the report of a female Sardinian Warbler in bushes at Exminster Marshes RSPB (Devon) on 25th would have usurped the Eastern Sub-A, but there's little known about the record and subsequent searches failed to find anything ~ Devon currently has five acceptances on the books, the most recent being another April bird, at Orcombe Point, near Exmouth in 2011 and there have been 19 records in the month (from an overall total of 83).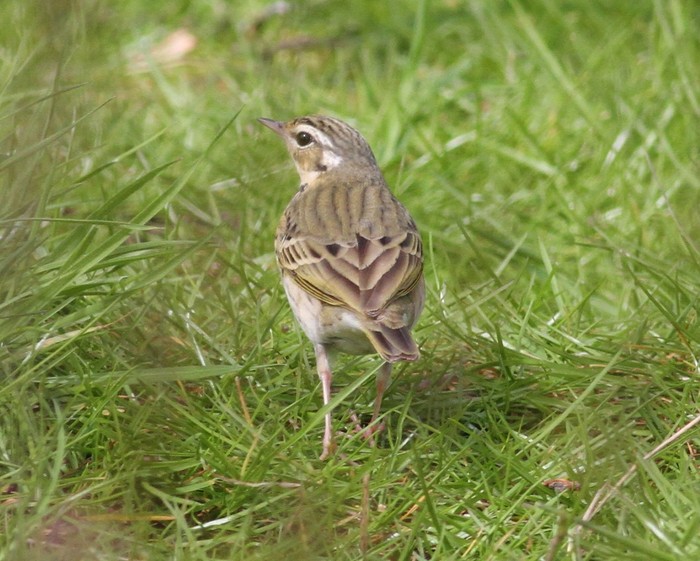 Rather more unseasonal, though not wholly exceptional (in terms of spring occurrences) was the cracking find on 24th of an east coast Olive-backed Pipit at Seacliff (Lothian). It appears to be the first in the county since October 2001, when one was at Thorntonloch with the only other record for Lothian coming in October 1993 when one was at Barns Ness.
This will be only the seventh April record of O-bP here; the first (which was also the 1st for Britain and Ireland) was trapped on Skokholm in 1948 and others have followed in 1991 (on Portland), 1995 (on Fair Isle), 2001 (on Skomer), in 2007 (near Hull in East Yorkshire) and at the end of April 2012, in North Yorkshire, at Filey.
Another curio on 24th was the Common Rosefinch that was trapped and ringed at Kilnsea (East Yorkshire) ~ it feels a good two or three weeks early (at least)…
Nine of the week's fourteen Hoopoes were found in the far southwest of England ~ Scilly held at least three (probably four) with singles around Porth Hellick on 20th and 22nd, on St. Agnes on 22nd and then Bryher on 23rd ~ while three were seen in Devon, found at Harleston on 23rd and at both Dawlish and Dawlish Warren on 24th with three further singles in Cornwall, at St. Merryn on 21st on the Lizard, near Windmill Farm NR on 24th and at Land's End on 25th.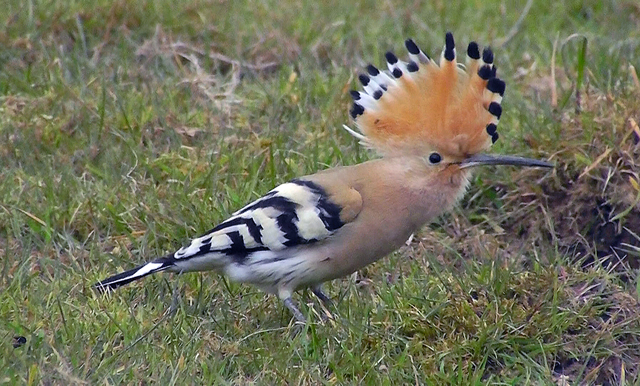 The other five Hoopoes across the week were a popular individual at Romsley (Worcestershire) from 21st-25th, near Windermere (Cumbria) on 24th, at Burgh-le-Marsh (Lincolnshire) on 26th and in Ireland, at Ventry (Co. Kerry) on 23rd-24th and in gardens at Oulart (Co. Wexford) on 24th.
With the change in weather, there was no real surprise to see a brief cessation if the numbers of scarcer overshoots making their way towards us and the lone Serin noted at Selsey Bill (West Sussex) on 21st was further proof of a quietish week. There were four or five Wrynecks to mention as well; two were in the southwest, both found on 24th, at Radipole Lake RSPB (Dorset) and on The Garrison, St. Mary's (Scilly) while another on the same date was located at Speen (Buckinghamshire). In north Norfolk, one mooched around the coast road gardens at Cley on 23rd-26th ~ being duly "papped" in the process by birders and bird photographers alike, with two reported on the latter date mentioned above.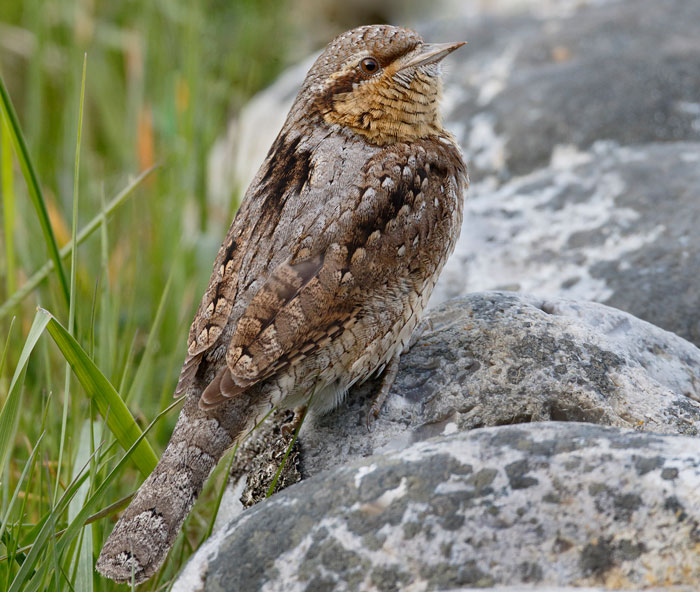 Last week's invisible singing male Savi's Warbler was in place at Minsmere RSPB (Suffolk) until 20th. There's not been any mention of the Portesham Pallas's Warbler (so presumably it has now departed) but there was a new Yellow-browed Warbler to report, a singing male found at Long Melford (Suffolk) on 24th. That was one of two seen this week, the other remained around the trees and bushes at Marazion Marsh RSPB (Cornwall) through to 24th as well.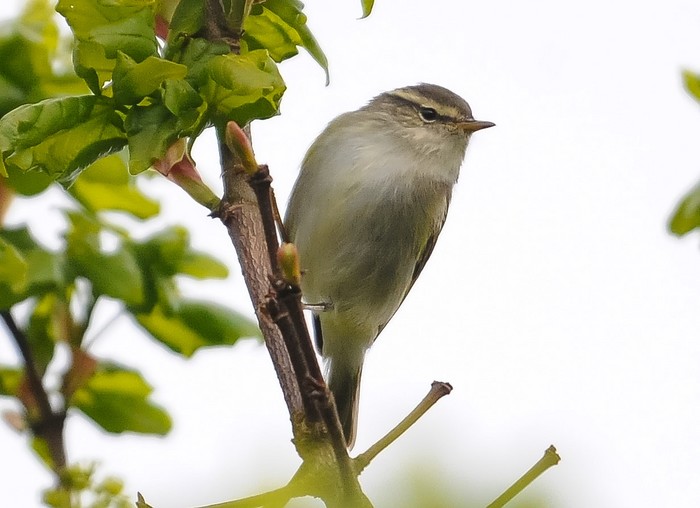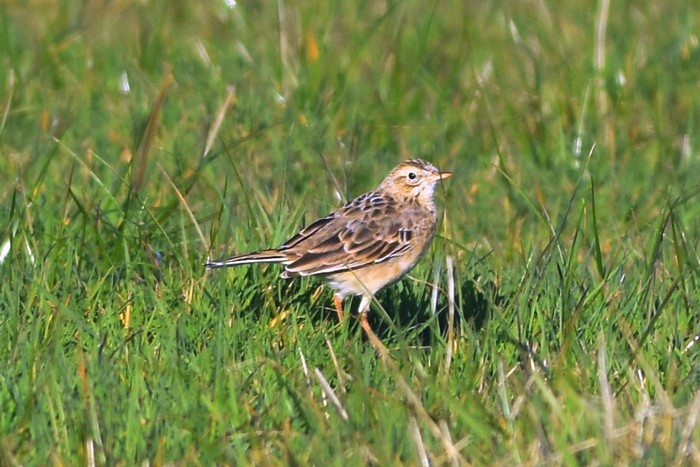 In East Yorkshire, the two 1w Richard's Pipits were still showing in and around the fields near Flamborough's North Landing (with at least one in place to 23rd).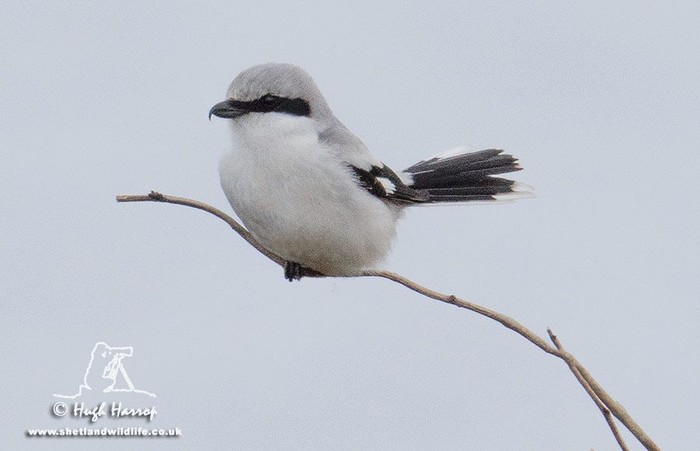 We're on a total of 11 Great Grey Shrikes now, with four for Wales leading the way; singles remained at Llyn Brenig (Denbighshire) on 24th and Cross Inn Forest (Ceredigion) to 26th with two together at Pont-rhyd-y-groes, Ysbyty Ystwyth (Powys) on the latter date. On Shetland, single Mainland birds were at Levenwick on 22nd and Hoswick on 22nd-26th.
A wintering bird remained in Hampshire's Woolmer Forest to 22nd, last week's arrival in Somerset, at Ubley was on station to 22nd and new were birds on Suffolk's Foxhole Heath on 21st, near Warwickshire's Upton House on 24th-26th and on 25th a second Suffolk bird was found at Westleton Heath and another was seen around Bempton Cliffs RSPB (East Yorkshire).
The coming week…
Those cool northwesterlies really know how to spoil the party but hope has to spring eternal as we start to race headlong towards the delights of that fragile beauty that is May…
But that isn't to dismiss what remains of April ~ no, no, no ~ it would be a most foolish thing to "drop the ball" and focus entirely upon what avian treasures May could bestow upon us.
Take April 27th ~ four perhaps even five proper "megas" have been found on the day through history; the double lark whammy of the retrospectively accepted Spurn Black of 1984 and the available Dungeness Crested of 2009 show just how good late in the month can be ~ add in Fair Isle's Song Sparrow from 1959 and Cretzschmar's Bunting (and, of course, Caspian Stonechat) of 2014 and the quality has been turned up to 11 once more.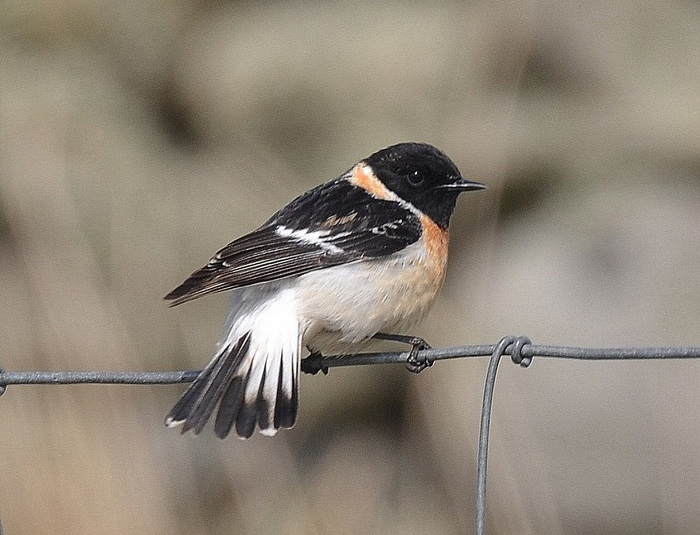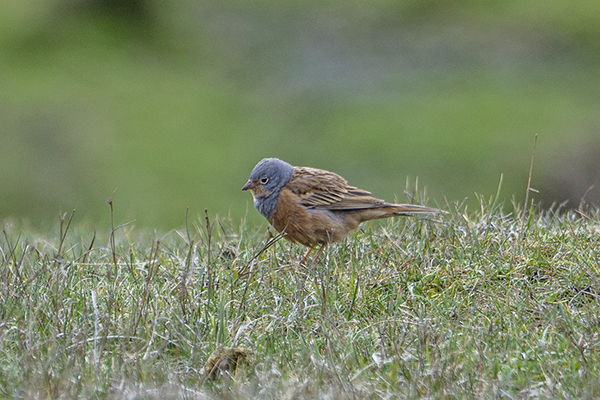 Doubles are what its all about with the 28th ~ there've been two Calandra Larks (the most recent on the Farnes in 1999) and also the first of two days in the upcoming week which have scored a double Collared Flycatcher day (April 30th is the other and Fair Isle muscles in there too, thanks to the Hoini bird of 2011).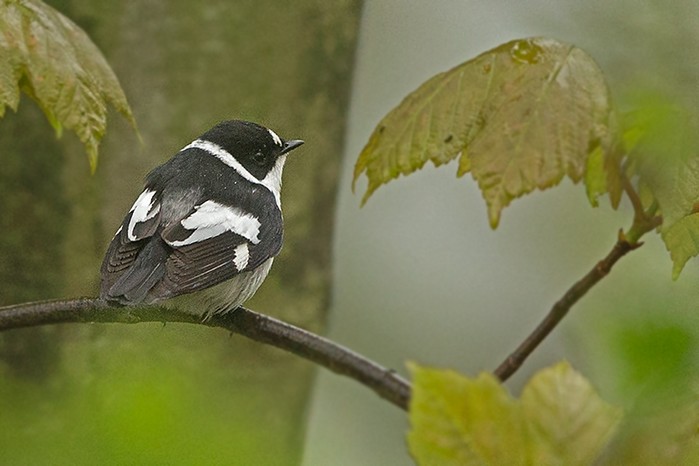 Countless rares abound through the rest of the week but with the "realism" hat firmly in place ~ here are the "top tips" for the next seven days...
Four of the days in the next week have produced double figures of Red-rumped Swallow ~ 11 on 29th, 17 on 30th, 15 on 2nd and 14 on 3rd ~ while May 3rd is also the day to set yourself up for a Subalpine Warbler, the figures are 17 for that day (and they have been pushing in to parts of Europe en masse of late)...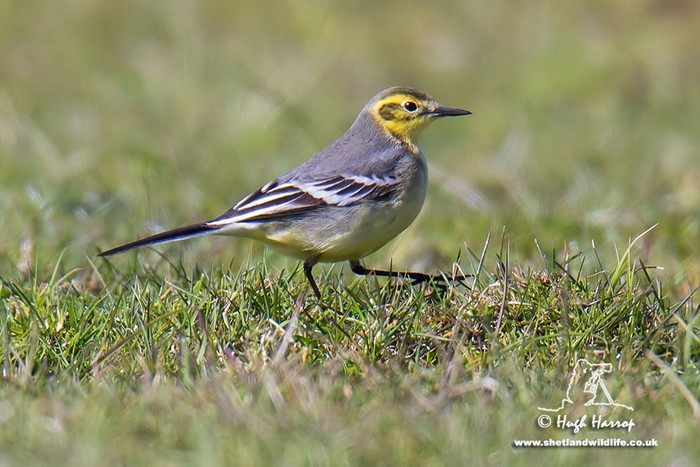 Outside bets (so dependant on the weather...) are Great Reed Warbler (there've been five of those) and Citrine Wagtail (there've been seven of those, including four on April 30th) while the optimum flutter for the week has to be Black Stork ~ 17 in all have been accepted between previous April 27th ~ May 3rd ~ including four days with three each and a neat four on the first day of the new week ahead.
…and given the direction of the winds, maybe a punt on an April
Harlequin
or maybe even a random
Barrow's Goldeneye
should be considered…
But if those outside bets don't appeal and you fancy the real long-odds options then perhaps it is best to look west.
Yes, look west for a sneaky Nearctic passerine ~ a sneaky non-warbler passerine; the 1st British Song Sparrow has already been noted above and you can add in a solitary White-throated Sparrow (in north Cornwall in 2010) and four Slate-coloured Juncos (in Gwynedd, Lancashire, Highland and Shetland).
…and who knows, with the wind dragging in from the northwest for days ahead, there could just be something all the more spectacular lurking from the land of Stars'n'Stripes and the Maple Leaf…
Mark Golley
26 April 2016
Special thanks this week to Richard Campey and Martin Cade (and the Portland Bird Observatory) for the archive shots of their Eastern Bonelli's Warblers. Also, many thanks to Richard Brown and Skokholm Bird Observatory for the in-hand image of the fine male Eastern Subalpine Warbler and also to Nigel Rogers for his Norfolk Cranes, and thanks also to the rest of this week's contributors for their photos and videos.
Richard Brown - Skokholm Island
, Nigel Rogers, Richard Campey,
Martin Cade - Portland Bird Observatory and Field Centre
, Barry Matlock, Mark Chidwick,
Dave Hutton
,
Martin Goodey
, Martin Scott, Martin Palmer,
Dorian Mason
,
Paul Kelly - Irish Bird Images
, Davie Abraham, Brad Robson, Bob McMillan, Mark Dowie, Lucy Flower, John Tymon, Michael Turner, Sean Nixon, Alan Doidge, Pete Hines, Frank Golding, John Jennings, Ian Andrews, Philip John Parsons, John Pringle, Andy Hood,
Hugh Harrop - Shetland Wildlife
, Chris Bromley, Phil Woollen,
Chris Upson
, John Swann, Steve Gantlett.
Please note: we put a lot of time and effort into sourcing and and producing the images, videos and graphics for each roundup. Some of you (probably Apple users) may notice some photos etc. that appear to have incorrect captions. Please try refreshing the page as they are correcty captioned. If after a refresh they are still showing the incorrect captions then please email us
Contributors websites