Mark Golley's weekly birding round-up: 13 - 19 April 2016
The week at a glance
No surprise there then - an Alpine Accentor makes it to Britain, photographed in Hampshire
Out of nowhere, the Cornish Snowy Owl reappears a stone's throw from where it was a few days ago
Both singing male Iberian Chiffchaffs remain in their respective new homes in Shropshire and Cornwall; a new one arrives on Scilly too
The Cornish Hudsonian Whimbrel also noted as the new week begins
Cork's Glaucous-winged Gull in no hurry to move on…
Late news from last week - another spring Pallid Harrier photographed in Gloucestershire
April often means periods of somewhat unsettled weather conditions as the month tries to ease in to some sort of meteorological groove and the past week saw that familiar "sunshine and showers" pattern enacted across various parts of the country at various times over the past seven days.
The flip-flop nature of the weather was much in evidence; as many western parts enjoyed some decent spells of dry and often bright conditions, hefty pulses of storm activity drifted slowly through parts of East Anglia as the new review period began - hospitals struck by lightning, banks subsiding, roads flooded, giant hail storms a go (it was pretty lively…) - before a broader band of rain crossed the eased across parts of the Midlands, southeast England and East Anglia as the weekend arrived.
The low pressure system dragged in some modest easterlies before trundling around towards the north and northwest, bringing lower temperatures (4's and 5's in places) with snow on our highest peaks.
More sun and more showers would follow until post-the weekend and then a expanding area of high pressure began to take charge - conditions becoming more interesting as the week drew to a close…but would it produce the goods?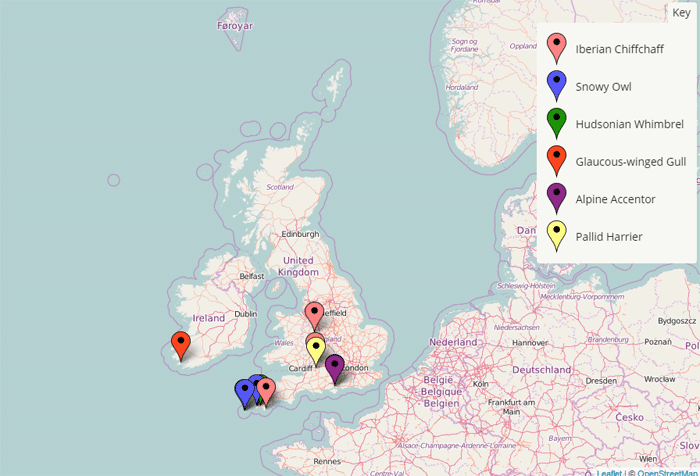 Alpine Accentor
There's been a sense of inevitability that this week would see the appearance of the bird chosen as the "go-to mega" at the end of last week's review and, albeit over a day on after discovery, here was the news we'd been waiting for - there was indeed an Alpine Accentor in the country and the top-prize belonged to Hampshire - spring duly upping her game a little more in the process too.
Much frustration was had all round (for those who've yet to see this perky continental vagrant) as the bird appeared to be long gone - seen a mile or so to the northwest of Hill Head, along the cliffs at Bromwich Farm on the morning of 13th, it moved off and away with no further sign on the day itself. Additional salt to the wound was applied by the photographs that followed…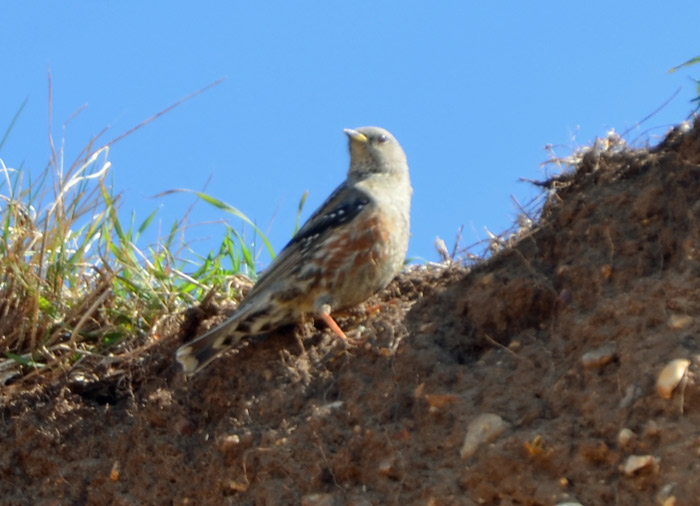 Still, such minor issues (photos and bird gone) wasn't going to deter those with a AA sized gap in their British list or, for the locals, their Hampshire lists and a Thursday afternoon search ensued (well, it would be rude not to…).
Unfortunately, that afternoon quest proved fruitless; the search for another "sticker" goes on.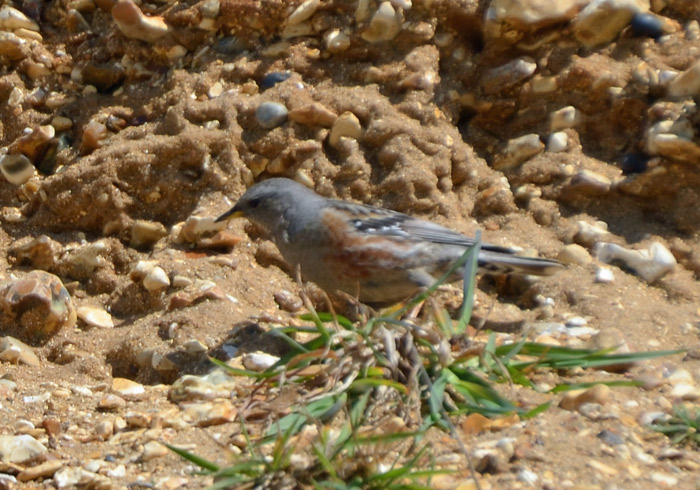 The remarkable multiple appearance of the species in Germany in the last couple of weeks just couldn't help but suggest that something was afoot, everything just seemed to be pointing towards us picking up another Alpine Accentor and with a further overshoot seen on the extreme western edge of the Dutch coast (at Egmond aan Zee, Noord Holland - due east of Caister-on-Sea) on 14th, it felt as though it was just a matter of time until one was located here; as it turned out, Hampshire had beaten the Dutch bird by a day (and, obviously, it wasn't in the predicted East Anglia, but you get the picture)…
Once accepted by the powers that be, this will be the seventh April Alpine Accentor from a grand total of (now) 36 bird. The first two of those were found in Sussex; at Seaford Head from April 7th-20th 1921 and then at Telscombe Cliffs on April 24th 1955. Those south coast birds were followed by the much-twitched (at the time) bird at Portland between April 8th-30th 1978 with a (somewhat infamous) Norfolk bird following at the end of the same month, along the cliffs near Sheringham from April 30th-May 4th 1978.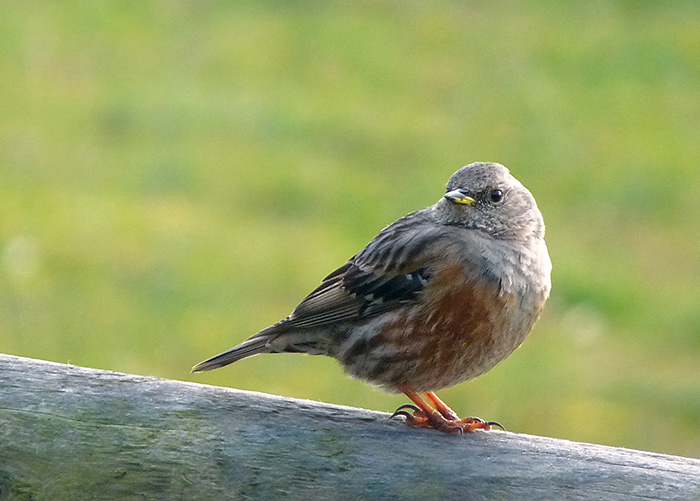 Norfolk hosted the final (and most recent) two April records and, as was lightly touched upon at the end of last week's witterings, they form part of the last quartet of Alpine Accentor records; this now much-sought after rarity has been shared 2:2 between Norfolk and Suffolk over the past 16 years - the former county scoring the most recent two - the one-observer bird at Holme on April 26th 2014 and, ten years prior to that, the twitchable bird on the undercliff at Overstrand on April 20th 2004.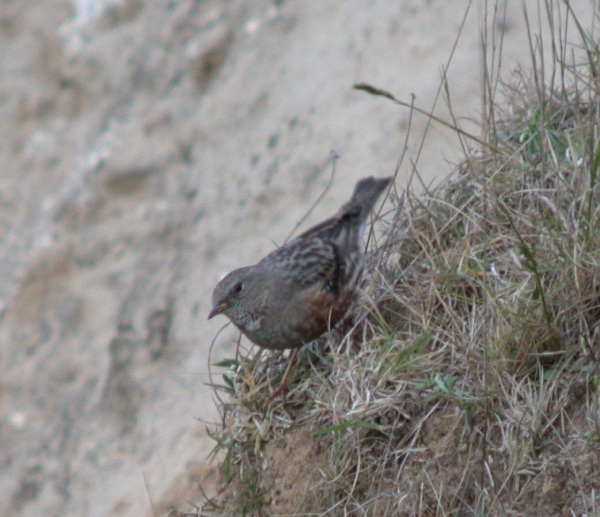 Suffolk managed the two before that, for four days at Minsmere in March 2002 and a one-dayer at Corton in May 2000 (a bird that appeared just a week after another was seen in Kent).

...For a full five minutes I studied it through the lens of my camera and took 48 images. It gradually ascended the cliff, hopping about from ledge to ledge and apparently feeding as it did so. On reaching the summit it soon disappeared from view and I resumed my bee recording....
Read George Else's Alpine Accentor finders' account here
Only May has seen more Alpine Accentor appearances, eight noted through that most favoured month, with March, October and November all sticking on three each.
Its been said on these imaginary pagers before as to just how much of a curio Alpine Accentor has become for the new generation of listers who've taken up the game post-2004 - many twitchers before them have managed four birds, a good number of whom started with the bird on the Isle of Wight in the incredible spring of 1990, followed by the four-day adult in Lincolnshire in November 1994, with that four-day lingerer in Suffolk mentioned above helping things along too. Add in the 2004 Norfolk bird and bingo - there's been a whole heap of them.
Go back another twitching generation and you can easily make it five - plenty of active listers now saw that Portland bird in '78. All of the above is (obviously) of no interest to those who've yet to reach for the biro and put an inky splodge in the box marked Alpine Acc..
It does feel as though there's more to come and any minute now there'll be another one (time will tell if 2016 joins 1932, 1978, 1990 and 2000 as years where there's been a double helping of the Double A).
Snowy Owl
April's first week included the significant mainland appearance of a fine male Snowy Owl in the valleys just to the northwest of St. Just (on the 4th) -as it turned out he was nothing more than a sleepy-looking one day wonder…
Amazingly, 11 days further down the line, the bird was back along the Cornish coastline, again close to St. Just, this time just to the northeast, where post-discovery (around lunchtime) on 15th, he resided not far from Carn Kenidjack for the rest of the day.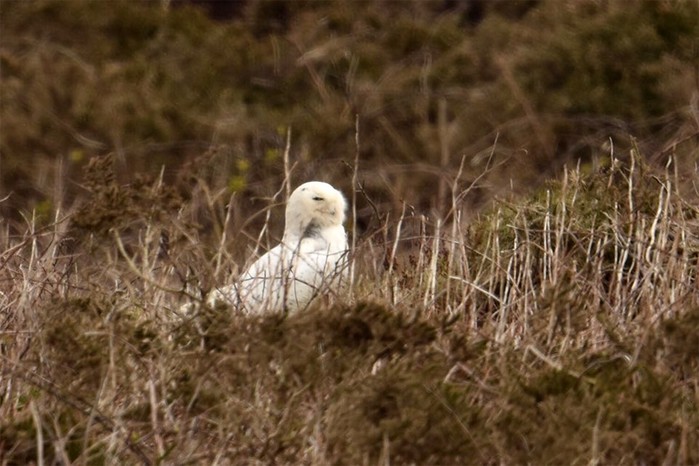 The question that inevitably springs to mind is precisely where this most beautiful of birds has been, undetected, for almost a fortnight.
You could kind of understand how a subtle creature like the Hudsonian Whimbrel could lose itself amongst the Cornish countryside, seeking quiet and solitude in some mysterious smuggler's cove somewhere - but a Harry Potter Owl? On paper, that is a whole different proposition.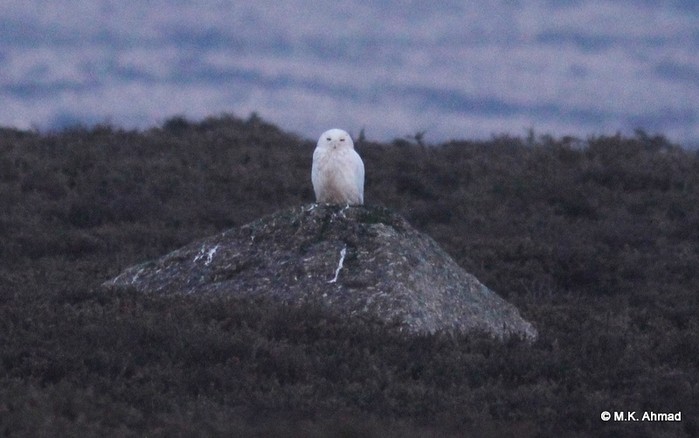 That is until you remember just what that part of west Cornwall is like - swathes of land across a significant square mileage are barely looked at by local livestock farmers, let alone birders, so a bird as distinctive and obvious as a Snowy Owl could easily manage to lose itself somewhere amongst the rugged, glorious countryside…
…and clearly it managed that with some aplomb. And, with another departure post-dusk of 15th and pre-dawn of 16th it seemed to have done it again. However, such a striking bird wasn't going to elude birders for too long - by lunchtime on 17th, he'd been tracked down again, now two miles southeast of St. Just on the moorland of Bartinney Downs, not far from Crows-an-wra, right where the '09 male spent some time, but as dusk fell, he was off again, this time heading south towards Sennen and Land's End.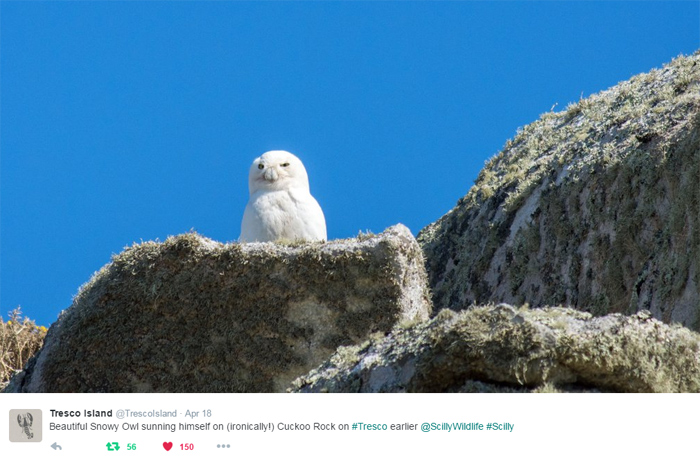 That late evening move was significant as the afternoon of 18th provided the next twist in the tale - in a reverse of the events of late 2008 - this particular Snowy Owl left the Cornish mainland and arrived on the Isles of Scilly - found at New Grimsby, Tresco before taking flight to Bryher late in the evening (in 2008, the amazing juvenile Snowy that arrived on Scilly in October that year departed early in December, being refound on the west Cornish mainland soon after).
Iberian Chiffchaffs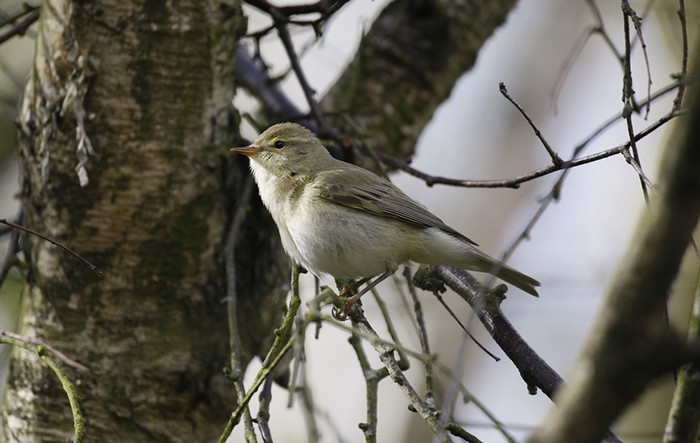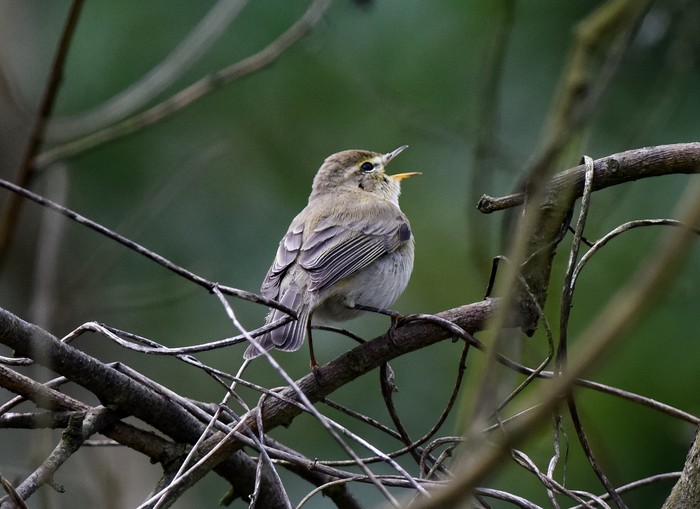 Still sitting pretty within the headliners are last week's two Iberian Chiffchaffs - still in place in their temporary summer homes in both Cornwall and in Shropshire.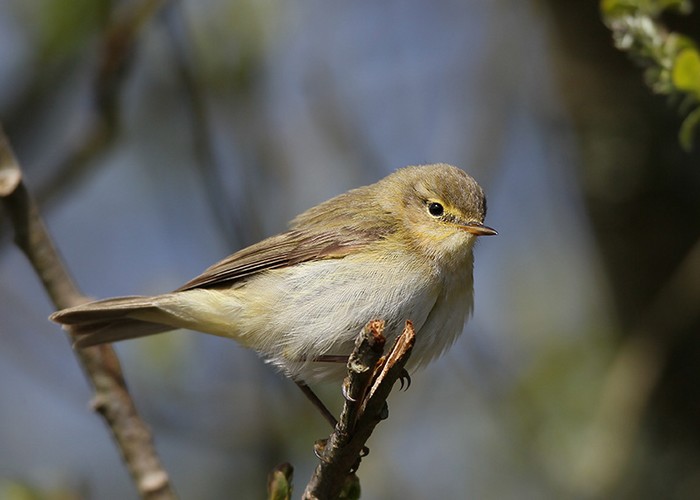 Down on The Lizard, the Iberian Chiffchaff found towards the end of last week was still in place, singing and showing well at Little Treleaver, Ponsongath through until 19th.
Drawing more of a crowd was the Shropshire songster - performing through until 19th within Doddington Woods, not far from Telford and offering up every possible field character of this somewhat-subtle species.
The third of the week and brand, spanking new too, was the singing male Iberian Chiffchaff that appeared on Tresco (Scilly) on 17th (and remained to 19th) - only the third for the islands as a whole (and a 1st for Tresco) - St. Mary's has welcomed Scilly's previous two; songsters present between April 14th to May 21st 1992 (only Britain's second as it turns out) and for four days from April 24th 2013.
Old favourites - diminishing returns: Hudsonian Whimbrel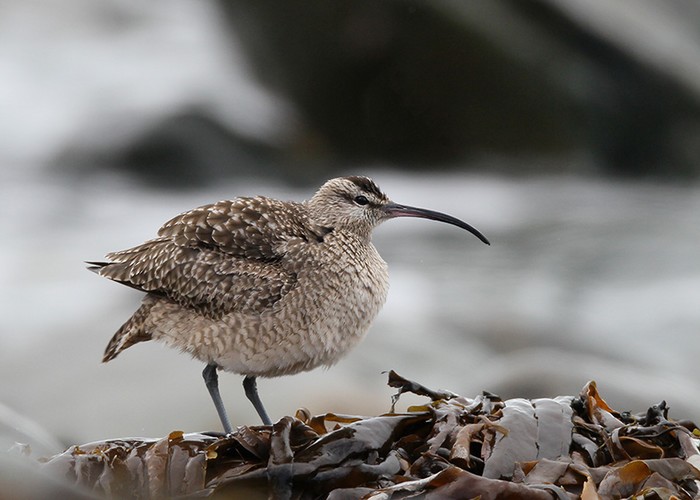 The changing of the season has become ever-more pronounced this week, so we're down to just one of our winter staples - the first-winter Hudsonian Whimbrel that remained on the fringes of Mount's Bay, still at Boat Cove, Perranuthnoe until 18th - a stay of 172 days so far (it went missing for days and weeks at a time of course, but is assumed to have been somewhere not too far away).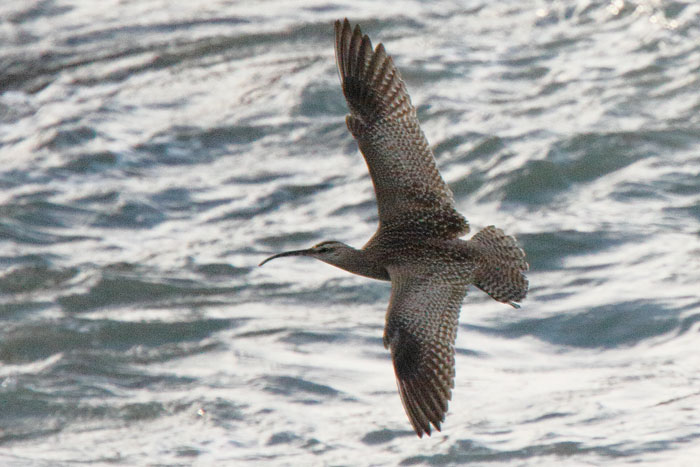 Glaucous-winged Gull
From one Celtic nation to another (Mebyon Kernow will be in full agreement…) and away now to Cork for the weekly update on that glorious Glaucous-winged Gull - still in and around the haven at Castletownbere through until 17th at least.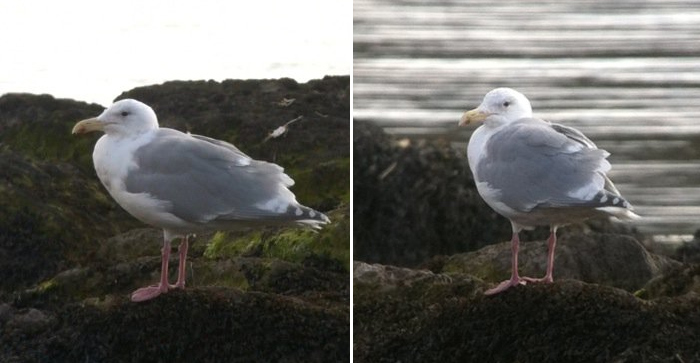 Pallid Harrier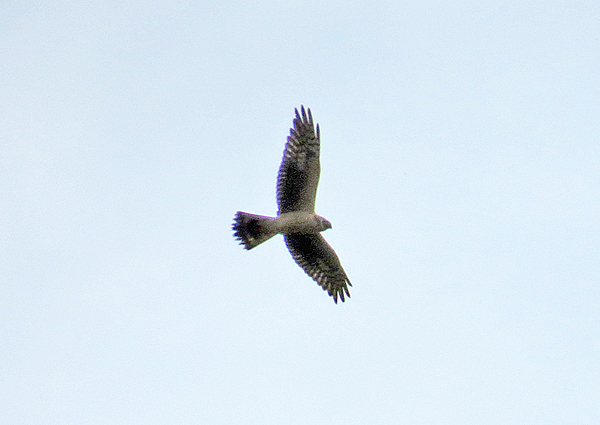 What turns out to have been the second Pallid Harrier of last week emerged from the shadows on Thursday morning - a super looking first-summer had been photographed on 12th in the Shire Valley, Marshfield (Gloucestershire) - the same location as the wintering Bluetail a couple of years back.
The bird was on view for around five minutes before departing somewhere to the northeast - a first for the south end of the county and only the second for the county as a whole (that was the adult male that was identified from photographs at Frampton on April 3rd 2012).
Along with the stunning male photographed at South Swale NR on 10th, this belated bird makes it two April Pallid Harriers within the space of 72 hours - you've got to wonder at how many others are sneaking around the country…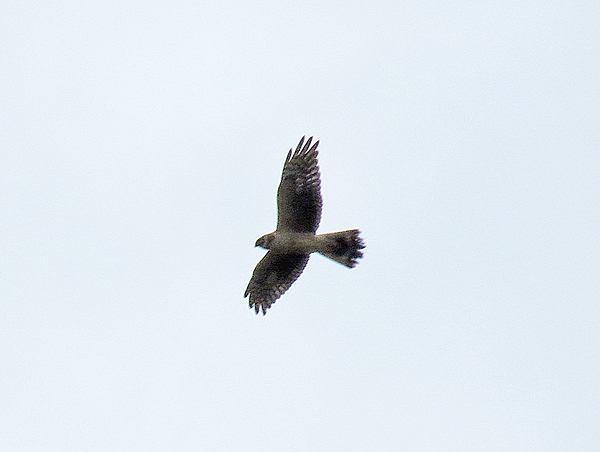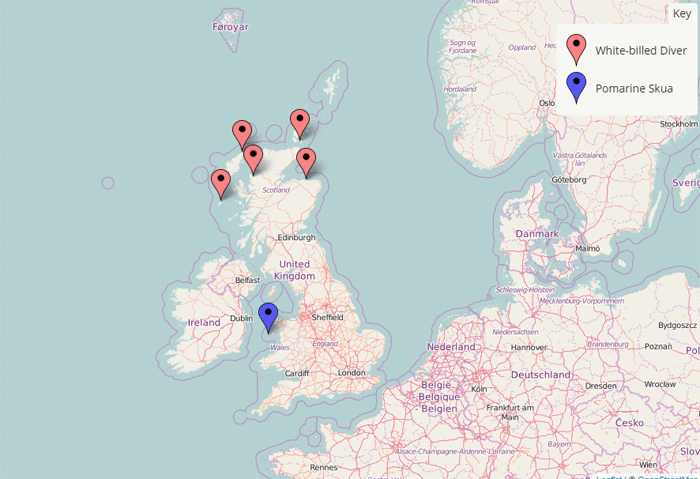 It hasn't been the most spectacular spring passage for White-billed Divers that we've ever seen and this week managed to offer just four birds in total - three of them remnants from previous weeks although the new review period began with a new Highland bird, found at Poolewe on 13th. Hanging on from past times were last week's bird at Herston, South Ronaldsay (Orkney) - in place to 18th - and also over on the Outer Hebrides where at Eoligarry, Barra the recent banana-bill stuck it out for a few more days, noted to 17th at least with another noted from Port Skigersta, Lewis, also on 17th and with two there on 19th.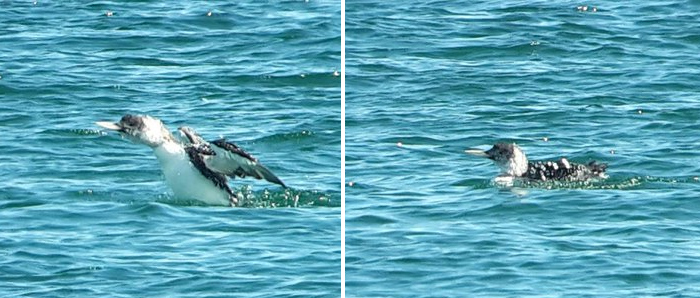 With tame conditions around the coast, there wasn't too much of a surprise in the general lack of other seabird options; a Pomarine Skua was seen off the south end of Bardsey Island (Gwynedd) on 14th and, well, that was about it.
Somewhere out-at-sea, between Galway and Newfoundland (there's vague and there's really vague on my part) there was an impressive haul of migrating seabirds logged from the deck of the R.V. Celtic Explorer on 16th - a Sabine's Gull, 37 Long-tailed Skuas, 10 Pomarine Skuas and 88 Leach's Storm-petrels recorded in transit out in the Atlantic.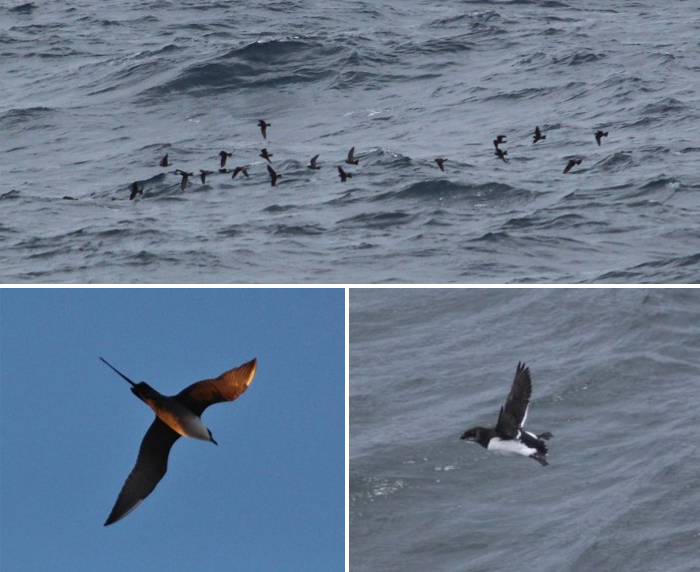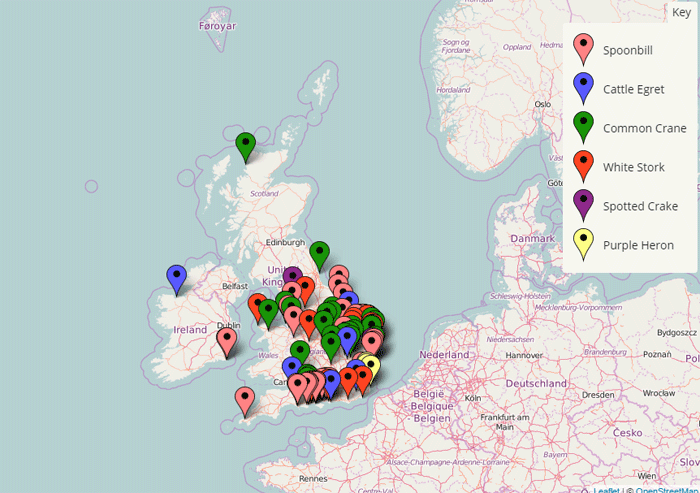 What was potential the same Purple Heron moved between a couple of sites in Kent early in the week; first seen at Stodmarsh NNR on 13th, the following morning saw one head north over Sandwich Bay - there's probably only eight miles or so between the two sites as the Purp flies (and Sandwich lies due east of Stodmarsh)…
Indeed, it is actually quite tempting to link the Stodmarsh and Sandwich bird to also being the very same individual that (re-)appeared at Reculver later in the day on 14th - last seen heading north from Sandwich (at 0745) the late afternoon appearance at Reculver, some 12 miles or so the northwest is no distance at all for a competent flier - maybe they are all one in the same after all.
The roaming west coast White Stork has already clocked up seven counties on the journey from Devon and then Somerset through to north Wales as last week came to a conclusion - the start of the new week saw the bird reach the end of the line as it hit the far northwestern corner of the Principality when it flew over South Stack RSPB (Anglesey) during the afternoon of 13th. This may even then have been the bird seen four days later in Lancashire, at Colne (things are getting a little fuzzy now).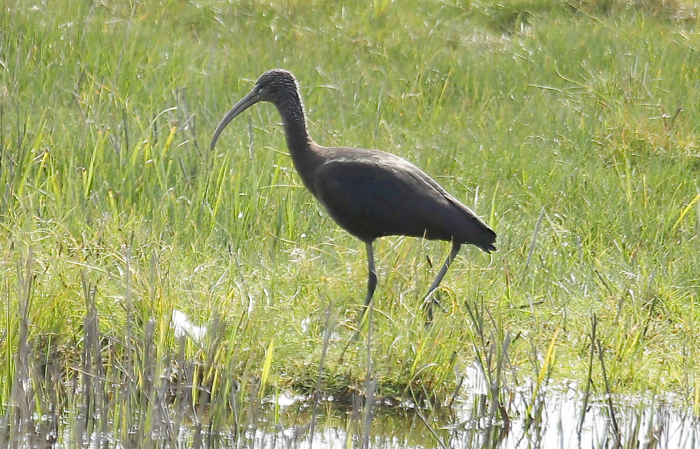 Another presumed genuine Stork was seen heading over Arlington Reservoir (East Sussex) on 14th and this was (again presumably) the same bird that was seen over West Wittering (West Sussex) on 17th and then Dungeness (Kent) on 18th. After last week's East Midlands bird on private ground in Leicestershire, one was noted there again on 17th, seen over Quorn (at around 1230) with, 30 minutes earlier, one seen some 40 miles to the east at Rugeley (Staffordshire) - presumably two birds? The final "o.k" not "o.u.o" bird was reported over Christchurch Harbour (Dorset) on 18th while over in Norfolk, assorted duffers were out west and also out east through to the weekend and what was assumed to be the west Norfolk bird toured along the north coast from Sheringham to Cromer on 19th.
Ireland hosted two twos of Glossy Ibis through until the weekend; the now-regular duo stuck it out at Cahore (Co. Wexford) while new were the duo at King's Island, Limerick (Co. Limerick) from 14th-16th. In England, a new bird was seen heading over near Maidenhead (Berkshire) on 13th (the first in the county since October 2011) while the remaining quartet were comprised of late-departing winterers; still at Goldcliff Pools NR, Newport Wetlands (Gwent) to 15th and at Oare Marshes NR (Kent), on the Somerset Levels and still around Seaton (Devon), all to 18th.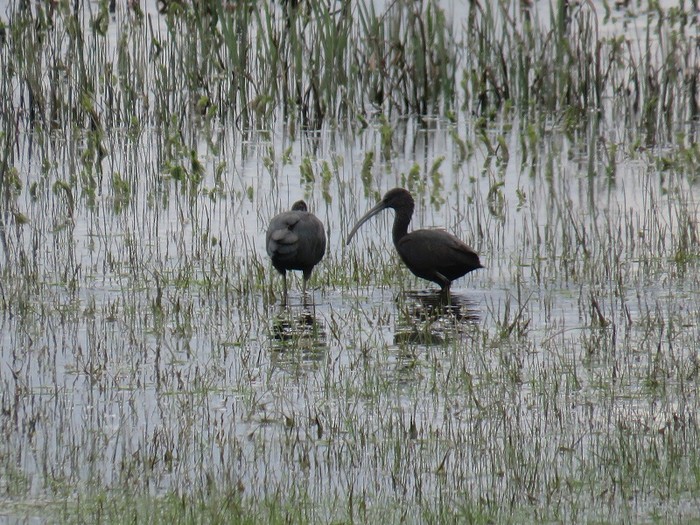 After a healthy little tally of eight Cattle Egrets last week, the new review period saw numbers fall a touch, to four or five over the past seven days. Fresh stock appeared at Pagham Harbour (West Sussex) from 14th-19th (and another newbie was reported from Saltfleetby in Lincolnshire on 17th) while lingering individuals were at Enniscrone (Co. Sligo) to 16th, at both Chesterton (Cambridgeshire) and Biddenden (Kent) to 18th (the latter bird hasn't had a mention since April 3rd) and at Tealham Moor (Somerset) to 19th.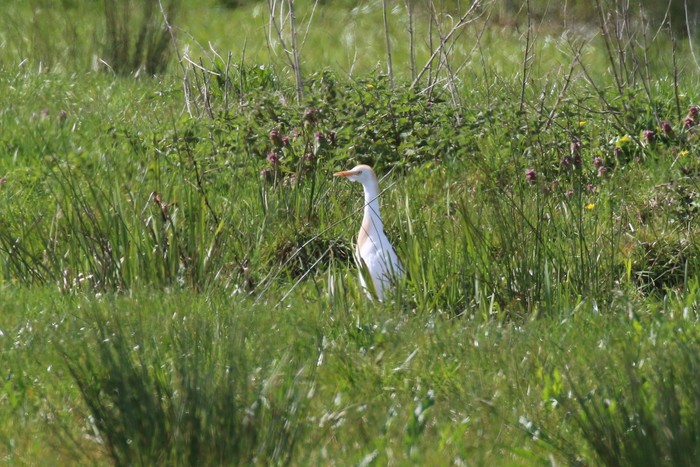 There was a decent if somewhat thin spread of Spoonbills across the review recording area - 30+ in all (up from just 18 last week) with the seven hanging around in Dorset's Poole Harbour until 16th easily being the peak count of the week.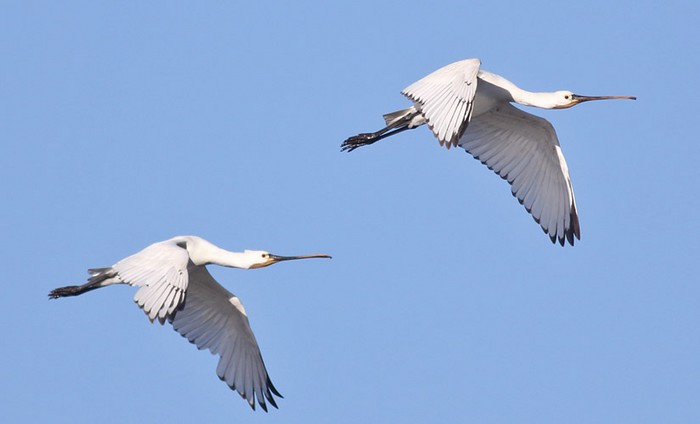 Elsewhere along the south coast, at least four birds (a minimum two twos) were in Hampshire and another double was in West Sussex as well with a further two appearing at the Swale NNR (Kent) on 15th. Ones and twos were widely distributed from (once again) Cornwall to Cambridgeshire through to other East Anglia counties (three were at Hollesley in Suffolk on 19th) as well as Lincolnshire, East and North Yorkshire on the east coast. Over in the northwest, a Spoonbill remained at Burton Mere RSPB (Cheshire), another single was seen over the Wirral on 16th (at Hilbre Island) while two were again at Hesketh Out Marsh RSPB (Lancashire) on the same day. The final birds to mention were the pair that resided in Wexford, at Tacumshin and Ring Marsh through to the end of the weekend, on to 18th.
The first day of the new week was a busy old one for Common Cranes - at least 13 seen through the day, with not a single amongst them…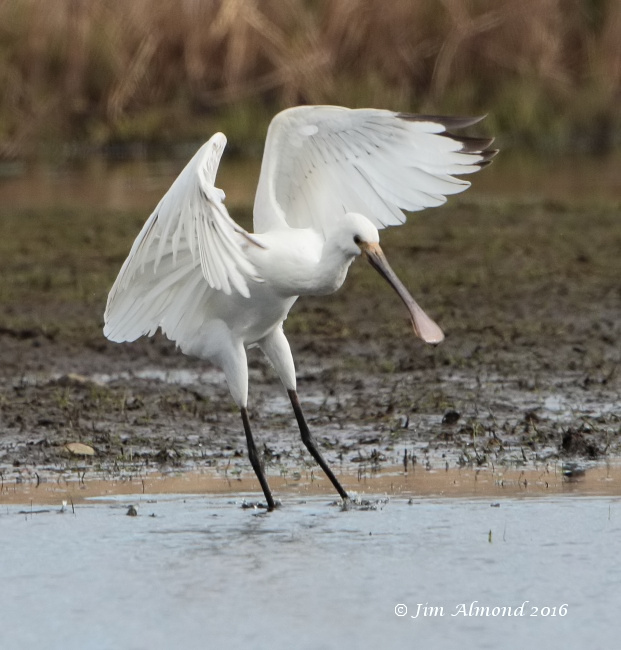 In Norfolk, three coasted over Paston and a pair were again at Strumpshaw Fen RSPB. A Fenland double were still at Lakenheath Fen RSPB (Suffolk) and over in Lincolnshire, two birds headed over Whisby NR. Way to the north, another pair were at Stoer (Highland) and in the northwest, two Cranes were seen drifting over Red Rocks, on the Wirral - birds that were no doubt the same two that appeared on 14th at Llanberis (Gwynedd).
Also on 14th, single Grus were logged at Pagham Harbour (West Sussex) and in Nottinghamshire at Barnby-in-the-Willows (this was presumably the bird heard over Hoveringham the same day). The weekend yielded two near Ely (Cambridgeshire) and singles at both Minsmere RSPB (Suffolk) and Sixpenny Handley (Dorset) on 16th while the next day saw loners noted at Wimborne St. Giles (Dorset), Otmoor RSPB (Oxfordshire), Ouse Fen (Cambridgeshire) and over the M1 at Milton Keynes (Buckinghamshire); two headed past Whitburn (Co. Durham) and three tracked over Summer Leys NR (Northamptonshire) with three on 18th over Poulton (Lancashire) and an unringed adult was at Slimbridge WWT (Gloucestershire).
Finally, back to Norfolk, where the 17th saw a two at Claxton swiftly followed by (now) three at Strumpshaw with a flock of 14 over the Broads on the sunny morning of 19th (a lone bird was in the far west, at Denver on the same day too).
Rounding things off, a report of a flushed Spotted Crake that between Snape and Iken (Suffolk) on 15th and an early, early morning singing male at dawn on 19th at Leighton Moss RSPB (Lancashire).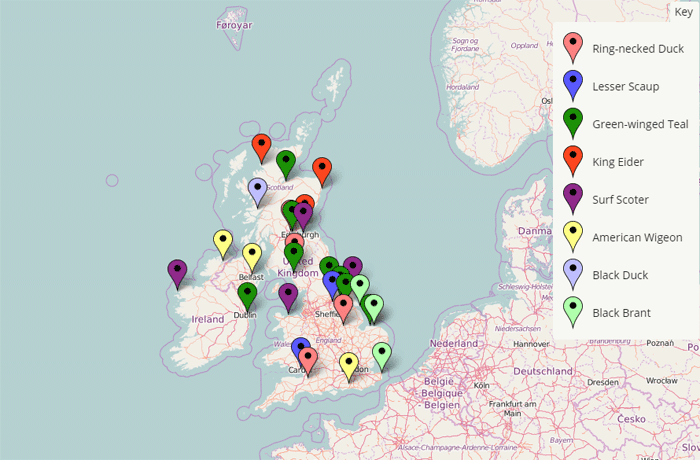 After a blank Black Brant week seven days ago, three birds made a mini-comeback this week; the first was at Pegwell Bay (Kent) on 14th and it was followed by one of the two wintering birds being noted again at Spurn (East Yorkshire) on 15th and in north Norfolk, another was out on the saltings at Stiffkey on 16th.
One of the more sporadic guests in these parts is (without question) the drake Black Duck that has materialised again at Strontian (Highland) - seen on 17th for the first sighting in almost exactly a year (the last report came on April 21st 2015). This elusive sometimes-visitor (does it just loiter somewhere close by?) was first noted in the small village in early June 2011 and has been noted annually (for anywhere between three or four months to a single day) through until 2016.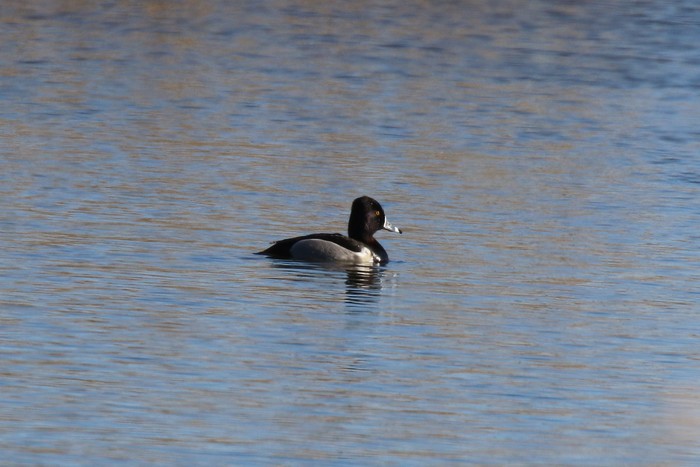 There's still a lone drake Lesser Scaup to mention, still in south Wales, on Cosmeston Lakes CP to 17th, before re-appearing in Cardiff Bay on 19th, while three of the week's quartet of Ring-necked Ducks were on station to the same day; new was the drake at Skinflats Lagoons RSPB (Forth) - found on 15th - while recent regulars remained at Caerlaverock WWT (Dumfries & Galloway) and Ham Wall RSPB (Somerset), both to 18th at least. The final bird of the four was the drake that resided at Kilvington (Nottinghamshire) to 15th, before another appearance there on 19th.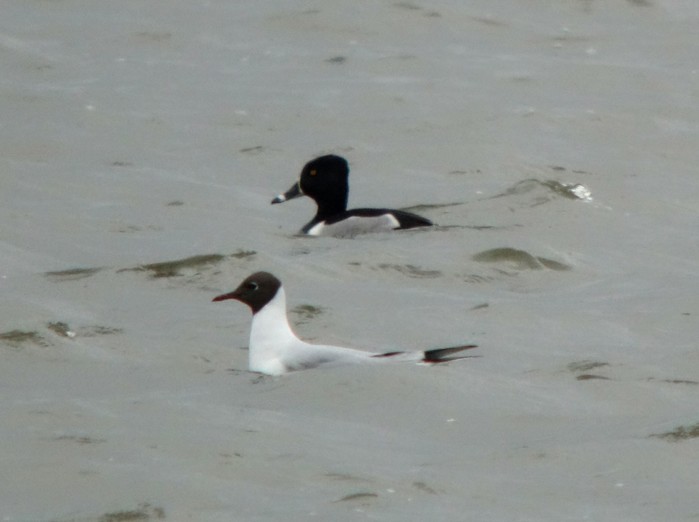 Another review re-appearance this week came courtesy of the drake American Wigeon that was back at Pulborough Brooks RSPB (West Sussex) from 14th (the first sighting since 5th) and he was followed by the female again in County Antrim, seen at Belfast Lough RSPB 16th (she was seen in the same general area on March 26th-27th).
After several consecutive weeks of pretty decent numbers, the tally of drake Green-winged Teals countrywide fell to below double figures for the first time for ages - only eight recorded all week with a national split of 5:3:1 shared across England, Scotland and Ireland.
North Yorkshire held two of England's four; singles still at Nosterfield LNR and Wheldrake Ings to 16th while further down the east coast, last week's drake at Alkborough Flats (Lincolnshire) was present to 13th and fresh stock came courtesy of a drake at Burnham Norton (Norfolk) on 19th. Also new was a bird at Siddick Ponds NR (Cumbria) from 13th-19th (two were at the same site on Christmas Day). Scottish drakes included a new bird in Forth at Skinflats Lagoons RSPB on 14th with the county's second individual remaining at Kinneil Lagoons to 19th with one still at Loch Flemington (Highland) to 17th. Ireland's sole Green-winged Teal remained at North Bull Island (Co. Dublin), the wintering bird in place until 17th.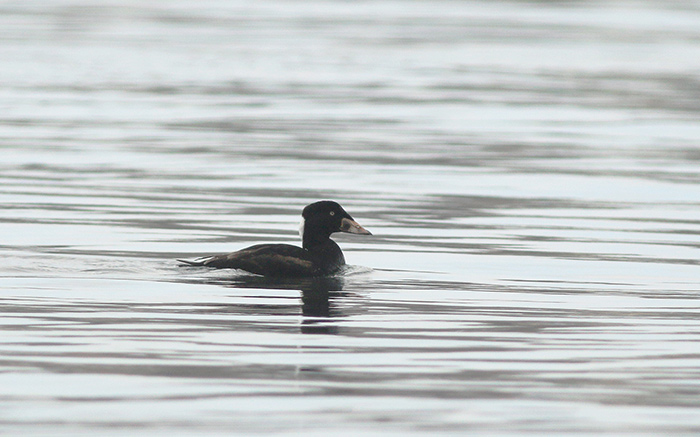 Eight Surf Scoters were logged on 14th - four (two adult drakes, a 1w drake and a female) remained in the bay at Claggan, on the Mullet (Co. Mayo); two drakes were still off Great Ormes Head (Conwy); the old drake remained off Musselburgh (Lothian) and the young drake was at Filey Bay (North Yorkshire) - he was still there on 19th.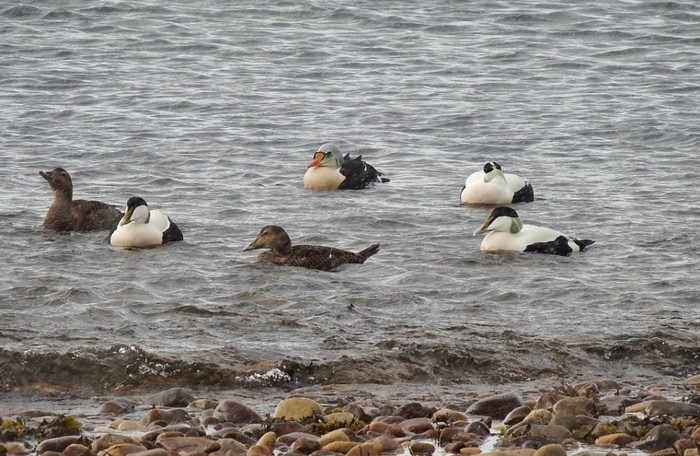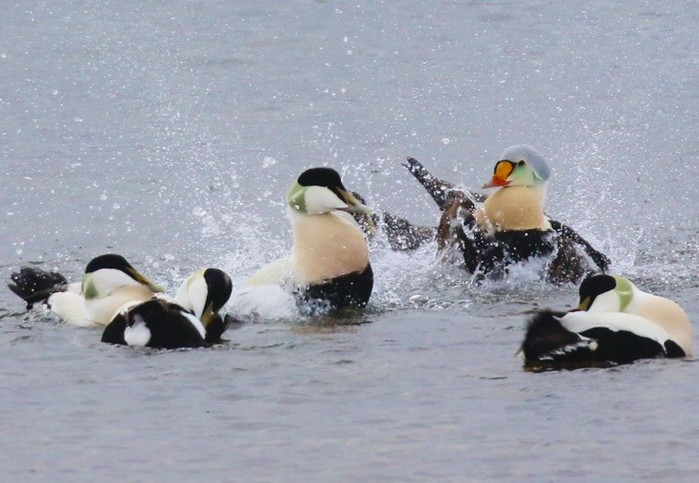 A new adult drake King Eider was found at Achiltibuie (Highland) on 14th and showed well until 16th (appearing again on 19th) and on 18th, the week's second drake was back on a traditional, favoured haunt - Aberdeenshire's Ythan Estuary. These were two of three birds noted this week, the other was the usual female that was still in Fife's Largo Bay until 17th.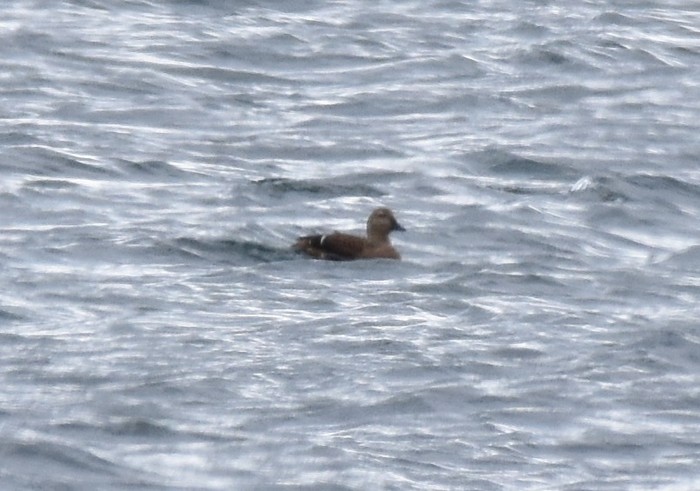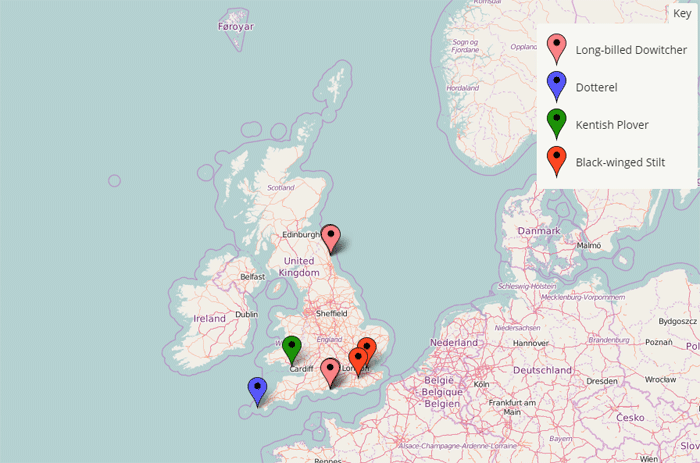 Hot on the heels of the first Black-winged Stilt of 2016 (seen last week in Sussex) came the second, third and fourth of the year, noted in flight over the saline lagoons at Cliffe (Kent) on 17th.
Glamorgan's third Kentish Plover in the past six years, a colour-ringed female, was found at Sker Point during the late afternoon of 18th - the striking looking c-r combo (green over black on the left tarsus, blue flag on right tibia, blue ring on right tarsus) should be traceable, but it isn't always that easy.
Spring's first Dotterel appeared on 19th, flying over Porthgwarra's Gwennap Head - those trips are on their way…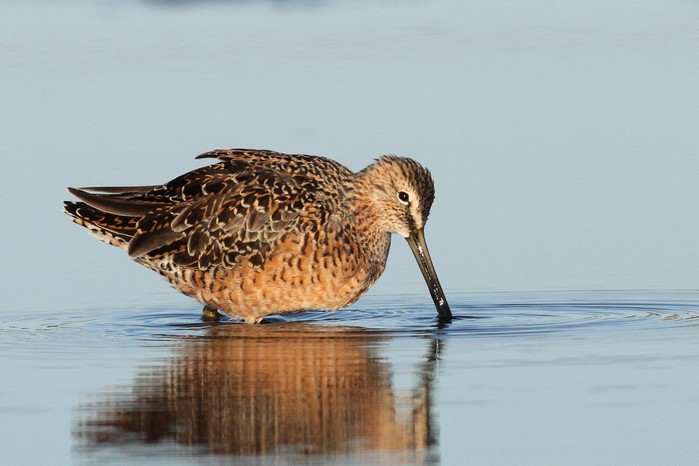 There are just the two Long-billed Dowitchers left to mention now - the (now super) first-summers remained at both Pennington Marshes (Hampshire) and Cresswell Pond NWT (Northumberland) to 19th.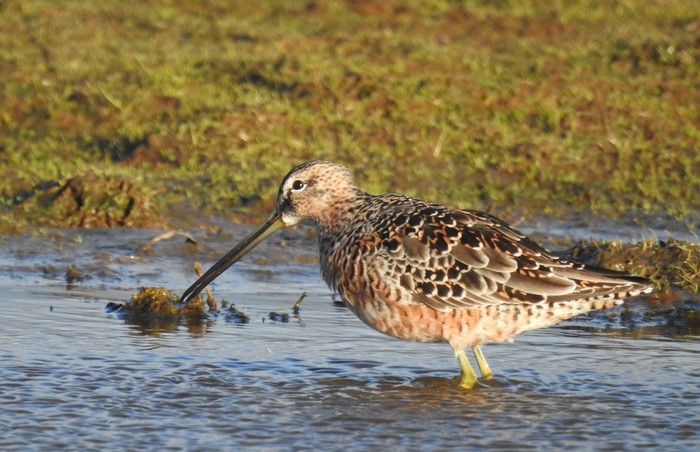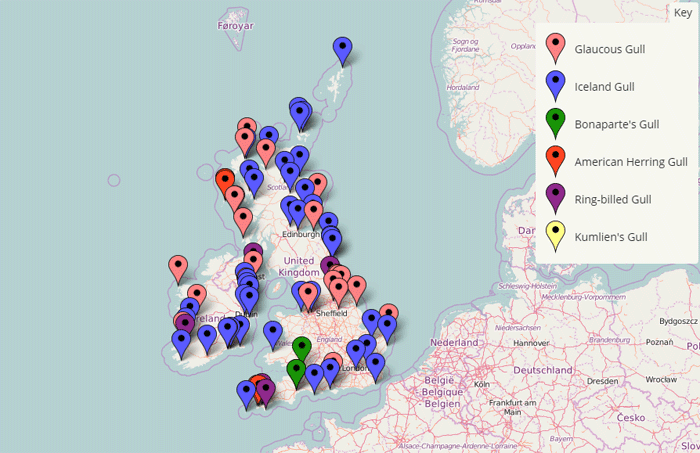 Cornwall held on to two American Herring Gulls this week - the ever-elusive third-winter was found at Jericho Farm, near St. Just on 16th while the equally-sporadic in appearance first-winter was at Drift Reservoir on both 13th and 17th. Out on the Hebrides, the Barra 1w was still around Castlebay through until 19th.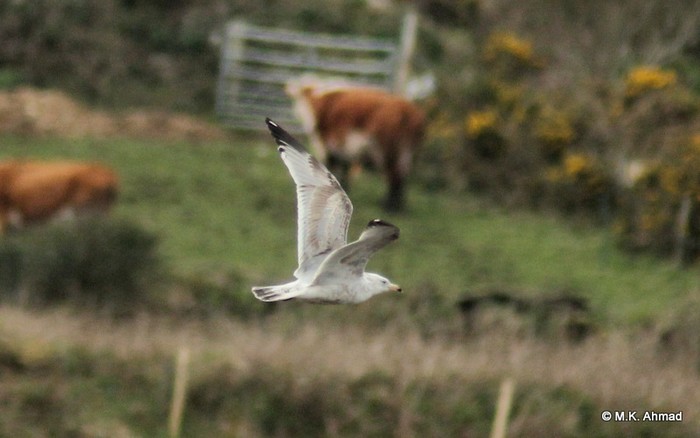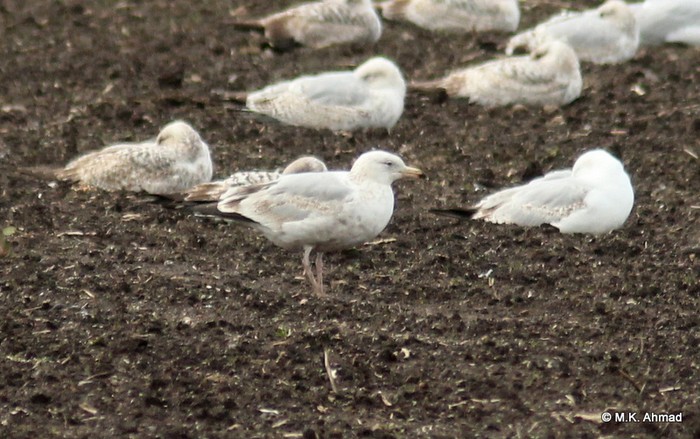 Last reported on 6th April the adult Bonaparte's Gull reappeared in Cardiff Bay (Glamorgan) on 19th. In Devon the Bowling Green Marsh RSPB bird put in daily appearances between 13th-16th - surely it'll be gone soon? - which is definitely the case for most of the Ring-billed Gulls, just four of which were recorded this week.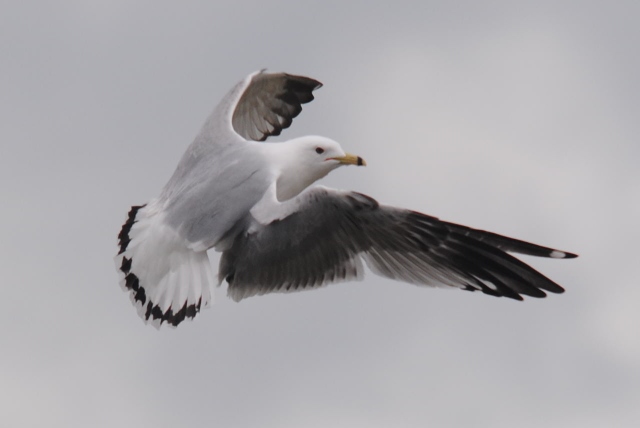 An unusual fly-by first-winter was a great record from Lizard Point (Cornwall) on 13th while in Ireland, the neat-looking second-winter remained at Tralee Bay Wetlands (Co. Kerry) to 18th (with an adult there on the same day) and another adult was at Belfast Lough RSPB (Co. Antrim) on 17th.
Glaucous Gull reached 27 in all this week, seen within 16counties in Britain and Ireland; Scotland hosted 11 of them including threes in Argyll & Bute, Highland and the Outer Hebrides, with six of England's eleven in all seen in the northeast (with a couple for the northwest and singles in East Anglia and the southeast) while Ireland managed six in all, two of them at Galway's Nimmo's Pier over the weekend. Wales scored zero.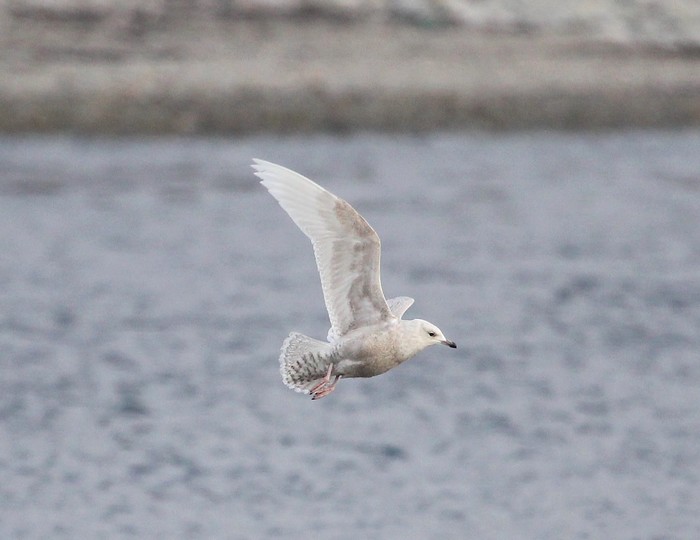 After a surprise upturn seven days ago, Iceland Gull dropped from 65+ to 50+ this week, well spread around 30 British and Irish counties. Scotland was top of the list with 17+ seen in seven counties, including eight in Highland (including three on Skye on 18th) and at least four on Orkney. England was next, 16 birds in total, with five in the southeast, four in the far southwest and three in the northeast making up the bulk of them. Ireland recorded 13 birds in nine counties an two were in Wales, one of which was again on the roof of the Dr. Who building - therefore ticking off two "geek" boxes in one go...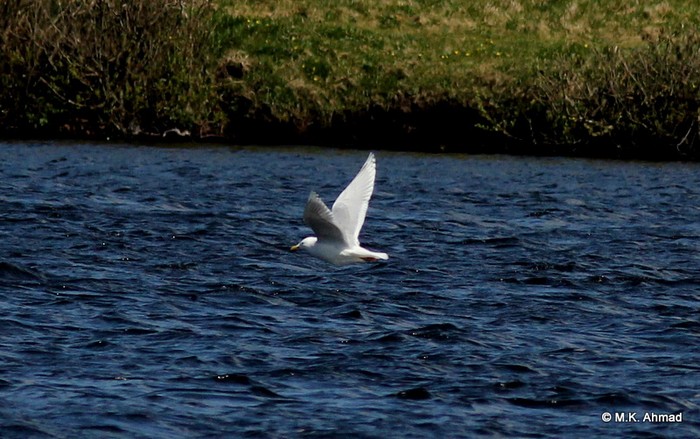 Last but not least, the week's only Kumlien's Gull - the adult recorded again at Drift Reservoir (Cornwall) on 16th, the first sighting for a week or so.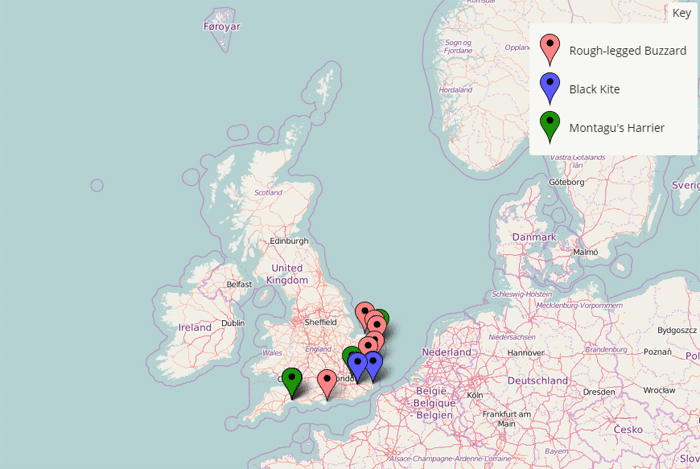 The week's only two non-possible or probable Black Kite were reported (well, its one up from the other two) in Kent, near Maidenhead, at Harrietsham on 14th and over both Pegwell Bay and Sandwich Bay on 19th (it was photographed at the latter site).
Three newly arrived migrant Montagu's Harrier made themselves known over the past seven days - a fine male was photographed over fields near Winterton (Norfolk) on 14th with a second male heading south over Rainham Marshes RSPB (London) on 17th, a date that also saw a showy female arrive in east Devon, lingering around Colyford and Colyton until 19th.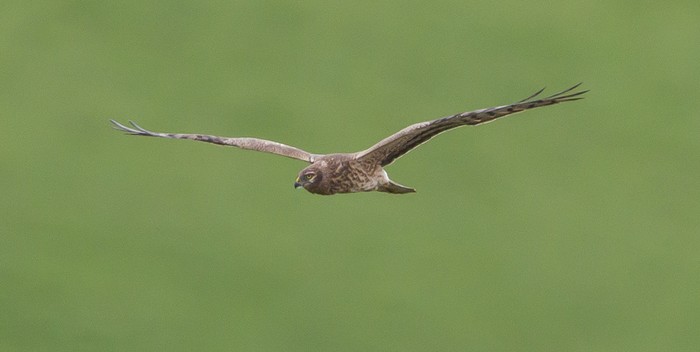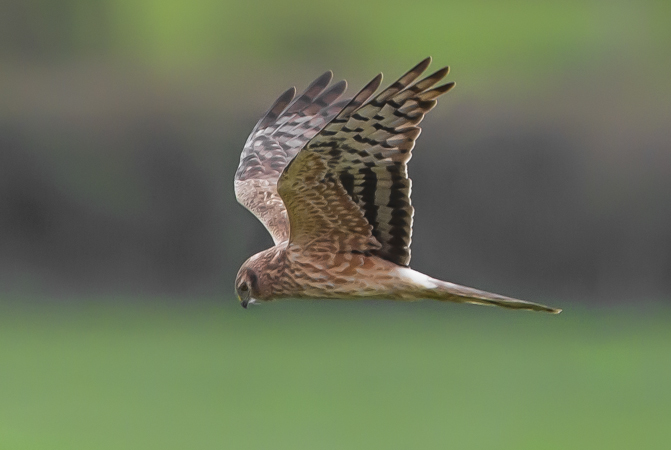 Three Rough-legged Buzzards were reported from assorted points on the Norfolk map through the week; the first mention came from Cockshoot Broad on 14th and was followed by one still at Haddiscoe on 16th with the third seen heading south near Stiffkey on 18th. Also in East Anglia was the bird claimed at Bawdsey (Suffolk) on 16th while further south, at St. Osyth (Essex) the final bird of the week was recorded on 17th.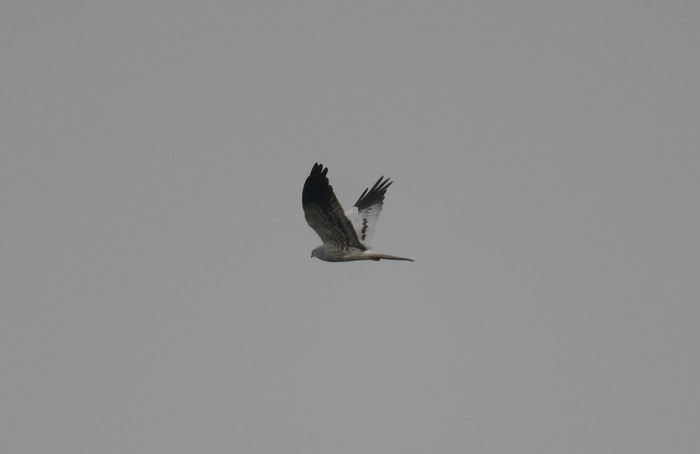 Portland becomes the centre of attention…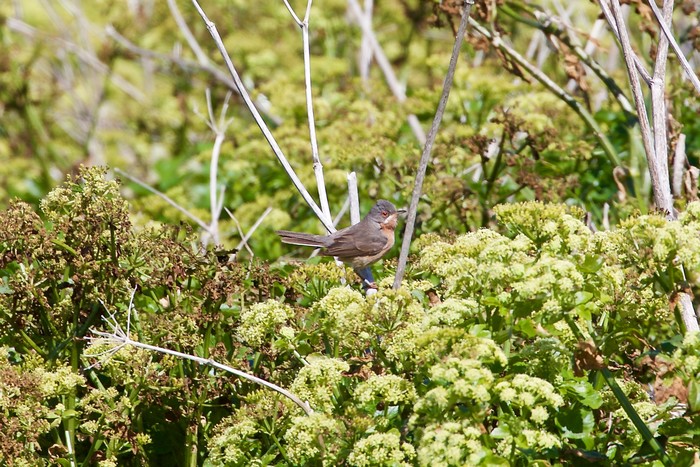 Following on from the garden "Sub-A" in Suffolk last week comes another very cool garden Sylvia this week, in the delicious guise of a fine male Western Subalpine Warbler at the Portland Bird Observatory during the early afternoon of 13th - a nice, early date (though certainly not too early) for this species in waiting (it popped up once again on 16th-17th, after a few days in hiding, not too far from the Observatory, off towards the East Cliffs. Later on during a busy day out on Portland, a second male Subalpine Warbler (sp.,) was glimpsed a handful of times further along the East Cliffs and one of the two remained through until the following day.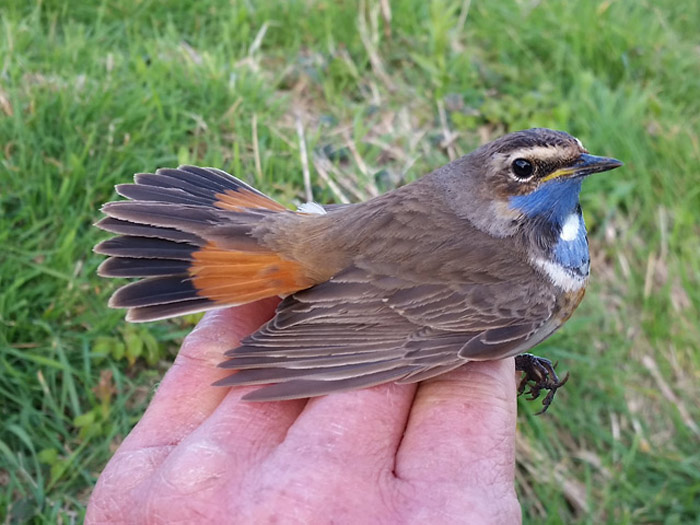 The somewhat pronounced (Portland especially) south coast, southern species vibe continued courtesy of a yet another fine bird within just a handful of days around the prominent Isle - a first-summer male White-spotted Bluethroat (bang goes next week's favoured "commoner" prediction…) also found on 16th (later in the day it was trapped and ringed too) to continue the area's fine form. For admirers of all things cyanecula, the perky chap remained to 17th - and what a dandy he was…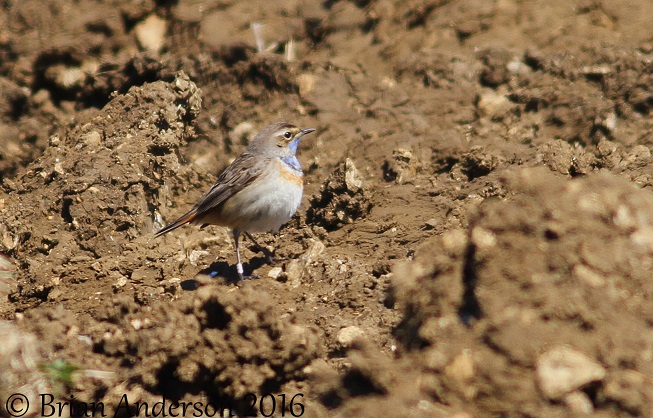 Earlier on 16th, that entertaining run of rares had been bolstered further thanks to a brief fly-through Red-rumped Swallow - the second record of the week for this ever-wonderful spring overshoot (there's more on the first one, and all the other bits and bobs, in a mo).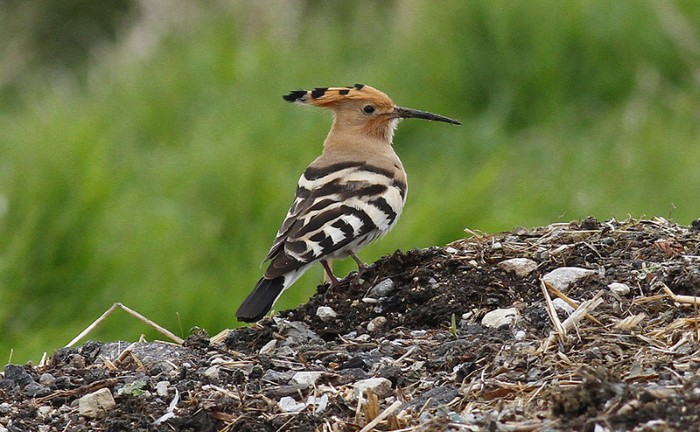 Along with the photogenic Hoopoe that remained at Suckthumb Quarry through until 17th, birders on the Bill produced a second bird on 17th, found during the early morning near the Pulpit Inn before heading up towards the Top Fields.
It was a very decent week indeed for those in and around this marvellous birding hotspot…
The Best of the Rest…
Once upon a time, Savi's Warbler was a standard of the annual BBRC report - a genuinely rare, if annual vagrant here, one that bred in very small numbers at certain well known sites around the Norfolk Broads for many years as well as occasional random arrivals spread far and wide.
As occurences increased and birder's abilities to identify them grew better and better, Savi's Warbler took some time out on the sub's bench (as it were) and (typically) no sooner did that happen then a decade long slump of records piled in - numbers dropping like a stone, to the point where the decision was taken to re-install this birder's bird back on to the official list of rarities.
Since returning to fold over 15 years ago, numbers have been solid, almost 120 more added to the list but despite such (relative) frequency they remain a significant draw - and this week saw the first of 2016 make an appearance (by song only) from the expansive reedbeds of Minsmere RSPB over on the Suffolk coast, the bird audible from 13th-19th.
This is the fifth record of Savi's Warbler for the site since 2004 and one or two of them have been long stayers and much appreciated regionally in to the bargain (one lingered for the best part of three weeks in 2010 and another was on site for almost a month in 2013).
More of a surprise in the Savi's stakes was the second of the week, a showy bird found at Loftus (Cleveland) on the morning of 15th. Certainly since the species made a way back on to the Rarities List, there's not been a record within the county/region - so this individual was guaranteed to draw the attention of birders across the northeast.
As the morning progressed, the bird apparanetly showed less and less well and there was no sign form midday onwards.
Red-rumped Swallow has already been mentioned, thanks to that brief Portland bird but the first of the week (and the first of 2016) came the day beforehand, seen heading across Lincolnshire's Fresiton Shore RSPB on 15th. Two (perhaps three) more found their way across the Channel and North Sea on 18th - logged over North Warren RSPB and Thorpeness (Suffolk) and also at Blashford Lakes HWT (Hampshire) - the first in the county for exactly two years and the week concluded with obe heading over Kingsdown (Kent) on 19th.
There's bound to be more to follow too…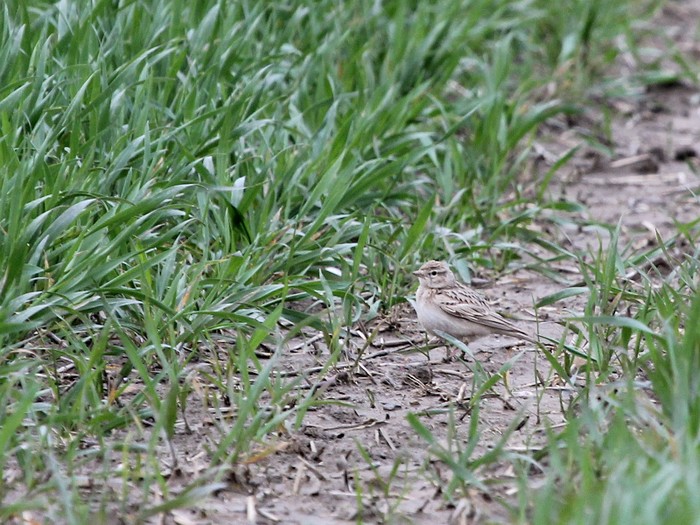 April's third Woodchat Shrike, a female, was located around the edge of the airfield on St. Mary's (Scilly) on 17th before heading down to Giant's Castle the next day which, in turn, saw a second Scilly female arrive on Bryher.
New for the year this week was 2016's first Short-toed Lark - surprisingly not on Scilly or Portland but well off to the northeast, at Long Nab, Burniston (East Yorkshire) on 18th - a great local patch find for mid-April.
The past seven days have been a decent one for Serins, five noted before the end of the weekend; the first of these was seen in gardens around Selsey Bill (West Sussex) on 13th with the same date seeing the second head over The Lizard (Cornwall). Kent scored three on the morning of 17th, one flew east over Abbot's Cliff and two different singles flew west over St. Margaret's at Cliffe (within five minutes of each other) prior to 9am. A third bird over the same Kentish site came along on 19th and Selsey birders recorded their second of the week the same day, while 24 hours prior to that, a Cornish flyover was recorded over the Nanjizal valley taking the week's total to eight in all.
Mention has already been made of Portland's two Hoopoes - a further 13 were recorded elsewhere this week, five of which were seen elsewhere in southwestern England. A third Dorset bird was at Little Cheney on 15th (a day which saw six arrive countrywide) while Cornwall also hit three, singles found at Cot Valley on 13th, then at nearby Nanquidno on 15th, with Predannack also getting in on the act on the same date. Devon's only record came from Soar Mill Cove on 17th.
The remaining Hoopoes were spread far and wide - in southern England, lone birds were at Earley (Berkshire) on 13th-14th, Hallen (Gloucestershire) on 14th-15th, Banstead (Surrey) on 15th and Stodmarsh (Kent) on 18th. Up north, a new bird was seen in Kendal (Cumbria) on 14th while two were found in Yorkshire; out West, at Blackmoorfoot Reservoir from 15th-17th and in the North, at Haxby, near York on 17th. A Welsh Hoopoe was found on Skokholm (Pembrokeshire) on 19th while two final overshoots flopped in to Ireland as well - on Cape Clear Island (Co. Cork) on 15th and then Wexford's Great Saltee Island on 16th.
Three new Wrynecks made mid-April landfall through the early part of the new review period. The first spent a little time at Titchfield Haven NNR (Hampshire) on 13th and was one of two found that day, the other arriving at Salehurst (East Sussex). Next day, one made it to north Wales, seen on Bardsey Island (Gwynedd).
Still in no hurry to leave just yet were a tiny handful of wintering goodies - Dorset's Pallas's Warbler remained at Portesham throughout the week; London's Yellow-browed Warbler was at Brent Reservoir to 17th with a second noted at Oakford Fitzpaine (Dorset) on 16th and Flamborough's two Richard's Pipits remained to 18th. What may be the last of the dismal offering of Waxwing over the past few months were the two birds reported at Whitburn (Co. Durham) on 18th.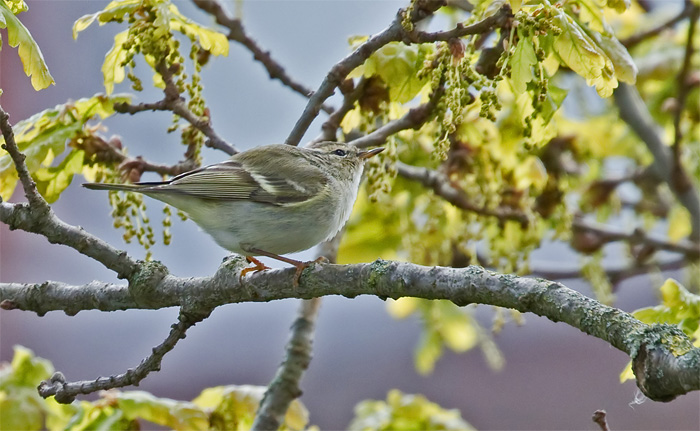 For almost the first time since the autumn and certainly the first time in recent weeks, most of the Great Grey Shrike action was away from those regular haunts that are part and parcel of the winter birding circuit. Scotland hosted four birds this week; in Aberdeenshire, one remained at Forvie to 13th and one then appeared at Crimond on 15th. In Highland, a departing bird was seen near Wick, at Killimster on 16th while Mainland Shetland saw another push through on 15th, this one seen at Levenwick.
Wales also held four Great Greys - remaining at the Clocaenog Forest (Denbighshire) to 17th and Cross Inn Forest (Ceredigion) to 18th with further birds seen at Glasfynydd Forest (Powys) on 15th-16th and also near the summit of Y Groes Fagl (Powys/Gwynedd border) on 17th.
New English birds were found at Ubley Warren NR (Somerset) and Marshside Marsh RSPB (Lancashire) on 17th and near Upper Brailes (Warwickshire) on 18th while three wintering individuals remained; in Surrey, one was on Thursley Common to 19th, in the east Midlands, another was still around near Owler Bar (Derbyshire) to 16th and in Hampshire, the last of this week's 14 in all was still near Longparish to 18th.
Two more species to go - a Little Bunting was a cracking find in west Wales on 16th, found by a small pond at St. Ann's Head (Pembrokeshire) for just the 6th county record in all, the first on the mainland (Skokholm 2 Skomer 3) and also the first anywhere in the county since October 2001.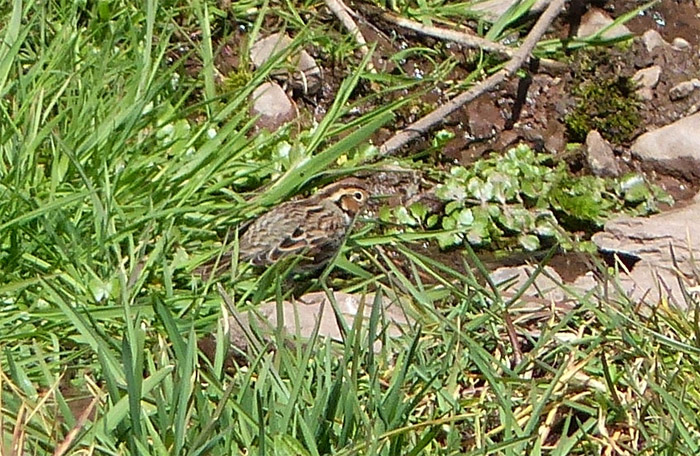 Wrapping things up, that hoary beast of a Hornemann's Arctic Redpoll that was finding Fair Isle much to its liking - still on the island until 17th at least.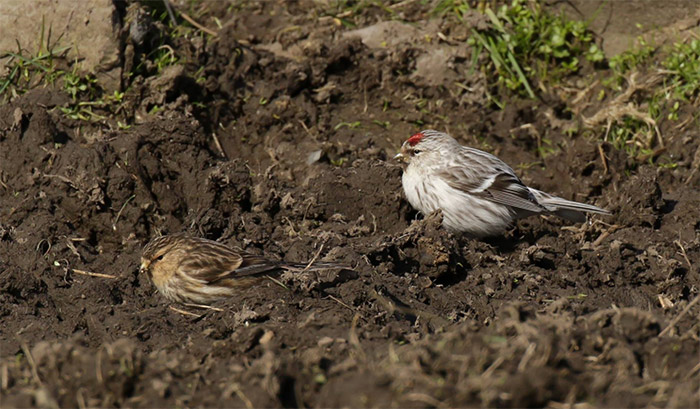 The coming week…
The first day of the new week is one of those "red-letter" days that flashes like a rare-bird beacon - April 20th has hosted some truly spectacular birds down the years - who knows why, but the list of really rare to extreme rare arrivals is devilishly eye-catching…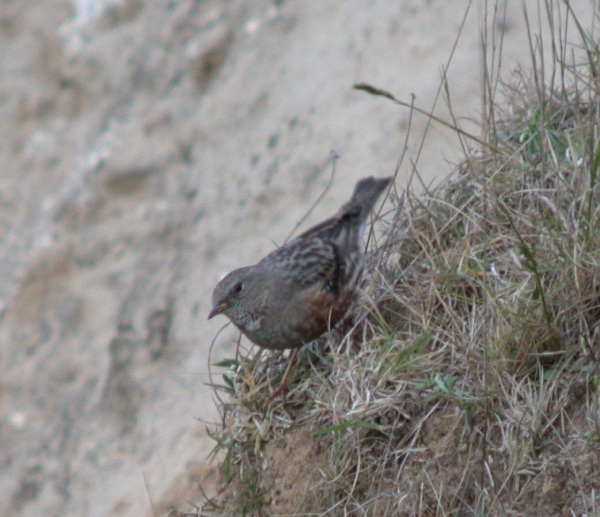 Top and tailing the round-up is Alpine Accentor - that already mentioned bird at Overstrand was a one-day special of April 20th 2004 and if you think that's a great bird, well, there's far better to come…
County Cork's Cape Clear Island holds one of the very, very few Rufous Bush Chats to be on the collective record books (seen in 1968) while 20/04/08 remains a quite remarkable day, presenting not only a Calandra Lark on Shetland but also the Norfolk Black Lark…quality of the highest order…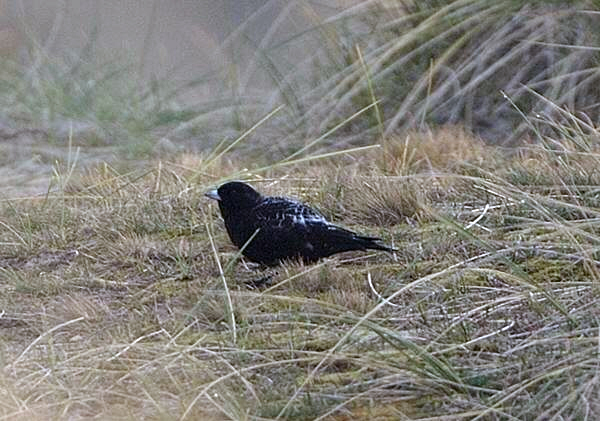 There've also been at least 10 each of both Black Kite and Subalpine Warbler, along with a quartet of Sardinian Warblers - oodles to go at and we've only looked at one day!
Further outrageous quality comes in all shapes and sizes throughout the week - April 21st has managed such diverse stunners as the Cornish Red-billed Tropicbird of 2002 and the fly-through male Northern Harrier at Portland in 2014; the 22nd boasts an ancient Crested Lark in Kent in 1879 and another 60's Cape Clear record stands out for April 23rd - the first Fan-tailed Warbler seen there in 1962…
…and then comes April 24th with that incredible trio of passerine 1sts (made all the more remarkable as they were seen with 12 months of each other) - 1987 saw the arrival on Lundy of our sole Eastern Phoebe while 12 months came not only the first Brown-headed Cowbird but also that amazing Welsh Moussier's Redstart.
Another Cowbird gets chalked up for the period thanks to the lingering (but utterly unavailable) bird in Northumberland from April 25th 2009 while April 26th has thrown not only a Spectacled Warbler in to the mix (at Felixstowe in 1997) but also that 1st British Sandhill Crane on Fair Isle in 1981…

If that dizzying, diverse brew puts the rare-senses on overload, there's always the pleasing "come-down" (in the very nicest way - in a Portishead, Massive Attack kind of way) of pitching your hat towards the ring marked Whiskered Tern; the hot tip for the next seven days, this always-welcome overshooter has managed 20 birds in all, including 4's on both 25th and 26th with a Lucky 7 on 24th…
You know what to do…pray for southerlies…
Mark Golley
20 April 2016
Many thanks this week to Mashuq Ahmad for sending through his assorted Cornish rares images, especially the fascinating American Herring Gull. Thanks also to Dave Astin for his Little Bunting shot and Phil Parsons for his Iberian Chiffchaff video. Thanks also to the rest of this week's contributors for their photos and videos.
George Else, Connor Rand, Graham Etherington, Steve Rogers, Mashuq Ahmad, Dave Hutton, Michael Turner, Graham Jepson, Philip Parsons, Steve Gantlett, Noel Keogh, Martyn Hayes, Colin Bushell, Niall Keogh, Chris Bond, Cian Cardiff, Christopher Teague, Paul Kelly, Jim Almond, John Nadin, Mark Pearson, Shaun Ferguson, Ricahrd Rafe, Bob McMillan, Lukasz Pulawski, Rob Stonehouse, David Elliot, Edward Carty, Andy Williams, Keith Ross, Timothy White, Steve Waite, Simon Craft, Mick Davis, Brian Anderson, Martin Cade - Portland Bird Observatory, Brett Spencer, Adam Mcpherson, Christopher Bradshaw, Richard Jones, Dave Astin, Lee Gregory, Mike Lawrence, Philip Bishop,
Please note: we put a lot of time and effort into sourcing and and producing the images, videos and graphics for each roundup. Some of you (probably Apple users) may notice some photos etc. that appear to have incorrect captions. Please try refreshing the page as they are correcty captioned. If after a refresh they are still showing the incorrect captions then please email us
Contributors websites