Birding round-up: 09 - 15 Mar 2016
The week at a glance
Richardson's Cackling Goose ascends to Category A of the British List - 601 and counting…
…and a new individual is located in Cumbria quickly afterwards
Ireland's first Glaucous-winged Gull continues to hang around in County Cork
The Hudsonian Whimbrel continues to linger in west Cornwall…
...as does the elusive young American Herring Gull
A potentially questionable (or is it?) Hooded Merganser appears in the West Midlands
After the cold first few days of March passed by, garnered by snow and sunshine, the new review week began with a somewhat downbeat soggy Wednesday, cloaked beneath a huge grey shawl of wet weather which passed across the country throughout the day, on a suitably brisk, fresh feeling southeast wind. It really wasn't pleasant…though that was just swathes of England - parts of Scotland enjoyed sunshine while the southwest saw temperatures back in double figures.
Things did perk up after that, much of the country seeing brighter conditions for a couple of days or so before another short, sharp band of showers passed over the west and northwest coasts ahead of a new area of high pressure establishing itself out to the east. With that came cloud and cool breezes along North Sea coasts, a chilly 6 degrees on the north Norfolk coast at the start of the weekend, quite a contrast to the 15°C enjoyed in parts of Scotland the same day.
The high settled down again and while it may not always have been sending forth unbroken rays of golden sunshine (it had a go tho'), it was largely dry and the winds were threatening to be almost innarestin'…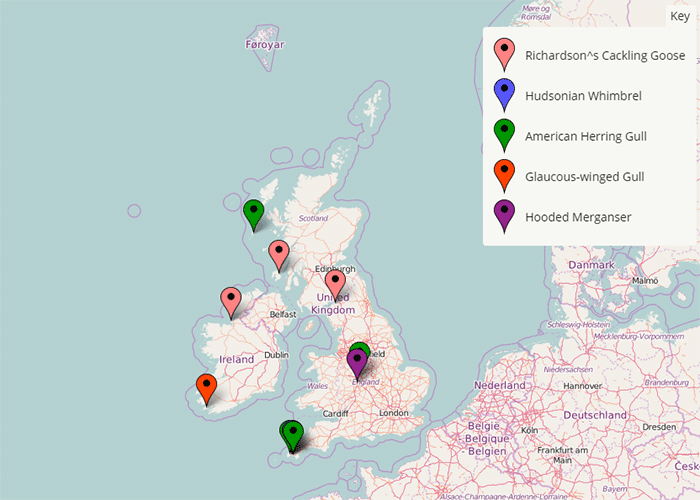 Richardson's Canada Goose
Rejoice! Rejoice! There's another armchair tick coming on the way!
BOURC has done it again; they've added a third new species to the British List within the space of three months - a 40 year old record given the green light by a committee that seems to be on a bit of a mission.
Yup, finally, after untold due diligence was employed, our learned list-committee have allowed the thumbs up to be given to the pretty Cackling Goose for admittance to Category A of the British list as a full species, Branta hutchinsii, thanks to a bird that was recorded at Plex Moss, Lancashire in November 1976 (taking the total on to 601).
The vagaries of white-cheeked goose nomenclature and taxonomy has been discussed on these cyber-pages in the past - but "we" are, now, collectively, out on a limb by listing hutchinsii as a Cackling Goose; as mentioned a couple of years ago, no one elsewhere really regards Cacklers as anything other than birds within the even-more cute minima camp, those delicious little liquorice-toned geese but as it stands, the BOU still view minima (increasingly known as Ridgway's Cackling Goose) as a sub-species of hutchinsii, along with Taverner's Cackling Goose, another known vagrant to, at least, Ireland.
Almost everyone with an active listing interest knows hutchinsii (nowadays) as Richardson's Cackling Goose and that is how we will continue to list them as here, whilst other forms will retain there more familiar names too.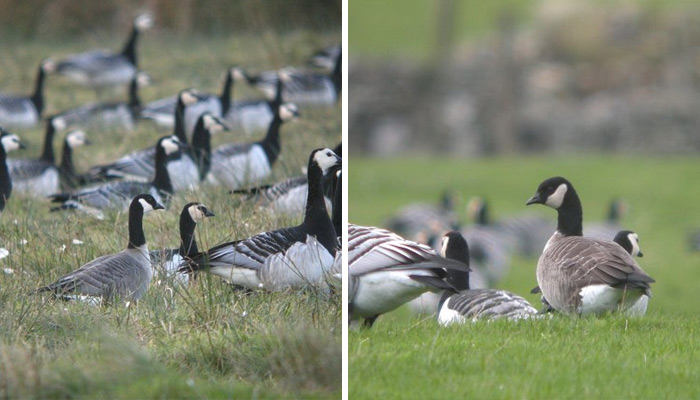 With assorted splits, protracted ID investigations and more, that's three additions to the British List since late December - Richardson's Cackling Goose, Yelkouan Shearwater and Northern Harrier - and the odds seem stacked high on Slaty-backed Gull becoming species #602.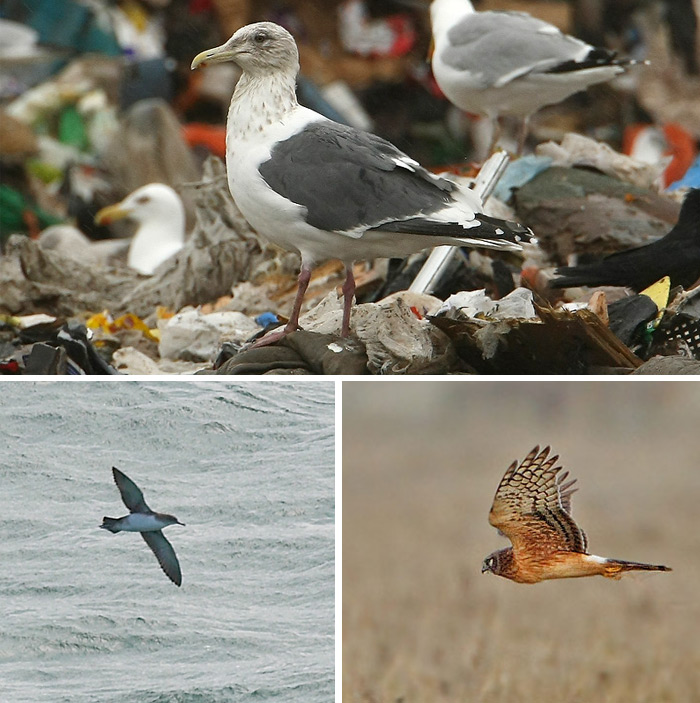 There does though remain a recurring desire from many to see Ross's Goose elevated away from Category D, although that hope seems forlorn in the extreme given this week's acceptance, again onto Category D, of a late September arrival in Aberdeenshire in 2003 - just another in a long line of wild birds with an appropriate carrier species in what appear to be appropriate locations at appropriate times of year doing appropriate wild things all weirdly consigned to the bin, a bin which appears to have candidates of splendid Category A credentials (way better than recent Hooded Mergansers for instance).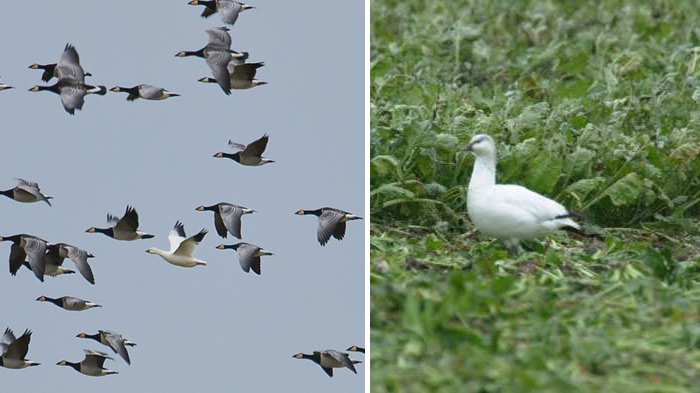 If the fight to see that dinky black-and-white goose pushed to where it should be fades, then there's one species that is crying out for Category A status and a place as Species #602 on the British List - White-headed Duck is long overdue a space at the top table - it is now over 10 years since our last record, a drake at Broadwater Gravel Pit in London, last seen in January 2006, the most recent of a handful of vagrants noted here…and we all know why we don't get them anymore.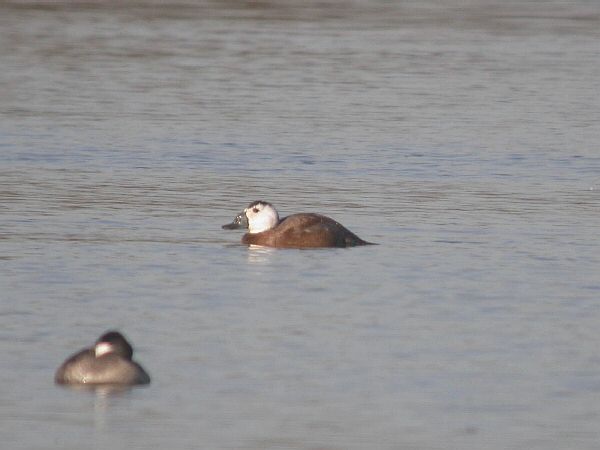 Back to the in-the-field headlines this week and fast forward just 48 hours or so onwards from the latest announcement from our official keepers of the British List and, rather fittingly, an available "hutch" was discovered in Cumbria - a lovely pale-end Richardson's Cackling Goose in amongst the Pinks and Barnies at Whitrigg from 11th-12th - the 1st definite record in the far northwestern county since one was at the same site in October 2012.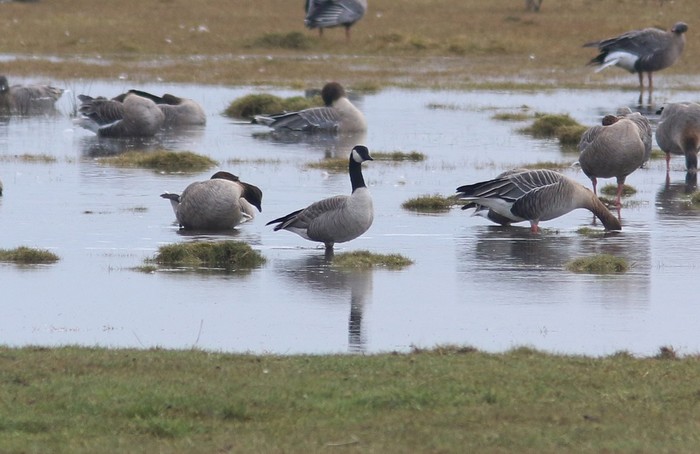 Before departing the subject (for now) and prompted by a note online from Brian Small, it should be noted that Ireland's records committee accepted Richardson's Cackling Goose as a full species on to Category A of the national list a couple of years ago, with 19 records acknowledged as being identifiable to the species (dating from 1970 to 2011). Numerous other records of birds of Nearctic origins are also mentioned in the superbly detailed IRBC announcement. Read more on that here
Glaucous-winged Gull
Two wintering rares are keeping the Headliners afloat at the mo and the first of those is the fine adult Glaucous-winged Gull that headed in to another week with another few days notched up on the Castletownbere bedpost - still present to 12th at least.
Hudsonian Whimbrel
The second day of the new review period also note made of the continuing (if increasingly sporadic) wintering residence of the Hudsonian Whimbrel in and around the Mount's Bay area of Cornwall - seen on 10th at Boat Cove, near Perranuthnoe and then around the same general area until 13th at least - the bird now well in to it's fourth month in and around the same area.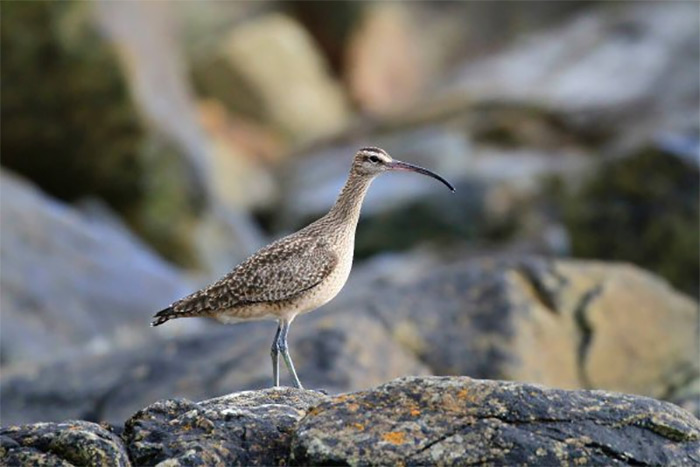 American Herring Gull
Not too far away from Mount's Bay, the ever-elusive juvenile/first-winter American Herring Gull was noted for three-quarters of an hour on the waters of Drift Reservoir at lunchtime on 12th - typically there was almost a week between this sighting and the last one at Mousehole, where it was last seen on 6th.
While we're in smithsonianus territory, mention ought to be made of the decent looking candidate that roosted in the gloom at Chasewater Reservoir in Staffordshire on consecutive nights between 8th-10th - from the grainy record shots obtained it looks as though there was a bird heading in the right direction…
Hooded Merganser
…and so to the bain of the review…the dreaded Hooded Merganser. Efforts were made a couple of weeks ago to be nice to this often contentious species when a female, fully winged and unringed, spent a suitable short stay at Corsham Lake in Wiltshire.
News of a bird in the Black Country for a day this week, at The Leasowes, Halesowen on 11th, was met with some degree of nervousness by those who saw that recent Corsham bird - the location didn't feel overly encouraging and the two sites are only 65 miles or so apart in a very straight line from south to north. But is it actually the same bird?
Odds were initially on a resounding "yes" - but the West Midlands bird exhibited very pronounced white tertial shafts in the shots taken (and it wasn't shy either) - apparently appearing more striking than the Wiltshire bird.
I'm almost past caring about the genuineness of some of these and I'm not sure the benevolence employed of late can last much longer…if there are indeed two birds involved, just how does a committee say that the Wiltshire bird is a "better" wild option that the West Midlands one-dayer?
Lovely birds and all that, but there's some tat been accepted…
There were a couple of White-billed Diver records to note from the far western side of Scotland this week - new in Highland was a bird seen in Gruinard Bay, at Mellon Udrigle on 10th while the fine, rather showy beast remained off the pier at Uig over on the Isle of Skye through to 15th…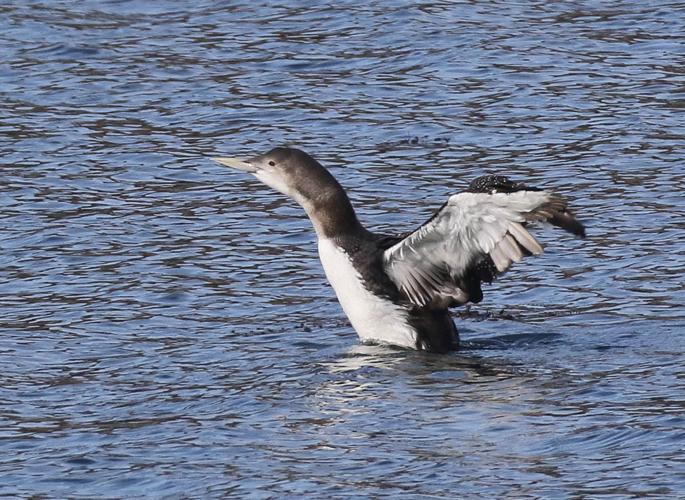 …while on the Outer Hebrides and showing that it really is that time of year, there was also news of a White-billed Diver off Port Skigersta, near Port Nis, Lewis on 14th with two off the harbour at Port Nise itself the following day.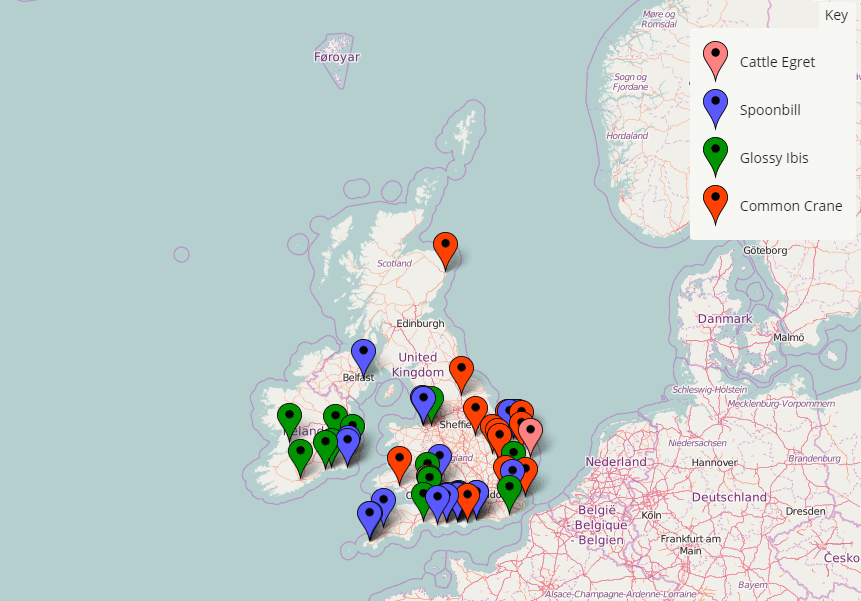 It was a strong week for Glossy Ibis with a healthy 14 birds reported across Ireland, England and Wales.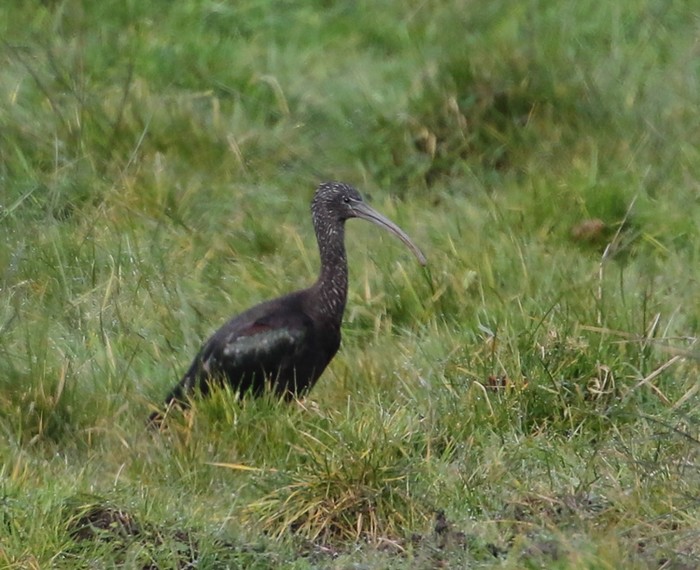 At least nine were noted across Ireland; two were at Lough Erinagh, near Ennis (Co. Clare) on 9th and they were followed by the reappearance of one in County Carlow, again at Cloydagh, on 11th (this county first was last noted on February 13th) while one remained at Fota (Co. Cork) and also at Ballinlough, near Bunmahon (Co. Waterford) both to 12th with the same date seeing two birds at Cahore (Co. Wexford) with one still at nearby Tacumshin on 13th with another Waterford bird at Tramore on 14th.
Five English Glossy Ibis were seen at Abberton Reservoir (Essex) from 9th-12th, with the latter date also seeing note being made of a bird at Frodsham (Cheshire) as well as singles at Pett Levels (East Sussex) and the marshes of Seaton (Devon) with the 13th seeing the reappearance of one on the Somerset Levels, at Shapwick Heath NNR. Wales managed a single individual, one on the Goldcliff Pools NR, Newport Wetlands (Gwent) on 10th-14th.
There's just a handful of Cattle Egrets to report upon this week, one remained in East Anglia, at North Cove (Suffolk) through until 15th with another reported the same day, again out at Westhay (Somerset) with one at Tealham Moor the following day.
Numbers of Spoonbills were much as they were seven days ago, little change from the 35 or so although the distribution was a touch different. Dorset held on to 10, seen at Middlebere on 9th and Arne RSPB on 13th, while up to seven were recorded around Hampshire, including four at Lymington on 10th. A bare minimum four were in Norfolk, with three at Salthouse on 11th with singles spread from Cornwall and Gloucestershire to Kent and Cheshire. In Ireland, two birds were in Wexford, at Tacumshin and then Rosslare on 12th with a third joining the party on 13th (the birds last noted at Cahore later the same day). Another was seen in County Down, at Castle Espie WWT on 11th.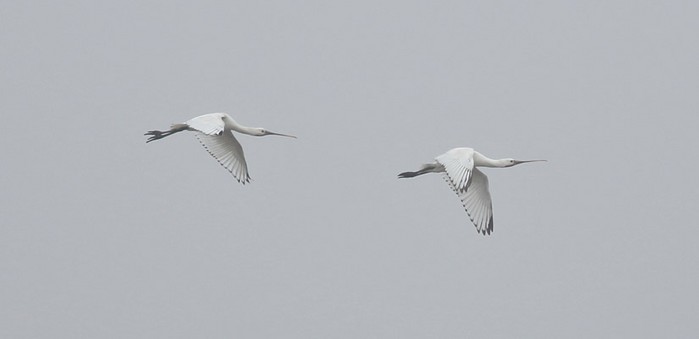 There seemed to be something stirring amongst our Common Cranes, a few birds taking advantage of some early, early spring sunshine and stretching their wings for a few flyovers here and there. A flock of five were reported touring northeast over Sheringham (Norfolk) on 10th with two way to the north, near Aberdeen on the same date. Singles on 11th were seen on Barding Marsh RSPB (Isle of Wight) and over the A1 (M) near Boroughbridge (North Yorkshire) while flyovers on 13th were noted heading southwest over Margate and then Cooling Marsh (on the border with Essex) while in Norolk, a lone bird appeared at Titchwell RSPB before being relocated 80 minutes later, some 40 miles to the southeast, over the pits at Colney, on the edge of Norwich. A quartet were then noted on 14th over Balderton (Nottinghamshire) and three were in East Yorkshire, over Southfield Reservoir later the same day while at least one was heard early morning in Leicestershire, at Rutland Water on 15th and the same day saw two track over Hitchin (Hertfordshire) - yes, they're getting that spring feeling for sure…
A lingering Crane was still at Swiss Valley (Carmarthenshire) to 10th with the same date seeing two twos in Cambridgeshire, at Eldernell and Wicken Fen NT while two more were loitering with intent in the Norfolk Broads, at Horsey on 15th.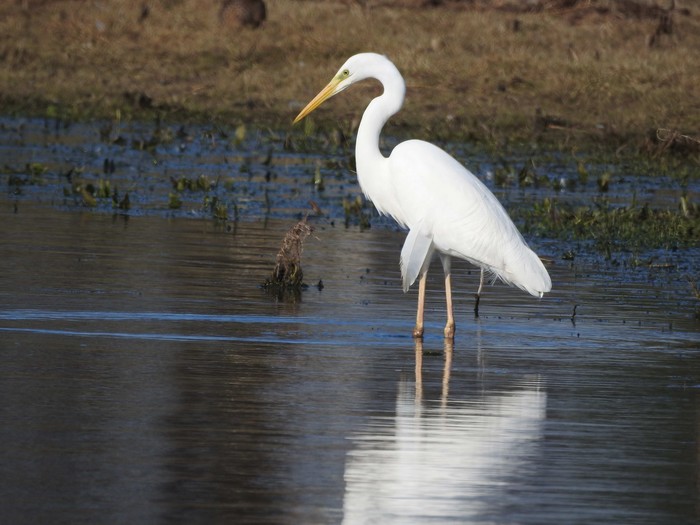 Making a rare appearance is Great White Egret but the roost count of seven at Dungeness RSPB (Kent) on 12th felt worth a mention, well over 40 were noted countrywide, including two or there multiples in Wales.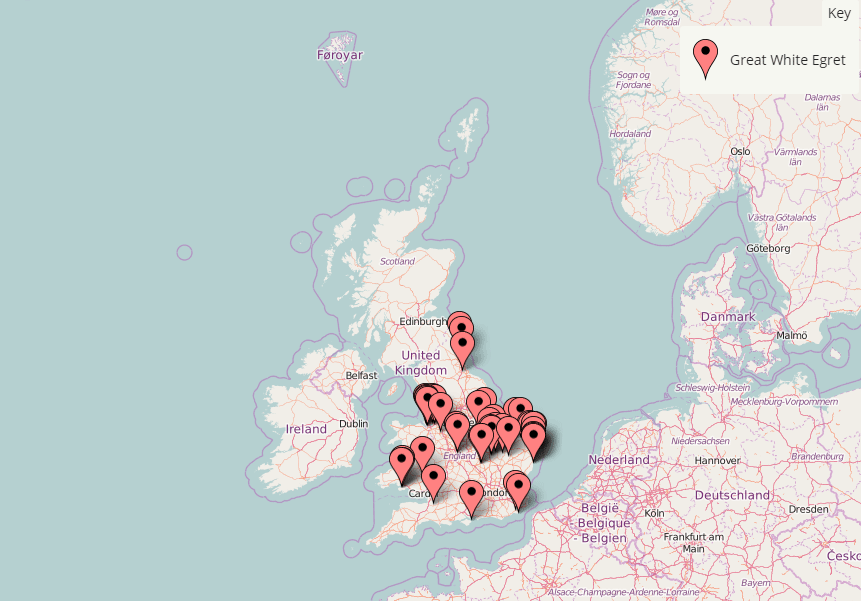 Truth be told, there's not really been much reaction to the promotion to Category A for dear old Richardson's Cackling Goose - it isn't contentious, so there's nothing for the online Twitteratti to combust about - and along with that two-day Cumbrian hutchinsii mentioned already, there are two more to report, one was still in the area around Kintra, on Islay (Argyll & Bute) through to 13th and in Ireland, both the Richardson's Cackling Goose and the Todd's Canada Goose remained at Ballyconnell (Co. Sligo) until 14th - will anyone ever split the latter?
Following on from the report of a Blue Snow Goose at Wigtown (Dumfries & Galloway) on 10th what was presumably the "regular" adult and three 1w intermediate Snows were noted at Balmedie CP (Aberdeenshire) on the morning of 13th with Orkney retaining a white adult, near Kirkwall Airport to 15th.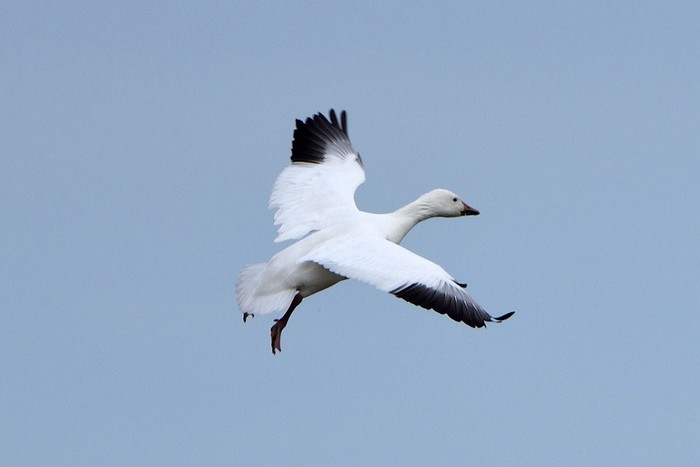 With March days falling away from the calendar, there were only five Black Brants to report this week, three of them seen on 12th; first was one at Frampton Marsh RSPB (Lincolnshire) and was followed later in the day by singles near Walton-on-the-Naze (Essex) and Farlington Marshes HWT (Hampshire). Rounding the week off was an east Norfolk bird, at Horsey, on 14th and one was again at Kilnsea (East Yorkshire) on 15th.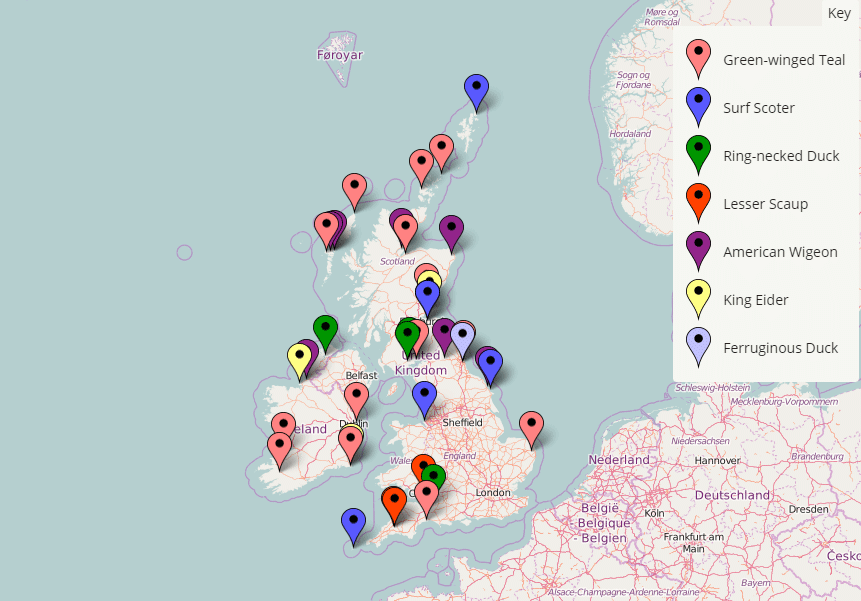 You can guess what's coming next; two drake Lesser Scaups remained at regular locations in south Wales and Cornwall for a few more days; at Dozmary Pool to 13th moving back to Siblyback on 14th-15th and also Cosmeston Lakes CP to 15th.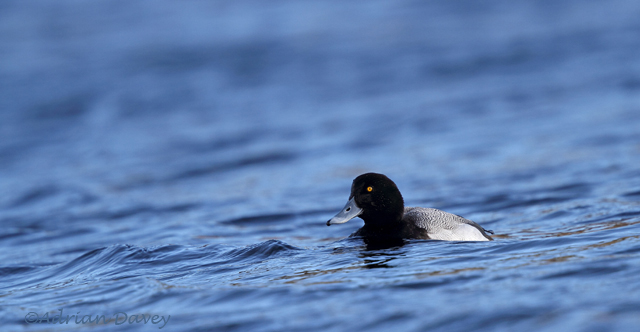 Dumfries & Galloway hosted two Ring-necked Ducks through the week, an adult drake was still on Milton Loch to 10th with a 1w drake again at Castle Douglas, at Carlingwark Loch on 11th and 14th (it was last noted here way back on January 24th). Another Scottish drake was back at Loch o' th' Lowes (Ayrhsire) on 15th with the only other birds noted being lone drakes that remained at Ham Wall RSPB (Somerset) to 10th and Inch Island Lake (Co. Donegal) to 14th.
Just the one Ferruginous Duck was reported, the drake at Washington WWT (Co. Durham) to 10th but there was no sign on 13th (departing just when you'd want it to)…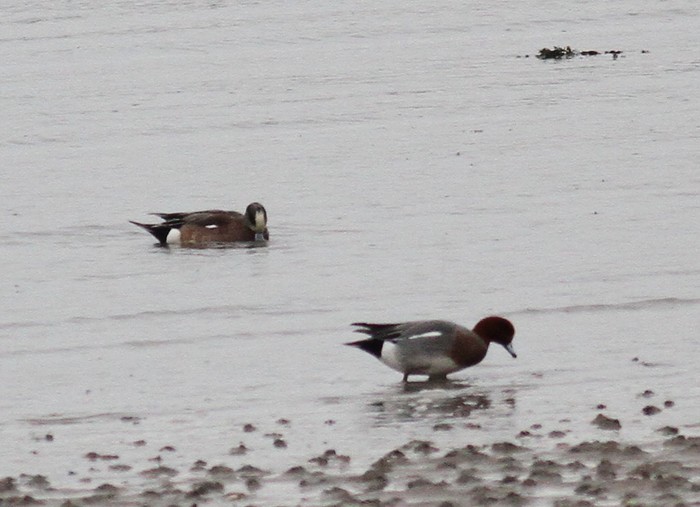 Two drake American Wigeon were seen near Loch Portain, on North Uist (Outer Hebrides) on 10th-15th with two more singles on the Scottish mainland, still in Udale Bay (Highland) on 9th-11th and near Mintlaw (Aberdeenshire) on 13th. Two English birds remained in the northeast, at Scalby Mills (North Yorkshire) to 14th and at Grindon Lough (Northumberland) to 15th with the usual Irish suspect remained along the Drowes River (Co. Donegal/Co. Leitrim border) to 14th. New to the Republic was a drake at Cahore (Co. Wexford) on 13th.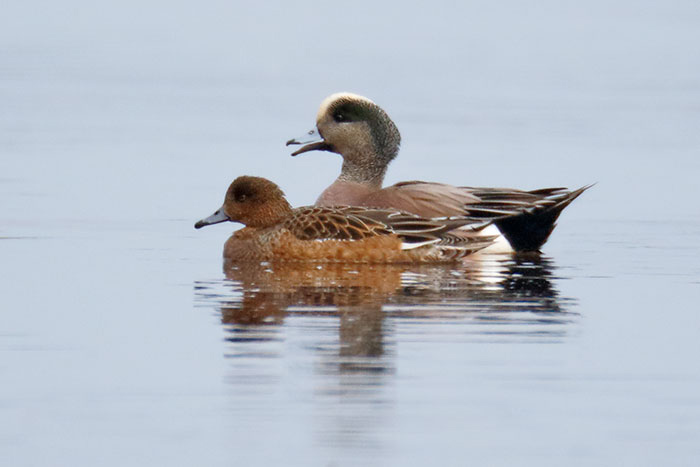 Last week saw 13 drake Green-winged Teals recorded across Scotland, Ireland and England - this week there's a slight rise with at least 17 recorded, with a 9+:5:3 split between the three nations mentioned above.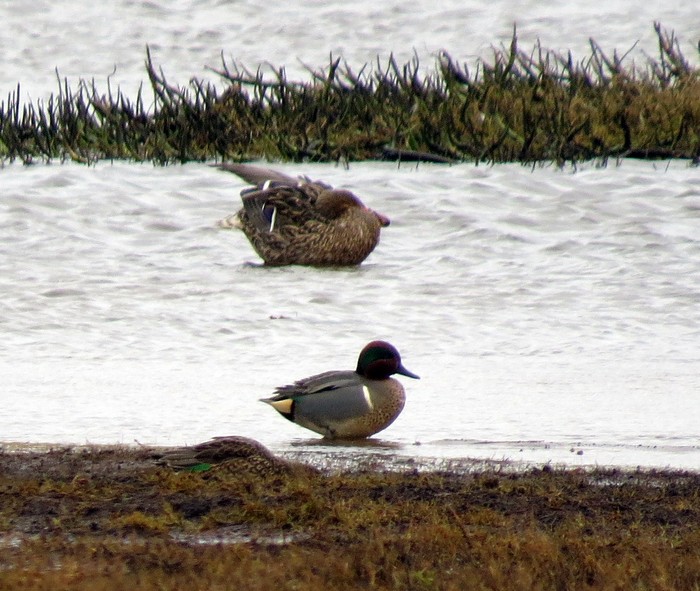 Two twos were logged in Scotland, still at Caerlaverock (Dumfries & Galloway) to 11th and new on Loch Flemington (Highland) on 13th. Two singles were on the Outer Hebrides, at Sandary, North Uist on 9th (and then it or another was at Loch nam Feithean on 15th) and still at Loch Stiapabhat, Lewis on 10th-15th while on Orkney, lone birds remained at Loch of Skaill, Mainland to 13th and on North Ronaldsay to 14th. Another newbie on the Scottish mainland was seen at Luthrie (Fife) from 11th-14th.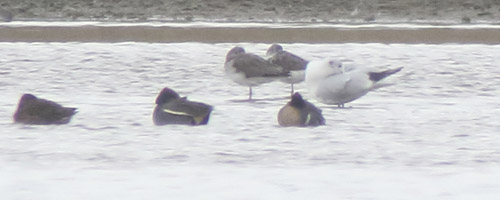 Two drake G-wT's remained in County Kerry, at Ross Castle, near Killarney on 9th and Tarbet to 13th with others found at North Bull Island (Co. Dublin) from 11th-14th as well as at Tacumshin (Co. Wexford) on 12th. A new English bird was found in east Norfolk, at Cantley Marsh RSPB on 13th with regulars lingering at both Boldon Flats (Co. Durham) and Seaton (Devon) to 12th.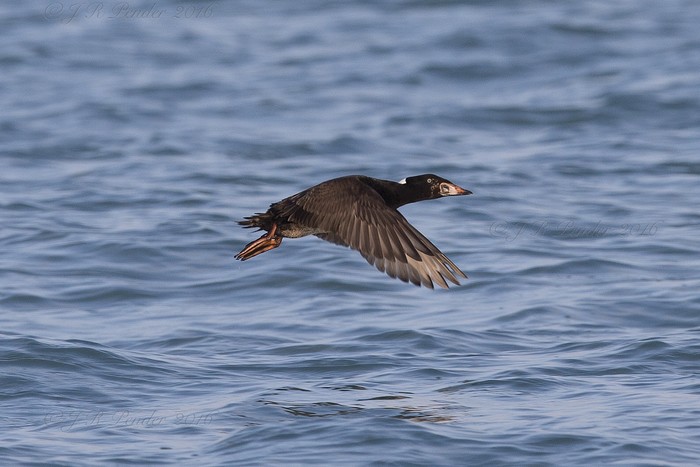 Three Surf Scoters remained in Scotland this week; drakes still off Musselburgh (Lothian) and Largo Bay (Fife) to 10th and on Shetland, at Easting, Unst to 14th. In northwest England, another drake was seen drifting past Hoylake, on the Wirral, on 11th with the wintering young males lingering around Scilly to 13th and offshore from Filey (North Yorkshire) to 14th.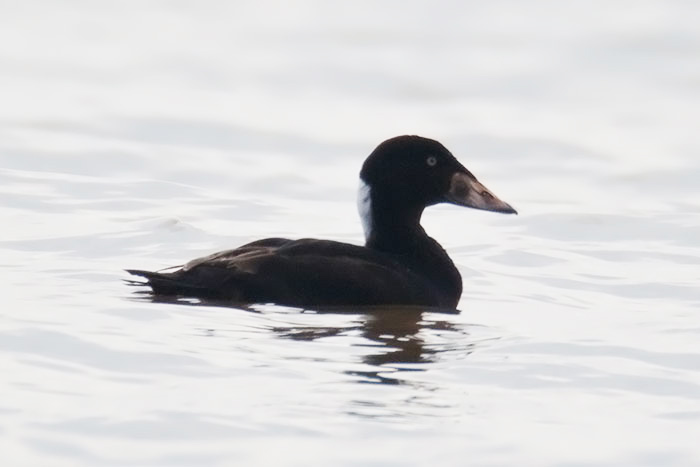 The female King Eider in Largo Bay was still being seen off Ruddon's Point through until 12th while the wintering Irish female was again off Rosslare Backstrand (Co. Wexford) to 13th and the drake was at Ballyconnell (Co. Sligo) to 14th.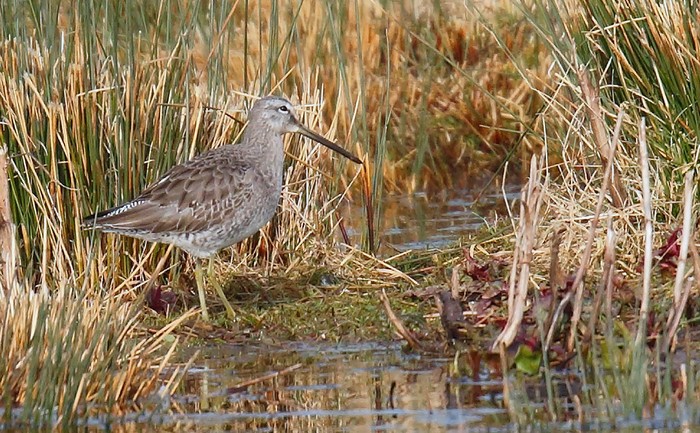 It was the same old, same old for the meagre selection of shorebirds this week, comprising (once again) of our three regular first-winter Long-billed Dowitchers - the bird at Pennington Marshes (Hampshire) lingered to 12th; the popular youngster remained at Rutland Water (Leicestershire) to 15th and up north, at Cresswell Pond NWT (Northumberland) the wintering individual was present to the last day of the week.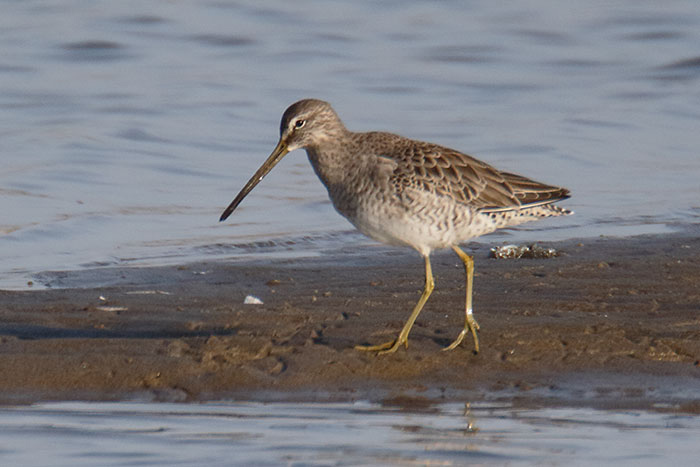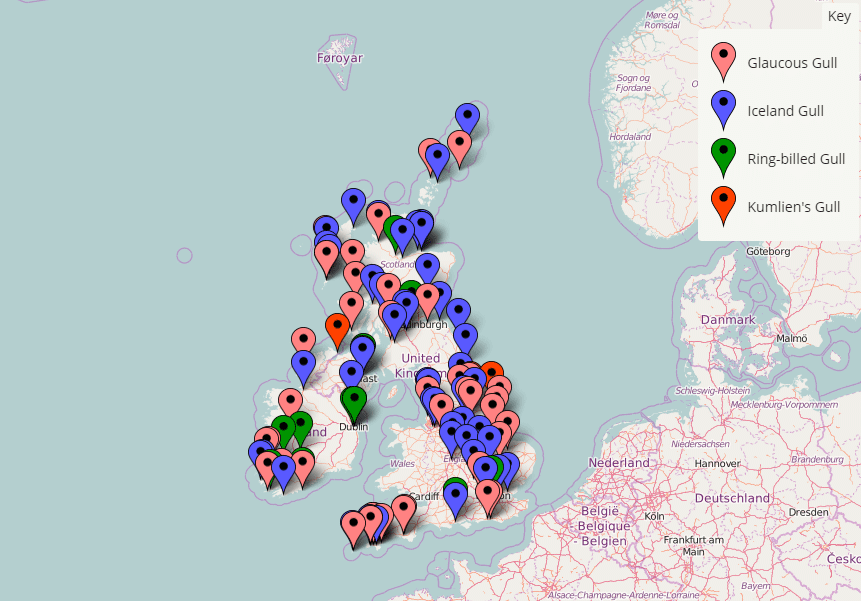 It seems as though we've lost some of our recent staples where the rarer Larids are concerned, so we head straight along to Ring-billed Gull where numbers were starting to fall away a touch, around 18 or so reported across Ireland and Britain through the last seven days.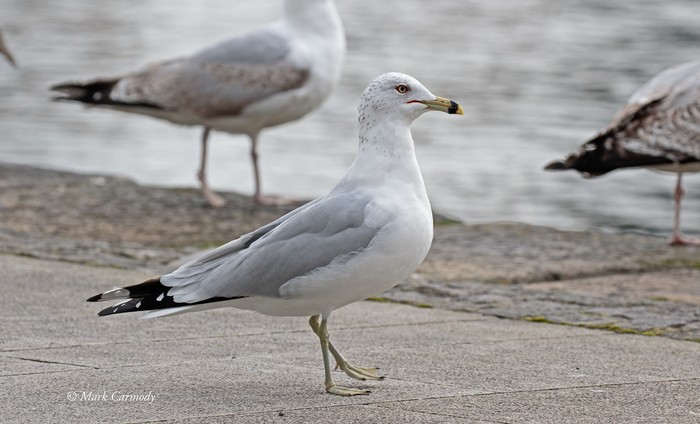 A dozen birds were noted in six Irish counties; County Dublin saw the near adult remain along the canal to 9th with adults at Sandymount on the same date and Drimnagh on 13th; two adults were Antrim, at Carrickfergus to 9th and in Belfast on 13th; two more were in Cork, singles at Castletownbere and Kinsale on 12th and three birds (two adults and 2w) were at Nimmo's Pier (Co. Galway) on 15th. Lone adults were also logged in Limerick City on 10th and in Kerry, at Tarbert on 13th.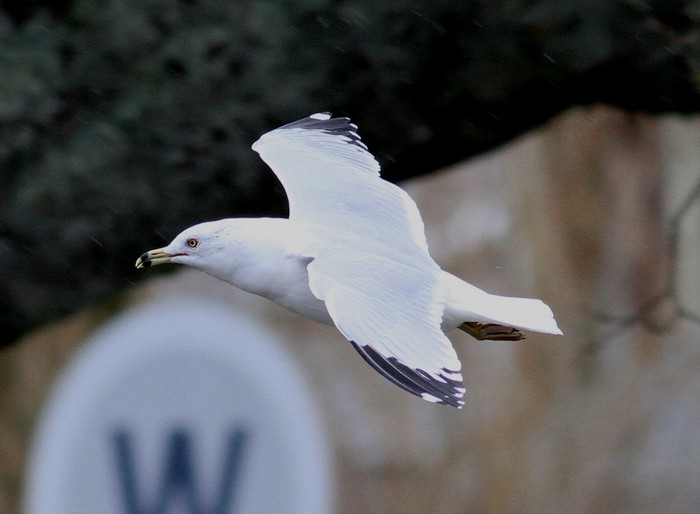 Two adults were again in the Blashford roost in Hampshire on 12th while on the Hayle Estuary (Cornwall) an adult Ringo spent 10 minutes on Ryan's Field early on 12th before the 2w reappeared in the area later the same day, being noted through to 15th. An adult was reported from Barnes WWT (London) on 13th and in Scotland the Dingwall adult was in Highland to 11th and another unconfirmed bird was mentioned for Skinflats Lagoons RSPB (Forth) on 12th.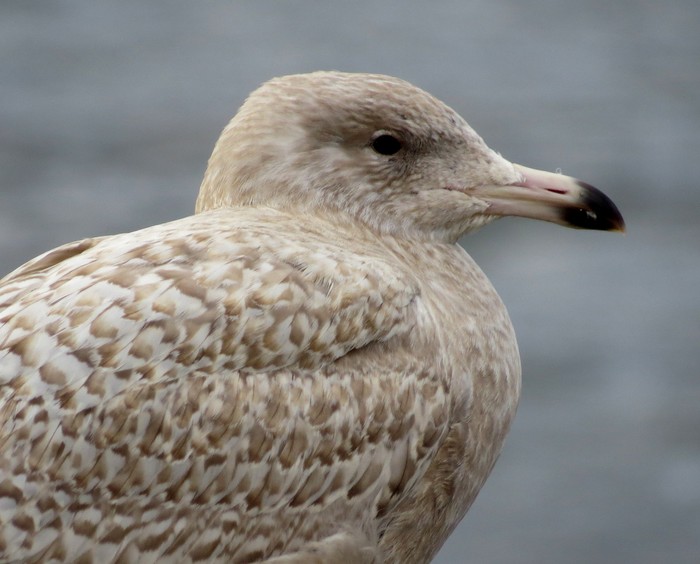 Glaucous Gulls have been hovering around the 50-55 mark for a couple of weeks lately and it was there or thereabouts with that loose number over the past seven days; 53 or so noted across 25 counties through Britain and Ireland. Scotland managed 17 birds in all (in nine counties) with five around the Hebrides and three for both Argyll & Bute and Highland. England scored 17 too, seven of them in the northeast with five in the southwest, including three in Cornwall.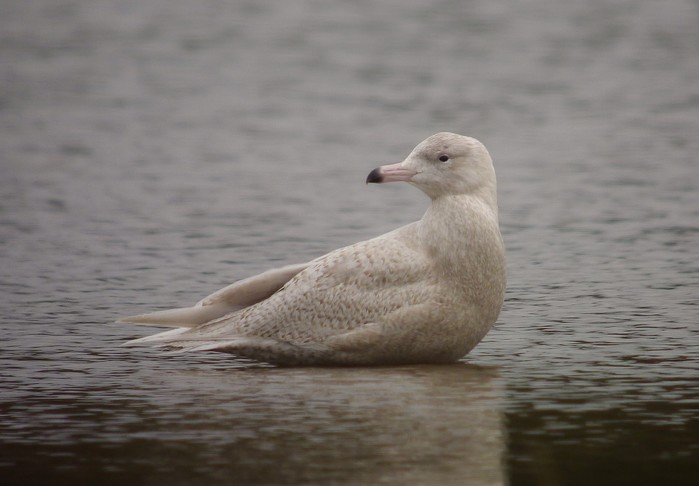 Six of Ireland's 18 in all were split evenly 3:3 between Galway's Nimmo's Pier and Kerry's Castlegregory (seen on 11th and 13th respectively) with four birds at Killybegs (Co. Donegal) on 15th.. Wales, a little like the failed 6 Nations side, nul points.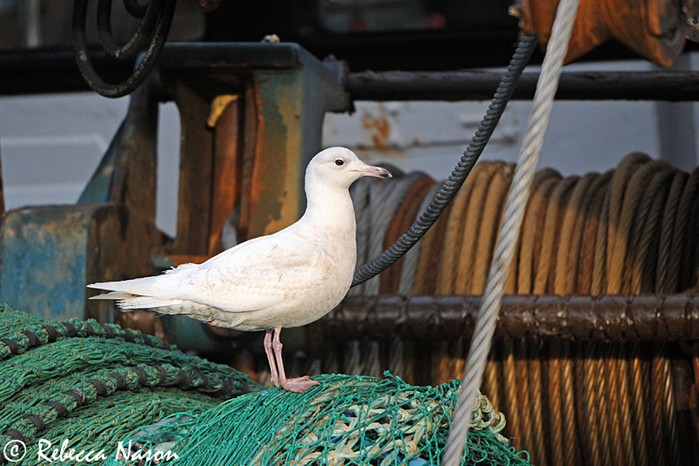 A rather more significant fall in numbers was noted with Iceland Gulls - down from around the 90-mark seven days ago to 70+ in all this week. At least 34 birds were reported around England, with 11 in northeastern England, including three different birds around the Rufforth area of North Yorkshire through the week along with three different birds heading north past Whitburn (Co. Durham) on 13th. As many as four separate individuals were reported off Hale lighthouse, on the Wirral, through the week while in southwest England, four birds were in Cornwall and two more were on Tresco (Scilly). Other regions fared less well, five were in the Midlands, four were seen in the southeast and one was logged in East Anglia.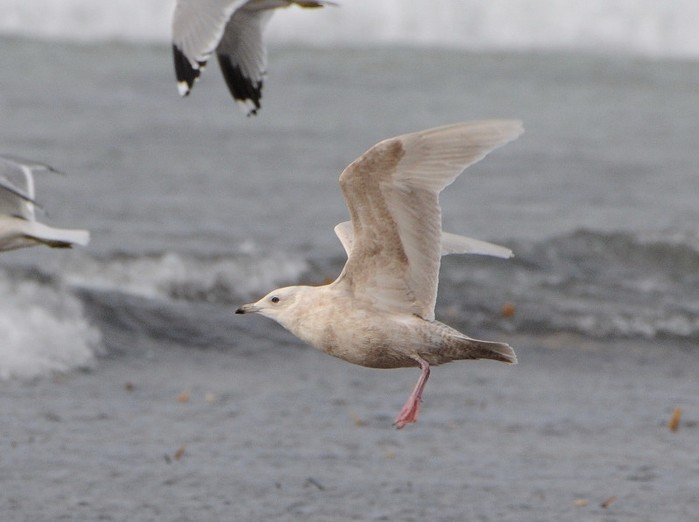 Scotland hosted around 20 birds in all, including six on the Outer Hebrides with threes for both Moray and Clyde while five of Ireland's 15 were at Killybegs on 15th. Elsewhere, three were noted in Sligo town on 14th with a further three logged around Kerry. Wales scored just the two.
Just a couple of Kumlien's Gulls to mention before departing this section - in Donegal, an adult remaiend at Moville, near Greencastle to 11th and the romaing 4w was noted off Ulrome (East Yorkshire) the following day.
Before departing this section, there's news of the adult Forster's Tern again this week - seen at the edge of Galway City, at Nimmo's Pier, on 15th.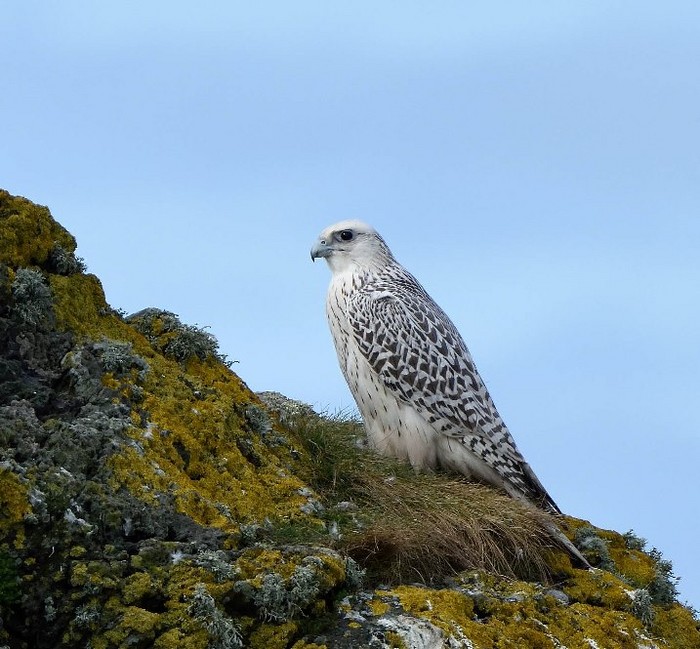 Over on the Outer Hebrides, a gorgeous white Gyr was found at Loch Paible, North Uist on 14th - almost three weeks have passed since the last sighting of one around the island and, given the time of year, you'd think it could well be a new bird. It looks like a new one from the glorious images obtained…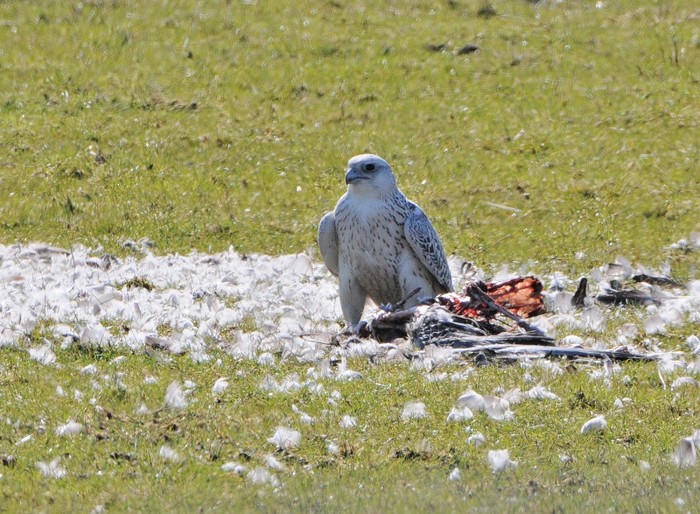 Up on Shetland, a fine young White-tailed Eagle appeared at Saxa Vord, Unst on 13th and was presumably the bird reported a couple of days beforehand at Hermaness. A few hundred miles to the south what was thought to have been this species headed north over Soar (Devon) on 11th - potentially the 1st county record for aeons…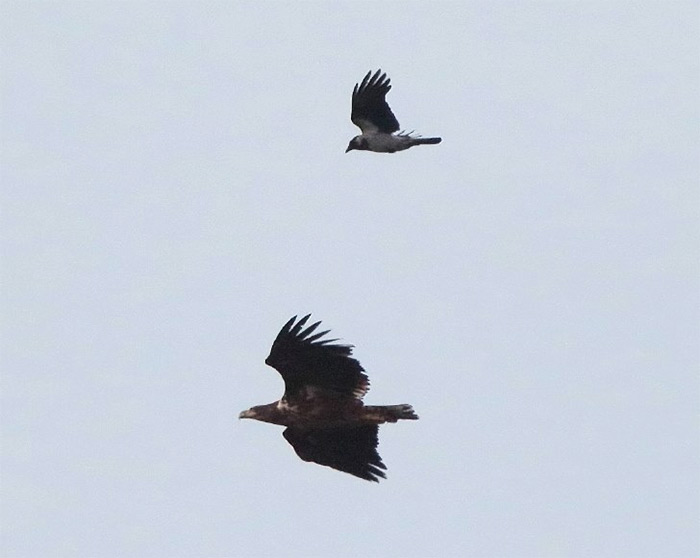 Two different Rough-legged Buzzards were reported as "still present" around Norfolk this week; the juvenile continued to loiter around the back of Titchwell, up on the downs of Choseley until 13th with an adult mentioned for the Haddiscoe and Fritton areas on the same date.
Elsewhere, at least one Rough-leg was still in County Durham, at Langleydale Common to 11th with the wintering juvenile noted at Holland Haven (Essex) to 15th. New this week was a Highland bird at Balmore of Leys, near Inverness on 14th.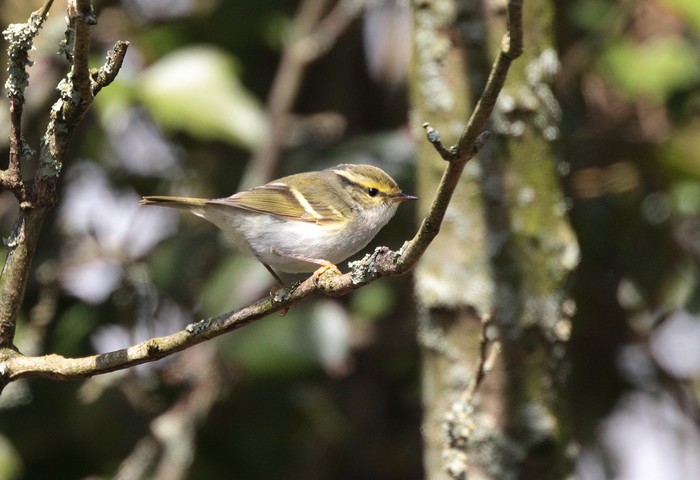 Dorset's Pallas's Warbler continued to be something of a star attraction for birders and photographers in southwest England this week, present throughout until 15th at Portesham.
In Cornwall, three wintering Yellow-browed Warblers remained on station; at St. Clement to 11th, Saltash until 12th and again in Nanzijal Valley to 14th. New was the bird reported in Portslade-by-Sea (East Sussex) on 11th (having apparently been present for a fortnight or so prior to that) while in Devon, one was in Exeter until 12th.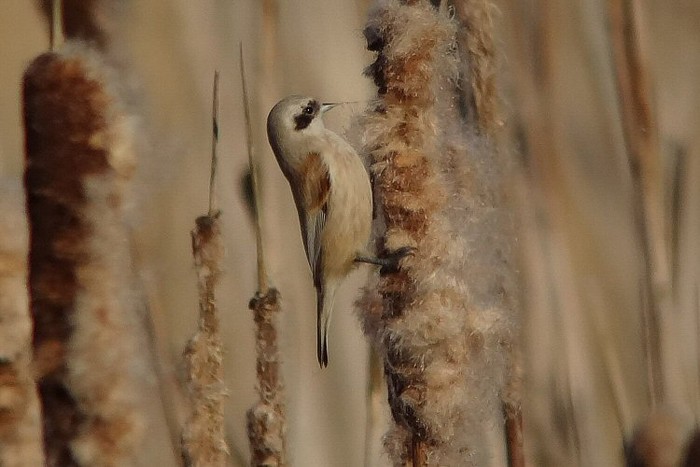 After over a fortnight away from the RSPB reserve at Saltholme, the two Penduline Tits were back in Cleveland from 11th where they showed daily until 15th. Also having a little game of hide-and-seek were the two males near Brockworth (Gloucestershire), seen daily until 11th then missing on 12th before appearing again on 13th-14th while the double act at Titchfield Haven NNR (Hampshire) were seen until 11th. Norfolk's ultra-elusive bird was heard again at Strumpshaw Fen RSPB on 15th.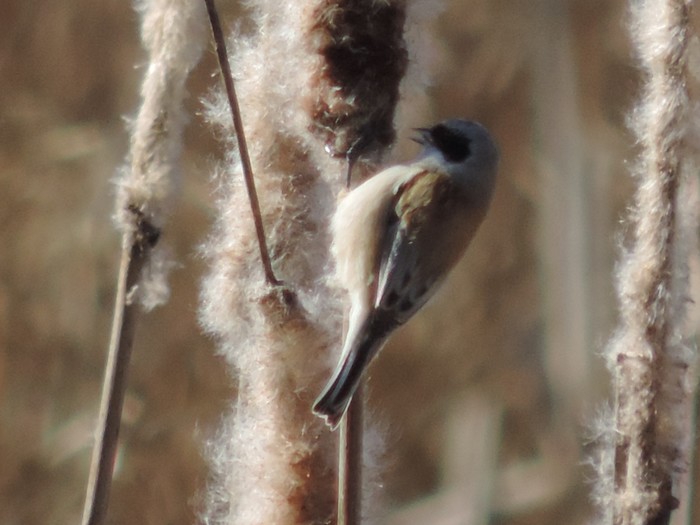 In a week of assorted "reports" of possibles and probables (almost all ignored here) mention should be made of the Penduline Tit that was reported at Magnolia NR, Ashingdon (Essex) on 13th. The bird was seen on bulrushes and had been around for a week but after there was no sign the next morning, despite what seemed like a very strong report, it was going nowhere. Happily though, for all Essex listers, this 3rd county record was back again at lunchtime on 14th - becoming the first since a five day bird at Cudmore Grove CP in November 1997 (the 1st for Essex was seen in June 1982 at Ockenden).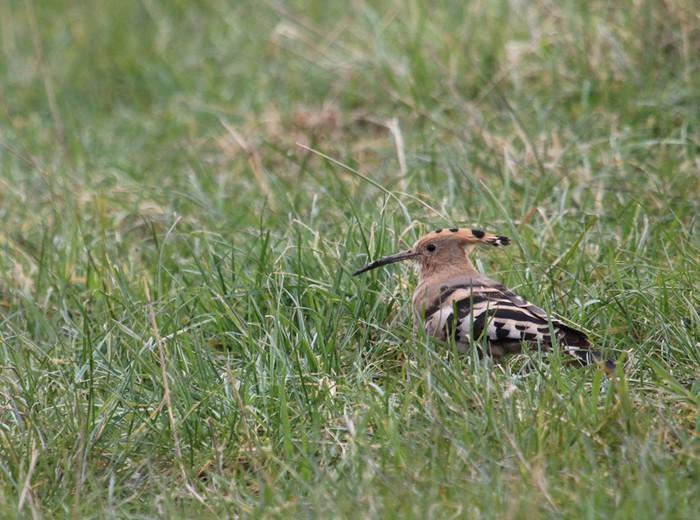 The first overshooting Hoopoe of 2016 was found in west Cornwall this week, present at Trethewey, near Crean Bottom on 11th while in Staffordshire, the overwintering Upupa lingered at Wall Heath to 15th when, remarkably, the same site lured in a new Richard's Pipits too - one of three fresh individuals to pop up this week - others heading over near Coverack (Cornwall) on 12th with another heard heading over Bunmahon (Co. Waterford) the following day. The only others recorded were the two first-winters on Flamborough Head (East Yorkshire), present to 14th.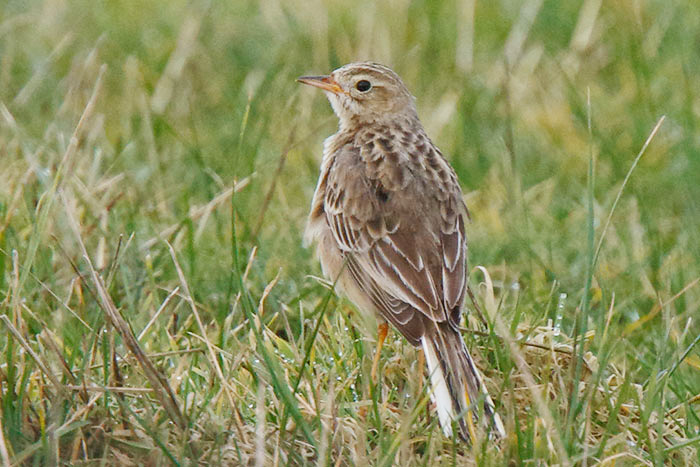 The year's second unconfirmed Wryneck was reported in Dorset on 11th while "4Real" was the lingering adult Rose-coloured Starling in Lizard village (Cornwall) to 12th.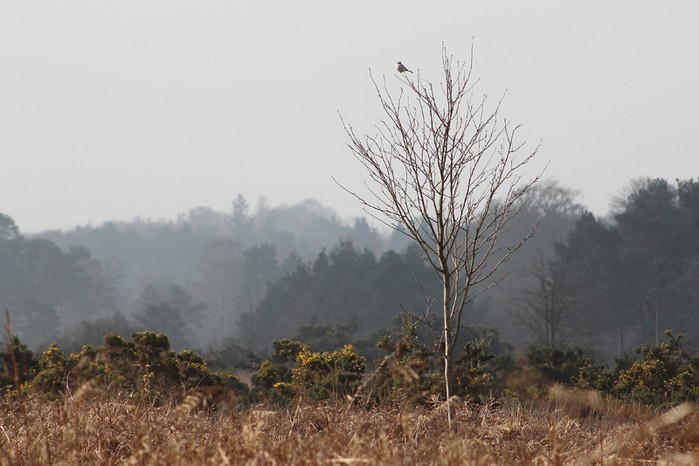 Great Grey Shrikes tailed off a little over the last seven days, around 19 noted in all with Hampshire sitting pretty with around five birds in the county; two remained at assorted New Forest sites until 13th, while recent finds at Woolmer Forest and Laverstock were in place through to the weekend too. New was a bird near Andover on 12th.
That Hants quintet were part of eight or nine birds in southeast England, others remaining at Thursley Common (Surrey) to 12th, Ashdown Forest (East Sussex) to 14th and Heybridge Basin (Essex) through until 15th. Another Surrey bird was reported from Elstead Common on 13th. Three (or perhaps four) singles were in the Midlands - one was again at Black Hill (Shropshire) on 13th while two or three birds were still in Gloucestershire this week; one or two were in the Forest of Dean and another remained at Frampton-on-Severn to 13th. Two Great Greys were in northeast England, at Cropton (North Yorkshire) on 12th and still at Harwood Forest (Northumberland) on 13th with loners elsewhere still at Norfolk's Grime's Graves all week and new in Somerset's Quantock Hills from 11th-14th.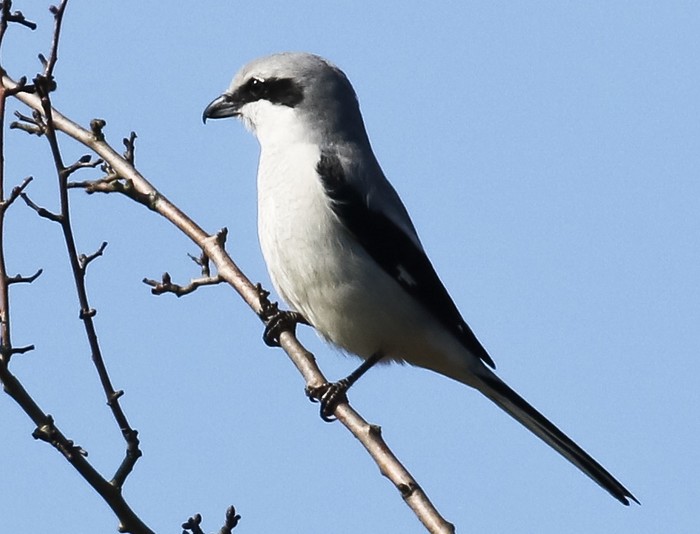 Wales continued to hold at least Great Grey Shrikes this week, two a piece for Glamorgan (at Llywn-on Reservoir to 12th and Afan Forest Park to 15th) and Denbighshire (at Clocaenog Forest to 13th and World's End to 15th).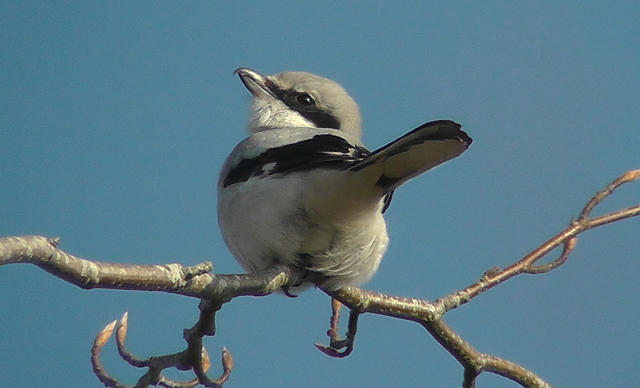 Last of all this week, a surprise Little Bunting close to Pyford village in Surrey. Apparently first noted on March 5th, news emerged on 14th and the bird was still present to 15th. There haven't been too many records of this particular species in the county - none in the last decade or more at any rate and, off the top of my head, I can't remember many aside from the wintering individual that hooked up with the first-ever wintering Rustic Bunting at Beddington in the early days of 1993 (ahead of being swallowed up by Greater London, the site was in Surrey).
The coming week…
It really could be all about the weather in the next few days - the slow, slow, quick, quick, slow approach of spring has tried to inch towards us but continually seems to stall.
And with the long-range forecast intimating some northeast winds in the next few days, there would appear to be little hope of a burst of mid-March southern vagrant sunshine to brighten up the grey skies that seem likely to sit over us in at least the first few days of the new week.
Thoughts and hopes continue to turn to towards the likes of early overshooting Alpine Swifts and, yes, again, Great Spotted Cuckoo but there's always a chance of something a little bit different from southern quarters…
There are several records of male Subalpine Warblers, especially in the far southwest (Caerthillian Cove, on the Lizard enjoyed a run of startling bright males a couple of decades ago) while upping the ante a little in the Sylvia stakes is Sardinian Warbler - and one of them has also made a mid-March on the Lizard - found on 18/03/90…while Norfolk chalked up a popular at the time male in the bushes between Holme and Old Hunstanton from March 16th 2002 (a bird which could feasibly have overwintered in the area, one was seen there the previous autumn).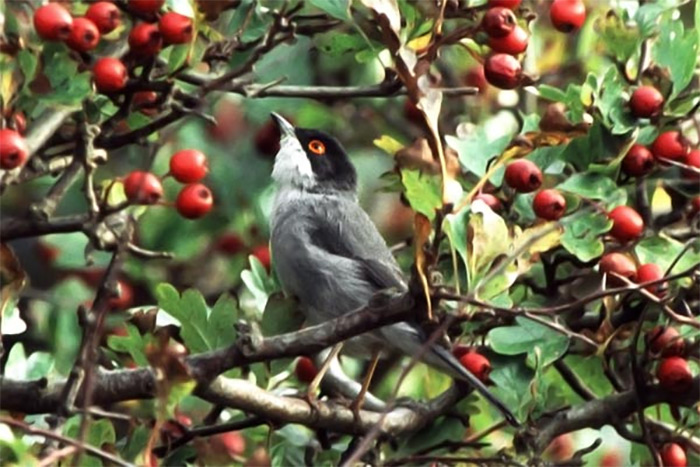 If warblers aren't your bag, then cast eyes t'ward the waterways and you could strike it lucky. What was almost everyone's first crack at Buffelhead came along to Nottinghamshire's Colwick Country Park on March 17th 1994 - attracting 100's of birders at the time for one of the year's most significant mainland twitches.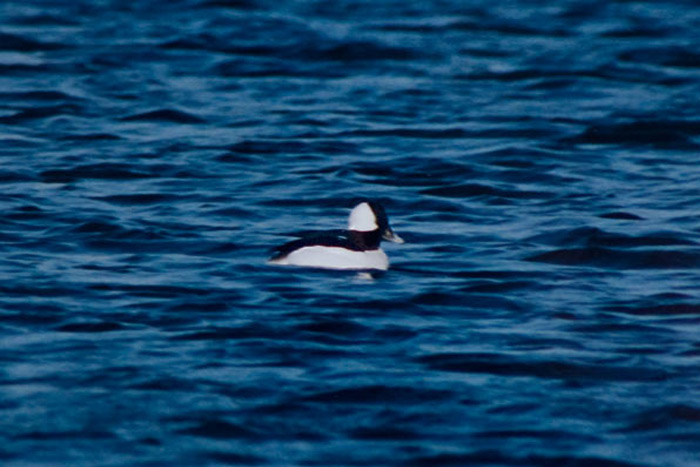 More recently, birders in Cambridgeshire discovered a stunning drake Baikal Teal on March 16th 2014 - a bird which decamped to the Ouse Washes before departing in very early May.
That date of March 16th is a significant one where the still desperately rare Alpine Accentor is concerned - there have been two on that particular date; one was found at Rottingdean in East Sussex in 1922 while, far more recently, came the widely twitched four-day bird near Minsmere in March 2002 - one of only five birds seen in the past 16 years…
Kent and Suffolk, May 2000
Suffolk, March 2002
Norfolk, April 2004
Norfolk, April 2014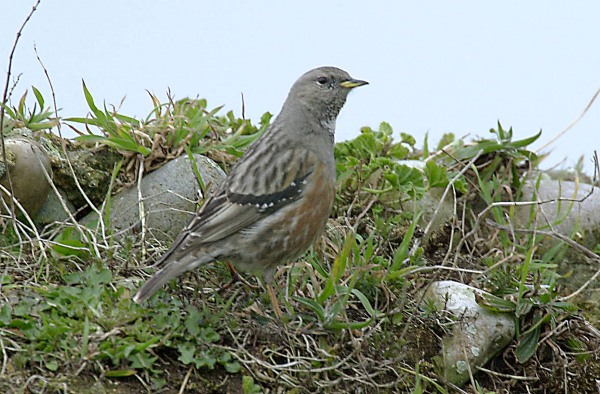 …most folks will recollect that the recent Holme bird was a one-observer bird (just reward for patchworking too…) which puts that Overstrand bird of 2004 as the most recent "available" Double A.
Whilst it seems unlikely that any of the above may trouble the scorers in the seven days ahead, that suggested northeast to east breeze could yield a nice early White-spotted Bluethroat or even a Rustic Bunting - five of which were accepted before removal from the Rarities List (it has now, of course, been reinstated).
One was found in Lincolnshire on March 22nd 1992 and the following year, two were found within 24 hours (on 19th and 20th) in Kent and Dorset. Further Rustic Buntings then appeared on March 22nd 1997 in Devon and on March 18th 1999 - and that, along with the lovely Luscinia above stand out as a couple of options for the week ahead.
Mark Golley
16 March 2016
Thanks to this week's contributors for their photos and videos.
Tom Lowe, Steve Arlow, Mark Darlaston, Gary Thoburn, Michael Malpass, Geoffrey Alan Clewes, Nick Franklin, Colin Reid, Rob Laughton, Bob McMillan, Sean Nixon, Paul Kelly, David Elliot, Ian Cunningham, Toby Green. Steve Gantlett, John Nadin, Joe Pender, Steve Gantlett, Tony Davison, Mark Carmody, Davie Abraham, Rebecca Nason, John Kemp, Stephen Duffield, Robbie Brooks, Allan Chard, Tony Dixon, Daniel Branch, Neil Randon, Michael Hoare, Philip John Parsons, Alan Tate, David Carr.
Please note: we put a lot of time and effort into sourcing and and producing the images, videos and graphics for each roundup. Some of you (probably Apple users) may notice some photos etc. that appear to have incorrect captions. Please try refreshing the page as they are correcty captioned. If after a refresh they are still showing the incorrect captions then please email us