Birding round-up: 02 - 08 Mar 2016
The week at a glance
County Cork holds on to the Glaucous-winged Gull in to the new week
The Mount's Bay Hudsonian Whimbrel remains to the start of the new week, with the Pacific Diver appearing again too
Three American Herring Gulls noted; two for Cornwall and another firms up on the Hebs
Half a dozen Northern Long-tailed Tits reported in Kent as the weekend arrives, four more follow on soon after and another appears at the week's end…
The drake Black Scoter reported again in Northumberland
The generally chilly, late winter weather continued throughout much of the week just gone, the days pre-weekend egged on by the appearance of Storm Jake who managed to bring storm-force winds across the west coast of Ireland as the review got under way with the low pressure system then bringing a fair amount of rain across the rest of Ireland and the west coast.
As Jake departed, then in behind came a pulse of colder air, driven on by a brisk (in places) north-ish wind - conditions that left snow across many parts of the northwest of England as the weekend approached.
Strands of precipitation cut across the country, not everyone copped for wet weather though, as away from the cloud and damp were swathes of blue sky and sunshine - though daytime temperatures remained on the low side, often struggling to get close to anything like milder double figures (it was pretty chilly in actual fact).
The rest of the week continued in a similar vein, sunshine, showers and a cool wind from the northwest, with snow showers and a cold NW wind stretching widely down the east coast post-the weekend. Spring wasn't arriving just yet…
…here we go then, another week's news lies ahead, but the headline acts, well, a bit like a Jesus and Mary Chain set from their early days in the 80's, this is almost blink and you miss it…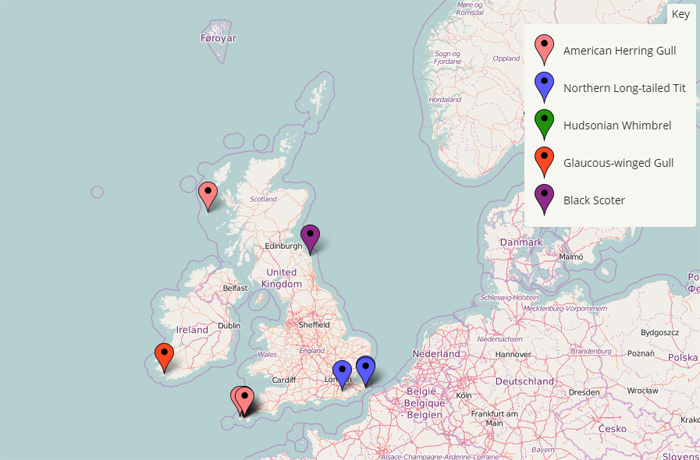 Glaucous-winged Gull
Officially clocking up a stay of over two calendar months this week was Fionn Moore's marvellous adult Glaucous-winged Gull at Castletownbere over in County Cork.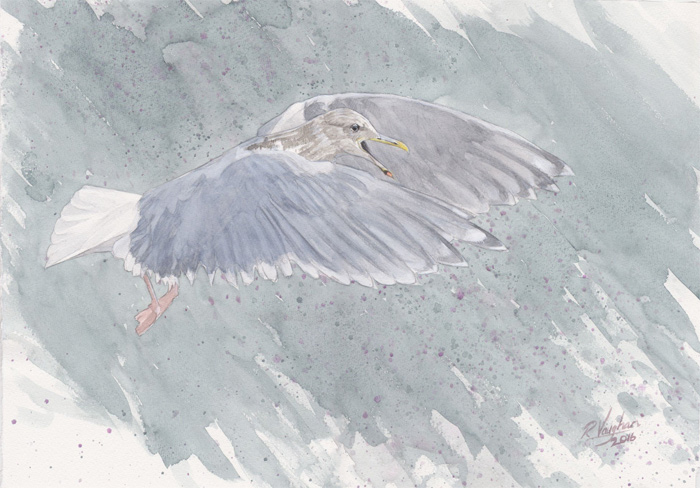 Found on January 2nd, this sensational gull (in all sorts of ways) remained in and around the area through until March 5th - many will be musing along the lines of "if only the Vega Gull had been so considerate".
Hudsonian Whimbrel
Reports of Cornwall's still-present Hudsonian Whimbrel have become more and more infrequent as the winter has progressed and, with spring limbering up in the winter's departing shadows, the county first bird will soon be on the way north (with every chance that someone, somewhere may just come across it as it journey's away from the southwest of England).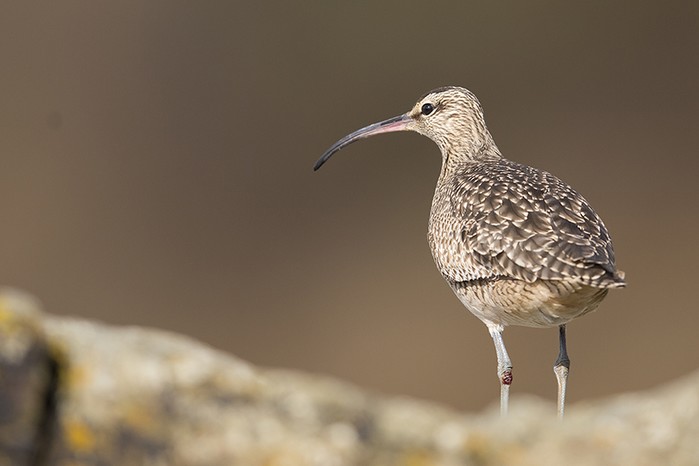 Last week there was just one sighting of the increasingly elusive Whimbrel (noted at Perran Sands on 24th) and this week saw the first (and only) report of the last seven days coming on the afternoon of 3rd, when the bird was seen to the west of Boat Cove, Perranuthoe ~ where it was noted again (sporadically) on 5th-8th.
Pacific Diver
No sooner had the words Pacific Diver been deleted from the weekly "work-in-progress" review template and "v.1" then up it pops on the pager ~ so we'll doff our caps to the brilliant rare and mention that this Cornish treat was again in Mount's Bay, again out from St. Michael's Mount, on 7th.
American Herring Gull
Elsewhere in west Cornwall, the rarely encountered 3w American Herring Gull was noted for a typically brief stay (of around 10 minutes) during the morning of 3rd up around Jericho Farm.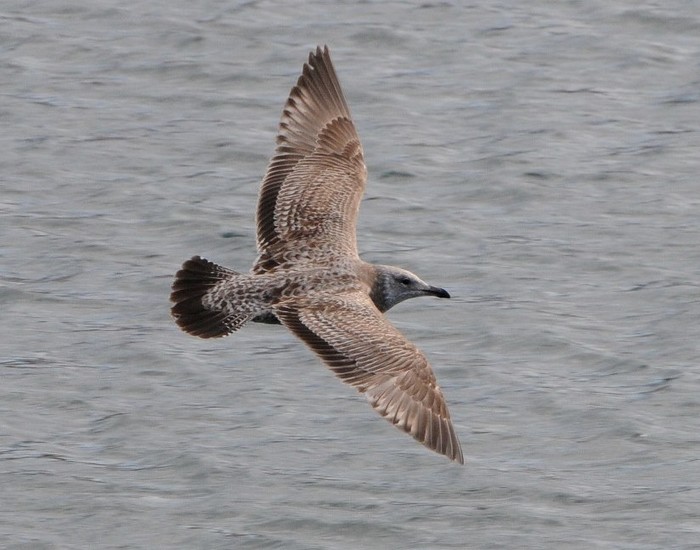 Way off to the northwest, out on Barra, the week's second smithsonianus firmed up on 3rd - it was suspected last week (and reported as a possible from 1st - which was the bird's fifth day in and around Garrygall, Castlebay) and was still in the same general area as the new week began (also taking in a trip to nearby Traigh Hamara on 3rd) and was seen to 7th at least - and rather fine it looked too.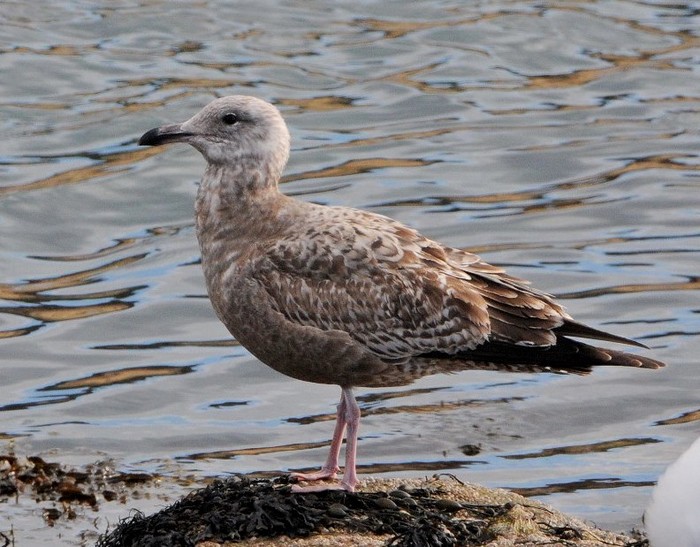 So far, the island complex of the Outer Hebrides has seen around eight or nine acceptances to date, including two (or maybe even three) around Benbecula and South Uist in the first two or three months of winter 2002 and further birds followed annually between 2004 to 2008.
Since then, just one has followed until this week and that was last year's chequered-looking 1w that appeared on North Uist on January 29th.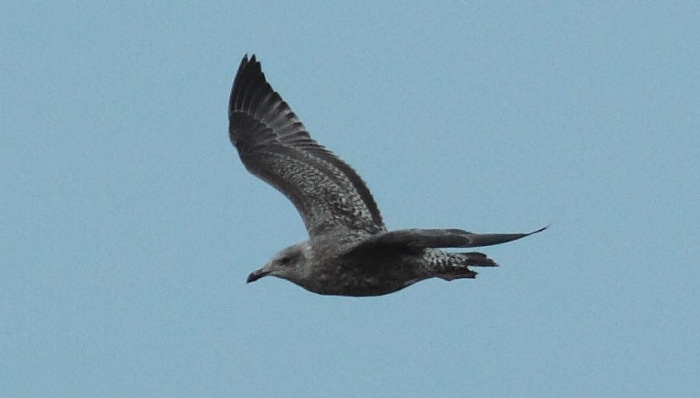 Back down to west Cornwall for news of the county's second Smickers of the week, the still-elusive juvenile appearing again on St. Clement's Isle, Mousehole on the consecutive evenings of 5th-6th, the first sightings of this tricky individual since February 27th.
Northern Long-tailed Tit
Up next comes perhaps the most exciting, stimulating and "breath of fresh air" reports of the last seven days; step forward the flocks of six and then four Northern Long-tailed Tits accompanying their commoner cousins along the Kent coastline at Bockhill, St. Margaret's at Cliffe on 4th and then Walmer, near Deal, on 6th with one on site the following day. As if those 10 mini-invaders weren't enough, a singleton arrived at Sandwich Bay on 8th.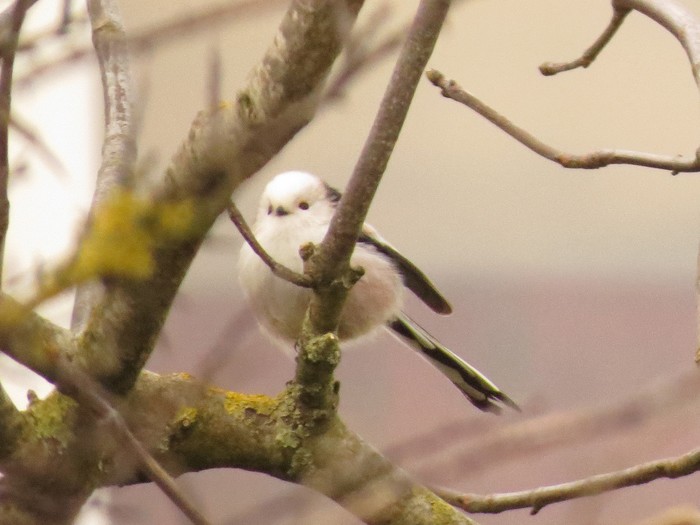 These scrumptious marshmallow-headed sextet and quartet followed on from the report of a "possible" a little further along the south coast (at Beachy Head on February 29th - a bird which, now photos have been appeared, is also the real deal).It feels as though there's a little push of them coming our way and what's not to love about that…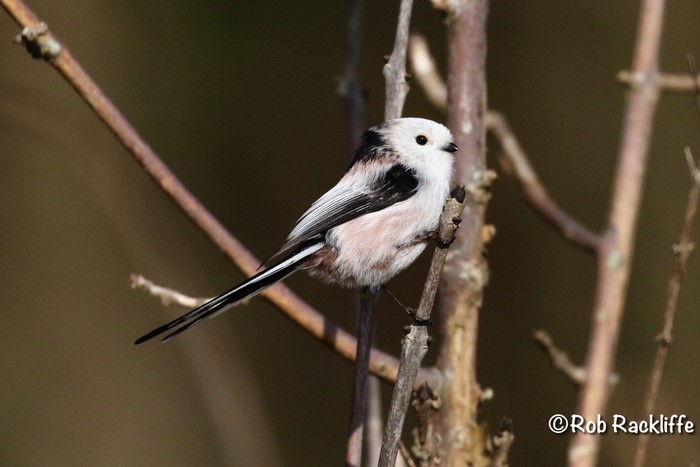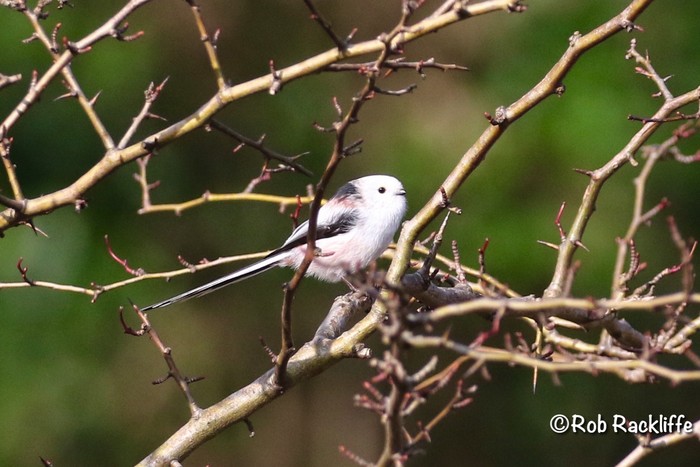 The most recent known gathering of these stunning snowball-topped psychedelic neopolitan feather balls of fun came in the late autumn of 2013, when five alighted at the Halligarth Plantation, on Unst, where each and every image proved to be a delight.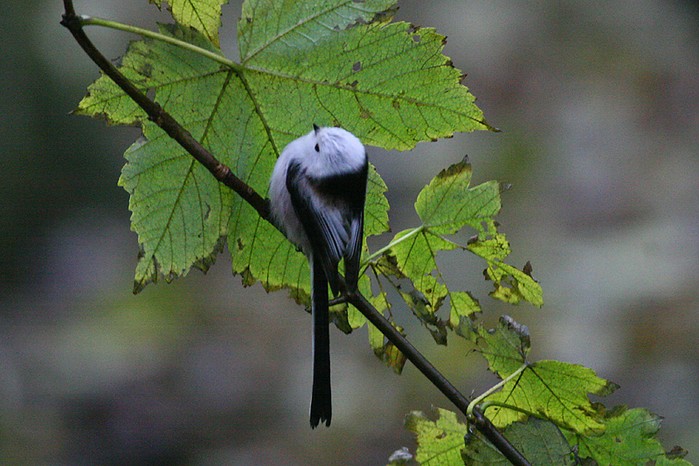 Before that, another Kentish gathering drew crowds to Dymchurch between January and March 2011 (with perhaps the same quartet moving north to North Foreland later in March) while many birder's first-ever UK encounter with these delightfully special form came in the early winter of 2004 when Suffolk's Westleton Heath hosted a flock of five for a couple of months from January into early March.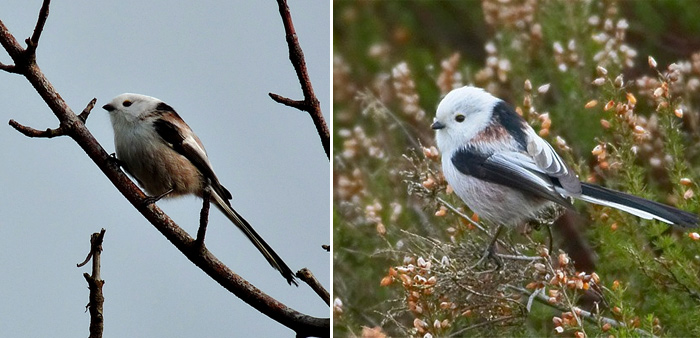 Other Northern Long-tailed Tits have followed since, including birds in Lewes (East Sussex) and Warley (Essex) later in 2004, as well as twitched birds at Easington (East Yorkshire) in October 2005 through to April 2006, at Southwold (Suffolk) in October 2010 and, most recently, at Luddenham Dean (West Yorkshire) in January-February 2012.
Black Scoter
Rather less dinky and delicious compared to those outrageous little passerines isBlack Scoter (though it remains all together rarer and is at specific species level too of course) and this week saw another report of the drake from Stag Rocks, not far from Bamburgh (Northumberland) on 4th.
There's been nearly a month since the last reports of this particular bird and, at the time, online sages suggested that the bird in question was a well marked drake Common (tho' the Black Scoter had been in place at the end of January for a few days.
Photos seem to be the only way to know what's what at any one given time where this baby is concerned, so let's see what transpires…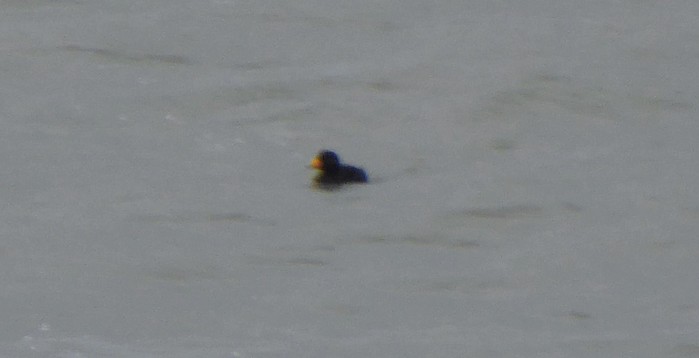 …and what transpired was a suitably ok record shot…so, it looks like the boy was back.
It was a spectacular week in SeabirdWorld - spectacular in as much as there was, basically, diddly-squat to report…
By close of play Saturday there hadn't been a buttery-billed diver, dinky pied auk or anything else in the pelagic line to mention.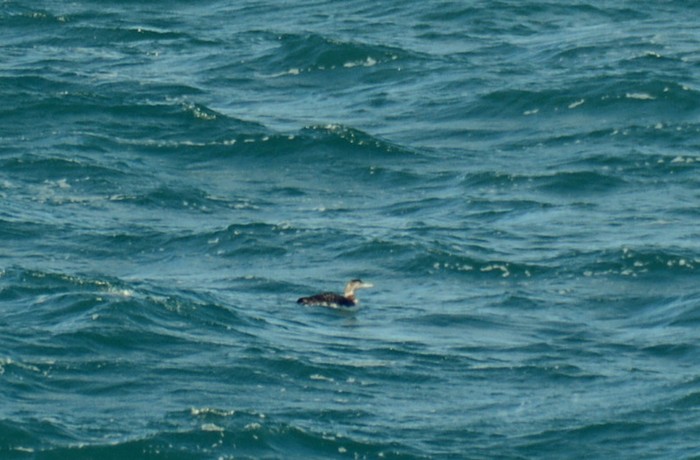 Thankfully that changed as a chilly Monday dawned thanks to belated news of a White-billed Diver along the far tip of the Ardnamurchan Peninsula in Highland on 5th while the review's final day saw news of one again on Skye, off the pier at Uig on 8th.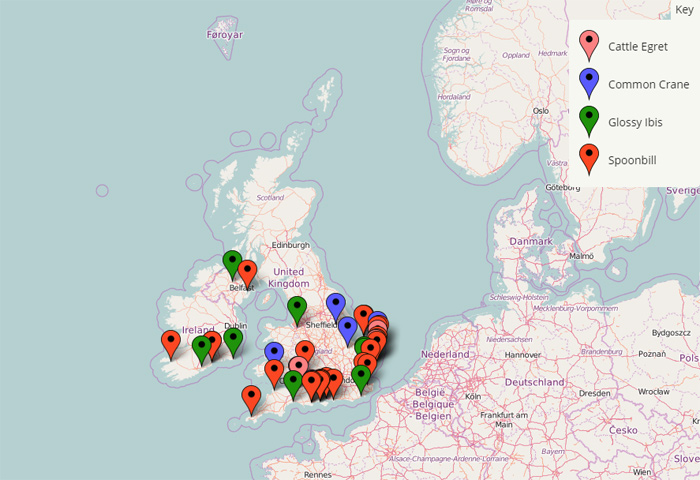 The mini-malaise that had a bearing on new "big" rares and seabirds also edged a way in towards this section too (par for the course for the second week of March though) and we begin with a tiny falling away of Glossy Ibis ~ down from 11 of seven days ago to 10 across the last week.
The new review period began with the continuing presence of the new Essex arrival of last week still in situ at The Hythe, near Colchester (a bird that remained to 8th) with one back at Abberton Reservoir on 6th. An Irish quintet followed, singles still at both Tacumshin (Co. Wexford) and Toome (Co. Antrim) to 3rd with the third again near Midleton (Co. Cork) on 4th. Back in Wexford, two birds were at Cahore on 8th.
Popping up once more at the Gowy Meadows CWT reserve in Cheshire was the Glossy Ibis that had last been seen there on February 27th while in east Devon, the Seaton bird remained to 8th with the East Sussex first-winter at Pett Levels to the same date.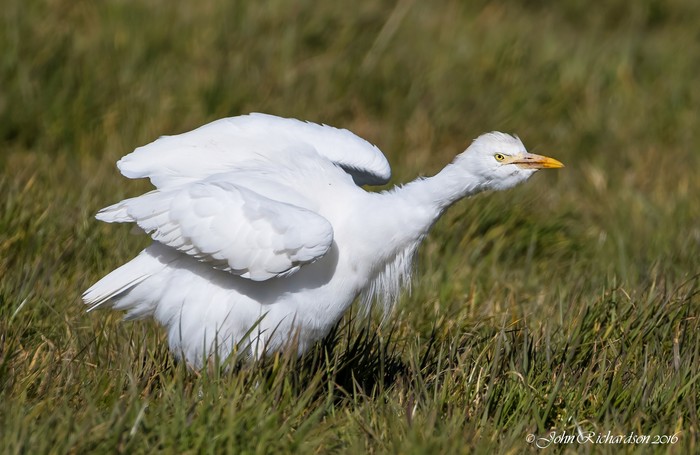 Both Suffolk and Somerset hosted two separate Cattle Egrets each over the past week; the former county saw lone birds remain at Iken to 7th and North Cove to 8th while in the southwest, singletons remained at Mudgley to 7th and out on Westhay Moor NNR to 8th, while "new" was one at Exminster Marshes RSPB (Devon) on 6th.
With winter's departure comes another downturn in numbers of Spoonbills - around 30-35 recorded in eight English and one Irish county this week. Lone birds were noted through Cornwall and Devon to Gloucestershire and Kent with Hampshire's Keyhaven scoring eight on 3rd. Fours were noted at Minsmere RSPB (Suffolk) and Middlebere (Dorset) on 3rd (with maybe nine around Poole Harbour on 6th) while up to five were dotted along the north Norfolk coast. Ireland held three at Dungarvan (Co. Waterford) on 6th, with one in Kerry, at Cromane on the same date.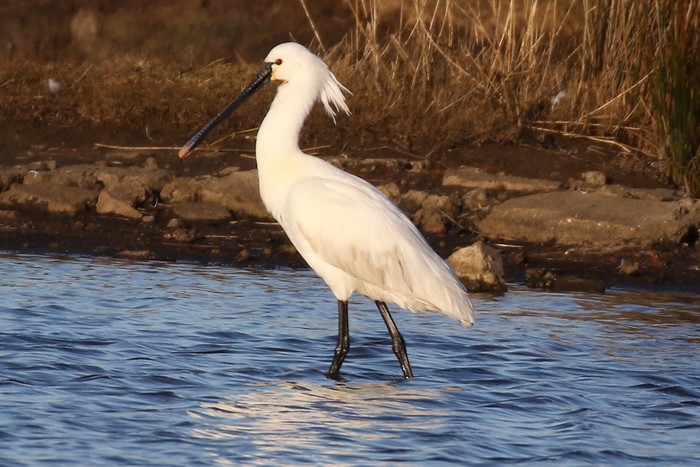 The week began with two Common Cranes heading over Willingham by Stow (Lincolnshire) on 2nd with the roaming (and tough to find) pair in Dorset appearing over Lytchett Bay on 5th (the third week in a row they've been seen in the county). New in Wales was a lone bird at Swiss Valley (Carmarthenshire) on 5th-8th (a bird which it transpires had first been noted on 2nd) - and it is the first in the county since the end of April 2009.
Elsewhere, the only other reports came from Cambridgeshire, with half a dozen at Eldernell on 3rd and at least four at Guyhrin on 8th.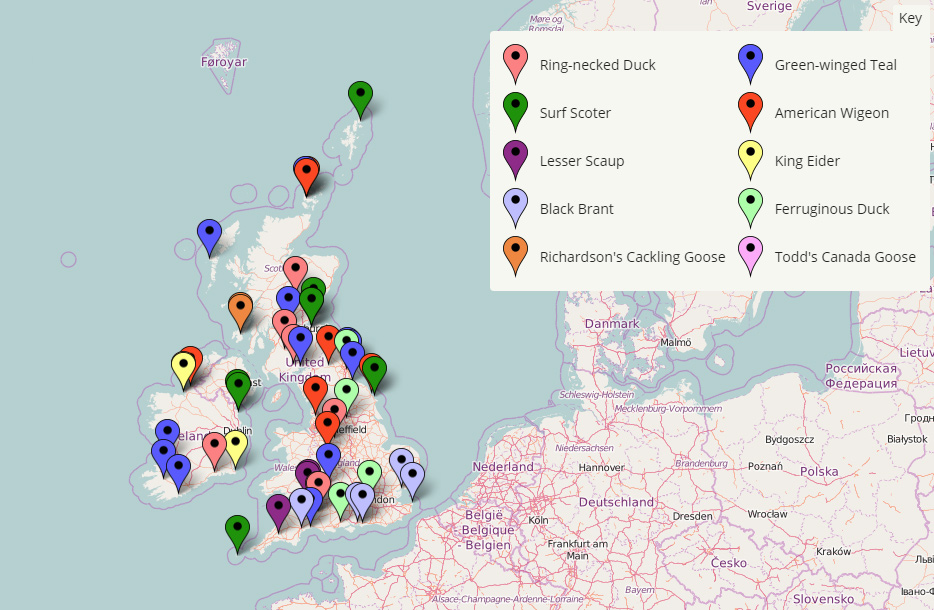 The family group of a single adult and three 1w intermediate Snow Goose remained in Aberdeenshire until 5th - noted a few miles away from their regualr haunt of Loch of Skene, at Blackburn.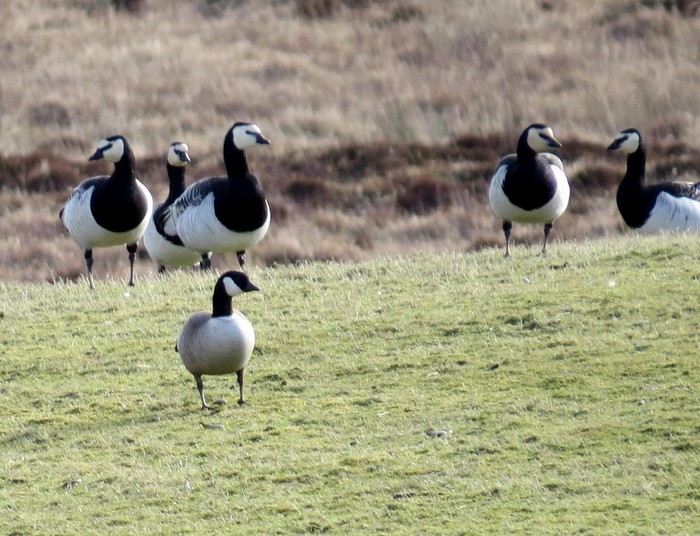 In Sligo, that double hit of white-cheeked geese remained in the fields around Ballintemple - both the Richardson's Cackling Goose and Todd's Canada Goose in the area until 5th. Also hanging on this week in Argyll & Bute, the Islay hutchinsii, seen near Kintra on 3rd-5th and then two more were noted at Ballygrant on 6th.
There are seven Black Brants to mention this week, most of them regulars, to one degree or another. In Devon, one remained at Exminster to 3rd and one appeared again in West Sussex, at Chichester on 5th-6th.Alonmg the south coast, in Hampshire, another Brant was at Farlington Marshes HWT on 6th. One of the Essex birds seen lately was back on West Mersea on 6th while the bird at Foreness Point (Kent) was in place for much of the week while the final day of the review period brought news of two on the airfield at North Coates (Lincolnshire).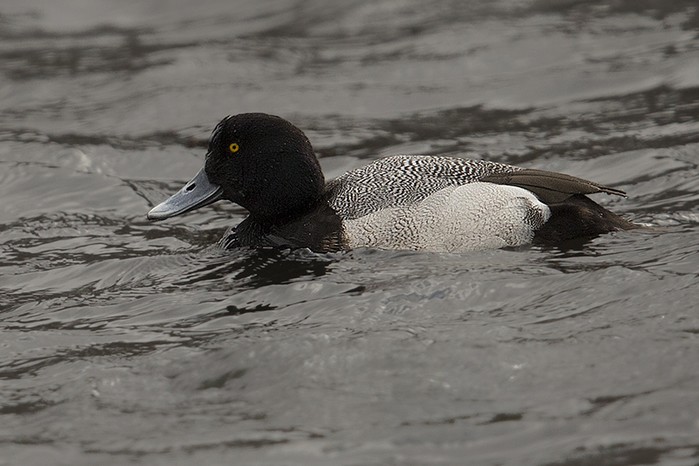 Flip-flopping drake Lesser Scaups continued to move between sites this week; the old male in south Wales moved between Cardiff Bay and Cosmeston Lakes CP across 3rd-4th while the Cornish bird on Bodmin Moor was favouring Siblyback Reservoir over Dozmary Pool on 5th.
Somerset's recent drake Ring-necked Duck decided to flip-flop too this week, moving from Glastonbury (last noted there on 2nd) to Ham Wall RSPB on 4th-8th. Two further drakes were in Scotland, remaining on Milton Loch (Dumfries & Galloway) to 4th and new on Loch o' th' Lowes (Ayrshire) on 5th. After over two weeks away, the female Ring-necked Duck returned to Tittesworth Reservoir (Staffordshire) on 6th and the same date saw two drakes logged once more at Waterford's Knockaderry Lake.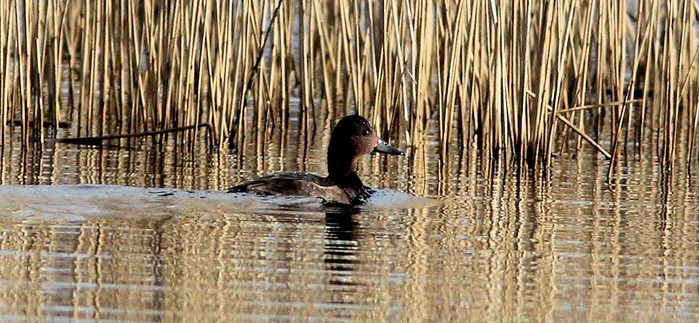 A new Ferruginous Duck was reported from Staines Reservoir (Surrey) during the afternoon of 3rd and was one of four logged this week, others being the lingering first-winter female at Pugney's CP (West Yorkshire) - seen until 6th) - the drake again at Blashford Lakes HWT (Hampshire) on 6th and the suspect (maybe…) drake in the pens at Washington WWT (Co. Durham) to at least the same date.
In a similar vein to the female RnD in Staffs., the drake American Wigeon also reappeared in the same county this week, back again on the Aqualate Mere on 5th-7th (having last been noted there on February 29th). That northwestern bird was one of two in the region, the drake remaining at Hesketh Out Marsh (Lancashire) to 5th and they were two of seven recorded in all.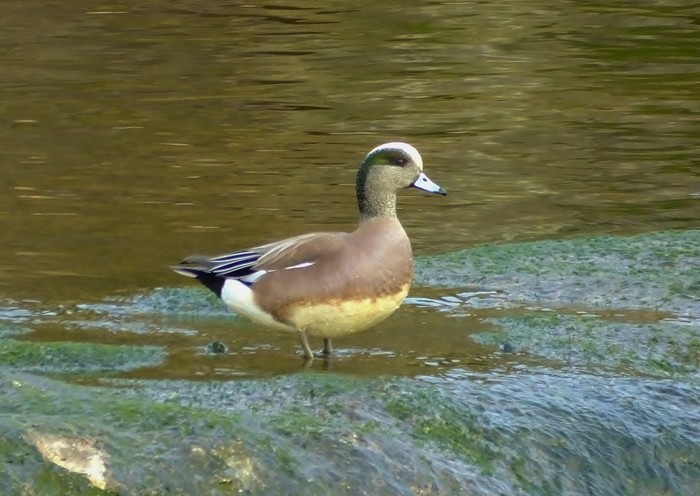 Northeast England also retained two American Wigeons - still at Grindon Lough (Northumberland) to 5th and Scalby Mills (North Yorkshire) to 8th while on Orkney up to three drakes were recorded on 7th - the first was again at Loch of Stenness, Mainland with two together just three or four miles away on Loch of Harray on 7th. Ireland's sole offering was an old favourite, still on the border of Leitrim and Donegal, on the Drowes River to 5th.
5:5:3 was the split of drake Green-winged Teals across Scotland, England and Ireland. Caerlaverock hosted two on 5th while new was one on Loch nam Feithean, North Uist (Outer Hebrides) on 3rd. In Clyde, the recent drake lingered on Banton Loch to 2nd and on Mainland Orkney, another remained at Loch of Skaill to 6th.
England's five were all recent fixtures; at Saltholme Pools RSPB (Cleveland) to 2nd, Boldon Flats (Co. Durham) to 5th, Ashleworth Ham (Gloucestershire) to 6th, again on the pools near Sunderland's academy on 7th and at Seaton (Devon) to 8th. Irish birders found single new drakes at Ross Catle, near Killarney (Co. Kerry) on 4th and Tarbet (Co. Kerry) on 8th while the continuing presence of one at White Marsh, near Clonakilty (Co. Cork) was noted again on 5th.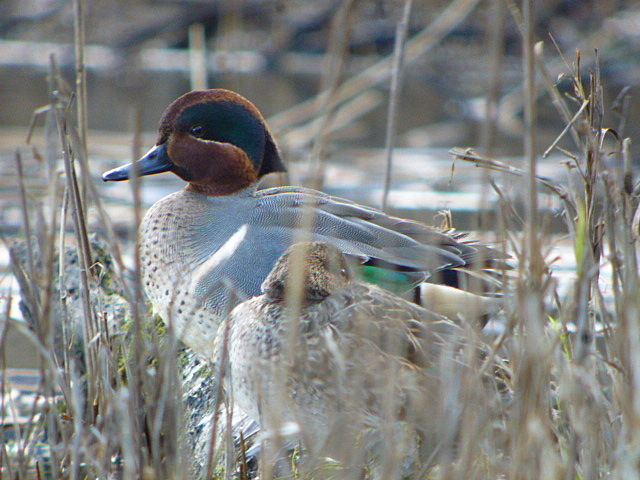 The lingering young drake Surf Scoter was in North Yorkshire's Filey Bay to 8th and was one of some half dozen noted through the past seven days. The familiar adult drake was recorded at Musselburgh (Lothian) to 6th with Scilly's young drake was still between Mary's and Martin's and the adult drake lingering on Unst (Shetland) to the same date. Two sites in County Louth had Surfies too this week, at Dunany Point on 2nd with a 1w drake again at The Hermitage on 5th.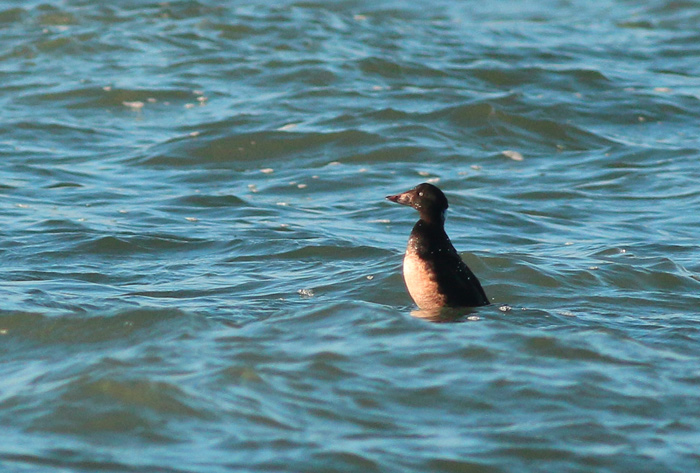 Ireland hosted at least King Eiders this week; an adult drake was still in Sligo, at Raghly on 2nd (having presumably moved from Ballyconnell, bring a possible female with him) and the wintering 1w female was again at Rosslare Back Strand (Co. Wexford) on 5th-6th. In Scotland, the queen was still mooching around Largo Bay (Fife) to 6th (along with the drake Surf Scoter).
<!—Section Title -->
We'll rattle through the very few shorebirds on offer this week; all three winter young Long-billed Dowitchers stuck it out to various bits of the week; in Hampshire, their bird remained at Pennington Marshes to 3rd; in Northumberland, the long-staying individual was at Cresswell Pond NWT to 8th; and the popular inlander at Rutland Water (Leicestershire) was seen daily throughout the week.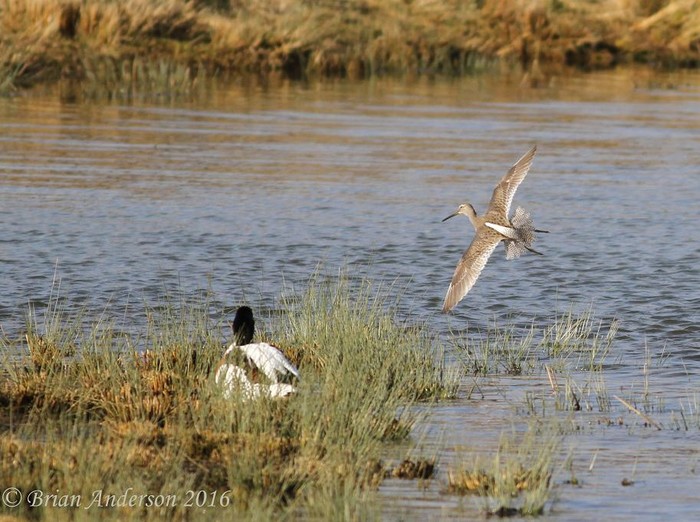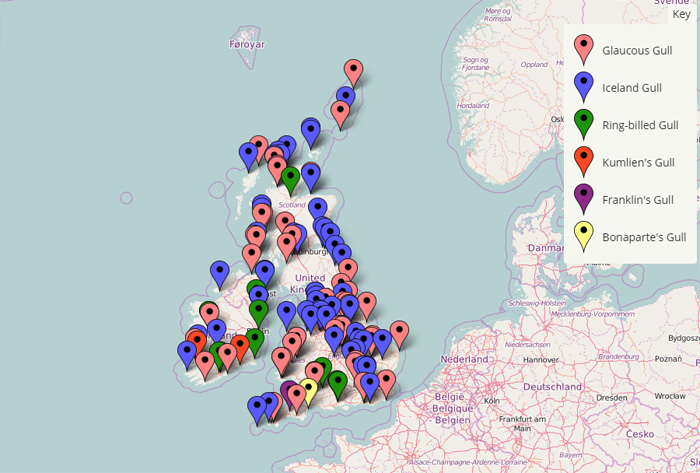 An adult Franklin's Gull takes star prize in GullWorld this week (after those cheeky Smiths of course) thanks to an adult winter reported for a quarter of an hour on Siblyback Reservoir (Cornwall) on the afternoon of 5th.
If submitted and accepted, it will become the 11th county record and the first since one was seen at Crowdy Reservoir and the nearby-ish Camel Estuary in April 2007. Four Cornish birds appeared between 2005-'07 with three each in the 90's and 80's (the first skipping over the Tamar from Plymouth in February 1982).
Over the border in south Devon, the adult Bonaparte's Gull was logged again at Dawlish Warren NNR on 3rd but not, it seems, since.
Making like the Beatles, here comes Ringo and there were 14 of them in Ireland, up one from the tally seven day ago.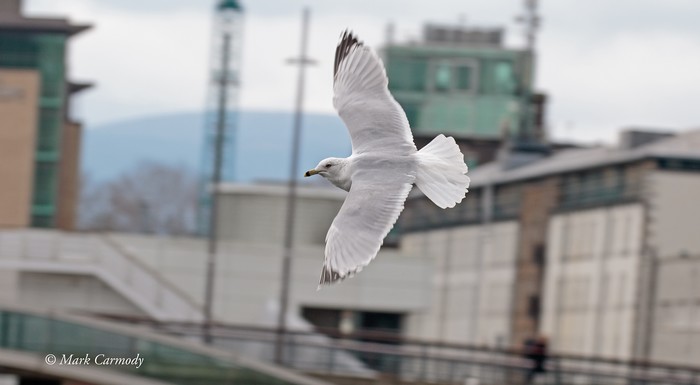 Galway lead the way with four Ring-billed Gulls on 4th, two each for Nimmo's Pier and Lough Atalia (three adults and a second-winter making up the numbers) while threes were recorded at Tralee Bay Wetlands (Co. Kerry) on 3rd (the same two adults and a second-winter as last week) and Blackrock (Co. Cork) where two adults and a first-winter were seen on 5th. Elsewhere in Ireland, the 2w bird remained at Dundalk (Co. Louth) to 6th with adults in the cities of Dublin and Cork and also in Wexford town.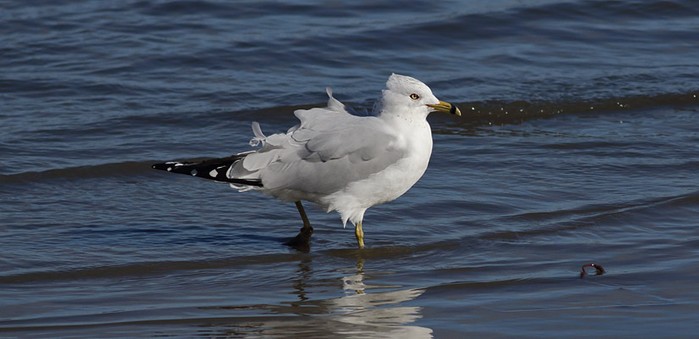 Two Ring-bills were reported in the roost at Blashford Lakes HWT (Hampshire) on 4th and again on 8th (singles were seen daily in between times too). The only other bird this week was the adult in Dingwall (Highland) through to 2nd.
Numbers of Glaucous Gulls were, as with lastw eek, hovering just above the 50-mark, with numbers falling in England but rising a tad in Scotland. Around the former country some 21 birds were seen in 17 different counties with four still at Rufforth (North Yorkshire) on 2nd the highest count from a single site, helping the northeast to a tally of seven (which fell by one when the juvenile in Cleveland dropped dead on 4th). Scotland registered around 20 birds in all, including eight in Highland, five of which were at Loch Eriboll on 6th. Not far behind was Argyll & Bute with five in all, while Ireland managed ten Glaucks to Wales five (three of them in Ceredigion).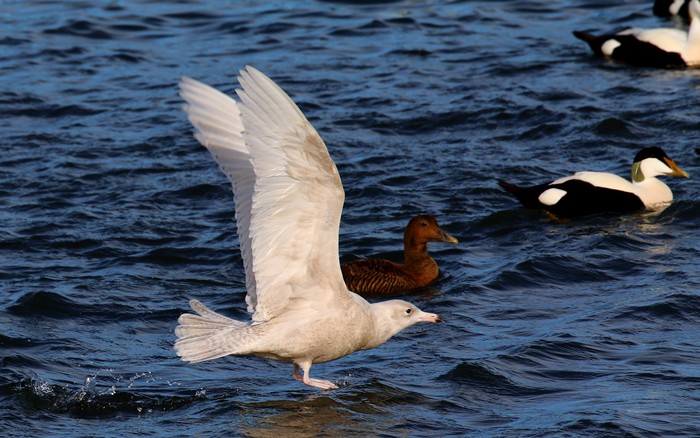 As often happens at this time of year, numbers of Iceland Gulls went up again ~ a minimum 88 birds recorded across 36 British and Irish counties. Scotland held at least 34 birds ~ the prime county being Highland were up to 12 were noted, including another white-winged quintet at Loch Eriboll on 6th, while Argyll managed four, with threes for the Outer Hebrides and Clyde.
England's prime region was the northwest, where up to nine birds included three adults at Frodsham (Cheshire) on 3rd with four or five different birds logged off the lighthouse at Hale through the week (including three adults on 8th). Half a dozen were seen in the northeast with four each for the Midlands and the southeast as the country's total reached over 30 birds in all.
Around 22
Icelands
were seen in six Irish counties, including at least seven around Killybegs (Co. Donegal) on 4th (with another not far away at Teelin Pier the same day). Three more were around Nimmo's Pier in Galway on 4th and another trio were recorded at Cashen (Co. Kerry) on 7th. Wales was pretty hard done by in comparison, only three seen in the Principality.
Two adult Kumlien's Gulls in the Osue Washes roost was something of a surprise on 2nd - three more were noted through the week; a juvenile continued to hop across the county line between South and West Yorkshire, appearing again at the Hampole Landfill site, near South Elmsall and Wintersett Reservoir to 3rd while in Ireland, a juvenile was still at Tralee Bay Wetlands (Co. Kerry) on 3rd and a new adult was at Boatstrand (Co. Waterford) on 5th.
Four now very familiar Rough-legged Buzzards appeared to be in no particular hurry to depart our shores just yet - all present to 7th were Shetland's Sullom bird and the juveniles at Choseley (Norfolk) and Holland Haven (Essex) and the lingering adult at Thorney (Cambridgeshire).
There's nothing else to report round these parts bar the late news of a male Snowy Owl photographed in Argyll & Bute, near Bridge of Orchy, at Beinn Bhreac-liath on February 27th - only the 8th record for the extensive west coast county and the first since two were seen (within just three days) in January 2005.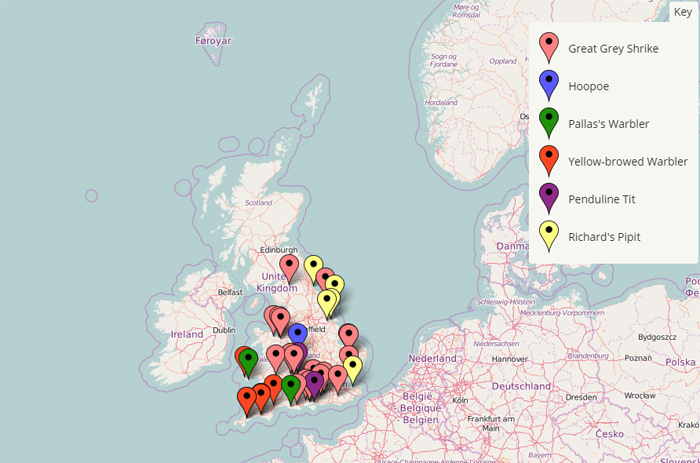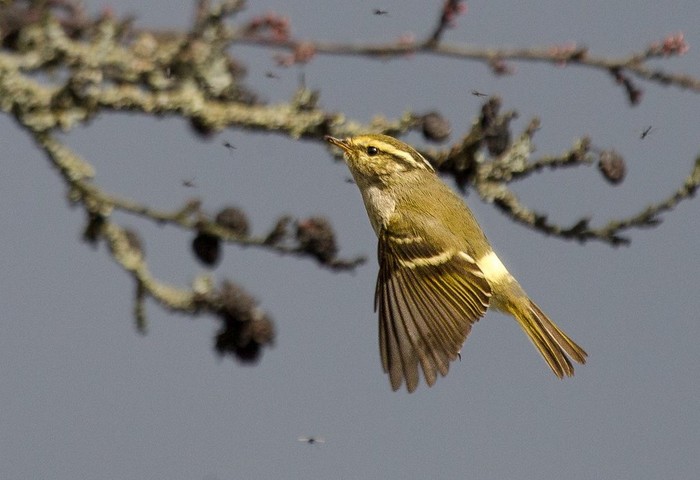 The splendidly showy Pallas's Warbler found last week in Dorset remained in place along the disused railway line near Portesham throughout the week, often showing wonderfully well for birders and bird photographers alike.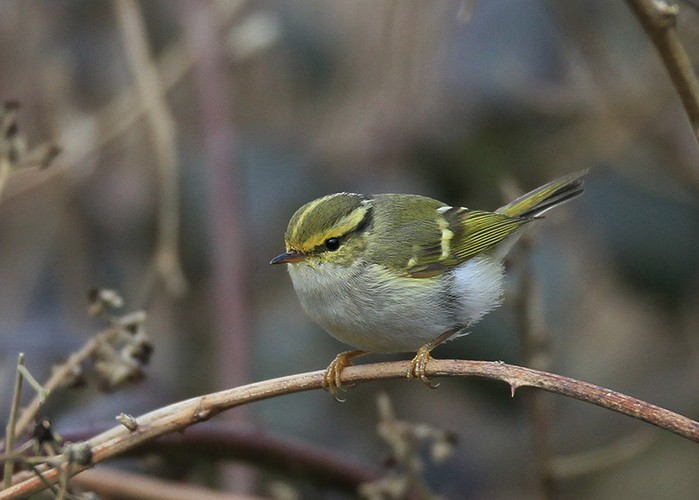 A second Pallas's was reported by a cameraman filming at Stackpole (Pembrokeshire) on 7th.
There were still a few over-wintering Yellow-browed Warblers to mention this week, just four in all, with three still in Cornwall - at Saltash and nearby St. John's to 6th and along the Tresillian River, at St. Clement to 7th - with one again in Exeter (Devon) on 5th-6th and in Wales, at Monk Haven (Pembrokeshire) also to 6th.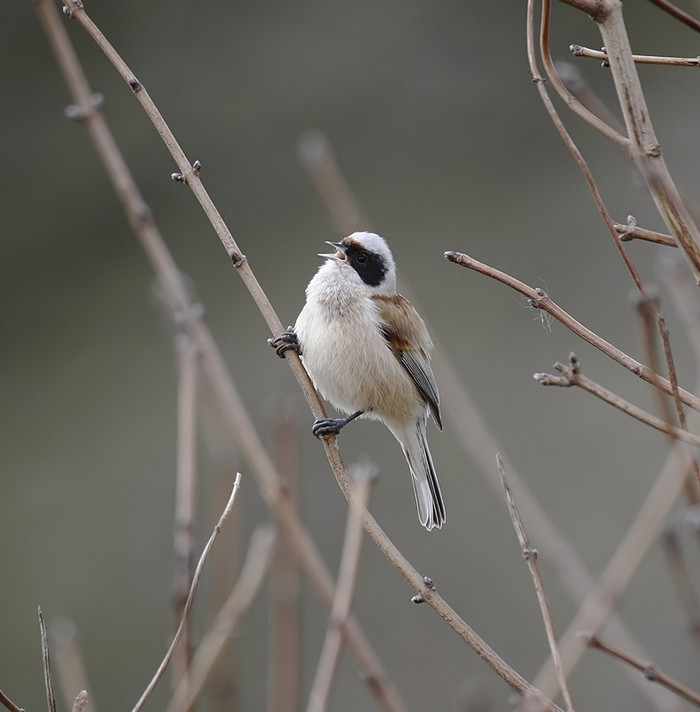 Pretty much ever-present for another week were the much-enjoyed pair of male Penduline Tits in the south Midlands, still showing (and singing) to all-comers at the Horsebere Flood Alleviation Pool, near Brockworth (Gloucestershire) all week, while Hampshire's slightly less-predictable males at Titchfield Haven NNR were seen on 4th and again on 6th.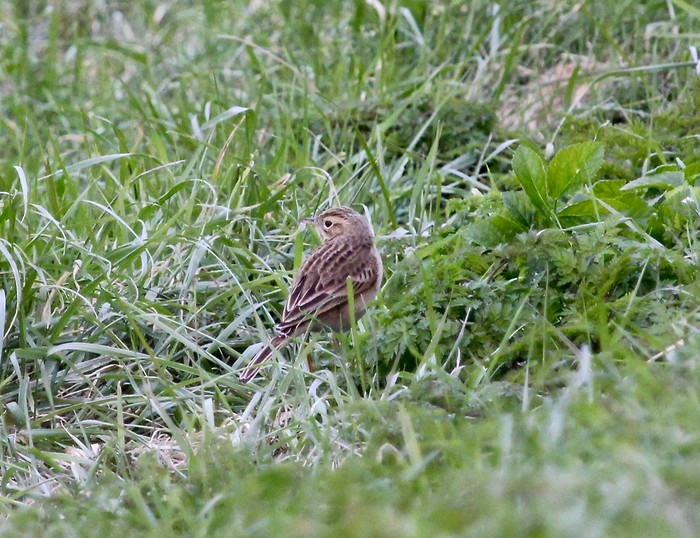 Somehow, the Staffordshire Hoopoe maintained station in the favoured quarry near Wall Heath through to the end of another winter weekend while the week's haul of Richard's Pipits was another neat and tidy half dozen; twos remained at Blackhall Rocks (Co. Durham) to 2nd and Flamborough Head (East Yorkshire) to 7th while the bird in north Kent, on the South Swale NNR remained to 6th. New on the same date was a Dix in Lincolnshire, seen at Appleby Carrs (with late news from the same county of another at Goxhill on February 26th). Rather more random was the early, early shout of a Wryneck at Snodland (Kent) on 3rd.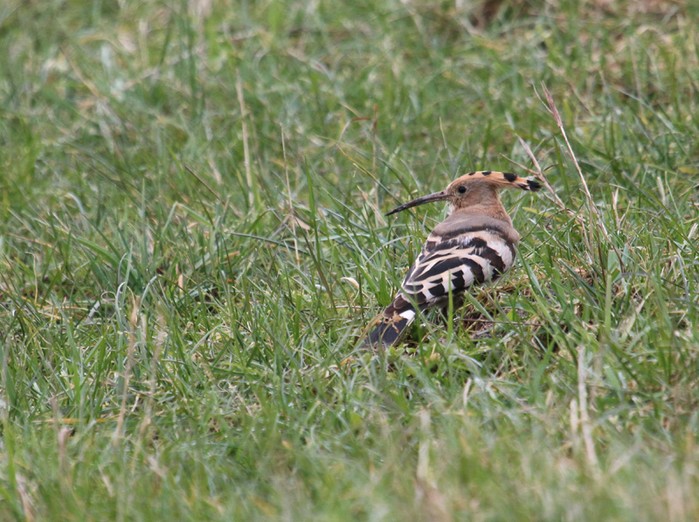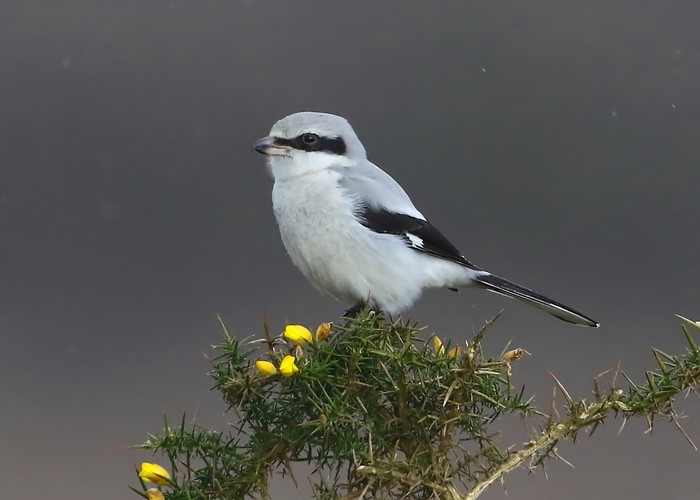 Southeast England still held (a minimum) seven of the week's 17 (give or take) Great Grey Shrikes with five sites in the New Forest scoring visits from between 2-4 individuals. New Hampshire birds were at Laverstock from 4th (tho' it turned out that it had been around for over a fortnight prior to that) and the Woolmer Forest on 7th with other regional loners remaining at Heybridge Basin (Essex) to 4th, Thursley Common (Surrey) to 6th and in the Ashdown Forest (East Sussex) to 7th
Wales fared well too, four reported, three of them at sites in Denbighshire - at Llyn Brenig to 3rd with another at Llandegron Moors the same day with the third seen along Offa's Dyke, at World's End on 5th. Bird #4 was again at Llywn-on Reservoir (Glamorgan) on 7th.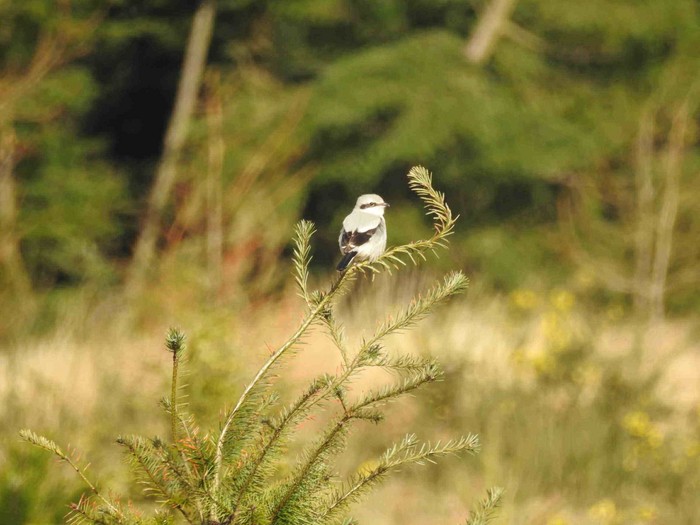 One or two Great Greys remained around Gloucestershire's Forest of Dean, at both Crabtree Hill and nearby Woorgreens Lake to at least 7th while another was at Frampton-on-Severn up until 5th and singles elsewhere were at Wareham Forest (Dorset) to 4th, new at Croglin (Cumbria) on 5th, Langdale Forest (North Yorkshire) to 6th and in the Brecks, around both Santon Warren and Grime's Graves to 7th.
The coming week…
Whilst we remain firmly on the cusp of a new season, the distance between the end of winter and the start of spring can still seem like a vast chasm as the final days of the outgoing period can take an age to venture away and unlock the door to potentially warmer days filled spring birds to enjoy…
With that betwixt and between feel to the fore, the week ahead has managed a classic mix - not too broad but a mix nonetheless - of winter and spring rares melding in to a proper scarcity mash-up.
Twenty years ago, birders (especially those in east coast counties) were busily checking and re-checking any frosted, snowy looking redpolls they could come across; and within the seven day period ahead, at least 16 Coues's Arctic Redpolls were located on the back of some unprecedented flocks that found themselves around East Anglia in particular during the winter.
At least five birds were found on March 9th 1996, a single in Greater Manchester along with twos each for West Yorkshire and Norfolk. Four more followed on March 10th, singles in North Yorkshire and Norfolk with two in Suffolk. A flock of four was found in Norwich on March 11th (along with loners in Staffordshire and South Yorkshire) and, following a blank on 12th, another West Yorkshire bird appeared on 13th with birds 15 and 16 being found on March 14th, again in East Anglia, with one a piece for Norfolk and Suffolk.
Nowadays, not much attention is afforded these sometimes tricky birds, their taxonomic status continually in question not helping matters, but that superb invasion of early 1996 was one of the significant birding highlights of the 90's - well over 100 birds involved including a mind-boggling flock of 48 birds at Garlogie in Aberdeenshire in the third week of March '96.
There's one species that needs a wintery blast to bring them t'ward our shores. One that needs something all the more warming is one mentioned here last week as a "one to watch" - Great Spotted Cuckoo - and it remains precisely that again in the week ahead, a seven day period which has yielded no fewer than half a dozen across the years.
Three of those were found on different March 11th's - one appeared at St. Alban's Head in Dorset in 1989, another lolloped on to St. Martin's in 1993 whilst, most recent of all was the ultra-popular adult on the golf course at Penally in Pembrokeshire just two years ago.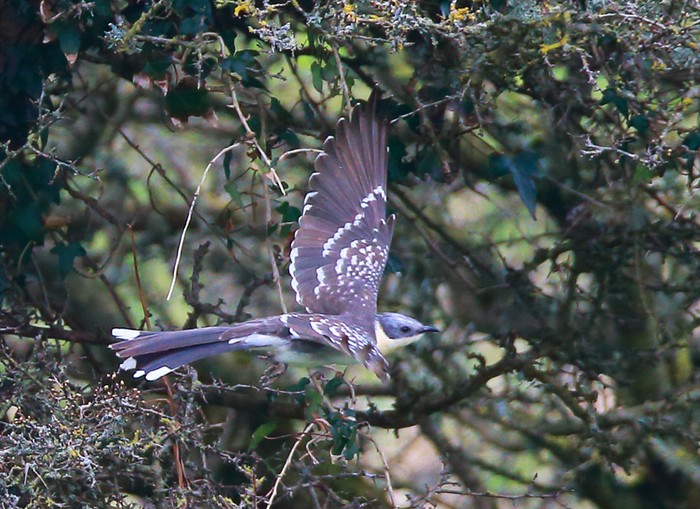 Other examples of this marvellous overshoot have been seen on the Isle of Man (on March 12th 1963, found freshly dead on the Dublin shoreline on March 13th 1983 with another Pembs., record coming to the county on March 10th 2009.
March 10th has a couple of other red-letter rares to offer the dreamer, the patch-worker and virtual birder…
Kent hosted a, still, pretty tough to connect with Short-toed Treecreeper on 10/03/12 - and it wasn't at Dungeness! This particular bird spent an afternoon around Samphire Hoe CP but isn't the rarest bird on the date in question…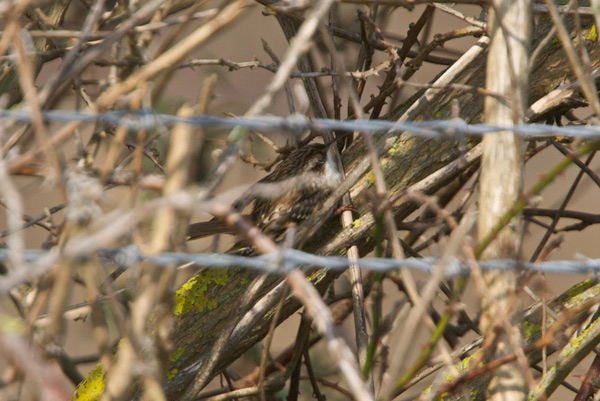 …no, the very rarest bird of the week from the days of old is undoubtedly the adult female Evening Grosbeak that spent over two weeks in a Highland garden at Nethybridge (from March 10th-25th) in 1980. A photographed bird, it became the 2nd record of this nomadic, occasionally irruptive species - and, of course, the Nethybridge bird remains our most recent Evening Grosser to date; there's not been a whiff of one since.
Both records have been in March, so if we're ever going to get another, well, now's the time…
Mark Golley
09 March 2016
Thanks to this week's contributors for their photos and videos.
Robert Vaughan, Neil Hughes, John Kemp, Steve Duffield, Laurence Pitcher, Robert Rackliffe, Rob Fray, Jack Levene, Leslie Fox, Ewan Mills, John Richardson, Christopher Teague, Barry Stewart, John Nadin, Andrew Chick, Neil Hughes, Darren Ward, David Townsend, Fionn Moore, Mark Pearson, Brian Anderson, David Gray, Mark Carmody, Paul Kelly, Dave Grant, Alex Shepherd, Wat Birder, Chris Griffin, Graham Jepson, Dave Hutton, Michael Tonge, Lee Fuller, Michael Heaver, Simon Knight.
Please note: we put a lot of time and effort into sourcing and and producing the images, videos and graphics for each roundup. Some of you (probably Apple users) may notice some photos etc. that appear to have incorrect captions. Please try refreshing the page as they are correcty captioned. If after a refresh they are still showing the incorrect captions then please email us