Birding round-up: 24 Feb - 01 Mar 2016
The week at a glance
Ireland's first Glaucous-winged Gull remains in County Cork throughout the week
Wiltshire's adult female Hooded Merganser seems destined for Category A
The Cornish adult Pacific Diver still offshore in Mount's Bay…
…while both the juvenile American Herring Gull and the Hudsonian Whimbrel linger but become very elusive
On North Ronaldsay, the male Northern Harrier is in no hurry to leave just yet
The generally chilly, though often sunny spell of winter weather stayed in place for the first few days of the week as a ridge of high pressure managed to plonk itself right over the top of the country through until the end of the weekend.
Along with the sunshine came a cold breeze from the west then the east and slightly below average temperatures (accompanied by frosts at night, down to 10 below zero in parts of Scotland) but as the weekend drifted away then so did the high - coming in from the Atlantic was a modest low pressure system that brought moisture of varying sorts to the western areas and northern Scotland, becoming heavy for a time as the week drew to a close, a front pushing across Britain bringing rain for many along with brisk southwesterlies and a slight rise in celsius.
On with the show then and via one final, very fond farewell to the sadly departed Father Jack Hackett, there's a hearty wave from north Norfolk towards Craggy Island as we hail him one last time with a mighty "Feck! Arse! Drink! Girls!…" and head to a place a little bit down the Irish coast from the late Father's parochial house…(though as everyone knows, the island isn't on any maps…just head out Galway and go slightly north…).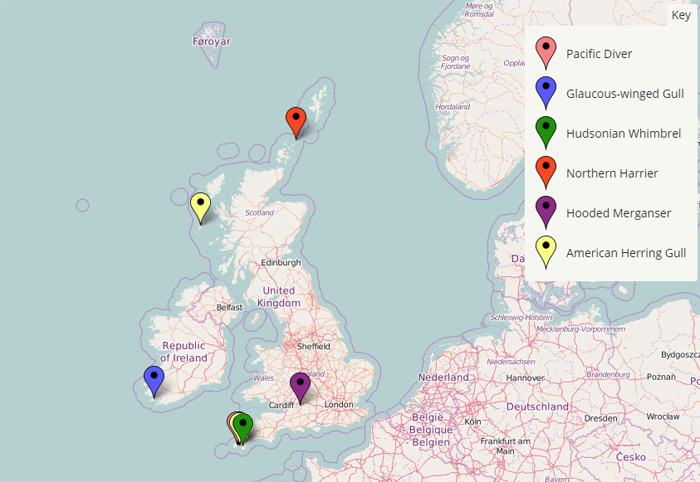 Glaucous-winged Gull
Yep, Cork remains the first port of call as hanging on in there until March 1st was the fine-looking adult Glaucous-winged Gull in and around the seafront at Castletownbere.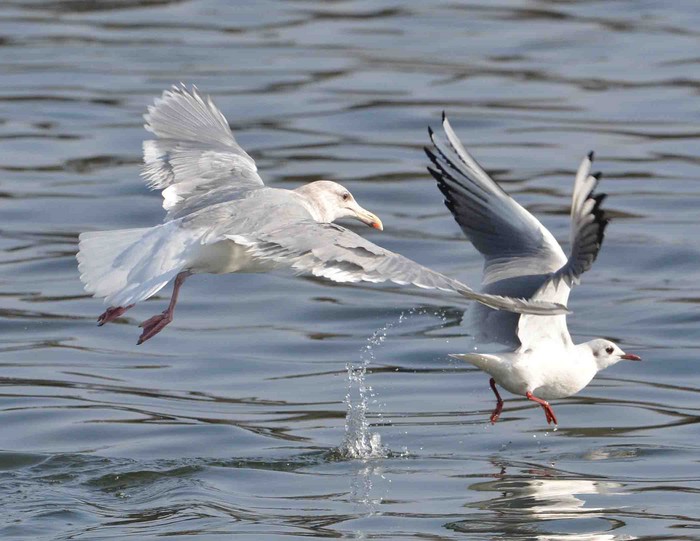 With nearly two months clocked up since that sensational post-New Year discovery, there's every chance it could linger for a week or two more yet - although the popular English adult in Cleveland in the winter of 2008/'09 departed by January 10th, the country's first record was logged twice during March 2007 - as per last week, mention was made of the visit to Ferryside in Carmarthenshire at the start of the new month before resurfacing back on the tip at Hempsted (Gloucestershire) - the original location for the bird in the first place of course - on March 16th-17th.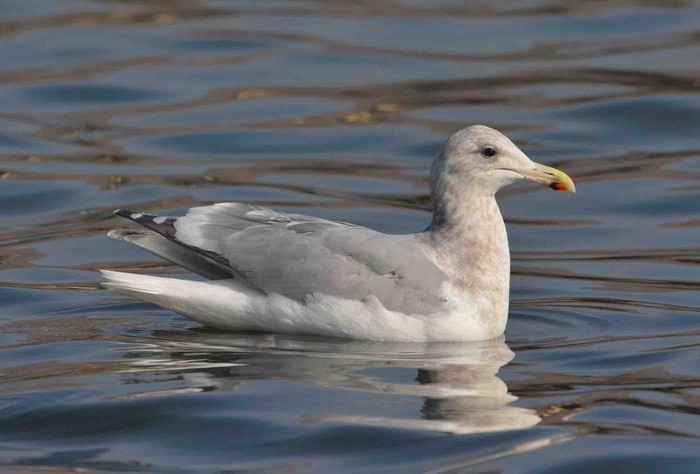 The Cork bird has over 50 days on the clock already and will be remembered for many years to come by all those who've paid homage to the beefy beast (yes, I'm really running out of things to say now)...
Hooded Merganser
Taking a leaf out of the noble, liberal view of the national records committee towards the oft slandered Hooded Merganser this week sees not one jot of negativity being levelled against the popular, unringed (modestly tame) 1st for Wiltshire that appeared at Corsham Lake at the end of the last review period and which was welcoming all comers as the new review period got underway and on until the first day of the weekend only.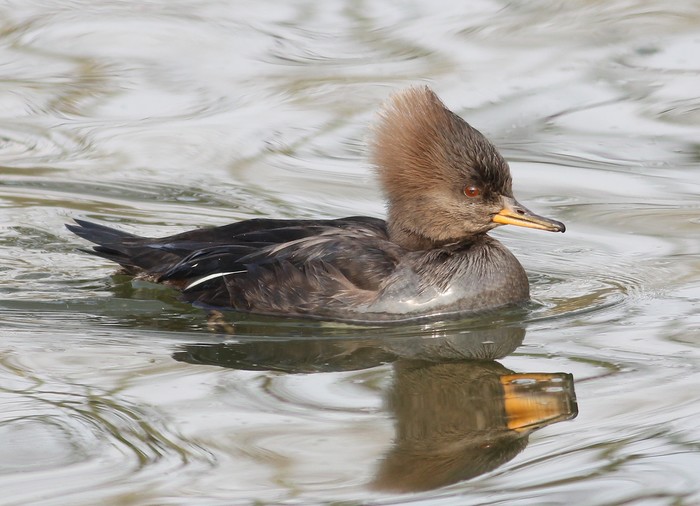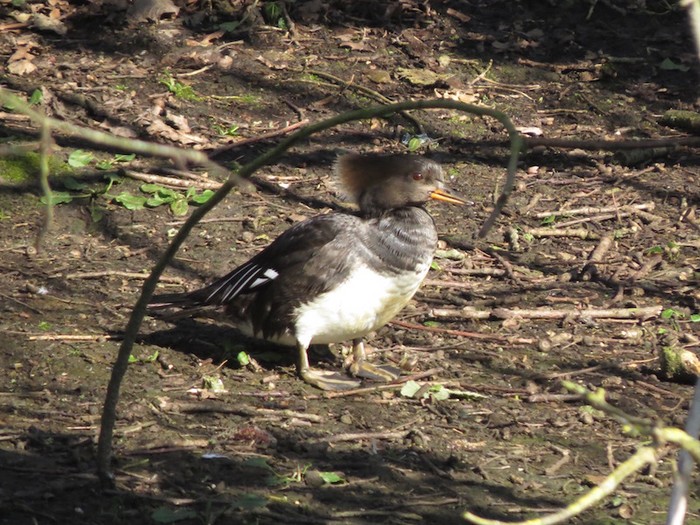 Several of the recent acceptances have been on the showy side (as, for example, images of the three-week Tayport bird in autumn 2008 confirm) so the approachability and general lack of timidity from this current, rather cute vagrancy contender could mean little in real terms.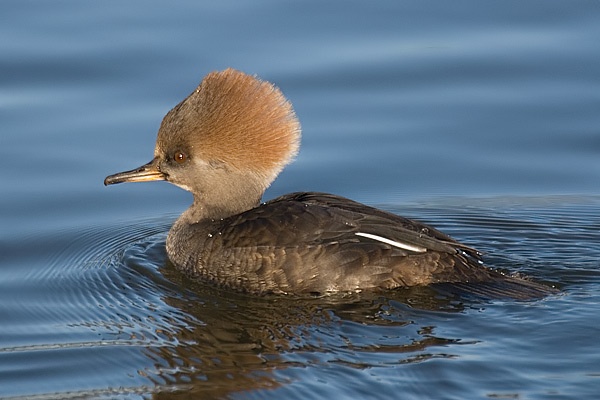 It is interesting to note that, a little further afield within the Western Palearctic, there have been recent records (within the last two months) of Hooded Merganser on Faeroes, with two on Iceland (those first three all found on December 28th) and, soon after came a further two, these appearing out in the mid-Atlantic on the Azores (where there may actually have been four in all) - a mini-influx seems more possible than mass breakout, so perhaps there's more to the picture than meets the eye where the perky Lophodytes in Wiltshire is concerned.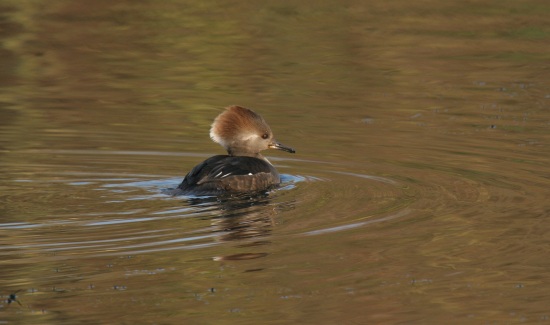 To date, there have been seven acceptances for this Nearctic wanderer since that "1st" was accepted from the Hebrides back at the turn of the 2000's. It doesn't take a rocket scientist to work out that a handful of wild, genuine Hoodies had appeared beforehand - for example, the Norfolk female in the early winter of 1997 was particularly hard done by, especially given that subsequent east coast acceptances of this American/Canadian duck outnumber west coast acceptances by 4:1 - with the south coast bird in Sussex and the northern drake on Shetland making up the numbers to date. Even when you include that cracking pair of vagrants that dropped in on Donegal's Tory Island last May, that still only makes it 4:2 in terms of east coast/west coast…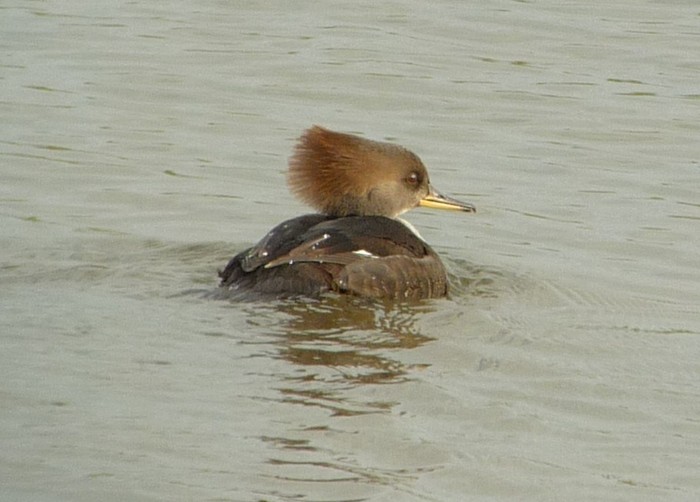 As mentioned last week, as this apparently unringed, though tame looking Hooded Merganser hasn't "done a Radipole" and taken her leave well ahead of spring, then there's nothing barring the way for it to become the 8th British record - all of those coming within the last 16 years. Quite some record given that none had been deemed as "proven" before that…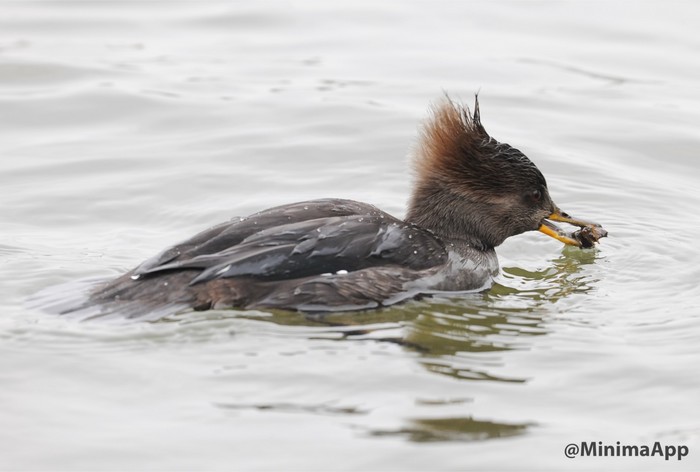 The sages at "Private Eye" sum that particular decision making flaw/process perfectly; "shurely shome mishtake being oh so apt…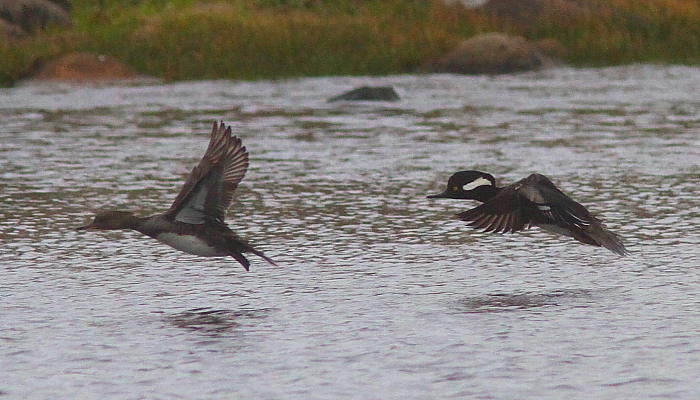 Pacific Diver
Down in west Cornwall, the run of fine rarities hasn't given up the ghost just yet, primarily thanks this week to the continuing presence of the 10 year-old+ adult Pacific Diver that was seen off Penzance from 24th-25th (and 29th) of the month with an appearance at nearby St. Michael's Mount on 28th.
With the imminent arrival of a new month, we could be soon seeing the imminent departure of the ageing diver (which was Britain's 3rd-ever record when found in 2007). Then it was last logged on March 10th and in subsequent years (when it has been recorded in late winter) it has departed on the following dates; March 3rd 2011, March 25th 2013 and March 15th 2015.
American Herring Gull
Not too far away and proving to be almost as elusive and managing to avoid birder's for days at a time was the juvenile American Herring Gull which reappeared in the roosting gathering on St. Clement's Isle on the evening of 27th - the first confirmed sighting for a week (and it was joined by a juvenile Kumlien's Gull on 27th as well). Nice…
Hudsonian Whimbrel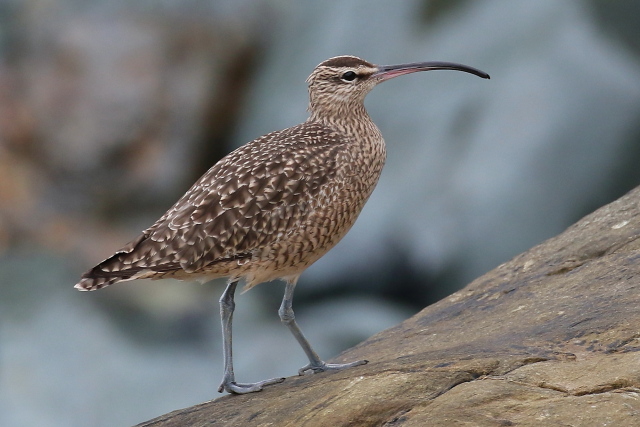 Completing the Mount's Bay hat-trick again this week was the first-winter Hudsonian Whimbrel that went AWOL for several days until appearing again at Perran Sands on the morning of 28th. This very popular winter draw had gone missing post February 23rd and the east-bound flight from Perran Sands on Sunday morning may be an indicator as to where it is currently spending time.
Northern Harrier
It has been a pretty skinny week "up top" - we're already in to the semi-resident/over-wintering male Northern Harrier that did another of the familiar fly-pasts on North Ronaldsay on 26th-28th.
Like the other two headliners above it, it can't be long until it starts to muse on departing for somewhere all the more different.
To the tip of west Cornwall to start things off - and to Cape Cornwall itself where a White-billed Diver was noted offshore for a couple of hours on the morning of 25th. This Arctic wanderer remains a very rare bird in the far southwest; prior to removal from the BBRC list at the end of 2008, Cornwall had recorded just five in all, spread from the 1st county bird, an adult, that spent 17 days off Marazion in April 1967 with the most well received individuals being the adult in St. Ives Bay in February 1988 and the February adult (that lingered to March) in 2007.
Since then, Cornish White-billed Diver records have been reported from The Lizard, at the end of October 2013, flying west off the coast near Falmouth, in May 2014 and at-sea off Rosemullion Head in April last year.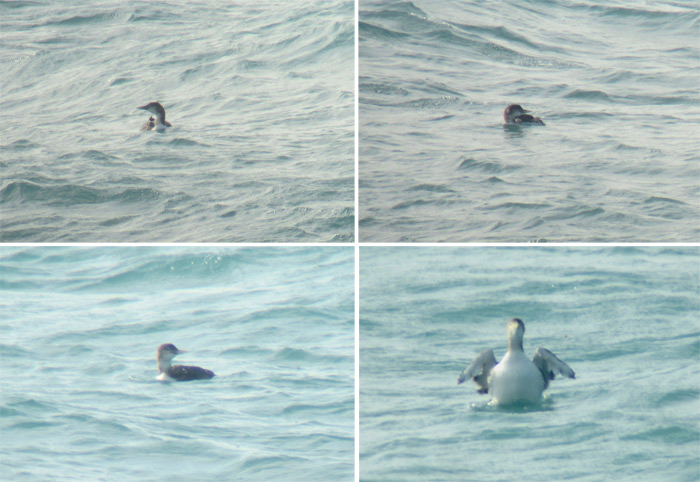 Happily for those locals who missed the bird on 25th, it was back again during the day on 27th, again of Cape Cornwall and it remained there to 29th. A little more expected was the Sunday discovery of another White-billed Diver up on Skye, at Uig., ditto the continuing presence of the old Orcadian adult on South Ronaldsay to 29th.
A trio of Little Auks surfaced this week, at sea off both the Isle of May (Fife) and Orkney's North Ronaldsay on 26th and Anstruther (Fife) on 28th with the 25th producing the first Balearic Shearwater for over a fortnight in Cornwall, seen off Helston's Loe Bar.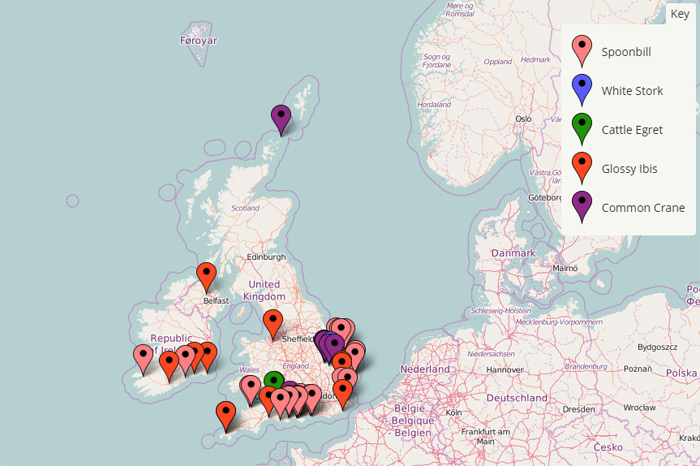 From the very first photo noted, the White Stork that arrived at Welney WWT (Norfolk) on 27th appeared to be wearing some bling that pointed at Poland as a natal ground, but with an odd accompanying piece of ankle-wear - but, when looked at from afar (as I was) an early, early spring arrival came as a bit of a surprise; it was an ultra-early overshoot date in non-overshoot weather (and there was little else overshooting with it).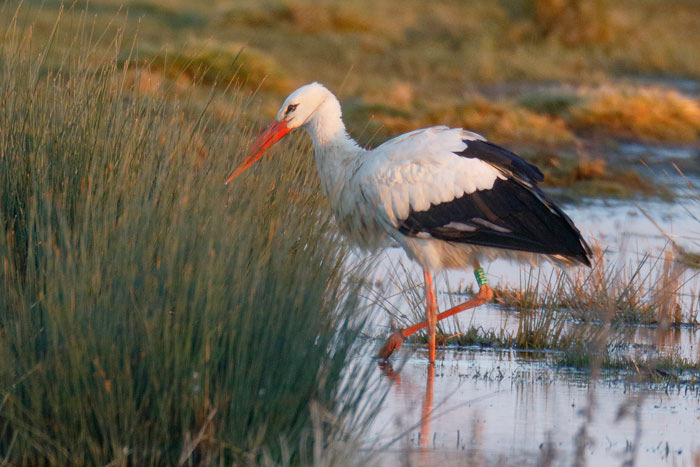 Old cogs whirred in the brain and a news story from last year about a Wildlife Garden near Diss that had re-homed 22 injured birds from Poland surfaced in the back of my mind. The quoted word, at the time, was that none of the birds would fly again and they'd be used as captive breeders. The Welney White Stork, with a pretty green "wild" colour-band and in-tact working wings, appeared to be the real deal though…
…and it all seemed jolly nice, despite the nagging thought about those Diss birds - the Welney bird drew a number of locals and those from further afield too (a few folk ticking it off, understandably so, it had a Polish ring after all) but the Diss issue (or Dissue if you wish) wouldn't go away (for one or two).
Further rummaging on the story proved not only were some (though not all) White Storks wearing the very same "wild" green darvic rings (they had them when they arrived in Suffolk) but that some had made excellent recoveries and were now airborne. That information, coupled with a funny little "ankle bracelet" and the lack of compatible conditions began to add up to a hefty case for the prosecution m'lud…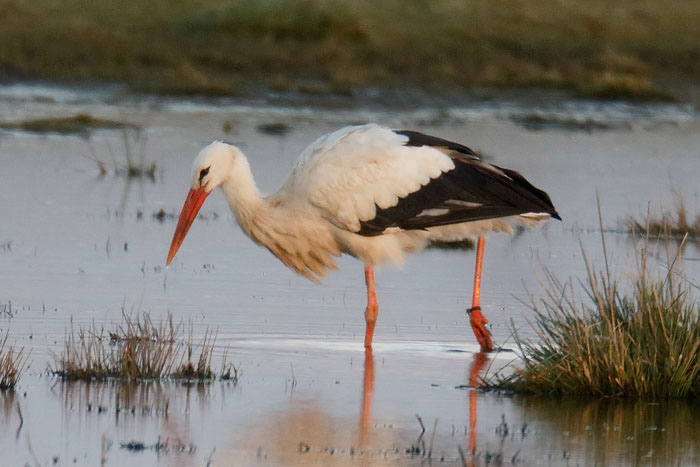 Then, on March 1st, came the official word - it was a Diss bird, so for those tickers who ticked it, well, it was indeed wild once, but it then spent months in a recovery pen hundreds of miles from where it should have been. The tippex has to come out, like it or not.
A cautionary tail then and these birds (three of them can fly now) along with the free-flying Thrigby roamers, appear to consign any future White Stork records in Norfolk firmly in to the bin.
The week's 11 (or 12) Glossy Ibis were split 6:5 between England and Ireland, with a report from Wales too. The former nation saw news of a new bird at St. Erth (Cornwall) on 24th (which had been present for c.2 weeks previously) and another over Abberton Reservoir (Essex) on 25th. Elsewhere, others remained at Denge Marsh (Kent) to 25th and Seaton (Devon) to 28th with Essex seeing a second bird appear at The Hythe on 28th. Back on the south coast, one also remained at Pett Levels (East Sussex) to 29th while the new month saw a report of one at Newport Wetlands NR (Gwent).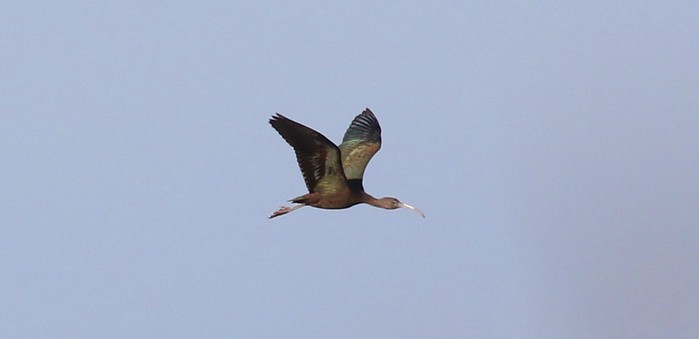 Irish Ibis included two still around Fota Island (Co. Cork) to 28th and loners at Toome (Co. Antrim) to 26th, at Tramore Back Strand (Co. Waterford) to 27th and Tacumshin (Co. Wexford) to 28th.
After a couple of quite healthy weeks for Cattle Egrets (at least seven on offer seven days ago), the past few days has seen just threebirds reported, two of which were still in Somerset; at Mudgley to 27th and Westhay Moor NNR to 28th with the third noted at North Cove (Suffolk) on 29th.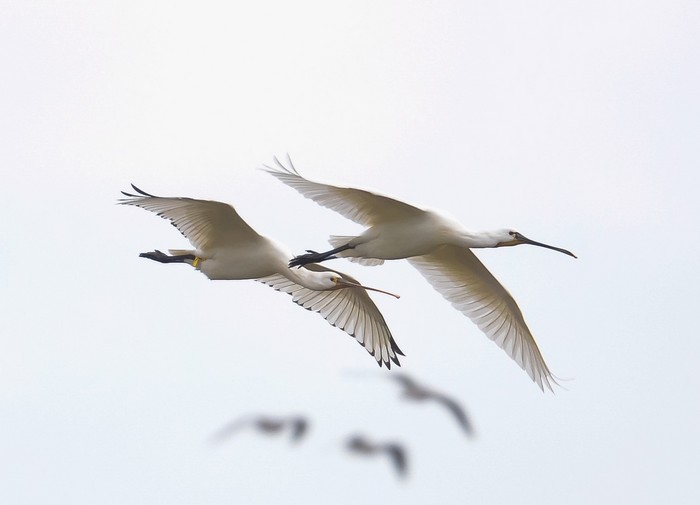 Around 35 Spoonbills were logged in eight English counties this week, with up to 11 in Hampshire (presumably Dorset's winterers dispersing) with seven at Inchmery on 25th the highest single site count of the past seven days.
Four of Dorset's seven were at Lodmoor RSPB on 25th and some half a dozen were loosely strung out across north Norfolk's coastline across the week. At least four Spooners remained in Suffolk (at North Warren and Minsmere) with others seen from Cornwall to Kent (including the Isle of Wight). In Ireland, a single bird remained at Cromane (Co. Kerry) and four were still at The Cunnigar (Co. Waterford) to 27th.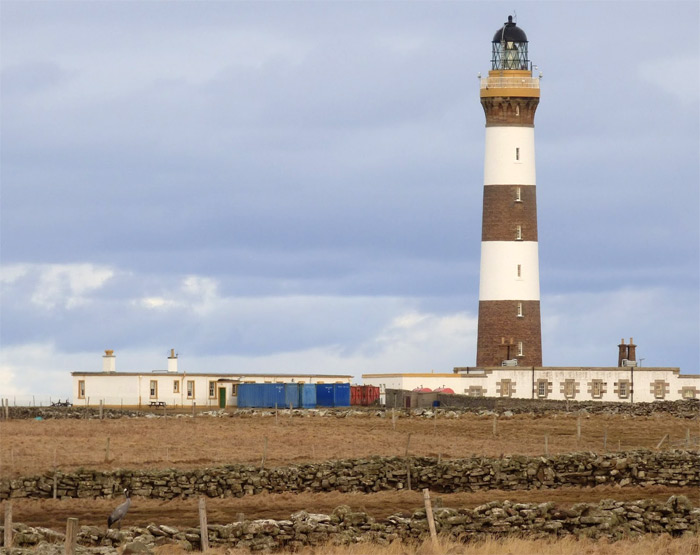 A brand spanking new Common Crane circled North Ronaldsay (Orkney) on 27th and liked it so much that it stayed to 28th (does it have Northern Harrier on the list now?). Two birds were seen again in Dorset, this time over Horton on 25th (they were noted in the county first on 21st) while all others were noted in and around assorted washes and fens in Cambridgeshire (at four sites, peaking at seven on the Ouse Washes RSPB on 28th) with at least two still around Lakenheath Fen RSPB (Suffolk) for much of the week.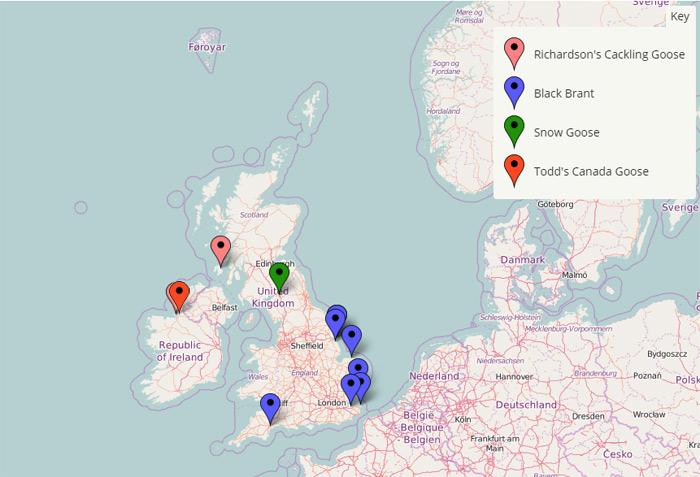 A white Snow Goose lingered amongst other wild geese in Cumbria this week, seen at Rockcliffe Marsh on 27th.
Sligo continued to hold on to both vagrant white-cheeked geese for another few days - both the Richardson's Cackling Goose and the Todd's Canada Goose still in and around the Lissadell area until 24th. Making another review appearance was a cull-avoiding Richardson's Cackling Goose at the Mull of Oa, Islay (Argyll & Bute), seen on 26th-28th.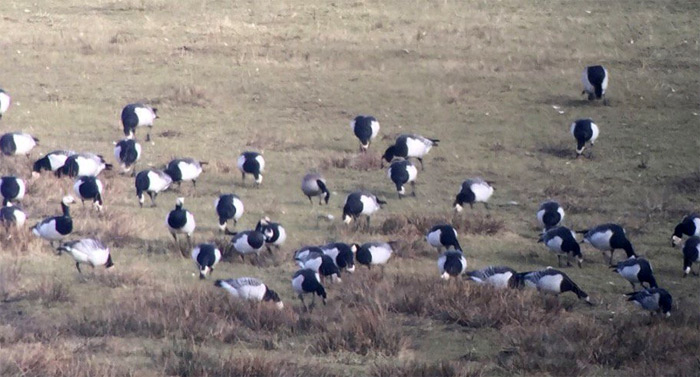 Some seven or eight Black Brants managed to make the news this week; in Kent singles were at Oare Marshes KWT on 24th and then Foreness Point, Margate on 27th-29th. The same date also saw further single Brants noted at North Coates Airfield (Lincolnshire) and again around the Exe Estuary (Devon) while 28th saw an adult noted at The Warren, Spurn YWT (East Yorkshire) and also The Naze (Essex) and along the River Stiffkey in Norfolk. February's final day saw another adult rock up on the south coast, at Gilkicker Point (Hampshire) while Norfolk's second of the week was at Snettisham RSPB on 1st.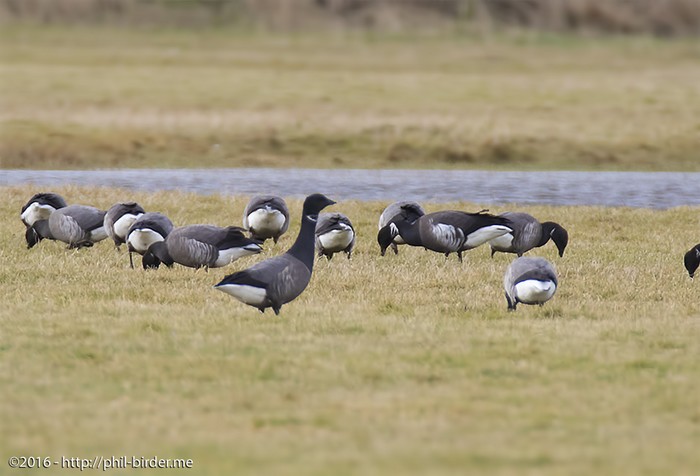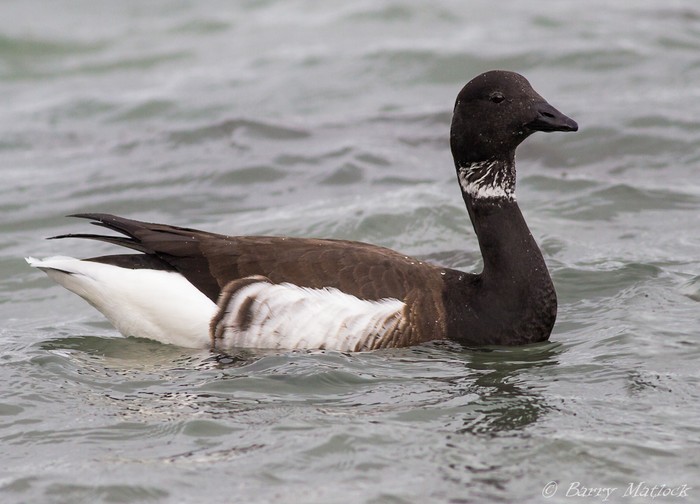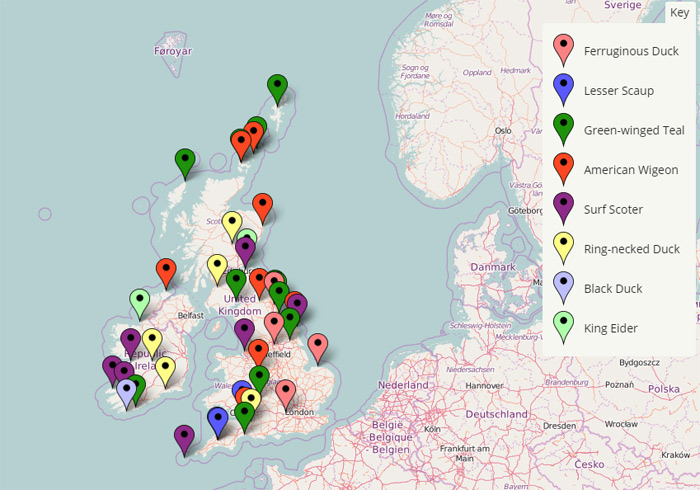 County Cork continued to curry favour with the drake Black Duck that resided amongst the Mallards at Baltimore until 29th.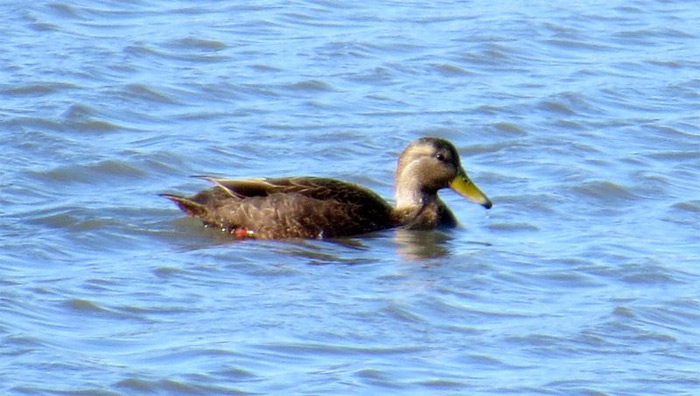 Familiar wintering drake Lesser Scaup were at Dozmary Pool (Cornwall) to 24th before moving to Siblyback Reservoir on 28th ahead of appearing back at Dozmary Pool on 29th-1st and in Wales, the old-timer returned to Cosmeston Lakes CP (Glamorgan) from 24th-1st.
The number of Ring-necked Ducks reported fell away from 11 to just 7 this week - leftover drakes from recent times remaining at Knockaderry Reservoir (Co. Waterford) to 25th, in Scotland, near Pitlochry (Perth & Kinross) and Martnaham Loch (Ayrshire), both to at least 27th and at Glastonbury (Somerset) to 29th. That same date saw a flock of three crop up again in County Tipperary, where a duck and two drakes were at Ashton's Callows NR while the final bird of the week was a drake again on Milton Loch (Dumfries & Galloway) on 1st.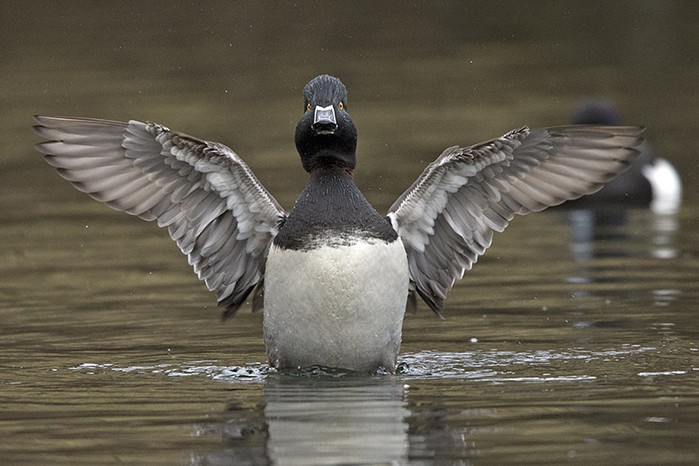 Norfolk's female Ferruginous Duck was last noted on the lake at Holkham Park on 24th while the "O.U.O" drake remained in the pens at Washington WWT (Co. Durham) to 26th at least. Over in West Yorkshire, the recently arrived first-winter female was again at Pugney's CP on 29th.
Just the one surprise amongst the septet of drake American Wigeons that were on offer this week, all of them review regulars to one degree or another except for the new arrival in Aberdeenshire, found at Corby Loch on 28th with it or another due north of Corby Loch, at Fetterangus on 1st. After that, there was the reappearance on Orkney of a bird on Sanday on 25th (where it was noted first on December 12th last year) and this was followed by news of stickers at Malin (Co. Donegal) to 27th, in northeast England, at Grindon Lough (Northumberland) to 29th and Scalby Mills (North Yorkshire) to 1st and in the southwest, at Steart WWT and Huntspill (Somerset) to 29th. Appearing after a few days away was the drake in Staffordshire, back on the Aqualate Park on 29th (it was last noted on 23rd) and the same date saw the drake American Wigeon logged again at Hesketh Out Marsh (Lancashire).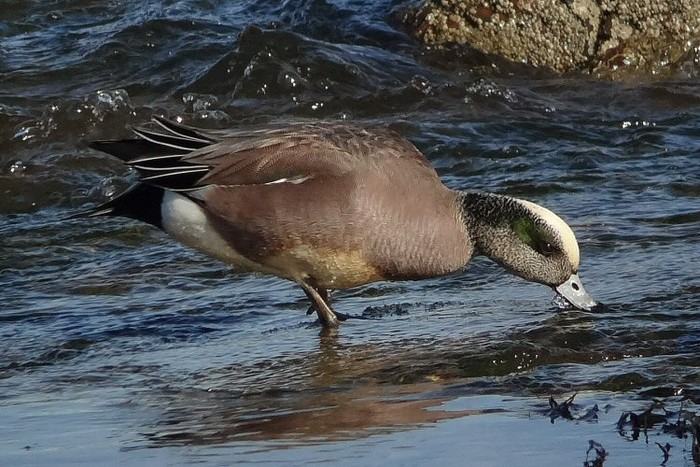 There was a decent spread of drake Green-winged Teals to be had, a baker's dozen noted through the week with six of them noted in England. New was one at Ashleworth Ham (Gloucestershire) from 26th-29th with another newbie reported at Cleadon, Sunderland (Co. Durham) on 27th. Recent birds that remained were at North Cave (East Yorkshire) to 24th and Boldon Flats (Co. Durham), Saltholme Pools RSPB (Cleveland) and Seaton (Devon), all to 28th at least.
Four of Scotland's six birds were island birds; two were on Orkney, at Loch of Skaill, Mainland on 26th and North Ronaldsay on 27th, one remained on Mainland Shetland, at Ollaberry to 24th and new was a drake at Loch Stiapabhat, Lewis (Outer Hebrides) on 27th. The only mainland individuals remained at Caerlaverock WWT (Dumfries & Galloway) through until the end of the month and, for the first time since early January, one was noted again on Banton Loch (Clyde) on 29th-1st. The final bird this week was the recent drake that was still present on White Marsh, near Clonakilty (Co. Cork) to 27th.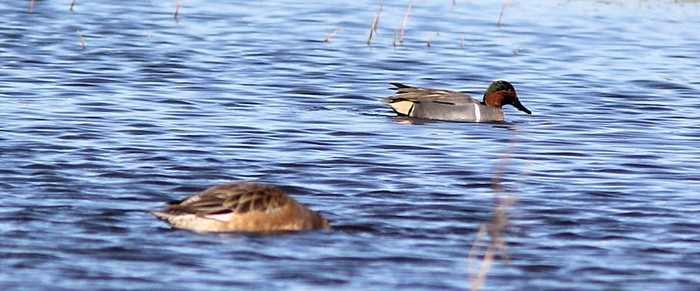 The new week began with the wintering 1w drake Surf Scoter still offshore from Filey (North Yorkshire) and was followed by two drakes off Wallasey, on the Wirral, on 27th with the same date offering up news of the still-in=-place Scillonian young drake (again between St. Mary's and St. Martin's) with another 1w male remaining at Fermoyle (Co. Kerry) with the same county seeing another (?) first-winter drake appear at Killarney on 24th. A further Irish drake was a good find up in County Clare, not far from Ballyvaughan on 28th while in Scotland, the drake was again off Musselburgh (Lothian) to 1st.
The final
Surfie
this week was an adult male off Ruddon's Point, in Largo Bay (Fife) which also held on to the female
King Eider
to 26th. Ireland's fine drake
King Eider
resided at Ballyconnell (Co. Sligo) to 24th.
All three first-winter Long-billed Dowitcher were still on offer this week - in Northumberland's first-winter was still commuting between Druridge Pools and Cresswell Pond NWT reserve to at least 27th and in Hampshire, the bird at Pennington Marshes also stayed put to 29th. The inland 1w bird at Rutland Water (Leicestershire) lingered throughout the week to 1st.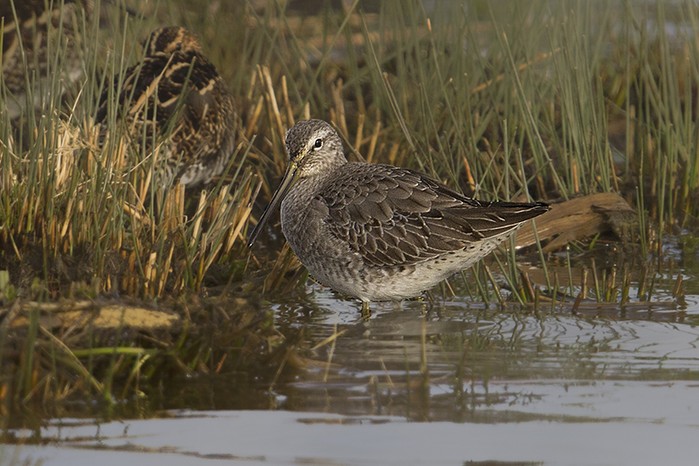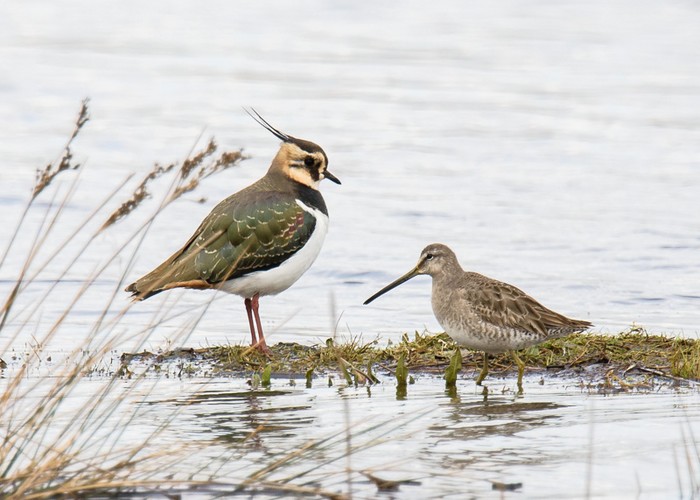 …and that appeared to be that in a week of slim pickings in Waderworld.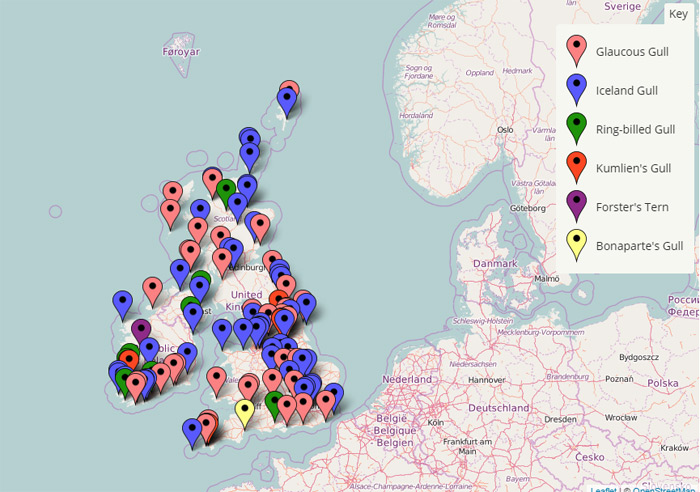 South Devon is the starting point for this part of the review and there's no surprise to hear that the adult Bonaparte's Gull was still knocking around assorted points of the Exe Estuary this week - again off Dawlish Warren NNR on the afternoon of 27th and then at nearby Cockwood on 29th.
Ring-billed Gulls were still very much the Irish thing this week, numbers down a tad on last week, with 13 birds noted in all across the past seven days.
County Kerry came out tops, with at least five birds recorded in all; two adults and a second-winter were at Tralee Bay Wetlands on 27th and an adult was at nearby Blennerville the same day. Earlier in the week, an adult was noted again at Carrahane Strand while the penultimate day of February saw an adult appear at Cashen. Next was Cork, where three birds were logged this week, including two still in Cork City itself (on 24th) with the adult still in and around Castletownbere until 27th.
In Galway, two adults were again at Nimmo's Pier on 28th while single Ring-bills were still at Dundalk (Co. Louth) to 26th, Limerick City (Co. Limerick) to 27th and in County Antrim, at Larne Lough to 28th.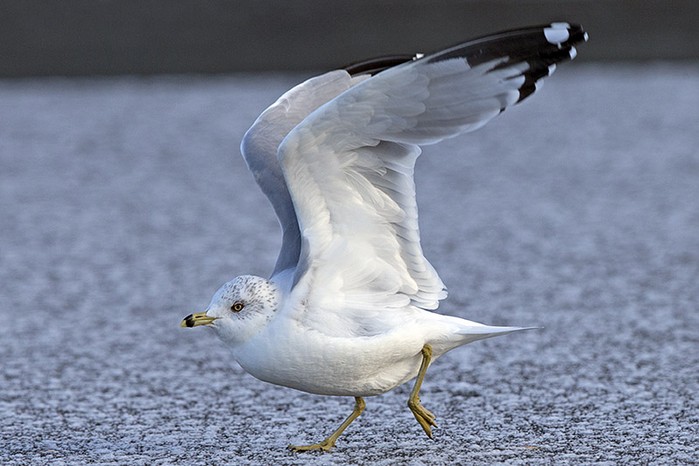 Two regular adults stuck around in Scotland to 27th at least; at both Dingwall (Highland) and Strathclyde Loch (Clyde) while England's sole offering was the adult in the roost at Blashford Lakes HWT (Hampshire) on 25th and 27th.
The final week of February saw just over 50 Glaucous Gulls recorded (down from 60-odd last week) across 30 counties. A national breakdown showed England scoring 32 birds in 17 counties - with a regional high of 14 in the northeast, including upwards of eight still in North Yorkshire, four of them at Rufforth on 1st. Scotland registered 13 birds in eight different counties (including four in and around Argyll & Bute) while there were seven for Ireland and three for Wales.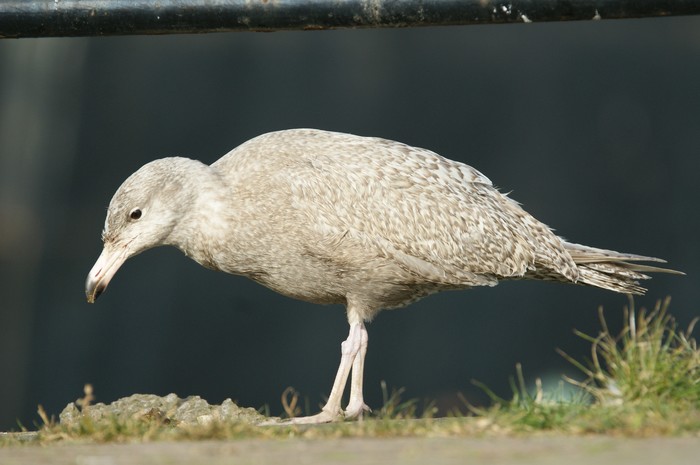 Iceland Gull numbers also fell away a touch to 74 birds across 33 British and Irish counties. Again it was England that fared best, 39 birds noted in 16 couties, including 12 in the northeast (four for North Yorkshire), eight in the northwest, including four (two adults and two 3w's) at Hale, in Cheshire on 27th with sixes for both the Midlands and southeast.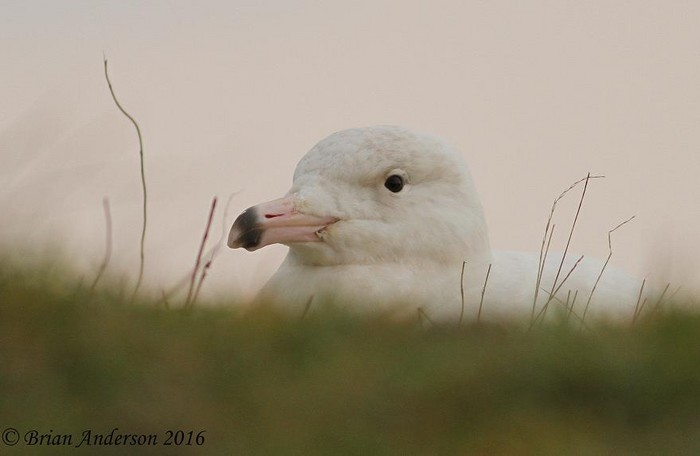 Up to 20 Icelands were logged in nine Irish counties, with up to seven in Cork and threes for both Kerry and Limerick. Four of Scotland's 14 birds were seen in Highland, with three in Orkney and Moray while Wales managed just two, one in Anglesey and one in Conwy.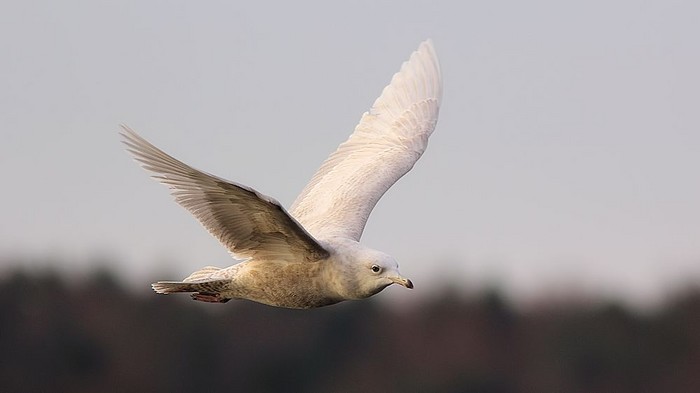 Yorkshire scored a hugely impressive three Kumlien's Gulls this week - an adult, a third-winter and recent juvenile all in to the roost at Wintersett Reservoir (West Yorkshire) on 25th with the same trio popping up nearby, but just over the border in to South Yorkshire, at the Hampole Landfill site, near South Elmsall on 27th. North Yorkshire managed an adult on 27th-28th, courtesy of one at Nosterfield.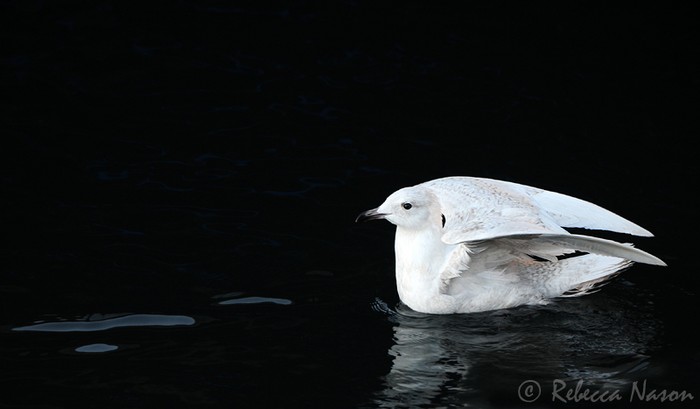 Away from the White Rose county, further Kumlien's were recorded at Grafham Water (Cambridgeshire) on 26th, Tralee and Blennerville (Co. Kerry) on 27th when the already mentioned bird was seen in west Cornwall - all three of these birds were juveniles.
Making a typically sporadic appearance in the review is the adult Forster's Tern - seen off Nimmo's Pier in Galway on 28th.
Out on North Uist, the white Gyr shifted to Baleshare on 25th - short and sweet the news maybe on this beauty, but there's not much more to add!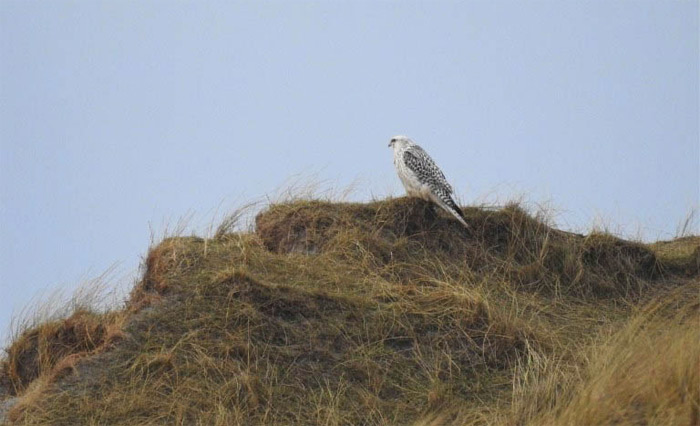 Norfolk held on to single Rough-legged Buzzards near Brancaster on 25th, still at Choseley to 26th and also in and around the Waveney Forest, out on Haddiscoe Marshes through to 27th. In the east of East Anglia, the adult found last week at Thorney (Cambridgeshire) was seen to 25th and the same date also saw mention made again of Shetland's showy mainland bird at Sullom. Finally, the wintering Rough-leg down at Holland Haven (Essex) was seen to 28th at least.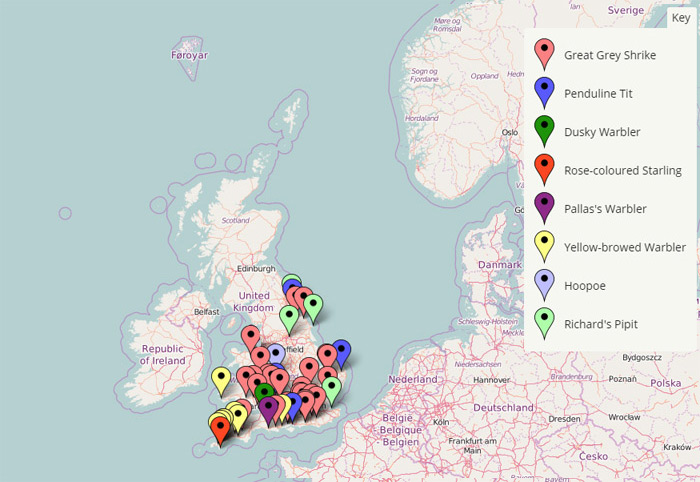 Dorset takes the lead this week thanks to the discovery of a Pallas's Warbler in scrub not far from the disused railway line near Portesham on 25th, a popular bird that welcomed all-comers across the weekend and on in to the new working week to 1st.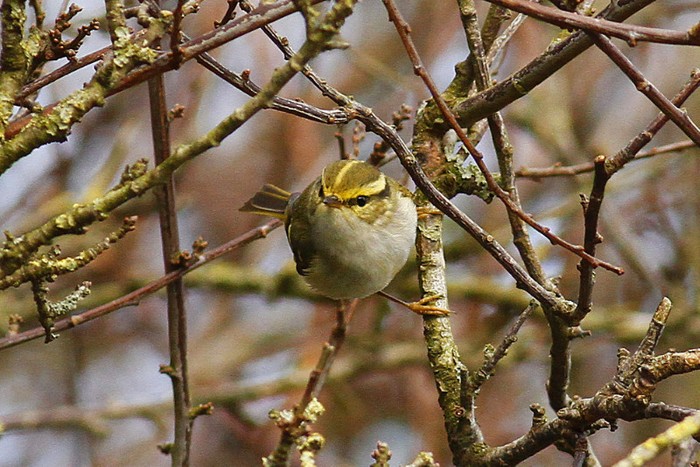 This week's exceelent little find closely matches that of another late-winter Pallas's Warbler in Dorset - one was found at Oakers Wood on February 24th 2008, where it stayed until March 2nd (with another - or perhaps even the same one - located the in Weymouth from March 12th of the same year).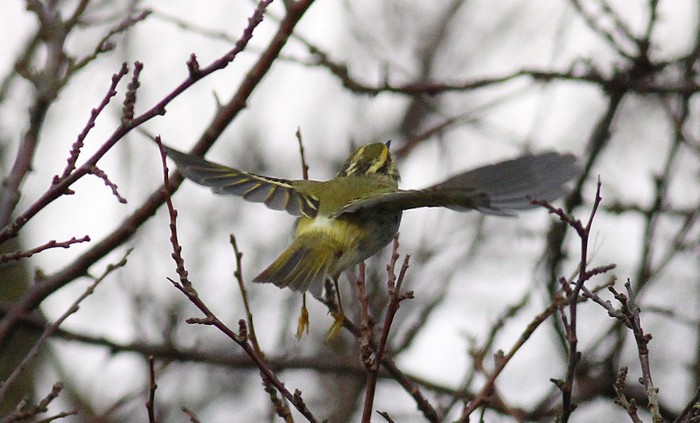 While we're in stripey-warbler mode, the week began with three of Cornwall's recent half-dozen Yellow-browed Warblers still on site at St. Clement, Saltash and Ponsanooth with new birds following at Pensilva on 25th and Breage on 26th. Outside of Kernow, three further new discoveries came along to Monk Haven (Pembrokeshire) on 26th-1st, at Hurn, Bournemouth (Dorset) on 27th and Paignton (Devon) on 1st while across the border in Somerset, the wintering Dusky Warbler popped up again close to the Ham Wall RSPB reserve on 29th - the first sighting there since February 10th.
New in Norfolk this week was the report of a Penduline Tit on the consecutive early mornings of 27th and 28th at Strumpshaw Fen RSPB. This popular reserve now boasts three of the last four acceptances for the county of this super little reedbed dweller, two separate singles during 2009 with two on site in November 2014.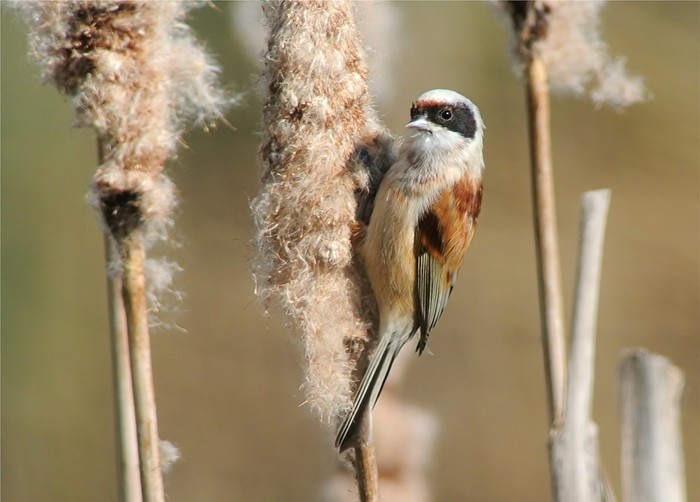 Elsewhere in the country, a few review staple Penduline Tits were still on the go - doubles all round for Titchfield Haven NNR (Hampshire) to 25th and at (back again) at Saltholme RSPB (Cleveland) to 29th and the Horsebere Flood Alleviation Pool, near Brockworth (Gloucestershire) on 1st.
More regular offerings around these parts of late continued their wintering sojourns cross-country; the Staffordshire Hoopoe was still knocking the quarry near Wall Heath to 1st; the adult Rose-coloured Starling was in and around Lizard village to March 1st while a decent crop of Richard's Pipits were on offer too; two remained at Blackhall Rocks (Co. Durham) to 1st with the 28th seeing the reappearance of the Flamborough Head birds (for the first time since February 19th). Over in West Yorkshire, the 28th also saw another Dix pop back up - this one at Swillington Ings (West Yorkshire), a bird that was last reported on February 11th. Rounding things up to a neat half-dozen was the still-present individual at South Swale NNR, at Shell Ness, Isle of Sheppey (Kent) to the month end.
The new review period began with news of eight Great Grey Shrikes around the country on 24th; new were singles near Crawley (East Sussex) and Waltham Brooks (West Sussex) while in the former county, the wintering bird in Ashdown Forest was noted again. Elsewhere, further lone birds remained at Henlow (Bedfordshire), on Thursley Common (Surrey), at Shatterford in the New Forest (Hampshire), Crabtree Hill in the Forest of Dean (Gloucestershire) and Heybridge Basin (Essex).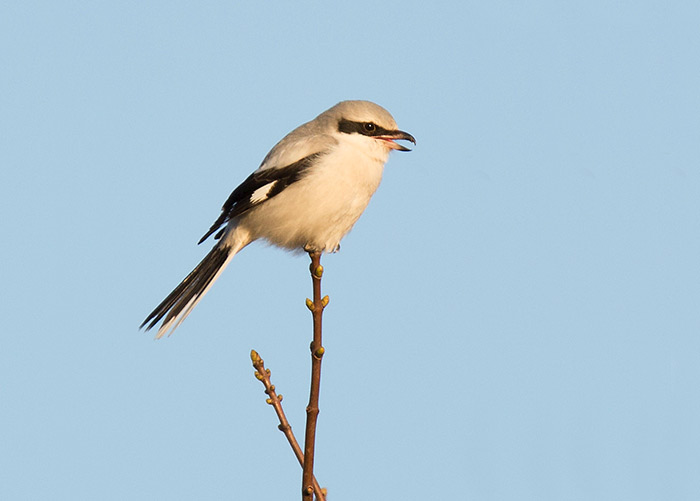 One of perhaps two birds in and around Breckland was at Santon Warren on 25th and 27th then around nearby Grime's Graves on 26th and 28th (visiting both sites on 29th). Also noted on 25th were new individuals at Venford (Devon), Bagshot Heath (Surrey) and Bransdale (North Yorkshire) with others lingering at Llywn-on Reservoir (Glamorgan) and Bloxworth (Dorset). That's 13 Great Greys so far and more followed on 26th; another newbie was located at Cotswold Water Park (Gloucestershire) and, suggesting a few were in early, early migration mode, another was seen in West Sussex, this one appearing at the Arundel WWT reserve. The same date also saw another sighting of one on Shropshire's Black Hill.
The start of the weekend saw the second Welsh bird of the week arrive at Coed Craig Ruperra, north of Cardiff (Glamorgan) on 27th with the third being noted the next day, still at Llyn Brenig (Denbighshire). The 20th bird of the week was noted on Frensham Common (Surrey) on 27th and #21 was in the Langdale Forest (North Yorkshire) on 28th with Bird 22 at Frampton-on-Severn (Gloucestershire) on the same day with the second New Forest bird of the week making it an impressive 23 by close of play on Sunday. The once-every-four-years 29th saw a second bird appear in the Forest of Dean (when at least 10 were still being reported countrywide).
The coming week…
Things have, historically, begun to warm up a touch as the onset of spring begins to become more than just wishful thinking as the first full week of March hoves in to view. Rarities may remain thin on the ground but there's a significant upturn in the annuals recording the great birds of yesteryear…
Any waft of warmer weather could pop in an early doors Red-rumped Swallow or Alpine Swift in the days ahead (both have appeared two or three times), so should conditions prevail there could be half a chance, you never know…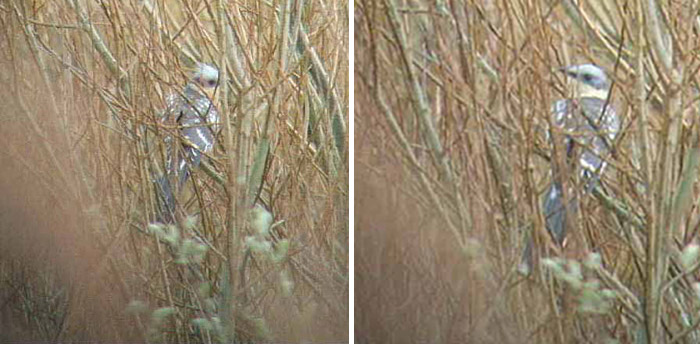 Another overshoot that could be on the cards should conditions turn in to something all the more summery is Great Spotted Cuckoo and Kent has scored two recent records; on March 6th 2007 at Dungeness and on March 7th 2001 at Sandwich Bay.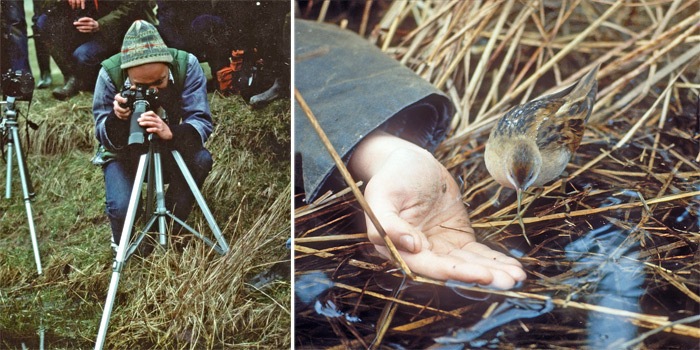 A little further to the west, in East Sussex, focus may turn to the ditches and dykes where Little Crake - one was found near Eastbourne on March 3rd 1913 and a rather more contemporary individual, the tame female at Cuckmere Haven, appeared on March 6th 1985 (well worth bunking off school for…).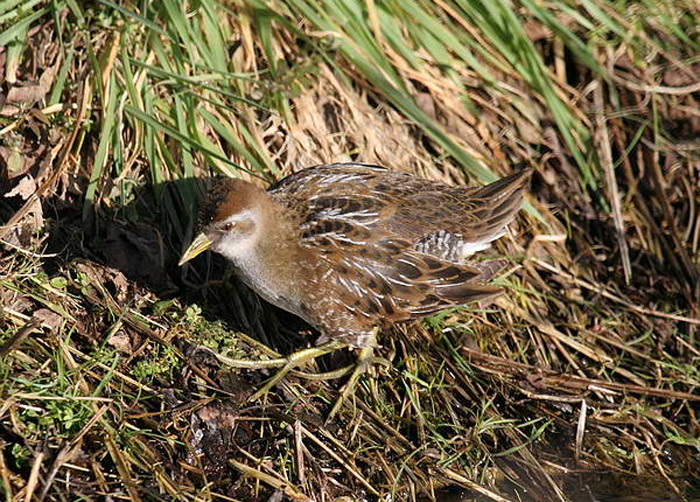 A more "modern" even-rarer rail to make the news 10 years ago this week was the Gibraltar Point Sora - but we've had rarer birds than that in the seven days that lie ahead.
Devon bagged a Black-and-white Warbler on the roof of a house at Whitchurch, near Tavistock on March 3rd 1978 while Britain's first Glaucous-winged Gull was a remarkable re-discovery at Ferryside, in Carmarthenshire on March 2nd 2007.
It would be rude not to mention the 33rd anniversary of the most infamous suppression of the past four decades - the Spurn Tengmalm's Owl clocking up another year of "lest we forget"; they say time is a healer but for the 100's of us around at the time, that's something of a mute point…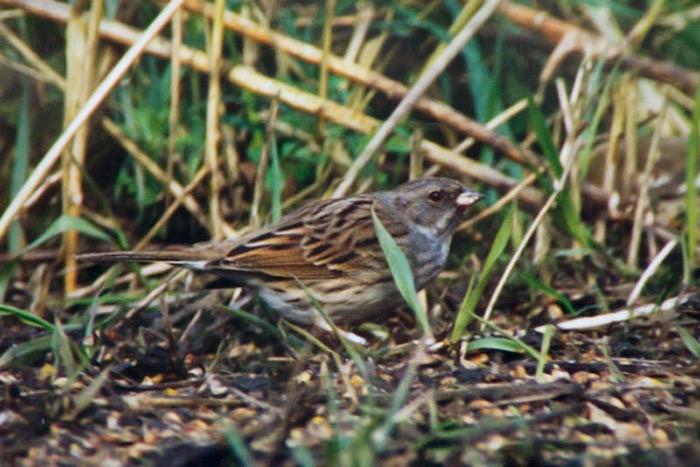 The final early March surprise to report upon was an all-together much happier affair from the days that used to be - the super wintering Black-faced Bunting, Britain's first of course, was found at Pennington Flash, on the edge of Greater Manchester, on March 8th 1994. It stayed for almost 50 days, until late April and remains the only easily twitched example of the species to date - the last acceptance (of just five) was 2004…
…all that besides, let's take a punt on Kent or East Sussex making a hat-trick for one species or another as we'll side with Great Spotted Cuckoo and Little Crake as the ones to watch for the week ahead…
Mark Golley
02 March 2016
Thanks to this week's contributors for their photos and videos.
Richard Mills, Andrew Last, Graham Stacey, Tristan Reid, Simon Knight, Keith Simpson, Martin Palmer, John Pringle, Aidan G. Kelly, Peter Moore, Mike Spicer, Steve Gantlett, Marcus Nash / The Bird ID Company, Paul Kelly, North Ronaldsay Bird Observatory, Mark Holling, Phil Birder, Barry Matlock, Rachel Hynes, Chris Upson, Tony Dixon, Darren Ward, Colin Reid, Mike Tew, Gareth Rees, MrJarraman, David Williamson, Brian Anderson, Rebecca Nason, Steve Clifton, Jac Volbeda, Steve Duffield / Western Isles Wildlife, David Gray, Brett Spencer, Martin Cade / Portland Bird Observatory, Steven Nuttall, Naturalfx, Andrew Brown, Philip Parsons, Tim Loseby, Dean Eades, Alan Tate.
Please note: we put a lot of time and effort into sourcing and and producing the images, videos and graphics for each roundup. Some of you (probably Apple users) may notice some photos etc. that appear to have incorrect captions. Please try refreshing the page as they are correcty captioned. If after a refresh they are still showing the incorrect captions then please email us