Birding round-up: 17 - 23 Feb 2016
The week at a glance
Britain has now hit the magical 600 mark ~ the 2008 Berry Head Yelkouan Shearwater the surprise species to take us to the amazing number
The Cork Glaucous-winged Gull still in place throughout the week
West Cornwall retains 2 out of 3 of their rares; both the juvenile American Herring Gull and wintering Hudsonian Whimbrel remain…
…while North Ron's Northern Harrier logged again this week…
In Norfolk, the juvenile Pallid Harrier lingers a little longer
Lancashire records a brief drake Bufflehead ~ of unknown, most likely, dubious origin ~ at the start of the weekend
…while another potentially duff duck, a female Hooded Merganser concludes the week in Wiltshire
There's been a veritable meteorological sandwich this week ~ topped and tailed by often sunny and frequently cold conditions across much of the country (in such a "warm" winter a drop to more traditional winter temperatures feels surprising) with clear skies and morning frosts well the fore.
Either side of the brightness, another significant slab of mild, grey, breezy and dampness sprawled a lazy, moist and warm shroud across the country ~ with Sunday seeing southwest England registering a balmy 16 degrees C through the day.
The further north you went though, even across the weekend, the more the precipitation changed from rain through sleet and on to snow and as high pressure established itself countrywide as Monday and Tuesday came along, the more we all saw a return to cold'n'clear conditions (and all rather nice it was too).
600 Not Out ~ Yelkouan Shearwater becomes an historic addition to the British List
It wasn't a wacky North American multi-coloured wood-warbler.
It wasn't a wacky Far Eastern slightly dowdy forest dweller .
It wasn't a wacky Pacific alcid or larid coming "over the top".
…in a quiet-ish mid-February week, a week where little changed in terms of the birds seen around Britain and Ireland, there was one significant talking point that was at the very centre of rarity chit-chat ~ the 600th species had been added to the national list and to say the bird involved was on the subtle side wasn't the half of it.
Yelkouan Shearwater has taken its place on the British List thanks to the superbly documented bird seen by Mark Darlaston and Mike Langman, an individual that spent a limited amount of time off Devon's Berry Head on the morning of July 29th 2008.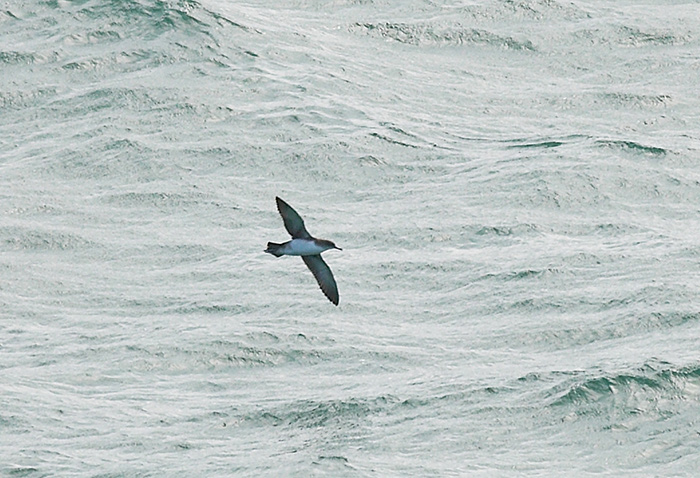 The acceptance by both the BBRC and now the BOURC sees this somewhat cryptic bird (in terms of Britain and Ireland at any rate) finding itself in the historic position of being the "Species 600" recorded here and it will be forever remembered as such…
…but it will also be remembered as one of the more surprising acceptances of recent decades.
There is no doubt that the bird seen by the two M's in Devon nearly eight years ago was clearly in the Yelkouan Shearwater ballpark but, as the two finders recounted at the time, the spectre of the practically identical and somewhat mysterious "Menorcan Shearwater" was seemingly going to be a sizeable fly in the ointment in the acceptance of the striking Berry Head bird.
The years that have elapsed since July 2008 have seen the waters become increasingly muddied where the safe in-field, at-sea identification and separation of Yelkouan Shearwater and "Menorcan Shearwater" is concerned ~ there are plenty of resources and papers out there to go and search out should you wish to do so ~ but the finite studies that appear to suggest that there's still much to be understood and learned about the smaller shearwaters of the Mediterranean.
BBRC and the BOURC appear to know something we don't and look as though they've gone all Dutch and super-liberal on us (when we least expected it) and flown in the face of previously quoted guidelines as to what is required for an acceptance of such importance. That the Chair of BBRC reported the acceptance as requiring one circulation and was "surprisingly straightforward" was…errr…a surprise to many. Just how the two committees have confidently ruled out a "Menorcan Shearwater" in full-on Yelkouan Shearwater guise will be an absorbing read in due course.
Simply put though ~ the cracking Berry Head bird looks just like a Yelkouan Shearwater. And maybe that's the (commendable) approach taken here.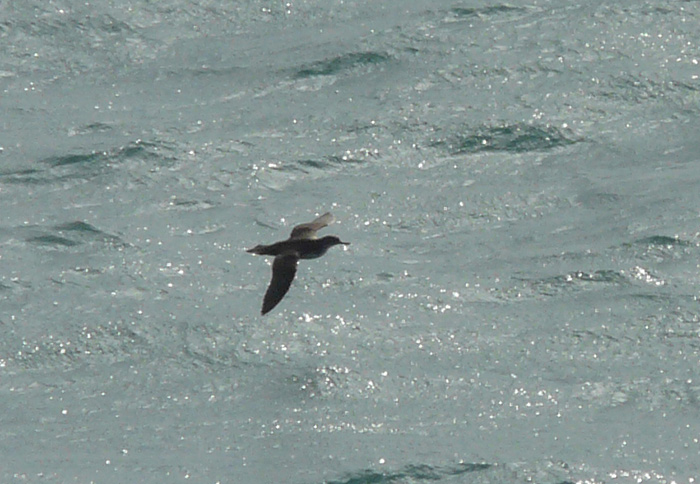 So, if it smells like pig, sounds like a pig and looks like a pig then it's a pig. 600 it is then. In practical seabirding terms, logic dictates that a bird looking like the Berry Head bird is called a Yelkouan Shearwater. Good on those Devonian seawatchers ~ long hours gazing south duly rewarded.
With a further six Yelkouan Shearwater records sat in the BBRC Work-in-Progress file, its going to be fascinating to see if any of them make the grade in the same manner of the Berry Head bird. I don't recall hearing of photographs of too many of them ~ how much faith and trust will the Rarities Committee put in the submissions which comprise quality field notes and sketches only?
Will any of the current six (at least two of which were well documented by exceptionally experienced seawatchers) be acceptable as Yelkouan Shearwater or will the "Menorcan Shearwater" issue suddenly emerge as a handy flag of convenience for the BBRC? Despite words suggesting that photos aren't necessarily required, the underlying feeling, given from the Chairman downwards, is actually quite the opposite.
Committee politics, a fair degree of intrigue and a crinklingly-rare bird. Tasty stuff!
Glaucous-winged Gull
Despite being such a huge, highly-prized and much admired rare, the well of words relating to Cork's stonking adult Glaucous-winged Gull is starting to run on dry.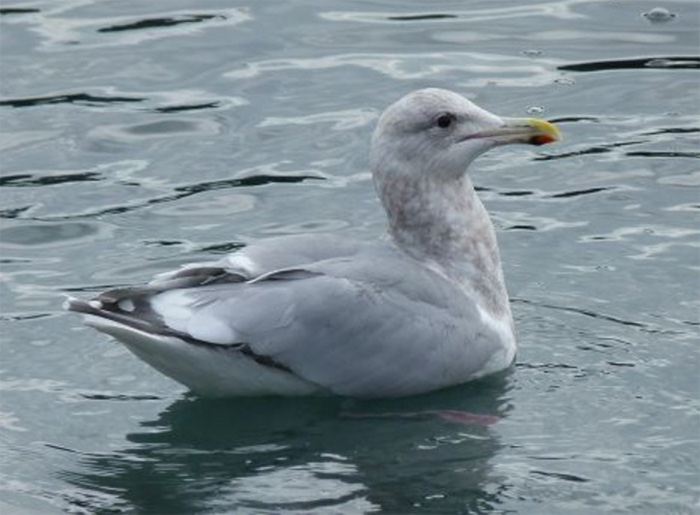 Rather weirdly, that makes me feel a bit odd, as a bird of this calibre really is worthy of more than just a dismissive "still there, move on" thought but with upwards of six weeks+ on the clock now, the superlatives do begin to fall away a touch.
Still, no matter, it really is an "out there" beast, right on the cusp of being almost a little OTT even for the Pacific northwest, but this awesome individual has yet to depart the harbour at Castletownbere ~ seen through until 23rd.
Two go mad in west Cornwall…
Despite an absence of news upon our favourite Gavia, there was still a bit of action across the expansive Mount's Bay this week…
American Herring Gull
…and first up is the juvenile American Herring Gull which has given a few folk the run around by not behaving itself on a regular basis and popping up on to the roost rocks at St. Clement's Isle, Mousehole very much on its own terms.
This week, the young smiths appeared on two consecutive nights, 19th and 20th, but gave the rest of the week a pretty wide berth (much as it did seven days previously).
(Before departing the species entirely, its worth drawing larid-lovers attentions to the decent looking candidate photographed at Crossapol Point, in Argyll & Bute, last week on 15th ~ certainly seems promising but there are a handful of weird northern gulls around this winter).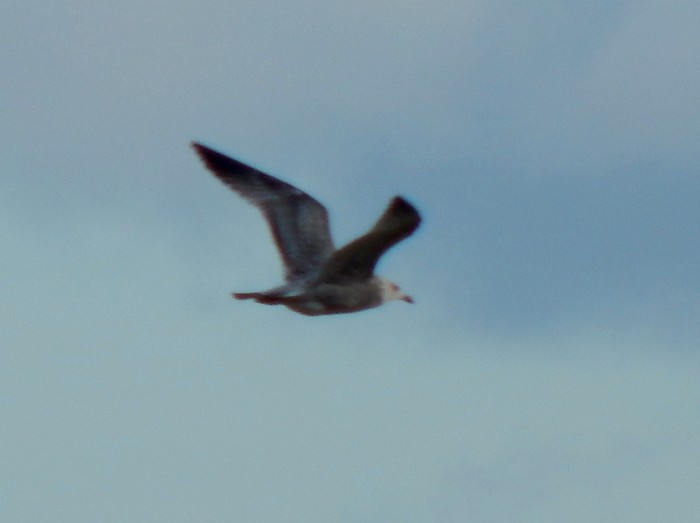 Hudsonian Whimbrel
Not far away from the teasing seagull was the more reliable first-winter Hudsonian Whimbrel but even that decided to play hide-and-seek this week ~ there was no sign on 18th but it made a brief reappearance east of Penzance, at Perranuthnoe on 20th before settling back at Trenow Cove later the same day (where it lingered to the following day) and on 23rd seen again at Perranuthnoe,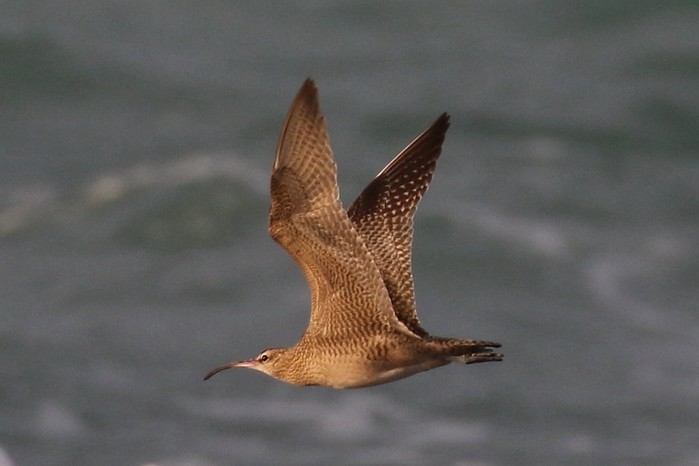 Northern Harrier
On Orkney, the adult male Northern Harrier made another pass around North Ronaldsay on the morning of 21st ~ a bit like the gull, there's only so much you can say about a bird that's had much lyrical waxing said of it this last few months, so it is swiftly on to…
Pallid Harrier
…Norfolk's loitering ~ and now officially longest staying ~ Pallid Harrier which remained pretty faithful to the heathland of Roydon Common NWT through until 20th at least, even taking in a short visit to Abbey Farm, Flitcham (for old times sake) on 17th.
The appearance on the evening of 20th at Roydon saw the bird clock up Day 98 since the expected first appearance along the north coast in mid-November ~ one more day than the wintering juvenile (Norfolk's first) back in 2002.
Bufflehead
Given the relatively recent occurrence of a yellow-ringed captive stock drake Bufflehead in Cumbria (seen at Ullswater in October and November last year), the brief-ish showing of a drake Bufflehead (with Goldeneye) near Shard Bridge, Hambleton (Lancashire) on 20th was met with a generally cool reception.
As a Bufflehead flies it looks to be around 65 miles or so due south from Ullswater to the edge of the Wyre Estuary and while there's nothing to link the two, there is perhaps a nagging doubt that it could be one in the same individual…
If its never seen again and the BBRC see that there's enough in it to accept it (no guarantee of that of course, see the recent rejection of the Beds bird) then it could become the first for Lancashire (and the first in the northwest since 2004).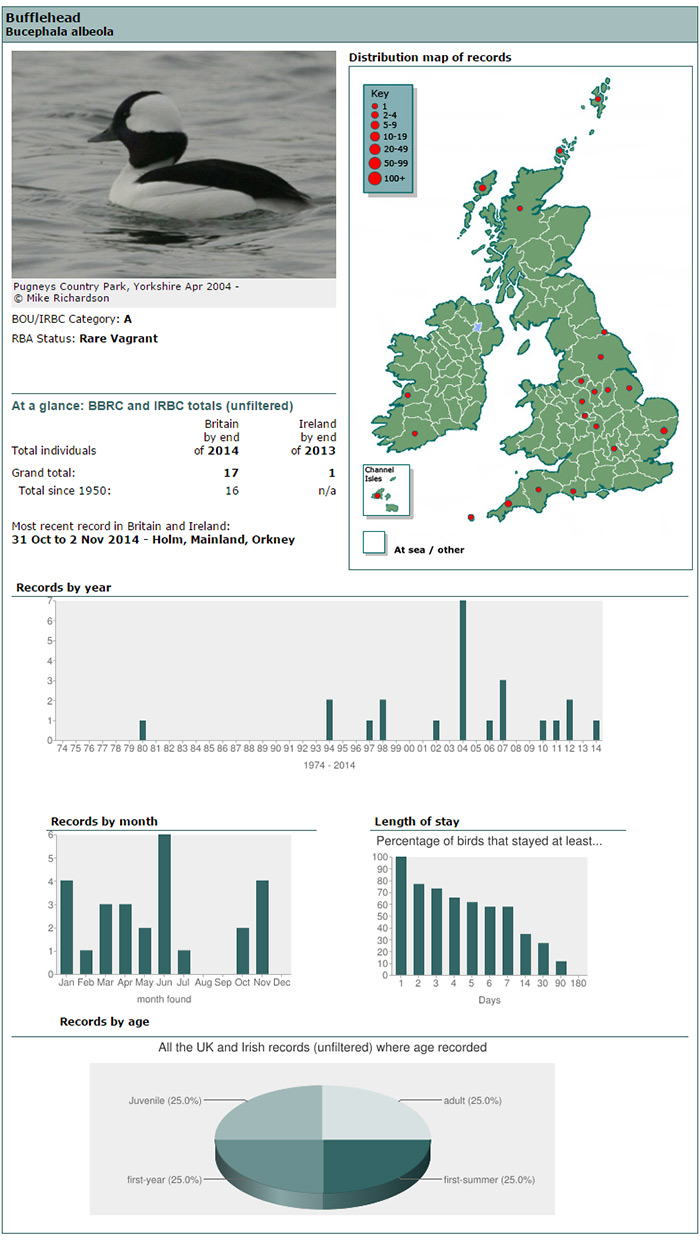 Hooded Merganser
What's left to say about Hooded Merganser? Regular readers know that there's a pretty low opinion of them around these parts and the news of a female at Corsham Lake (Wiltshire) on 23rd does little to change the attitude towards these cute little ducks.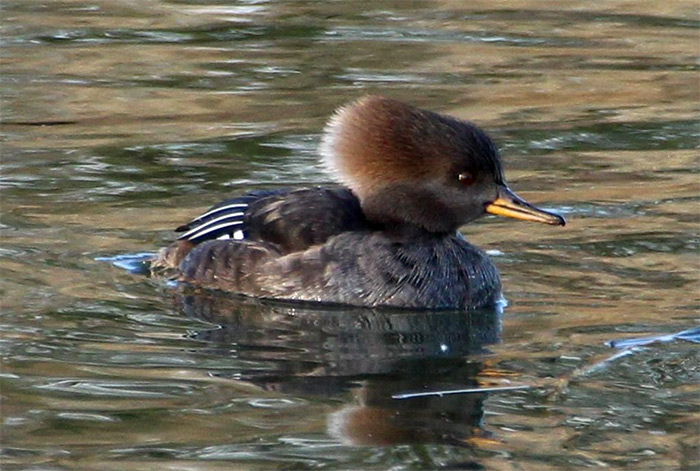 If it doesn't do anything daft and doesn't have any rings about it's quacky person then there's every reason to see it appear in print as a real one in October 2017 ~ the accepted bird in Kent in 2012 was a February arrival and that didn't do anything daft and didn't have any rings about it's quacky person, so there was no stopping it romping in to the record books. A potential 1st for Wiltshire then…enjoy!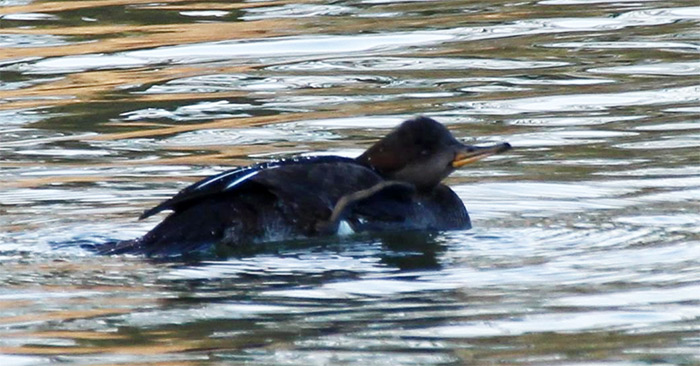 County Clare leads the way this week thanks to the appearance of the county's first White-billed Diver close to Ballyvaughan on the morning of 18th. These awesome beats from the north are still a very rare bird in Ireland ~ less than annual and with well under 20 records ever.
The second banana-billed offering this week was found in Argyll & Bute, south of Gorton on the island of Coll on 23rd.
At sea birders noted two or three Little Auks in the Firth of Forth (Fife) on 18th and that tiny double/trio were followed by a report of eight off Northumberland's Stag Rocks, also on 18th (with one there on 19th) ~ and in a somewhat benign mid-February week, that was that…no more seabirds…
Three southwestern Glossy Ibis get the ball rolling here ~ still at Marazion Marsh RSPB (Cornwall) to 17th and around the Somerset Levels and at Seaton (Devon), both to 23rd. In the southeast corner of England, single birds remained at Dungeness RSPB (Kent) to 17th and (back at?) Pett Levels (East Sussex) on 21st.
Ireland mopped up the remaining five Ibis this week; regulars remained at Tacumshin (Co. Wexford) to 18th and Tramore Back Strand (Co. Waterford) to 20th while in Antrim, one appeared again at Troome on 21st (it was last seen here on January 24th). New were two on the marshes near Cork Harbour on 21st.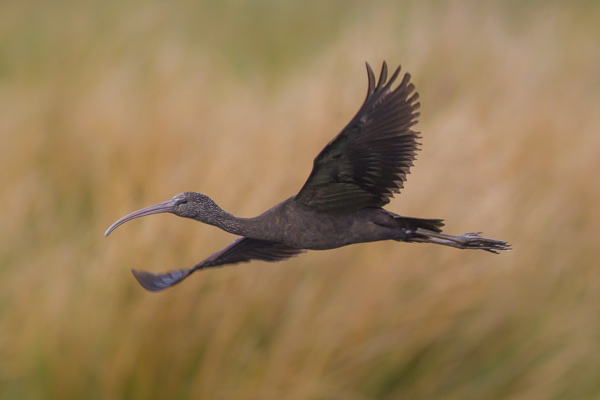 It was very much "as you were" for the week's tally of seven Cattle Egrets; last week's new arrival at Burgh St. Peter (Norfolk) remained until 19th while next door in Suffolk another lingered near Iken until 22nd. The recent Kent bird was still around the Biddenham area for the first part of the week while in Somerset, along with the Cattle Egret at Westhay Moor NNR (until 21st at least) was a potential newbie at Mudgley on 19th (and again on 22nd-23rd). In Wexford, the singleton was still at Tomhaggard to 21st and in Limerick, at Castleroy the bird first seen in mid-January was still in situ until 20th.
No surprises to see that it was still Poole Harbour that held the peak numbers of Spoonbills again this week, 16 logged at Arne RSPB on 21st. A further five were shared between Dorset, Hampshire and West Sussex while a quintet remained at North Warren RSPB (Suffolk) for much of the week (and one was in north Norfolk on 22nd). A threesome stuck it out in north Devon, at Wrafton through the weekend while two of Cornwall's four were at Saltash on 18th (with singles still on the estuaries of the Camel and Hayle). The final four were across in Ireland, showing no signs of heading away from The Cunnigar in County Waterford just yet, still in place on 21st.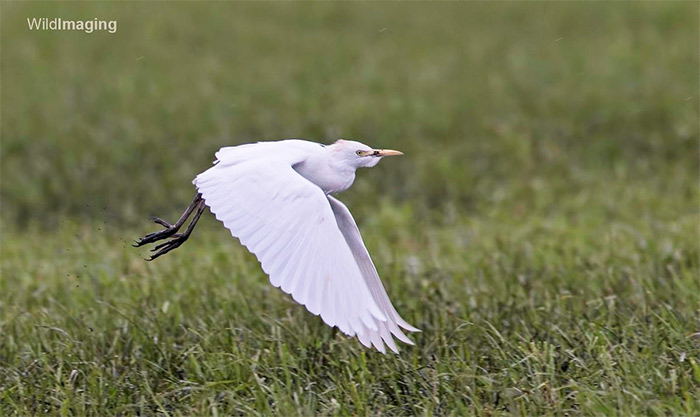 Not much Common Crane to report until the end of the week ~ up to four stayed around the Eldernell area of Cambridgeshire throughout, ditto Lakenheath in Suffolk, while two were seen heading along the River Allen, at Witchampton (Dorset) on 21st. Singles on 23rd flew over Trent Valley Pit (Leicestershire) and Rode Heath (Cheshire).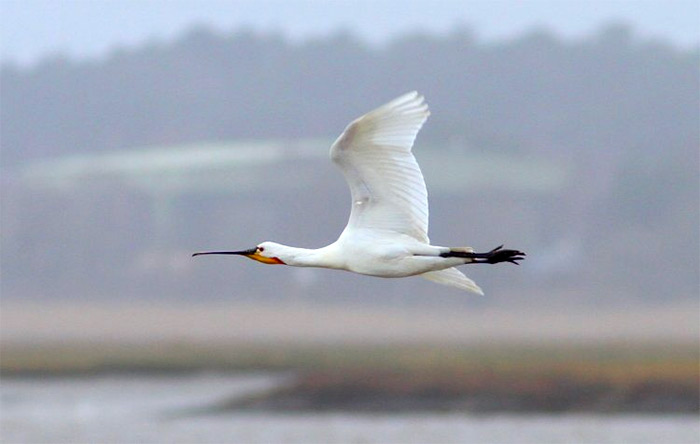 After a brief muse upon where all the white and blue Snows had gone last week, all the recent reportees were out in force again across the past seven days. The family group of three first-winter and single adult intermediate Lesser Snow Geese were in the dawn roost departure from Loch of Skene (Aberdeenshire) on 18th and 19th. Three moderately close sites in Dumfries & Galloway (within less than 10 miles of each other) recorded a white Snow Goose this week; at Mersehead RSPB on 18th and 20th; near Southerness Point on 21st with one later the same day at Caerlaverock WWT.
No news on Sligo's funky grey-bellied Branta this week but fans of all things white-cheeked goose in the county were kept entertained by the continuing presence of both the Richardson's Cackling Goose and Todd's Canada Goose around Lissadell until at least 20th.
After Essex managed that fascinating gathering of four Black Brants last week, this week the county was down to just the one bird, seen at Foulness Island on 21st. East Yorkshire held on to their double, still near Kilnsea to 20th while elsewhere around the east coast, a lone bird was reported at Brancaster (Norfolk) on 20th and around the north Kent Marshes, a roaming Brant was at Oare Marshes KWT on 18th-19th, then on the Swale on 21st (appearing at the Harty Marshes later the same day). p>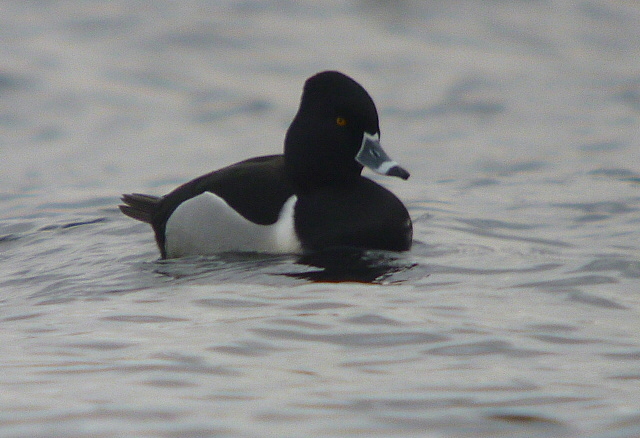 Along the south coast, a Black Brant was seen in West Sussex, at Apuldram on 18th and Chichester on 20th and along Devon's Exe Estuary one remained between Bowling Green Marsh and Powderham to 21st.
In County Cork, the Baltimore Black Duck was still just north of the fish factory throughout until the end of the review period and remained the rarest duck of the week.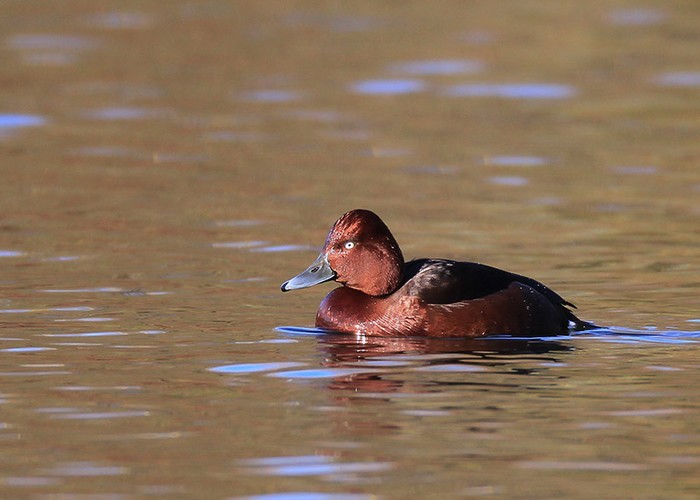 Coming along next is Lesser Scaup and there are four to report; back again in County Galway was the drake first seen in the third week of January at Tullaghnafrankagh Lough, near Oranmore ~ he was noted on 17th-18th. After that, you can almost guess the other three ~ all familiar drakes, all still present across and beyond the weekend at Dozmary Pool (Cornwall), Dargan Bay, Belfast (Co. Antrim) and Cosmeston Lakes CP (Glamorgan), the latter heading back to Cardiff Bay on 23rd.
Ring-necked Ducks mustered as many as 11 birds in all across the past seven days, five of them in Ireland; two drakes lingered at Knockaderry Reservoir (Co. Waterford) to 20th while a couple of "new" drakes were located at Ross Castle (Co. Kerry) on 19th and on Donegal's Inch Island on 21st with the drake found last week in County Cork, at Garryhesta Quarry, was present to the same date. In England, the female was on Tittesworth Reservoir (Staffordshire) until 19th and the male was at Glastonbury (Somerset) to 23rd while Scotland managed to hold on to the long-staying drake near Pitlochry (Perth & Kinross) throughout the week with three drakes on 23rd; two were in Dumfries & Galloway , both at Milton Loch while in Ayrshire one was again at Martnaham Loch.
This latest rarity round-up kicked off with the fine looking drake Ferruginous Duck again on the waters of Caldecotte (Buckinghamshire) with the slightly less-fine looking female loitering on the lake at Holkham Park (Norfolk) ~ those two were both present to 21st at least. Hampshire's regular wintering drake was at Blashford Lakes HWT through until the end of the weekend and on to 22nd while the presumed "well-dodge" drake was still in the quacky pens at Washington WWT (Co. Durham) to the same date.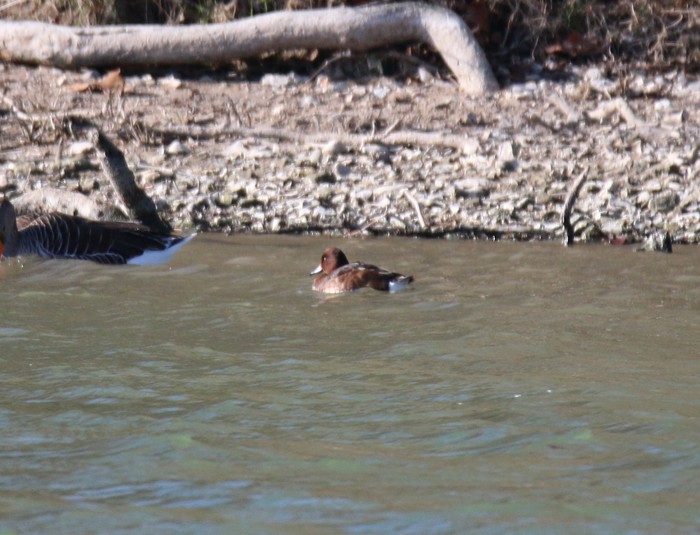 No doubting just which is the pick of the seven American Wigeons recorded this week ~ it has to be the drake at Aqualate Mere (Staffordshire) on 21st-23rd, the first in the northwestern county since 2006 (when a female was seen at Belvide Reservoir from late February to the end of March (whatever happened to people identifying females?) and one of just a handful ever in the county full stop.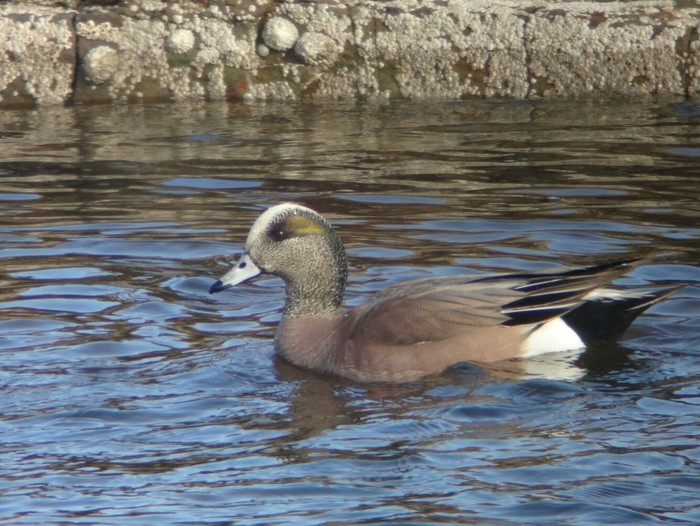 A reappearing drake was back at Scalby Mills (North Yorkshire) from 20th (it was first noted there at the end of January) while the remaining four drakes were all Review regulars; at Castle Howard (North Yorkshire) to 18th (did it then head back to Scalby Mills?), Tain (Highland) to 19th, Grindon Lough (Northumberland) and along the Drowes River (Co. Leitrim/Co. Donegal) to 20th and Hesketh Out Marsh RSPB (Lancashire) to 23rd.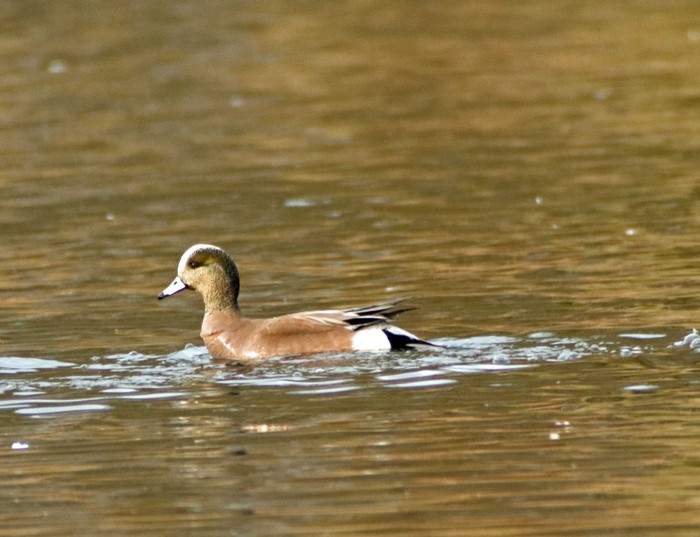 The first day of the new round-up week began with at least five of last week's 10 drake Green-winged Teals still in situ; at Boldon Flats (Co. Durham), Saltholme Pools RSPB (Cleveland), on the estuary at Blythburgh (Suffolk), at Daventry Reservoir CP (Northamptonshire) and along the marshes at Seaton (Devon) while a new drake was found at Loch a'Phuill, on Tiree (Argyll & Bute). In Dumfries & Galloway, two drakes were again around the Caerlaverock WWT reserve on 19th which was a date that saw the continuing presence of the Green-winged Teal at North Cave (East Yorkshire). The final birds of the week were further new arrivals, found at Dunfanaghy (Co. Donegal) on 21st and on 23rd, at Loch of Skaill, Mainland (Orkney) and White Marsh, near Clonakilty (Co. Cork) ~ taking this week's total to a nice round dozen.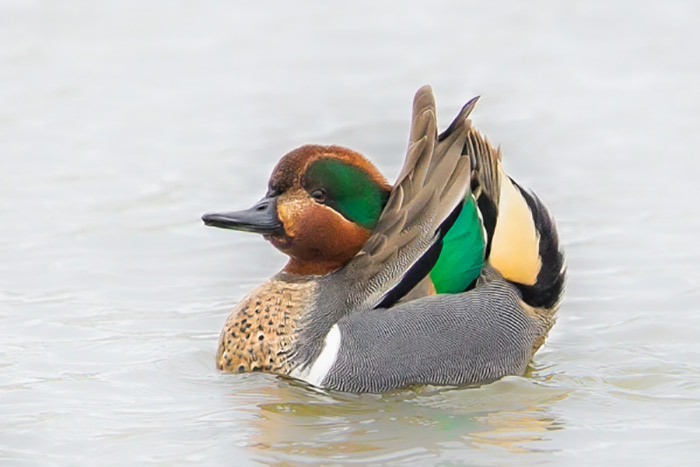 A new Surf Scoter was off the coast of County Kerry, at Fermoyle on 18th while the drake at Easting, Unst (Shetland) was reported for the first time this month on 18th. At the other end of the country, the 1w drake remained between St. Mary's and St. Martin's (Scilly) to 21st while North Yorkshire's young male was at Filey to 23rd. Our final Surfie this week remains of the coast of Lothian, seen at Musselburgh and Portobello until 20th.
Metaphorically keeping the still-in-place Largo Bay female King Eider company in the review this week are two reappearing Irish birds ~ the 1w female noted at Rosslare Back Strand (Co. Wexford) on 17th (she was last reported on January 24th) and the adult drake that was (still) at Ballyconnell (Co. Sligo) on 20th-23rd (he too was last noted on January 24th).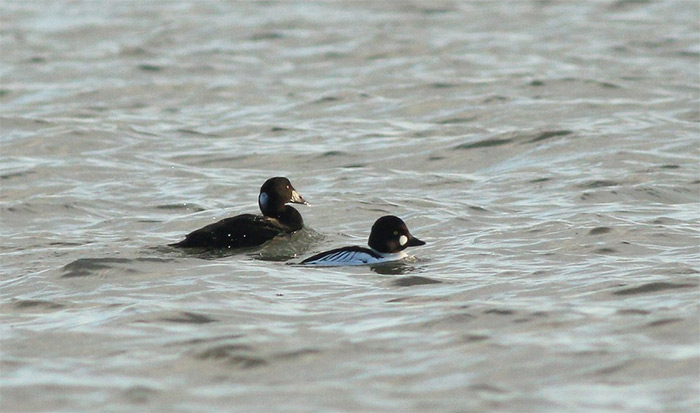 Playing a game of cat-and-mouse seems to be the order of the day for the Long-billed Dowitcher in Leicestershire ~ showing well at Wanlip Meadows LRWT on 21st-22nd (after going AWOL from 15th) before relocating some 20 mils to the east, alighting at the expansive Rutland Water on 23rd. No such sneaky behaviour from the other two wintering birds recorded this week ~ first-winters at Keyhaven Marshes (Hampshire) and both Cresswell Pond NWT reserve and Druridge Pools (Northumberland) throughout the week.
Further wintering shorebirds from the Nearctic that lingered were the first-winter Spotted Sandpiper at Pilmore Strand (Co. Cork) across the weekend and the first-winter Lesser Yellowlegs at Burgh Castle (Norfolk) on 19th-20th.
Starting us off in Larid-Corner, as is so often the case at the moment is the adult Bonaparte's Gull that was logged on consecutive days at Dawlish Warren NNR between 19th to 23rd. Still he or she will be off soon ~ then what'll I do? Well, maybe there'll be chance of scribbling about the other Bonaparte's recorded this week ~ an adult seen on the river at Thurso (Highland), the 4th year in a row its been seen in the area (roughly) at this time of year (it is also entirely feasible that it could even be the same bird seen on site in 2010 and 2008).
Well…continue to record the number of Ring-billed Gulls I suppose and this week saw numbers in Ireland drop by around half a dozen to some 14 birds in all. At least three were in and around Blennerville and the Tralee Bay Wetlands area across the weekend (two adults and a young bird minimum), three adults were around the edge of Cork City on 21st-23rd (two at Atlantic Ponds, one on The Lough ~ with one by the bus station on 22nd) and two (an adult and 2w) remained along Nimmo's Pier (Co. Galway) to 18th.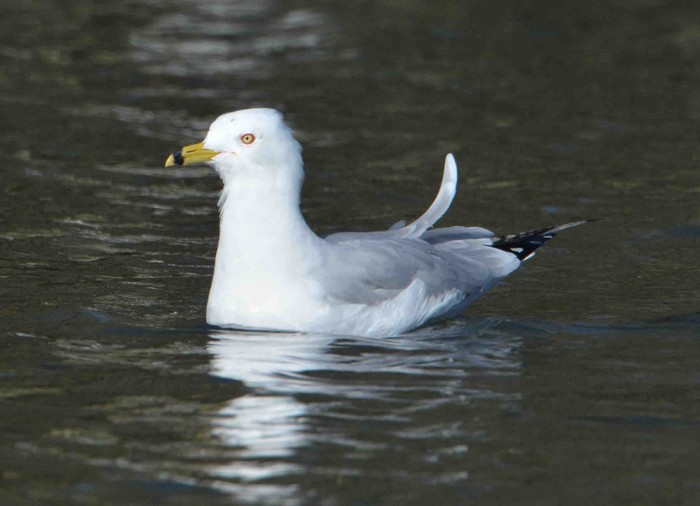 Elsewhere in Galway, another Ring-bill was at Lough Atalia on 19th and further singles around the country were the adult at Portrush (Co. Antrim) on 17th, a second-winter at Dundalk (Co. Louth) on 18th, the usual adult off Bray (Co. Wicklow) and the 2w still in Sligo's Doorly Park, both on 20th with a new adult around Wexford town (Co. Wexford) on 21st. Ireland's last bird this week was the adult that lingered around Castletownbere all week.
The remaining four were split 2:2 between England and Scotland, all of them familiar to one degree or another; the Cornish first-winter was around Penzance and Sancreed to 22nd and the adult continued to drop in to Blashford Lakes HWT (Hampshire) for much of the week. Scottish Ringos were at Strathclyde Loch (Clyde) to 22nd with the ageing adult in the Highlands, at Dingwall to 23rd.
There were some 60 Glaucous Gulls to report this week (down by almost 10 on seven days ago). Leading the way was Scotland, where 27 birds were noted in five counties, including up to nine around Argyll & Bute with eight on the Outer Hebrides and six for Shetland. The northwest and southwest shared evenly the 14 birds noted in the two regions, a significant part of England's 23 in all (spread thinly across 14 counties). Up to five birds were around Rufforth (North Yorkshire) on 20th, while at least half a dozen were in Cornwall, including a bare minimum two around Mount's Bay (it could be double that) and a further two were at Looe on 20th. Kerry hosted three of Ireland's eight birds (and in Cork three more were at Ballycotton on 23rd) and two of Wales' five were on Anglesey over the weekend.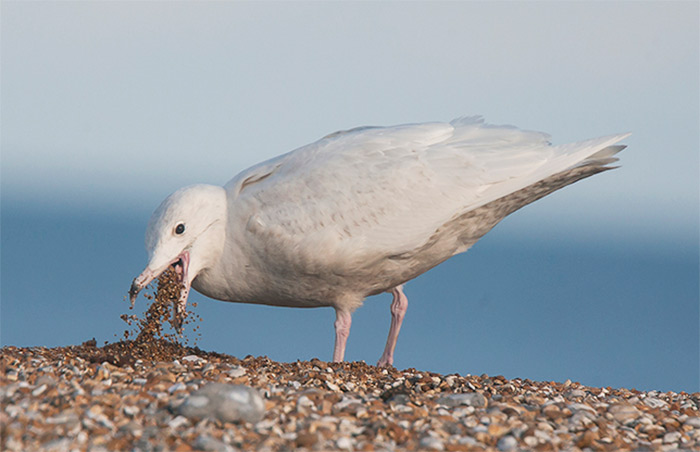 After nuzzling up close to three figures last week, Iceland Gull numbers fell away to below 80 in all this week ~ with Scotland leading the way here too.
At least 33 were seen in northern quarters, in 11 different counties/regions with Shetland in front courtesy of four birds at Symbister, Whalsay on 19th and three in Lerwick, Mainland on 21st. Four of the five recorded around the Outer Hebrides were seen at Butt of Lewis on 21st and three of Moray's four were in fields at Balormie on 20th. A further hlaf dozen were dotted around Argyll & Bute in a decent seven day spell there for white-wingers.
English gullers and birders managed around 24 birds in 16 counties with three at Rufforth on 18th helping the northeast in to "top spot" with up to eight in all. The northwest recorded at least five and four were seen around southeastern counties. Ireland scored a somewhat lowly 18 (in 10 counties) helped hugley by fours at Killybegs (Co. Donegal) on 20th and Coleraine (Co. Derry) on 21st. Wales scored a sorry single...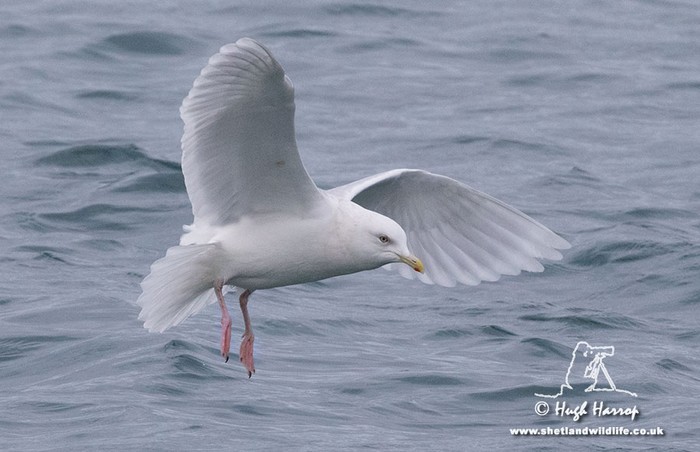 The first couple of days of the new review period saw Yorkshire score a couple of Kumlien's Gull ~ a juvenile was on the dump near South Elmsall (South Yorkshire) on 17th and the near-adult 4w was at Fraisthorpe (North Yorkshire) on 18th. Another Yorkshire youngster, this time in the West, was at Wintersett Reservoir on 19th-20th and a further 1cy individual was again in the roost at Fen Drayton RSPB (Cambridgeshire) on 21st. Ireland's only efforts were single youngsters at Killybegs on 20th and Tralee on 23rd.
Finally, foe the first time in over a fortnight, the oft-returned adult Forster's Tern was seen again off the coast of Galway on 18th, noted from Mutton Island.
Belated news first of all from Highland where a male Snowy Owl was seen at some point last week in Highland, at Dalchork, near Lairg but there was no sign of the boyo in a search on 18th.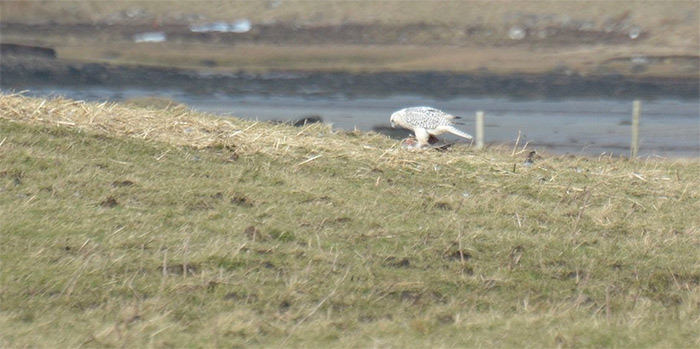 Another ermine-clad executioner that did offer itself up this week (albeit not for long) was the white Gyr that decided to enjoy a little bit of goose for Sunday lunch at Kyles Paible, North Uist (Outer Hebrides) on 21st ~ they are having a pretty good run of records up there right now…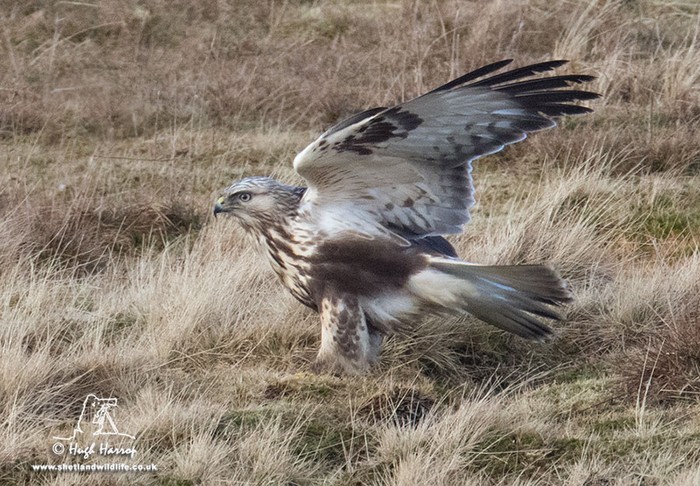 Not too many Rough-legged Buzzards made themselves known this week; Norfolk still hosted a couple, one still around Choseley with another again in the area at the back of Docking (the former to 20th, the latter to 21st) while the young Rough-legs at Holland Haven (Essex) and Sullom, Mainland (Shetland) were viewed up until 20th and 21st respectively. A new adult was at Thorney (Cambridgeshire) on 22nd-23rd and the last of the last seven days was reported from Langleydale Common (Co. Durham) on 23rd.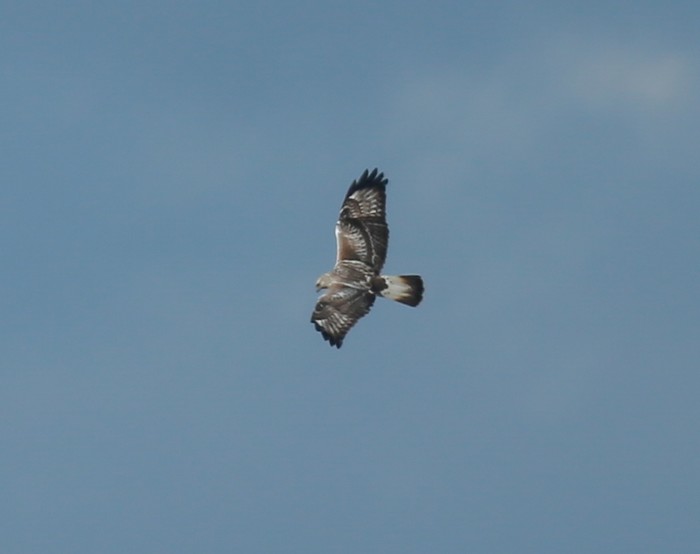 The fine pair of male Penduline Tits at Horsebere Flood Alleviation Pool, near Brockworth (Gloucestershire) showed throughout the week and proved popular on a daily basis while in Cleveland, after an absence of over a week, the two Remiz were back at Saltholme RSPB on 18th-19th (but seemed to have gone again by 20th ~ where are they going in between times?). The final double of the week were also birds that had gone missing for a wee while, seen again at Titchfield Haven NNR (Hampshire) on 19th and then noted again on 23rd.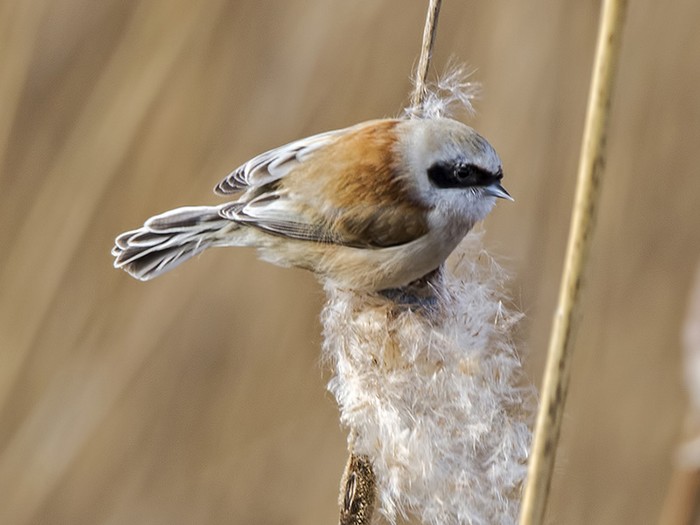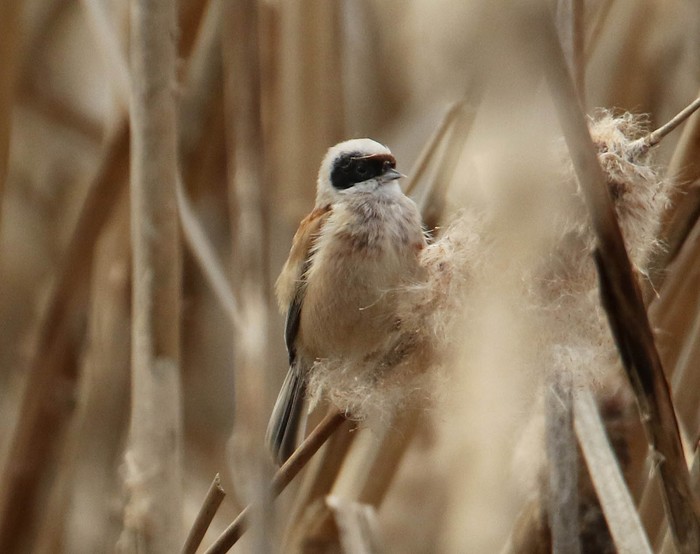 On Shetland, news this week that the two Black-bellied Dippers were still hanging around the Kirkhouse Burn at Voe, Mainland (still present to 19th) while further wintering stock this week included the Staffordshire Hoopoe (at Wall Heath all week), the mobile Cornish adult Rose-coloured Starling (around Lizard village to 21st at least) and up to five different Richard's Pipits; two lingered at Flamborough Head (East Yorkshire) to 19th and two new ones were a great find at Blackhall Rocks (Co. Durham) from 21st. The final Dix was hiding up at Shell Ness, Isle of Sheppey (Kent) through to 21st.
Cornwall hosted six Yellow-browed Warblers this week; new were loners at St. Clement, along the pretty Tresillian River on 20th and in Saltash on 23rd, with long-stayers still at St. Levan to 18th, St. John's Lake, Torpoint to 19th, Ponsanooth to 21st and Nanjizal to 22nd. The only other one noted was new in Exeter (Devon) from 20th.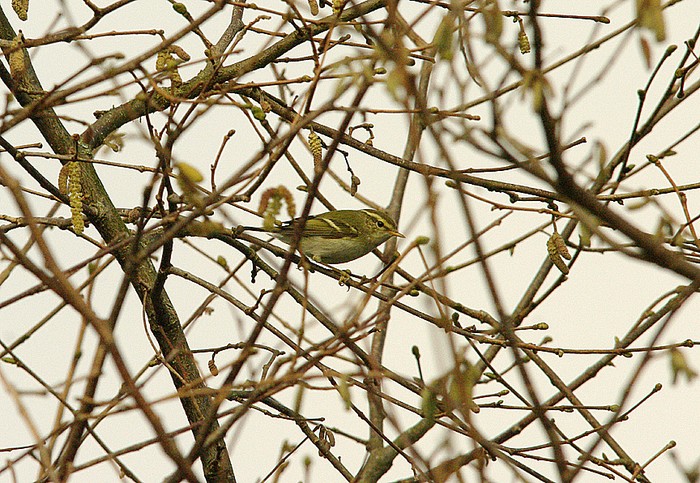 Great Grey Shrike numbers just crept in to double figures over the past few days, thanks almost entirely to the seven birds seen around southeastern England. Two were on Thursley Common (Surrey) on 18th and another in the same county was found at Camberely on 20th. Two singles remained in Bedfordshire, at Henlow and Langford (both noted on 18th) while loners were still at Heybridge Basin (Essex) to 20th and the New Forest (Hampshire) to 21st. Not far away in Dorset, at Bloxworth, last week's bird was still on view to 23rd.
In the south Midlands, the wintering Great Grey was around Crabtree Hill throughout the week while in Norfolk Breckland, one was at Grime's Graves to 19th with the same date seeing a new Welsh bird come to light, seen at Dinas-Mawddwy (Gwynedd). The second bird in the Principality this week was one that remained at Llyn Brenig (Clwyd) throughout and the third was at Llywn-on Reservoir (Glamorgan) on the final day of the week.
Last but not least, a showy Waxwing made a nice subject for folk in Lerwick, Mainland (Shetland) on 23rd ~ the only record this week.
The coming week…
We're already lurching towards the end of the second month of 2016 and next week will see the beginning of March and, with it, the yearning for that first Wheatear or Sand Martin sometime within the next week or two…
But any thoughts of springtime are really a false dawn currently ~ February still means winter, albeit towards the end of the season, and that's where we should still be casting our collective gazes across the next seven days.
Although our Cornish and Irish brethren have already hosted Ross's Gulls this year (on the Lizard and off Hook Head) the first day of the new week ahead has yielded two further wedge-tailed wonders ~ both of them in County Cork; around the colourful, pretty seafront at Cobh in 1985 and in the harbour on Cape Clear Island in 1995.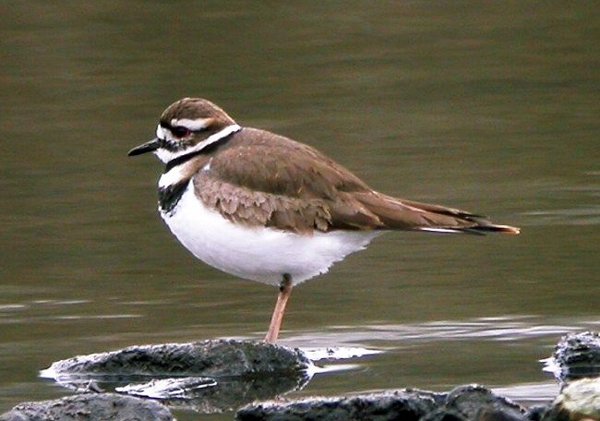 Another species to have scored a neat "double-day" this week is Killdeer ~ singles appearing on different February 25th's in Berkshire in 1984 and around Upper Lough Erne in 2005.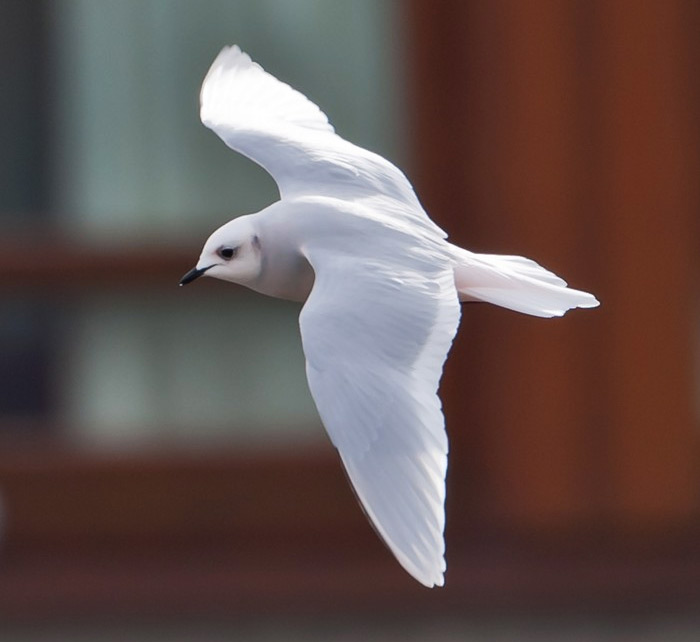 Two more Ross's have surfaced on February 26th (including the much-twitched at the time adult at Wick in 1983) with another making itself known in southeast Cornwall, along the River Lynher on February 27th 1996.
The third Killdeer for the seven-day period ahead was found out in Kerry, at Akeragh Lough on February 28th 1971 (along with a White-rumped Sandpiper the same day ~ quite some winter duo that…) while the 5th Ross's Gull of the period was in County Clare on 28/02/98.
Leap Year Birders haven't found a whole heap of stuff across February 29th ~ but the quirky date has offered up another Killdeer in Derbyshire in 1964 (the 4th between February 24th-March 1st).
March 1st? A day full of winter/spring juxtapositions ~ White-billed DIvers, Gyrfalcon, Ivory and Thayer's Gull set against an Alpine Swift, Red-rumped Swallow and the extraordinary singing male "Isabelline Shrike" that spent 51 days at Sidlesham Ferry in 1975.
Before closing things out for another week ~ there's one more species to mention that was, once upon a time, part and parcel of a winter weekend 30-40 years ago ~ Lesser White-fronted Goose. There have been nine (or so) acceptances historically in the seven days ahead of us but in recent times the tale has been a sorry one indeed…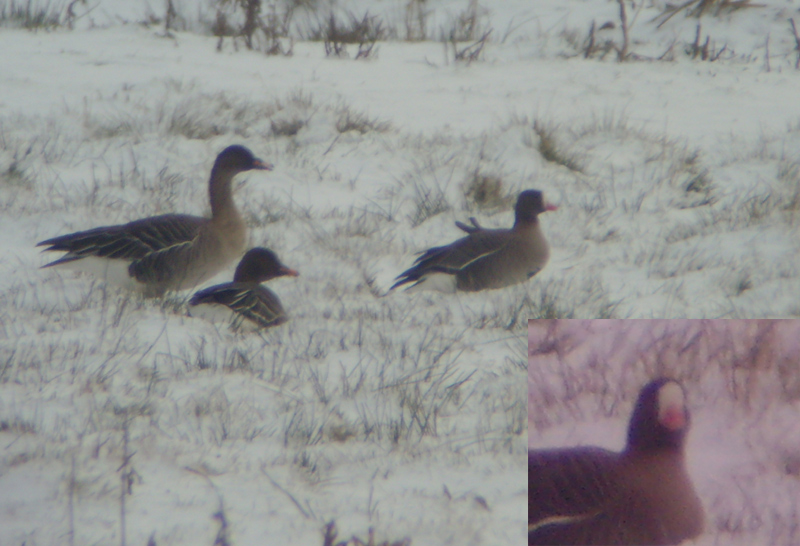 There have been just three accepted records in the past 16 years (yes, that's since the start of the 2000's) ~ an adult on Berneray in the Outer Hebrides on February 17th 2001 was followed by a 13 day first-winter at Slimbridge WWT (historically the very famous old haunt of the species) in February 2003 with the presumed A.O.K. adult in Norfolk's Yare Valley in the consecutive winters of 2010-'11 and 2011-'12.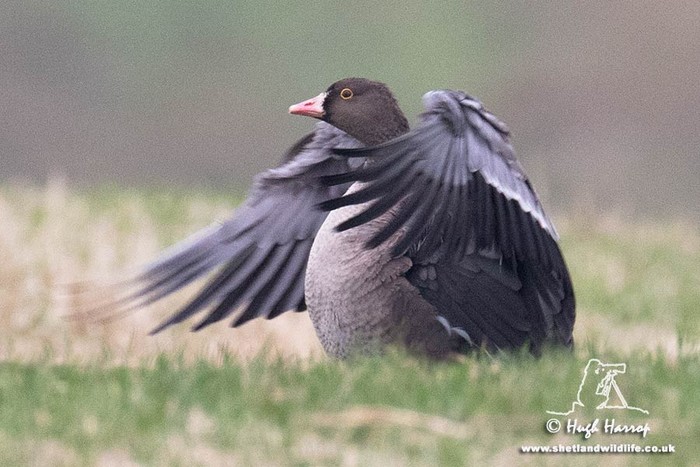 There were no signs of it being from the ringed released stock from Swedish-Lappland (as per the the recent Shetland and Suffolks birds) and it did appear to be "pure" ~ "thank goodness for that" cry a legion of listers…this folks, is now a very rare bird indeed ~ borne out by the fact that is now stated as "Endangered" and "Critically Endangered" within the European Red List of 2015 where a 20% population decrease over the past two generations is quoted.
With an estimated European breeding population of 140-310 pairs, this delightful little grey goose remains in serious trouble…
Mark Golley
24 Feb 2016
Please note: we put a lot of time and effort into sourcing and and producing the images, videos and graphics for each roundup. Some of you (probably Apple users) may notice some photos etc. that appear to have incorrect captions. Please try refreshing the page as they are correcty captioned. If after a refresh they are still showing the incorrect captions then please email us
Thanks to this week's contributors for their photos and videos.
Mark Darlston, Mike Langman, Davey Farrar, John Bowler, Peter Moore, Marcus Nash / The Bird ID Company, Nigel Sluman, Timothy White, Tim Taylor, Joe Stockwell, Fionn Moore, Graham Jepson, Ben Moyes, Andy Hood, Mark Leitch, Mark Pearson, David Gray, Jonathan Farooqi, Richard Mills, Martin Casemore, Hugh Harrop / Shetland Wildlife, Brian Rabbitts, Sean Nixon, Brian Martin, Jonathan Mercer, Mark J Palmer, David Stone, Michael Frosdick, John O'Mahony, Will Soar.