Birding round-up: 13 - 19 Jan 2016
The week at a glance
The Western Palearctic's first Vega Gull comes and goes in Co.Wexford, while Ireland's first Glaucous-winged Gull seems settled in Co.Cork
Two probable Thayer's Gulls are found in Aberdeenshire and Nottinghamshire
It's double drake Black Scoters in Co.Kerry and Fife
And the Mourning Dove in Shetland appears to have called it a day
A nation reacquainted itself this week with the novelty of scraping the ice off the windscreen in the morning, black ice, white lawns and slush on the pavement. Yes, winter was finally here in a form we dimly remembered from the long ago days when we used to get weeks of that stuff rather than months of incessant rain.
A cold snap at long last!
This would surely mix things up a little where the birds were concerned...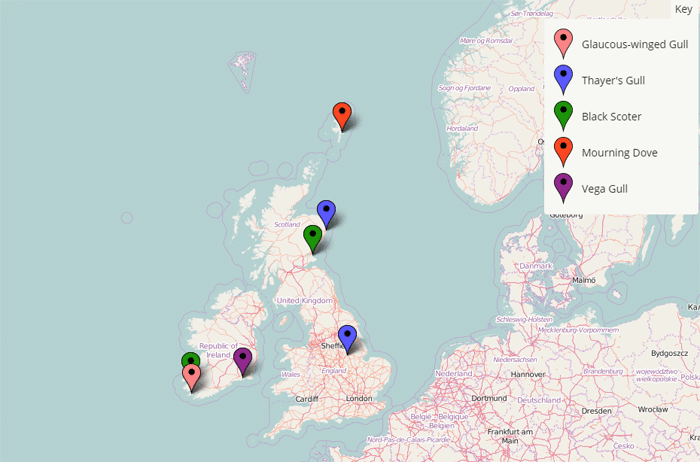 Vega Gull & Glaucous-winged Gull
Last week's astonishing find in Co.Wexford, the adult Vega Gull, is naturally top of the headlines again this week by virtue of a brief reappearance at Duncannon as the current week began afresh on 13th.
For anyone contemplating an 'on spec' trip to Duncannon, this would have felt very much like the proverbial needle in the haystack. A subtle gull amongst a large and mobile mass of it's common brethren? That's always going to be a challenge at the best of times.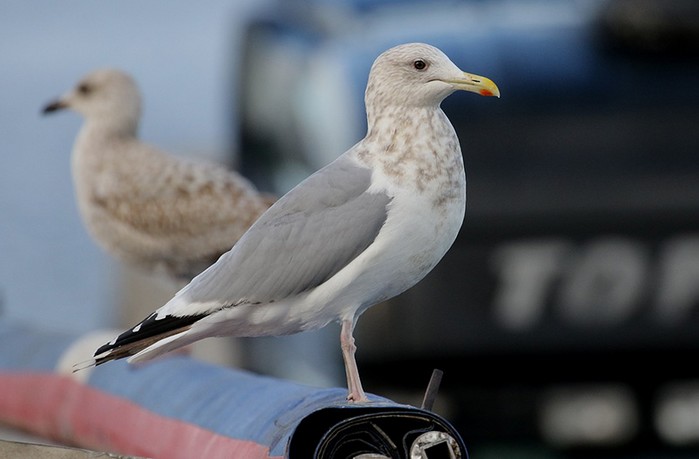 So, a first record for the Western Palearctic, but one that's not readily giving itself up. Gulls aren't everyone's cup of tea, I know – heresy! cry the larophiles - but this is already potentially bird of the year, and it's only mid-January. Killian Mullarney's superb account of the finding and identification of this individual is by turns thrilling and cautionary alike...
It'd be fascinating to see what BOURC would do were they to be placed back at the pointy end of the decision-making process were a good British candidate to be found someday soon – while the IOC afford Vega Gull full species status, BOURC currently are happy to leave it parked as a subspecies of American Herring Gull.
Sticking with Ireland before we head over to Britain and further breaking gull news as the week concluded, the Glaucous-winged Gull in Co.Cork's Castletown Bearhaven remained settled for another week. This would, had the Vega Gull played ball, have made for an intoxicating double for anyone thus inclined to travel to the Irish coast.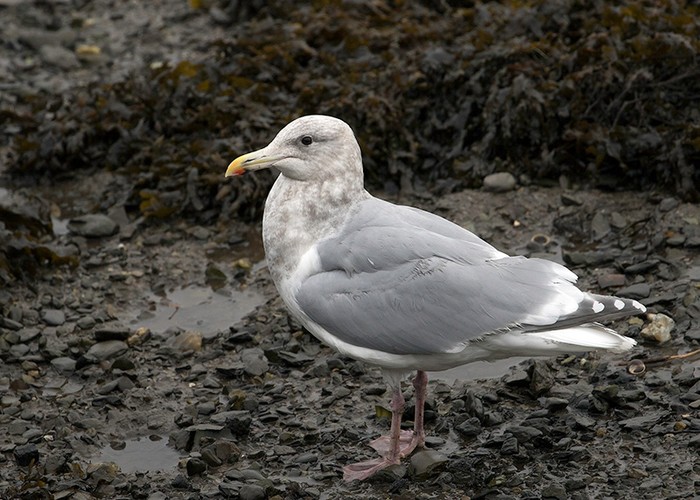 Still, the coming week's another week, and who knows... maybe Johnny Vega will start to follow the script? Maybe the Glaucous-winged will fill the supporting role for something else entirely? You certainly wouldn't bet against those keen-eyed Irish birders pulling something else out of the gull bag before this winter is over.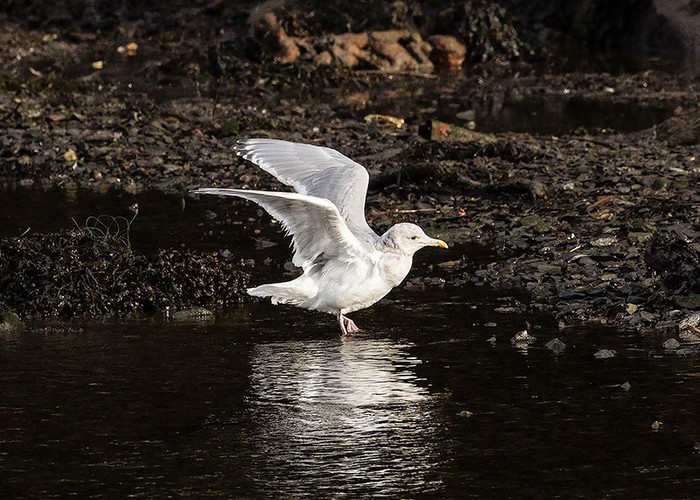 Thayer's Gulls
It seemed like a case of always the bridesmaid and never the bride for Thayer's Gull in Britain. Whereas up to the end of 2013 Ireland can boast nine accepted individuals of the species, poor old Britain retained a big fat zero. This of course changed with a series of recent records, of which the Essex and Lincolnshire birds are currently accepted:
November 2010, Pitsea (Essex) – an adult
April 2012, Elsham (Lincolnshire) – a juvenile
November 2013, Cley (Norfolk) – a juvenile
January 2014, Burry Holms (Glamorgan) – a juvenile
December 2014, Pugney's CP (West Yorkshire) – a juvenile
March 2015, Rufforth (North Yorkshire) – a juvenile
And to all these recent juveniles we can seemingly add at least another candidate as in the late afternoon of 19th a probable juvenile Thayer's Gull was found in Aberdeenshire at Donmouth; while the very same day a probable second-winter was seen briefly in Nottinghamshire at Cotham Landfill.
As the new week begins we wait with bated breath to see if either bird sticks around and if those probable statuses will upgrade into confirmed birds – smart money would suggest at least one will.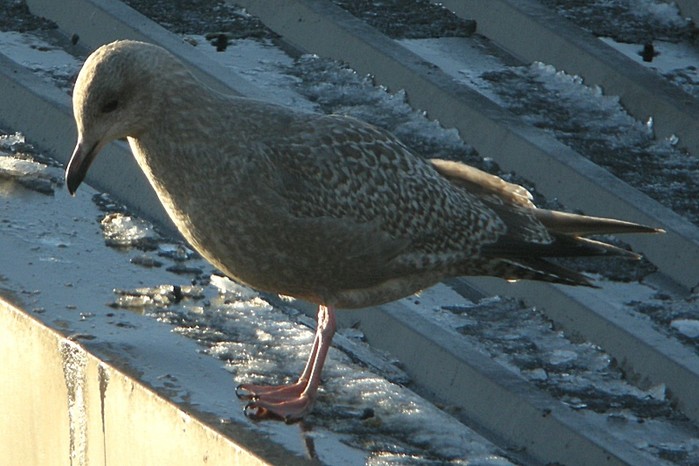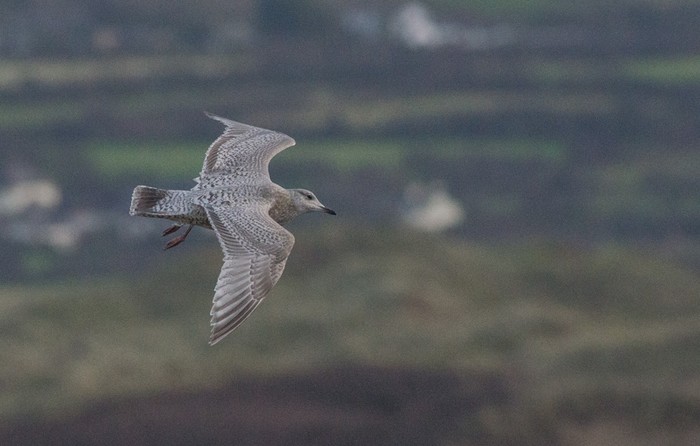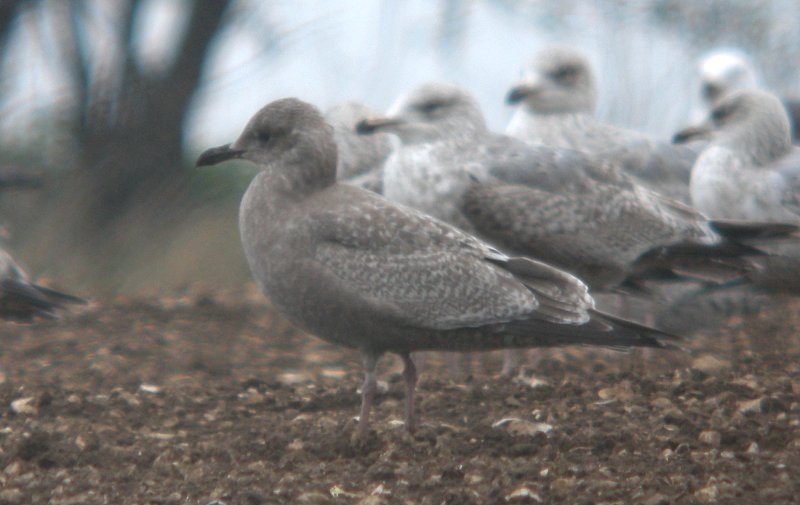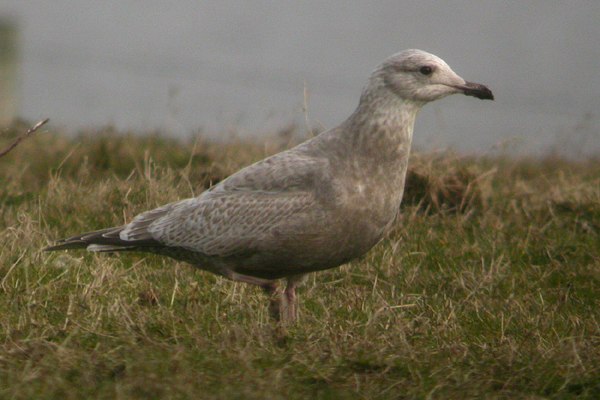 Black Scoters
I remember reading somewhere that there's no such thing as coincidence or fate; that we like to look for patterns in things to help our brains make sense of the world around us and to ascribe some sort of order to the sheer randomness of what's going on.
All the same, it's hard not to raise an eyebrow on a day that not one but two drake Black Scoters are found, hundreds of miles away from one another. Call that fate, call it what you will – we'll settle for calling it just rewards for hours spent behind the scope sifting through scoter flocks on the sea.
(And anyone who's invested time doing just that will know how thankless and uncomfortable that can be on a raw winter's day...)
The first of those birds found on 15th was, arguably, not entirely a surprise insofar as it's presumably the same bird seen at Rossbeigh (Co.Kerry) at the beginning and end of 2015 alike – an adult drake first seen on 8th January 2015, it was seen intermittently there until 3rd April; and then again there from 10th-30th October.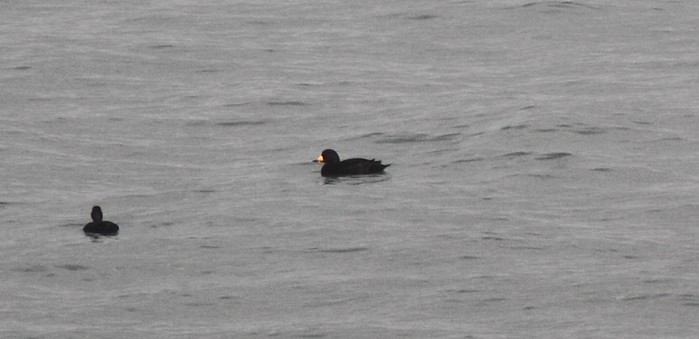 The day's second individual was miles away in Fife at Kinshaldy, with a supporting cast of adult and immature drake Surf Scoters - which are, if we're honest, what the dedicated scoter-scanner is realistically hoping for when they set up their scope. Fife's only previous record of Black Scoter comes from not so very long ago at all – a probable drake was seen on 23rd September 2015 in St.Andrews Bay.
With a mere 13 accepted individuals since the first record in Lothian at Gosford Bay in 1987, Black Scoter remains a genuinely rare beast in British and Irish waters. Compare that with another duck that also first passed muster in 1987 – paddle forward Lesser Scaup, which has in the same elapsed time period amassed 216 accepted British and Irish individuals to the end of 2014.
Mourning Dove
Mark, my Norfolk-based counterpart at RBA Rarity Round-up Towers, deserves an honorary mention this week. He's been gone a while and will be back to entertain you in just a few weeks time. For now though, he features in the Round-up by way of commiseration – as along with a number of other birders who, for one reason or another, couldn't get to Shetland before 15th January, it looks like he's missed the long-staying Mourning Dove in Lerwick.
Who saw that coming? Granted the seemingly settled Rufous Turtle Dove in nearby Scalloway did a Faroe flit in December, but that followed a brief interruption in the feeding routine in that bird's favoured garden when the generous householders who'd hosted it went away for a few days. No such disruption in Lerwick last week as the Mourning Dove's favoured garden remained a hive of bird activity at the well-stocked feeding stations.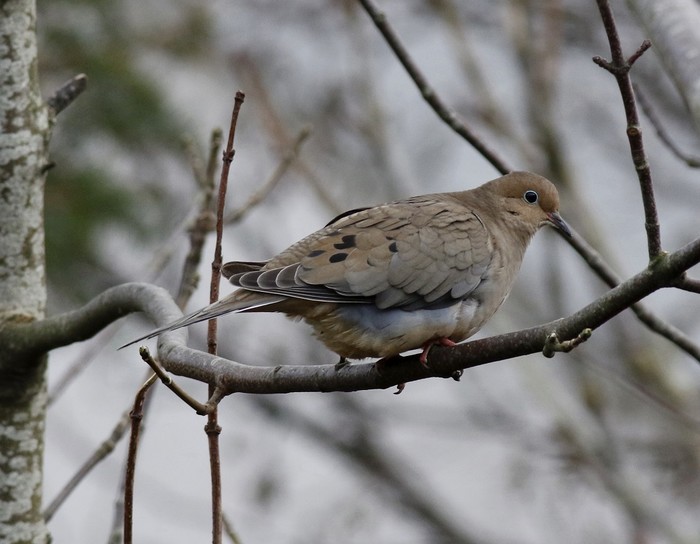 Come this weekend just gone, the dove appeared to have gone too. It seems inconceivable that it's just upped shop and moved on – with such a well-stocked food source and plenty of Collared Doves to hang out with, why would it? These things do happen, of course...
...as do Sparrowhawks and, as we've mentioned previously, there's at least one hanging out in the area at present. Hawks & Doves – fine if you're a fan of the great Neil Young, less so if you're a fan of the great Neil Young who also happens to still need Mourning Dove... Whatever's become of this, Shetland's first and Britain's fifth, one thing seems certain – it's gone.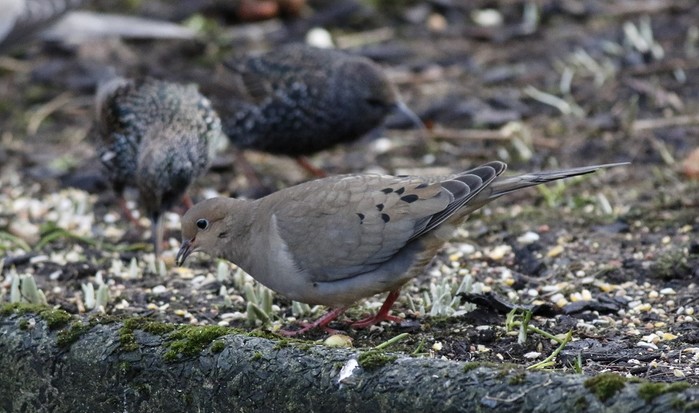 Fingers crossed it's merely relocated to another nearby garden. Though doubtless those Faroese birders would like a go at it too...
Top of the week's seabird class goes the regular wintering adult Pacific Diver still playing cat and mouse with observers in the Newlyn area (Cornwall) throughout the week, and welcome news on 19th of the individual again in Co.Galway off Kilcolgan Point.
At the opposite end of the country the regular White-billed Diver was seen again in Orkney off South Ronaldsay at St.Margaret's Hope on 16th. Two further birds were seen in the regular wintering site of the Bluemull triangle in Shetland on 17th.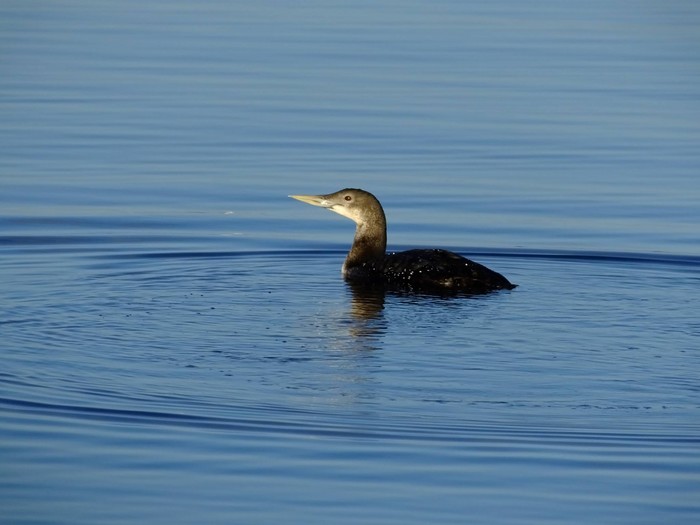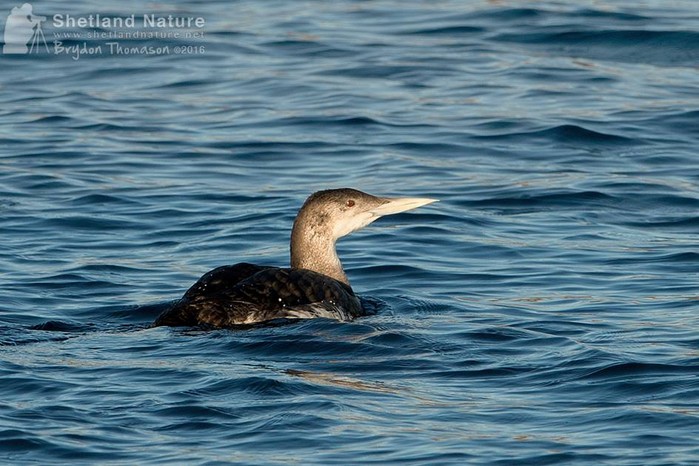 Numbers of Little Auks this week continued to fall away, with even reports of moribund individuals drying up. Daily tallies pushed just into double figures, with a predictable spike at the weekend doubtless a reflection of observer coverage. Their distribution was equally predictable with a north-easterly coastal bias – but a scattering of displaced individuals further south spoke eloquently of the aftermath of a genuinely massive movement of these diminutive Alcids - on 13th one was off Sheringham (Norfolk), while on 14th nine birds were seen passing the mouth of the River Witham in Lincolnshire; much further south on 17th single birds were seen off Brighton (East Sussex) and St.Michael's Mount (Cornwall). With around 100 birds in all noted nationwide, the week's biggest tally by some margin was 20 birds logged from Dalmore (Highland) on 16th.
A handful of Pomarine Skuas were logged this week, starting with one off Spurn (East Yorkshire) on 14th. On 16th a possible bird was seen in Glamorgan at East Aberthaw, with further singles that day at Porthgwarra (Cornwall) and Formby (Lancashire). On 17th one was reported from Thorpeness (Suffolk) with further individuals seen at Durlston CP (Dorset) and Lunan Bay (Angus).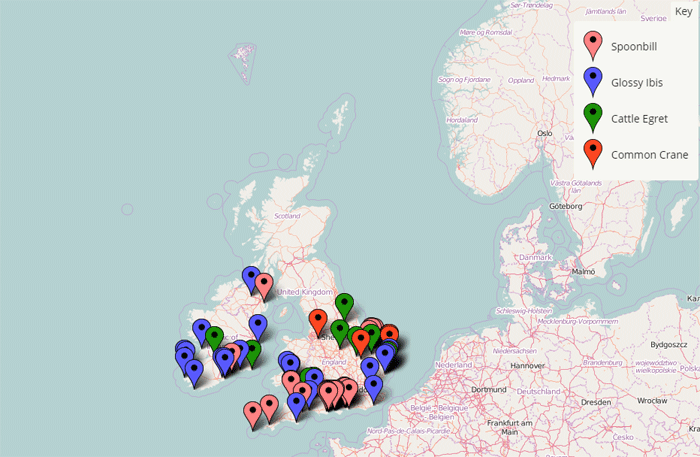 It's time once more to take a tour of rural Ireland to keep tabs on where the bulk of our week's Glossy Ibises have been cropping up. We'll start in Co.Waterford where five birds remained at Lisselan on 15th, with two remaining there until 17th. Further Irish duos were sitting tight at Lahinch (Co.Clare) still on 14th, and at Carrigtwohill (Co.Cork) until 19th.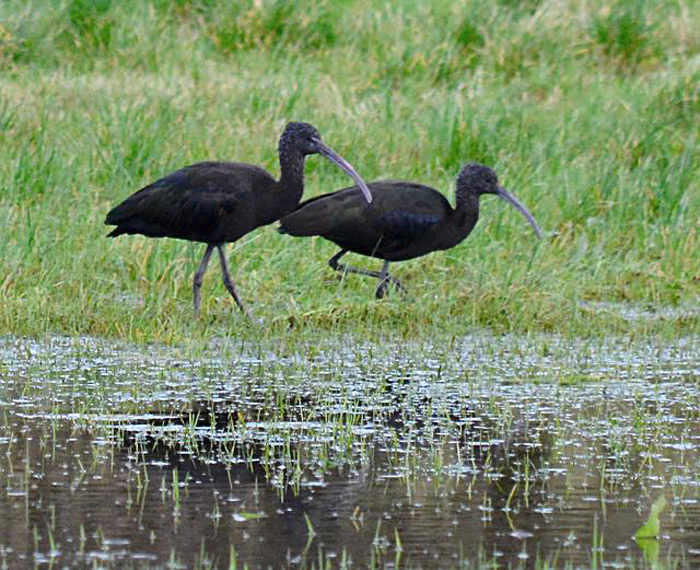 Co.Cork hosted further birds at Castlemartyr with five there on 14th rising to 10 by 15th, and then 14 individuals on 16th-19th. Co.Kerry had a pair at Murreagh on 15th-18th, with one at Valentia Island on 16th-17th. Two were in Co.Wicklow at Kilcoole on 16th, with two in Co.Londonderry on 17th at Toome and one of those still there on 19th. Back in Co.Cork one was again at Barley Cove on 18th.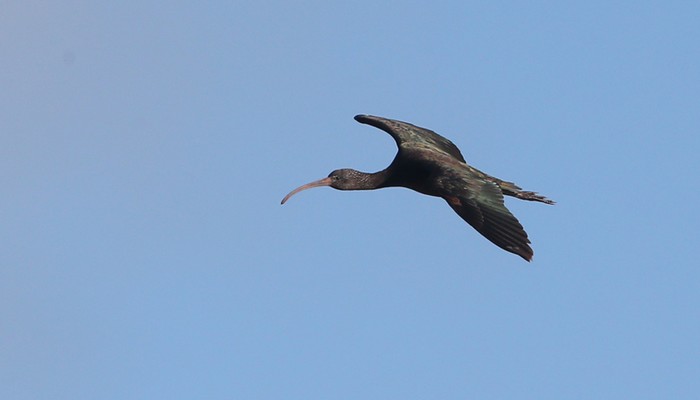 Welsh records this week came from Carmarthen with four noted over Llanelli on 13th, one at St.Ishmael on 16th, and two noted on 18th at the National Wetlands Centre – at one point hanging out with the Snow Goose collection. (Worth mischievously noting in passing (while asking why anyone really needs a collection of Snow Geese) that it's a good job the nation's ornamental wildfowl never escape or we'd really never be able to really give credence to any potential vagrant ducks and geese...)
English records came from Devon where one was still at Seaton Marshes on 13th-15th, and one noted at South Huish Marsh again on 14th. One was at Boyton Marshes RSPB (Suffolk) on 14th with one at Minsmere RSPB on 18th, and one at Wat Tyler CP (Essex) on 17th and again on 19th. The settled individual remained in East Sussex at Pett Level until 19th.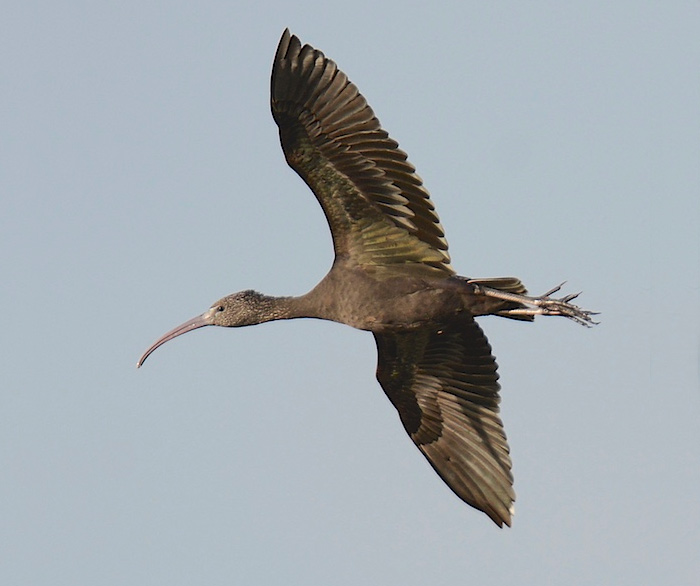 Cattle Egrets continued to feature modestly in the news this week with individuals from previous weeks remaining at several sites – the bird at Iken (Suffolk) remained there until 18th, while in Somerset one was still at Mudgley until 18th with a sightings again at Steart WWT on 17th-19th. In Devon one was seen once more at Powderham on 13th; up in Lincolnshire that day one was noted at Deeping Lakes NR. A possible bird was reported from North Yorkshire on 15th at Skipwith. The week's Irish records came from Limerick (Co.Limerick) on 16th-18th and Tacumshin (Co.Wexford) again on 19th.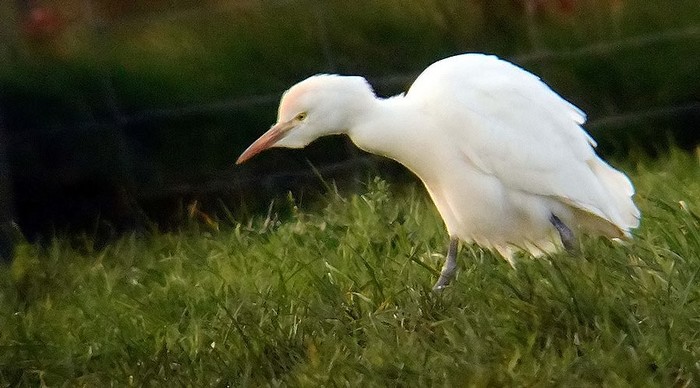 Dorset's Poole Harbour remained the nexus for all things Spoonbill - as usual this winter it fell to Shipstal Point to provide the peak count with 29 birds noted there on 15th. Other notable Dorset aggregations were on Brownsea Island with four birds there on 17th and in Holes Bay with eight there on 16th and four still the following day.
Devon provided sightings at Isley Marsh RSPB where three birds remained on 13th, and over Powderham on 16th where three were noted in flight. In Cornwall the immature bird remained at Hayle until 19th while one was still on Scilly on 13th on Samson. Moving east into Hampshire birds were logged daily in the vicinity of Pennington and Keyhaven and Oxey Marshes, with as many as three birds involved. Single birds were noted at Northney on 15th-16th and past Farlington Marshes HWT on 17th. One was again at Church Norton (West Sussex) on 18th.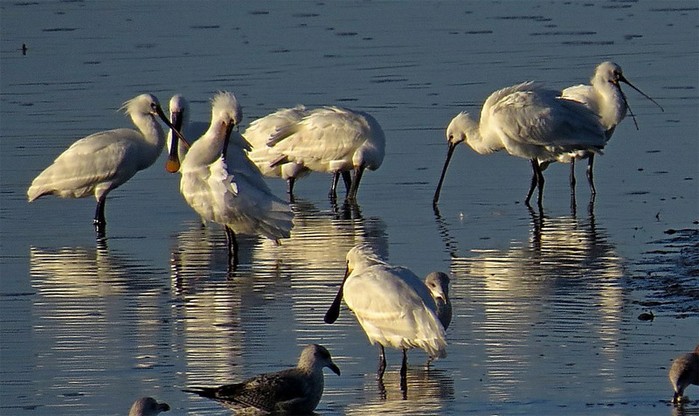 Four birds remained in Suffolk at Hazlewood Marshes SWT until 18th, whilst in Norfolk sightings of single birds came from Snettisham RSPB on 13th and Holme Dunes NWT on 15th. The week's only Irish records were the settled quintet at The Cunnigar (Co.Waterford) until 19th and one again at Castle Espie WWT (Co.Down) on 18th.
Another quiet week for Common Cranes with just a handful to report away from Norfolk – four were at Eldernell (Cambridgeshire) on 14th, and a single bird was seen in Cheshire at Barnton on 17th.
Things quietened down a little on the duckpond this week with, overall, rather fewer records of honkers and quackers alike – but nonetheless, some new faces to be seen amongst our now regular fare.
Speaking of which, we start with two geese that are, depending on one's perspective, either regular wanderers from captivity or all-too-readily dismissed wild birds: a Red-breasted Goose was in Essex on 13th-17th at Montsale and Foulness with some 3,000 Dark-bellied brent Geese; and a presumed escapee Ross's Goose was hanging out with the Greylags in Suffolk on 17th at Mickle Mere.
Cantering through the rest of the week's geese, the adult white Snow Goose was still in Cumbria around Burgh Marsh on 13th, while the white morph was again reported near Kirkwall on Orkney on 17th. The four blue morphs were again noted in Aberdeenshire on 17th at Loch of Skene.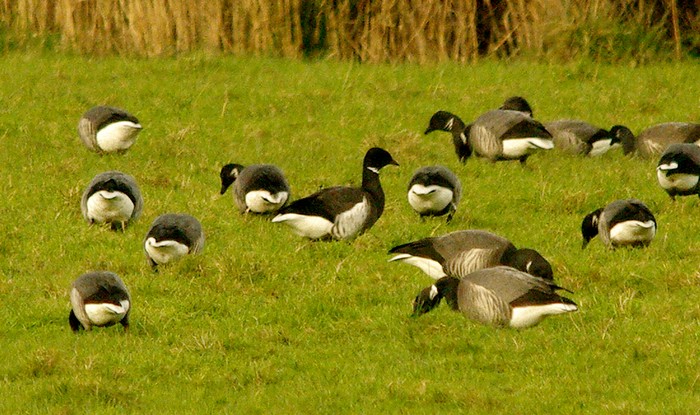 A meagre three Black Brants were reported this week – one was again at Farlington Marshes HWT (Hampshire) on 16th, with one that day also in Devon at Darts Farm RSPB and at Topsham on 17th. One was seen in Lincolnshire on 17th-19th at Donna Nook.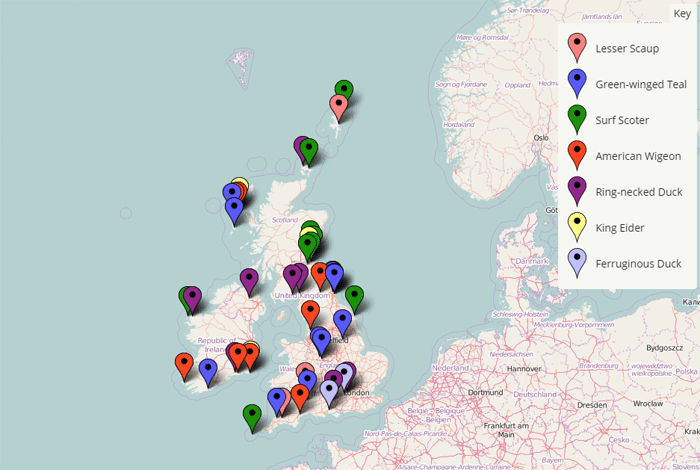 Three Lesser Scaups were noted this week, all familiar and settled birds – the Cornish drake remained at Dozmary Pool until 19th; the drake was again seen in Glamorgan at Cardiff Bay Wetlands NR on 13th-19th and at Cormeston Lakes CP on 18th; and in Shetland the first-winter drake was again noted on Mainland at Loch of Houlland on 16th.
Numbers of Ring-necked Ducks increased modestly this week with ten in all logged in Britain and Ireland. Two Scottish birds remained at Loch of Skaill (Orkney) until 16th and Caerlaverock WWT (Dumfries & Galloway) until 19th respectively, with a first-winter drake on 19th at Carlingwark Loch (Dumfries & Galloway). In England the drake remained at Bray GPs (Berkshire) until 19th while the two females were settled still at Rooksbury Mill LNR (Hampshire) until 17th. In Ireland a drake was at Carrowmore Lake (Co.Mayo) on 13th; another drake at Knockaderry Lake (Co.Waterford) on 15th still had doubled into two drakes there the following day; while on 18th the drake was again noted at Lough Beg (Co.Londonderry).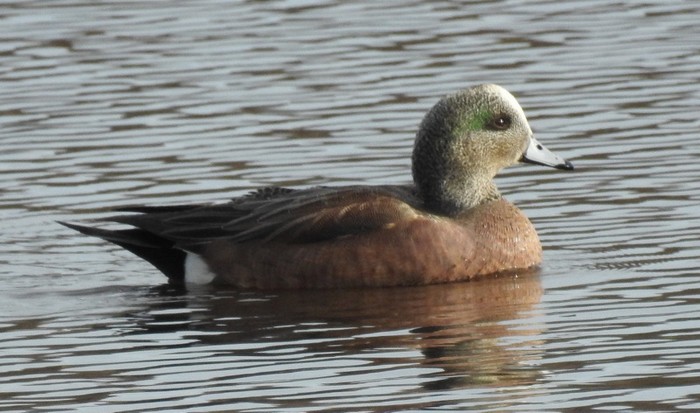 Once more, the drake Ferruginous Duck remained on the lakes at Blashford HWT (Hampshire) again all of this week.
Seven American Wigeons were logged this week: we start with the first-winter drake still in Devon on 13th at Bowling Green Marsh RSPB; moving north, the drake remained in Northumberland at Grindon Lough until 19th, while on 16th-17th one was in Lancashire at Hesketh Out Marsh RSPB. A drake was on North Uist at Loch Portain still on 19th. Irish individuals were seen at Lisselan (Co.Waterford) on 13th-16th, on the Inny Estuary (Co.Kerry) on 16th, and on 16th-17th at Tacumshin (Co.Wexford).
Top of this week's reports of Green-winged Teals figuratively and literally are the trio from previous week up in Orkney – still on Loch of Skaill on 13th, with two remaining there on 18th. Heading south, our regular drake was still at Caerlaverock (Dumfries & Galloway) until 19th, while over in the Western Isles one was on South Uist at Loch Bee on 16th-17th.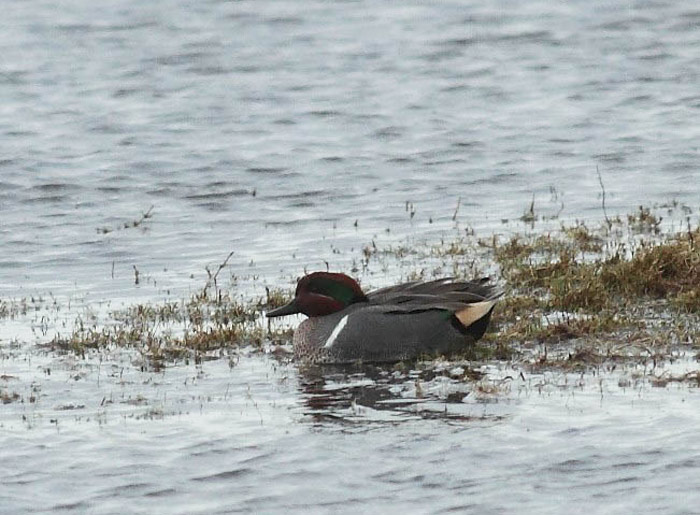 One remained in Northumberland at Backworth Pond on 13th, while that at Boldon Flats NR (Co.Durham) slipped back and forth over the county line to Rising Sun CP (Northumberland) and Jarrow (Co.Durham) off and on during the week. On 16th single birds were seen at Aqualate Park (Staffordshire) and in Somerset at Steart WWT; one was noted on 13th in Staffordshire at Belvide Reservoir; and on 18th one was at Idle Valley NR (Nottinghamshire) while the Cornish bird remained at Walmsley Sanctuary on 18th-19th. Our only Irish record was one still on White's Marsh (Co.Cork) on 14th-16th.
With no reports from Wales once again this week we begin our run through the Surf Scoters in Lothian again, where the drake was again in Gullane Bay on 13th and one remained off Musselburgh through to 17th. A drake and a first-winter drake were in Fife off Kinshaldy on 15th-16th, while the adult drake remained off Ruddon's Point on 13th-17th. The drake was seen again in Shetland off Unst's Easting beach on 13th, while a drake was seen in Orkney on 16th in the Bay of Kirkwall. The first-winter drake remained off Filey until 18th, and a drake was off Doolough (Co.Mayo) on 19th. Perhaps the week's most notable record was a first-winter drake in Scilly on 16th-18th, seen on those days off St.Martin's and St.Mary's – this is the first record for the islands since 2004.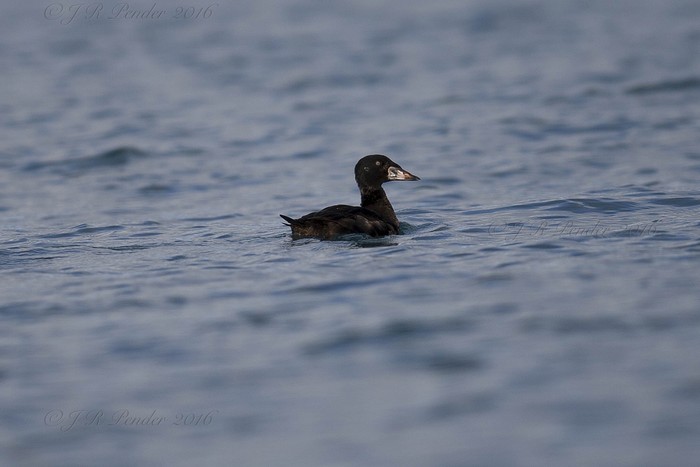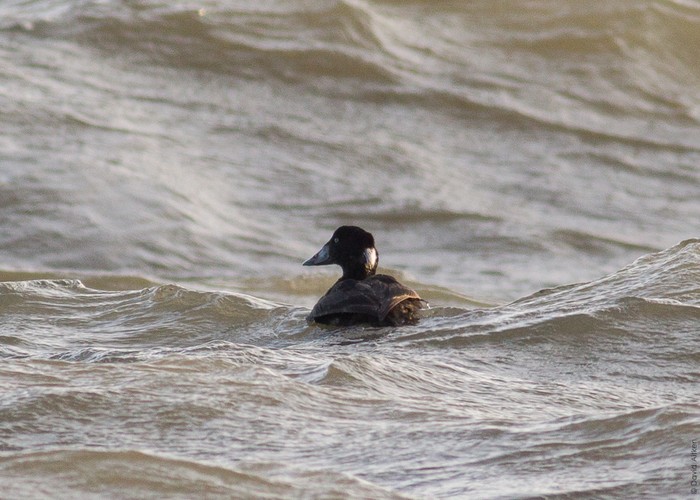 We conclude with no fewer than three queen King Eiders seen this week – were there ever more queens recorded in a week in Britain? I think not... One remained off Ruddon's Point (Fife) until 17th, while one was noted from the ferry in the Sound of Harris (Western Isles) on 15th, and one was at Rosslare (Co.Wexford) on 14th-19th.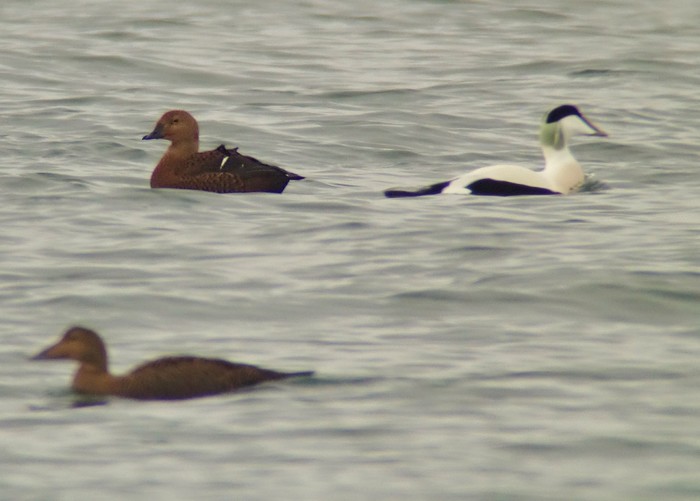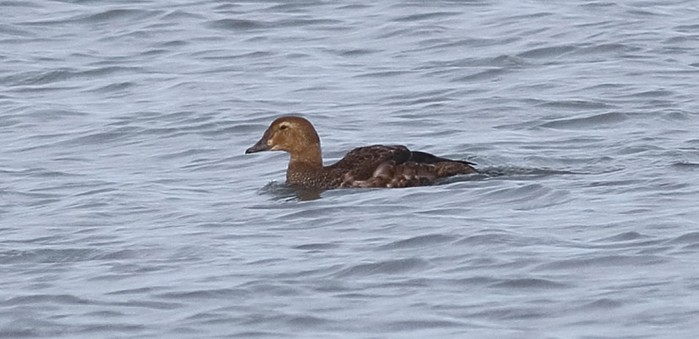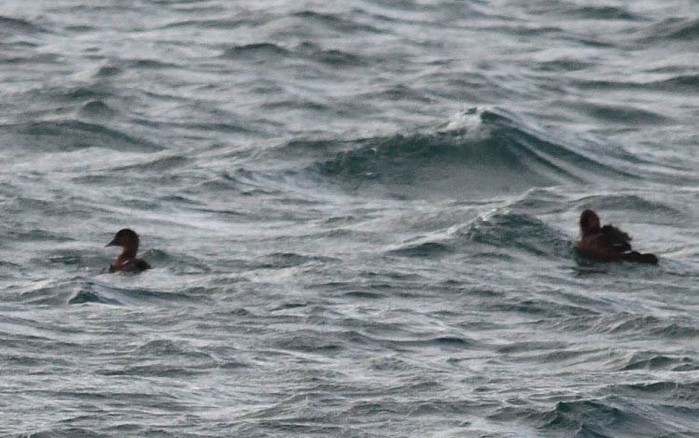 Cornwall's Hudsonian Whimbrel heads up the week's shorebird news – the newly rediscovered individual lobbed around the Marazion area on 16th-19th.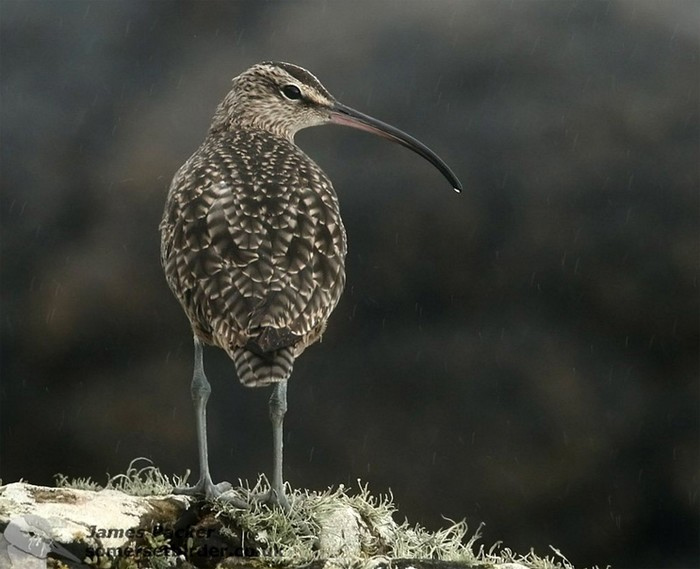 With no sign of the Isle of Wight's Greater Yellowlegs this week on the River Medina we turn to Norfolk for our weekly yellowshank fix – a Lesser Yellowlegs graced Burgh Castle on 17th-19th.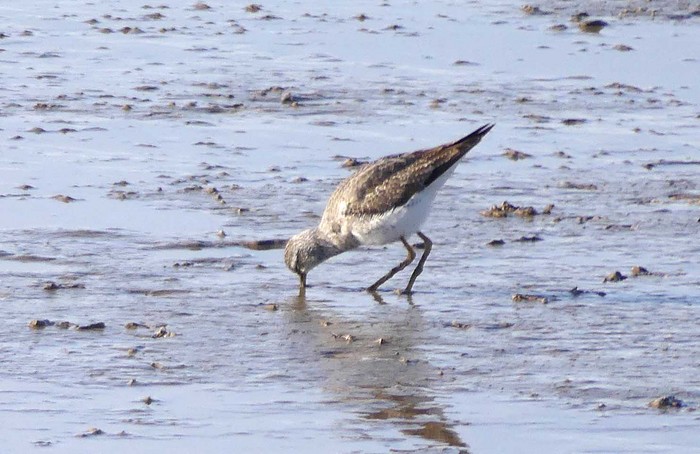 Up in Northumberland the wintering first-winter Long-billed Dowitcher was settled at Cresswell Pond NWT for the week, while the first-winter individual was again seen in Hampshire at Pennington Marshes on 16th and again on 19th.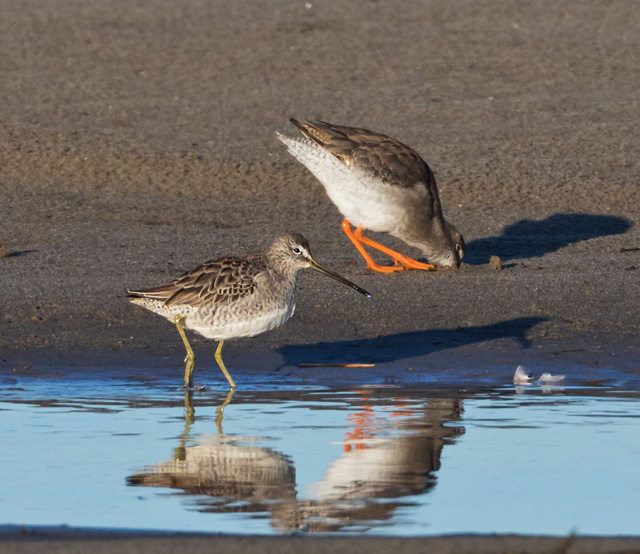 Slimmer pickings than of late for Grey Phalaropes this week – the Slimbridge WWT (Gloucestershire) individual remained there on 13th, with one that day also at Filey (North Yorkshire); on 15th-17th one was on the Fleet (Dorset) while on 16th-19th one bobbed around Cley Marshes NWT (Norfolk); and on 17th one was noted at Bamburgh (Northumberland).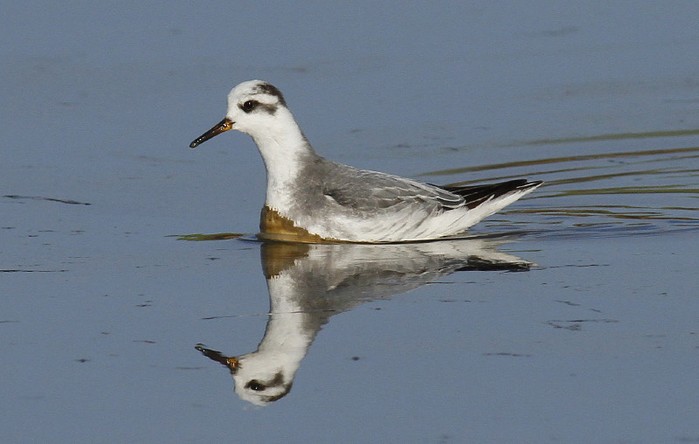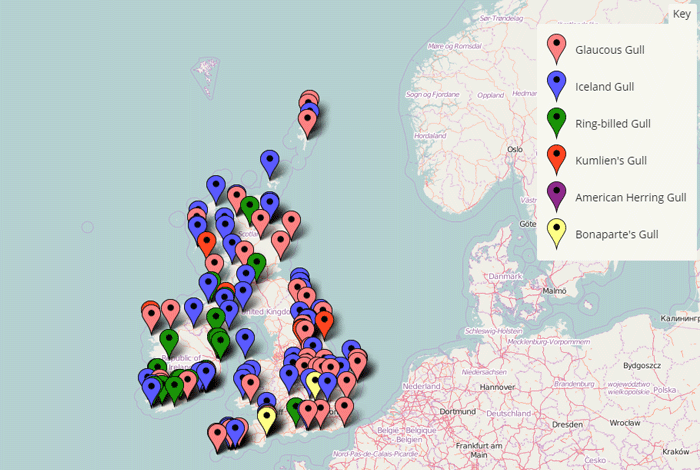 In another week that featured top notch gulls in the main headlines we'll kick off the Gulls & Terns with some more large gull action – the third-winter American Herring Gull was again seen in Cornwall on 14th at St.Just.
Two adult Bonaparte's Gulls remained on offer this week – the Hertfordshire / Buckinghamshire border-hopper remained (mostly) at Wilstone Reservoir on 13th-16th, while the Dawlish Warren NNR regular in Devon mooched around the area until 17th at least.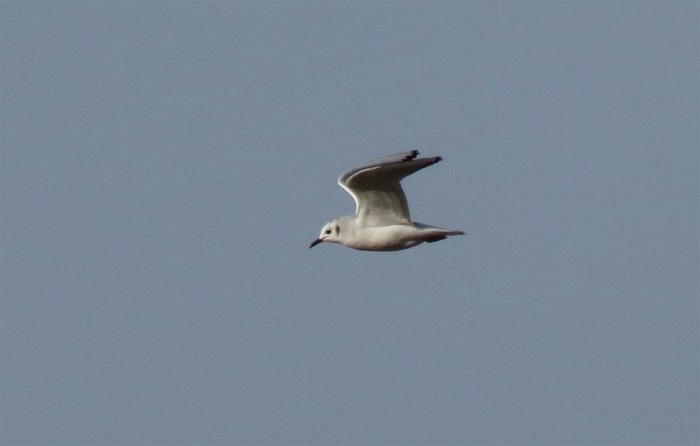 Once again it was predominantly all about Ireland where Ring-billed Gulls were concerned; of the 28 recorded this week, fully 24 were over in Ireland. On 13th the second-winter was again in Co.Louth at Blackrock; on 14th an adult was in Cork City (Co.Cork) with a second-winter there on 18th; and an adult remained at Duncannon (Co.Wexford) on 14th-17th. Three birds (two adults and an immature) were again noted at Tralee Bay Wetlands (Co.Kerry) on 15th with two adults and a second-winter there on 16th-19th.
Adults were again at Sandymount (Co.Dublin) on 16th; at Carrickfergus (Co.Antrim) on 16th-18th; on 16th-18th at Bray (Co.Wicklow) and Castletown Bearhaven (Co.Cork) and further adults that day at Ring and Timoleague (Co.Cork) and Drimnagh (Co.Dublin). 16th laid claim to the week's biggest tally by a country mile for the species – five birds (four adults and a second-winter) were at Nimmo's Pier (Co.Galway).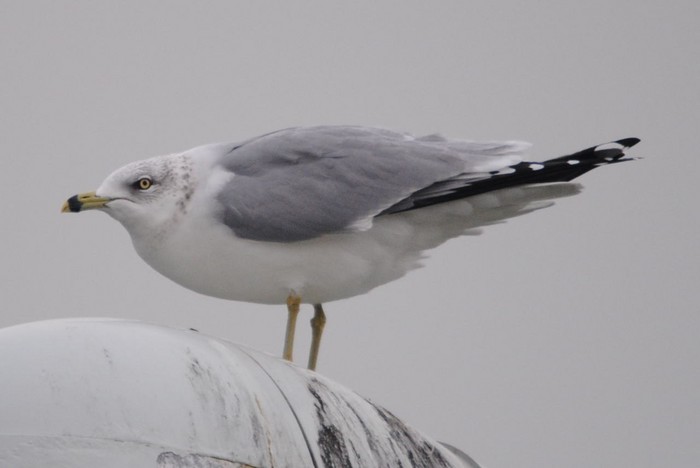 On 17th an adult remained in Co.Cork at Bantry, while on 18th an adult was in Dublin (Co.Dublin). Two adults were again at Blennerville (Co.Kerry) on 19th, with one still that day at Portrush (Co.Antrim).
English birds remained settled this week – the first-winter remained in Cornwall at Newlyn and latterly Sancreed while the Hamsphire adult stayed at Blashford Lakes HWT until the week's end. Up in Scotland adult birds stayed put at Strathclyde Loch (Clyde) and Dingwall (Highland) until 17th.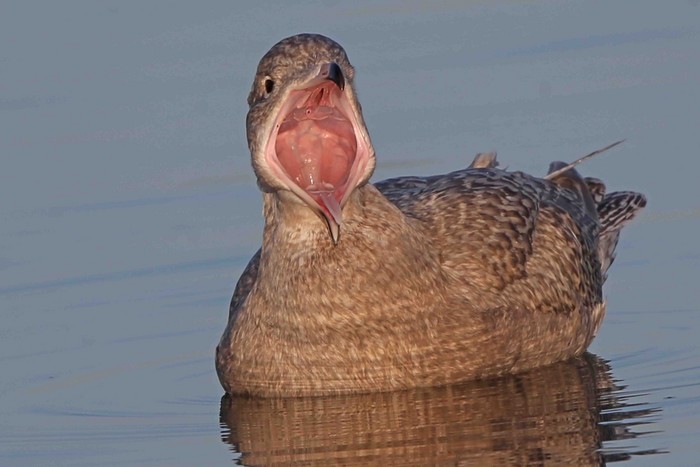 Numbers of both regular white-wingers remained pretty similar to last week, with a marginal increases of Glaucous and Iceland Gulls alike.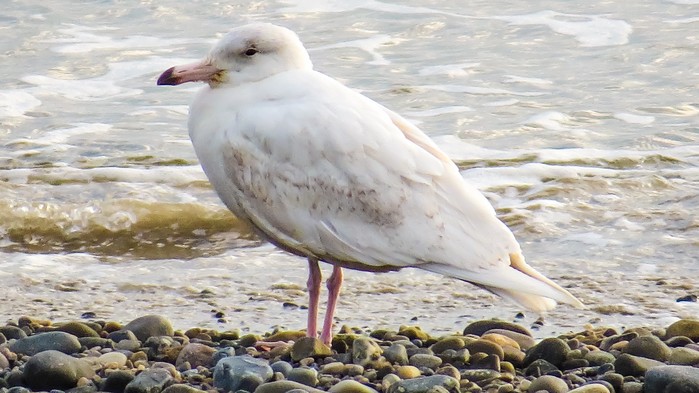 Taking the Glaucous Gulls first, around 60 birds in all were recorded with a similar widespread pattern of occurence from Scilly to Kent to Shetland and most points in between - taking in 18 English, seven Scottish and five Irish counties including the usual inland as well as coastal suspects. Rufforth once again hosted three birds in North Yorkshire on 18th; further trios were at Dungeness (Kent) on 14th, still on Yell at Cullivoe (Shetland) on 16th, and also on 16th at Duncannon (Co.Wexford).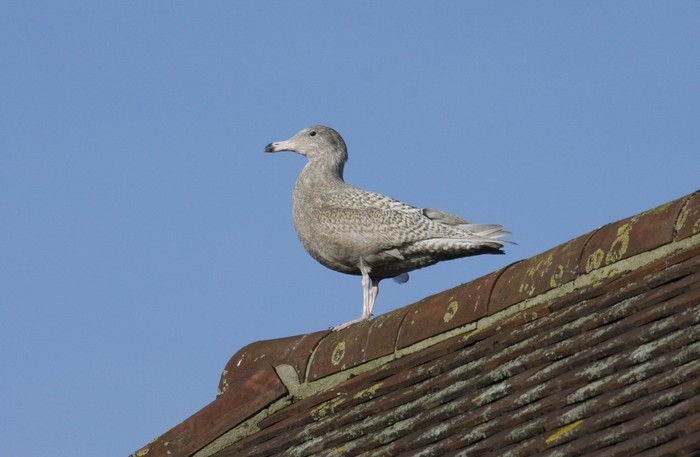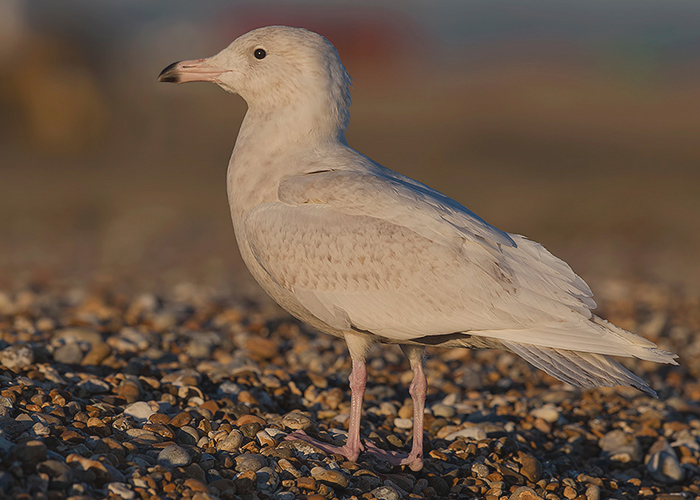 Iceland Gulls stayed constant with around 80 birds noted in the course of the week – if anything even more widespread in their distribution than Glaucous Gull, taking in 15 English, 10 Scottish, 10 Irish and four Welsh counties. Attention focused on Duncannon (Co.Wexford) yielded the week's peak count with four birds there on 16th; three were at Dunmore East (Co.Waterford) on 15th, while duos were noted at Rufforth (North Yorkshire) on 13th, on 14th at Mallaig (Highland), at Ardglass (Co.Down) on 15th; and on 16th on the Lossie estuary, at Loch Spynie (Moray), and in Ireland at Enniskillen (Co.Fermanagh) and Nimmo's Pier (Co.Galway).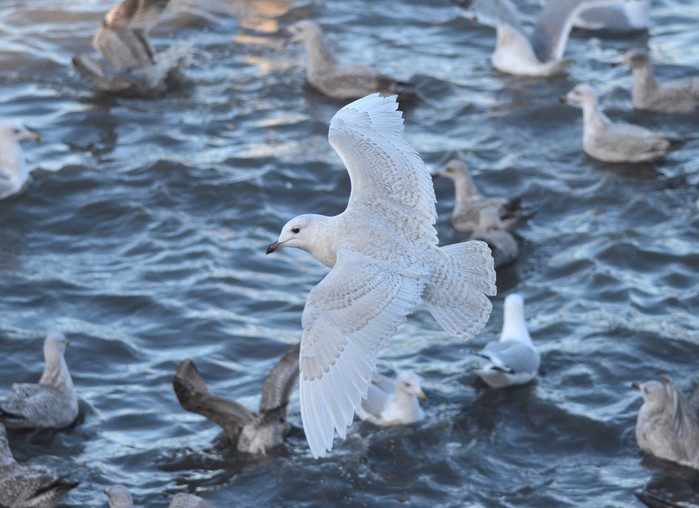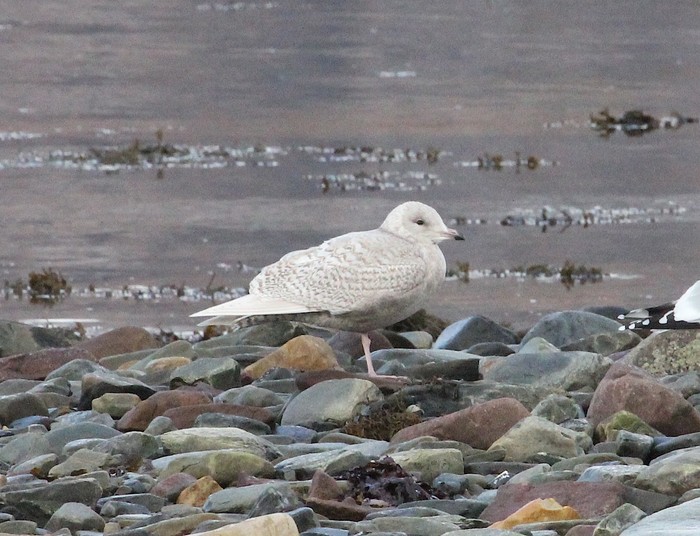 Two of last week's Kumlien's Gulls stuck around this week – the juvenile at Anglers CP (West Yorkshire) remained there until 15th, being noted at Wintersett Reservoir on 17th; while in ireland the second-winter was again at Ballygalley (Co.Antrim) on 16th-18th. New birds were noted on 13th when a third-winter was at Annagh Marsh (Co.Mayo); on 17th with a near-adult at Hornsea Mere (East Yorkshire); and on 18th-19th when a juvenile was logged on Tiree (Argyll & Bute).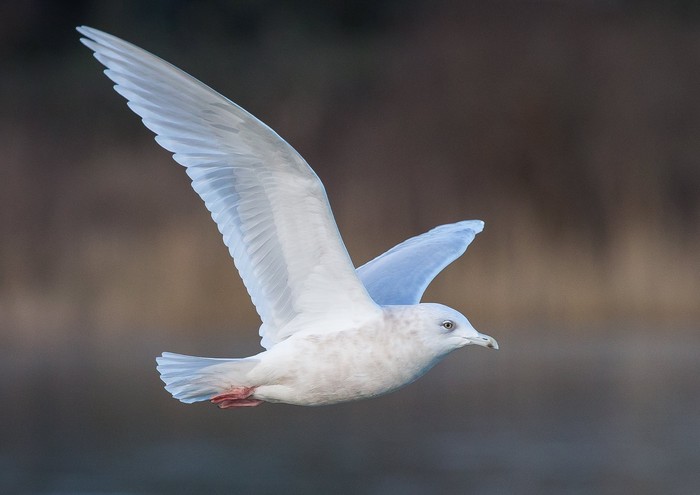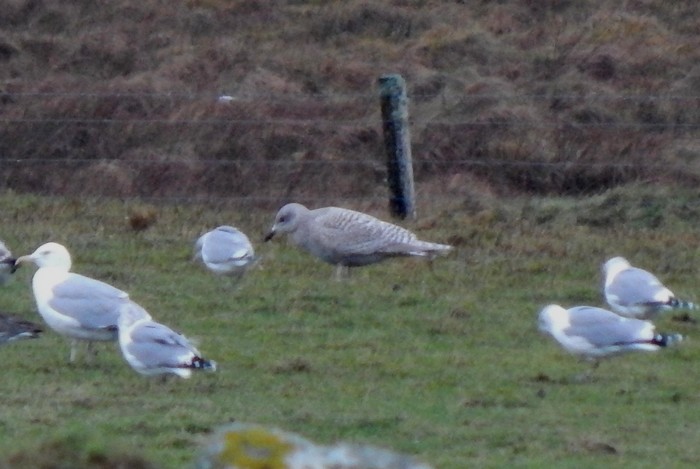 Everything remained pretty much as-you-were where our week's rare and scarce raptors were concerned – and we'll start in the Western Isles where, for the sake of variety, a white Gyr was on South Uist at Loch Bee on 15th and reported again at Loch Bornish on 18th rather than on North Uist as of late.
Back in Norfolk the juvenile Pallid Harrier remained at Flitcham more or less daily, while more startling news emerged on 19th of a juvenile bird photographed on 17th at Lakenheath Fen RSPB (Cambridgeshire).
Norfolk was again the epicentre for sightings of Rough-legged Buzzards: one or two were reported daily at Choseley, with further sightings coming from Thorpe Marshes and Caister St.Edmund on 15th; Breydon Water RSPB on 16th; and Blakeney Harbour and Docking on 18th. The juvenile remained at Holland Haven CP until 17th, with a further English record coming from Bamburgh (Northumberland) on 18th. The recent Shetland individual was again seen at Sullom on 16th.
Alas my predicted rare thrush wasn't found during the week's cold weather, but at least one new, scarce winter passerine species was forthcoming – on 13th-14th Darts Farm RSPB in Devon played host to an often elusive Little Bunting, with another individual in Ireland on 16th on Tory Island (Co.Donegal). I bet there are one or two others lurking out there... inducement for inland birders to go check out their local game cover strips.
The two Gloucestershire Penduline Tits remained at Horsebere Flood Alleviation Pool until 19th, providing a welcome opportunity for birders local and from further afield to enjoy British time with this always charismatic species. Meanwhile two remained in Kent at Dungeness RSPB until 15th, while the Titchfield Haven trio in Hampshire grew to a full quartet on 19th. Long mooted as a potential British colonist, one wonders whether that'll come to pass any time soon, if at all.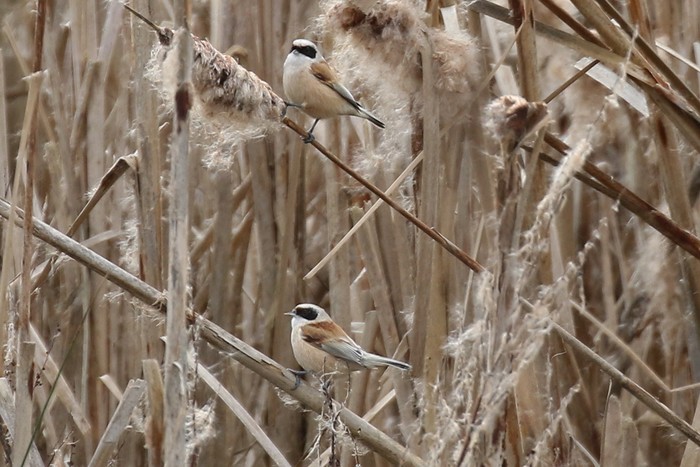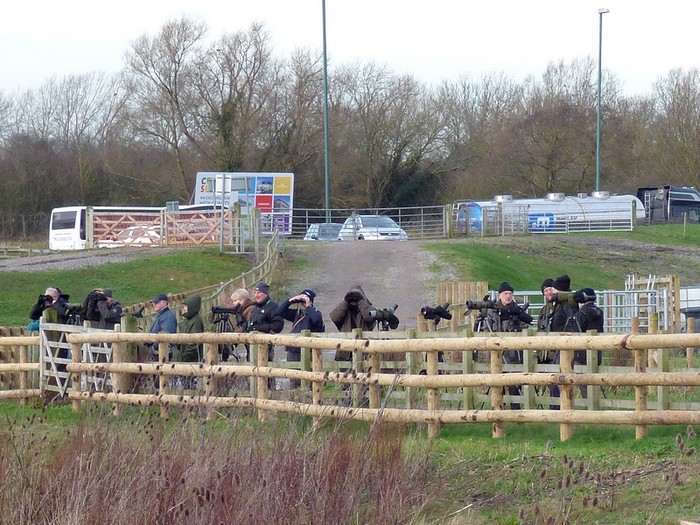 The week began with both the Dusky Warbler in Somerset at Ham Wall RSPB and the Pallas's Warbler in Cheshire at Heswall still present on 13th. That wasn't to last though, with no further reports of the Pallas's and the Dusky reported until 16th only but not thereafter.
Sightings of Yellow-browed Warblers were dwindling too, apart from in the traditionally mild recesses of Cornwall where in addition to the wintering bird at Hayle (still present on 18th) there were further birds to be found at Mousehole on 13th and on 16th at St.Levan, Macannan and Ponsanooth – the latter bird still present on 17th also. Elsewhere single birds remained in Yeovil (Somerset) and Eastleigh (Hampshire) until 16th while last week's Irish individual stuck around in Co.Kerry at Lough Leane until 15th.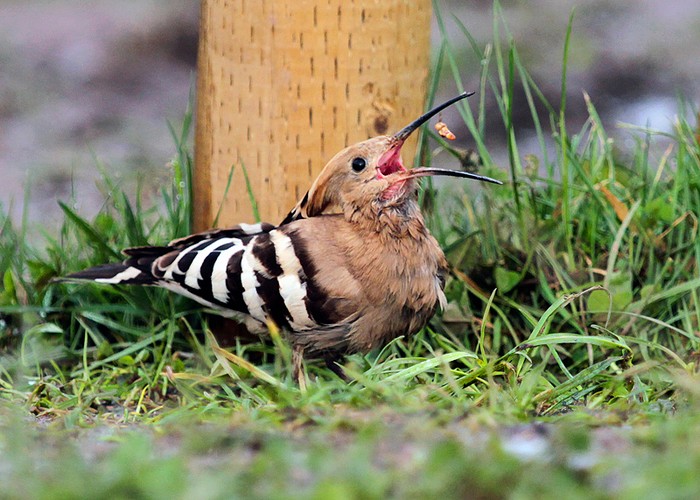 A drop in the mercury didn't deter our tough wintering Hoopoe at Wall Heath, Hinksford (Staffordshire) – still there as the week drew to a close.
Waxwings were noticeable this week only by their almost total absence from the news - single birds in Norfolk on 13th at Taverham and Trimingham followed by five flying over East Chevington NWT (Northumberland) on 17th, with one or two stragglers on 19th in Lerwick (Shetland). Grim days indeed for fans of funky Bombycillids.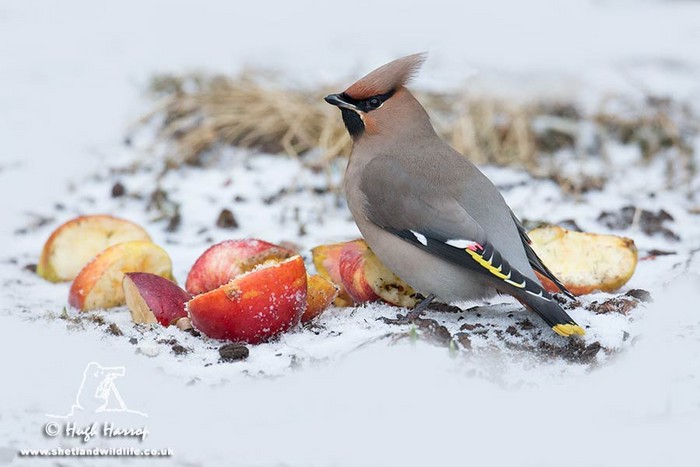 East Yorkshire's Flamborough delivered, if not much by winter colour, then certainly plenty of quantity as numbers of Richard's Pipits there grew to three individuals from 15th-19th. One meanwhile remained in Kent at Shell Ness until 19th also.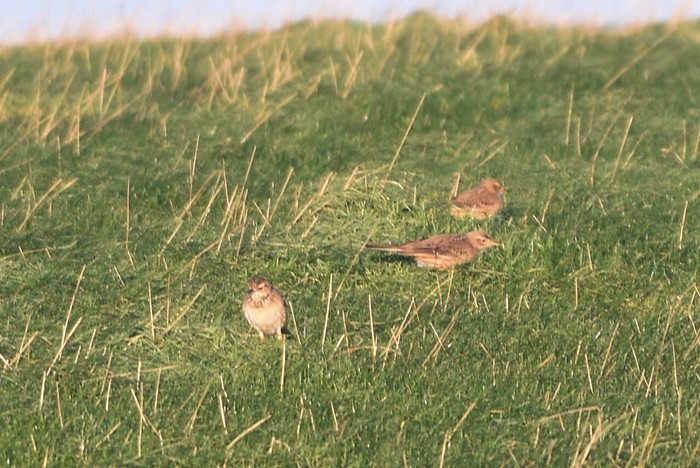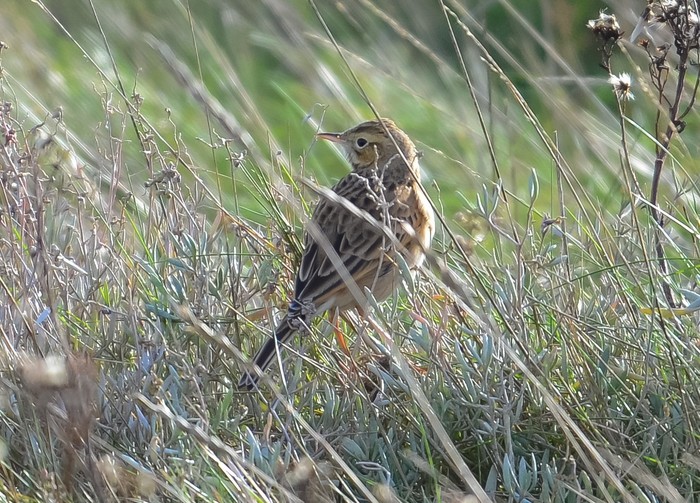 One Black-bellied Dipper was singing in Shetland at Voe on the Kirkhouse Burn on 14th-19th. A Dipper reported from Orkney on 18th at Eastside on South Ronaldsay was intriguing.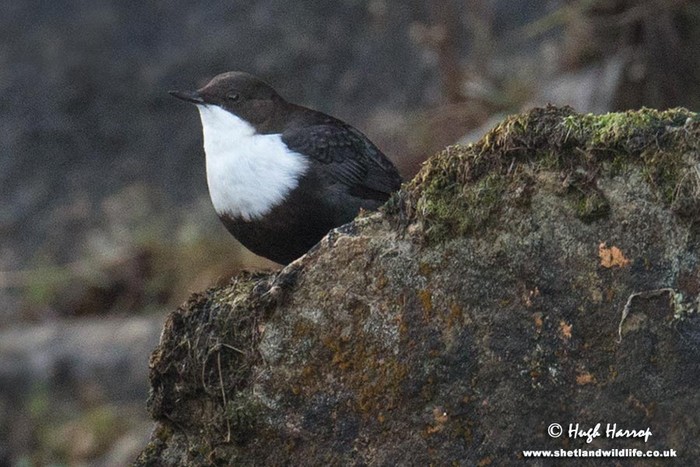 With around 20 Great Grey Shrikes reported this week the wintery feel was a little more pronounced than hitherto – the individuals in the traditional wintering stations of Thursley Common (Surrey) and Ashdown Forest (East Sussex) were both still present and correct this week, as were the regular birds in the Crabtree Hill environs of Gloucestershire and around Shatterford (Hampshire).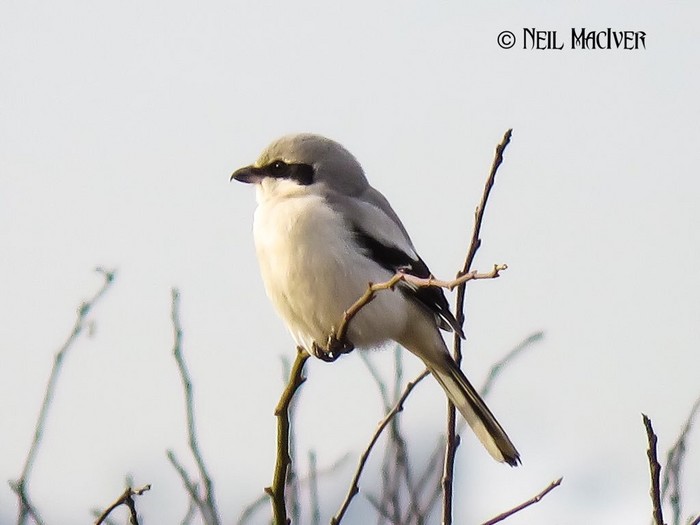 Further reports came on 13th from Pullborough Brooks RSPB (West Sussex), Ashley Warren (Hampshire) and Cheddar Gorge (Somerset); on 13th-16th crossing the Norfolk / Suffolk border around Santon Warren and Santon Downham; and on 13th-17th at East Linton (Lothian). One at Edgware on 14th-19th was an excellent London bird.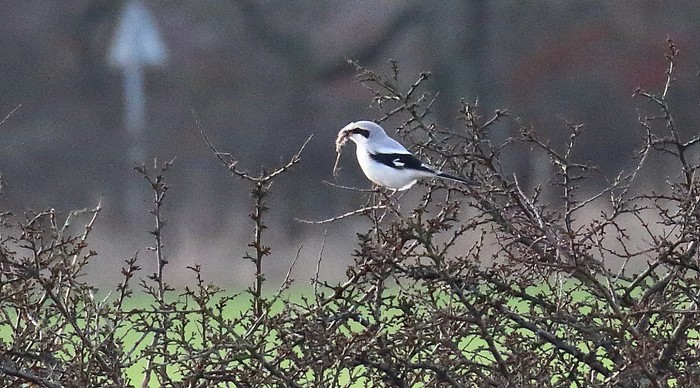 Birds were noted on 16th at Big Moor (Derbyshire) and Rockford Common (Hampshire), and on 16th-19th at Cropton (North Yorkshire). On 17th further individuals were on Morden Bog NNR (Dorset) and Old Warren (Bedfordshire), with another on 17th-19th in Essex at Heybridge Basin. The week ended with a further Norfolk bird at Cockley Cley Warren on 19th.
Sightings from Wales came this week from Cynghordy (Carmarthen) on 15th, Wentwood Forest (Gwent) on 16th-19th and two birds in Brechfa Forest (Carmarthen) on 19th.
More unseasonal fare came in England's growing winter population of Serins - now up to a mighty three individuals with the two Cambridgeshire birds at Fen Drayton Lakes RSPB still there until 17th and another bird in Norfolk at Downham Market on 17th-19th.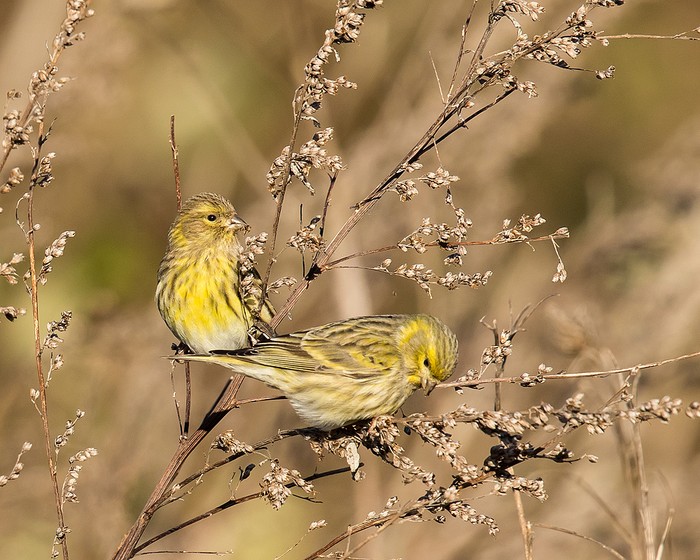 Meanwhile in Northumberland the Coues's Arctic Redpoll remained at Birling Carrs this week on 16th-19th. Oh for a lovely unequivocal Hornemann's snowball!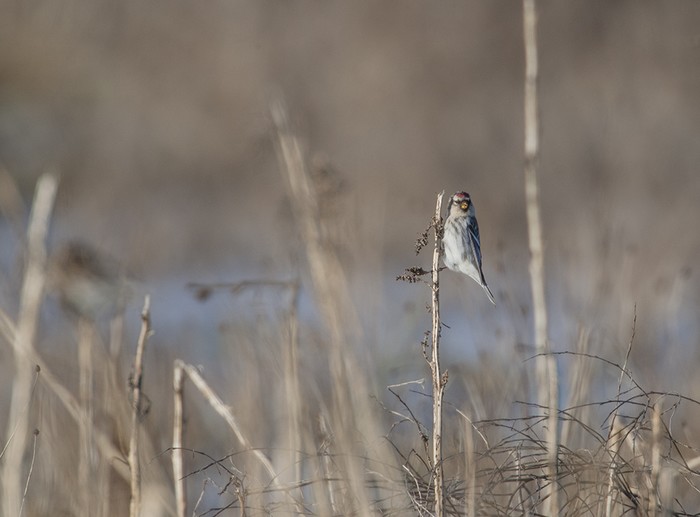 The coming week…
Sheesh, so near and yet so far... if only that American Robin reported in Co.Dublin this week on Skerries on 14th had firmed up a little I'd have had some proper 2016 Predictive Bragging Rights.
Meh.
While this week the sensible money would probably be on something from colder climes wafting our way – there are plenty of past records for the coming week of Gyr, Snowy Owl and Ross's Gull - any week that has Golden-winged Warbler in its locker demands we raise our sights a little higher.
The finding of said wintering warbler in Larkfield (Kent) on 24th January 1989 is one of the all-time classic birding tales. A bird of eye-watering rarity and beauty to boot – in the wrong county (never mind continent) at completely the wrong time of year too. American warblers turn up on Scilly in September and October, right?
Wrong.
There've been a few midwinter American warblers now (heck, there was a Common Yellowthroat suppressed nearby in Sittingbourne at the same time as the Golden-winged Warbler in 1989) so we know that very occasionally the planets align and something magical can happen.
And if it's not a warbler, there's always the chance of an American sparrow – Exhibit A being the recent White-throated Sparrow in Somerset found on 23rd January 2013 at Churchstanton; Exhibit B being the White-crowned Sparrow found in January 2008 in Cley (Norfolk). Both stuck around for plenty of time too.
So this week the moral isn't necessarily the usual winter exhortation to get to the reservoirs and look for ducks, or the coast to look for gulls – nope, this week I want you scouring your local gardens, hedgerows and supermarket car parks. There's gotta be a quality Yank passerine out there somewhere... Let's dare to dream big this week.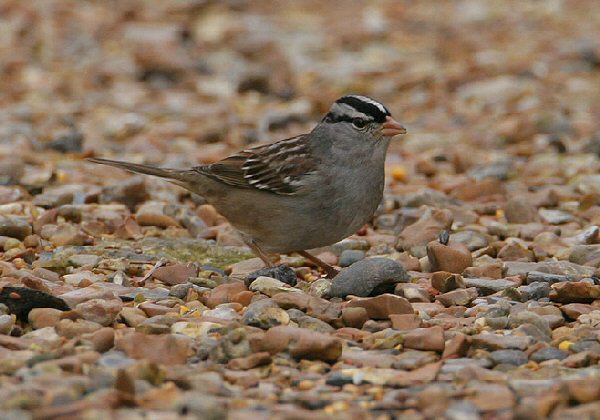 Jon Dunn
20 Jan 2016
Please note: we put a lot of time and effort into sourcing and and producing the images, videos and graphics for each roundup. Some of you (probably Apple users) may notice some photos etc. that appear to have incorrect captions. Please try refreshing the page as they are correcty captioned. If after a refresh they are still showing the incorrect captions then please email us
Thanks to this week's contributors for their photos and videos.
Killian Mullarney, Nick Watmough, Martin Casemore, Paul Kelly / Irish Bird Images, Robin Stokes, Paul Higson, Brydon Thomason, Cate Ni Dhomhnaill, Davey Farrar / Kerry Birding, Michael Linklater, Mali Halls, Steve Hopper, Barry Woodhouse, Ian Ballam, David Stone, Dave Helliar, Steve Duffield / Western Isles Wildlife, Joe Pender, David Aitken, Kris Gibb, James Packer, Peter Birtchnell, Frank Golding, Brett Spencer, Lee Evans, Edward Carty, Joe Stockil, Martin Goodey, Neil Maciver, Murray Smith, Steve Ashton, Chris Bromley, Andy Williams, Vince Cowell, Tom Lowe, Nic Hallam, Chris Batty, Mark Hipkin, John Bowler, Christopher Teague, Gaz Robinson, Craig Reed, Darren Chapman, Hugh Harrop / Shetland Wildlife, Andy Hood, John Pringle, Dave Grant, Garth Peacock, John Malloy, Jonathan Farooqi, Steve Arlow.