Birding round-up: 23 Dec 2015 - 05 Jan 2016
The week at a glance
Shetland lands Britain's fifth ever Mourning Dove in Lerwick
Ireland's first Glaucous-winged Gull kicks off the New Year in style
The Scottish mainland gets a brief visit from our first ever December Little Swift
In a bolt from the blue, the long-gone Hudsonian Whimbrel reappears in Cornwall at Marazion
The Greater Yellowlegs remains on the Isle of Wight
Cornwall's wintering Pacific Diver remains in Mount's Bay
Ireland scores another monster seabird – alas this Brown Booby was dead on arrival
Welcome one and all to the first Rarity Round-Up of 2016. Two weeks' worth of news coming up… We'll be taking the wrapping off the last of 2015's news, sticking in some fresh batteries, and watching it all light up and go…
However, no sooner do we get down on our hands and knees to play with a fortnight of rare bird news than we kneel on a particularly unpleasant and painful pine needle in the carpet. In this particular case, a metaphorical pine needle of spectacular proportions.
That would, of course, be the weather over the past couple of weeks. It's been foul, and the latest vogue for naming our storms hasn't made a blind bit of difference to anyone's awareness of what was going on outside (and for some poor souls, inside) during the festive period.
Once again, we took a collective battering from a pair of monster weather systems, the latter of which, kicking off on 29th, was an absolute stinker with an Icelandic low pressure system linking with further low pressure systems to the east to create a spectacular, violent corridor of southerly gales across the British isles. With winds gusting to hurricane force and torrential rain falling, this was a nasty one.
What's now becoming the usual consequences of our changing winter weather ensued – flooding, toppled trees, and considerable disruption all round.
Meanwhile, birds continued to happen in some style…
Highlights of the fortnight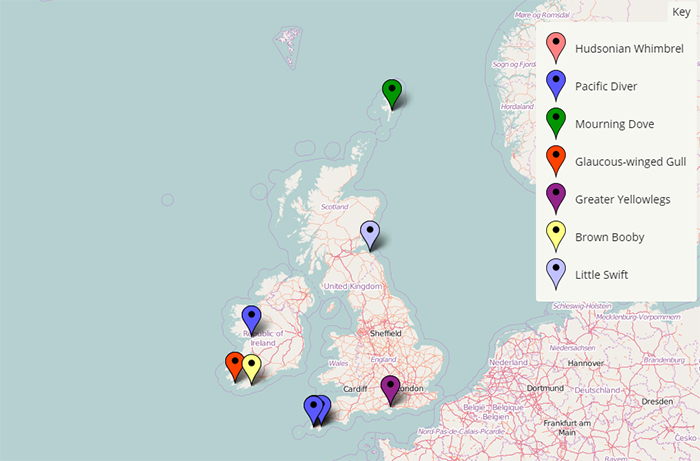 Mourning Dove
2015 really was the year that just kept on giving. Many visitors to Shetland in the course of the autumn saw some superb birds and went away well-pleased with their time in the isles. That said, there was a gut feeling amongst those of us living here that, while a fine enough autumn, it hadn't really been a classic by the (admittedly extremely high) standards of recent years.

...At that moment there were a good number of starlings on the ground, on the feeders and hanging round in the perimeter trees, together with a couple of Collared Doves and a Rock Dove. However, my eye was instantly drawn to an altogether different dove to any I'd seen before, it was smaller, darker and less uniform than the Collared Doves I often see....
Read Austin Taylor's finders account here
Things improved no end though in late November with the discovery of the gorgeous Rufous Turtle Dove in the gardens of Scalloway. This beauty stuck around into the third week of December – happily giving your own correspondent time to get over the shock of hearing about it while halfway up the side of a mountain in Colombia, come home to Shetland, endure some unbirdable weather and finally to catch up with it. I wasn't the only one to feel that Shetland had, once again, properly roared.
Naturally, this being Shetland, you just never can tell though…
Sure enough, everything went Christmas crackers on Boxing Day when the local grapevine began buzzing with the news that local photographer Austin Taylor had just posted a photo online of a small dove he'd found that morning in his Lerwick garden and tentatively identified as a Mourning Dove. Shetland had just delivered another stellar dove from above to tempt the nation's twitchers.
That this was only Britain's fifth Mourning Dove meant the allure would prove irresistible for some, and fortunately for them Shetland's first record of the species stuck around with some Collared Dove pals until 5th January allowing visitors to dodge our turbulent weather (funny thing – when Shetland gets severe storm conditions the weather in question doesn't get a special name, or indeed much news coverage…) and Flybe's increasingly unreliable fleet of planes serving the isles to get into Shetland to score this pretty little dove.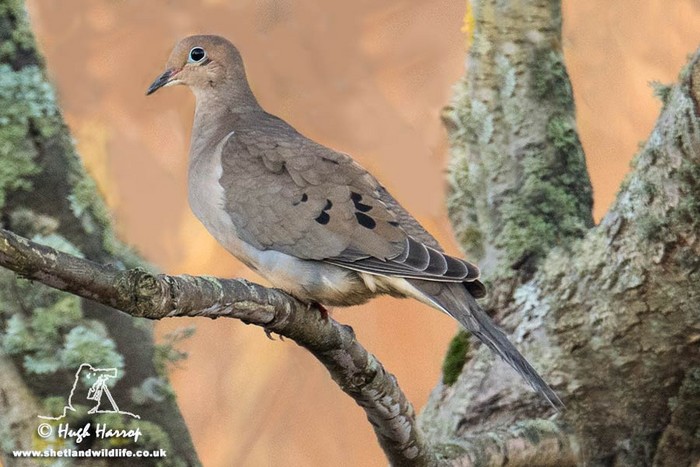 All the previous British records have been offshore, starting with short-lived individual trapped on Calf of Man on 31st October 1989, and found dead there the following day… and moving through three subsequent Scottish island records – on North Uist in November 1999 and late October/early November 2007; and on Rum in late October / early November 2013.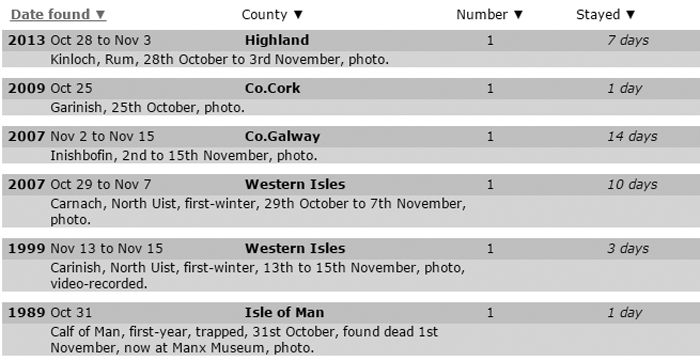 The observant amongst you will notice how much later in the year this Shetland individual is… (And the two Irish records both fall into the late October / early November pattern of occurrence too). The residential area of Lerwick in which this latest bird was found is fairly heavily wooded (by Shetland standards) with many gardens sporting reasonably mature trees and more than a few bird feeders in the sheltered nooks of Shetland suburbia. Naturally, there's a resident population of Collared Doves there – and one has to wonder whether this Mourning Dove had been lurking unnoticed in the area for some time…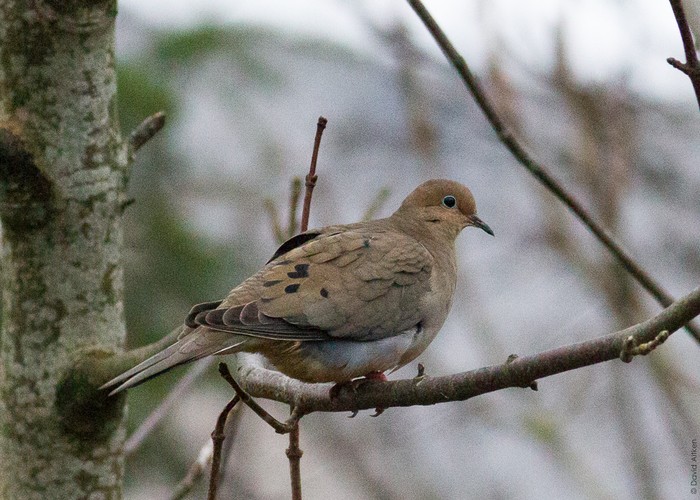 (Sure enough, other local residents in the area had first noticed the bird in their garden on Christmas Eve).
Judging by previous records stays of over a week in length are atypical, so we'll just have to wait how long this particular individual hangs in there. One thing's for sure – Shetland's resident birders have now had the unprecedented pleasure of seeing two rare doves in the space of a month – rare doves originating from thousands of miles away from one another, but culminating in sightings just five miles apart.
Glaucous-winged Gull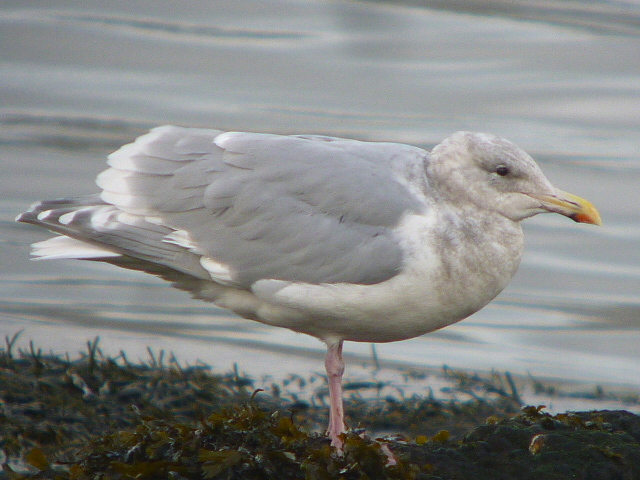 "Ireland in winter is undoubtedly a land of opportunity for the stalwart Larophile"
Glaucous-winged Gull - a bird which famously trundled off to Carmarthenshire, then back to Gloucester before appearing in London, at Beddington - all within the space of four months. One more followed, on New Year's Eve 2008 in Cleveland…since then, nothing."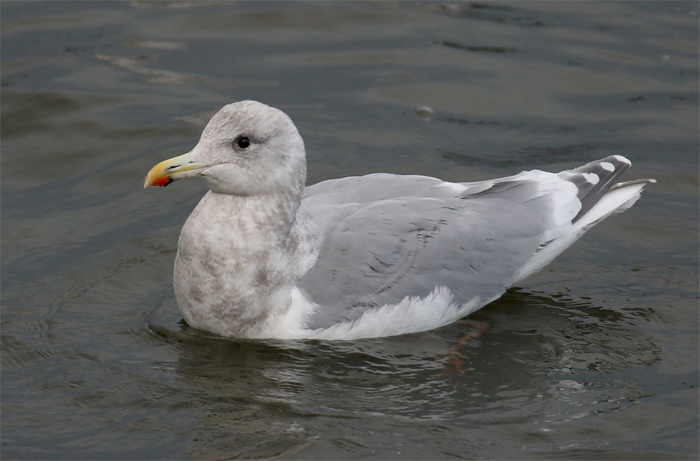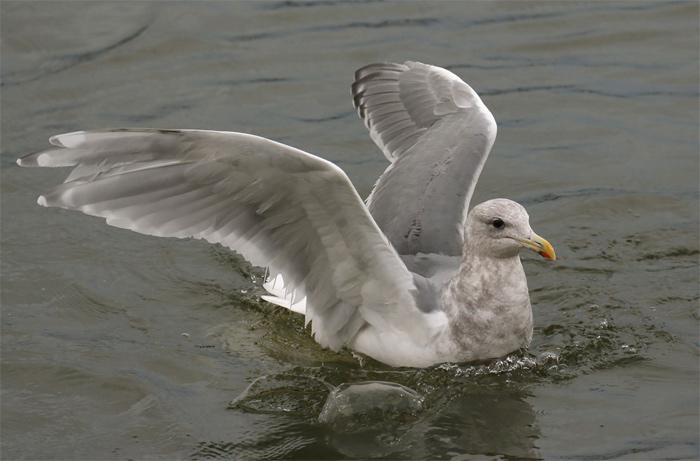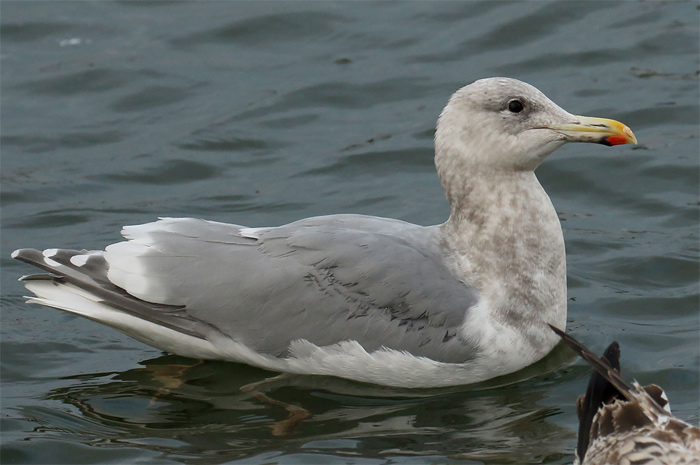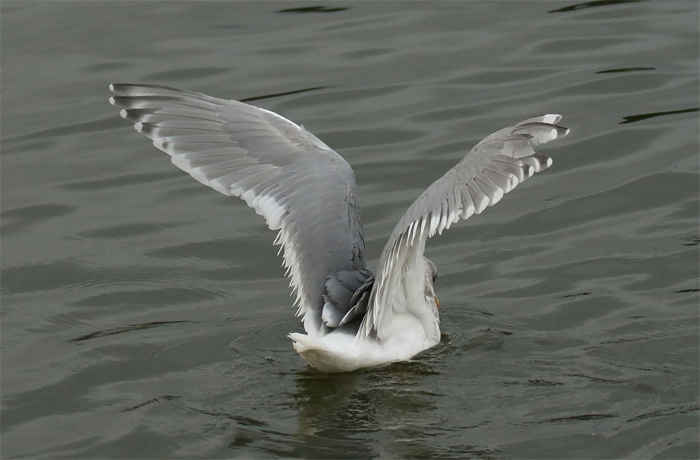 A couple of quotes for you there from Mark 'Crystal Balls' Golley – our very own RBA sage of sages and seer of seers where the rares are concerned. Sure enough, within a few weeks of his speculating about the next likely occurrence of a Glaucous-winged Gull, the very first record for Ireland was duly turned up on 2nd January in Co.Cork at Castletown Bearhaven.
This fine adult bird continued to show well until 5th in the harbour there, delighting all comers. That it's been six years since the last bird (also an adult) in January 2009 at Saltholme RSPB feels a little surprising – after the first and second records fell in quick succession one could have been forgiven for thinking this gorgeous large gull was set to do a Pacific Diver and start cropping up with something approaching regularity, albeit in small numbers.
That this latest record comes from Ireland is altogether less surprising – there really seems to be no finer gulling frontier in Europe than coastal Ireland in winter.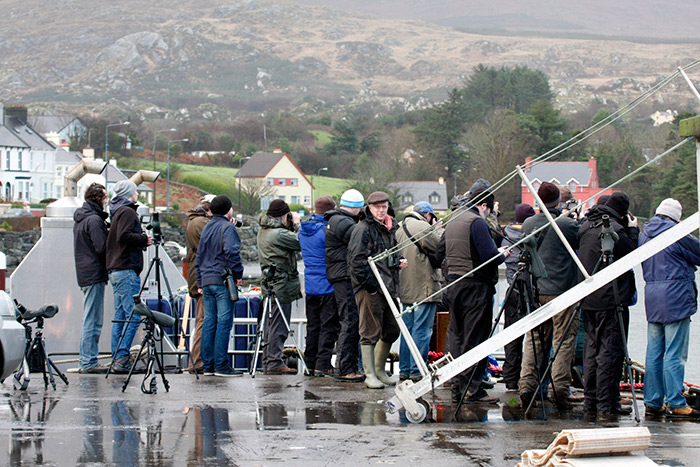 Little Swift
For a little while on the last day of 2015 it was beginning to look rather like Shetland's Mourning Dove was going to be spectacularly eclipsed by yet another first for Britain – as reports emerged from Lothian's Thortonloch of a White-rumped Swift. Hearts were immediately set a-fluttering – this much-anticipated species is surely a matter of when and not if for an occurrence in Britain and Ireland as it has slowly extended its colonised breeding range north through Spain and Portugal after the initial confirmed breeding record in the Sierra de la Plata in 1966.
While stranger things have happened, the timing always felt a little wrong - White-rumped Swifts are very rarely seen in the Iberian peninsula in the depths of winter, unlike Little Swifts which overwinter with some regularity there (and have started breeding there too, since 2000). Indeed, only the previous day Guernsey had been graced by a Little Swift… and, sadly, therein lay a clue for how this particular Scottish bird was going to pan out in the hour that followed the initial report.
The identification firmed up in short order into Scotland's fourth ever Little Swift, and very much the first December record for anywhere in Britain or Ireland – with only 25 previous records to look at, it's clear that this is a species one would expect, if ever one did, in May or June – not in the dead of winter. Having said that, the monstrous southerly airflow that had just parked itself over Western Europe was always likely to drag something interesting up with it… and one of those aforementioned wintering Spanish Little Swifts appears to have been that something.
Alas for Scottish, Lothian or plain-old yearlisters alike, this latest individual didn't stick around long. After a brief stay of around an hour it had vanished for good. Doubtless leaving some warm, fuzzy memories in its wake for the lucky finder – if ever there was a record to show that it's always worth getting out birding and seeing what's around it's a Little Swift over a Scottish beach on 31st December.
That's us told. Time to get working those mince pies off.
Hudsonian Whimbrel
Speaking of the frankly unexpected, who'd have thought that the Hudsonian Whimbrel last seen in Cornwall at Marazion on 8th November was going to turn up there again anytime soon? Not me, for one.
Sure enough though, it was reported back there on New Year's Eve and was confirmed as still present on New Year's Day after a leave of absence of almost two months. The last reports of it back in November had it flying off west – presumably it's been lobbing around some nice invertebrate-rich West Penwith fields in the meantime.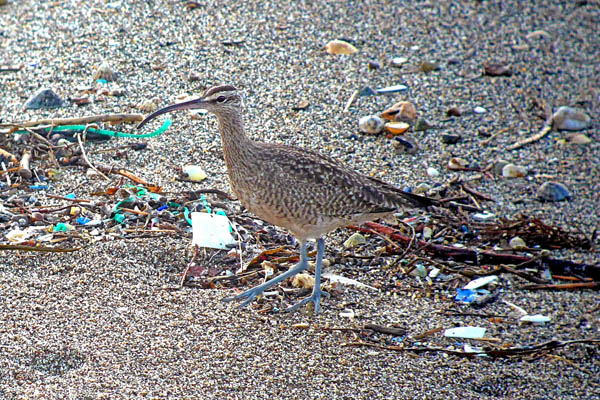 (I'm assuming, perhaps unfairly, that this is indeed one and the same as the previous Cornish bird of autumn 2015. Maybe it's a different bird altogether? It's not like there weren't multiple records of this subtly attractive wader across the region last year, after all…)
Idle speculation aside, like the Little Swift that precedes it in this first roll call of the great and good of 2016, this Hudsonian Whimbrel becomes the first British record of the species for December – and indeed, by virtue of being there a while yet (5th January, and counting), for January too.
Greater Yellowlegs
While we're in a mood for wondering at the unseasonal appearance of a brief Little Swift or the reappearance of a long-gone Hudsonian Whimbrel, and for pondering the likely duration of stay of a certain dinky dove… who'd have thought that the Isle of Wight would hold onto a certain weighty wader for quite as long as it has?
First seen at Whippingham waaaay back on 23rd September (and prior to that, across the water in Hampshire in early 2015), this particular Greater Yellowlegs was last reported on the River Medina on 3rd December. Twenty six days later, and there it was again on 29th-30th, rapidly closing in on a full year spent in the south of England.
Familiarity can, of course, breed contempt – there have been a few settled individuals of this species down the years, none more so of course than the individual that lobbed around Northumberland, Highland and Aberdeenshire in 2011-2012; but for those of an older vintage, memories too of the lovely bird that called Cumbria's Rockcliffe home for a month in late 1994 – making for a lovely double for those of us who headed north for the Seaforth Song Sparrow.
But while the species has proven eminently gettable in the past twenty years, the stats tell a slightly different story when one looks at how many there have actually been down the years – a mere 26 British records since 1950. Greater Yellowlegs is still a pukka rare bird, and a strikingly good-looking one at that.
As this latest individual rolls into the opening days of 2016, it remains to be seen just how long it's going to stick around – and with a report of one briefly before flying north from Titchfield Haven NNR (Hampshire) on 2nd, it may be that this particular horse has already bolted. Or not!
Pacific Divers
Speaking of familiarity breeding contempt (and doing seamless linkage in your headline birds) it wasn't so very long ago that the first British Pacific Diver was setting hearts racing (and blood pressure soaring) on Yorkshire's Farnham GPs. To be precise, less than a decade ago, in early 2007.
And indeed, it was early 2007 that first saw one in the happy wintering grounds of the waters off Marazion in Cornwall – a bird (and again, we're assuming it's the same one…) that comes back more or less annually now to those limpid fishing grounds. By the end of 2013 we were up to a grand total of six accepted individuals for Britain, and one for Ireland. Not bad for a species that hadn't been seen in either country prior to the turn of the millennium.
We've possibly got a little complacent about these dandy (and especially, long-staying) divers, even here in Rarity Round-Up (Ivory) Towers. The Marazion bird, in particular, has been referred to as Old Faithful on more than one occasion by yours truly and my Norfolk colleague alike. Having said all that, they're still eye-wateringly rare – and I remember being pretty enthusiastic early in 2015 when I heard of a new individual in Cornwall off Pendower Beach.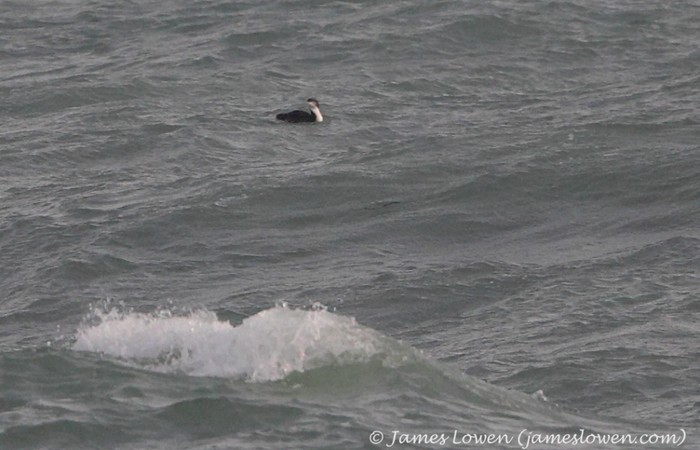 (Which is a fair way east along the coast from Marazion – and while certainly not quite in Devon, it's definitely up-country if you're of a diver persuasion from the far west and accustomed to hanging out in the Newlyn area…)
What was presumably the Pendower individual was seen again this week not far away offshore from Maenporth on 31st December. A top quality bird and, in a fortnight that saw the Marazion individual practically a daily nailed-on certainty, cementing Cornwall's position as the place in which to catch up with a Pacific Diver in Britain.
Ireland, of course, is a different matter… Ignoring the sound of a lid being prised off the can of worms labelled "Listing Boundaries", we come to the third of the period's Pacific Divers, this being one seen in Co.Galway off Kilcolgan Point on 5th. One was last reported from this locale back in April 2014 – presumably this is the same bird returning?
Brown Booby
It's traditional at this time of year to look askance at the remains of the seasonal bird, shudder slightly at the prospect of yet more cold meat platters, sandwiches and curries, and eventually consign the sorry remains to the bin.
Less traditional is to take a walk along the nearest beach and see what the tide's brought in by way of dead birds. In these days of burgeoning marine pollution that's likely to include some oiled auks, perhaps a net-entangled gull or two and, were one to get all CSI on their stomach contents, doubtless high levels of ingested plastic. Suddenly that turkey curry doesn't seem so unenticing after all.
There's also the slim chance that one might stumble across something really interesting. Brunnich's Guillemot has the unenviable honour for turning up more often than not dead rather than alive… Then there are the really intriguing ones – like the White-tailed Tropicbird found on the tideline in Cumbria at Mawbray in early January 2013, or the corpse discovered a few days ago in Co.Cork on 2nd January by Ciaran Cronin and his wife on the beach at Owenhincha. There on the tideline before them were the remains of an adult Brown Booby…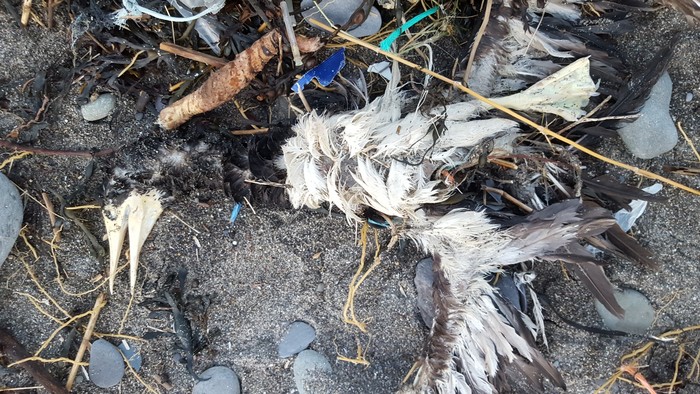 There's no reason why one of these tropical Sula couldn't be blown into our waters – in recent years there have been a handful of European records closer to home than the Azores, with eight accepted sightings from as (relatively) close as the Spanish and Portuguese coasts. It's worth noting that five of these were in the period July-September, but a midwinter record isn't wholly unprecedented – a dead bird was discovered on a Galician beach in Pontevedra on 10th December 2002 in the immediate aftermath of the Prestige oil spill.
An adult was even reported passing Jersey on 15th November 2007…
Quite how long ago this latest individual died is, of course, the burning question, though somewhat moot. Your possibilities are that it died in Irish waters having got there under its own steam; that it died outside Irish waters and was swept in on the currents; or that it died on a boat at an undetermined location and was swept into the sea and thence to the beach.
It's fun to speculate as to just how 'good' this Irish record is – and to picture the chaos that would have ensued had this bird not been an ex-booby. Those post-Christmas credit card bills would surely have got a little bigger for some.
Until last weekend, this fortnight was shaping up nicely where Little Auks were concerned. Numbers were solid, with some reasonable tallies logged. Single figure counts in the early days, climbing to respectable double figures here and there in Scotland as December drew to a close. Heavens, I was even seeing some from my kitchen window… (and before you feel jealous, I've been here 12 years and still not added Blue Tit to the house list).
Numbers on 31st December began to hint at what was about to happen – that day in Highland at least 100 birds passed Chanonry Point, with 131 off Fort George.
The first two days of the New Year seemed like that was that – some headline grabbing passage in Highland, and a good scattering of smaller numbers throughout Scotland. There'd been some English records too – even a couple from the south coast, off Chesil Beach (Dorset) on 23rd and Rustington (West Sussex) on 27th. So far, so good.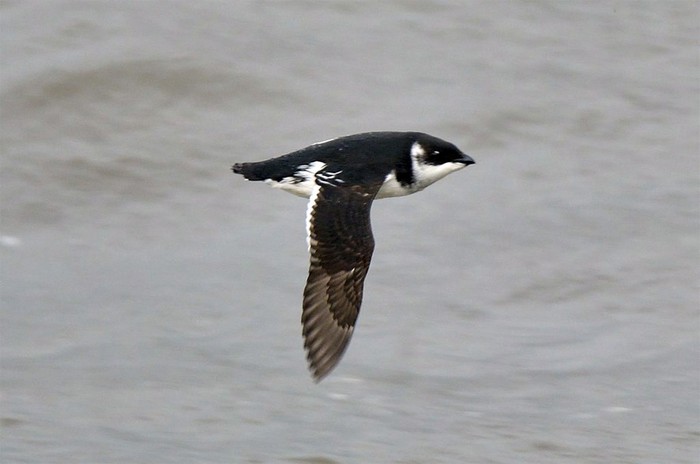 Then on 3rd things Alle went a little crazy: Chanonry Point upped its previous best to 150 birds, but this was the tip of a massive Little Auk-shaped iceberg. Huge numbers of these dinky auks were moving off Scotland – in Angus, 122 passed Arbroath and at least 209 passed Fishtown of Usan; while in Lothian 270 passed Hound Point. 536 birds were logged in Fife from Kinghorn; while in the space of just two hours 900 birds were seen from Brora in Highland.
All of which is fabulous, but it was down to Aberdeenshire to steal the show – 230 birds were logged in two half hour watches off Collieston; 844 were noted from Newtonhill; and most impressive of all, after a mere 169(!) in a half hour morning watch, Girdle Ness returned an eye-watering 1,163 birds in one and a half hours in the afternoon.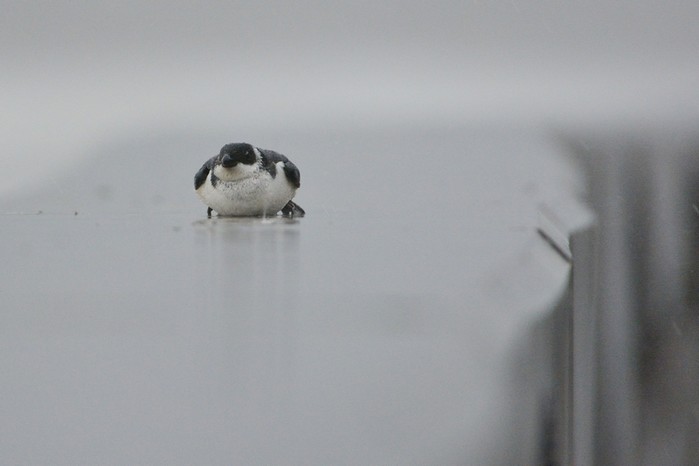 The 4th ramped the pace up, with a bare minimum of some 9,500 logged (mostly from Scottish vantage points) as the day progressed; things were a little quieter on 5th, with around 2,000 birds noted. Nailing the final scores on the doors is always going to be challenging in a fortnight like this – my tally of at least 16,000 birds noted around Britain and Ireland is, naturally, going to be a gross underestimate of just how many Little Auks were on the move over the festive period.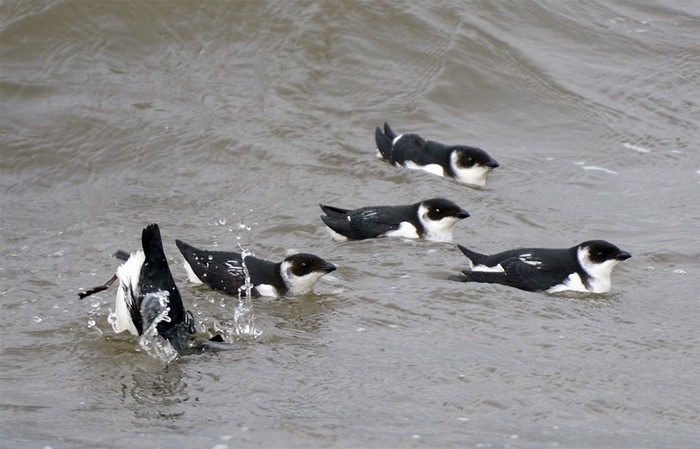 Small auks weren't the only seabirds on the move – numbers of Pomarine Skuas recorded were, perhaps inevitably, up too. Three were noted on 30th from Highland's Brora, with two seen from Frinton-on-Sea (Essex) on 27th December - all the remaining records involved single birds.
In December, singletons were noted on 23rd from St.Margaret's Hope (Orkney), on 24th from Thorpeness (Suffolk), in Findhorn Bay (Moray) on 26th; on 30th from Cley (Norfolk), Landguard NR (Suffolk) and Rubha Ardvule on South Uist (Western Isles); and on 31st from Kinghorn (Fife) and Stokes Bay (Hampshire).
Moving into the New Year, on 1st birds were seen off the Lizard (Cornwall) and in Highland at Ardersier and Culloden. Further Highland singles were logged on 2nd at Fort George, Chanonry Point and Embo – with birds also noted on 3rd at the latter two sites. English records on 2nd came from Druridge Bay (Northumberland) and Durlston CPs (Dorset). Back in Highland on 3rd one was seen from Avoch; and on 5th one was harrying gulls at Berwick-upon-Tweed (Northumberland)
Rare and scarce seabirds 23 Dec 2015 - 05 Jan 2016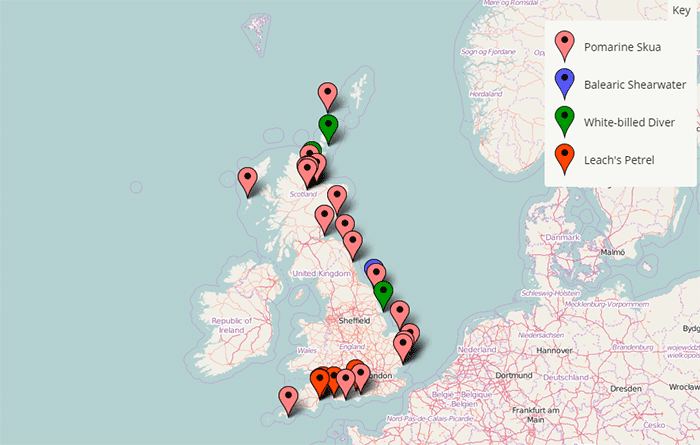 Further variety came this fortnight in the shape of a couple of Balearic Shearwaters – at Long Nab (North Yorkshire) on 28th December and off the Lizard (Cornwall) on New Year's Day – and in the always pleasing form of some Leach's Petrels. The latter were noted in the closing days of the old year with a probable off West Bexington (Dorset) on 26th, further individuals on 30th at Weston Shore (Hampshire) and off Warren Point (Devon), and an additional probable record from Sidmouth (Devon) that day also.
A possible Great Shearwater headed north past Seaham (Co.Durham) in the early afternoon of 5th.
We'll wrap the seabirds up with the returning White-billed Diver again in Orkney from St.Margaret's Hope on South Ronaldsay on December 31st – 1st January; and a possible further bird from Brora (Highland) on 30th December.
Herons, Egrets & allies 23 Dec 2015 - 05 Jan 2016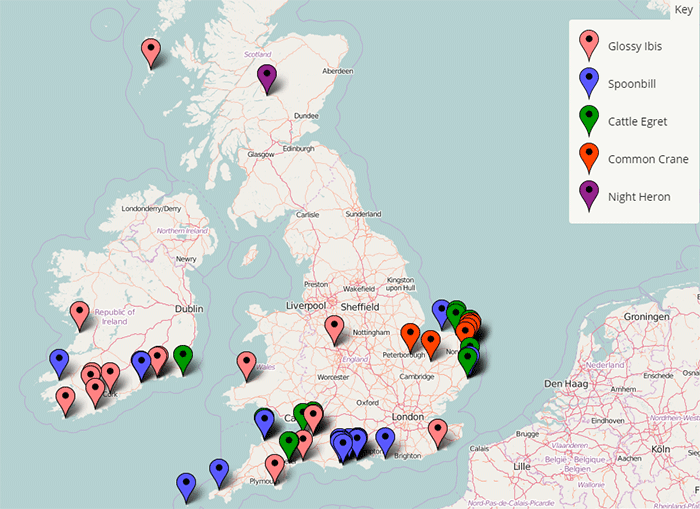 Straight to the head of the class in this week's long-legged beasties section go Glossy Ibises, and in particular the Irish contingent. We'll kick things off in Co.Cork at White's Marsh, Clonakilty – two birds remained there until Christmas Eve, with one still there on 5th January. Elsewhere in Co.Cork, one was at The Gearagh on 27th, while at Barley Cove two birds were noted on 28th, rising to five birds there on 29th-30th (with three still there on 2nd January). One remained at Blarney on 28th-30th. Four were logged at Dunmanus on 30th, remaining there until 2nd January. One was at Kilmichael on 31st, with one noted on 2nd January at Glounthaune. On 5th a pair were at Lahinch (Co.Clare).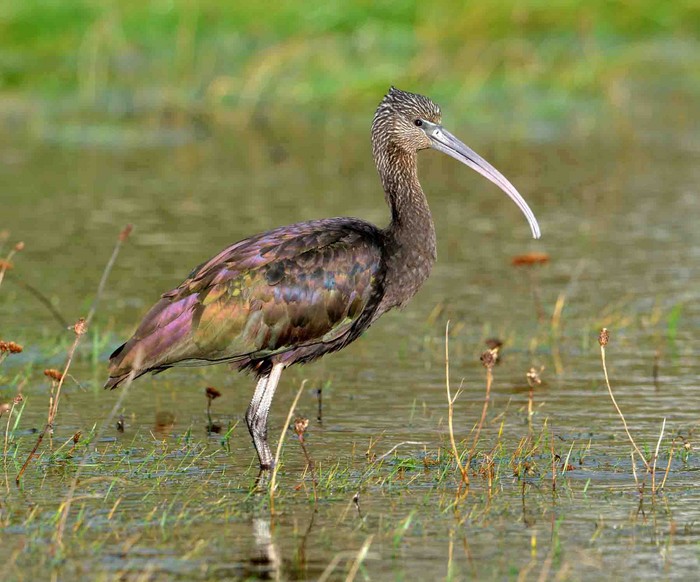 So far, so good – but the meat in this particular sandwich was definitely in Co.Waterford, where 19 birds were found at Tramore Backstrand on 30th, remaining there until 5th during which time numbers were firmed up at 20 birds including two colour-ringed individuals.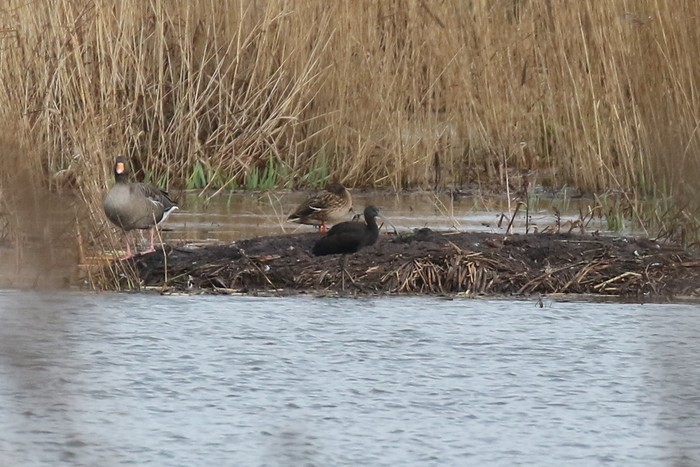 Outside of Ireland, two birds remained settled at Pett Levels (East Sussex) until 5th and Ham Wall RSPB and the nearby Levels (Somerset) until 5th. Further new sightings came from Pembrokeshire's Welsh Wildlife Centre on 29th December, Belvide Reservoir (Staffordshire) and Seaton Marshes (Devon) both on New Year's Day, with the latter bird still there on 2nd and one at Thurlestone on 5th, and from South Uist (Western Isles) where one remained at Ormiclate from New Year's Eve until 2nd.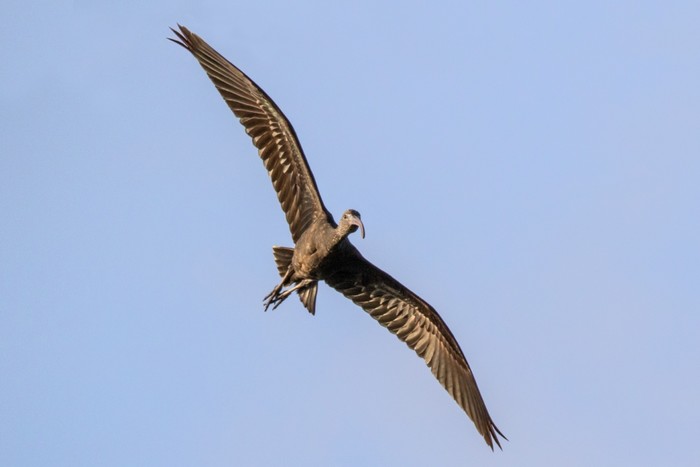 Settled individual Cattle Egrets remained in Norfolk at Sea Palling until 31st December and in Somerset around Steart WWT until 2nd January. In Devon, one was seen at Exminster Marshes RSPB on 28th, remaining in the area until 3rd January, with one on Horsey Island also on 29th. Heading east, one was in Somerset at Mudgley on 1st-5th. A possible was reported from Suffolk at Blythburgh on 29th December, while possibly not unrelated was one at Iken on 2nd-5th. In Norfolk, one was at Gresham on 3rd as the fortnight drew to an end. Ireland's sole record was at Tacumshin (Co.Wexford) from 27th December until 2nd January.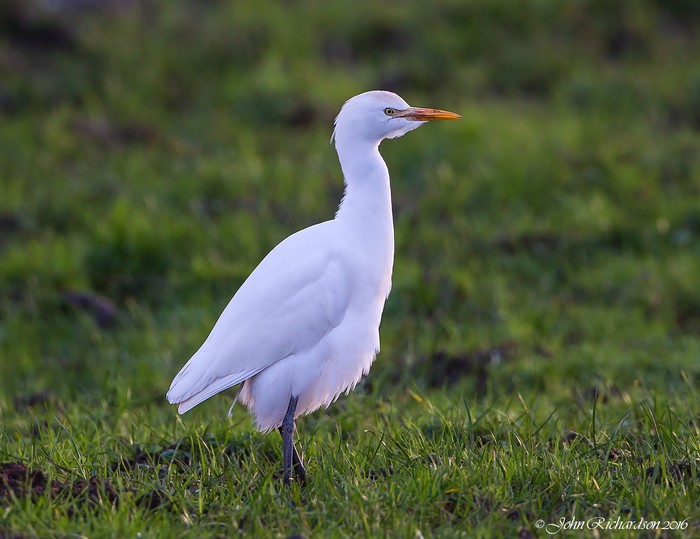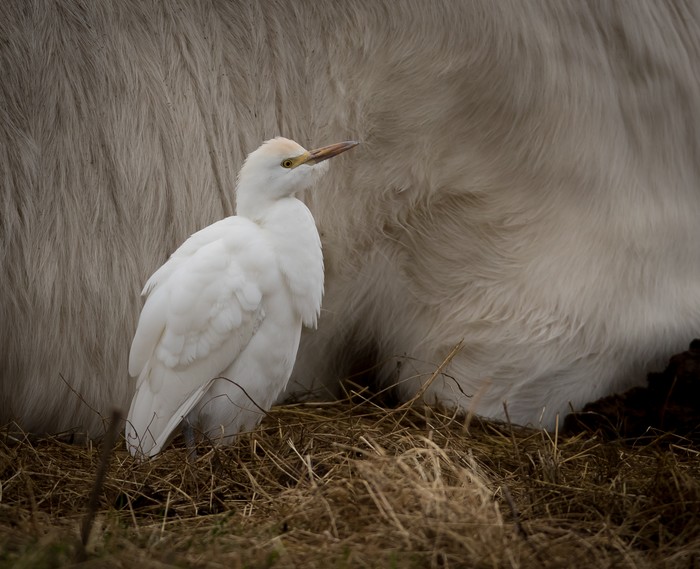 An adult Night Heron was reported from Perth and Kinross at Trinafour on 28th, though there was no subsequent news from the area.
And so we come to the banjo section and the Spoonbills of the period. Poole Harbour's peak count came from Arne RSPB on 2nd January with at least 40 birds noted there that day. Starting the best of the rest in the west, one was in Scilly on Green Island on 29th December and nearby Samson on January 3rd. The lingering immature bird was in Cornwall on the Hayle Estuary until 5th, with two on Rat Island off Saltash on 5th also. Heading up into Devon three birds remained at Wrafton from 24th December, with two still there on 31st, and one at Isley Marsh RSPB on 3rd January.
In Hampshire one lobbed around the Keyhaven area until 5th, one remained at Pagham Harbour LNR (West Sussex) on 5th, while in Suffolk four birds were at North Warren RSPB until Christmas Day. Four were at Hazlewood on 27th December, remaining there on 4th. Up in Norfolk one was at Holkham Freshmarsh on 29th.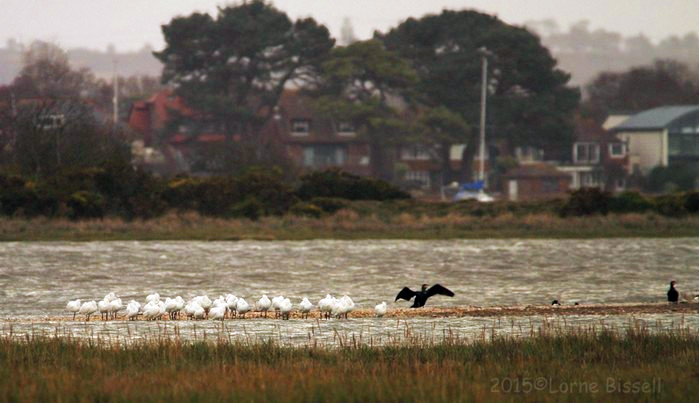 Irish records came from Co.Waterford at The Cunnigar where five birds remained until 3rd January, and in Co.Kerry where one sat tight at Cromane until 2nd.
Fairly quiet this fortnight in the world of Grus, with no sign of the double figure tallies of Common Cranes previously reported from Cambridgeshire – Lakenheath Fen RSPB mustered three birds for the county on 29th December. Norfolk accounted for the remainder of our records, with two seen at Stokesby on 30th, two at Horsey on New Year's Day, and five at Upton Broad & Marshes NWT on 2nd.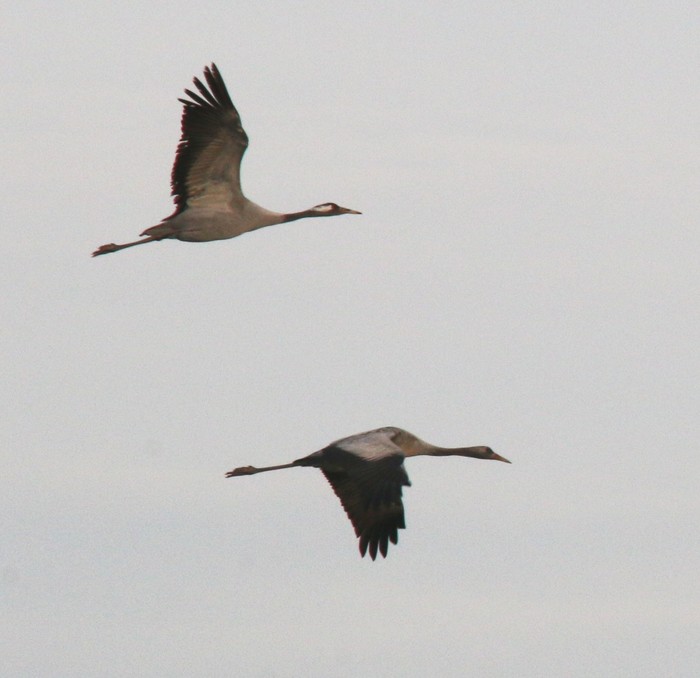 Rare and scarce geese 23 Dec 2015 - 05 Jan 2016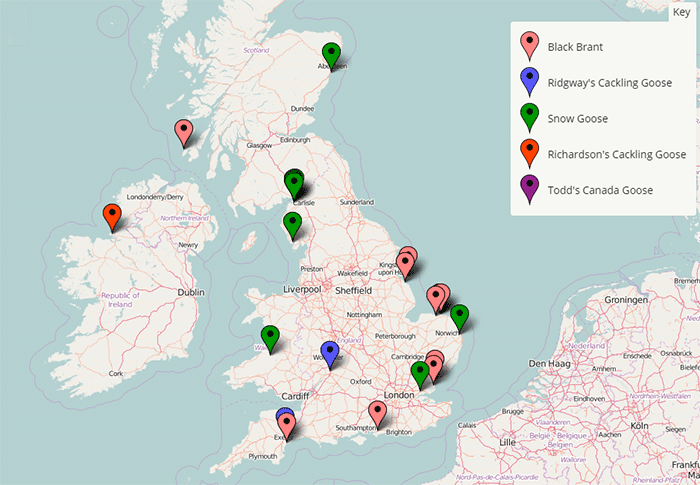 As you'd expect, we've plenty of assorted honker and quacker action to report in the past fortnight. Snow Goose figured highly in the news with four blue morphs at Kemnay (Aberdeenshire) on 27th the most notable record. Taking the rest chronologically, a probable bird was reported over Hill Head (Hampshire) on 23rd – and confirmed sightings were in Cumbria at Campfield Marsh RSPB on Christmas Day, Anthorn on 29th December and again on 5th January at Newton Marsh, and Millom on 4th January. A further possible sighting came from Berney Marshes RSPB (Norfolk) on 4th.
The regular Cley (Norfolk) Black Brant remained in the area until 30th at least, with the Kilnsea (East Yorkshire) and West Mersea (Essex) adults also settled until 3rd. On Christmas Day two adults were seen in Essex on Dengie Marshes, with a further adult in Devon on Christmas Eve on the Exe Estuary. New Year's Day saw on on Tetney Marshes (Lincolnshire), with this individual still there on 5th.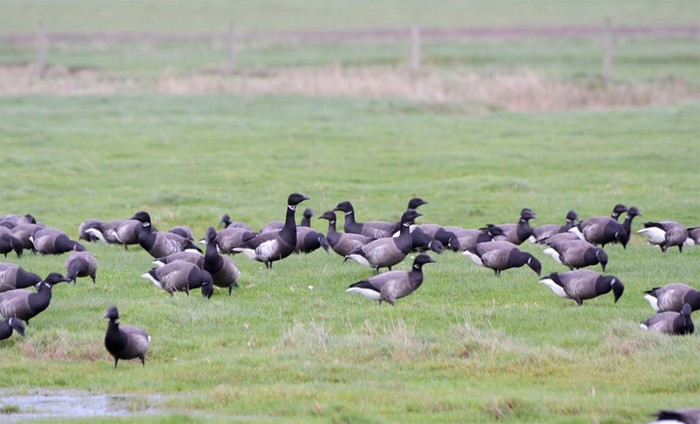 Amongst the Geese Formerly Known As Canada we have a Ridgeway's Cackling Goose at Combe Hill Meadows (Gloucestershire) on 28th December, and in Co.Sligo from 23rd-30th the delightful duo of a Richardson's Cackling and a Todd's Canada Goose at Ballygilgan NR.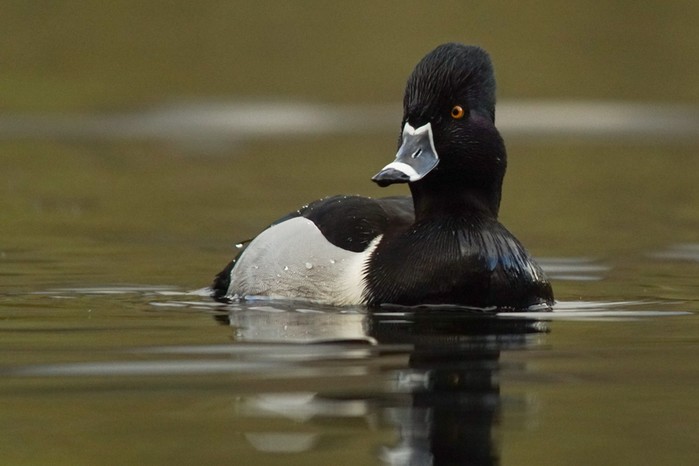 Rare and scarce ducks 23 Dec 2015 - 05 Jan 2016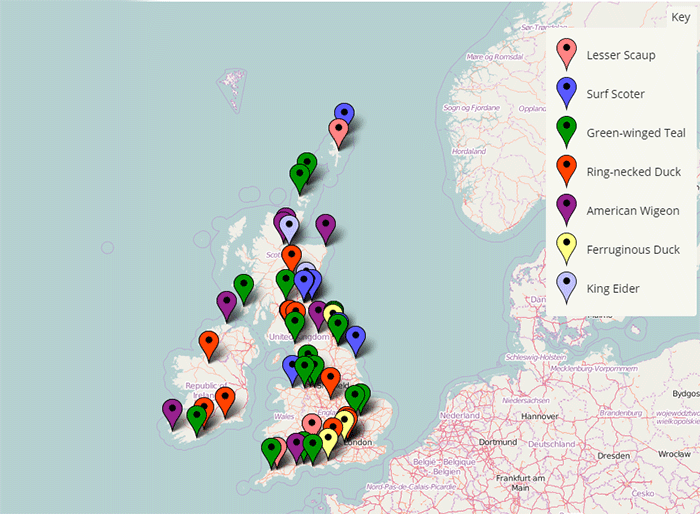 The returning drake Lesser Scaup remained at Dozmary Pool, on Bodmin Moor (Cornwall) until 5th, while the Somerset drake was still at Chew Valley Lake until 5th also.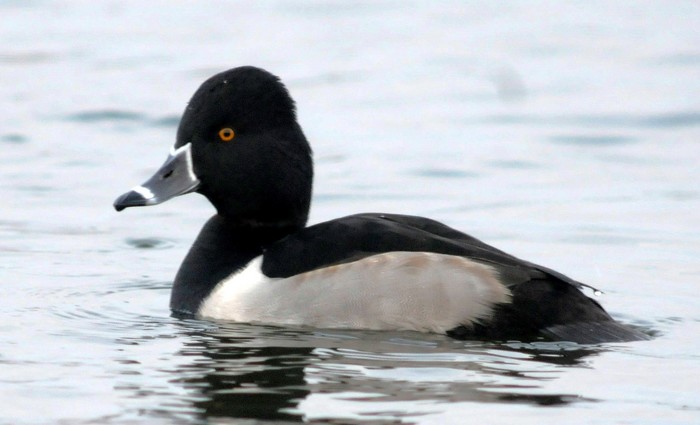 Scotland laid claim to four Ring-necked Ducks during the fortnight – on Orkney a drake remained at Loch of Skaill until 31st; Dumfries & Galloway held a drake at Milton Loch until 30th and a first-winter drake still at Caerlaverock WWT until 5th January; and a drake was at Pitlochry (Perth & Kinross) again until 4th.
English records came principally from Hampshire where at Rooksbury Mill LNR two females remained until 5th; further sightings came in the form of another female at Hilton GP (Derbyshire) on 30th December and the drake still at Bray GP until 5th.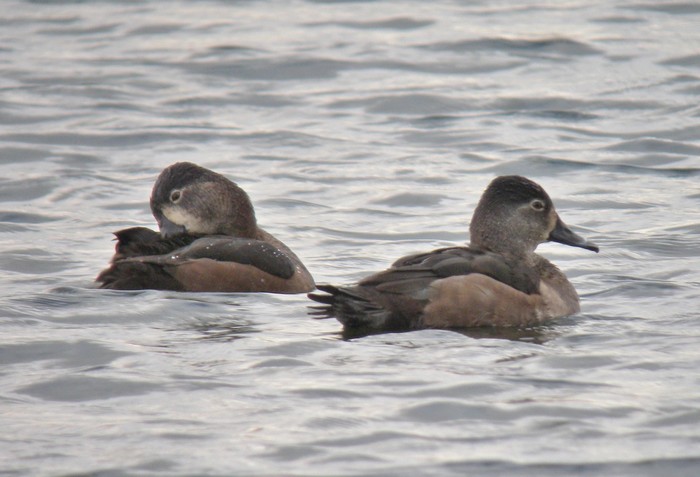 Three Irish records complete the set – a drake at Ballyshunnock Reservoirs (Co.Waterford) on Christmas Eve; a drake still on Boxing Day at Lough Skean (Co.Sligo); and a drake on 27th at Ovens (Co.Cork).
The drake Ferruginous Duck remained on the lakes at Blashford HWT, in Hampshire throughout the period, while the other recent drake continued posing all manner of questions about rare ducks in general nationwide at Washington WWT (Co.Durham) on 2nd.
Scotland also dominated our sightings of American Wigeons with records coming from Loch Gruinart RSPB on Islay (Argyll) on Christmas Eve still; in Highland at Udale Bay on 29th-2nd January and Tain on New Year's Eve; and from Aberdeenshire at Loch of Strathbeg RSPB on New Year's Day.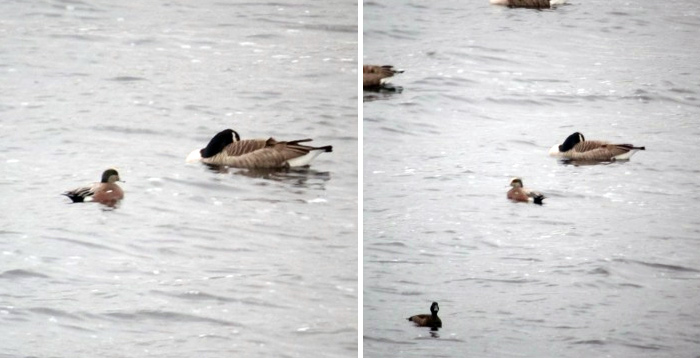 The drake remained in Devon at Bowling Green Marsh RSPB until 5th, and the remaining English record came from Grindon Lough (Northumberland) on 3rd-5th. In Ireland a drake at Malin Town (Co.Donegal) on 28th December had become two drakes by 2nd.
Much to report where Green-winged Teals are concerned, with many familiar faces and some newcomers too in their ranks. Starting again in Scotland, the usual drake remained at Caerlaverock WWT (Dumfries & Galloway) until 5th; one was on Banton Loch (Clyde) from 1st-4th; and offshore, there was one again on Papa Westray (Orkney) and two birds at Loch Gruinart RSPB on Islay (Argyll) on Christmas Eve, with one still there latterly until 29th and one on Orkney mainland at Loch of Skaill on 5th.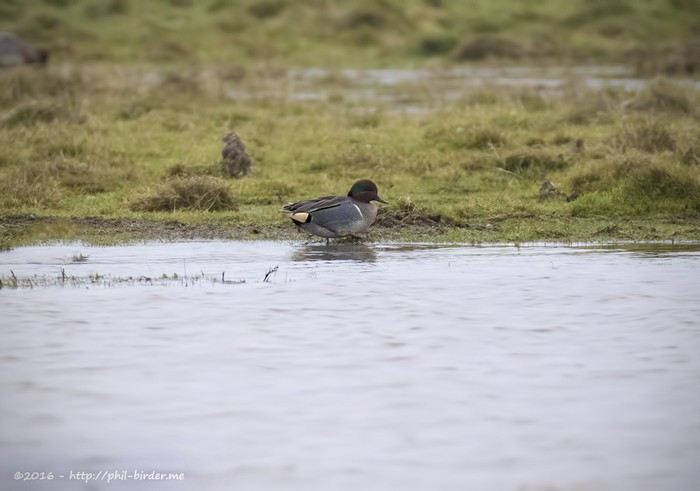 English records were dominated by Cheshire, with reports logged at Frodsham Marsh from 23rd-31st, Burton Mere Wetlands RSPB on 29th-1st January, and Neumann's Flash again on 4th-5th. Howdon Wetland NR (Northumberland) scored one on 28th-29th; one remained at Boldon Flats NR (Co.Durham) until 4th; one was at Martin Mere WWT (Lancashire) until 29th; and Christmas Day brought presents in the shape of two birds in Cumbria at Siddick Ponds NR. One was at Saltholme RSPB (Cleveland) on 2nd-4th. Heading south, one remained at Colyford (Devon) on 23rd, and one was at Grafham Water (Cambridgeshire) until 3rd, with another record from the county at Needingworth Quarry Lakes on 3rd. One was picked out of the masses at Abbotsbury (Dorset) on 2nd, and down in Cornwall one was at Amble Marshes on 5th. The fortnight's sole Irish record came from White's Marsh (Co.Cork) on 24th-29th.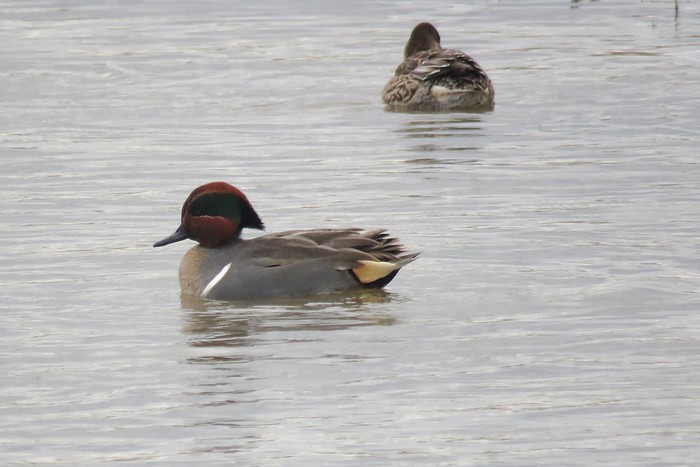 Things were a little quieter off the coast of North Wales than of late, with a peak count of just two drake Surf Scoters coming from Colwyn Bay (Conwy) on 27th. Scotland retained single drakes in Largo Bay (Fife) until New Year's Day and off Joppa & Musselburgh (Lothian) until 4th at least. A further drake was noted from Easting on Unst (Shetland) on New Year's Day.
Filey (North Yorkshire) held onto the juvenile drake until 5th, while the the first-winter drake remained at Seaton Carew (Cleveland) until Boxing Day.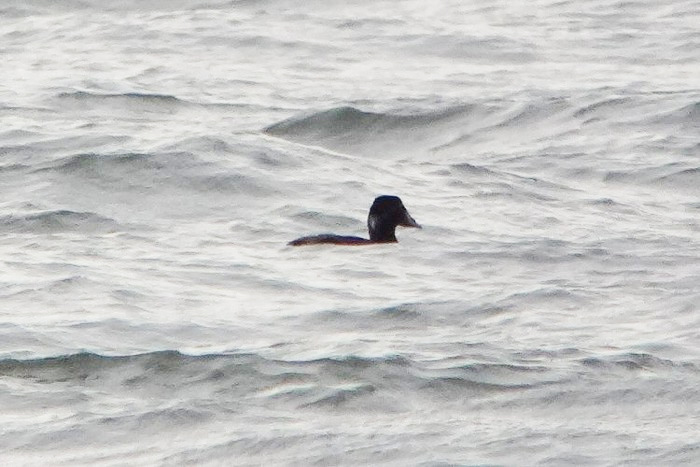 We close the ducks with a king and a queen King Eider - the drake was still at Nairn (Moray) until 27th December, with the female off Ruddon's Point (Fife) from 27th until New Year's Day.
We've already covered the main Shorebird drama in the headlines, this being the rediscovery of the Hudsonian Whimbrel and Greater Yellowlegs respectively. There's not a lot else to detain us before we head into the Wonderful World of Gulls, so we'll rattle through what's left in short order...
The first-winter Long-billed Dowitcher remained settled at Cresswell Pond (Northumberland) into the New Year, still sitting pretty there until 5th January.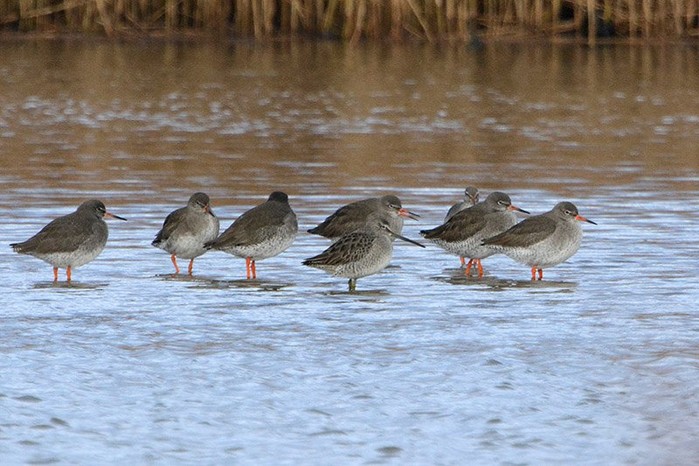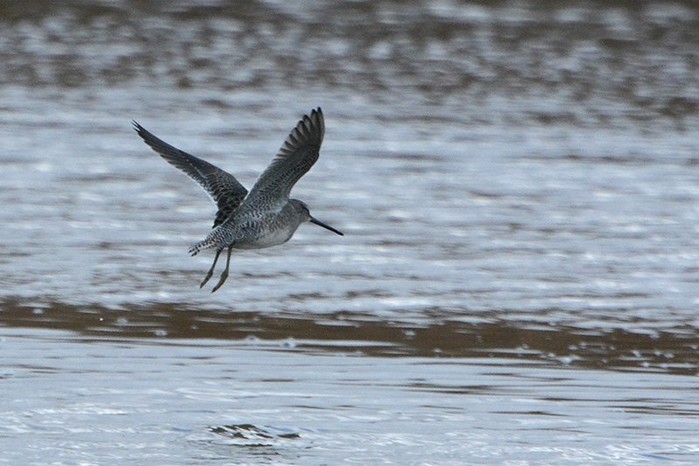 In Norfolk the Lesser Yellowlegs remained at Breydon Water RSPB into 2016, remaining there until New Year's Day. A further first-winter individual was at Carlingford Lough (Co.Down) on Boxing Day.
In Ireland the Spotted Sandpiper last reported from Pilmore (Co.Cork) on 21st December was again noted there on 2nd January.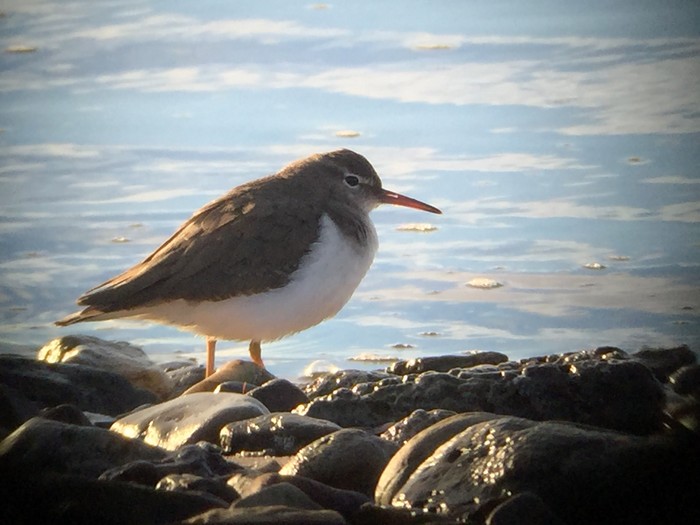 A probable Temminck's Stint was reported from Minsmere RSPB (Suffolk) on 23rd.
Grey Phalaropes 23 Dec 2015 - 05 Jan 2016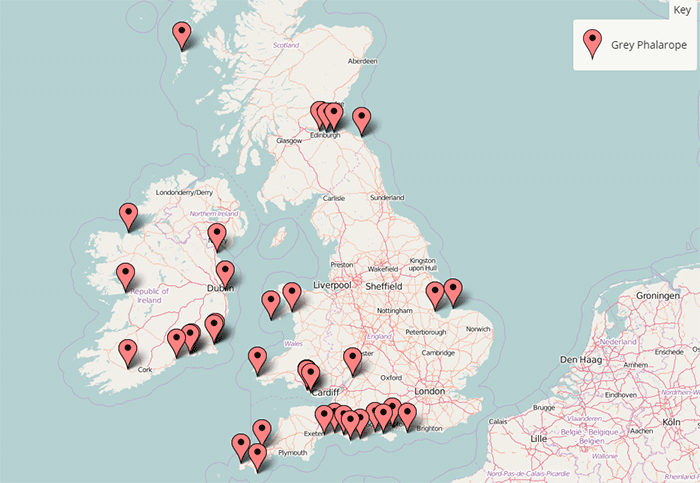 We finish the Shorebirds with the weightiest slew of records – these, naturally in a week with plenty of Seabird action, were those sea-faring Grey Phalaropes. For the most part these involved single birds – the only multiples being two on the Isle of Wight on Station Pond at Great Yarmouth on New Year's Eve and New Year's Day (there being a single bird there from 27th December – 2nd January), two birds in Dorset at Worbarrow on Christmas Eve, three birds logged at Tramore (Co.Waterford) on 4th and two birds at Hound Point (Lothian) on 5th.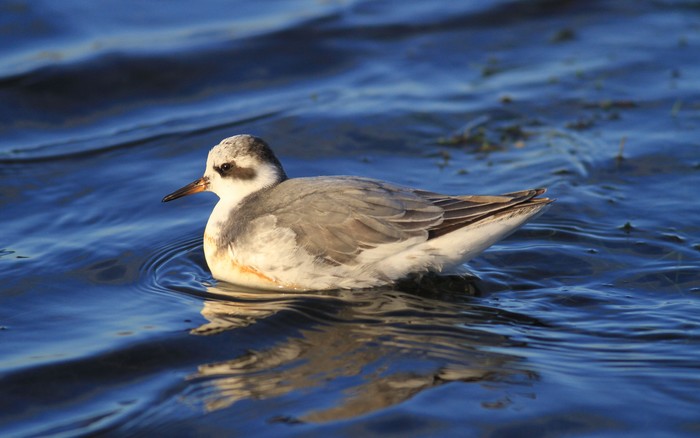 Single birds were noted elsewhere – one remained in Dorset at West Bexington from 23rd-30th December; on Christmas Eve at Newquay (Cornwall) and Mutton Island (Co.Galway); on Christmas Day at Kenfig NNR (Glamorgan); on Boxing Day at Seton Sands (Lothian), Mudeford (Dorset), Morfa Bychan (Gwynedd), Frampton Marsh RSPB (Lincolnshire) until 29th, and St.Brides (Pembrokeshire) until 30th. On 27th one was at Sker Point (Glamorgan) remaining until 29th, with one at Ogmore-by-Sea on New Year's Day.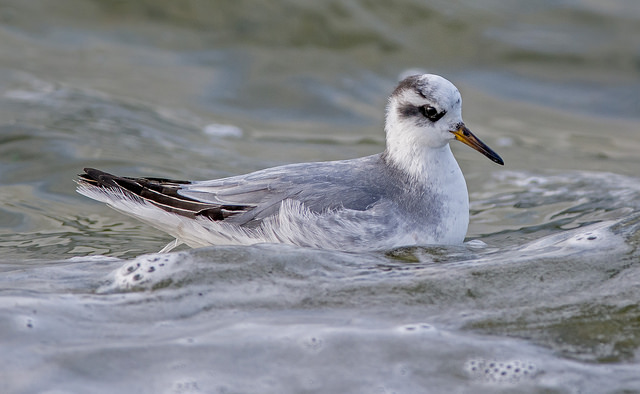 Irish records came on 28th from Dun Laoghaire (Co.Dublin) and Lurgan Green (Co.Louth). On 30th more Irish records dominated the day's proceedings, with singles noted at The Gearagh (Co.Cork) and in Co.Waterford at Lisselan, Ballinacourty and Annestown – the latter bird remaining until 3rd January – with further birds noted elsewhere at the Lizard (Cornwall), Sidmouth (Devon) and Ferrybridge (Dorset) – the latter bird still there the following day. New Year's Eve saw more birds recorded – at Trewellard (Cornwall), Lyme Regis (Dorset), Hill Head (Hampshire); from Bardsey (Gwynedd), and Peninerine on South Uist (Western Isles) until 2nd January; and in Ireland at Rathlee (Co.Sligo).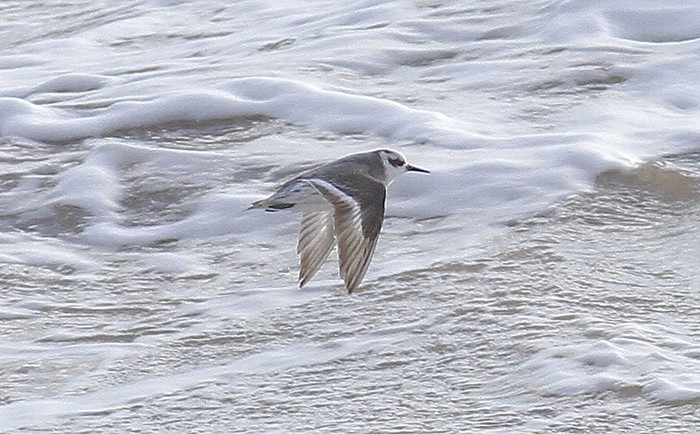 New Year's Day saw just one new bird reported (were those collective sore heads just making seawatching too dreadful to contemplate?) off Selsey Bill (West Sussex). On 2nd-5th one was at Slimbridge WWT in Gloucestershire. Gull-watchers at Church Cove (Cornwall) scored one on 3rd , with another seen that day at North Slob WWR (Co.Wexford).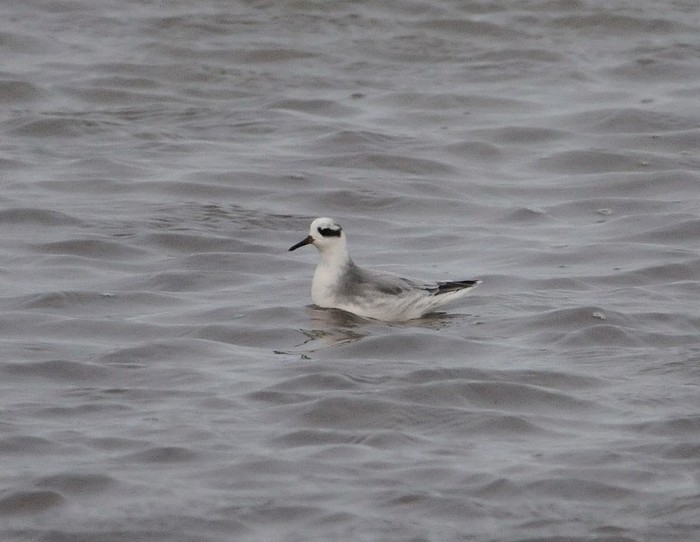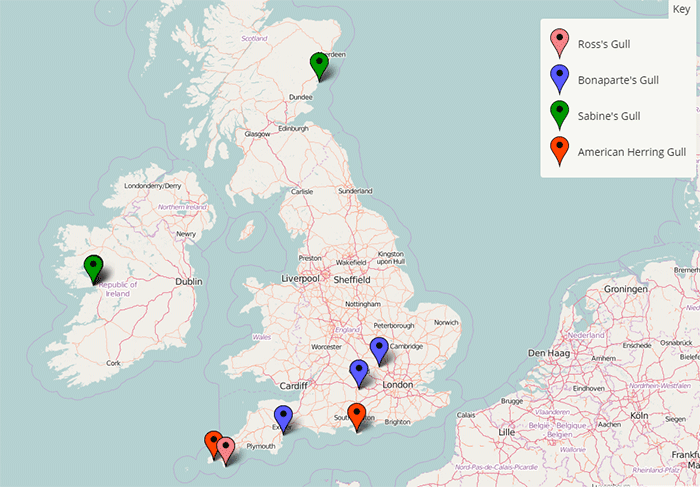 Midwinter gull loveliness graced Cornwall from 2nd-4th January when an adult Ross's Gull swung past the Lizard Point and into Church Cove. Long-term readers of our RBA Rarity Round-ups will know that while I like a grotty first-winter American Herring Gull as much as the next man, it's these Arctic beauties that really get my juices flowing...
...and were I anywhere closer than where I am presently I'm pretty sure I'd have headed west to pay homage to this latest example – only Cornwall's sixth record, and the first since a one-day bird in Sennen Cove back in 2002. The intervening period of almost 14 years in the longest break for the county since the first record back in November 1977, so this occurrence was doubtless eagerly awaited in the interim.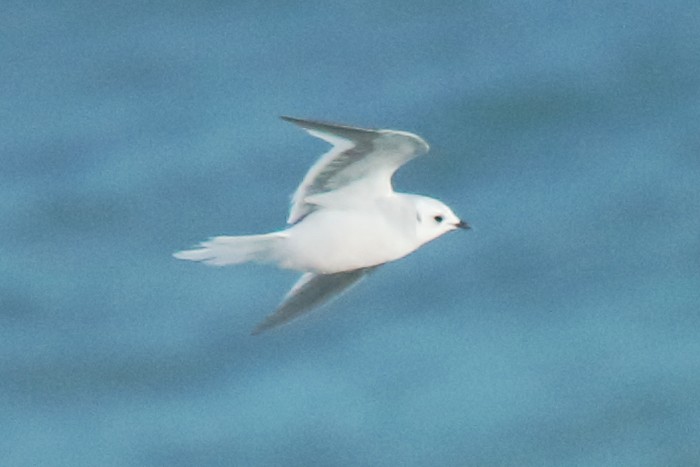 Speaking of American Herring Gulls and sticking with Cornwall (for the most part), the past fortnight delivered a blend of possible and confirmed sightings. We start with a possible first-winter individual reported from the Hayle estuary on Christmas Eve; followed by a reappearance of the third-winter bird again in the Penzanze area on 28th-29th; and a possible first-winter bird off Newlyn on 29th also. A further possible first-winter individual was seen at Whale Chine on the Isle of Wight on 30th.
Back in Devon, the regular wintering adult Bonaparte's Gull was back in the Exmouth area sporadically throughout the period – while a first-winter bird was at Lower Farm GP (Berkshire) on Boxing Day, and an adult was briefly at Wilstone Reservoir (Hertfordshire) on 4th. Berkshire's first record was as recently as 2013, an adult bird for a few brief hours in the afternoon at Theale GP on 26th April; and Hertfordshire hasn't had an accepted record to date. Safe to say then that county listers from both counties would have welcomed either bird sticking around...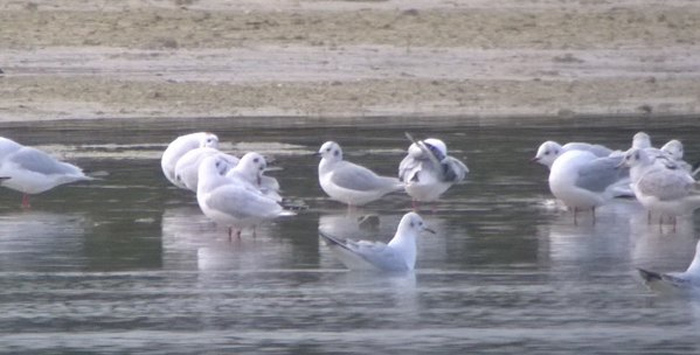 A welcome return now for another of my favourite gulls, the ever lovely Sabine's Gull - strong winds brought a trio of these pelagic gems within sight of land during the fortnight: adults in Co.Galway off Spiddal on 29th and Salthill on 30th, with a further probable bird from Fishtown of Usan (Angus) on 3rd January.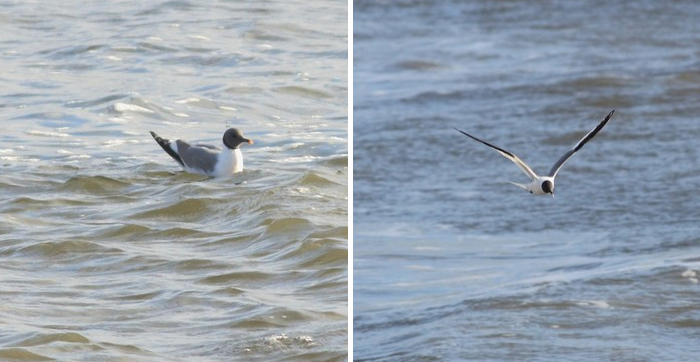 Far more reliable at this time of year are our regular wintering contingent of Ring-billed Gulls - with comfortable double figures reported during the period. As usual, Ireland had the lion's share with 13 birds noted around the country: at Bray (Co.Wicklow) on 23rd-31st; Ring (Co.Cork) on 27th; Carrickfergus (Co.Antrim) on 28th still; in Waterford (Co.Waterford) on 30th; at Blackrock (Co.Louth) on 31st-5th January; at Tralee Bay Wetlands (Co.Kerry) from 31st-5th January; at Blennerville (Co.Kerry) again on 2nd; also on 2nd in Cork city (Co.Cork); again in Co.Cork on 3rd-5th at Bantry, with one on 3rd also at Sandymount (Co.Dublin); and on 4th at Nimmo's Pier (Co.Galway). The period closed with further birds seen at Arthurstown (Co.Wexford) and Carrigaline (Co.Cork).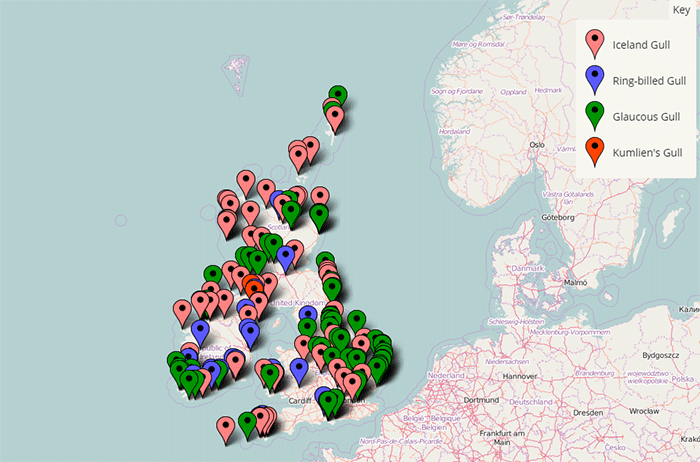 England just edged Scotland in the best of the rest – English birds were the adult again at Blashford Lakes HWT (Hampshire) until 4th; the second-winter again at Preston (Lancashire) on 29th December; and in Cornwall, a second-winter on the Hayle estuary until 1st, and a first-winter at Newlyn on 2nd-4th. Scotland provided birds at Strathclyde Loch (Clyde) on 29th December – 5th January and the regular adult again in Dingwall (Highland) on 2nd. Wales' sole contribution this fortnight came from Pembrokeshire where an adult graced Llys-y-Fran reservoir on New Year's Eve.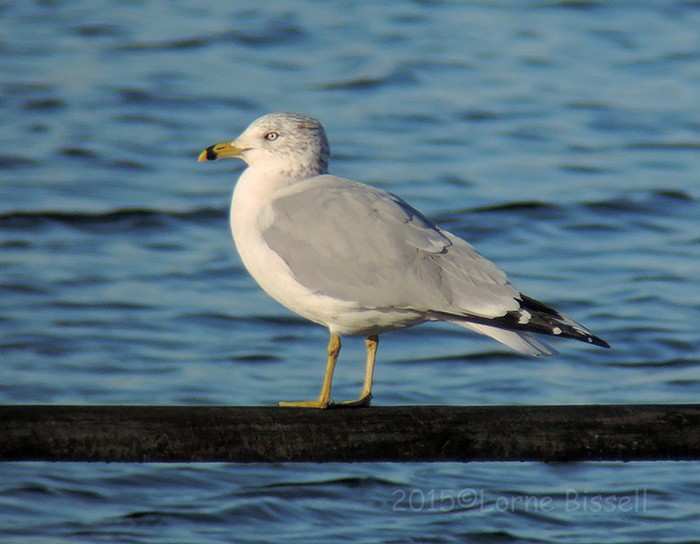 Numbers of Glaucous Gulls were much on the increase over the fortnight-long period – presumably reflecting both an actual increase and an increase in birders actually able to get out for a while and make the most of the hours of daylight when they'd otherwise have been gainfully employed elsewhere... Some 60 birds were noted across 14 English, eight Scottish, five Irish and one Welsh counties. All involved single birds with the exception of two at Duncannon (Co.Wexford) on 28th December.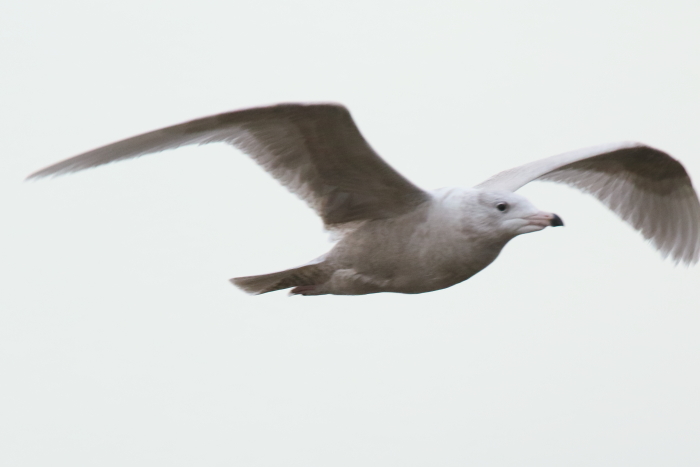 Bringing us nicely onto our other regular winter white-winger - numbers of Iceland Gulls recorded rose to around 80 birds, the stand-out count coming from the Cashen Estuary (Co.Kerry) on 2nd January with four birds noted there that day. A number of duos were logged elsewhere , almost exclusively in Ireland– at Killybegs (Co.Donegal) on 23rd; at Ardglass (Co.Down) on 27th; on the Lossie Estuary (Moray) on 28th; Sligo (Co.Sligo) on 30th; Duncannon (Co.Wexford) on 2nd-3rd; and at Belfast Lough RSPB (Co.Antrim) on 2nd. Numbers as a whole were distributed across 16 English, 13 Irish, 12 Scottish and two Welsh counties.
Inevitably amongst all of those widespread Icelands there had to be some Kumlien's Gulls - and sure enough, there were a handful to be seen. Co.Antrim was where it was all at, with second-winter birds at Balleygalley on 29th and Glenarm on 30th, and a juvenile at Belfast Lough RSPB on 2nd January. The latter date saw Norfolk get in on the action with an adult bird at Waxham.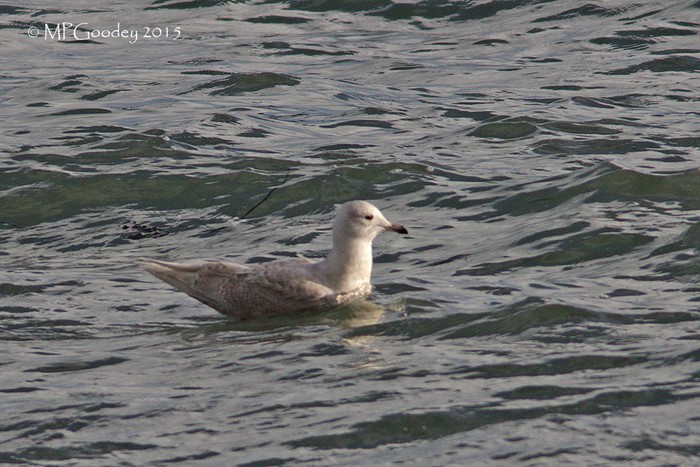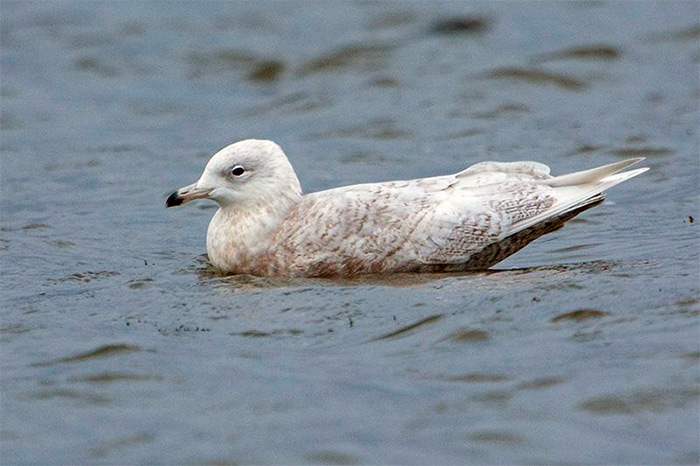 We return to Ireland to finish up the Gulls'n'Terns where the adult Forster's Tern was again in Co.Galway at Kinvarra on 27th December. As both myself and Mark have mused many a time of late, it's starting to be quite a while indeed since the last British record...
Norfolk continued to dominate the news where Rough-legged Buzzards were concerned – two juveniles remaining, off and on, at Choseley right throughout the period, with further reports from locations far and wide in the county: on 23rd at Burnham Market; on 24th at Scarning, and on Christmas Day itself at Ringstead; from Kimberley on 29th; and in 2016 from Haddiscoe Marshes on 1st, Anmer on 2nd, and on 3rd from Burgh Castle and Flitcham.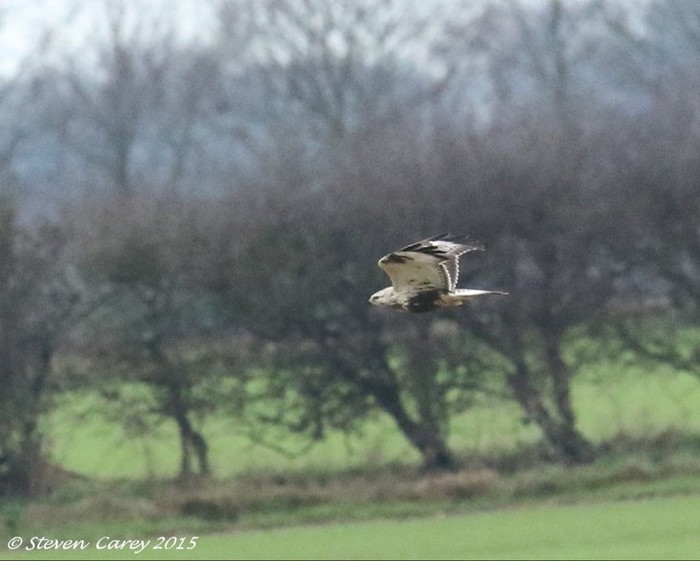 Away from Norfolk, the Essex beauty remained settled at at Holland Haven CP until 5th, with further sightings ranging from Kent right up to Shetland: on 23rd one was reported from Seaton GPs (Kent) and one was reported from Sleaford (Lincolnshire); on 27th Co.Durham hosted one at Eggleston; New Year's Eve saw an indivual reported from Chichester (West Sussex); while in Shetland the Sullom bird was still present until 5th January with it or another seen in the North Mainland at Collafirth on 27th December.
Back in Norfolk, the juvenile Pallid Harrier continued to delight though became rather more sporadic and unreliable as the period wore on, last being reported there in the stubble fields on 5th January after one or two temporary leaves of absence from Flitcham.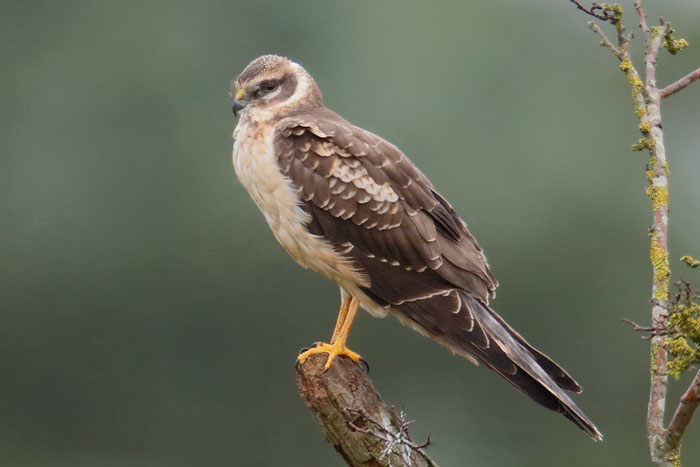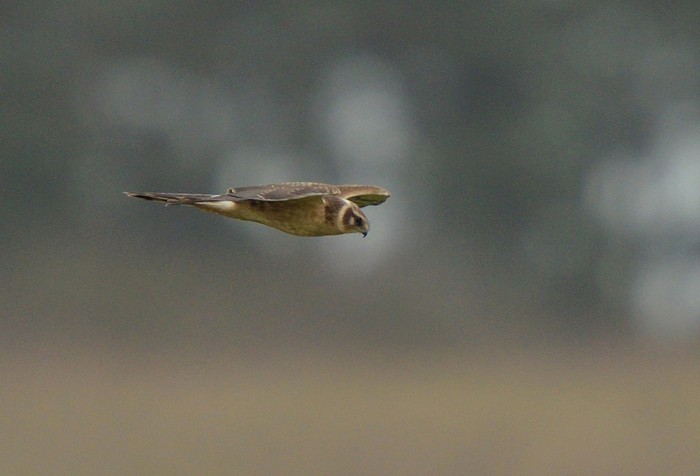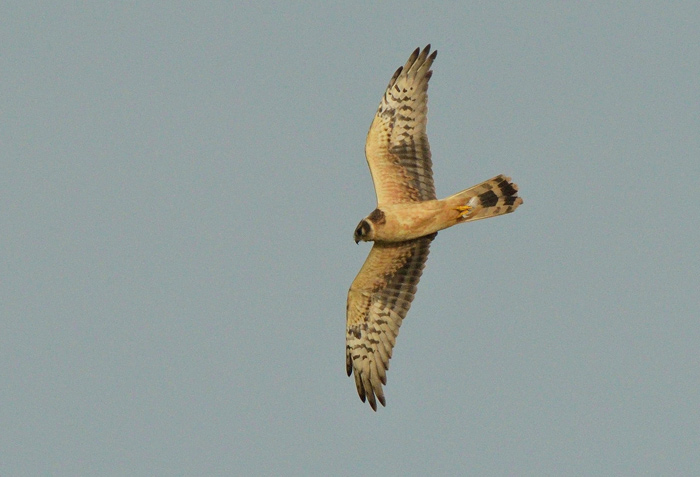 Much less accessible for the nation's birders, but arguably even better looking was the lingering white Gyr on North Uist (Western Isles) – the proverbial ermine-clad executioner drifted around Balranald RSPB and Baleshare throughout the period, seen on the island until 4th at least.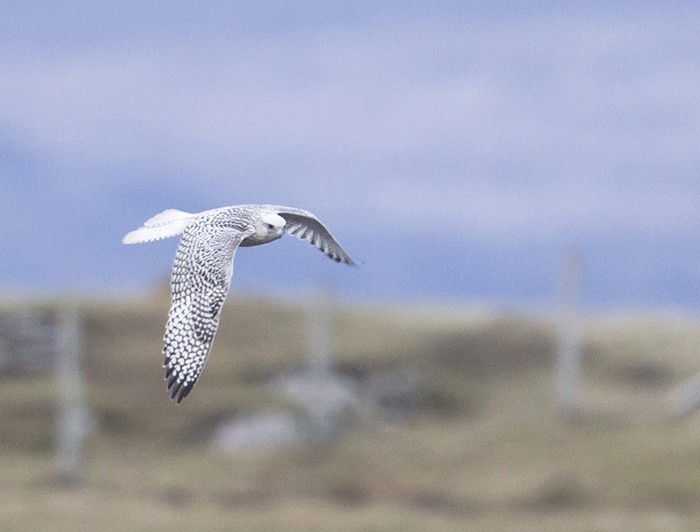 As is my wont, we're straight into the passerines with the wintering warblers – and top of the pile is another late Pallas's Warbler, a tremendous find in Cheshire on 2nd-5th at Heswall. Just going to show that it's worth wading through those wintering Chiffchaffs in anticipation of something considerably more scintillating than a Siberian Chiffer.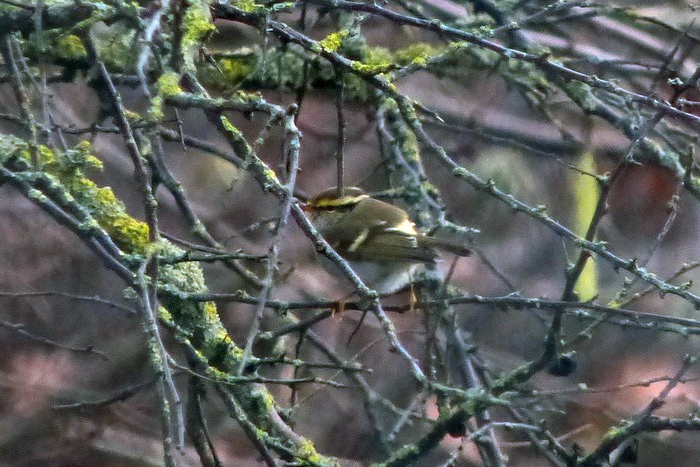 In Somerset the wintering Dusky Warbler remained at Ham Wall RSPB until 5th, while on Christmas Day another was mobile and elusive in Norfolk at Holkham.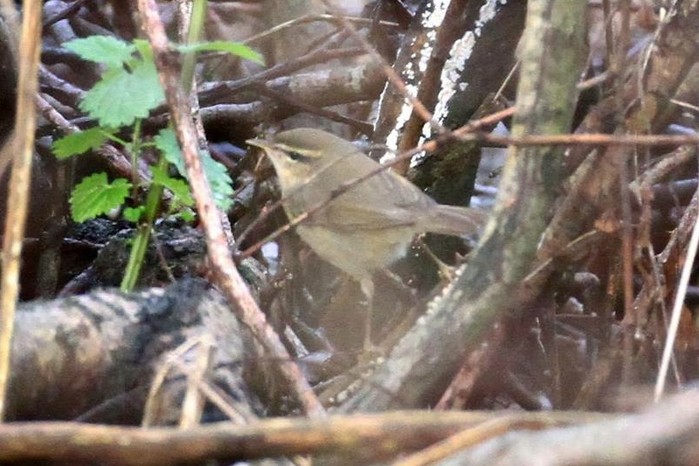 Am I the only one who's a little surprised that, after a record-breaking influx of Yellow-browed Warblers last autumn and a famously mild subsequent early winter period there aren't more wintering birds being uncovered in the south of England? Indeed, anywhere in Britain and Ireland?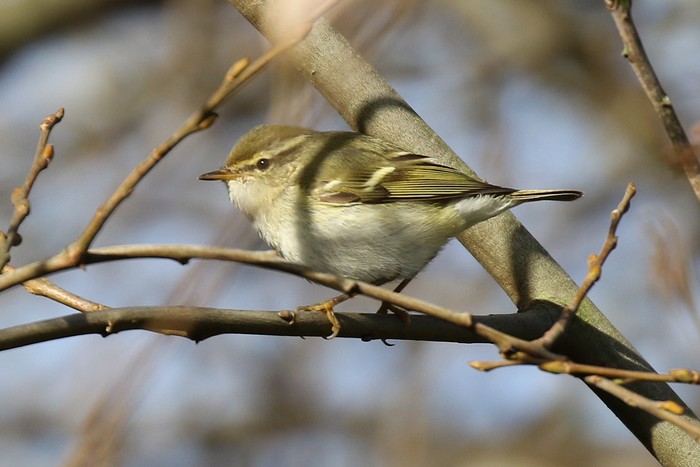 Idle musings aside, there are still some to report – top billing going to Yeovil (Somerset) where two birds were in situ until New Year's Day, with just one seen there subsequently; and Broadsands (Devon) with one there until 2nd but two present on 28th. Elsewhere, individuals were still present on 23rd at Dawlish Warren NNR (Devon) and Flamborough Head (East Yorkshire), the Dawlish bird being noted there again on 5th January; at Ringstead Bay (Dorset) until 28th; at Brent reservoir (London) until 1st; Hayle (Cornwall) until 5th, and Eastleigh (Hampshire) until 4th. One was reported from Bowling Green Marsh RSPB (Devon) on 29th, with further birds seen in the Lizard village (Cornwall) on New Year's Day, at East Cowes on the Isle of Wight on 2nd, and on 4th at Hinkley Point (Somerset) and on St.Mary's (Scilly), the Hinkley bird still being there the following day.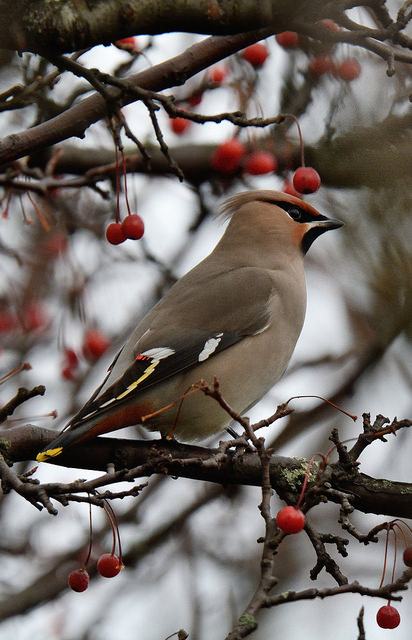 The Lizard also scored on New Year's Day with a cracking adult Rose-coloured Starling, present still on 5th, which leads us nicely to...
...other colourful midwinter stuff, a.k.a, Waxwings. I should be careful what I wish for, as the alternative is having to assimilate vast flocks of those funky beasties for your delectation, but once again it's not shaping up to be an invasion year just yet. Reports in the past fortnight came in dribs and drabs, with the most notable flock(ette) being in Northumberland at Blyth throughout the period, peaking at nine birds on Christmas Eve. Elsewhere around 25 further birds were logged, predominantly up the eastern coastal counties as far as Shetland, and mostly in ones and twos with four birds at Broadstairs (Kent) on Christmas Day being about as notable as it got. (And who wouldn't like to find Santa had brought a Waxwing or two?)
Arguably every bit as much of a good-looking crowd-pleaser were the three Penduline Tits that (mostly) stuck around Titchfield Haven NNR (Hampshire) until 5th – there was usually at least one seen daily, but they were sometimes rather less than obliging for their admirers.
The wintering Hoopoe remained a daily nailed-on certainty at Wall Heath, Hinksford (Staffordshire) until 5th January, with a further possible individual reported from Clovelly (Devon) on Christmas Eve.
Norfolk's star wintering bird – for sheer gutsy endurance if nothing else – has to be the north coast Red-rumped Swallow that stuck things out for a while yet – remaining in the Holkham vicinity for much of the time, last being seen on New Year's Eve at Burnham Deepdale.
The Kentish Richard's Pipit stuck it out too at Shell Ness, being seen again there on 2nd-4th. Meanwhile it was all going off in Yorkshire – on at Hayburn Wyke (North Yorkshire) on 27th was augmented by two birds on Flamborough Head (East Yorkshire) on 27th also until 3rd January, with one at least still there on 4th-5th; on which day there was also one at Swillington Ings (West Yorkshire), remaining there until 5th. Not to be outdone, one was at Fleetwood (Lancashire) on 29th December.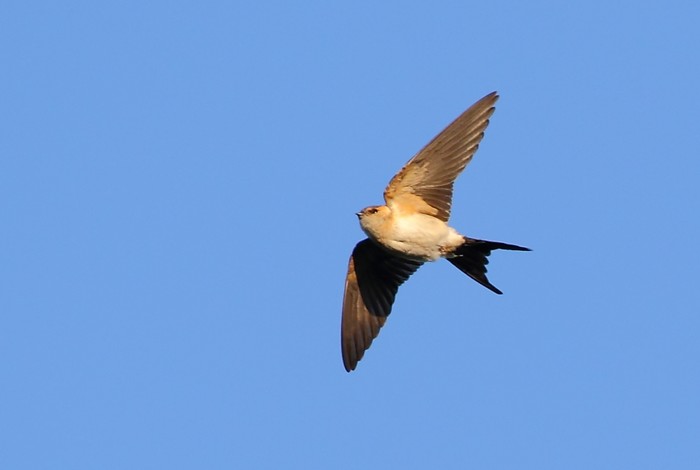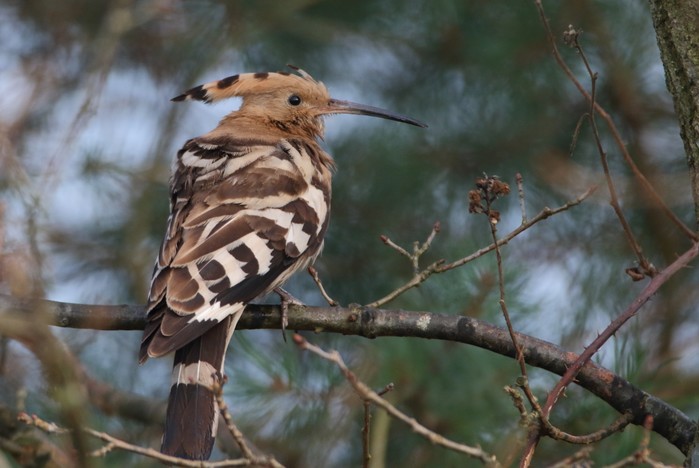 A probable Pallid Swift at Cloughton Wyke (North Yorkshire) on 29th December would have been, if confirmed, the latest British record by some margin – up to the end of 2013 the latest accepted record concerned the individual seen on 22nd November 2002 at Stanpit (Dorset).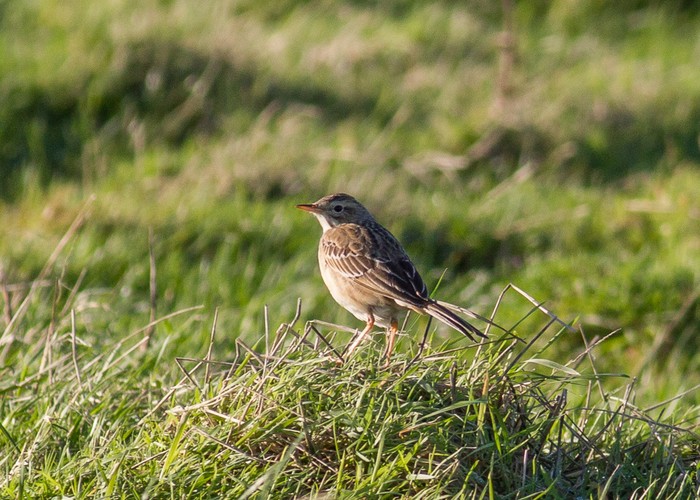 Numbers of Great Grey Shrikes remained somewhat below par for the time of year – reports were few and far between on the whole. The ever reliable Thursley Common (Surrey) served up the goods through to 5th January; other Surrey reports came on 29th from Chobham Common and on 31st from Ash Ranges. One remained at Iping Common (West Sussex) from 24th-29th, while from Hampshire records came on 31st from Havant, on 3rd-4th from Bisterne Close and on 4th from Beaulieu Road Station. Down in Devon one was at Soussons Down on 23rd, and on 5th singles were seen at Bicton Park and Woodbury Common.
Moving up country, one remained in the Staple-edge Wood area of Gloucestershire on 24th-31st; on 31st one was at Buntingford (Hertfordshire) and on 1st-4th one lingered in Bedfordshire at Henlow. East Anglia's sole representative was on Buxton Heath (Norfolk) on 29th.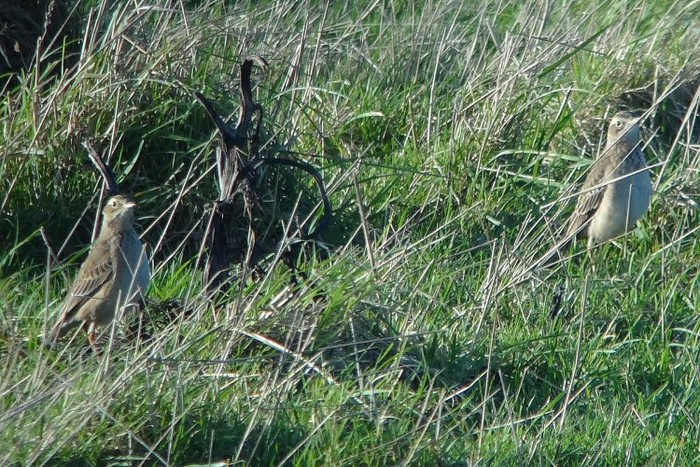 Further north one was noted in Derbyshire on 27th at Curber, while across in North Yorkshire another was in Langdale Forest on 27th also. In East Yorkshire one was seen on New Year's Eve at North Cave Wetlands YWT. One was noted in Worcestershire on 5th at Croome Park. Wales contributed three records: from Llyn Brenig (Clwyd) on 3rd January and on 5th from Afan Forest Park (Glamorgan) and Glasfynydd Forest (Powys).
Completing the scattering of unseasonal goodies in this round-up is the female Serin seen on 4th January in Cambridgeshire at Fen Drayton Lakes RSPB.
The coming week…
So that's that – the first Rarity Round-Up of the New Year, and the last of the old one too. I naively imagined it might be quite a peaceful one - a flotilla of interesting quackers, a few white-winged gulls to go at, a smattering of Great Grey Shrikes and job's a good 'un.
How very (pleasantly) wrong I was! It already looks like 2016 is set to pick up where 2015 left off, although last year really will take some beating. If you haven't already relived some of the highlights, I highly recommend Mark's recent 'Twelve Birds of Christmas' series.
So, the coming week – what're we expecting, and what're we hoping for? Those keen eyed Irish gullers are almost certain to continue to turn up the goods – I fancy an American Herring Gull or something tastier still.
Rare and scarce wildfowl give everyone with an area of freshwater or coast alike on their local patch the chance to enjoy their fifteen minutes of fame this coming week – there may be a Lesser Scaup lurking amongst your local Tufties or a Green-winged Teal amongst their commoner brethren – always worth a close look.
But a real blast from the past in the coming days shows the ultimate prize for checking through the common stuff in search of the big boy – step forward the Double-crested Cormorant that was found in Cleveland on 11th January 1989, and remained there right through to 26th April of that year.
That particular bird was followed by one in Ireland in late 1995 and early 1996, but after that… nothing for twenty years. A real blocker then for latterday generations of birders… but one that's surely going to fall again someday?
Jon Dunn
06 Jan 2016
Please note: we put a lot of time and effort into sourcing and and producing the images, videos and graphics for each roundup. Some of you (probably Apple users) may notice some photos etc. that appear to have incorrect captions. Please try refreshing the page as they are correcty captioned. If after a refresh they are still showing the incorrect captions then please email us
Thanks to this week's contributors for their photos and videos.
Hugh Harrop / Shetland Wildlife, David Aitken, Fionn Moore, Tom Shevlin, Mike O'Keefe, Seamus Feeney, Mark Guppy, Mark Coller, John Chapple, James Lowen, Ciaran Cronin, John Anderson, Dennis Morrison, Barry Farquharson, Ricahrd Mills, Christopher Teague, Mark Jones, Shaun Ferguson, John Richardson, Ian Clarke. Martin Rooney, Lorne Bissell, Ben Moyes, Robert Jones, Andrew Russell, Alan Tremethick, Brian Henderson, John Nadin, Douglas Kelson, Paul Massey, Phil Birder, Tristan Reid, Tony Dixon, Bill Richmond, Gerard Murray, Mike Morse, Jeff Lack, Brett Spencer, John Kemp, Andrew Jordan, David Bilcock, Cathal Forkan, Martin Goodey, Steven Carey, Steve Gantlett, Baz Scampion, Yvonne Benting, Allan Conlin, Bob Laughton, Chris Cook,