Weekly round-up: 09 - 15 Dec 2015
The week at a glance
Ireland's popular American Bittern remains in County Cork
The meena Rufous Turtle Dove seemingly departed Shetland ~ but reappears at the weekend
Potential Brünnich's Guillemot photographed off the Cleveland coast
A male Pallid Harrier reported in north Norfolk; the impressive juvenile lingers in the west of the county
Weekenders see the wintering Pacific Diver in west Cornwall
It was almost as though you could tell that there's a holiday coming along…
…a quiet week was had by almost all; little by way of new "big rares" (not that that should come as a surprise) and even new "oddments" were pretty thin on the ground as well.
Further bands of rain, sleet and snow pushed their way across much of the country through the first few days of the week, a wet and gloomy Saturday was had by those in a fair amount of Ireland, Wales and England ~ Scotland seeing a touch of respite.
The winds wobbled a bit, largely they remained from a southwesterly direction but they did sneak around towards the southeast as the fronts whipped through post-the weekend. Temperatures were more typically seasonal than of late, but those yearned for crisp, fresh, cold but sunny wintery days (that make birding such a joy at this time of year) seem some way off at the moment.

American Bittern
Continuing the favoured "now you see me, now you don't" routine this week, was Cork's super American Bittern on the small lake just below Castlefreke House.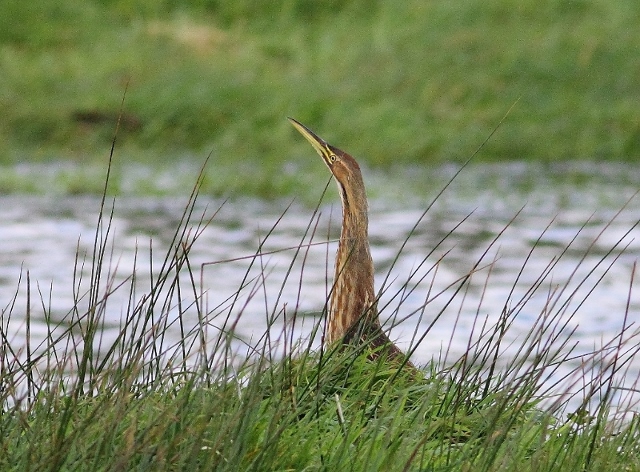 This week the bird was seen only on 10th (no sign at all on 11th at least) and again on 13th-14th ~ a pattern in keeping with the behaviour of the past couple of weeks. This funky Nearctic arrival performed throughout the first couple of days after arrival (from November 25th-27th) and then promptly disappeared for almost a week before resurfacing on December 3rd. It showed again on 4th and then went AWOL once more on 5th.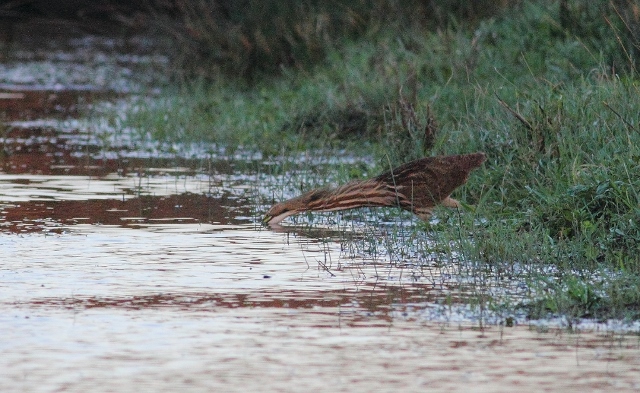 It didn't take long for the American Bittern to pop up once more, seen daily between 6th-8th but this week, well it hasn't really been too busy for news and there's only been those three day's worth of sightings to report.
Rufous Turtle Dove
Taking a leaf out the American Bittern's book was Shetland's first-winter Rufous Turtle Dove that looked as though it had bid the islands a final farewell ~ last seen at the end of last week's review period (on December 8th) there was negative news from the Scalloway gardens on both 9th and 10th. It seemed then as though this 2nd for Shetland had "done one"…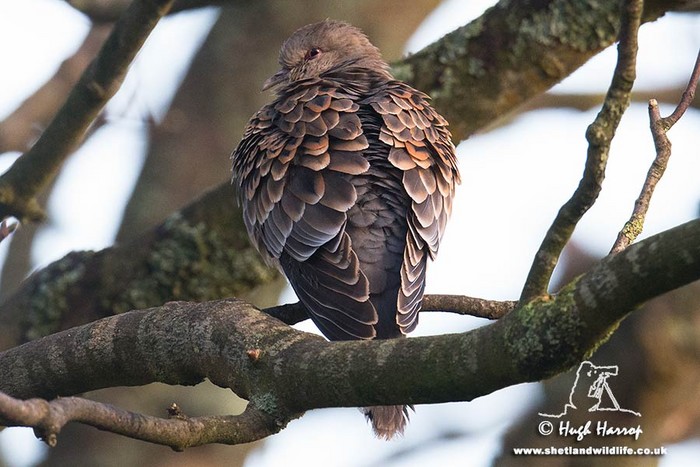 …and for a few days I guess it had indeed "done one" somewhere but it was back along the garden fringes of Ladysmith Road during 12th and 13th, showing well once again, repeating the same process on 15th too.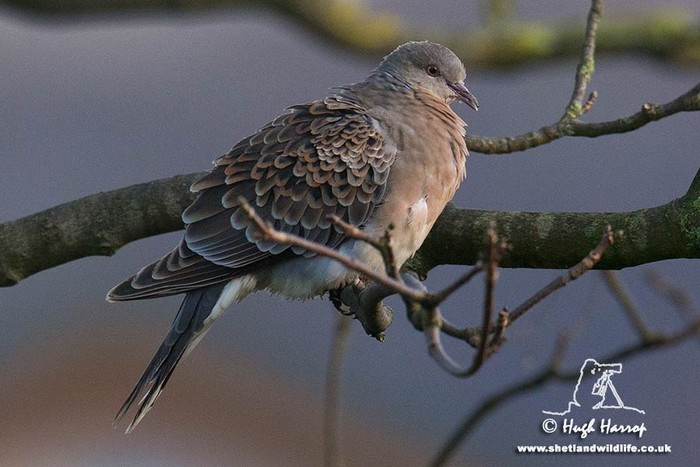 Brünnich's Guillemot
Leaving the noisiest and most buzzy of buzzing bees firmly in the bonnet (for now) we'll take ourselves away to the coast of Cleveland where what appears top be a very decent Brünnich's Guillemot contender was seen and photographed offshore from South Gare on the morning of 16th.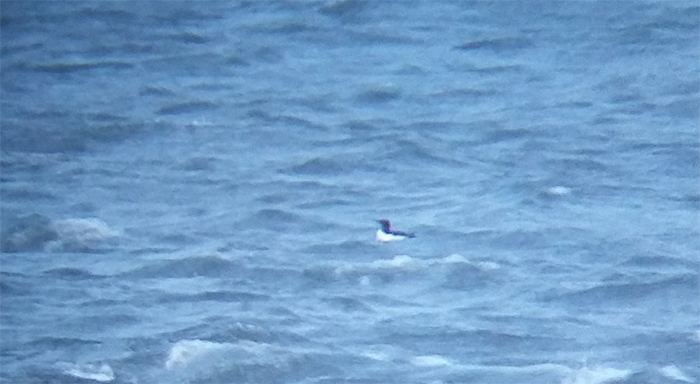 A couple of ultra-record shots were obtained of this fascinating looking-auk (that really does feel like it's a Brünnich's) before a Great Black-backed Gull took a little too much interest in the beast and that was that ~ the bird disappeared and another one was chalked up to the "one that got away" file.
In the recent past, there have been a couple of tasty flyby Brünnich's Guillemots in the southern North Sea ~ tho' they weren't to the taste of BBRC (no photo in a harbour = no record) ~ but thankfully the proof of the Guillemot pudding has produced other nicely documented birds not only well to the south (in Portland Harbour) but just ahead of that, within the calm waters of Filey Bay, on December 3rd 2013.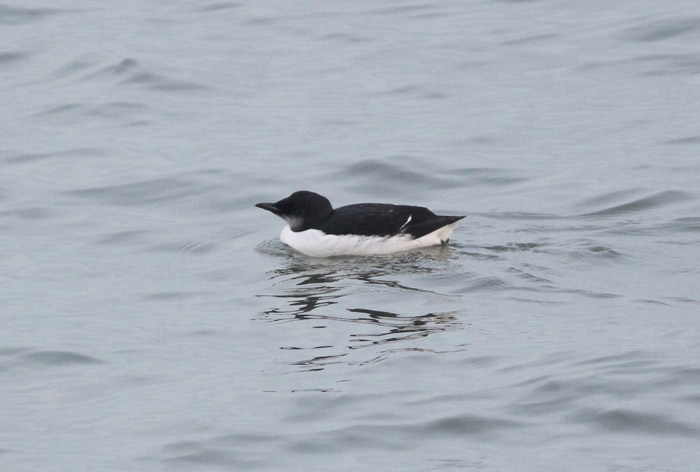 Filey isn't too far from Cleveland and, in real terms, not that much further than Norfolk (as the rare Guilly flies). Obviously the occasional one makes it down in to the southern North Sea from colder Arctic waters, but convincing people of that fact that they can be done as fly pasts remains nigh-on-impossible.
Pallid Harrier
Coming as something of a surprise on the afternoon of 9th was the report of a male Pallid Harrier flying south over fields at Egmere (inland of the north Norfolk coast) and heading off towards Fakenham.
It's a huge area to prospect in and the few people out searching almost inevitably drew a blank ~ and despite a neat array of raptors at the Warham roost that evening, there was no dinky little harrier on offer.
From the 80+ acceptances of Pallid Harrier to date, there have been a dozen grey males (presumed juvenile male and first-summer males have been excluded).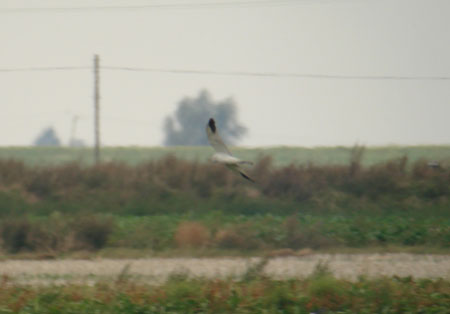 adult male, Salisbury Plain, Wiltshire ~ August 31st to September 8th 2013
adult male, Ripley, Surrey ~ March 31st 2013
adult male, Frampton, Gloucestershire ~ April 3rd 2012
near-adult male, Toseland and Aldreth area, Cambridgeshire ~ sporadically June 29th to September 9th 2009
male, Sennen, Cornwall ~ 29th to 30th March 2003, then at Spurn, East Yorkshire on April 1st and 3rd
3cy male, Elmley, Kent ~ August 3rd to 20th 2002
3cy male, Durkadale, Mainland Orkney ~ April 18th to June 27th 1995
male, Saddington Reservoir, Leicestershire ~September 15th 1993
3cy male, Pulfin Bog, East Yorkshire ~ September 9th 1993
3cy male, near Aberfeldy, Perth & Kinross ~ May 5th to 7th 1993
male, Whatcombe, Dorset ~ April 11th 1938
male, Fair Isle, Shetland ~ April 24th to May 8th 1931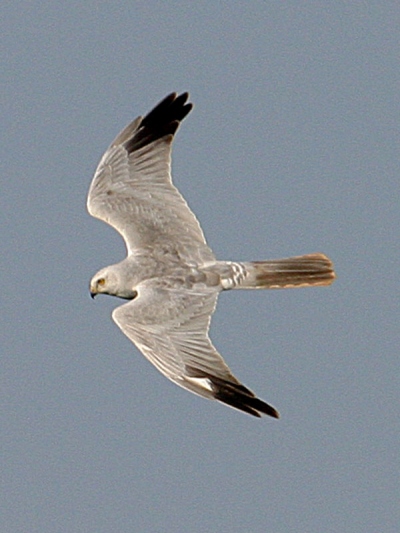 One Norfolk Pallid Harrier that was almost guaranteed was the showy juvenile that remained at the southern end of the Snettisham RSPB reserve through until 15th ~ it seems certain to winter on site now…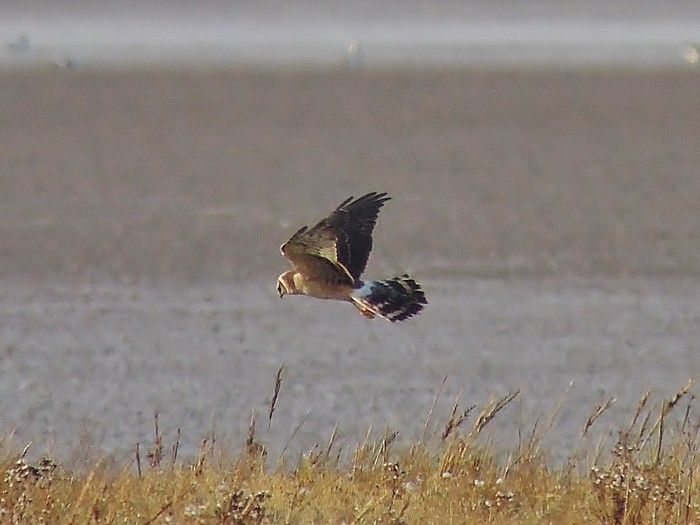 Pacific Diver
What else was going on outside of Hawk Owl Rumoursville (anything to brighten up a wet East Anglia Saturday…). Well, down in west Cornwall, the adult Pacific Diver was seen between Penzance and Newlyn, near the Jubilee Pool on 12th.
After a few busy-ish weeks for Little Auks there were just 72 reported across the past seven days, 30+ of which were seen offshore from Kirkcaldy (Fife) on 14th. Another 18 flew past Gullane Point (Lothian) in half on hour on 10th with three more were seen in the same county and a further 13 were logged around Scotland, from Borders to the Outer Hebrides and Shetland. Only six English birds were seen, two for both Northumberland and East Yorkshire and one for both Suffolk and Cornwall, while in Ireland, singletons in Antrim were noted from the ferry to Rathlin Island on 12th and in Belfast on 14th, while in Kerry, singles were near Tralee on 9th and, successfully released at Camp on 10th and singles on 15th were in counties Louth and Dublin.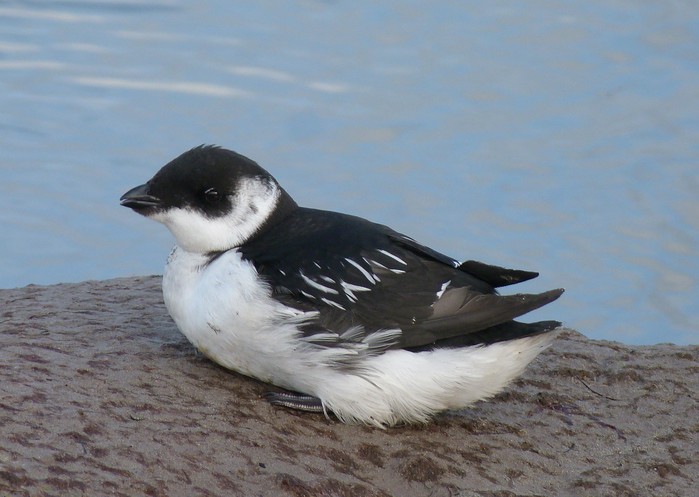 New this week was a Sabine's Gull found at Chesil Cove (Dorset) on 13th while seven Pomarine Skuas were reported through the review period; on 13th, three birds were seen heading south off Thorpeness (Suffolk) and a singleton was off Kinghorn (Fife) while the 14th saw another loner head past Dungeness (Kent), two singles were seen offshore from Annstead (Northumberland) and two more were reported from Thorpeness, with another there on 15th.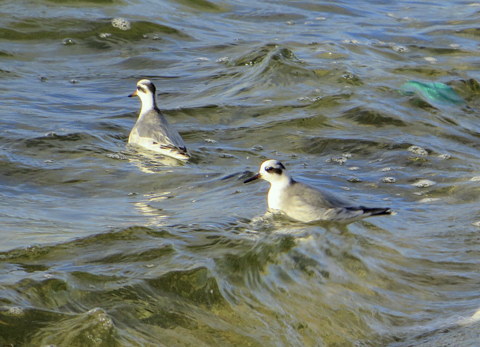 Oxfordshire's confiding Grey Phalaropes duo remained at Farmoor Reservoir until 11th and were two of six birds noted this week. A lone individual remained at Stevenston (Ayrshire), also to 11th and the same date saw the appearance of another singleton at Crymlyn Burrows (Glamorgan). The final two Grey Phalaropes this week were both noted in Dorset on 12th; heading west past Hengistbury Head and also at Portland Marina.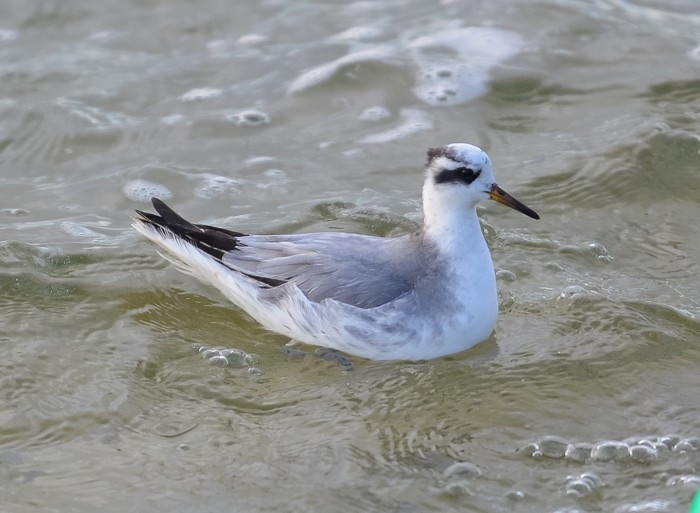 The final seabird to mention this week was a Leach's Storm-petrel that was logged off Pembrokeshire's Strumble Head on 11th.

North Cornwall hosted a new four-minute only Glossy Ibis on the morning of 9th, watched just before 11am at the Amble Marshes before departing. That was one of only three birds noted this week, the others were birds that remained around the Somerset Levels until 13th at least and still at Pett Level (East Sussex) to 14th.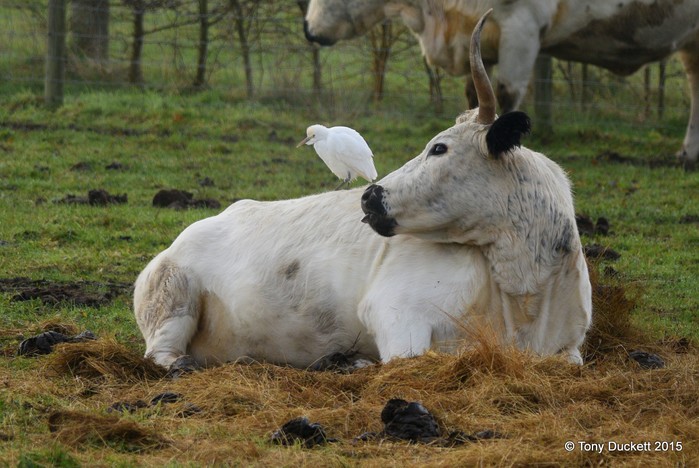 Norfolk birders finally had a chance to see a settled Cattle Egret this week ~ found amongst the long-horned mooers near Sea Palling on 11th and showing across the weekend and on to 15th. There's half a chance that this may even be one-in-the-same individual that has tracked inside the Norfolk coast through the past three weeks or so; one was reported near Sharrington on November 28th and that was followed by news of one at Aylmerton on 4th. A week later and there's a Cattle Egret at Sea Palling. Not quite a straight line from site to site but its not out of the question that there's only been one bird involved.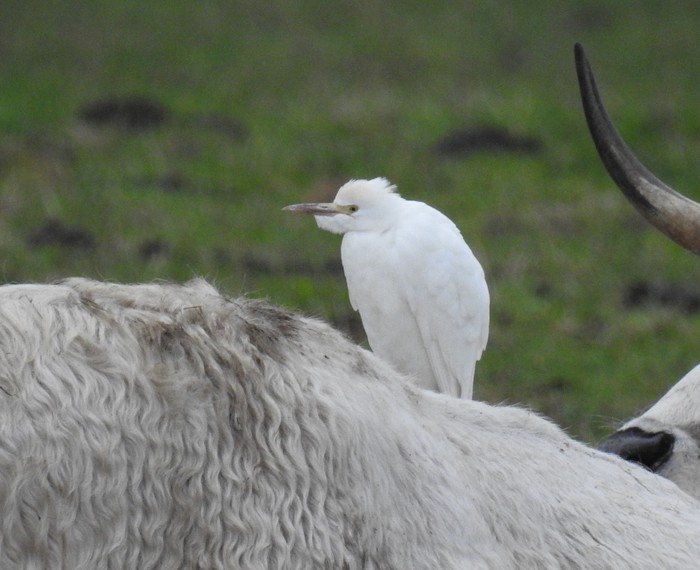 Just one other Cattle Egret was noted this week, still at Tacumshin (Co. Wexford) to 13th.
The week's high count of Poole Harbour Spoonbills was 34 at Shipstal Point on 9th, with the same flock off Brownsea Island on 14th (while a boat trip on 13th yielded a score of 32).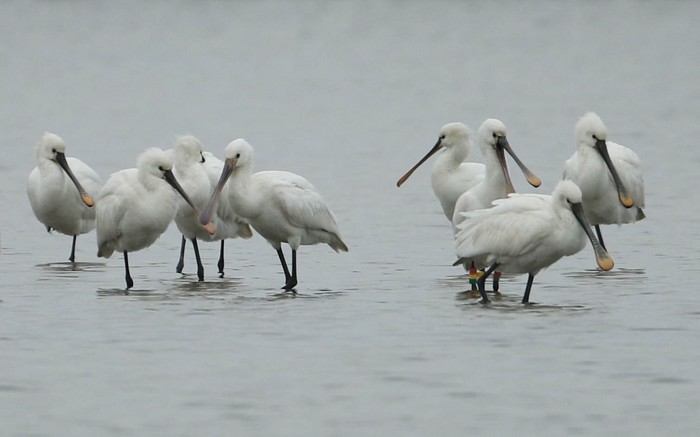 Elsewhere, five Spoonbills remained at Dungarvan (Co. Waterford) through until 13th, three more were still in north Devon, at Wrafton to 14th while singles were seen at Cromane (Co. Kerry) to 12th and at the Hayle Estuary (Cornwall), Pennington Marshes (Hampshire) ~ moving to Sturt Pond ~ Pagham Harbour LNR (West Sussex) and Snettisham RSPB (Norfolk) all to 14th..
There's not much Common Crane action to report ~ in the Norfolk Broads counts of four, five and six came from Horsey, Oby Marshes and Hickling across 11th-12th, while in Cambridgeshire, two were again at Eldernell on 10th. Away from East Anglia, the only other bird recorded this week was still at Reiss (Highland) to 15th (present there for a month now).
If they'd settled down somewhere, the two east Norfolk Red-breasted Geese, seen at Berney Marshes RSPB on 9th would undoubtedly have been a weekend draw. The birds headed west with Pink-footed Geese but have yet to be relocated ~ they could still be out east or they may already be in north or west Norfolk, tucked away amongst the throng of Pinks dotted around the county.
Whether the two birds this week were of "wild" stock is the next question to be asked after "where did they go?" ~ neighbouring Suffolk has had a few feral birds on the prowl in recent years ~ and, at first glance, Pinks are perhaps curious bedfellows (although there has been a Red-breasted Goose with Pink-feet before in the north of the county though, in October 2001). Norfolk's last accepted Red-breasted Geese were the two birds that spent three weeks or so around Warham and Wells before moving to Lynn Point and Snettisham in March 2007.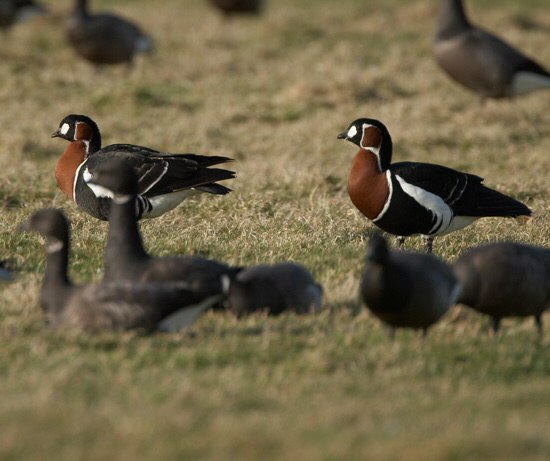 New in Scotland this week was a Ross's Goose amongst 2500 Pink-footed Geese at Carstairs (Clyde) on 12th-14th. It seems likely that this may well have been the bird seen recently in Forth ~ one was reported "recently" near Bonnybridge and on November 14th one was photographed at Skinflats Lagoon (where it was called a Snow Goose until the images were examined).
This week's vagrant is the second record for the county, following a roaming bird (that was also seen at Carstairs) through March 2012.
For the third week in a row, there was just the one Snow Goose on offer ~ the white bird still in and around assorted Cumbrian sites between 10th-13th (seen at Cardurnock, Anthorn and Calvo Marsh).

The two Black Brants seen recently in West Sussex, at Birdham Marina were both still in place on 10th (with one near Chichester on 15th) and East Yorkshire's twosome were also noted again this week, still at Kilnsea to 13th at least. In north Norfolk, the regular adult remained anywhere between Cley and Salthouse throughout the week while the elusive, striking gander was again at Binham on 12th. The week began with the adult Brant still in place at Mersea Island (Essex) and in southwest England, singles remained on The Fleet (Dorset) and the Exe Estuary (Devon) through to 13th. New as the review drew to a close was an adult on Covehithe Broad (Suffolk) seen during the morning of 15th with the local Barnacle Geese.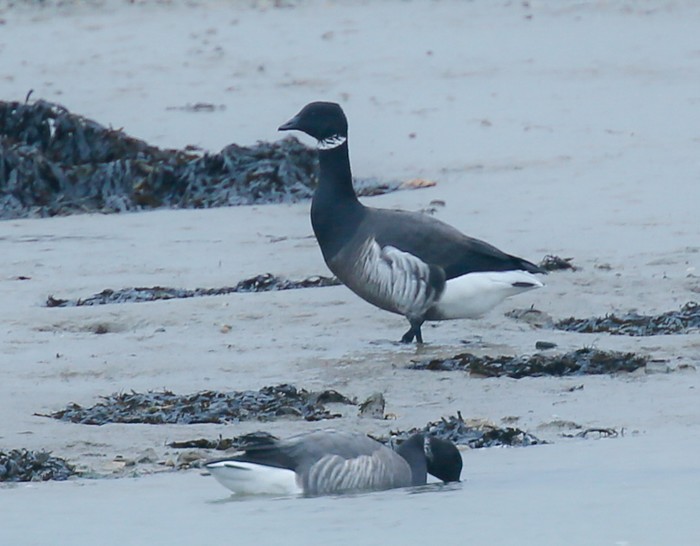 The only Lesser Scaups this week were a new female on the Gearagh (Co. Cork) on 10th and the drake again on Chew Valley Lake (Somerset) on 14th. Ring-necked Ducks went better by four; the two females continued their Hampshire hols at Rooksbury Mill LNR through until 13th at least, a pair were found on Dunfanaghy New Lake (Co. Donegal) on 14th while single drakes were again at Pitlochry (Perth & Kinross) on 12th and Caerlaverock WWT (Dumfries & Galloway) to 15th.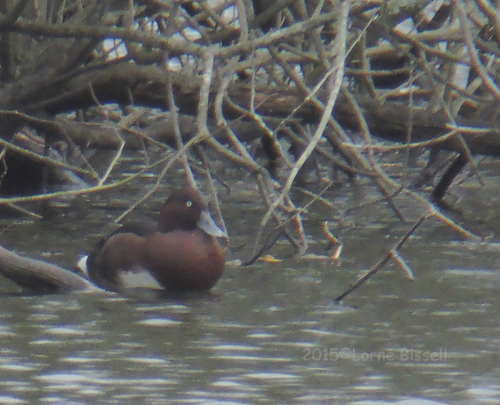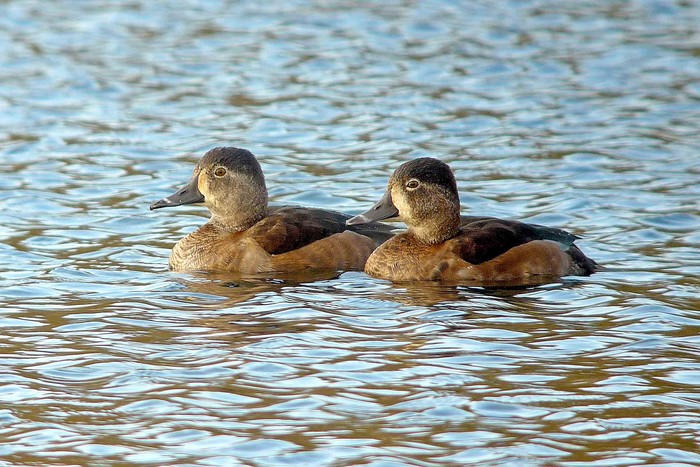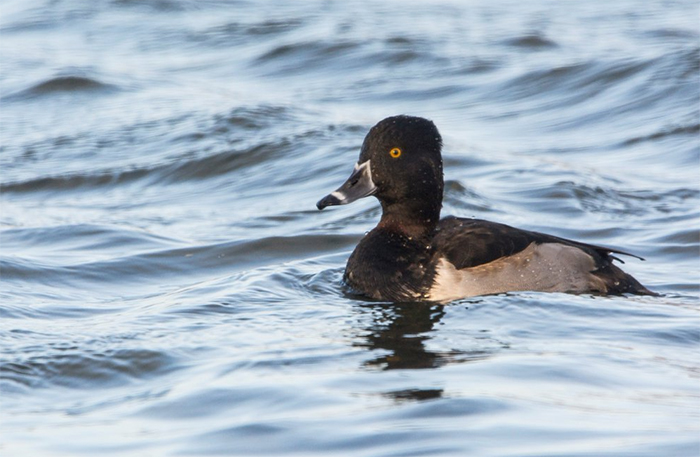 The only "genuine" Ferruginous Duck of the week was the drake that lingered at Blashford Lakes HWT (Hampshire) to 15th (the ringed drake ~ presumed to be an escape ~ was still at Dinton Pastures CP in Berkshire to 14th while the "OUO" drake remained in the pens at Washington WWT in County Durham until 13th at least).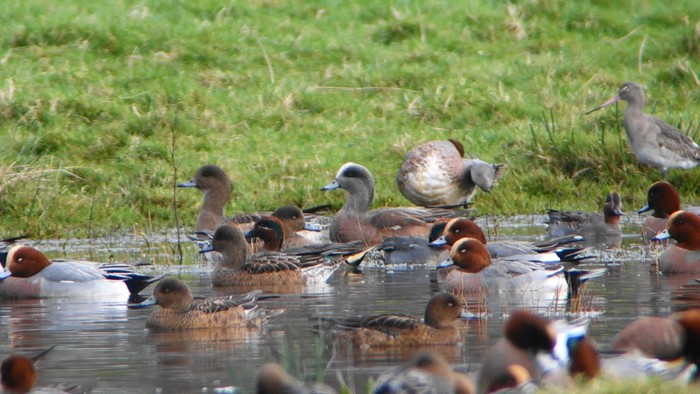 A new 1w drake American Wigeon was a neat find at Bowling Green Marsh RSPB (Devon) on 11th ~ the handsome bird remaining for just another day after that, before resurfacing on 15th. Just one other bird was noted this week, the drake still noted as present at Tain (Highland) to 14th.
Three of the week's seven drake Green-winged Teals were new arrivals ~ on 12th, one appeared at Coombe Hill Meadows (Gloucestershire) and the 13th saw fresh stock pop up at Frodsham (Cheshire) and on Papa Westray (Orkney). Making a reappearance was the drake at Portworthy Dam (Devon) on 13th (he was seen there initially on November 27th) while leftovers from previous weeks were still at Martin Mere WWT (Lancashire) to 13th, near Kilsyth (Clyde) to 14th and Caerlaverock WWT to 15th.
Only two drake Surf Scoters made the news across the first six days of the review period ~ both on Scotland's east coast, both long-time favourites here. The first was in Lower Largo bay (Fife) to 13th and the second remained off Joppa (Lothian) to 15th. The final date saw more birds pop up ~ five were in Colwyn Bay (Conwy) and in North Yorkshire, in Filey Bay, what could have been last week's bird from Cleveland appeared during the afternoon for a fine site record (and the second there this year).
<!—Section Title -->
Making only the second appearance within almost the last six weeks was the Lesser Yellowlegs at Breydon Water, noted once again at this expansive site on 12th (it was seen last on November 23rd, before that on November 8th having been found on October 29th).
More reliable is the first-winter Long-billed Dowitcher in Northumberland that was seen daily at Cresswell Pond from 10th-14th at least while in County Cork, the showy young Spotted Sandpiper remained at Pilmore, near Youghal through until 13th.

We'll mop up a little late news first ~ two Ross's Gulls (no age given) were reported from the river mouth at Applecross (Highland) on 7th but no further information has really made itself available; the last record in the region was an adult at Wick in February 1999.
What may well be Orkney's second Bonaparte's Gull was reported on the sea at Peerie Sea, near Kirkwall, Mainland on the afternoon of 9th ~ there's every chance that it could re-surface somewhere around the islands at some point this winter ~ which is exactly what it did on 15th, appearing in pretty much the same spot as at the start of the week.
The only record of this Nearctic gull to date on Orkney was a four-day adult around Holm Sound in October 2011. Elsewhere, appearing for the first time in two weeks was the adult Bonaparte's Gull at Dawlish Warren on 13th.
In a lean week generally for news, there were only four Ring-billed Gulls to note; two were in Cornwall, the first-winter remained around Sancreed until 14th and the second-winter was back on the Hayle Estuary from 9th (for the first time since laste November). The second-winter in Lancashire was again at Haslam Park, near Preston on 13th-14th while the old-timer was still in Dingwall (Highland) on 9th (the first report in over a month).
Around 14 Glaucous Gulls were recorded across the past seven days ~ nine of them in Scotland. Three birds were seen around the Outer Hebrides, two juveniels were on Barra on 10th and another bird of the year was at Vatersay the following day. Three more were found around Argull & Bute, still at Arrochar on 9th, on Tiree on 10th and at Lochgilphead on 12th and two were around Orkney, while further singles were in Highland and Shetland.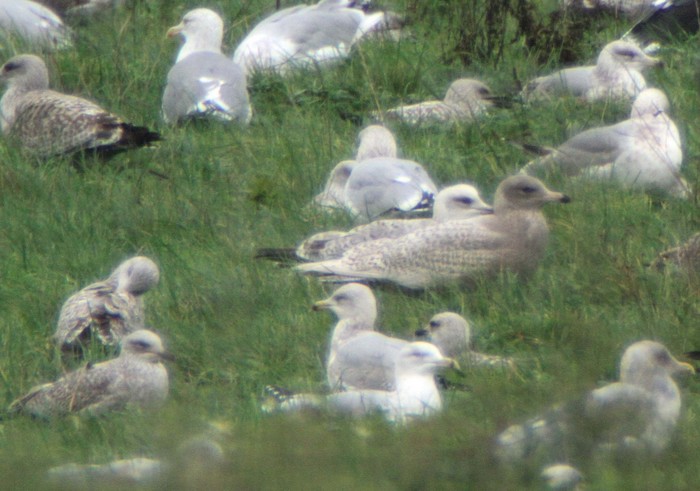 Two juveniles were in Suffolk this week, at Covehithe on 9th and still in the Minsmere/Sizewell area to 14th at least (this is the Iceland Gull reported from last week). Just two further Glaucous were noted ~ juveniles seen at Hedgerley tip (Buckinghamshire) on 13th-14th and at Lound (Nottinghamshire) on 14th.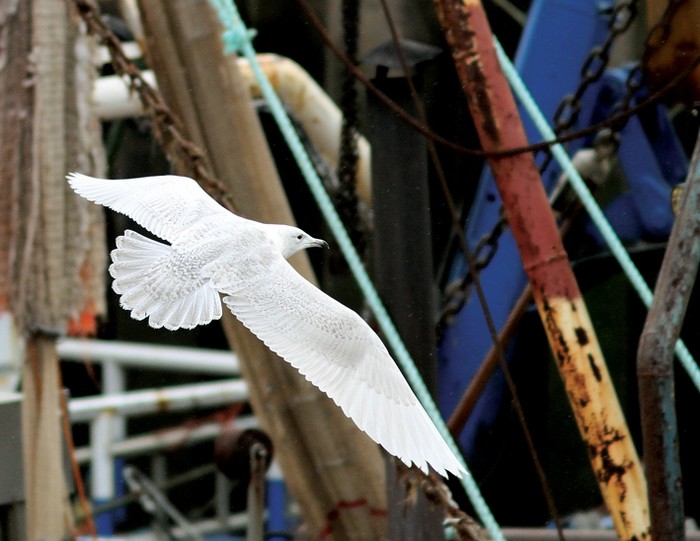 Falling from last week's figure of at least 35 birds was Iceland Gull, a total of 24 recorded across the past seven days. Scotland managed a dozen of these; three singles were seen around the Outer Hebrides (on Barra, South Uist and Lewis), two singles were in Argyll & Bute, while Fair Isle hosted two on 10th and the Lossie Estuary in Moray held on to its second-winter and adult through until 13th (with another adult at Loch Spynie on 15th). Highland also host a triple bill ~ one of which, a 2nd winter bird at Watton had been ringed (with a yellow colour-ring) in Arbroath in April this year).
Elsewhere around Britain, there were two birds at Cleave Camp, near Bude (Cornwall) on 11th and singles were at Richmond Bank (Cheshire) on 11th, roosting birds were again at Bartley Reservoir (West Midlands) on 12th and also at Fen Drayton Lakes RPSB on 9th-12th while in Norfolk, still showing well was the juvenile at King's Lynn's Fisher Fleet, present all week. Irish birds were few and far between as well; two juveniles were at Ardglas (Co. Down) on 11th (with one until 13th) and another Iceland remained at Cloger Head (Co.Louth) until 13th with one in Belfast (Co. Antrim) on 15th.
After all the "oooohs" and "aaaahs" generated by that fabulous Gyr on the Hebrides, it is a return to rather more standard raptor business this week with just a handful of Rough-legged Buzzards of offer.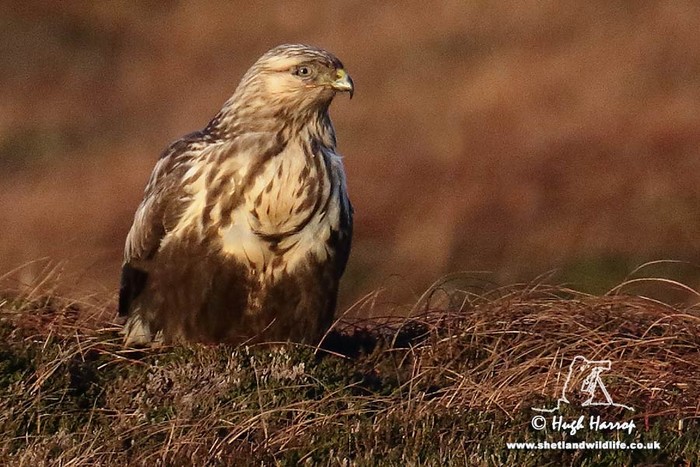 Norfolk remained out in front with birds dotted around between the north and west sides of the county ~ three remained at Choseley until 9th (with one there to 14th at least) and singles were reported from Burnham Overy Staithe and Thornham on 9th, between Ten Mile Bank and Welney on 12th, distantly at Snettisham RSPB on 13th and over a moving car between Langham and Blakeney on 15th. The juvenile at Holland Haven (Essex) was seen through until 12th and new was a lone Rough-leg at Sullom Voe, Mainland (Shetland) on 10th with perhaps the same bird then near Brae on 15th.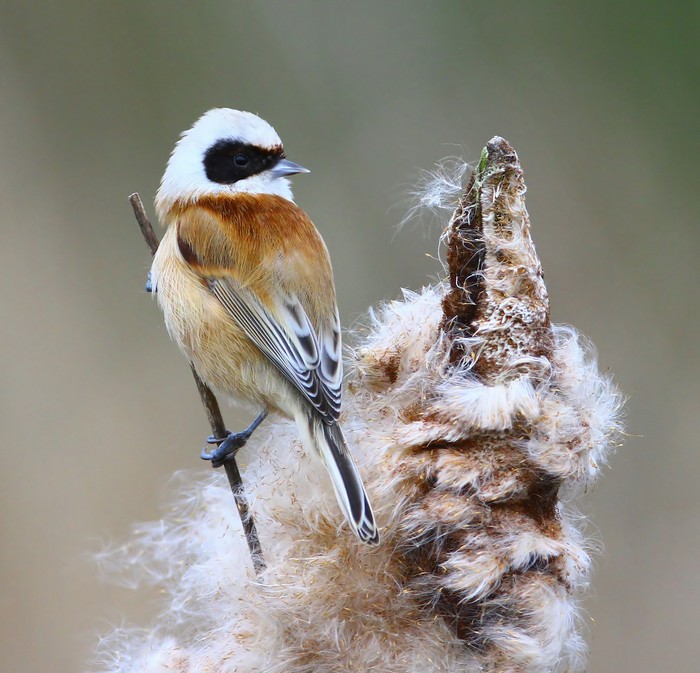 The three fine looking Penduline Tits kick things off for this section of the round-up ~ still present at Titchfield Haven NNR (Hampshire) until 12th (as a trio) with the gorgeous male still on site until 13th. The trio then upped sticks and moved some eight or nine miles east to the IBM Lakes near Cosham on 15th.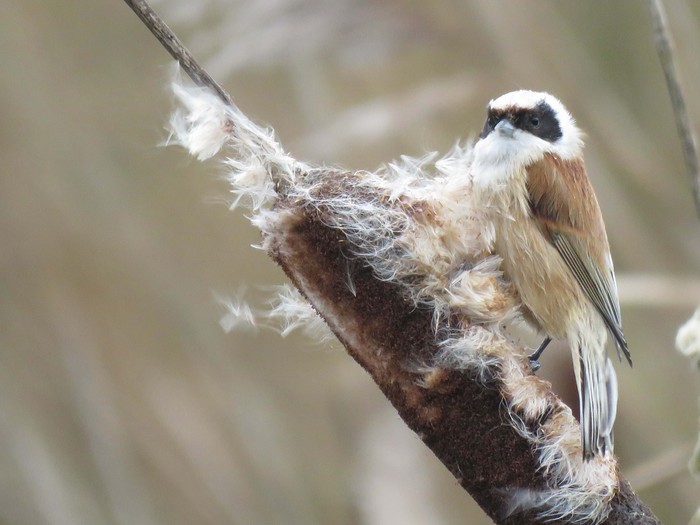 After due caution was exercised around these parts with regard to the Dusky Warbler seen last week in Somerset (with a Sibe Chiffy popping in to confuse the issue) there was a 45 minute re-appearance of the bird during the afternoon of 9th ~ showing occasionally and calling repeatedly but that seemed to be that, no further signs since.
New was the week's second Dusky Warbler at Atherington Pools (West Sussex) from 9th-11th; this is the second in the county this year, following an equally surprising January bird around Chichester GPs ~ these two records being the first in the county since 2005.
In Lothian the wintering Barred Warbler remained at feeders between Thorntonloch and Torness through until at least 13th and, jumping genus, a Pallas's Warbler was reported from Pulborough Brooks RSPB (West Sussex) briefly on 14th and another was found in the woods above Filey (North Yorkshire) on 15th.
Up to half a dozen Yellow-browed Warblers were noted as well; two remained in south Devon, at both Dawlish Warren NNR and Broadsands to 13th and in Cornwall one or two were noted around the Lizard on 10th (at Church Cove) and on 13th (at Lizard village) with further lone birds at Helston on 12th and around Ryan's Field, on the Hayle Estuary on 12th-13th.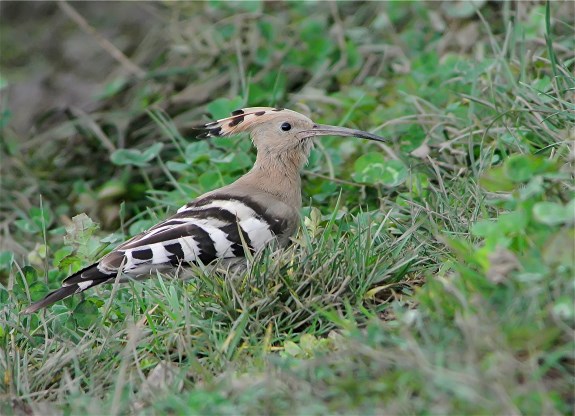 Also on the Lizard this weekend was a Rose-coloured Starling seen in Lizard village on 13th while the Hoopoe remained at Wall Heath, Hinksford (Staffordshire) until 15th.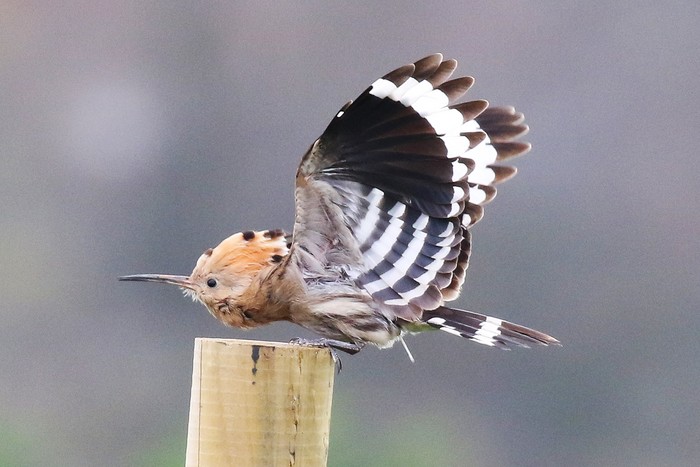 The Richard's Pipit seen in north Kent, at Shell Ness, Sheppey last week resurfaced again on 13th with a second bird for the day being noted along the pines at Holkham (Norfolk).
Sneaking in to three figures this week were Waxwings around 110 of which were reported, with figures helped hugely by groups of 40 reported heading over Washington WWT (Co. Durham) on 12th and 30 in Leicester on 11th. Elsewhere in Durham, 10 birds remained around Jarrow to 10th and in Leicestershire, half a dozen were in Market Harborough on 12th.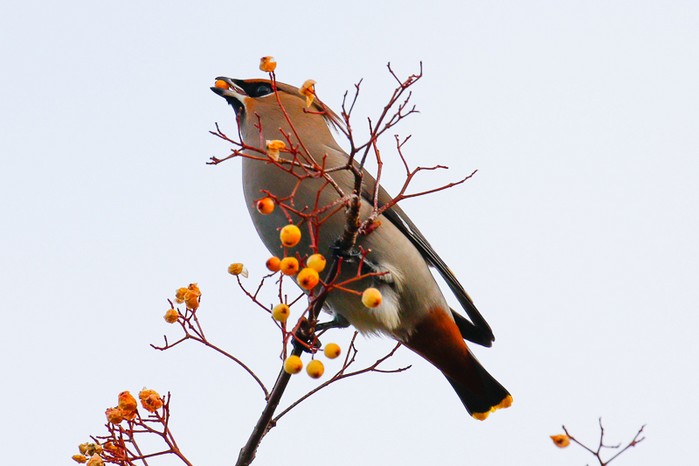 Another half dozen were seen briefly at Old Moor RSPB (South Yorkshire) on 11th (with further northeast region records including another loner in South Yorkshire and also singles in East Yorkshire and Northumberland). East Anglia managed up to nine Waxwings at five sites (four in Norfolk, one in Suffolk) while the East Midlands saw another two make it to Nottinghamshire while Scotland managed only four birds in total, three on Orkney and one in Lothian.
Nipping quickly past the report of a male Red-backed Shrike nar Courtmacsherry (Co. Cork) on 11th we come to a Lanius species that is to be expected through December ~ Great Grey Shrike.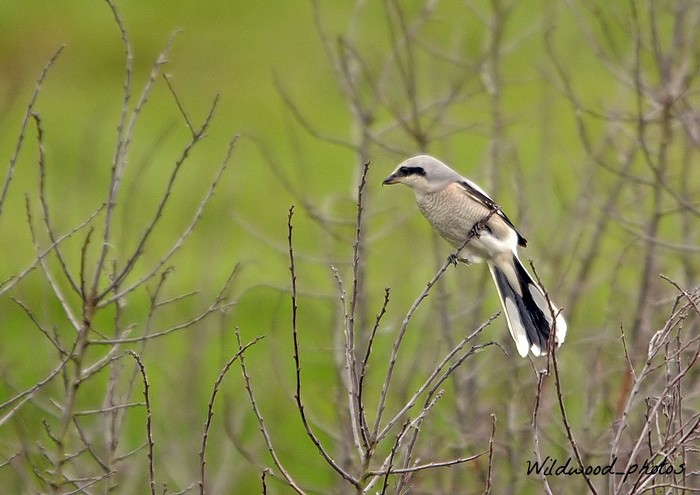 Around 13 or 14 were recorded in all ~ up to three were in and around Hampshire's New Forest, at Milham Inclosure and Shatterford on 9th and Amberslade Bottom on 11th; two or three were seen in Gloucestershire, at Staple-edge Wood, Forest of Dean on 9th-14th and Crabtree Hill on 15th along with a showy bird at Slimbridge WWT on 14th; two were also seen in Powys, at Penybont Common on 11th and near Rhyader on 13th and two were also in West Sussex, new was one at Pulborough Brooks RSPB on 14th and another remained at Iping Common to 15th; in the Home Counties singles remained at Frensham Common (Surrey) to 11th and West Ilsley (Berkshire) to 14th; in the northeast, new Great Greys were reported from Sherburn-in-Elmet (North Yorkshire) on 11th and at Coatham Stob (Cleveland) on 13th while the final bird of the week was again at Loch of Lintrathen (Angus) on 13th (presumably the same bird was seen here in mid-November).
Rounding things off, the sighting of a probable Black-bellied Dipper along the river at Glandford (Norfolk). There's yet to have been any further sign (so far) but the last bird seen here ~ in the winter of 2008-'09 ~ eventually wandered many miles along the Glaven Valley, so there's a chance this week's brief encounter may end up doing something similar.
The week ahead…
We're edging towards "last knockings" of 2015 ~ just a couple of weeks until we bid farewell to a topsy-turvy 12 months, with highs and lows a go go.
Historically speaking the week ahead has held few surprises ~ most of the birds on offer have been, unsurprisingly, typical winter fayre ~ rare gulls, a rare auk or two, a decent spread of rare bustards (of two species) ~ but there have been the occasional oddment.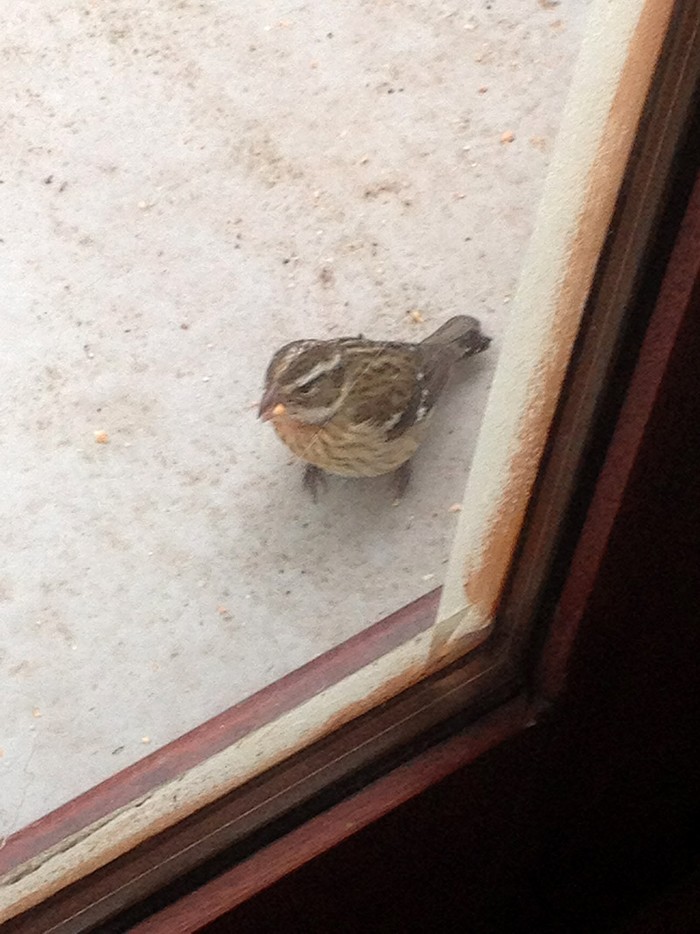 One of the more recent "wow, I didn't see that comin'" moments came on December 18th 2012 when, over on Scilly, Ashley Fisher's landlady sent him a phone snap of a strange bird that had been feeding on her patio peanuts ~ the avian visitor in question was instantly recognised as a young male Rose-breasted Grosbeak and it remained in and around Hugh Town until December 29th.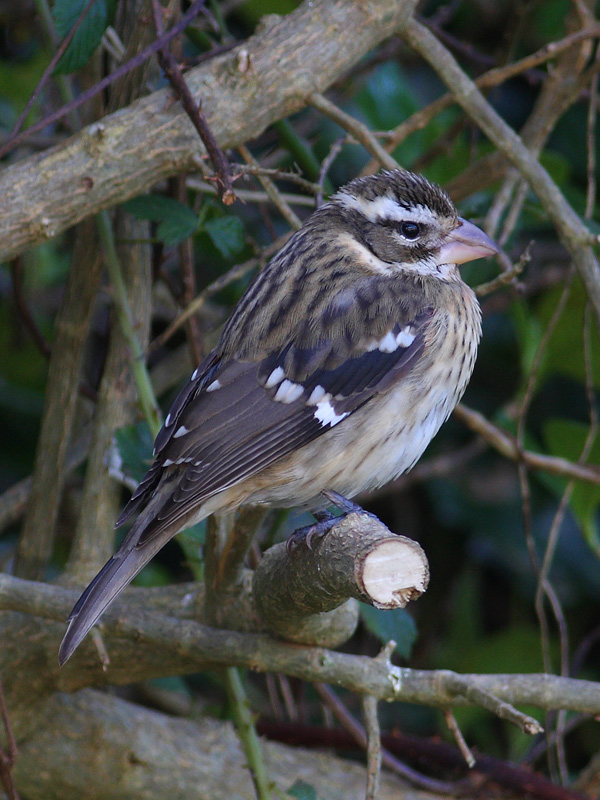 …and he often showed rather well…
Rose-breasted Grosbeak has managed only 34 records across Britain and Ireland ~ the first was discovered on Cape Clear Island in early October 1962 and the Scilly bird of 2012 is the most recent record here (the 13th in all for the islands). Twitchable birds haven't been easy to come by either (and are invariably on an island somewhere) ~ the glory days of the mid-80's (when at least 13 were found within five years) seem a long way off now…
Interestingly, the week ahead has also offered up a second December Grosser ~ another young male was seen for 16 days, from December 20th 1975, in Leigh-on-Sea (Essex).
Another even-wackier Nearctic passerine vagrant that made headlines well after departure was the infamous Herefordshire Ovenbird that was photographed in gardens at Dymock, near Much Mardle between December 20th 2001 and February 16th 2002 ~ when news finally emerged well after the event, "hoax" was many folks immediate response ~ an Ovenbird on a lawn with a Robin seemed somewhat incongruous. Not so apparently and the record stands to this day.
Fortunately, we didn't have to wait too long for a showy sticker (with no dodgy business involved) ~ the stunning bird amongst the pine needles on St. Mary's in October 2004 still holds much value 11 years on…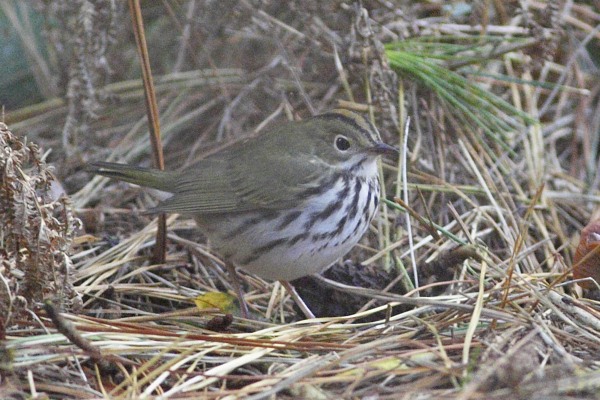 One final bird to still be "holding its value" is Asian Desert Warbler and this week sees the 45th anniversary of the Britain's first-ever example of the species being discovered (by a young Grahame Walbridge) at Portland, on December 16th 1970.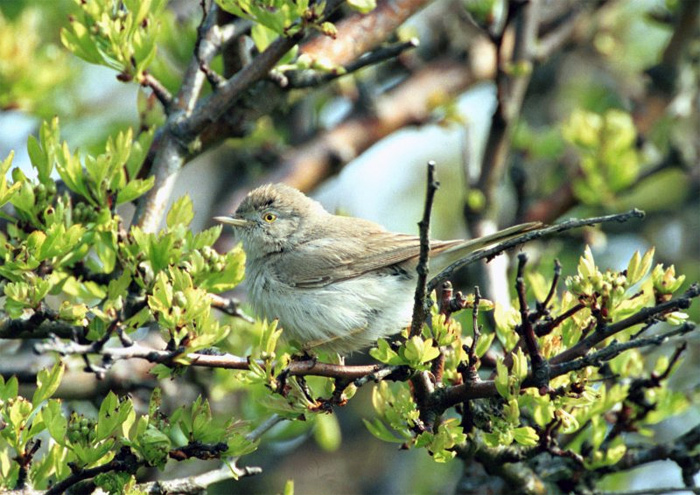 Only 11 more have followed and aside from a remarkable spell between October 1991 and early June 1993 (when five twitchable birds were found in what now reads as a quite remarkable run of records) and the spring bird of May 2000 in East Yorkshire, Asian Desert Warbler has become crinkingly rare ~ only one bird after 2000 ~ that being the brief (but photographed) bird in Kent in mid-November 2012.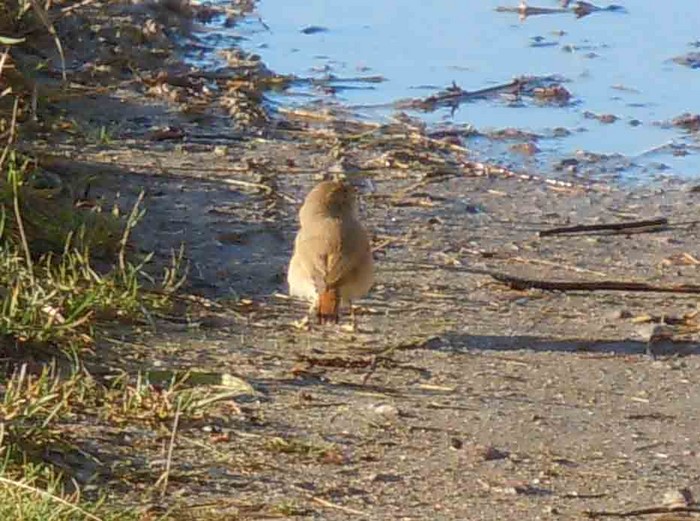 Grosbeaks, Ovenbirds, Desert Warblers...blimey charlie ~ who said mid-December was always quiet?
Mark Golley
16 Dec 2015
Please note: we put a lot of time and effort into sourcing and and producing the images, videos and graphics for each roundup. Some of you (probably Apple users) may notice some photos etc. that appear to have incorrect captions. Please try refreshing the page as they are correcty captioned. If after a refresh they are still showing the incorrect captions then please email us

Thanks to all of this week's contributors for their photos and videos.
Hugh Harrop / Shetland Wildlife, Peter Phillips, Tom Lowe, Mark Pearson, Richard Bayldon, Paul Gale, Denise Emmerson, Peter Triston, John Pringle, Tony Duckett, Gary White, Jonathon Mercer, Simon Knight, Davey Farrar / Kerry Birding, Dave Tucker, Sean Nixon, Lorne Bissell, Mark Coller, Bill Richmond, David Boult, Mark Leitch, Penny Clarke, Robert Smith, Lee Fuller, Stephen Minhinnick, Steven Nuttall, Christopher Teague, Arto Maatta, Lee Gardiner, Ashley Fisher, Bryan Thomas, Michael Malpass, Ian Roberts,