Weekly round-up: 02 - 08 Dec 2015
The week at a glance
Black-browed Albatross sails past the Kerry coast as the week draws to a close
Cork's American Bittern resurfaces after almost a week's leave of absence
The Rufous Turtle Dove remains faithful to the gardens of Scalloway
Old Faithful continues to show in west Cornwall - the Pacific Diver noted off and on through the week…
…while there's another update on the Isle of Wight Greater Yellowlegs too
Norfolk's juvenile Pallid Harrier looking set at Snettisham
Wicklow's presumed juvenile male Northern Harrier logged again over the weekend
The generally mild, often wet, often windy and almost entirely grey weather that brought last week to a conclusion didn't really show much desire to change across much of the seven days just gone either. Indeed, at times, it got wetter, windier and greyer…
Ahead of the weekend, a long finger of tight isobars extended a precipitous and dangerous finger out in to the Atlantic drawing in hefty wind speeds (often gusting in the high 60's and 70's mph across many parts of northern Britain, touching the 50's further south) and a lot of rain, with up to 200 millimetres forecast for the 36 hours from Friday through to midday Sunday. It really wasn't very pleasant. It was downright nasty. This was Storm Desmond.
Desmond's vicious front dropped southwards across the tail end of the weekend and although winds remained firmly in the southwest, conditions were a little easier to deal with.
It wasn't all rain and grot - the sun did peep out, especially in eastern England at times, and those mild-ish temperatures (still lodged in the low teens) meant that however hard the wind did blow, it wasn't too cold (though at the northern edge of Desmond's range the rain turned to snow over the Scottish hills).
That was of little compensation to those in northern Britain who were left with major flooding issues - and worse - post Desmond's demise. This hasn't been much of a winter so far, in any shape or form.

Black-browed Albatross
Well, what do you know? Just when it seemed as though all was done and dusted for another week, a sneaky seabird falls out of the back end of the deadly Storm Desmond as another piece of predictably unpredictable avian history is made on the far west coast of Ireland.
Winter storms such as the one we've all encountered to some degree or another this week have produced some outrageous seabirds in the recent past - the Magnificent Frigatebird of early November 2005 and the Fregatta petrel sp., of late November 2009 being two prime examples of what could be lurking somewhere not too far off our shores.
Now we have another, as a Black-browed Albatross was seen just before 4pm on 8th, sat on the sea at Sandy Point, a mile and a half or so from Castlegregory in County Kerry, before departing onwards NNE, towards nearby Rough Point.
Castlegregory lies in the furthest western-most corner of Tralee Bay with Rough Point running out in to the Atlantic, due north of Castlegregory itself. It is easy to imagine a lost albatross searching for a route out of the bay and tracking out towards the headland…but what a sight for December! To date, Kerry has just one previous accepted record of Black-browed Albatross - noted from Brandon Point on August 15th 1964; a second record, seen at sea some 60 miles west of Great Blasket Island on September 7th 2008 doesn't seem to have appeared in print yet.
There's been just one accepted record for the month to date - one seen from Mundesley (Norfolk) on New Year's Ever 2002 - and there's one accepted Albatross sp., for December too, seen from Trevose Head (Cornwall) on 04/12/1981.
A bird like that could well be picked up again somewhere around the Irish coast in the next day or two, especially given the windy forecast…Clare's Loop Head and somewhere around the Connemara coast seem favourite or maybe Mayo's Annagh Head could score. It may even find its way north towards the Uists…
American Bittern
There's a flip-flop elsewhere at the top this week - the rarer of the other two main attractions this week slipping down a notch to allow last week's star turn in Ireland the chance to sneak in to the #1 position, courtesy of a somewhat surprising return…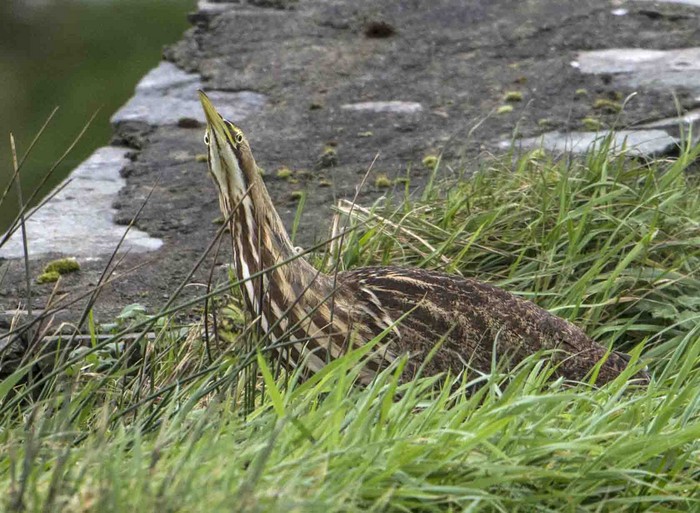 After performing for two and a half days at the start of the last review period, the stunning American Bittern at Castlefreke House, just to the east of Owenahincha, in County Cork went and surprised everyone by seemingly melting away to who-knew-where during the stormy morning of 27th. Birders present on the day couldn't quite work out what has happened but, as the weekend passed with continuing negative news, it seemed as if the Bittern had maybe fallen as a bit of a tasty Nearctic snack for a local fox or had somehow just melted away, never to be seen again.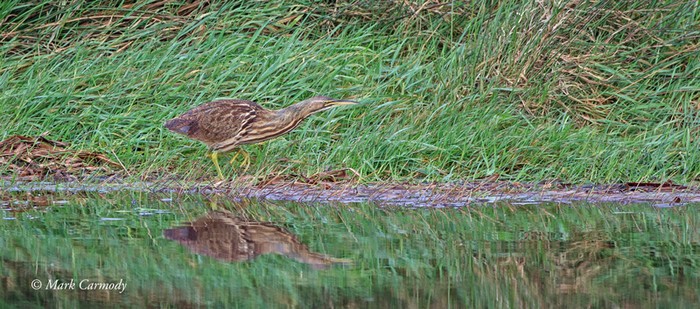 Happily, for all those Irish birders who missed this first-ever twitchable record for the country so far, the American Bittern was just messin' with their minds for there it was again, back in the very same spot on the small lake below the house during the afternoon of 3rd, a spot it continued to favour until 4th.
Another blank day followed on 5th but it popped out on 6th, 7th and 8th, showing well once more around the lake edge, still proving to be rather photogenic all at the same time.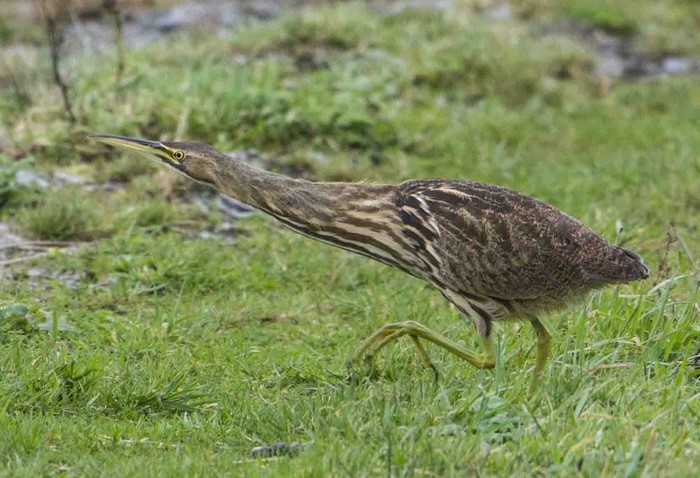 The bird seems to have found a sneaky feeding ground elsewhere then - so, should it go AWOL for a third time, there's no immediate need to feel despondent; it may well be not too far away.
…perhaps it is setting up to be a wintering bird after all…
For the stats fans amongst you, of the (now) 62 American Bittern records from Britain and Ireland, only eight have managed to pass beyond the "one-day" mark (and all bar a couple of those one-day birds were shot and killed)…and the current Cork bird is the first there to ever get beyond "1".
Bardsey Island, Gwynedd - 4 days, September 1962
Marazion Marsh, Cornwall - 19 days, September 1977
Magor, Gwent - 71 days, October 1981 to January 1982
Glen Moss, Kilmacolm, Clyde - 67 days, November 1981 to January 1982
Marton Mere WWT, Lancashire - 109 days, January to May 1991
Camel Estuary, Cornwall - 5 days, May 1999
Trewey Common, then Walmsley Sanctuary, Cornwall - 12 days, October to November 2010
Castlefreke House, Cork - 10 days, November to December 2015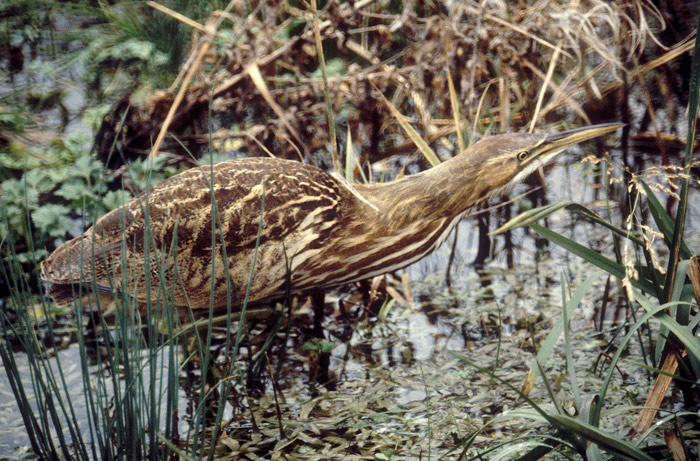 Rufous Turtle Dove
Despite it being a crinklingly rare bird, its actually quite tough to know what to say about the still present and still very showy Rufous Turtle Dove in gardens at Scalloway, on the Shetland Mainland.
This lovely bird, a fine meena, continued to show in the trees and gardens of the town through until 8th and despite the inclement weather on the Northern Isles, the bird seemed to be happy enough nibbling (do doves nibble?) at the stock of grain being provided for it and the other garden visitors.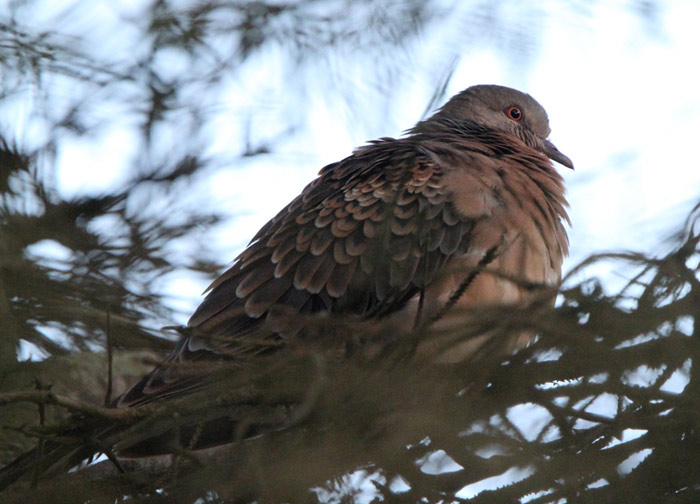 Shetland's second example of the species - and the first of the western form if you remember - has already leapt in to 4th spot (out of 13 accepted "Oriental Turtle Doves" on offer) in terms of length of stay although it has some way to go to get to 3rd spot from Orkney's 2002 bird which was present for 31 days while ahead of that are the 87 days for the 2010 Chipping Norton orientalis and the 2003 Highland meena which clocked up 111 days in and around the Hill of Rattar.
Pacific Diver
If there's not much to say for a really rare bird that's only been in place for around a fortnight, then there's probably even less to say about the Mount's Bay Pacific Diver other than it was still in its favoured area of west Cornwall through until 6th.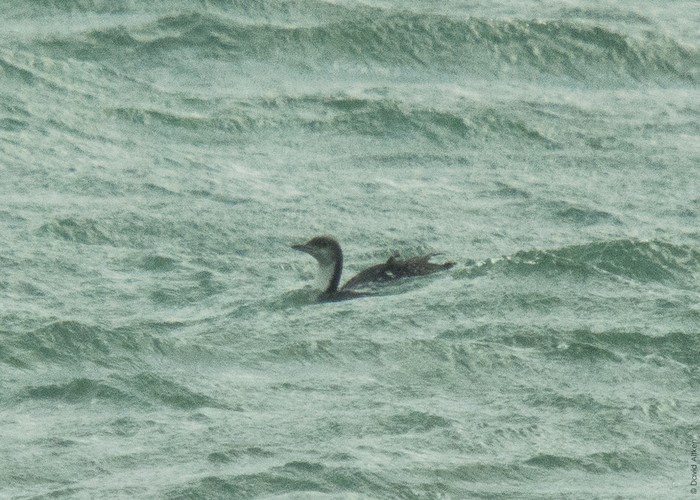 Goodness, given the calibre of this particular species - and just how recent an addition it was on to the British & Irish lists and also just how well you need to see one to nail one - it seems almost disrespectful to waft a tired typing arm or two at it and sum up the state of play in a paragraph…but that's kind of what there is to say at the mo…
Greater Yellowlegs
…much like the state of play with the Greater Yellowlegs that appeared in the news again on 3rd - still present along the west side of the River Medina, at Whippingham.
This still very rare Stateside shorebird was only mentioned twice in November (on 3rd and 21st) while October managed a more respectable 10 reports (the bird first arrived on the island on September 24th.
We're closing in on a whole year since the bird was first seen - at Hampshire's Titchfield Haven on January 11th, a one-day sighting that was then (surprisingly) repeated on April 11th (where did it go for four months?). The 'legs reappeared for a third time eight days later and was a staple (off and on) around the reserve through until July 24th. A two month hiatus followed until the bird bedded down at its current wetland site of choice.
Pallid Harrier
Another bird where the number of words that be conjured up will diminish week by week is the juvenile Pallid Harrier that remained at the southern end of the Snettisham RSPB reserve, in west Norfolk, throughout the week.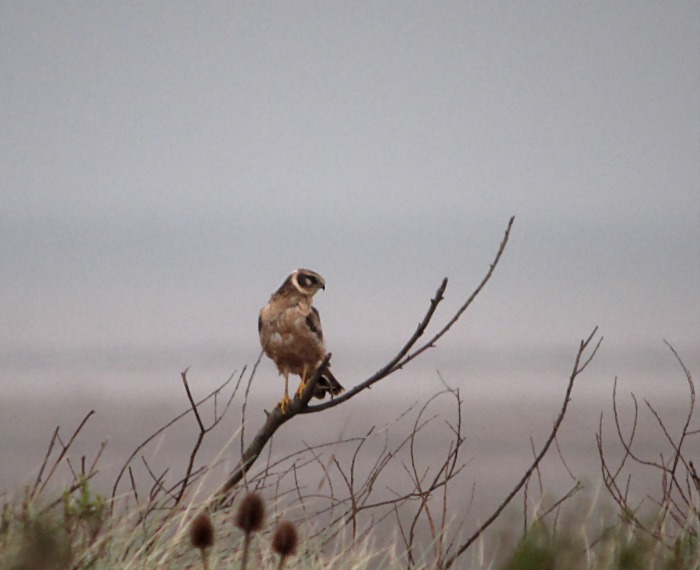 News was a daily event, proving just how popular this 10th Norfolk record was and it has already eased in to "2nd spot" for length of stay in the county; only Norfolk's 1st, found on Christmas Eve 2002 at Stiffkey is ahead of the current Snettisham bird, with a grand total of 97 days on the books.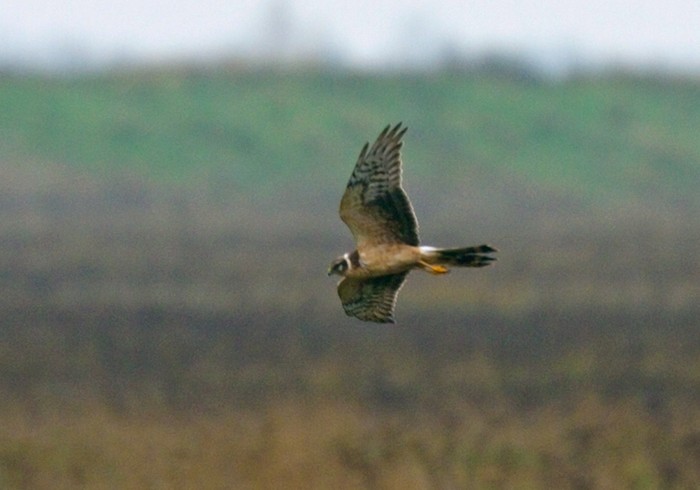 This year's youngster already has 24 days on the clock (up to 8th) and as long as it avoids the (royal) guns of the area and stays safe in the adjacent roost, who knows how long this fine individual will linger for.
Northern Harrier
With fewer and fewer birders remaining on North Ronaldsay there may not be too much more by way of news of the dashing adult male Northern Harrier that's been present there for over two months - however, across on the Irish east coast, there's been some news on the presumed juvenile male Marsh Hawk in Wicklow - seen again heading over the East Coast NR, near Newcastle on 5th and 8th.
Those definitive views seem to be hard to come by, but the shots obtained a couple of weeks ago certainly put this particular bird in the "suite of characters" file for this distinctive form.
(Further down the Irish coast, a possible Northern Harrier was noted at Wexford Wildfowl Reserve on 6th - this to was a juvenile, hopefully it'll be pinned down soon).
Despite the switch to largely southwest winds through the week, the stormy conditions still managed to stir up a few 100 Little Auks through the week; the most significant coast all coming from the Scottish east coast.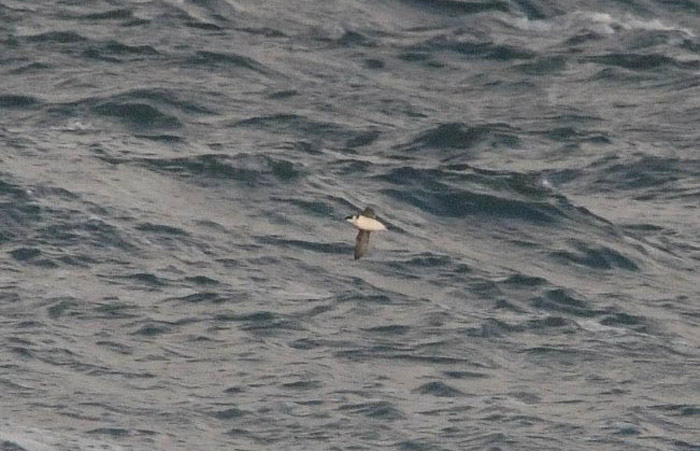 In Borders, at St. Abb's Head, 592 Little Auks were reported north of Black Gable on 6th. Further up the coastline Lothian birders counted 208 off Barns Ness on 2nd and on 6th 22 were counted from Eyebroughy and 35 headed past Torness Point (with 32 there on 7th as well), while in Fife, following on from 21 off Anstruther on 2nd 216 birds were seen in half an hour from Crail, heading out to the Firth of Forth on 5th.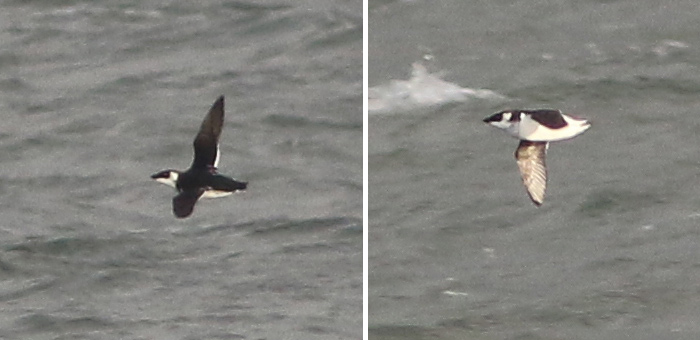 A couple of other double figure counts appeared from Northumberland, 14 seen from Seahouses on 4th and on Shetland, where 10 were noted at Symbister, Whalsay on 5th while slightly wayward singles were seen in Dorset (at Studland on 3rd and Portland on 4th) and in Devon (at Sidmouth and Broadsands, both on 6th), in Glamorgan (at Port-Eynon) on 5th, in Gwynedd (at Criccieth) on 6th, on Anglesey (at Cemlyn Bay) on 7th and also in County Down, at Portaferry on 6th. The furthest south of all though was a lone Little Auk on the south side of the Gugh bar (Scilly) on 7th and furthest to the west were the two birds at Sandy Bay (Co. Kerry) and the 11 that flew past Bridges of Ross (Co. Clare) on 8th.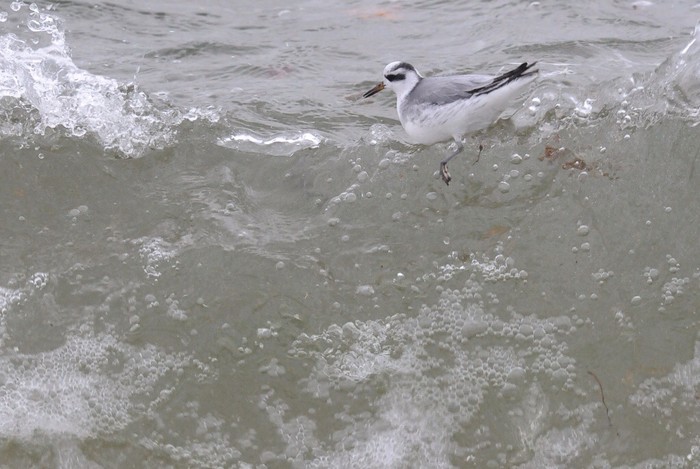 Oxfordshire's Farmoor Reservoir continued to hold two Grey Phalaropes - often showing extremely well - through until 8th and another twosome were seen at Stevenston (Ayrshire) from 2nd to 4th, with one remaining to 8th. Lone birds this week headed past Porthgwarra (Cornwall) on 4th and Selsey Bill (West Sussex) on 6th with the same date seeing one noted near the pier at Berwick-upon-Tweed (Northumberland).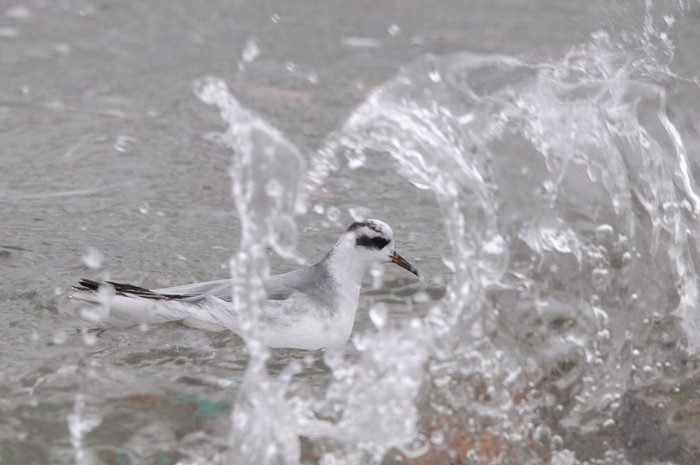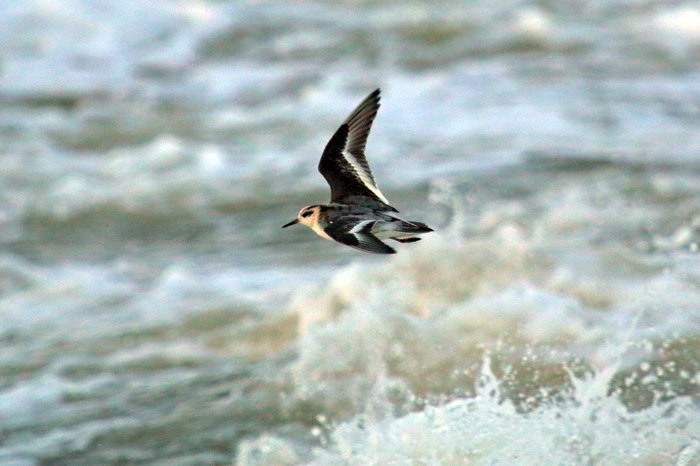 The number of Pomarine Skuas sneaked in to double figures this week; 15 noted from Devon to Moray with "twos" for Berry Head on 3rd, Minsmere RSPB on 4th and Frinton-on-Sea on 7th with four for Thorpeness (Suffolk) on the latter date (there was just one west coast bird, noted from Port-Eynon in Glamorgan on 5th).
Just four Balearic Shearwaters were logged this week - one was seen heading down the channel at Porthcawl (Glamorgan) on 6th and three flew past Dungeness (Kent) the following day with the same site registering a late Leach's Storm-petrel on 8th.
The first of the week's five Glossy Ibis began with a further sighting of the bird in south Devon, at South Huish Marsh on 2nd (it was last reported from there on November 22nd). Also "still present" in Devon, this one in the far east, was the Glossy Ibis at Seaton (that one was last reported on November 23rd) and further lingerers were at Pett Level (East Sussex) noted to 3rd and again at Wat Tyler CP (Essex) on 6th (that one hadn't been noted for almost a month). The final bird of the week was new at Craigavon (Co. Armagh) on 4th-6th.
It has been a pretty lean week for Cattle Egrets with only the three to report; an early morning bird seen at Aylmerton (Norfolk) on 4th and two were again at Teigngrace (Devon) on 8th.
Slim pickings too for Spoonbills - only nine reported to the end of 7th. A single bird was at Castle Espie WWT (Co. Down) on 2nd, another was at Sturt Pond (Hampshire) on 5th-6th, two lingered on the Hayle Estuary (Cornwall) to 7th while another lone bird (perhaps the same lone bird?) noted in County Down, this time at Strangford Lough on 6th. Back in the southwest of England, two more Spoonbills appeared again at Wrafton on 7th (three were at nearby Isley Marsh the next day) with East Anglian singles the same day at Hazelwood Marshes SWT (Suffolk) and Titchwell RSPB (Norfolk). Thankfully, the final day of the review period brought news of 25 birds at Shipstal Point, Arne RSPB (Dorset) along with a singleton in Hampshire (at Keyhaven) and also news that the five Spoonbills were still at Dungarvan (Co. Waterford) on 6th.
At least 16 Common Cranes were at Welches Dam, on the Ouse Washes RSPB (Cambridgeshire) on 2nd with two at Horsey Mill (Norfolk) on 3rd and, back in Cambs., a group of three were at Wicken Fen NT on 4th.

The only Snow Geese this week was a white bird, seen again at Anthorn (Cumbria) on 4th - the first report for over a fortnight - and at nearby Cardurnock on 8th.
A couple of couples were seen in the Black Brant world this week - the first twosome were seen in West Sussex, at Birdham Marina and then Fishbourne on 3rd (appearing at the former site on 8th) and the second double act were at Spurn (East Yorkshire) on 4th. Two single Brants were sighted in Essex this week, at Bradwell-on-Sea on 3rd and Mersea Island on 6th while loners remained at Wyke Regis (Dorset) to 3rd and, at the start of the week in Norfolk, still on Cley's Eye Field (there are also at least three adult hybrids in the north of the county too).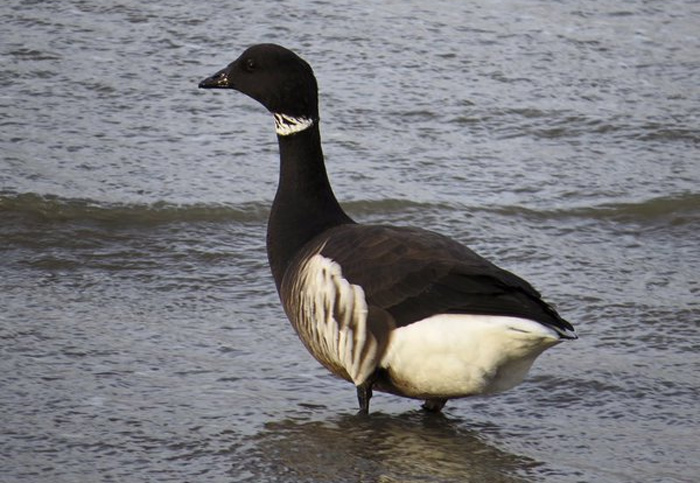 Kerry's adult drake Lesser Scaup remained on Lough Gill until 6th with the week's only other example of the species being Shetland's first-winter drake that was seen at Loch of Houlland, South Nesting, Mainland on 4th and 8th (the first reports since November 22nd).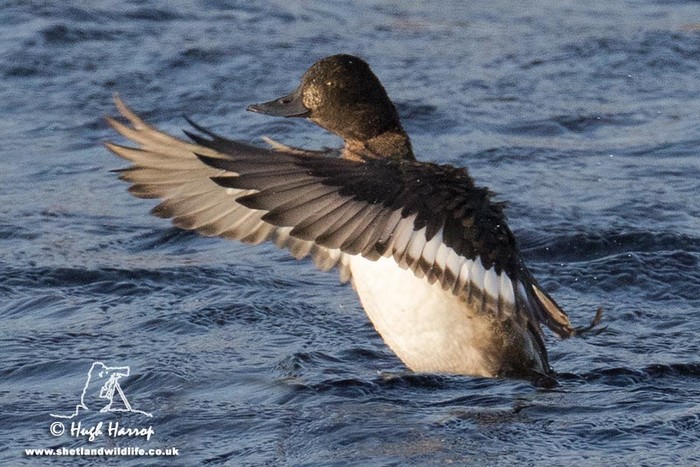 The new review period began with four Ring-necked Ducks in place - the two females were still at Rooksbury Mill LNR (Hampshire) and lone drakes were still at Loch of Skaill, Mainland (Orkney) and Lough Shivnagh (Co. Donegal). Just two more were reported and they were the young drake that lingered at Caerlaverock WWT (Dumfries & Galloway) and at Bray GPs (Berkshire) both until 8th.
New this week was a drake Ferruginous Duck that appeared at Dinton Pastures CP (Berkshire) on 6th - the first record in the county since February 2012 and the first for the site since a drake spent several weeks there in late 2011, this week's bird remained to 8th…when it only went and revealed a bit of bling that automatically lobbed it in to the "escape" bin for all news agencies - just goes to show that you can never trust a ducky…the site has a bit of a track record where the species is concerned and they were always regarded as kosher. What now?
Elsewhere, last week's two Ferruginous Ducks remained for a few more days - the female was on Dagenham Chase LNR (London) until 3rd and the male was seen at Blashford Lakes HWT (Hampshire) to 8th.
In Highland, the drake American Wigeon was still around Tain on 6th and another drake was at Loch Gruinart RSPB, Islay (Argyll & Bute) on 7th. Five drake Green-winged Teals were noted through the last seven days - the regular bird remained at Caerlaverock WWT to 6th and the recent arrival at Loch Sandary, Norrth Uist (Outer Hebrides) was seen again on 8th. "New" were singles at Townhead Reservoir, Kilsyth (Clyde) on 2nd-3rd, Martin Mere WWT (Lancashire) from 4th-7th and at Saltholme RSPB and nearby Dorman's Pool (Cleveland) on 5th-6th.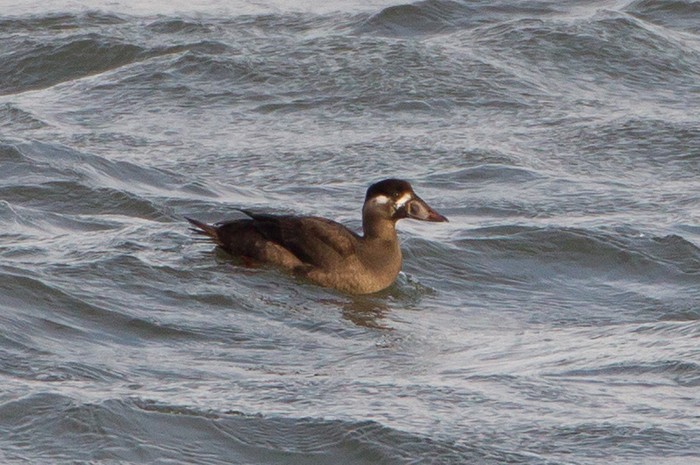 Birders in the latter county were delighted to see the first twitchable Surf Scoter there since 1982, courtesy of a young (rather showy) drake at Hartlepool Headland from 4th-7th. Adult drake Surfies seen this week were again around the coast of Lothian, at Joppa and Musselburgh through to 8th and off the Welsh coast at Porth Eirias, Colwyn Bay (Conwy) on 6th with two drakes off nearby Penmaen Head the following day.
For those travelling to pay homage to Ireland's cracking American Bittern, there was a nice little Cork bonus still in situ down the road at Pilmore, near Youghal - the juvenile/1w Spotted Sandpiper showing well through to 6th at least.
Northumberland's young Long-billed Dowitcher continued to shift itself around between Druridge Pools and Cresswell Pond through to 7th while in Hampshire, making another re-appearance at Pennington Marshes was the juvenile Long-billed Dowitcher, seen again on 4th and 7th-8th (after being last noted on November 23rd).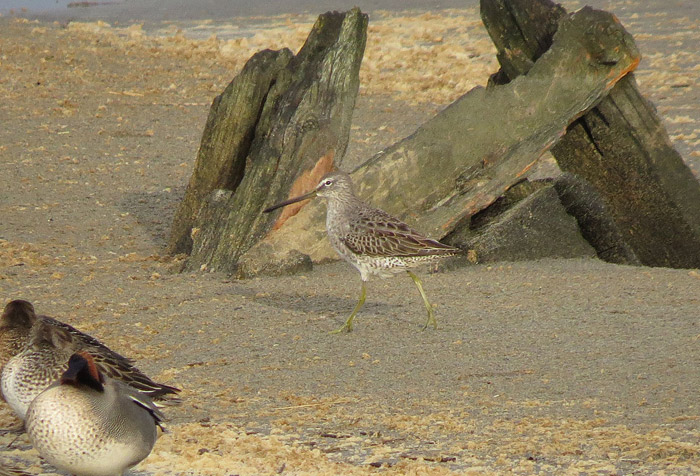 The only other shorebird of note this week was a Black-winged Stilt that was reported at low tide for a few minute on the Heybridge Basin (Essex) during the late morning of 4th - until now there have been just six acceptances for the month, the most recent coming from Wrafton in north Devon in early December 1992.

County Clare managed to hold on to the Galway Bay Forster's Tern this week - the ageing adult seen near Lough Murree, near Flaggy Shore on the afternoon of 6th.
Ireland hosted four of the five Ring-billed Gulls recorded this week - in Kerry, a first-winter and second-winter were at the Tralee Bay Wetlands on 2nd (the older bird still there on 4th), while in Cork adults were at Ring, near Clonakilty and Timoleague, both on 6th. The only other one noted was the 1w at Sancreed (Cornwall) on 5th-8th.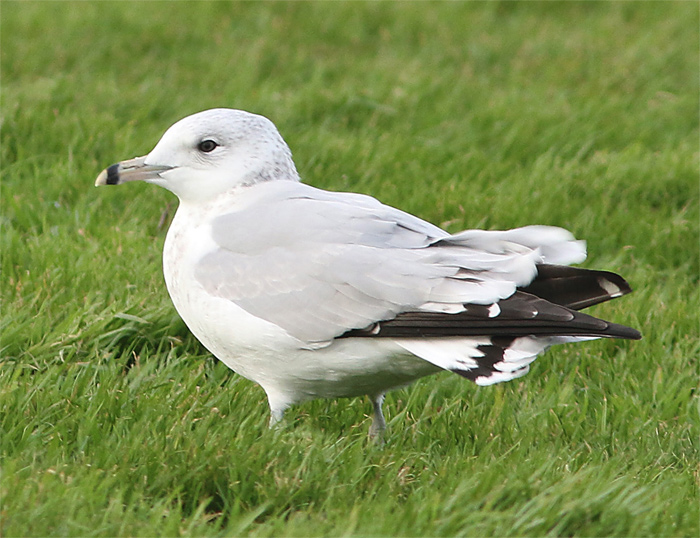 Numbers of Glaucous Gulls nudged back in to double figures, with 13 birds seen across the week. An adult and a juvenile were at Killybegs (Co. Donegal) across the weekend and further twos were seen around Shetland; a juvenile was on Fair Isle on 4th and one was at Symbister, Whalsay on 5th and Argyll & Bute, singles noted at Arrochar on 5th and on Tiree on 6th. Also on the Scottish west coast was an adult Glaucous at Saltcoats (Ayrshire) on 5th while an east coast bird was seen in Lunan Bay (Angus).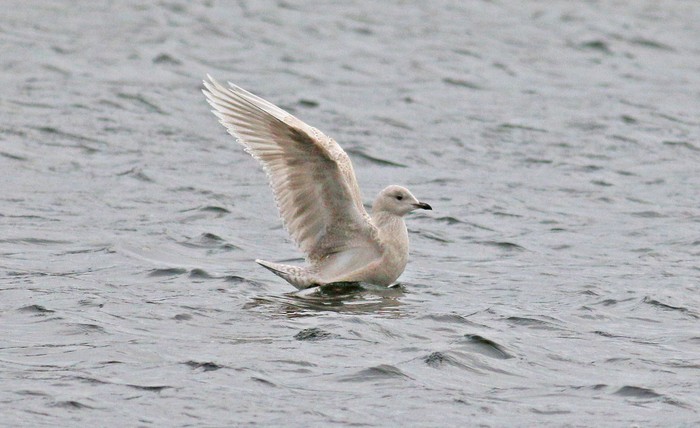 England's northeast coast saw lone birds at Whitburn (Co. Durham) on 5th and Amble (Northumberland) on 6th. Two inland birds were also seen - an adult was at Stanwick GPs (Northamptonshire) on 3rd-4th while a juvenile was at Fen Drayton Lakes RSPB (Cambridgeshire) on 5th. Another Irish bird, an adult was on the Dingle (Co. Kerry) on 8th.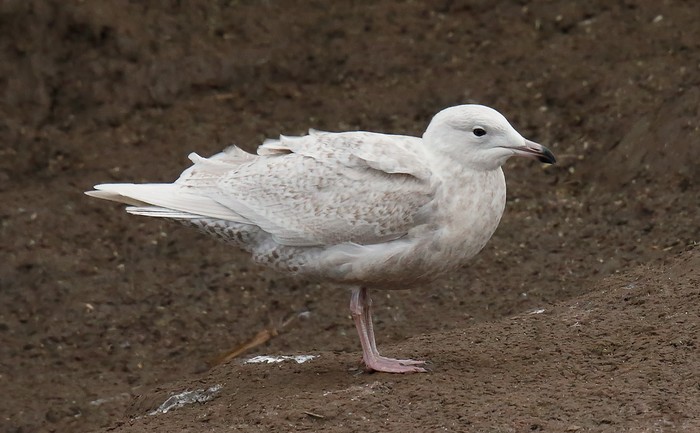 Iceland Gulls edged up a notch or two this week, upwards of 35+ noted across Britain and Ireland through the last seven days. At least 16 or 17 were in Scotland, including five well spread around Shetland (from Fair Isle - two there on 8th - in the south to Unst in the north) while Argyll & Bute managed two, as did Moray with lone birds were recorded from Orkney, the Outer Hebrides, Aberdeenshire, Angus, Highland and Lothian.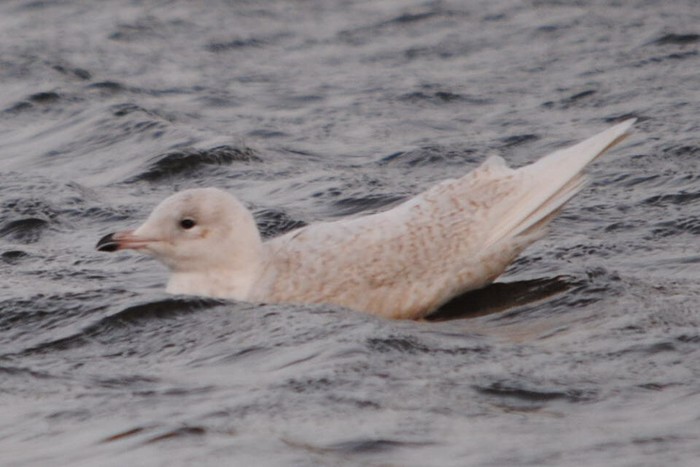 At least seven Icelands appeared across Ireland, with two juveniles at Killybegs and singles in Kerry, Galway, Cork, Louth and Dublin. English birds included two each for Cambridgeshire (near Waterbeach on 3rd-8th and Grafham Water on 6th) and Norfolk (at King's Lynn all week and at Hemsby on 6th) with East Anglia's fifth record coming from Minsmere RSPB on 8th. The juvenile continued to roost in the West Midlands, at Bartley Reservoir on 2nd and 6th-8th, a juvenile was at two sites in Hampshire over the weekend (at Milford-on-Sea and then Hayling Island) while one was seen at the tip adjacent to Rainham Marshes RSPB (London) on 7th. Finally, a second-winter was on Angelsey, at Port Lynas on 3rd.
Finally, the rarely noted third-winter American Herring Gull was seen for the first time in weeks at Jericho Farm, near St. Just on 8th.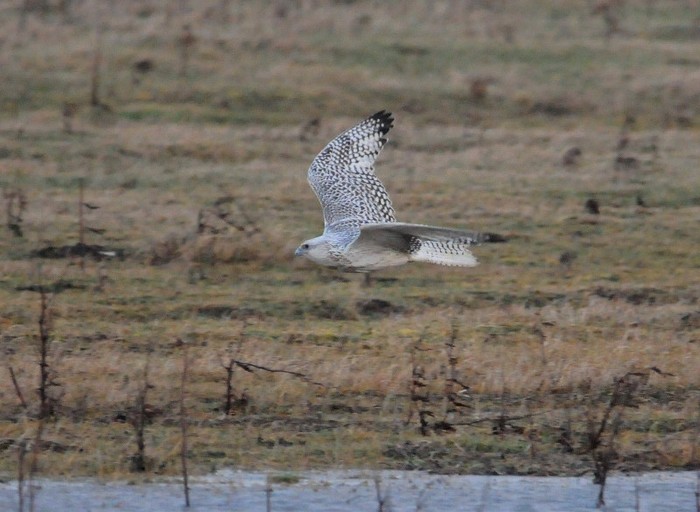 Arguably the bird of the week was the stunning young white Gyr on the machair at Ardivichar Point, South Uist (Outer Hebrides) on the afternoon of 6th - there may have been some 75 records along the island chain to date, but that doesn't stop everyone marvelling, slack-jawed at the intense beauty (even aura) that surrounds this week's bird - captured quiet splendidly by both John Kemp and Steve Duffield.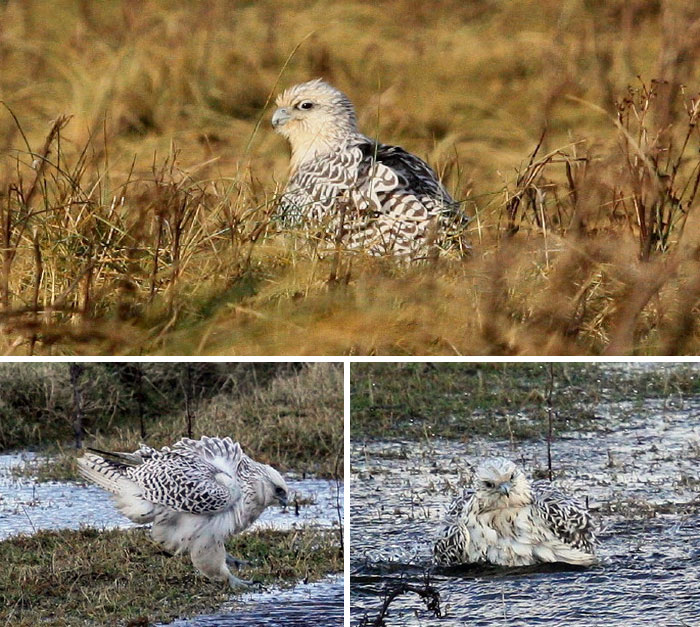 Simply awesome….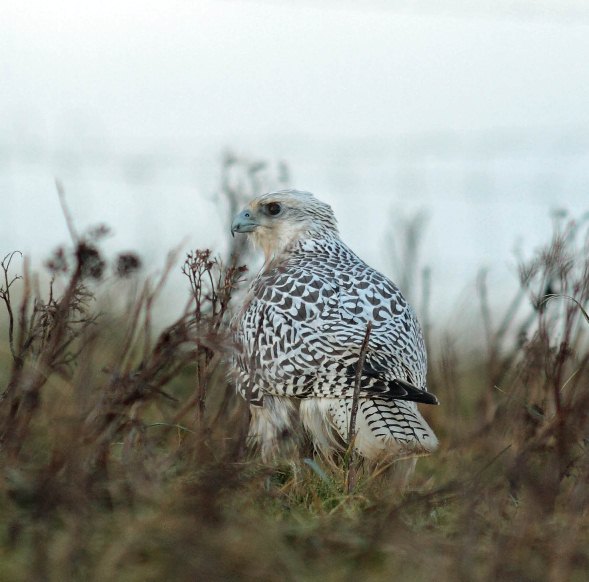 Also impressive must have been the juvenile White-tailed Eagle that was seen at Great Eggleshope Beck, near Middleton-on-Tees (Co. Durham) on 6th - no clues as to whether it was a "feral" bird from the east coast of Scotland (numerous birds reintroduced successfully there over the past few years) or a bird from further afield.
In what was turning in to a rather quiet winter for Rough-legged Buzzards the appearance of three together at Choseley (Norfolk) on 3rd was quite something. One of them may have been the bird noted just to the north, around Titchwell and Thornham, but the other two? Another Norfolk birds remained near Brancaster to 3rd and singles were reported from Holkham on 4th and Heacham on 7th.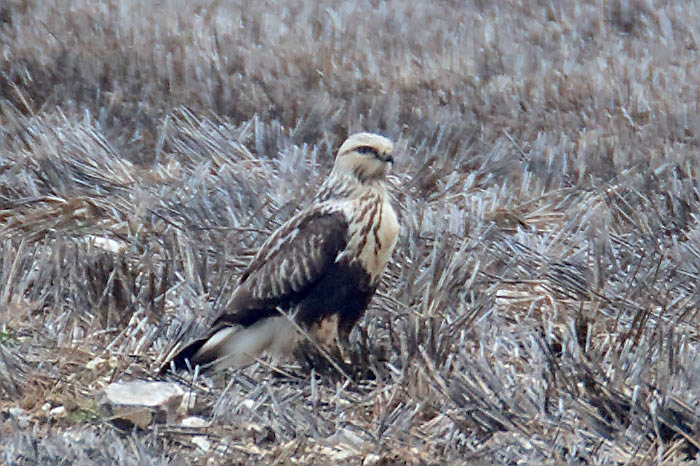 Away from Norfolk, the only other Rough-legs noted were at Staines Moor (Surrey) on 3rd and still around Holland Haven (Essex) to 6th.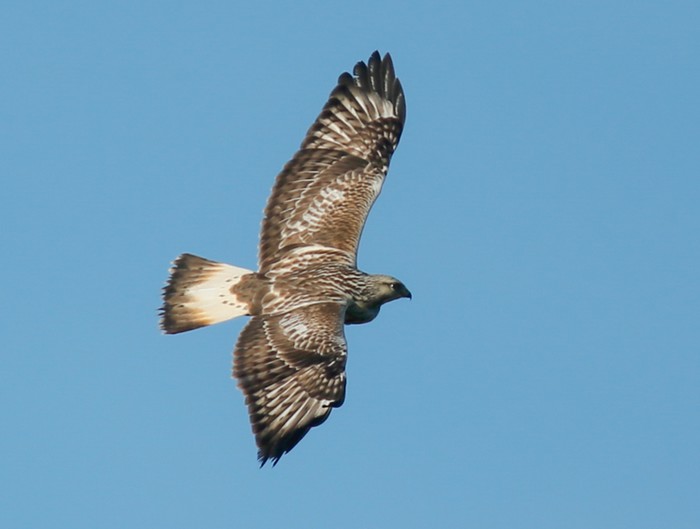 Let's start off with a couple of little teasers…
In amongst all the big rares and the returning rares setting up for a winter on or around our shores came a somewhat surprising new arrival over the Kent coast, at Margate, on 6th. Present on the following day, it was at first thought to be a potential Pallid Swift, which would have been Britain's first-ever December record if proven…
Less than a month ago, a fine juvenile Pallid Swift was seen over the same town - on November 9th - but this week's find has proved rather harder to be 100% confident about (the photos posted via social media showing just how tough a confident ID can be, several people promptly leaning away from the rare option - with good reason it seemed). The same bird appeared at nearby Foreness Point on 8th - the longer it went on, the Common-er the bird became until a consensus was reached.
Our latest ever record of this southern species? As we know, there are a fair few November records now (well in to double figures) but of those, the latest to date was a singleton at Stanpit Marsh (Dorset) on November 22nd 2002.
Teaser #2 comes from the southwest of England where what may have been Somerset's first Dusky Warbler for 11 and a half years was reported from the Ham Wall RSPB reserve on 6th - the bird was reported again the following day, but "RFP'"-ed as a tristis Chiffchaff - one in the same or a two bird theory?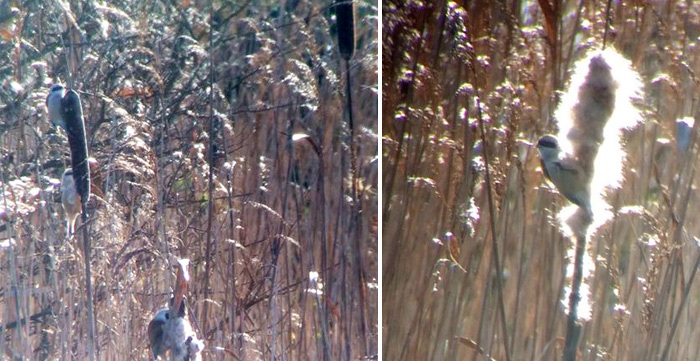 The most recent Dusky Warbler in the county appeared at Barrow Gurney Reservoir on May 1st 2004 - a year which actually provided all three of Somerset's records to date (the others seen around the docks at Portbury in March and April and in Taunton in January of that year).
A further unseasonal visitor was the Barred Warbler that continued to come to feeders at Thorntonloch (Lothian) until 8th while in Cornwall, after last week's brief report of a Pallas's Warbler at Sandy Cove, near Newlyn, two Yellow-browed Warblers were noted at the same site on 4th while the only other inornatus this week were seen in south Devon, at Broadsands on 6th-8th and Dawlish Warren NNR on 8th.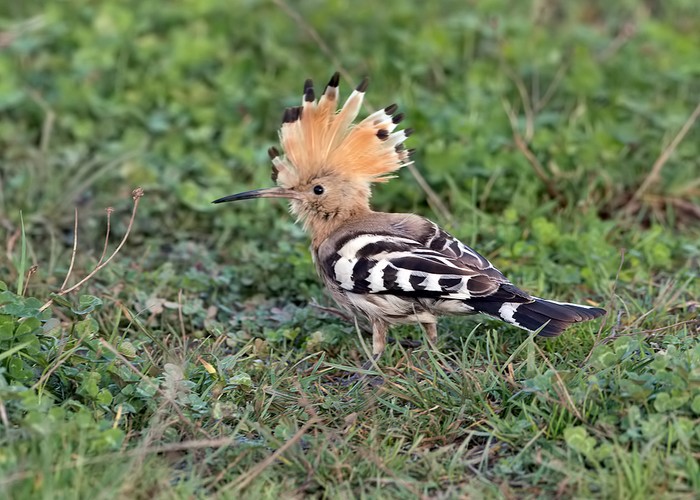 A flock of three Penduline Tits was a very fine find at Titchfield Haven NNR (Hampshire) on the morning of 7th. This site has a cracking track record for the species, four of Hampshire's five previous records have come from Titchfield - the county's first appeared here in late October 1989 and a juvenile followed a fortnight later. In early November 1994, a group of four birds arrived on site and then a 16 year gap followed until two more first-winters were found in October 2010.
Two new Richard's Pipits surfaced this week - one was in fields near North Landing, Flamborough Head (East Yorkshire) on 2nd and it was followed by another at Shell Ness, Sheppey (Kent) on 4th.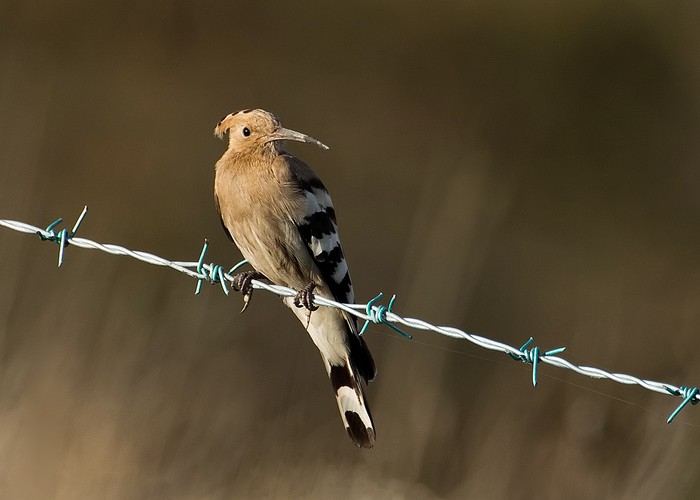 The third late-in-the-season Hoopoe of recent weeks was discovered in Suffolk this week, seen on the bowling green at Southolt, near Eye (Suffolk) on 5th (having been in the area for at least three days prior to that) with the popular bird on the border of the West Midlands and Staffordshire still around the quarry near Wall Heath, Kingswinford through to 8th at least.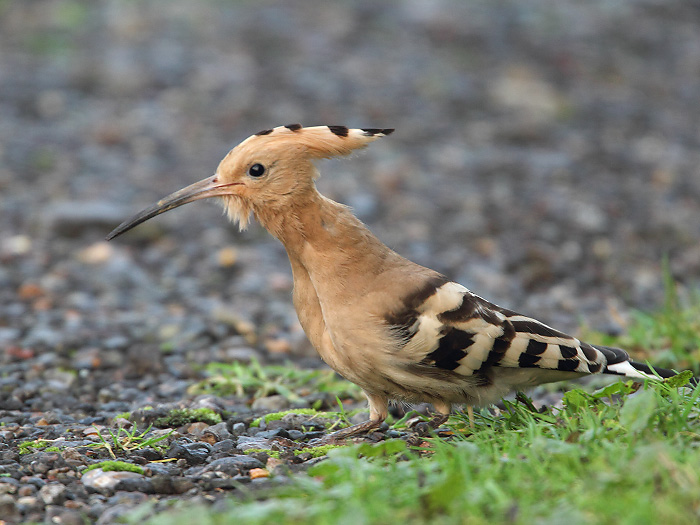 Numbers of Waxwings doubled this week, upwards of 140 reported across a dozen counties in Scotland and England with the northeast and Northumberland in particular faring well. A flock of 20 were at Heaton on 2nd-3rd, 12 were near Ellington on 6th and 10 remained at Ashington to 2nd as well. A further 13 appeared in County Durham, at Jarrow while three brass band favouring birds headed over both Brighouse and Rastrick (West Yorkshire) on 3rd. Further northeast trios were at Gibraltar Point NNR (Lincolnshire) on 6th and Spurn (East Yorkshire) on 7th.

Over 30 Waxwings were in Scotland, including 10 at Longniddry (Lothian) on 3rd and 10 more were seen in Aberdeen on 4th. A flock of 15 birds over Ramsgate was a surprise on 5th, ditto the 20 over Hoveringham (Nottinghamshire) on 7th, while in East Anglia at Reydon (Suffolk) last week's Waxwing was taken out by a local Sparrowhawk on 2nd, only for another to replace it on 4th. A photogenic bird was in Bury St. Edmunds on 3rd-4th and another flew over Ely (Cambridgeshire) on 2nd.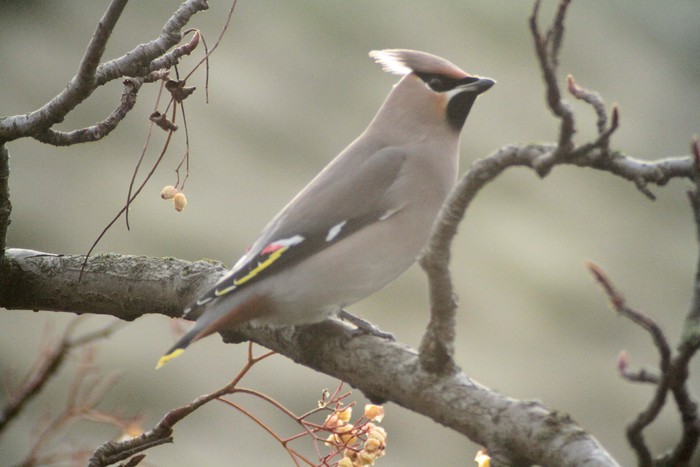 While Waxwing numbers ma have doubled over the last seven days, Great Grey Shrikes fell away by around 50% to just nine in all through the week. Three were seen in Wales, near Port Talbot (Glamorgan) on 2nd-3rd and in Powys at the Glasfynydd Forest on 2nd and at Carn yr Arian on 8th. Two more were in counties adjacent to the Welsh border - again in Gloucestershire's Forest of Dean, at Crabtree Hill on 3rd-5th and reported near Hereford on 6th.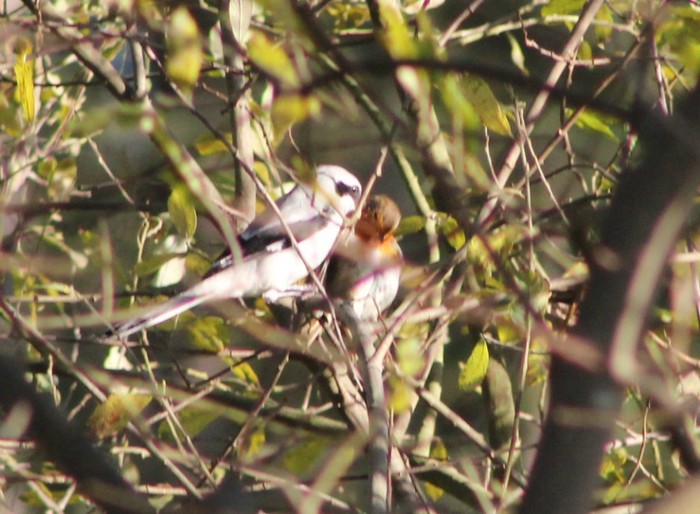 In the southeast, only two birds were reported from the New Forest, seen at Milkham Bottom on 2nd and Buckherd Bottom on 7th, while other Great Greys lingered at Iping Common (West Sussex) to 3rd and Frensham Common (Surrey) to 6th while in East Anglia, the Breckland bird was at Santon Downham until 5th at least.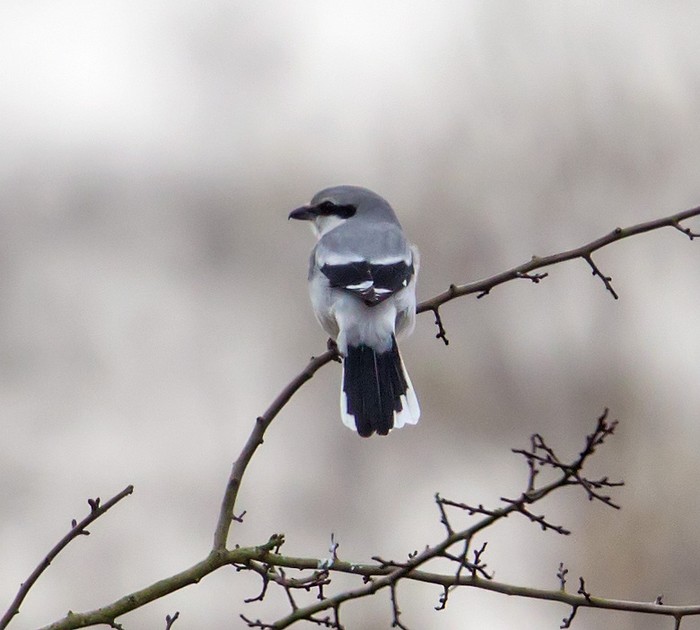 The week ahead…
The onset of winter has, despite some pretty unpleasant conditions hasn't seen too much of an icy grip extend itself from Continental Europe and onwards to the shores that surround these fine islands of England, Scotland, Wales and Ireland. And there's little to suggest that anything like that's on the way either…
December days can be pretty docile let's face it but in "ancient times", at the start of the seven day period ahead, there's a been a trickle of one species that it seems hard to see as making it here - as a bona fide wild bird - again…
…and that is Great Bustard.
There have been three historic records of these quite remarkable things on December 9th - all of them shot or killed - the first of them was taken in Cornwall in 1879, the second was killed in Essex in 1890 and the third, in Cork, was shot in 1925. There's also been a lone record on December 10th - also in 1925 - of a group of four shot in Suffolk, at Cockfield.
Birders in many parts of southern England have had pulses set racing by the roaming birds from the Salisbury Plain re-introduction scheme (once upon a time life was so much easier when they tagged all the feral ones) - and moments such as those caught by Martin Cade, at Portland in December 2012 (funnily enough also on December 10th - and you think this is just thrown together right?!?!) must be heart-stopping until reality strikes and you realise "ah, hold on, plastic-fantastic"…

We're now just 13 months shy of three whole long decades ago since the most recent twitchable Great Bustards - the winter birds of a bitter early 1987 (two in Norfolk and up to perhaps five in Suffolk) being the last wild ones to alight here.
Despite their pleasing heft, the Suffolk birds in particular were absolute rotters to catch up with at times (news was sketchy - at best - to start off with, veiled as they were in a double-layered shroud of whispered rumour and clandestine invitations) but ahead of one freezing mid-February weekend there was concrete news - three birds were in fields around Theberton and Leiston.
The chase was on…
…and few gathered in the early morning haw-frost and weak wintery-burst of a Saturday Suffolk sunrise will ever forgot the moment that the three magnificent, giant ghostly apparitions glided silently in to the winter wheat near Leiston Abbey - ooohs and aaaahs cutting through the cold as hands that were being clasped together to fend off the bitter February air were suddenly brought together in spontaneous applause…breath-taking, in every sense.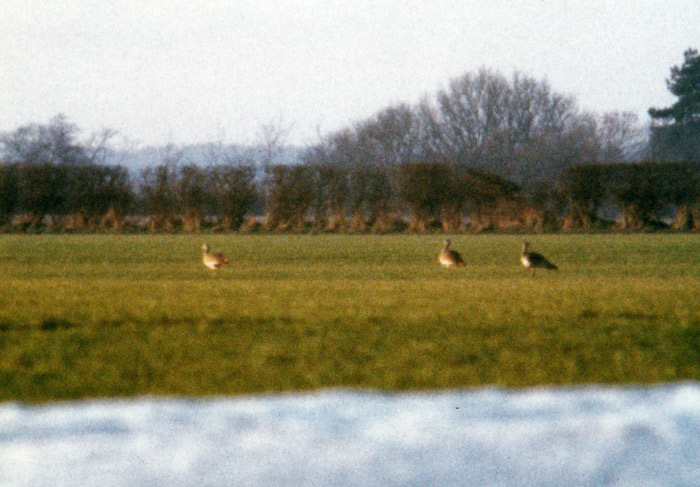 Before closing things down for another week - larid lovers may want to reserve a special place for December 15th - along with a lone American Herring Gull in Gloucestershire in 1997 - there have been two super-impressive big gull finds on the same quality day.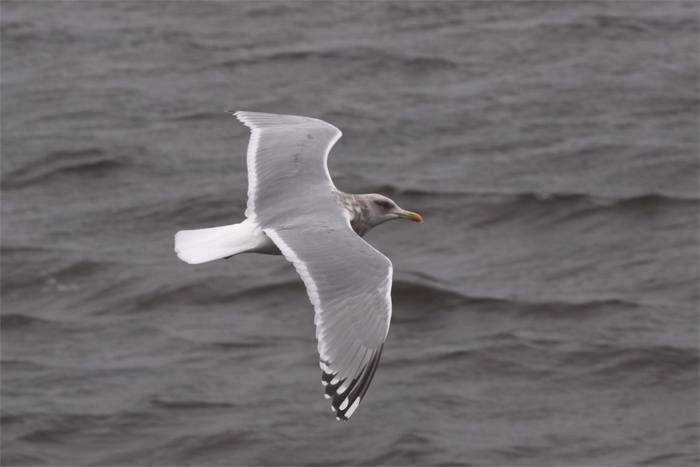 Two years ago Derek Charles unearthed a storming adult Thayer's Gull at the brilliant Killybegs while back in Gloucestershire, on December 15th 2006 John Sanders was on hand to photograph Britain's first Glaucous-winged Gull - a bird which famously trundled off to Carmarthenshire, then back to Gloucester before appearing in London, at Beddington - all within the space of four months. One more followed, on New Year's Eve 2008 in Cleveland…since then, nothing.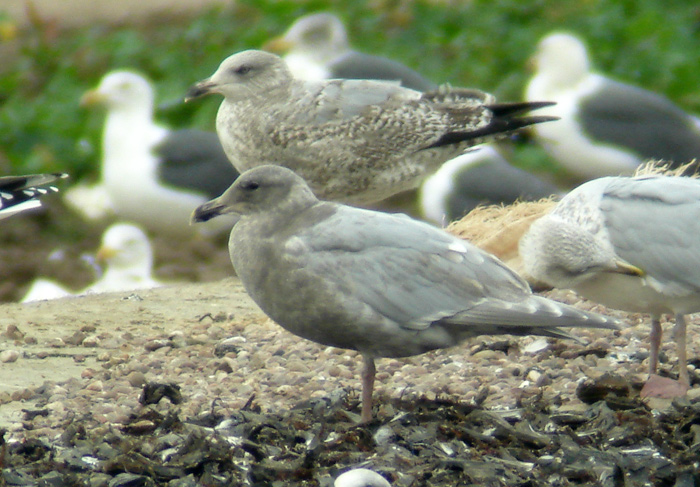 Mark Golley
09 Dec 2015
Please note: we put a lot of time and effort into sourcing and and producing the images, videos and graphics for each roundup. Some of you (probably Apple users) may notice some photos etc. that appear to have incorrect captions. Please try refreshing the page as they are correcty captioned. If after a refresh they are still showing the incorrect captions then please email us

With special thanks this week to Tim Loseby and Dave Cottridge for allowing us to include the classic Blast from the Past shots of the American Bittern and Great Bustards . Also many thanks to John Sanders for his gripping shot of the Gloucestershire Glaucous-winged Gull and to Portland Bird Observatory's Martin Cade for the Great Bustard shots from December 2012. Thanks also all the rest of this week's contributors for their photos and videos.
Hugh Harrop / Shetland Wildlife, Richard Mills, Mark Carmody, Wat Birer, Tim Loseby, Jon Dunn, David Aitken, Adam Hartley, Alan Tate, Andrew Chick, John Kemp, Steve Duffield / Western Isles Wildlife. Michael O'Clery, Davey Farrar / Kerry Birding, Katie Horricks, Dave Grant, Adrian Kettle, Mike Alibone, Martyn Sidwell, Ian Forrest, Keith Simpson, Jonathan Heath, Tony Davison, Edward Carty, Andrew Stevenson, Steve Gantlett, Sean Nixon, Amy Robjohns, Mike Langman, Derek Lees, Chris Mayne, Ian Goodall, Mark Leitch, Wayne Simmons, Martin Cade / Portland Bird Observatory, Dave Cottridge, Derek Charles, John Sanders.