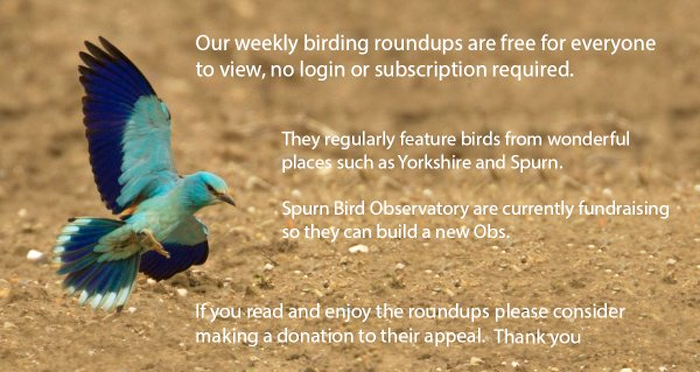 Weekly round-up: 18 - 24 Nov 2015
The week at a glance
Derbyshire's Crag Martin remains in place at the start of the new week
…as does the second Desert Wheatear for Cumbria
Norfolk hangs on to one of last week's juvenile Pallid Harriers
The Orcadian male Northern Harrier seen once more on North Ronaldsay; meanwhile a new juvenile male appears in County Wicklow
On the Isle of Wight, the wintering Greater Yellowlegs noted again out on the weekend
We've certainly had to endure a fair old bit of proper weather of late. No sooner had Storm Abigail come through and whipped us in to shape, then a secondary storm system pushed across the country only to then morph, at the end of last week's review period, in to Storm Barney.
Much like Abigail, Barney was a short-lived but pretty fearsome storm, winds once again well in the top end of the 80 mph mark in some areas, with accompanying squalls of rain, sleet and snow making things all the more difficult - more power cuts and structural damage followed in Barney's wake, with travel being tricky, albeit temporarily.
Once Barney had cleared through and bundled himself off towards the Continent, there was a lull in the proceedings ahead of the weekend, much of the country enjoying a Friday with less wind, far less in the way of grey skies and a decent amount of sunshine.
It wasn't too long though until the next change - a swathe of strong to gale force chilling NW to N'ly winds running down the North Sea, winds taking on a decidedly cold feel (what with their Arctic influence). Gusts of over 50 miles an hour were logged in places over the first day of the weekend before the brief burst of winter winds eased as the working week began - it didn't stop there either, temperatures fell to some six below zero in some areas over the weekend too.
Lots of weather to talk about and inwardly digest - what was what with the birds though?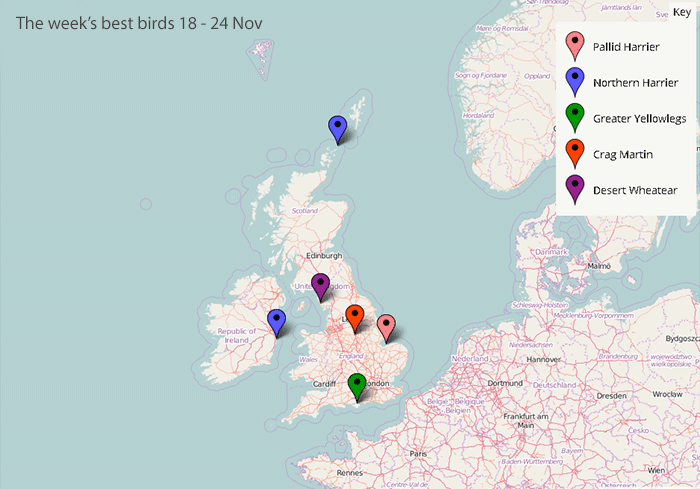 Crag Martin
There was a certain inevitability that, with a continuing presence, the late autumn star turn of northeast Derbyshire, the crowd-pleasing Crag Martin would remain as the week's main attraction in terms of the round-up - it would take quite something to usurp this aerial draw from top spot.
After last Saturday's quirky discovery around the Chesterfield's Proact Stadium, the pattern set from there on in - moving between the football ground and the St. Mary's & All Saints Church - was maintained through the first two days of the new review period, the bird often showing nicely at either location through until the middle of the afternoon on 19th.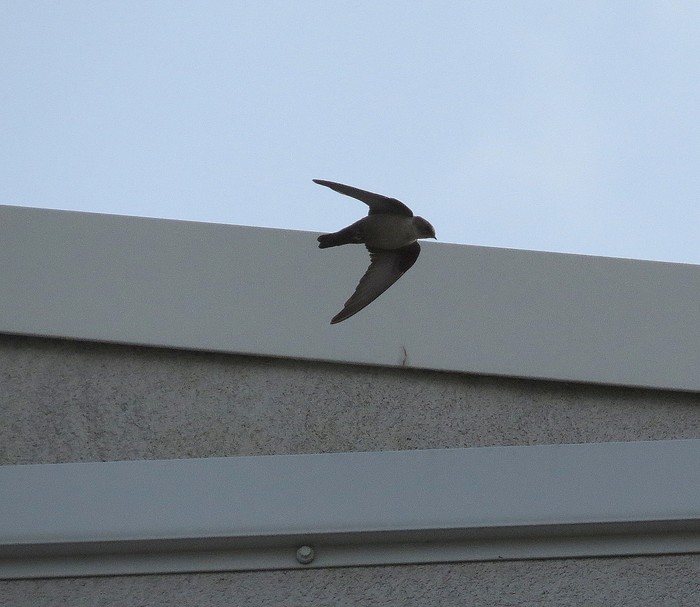 There was no sign of the Crag Martin on 20th - perhaps it had sensed the imminent change in the weather, but this hardy little soul has already ridden out two significant bands of inclement weather, so let's hope nothing untoward has become of it.
Should November 19th prove to be the bird's final day in the town (as it seems to be), it takes it to an amazing little stay of 12 days in all, quite easily the longest stay for the species here - only last year's Flamborough bird has exceeded the "one-day" mark until now.
Desert Wheatear
The tail end of last week's review saw the arrival of Cumbria's second-ever Desert Wheatear on the beach at Tarn Bay, to the SSW of Ravenglass.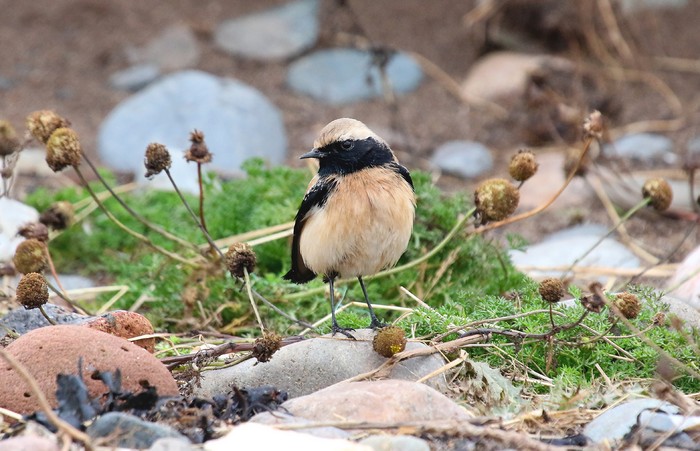 This super find for the far northwest continued to perform through until the morning of 19th - falling short of the seven days clocked up by the only other record for Cumbria, the South Walney female mentioned last week was on site for a week in mid-November 1986.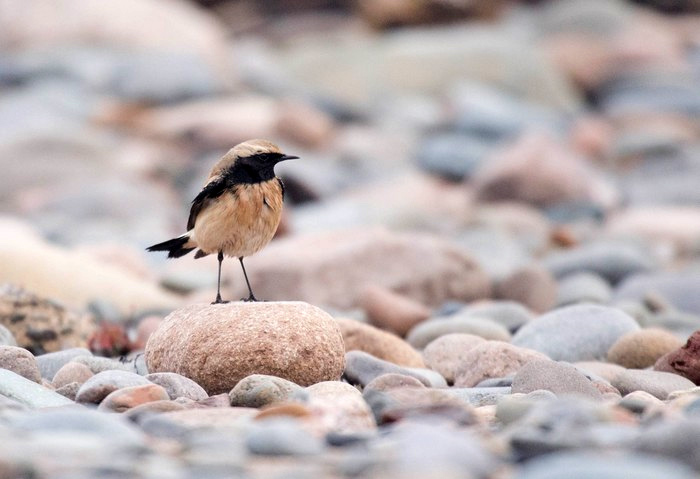 Pallid Harrier
Coming as something of a surprise was the disappearance of the juvenile Pallid Harrier found at the Warham Greens raptor roost, on the north Norfolk a couple of Sundays ago, on 15th and last reported on the evening of 17th.
A number of locals felt sure that this particular bird would perhaps emulate the first in the county, which was noted at Warham (and elsewhere) for weeks through the winter of 2002-'03, but it seems as if the young Pallid of 2015 has other ideas.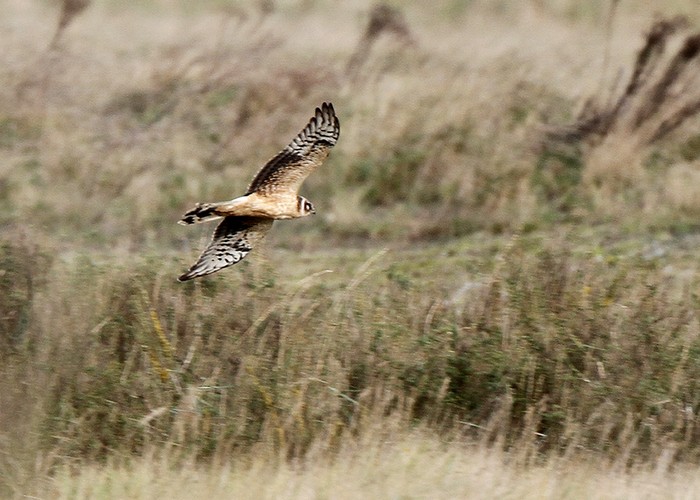 However, the second Norfolk juvenile Pallid Harrier that also appeared last week, at Snettisham RSPB did remain in to the new week - seen on 18th and again on 20th and 22nd-24th.
Any thoughts that this was actually the same bird (avoiding the can of worms that relates to who saw what and where) appears to be negated by a comparison of side-by-side images - the Warham bird appears to be less well marked on the underside of the primaries than the new arrival at Snettisham; the Warham bird's primary pattern is though a perfect fit for the individual seen at Gibraltar Point - they do appear to actually be one in the same.
Northern Harrier
Talking of one and the same…there's still no actual confirmation (is there?) that the male Northern Harrier trundled south from North Ronaldsay, down on to the Scottish mainland and back again last week - either way, the fine adult was still being logged on the Orkney island on 18th-22nd.
Unquestionably new was the freshly arrived young male Northern Harrier that appeared for a couple of days at Newcastle airfield and nearby Broad Lough (Co. Wicklow) on 19th-21st (and again on 24th). This isn't the first time that the distinctive, often split, form has been reported from the same area - a juvenile was noted briefly at Broad Lough on February 17th 2011 (with other sightings of, presumably the same bird elsewhere in the county through March) - while in October of the same year another juvenile hudsonius was seen on two days (22nd and 27th).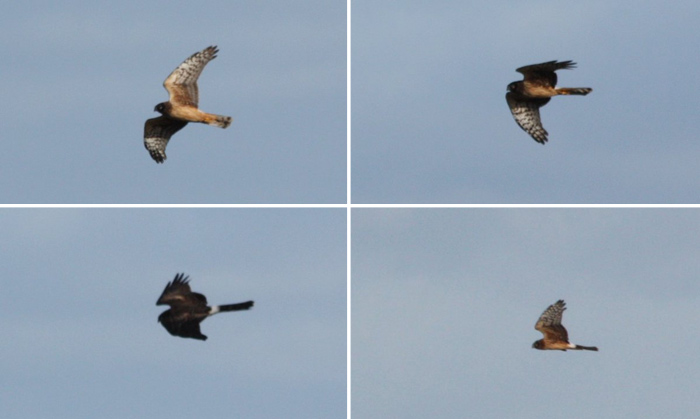 Greater Yellowlegs
For only the second time this month, the adult Greater Yellowlegs was noted along the river at Whippingham (Isle of Wight) on 21st - it was seen there on 3rd as well.

With winds blowing strongly firstly from the west and then switching to a cold north to northwest there were clearly going to be a number of species caught up amongst the chilly wintery blows - and the easiest to predict out of any of them was this one…
Little Auks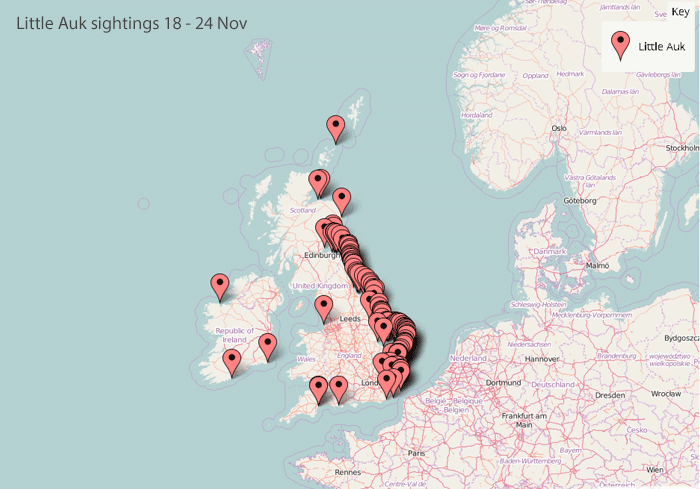 There've been a number of Little Auks reported over the past few weeks, in small quantities though, but the change in weather through this week was always going to up the weekly yield.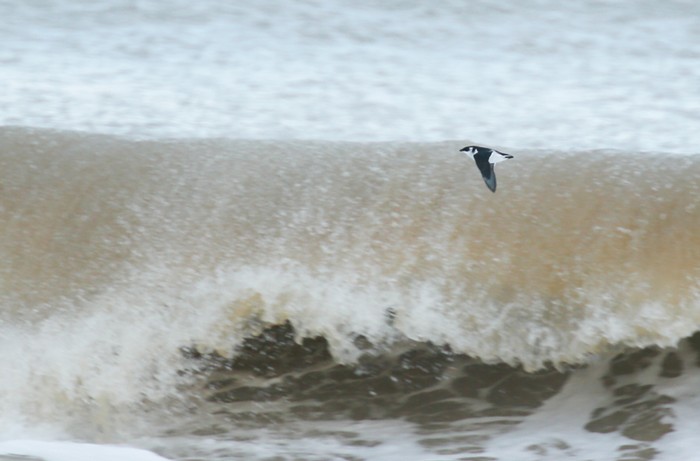 After four birds on 18th (in Northumberland, Easy Yorkshire and on Merseyside) numbers were pepped up the following day by 35 off Craster (Northumberland) - a further dozen or so included singles for County Cork and Mayo as well one picked up at Clyst St. Mary in Devon.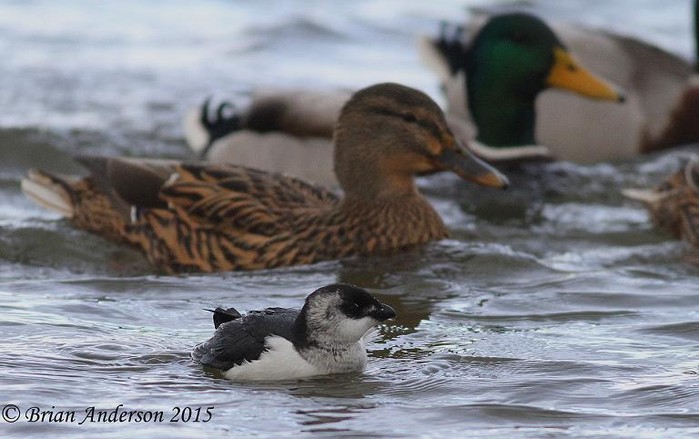 Another nice double figure tally, 40, was logged off Craster on 20th, with 11 off North Ronaldsay, with further birds logged down to Norfolk and Kent. Then, overnight, just as was expected, the wind changed direction and began to blow, hard…
The wild & windy 21st
..and as expected, caught up amongst the gusty, gale force winds were a couple of 1000 Little Auks, noted down the east coast from Northumberland to Kent.
Totals may not have reached the dizzying heights of some five figure hauls recorded over the past decade, but after a pretty slack spell, the numbers seemed pretty exciting. Scottish birders recorded 155 Little Auks of St. Abbs Head (Borders) while in Northumberland, locals logged a day-high of 602 from the Farnes, 584 past Craster, 382 were counted from Seaton Sluice, 261 from Newbiggin-by-the-sea, 229 from Boulmer, with further decent tallies including 173 off Druridge Bay and at least 60 from Tynemouth.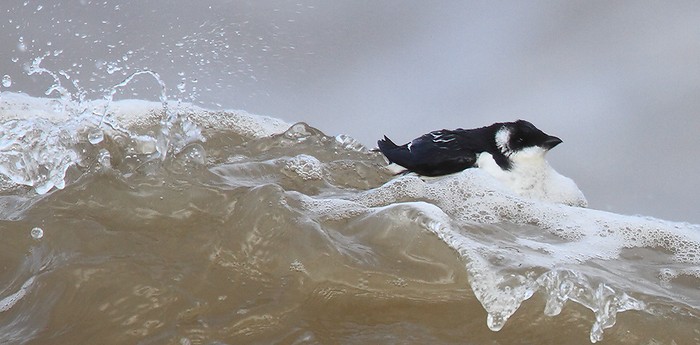 Dropping further down the coast, at least 312 were seen from Whitburn (Co. Durham) with a further 110 at Marsden, and in Cleveland, at least 30 headed past Hartlepool. In North Yorkshire, 50 were counted from both Long Nab, Burniston and Filey Brigg, while in East Yorkshire, Flamborough watchers managed 45 from their chosen headland. Birds were seen all the way down to the coast of Norfolk, with 42 off Sheringham and odd ones and twos were noted in Suffolk and Essex, while in Kent, at least 40 were seen from the tip of Sheppey, at Shell Ness and eight Little Auks were at Birchington with nine off Sandwich. Two stragglers even made it to Dorset, seen in Lulworth Cove.
The rest of the week…
The winds eased across the country on 22nd and so did the number of Little Auks - but there were still some 1200 or more recorded through the day. Farnes fared best, 301 heading north there, while 155 flew by St. Abbs Head (Borders), in Durham, at Whitburn, 134 birds were counted and 130 passed Flamborough. Other totals of note included 95 from Craster, 82 off Filey Brigg, 60 flew past Newbiggin and 50 were seen from Long Nab, Burniston. Smaller double figure counts came from Lothian through other sites in Northumberland all the way down to Suffolk.
A small scattering of records came through the rest of the week, including 23 off Craster. 22 off Seahouses, 21 Whitburn and 13 from Flamborough Head on 23rd with one making it as far south as Dawlish Warren in Devon on 24th (obligatory "double-check" for rare Pacific auks guaranteed) .
Leach's Storm-petrels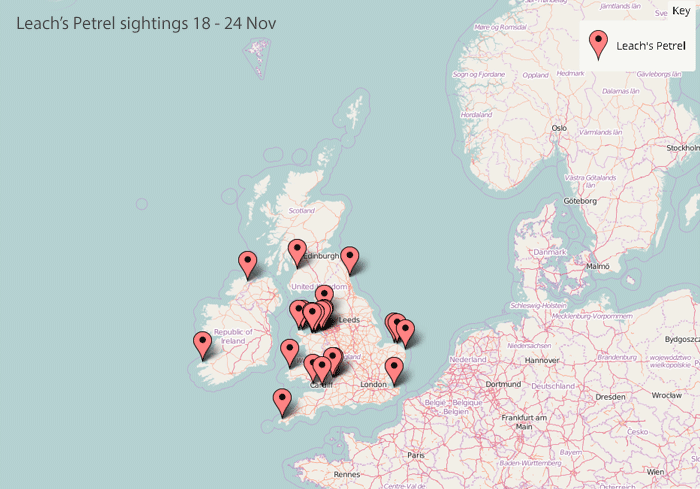 Leach's Storm-petrels were seen in modest numbers last week and the same thing happened this week too. The first two days of the review period saw eight birds noted from five counties (two English, two Welsh and one Irish) and then the 20th saw at least 16 recorded, including eight off Leasowe and (a minimum) four from New Brighton (Wirral).
The wild & windy 21st
The 21st delivered at least 11 birds to Rhos-on-sea (Conwy) and nine to Strumble Head (Pembrokeshire) with a further four off the same coast, at Little Orme Head. Elsewhere in Wales, five birds were noted from Porthcawl (Glamorgan), four were seen at Point Lynas, Anglesey and another was at Pensarn. At the mouth of the Mersey, at Hilbre Island, a single Leach's was noted during the morning while further down in to the southwest of England, at least nine were noted in the bay off St. Ives. On the south and east coast, singles were off Swalecliffe (Kent) and in Norfolk, single birds were reported from Winterton, Sheringham and two were seen at Cley.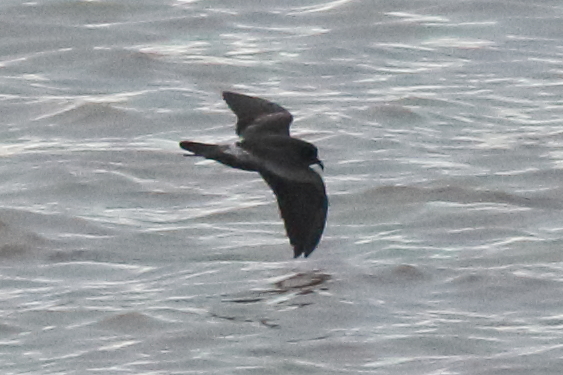 Post-21st, three Leach's Storm-petrels were noted from Porthcawl (Glamorgan) on 22nd with the same date seeing one appear at Snab Point (Northumberland) with a storm-driven bird on Donegal's Lough Swilly.
Skuas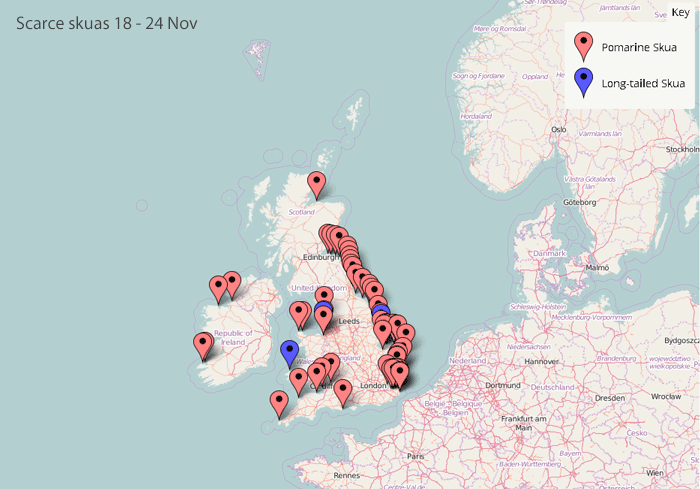 The week's four Long-tailed Skuas were reported from Leasowe Lighthouse on 19th, Sheringham and Strumble Head on 21st with an adult from Lincolnshire's Sutton-on-Sea on 22nd. Quite a few more Pomarine Skuas were logged through the early part of the week, at least 320 in all by the end of the day on 21st.
The week started off with at least nine birds in five counties on 18th, including four off the coast of Kerry and was followed by seven more on the 19th, with three in Gloucestershire. Sixteen more were reported through the course of 20th, with eight off Kilcummin Head (Co. Mayo) with three in Devon and singles spread from Lothian to Glamorgan.
The wild & windy 21st
The big haul on 21st was the 73 heading off the Humber, flying south past Spurn with 16 from both Gibraltar Point and Hunstanton and 13 at Sheringham. Elsewhere in Norfolk, seawatchers managed 10 or more off Lynn Point with eight off Titchwell RSPB. At least 36 were seen off Shell Ness (Kent) and single figures were strewn all the way down the North Sea, although a dark morph adult was seen on the west side of the country, passing through Burton Marsh (Cheshire).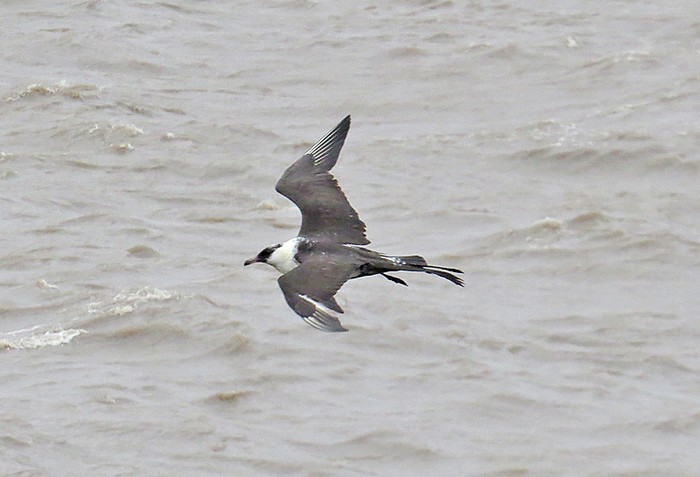 The 22nd offered up a further 20 Poms including half a dozen off Sutton-on-Sea (Lincolnshire).
Sabine's Gull & Phalaropes
On the Isle of Man, an immaculate juvenile Sabine's Gull spent a couple of days in the harbour at Peel, from 18th-19th where it performed wonderfully well (judging by the super array of shots that were taken).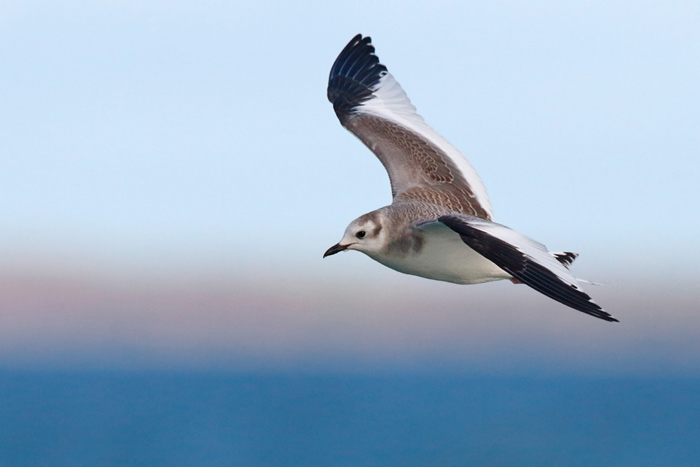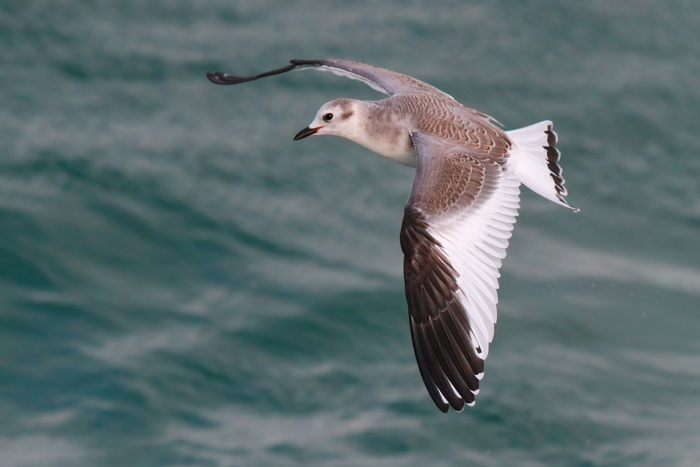 Storm-blown Grey Phalaropes were noted daily between 18th-21st - 38 the total for the four days.
On 18th, single birds were recorded off Sand Point (Somerset), Saltcoats (Ayrshire) and Blacksod (Co. Mayo). The following day saw eight appear at Flaggy Shore (Co. Clare) with six off Kilcummin Head (Co. Mayo) with a singleton off Machrihanish (Argyll & Bute). Three loners were seen in northwest England on 20th - on the Wirral, at New Brighton and Hilbre Island with one for Lancashire, at Rossall Point as well - while Kilcummin registered a further four.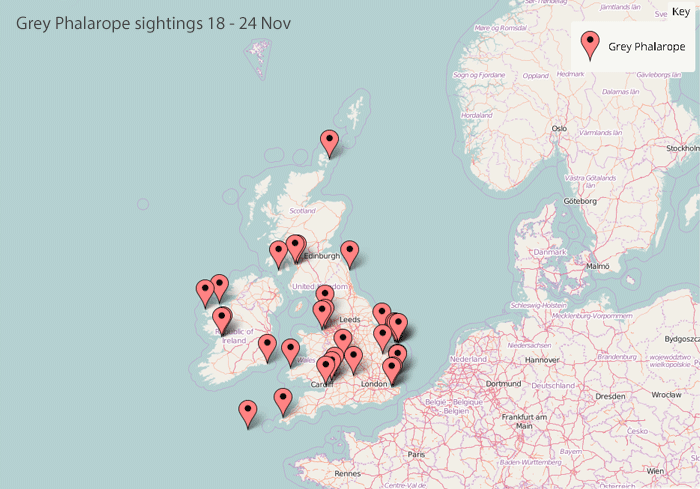 The wild & windy 21st
The stormy 21st saw two Grey Phalaropes fly past Sheringham (Norfolk) during the morning with further North Sea birds logged from Boulmer (Northumberland), Cromer (Norfolk), two were noted from both Strumble Head (Pembrokeshire) and Frinton-on-Sea (Essex) with another at Holland Haven. Single birds reached Oare Marshes and Shell Ness (Kent) and in Gloucestershire, another was seen from Severn Beach. Finally in southeast Ireland, at Tacumshin a lone bird appeared during the afternoon while the peak count for the day was eight off St' Ives Island.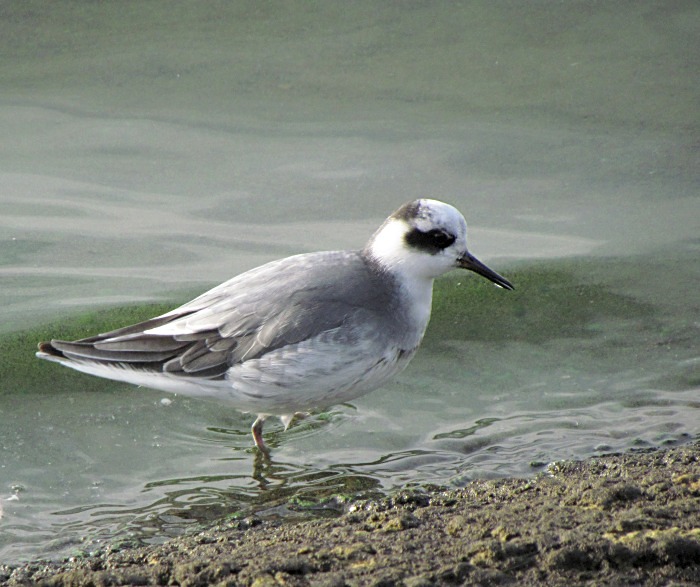 An inland Grey Phalarope was found at Farmoor Reservoir (Oxfordshire) on 22nd with another single at Sutton-on-Sea; five were noted in Norfolk; three flew past Sheringham, one was at Cley and one was located down the River Great Ouse, at Ten Mile Bank. Another Norfolk bird then appeared on the sea, off Weybourne on 23rd when a new inland bird also made a brief stop in Worcestershire, seen on Upper Bittell Reservoir and the week finished with a further north Norfolk bird, off Sheringham on 24th (could it be one-in-the-saem drifting from Cley, past Weybourne to here?) The same day saw another appear on the Scottish coast, seen at Irvine (Ayrshire).
The rest of the week…
An inland Grey Phalarope was found at Farmoor Reservoir (Oxfordshire) on 22nd with another single at Sutton-on-Sea; five were noted in Norfolk; three flew past Sheringham, one was at Cley and one was located down the River Great Ouse, at Ten Mile Bank. Another Norfolk bird then appeared on the sea, off Weybourne on 23rd when a new inland bird also made a brief stop in Worcestershire, seen on Upper Bittell Reservoir and the week finished with a further north Norfolk bird, off Sheringham on 24th (could it be one-in-the-saem drifting from Cley, past Weybourne to here?) The same day saw another appear on the Scottish coast, seen at Irvine (Ayrshire), with Ireland scoring a hat-trick off Newtonlynch (Co. Galway) and a loner off New Quay (Co. Clare).
That was that then, a nice enough mix for sure. The final species to report on where a very late report of a Cory's Shearwater off the Norfolk coast, at Winterton on 21st and a measly 13 Balearic Shearwaters seen from Cornwall, Devon and Dorset up to East and North Yorkshire and Northumberland.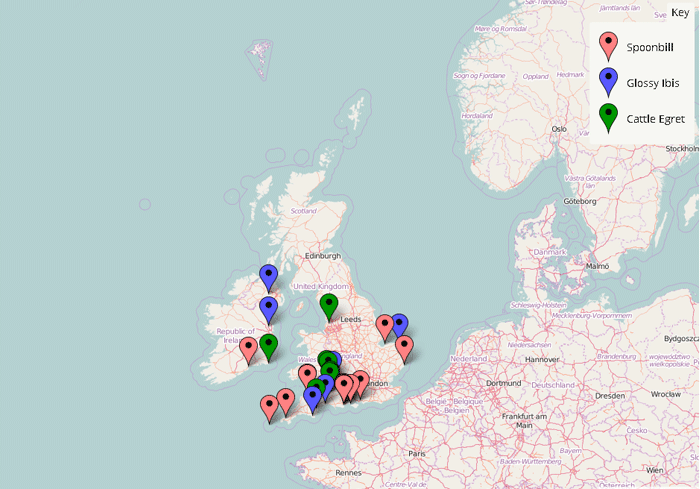 The new week began with three Glossy Ibis in place - at Felbrigg Hall (Norfolk), Northwick Warth, Pilning (Gloucestershire) and new at South Huish Marsh (Devon), with the latter county's second bird noted again at Seaton on 19th-23rd. The same date saw three birds appear at Portadown, near Lough Neagh (Co. Armagh) - the first in the county since April last year - while in Somerset, a singleton was noted again on the Avalon Marshes, at Ham Wall RSPB on 23rd. A final new arrival rounded things off on 24th - County Meath's fourth-ever Glossy Ibis found at Ashbourne - the first in the county since 2008 (others noted in 1959 and 1851).
Back in south Devon, three Cattle Egrets remained at Teigngrace until at least 20th (two were there to 23rd) and long-stayer were at Tacumshin (Co. Wexford) to 21st and Shapwick Heath NNR to 22nd (appearing at Westhay Moor on 23rd as well). New on the same date was a singleton at Martin Mere WWT (Lancashire) while two more newbies appeared at Newport Wetlands (Gwent) on 22nd.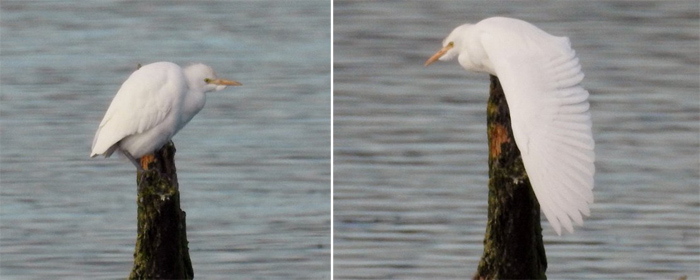 For the first time in a couple of weeks, there was some news of the Spoonbills in Pool Harbour, 20 noted on 19th (with at least 17 flying up the Frome Valley at dusk the same day). Elsewhere, the four wintering birds remained at Dungarvan (Co. Waterford) to 21st; three were seen at Slaughden, near Aldeburgh (Suffolk) on 20th and in Cornwall, two remained at the Hayle Estuary for much of the week with another double next door in Devon, still at Wrafton on 23rd. Two singles were in Hampshire, at Farlington and Sturt Pond and lone Spoonbills remained at Snettisham RSPB to 19th and on Samson to 23rd.
At least 13 Common Cranes were counted at the Ouse Washes RSPB (Cambridgeshire) on 19th and 10+ were close to Manea Station on 23rd. Over the border in Norfolk, at Welney WWT, three remained until 20th. The same date in the same county saw two appear again near Acle (with six there by 23rd) while the recent bird in Highland appeared again this week, seen at Loch of Wester on 20th and four were seen near the A1, north of Darlington, on 23rd. (An interesting report of at least 12 birds in Worcestershire, near Lacock on 22nd remains unconfirmed).

Last week's Todd's Canada Goose was present at Lissadell (Co. Sligo) until at least 21st (with a possible Richardson's Cackling Goose reported at nearby Ballintemple the same day). In Aberdeenshire, a Richardson's Cackling Goose was located amongst a group of Pinks on Loch of Skene on the morning of 19th, the same morning watch also producing a blue Lesser Snow Goose too with another "hutch" still on Islay, at Port Ellen on 22nd.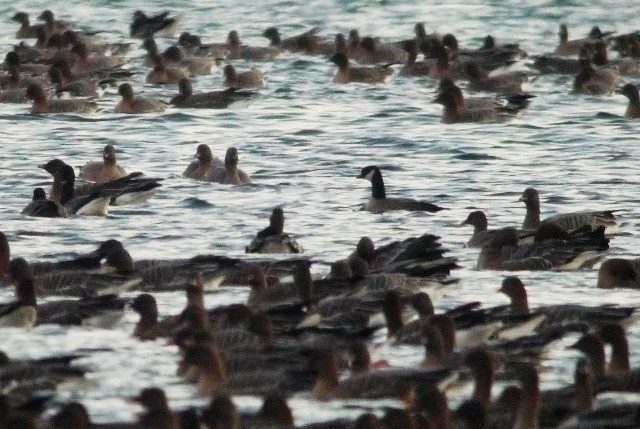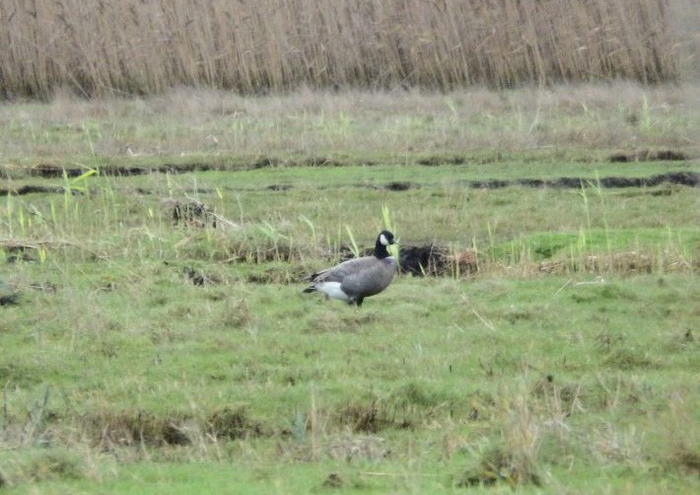 Given the mass of Atlantic weather systems that forced their way across to us in recent days, the appearance of six Snow Geese at Kenfig NNR (Glamorgan) is of particular interest - they may well be the real deal - while three further birds were recorded through the rest of the week; in Highland, birds were at Beauly on 20th and again at Loch Eye on 21st while in Cumbria, a white bird was at Anthorn on 20th-21st.
Norfolk's Black Brant remained between Cley and Salthouse throughout the week while the only other records of the distinct form this week came from the southwest, one again off Exmouth (Devon) on 19th and the northeast, at Spurn (East Yorkshire) on 24th.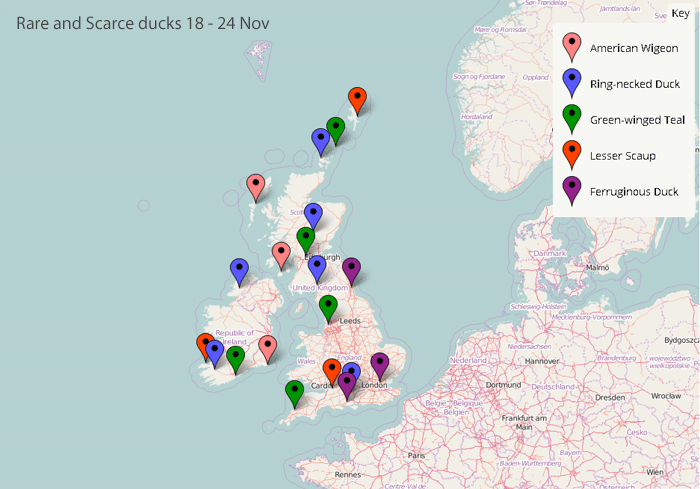 After a small pulse of fresh stock last week, there were initially only two Lesser Scaups on offer; the young drake was at Loch of Benston, Mainland (Shetland) to the weekend and the regular drake was again at Chew Valley Lake (Somerset) on 22nd23rd. The total doubled on 23rd, when the adult drakle on Kerry's Lough Gill was joined by a young drake.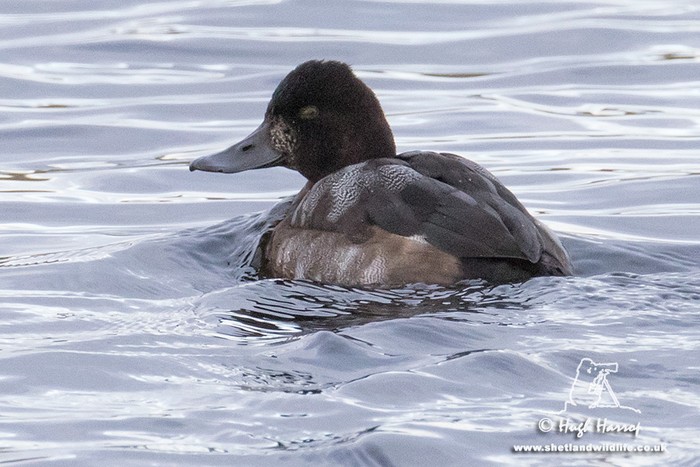 New in Dumfries & Galloway this week was a first-winter drake Ring-necked Duck at Caerlaverock WWT (from 20th) with further drakes appearing again on Lough Shivnagh (Co. Donegal) on 21st (one was seen at the same site a month ago) and lingering at Pitlochry (Perth & Kinross) to 22nd. Two new females arrived in Hampshire, at Rooksbury Mill LNR, near Andover on 22nd, were first mentioned on 23rd and they were present on 24th too with the latter date seeing a drake appear at Loch of Skaill, Mainland (Orkney).
In the northeast of England, the drake Ferruginous Duck - of unknown origin - remained at Washington WWT (Co. Durham) to 18th while in Hampshire, the drake at Blashford Lakes HWT was seen again on 21st-22nd the first reports there for almost a month. A new Ferruginous Duck, a female was identified on Dagenham Chase LNR (London) on 22nd, remaining to 23rd - the last record from the Greater London recording area was a bird of the same sex at the same site in March and April 2014.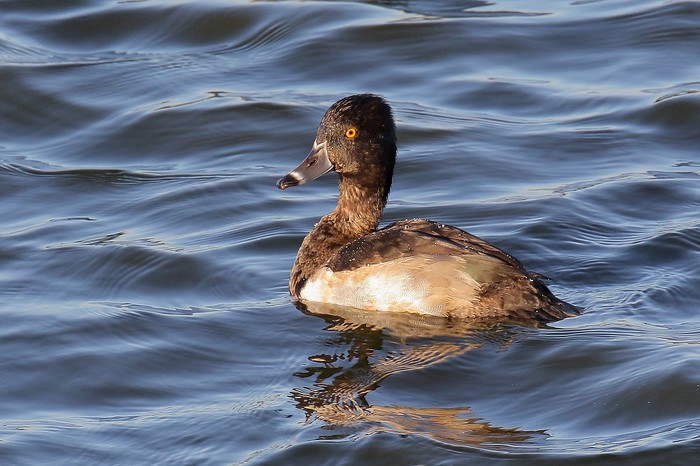 Last week's newly arrived drake American Wigeons at Campbeltown, Argyll & Bute and on North Uist remained in place until 22nd and 24th, with the wintering drake at Tacumshin (Co. Wexford) was seen through to 21st at least.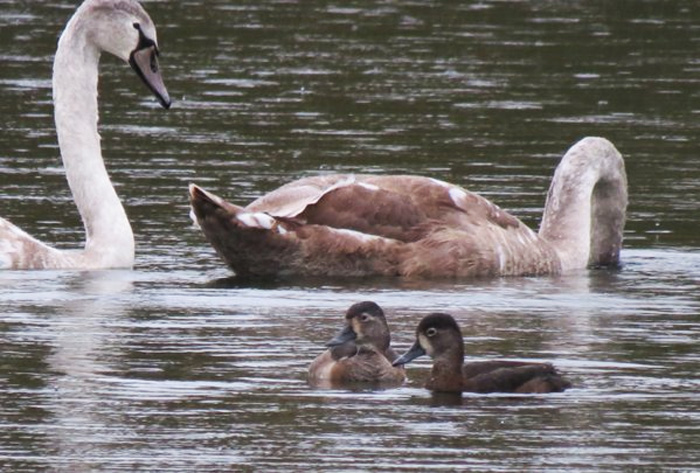 Six Green-winged Teals were noted across the past seven days - Scottish singles still on North Ronaldsay and Caerlaverock WWT (to 22nd and 24th) and again at Kirkintilloch (Clyde) on 22nd, while the 21st saw the appearance of new birds at Lough Beg (Co. Cork) and Martin Mere WWT (Lancashire). A final fresh bird was noted at the Walmsley Sanctuary (Cornwall) on 23rd-24th.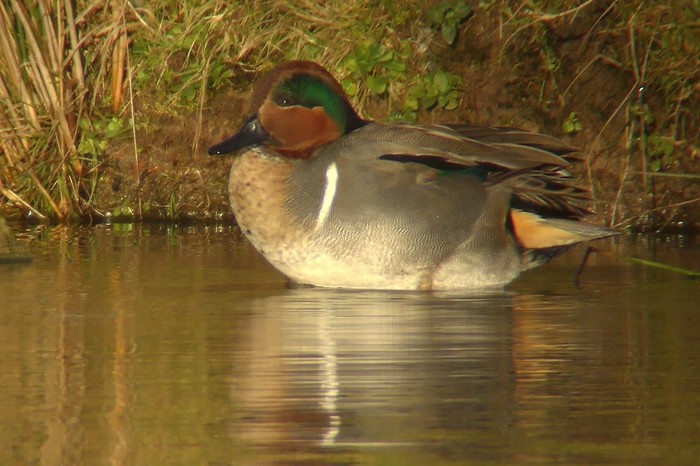 The stormy weather of 21st produced two exciting new Surf Scoters appear down the North Sea - a juvenile was found on the sea off Birchington (Kent) during the early morning and, not long afterwards, a young drake flew north through Staple Sound, Farnes (Northumberland). Somerset's first-ever Surfie remained at Blue Anchor, near Carhampton throughout the week, while adult drakes were at Tankerness, Mainland (Orkney) on 21st, in Largo Bay (Fife) on 22nd and off the coast of Lothian, at assorted sites throughout the week.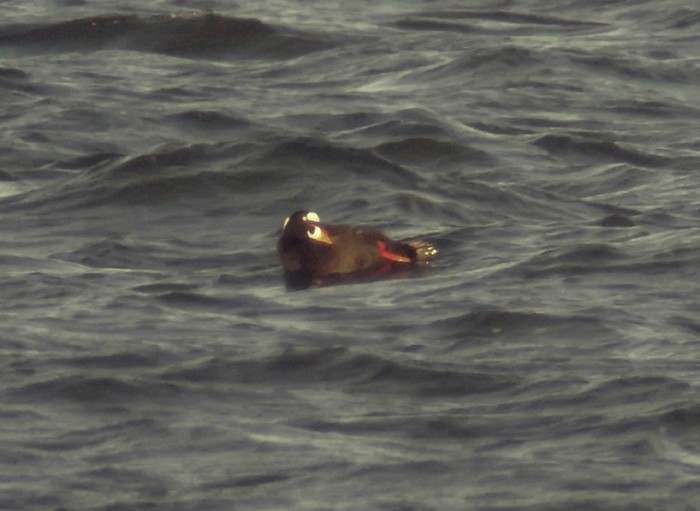 New on 22nd was a rather confiding juvenile Spotted Sandpiper found at Pilmore, close to Youghal (Co. Cork) - the first in the county since a juvenile was found in Cork City in late November 2011 and the 15th record in all. The showy bird remained to 24th.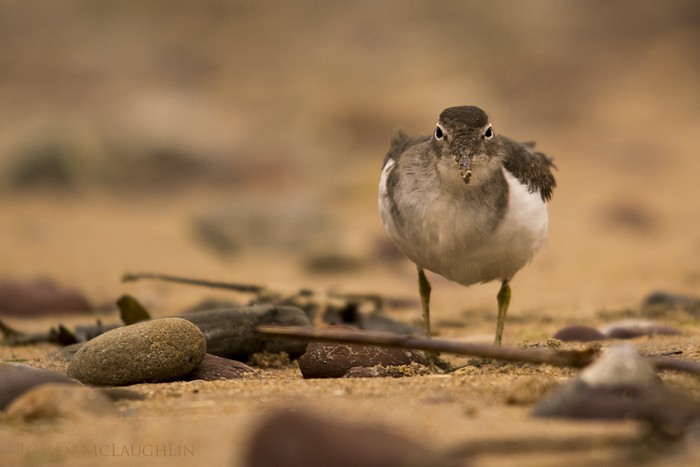 Making a surprise reappearance, after over two weeks absence was the Lesser Yellowlegs at Breydon Water (Norfolk) on 23rd while along the south coast, the same day saw the reappearance of another Nearctic shorebird when the juvenile Long-billed Dowitcher pop up once more at Pennington Marshes (Hampshire) - the first sighting for three weeks.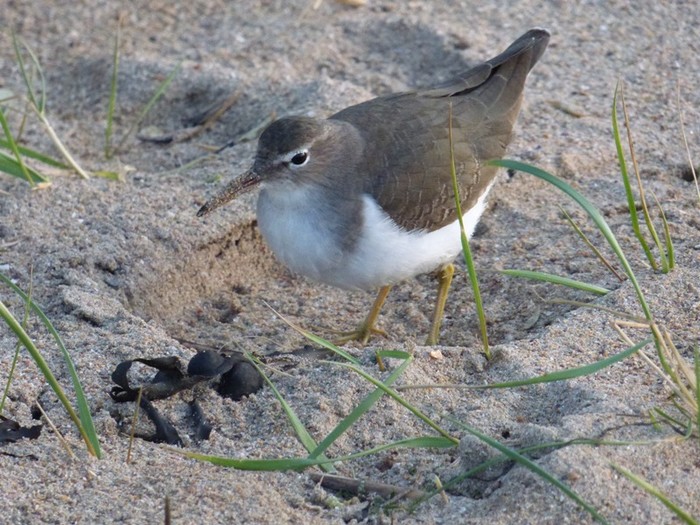 In the northeast, the juvenile Long-billed Dowitcher stuck it out at Cresswell Pond through the generally unpleasant weather until 24th and was, in a spectacularly quiet shorebird week, the only other bird to report.

In a rare moment of success it was pleasing to see not one but two of last week's predictions coming home - one look at the synoptic charts ahead of the middle of the week just gone just screamed Nearctic gull and that's just what we got...
Starting things off was a second-winter Laughing Gull that spent 18th-19th around the beach at Middle Town and out in Great Bay on St. Martin's (Scilly). This becomes only the sixth record for the islands, and a first for St. Martin's itself - and the new bird is the first to be seen on Scilly since the amazing invasion of the autumn of 2005, four birds noted around St. Mary's between early November and mid-December that year.
Further Scillonian records saw a first-winter spend three days on St. Mary's in early November 2003; an adult for a fortnight in January 2000; a one-day first-winter was on St. Mary's at the end of October 1986 and the first for the islands was seen on St. Agnes in October 1967.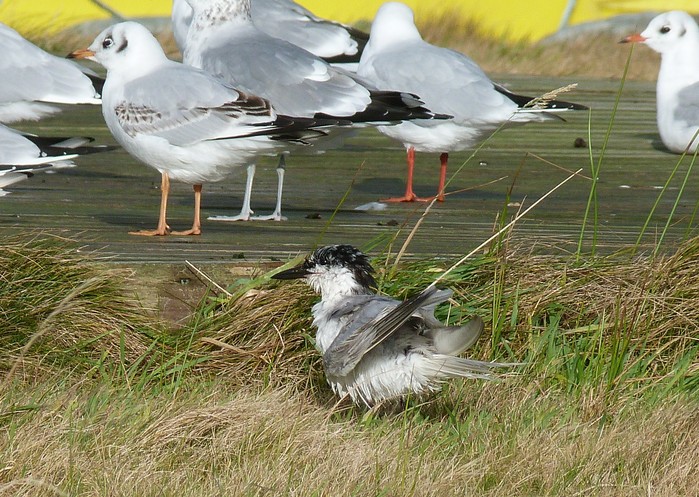 The second of last week's larid predictions to do the business was the juvenile/1w American Herring Gull that was seen well for some 10 minutes at the Tralee Bay Wetlands Centre (Co. Kerry) on 19th. The west coast county has at least 13 accepted smithsonianus records to date (the most recent coming in 2010, but further sightings were reported in 2011 and 2014).
Also in Tralee on 19th came the reappearance of the moulting adult Gull-billed Tern - last seen at Blennerville on 10th it was suspected that the bird has departed, but it seems as though it was just keeping its head down and out of the way of both Abigail and Barney...with a showing at the Wetlands again on 20th, there's now a better chance that this could become the first-ever Gull-billed Tern to be noted in December; the Ticthwell first-winter of 2001 gave up the ghost on November 27th, will Kerry's bird take the honours?
Before leaving this excellent area, both the news of the tern and the Smickers were accompanied by the continuing presence of the 2w Ring-billed Gull, seen to at least 22nd. That was one of 11 recorded this week, an adult roosted again at Blashford Lakes HWT reserve (Hampshire) on 18th-20th and again on 23rd; an adult was reported on 20th at New Brighton (Wirral); two adults were at Carrickfergus (Co. Antrim) with the 2w was again at Preston (Lancashire) on 22nd. Three additonal Irish birds were logged on the same date - a first-winter was found in Smerwick Harbour (Co. Kerry) and in Cork, an adult was at Blackrock with another at Glanmire - and on 23rd, a second-winter was at Nimmo's Pier (Co. Galway). The final bird of the week was the Cornish 2w back on the Hayle as the seven days drew to a close.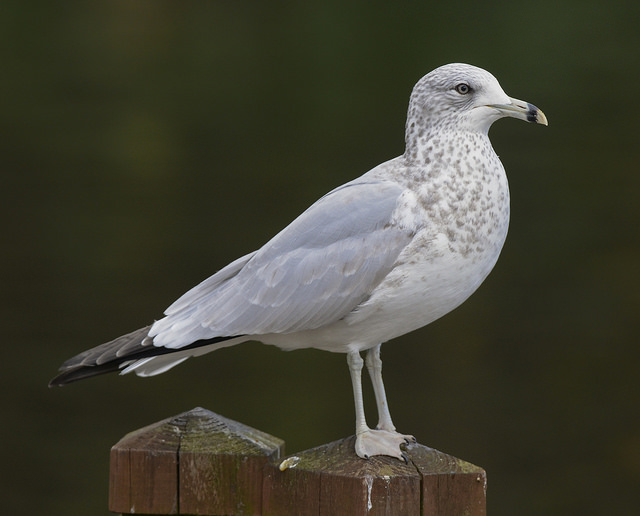 The adult winter Bonaparte's Gull popped up for it's regular once-a-week sighting in south Devon, seen at Dawlish Warren NNR on 21st and 23rd-24th. Making a third November appearance in a row on the Farnes was an adult Bonaparte's Gull on 23rd - in 2013 it was seen on Brownsman and then Inner Farne on 9th and 18th and last year, the bird was wartched around Inner Farne on 23rd - exactly a year on, the bird was back around Inner Farne. Uncanny. A little later in the day, the Bonaparte's Gull resurfaced on the mainland, between Seahouses and Bamburgh.
White-winged gulls were integral secondary players withing the northerly gales this week, both species heading comfortably in to double figures for the first time this winter. The first five Glaucous Gulls of the week were seen at Castlegregory (Co. Kerry), North Ronaldsay (Orkney), Brora (Highland), Lossiemouth (Moray) and Morecambe (Lancashire) on 18th. Two juveniles headed past Ardvule, South Uist (Outer Hebrides) on 19th with the 21st seeing up to seven different birds recorded; in Scotland, island singles were on North Ronaldsay and Benbecula (Outer Hebrides) and down the English east coast at Seaton Sluice (Northumberland), Whitburn (Co. Durham), South Gare (Cleveland), Flamborough Head (East Yorkshire) and Mablethorpe (Lincolnshire). The following day saw one or two make it to Norfolk, seen at Holme and Burham Overy Dunes, with further birds on the Ouse Washes (Cambridgeshire), at Sutton-on-Sea (Lincolnshire), again off Flamborough, at Fily (North Yorkshire), St. Mary's Island (Northumberland) and also at Killybegs (Co. Donegal). Wrapping things up, two single birds on 24th - seen offshore from Scratby (Norfolk) and also on Fair Isle (Shetland).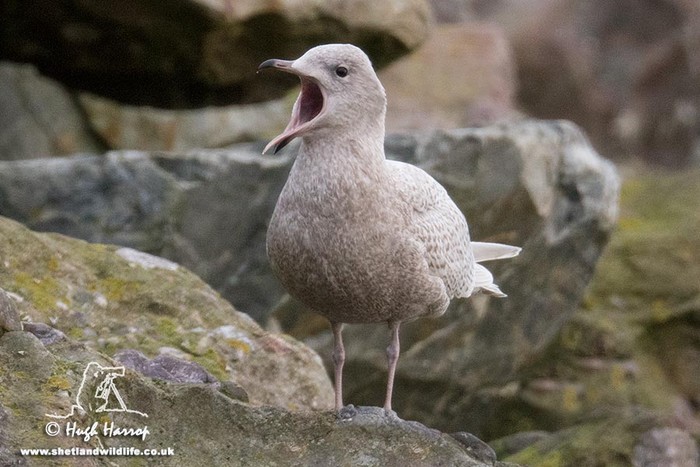 Around 30 Iceland Gulls got caught up in the wintery blast; the new week began with six in all - one was seen at Blennerville (Co. Kerry), another roosted again at Bartley Reservoir (West Midlands) and four were in Argyll & Bute, three juveniles were at Oban and another was found on Mull. Two birds were in Moray on 19th (at Lossiemouth and Burghead) with another two seen on the Hebrides on 20th, on South Uist and Barra.
Icelands on 21st were noted again on South Uist and down the east coast, singles were reported from the following locations; Fair Isle (Shetland), Dunbar (Lothian), Snab Point (Northumberland), Whitburn and Marsden (Co. Durham) and Birchington (Kent), with an Irish bird at Lisburn (Co. Antrim).
The 22nd saw a young Iceland Gull track around the Norfolk coast, seen between Winterton and Blakeney Point through the morning and early afternoon, with a second bird noted from Waxham during the afternoon (that appeared off Cley on the morning of 23rd). New too were singles at Broad Lough (Co. Wicklow), Whitburn (Co. Durham) and the four birds around Killybegs (Co. Donegal) while on 23rd, a third-winter was found at Tralee and juveniles were at Nimmo's Pier (Co. Galway), Scarborough (North Yorkshire) and roosting at Westwood Pools (Worcestershire). The final day of the review period, 24th,s aw singles noted again at Bartley Reservoir and also in Moray's Spey Bay.
Killybegs also hosted an adult Kumlien's Gull on 22nd; earlier in the week, a juvenile that flew north past Ardvule Point, South Uist on 20th.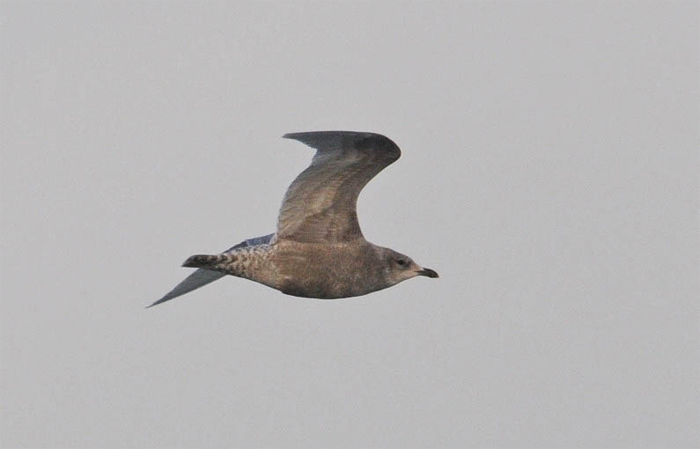 The final gull to report this week was the presumed adult Azorean Gull at Telford (Shropshire) - a bird that doesn't look like the recent bird from Nottinghamshire - on 19th.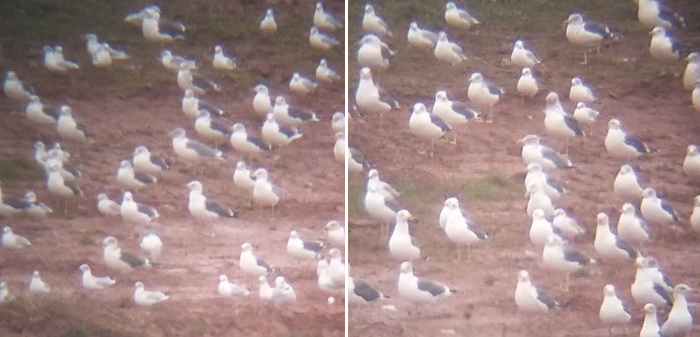 Lastly, back in Ireland, the adult Forster's Tern decided to move north across Galway Bay this week, seen at Kinvarra on 15th, the bird was back at Mutton Island, not far from Nimmo's Pier on 21st.
A white Gyr was picked up dead at Forss, near Scrabster recently and another was reported at Harray, Mainland (Orkney) on 19th.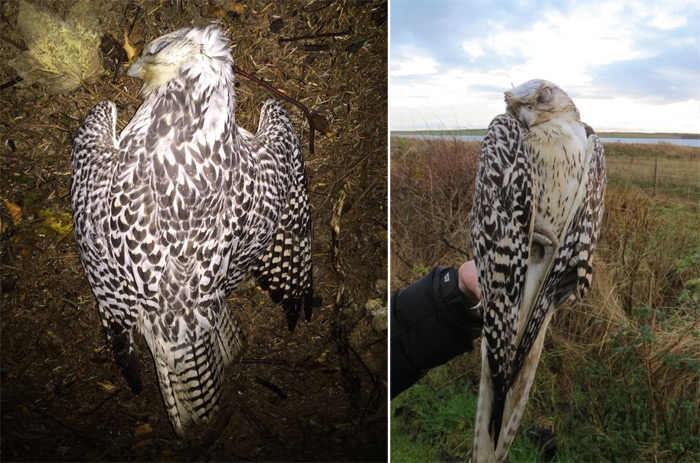 Very few Rough-legged Buzzards made themselves known through the last seven days; in Norfolk, the recent bird around northwest Norfolk was seen at Thornham on 19th and a juvenile was seen the following day at Brancaster and then Stanhoe. In the Highlands, the recent Rough-leg at Lochindorb was noted on 2oth, another remained at Elmley RSPB (Kent) to 22nd and the popular bird in Essex remained at Holland Haven to 24th.

County Longford is not a location that many birders (particularly the travelling English) would immediately be able to pin-point on a map of Ireland. Nestled in the "top-middle of the country it is cloaked by Leitrim, Cavan, Meath and Westmeath, with a slice of County Roscommon nuzzling up on its northwest border.
It was on the edge of this NW border, at Lanesborough (on the east side of the Shannon River) that one of the week's most notable new arrivals was reported, an Arctic Redpoll found in the area on 19th. Given the strong airflow from the northwest of late, the options for become pretty limited, pretty quickly.
Still an extreme rarity in Ireland, whichever the form/species, this amazing little occurrence could be the first record in the country since a Hornemann's Arctic Redpoll was reported from County Cork in early October 2010. To date, there appear to be only two accepted records for Cork, both on Dursey Island, in October 1994 and May 2010 (which was an exilipes).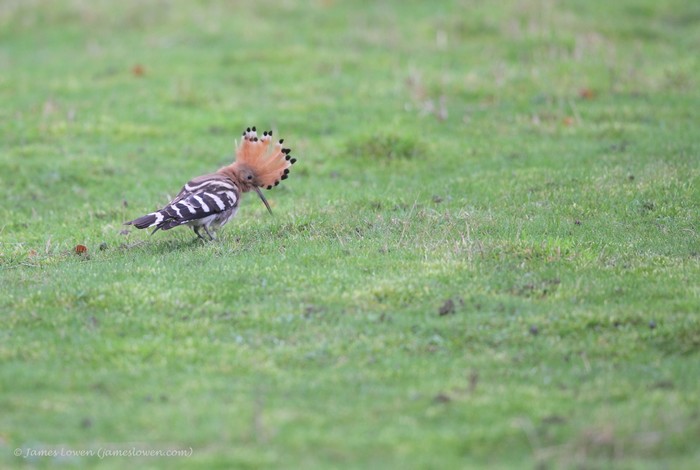 Other Irish counties to record Arctic Redpolls are Galway (one in April 2012), Mayo (four birds in 12 months from October 2007-October 2008, three of them hornemanni and all of them on The Mullet) with two for Donegal (both on Tory Island, seen in consecutive Septembers in 2000 and 2001).
The Dungeness Dusky Warbler reappeared on 20th but doesn't appear to have been seen subsequently while there were eleven Yellow-browed Warblers mentioned through the week - two were still being seen on St. Mary's (Scilly) on 22nd with singles on Portland Bill (Dorset) on 18th, in Dudley (West Midlands) until 20th, at Swanp0ol, Falmouth (Cornwall), Durlston CP (Dorset) and Chandler's Ford (Hampshire), all on 22nd. Back in Cornwall, three birds were discovered on 23rd - at Cot Valley, near Newlyn and also in the Carminowe Valley, close to Loe Pool, Helston, while another inland bird was reported from Witney (Oxfordshire) on the same date.
Norfolk's Hoopoe continued to draw admirers to Crostwick, near Spixworth through to 21st (with another reported in Hampshire, at Gosport on 23rd) and the only Richard's Pipit of the week was reported heading across the beach at Weybourne on 23rd.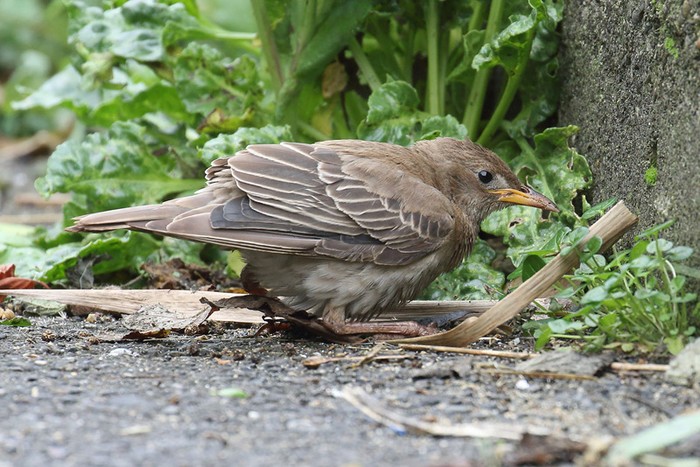 The permit-only Beddington Serin was on site again on 20th-21st. In Ireland, the young Rose-coloured Starling remained at Howth (Co. Dublin) for much of the week, seen to 23rd at least while in Cornwall, a Little Bunting flew across Nanjizal on 23rd.
Great Grey Shrikes managed a total of some 26 birds through the week. At least four (perhaps even five or six) were in Hampshire, including at least three (probably four or five) in the New Forest between 18th-23rd and two were seen in Berkshire, at Brimpton on 19th and Lower Farm GP on 21st. A further three made the news in Wales, at Cynghordy (Carmarthenshire) on 18th, still at Afan Forest Park (Glamorgan) to 19th and at Mynydd Margam (Glamorgan) on 22nd.
Further birds on regular wintering grounds included birds at both Soussons plantation, Dartmoor (Devon) and Beeley Moor (Derbyshire) on 20th, in the Forest of Dean (Gloucestershire) on 21st and both Frensham Common and Thursley Common (Surrey) on 22nd while recent arrivals remained at Iping Common and Pulborough Brooks RSPB (West Sussex), Heybridge (Essex), and Santon Warren (Norfolk).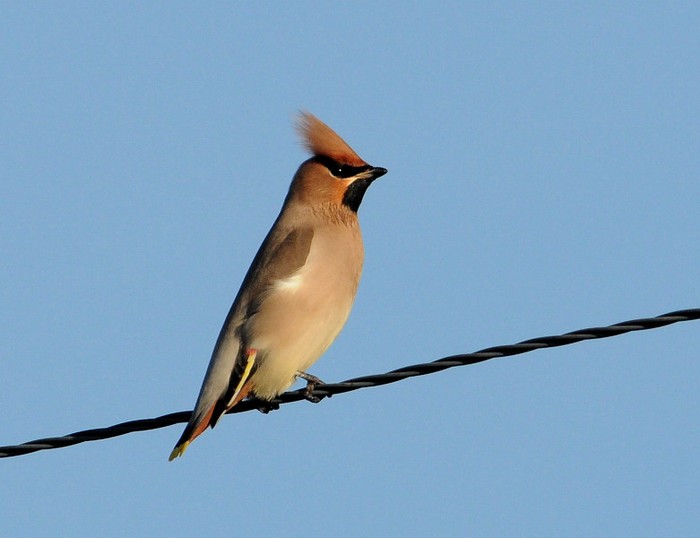 New Great Grey Shrikes through the week appeared at Pelsall (West Midlands) and Helmsdale (Highland) on 20th (when one was reported again from the Mendips, at Black Down), at Flamborough Head (East Yorkshire) on 21s and one was again at Henlow (Bedfordshire) on 22nd. Three further new birds on 22nd were found at Felmingham (Norfolk), Donna Nook (Lincolnshire) and in Scotland, near Stirling (Forth) and others followed on 23rd at Grims Ditch (Oxfordshire) and Hardham (West Sussex) - the latter trapped and ringed. The same date also saw another appearance of one at Flamborough, it may have been the bird from a couple of days earlier.
Very few Waxwings appeared this week, only some 20 or so infact; three were seen at Voe, Mainland (Shetland) on 18th, a first-winter appeared at South Glendale, South Uist (Outer Hebrides) on 20th, one made landfall at Gibraltar Point NNR (Lincolnshire) on 21st while the 22nd saw a single bird appear in Norfolk, at Sheringham with one, then two at Salthouse later the same morning. Another was seen at Newport (East Yorkshire) on the same day and on 23rd, a single was at Holme (Norfolk) and three were at Filey (two around on 24th too). The last day of the week saw lone Waxwings appear at Brampton (Cumbria), Norwich (Norfolk) and a flock of nine at Jarrow (Co. Durham).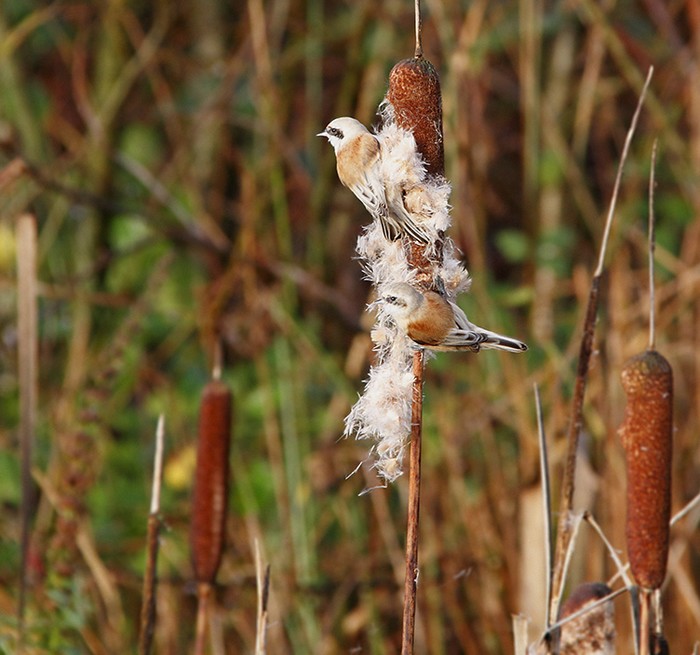 We'll round things off with the two Penduline Tits that headed over Lytchett Bay (Dorset) on 22nd before stopping briefly later in the day at Longham Lakes - the 12th record for the county and the first for two years, when one was found at, funnily enough, Longham Lakes (on 27/11/13). Further appearances followed at the latter site during 23rd-24th.
The week ahead…
There's not much of November left now, but at least the days will start to get longer…
Will those extra moments of daylight yield any new surprises? Well, the current charts suggest that, once again, it is to the Americas that we may have to look for any fresh blood, but there's always that one in a million hope for the special or extra special to loom in to view.
Freakish storms, not so far removed from what Abigail and Barney brought our way recently, provided that astonishing record of a Fregatta petrel off Gloucestershire's Severn Beach on November 25th 2009 - one of the all-time gobsmacking appearances of almost anything anywhere in Britain and Ireland.
That said, should another Houbara appear, it would push it pretty close - and the same date as the Severn Beach petrel is also the same date on which our last Houbara (now Macqueen's of course) was found near Hinton, in Suffolk a full 53 years ago. The month long stay is the stuff of dreams for almost every single living British lister - I'm guessing you could count, on the fingers of one hand, active birders now who managed to see that particular gem.
Nowhere near the same calibre as the incredible double from 25th but still fascinating nonetheless are the three species of North American passerine found on previous 26th's - a moribund Gray-cheeked Thrush was picked up at Lossiemouth in 1965 and two years on from that, a Northern Parula popped up at Porthgwarra. A full 41 years on and Cornwall saw the arrival of a Slate-coloured Junco near Hayle in 2008.
A Nearctic double-whammy on previous November 27th were the Stone Creek Green Heron of 1982 - what happened to them, they've fallen of the radar again - and the spectacular Grey-tailed Tattler at Burghead in 1994 (21 years on and there's not a sniff of a third).
Cley's Western Sandpiper of November 28th 2011 is the standout bird for that particular date while the handsome drake Buffelhead at Suffolk's Hevingham Hall Lake is perhaps the most recent eye-catching species (though that was 18 years ago now).
Should you fancy your chances of landing an American Bittern, well consider the final day of our penultimate month, three have been found across the years (1883, 1904 and 2008 - it is quite some spread…).
December's first day doesn't have quite the air of excitement as some "first days" of the month through the year, but while scanning the archives the fact that the Belfast White-throated Sparrow was found at Duncrue Marsh on this day in 1984 made me smile - a cracking twitch, ever-so-slightly nervy and definitely ever so cold…never has a small heater in a Larne Dock Portacabin been so welcomed by five southwest twitchers. But that's another story, for another day…
As to what we will get? Who knows, let's see what the weather settles down to do but the thought of further American gulls isn't too far from the front of the mind. And it still seems as though we ought to be on for a late Killdeer.
However, let's go wild and plump for one of the species mentioned above - Green Heron; there may only have been seven records (including that relocating bird from Cork to Anglesey in 2005) and four have them have come in the past 14 years. They have become super-rare again (none since the Heligan bird of 2010) so wouldn't a new one of these be a rather nice way to see in December…
Mark Golley
25 Nov 2015
Please note: we put a lot of time and effort into sourcing and and producing the images, videos and graphics for each roundup. Some of you (probably Apple users) may notice some photos etc. that appear to have incorrect captions. Please try refreshing the page as they are correcty captioned. If after a refresh they are still showing the incorrect captions then please email us

Thanks to all of this week's contributors for their photos and videos.
John Nadin, Gareth Hughes, Austin Morley, Alan Lauder, Mike Buckland, Sean Nixon, Brian Anderson, Rob Holmes, Andrew Jordan, Neil Morris, Adam Hartley, Tom Raven, Hugh Addlesee, Paul Boult, Martin Hayes, Hugh Harrop / Shetland Wildlife, Sam Northwood, Willie McBay, Lee Evans, Ronan McLaughlin, Kilian Kelly, Davey Farrar / Kerry Birding, Paul Slade, Paul Hindess, Karen Munro, John Kemp, Tom Lowe, Julian Smith, James Lowen, Tom Shevlin, Lorne Bissell.