Weekly round-up: 28 Oct - 3 Nov 2015
The week at a glance
Orkney's Chestnut Bunting departs before the weekenders make it to Papay
A new bird for Cornwall, a juvenile Hudsonian Whimbrel, presumably from Scilly, drops on to the beach at Marazion
Fly over Blyth's Pipit also reported from the west end of Cornwall
Metal-ringed 1w drake Bufflehead perhaps raises more questions than answers in Home Counties
Suffolk scores a super male Pied Wheatear as the week draw to a close
The predicted Pallid Swift looms over Flamborough's foghorn on a sunny Saturday, with singles in Durham, Northumberland and Cleveland following after…
…meanwhile, the Flamborough Hume's Yellow-browed Warbler sticks around for another day, new is one in Dorset
North Ronaldsay's adult male Northern Harrier remains…
…ditto the Mayo & Lincolnshire Pallid Harriers too…
Kerry's drake Black Scoter logged again off Rossbeigh
…and just where did the Cheshire Greater Flamingo originate from?
The Isle of Wight Greater Yellowlegs is still there…
Mild, occasionally damp and often pretty breezy (and a bit gloomy), there wasn't much fizz in the weather by way of offering up untold bonkers-rares from far and wide.
Temperatures often drifted towards the 15-16 degree mark and, on the 1st of the month, Ceredigion set a new record temperature for November, a balmy 72 degrees in Trawsgoed. With the moisture and warmth came not only no need for the fire to be on, but also not much cause to be overwhelmed by the prospect of something extraordinary ~ and there was a slightly stagnant feel to the rest of the news too, little fresh blood on offer.
Not that I'm complaining mind…
Slightly fresher (warmer, see above!) weather, clearer and brighter conditions began to set themselves up for the end of the weekend, bringing fog with it too by night ~ but with winds in (largely, for most of us) the south, there was a slightly benign feel to things weather-wise too.
Again. Not that I'm complaining mind…

Chestnut Bunting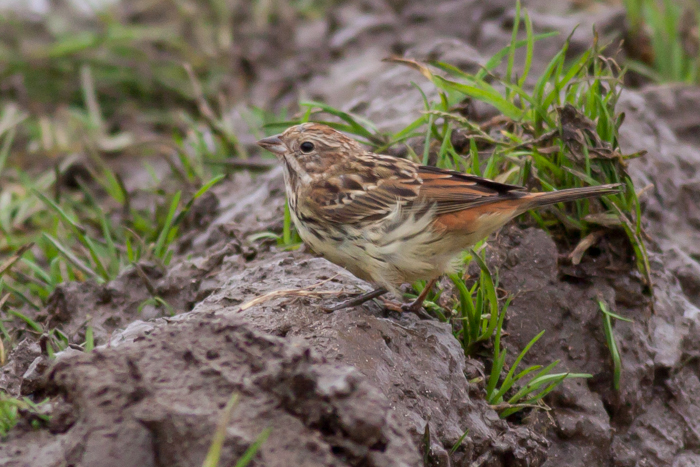 It did, as they like to say, "the bizzo".
Ferries and flights buzzed in to the remote Orcadian outpost of Papa Westray through the first few days of the new review period, to pay homage to what is widely considered, by the majority of listing cognoscenti, to be on course to be the 1st fully acceptable Category A example of Chestnut Bunting ~ the 1st winter male showing well (really well by all accounts ~ some even saying, ummm, too well for its own good) on the track near Holland Farm through until 29th.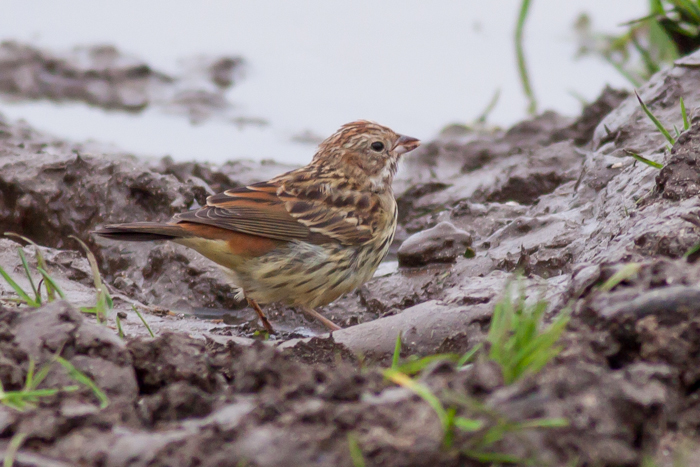 In the old days, the "big" birds were renowned for Friday night flits, but that's all changed now ~ and this fine and dandy looking young male Chestnut Bunting cleared out, along with many of the other migrants that had been noted around the island, overnight on Thursday in to Friday.
A stay of 11 days in all is at the longer end of sojourns for an eastern autumn vagrant, but rules are always there to be broken & beaten (this hasn't broken any anyway…) and it's arrival and departure are ~ obviously ~ absolutely in keeping with a genuine vagrant.
Does it actually matter that it became used to birders? "Tame" = "Duff" may be valid in some instances, but anyone could start a list of super-tame rare across the years (the Sunderland Little Crake, the "Hospital" Upland Sandpiper on St. Mary's, the Seil Island Snowy Egret, any number of PGTips…) and the Chestnut Bunting slots in alongside them all. "Tame" = "Duff" isn't always the rule of thumb.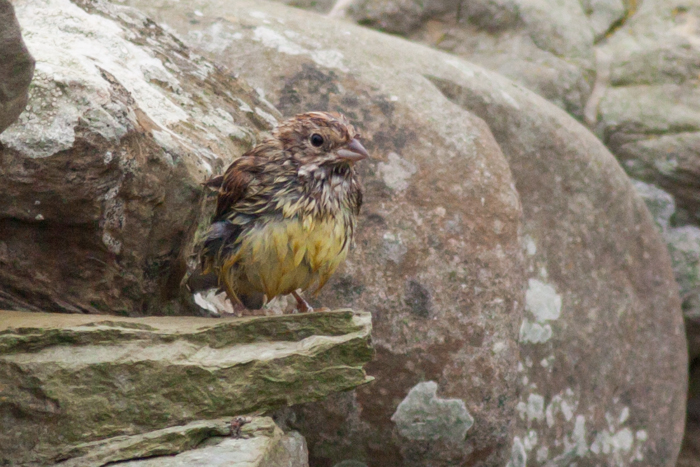 It was made pretty clear here last week that despite this being the record which seems assured (dangerous…) to be recognised as the 1st wild Chestnut Bunting by the official body that upholds the British List ~ the BOURC ~ there are one or two of those eight Category E birds that still feel as though they may have been tarred & feathered with the unsavoury "escape" brush" all too soon.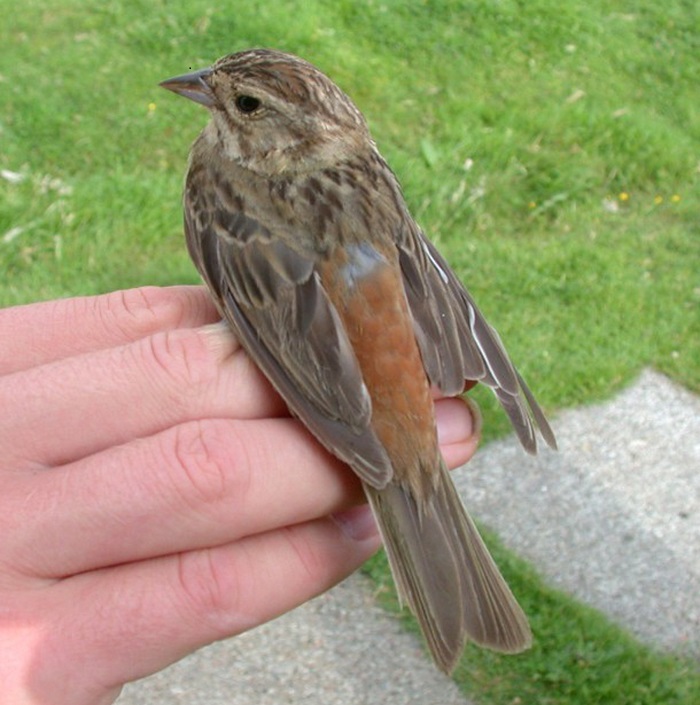 That said, it seems highly unlikely, as has been the case with Hooded Merganser, that if the Orcadian bird is given the green light all the way to Category A, that any previous Category E records will be deemed worthy of an upgrade ~ the BOURC position was made perfectly clear when Chestnut Bunting was demoted from D to E.
The "1st record" is not always the "1st record" (that should make sense, if thought about logically) and it seems as though the committee won't be in any hurry at all to be going back...
Before departing the subject and the species, here's a quick comparison with the other mega buntings from the Far East that are on the British List, and their respective autumn lengths of stay…
Chestnut Bunting
Papa Westray, Orkney, 11 days, October 2015
Black-faced Bunting
Woodhorn, Northumberland 1 day, October 1999
Lundy, Devon 1 day, October 2001
Fair Isle, Shetland 5 days, October 2001
Flamborough Head, East Yorkshire 1 day, October 2004
Chestnut-eared Bunting
Fair Isle, Shetland 6 days, October 2004
Virkie, Mainland, Shetland 3 days, October 2012
Pallas's Reed Bunting
Fair Isle, Shetland 13 days, September-October 1976
Fair Isle, Shetland 2 days, September 1981
Icklesham, East Sussex 1 day, October 1990
Yellow-browed Bunting
Holkham, Norfolk 1 day, October 1975
Fair Isle, Shetland 12 days, October 1980
North Ronaldsay Orkney 2 days, September 1992
St. Agnes, Scilly, Shetland 4 days, October 1994
Yes, the Chestnut Bunting is at the top end of "length of stays" but everything fits beautifully in favour of being the "real deal" ~ location, timing, fellow eastern travellers (as mentioned last week).
Many would argue (all of those who invested time and money to go north over the past week for starters) that the same can't be said for at least some other CB's that are deemed as "tickable" within alternative British listing codes…
Next stop, Category A.
Hudsonian Whimbrel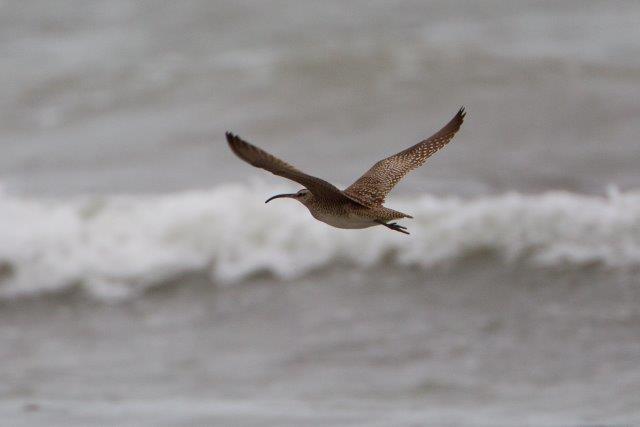 Not quite in the same "sexy stakes" as the Orkney Bunting is Hudsonian Whimbrel ~ but don't tell any Cornishmen or county settlers that…
…they'll argue 'til the cows come home that, for them at least, the appearance of what must surely be the Scilly juvenile Hudsonian Whimbrel on the beach at Marazion on the morning of 30th is of huge significance to them (which, of course, it is) ~ this rather charming and striking shorebird becomes an overdue 1st record for the count and remained on the beach on October's final day too.
Quite where it (assuming "it" is the Scilly bird) has been is a little bit of a mystery; having departed from Tresco sometime during 19th it has been AWOL ever since. That said, it appears that it was still on the islands on the evening of 29th ~ a record of a dark-rumped bird taking flight from Porthloo, with a Eurasian Whimbrel became all the more fascinating ~ St. Mary's would be the perfect departure spot, with a journey of some 30 miles to the ENE, taking the bird over the tip of Land's End and right in to west Cornwall's coastal strip.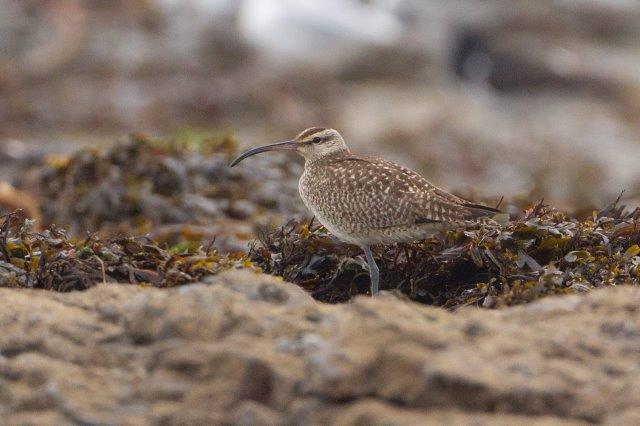 The Whimbrel remained in to part of 31st and that seemed to be it ~ but on the morning of 3rd it was back on the beach once more.
…just because it may have been ex-of Scilly, it doesn't detract from a very fine mainland find indeed, what's not to love about a county 1st!
Blyth's Pipit
Cornwall's second rarest bird week (and also one of the rarest birds nationally too) was the in flight only Blyth's Pipit reported from the always productive valley at Nanjizal on 31st.
This is at least the second mention of a fly over only BP for the site ~ one was mentioned for November 1st 2007 (presumably the accepted bird from Brew Pool, but the Nanjizal sighting never appeared in print). That Brew Pool bird was Cornwall's third and followed a much discussed first-winter bird near Land's End in 2004 and the heavily twitched bird-of-the-year at Skewjack in the last week of October 1990.
Bufflehead
…and so to the Bedfordshire Bufflehead.
An impressive looking (presumed) "immature" drake, this week's controversial quacker was found on the lake at Priory Country Park on 29th; at first glance, it seemed as though there were things in its favour, not least the age of the bird (sure it means nothing really, but a 1w is always of interest as a good starting point).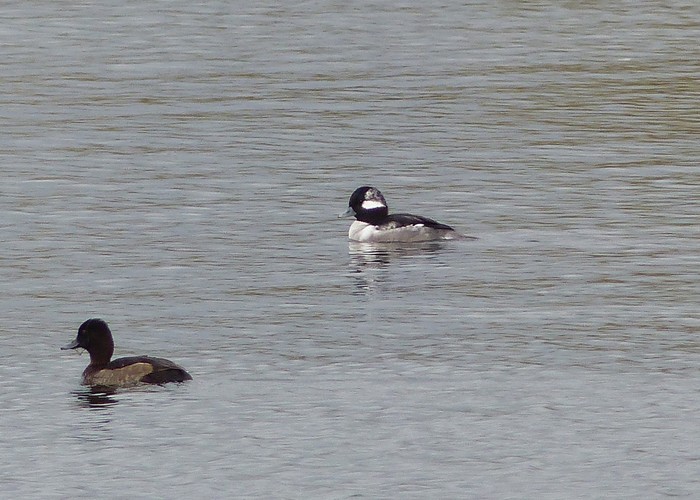 Working against it, in the mind at least, was the fact that only last week there'd been a lovely drake in Cumbria which, at first glance, also seemed to have masses going for it too. A swift waggle of the leg to revel a lovely yellow ring did for that, but what of the Beds., bird.
Well, soon enough a waggle of one of his legs revealed a ring…but not a dayglo "lock-up" ring but a more subtle metal one. Hmmmm. Conundrum time.
Soon it was being reported that captive Buffleheads were kept nearby, (but they may just have been adult drakes there). For those not heading to the site, put off by the "escape" clauses being issued, or for those interested parties from a far, the online video of the bird made this perky chap look really impressive…and then, for good measure, it went and did a bunk.
A one-day, first-winter bird in late October ticks many boxes and there's an "official" precedent already set too in terms of blinged-up birds ~ the wintering adult Devonian drake at Roadford Reservoir in 1998-'99 was a metal-ring bearer and that had no problems in terms of acceptance by the Rarities Committee.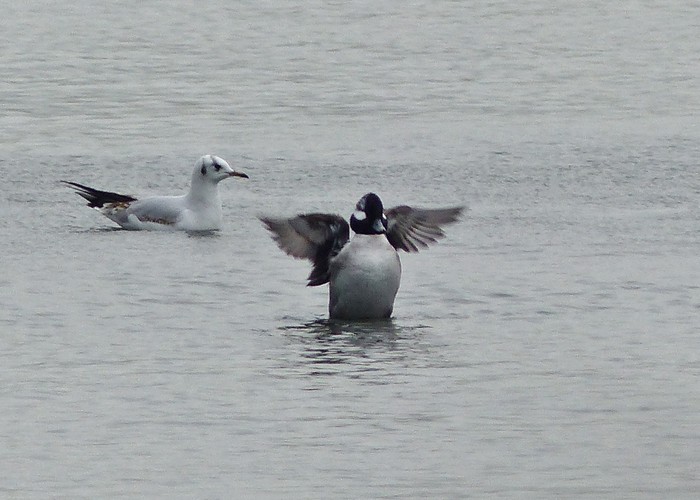 With all the above in mind, you'd argue there actually aren't any issues in the way for this first for Bedfordshire and, with so many birders having seen a Bufflehead somewhere prior to this, there's perhaps (sadly) not that many people outside of Beds who actually care (BBRC included…we know that any old Hooded Merganser can get through the net, so, y'know…).
If the only evidence against the Priory Country Park Bufflehead is a metal ring, then it is surely insignificant enough to prevent acceptance of what, on face value, appears to be a decent record.
Isn't it?
Pied Wheatear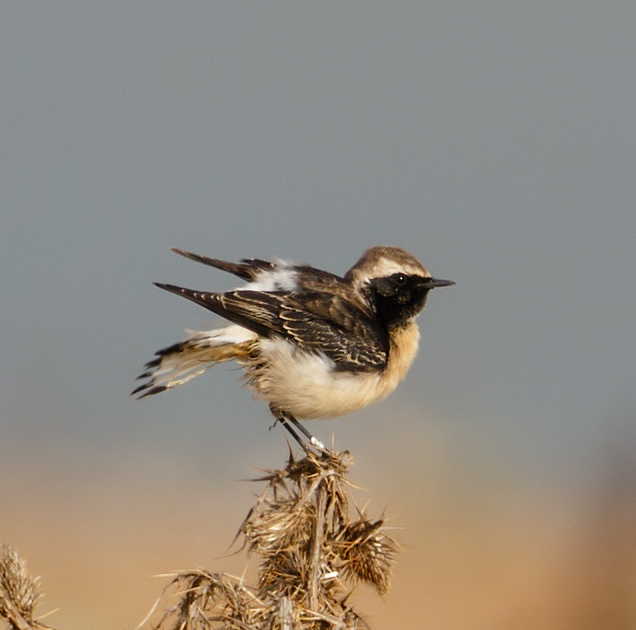 The final day of this week's roundup period delivered a neat east coast treat for many south of the Wash, in the striking guise of a super-looking adult male Pied Wheatear in and around the beach huts and sea wall at Landguard Point (Suffolk) ~ only the third record for the East Anglian county.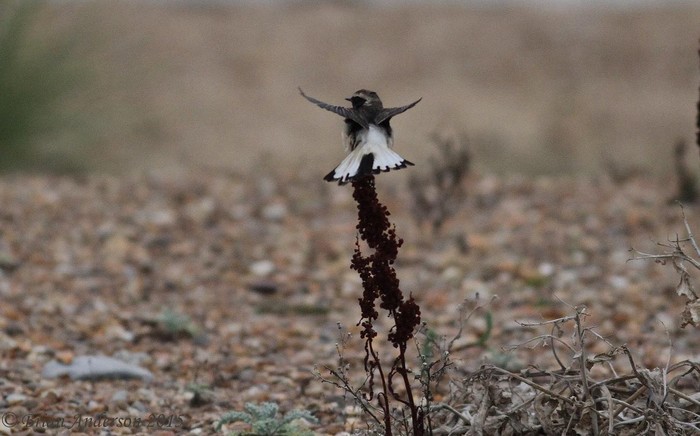 As it turns out what was thought to be Day 1 of the stay was actually Day 2 ~ the bird having first been noted in the area on 2nd ~ but he showed well throughout the day, even once processed through the Bird Observatory (everyone knows that ringed birds invariably get a little sheepish or skittish post-ringing).
Suffolk's only other records of this popular late autumn rarity came to Fagbury Cliff (not too far at all from Landguard) in late October 1994 with the second following on 15 years later, on October 19th 2009, at Shingle Street. Both of the previous birds were females, so this week's male was admired all the more so by local birders. (It is interesting to speculate on why Suffolk trails neighbouring Norfolk quite as much as it does where Pied Wheatear records are concerned, 3:12 at the moment).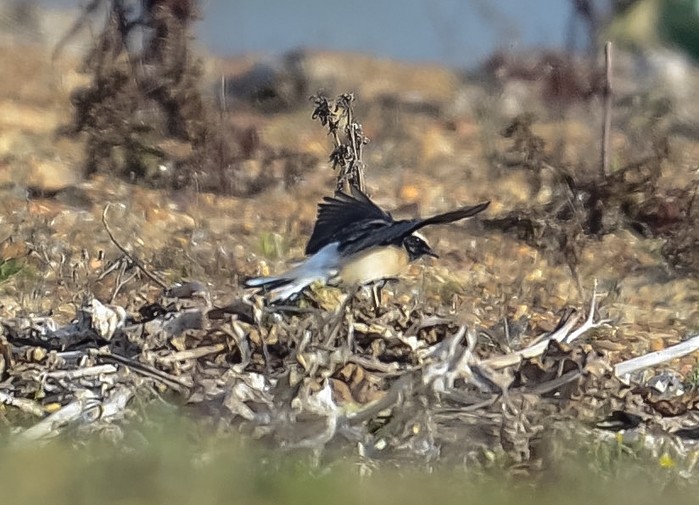 This is the 4th Pied Wheatear of the autumn so far (the overall total now knocking on the door of 80 in all), following on from the lovely tame bird at Spurn and singles on Shetland and Cornwall. Given the forecast, could there be one or two more on the way?
Pallid Swift
A little bit of shooting-fish-in-barrel time now ~ after a whole heap of blether last week, things were rounded off with the #1 prediction (given the weather and all) for the week ahead being confidently stated as Pallid Swift.
It took until the final day of October for this week's particular odds-on favourite to romp home (after two reports of presumed Commons the day beforehand) ~ courtesy of the always-out keenest of the keen at Flamborough Head (East Yorkshire) on the morning of 31st, with more following later in the day in Durham and Northumberland.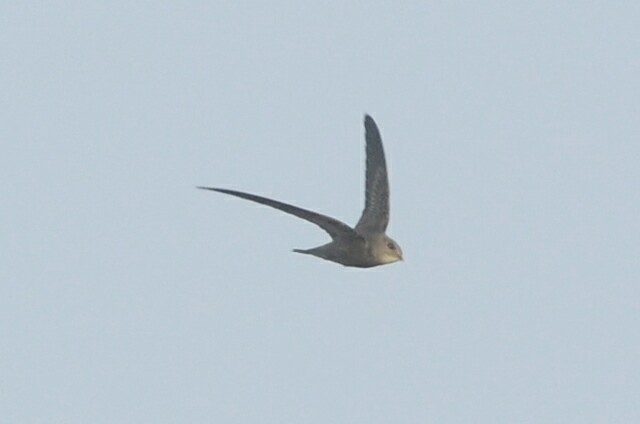 The first of two afternoon birds was seen in County Durham, initially at Whitburn with presumably the same bird (in the company of two Swift sp.,) then over Marsden until the middle of the afternoon. Soon after came the third report for the day ~ watched for 15 minutes or so at Newbiggin-by-the-sea (Northumberland), the bird drifting off north when seen last.
This species, along with other autumn specials ~ a bit like Red-flanked- Bluetail ~ has shown a big spurt in records in recent times and the air of mystique and excitement has begun to fade, to one degree or another. It shouldn't, as this is a species that remains not only damn rare here (still well under 100 records) and it is also, as many know, one of the harder calls to make in anything other than absolutely optimum conditions (unless you've got an obvious humdinger, as can be the case sometimes).
Flamborough's bird sounded as though it showed really well, making life easy on the ID side of things and joins a growing list of birds seen in Yorkshire, most of them in the East and several of them noted at Flamborough.
Up until the end of 2013, seven Pallid Swift records had been accepted for the whole of Yorkshire, five in the East (including four birds in three different Flamborough sightings) and one each for West and North Yorkshire too. Further records have followed for Flamborough in both October 2013 and 2014, with a rare spring report from Spurn at the end of May last year and another October '14 bird logged up the road at Kilnsea last autumn as well.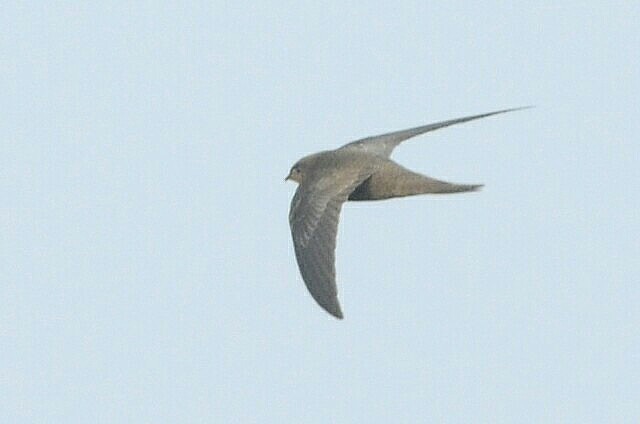 Further north, the two counties that also registered Pallid Swifts on 31st have fewer records; Durham has just two accepted records to date, singles seen at Whitburn and Marsden between October 23rd-25th 2001 (different individuals involved) while in Northumberland, 2001 produced the first three county records around the same time of year (one being a Durham bird) with two or three seen in late October and November 2005.
What may have been the 4th Pallid Swift of the weekend was reported from Boulby (Cleveland) on 1st ~ the county has four acceptances to date, most recently in 2013 at Hartlepool.
Pallid Swift was admitted to the British List following on from the Stodmarsh bird of May 1978 and it remained a very rare visitor through until the autumn of 1999, when 11 acceptances came forth from the BBRC. That took the overall total to 26 as the 2000's came along….
…since then over 60 more records have been green-lighted and October has become the optimum month in which to see Pallid Swift, at least 45 accepted now; March has five, April six; May has just seven while June and July have seven between them (3:4). August claims three birds, September two while November scores a respectable 11.
Hume's Yellow-browed Warbler
Staying at Flamboro' ~ and always an admirable find ~ especially in an autumn where we've been swamped by 1000's of Regular Joe's, the discovery at the end of last week of a sometimes showy Hume's Yellow-browed Warbler at Flamborough Head was a popular draw for birders in the region.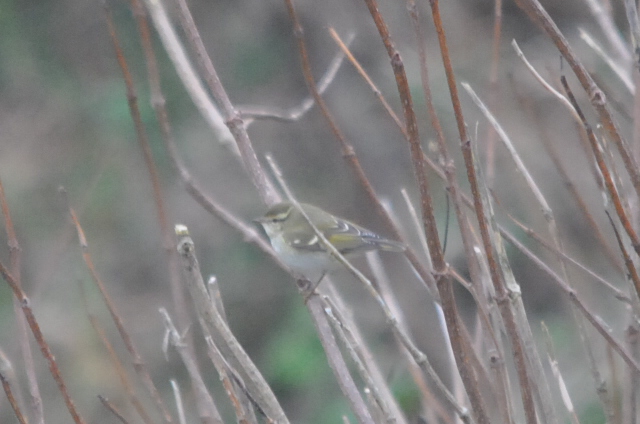 Sadly, the bird was only present for an extra day, our first day of the new round-up period (28th) ~ and then was gone. A second bird for the week was seen and heard in Dorset though ~ found around the castle at Durlston CP on 31st (coming the day after a strong, non-calling contender was in Weymouth).
There have been seven previous Dorset Hume's Yellow-browed Warblers ~ the first spent a few days in the valley at Winspit in late November 1994, the next four were found on assorted parts of Portland (including two at the Obs.,) between 1999 and 2003; a wintering bird was at Wyke Regis from late November 2011 until April 2012 and a one-day bird was at Dorchester on November 1st 2012.
There's still three weeks or more for more to follow on behind the three noted already this autumn…time will tell whether they make it or not…
Northern Harrier & Pallid Harrier
As with many other weeks, headliners that have been around a while are mopped up pretty swiftly, despite their undoubted quality. With no offence intended (like they'll see it…), here's a swift breeze through the rarest raptors of the past seven days.
Orkney 2nd best bird of recent days, the fine adult male Northern Harrier was in no hurry to depart North Ronaldsay ~ still present on 2nd (with 39 days spent there now).
The two "county 1st" records from last week, the juvenile Pallid Harriers in Mayo and Lincolnshire both saw it in to a new week this week.
Lincolnshire's newly arrived youngster, found at Donna Nook on 27th, stayed in the area on 28th before (perhaps) exiting the county the following day through Gibraltar Point (some 25 miles to the south) the next day ~ that is assuming it wasn't a second bird ~ a juvenile Pallid Harrier was also noted at Butterwick, further to the southwest from Gib., at some point on 29th too, where it was seen heading north; the Gibraltar Point sightings spanned late morning to mid-afternoon.
No such mini-conundrums with the juvenile Pallid on the Mullet ~ the bird found at Annagh Marsh on October 19th was noted through until 29th at least, seen from time to time at nearby Termon Hill.
Black Scoter
So many words have streamed forth in the last two weeks (a double dissertations worth apparently…), I'm affording myself the luxury this week of some more brevity; so here you go ~ Kerry's drake Black Scoter was logged again off Rossbeigh on 29th.
(There's a winter's worth of inventiveness ahead for this Irish first record, so powder-dry and all that).
Greater Flamingo
Whilst not wishing to seem overly playful, it was interesting to see note of an apparent Greater Flamingo noted on the high-tide at Parkgate Marsh RSPB (Cheshire) during the middle of the day on 29th.
Just like Chestnut Bunting, this species isn't on the British List and this one has drawn barely a murmur anywhere.
..and doubtless with good reason too…
There've been a handful of birds in the last two or three decades which many thought of as having half a chance of being the real deal ~ at Breydon Water in October 1990 and in the Cliffe Pools area of Kent in 1994 spring immediately to mind. There've been a few reviews of the species' status too ~ and still there's no hint of a bona-fide proven bird from Europe…
Greater Yellowlegs
Finally, very short and very sweet again, the Greater Yellowlegs on the Isle of Wight; the adult still along the river near Whippingham to 3rd.
Heralding the approaching change of seasons was the adult White-billed Diver that flew south past Lamba Ness, Unst (Shetland) on 28th.
There was only one Leach's Storm-petrel mentioned this week and that was, sadly, a dead bird at Birsay (Orkney), found on 30th. Faring a little better were the week's five Grey Phalaropes; the first headed past both Minsmere RSPB and Thorpeness (Suffolk) on 29th and was followed on 30th by one at South Gare (which lingered until 2nd). Three singles were noted on 31st, near Ullapool (Highland), on the river at Brightlingsea (Essex) and also from the decks of the Scillonian III.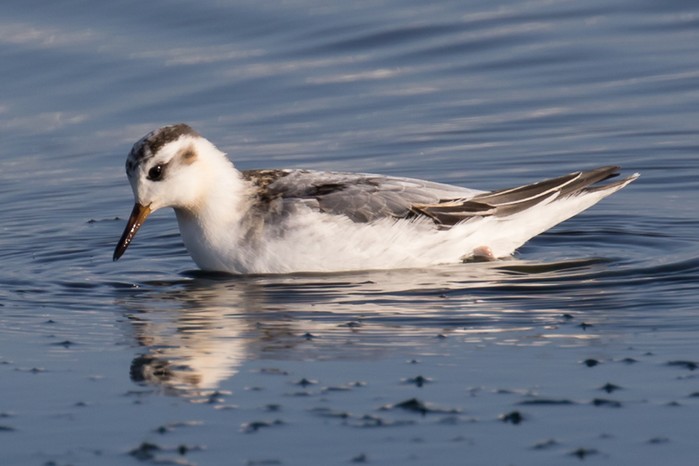 Some 60 Pomarine Skuas were counted by the end of the weekend, spread far and wide from St. Agnes on Scilly, eastwards across to Kent, westwards to Clare and to northern outposts in the Hebrides and Highland.
"Peak" Pom count was 11 off Bridges of Ross on 31st with seven off Burghead (Moray) the same day. A half dozen headed past Brevig, on Barra (Outer Hebrides) on 30th while nine were counted the previous day from Embo (Highland) with the same extensive Scottish region registering five from Tarbat Ness on 28th.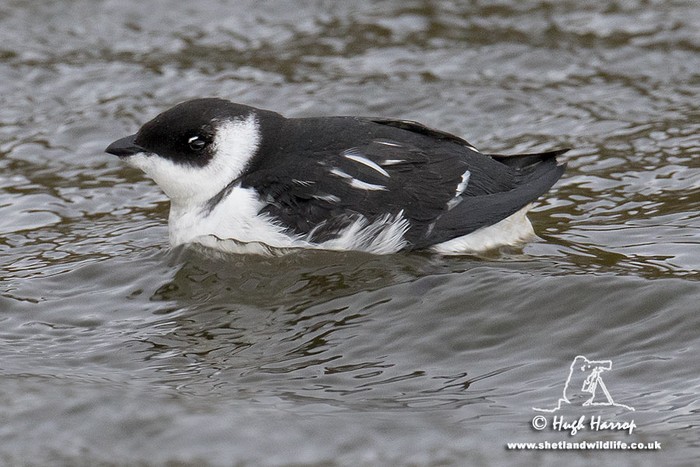 Staying in the Highlands, birders at Wick counted seven Little Auks heading north on 28th with further singles the same day seen off Burghead (Moray), Filey (North Yorkshire) and Dunwich (Suffolk), while on Shetland the first two of half a dozen or so birds there were seen on Unst (further singles appeared around Unst and Mainland through the week and two were on Fair Isle on 29th). Remaining loners were noted in Highland, Norfolk and West Sussex through the rest of the week but there were trumped by eight off North Ronaldsay on 2nd with three more the following day.
With such calm conditions, the lack of Balearic Shearwaters was of no surprise whatsoever ~ less than 30 noted countrywide ~ with five off Botallack (Cornwall) and seven from Berry Head (Devon) on 30th the two higher counts of the past seven days.
First up, a new Purple Heron heading southwest across Pope's Marsh, Cley (Norfolk) during the afternoon of November 1st ~ the second November record on the reserve in the last two years (an even later juvenile headed over the reserve, ending up at Holkham on 27/11/13).
No changes amongst the week's first seven Glossy Ibis ~ lingering birds remaining at Kilwinning (Ayrshire) to 29th and Shapwick Heath NNR (Somerset) and (again) at the Wat Tyler CP (Essex) to 1st with the east Devon two still at Black Hole Marsh, Seaton to the same date with two roamers still in Kerry on 2nd, this time at Lough Gill. A new Glossy Ibis must have been a pretty exciting "in-off" at Filey (North Yorkshire) on 31st ~ the first in the area since late October 2011. In Ireland, down in Wexford, one became two at Tacumshin on 31st and Cork singles were at Youghal and Kinsale on 2nd.
New too at Tacumshin was a Cattle Egret from 30th, one of nine noted across the past seven days. First up in newbie-land was one in Nottinghamshire, at Bingham on 28th and it was followed by one, then two and then three at Teigngrace (Devon) from 29th-3rd and singles at Steart WWT (Somerset) on 30th and along both the Camel Estuary (Cornwall) and the Otter Estuary, Budleigh Salterton (Devon) on 31st, the latter bird perhaps moving to Colyford the following day. On the Somerset Levels, a Cattle Egret remained around Shapwick Heath to 3rd.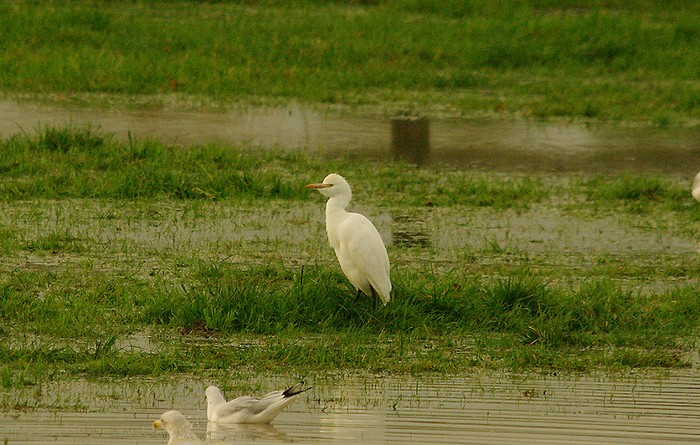 In Poole Harbour, 20 Spoonbills were noted on 2nd. Elsewhere, numbers were on the low side ~ 20 more reported from 12 British & Irish counties this week, dotted around from Samson on Scilly to Cheshire, with four sticking birds at The Cunnigar, Dungarvan (Co. Waterford) the second largest gathering noted this week (other Irish singles were seen in Down, Cork and Wexford).
Also in very short supply this week were Common Cranes ~ four records from three sites mentioned, all bar one from Cambridgeshire ~ two adults and a juvenile were at Burwell on 30th and two adults were at Eldernell on 31st. Away from the Fens, one flew over Balmorie (Moray) on 2nd.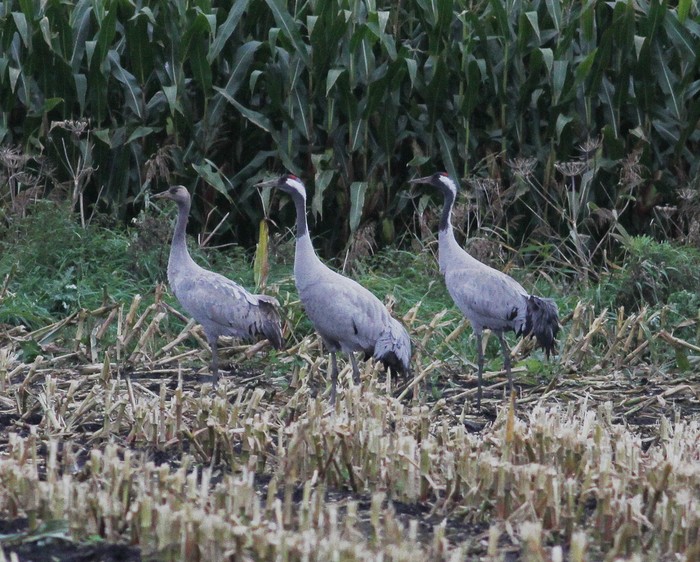 The soon-to-be wintering Richardson's Cackling Goose was seen at Loch Gruinart RSPB and Loch Gorm, on Islay, this week (beware those murderous rifles…) while also amongst the Barnacle Geese this week was the Todd's Canada Goose, still on the island on 31st. Around the island recently, there've been at least Richardson's and two Todd's.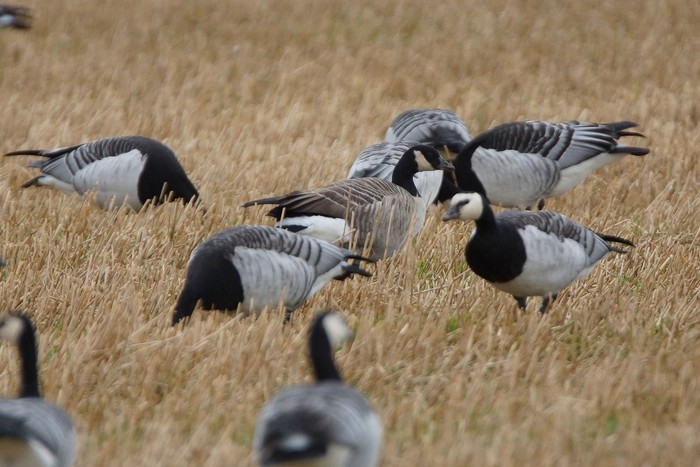 …and just a note to record the continuing presence of the minima along the River Exe ~ a bird touted as the real deal by some (many actually..) the more circumspect approach in other quarters may have been the avenue by which to wander down where this particular bird was concerned ~ after two weeks of being somewhere that wasn't with the Exe Brent flock, the Ridgway's Cackling Goose sullied itself by plonking on to pools at Countess Wear, near Exeter where it remained (heading up as far as Bowling Green Marsh) to 1st at least.
Drifting further south once again this week, the blue Snow Goose that was seen heading south from Low Newton-by-the-sea (Northumberland) on the morning of 1st ~ heading to Norfolk perhaps? (It has already tracked down from Angus to Perth & Kinross, so another stepping stone is not unexpected). Unlikely to find Norfolk or Lancashire is the still present white Snow Goose at Caerlaverock WWT (Dumfries & Galloway), noted again on 2nd.
Three Black Brants were logged through the week, the so-so adult was at Cley NWT (Norfolk) on 28th-1st, the Exe Estuary adult remained to 29th and new was a bird at Donna Nook (Lincolnshire) on 29th-30th.
In County Kerry, on Lough Gill, the drake Lesser Scaup remained to 3rd, while in south Wales, the drake was at Cardiff Bay Wetlands NR (Glamorgan) to the same date~ with the drake Ring-necked Duck, now a little more infrequent on site, still around to 31st.
Another regular here of late is the drake Ring-necked Duck at Startop's End Reservoir (Hertfordshire & Buckinghamshire border) and he remained into November. A new drake was found in Scotland, at Pitlochry (Perth & Kinross) on 31st ~ the first in the county for two and a half years ~ and he lingered to 3rd. The first-winter drake in Derry, at Lough Beg was still in situ to 1st and another drake was reported belatedly from Kinnegar Pools (Co. Down) on 30th.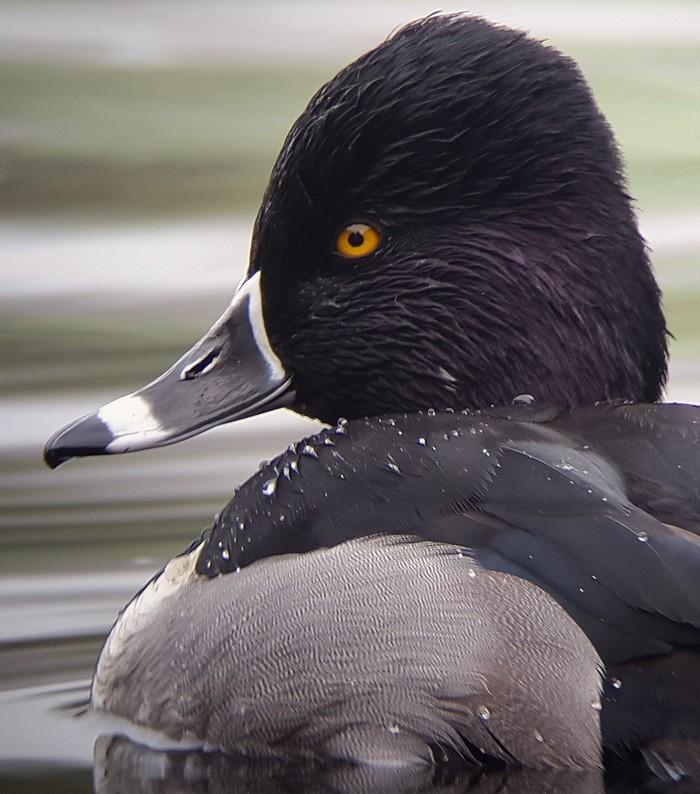 Hands up who knows where the drake Ferruginous Duck found amongst captive stock at Washington WWT (Co. Durham) came from? No, I've no idea either, but its appearance on 30th (and continuing presence to 2nd) was of great interest to local listers, being a huge rare in the area.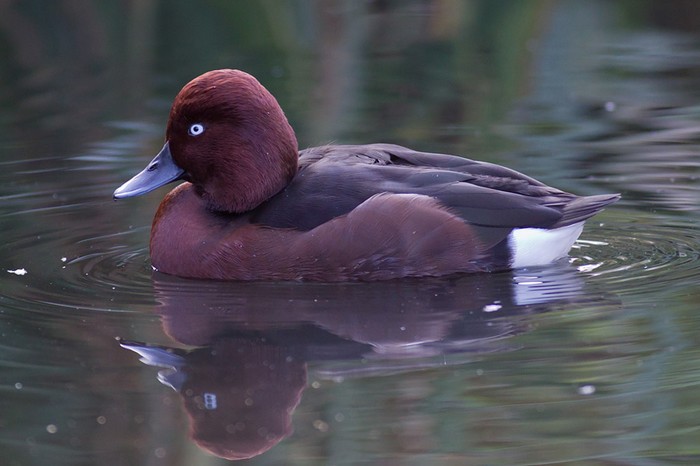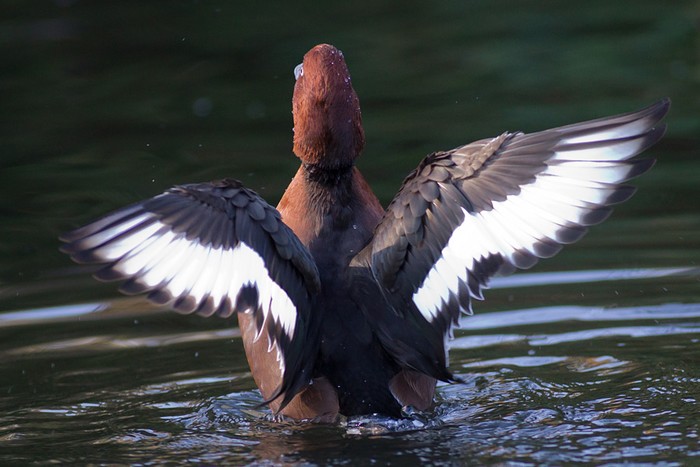 The Slimbridge female of last winter often took to assorted pens of captive quackers and she was regarded as "good". Everything's relative and, as with the Beds B'head, it only matters to those who are really interested and actually give a rat's behind. That's just the way it is nowadays...
A quartet of drake American Wigeons are here to bring to your attention this week ~ last week's bird at Loch of Strathbeg RSPB (Aberdeenshire) was joined by a second on 30th, Tacumshin's drake remained to 1st and at Loch a'Phuill on Tiree, their bird stuck it out to 2nd.
For whatever reason, drake Green-winged Teals were also in short supply this week too ~ new were singles at Martin Mere WWT (Lancashire) on 29th, at Wick (Highland) on 31st and Sandwich Bay (Kent) on 3rd while birds from last week remained at Kirkintilloch (Clyde) to 29th and Caerlaverock WWT to 3rd.
Lastly, a drake Surf Scoter was back off Musselburgh Lagoons and Joppa area (Lothian) from 29th-1st and a new first-winter drake was off Gullane Point (Lothian) on 1st. The second day of November saw three drakes noted on the wintering waters of Conwy, seen from Llanddulas.
<!—Section Title -->
The bird-finding legend that is Peter Allard did it again this week ~ finding Norfolk's first Lesser Yellowlegs in four and a half years on Breydon Water on 29th, where it remained, off and on, through until 3rd.
The most recent 'legs in the county was the bird that played a second (spring) fiddle to the outrageous displaying Great Snipe on Cley Marsh in May 2011 and PRA's find at Breydon this week is just the second for the site (the first coming in October 2001) and only third October record in the county (who's total overall has gone to 19 now).
After 15 days absence, the juvenile Semipalmated Sandpiper made a surprise reappearance at Slimbridge WWT (Gloucestershire) on 30th while a juvenile White-rumped Sandpiper at Loch of Strathbeg RSPB on the same date must also have been the youngster seen there most recently on October 18th. The second White-rumped Sandpiper this week was the juvenile that remained on Donegal's Lough Swilly to 29th and a third was reported from Budle Bay (Northumberland) on 1st.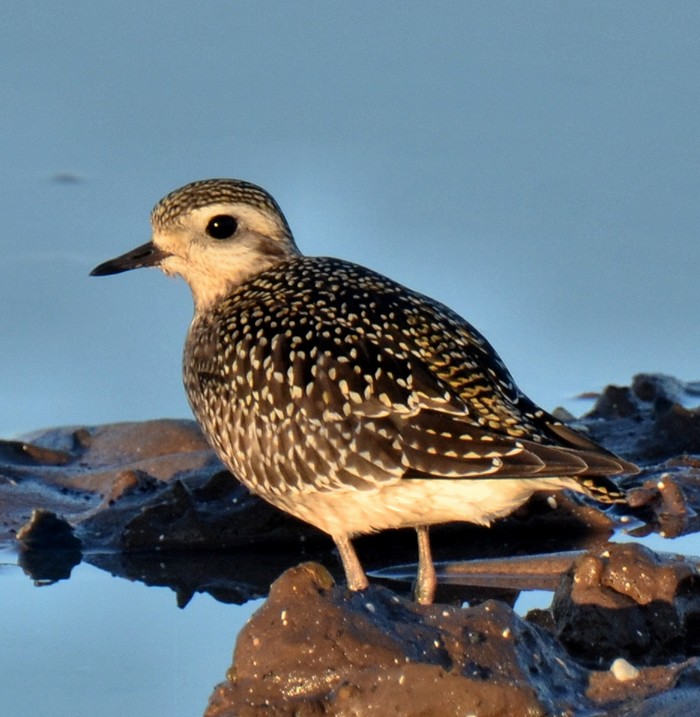 Hampshire's Long-billed Dowitcher was at Pennington Marshes to November 2nd while four of last week's juvenile American Golden Plovers remained for varying degrees of this week ~ at Breydon Water (Norfolk) and Ballycotton (Co. Cork) to 29th, at Bornish, South Uist (Outer Hebrides) to 31st and Kilnsea (East Yorkshire) to 3rd. New was an adult at Rosscarbery (Co. Cork) on 31st-1st and a juvenile in Lothian, at Torness on 3rd. Wrapping things up, lone Pectoral Sandpipers at Lough Neagh (Co. Antrim) on 29th, Finstown, Mainland (Orkney) on 30th and Tacumshin (Co. Wexford) on 1st.
In Kerry, the Gull-billed Tern remained around the Blennerville area through until 3rd ~ none of Ireland's 18 accepted records have been seen as late as this county first.
At the bottom end of Galway Bay this week, the long returning Forster's Tern took a trip down to Doorus on 2nd, already getting in to the winter routine it seems.
Talking of county firsts, here's another, this one in the guise of a storming adult atlantis Azorean Gull was a cracking find on the West Lake at Kilvington (Nottinghamshire) on 29th ~ Colin Scott grabbing four really rather gripping images (if you like that sort of thing, which I certainly do...). Roll on the spilt...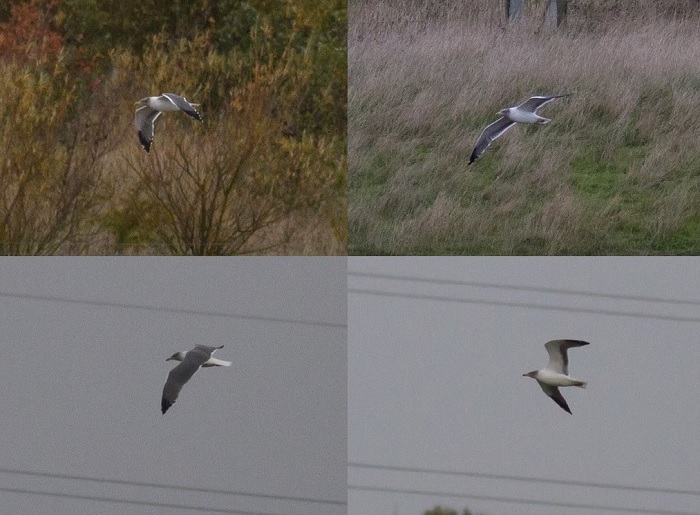 ...and, just for good measure, the streak-headed beast was back in the evening roost on 2nd.
The ever-elusive third-winter American Herring Gull was seen again at Jericho Farm, St. Just (Cornwall) on 28th while up along the A30 and down a bit, at Dawlish Warren NNR, the adult Bonaparte's Gull was noted again on 31st.
Three of the five Ring-billed Gulls from the last seven days were seen in Ireland ~ a second-winter and an adult were in Galway, at Nimmo's Pier on 30th with another noted at Ballyvaughan (Co. Clare) on 29th. The second-winter was still loitering on the Hayle Estuary until the start of the new month and the same-aged bird was again near Preston (Lancashire) on 2nd.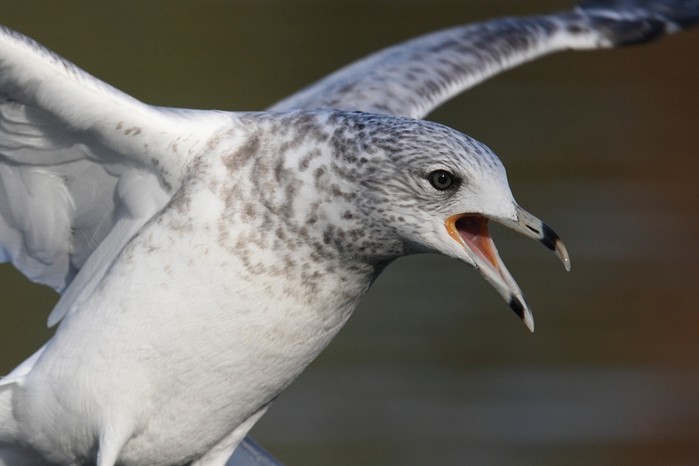 The new week began with the appearance of two 2w Glaucous Gulls at Kilkee (Co. Clare) ~ on 28th ~ and was followed by five singletons and one double act; lone birds were seen on Mainland Orkney and on Unst (Shetland) also on 28th, and on 31st, at Hodbarrow RSPB (Cumbria) and Ardvule, South Uist (Outer Hebrides). On Orkney on the first of the month were a second-winter on Sanday while two were seen on North Ronaldsay. A quartet of Iceland Gulls were seen as well; at Portrush (Co. Antrim) on 29th, Boddam, Mainland (Shetland) on 31st, Ormsary (Argyll & Bute) on 1st on 2nd, in Lerwick and on 3rd at Ullapool (Highland).
Rough-legged Buzzards sneaked in to double figures for (at least) a third week in a row and Norfolk again played host to the most for any one given county, singles seen between Titchwell RSPB, Thornham Point and Holme between 29th-31st at least, at Docking on 29th and Holkham on 29th (and again on 31st). One or two were seen in East Yorkshire, by the M62 near Goole, on 28th and then Blacktoft Sands RSPB on 31st.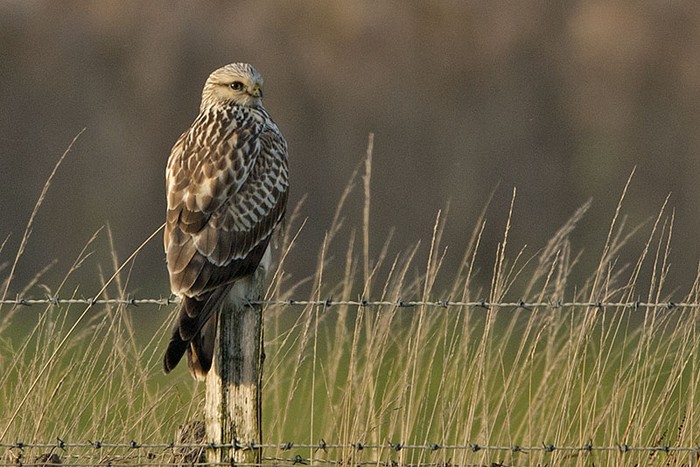 Elsewhere, Rough-legs appeared at Shottisham (Suffolk) on 29th, Lerwick, Mainland (Shetland) on 30th and again at Scaling Dam Reservoir (Cleveland/North Yorkshire border), also on 30th. Another was reported in Lincolnshire, near Hemingby on 1st and also in Wales, at the National Wetland Centre, on 3rd. Last of all, that beautiful showstopper at Holland Haven in Essex ~ showing well through to 3rd.
Solitary sticking Bluetail
When found on October 20th, few would have thought that, almost two weeks on, the trapped and ringed Red-flanked Bluetail would still be showing itself (from time to time) at Sandwich Bay NNR but that is just what's happening ~ the furtive little thing still on site in the trapping area to 1st (easily taking the "Kent's Longest Staying Bluetail" award ~ three days the previous record.
Late autumn's wandering warblers …
The final two days of last week saw the arrival of 16 new Pallas's Warblers (split 8:8) and the first day of the new review period carried on in similar fashion; at least another new half dozen individuals found, all of them noted in either Dorset or Devon.
A quartet popped up in the former county, at Durlston CP, on Portland, at Winspit and also nearby Worth Matravers, while Devon birders found singles at Exmouth and Budleigh Salterton the same day.
The southwest region's dominance continued with a new arrival at Nanjizal on 29th, with a second Cornish bird found at Carminowe Valley, Helston on 31st. new for Devon (taking the total there to four for the week) were at Dawlish Warren on 30th and Hallsands on 31st, while two new birds were on Portland on 31st, including one trapped and ringed at the Bird Observatory. Scilly hosted the final three of the region's 15 birds, singles still on St. Agnes and Bryher on 28th, with a new bird on Bryher on 31st.
Just five further Pallas's Warblers were recorded; still at Beachy Head (West Sussex) on 28th and new at Balmedie (Aberdeenshire) on 29th, Kilnsea (East Yorkshire) on 31st, Corton (Suffolk) on 2nd and along the seawall at Burnham Overy (Norfolk) on 3rd.
Numbers of Yellow-browed Warblers climbed a little again this week,up ever so slightly from c.115 to c.120 over the past seven days.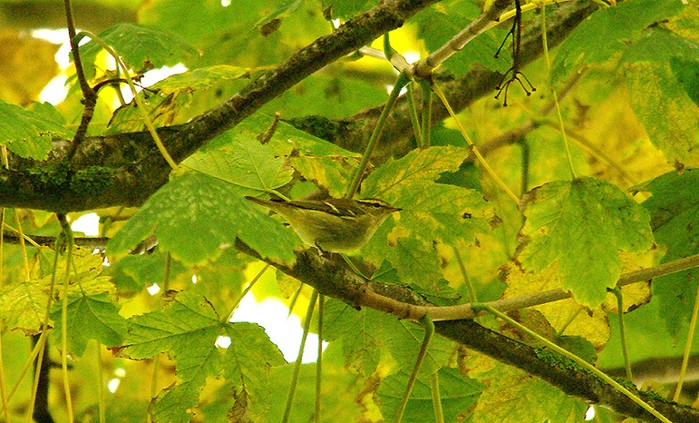 Southwestern England was again way ahead ~ over 55 birds noted in the five areas covered; at least a dozen were on Scilly, with six and four on St. Mary's and Tresco respectively on 28th. Cornwall popped in 15 (with twos at Kelynack on 28th, Nanzijal on 29th, Porthcurno on 31st and St. Hilary on 2nd) and Dorset managed 12 in all. In Devon, at least 11 Yellow-broweds were found (including the inevitable bird in Clennon Valley) while Somerset scored four.
Elsewhere in England, the southeast managed eight (four of them in Hampshire and one in Oxfordshire) with both northeast and northwestern areas managing six each (including four for Lancashire). The Midlands saw singles in the far northwest and far southwest of the region, one in Staffordshire, at Burntwood on 30th with another at Slimbridge WWT (Gloucestershire) on 29th-30th. East Anglia managed a lonely single on 28th, at Gramborough Hill (Norfolk) with another reported on 2nd in Wells Woods.
In Scotland at least 23 birds were seen across eight counties, with five for Shetland, five or six for the Hebrides, and four in Aberdeenshire and twos for Angus, Fife and Lothian. Four singles were in four Welsh counties and at least 11 Yellow-browed Warblers were in Ireland, including four in Cork and two in Galway and singles in Dublin and Donegal.
Also in Ireland, still in gardens on Ennis Head (Co. Mayo), the Arctic Warbler which remained to 28th and a new arrival was a good early November find at Marsden Quarry (Co. Durham) on 2nd ~ the same site that hosted Britain's first Eastern Crowned Warbler in October 2009 (and given the pedigree of the quarry for stunning Far Eastern warblers and the date of this week's bird, well, another ultra-extreme traveller was in the back of more than one mind). This week's new arrival remained to 3rd.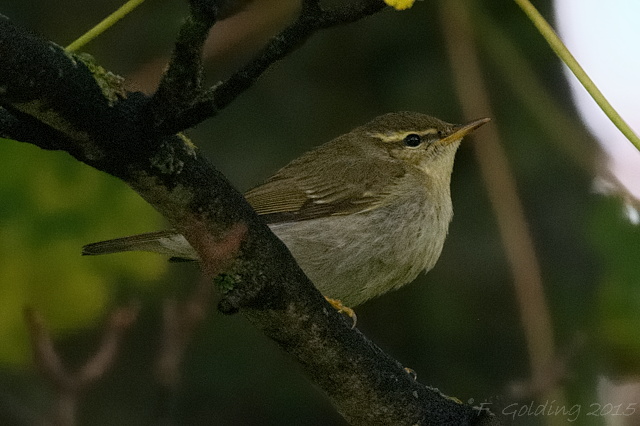 To date there have been just four previous records for the county ~ the most recent being at Whitburn in August 2013, prior to that birds were seen in 1991 and 1984; the latter year saw two birds noted in Durham, both in November ~ making up half of all November records in the process, the others have followed in 2007 and 2012, both on Shetland.
Back in Ireland again for one of the two new Dusky Warblers of the week; the first was found at Knockadoon Head (Co. Cork) on 28th (where it stayed until 31st) ~ the first in the county since late October 2009 and is just the eighth record in all for Cork.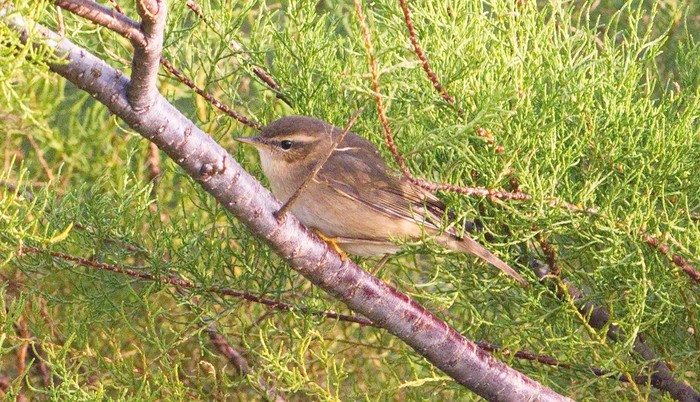 The second new arrival made a way to Burrafirth, Unst (Shetland) on 30th while leftovers from last week remained on St. Agnes (Scilly) to 31st and Dungeness NNR (Kent) to 1st. Also on St. Agnes, came a report of an elusive tho' apparently still present Radde's Warbler at Troy Town on 28th and, on 31st, a late Marsh Warbler was identified in bracken at Island Fields, with the day's second being noted at East Soar Farm (Devon).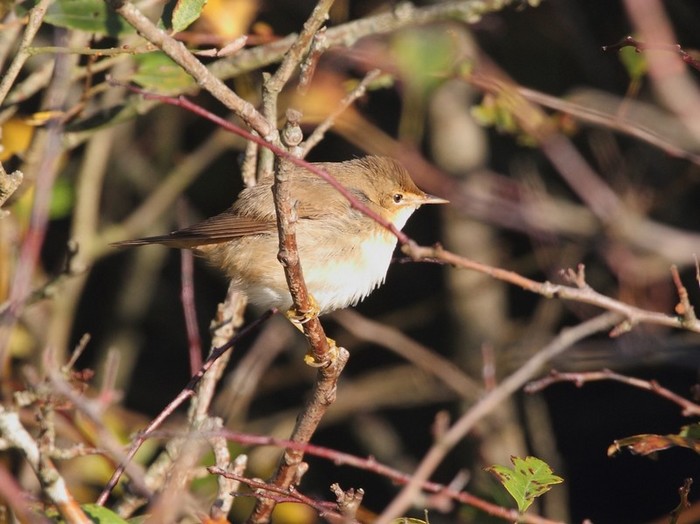 Before departing Scilly for a little while, birders on St. Agnes found one of the week's seven Barred Warblers on 31st; the start of the new roundup period brought three fresh birds in on 28th ~ at Eoropaidh, Lewis (Outer Hebrides), Mizen Head (Co. Cork) and St. Levan (Cornwall) and was followed by another at Hook Head (Co. Wexford) on 31st and on 1st, at Flamborough Head (East Yorkshire) and Torness Point (Lothian).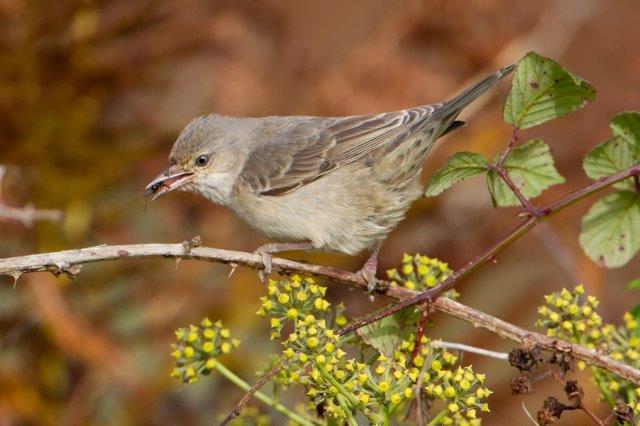 Pipits & flickers; Miscellany; Serins, starlings & shrikes
There are just two Olive-backed Pipits to mention this week, one at each end of the country ~ still on Fair Isle to 3rd (when it was trapped and ringed) and around Land's End on 29th.
Two Richard's Pipits started the week still in place at Long Nab, Burniston (North Yorkshire) along with the lone bird at Selsley (Gloucestershire). A further duo were on Fair Isle on 29th while new on the final day of the month were half a dozen singles, spread far and wide; the first was at Frodsham (Cheshire) and Great Ormes Head (Conwy). New on November 1st were one over Marsden (Co. Durham), another on Bardsey Island (Gwynedd) and in Wexford, at Tacumshin ~ the third in the county this autumn.
Four new birds were logged on 3rd; at Sandwich Bay (Kent), Aberlady Bay (Lothian), Mynydd Mawr (Gwynedd) and, for the second time in less than a month, one was out in Kerry, on Blous Head (one was there on October 8th ~ a huge rarity for the county).
Pick of the bunch though has to be the first record of the Richard's Pipit for County Galway, which headed out of Claddagh, over Nimmo's Pier and away on 29th, a bird seen by a man with a mighty reputation, Ciaran Cronin.
In Cleveland, at Hartlepool Headland, a Red-breasted Flycatcher trapped and ringed on 28th proved popular with a subsequent stay to 30th. The remaining four that were seen were all in Ireland, three of them in County Cork; the first remained on Cape Clear through to 2nd while new were birds on Galley Head and at Firkeel on 1st. Also new this week, an RBF on Brownstown Head (Co. Waterford) on 31st-2nd.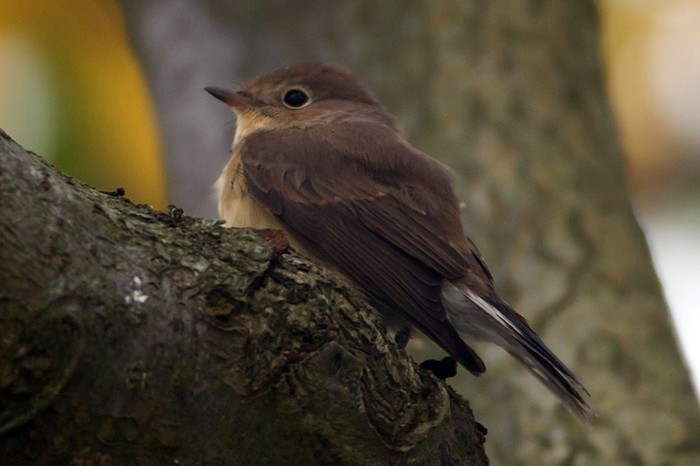 In Suffolk, a Penduline Tit was heard again at Minsmere RSPB on 29th and another was heard at Southwold on 3rd. A Hoopoe was reported "recently" from Griminish, North Uist (Outer Hebrides). A late, perhaps the final one of 2015, Wryneck was seen at Prawle Point (Devon) on 1st.
Several new Serins were found in southwest England this week; one flew over Gugh (Scilly) on 28th with another on the Cornish mainland, at Nanquidno, the same day. The 30th saw reports of one over St. Agnes this time, along with others near St. Levan and at Exmouth (Devon) which lingered to 3rd. The final records of the week were another Scilly bird (presumably the same one?) headed over The Garrison, St. Mary's on 31st and over Porthgwarra on 3rd.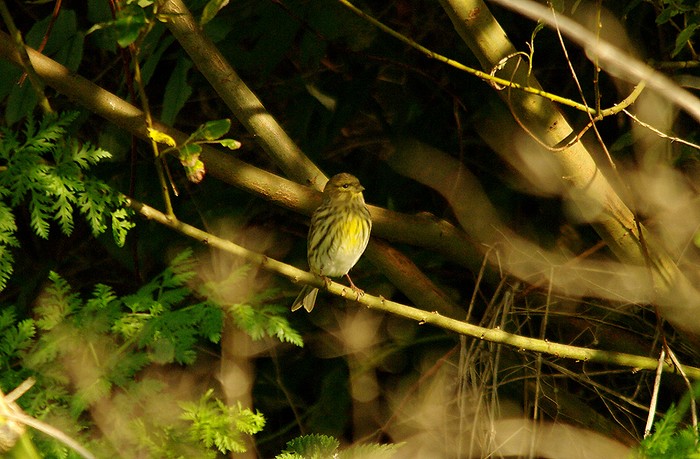 Cornwall also accounted for two Rose-coloured Starlings, still at Land's End to 30th with perhaps the same bird then at St. Levan on 31st while in Essex, a juvenile was again at East Mersea on 2nd.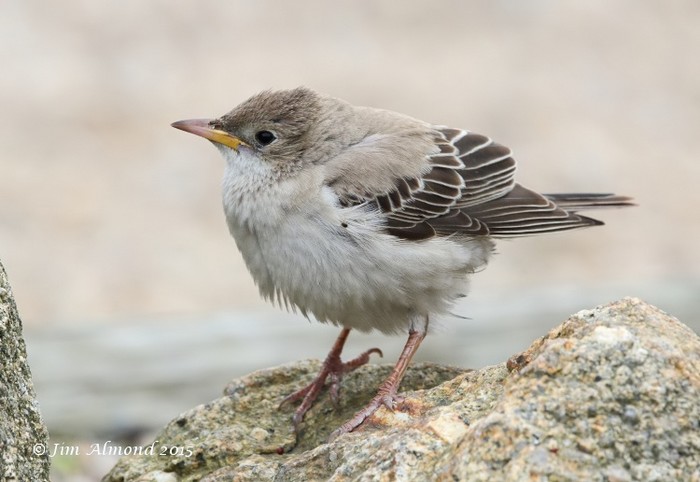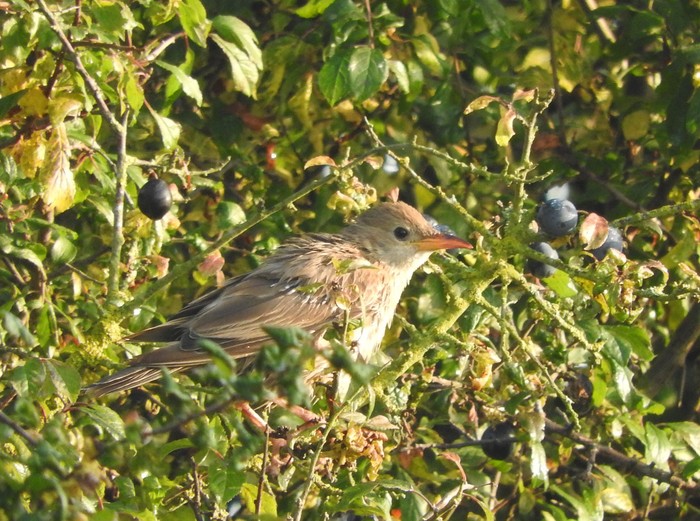 Back up to Cleveland now, for news of the first of three late 1w Red-backed Shrikes, this one seen at Boulby on 31st ~ any thoughts from a far that it could turn in to something better quickly put to rest through the day (with Martyn Sidwell's shots proving the point nicely too). And ditto the 1w at Holland Haven (Essex) on the same day, Chris Upson's lovely image leaving no question marks as to what species was involved. The third of the week was found at Girdle Ness (Aberdeenshire) on 2nd.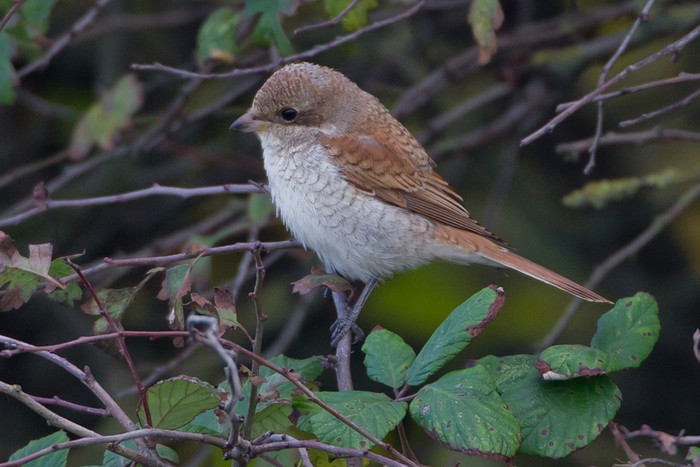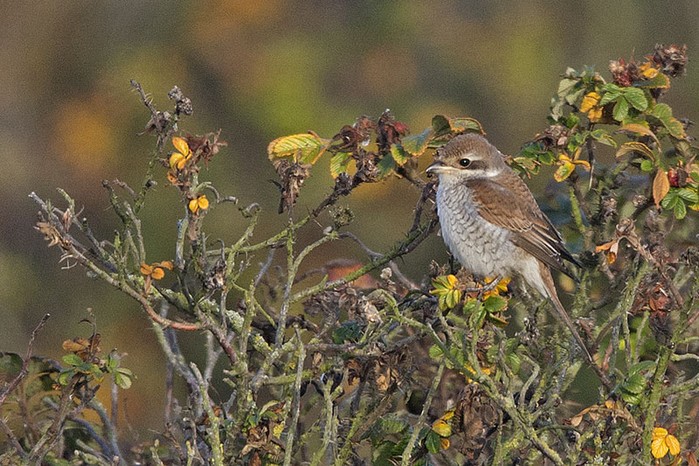 Buntings briefly…
Home stretch time ~ there's just one Ortolan Bunting to report, still on Fair Isle until 3rd; Little Buntings were more prominent ~ just ~ three new arrivals found between 29th-31st; the first came along to Sumburgh, Mainland (Shetland) on 29th, the second was in hedges at Portland Bill (Dorset) on 30th and one followed on St. Agnes (Scilly) on 31st.
White Whisky Johns…
Numbers of the always magnificent Great Grey Shrikes fell away again over the past few days, from some 60 or so last week, to around the 50 mark this week.
After East Anglia's dominance of late, the southeast took gold this week, at least 14 birds in seven counties around the expansive region, including up to four in Hampshire and a minimum three in Surrey. A couple remained in Berkshire and one lingered at Otmoor RSPB (Oxfordshire) for a few days as well. It was five for the Midlands (from Staffordshire to Gloucestershire's Forest of Dean) and four for the northeast of England, singles shared amongst four counties, while there was one each for the northwest, southwest and East Anglia (in Cumbria, Somerset and Norfolk).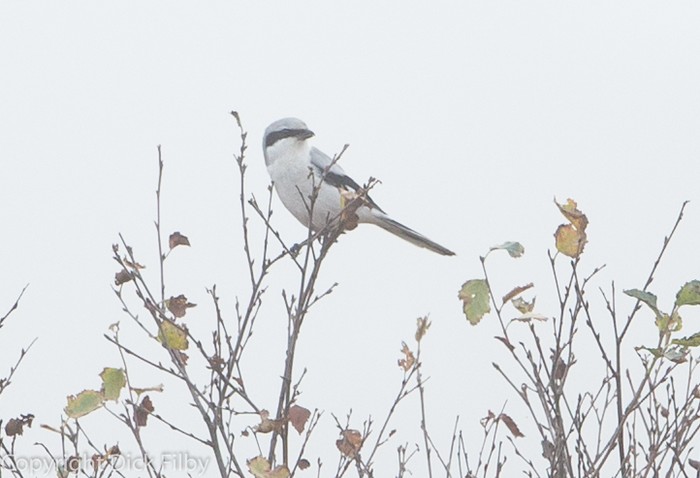 At least 11 Great Grey Shrikes were in Scotland, including three on Orkney (two of them on North Ronaldsay from 29th) and five on Shetland (two of them on Fair Isle from 29th). West coast birds were noted still in Argyll & Bute (at Dalmally) and Dumfries & Galloway (at Langholm) and one was in Aberdeenshire too. Finally, Wales held four singles, in Ceredigion, Denbighshire, Glamorgan and Powys.
That's that then ~ another tidy week, one which could have been all the better for many had the heard-only "probable" Two-barred Greenish Warbler firmed up in Dorset's Winspit Valley or the curious non-tristis, old-school lorenzii-like brown-crowned Chiffchaff in east Norfolk recently had stayed for a little longer to allow more eyes and ears to test their wits and ID know-how…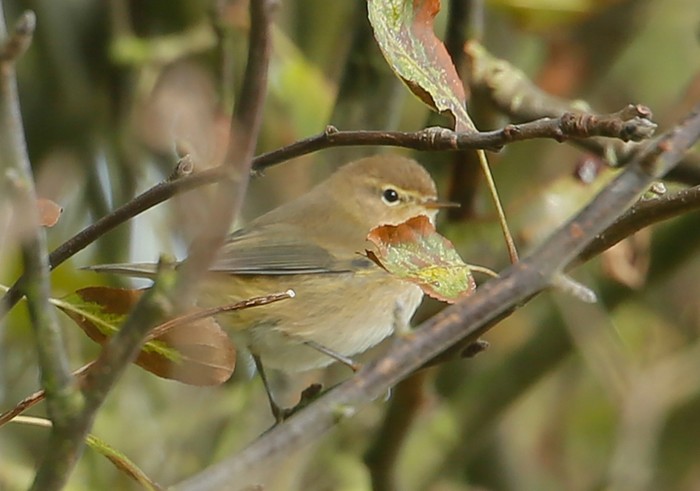 Any rare bird observer and student of history knows only too well that just because we're in to the penultimate month of the year it absolutely doesn't mean that the big birds, the huge rares stop coming ~ indeed, the deeper you get in to the final throws of autumn, then the more intensely rare some of the species can become…
The first day of the new week ahead, November 4th has fine pedigree, three "modern day" 1st records for B&I, or I&B, on the books ~ the Lundy Common Yellowthroat of 1954 (there've been just 10 more records subsequently, the most recent in February 2012); there's the Irvine Barrow's Goldeneye of 1979 (only two or three more have followed, with none since April 2008) and also the Cape Clear Island Gray Catbird of 1986 (just the Anglesey bird has followed, 14 years ago). That's quite some start…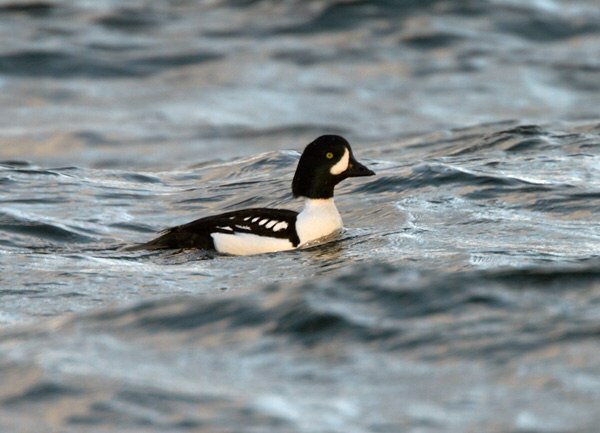 There may not be "1st records" for Bonfire Night but our last Pine Bunting, a first-winter female, was found on Shetland on November 5th 2011…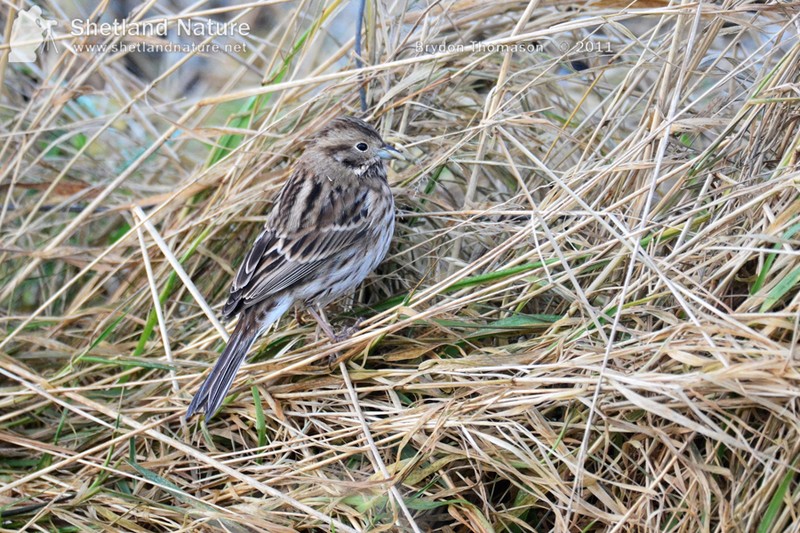 …it is now nearly 11 years since the last twitchable British Mainland bird, in Worcestershire in January 2005 ~ lots of nouveu-listers requiring said far-ish flung bird.
The Flatholm Frigatebird of a stormy 06/11 in 2005 is a prime reminder never to take your eye off the ball (just imagine seeing a Magnificent FB come in to view on a November seawatch…holy moly…) ~ the 2005 bird was picked up, exhausted the next day in Shropshire, dying in care a few days later.
There's a fine array of really rare birds on the record for November 7th ~ from the Gibraltar Point American Redstart in 1982 through to Britain's first-ever American Purple Gallinule in St. Mary's High Street in 1958, but there's one bird that stands out, head and shoulders, above all others, in this week, or almost any other week, be it spring, summer, autumn or winter…
Long-billed Murrelet.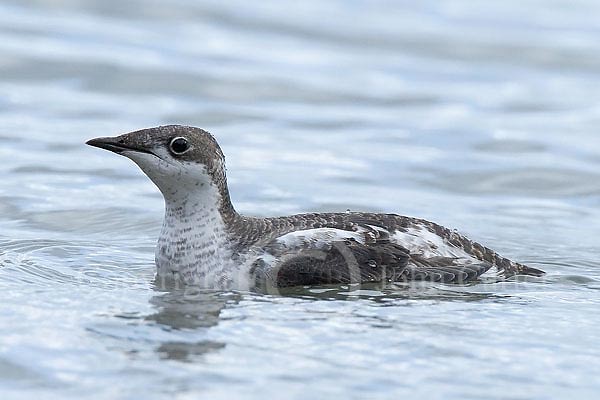 This extraordinary record may be mentioned every single year here, but what the heck. Found on November 7th but identified as a Little Auk (an understandable call of course…) it was three days later when someone noticed a blogged shot of the bird online ~ all hell broke loose during a manic Friday afternoon and, miraculously, this amazing North Pacific seabird was still in place the next morning off the seafront at Dawlish to a crowd that grew and grew and grew…and stayed of sizeable proportions until it's last day, November 14th.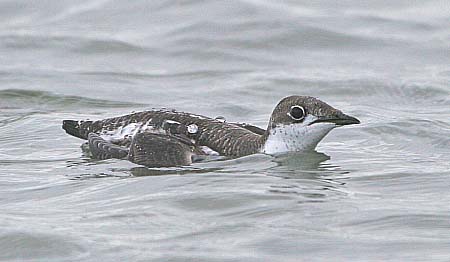 It has been said here before and it'll be said until I've had enough of churning this stuff out every week, if there's one bird you didn't want to miss recently, it is most certainly this one. To all those who started twitching post 2006, commiserations. This remains high in the list of unlikely repeats.
Never say never tho'...
We're in "nigh on impossible to top that" territory, but there are still jewels to dream of through the remaining handful of days that lie ahead ~ November 8th offers many "nice things" but that Spurn Rufous Turtle Dove from '75 continues to catch the eye (it is now 12 years since the last twitchable meena, in Highland in December 2003).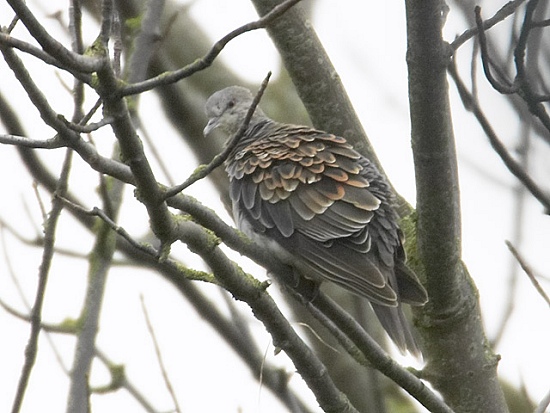 November 9th too is riddled with quality, from the Shetland Pine Grosbeak of 2000 to the ancient Cream-coloured Courser in Northumberland in 1846 ~ cracking birds both, but more accessible at the time was a supreme American wood-warbler that was also an amazing 2nd for Norfolk in the process ~ it's the Whitlingham Lane Black-and-White Warbler…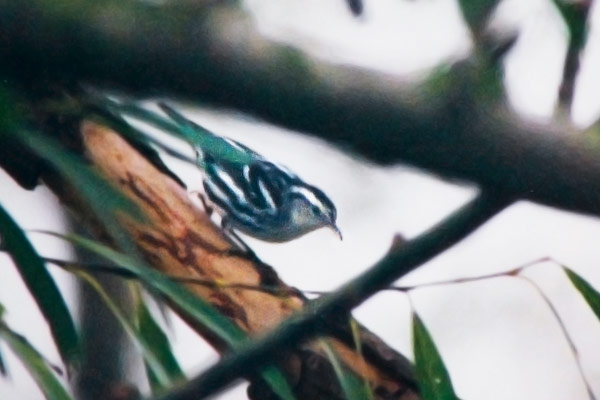 …and, not to be outdone on the quality front is the final of the 7 days ahead ~ November 10th. Recent big rares on the date have included the Cedar Waxwing on the Mullet in 2012 and the much-admired Western Orphean Warbler in Pembrokeshire just a year later.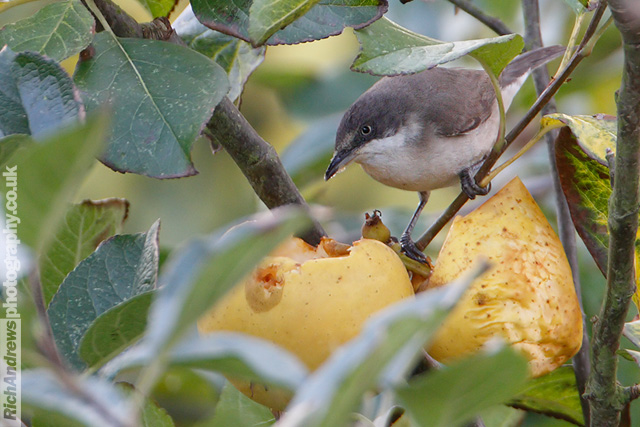 Much to think about then ~ let's see what the weather offers up and see what rares head this way. We're right in prime Desert Wheatear territory still, ditto further Hume's Yellow-browed Warblers and we're edging right in to Eastern Black Redstart time too. It does though still feel as though the surprise may still spring from the west, so get your money back on more Chimney Swifts and Killdeers. We're over due a Cliff Swallow too ~ despite the increasingly late date, anything can happen…
(Y'know what, the Murrelet is so, so good, even nine years on, here's one final gratuitous shot of it...one that you'll see next year too...10th anniversary and all that...)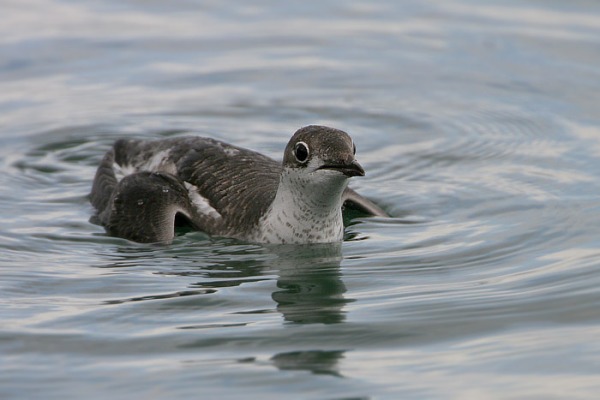 Mark Golley
November 4th 2015
Please note: we put a lot of time and effort into sourcing and and producing the images, videos and graphics for each roundup. Some of you (probably Apple users) may notice some photos etc. that appear to have incorrect captions. Please try refreshing the page as they are correcty captioned. If after a refresh they are still showing the incorrect captions then please email us

Thanks to all of this week's contributors for their photos and videos.
Pete Hines, Deryk Shaw, Dave Rimes, John Chapple, Martin Palmer, Tom Barker, Ian Goodall, Brian Anderson, John Pringle, Andy Hood, Brian Moore, Arto Maatta, Hugh Harrop, David Stone, Brendan Doe, Steve Percival, Kris Gibb, Martyn Sidwell, Phil Jones, Colin Scott, Chris Batty, Chris Upson, Frank Golding, Paul Rowe, Alan Doidge, Jim Almond, Liz Huxley, Dick Filby, Sean Nixon, Simon Knight, Brydon Thomason, John Carter, Bob Laughton, Jack Levene, Alan Tate, Richard Andrews, Kit Day, Will Soar.