Weekly round-up: 21 - 27 Oct 2015
The week at a glance
A furtive bunting on Orkney last week emerges as a prime contender for Britain's first Chestnut Bunting - then, at the weekend, it reappears again…
On the Outer Hebrides, a drake Canvasback is reported on Lewis, potentially the first here for 13 years - its meant to be tame tho'…
Cork sees a newly arrived Chimney Swift zip in to the county on a largely peaceful Monday
A new White's Thrush lands on Mainland Shetland, just south of Lerwick
On Scilly, the St. Mary's Blyth's Pipit still in place as the weekend loomed
East Yorkshire scores a new Hume's Yellow-browed Warbler on the review's last day
North Ronaldsay's stunning adult male Northern Harrier still on the island
…and Mayo's Pallid Harrier remains for another day or two…with a new one heads south through Spurn, taking in Lincolnshire while heading south
Kerry's drake Black Scoter appears again towards the end of the week
The Isle of Wight Greater Yellowlegs noted again over the weekend
From the very first pressure chart of the week, with isobars crammed tightly together as a deep area of Atlantic low pressure passed over the Hebrides, Orkney and Shetland, and it seemed as though if the first new arrivals of the week were going to be anywhere, they'd be on somewhere like Lewis or North Ronaldsay or Fair Isle. And if there was anything, the species would undoubtedly be of Nearctic origins. Wouldn't it?
After the slight forecasted lull ahead of, and across, the weekend, eyes focused once more on the ripples out to the west where another deepening area of low pressure looked set to do its worst to anywhere lying somewhere with the Western Approaches or the tip of southwest Ireland.
It looked like it was winding up to be a doozy of system - but having only begun to wind itself up in mid-Atlantic, would it be generous and drop a waif from the west anywhere? It seemed to be stalling too…fading like the evening light, post the clock change.
One thing was for sure, for all those who are west coast watchers, this week's weather finally gave them some hope…but the main story developed around a new British bird, an extreme long-haul migrant to boot, all the way from (hopefully) Irkutsk or the Sea of Okhotsk…
Let's get cracking then with, errr, an eastern 1st!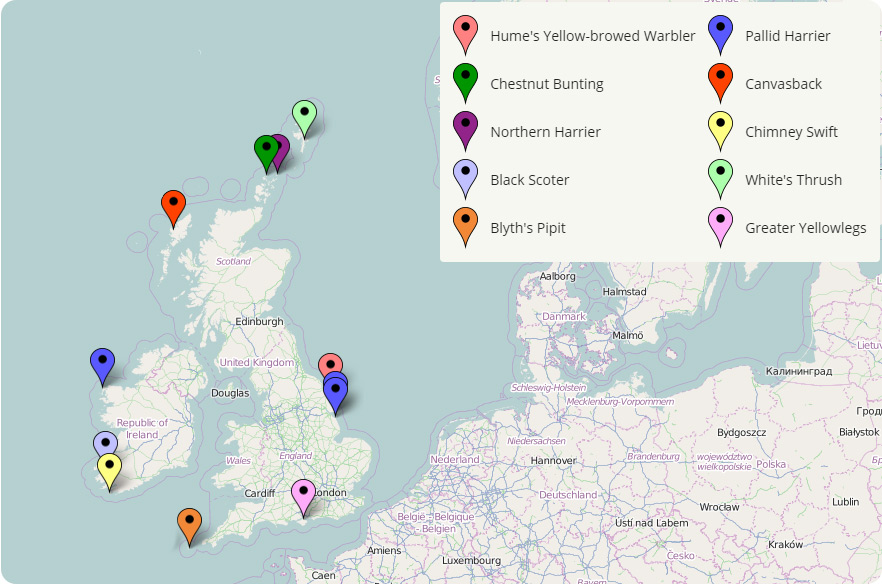 The Orkney Bunting…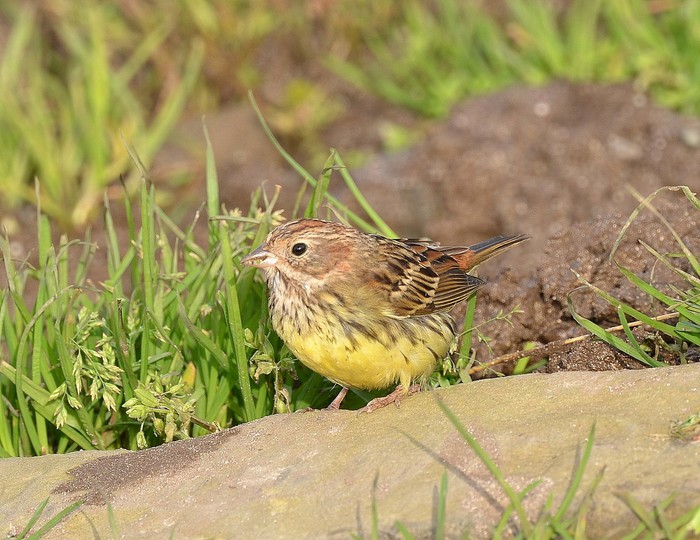 …so, after all the hype, October 23rd, perhaps the stellar stand-out day of autumn passed in a somewhat damp and squib-like fashion - just the one (rather gorgeous) set of rarity stars aligning in the skies above to produce an ever-more frequent hum-dinger of a bird - but the absolute top-drawer mega was missing. Sharpies away until next year then.
…indeed after last week's choc-a-bloc full to bursting summary, this week's offering has taken on a "cheese" outlook to last week's "chalk" affair. They almost couldn't be more different if they tried…or so it felt at first.
It is somewhat telling that the most talked about bird of the last seven days was one that was seen and photographed at the tail end of last week's review period, with it's identity worked through over the course of a day or two.
And then came the happy twist in the tail.
Let's head, once more, to the far, far north…
Papa Westray is a beautiful little island, lying at the northern end of the Orkney Isles with an area of just over 2,200 acres. Very few birders have ever visited the island (in a listing capacity) - I'm not sure how many folk from the late 70's & early 80's took in a trip for the drake Steller's Eider (seen initially next door on Westray in 1974, it returned for the summers of '78-'82 to Papa Westray) - the Vorran Island drake on South Uist was easier to get to and had been "UTB'ed" by many for several years prior to (and post-) the Orkney bird.
A handful of intrepid birders journeyed to the island in the summer of 1985 for the Scops Owl (lovely job!) that was seen from June 24th-July 11th and from then until a couple of autumn's ago, the pretty outcrop rarely featured within the higher echelons of the rare-end of the national birding scene until Sean Davis discovered an Ovenbird in the gardens at Holland Farm on October 6th 2013.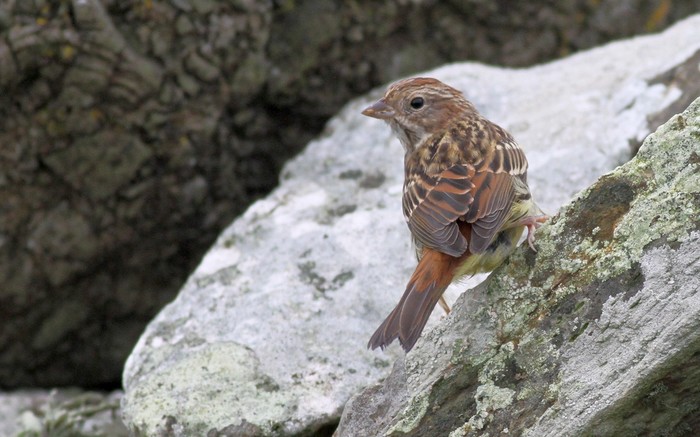 …and that very same location was the spot in which what could turn in to the key eastern species of the autumn (the key species from any compass point actually) was seen briefly across two days at the end of last week, 19th-20th; a bird which seemed to have managed to avoid the all-seeing eyes of our keenest souls by apparently departing after a classic two-day stop-over; that was all set to change of course during the weekend - more on that in a mo…
Three tantalising images appeared locally (and then nationally too) as opinion began to turn towards Chestnut Bunting amongst those birders on Orkney and that thought translated further afield too.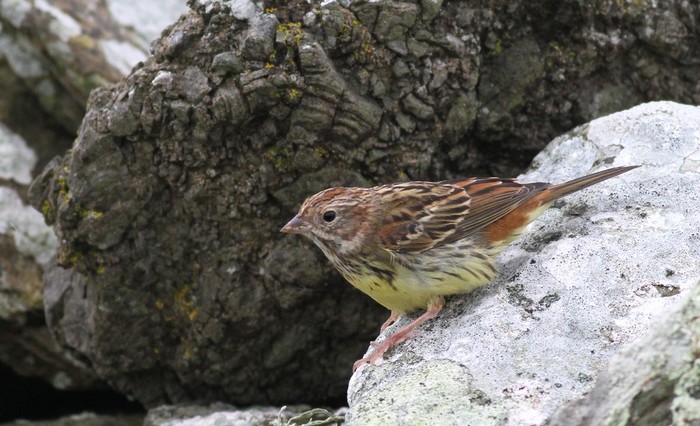 The trio of shots and, particularly, the in-field description would have been key in seeing acceptance for this bird (a potential 1st of course) should it have remained a two-day bird - there was an initial train of thought from birders within the Far East (or with a great deal of experience in the region) that the Papa individual appeared to resemble (to one degree or another) a Black-faced Bunting. That all changed when the bird was relocated and conclusive images were forthcoming.

...A chiffchaff showed in the sycamores, and a moment later a bunting flew out of the long grass and headed for the sycamores.

I heard the sharp, quiet "stit stit" call, and called out "we've got a rare bunting". Michael picked it up in the partially-leafed sycamores straight away, but for an age (perhaps nearly a minute?) I couldn't see it...
&nbsp:
Read Jullian Branscombe's Finders-in-the-Field account here
Orkney's bird was initially seen by two observers and they remained sure (and happy) that the brief views of the crucial rump and uppertail pattern did indeed show striking chestnut colours (with a degree of streaking), therefore precluding the option that arises with a Black-faced Bunting. The general warmth shown within the crown and ear coverts perhaps also suggests something removed from the species already nestling on the British List - we seemed to be looking at a vagrant 1w male Chestnut Bunting…
After no further signs on 21st and with the trail appearing likely to remain on the cool side of chilly, bar those rather gripping weedy shots, it seemed as though the 1st acceptable British Chestnut Bunting was lost...
As we all know, that changed during the afternoon of 24th - the bird was still in situ on Papa Westray, performing nicely on the moss-clad stone walls and damp puddles along the track between Holland Farm and the Knap of Howar. Further good news followed the next morning - the bird was again in the same area and the first mini-invasion of British mainland listers weren't too far away - all comers on 25th, 26th and 27th returning home happy with a big bird snugly UTB.
A good job very well done then (now eight days and counting on the "duration of stay" calendar - edging towards a long-ish stay for an eastern vagrant, tho' a couple of Rubythroats have managed double-figures, so there's nothing to worry about there).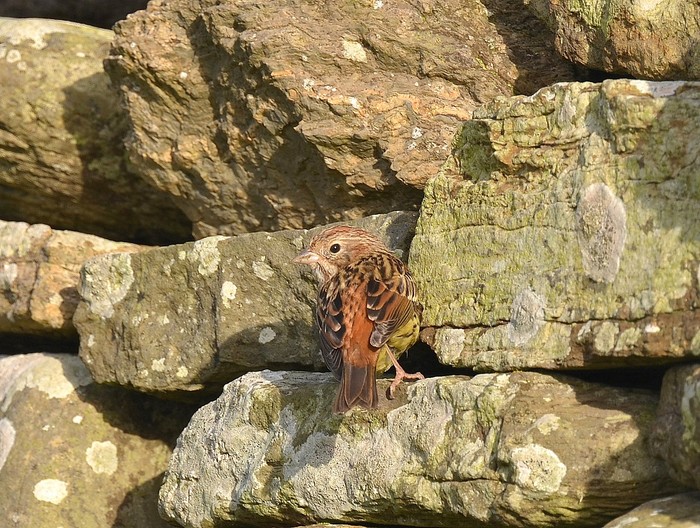 Assuming the consensus remains in favour of the, up-until-now, contentious species (within British terms) then this record will surely prove to be the launch-pad for the species' promotion from Category E to Category A.
Although the weather for the Northern Isles around 19th-20th wasn't "classic" for long haul eastern overshoots, Shetland produced both Siberian Rubythroat and White's Thrush just 24 hours after the Papa Westray bunting was found and there's also the "significant other" further south in the form of the Porthgwarra Brown Shrike.
Three eastern vagrants as back-up then - and finally we have an ideal date for a vagrant Chestnut Bunting in a red-hot location.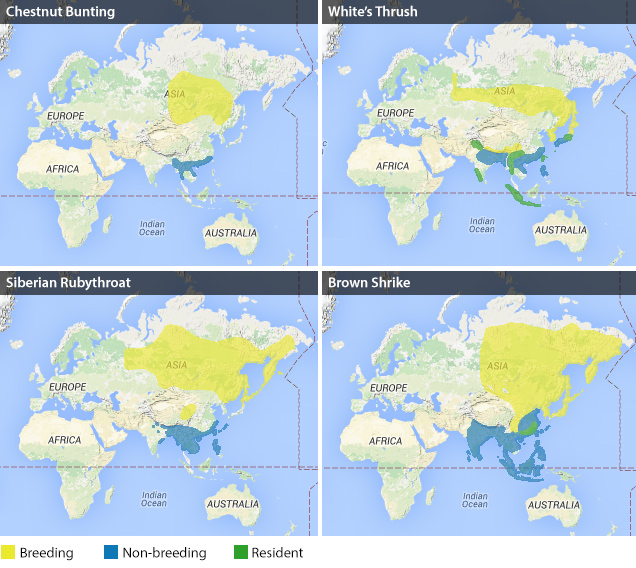 There have been at least eight previous records of Chestnut Bunting in Britain - all accepted as the species, but none deemed to be strong enough candidates for inclusion within Category A. Up until 2008, the BOURC held the group of eight birds within Category D (a holding category too) but then removed them all to the less-user friendly Category E (escapes, basically).
Of that dinky octet, four were found on Shetland - the first and second were spring/summer birds; a male on Foula between July 9th-13th July 1974 and a first-summer male that spent two days on Fair Isle on June 15th-16th 1986. An adult female on Out Skerries, that appeared after a prolonged spell of easterly winds, spent September 2nd-5th 1994 and a second adult female was found on Fair Isle on the very similar dates of September 4th-7th 2002.
Away from Shetland, the remaining four records came from the Isle of May, a trapped first-year on June 11th 1986; Bardsey Island on June 18th-19th 1986 (a trapped young male); a scruffy male in Norfolk, in gardens at Salthouse for three days at the very end of May 1998 (the most twitched of all to date) and a young male at Whitburn, in Durham, from May 17th-20th 2000 (mirroring to a degree the record from north Norfolk a year later of a fine male Siberian Meadow Bunting)…
Despite a handful of eastern vagrants appearing in spring and summer (the Fair Isle Brown Flycatcher on the, still-extraordinary date of July 1st-2nd 1993, and Thick-billed Warbler of mid-May 2003, there's been (understandably) little interest from the BOURC to play with any of the previous records - tho' those mid-June remain appealing from afar (a little like those mid-June Red-headed Buntings).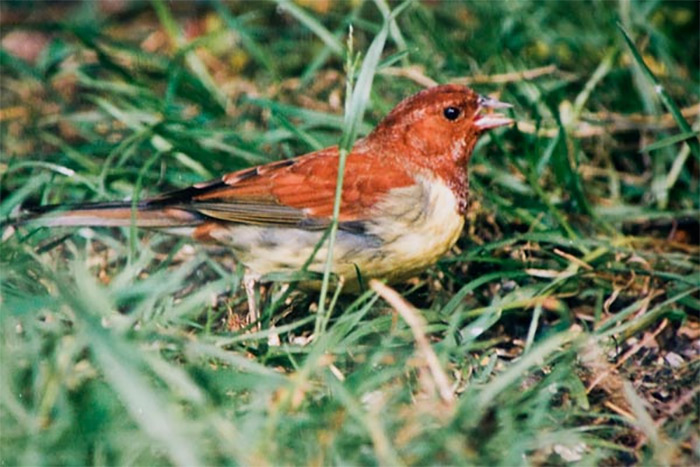 Late spring and midsummer Chestnut Buntings and adult Chestnut Bunting in early September haven't floated the committee's boat so far - a two-day October bird with outstanding supporting cast of back-up species to boot is the very best chance yet for elevation to Category A. The BOURC have admitted as much.
That's not to say that one or two of past records weren't of wild birds, but this one has so much evidence of genuine vagrancy in its favour. It also fits in nicely with at least nine Western Palearctic records, widely held to be of wild origin (the dates spanning September 25th to November 12th) with six October sightings amongst them, including, most recently, on last year on October 24th, on Ouessant Island off the coast of France.
Exciting stuff indeed.
Canvasback
Having started to put together a mini-portfolio of words regarding what appeared, at first and second glance, to be a Real McCoy Cumbrian drake Bufflehead earlier in the writing week, there was some trepidation in delving too deeply in to the second bout of interesting wildfowl news of the last seven days - the late news of a drake Canvasback reported as "showing well" near Carloway, on Lewis during 25th needing some kid gloves before progressing all the way in to genuine "mega" status.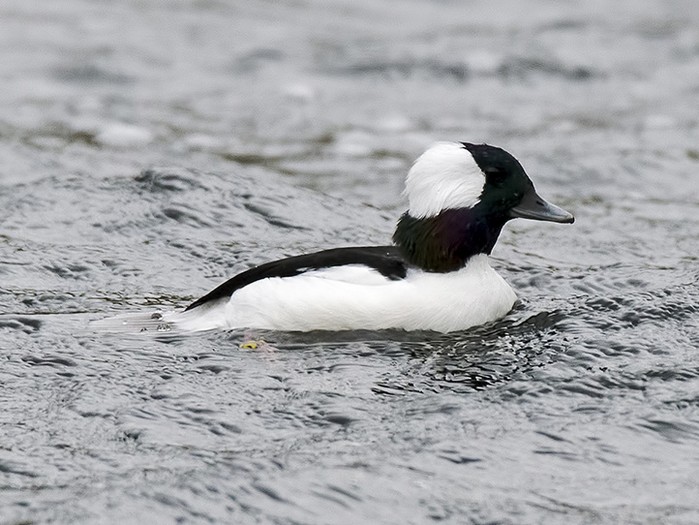 The weather across the Hebrides at the start of the latest roundup period was rather fierce indeed and in conversation with one of last week's heroes. Tony Marr, we discussed just how good the prospects of a new Nearctic arrival appeared to be, once the rough stuff had cleared.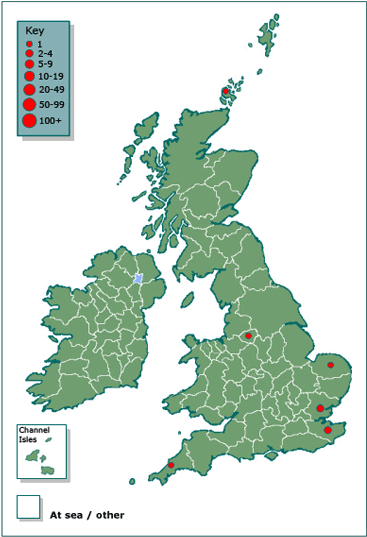 …and it seems as though perhaps that did indeed happen. Once the news made it to the pagers and online on the evening of 26th, there still wasn't much known about the record - what we do know is that there's a somewhat higgledy-piggledy mix of previous occurrences, none of which have come in the last 13 years.
Making a debut bow on the British List was a presumed 1w drake at Cliffe (Kent) on December 7th 1996, which (if memory serves) wasn't that well known about at the time…either way, it mattered little as some six weeks later what was (most likely) the same bird was found some 80 miles away, in the far west of Norfolk at Wissington Beet Factory on January 18th 1997, reappearing three days later at nearby Welney WWT. It was noted, mainly at the latter site, through until March 10th and then returned in December 1997, leaving Norfolk once again on March 9th 1998.
Before the return in to west Norfolk, this particular drake Canvasback was watched for a few days at Abberton Reservoir (Essex) at the end of November 1997 and it was this same site which it came back to in April 1999 (with it or another spending a day at Monks' Wall, in Kent, in late May 1999) and then at Abberton again in both November of the same year until mid-February 2000 and then November 2000 to February 2001.
A new drake was at Lade, near Dungeness from January 29th 2000 in to mid-March (therefore crossing over dates with the Abberton drake) and like the Norfolk/Essex bird, this second Kent bird returned the following winter, present from November 18th 2000-March 8th 2001.
It feels as though the one-day drake at Par Beach Pool (Cornwall) on April 19th 2000 could have been one of the two birds mentioned above, but we do know that what was certainly a new (and therefore 3rd) British bird was the three-day mid-June female on Sanday (Orkney) in 2000 and the fourth was another unseasonal individual was the summer drake at Pennington Flash (Greater Manchester) from July 11th-30th 2002.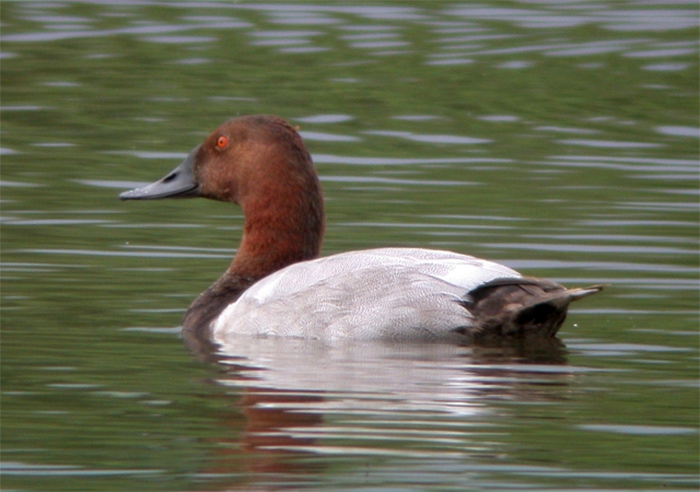 Since then, nothing, until now…the early word was that the single observer on 25th mentioned it as being "very confiding". Hopefully that isn't the case (it's 45 minutes of my life I won't get back again if so…).
Chimney Swift
There's often a bunch of blurb at the end of each review that takes a little look ahead at the arres of the past and what we may even be in with half a shout for in the seven days that lie ahead.
It is also a section that can often be written early in the oft' laborious autumnal process of putting together something worthwhile for a review. Looking at the charts for Wednesday and Thursday over the weekend just gone, here's how I summed up the Amerciana options…
The 1,2,3 of favoured Nearctic species to muse upon?
#1 Chimney Swift
#2 Killdeer
#3 American Robin
So close!
…I was beaten to my #1 choice of the on-the-cards Nearctic vagrants by an intrepid birder out on Mizen Head in County Cork during the closing hours of 26th - the single Chimney Swift seen near the visitor center before heading off towards the nearby hotel, subsequent searches proving fruitless.
This is the first in Cork since the influx of the autumn of 2005, when nine birds were seen at five different sites in the county between October 29th and November 1st; singles logged on Cape Clear Island, Clonakilty, Baltimore, two found over on Sherkin Island, with a flock of four, near Courtmacsherry to round things off. Those Cork birds were part of an arrival (within less than fortnight, up until November 9th) of 13 records, with 17 birds in all; a set of records which boosted the overall total of acceptances to 31 overall.
Finders-in-the-field: Chimney Swift, Mizen Head, Co.Cork
On Monday the 26/10/2015 at 4am Gerard Murray, Peter Phillips and myself set off for Mizen Head. We arrived on mizen shortly after 11am we checked a few gardens before being told about a Firecrest in the last garden. we picked the Firecrest up after a few minutes and had good views. We checked several gardens up until about 1.30 pm before going to get food. we discussed what we were going to do next, I wanted to check the area around visitor centre for the Ring Ouzel that had been seen on the day before. Peter and Gerard wanted to check toor pier.
I was dropped up at the centre at about 2:30 I checked the fields nearby for the ouzel but with no luck. I turned around to walk back down towards the gardens again when a swift flew straight over my head, with a short stubby tail with long wings. I immediately said Chimney Swift it continued straight down alongside the road towards the last garden and i sprinted after the bird but I lost it as it constantly kept ahead of me. I picked it up again a few moments later it tried to keep high with glides in between rapid wing beats it disappeared about a minute after I picked it up for the second time this time for good. I immediately rang Gerard and they came up to help with the search but unfortunately it never showed again.
Without doubt the best birding moment I've ever had and the best bird I've found. Brian McCloskey
The first Cork birds being found in 1999, three singles at three sites in three October days from 23rd and, unsurprisingly, October is the peak month to encounter the species - 20 records in the month - spread between 18th-31st - with Britain's first being the famous duo at Porthgwarra between October 23rd-25th 1982.
A further 10 accepted Chimney Swifts have been seen in Novembers past, all within the first nine days of the month. The one stand-out date so far? The Spurn individual of August 6th 2000, but we may get a second August bird on the list if the Staffin Bay bird reported on August 24th this year gets the thumbs up.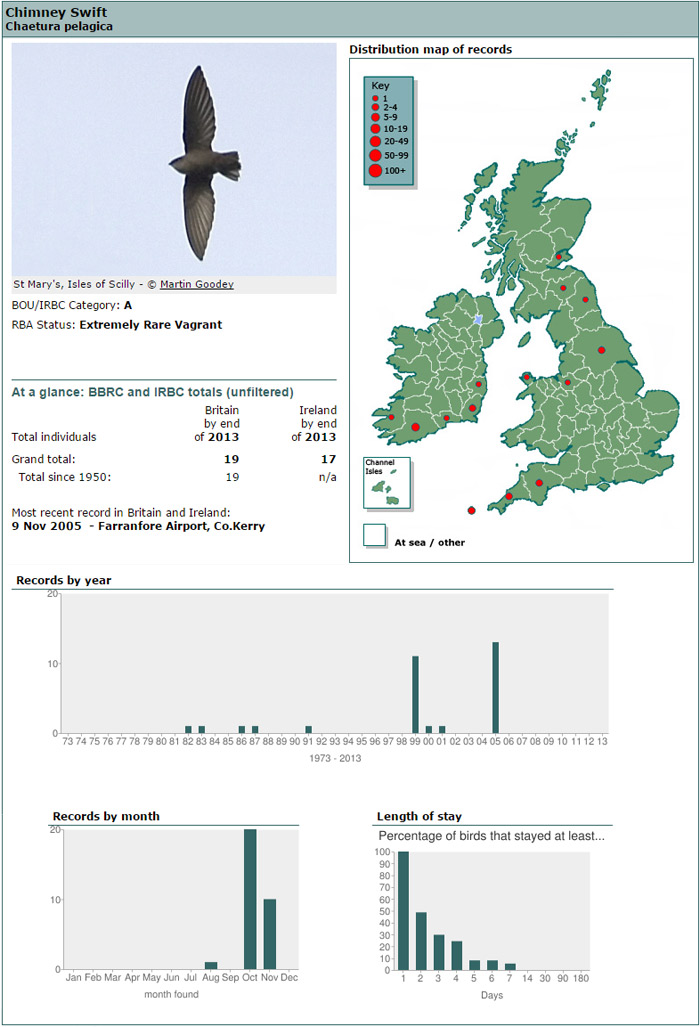 White's Thrush
Coming along in an honourable 2nd place this week (elevated after the Cumbrian Bufflehead was noted as being in possession of Canary yellow bling - another cautionary tale of how a great time of year and a decent location don't always mean you're on to the real deal) was the second Shetland White's Thrush within just four days - found on YAY! the fabled October 23rd - this one making landfall in a sizeable Gulberwick garden, just south of Lerwick.
Last week's review brought news of the very 1st White's Thrush for Unst; in contrast to that, this is the 15th record for Mainland Shetland and it obliged interested parties by remaining until 24th.
The sizeable archipelago has, as a whole, seen 16 previous October records, spread between the 1st of the month and 18th, so this week's Gulberwick bird is the latest appearance for the islands within the month (there are also two old November records too). Across the whole of Britain, there have been a minimum 32 October acceptances, 18 of them since 2004.
Blyth's Pipit
Also enjoying a few more days of a Scilly autumn was the first-winter Blyth's Pipit that remained around Peninnis Head, St. Mary'sthrough until 25th.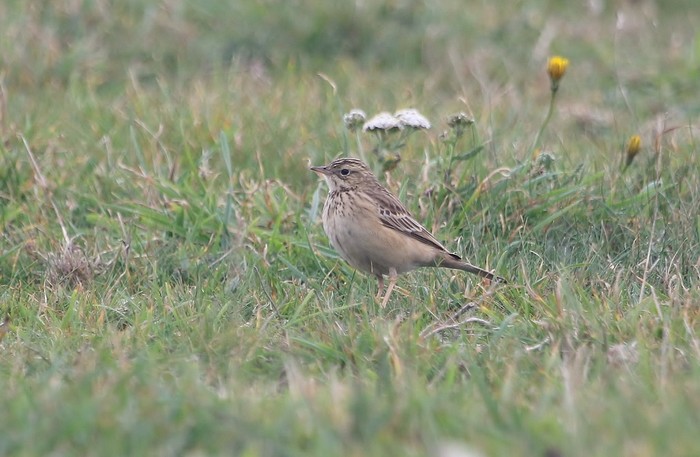 This sixth for the islands has now become the longest staying Scilly Blyth's Pipit to date - the first (seen on St. Mary's) was present for three days in October 1993; the second spent just one day on St. Mary's in 2005 with a 10-day bird following along 12 months later, with an eight day Tresco October bird coming a further 12 months after that. Last autumn's bird was first noted on October 5th and showed well on 8th-9th, five days in all.
With at least two birds this autumn and at least five within the last 12 months, it seems as though that blank seven year spell between 2007-2014 has been well and truly forgotten about.
Hume's Yellow-browed Warbler
The last couple of days of the round-up offered a decent deal of hope to birders dotted along the east coast of England - southeast winds drawing in birds from far-flung territories and amongst the new arrivals came a new Hume's Yellow-browed Warbler, found at Flamborough Head (East Yorkshire) on the afternoon of 27th.
The 14th record for East Yorkshire (and the 18th in all for Yorkshire as a whole) this week's new find will become the 6th for Flamborough, but the first there since November 10th 2003 (a year that saw five different humei appear in the county between October 23rd-November 10th). There's not been a Hume's Yellow-browed Warbler in Yorkshire since 2009, when a rare spring bird spent two days at Kilnsea, in the middle of May that year.
Northern Harrier & Pallid Harrier
Short and sweet again now with a quick update and two of last week's rare harriers.
On North Ronaldsay, the island's second Northern Harrier, that super adult male, remained until at least 26th - a whole month completed on the island now (appearing there first on September 25th) while in County Mayo, last week's county first Pallid Harrier remained at Annagh Marsh until 27th.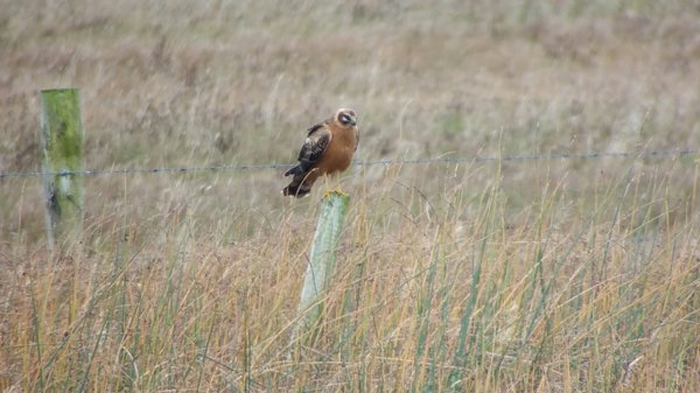 New on 25th, Spurn's second photographed juvenile Pallid Harrier within the last four weeks or so headed south over The Warren - the first performing the same move on September 29th - this famous migration location has doubled the number of these super-slinky harriers in the space of one autumn. Nice. (This week's bird had been noted earlier the same day at Easington).
…and what is thought to have been the same young Pallid resurfaced during 27th across the Humber, down the Lincolnshire coast at Donna Nook - once accepted it will become the 1st for the county - and much anticipated one too (after a couple of contenders back in 2011 and 2012).
Black Scoter
After the fine drake Black Scoter spent a couple days bobbing around on the waters of lovely Rossbeigh in County Kerry on October 10th-11th, there'd been no subsequent sightings of him across the past fortnight. That changed on 26th when, once again, there he was, close inshore along side the gravel beach.
It looks like there's every chance he'll repeat his winter stopover that ensured Irish listers all contented themselves with favourable views of this national first - and he's going to figure in a few winter exploring trips in the next few months.
Greater Yellowlegs
Nipping, finally, back to the Isle of Wight for a quick update on the (promoted again) Greater Yellowlegs - this long-lingering adult remained on the River Medina, near Whippingham until 24th at least. First noted, for single day at Ticthfield Haven in early January, this bird has been around for quite some time…

After a particularly lean autumn for storm-driven Leach's Storm-petrels the stormy start of the new review period bumped things along a touch, just over 60 birds recorded between 21st-24th, almost all of them in northwest Scotland and along the Irish west coast.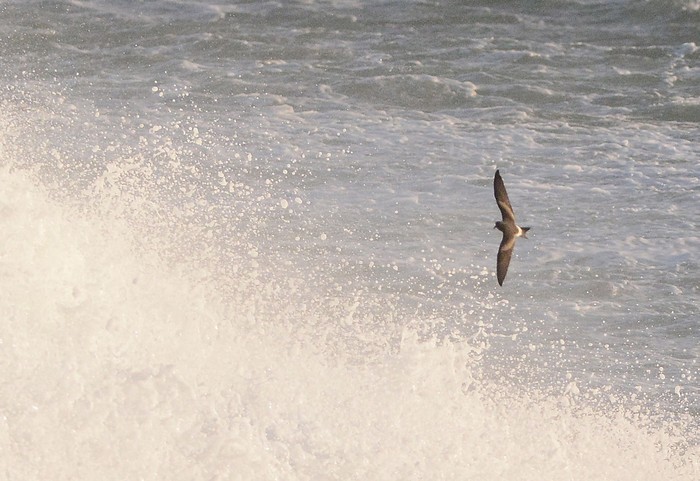 The first of the week was seen passing Strumble Head (Pembrokeshire) on 21st and was the precursor to 44 birds across 22nd; 29 of those were logged off Machrihanish (Argyll & Bute) with four more in the county logged off Aird, on Islay. Three were seen from Ardvule, South Uist, a single passed Corsewall (Dumfries & Galloway) while Irish birds headed by Tory Island and Bloody Foreland (Co. Donegal) (a single at the former, four off the latter) with two off the Galway coast, at Newtonlynch too.
Another single Leach's passed Bloody Foreland on 23rd, while on Islay, six were seen from Hynish and another was at Loch Indaal. Ireland accounted for all eight on 24th, five off Brandon Point (Co. Kerry), two passed Bridges of Ross (Co. Clare) and an inland bird was found near Enniskillen (Co. Fermanagh) - the first in the county since 2007.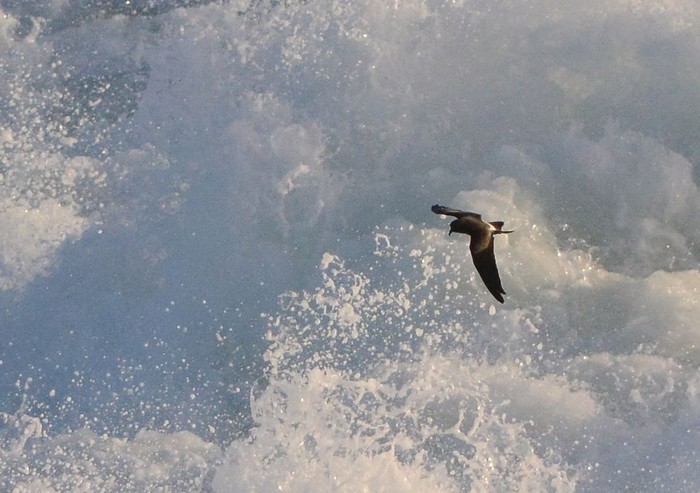 The gales in the northwest produced a single Sabine's Gull off Bardsey Island (Gwnynedd) on 21st and two from Aird, on Islay the next day, when one of the week's two Grey Phalaropes was also noted; the second, also seen on 22nd, appeared off Mayo's Kilcummin Head…
…where 16 Pomarine Skuas were also caught up trying to out-run the Atlantic rough stuff - part of a day-total for 22nd of 59 birds in all. The day's highest count came from Creevagh, near Ballycastle (also in Mayo) where 24 were noted (along with 423 Sooty Shearwaters). In Donegal, seawatchers off Bloody Foreland counted 13 Poms, with two off Tory Island, while three headed by both Aird, on Islay and Ardvule, South Uist and one made it to Hartland Point (Devon).
Half a dozen birds were noted on 23rd; three trundled by North Ronaldsay (Orkney), two more went past Tory Island and one was in the North Sea, off Flamborough Head (East Yorkshire) while the 24th was another busy-ish day - a further 49 logged, including 26 off Creevagh (Co. Mayo) with sevens a piece for Bridges of Ross and Spurn, while smaller single figures recorded from Cornwall and Cork to Shetland.
A further 41 Pomarine Skuas were counted on 26th; nine were off Brevig, Barra (Outer Hebrides), eight went south off Embo (Highland), seven were off Ballycotton (Co. Cork) and up to five were off Tarbet Ness (Highland) - the same site recording the same number the following day too.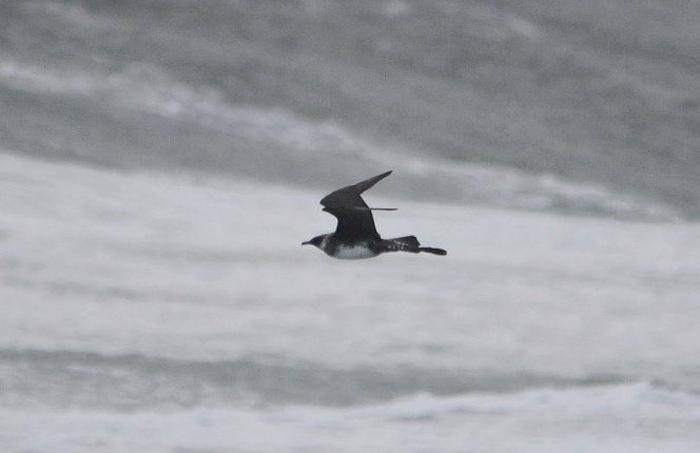 Two late Long-tailed Skuas made it past Creevagh, Mayo's new seawatching point on 22nd and in Ireland, one was seen from Ballycotton and a juvenile was off Waterford's Helvick Head on 26th - perhaps the last ones of 2015?
Hopefully amongst the first of many late autumn Little Auks made it passed North Ronaldsay and Northumberland's Low-Newton-by-the-sea on 23rd - one from the latter, two from the former - and another headed past Tarbet Ness on the morning of 26th. Later the same day, one appeared on Fair Isle, three headed south past Donmouth (Aberdeenshire) and in Norfolk, three were reported from Weybourne, two were off Holme and singles were on the sea off Cley and heading past Titchwell RSPB. A further five singles were noted through 27th - from Kent, to Suffolk, Norfolk, East Yorkshire and Orkney.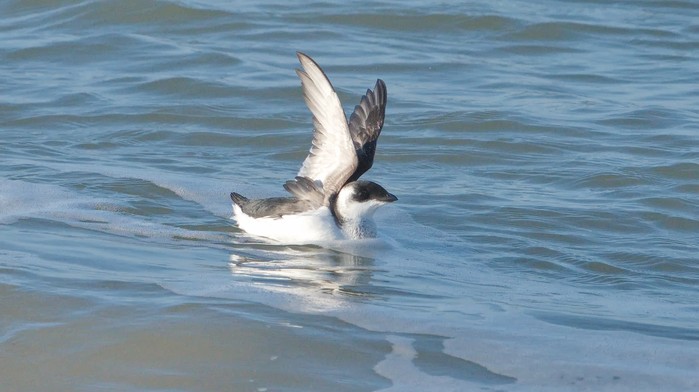 Just under 40 Balearic Shearwaters were recorded this week - including 16 from Pendeen Watch (Cornwall) on 22nd, with four each for the south Devon headlands at Start Point and Prawle Point on 21st and 25th and another quartet were seen off Penberth (Cornwall) on 26th.
There'd already been an inkling that there was a little movement of Glossy Ibis on the go as last week's review drew to a close and that trickle remained in place as the new one began too.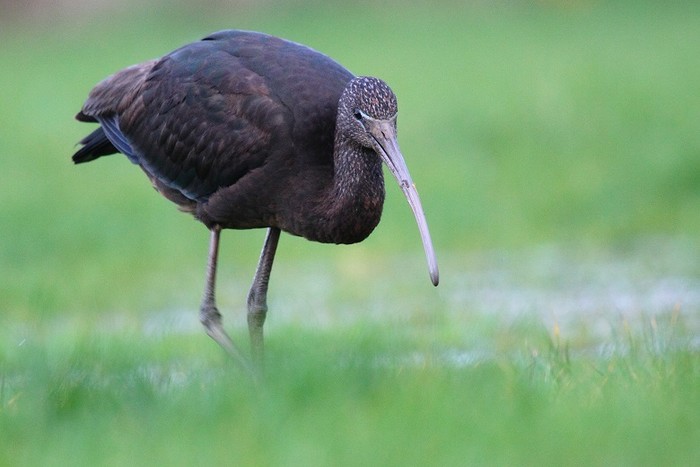 A new arrival on 21st was a fine find at the Walthamstow reservoirs site in London, with perhaps the same individual seen the following day at Rainham Marshes RSPB and nearby Dartford Marshes in Kent. Also new on 21st was a bird in southwest Scotland, at Kilwinning (Ayrshire) - the first county bird since May 2012 and only the fourth-ever there) - which remained until 27th.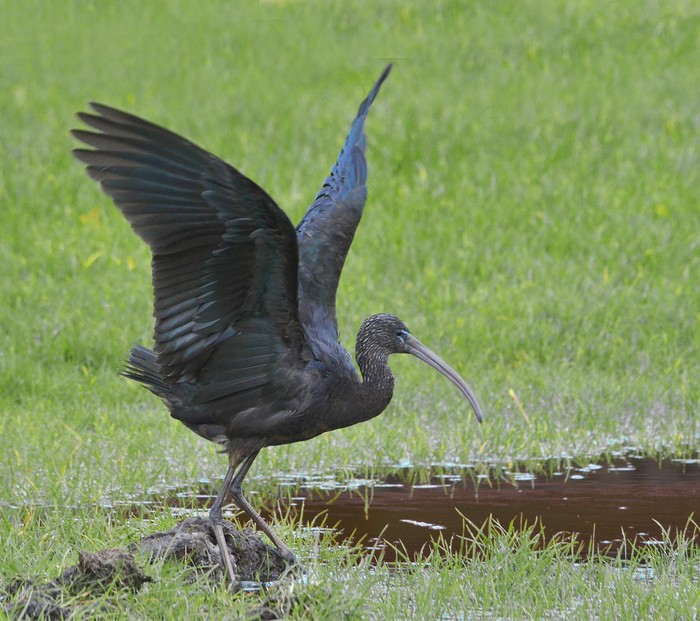 Whilst awaiting the rediscovery of the Chestnut Bunting on Papa Westray, a new Glossy Ibis was a cracking find for the remote Orcadian outpost on 23rd - the second for the island, following one there on January 5th-6th 2000. That bird from 15 years ago was only the fifth for the islands as a whole; just one (or perhaps two) followed until the new bird of this week, lingering around assorted islands from December 2013 until June 2014 (there may have been a switch in there somewhere).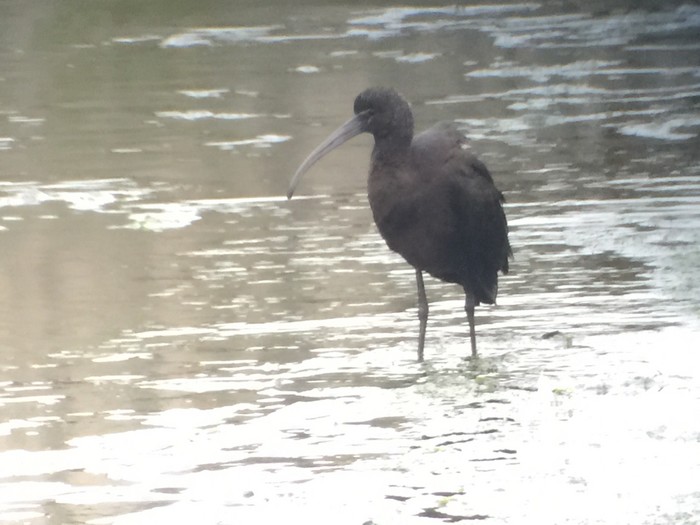 A further new Glossy Ibis, this time back along the south coast, headed north over Radipole Lake RSPB (Dorset) on 24th while lingering birds were the loner at Shapwick Heath NNR (Somerset) to 26th and the rarely seen duo at Black Hole Marsh, Seaton (Devon) on 26th-27th. Over in Ireland, the double bill at Lough Naparka (Co. Kerry) and singletons were at Derry's Lough Beg to 23rd, Wexford's Ring Marsh and Tacumshin on 24th and near Youghal (Co. Cork) on 25th.
The Shetland Cattle Egret (one of the rarest island birds of the year…) remained at South Collafirth, Mainland to 25th and was one of just two noted this week; the other appearing once more on the Somerset Levels, at Shapwick on 23rd-26th at least.
New in Cornwall on 24th was the Squacco Heron in the secretive valley of Nanjizal, seen two days later at over Skewjack Pools on 26th (neither sighting known about though until 27th) - the second or third this year within the west of the county (including a sighting at Nanjizal on May 15th, presumably a roaming bird around the western tip). This week's sighting is the first-ever autumn sighting of the species in Kernow - (out of 20+ in all).
The week's Spoonbill total peaked around the 50 mark - thanks of course to the flock in Poole Harbour, where a maximum 33 was counted on 23rd (with a further five, split between two sites elsewhere in the county). Singles and a two or two were spread from Scilly through to West Sussex in the south of England, while Norfolk and Suffolk hosted a couple each. Notable was an inland bird, found in Cambridgeshire, at Little Paxton on 21st.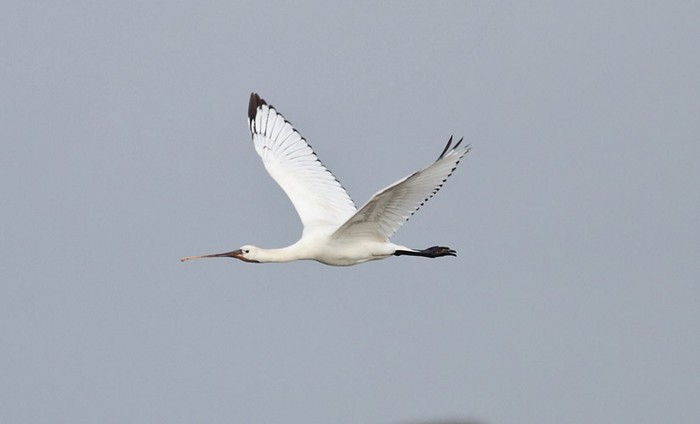 In Ireland, four immatures were at Tacumshin (Co. Wexford) on 23rd and another four were at The Cunnigar, Dungarvan (Co. Waterford) on 24th. The old-stager was at Cromane (Co. Kerry) on 21st with further single Spooners in County Down, at Strangford Lough and then Castle Espie WWT on 23rd-24th and also at Clogheen (Co. Cork) on 24th.
Resident Common Cranes this week included eight at the Lakenheath Fen RSPB (Suffolk) on 22nd, a minimum 11 were in the Broads on 23rd (at Waxham, with five at the Stubb Mill roost) and two were at Burwell Fen (Cambridgeshire) on the same date.
A deceased Corncrake was the species' only representative this week, found on Fair Isle on 21st.
Scottish Snow Geese records were very thin on the ground this week - maybe some are now en route to Lancashire or Norfolk - but there was blue bird to mention, presumably having moved from Angus to Perth & Kinross, now present at Stormont Loch on 25th.
With little to report with other vagrant Snows, we'll continue on to Islay for news of their two different white-cheeked geese…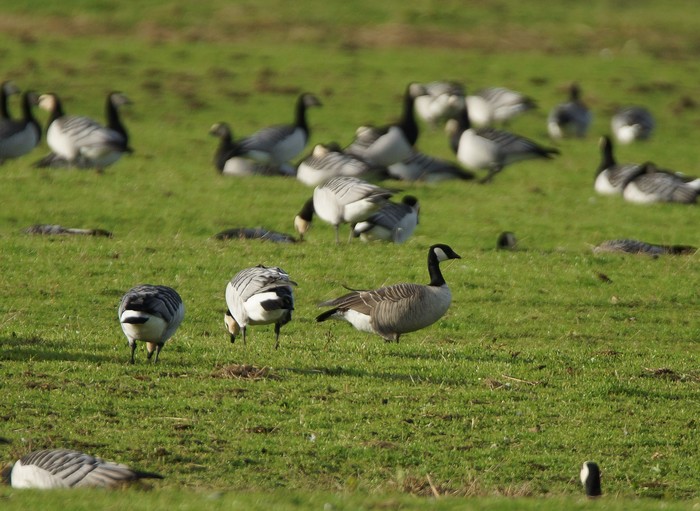 At least one Richardson's Cackling Goose remained around the island, noted at, amongst other locations, Bridgend, Loch Gruinart RSPB, Bowmore and Loch Indaal throughout the week with the flocks of seriously under-threat Barnacle Geese also hosting that vagrant Todd's Canada Goose - often in the same flocks as the hutchinsii - both birds noted to 25th.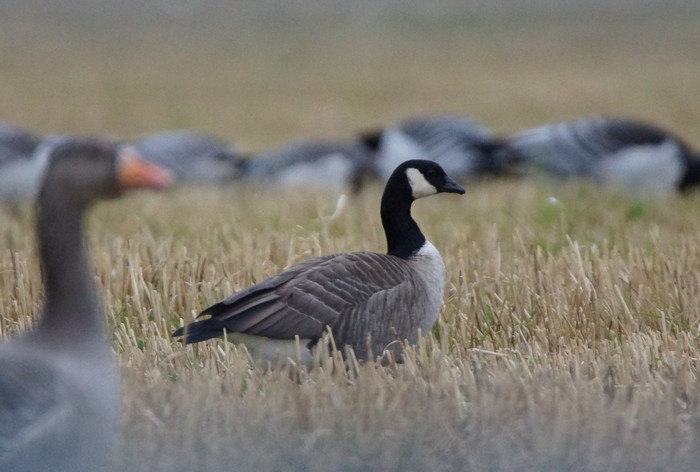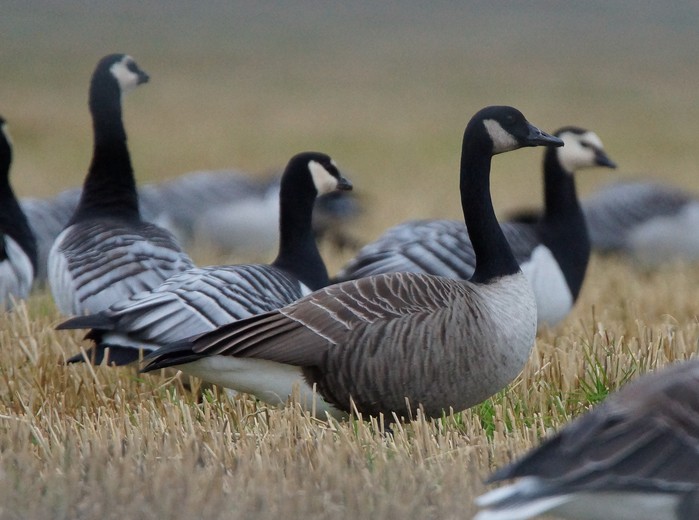 There's been no news of the little minima around the Exe at all this week (where's that gone then?) but there was still a Black Brant up for grabs to 21st, still off the Exmouth side of the estuary. Further up the south coast, a Brant was seen in Dorset, on the Fleet, at Ferrybridge on 26th and in Norfolk, one was on the saltings at Stiffkey on 26th and a less-than-classic bird was again at Cley across the weekend, (a duff looking "real-deal" or something more obscure, like a 2nd generation hybrid perhaps and, that was it…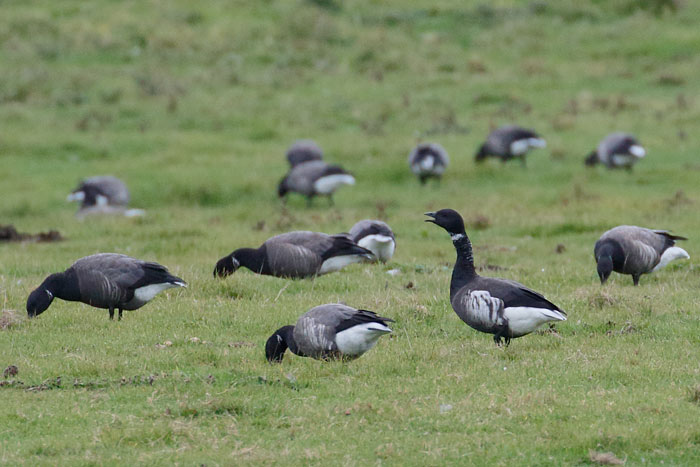 There were just two Lesser Scaups to mention over the past week; the recently returned bird at Lough Gill (Co. Kerry) remained to 27th, while that long-term returning drake at the Cardiff Bay Wetlands NR (Glamorgan) throughout the week. Also at the same site (and an unintentional "miss" on my part last week - apologies to the finders) was a drake Ring-necked Duck; found initially on 20th, this new arrival remained to 27th (Mark Hipkin on hand to nab a funky two-shot with the Scaup…).

Another Ring-necked Duck that seemed to slip through the bulging net of rares last week was an after-dark drake on Donegal's Lough Mourne and he remained until 23rd, with a presumed returning drakes again at Lough Shivnagh (also in Donegal) on 22nd and Carrowmore Lake (Co. Mayo) on 25th. Over in Derry, another Ring-necked Duck was on Lugh Beg on 25th. Elsewhere, the drake on the border of Hertfordshire & Buckinghamshire reamined at Startop's End Reservoir until 27th.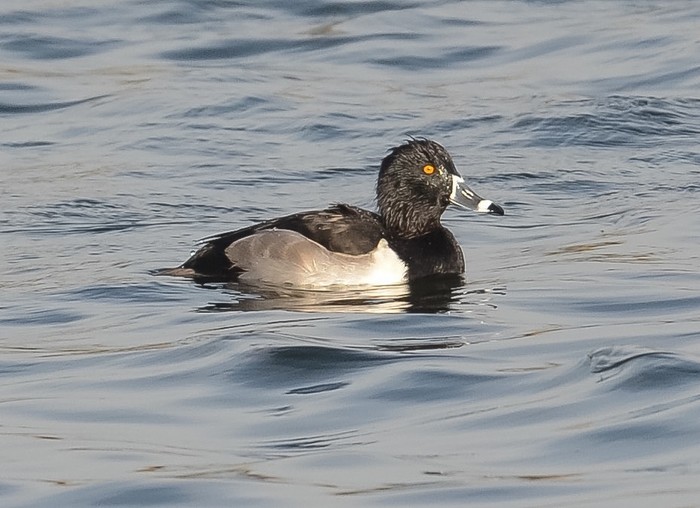 Popping up again was the drake Ferruginous Duck, noted at Blashford Lakes HWT (Hampshire) on 22nd-24th.
The seven (perhaps eight) drake American Wigeons were split 4:3 between Scotland and Ireland; two (or three) of the Scottish birds were in Argyll & Bute, still at Ardnave, Islay to 22nd with a new bird(s) mentioned for Tiree, at Loch Bhasapoll on 21st and then Loch a'Phuill on 23rd-26th. On Orkney, a drake remained at Graemeshall, Mainland to 23rd and in Aberdeenshire, one was again at Loch of Strathbeg RSPB on 24th. Irish drakes returning to wintering sites were back at the Drowes River (on the border of Leitrim and Donegal) and in Donegal itself, at the Culdaff Estuary, both on 24th. Down in Wexford, the adult drake American Wigeon remained at Tacumshin until 24th.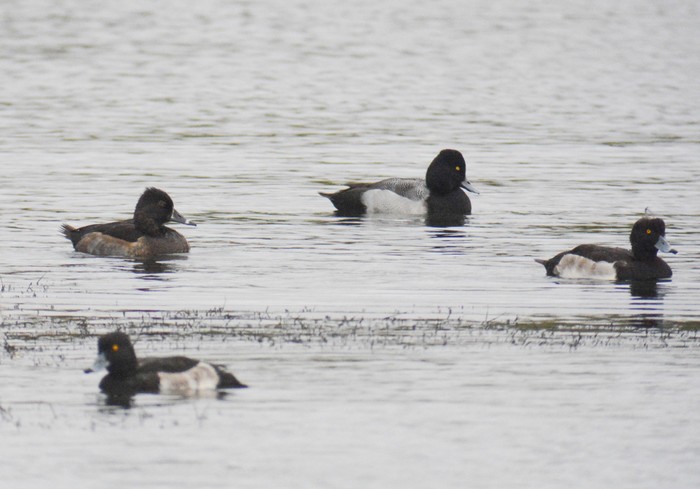 Familiar territory too was the order of the day for three of the week's drake Green-winged Teals; again at Folly Pond, Caerlaverock WWT (Dumfries & Galloway) from 21st, at Loch Gruinart RSPB (Argyll & Bute) from 23rd and still on Lough Beg (Co. Derry) on 25th. New were drakes on the Shetland Mainland, at North Gloss on 23rd and at both Llanddewi Brefi (Ceredigion) and near Kirkintilloch (Clyde) on 25th.
…and that was quack…

The second Scilly Spotted Sandpiper of the autumn was located on Tresco's Great Pool on 21st, a month to the day since a juvenile was reported from Bryher's Stinking Porth. If both are accepted they'll become the 29th and 30th records for the islands (and 12th for Tresco); the two birds of the past four weeks also represent the first since 2010.
Also new this week, the Spotted Sandpiper that spent a couple of days largely on private areas of Chard Junction GPs (Dorset) on 24th-25th - potentially only the seventh record for the county, three of which have come in the last 10 years (in 2005, 2011 and 2012).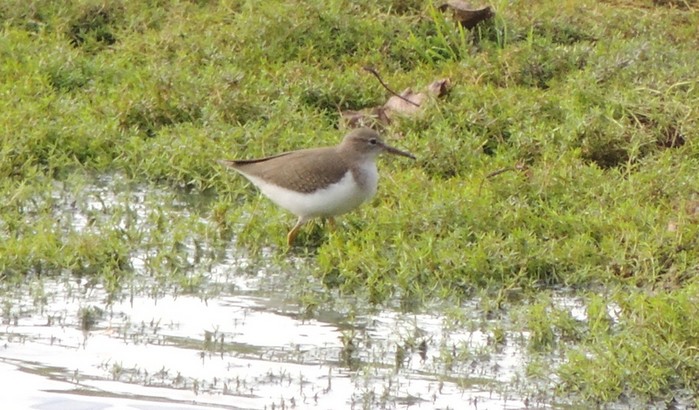 Tiree scored the first Lesser Yellowlegs on the island since 2011 when a juvenile was found at Cornaig on 21st - being seen again briefly on a roadside pool on 24th.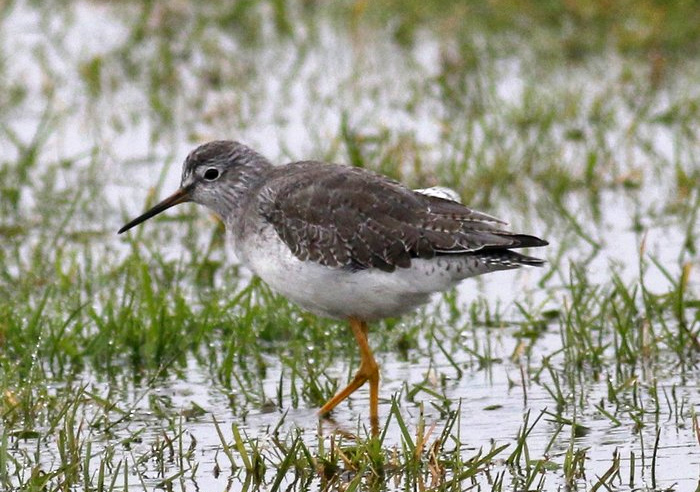 In Northumberland, the moulting adult White-rumped Sandpiper remained at Bamburgh (Northumberland) to 21st. In what has been a generally poor autumn for Nearctic shorebird finds, there were though three new juvenile White-rumped Sandpipers uncovered this week; the first was at Carrahane Strand (Co. Kerry) on 22nd, the second was on Lough Swilly's Inch Island Lake (Co. Donegal) on 23rd with the third newbie appearing at Farlington Marshes HWT (Hampshire) on 25th (moving to nearby Langstone the next day) - potentially the first in the county since 2005.
Not that far away along Hampshire's coast, the juvenile Long-billed Dowitcher remained at Pennington Marshes through to 26th.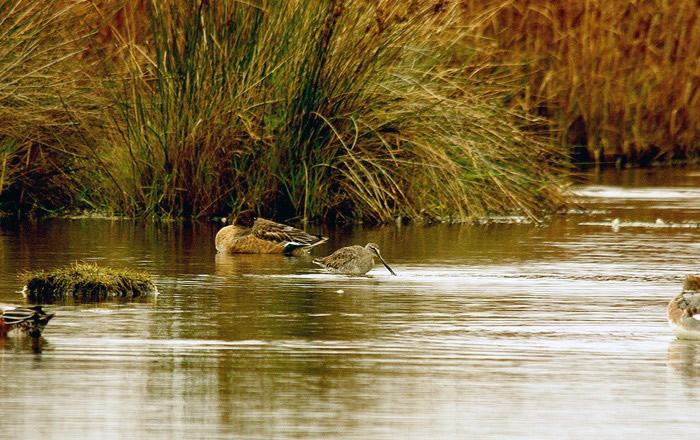 Three leftover juvenile American Golden Plovers from recent weeks lingered at both The Gearagh and Ballycotton (Co. Cork) and also Kilnsea (East Yorkshire) through until 25th at least (the latter to 27th). Four new arrivals dropped in too - a juvenile was found on the machair at Bornish, South Uist (Outer Hebrides) on 21st (and remained to 26th); Norfolk's Breydon Water did the "double" thanks to a juvenile AGP on the mud on 24th-27th (a fulva was present at the end of June) and another juvenile was found on the Roe Estuary, at Myroe (Co. Derry) on 25th while, best of all, the adult that was located at Eyebrook Reservoir (Leicestershire) on 22nd, which remained (off and on) until 27th.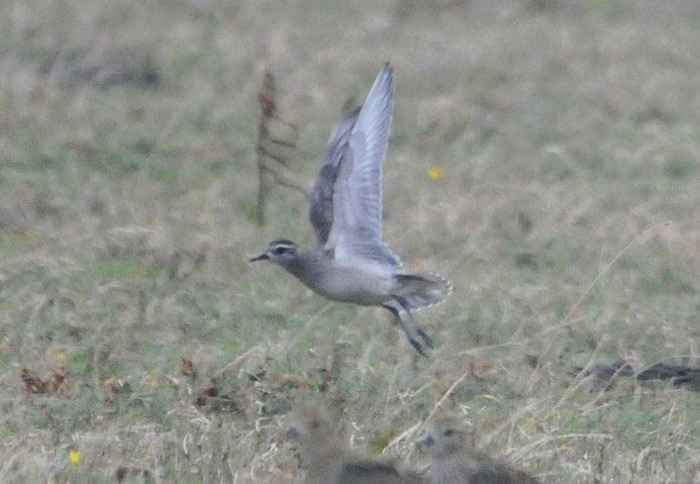 There's been just one other record of the species within the landlocked county prior to this week's fine find - a two-day juvenile at Rutland Water in early November 1996 that was relocated at Eyebrook between December 4th-8th the same year.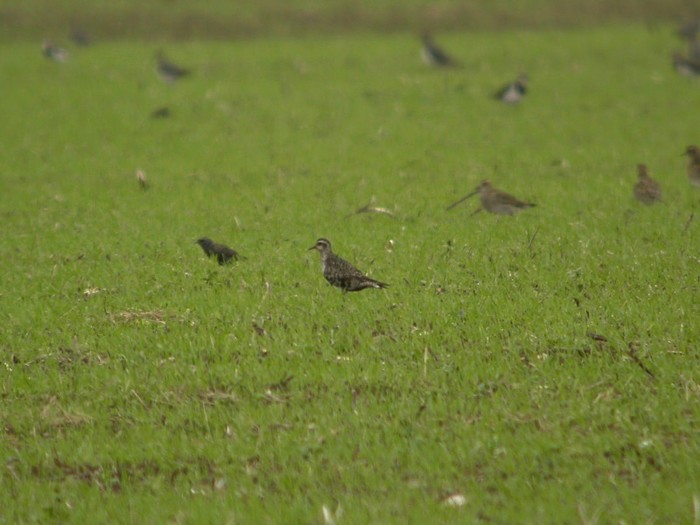 Slim pickings elsewhere on the shorebird front - a Pectoral Sandpiper was again at Pulborough Brooks RSPB (West Sussex) on 24th-25th; two Dotterel were on the airstrip at East Soar Farm (Devon), also on 24th and the first-winter Temminck's Stint was still around the Blagdon Lake area of Somerset until 25th.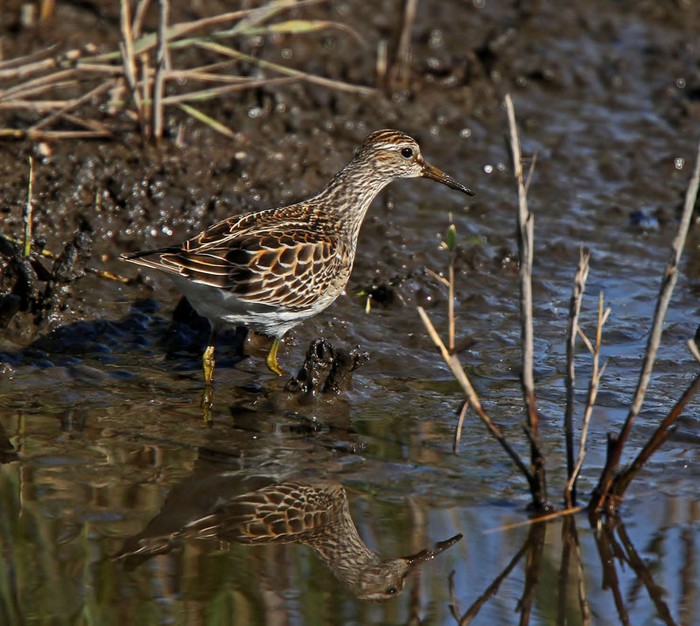 Kerry's first Gull-billed Tern remained around the waters of Blennerville throughout the week. Still on the Irish west coast, a couple of counties to the north, the Forster's Tern was back again along the Claddagh beach, not far from Nimmo's Pier, on the edge of Galway City on 24th - feasibly the same bird that has made appearances in the area since 2004.
In the far west of Cornwall, the recently returned (though extremely elusive) third-winter American Herring Gull was noted again at Jericho Farm, St. Just on 22nd but evaded folk on subsequent searches through until the weekend at least.
Another elusive Nearctic gull at large in southwesterrn England is the returning adult Bonaparte's Gull; this week it was noted at twice at Dawlish Warren NNR (on 23rd and 25th) with another trip in between to nearby Teignmouth on 24th.
Swinging back to Nimmo's Pier, a couple of Ring-billed Gulls were noted on 22nd with further Irish birds noted as still present at Blennerville (the now 2w bird present to 23rd) and in Antrim, at Portrush (the returned adult there on 22nd). Back again, for the first time in three weeks, was the second-winter bird at Preston (Lancashire) on 23rd while the same-aged bird showed no signs of departing Cornwall's Hayle Estuary, present throughout the week. Also still in place, the Dingwall adult, noted on 26th.
Single Glaucous Gulls were found on The Mullet (Co. Mayo) and North Roanldsay (Orkney) on 24th and four single Iceland Gulls were noted at Blennerville (Co. Kerry) on 23rd, Garinish Point (Co. Cork) on 24th and Craigston, Barra (Outer Hebrides) and Vestra Fiold, Mainland (Orkney), both on 25th.
After a noted influx of upwards of 25 Rough-legged Buzzards last week - this week was rather more relaxed (and, in parts of east Norfolk, it was hard to work out just how many birds were present).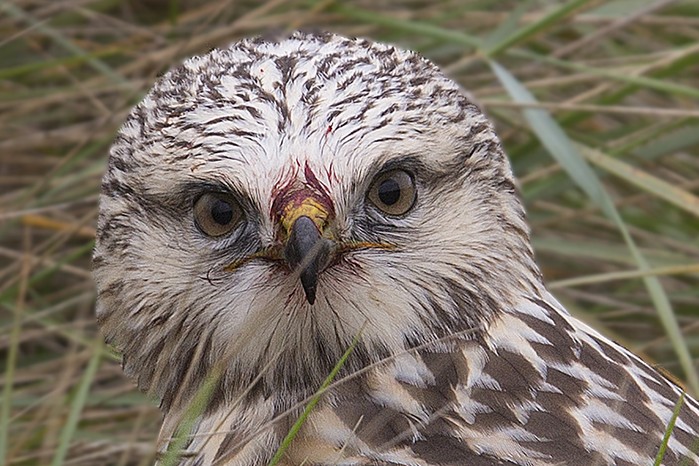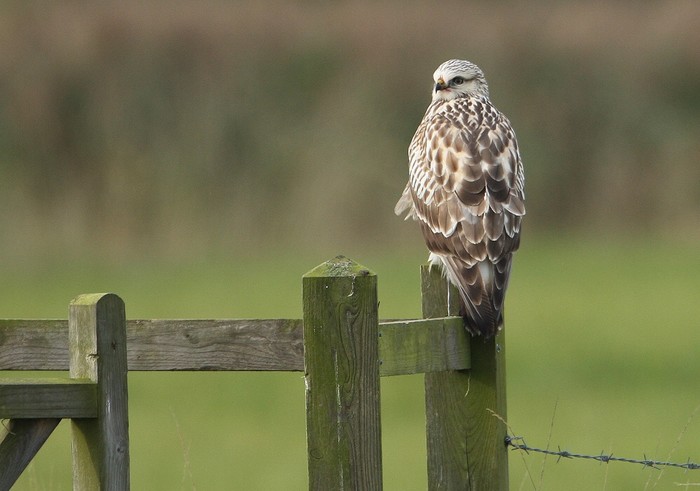 Ones and twos were noted daily in the corner of the Broads, at five reasonably close localities between Waxham, Winterton and Hickling between 21st-25th (as many as five different birds noted) while elsewhere in the east were singles at Scratby and Breydon Water on 24th. In west and north Norfolk, a handful of lone birds were reported as follows; at Titchwell RSPB on 22nd, 24th and 26th (the bird on 22nd appearing at Choseley too); also on 22nd, a Rough-leg was seen inland at Reepham and on the coast, at Burnham Overy Staithe. The evening of 23rd saw birds reported from the adjacent Stiffkey, Warham and Wells while on 24th, another was seen at Thronham and Holme. The 26th saw singles appear "in-off" at Blakeney Point, Salthouse and Holme.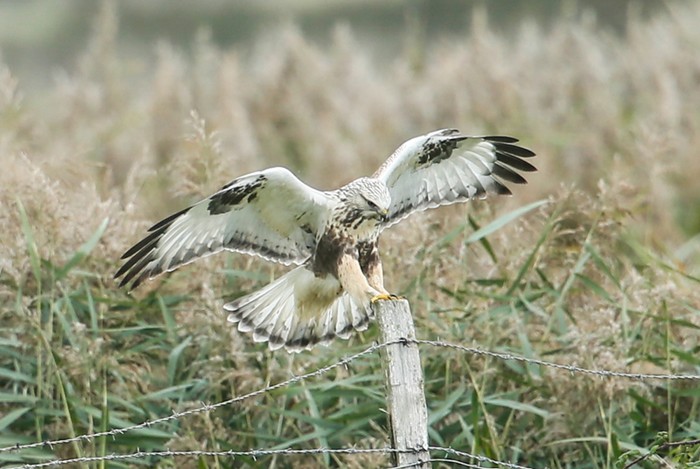 East Anglia's only other records came from Cambridgeshire; at Six Mile Bottom on 21st and Grafham Water on 26th while in southeast England, birds from last week remained at Scotney GPs (on the Kent/East Sussex border) until 25th and in Essex at St. Osyth to 21st and Holland Haven through until 27th. New in the same county was a bird heading over Foulness Island on 25th and in Kent, a Rough-legged Buzzard was seen at Sandwich Bay on the same day (when another was found dead on Grain). In the northeast, a new bird was recorded at Tophill Low NR (East Yorkshire) on 26th and was followed by one at Scaling Dam (Cleveland/North Yorkshire border) on 27th.
Double-bubble Bluetail
Jumping from BoPS to passerines, but staying at Sandwich Bay NNR, the week's first Red-flanked Bluetail was noted again within the trapping area on 21st, reappearing again on 25th and still present there the next day too.
It seemed as though that would be that for a species that was well and truly the focus of attention for many last week, but then the wardening staff on my new favourite island of Bardsey, off the Gwynedd coast, went and pulled out a super record of Wales' third Red-flanked Bluetail during the afternoon of 25th - becoming the second for the island too.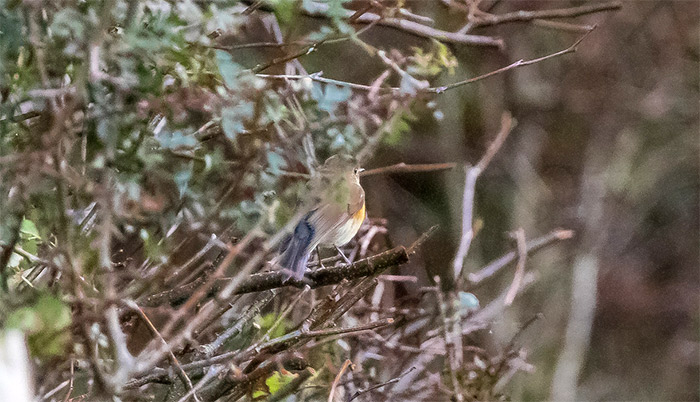 The first Welsh record, and the first for Bardsey was an adult male noted on October 1st 2007 and was followed three years later by one out on Skomer (Pembrokeshire) on October 25th 2010. The Principality now has a third and takes the autumn's total up to around the 19 mark (give or take the odd one here and there).
Thanks to this years' 19 records so far (not done and dusted yet either…) and last year's 11 birds, Bluetails have pushed on through the 160 mark now - a staggering 126 of which have been seen here within the last 10 years…
2005 - 4 birds
2006 - 2 birds
2007 - 8 birds
2008 - 13 birds
2009 - 8 birds
2010 - 32 birds
2011 - 13 birds
2012 - 4 birds
2013 - 12 birds
2014 - 11 birds
2015 - 19 birds
A 12.5 average per year since 2005 is pretty amazing stuff; these beautiful little visitors are totally expected now, almost as soon as there's a puff of east in the wind, but there's no denying the draw they still retain to many, many birders. It will be fascinating to see where the next 10 years take us - summering and singing birds maybe on the agenda at some time soon?
A sprinkling of sprites…and other warblers too…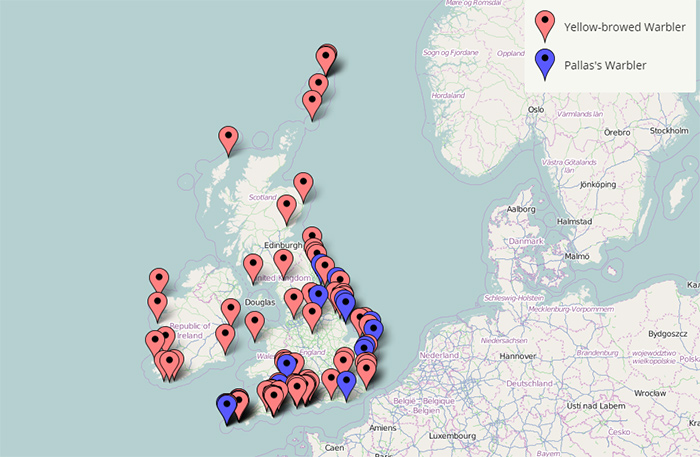 Last week's vagrant friendly conditions plonked a fair old number of Pallas's Warblers around the place - this week was, initially, an altogether more different affair - 21 birds noted by close of play on Tuesday - eight of arriving on both our penultimate and final days, 26th and 27th.
Eight were seen in the northeast, at Kilnsea (East Yorkshire) on 21st, briefly at Brockendale YWT (North Yorkshire) on 22nd and on 26th, in the Bomb Hole at South Gare (Cleveland) and in East Yorkshire, at Spurn and Flamborough Head. New on 27th were singles trapped and ringed at Filey (North Yorkshire) and in Lincolnshire at both Saltfleetby (also trapped and ringed) and Donna Nook.
Also new on 26th was East Anglia's first bird of the week, a trapped individual at Landguard NR (Suffolk) and it was followed on 27th by singles in Norfolk, at Waxham and in Suffolk, at Gunton. On the south coast, new loners appeared in East Sussex, at Beachy Head on 26th and at Frinton-on-Sea (Essex) on the morning of 27th.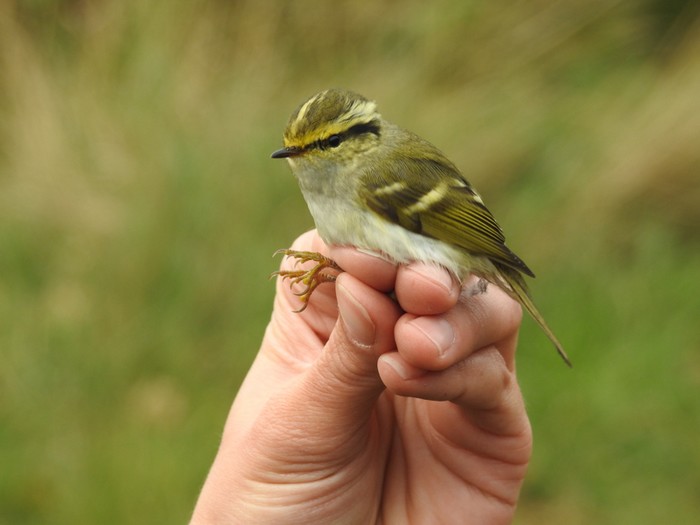 Further to the west, in Devon, a Pallas's Warblers was at Exmouth on 27th while in Cornwall, last week's trapped bird at Nanjizal was controlled again on 23rd. Scilly newbies made it to St. Agnes and Bryher during the afternoon of 25th with at least one more new bird on St Agnes on 26th (and another on 27th) with another heard on St. Mary's on 26th - best of all though, the first Pallas's Warbler for Somerset in 15 years - found at Brean Down on 25th, the same site that hosted the most recent record, seen there on November 13th 2000.
After getting on for five weeks of high three figure tallies for Yellow-browed Warblers (we were still in the 450+ mark seven days ago), numbers fell away significantly as November drew towards us, some 115 noted across 22 counties in Britain and Ireland.
There's no real surprise in seeing southwestern England fare best as birds drift further and further down the country - around 55 birds noted between Scilly and Somerset. Five Scillonian islands shared at least 30 individuals, up to a dozen were on St. Mary's, a minimum eight were on Tresco (the day count for 27th), with four for St. Agnes and at least two on both Bryher and St. Martin's. Up to 20 were in Cornwall, including three at St. Just on 21st and Kelynack on 25th, while Dorset came along with 14+ with five in Devon and three in Somerset.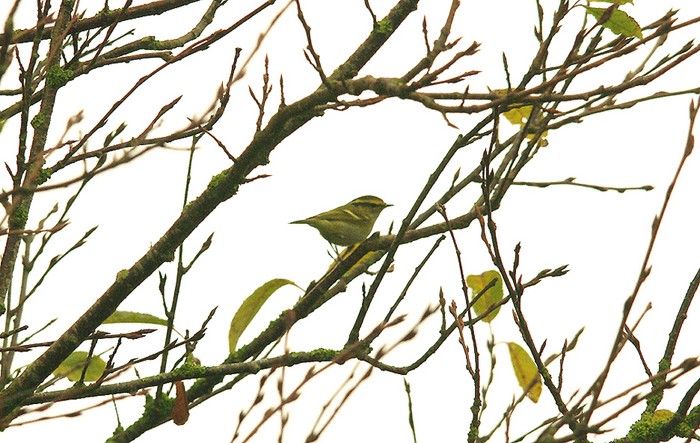 Trailing some way behind came Scotland; up to 10 were seen on Shetland with singles in Aberdeenshire, Angus and Dumfries & Galloway. The northeast of England managed ten (one heard, well inland in West Yorkshire on 26th) and the southeast managed eight (five of them in Kent), East Anglia saw three Yellow-broweds reported in Norfolk and two in Suffolk and two were seen in the northwest; at Waterside (Cumbria) on 21st and in Wigan (Greater Manchester) on 22nd.
Irish Yellow-browed Warblers were spread thinly across six counties - three for Cork, two for Mayo and Kerry with ones for Galway, Wexford and Wicklow.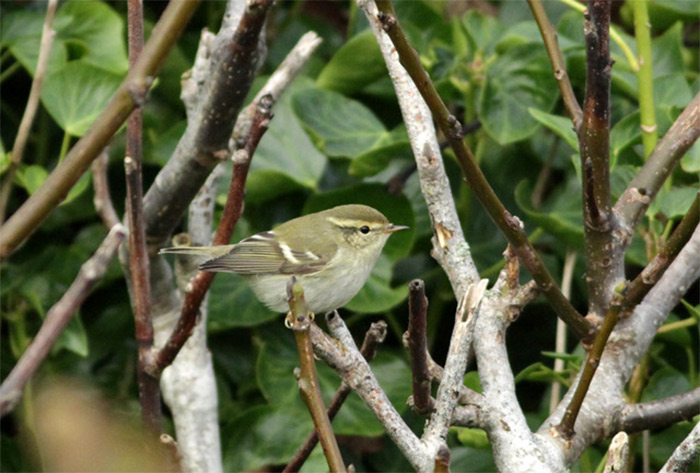 Four Dusky Warbler made themselves known this week; one remained at Gibraltar Point NNR (Lincolnshire) until 21st and new arrivals were at Isbister, Mainland (Shetland) on 25th and at Dungeness NNR (Kent) and along Barnaby Lane, St. Agnes (Scilly), both on 26th while a Radde's Warbler was nearby at Troy Town, St. Agnes on 27th (four super Phylloscs., on the island on the same day). The week's first Radde's was located at Berry Head (Devon) on 25th - the first in the county since one at the same site two October's ago (and is only the 11th county record in all).
In a familiar story where many passerines were concerned this week, Barred Warblers took a drop in numbers - only three seen; one remained at Flamborough Head (East Yorkshire) to 21st and new were birds that was trapped and ringed at Dungeness (Kent) on 23rd and on Papa Westray on 27th.
In Cork, a late Melodious Warbler was a fine end-of-month find at Mizen Head on 27th but best of the bunch though was another 1st for Mayo (the 4th (!) county first within a week or so) - an Arctic Warbler seen in gardens on Ennis Head, some five miles or so from The Mullet, on 22nd and 25th.
Eastern Pipits & chats - and additional randoms
The week's two Olive-backed Pipits (down from at least 18 last week…) were separated by several hundred miles - remaining on St. Martin's (Scilly) until 22nd and Fair Isle (Shetland) to 26th.
Richard's Pipit numbers fell by over half from last week's 40+ to just 20+ this week. North Yorkshire and Shetland held five birds each, including three for both Long Nab, Burniston between 22nd-25th and on Fair Isle on 24th. The former county also saw singles appear at Scarborough on 21st and Hayburn Wyke on 23rd-25th, while on Shetland, Unst scored the other two island birds, at Halligarth and Burrafirth on 22nd.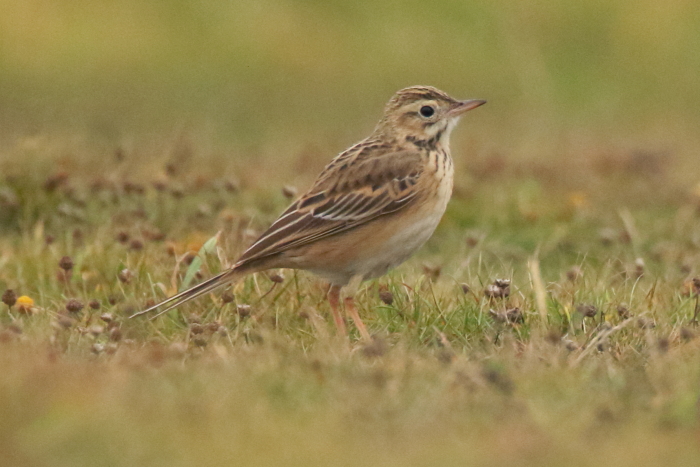 On North Ronaldsay two were seen on 22nd, with remaining singles Spurn YWT (East Yorkshire) on 27th; at Parkgate Marsh RSPB (Cheshire), Gramborough Hill (Norfolk) and Arundel WWT (West Sussex) on 26th; near Langton Matravers (Dorset) and Tealham Moor (Somerset) on 25th; Horden (Co. Durham) on 22nd and at Selsley (Gloucestershire) and on St. Mary's from 21st.
In Norfolk, a lovely male Siberian Stonechat found at Caister-on-Sea on 21st was exceptionally popular during its weekend stay to 25th - the first county record since the slightly grimy first-winter female spent a few days on the reedy fringes near Wells Woods in October 2013.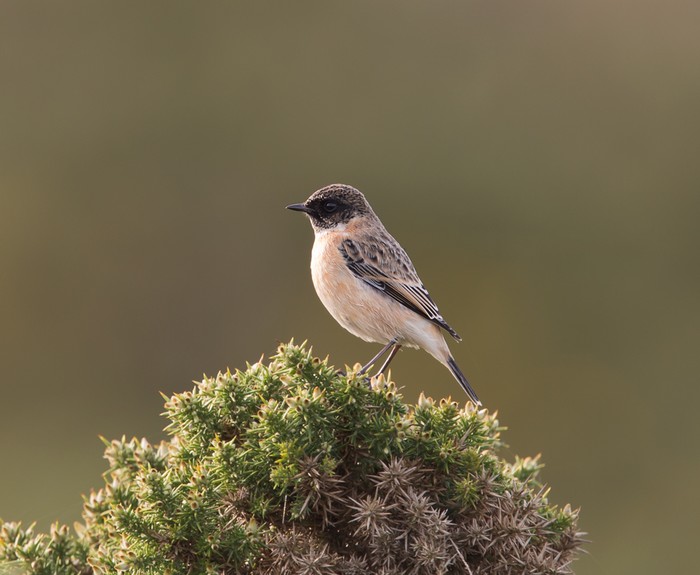 The second Siberian Stonechat of the week was found in Hampshire, at Hook-with-Warsash LNR and follows on from last October's 11-day stayer at nearby Ticthfield Haven.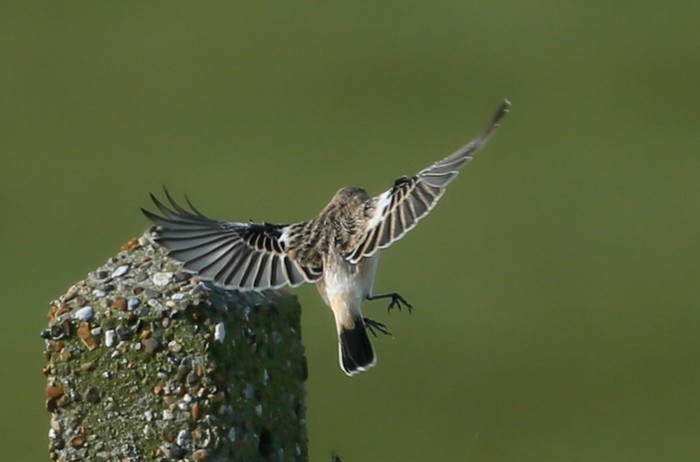 A Bluethroat was reported from a beet field at Happisburgh (Norfolk) on 24th and two (including a male) were noted for much of 25th at Beachy Head (East Sussex). There were also three new (getting late) Red-breasted Flycatchers noted too; on 21st, one was found on Hook Head (Co. Wexford); on 25th, a new arrival made it to Felixstowe Ferry (Suffolk) and Ireland's second of the week appeared on Cape Clear (Co. Cork) on 27th. Last week's only Short-toed Lark was this week's only Short-toed Lark, still on the airfield at St. Mary's (Scilly) until 26th.
Talking of Short-toed things, "possibles" and "probables" generally never garner attention here, but not ought to be made of the probable Short-toed Treecreeper in the trapping area at Beachy Head (East Sussex) on 27th - a potential 1st record in waiting for the county.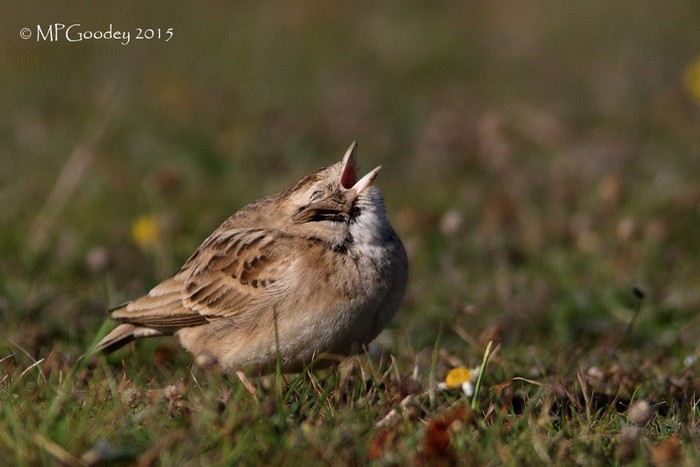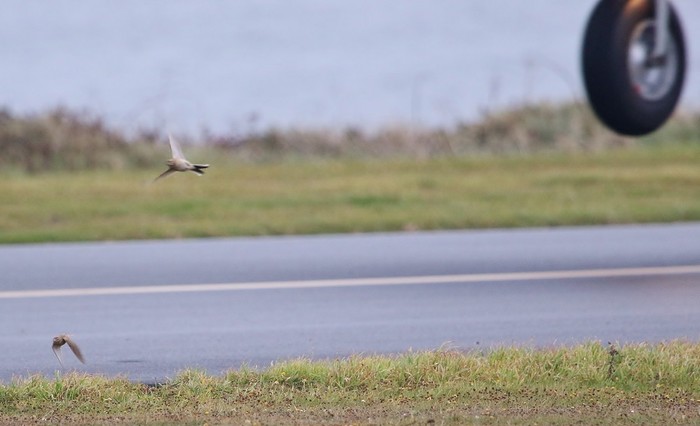 Bits & Bobs & Buntings…
Scilly also hosted the week's only Common Rosefinch, one remaining on St. Martin's to 22nd, while two flyover Serins headed south over Gibraltar Point NNR in half an hour on 23rd, with another reported in fields at Kelling (Norfolk) on 27th. The week's only Wryneck was noted at Calshot (Hampshire) on 25th and Cork's Mizen Head was home to the sole Red-backed Shrike, seen on 22nd.
At least three Rose-coloured Starlings were watched in and around the western and southern tips of Cornwall this week; single juveniles were at Porthgwarra and Land's End from 21st (the latter on to 27th) with the adult on the Lizard to 22nd. The fourth and final one of the week remained at East Mersea (Essex) to 25th.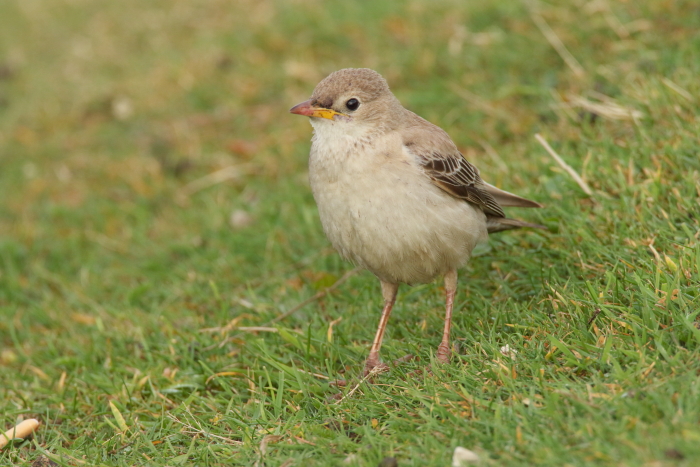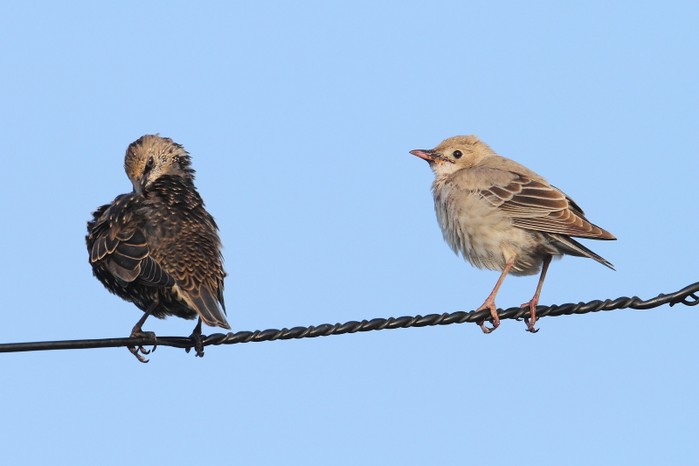 New was the Ortolan Bunting on St. Martin's (Scilly) from 21st while last week's bird on Fair Isle remained to 27th. The latter island saw a new Little Bunting arrive on 25th with another Scottish island arrival appeared on Barra on 23rd. New on the east coast on the review's final day, a single bird at Donna Nook (Lincolnshire), the second there in three weeks, with the same date seeing one drop on to Bryher. A less fortunate Scilly bird was the dead Little Bunting found at Porthloo, St. Mary's earlier in the week.
The Choking Angels…
After such a fine arrival last week, any drop in numbers of Great Grey Shrikes (from those impressive figures nudging the 130+ mark) would seem a little disappointing but a very respectable 59 or more were logged across the week as birds filtered to the south and west after their influx across the North Sea coasts seven days ago.
Numbers in Norfolk feel by over half, 18 or so recorded through the past seven days, including two still at Strumpshaw Fen RSPB on 23rd and two at Horsey on 25th). Next door in neighbouring Suffolk, numbers dropped from 19 last week to six this week.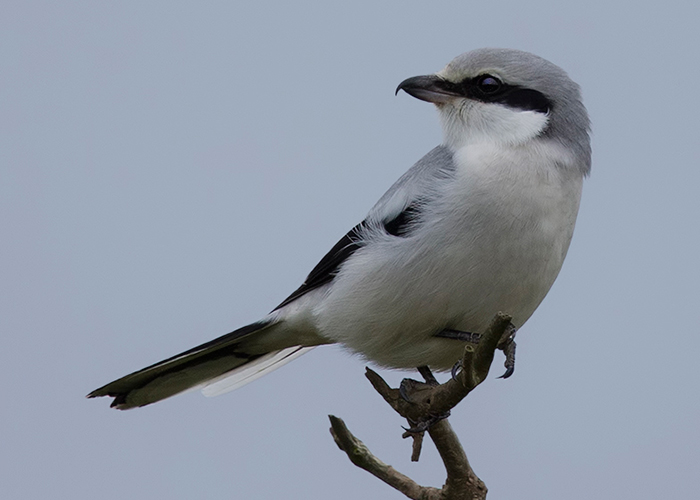 Great Grey Shrikes were noted in decent number across southeast England; at least 29 seen in nine counties through the past few days with six in Hampshire (up to four around the New Forest) and six in West Sussex too with a further half dozen in Kent, three appeared in Berkshire with one in Oxfordshire. At the traditional wintering spot of Thursley Common (Surrey), two birds were seen from 22nd-25th.
Six birds were recorded around the Midlands, including two in Derbyshire while three live and one dead bird were in East Yorkshire (a deceased bird and a more lively one found at Kilnsea on 21st and 22nd). Wales managed three (at Porthmadog on 22nd, Fenn Moss through to 25th at least and at Penybont on 27th) while Scotland saw two birds Great Greys recorded - still at Dalmally (Argyll & Bute) on 23rd and in Dumfries & Galloway, at Langholm on 22nd-25th.
The final birds of the week were found in the far southwest, all in Devon - at Dawlish Warren NNR on 23rd-24th and on Dartmoor, at Haytor Vale and on the south coast, near Pig's Nose Valley, Prawle, both on 25th.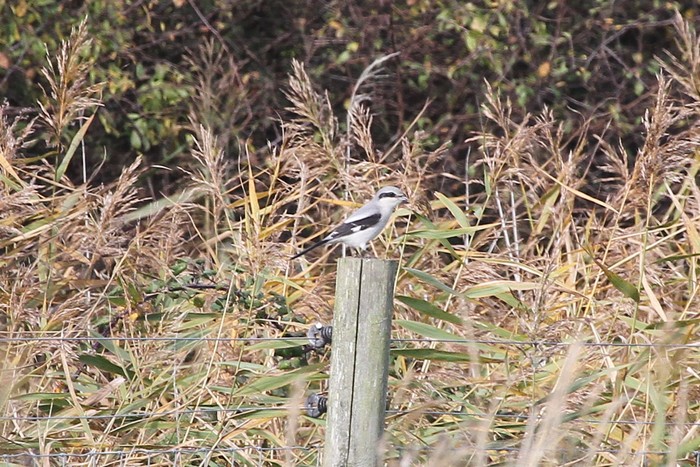 If that projected forecast mentioned at the head of the review is right (and much can change with wibbly-wobbly lows from the Atlantic - as it seems to have done…) then the early days of the new review period could mean North American vagrants are almost all we can be hoping for.
Despite the clock ticking towards November with every second tock-ing by, the lateness of the date (we're still in October though…) in no way precludes some stunning overshoots from making landfall here - and it seems as though anywhere from Scilly to Mayo, maybe even as far north as the Outer Hebrides, birders there could be gearing up for getting their best "spotting" specs on before November comes along.
Nine species of Nearctic "near-passerines" and passerines have appeared on previous October 28th's - including Mark Andrews' Scilly Hermit Thrush on Peninnis Head (just the 2nd for Britain) - with a horrid dip following the next day - and, more recently, the Rhum Mourning Dove that spent a week on the island from 28/10 in 2013. Pop in the brilliant Ballyvaughan Belted Kingfisher, also found on October 28th 1984, and it's a decent start…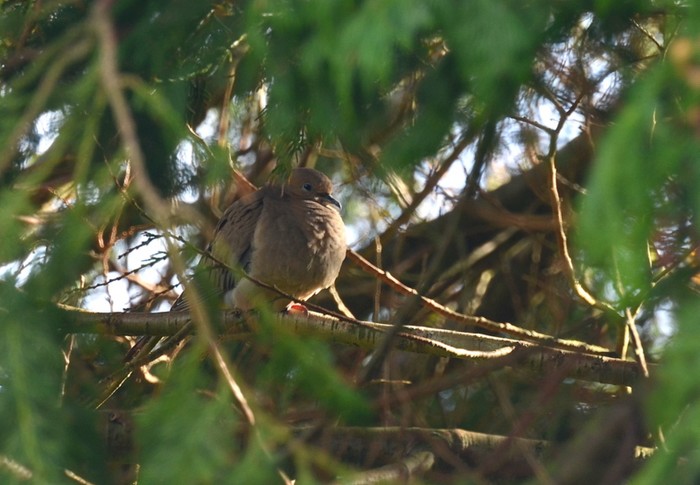 The second Mourning Dove of the period that lies ahead was found on North Uist on October 29th 2007 and the 11th Hermit Thrush was discovered in Porthgwarra in 2013. The 29th is a decent day to search out a Grey-cheeked Thrush too - four noted on the date so far.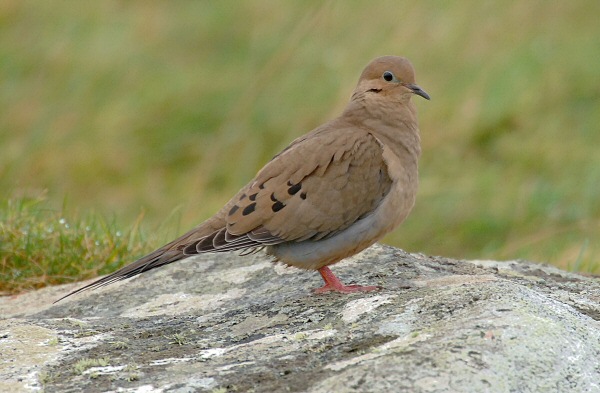 As October's tail begins to wag ever closer to November, birders in previous years have fared well on 30th for American cuckoos - there've been two Black-billeds (in 1965 and 1982) and four Yellow-billeds (most recently in 1994), while it is also a decent day to look up too - four different Chimney Swift records have been recorded on October 30th in past times.
The third Mourning Dove of the seven day period ahead was found on the Calf of Man as a somewhat sickly beast on October 31st 1989 while three end-of-the-month Myrtle Warblers have been located (in Clare, at Loop Head in 1986; off the Pembrokeshire coast, on Ramsey Island in 1994 and at Evie, on Mainland Orkney in 2003).
Will things have eased off as the winds lessen as November mooches in? Who knows. But it does feel as though west may still be best…the 1st of the month's main Nearctic prize is certainly the American Redstart on Islay in 1982 while late Bobolink and White-throated Sparrow have also been found (while its still fine for Chimney Swift and Buff-bellied Pipit too).
Mourning Dove #4 for October 28th-November 3rd was found five days after the Hebs bird in 2007 out on Inishbofin, off the coast of Galway on November 2nd (strike another awesome find down to the legendary Anthony McGeehan) while 02/11/82 registered a moribund Northern Parula at the unlikely location of the Wigan Infirmary - my how they've eased up of late, only two in the last two decades, the most recent coming five years ago on Tiree.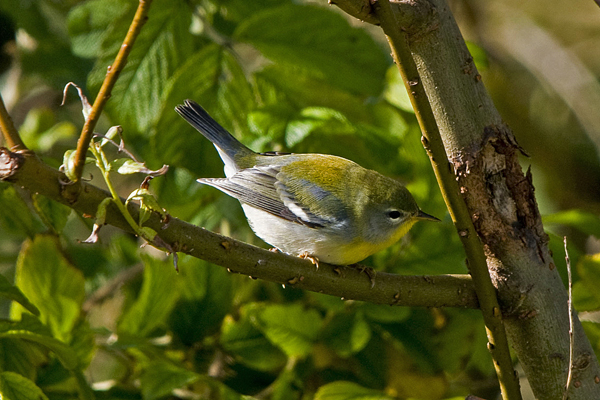 The halcyon days of the Northern Parula are, in retrospect, a long way away now - the amazing run of records in the 1980's where, with a bit of luck, here and there, you could have seen eight in the southwest of England without too much effort seems more striking as every year passes (and Ireland landed two more in the same decade).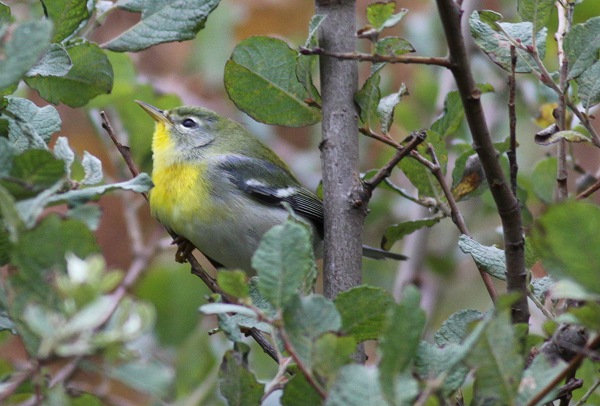 By the 3rd of November, American passerines have eased off in the past, a single Red-eyed Vireo in southern Cornwall, at Loe Pool in 1998 and the 2nd British Yellow Warbler, found on the edge of Lerwick in 1990 are the only NA passerines on offer, but a mainland one of the latter, lurking a nice Cornish valley perhaps, would go down oh, so well…
Focus of attention early on then? Maybe Scillies and Cornwall, west Wales and the southwest of Ireland, right up to Mayo. After that, perhaps the Hebs will do it again.
The (new!!!) 1,2,3 of favoured Nearctic species to muse upon?
#1 Myrtle Warbler
#2 Killdeer
#3 American Robin
…all that said, looking out the window on a warmish late October day with a southeast to southerly wind blowing and an updated synoptic chart in front of me, the vibe is switching from west to somewhere altogether different; the trio below seem to perhaps be much more along the lines of where we could be heading…
#1 Pallid Swift
#2 Desert Wheatear
#3 Steppe Grey Shrike
Bases covered, one way or t'other…
Mark Golley
28 Oct 2015

Please note: we put a lot of time and effort into sourcing and and producing the images, videos and graphics for each roundup. Some of you (probably Apple users) may notice some photos etc. that appear to have incorrect captions. Please try refreshing the page as they are correcty captioned. If after a refresh they are still showing the incorrect captions then please email us

Thanks to all of this week's contributors for their photos and videos.
Chris Bromley, Stuart Piner, Alan Tate / AA Bird Pix, Chris Batty, Martin Goodey, Brian McCloskey, Zac Hinchcliffe, Philip Parsons, Dave Suddaby, Eddie Maguire, John Kemp, Western Isles Wildlife, Paul Rowe, Liam Reid, Mark Hope, Paul Whiteman, Paul Kelly / Irish Bird Images, Mike Tew, Steve Percival, Steve Gantlett / Birding World, Michael O'Clery, Kerry Birding, John Pringle, Mark Hipkin, Dave Helliar, Toby Green, David Stone, Bart Ives, Geoffrey Alan Clewes, Reston Kilgour, Neil Hughes, Simon Patient, Sean Nixon, Steve Stansfield / Bardsey Bird Observatory, Dave Tucker, David Stone, Martin Cade / Portland Bird Observatory, Andrew Jordan, Graham Clarke, Lewis Thomson, Steve Ashton, Shaun Ferguson, Christopher Teague, Michael Malpass, Richard Bonser, Phil Woollen.