Weekly round-up: 16 - 22 Sep 2015
The week at a glance
Kent lands the first Acadian Flycatcher for Britain, only the second for the Western Palearctic
Ireland's first Hudsonian Godwit, the returning male, still on Aran Islands at the start of the week
Shetland snags a surprising adult male Collared Flycatcher at the southern tip of Mainland…
…the Eastern Olivaceous Warbler stays somewhat elusive on Whalsay…
…and the autumn's first Pechora Pipit makes it to the Shetland Mainland…
…while at least two Pallid Harrier remain through the weekend, on Fair Isle and Unst, with a new youngster on Mainland
Hampshire hosts a brief Little Swift at the start of the week
It's now very, very late and bed is calling…so let's whizz, ever so quickly, through the weather…
A mixed bag (once again) brought sunshine and showers, almost in equal measure for many this week - those good ole Atlantic fronts scooting deep down in to England, dumping a lot of rain and brisk southwest winds across much of the country as the weekend came and went, with another couple of bursts following on during both Monday and Tuesday.
There'd been some warming sunshine before all that for some, while further north, the winds began pulling in from the much-hoped for east and southeast, looping over the top of the deepening low that headed towards the continent at the end of the weekend. The inevitable set of impressive birds duly followed, right on cue.
There's only one thing to talk about though, so enough of the cod-met speak. There's a 1st to get stuck in to.
Acadian Flycatcher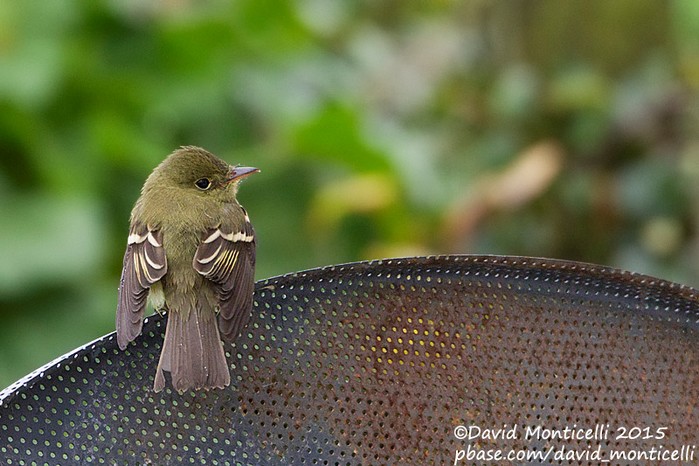 Who'd have thought, as the morning of 22nd began that, by dark, many 100's of Britain's birders would be travelling home to their houses with a new bird under the belt…a bird that was brand, spanking new to Britain (and virtually new to the Western Palearctic too).
But, thanks to Kent birder Martin Casemore, that's precisely what happened in yet another remarkable day in the birding calendar.
It seems as though Martin had wandered down to Dungeness for a spot of seawatching but, instead of some curio in some pelagic guise or other, there on the beach, around the boats and in the spartan driftwood and deadwood was, remarkably, incredibly, sensationally, an Empidonax flycatcher…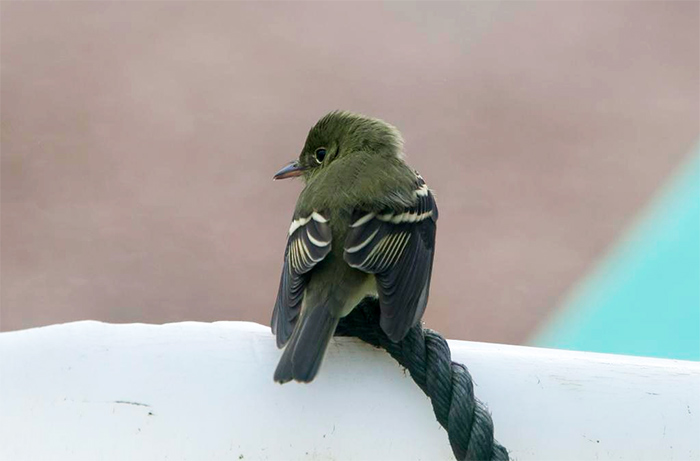 You can barely imagine what must have raced through Martin's mind, other than "feck me, an American flycatcher on the beach at Dunge…what are the chances of that happening?" (and that would have been just for starters I guess). Whatever his scrambled thought processes were upon clapping eyes on such an astounding bird, snaps were snapped (he's no slouch with a lens, check out his super PloddingBirder blog for starters) and the nearby Observatory staff quickly summoned.
Just after 10am the mayhem began around the country as the Mega Alert's clarion call was digested (along with coffee and round-up writing staple of toast and Marmite) and, for anyone with half a mind to venture towards the Dartford Crossing, the first thing was whether to stick or twist…
Everyone knows we've been treated to two remarkable Empidonax flycatchers in the past seven years and, after a slight struggle for both birds, the identity was settled upon, with a happy common consensus - they were indeed both Alder Flycatchers.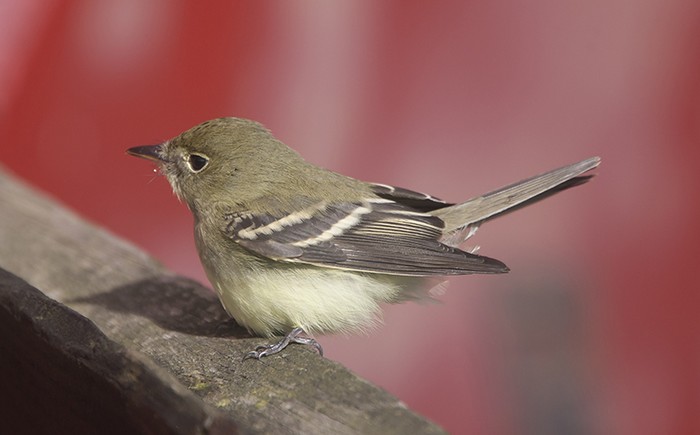 Many 100's of birders had seen one or both individuals - the original Nanjizal bird of October 9th-10th 2008 because it was a 1st and the Blakeney Point bird of September 25th-27th 2010 primarily because it was muted as a couple of different species early doors by some observers before the "Traill's" type was decided upon and Alder became the obvious candidate.
If you'd seen a British Alder Flycatcher the only decision on 22nd was whether to chance the birding arm on the Dungeness bird not being a third one - everyone knew this was definitely an Empid before setting foot inside the car - but was there a gamble to be had with this one...there were two other Empidonax flycatchers on the Western Palearctic list after all…
Engines roared, belts were buckled and the trek to Kent began. The bird was still on the beach for around an hour after the Mega Alert was sounded but as midday approached the news was less encouraging; there'd been no sign since heavy rain had set in around 1115 or so. The bird was lost. In every sense…
As the first images began to circulate online, the opinion was initially in the "Traill's" camp (some suggested it was certainly in the Alder ball park) but as more images surfaced, the need to get to Dungeness was heightening immeasurably…this really didn't look like either a Willow or Alder Flycatcher. But it was still missing.
There must have been an almighty audible collective sigh of relief across the motorway network after a kind soul expanded the soggy search to the gardens behind the fishing boats and found the bird ensconced in the garden of local resident Dave Bunney (who played host to the recent Short-toed Treecreeper and also a Slate-coloured Junco not so long ago.
The South View garden suddenly became the literal focus of attention and remained so throughout the rest of the (at times) extremely cool and very damp afternoon and early evening - only the final 90 minutes of the day seeing a return to rather more benign conditions.
Patience served all comers well - Martin Casemore's brilliant find performing extremely well from time to time as it sheltered on the leeward side of the chalet, scoffing spiders and bugs quite happily and finding any number of unusual perches around the small garden.
But what was it? What were we all looking at?
Once it become clear that this wasn't an Alder-type, the choice fell between two species - Yellow-bellied Flycatcher and Acadian Flycatcher.
As with many other members of the Empidonax group separation needs careful unpicking of the feature son show; fortunately, the Dungeness bird showed so well that a huge amount of detail could be seen in the field (from rictal bristles to the crucial extensive primary projection and triple primary emarginations). Although it is a dangerous game putting a name to these things without the aid of a net and ruler, this was shaping up (very nicely) to be Britain's first and the Western Palearctic's second Acadian Flycatcher.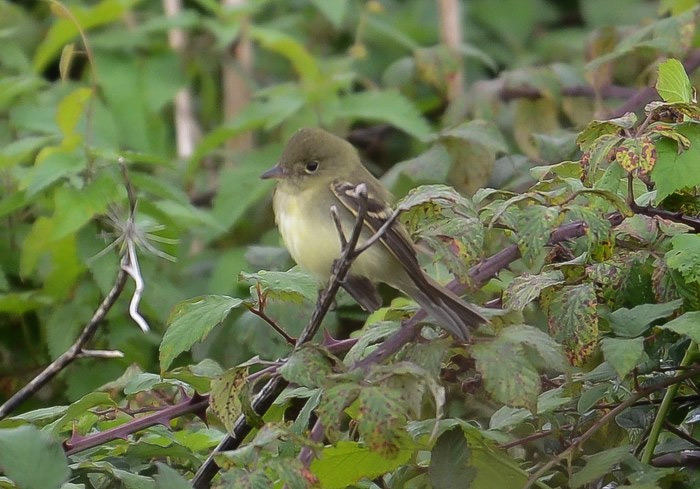 Piecing together the bits of the jigsaw, that extensive primary projection put the Dungeness bird well outside of the range for the "Traill's"-types and firmly in Acadian territory (it is also seemingly much longer than you'd see on a Yellow-bellied Flycatcher too).
Other factors pointing to this bird indeed being an Acadian Flycatcher include the rather fat-based, bulbous and almost down-curved looking bill (courtesy of the upper mandible); dusky tipped lower mandible; sloping forehead merging to peaked crown; the nice greeny upperparts; the neat eyering; the yellow washed wingbars; the non-bright yellowish underparts; striking (in profile) longish tailed look; the bluey-grey legs.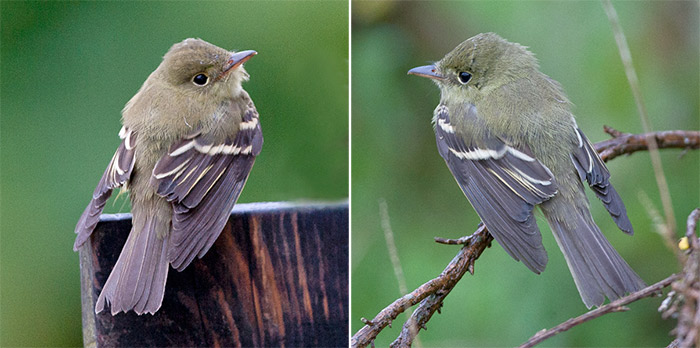 A classic "suite of characters" individual that, once matched together, all showed this to be slap-bang in the middle of Acadian Flycatcher territory.
Gobsmackingly outrageous…
The sole record of Acadian Flycatcher was a bird found freshly dead on Iceland, at Selfoss in early November 1967. More recently, Icelandic birders had the still mind-boggling double dose of Western Palearctic Empid firsts within just a few days - a Least Flycatcher found there on Ocotber 6th 2003, followed quickly afterwards, on October 10th by an Alder Flycatcher.
The big question now is not only whether the bird will be present in the morning (it headed off to roost, almost as though it knew where it wanted to go) but also just what the sample of poo collected from the beach will reveal in the labs of the University of Aberdeen…surely its not going to raise too many questions is it?
All will be revealed well before the next round-up appears...and by then I may have stopped listening to the only song I could think of hitting as all the above was being typed - the intensely serene and beautiful "Acadian Driftwood" by The Band…there's nothing better at 2am believe me…
Hudsonian Godwit
Although there may a couple of brand new oddments that ought to steal what's left over from the residual thunder of the Kentish flycatcher in the Rares Top Trumps game, I'm going (a second) national 1st over good, solid, honest fresh arrivals…
…and that means heading to the ever-magnificent coast of County Galway where last week's last gasp mega - the returning male Hudsonian Godwit - remained on the flooded turlough at Kilmurvy, on Inishmore for the first few morning hours of 16th, almost long enough for those Irish birders (and others from further afield too) who couldn't get there on Day 1 to mark off this ultra-rare on the favoured lists.
It all went a bit haywire before morning coffee though, a local Peregrine doing its best to scare the living bejesus out of the errant wanderer - indeed it was mission accomplished in many ways…not one more sniff of him by teatime. Was that the end of the matter?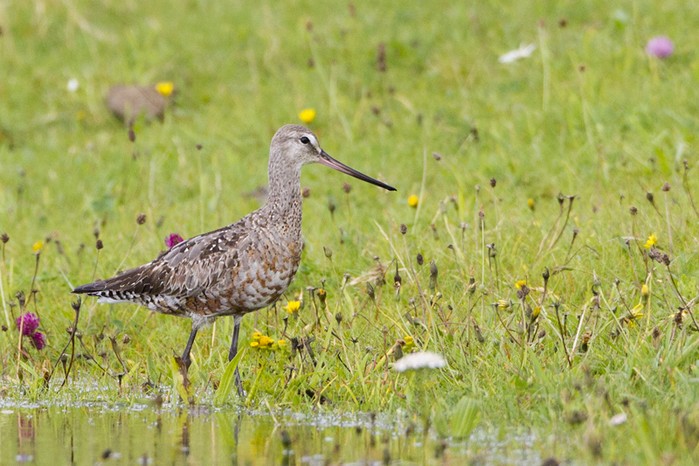 No, not entirely as next morning, the distant traveller was back in the very same place on the turlough again and here it remained for much of the rest of 17th, present and showing well through until the evening. Then, by next morning, there was nothing, he was on his way to who knows where.
When this Hudsonian Godwit (it is surely one-in-the-same right?) appeared in the same county a couple of months ago, I waffled on about "lone wolf" and there being "two in the system". Well, the first one has come back to prove himself and show that yes, at least one remains in the system, despite his lack of carrier species. Where it goes next, where it winters and where it may be picked up between now and next spring are guessing games anyone can have a go at.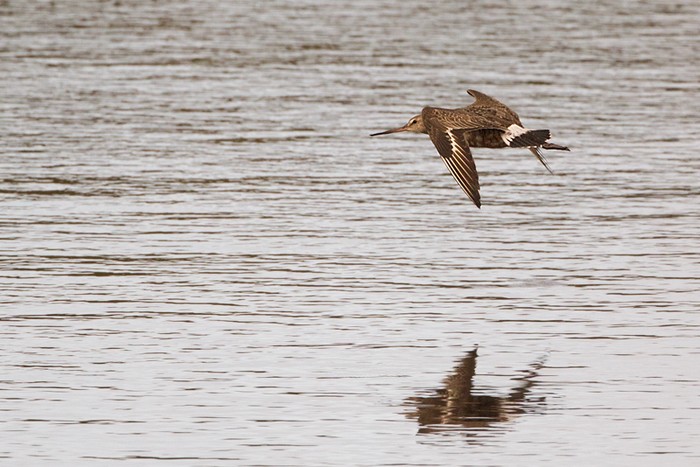 That Somerset female remains out there somewhere and I reckon the odds are high that a diligent godwiteer will pick her up in with a flock of islandicas somewhere in the next six months.
For those of a love of shorebirds, of really rare shorebirds, this remains a wonderful prospect for the days, weeks and months ahead.
Shetland starts to dominate - Collared Flycatcher
Shetland is famous for surprises at this time of year and, despite not being the rarest of rares through the past seven days, the appearance of a superb tri-coloured adult male Collared Flycatcher by the lighthouse at Sumburgh Head at the foot of south Mainland at lunchtime on 21st was perhaps the week's most striking new arrival (along with the reports of two very early Oenanthes which will follow along somewhere in a few 1000 words time).
Hugh Harrop's (and others) glorious array of images portray a plumage that no one has seen in the field here in Britain & Ireland…what a storming thing…subtle though somewhat dashing and really rare looking, all in one go. That's a killer combo in anyone's books…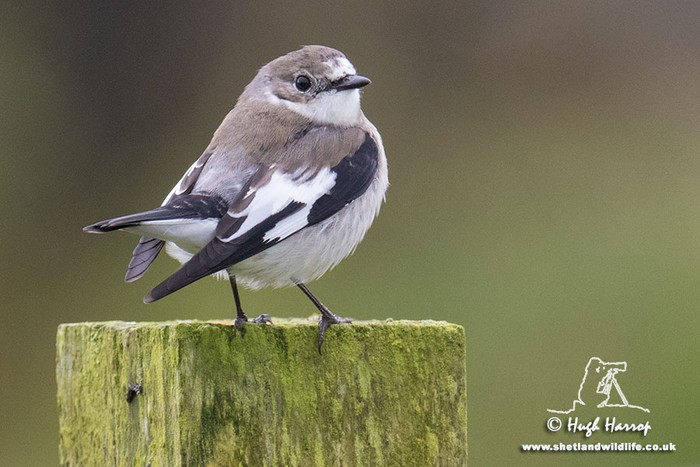 Collared Flycatcher records have certainly increased across the past decade - from a grand total of 47 birds in all (including last year's spring males in Borders, on Tiree and Fair Isle along with this week's Sumburgh newbie), the past 10 years has accounted for 20 occurrences, with Shetland managing seven of them.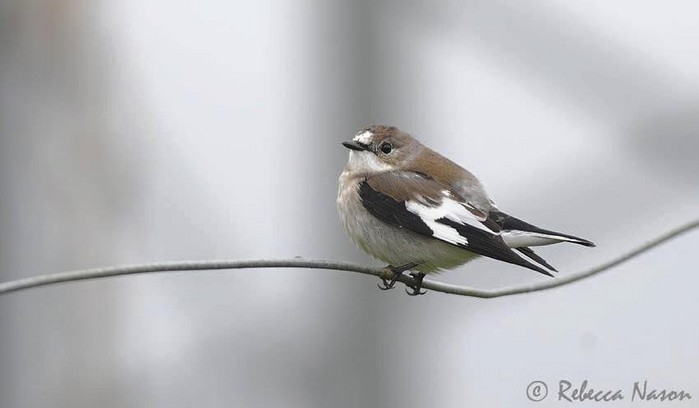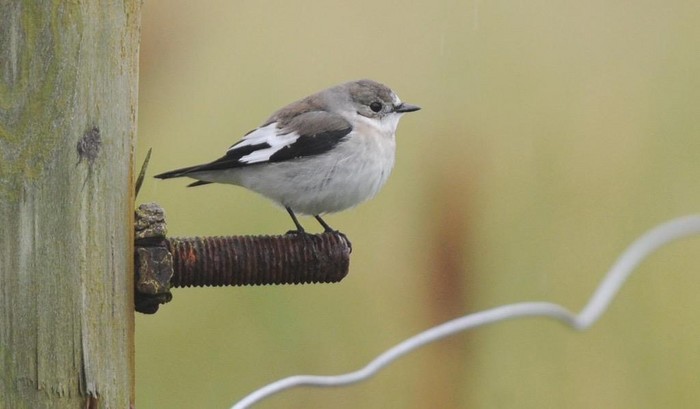 …and of that overall score of 47, the famed set of Northern Isles has managed just over a third in all, with 17 on the Shetland books now.
This is the first September discovery anywhere of a British Collared Flycatcher - a controversial 1w was at Spurn from August 30th-September 1st 2010 (photographed with confirmatory DNA analysis) while October also has one record to date, a trapped bird of the year appearing on Fair Isle on October 8th 1986.
April has managed four (all since 1999), May is way out in front with 31 while June boasts a neat and tidy nine.
Eastern Olivaceous Warbler
My Whalsay-based colleague and his cohorts really did the business last week with their tremendous unearthing of an Eastern Olivaceous Warbler on their home turf and the said sizeably well-endowed (in the pickle-stabber department) stray remained around the island through until 17th - remaining rather elusive throughout.
This neat and tidy five day stay is pretty much an average duration but it remains interesting to note that of the nine occurrences since 2008, Shetland has bagged six of them (with one each for Dorset, East Yorkshire and Fife). The famous archipelago now boasts eight records in all - the two prior to 2008 coming in August 2002 (on the Mainland) and in June 1995 (that 1st for the islands found on Fair Isle).
Pechora Pipit & Red-flanked Bluetail
There was little doubting that after the fun of the Flycatcher and attendant wing-barred warblers that the same weather system would start to draw in rarer birds from further afield by the end of 22nd.
Sure enough, a couple of texts between Norfolk birding friends playfully predicted Pechora Pipit and Red-flanked Bluetail as the two species to be searching for (admittedly in the Cley Square and not Shetland) but the odds were stacked in favour of those two rocking up somewhere on the review's last day and the Northern Isles were always the place they'd be.
First to drop - Pechora Pipit - one found on Mainland, at Melby (at the far western tip of the big island). The utter dominance of Shetland where this pyjama-clad beauty has been well-documented here in the past (and it's five past midnight and I've not even got near the Kent Empid yet…) so I'll keep it short and sweet. By the end of 2013, 102 PP's had been accepted by the BBRC and a whopping 85 of those were Shetland birds. You get the picture…
Travelling back from Kent, it was actually a surprise that there hadn't been a Bluetail anywhere on Shetland by dark - oh ye of little faith - as after dark, news emerged that the first Red-flanked Bluetail of 2015 had made landfall on Whalsay. By the end of 2013, 32 had found their way to Shetland, with a bunch last year pushing that total closer to the 40 mark. This one is the first of many, hopefully…
Pallid Harrier
Before departing those fabled isles, we'll mop up the week's Pallid Harriers - it was "as you were" really - the juvenile lingered on Fair Isle through until 21st at least, while on Unst at least one bird of the year was noted at Northdale to 18th and then near Burrafirth through to 22nd as well. The third juvenile of the week headed in-off and over Melby, also on 22nd and was seen half an hour later at the Dale of Walls.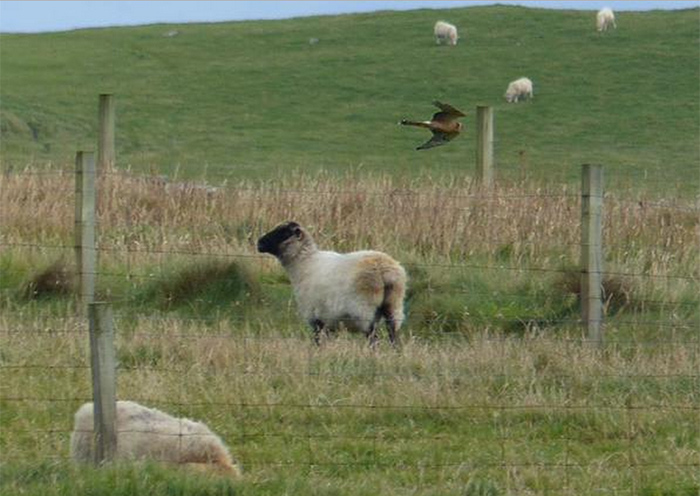 "Old Hat Rare" it may be, but that frisson of excitement that they generate for the purist remains high in the extreme…
Little Swift
Finally, its down to the south coast of England where news of a probable (though brief) Little Swift passing through Titchfield Haven NNR in Hampshire on the afternoon of 17th went, pretty much under the radar - no further news meant that almost as quickly as interest surged, interest soon waned like a harvest moon.
By lunchtime on 18th news popped up that the bird had been seen again that morning, by three observers for some 30 seconds, again over the same reserve amongst a group of hirundines, only to be lost again, this time for good.
Whilst not retaining the monster status it once did, this species retains its genuinely rare feel, just 25 accepted records to date, the most recent of which was the well-twitched juvenile on Merseyside in June 2012.
This week's individual and that New Brighton bird are two of only four that have appeared here in the last decade (the others reaching Spurn and Old Moor in 2008 and Cromer in 2005).
Seven Little Swifts were seen in the first four years of the 2000's - including Hampshire's one and only record to date, at Beaulieu Road, in the New Forest on June 4th 2000.
If accepted, this week's Titchfield bird will become the first Little Swift to be seen in Britain or Ireland in September - to date the break down is as follows:-
April - 1 record
May - 10 records
June - 9 records
July - 1 record
August - 1 record
November - 3 records
A visiting birder seawatching off the tip of Portland Bill on the morning of 21st scored a close inshore Great Shearwater which, if submitted and accepted by the county's records committee could be the 1st in Dorset since one was reported from the same spot almost three years ago, on September 30th 2012. The week's only firm reports of Cory's Shearwater came courtesy of a single passing north past Scarborough (North Yorkshire) on 17th and St. Ives Island (Cornwall) on 22nd.
The week's two three figure hauls of Balearic Shearwaters came from Porthgwarra (Cornwall) where 131 were counted passing Gwennap Head on 17th and Pendeen, where 125 fly by on 22nd while Devon and Dorset registered eight each. Birders in Kent managed 12 through the week, while a dozen or so birds were noted off five east coast counties - from Norfolk to Northumberland.
Just under 40 birds were recorded around the Welsh coast this week, at least 28 of them logged off Pembrokeshire's Strumble Head over the weekend while Bardsey Island (Gwynedd) managed. Three Balearics were noted in Highland and Ireland managed a miserly four in three counties.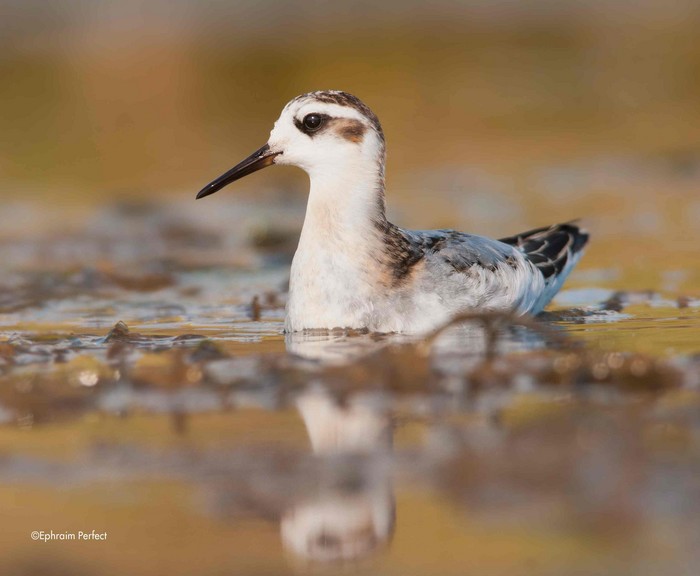 Bardsey birders also recorded two of the week's 11 Long-tailed Skuas on 20th; further duos this week were seen at Kilcummin Head (Co. Mayo) on 17th and in the waters off Highland, The Minch, off Rubha Reidh on the same day. Not too far away on the same day was a third and fourth for (loosely) the same area - seen east of the Shiant Islands and to the northeast of Staffin Bay as well. Further records came from Flamborough Head (East Yorkshire) on 16th, Downpatrick Head (Co. Mayo) on 18th and Filey Brigg (North Yorkshire), Pendeen Watch (Cornwall) and Strumble Head (Pembrokeshire) on 22nd.
Pomarine Skuas couldn't even nudge in to the 40's this week; 30+ noted in all, spread from threes each for Lenadoon (Co. Mayo) and Bardsey (twice in the week) to singles from Cornwall to Kent around the coast to Suffolk and Norfolk and up in to Durham, Angus and Shetland.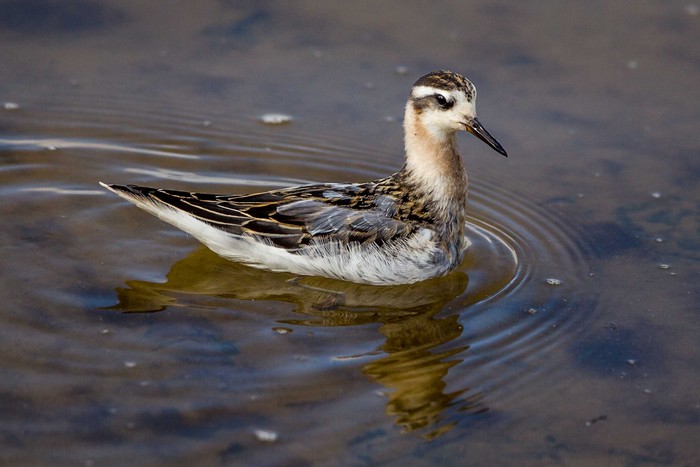 Anywhere between three and seven Sabine's Gulls were seen from the whale cruising vessel in and around The Minch, Shiant Islands and Staffin Bay on 17th (up to five adults in the mix). Three further singles were noted too; one flew past Downpatrick Head on 18th and on 20th an adult was off Flamborough Head and another was logged from Warden Point (Kent). The last bird this week was off Strumble Head on 22nd.
The only records of Leach's Storm-petrels couldn't have been much further apart if they tried - one was noted near Scilly's Wolf Rock on 18th and the following day saw one appear in the Loch of Voe on the Shetland Mainland.
Inclement weather is always a sure-fire way of seeing a few wayward Grey Phalaropes and some of last week's stragglers were joined by some new windblown birds over the past week.
The 16th began with lingering birds still at Ynysyfro Reservoir (Gwent), Sidlesham Ferry (West Sussex) and Chew Valley Lake (Somerset) while new were singles passing Bridges of Ross (Co. Clare) and on the Hayle Estuary (Cornwall). New on 17th was an inland bird at Burwell Fen (Cambridgeshire) - the second within a year there - and another reappeared at Abbotsbury (Dorset) on the same day. Further along the south coast, on 19th was a bird in East Sussex, at Cuckmere Haven from 19th while a seawatch off Kilcummin Head (Co. Mayo) on 17th produced 18 birds through the day. Two birds were off the ferry from Oban to Tiree on 21st while Pendeen rounds things off with seven passing there on 22nd.
This time last year, a Glossy Ibis was getting stuck in to a third September week in and around the Wat Tyler CP in Essex, where it would remain (albeit rather infrequently at times) through until November, reappearing once in February and again at the end of March. This week, what I'd wager was the same bird had returned again, seen at WTCP from 17th-19th and 22nd (and also at Vange Marshes on 21st).
Another old favourite was still hanging out at Tramore Backstrand (Co. Waterford) on 20th while new on 21st was one that was seen firstly over St. Mary's and then, 30 minutes later, in flight over Tresco; it was seen again the following day (on Tresco and Bryher) and is the first since on the islands in some 16 months or so, when one was noted on Simpson's Field, Tresco.
Last week's photographed juvenile Purple Heron reappeared at Slimbridge WWT (Gloucestershire) on 17th and showed from time to time through until the following day. With a rather lengthier stay UTB is the Dungeness Cattle Egret, still around the Boulderwood Farm area until 22nd (and a jolly nice padder it was too, ta very much, with two other egret species in the same field for good measure).
Surrey's third-ever Black Stork was a great find heading over Staines Moor on the afternoon of 18th - the only records to date coming from Pirbright Common on May 2nd 1990 and near East Grinstead (so right on the county border) on June 5th 2008.
Spoonbills flocked themselves silly still in Norfolk and Dorset this week, its surely only a question of time before the wintering numbers in the southwest crack the half century mark (once Norfolk's remaining birds get there, they presumably will).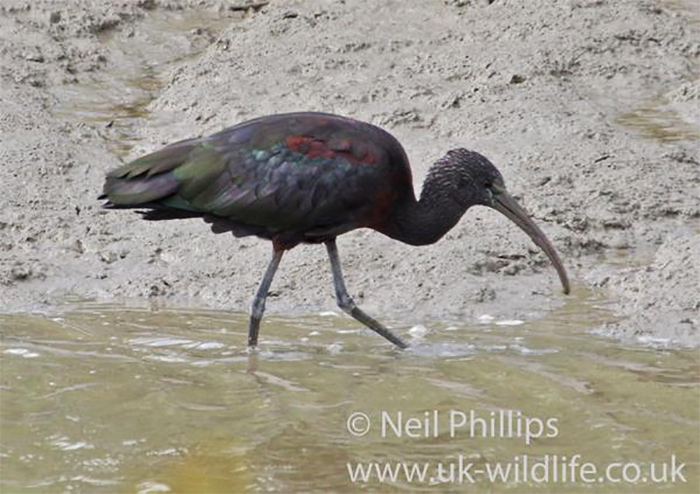 Stiffkey Fen stuck in a count of 24 on 16th (with 17 still there on 20th) while 23 were in Poole Harbour on 20th. Elsewhere in East Anglia, Titchwell hosted half a dozen on 20th, while four further sites along the north coast recorded birds through the week, from Holme to Warham Greens. Suffolk birders noted five Spoonbills still at Hazlewood Marshes SWT to 19th with a trio heading south at Landguard the previous day. Two or three singles were also in Essex; at Hollan Haven CP on 17th-19th, at Abberton Reservoir from 18th-21st and at Old Hall Marshes RSPB on 19th.
Back in the southwest, single Spoonbills were seen in Devon, at Bowling Green Marsh RSPB from 16th-20th and on Isley Marsh RSPB on 17th. Lincolnshire was the only other English county to register birds this week, a couple at Gibraltar Point NNR to 19th while three were at Alkborough Flats on 17th. Ireland held just one, again at Dungarvan (Co. Waterford) on 19th.
The long-staying Common Crane remains in no hurry to head off from Staffordshire's Blithfield Reservoir, on site until 22nd. The only other birds reported this week were three that headed from Laurencekirk (Aberdeenshire) to the Montrose Basin (Angus) during the day on 19th and two at Holkham Park (Norfolk) on 22nd.
Fair Isle pulled in the only Corncrake on 21st and wraps up this particular section…
The first Ring-necked Duck for almost three months was the eclipse drake seen at Mullagh (Co. Derry) on 18th. Somerset's drake Lesser Scaup was seen at Chew Valley Lake on both 17th and 21st.
The two drake American Wigeons from last week remained for a few more days; at Ardnave Loch (Argyll & Bute) throughout the week and at Tacumshin (Co. Wexford) to 20th.
A young drake King Eider heading south past Annagh Head (Co. Mayo) on 20th was a fine record indeed, and the 8th for the county (the most recent prior to this was long-staying female was present at Blacksod Bay from November 2013 to April 2014). In Highland, the eclipse drake was back again off the coast of Nairn on 19th - he was last noted there on July 31st.
The sole Surf Scoter record from the past seven days came from Lothian's Gosford Bay where a drake spent 16th-20th off Ferny Ness.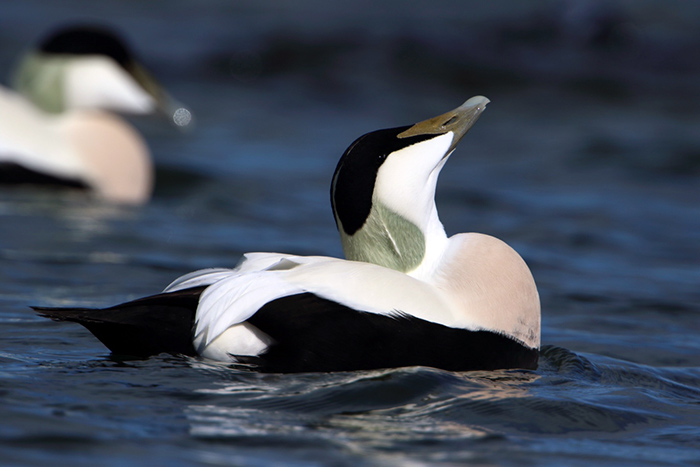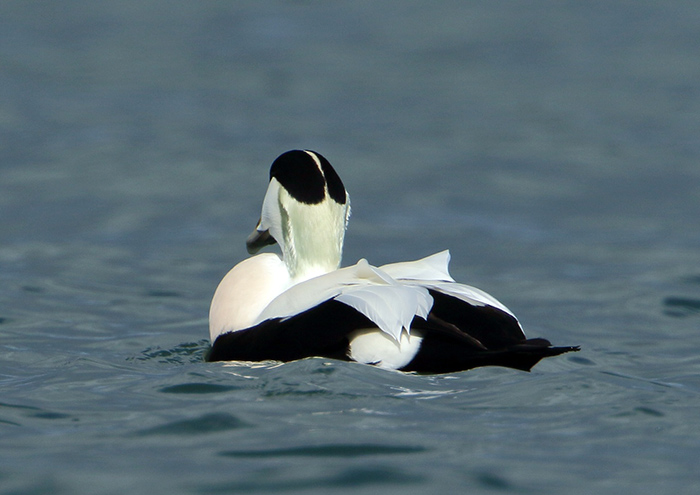 New Nearctic shorebirds continued to drift in across the Atlantic this week and a couple of Wilson's Phalaropes were certainly the pick of the smallish, select bunch. The first was found at Pett Levels (East Sussex) on the afternoon of 19th - the first record in either of the two Sussex counties since June 1991 and the first in the East since a first-winter was seen at Rye Harbour on October 9th 1985 - a cracking local find for sure.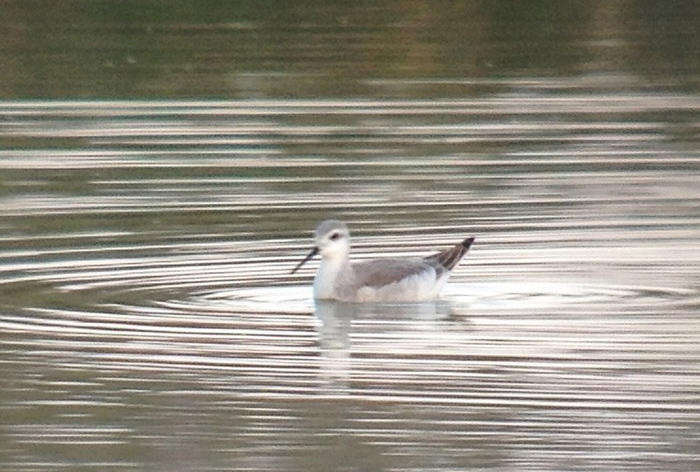 The Pett bird was a one-day wonder and it is entirely feasible that it may even have been the same bird that then appeared at Vange Marsh (Essex) the following day - though it wasn't firmed up until 21st. Same one, different one, it didn't matter as this was another very fine county find, just the 6th for Essex and the first for 14 years (and only the third in the past 20 years). Locals and visitors alike were able to enjoy it through until 22nd.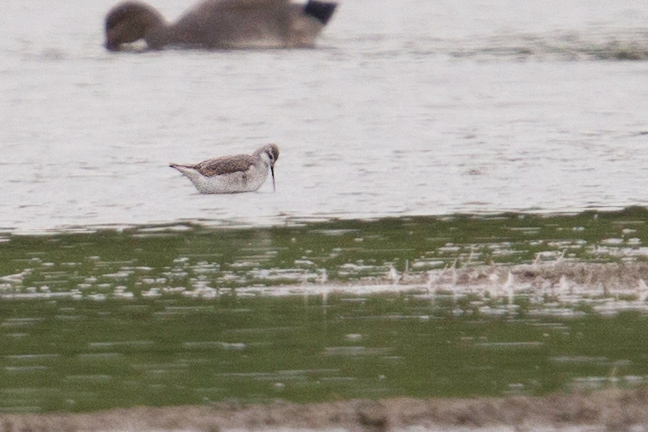 A third super find was the juvenile Long-billed Dowitcher on Skokholm (Pembrokeshire) - discovered on North Pond late in the day on 20th, the bird remained until early the next morning before departing to the east, only to reappear later in the afternoon of the same day. It seemed to have settled down a little more by 22nd, showing well around the water's edge.
It becomes a 1st for the island and only the 3rd record for the west Wales county, both previous records were found on the Gann Estuary, in December 1987 and January 2013.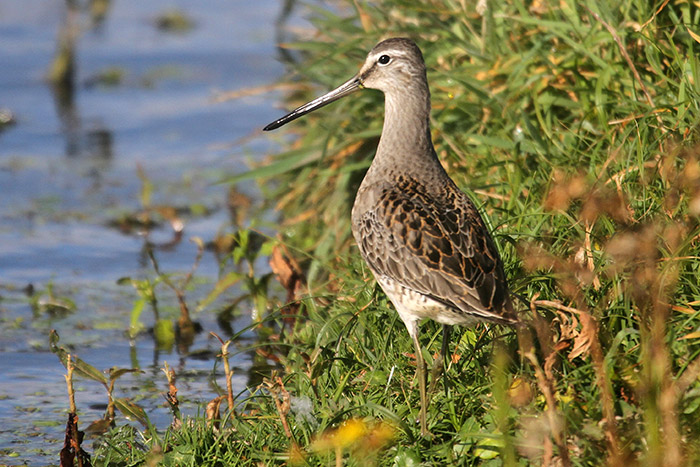 The week's second new juvenile Long-billed Dowitcher was found at Tacumshin (Co. Wexford) on 22nd - the 26th record for the county, a mighty fine total for sure.
Another fresh juvenile from the Nearctic was the Spotted Sandpiper at Stinking Porth, Bryher (Scilly) on 21st - the 29th for the islands but the first since an adult was found on St. Agnes in late October 2010 (and a new bird for the Bryher list to boot).
The week began with the continuing presence of a Buff-breasted Sandpiper at Wexford's wonderful Tacumshin and by 20th, a second had arrived there too - in a rare foray to the tweetisphere, I saw a note from Irish lensman supreme Paul Kelly that mentioned that he'd now seen a mind-boggling 122 BBS's in Ireland now…holy moly…that's an awful lot of them - though Paul's beloved "Tac" is used to a sizeable flock ever once in while. Even so…122…!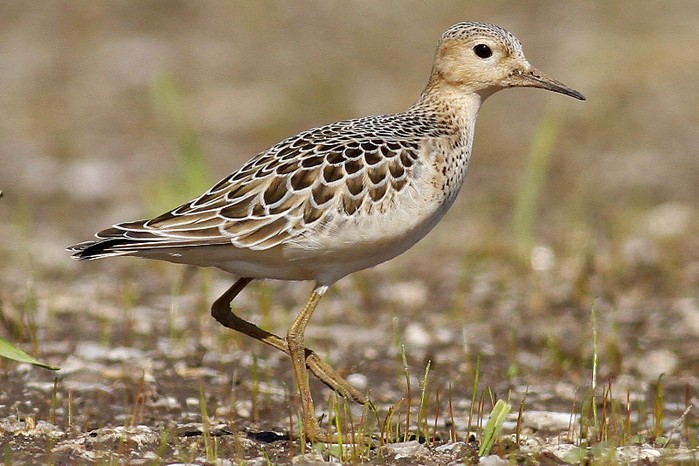 Further new birds were found at White Nothe (Dorset) and on the Lizard, at Windmill Farm NR on the same date, with the same Cornish peninsula seeing one appear on Predannack Airfield on 19th-21st. The 20th brought a showy youngster to the fields south of Whitburn (Co. Durham) and it lingered there until 21st.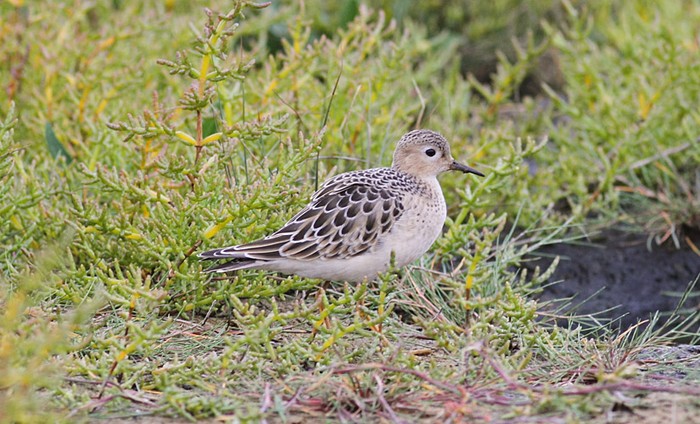 The Whitburn bird is the first Buff-breasted Sandpiper in the county since at least 2011 (when one was reported from the same site on almost the same date - 14/09/11 - while the White Nothe bird is Dorset's first record since August 2012.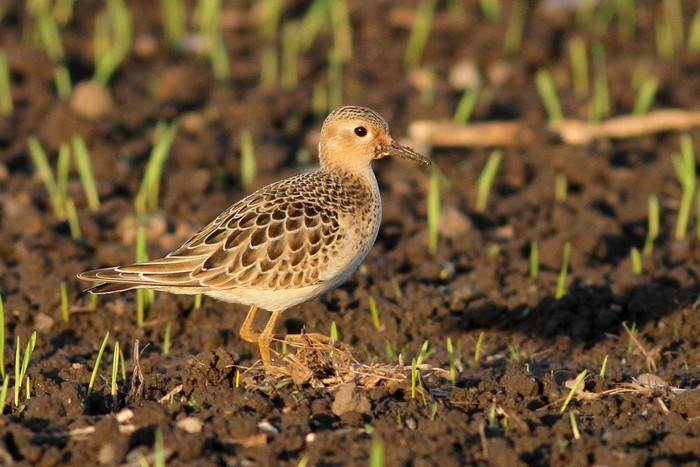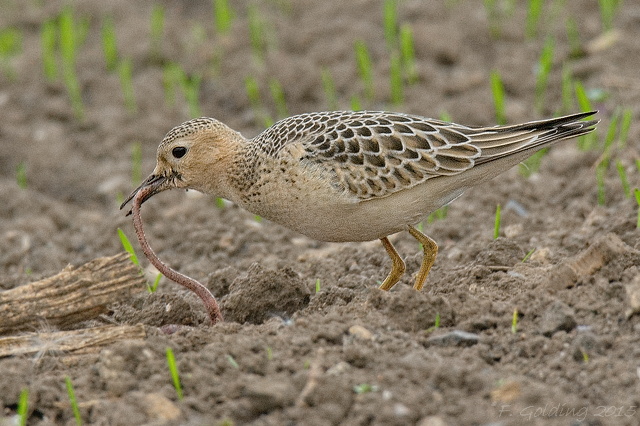 All that westerly weather and mini-rippling fronts swept an impressive seven American Golden Plovers into Ireland through the week; two adults appeared at Loop Head (Co. Clare) on 16th and one flew over Termoncarragh Lake, The Mullet (Co. Mayo) on the same day. New on 17th was a single on Cork's Dursey Island and on 18th an adult was found at Carrahane Strand (Co. Kerry). And from Kerry to Derry next were a juvenile dominica was on Myroe Levels from 19th and it was followed by one at Magilligan (also Derry) on 20th. The first bird to make an autumn appearance in England was found on Tresco on 22nd.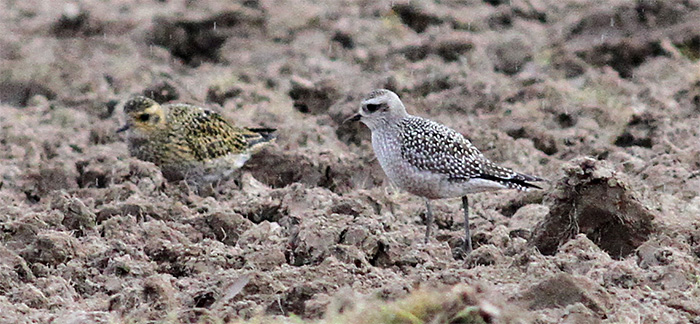 England and Ireland tied 5:5 in the Pectoral Sandpiper stakes - a juvenile lingered at Sidlesham Ferry (West Sussex) until 20th and a new loner was at Seahouses (Northumberland) on 16th. The double on Scilly's Porth Hellick became a trio on 19th and all three lingered to 22nd. Ireland's quintet included two at Slyne Head, Truska (Co. Galway) on 21st with singles over Termoncarragh on 16th and, still in Mayo, on Achill Island on 20th. The final bird of the week was at Lough Beg (Co. Derry) on 21st.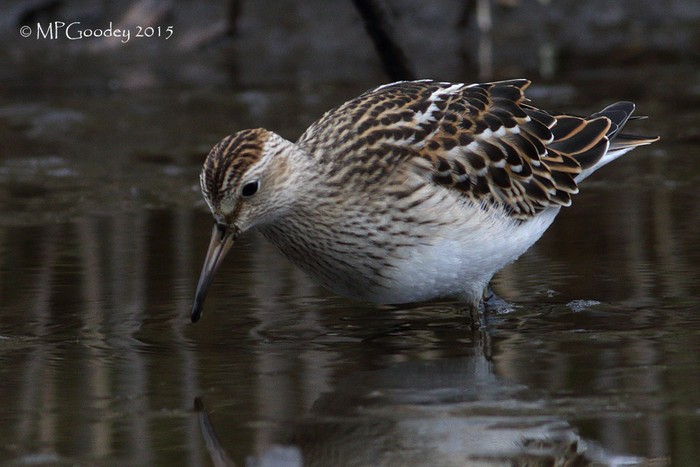 Back on Slyne Head, not faring quite so well as the Pecs was one of two juvenile Dotterel - a local Peregrine enjoying a wee snackette on 21st (the birds had been pretty happy from 18th until that point…). Two more Irish birds were seen from a boat off Ram Head (Co. Waterford) on 16th and a singleton was at Tacumshin on 20th. A duo in Devon spent a short time at East Soar on 19th before heading away north and a threesome was to be had at Sandwich Bay, they headed due south on 17th. Southern islands that yielded single Dotterels were the Isle of Wight, one still on Ventnor Downs to 16th and new on St. Mary's (Scilly) on 21st. The east coast's only bird was seen at Moulton Marsh LWT (Lincolnshire) on 22nd.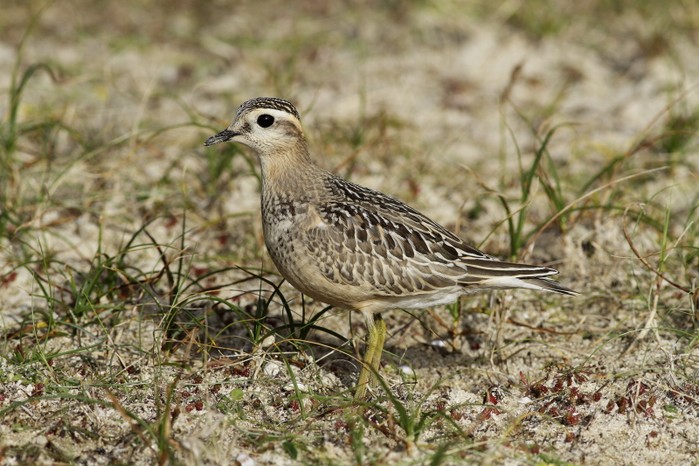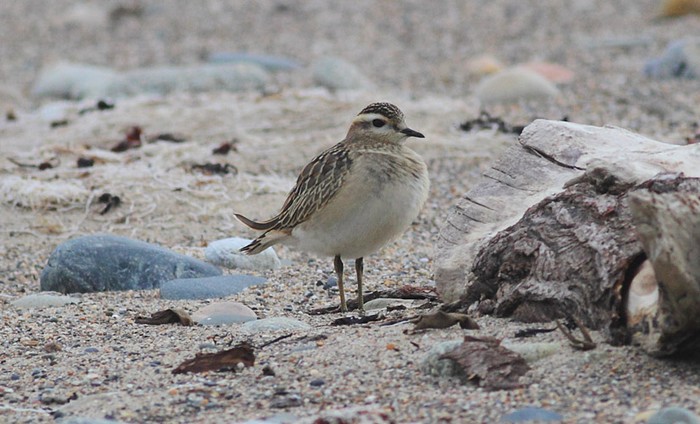 The brilliantly rare for Herefordshire juvenile Red-necked Phalarope remained at Stretton Sugwas pits all week and was one of only two recorded, the other was another lingerer from previous days, still at Hollesley Marshes RSPB (Suffolk) to 17th.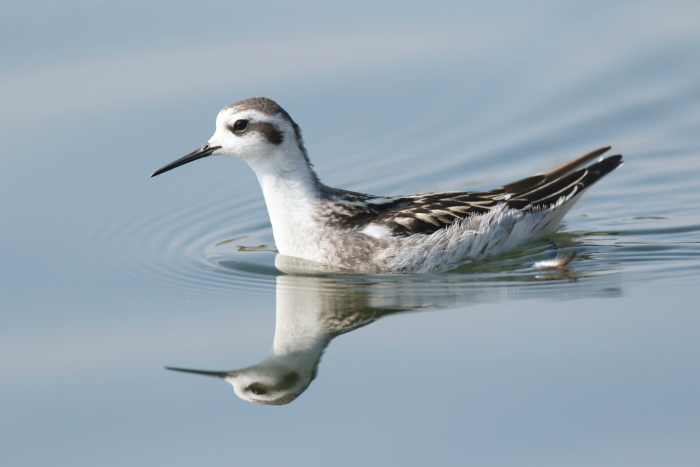 After a brief reappearance along the seafront at Teignmouth in late August, the adult Bonaparte's Gull emerged once again at Dawlish Warren NNR on 17th where it was seen on 18th and 21st, continuing a typically erratic pattern of occurrence.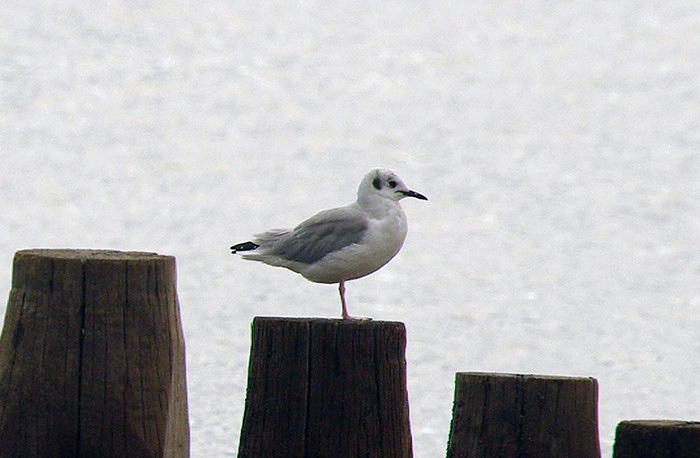 An Irish Azorean Gull was at Blackrock Castle (Co. Cork) on 22nd while the week's only Ring-billed Gull was an adult that remained on the beach at Vatersay (Outer Hebrides) from 16th-20th where it was kept company by a Glaucous Gull - one of two or three seen this week, the other/s in Moray, second-winter birds on the Lossie Estuary and at Burghead on 16th and 17th. Two Iceland Gulls were noted as well; one was on Tory Island (Co. Donegal) on 18th and on 21st, one was found on South Ronaldsay (Orkney).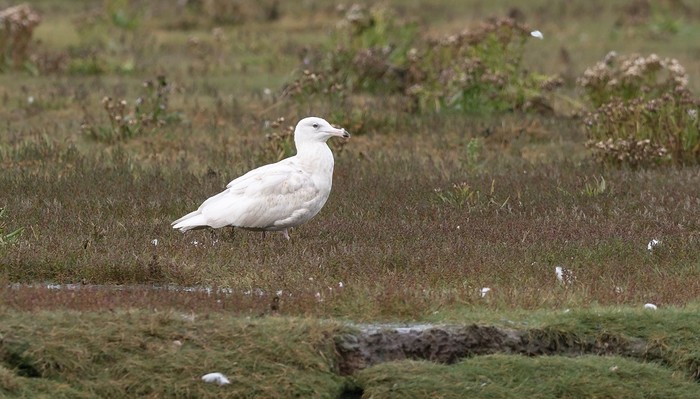 In Dublin, the adult Forster's Tern was on the Rogerstown Estuary until 17th while in Kent, yet another White-winged Black Tern appeared at Dungeness. Found on 18th, this juvenile was at least the seventh of the year for the expansive Kent site.
Off the coast of Fife, the rather lovely juvenile Red-footed Falcon completed a sixth day on the island by 19th, but that was the last that was to be seen of it. After none in the county for at least five years, two youngsters within three weeks is quite some going.
September records of Rough-legged Buzzards are, to be brutally honest, something I'd really not have to think about but another one or two were mentioned this week - an adult female reported from Walsey Hills NOA (Norfolk) on 18th with it or another reported at Cley on 22nd.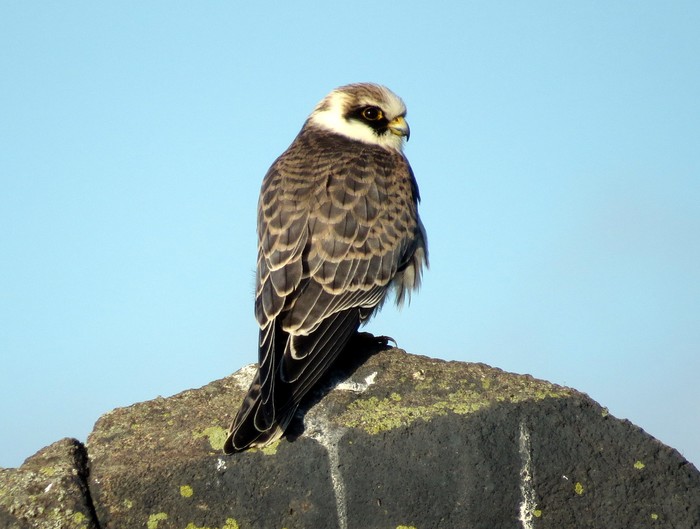 Another unconfirmed report of the same species mentioned above came from Lincolnshire's Donna Nook on 17th where a Honey Buzzard was also mentioned in despatches. That was one of up to 17 HB's through the past seven days; in the Midlands, one was at Nailsworth (Gloucestershire) on 18th and another flew over Harrington (Northamptonshire) on 20th. A single was in Cornwall, over St. Just Aerodrome on 21st while the warm Saturday of 19th saw four birds noted in southeast England - two were in Kent, at Blean and Capel-le-Ferne and singles were in London, over Rainham Marshes RSPB and in West Sussex, at Selsey Bill. Prior to that sunshine quartet, one had been logged at Boreham (Essex) on 17th.
Up to six Honeys were reported in Norfolk, five of them in the north of the county across 18th-19th; two at Salthouse and one at Blickling on the former date, with the latter seeing perhaps the same bird drift from Weybourne and then over Kelling Heath. The sixth bird was a dark juvenile reported over Thetford, also seen on 19th. Suffolk scored two - over Aldeburgh on 17th and at Pipp's Ford on 19th.
Well, aside from the amazing Kent Empid and the delightful Sumburgh Ficedula the most fascinating passerine report this week was the Desert Wheatear mentioned on 21st.
After a flirtation with one in East Anglia (later retracted) it's to Scilly where on St. Mary's, a Desert Wheatear was reported briefly along Sandy Lane, again not to be seen again.
If the St. Mary's bird is submitted to BBRC and subsequently accepted, it would become the earliest autumn arrival date yet - beating by a couple of days a first-winter male that was seen on September 23rd 1970 at Donna Nook (Lincolnshire).
Even when you get to October's 25+ records, you have to go to the 6th of the month for the earliest record for that month (a shot male on Fair Isle in 1925). The only other bird in single digits in October is a female at Portland on October 9th 1991 - which confirms just how off-the-wall the report this week really was.
No doubt over the week's only Citrine Wagtail - one spending three days on the beach at Norwick, Unst (Shetland) from 17th-19th.
New for the week was a Blyth's Reed Warbler on Fair Isle from 20th-22nd; Shetland has close on 90 records of this once "un-do-able" species (in the field at least). Much has changed in terms of I.D. skills and knowledge of this now-non Rarities List bird since the first confident field identification in Norfolk back in 1996. Some 140 have followed in the following 19 years - quite some return for a bird that was legendary just 30 years ago.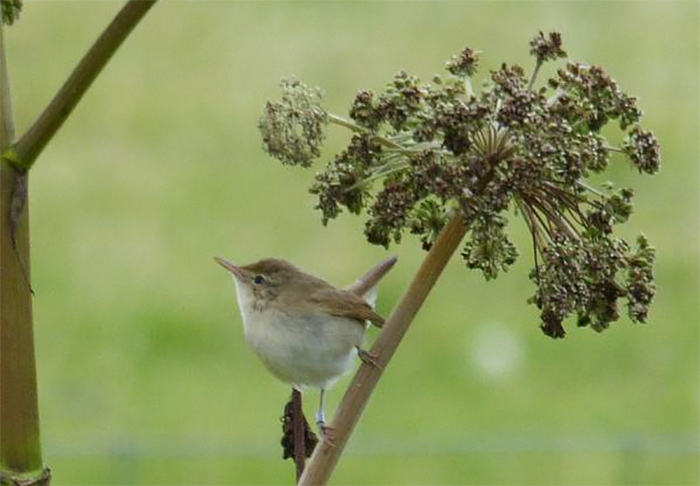 The week's second fresh Blyth's Reed Warbler was trapped and ringed on North Ronaldsay on 22nd - the 16th record for Orkney and the 12th for the island itself.
Also on Shetland were last week's two newly arrived Western Bonelli's Warblers - the first-winter birds remaining on Mainland, at Sumburgh and on Unst, at Burrafirth until 18th. Cork's 9th Western Bonelli's spent 17th at Galley Head while on Scilly, the third and fourth records within a month appeared on The Garrison, St. Mary's; a definite Western there on the morning of 19th with a second bird (also most likely the commoner of the two species) present there later the same day.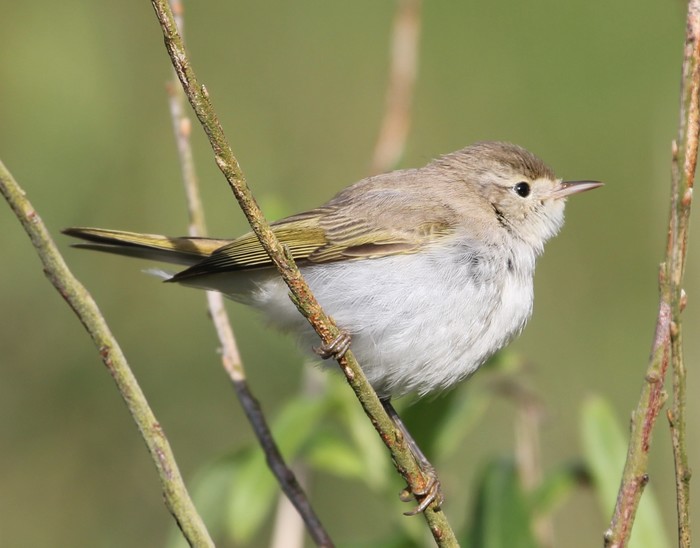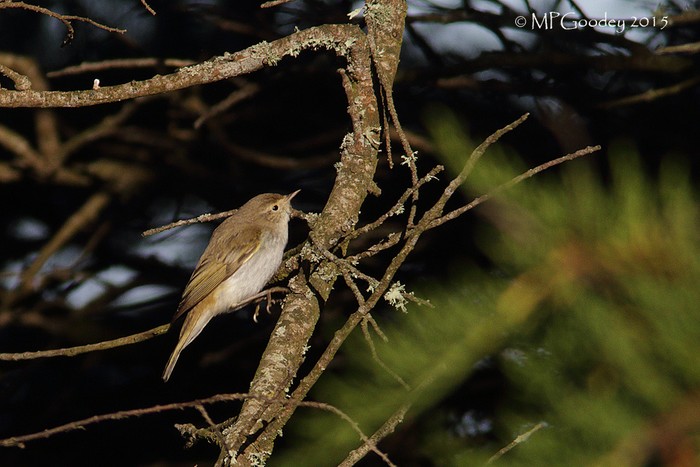 Just one Greenish Warbler was reported this week, on Sanday (Orkney) on 16th while last week's Arctic Warbler in Lothian was at Skateraw to the same date.
Incoming inornatus…
With the late night Sunday shipping forecast once again flashing at least an "Amber Alert" for Shetland and Orkney, the appearance of the Collared Flycatcher was surprising (in terms of the species that dropped), the fact that a significant rare was found wasn't a surprise at all.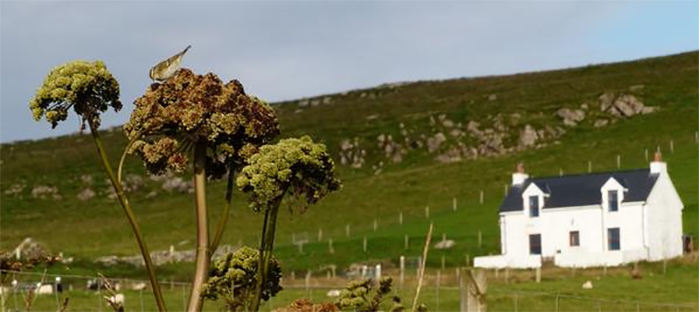 What also wasn't anything like a surprise was the stream of Yellow-browed Warblers that began to flood across the Northern Isles throughout the day on 21st - some 130 (bare minimum) split between Orkney and Shetland.
Actually, Orkney's only island to get involved in the fall was North Ronaldsay and it was fascinating to see just how the numbers rose through the day - at least six were seen by 1230 and by just after 2pm, 13 were on the island. By 5pm that figure moved up to 20 and by close of play, 31 birds had been logged around the island.
Just two islands on Shetland registered birds through the day on 21st - Mainland and Fair Isle - it would be fascinating to guess at just how many were found around the whole island group (some clues were forthcoming on the review's final day) - but the totals for 21st was some 45 around Shetland Mainland (many of them in the south), including a minimum 18 around Sumburgh Head, five at Sandwick and fours at Hoswick and Levenwick. Further south, on Fair Isle, a grand total of 53 birds were counted throughout an increasingly busy afternoon there.
Orkney's total fell away rapidly by 22nd, just seven on North Ronaldsay with singles on Westray and Mainland while Shetland's number continued to rise…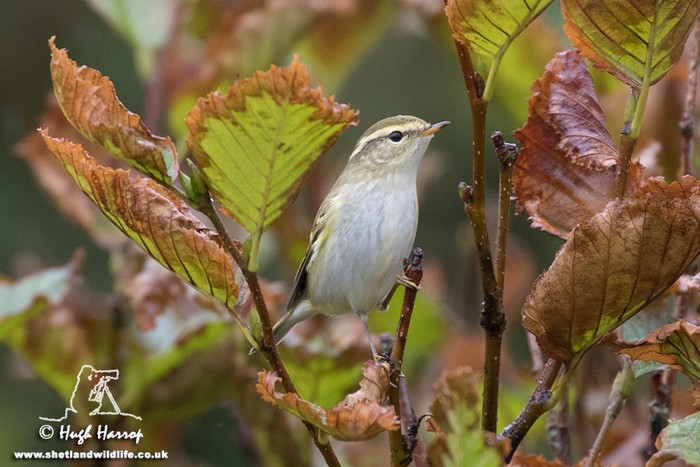 At least 14 Yellow-browed Warblers were on Foula, at least 13 were seen on Unst (including 10 around Northdale alone), a dozen made it to Fetlar, some seven were seen on Out Skerries, five were on Noss and another five were found elsewhere on Mainland, including four in Scalloway. The 48 hour total for Shetland was close on 160 birds in all.
Numbers elsewhere in Scotland were markedly lower - four were on the Outer Hebrides (three of them on Barra), four were seen on Tiree (Argyll & Bute), three were on the Isle of May (Fife) on 17th and three singles were in Highland. In the northeast of England, 13 birds were logged in six counties, with six in Northumberland leading the way. Norfolk's Gramborough Hill was the only site in East Anglia to score (one there on 18th) and three were in southeast England (two of them in Kent). Scilly managed at least seven birds (four on St. Mary's, two on Bryher and one on St. Agnes) with two on Lundy Island (Devon) on 17th and one in Somerset, at Brean Down. Single Welsh birds were noted on the islands of Skomer and Bardsey (on 16th and 19th respectively) while dippers on Inishmore managed Ireland's only Yellow-browed of the week on 16th.
Remaining warblers and everything else!
The surprise re-appearance of the week award goes to the male Eastern Subalpine Warbler in the Old Fall Hedge at Flamborough Head (East Yorkshire) on 19th - almost three weeks since it spent a single day in the same spot. The often elusive nature of this individual may have taken it along numerous hedges and copses in the area, but that gap between Day #1 of obs., September 1st and Day #1 of obs., September 19th is quite something. Good stuff though and an instructive bird to boot given the online musings.
A new Scilly Melodious Warbler was found on The Garrison on 16th and further reports came from the Cornish Mainland, at Sennen on 21st and in Cork, at Mizen Head on 22nd. The same Irish county also managed one of the week's two Icterine Warblers, seen at Garinish Point on 19th while Shetland's Whalsay held the second, noted there on 16th.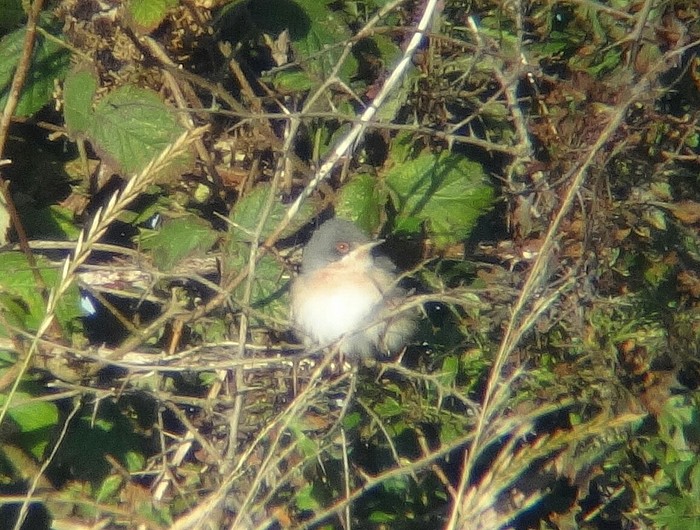 Around Shetland, up to 14 Barred Warblers appeared through the week; two on Noss and (minimum) fours on Fair Isle, Mainland and Unst. Two were noted on North Ronaldsay (Orkney) on 17th while England saw seven birds recorded - the popular bird at Staines Moor (Surrey) was present to 17th, the long-stayer at Gibraltar Point NNR (Lincolnshire) was re-trapped on 20th and 22nd. While last week's bird on St. Agnes remained to 19th. New birds were noted as follows: at Nanjizal (Cornwall) on 16th, Dawlish Warren NNR (Devon) on 18th, Ugthorpe (North Yorkshire) on 19th and Tide Mills (East Sussex) on 20th.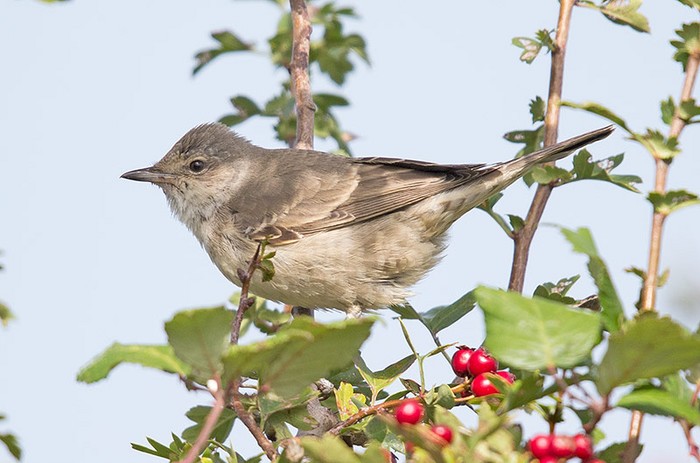 The new review week began with a Red-breasted Flycatcher amongst the throng of goodies on Whalsay on 16th; a further three would follow on Shetland through the week - on Fair Isle on 18th, on Unst on 20th and at Sumburgh Head on 21st (a funky flycatcher double there that day). Northumberland registered one on Brownsman, Farne Islands on 17th, North Ronaldsay saw the arrival of a new bird there on 21st while in north Wales a popular bird was found near Aberdaron, at Uwchmynydd (Gwynedd) from 20th-22nd.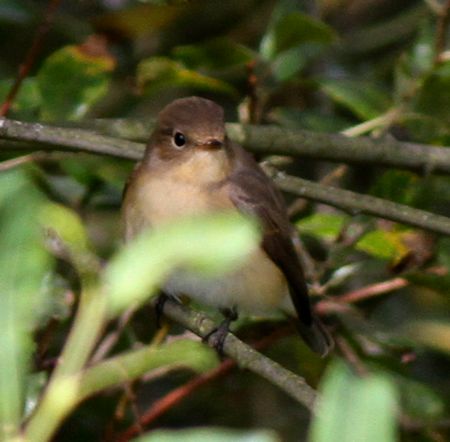 Wryneck numbers hit 40 by dark on 22nd - the south coast taking the lion's share with 18 in the southwest and 10 in the southeast. Dorset scored nine (with four at Portland Bill on 16th), with four each in Cornwall and on Scilly. East Sussex took half of their region's total, with up to three during the week at Dungeness while one at Staines Moor (Surrey) was a neat bonus alongside the Barred Warbler there from 17th-19th. Numbers further north were much lower; three in Scotland (two on North Ronaldsay), two in the Midlands, East Anglia, Ireland (one at Fethard-on-Sea in Wexford all week) and Wales (including one in Carmarthenshire, at Cynnant on 17th) with a single in the northeast, in North Yorkshire.
Last week's excellent find of an inland juvenile Woodchat Shrike at Nosterfield LNR perhaps didn't receive the fanfare it maybe should have done. Sure they're not a huge rare but it's a great record nonetheless. The popular youngster remained on site until 19th.
Nine Red-backed Shrikes included two each for Norfolk (at Kelling Water Meadow on 16th-17th and Blakeney Point from 17th-18th) and County Cork (one at Old Head of Kinsale to 17th and new at Mizen Head on 22nd). Singles on 16th leftover from last week remained at Kilnsea (East Yorkshire), Polgigga (Cornwall) and Brownstown Head (Co. Waterford) while the final two new birds were well scattered indeed - at Motney Hill (Kent) on 19th and Fetlar (Shetland) on 21st.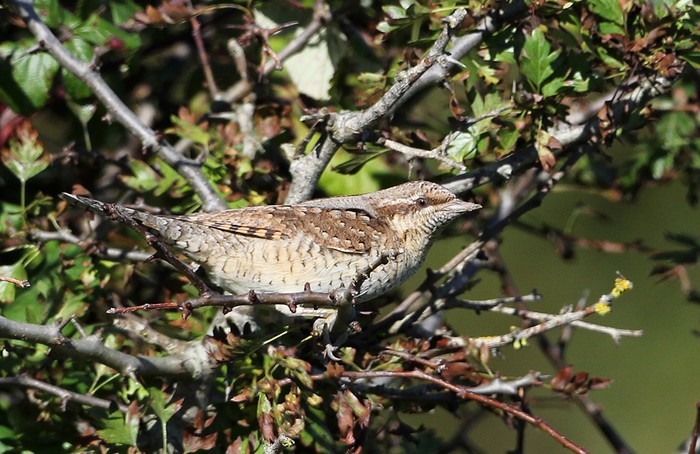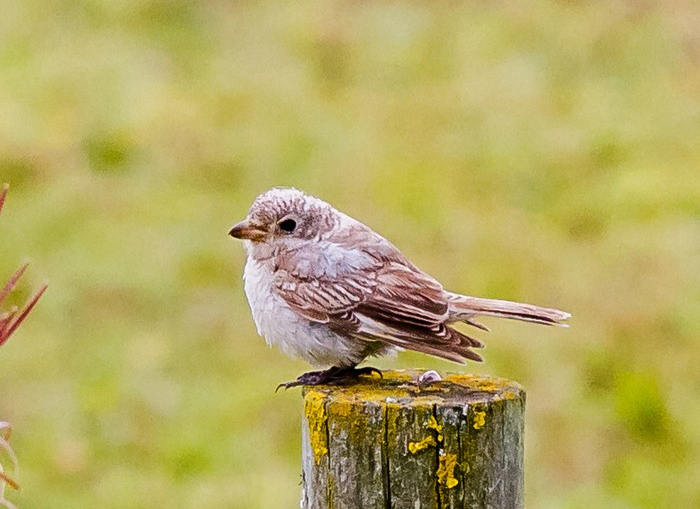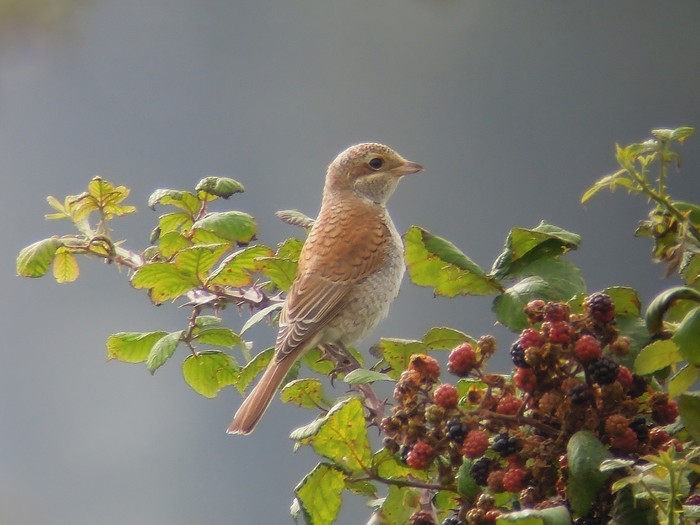 The sole Hoopoe of the past seven days was at Robert's Cove (Co. Cork) on 16th while Golden Oriole went one better - singles noted on 20th at Kilnsea (East Yorkshire) and St. Agnes (Scilly).
Oddments wrap up time next - a Bluethroat was found in bushes on Holy Island (Northumberland) on 16th and another was on Blakeney Point (Norfolk) on 22nd. The delightful Bardsey popped in the week's only Serin on 18th (the first in the country since one on the same island in 2006) while two Richard's Pipits were logged through the week; one was seen at Ballyteige (Co. Wexford) on 16th with another reported heading west over Beeston Bump (Norfolk) on 20th.
Over on Islay, the adult Rose-coloured Starling seen and photographed in mid-August was noted again at Machir Bay on 16th while on Scilly, a juvenile was seen near the Parsonage on St. Agnes on 17th.
Three of Shetland's six Common Rosefinches were seen on Fair Isle on 21st; singles were also seen on Mainland (at Sumburgh) on 16th and on 18th on both Unst and Out Skerries. North Ronaldsay collected one on 21st, while the Isle of May picked up another on 16th. An island in Ireland hosted the final bird of the nine found this week, Donegal's Tory Island doing the bizzo from 17th-19th.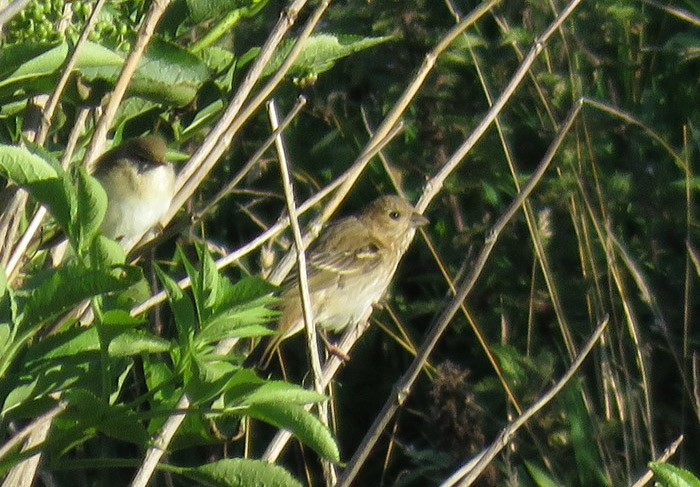 Southwestern islands hosted the week's three Ortolan Buntings - one remained on Lundy to 16th while two were on Bryher during the afternoon of 19th. In keeping with the island-meets-bunting vibe, let's round things off with the three Little Buntings and single Rustic Bunting found around Shetland in the last seven days; the former included two at Sumburgh Head on a productive 21st with the third following on Out Skerries on 22nd. The latter species was found on Foula, at Hametoun on 20th (initially ID'ed as a Little) where it lingered until 22nd.
There we are then, another week down. We are, well and truly, within the business end of what September can offer and things could go one of three ways in the following week…
If the west wind rages and Atlantic weather systems ripple their way across the ocean, we could be on for allsorts - beautiful, pristine first-winter wood-warblers through to pin-sharp, fresh-as-a-daisy shorebirds hatched somewhere north of Hudson Bay maybe.
September 23rd (as a for instance) has been awash with "red-letter rares" form the Nearctic. Take your pick from both species of Cuckoos - a still much sought after Black-billed in Cleveland in 1975 and a Yellow-billed on Scilly in 1981. There've been two Catharus Thrushes too - a Grey-cheeked on Fetlar in 2011 and a Swainson's on Foula the following year.
Pop in a Buff-bellied Pipit (also on Shetland, in 2007), a Red-eyed Vireo in County Cork (in 1990), a Bobolink (on Lundy in 1984) and the famous St. Agnes Baltimore Oriole of 1983 as well and the list gets better and better…
Shorebirds have rained down across the years on the same date - three different Semipalmated Sandpipers, four each for both Spotted Sandpiper and Lesser Yellowlegs, five Baird's Sandpipers and half a dozen Wilson's Phalaropes. A waterbird of a somewhat different ilk has also made itself known on September 23rd - a reaching Scilly in 2005.
Should the stars align and the combination of high and low pressures forms in the manner in which they so often can at this time of year, pulling in east and southeast winds from as far as you can see on a map of the Western Palearctic, then the complexion of the week ahead will be markedly different…legendary, furtive "Sibe" waifs and strays nestling in geos, ditches, burns, gullies and sueada, waiting to be glimpsed by human eyes for the first time in their short transient lives.
With September 23rd acting as a fine stepping off point for the seven days ahead, the days of yore have been as fulsome for "red-letter rares" from somewhere 100's of miles east of, say, Moscow.
Pechora Pipit is an eternal favoured hope - Britain's first-ever record of this pyjama-clad pipit was shot on Fair Isle 2309 1925. But it is oft-skulking warblers that are what the keen-eyed birder yearns for and September 23rd hasn't disappointed historically speaking…
There've been at least a trio of Blyth's Reed Warblers and three Pallas's Grasshopper Warblers too. There's been on each for River Warbler (on North Ronaldsay in 2013), Eastern Olivaceous Warbler (on Foula in 2008) and Sykes's Warbler (also on Foula, in 2012).
It is, of course, a grand time to look for Lanceolated Warbler- that one date in September has produced nine already.
…and then there's the big hitters too - both of the "seconds", one from the east and one from the west, and Shetland can lay claim to both of them…
In 1971, birders on Whalsay trapped a Thick-billed Warbler which was released in Lerwick the following day (dying the day after that…) while no one can forget that moment three years ago when the pager lit up with the words Magnolia Warbler.
Found on the cliff edge at Lerness, the startling young male was a dazzling gem of a find - bright lemon yellow merging with moss green and dove grey in a glorious amalgam of colour…and that was before it flashed it's RBF-style tail. Even now, a 1200 days+ on, some of those shots remain exciting to the nth degree.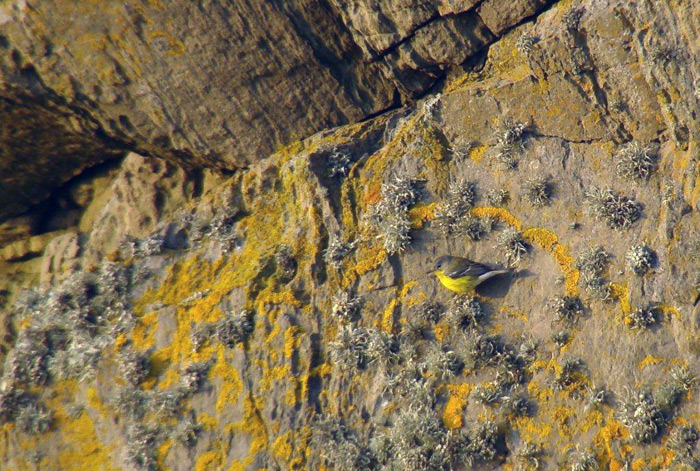 All that rare action, a maelstrom of mix and contrast on one single day picked out from a genuinely bountiful supply. The wonders of autumn birding encapsulated within a small selection of seven days worth of action.
…and what was the third way? Those delicious days when worlds collide and vagrants rain down from the west and the east. It has happened on any number of occasions (its sort of happened this week actually…) and what's not to say that an American wood-warbler and a Siberian forest lurker won't rock up on the very same day in the week ahead.
Indeed, the final day of this week's review wasn't far off what's above…prophetic words given they were scribbled ahead of time…!
There is, of course, a fourth option too - what is it? Well, that's the one where it stays a bit nothing-y, there's dribs and drabs on the cards but nothing to go mad about. A few "nice" rares here and there maybe, but nothing to induce that queasy feeling that launches in to the pit of the stomach. Part of me hopes that's the case…
…but that's not gonna happen, right?
Mark Golley
23 Sep 2015

Please note: we put a lot of time and effort into sourcing and and producing the images, videos and graphics for each roundup. Some of you (probably Apple users) may notice some photos etc. that appear to have incorrect captions. Please try refreshing the page as they are correcty captioned. If after a refresh they are still showing the incorrect captions then please email us
Special thanks this week to Martin Casemore for his outstanding find at Dungeness. Many thanks also to the rest of this week's contributors for their photos and videos.
David Monticelli, Steve Nixon, John Pringle, Robert Wilson, Michael Malpass, Penny Clarke. Jim Lawrence, Dale Gibson, Hugh Harrop / Shetland Wildlife, Rebecca Nason, James Walsh, Ephraim Perfect, Paul Ward, Kris Gillam, John Lawton, Neil Phillips, Dave Suddaby, Ronald Surgenor, Robin Stokes, Neil Hughes, Richard Brown / Skokholm Bird Observatory, Brett Spencer, Paul Kelly, Rob Stonehouse, Frank Golding, Derek Charles, Martin Goodey, Dermot Breen, Paul Kelly, Andrew Jordan, David Stone, David Main, John Main, Andy Williams, Ben Lewis, Andy Hood, Andrew Moon, Shirley Roulston, Eric Dempsey, Roy Richardson, Denise Emmerson, Tony Davis, Birds of Poole Harbour, Steve Arlow, Deryk Shaw.