Weekly round-up: 15 - 21 Jul 2015
The week at a glance
Scilly steals the show this week with an adult Least Sandpiper on St. Agnes
Still in place - the Hudsonian Whimbrel sticks around for the week in West Sussex
…and the Greater Yellowlegs does the same in Hampshire
In the northwest, Staffordshire's young male Red-footed Falcon continues to attract a crowd
Another seven summer days pass by then, another seven days worth of somewhat variable weather passing by too. Variable is not the half of it really…
The prevailing conditions were all warmish, sometimes dampish and almost entirely based from deep within the southwesterly point of the compass - but the range of conditions spread across our assorted nations was quite something.
Some parts of Scotland, especially on the east side, were awash with floods here and there as a low pressure system trundled across the country ahead of the weekend. Behind the rain were particularly breezy conditions - the Open Golf at St. Andrews seeing gusts of almost 50 m.p.h recorded - all at the same time as much of southern England, especially the southeast corner, was bathed in sunshine, breezy humid air and 25? C.
All that sunshine and warmth and southwest winds had, the previous night, come up against an opposing pulse of cooler continental air along some southern North Sea coasts - heavy rain, an east wind and magnificent rolling thunder storms streamed across East Anglia in the dead of night. And mightily impressive it was too…
The southwesterlies continued to the end of the review period as conditions settled again, sunshine and showers and low 20's the order of the day for many.
Least Sandpiper
With the endless hours sat sitting at the computer doing these round-ups, thoughts occasionally takes you to just what really could turn up in the week ahead - rather than the ultra (though fun) guesswork that often as not comes along at the tail end of the few 1000 weekly words.
Last week concluded with thoughts of, primarily, rare seabirds and rare shorebirds - and at one point I'd actually scribbled down "what about a Least Sand?" but by the time anything was set in stone, that pleasing little peep had been binned.
Doh!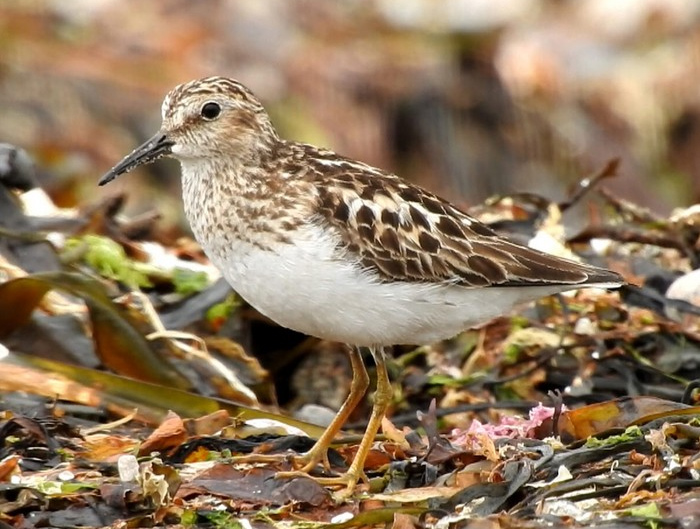 Least Sandpiper was indeed the very bird that should have been selected as the early evening of 16th brought news of a super Scilly find on St. Agnes - a worn adult around the Big Pool and the beach at Periglis - a bird which stayed a couple more days too; after showing well on 17th, there was initially negative news on 18th but by mid-morning, the bird was on view once more and it remained on the island until 21st.
This still rather rare Transatlantic vagrant enjoyed something of a purple patch in Britain and Ireland in the ten years between 2002 and 2012 - a dozen birds found in all, which took the accepted total from the high 30's in to the half century territory but, since the one-day adult at Carrahane in County Kerry, on August 13th 2012, there'd been nothing until this week's find on Agy.
Britain's most recent Least Sandpiper was also on Scilly - a showy juvenile found on Tresco on October 4th 2011 - a bird which remained for 12 days in all. Scilly's only other record was another on St. Agnes, found way back in October 1962.

...As an afterthought, I scanned the margin that I could see, and was amazed to see a small wader settled on the edge. 'Hallelujah, a Common Sand!' I thought. Er. No. Not. I was now distinctly curious – all I could see was an apparent pectoral band and white belly. Then the bird started moving about, feeding. Pec Sand? Surely too small. A stint then. Mooching about. Temminck's? Hmm. Looks a bit bright. Little? At this point I phoned Doug Page to say I had a stint on the pool, and made my way around the pool for a closer look....
Read Bob Dawson's Least Sand finders account here
The St. Agnes Least Sandpiper of 2015 is the first July record for 20 years, since one spent a week at Sidlesham Ferry (West Sussex) from July 19th-25th 1995. Before that comes one at Beacon Ponds, Kilnsea (East Yorkshire) on July 28th-29th 1991; a five day bird at Rigifa Farm, Cove (Aberdeenshire) from July 31st 1988 - with a two day bird on Middleton Moor (Derbyshire) just two weeks before (on July 17th-18th).
The first July Least Sandpiper was found at Pett Levels (East Sussex) on the 28th of the month back in 1984 - found on a Saturday, it was widely dipped the following day, many 100's of birders lining the sea wall - all to no avail (the crippled - rather than crippling - Dungeness bird followed not long after, a woeful individual which remains one of the most depressing scenes amongst countless 100's of rare bird events).
August and September share 30 acceptances in all (13 and 17 respectively) while October has managed nine records in all. After July's already mentioned six comes May with three birds (one of those being seen in both Staffordshire and Warwickshire in 2002) while curios being the late November record in County Kerry (at Black Rock Strand from November 21st to December 17th 2011) and the popular first-winter at Portscatho (Cornwall) in February 1986 (present through until April 20th).
Hudsonian Whimbrel & Greater Yellowlegs
While we're in the Shorebird Zone, we can quickly mop up the two mainstays of recent reviews - the Pagham Hudsonian Whimbrel and the Titchfield Haven Greater Yellowlegs.
The former species was being reported more and more infrequently - present for well over a month now in West Sussex, so that perhaps shouldn't come as much of a surprise - and it was reported through until 18th at least.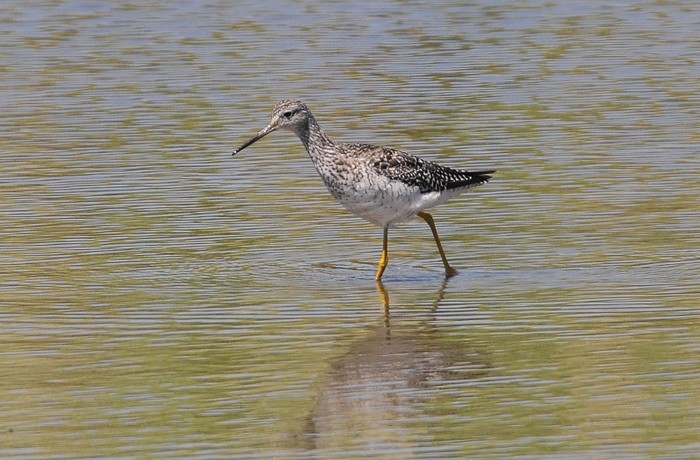 Across in Hampshire, the latter species continued a pleasing summer residency, still no sign of moving away just yet, still in place to 20th.
Red-footed Falcon
With a paucity of new arrivals this week, we may as well keep the remarkably confiding (and trusting…too trusting some would say…) first-summer male Red-footed Falcon in Staffordshire within the headliners - continuing to show well for birders and photographers alike through until 21st.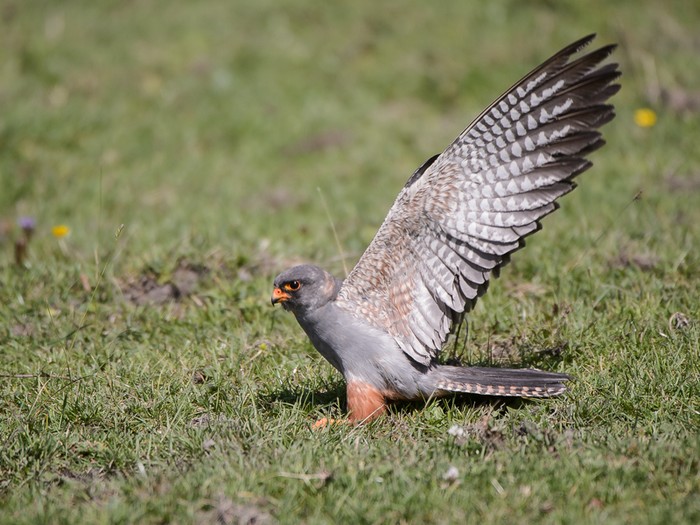 This fearless individual has continued to perform remarkably well on the edge of the Chatterley Whitfield Colliery, just north of Stoke-on-Trent - no wonder he's been so well received…but it seems as though a few non-birding herberts are trying their best to put a dampener on things..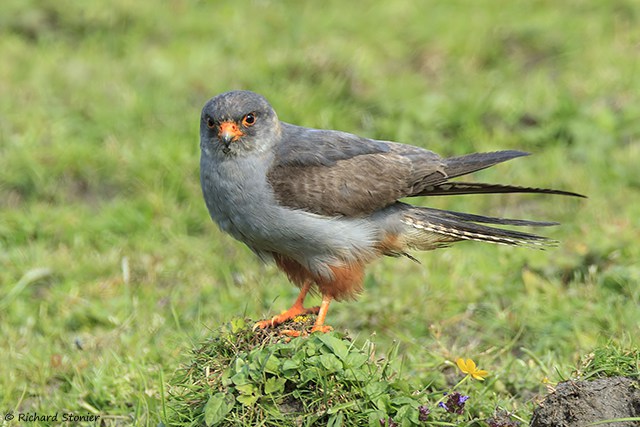 There were wafts rather than rafts of "big shears" on the agenda this week - a steady trickle of records of both our regularly occurring species noted through the week.
Single Great Shearwaters start us off, loners passing Porthgwarra on 16th and Clare's Bridges of Ross on 17th. Three birds were logged from the Cornish coast, at Mevagissey, on the evening of 18th and one was seen there the following morning, in the wake of a local trawler. Also in Cornwall on 19th, another drifter past Porthgwarra with another off the coast of west Wales, from Pembrokeshire's Strumble Head.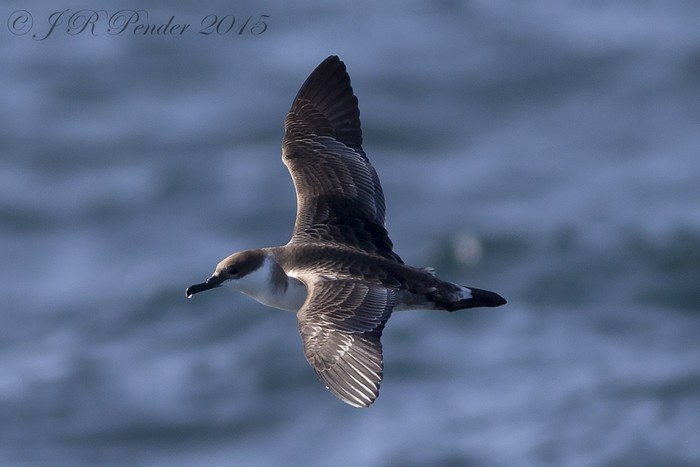 Strumble seawatchers also scored a Cory's Shearwater on 19th ~ one of just half a dozen birds noted to the end of the weekend. Across the St. George's Channel and way over on to the Ireland's west coast were single Cory's off both Bridges and Kerry's Kerry Head, while in southwest England, one was recorded from the evening pelagic out of St. Mary's on 16th and two headed by travellers on the M.V. Scillonian III on 17th (with a lone Great off the boat on 21st).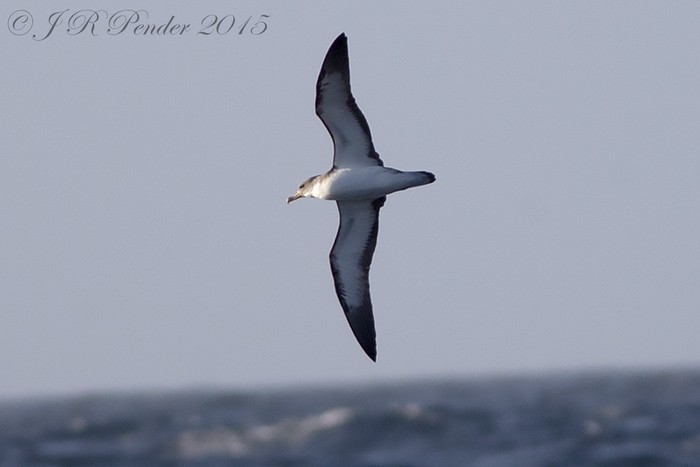 Another evening trip out of St. Mary's on 21st fared pretty well, with a couple of Great Shearwaters and seven Cory's as well. The next day, there was seven of the former and one of the latter reported off St. Martin's and then, from Round Island (to the north of St. Helen's) Scilly birders enjoyed at least 20 Cory's in amongst the Manxies.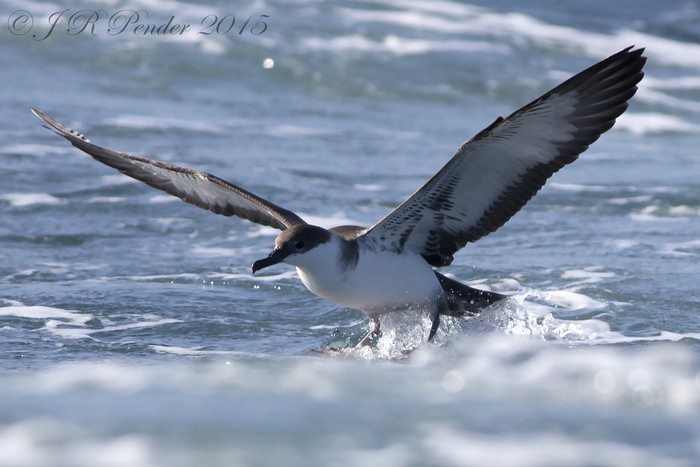 Also on 21st, single Cory's Shearwater passed by Cornwall's Porthgwarra (along with two more Greats, Pendeen Watch and Gooran Haven (the latter site also scoring 15 of the following species...).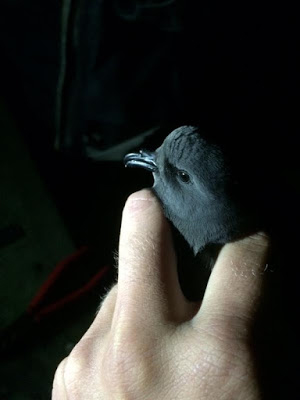 Only 38 Balearic Shearwaters were recorded countrywide to the end of the weekend - almost all of them in southwest England, with Portland Bill leading the way 10 birds there on 18th. A dozen were seen in Cornwall, seven were reported from Devon and one was seen off Scilly. Further afield, two Welsh island singles were seen, from Skokholm (Pembrokeshire) on 17th and Bardsey (Gwynedd) on 18th with one making it the Scottish coast, seen from Maidens (Ayrshire) on 19th. A further 14 were noted on 20th, including seven past Berry Head (Devon) - all birds in the day being shared between Dorset, Devon and Cornwall.
Ireland hosted two of the week's three summer Long-tailed Skua records; an adult was seen in County Dublin, off Dun Laoghaire's West Pier on 17th and another headed past Mayo's Kilcummin Head on 19th. The third Long-tailed of the past seven days was a southbound bird in Lunan Bay (Angus) on 18th.
Pomarine Skuas this week included 14 birds off six Irish county coasts, with threes for Bloody Foreland (Co. Donegal) on 18th and Kilcummin Head on 19th while there were two each for Waterford, Cork and Clare. Four birds were seen off the coast of west Cornwall before the weekend and further English birds passed Filey (North Yorkshire) and Whitburn (Co. Durham) ~ a 1 and a 2 ~ on 15th, while along the north Norfolk coast a single Pom was reported at three sites from Sheringhham to Titchwell on 19th-20th and one was also noted off Minsmere RSPB (Suffolk) on the former date. The final birds this week were an adult offshore from Ruddon's Point (Fife) and one off Porthgwarra on 21st.
Ringers on Fair Isle managed to trap a single Leach's Storm-petrel overnight on 14th-15th, but as yet, the dark-rumped beastie has yet to appear. Those trying their luck for the same bird on Orkney had to settle on another lone Leach's - one was trapped and ringed on North Ronaldsay overnight on 19th-20th.
In Cornwall, an adult Sabine's Gull was seen heading by Porthgwarra on 17th but perhaps the best pelagic prize of all this week was the moulting summer dressed Grey Phalarope seen in County Cork from a Baltimore-based pelagic on 19th.

In South Yorkshire, at the Old Moor RSPB, the recently returned male Little Bittern put in a couple of appearances around the site through the week - seen on 16th and 19th-20th. Any thoughts that this may well have been the singing male from Suffolk appear to have been dispelled, the Lakenheath bird was apparently still present "recently" (yes, you're guess is as good as mine on that one…).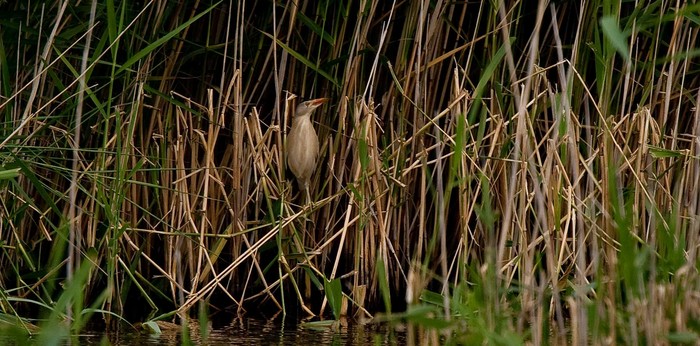 Talking of Suffolk, the first-summer Purple Heron remained at King's Fleet, between Falkenham and Felixstowe Ferry, along the banks of the River Deben, through until 21st where it showed well from time to time.
A couple of new adult Night Herons were recorded this week - the first was seen around a fishing lake at St. Erth (Cornwall) on the evening of 15th and the other was found on pools at Ryton on Dunsmore (Warwickshire) on 17th, before firming up thanks to a further sighting on 19th (interestingly, a second-summer Night Heron was present in the county last summer for almost a month, at Seeswood Pool, from almost an identical date, July 21st).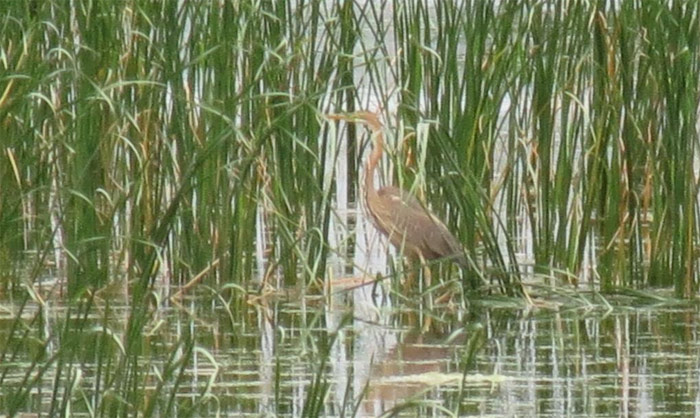 Great White Egrets weren't overly abundant this week (not that I'm complaining…) with a minimum 14 reported from England, Wales and Ireland.
In northwest England, one continued to linger at Leighton Moss RSPB (Lancashire) to 20th and at least one was seen at two sites in Cheshire; at Hale on 17th and Woolston Eyes NR on 18th-21st. The Midlands managed three singles, still at Rutland Water (Leicestershire) to 19th at least, over Stanwick GPs (Northamptonshire) on 20th and in flight at Longleat (Wiltshire) on 21st, while East Anglia saw three sites in Cambridgeshire share up to four Great Whites - singles seen at Eldernell (on 15th) and Burwell (on 18th) with two on Ouse Fen on 19th. One of these seems likely to have done a bunk over the county line and headed to Norfolk's Welney WWT on 20th. The southeast of England hosted singles on 15th at Romsey (Hampshire) and Pagham Harbour (West Sussex) and in the southwest, two were still around the Shapwick Heath area of Somerset on 20th.
Birds of a Celtic bent were the juvenile Great White at Kenfig Pool (Glamorgan) through to 20th and the also still present bird at Llandegfedd Reservoir (Gwent) (seen to 21st) while in Ireland, one was seen at Mullagh, Lough Beg (Co. Derry) on 19th-20th.
In North Yorkshire, at the Flamingo Landstork enclosure, a White Stork apparently of unknown origin (i.e. not one of theirs…) was in place on a nest to 19th (it had appeared some three weeks ago). Oh lorks…
Three separate counts of a dozen Spoonbills each came forth from Cley NWT, Titchwell RSPB and, over the Wash, at Gibraltar Point NNR during the day on 19th - the figure of at least 36 birds seems wholly in keeping with what's been happening along the Norfolk coast lately.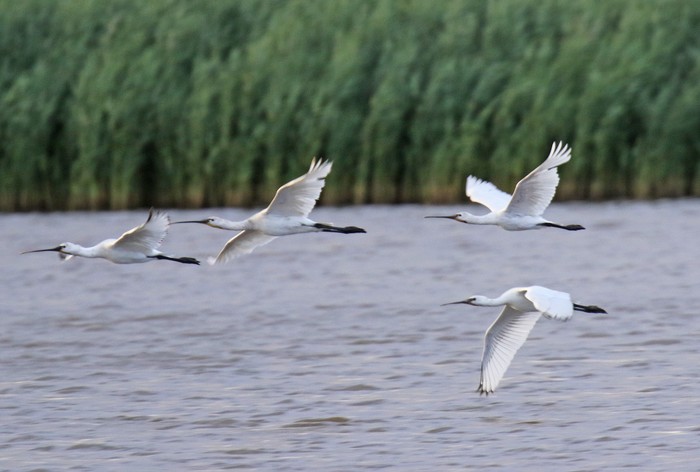 The review week began with a minimum 30 birds on the north coast of Norfolk - the afternoon of 15th bringing counts of four for Titchwell, 12 for Stiffkey Fen and 14 for the Cley reserve. Elsewhere in the county, two more were seen at Breydon Water RSPB on 19th.
Dorset managed 10 more, dotted at sites around Arne RSPB on 19th and four were seen elsewhere in Lincolnshire, at Alkborough Flats on 19th. In Kent, two sets of three were logged - still at both Pegwell Bay and Cliffe Pools RSPB on 16th whilst two more remained at Scotney to 18th. A single was found at Steart WWT (Somerset) on 18th (it was still present on 2oth), with further individuals at Minsmere RSPN (Suffolk) and Arnside (Cumbria) on 20th and Slimbridge WWT (Gloucestershire) on 21st. The only other Spoonbills this week remained in Moray, two still in Findhorn Bay for much of the week.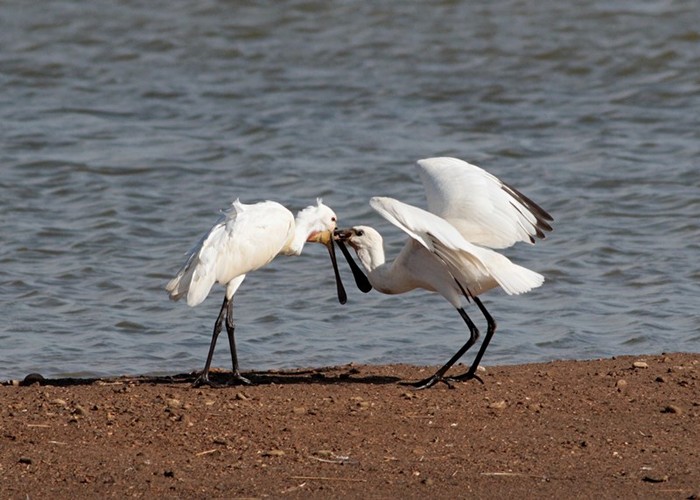 Scilly's summering sub-adult Common Crane was on St. Mary's on 16th and was one of only four birds reported this week - another was noted at Hipsburn (Northumberland) on 15th and two were again in North Yorkshire as the week closed, seen near Potter Brompton.
Having a ball near Kirriemuir was the singing male Spotted Crake at Loch of Kinnordy RSPB (Angus) late on the night of 16th while making a surprise (brief) reappearance was the adult at Titchwell RSPB on 17th, a bird which was presumably responsible for the showing on 21st too.
In Somerset, the eclipse drake Lesser Scaup continued his temporary residency at Blagdon Lake for the whole week. Another loitering Nearctic quacker was the female American Wigeon on the Rigifa Pools (Aberdeenshire) to 17th.
In a week when a sepia-toned image of a monarch-in-the-making has been seen holding her arm in the air, in a manner not overly becoming a seven year old Queen-to-be, it was nice to see a rather more well-behaved regal gent making an appearance again off the northeast coast of Scotland ~ an eclipse drake King Eider present again off Nairn from (as it happens) 14th-21st at least (he was last noted here in the final days of June).
Also on the right side of Scotland were a couple of adult drake Surf Scoters in Lunan Bay (Angus) on 18th with a first-summer drake again off the Aberdeenshire coast, at Blackdog on 19th.
After the invite-only Norfolk Terek brought nothing more than utter acceptance of the situation, there was some joy to be had by the swift disemmenation of the presence of an obliging adult Broad-billed Sandpiper around the pits at Snettisham RSPB from 18th-21st.
Despite Norfolk having a superb track record historically where this glorious little shorebird is concerned - 51 records accepted in all (totalling 55 birds all together) - the past decade has seen a marked decrease in occurrences; this week's new arrival is only the third in 10 years and the first for four, following on from records at Breydon Water (where else…) in May and June 2011 and May 2007.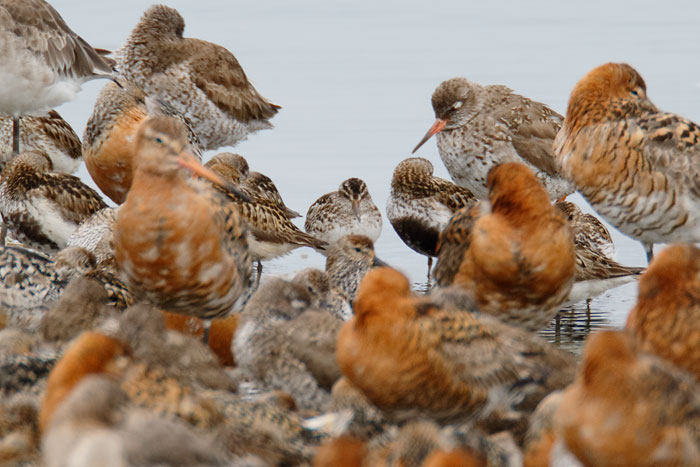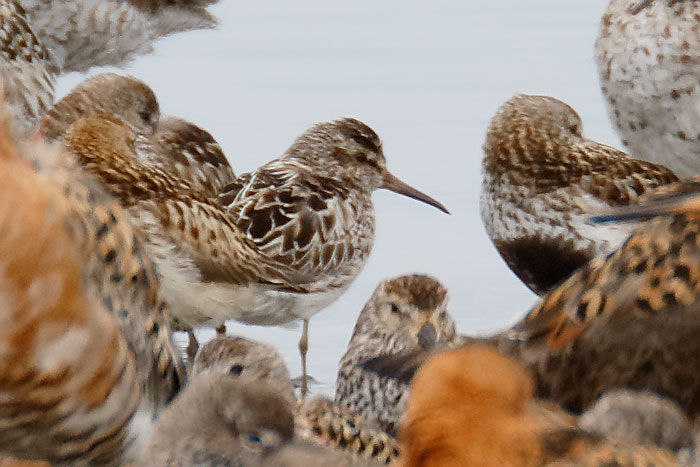 Indeed there have been just nine birds in Norfolk since the start of the 2000's, a slender return for a species almost regarded as annual (it wasn't, but it nearly was) in the 1980's and 1990's.
Little wonder then that this weekend's individual proved to be so popular.
A very tidy inland discovery was the adult White-rumped Sandpiper at Hatfield Moors (South Yorkshire) on the evening of 15th - the first for the county since one was noted at Old Moor RSPB in the early summer of 2001. Also new was the worn adult on North Ronaldsay on 20th (the second island record this year, but they represent the first since 2006).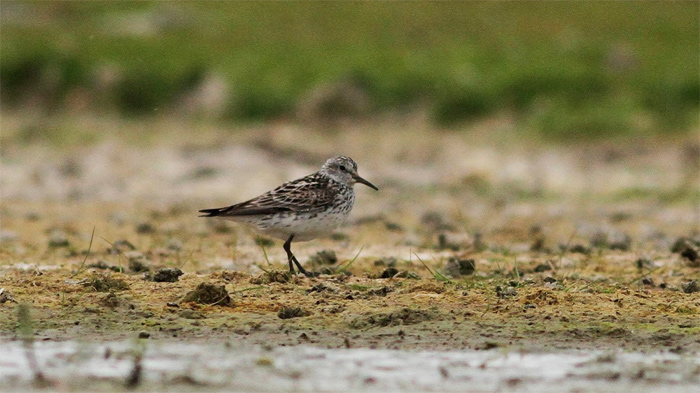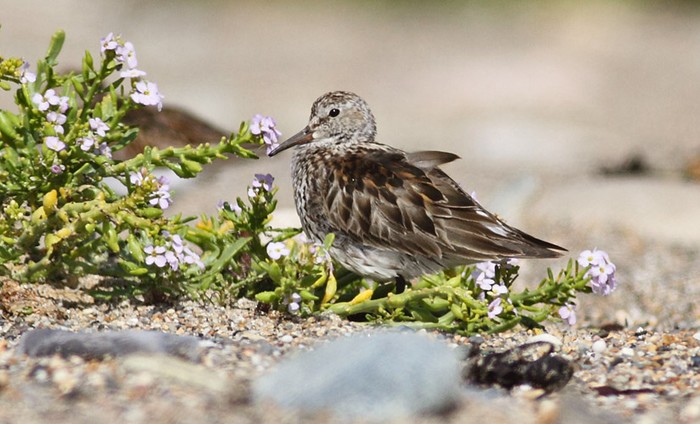 Over in East Yorkshire, the Beacon Ponds bird was back in place on 16th and again on 19th (having been missing since 11th - you know what I'm thinking...), while Ireland's Shorebird Site Supreme, Wexford's Tacumshin, saw a new adult arrive on the morning of 19th.
…and the same spot (by the sluice) at the same spot on the same day also produced a new Pectoral Sandpiper - one of three found on 19th, the other both turning up in Scotland; near Campbeltown (Argyll & Bute) and Musselburgh (Lothian). The next day saw the fourth in 48 hours drop on to Folwmere RSPB (Cambridgeshire).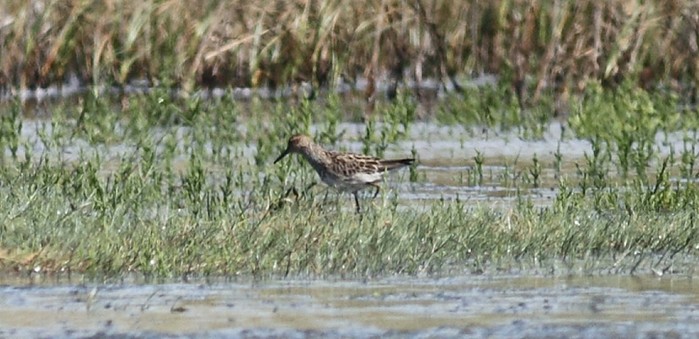 Four Red-necked Phalaropes were noted through the past week - on South Uist, at Balgarva, one was seen on 18th, the same date seeing two appear at Rossan Point (Co. Donegal) - the first in the county since June 2012 - and on 19th, one dropped in along the North Yorkshire/Cleveland border, at Scaling Dam.
Up to half a dozen presumed returning (failed?) Temminck's Stints made themselves known over the past few days. Last week's inland bird at Rutland Water was last seen on 15th and it was followed by one at Frampton Marsh RSPB (Lincolnshire) on 17th-19th, "in-off" at Spurn early doors on 18th, with it or another at Stone Creek (also in East Yorkshire) the same evening and two together at the Oare Marshes reserve in Kent on 19th-21st.
Also in Kent, one of the failed breeding Black-winged Stilts was still on the pools at Cliffe until at least 15th.
In south Devon, the often showy Gull-billed Tern remained a draw for many at the Passage House Inn, along the River Teign, through until 17th, putting in an appearance nearby on the racecourse at Newton Abbot on the evening of 16th.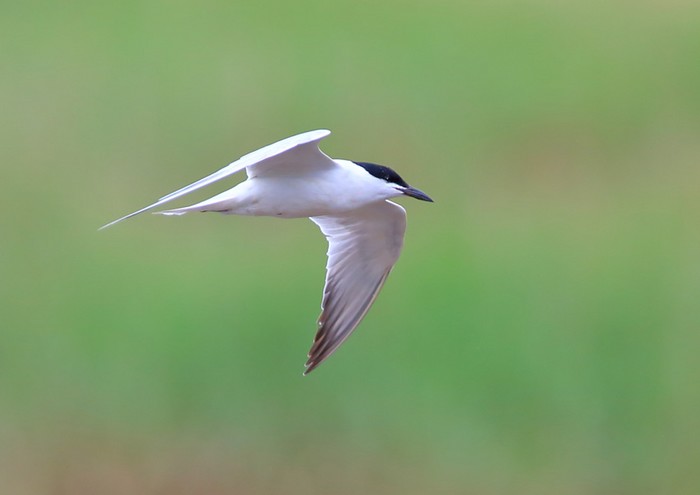 The second Gull-billed Tern of the week was presumably the bird seen last week heading along the north Norfolk coast - this time it was reported from Lincolnshire's Chapel Point which, if accepted, will become only the 7th county record, the most recent being the one-day adult at Kirkby-on-Bain pits in mid-June 2013 (that being the first in Lincs., since 1978).
The first of two White-winged Black Terns this week was found at a very popular stomping ground for the species - the pits at Dungeness RSPB - present for a day on 18th.
A quick trawl through the files suggests that could be an amazing 71st WWBT for the site (!) but this bird, and the pair seen earlier this year, in mid-May are the first records for Dunge in five years. It is still a hugely impressive haul though, five year gao or not...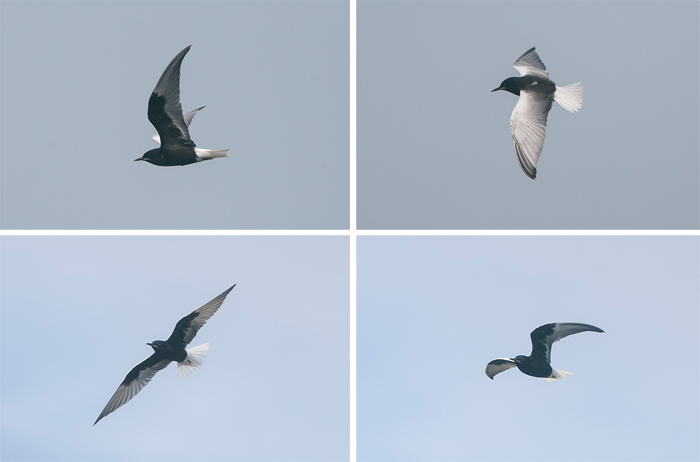 Bird #2 for the past seven days was an adult that moved from Northamptonshire's Stanwick Pits to Leicestershire's Rutland Water over the course of 19th - it apperas to be the first Northants record since one spent nine days at Earls Barton in July and August 2003 (which in turn was the first county bird since 1992) while the Rutland appearance is the first from the species since a couple of juveniles in 2010 (one of those being seen at Rutland).
New to the news this week was the second-summer Laughing Gull at Portnahaven, Islay (Argyll & Bute) ~ a bird which appears to have been coming & going for a month or so. This will be the 10th record for the expansive county, the 7th in the last deacde but the first since September 2011.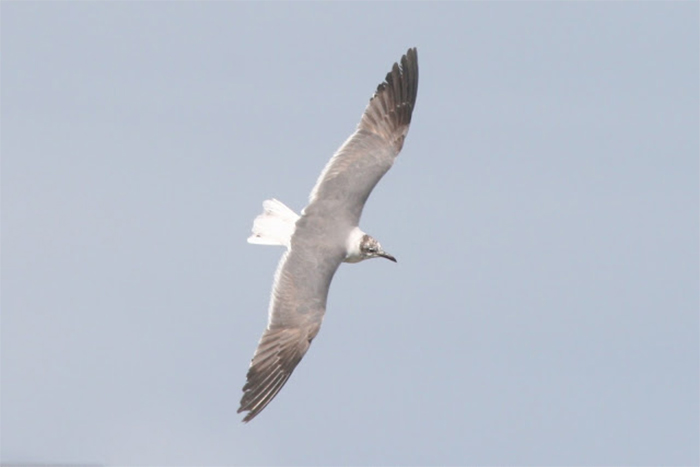 Back down in Kent, the summering adult Bonaparte's Gull remained at Oare Marshes NR to 21st while the regular first-summer Ring-billed Gulls at Tralee and on the Hayle Estuary (one to 19th, the otehr to 21st) saw their collective numbers boosted by news of an adult at Nimmo's Pier (Co. Galway) on 17th.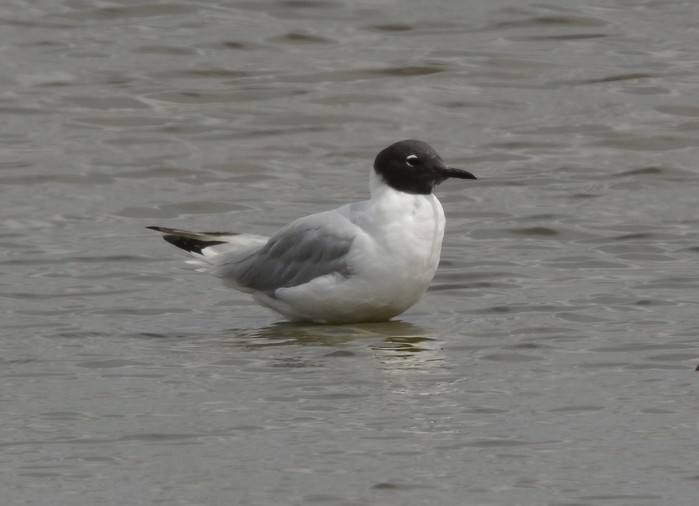 There are just three Glaucous Gulls to mention this week - one remained at Holm, Mainland (Orkney) to 16th and another young bird lingered in the Loch a'Phuill area of Tiree (Argyll & Bute) to 20th. The final summer bird of the week was seen at Craster (Northumberland) on 19th. Scotland hosted all three of the Iceland Gulls noted; second-summers on 15th were at Barassie (Ayrshire) and Spey Bay (Moray) with a youngster again at the Balranald RSPB reserve, North Uist (Outer Hebrides) on 18th.
Off the coast of Donegal, on Arranmore Island, a Snowy Owl appears to have been seen "recently" - a record that's not too far removed from that of the summer of 2013 when an adult male spent several weeks on the same island.
Good news was to be had from East Yorkshire this week, where at least one fresh juvenile Montagu's Harrier had taken to the air, with ma and pa in tow, at Blacktoft Sands RSPB on 19th. Further to the south, in Lincolnshire, two birds were seen at Gibraltar Point on 17th,w ith one there on 19th while what is presumably the Blacktoft male was seen at Alkborough on 20th. Over in Norfolk, a male Monty's was noted between Holme and Thornham on 18th.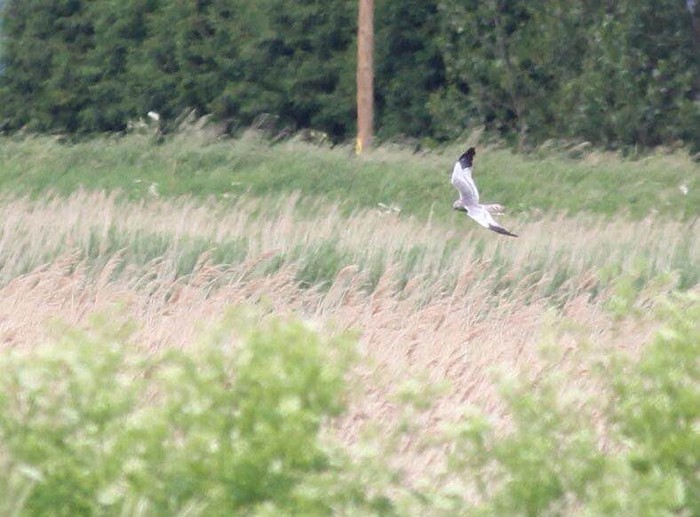 Also in Norfolk this week, three sightings of Honey Buzzard - one was again reported from the Swanton Novers Raptor Watchpoint on 15th and this was followed by singles over Holt CP on 16th and Kelling Heath on 19th.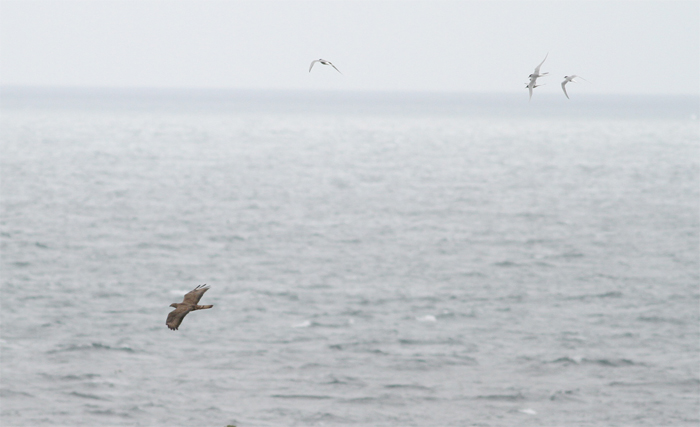 Up to seven more HBs were recorded this week - at least one remained at the Wykeham Forest (North Yorkshire) all week, while roaming birds were seen over Gibraltar Point (Lincolnshire) on 15th, Fair Isle (Shetland) on 16th, Castle Cary (Somerset) and Spurn and then Skeffing (East Yorkshire) on 18th with the final ones of the week heading across Tresco (Scilly) on 20th and over North Ronaldsay (Orkney) on 21st.
Bringing up the rear, news of a Black Kite just north of Witnesham (Suffolk) on the warm Easat Anglia afternoon of 21st.
Truth be told, there's not a lot to report here abouts…
Bee-eater is again the most eye-catching species to mention really - Portland managing a single on the wires near the Obs., on 16th with two at Weston on 19th.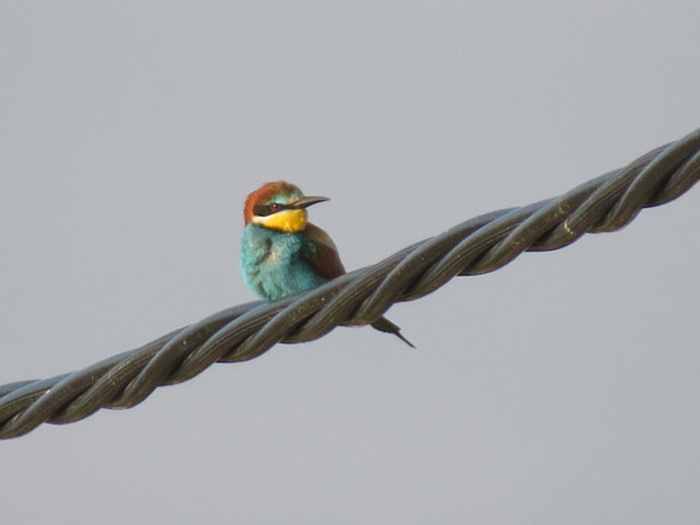 Two more prruuuup-ers were seen in County Durham on 15th-16th - at Hetton-le-Hole on the former date and Seaham on the latter date (its enough to make you think there's been something afoot up there) while in East Yorkshire, one headed over The Warren at Spurn on the afternoon of 17th. On Orkney, a lone Bee-eater was on North Ronaldsay on 18th and Sanday on 19th with a heard-only bird reported from Hanging Houghton (Northamptonshire) also on 19th. The final record of the week was of two morning birds heading south over Frinton-on-Sea (Essex) on 21st.
A lost Marsh Warbler was something of a surprise find on Fair Isle on 15th and the wardening staff promptly did it again on 20th and 21st, when firstly a Common Rosefinch was found and then, the following day, came another lost warbler - an Icterine Warbler this time - arrived around the Obs., garden.
What a thoroughly unseasonal trio. What's that all about?
There's not much known about the report of a Golden Oriole at Lakenheath Fen RSPB on 16th but what is known is that a lonesome singing male has appeared in North Yorkshire, at Carlton Miniott on 2oth and he was heard again through the following day too. A further splash of summer colour came courtesy of the Hoopoe reported near Halesworth (Suffolk) on 20th.
There's not much known about the report of a Golden Oriole at Lakenheath Fen RSPB on 16th but what is known is that a lonesome singing male has appeared in North Yorkshire, at Carlton Miniott on 2oth and he was heard again through the following day too.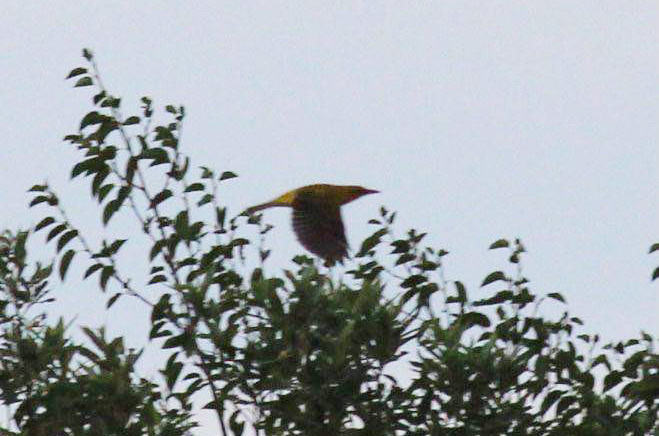 We're already tumbling towards the inevitable conclusion, just two species remaining - a Serin at The Warren, Spurn on 16th and an adult Rose-coloured Starling at a garden feeder on Lewis, this time at South Dell, on 18th.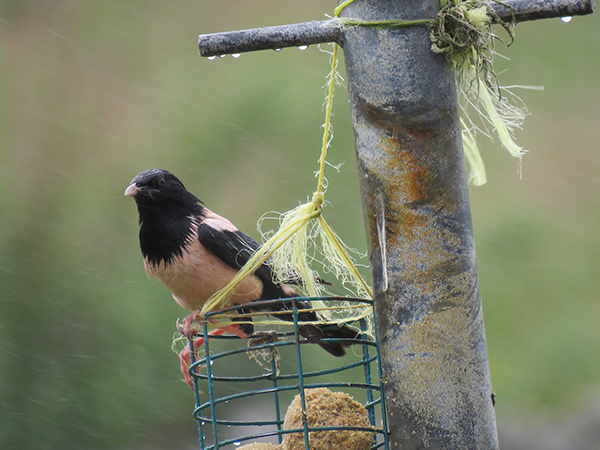 There we are then, that's what made the news this past week. What lies ahead?
Changeable conditions it appears and such weather often favours waders and, generally, that means that the deeper in to the month that we get, the better and better the shorebirds become.
July 22nd has yielded Britain's first Red-necked Stint (at Blacktoft in 1986) and the second Mongolian Sand Plover (at Keyhaven in 2003) along with a further 11 shorebird species - from Solitary Sandpiper to Collared Pratincole.
The 23rd has recently produced the popular adult Stilt Sandpiper at Lodmoor for a fortnight in 2011 and a couple more Solitary Sandpipers - both of which were seen on the Isles of Scilly - while the highlight of previous July 24th's has to be the first-summer Short-billed Dowitcher that was found on the Swords Estuary, in Dublin, in 2000.
The very same estuary on the Irish east coast scored hugely on July 25th 2004 - an adult summer Great Knot appearing for just a few hours for Ireland's first (and only record) of this stellar shorebird species (a bird which famously moved to Lancashire a week later).
Half a dozen White-rumped and one Semipalmated Sandpiper have made themselves known on July 26th, while July 27th can boast another Irish first (and a second for the "week"), in the guise of a storming male Mongolian Sand Plover that was found in County Cork in 2013 (a bird that had moved southwest from Moray). Also on the same day, there've been records of another Stilt Sandpiper (in Suffolk in 1969), a Shetland Hudsonian Whimbrel in 1974 and a couple of Sharp-tailed Sandpipers (in Kent in 1985 and in Cork in 2003).
Rounding things off - July 28th - which has welcomed a Greater Sand Plover at Pilsey Island in Sussex (in 1996), an old Greater Yellowlegs in Essex in 1949 and two of those July Least Sandpipers (the Pett Levels and Beacon Ponds birds).
Hat well and truly thrown in to the shorebird ring then - we're overdue a Sharpie so perhaps that's the species for the week ahead.
…and if waders aren't you're thing, console yourself with thoughts of the Scilly Madeiran/Cape verde/Monteiro's Storm-petrel seen on July 28th 2007; the Blue-cheeked Bee-eater at Bockhill for not long enough on July 22nd 2009 and the adult Great Spotted Cuckoo the following day at Salthouse or even the remarkable invasion of Two-barred Crossbills that began on July 20th 2013 - up to 49 birds recorded through until the end of the month.
Untold options then…
Mark Golley
22 Jul 2015

Many thanks to all this week's contributors for their photos and videos.
Ashley Fisher, David Mercer, Gareth Rees, Richard Stonier, Pete Hines, Joe Pender, Stephen Rutt, George Gay, North Ronaldsay Bird Observatory, Chris Downes, Paul Neale, John Fox, Paul Connaughton / Shearwater Wildlife Tours Lee Evans Ellis Lucas, Simon Spavin, John S Armitage, Steve Gantlett, Paul Kelly, Michael Trew, David Boult, Martin Casemore, John Pringle, Shaun Ferguson, Sam Hawkins, Martin Cade / Portland Bird Observatory.